---
GIRL FUN: Rihanna & Her Besties Go Wild At The Brooklyn Nets Game
Posted: 07 Jan 2014 08:54 AM PST
Rihanna and her crew know how to have some fun. And last night at the Brooklyn Nets game was no exception. Check out the popstress and her besties Cara Delevingne and Jennifer Rosales going wild in BK inside...
RiRi treated her British model bestie Cara D. to her very first NBA game last night. And y'all already know they cut up. The girls, along with Rih's friend and assistant Jennifer, were spotted tossing back drinks and screaming and cheering loudly from the sidelines of the Barclays Center.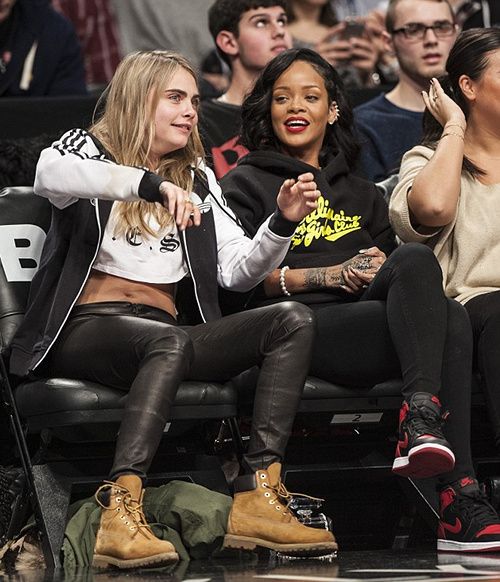 And it must be nice when your bestie has courtside seats at her disposal...for your very first NBA game.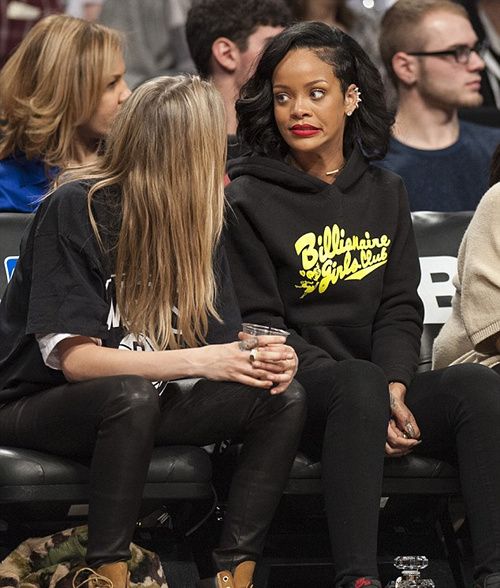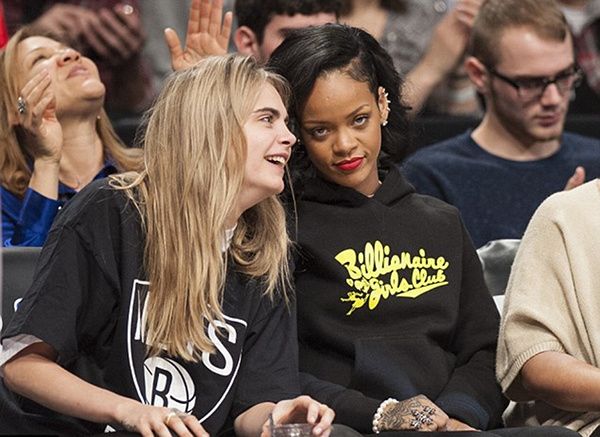 Rih was also spotted at a late lunch at her fave NYC restaurant last night: Da Silvano.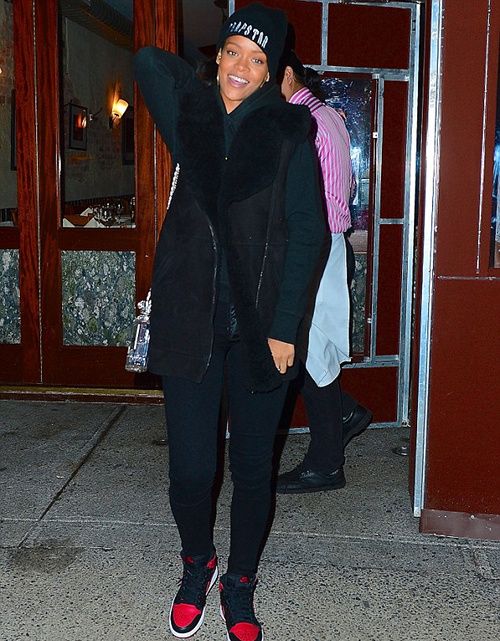 The Chanel lover who can get away with rocking her Jordans with a girly bag, showed off her Dual Chanel Perfume bottle clutch purses. LOVE these...
As for what Rihanna's been up to...she just announced her upcoming collabo track with Shakira called "Can't Remember to Forget You." It's due out January 13th and will appear on Shakira's upcoming album.
And yesterday, for Instagram's Man Crush Monday, she made it public that she has an official crush on 23-year-old Philly Eagles baller Mychal Kendricks. The girl has a type...
Photos: Splash/Rih's IG

MORE DETAILS: The Infamous "Chuck Smith" From "RHOA" Has A Baby's Mother....And A 19-Year-Old Daughter!
Posted: 07 Jan 2014 07:52 AM PST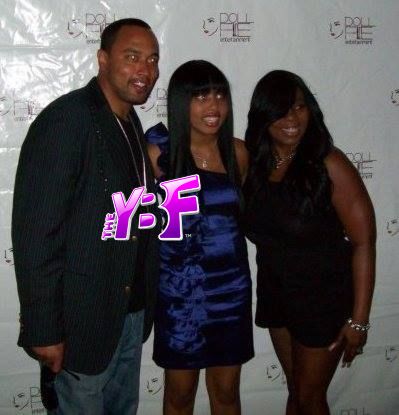 If you've been watching "Real Housewives of Atlanta", you've become familiar with the lameness that is former baller Chuck Smith. And now, we've learned about another person who was on his "Team" back in the day. Exclusive details about his child's mother (not his wife) inside....
It seems as though Chuck and Mynique Smith are being groomed to become new cast members on "RHOA". And even though we're not really feeling them, we're totally here for the shade being thrown at "Big Homie" Chuck.
Chuck has made himself infamous after just a couple episodes after it came out that he slept with both Phaedra and Kandi back in the day. And his wife, Mynique, was in for a rude awakening when she found out that her husband likely lied about what his relationships with the two women were ACTUALLY like.
During a recent episode, Mynique traveled to Savannah, GA with the cast, and SHE brought up that Chuck used to "sleep with" Kandi and Phaedra...but he said it was nothing serious and they were nothing but quick jumpoffs. Kandi and Phaedra both schooled her that even though it really no longer mattered, they actually had lengthy relationships with him. So much so that families were involved.
So while Chuck tried to cover his ass with his wife, he's been going off on Phaedra telling her they were never "boyfriend/girlfriend" and she and Kandi were just "part of the team". Yes, the team of chicks he slept with back in the day. He was adamant that he just wanted her and Kandi to feel special so they could be friends with benefits.
But the only person that looks lame here....is Chuck. What grown man brags about lying back in the day to young girls in order to get the panties? And why are you so pleased with yourself for doing so?
Needless to say, his antics have set social media on fire these last few episodes...and not in a good way.
With all that said, we've learned about another member of the "team". Chuck, in addition to the family he has with his current wife, has a 19-year-old daughter named Giavanni with a woman named Dr. Toni Black (all three pictured above).
Some type of way he pulled a woman with a Ph.D. (or who was on track for one). And he must be doing something right, because he has Giavanni defending him on her Twitter. She recently posted:
Why are y'all mad at my Dad "Chuck" lol? He was just telling the truth. #RHOA
Oh girl. You weren't even born when that mess went down....
BONUS: Kandi went on Big Tigger's morning show this week on V103 in ATL to discuss "Chuck". She revealed:
"He said he was taking advantage of a young girl…he really went out of his way to take advantage. That was deep."

"I've moved on, but I would appreciate it if he'd stop…On one hand, he tried to make it sound like I was dating all these people, but on the other hand, he felt the need to make me feel special. Can you get your story together? Stop lying."
Check out the sit-down in full above with Kandi explaining why it wasn't a fly-by-night chop-down situation.
JUMP-OFF TALES: Ludacris Claims His NEWEST Baby Mama Extorted Him For A CAR! + Naked Pic Leaker Exposes MORE On Sexcapades With Baller Geno Smith & Rapper Future
Posted: 07 Jan 2014 06:46 AM PST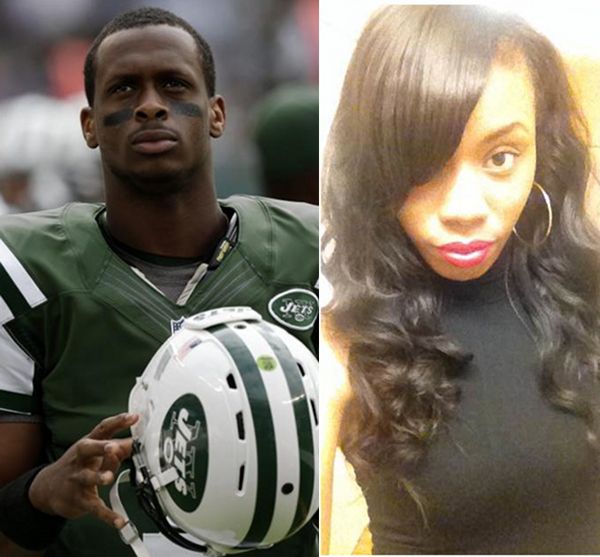 Recently, there was a naked pic scandal that went viral on the net involving New York Jets QB Geno Smith. Jackie Presley, who is the chick who put his naked pic on blast, is now explaining why she did so.
Peep the foolishness inside, plus Ludacris getting mad about his jump-off turned baby mama's alleged extortion...
We love pointing out basicness when it's staring us down. We believe we're doing a service so people can know the actions to avoid.
Jackie Presley recently did an interview with Kareem Williams about this naked pic scandal. She revealed she's originally from Cincinnati, moved to Atlanta and is now a nursing student.
And she met NFL star Geno originally in Charlotte when he told her to pick im up from the "Team Hotel", during what we assume was a game weekend we assume, because no one was allowed to chill inside.
She admitted in the interview:
"I was involved with an NFL player named Geno Smith. I leaked his naked picture on a blog site."
P.S. Jackie said she LOVES nursing school....because she LOVES helping people.
Obviously. And apparently, in all ways possible.
As for why she exposed his stick and berries, she said he was an asshole, disrespectful, and there were no "pros" to her being involved with him. And she was involved with two other athletes and there WERE pros to getting it poppin' with them.
Jackie (we would love to know how old this chick is) claims she regrets dealing with him. And even though she kept saying "there were no pros at all to dealing with him", she later said, "Well, the sex was good."
As for if she was led to believe she was Geno's main chick...she said No.
"The last day that I saw him was Christmas Day and I came to New York and I went over his house later on in the day around 6p and he lived about 50 mins away in a city called Hanover, NJ. He told me to get a driver and he would pay for the driver. I got the driver and he paid for it there. But you're thinking someone's gonna pay for it there and back. I spent the night. The next morning I called the driver when Geno had to go work out, and the driver said it would be $100 since it's traffic in NY. I told geno and he just leaves. He left me at his house. and didn't leave me any money. He was just like, I don't care how you get back to NY. He just went to do what he needed to do--workout.

I was furious for like a day or two. What if I didn't have no money? I just felt like he disrespected me. You told me to come here and you were paying for something. Then it's time to leave and you're not paying for it? So two days later I just ended up going off."
So it sounds like, and it's just our take on this, she put Mr. Smith on blast because he treated her like the jump-off that she was. Mistresses, jump-offs and prostitutes these days seem to believe they should be treated with the utmost sweetness, respect & care as if they're the wife.
She said, sounding still bitter about it, "I don't think he forgot, I just think he didn't care. Why couldn't I go with him if we were both going to NY? He didn't care."
Well, Jackie, we can almost guarantee he didn't care. Maybe you learned your lesson about why being a jumpoff isn't a badge of honor like some chicks seem to think these days. Basicdom never wins.
When asked if she only dates with rappers and ballers, she said, "I don't only look for money, but I do like men who are tall and established. I mean, I'm about to graduate from nursing school so if I'm making money, he should be making money."
Chile...
Oh, and she admitted to being "in a jump-off situation" with rapper Future in the past as well. And her past two NBA player flings, as well as Future, "never treated her this way." And she's still "friends" with the NBA players. Peep the full interview below if you can stand an hour of basicness:
As for Ludacris and his newly revealed baby-mama situation, things are getting ugly.
As you may know, a woman named Tamika Fuller filed papers to get child support and to keep Ludacris and his girlfriend away from the baby girl. It's not clear as to why since she was the alleged side chick as Ludacris has been with Eudoxie Agnan (pictured above) for years.
But now, Luda is claiming that Tamika attempted to EXTORT him for a car in order for her to remain quiet about their lovechild. TMZ reports:
Ludacris filed legal docs -- obtained by TMZ -- in which he reveals the drama behind his child support fight with Tamika Fuller. He asked the judge back in September to issue a gag order because he is "a major celebrity of great notoriety."

Luda argued ... throughout the U.S. -- and even in Georgia -- judges often allow public figures to keep their sexual indiscretions under wraps.

Luda claimed the gag was essential because Tamika demanded that he give her a whip and $7,500 for her lawyer's retainer ... OR ELSE she'd put him on blast -- that he fathered her kid while he was still with longtime GF Eudoxie Agnan.

Of course, the judge wasn't trying to hear Luda. And that's why we ALL know about his jump-off activities.
The folks over at Straight From The A have pics from Tamika's recent baby shower...which she reportedly purposely used to trick Ludacris into thinking they were having a boy. Blue-filled shower...but she actually had a baby girl named Cai Bella Bridges.
Photos: Luda's IG/Jackie's Twitter
IN CASE YOU MISSED IT: Benzino & Stevie J Open Up A SLEAZY & ZINO's Restaurant
Posted: 07 Jan 2014 05:24 AM PST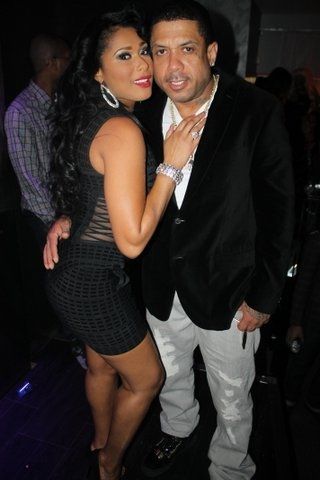 In case you haven't heard, there's now a "Sleazy & Zino Bistro and Bar" up and running in Atlanta. And it's all the brainchild of "LAHH ATL" stars Benzino and Stevie J. Check out the unnecessary new venture and Benzino's new chick inside....
Apparently, Stevie J. and Benzino think their on-sceen sleaze and drama makes for a good place to sell food and drinks. So they opened up Sleazy & Zino, downtown ATL's newest restaurant and bar, to capitalize off their "brands". And the big launch party that you may or may not have heard about actually went down on New Year's Eve.
According to Hip Hop Weekly, " ...It is an upscale facility with a theme-restaurant style approach, where the food and drink menus all tie into characters and other elements associated with the TV show."
Oh.
It was all hosted by the new Atlanta-based independent label E.A.T. Entertainment (which we assume Benzino and Stevie have a hand in as well--but we're not too sure.)
Benzino brought his new girlfriend along (pictured above at the party), R&B singer Thi Thi (of course). She also used the launch party to debut her new single, "Ghetto Love." Oh why....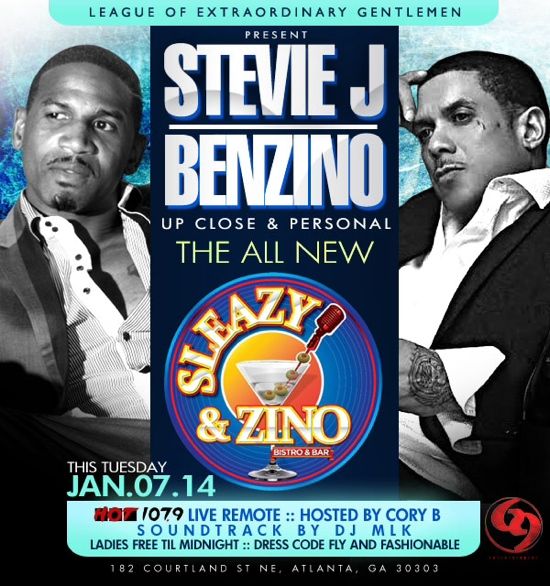 And by the way, tonight, the new spot is hosting their first "event" of the year. You can also check out video from their NYE bash below:
So, who's down for wings, drinks, soups and pimp tips...all provided by a couple of the sleaziest men on TV?
Photo: Hip Hop Weekly
Mo'Nique Makes BIG SCREEN RETURN In "BlackBird" + Queen Latifah's Talk Show RENEWED + The OFFICIAL "A Haunted House 2" POSTER
Posted: 06 Jan 2014 04:19 PM PST
Monique is headed back to the big screen in Blackbird. Find out about the movie inside and see the new Haunted House 2 poster and get the exciting news about Queen Latifah's daytime show.
After a long absence, Oscar-winning actress Monique has announced her return to the big screen. In an exclusive to Deadline, it was revealed that she'll join Isaiah Washington in the Patrik Ian Polk-directed Blackbird. The film is an adaptation of the novel by Larry Duplechan and will be produced by Monique and her husband, Sidney Hicks, through Hicks Media.
Sidney told Deadline, "Blackbird is a film about the choices people are forced to make as they struggle to figure out how to be themselves. And why should just being who you are be a struggle?
Here's the synopsis:
"Newcomer Julian Walker plays the star singer in the church choir who feels like a misfit in his high school and struggles with his sexual awakening and the realization he is gay, This coincides with his younger sister going missing and his parents splitting up. Mo'Nique plays the youth's heartbroken mom, who blames her son's lifestyle revelation for his sister going missing while Isaiah plays his supportive father trying his best to help his son's transition to manhood."
Sounds interesting....
Also on television.......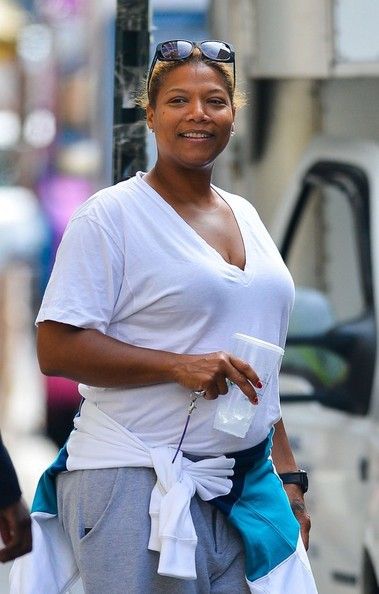 Queen Latifah and her talkshow staff received good news from CBS....they've been renewed! Sony TV U.S. president of distribution John Weiser announced the renewal saying,
"We are proud to have the CBS stations as our partners as we continue to build The Queen Latifah Show into a franchise brand. We look forward to building on the success of this year's #1 new talk show by delivering the highest quality program to our stations, advertisers and viewers."
Congrats!
And at the movies....
Marlon Wayans' A Haunted House 2 hit theaters on March 28th 2014 and we have the movie's official poster. The film stars Jaime Pressly, Gabriel Iglesias, Essence Atkins, Affion Crocket, and Cedric The Entertainer who join Marlon's "Malcolm" character as he battles the demons that inhabit his new home.
Watch the trailer here:
The Randomness:
1. Wayne Brady has put rumors of him dating TLC's Chilli to rest. Not true!
Photos via Getty/BET Networks
NEW GIGS: Meet SNL's NEWEST Castmember.....Sasheer Zamata!
Posted: 06 Jan 2014 01:52 PM PST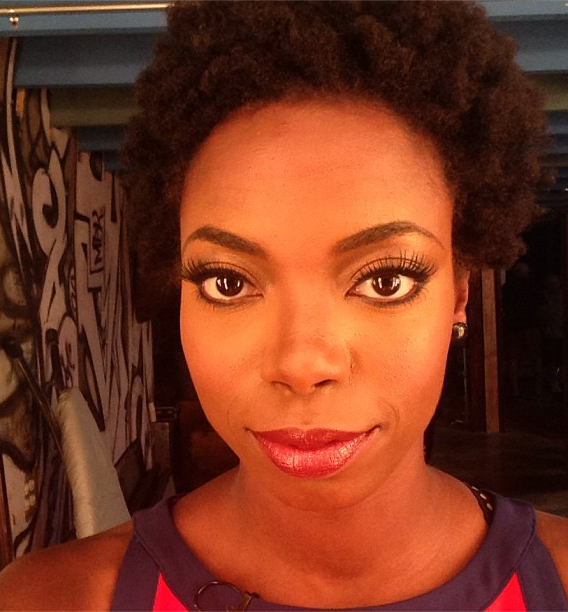 After weeks of searching, "SNL" has FINALLY hired hired a black comedienne. Meet Sasheer Zamata inside......
After receiving plenty of criticism from viewers, the industry and current "SNL" cast members about the obvious lack of black women in the cast for the last 5 years, the execs at "SNL" have hired black female comedienne....Sasheer Zamata. You'll recall that the legendary sketch-comedy series hosted a round of auditions last month after the show was publically blasted for its lack of diversity.
Who is Sasheer Zamata? Sasheer is an actress, writer, improviser and stand up comedian who graduated from the University of Virginia. According to her bio, she trained at Upright Citizens Brigade Theatre in New York and has been featured in Jezebel, Hairpin, Vulture, Think Progress, Clutch Magazine, Time Out New York and The New York Times.
She also writes and performs in a webseries called "Fodder" on The Cooking Channel and appears in sketches on Totally Biased with W. Kamau Bell on FX, and Inside Amy Schumer on Comedy Central.
She'll make her debut on January 18 with Drake as host and musical guest.
Watch Sasheer in "character" here:

The Randomness:
1. Kirk Franklin announces God's Property reunion. Story.
Photo via Sasheer Zamata's Instagram
SNAPSHOTS: Tyga & Kanye West MAKING MUSIC Together!!?? + Ashanti's Latest BRAVEHEART Promo Pics
Posted: 06 Jan 2014 12:56 PM PST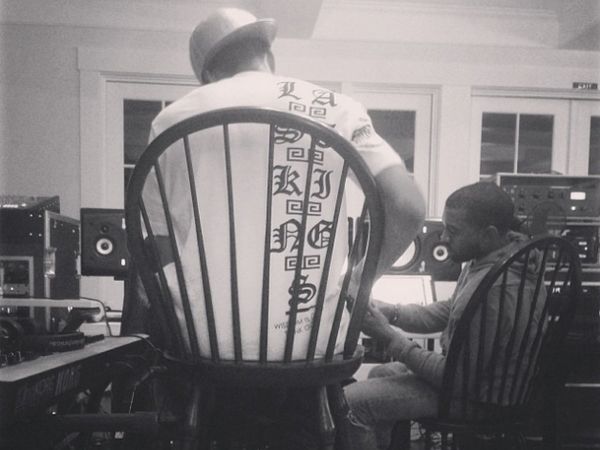 A new photo of Tyga and Kanye West in the recording studio has surfaced. Check out the pic inside and see Ashanti's latest promo photos.
Tyga has been in the recording studio with Kanye West. On Instagram, the "Lap Dance" rapper posted a black and white photo of himself and 'Ye with the caption "Raww x Yeezus". While we aren't sure what the two are working on, we do know that Tyga's putting the finishing touches on his new disc, The Gold Album: 18th Dynasty. Perhaps Yeezy is producing a few tracks?

Until the new music drops, fans of Tyga can pickup his latest mixtape Well Done 4, which features from Chris Brown, Lil' Wayne, Meek Mill, Fabolous, Sean Kingston, Pusha T, French Montana, Migos, and more.
While the fellas were in the studio, we spotted their ladies-in-waiting, Kim Kardashian and Blac Chyna showing off their post-workout bides over the weekend.
In other pics......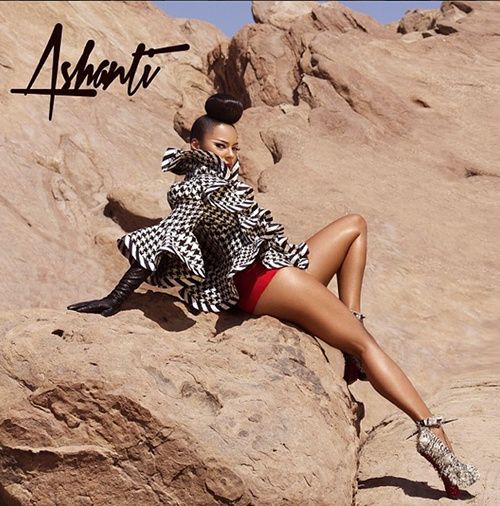 Ashanti unveiled a few more promo shots from her long-awaited Braveheart cd.
While Ashanti's album has been delayed for a few months, she's certainly kept herself busy and in the public eye.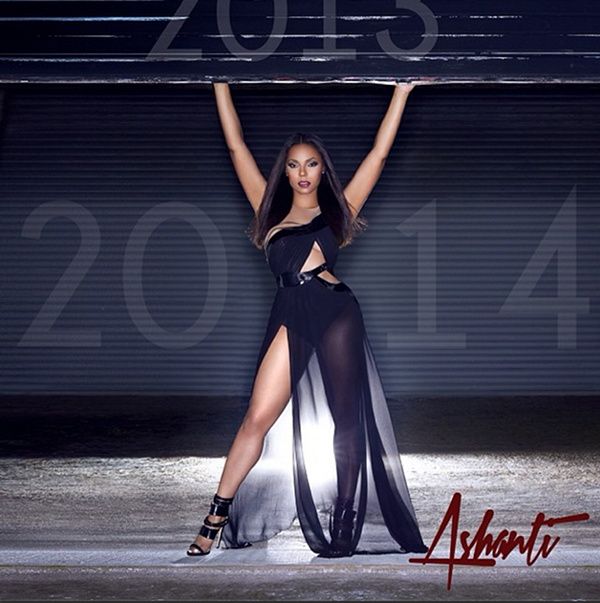 Over the Christmas holidays, she starred in the Lifetime film "Christmas In The City".
Photo via Tyga's Instagram/Ashanti's Instagram