---
GETTING FRENCHY: Solange & Jourdan Dunn Hit H&M's Paris Fashion Week + Drake & Kanye West DINE OUT In Paris
Posted: 27 Feb 2014 08:34 AM PST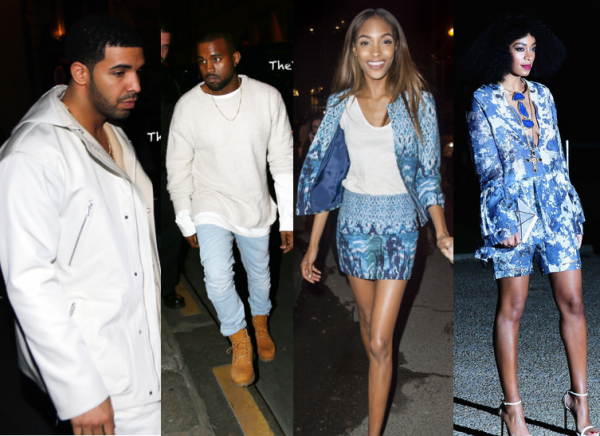 Everybody headed over to Paris for Paris Fashion Week it seems. See what Drake, Kanye West, Solange and Jourdan Dunn are up to inside...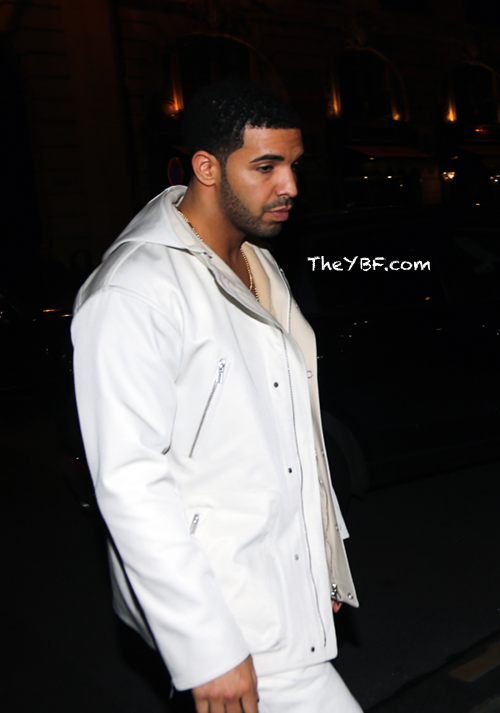 Drake was spotted out to dinner in Paris, France last night. He's in town for his "Would You Like A Tour?" stop which featured a surprise appearance from Rihanna earlier this week. ANd he's heading to surrounding cities next.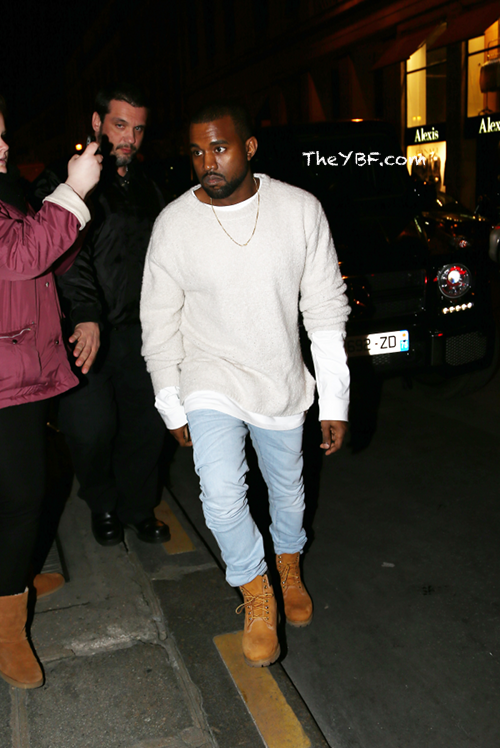 Drake's dinner partner for the evening was his rap mentor, Kanye West, who joined him at Costes Hotel. We're sure Kanye is in town to take in a few womenswear shows (since he's so "serious" about launching his own label). He even talked to Seth Meyers, earlier this week, about the fashion world putting him in a box.
Also in Paris......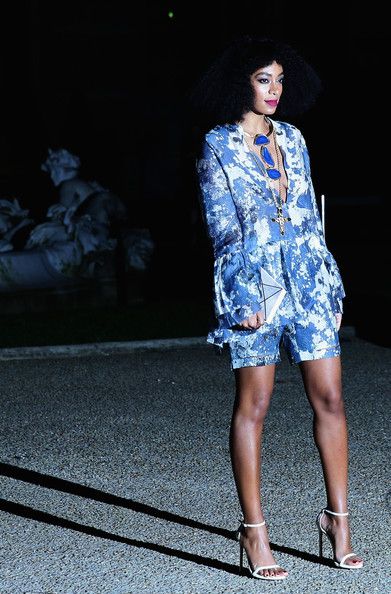 Singer and fashion "It" girl Solange Knowles was seen arriving at the H&M Fashion Show at the Grand Palais for Paris Fashion Week Womenswear Fall/Winter 2014-2015. And we're loving everything about this. The beautiful backdrop, her print-on-print short set look that's ClASSIC Solange, and those killer gams.

Model Jourdan Dunn, who appeared alongside Beyonce in "XO" and Yonce", also attended the show in a print-on-print shorts and blazer look.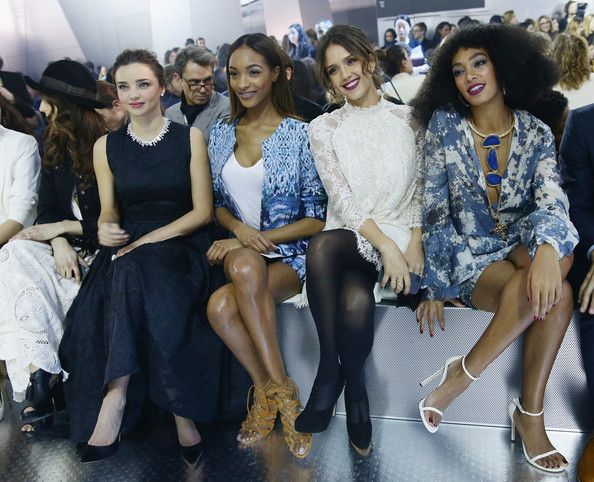 And Jordan and Solange were sitting pretty on the front row with Miranda Kerr and Jessica Alba. All the ladies rocked looks from the HM Conscious Exclusive SS14 line. Gorge!

Photos via KCS Presse / Splash News / Vittorio Zunino Celotto/Getty Images Europe

ADORABLE ALERT: Eva Marcille & Kevin McCall Show Off Baby Marley!
Posted: 27 Feb 2014 07:46 AM PST
Adorable alert! Model/actress Eva Marcille and her man Kevin McCall just showed off their almost-1 month old daughter Marley's face for the first time.
Check out the cutie inside....
With parents as hot as Eva Marcille and singer/rapper Kevin McCall, we're so not surprised this little Marley is as cute and precious as we expected.
New mommy Eva, who calls her little girl "perfection", just showed off the precious bundle to her fans. And proud daddy Kevin ot in on the picture action too: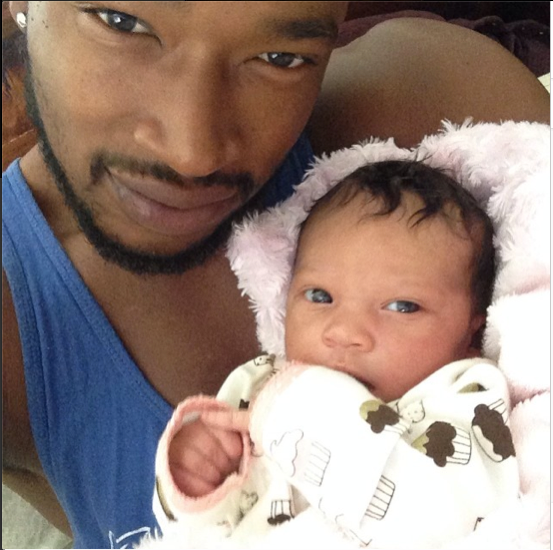 He gushed, "My little china doll... #marleyXO". And now, he's got another daughter to keep his eyes on a all times.
Awwww.
And Eva is wasting no time whipping her model body back into shape. She was spotted at a Nike/Essence fitness event yesterday in L.A (standing up in back left):
Eva was there working it out along with plenty of YBF chicks like Kelly Rowland, Jurnee Smollett, Jeanette Jenkins, Tichina Arnold, Michelle Williams, Elle Varner and plenty more.
Photos: Eva's IG, Kevin's IG, Essence's IG
SO...WHO LIED? Friends Of The Patton-Thickes Say The MILEY CYRUS Performance Caused Major Strife In The Marriage + Paula Steps Out For FIRST TIME Since Split
Posted: 27 Feb 2014 07:07 AM PST
Despite what the couple said a few months ago, sources close to Robin and Paula are now pointing to Robin & Miley Cyrus' VMA performance as one of the major sticking points in their troubled marriage. More inside...
Remember Miley Cyrus' "twerking" at the VMAs? While the performance put both Miley and twerking on the map (for some folks) it simultaneously took the marriage of Paula Patton and Robin Thicke down a very dark road.
While both Robin AND Paula initially claimed that the performance was "pre-approved" and everything was known in rehearsals....new deets to the contrary are leaking out.
Sources closes to Paula (who've been speaking out A LOT) are telling TMZ that Paula felt "utterly disrespected" when she saw her husband bumping and grinding with Miley. We figured she would have been, because WE would have been, but Paula played it cool when talking to the media about it....
After the performance, the couple allegedly had a HUGE a blow-out and Paula told Robin she felt insulted. AND supposedly...ding ding ding...the performance WAS a total surprise! The friends are saying Miley improvised the raunchy part....but Robin played along!
A source told US Weekly,
"The Miley Cyrus fiasco was a big test of their relationship. He asked her to help him out as a friend and a wife, and defend him and the performance. He begged her to speak out for him and be there for him. She agreed to be the good wife after he begged and pleaded. "Then he asked her to stick with him through awards season, and she agreed. She attended the Grammys with him as a favor."
And what about those pics of Robin touching a groupie's butt in the club? Paula was PISSED about that too! Friends say things just got worse after that....and never recovered. It seems like Paula no longer trusts Robin after, like, two decades of being together. But...should she?

Paula was spotted at LAX on Wednesday. It was our first time seeing her since the split was announced...
Photos via MTV/Getty/Paula's IG
The Game STILL DENYING He's Dating Khloe Kardashian, But Says He DID Date Kim Kardashian
Posted: 26 Feb 2014 04:55 PM PST
Rapper The Game is speaking out against rumors that he and Khloe Kardashian are hooking up, despite being spotted with the Kardashian sister lately. Find out what he had to say about he and Khloe's relationship inside…
The Game and recently single Khloe Kardashian have been spotted out a lot lately. Soon, rumors began that the two were dating. The duo was seen in the club with their arms wrapped around one another, dancing closely, and Khloe even gave Game a quick twerk.
Now, he's trying to convince us (and maybe even himself) that they are JUST friends.
Game denied he's dating Khloe, but revealed he once dated her big sis, Kim K., telling BBC Radio1Extra DJ Charlie Sloth on Wednesday:
"Those are just rumors. It's funny man cuz me and Khloe we're cool. People don't know, but I've been knowing Khloe for 12 years - you know what I'm saying? I went and dated Kim for a while. A little short while. Me and Khloe are cool."
When asked if he dated Kimmy before her relationship with Ray J, he claimed he couldn't remember. Oh.
"You know what. I don't remember that time line," he said before going on to complement Kim's fiance Kanye West. "Kanye was the homie. He's still the homie. That is his wife. They got a family. I love them. They're great."
And in case you missed: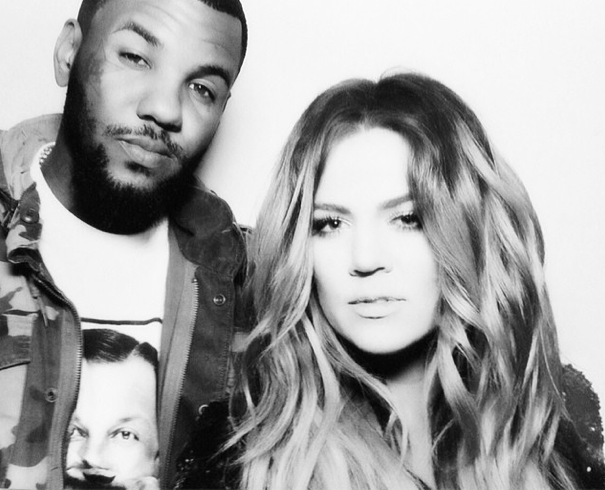 Khloe posted the picture above a few days ago to her IG with the caption, "I could explain but it's more fun this way @thedocumentary #10PlusYearsandCounting".

Game and Khloe need more people.
Wonder what his on-again/off-again fiancée Tiffney Cambridge has to say…

Photos: Splash/Khloe Kardashian's IG/Charlie Sloth's IG

LUNCH DATE: Dwyane Wade & Gabrielle Union Spotted Lunching In Miami + "Being Mary Jane" Finale Nabs 5.8 Million Viewers!
Posted: 26 Feb 2014 04:33 PM PST
Miami Heat star Dwyane Wade and his fiancée, "Being Mary Jane" star Gabrielle Union, were spotted having lunch today in Miami. Check out the pics of the couple and chime in on your reaction to "BMJ"'s finale episodes inside…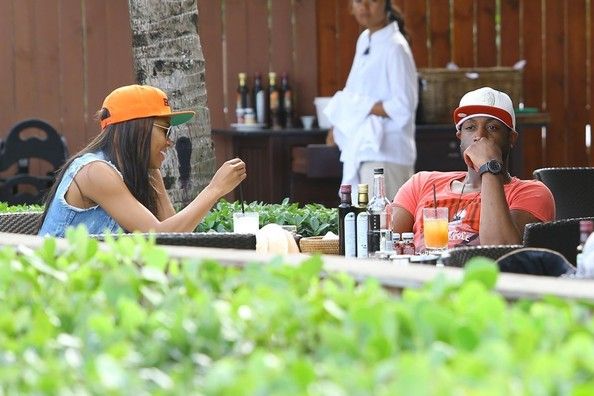 Ms. "Being Mary Jane" was spotted out to lunch with her husband-to-be, Miami Heat baller Dwyane Wade, earlier today at a restaurant on Miami Beach.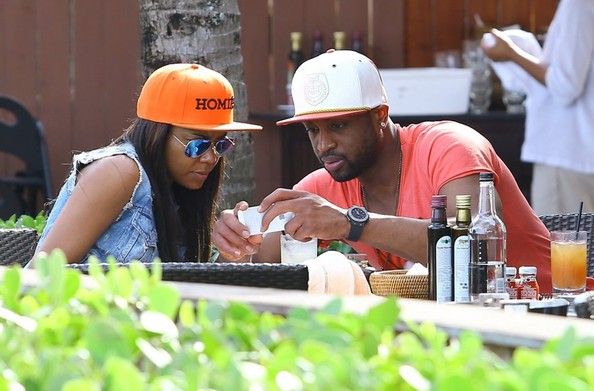 The couple seemed to be really interested in whatever they were watching on D. Wade's iPhone.
Final wedding decisions perhaps? Or maybe the criticisms and praises for last night's "BMJ" finale?
She also flashed that huge ring a few times.
And speaking of Gabby, who looked cute and comfy in shorts and sneakers...
She, D. Wade and some friends got together last night to watch the big season finale. And it was hosted by Adrienne and Chris Bosh. You already know Adrienne wasn't passing up THIS chance to host yet another party.
Gabby posted to her IG, "Happy #BMJFinale !!! Thanks @mrsadriennebosh @chrisbosh for hosting us tonight & lettin us raid the snack cabinet (as usual w/ @telltell_heart ) and the awesome Mexican feast @Che ftwill prepared! Thanks to my Heat ladies @hbattier @faithstyleuncut @iamddj @aprilbellephotos... Awesome bottle btw #teambattier"

"Being Mary Jane's" two-hour finale premiere was a HUGE hit last night. It is now this season's #1 new Drama Series on cable among adults 18-49, attracting more than 5.8 million viewers.
Not only did "BMJ" take over cable television last night, it also captivated audiences on social media with Twitter seeing 210,000 tweets during the finale (a 179% increase in tweets from the previous episode). Sheesh!
So, the top 5 weeknight drama series has been picked up for a 2nd season continuing to follow Mary Jane's antics.
Now...were we the only ones confused by the events that took place in last night's finale? Many folks think it was all over the place, yet still pretty jaw-drop worthy. And when will Mary Jane actually LEARN from her mistakes? MJ needs to smarten up and quit all the basic-try, right?
Thoughts?
Photos: FameFlynet Pictures/Gabrielle Union's IG/INF
Lauren London Grabs Cocktails With Co-Star Jay Ellis + Garcelle Beauvais & More Hit The "Non-Stop" Q&A Session
Posted: 26 Feb 2014 03:54 PM PST
With just one week until the Season 7 premiere of "The Game", stars Lauren London and Jay Ellis are hanging out together, sipping a little drinky drink. Check out their Henny party inside, plus Garcelle Beauvais and more at the Non-Stop Q&A...
Last night, the Hennessy family hosted an intimate dinner at the luxurious Sunset Tower in L.A. with folks like Jay Ellis, Lauren London and more.
During the Maurice Hennessy Tasting Dinner, the twosome posed it up with Thuy Anh-Nguyen and sipped on Hennessy X.O, Paradis, Paradis Imperial and Richard Hennessy. And they even got to sip on a swanky called Hennessy Paradis Impérial with an average price of $2,700.
Better than dropping that type of change on strippers like 2 Chainz did last night...we guess.
Must be nice...
And elsewhere in L.A.:
Now that he's explained to the raging Bey Hive what she meant about kids not needing to see Beyonce and other women being too sexy, Garcelle Beauvais made her way to the Q&A session for the upcoming flick Non-Stop.
She posed it up with host Kevin Frazier at the Arclight Hollywood theater last night after the special screening and Q&A of the film with Director Jaume Collett-Serra and cast member Nate Parker.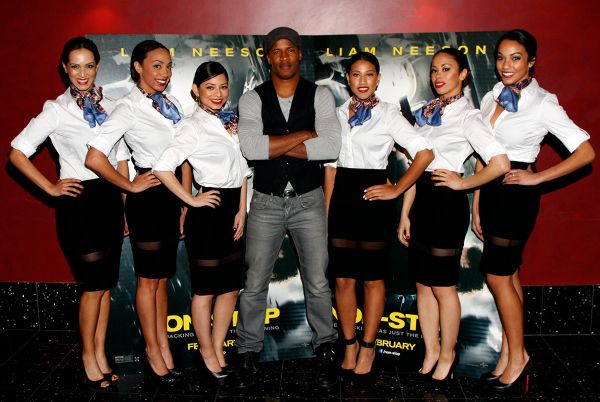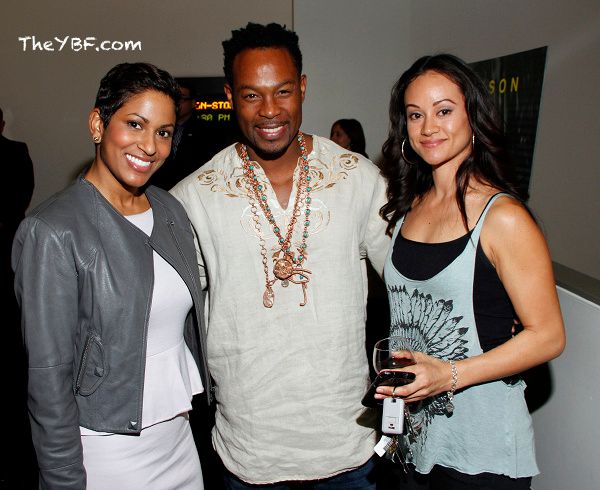 Where have you been Darrin Henson?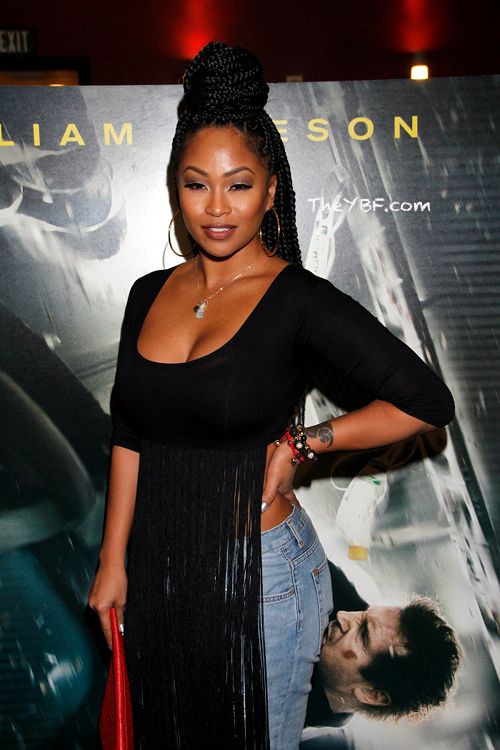 And Nelly's current/ex girlfriend Tae Heckard was also there looking cute in her new braids.
Fab times! The movie, which also stars Lupita Nyong'o, hits theaters this Friday.
Photos: Splash/Hennessy
Jennifer Hudson Gets Sexy For "V" + Angela Simmons SHows Off That Bangin' Bod For "VIBE VIXEN"
Posted: 26 Feb 2014 03:27 PM PST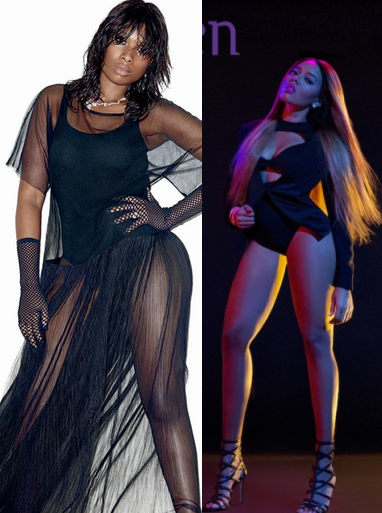 Fab chicks Jennifer Hudson and Angela Simmons are on newsstands this month in "V" and "Vibe Vixen". See the sexy pics and highlights inside...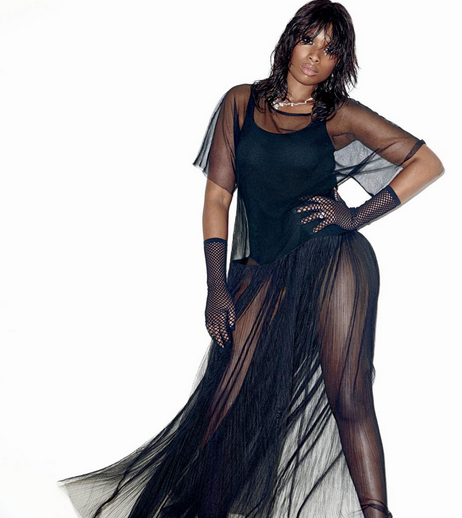 In the latest issue of "V" Magazine, Jennifer Hudson posed for famed photographer Terry Richardson in an article/pictorial titled "Jennifer Steps Up".
She's serving up some sexy we don't usually see from her -- thighs on display, wet hair, bustiers, and black sheer all over.
While discussing her upcoming album, which features Pharrell Williams, Babyface and Timbaland, Jennifer reflected on where she's been and where she's headed with her music,
"Earlier in my career I was just a soloist singing other people's songs. Now I really want to be an artist. I want to lift the people up, have fun, create a moment. I have my own visions that I want to bring to life. People think I sit in church all day or stay at home and stare at my Oscar. It's like I'm a nun or the president or something. I realized that people don't really know who I am. It just feels like it's time to take the training wheels off, you know? Let them see me."
COAT SALVATORE FERRAGAMO BRACELET (MIDDLE, HER LEFT) AND NECKLACE POMELLATO BRACELETS (TOP, HER RIGHT, AND BOTTOM, HER LEFT) JACOB & CO. BRACELETS (BOTTOM, HER RIGHT, AND TOP, HER LEFT) CHANEL ON EYES, CHANEL STYLO YEUX WATERPROOF LONG-LASTING EYELINER IN NOIR ON CHEEKS, CHANEL LE BLUSH CREME DE CHANEL IN REVELATION
BODYSUIT WOLFORD BODYSUIT (WORN UNDERNEATH, THROUGHOUT) FLEUR DU MAL JACKET BLK DNM NECKLACE CHANEL
BODYSUIT WOLFORD SKIRT GIVENCHY BY RICCARDO TISCI RING CHANEL BRACELETS (TOP AND MIDDLE) POMELLATO BRACELET (BOTTOM) JACOB & CO.

Loves it!
In other magazines.....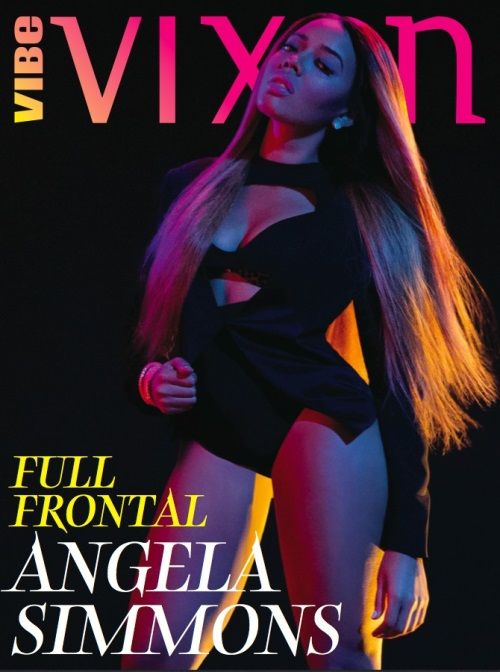 Angela Simmons appears in the latest issue of Vibe Vixen in a pictorial shot by David Joseph Perez. In the mag, the health and fitness lover and fashion lover says she's aware that she grew up with priviledge, but she's worked hard for what she has acquired. Including those curves.
"I'm used to the comments...but at the end of the day I'm not concerned, because I know how hard I work. I can go to my dad and my uncle for advice, but other than that, anything that I have today, I've worked for. I pour my heart into it, and I live, sleep, breathe, eat it. I'm not going to sit here and prove to someone that I'm working; you're going to see for yourself."
Check out the slew of pics below: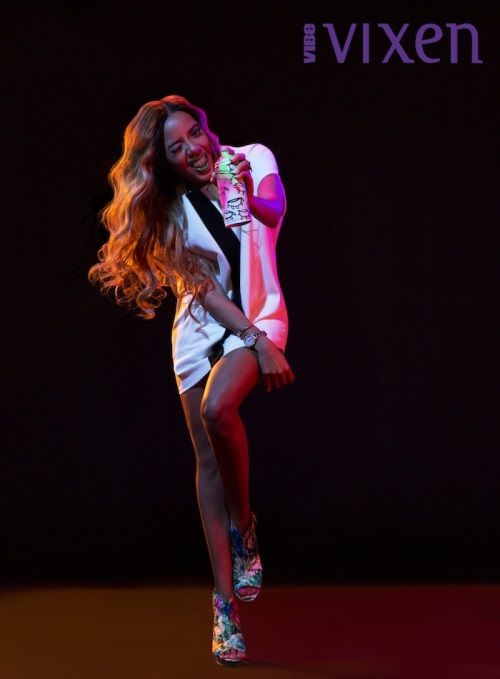 White and Black Stripe Cocoon Smock Dress: Aryn K, Floral Peeptoe Heels: Arden Wohl, Headphones: Monster Diamondz, Silver Spiked Rings: Phoenix Keating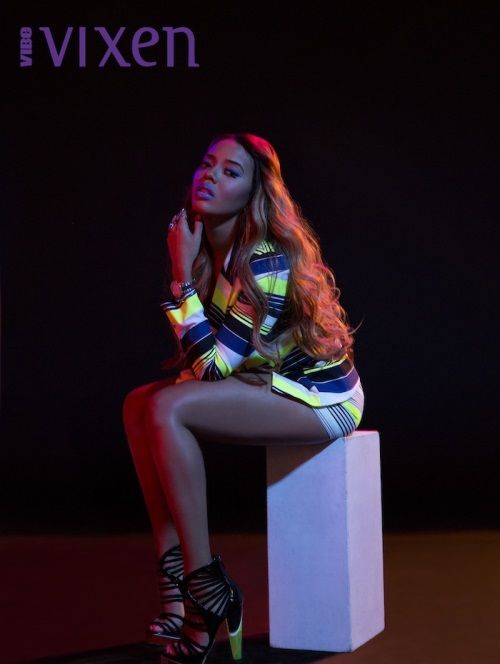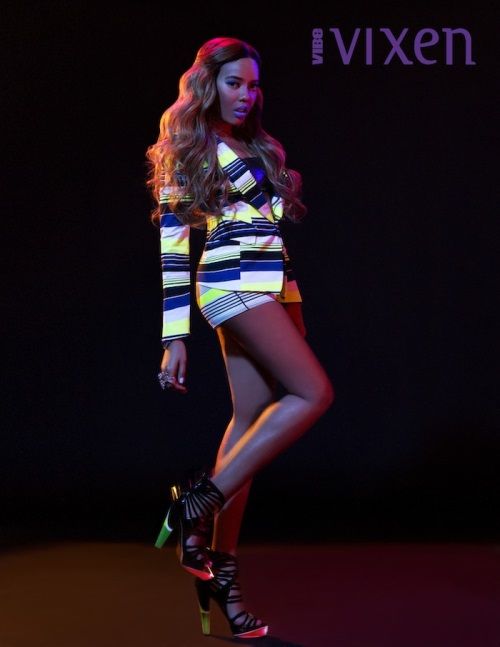 Silver Bandeau: Marie France Van Damme, Striped Jacket: McGinn Collection, Striped Shorts: McGinn Collection, Strappy Light Up Heels: Jimmy Choo, Silver Earrings: Erickson Beamon, Silver Rings: Erickson Beamon
Printed Dress: McGinn Collection, Jeweled Heels: Giuseppe Zanotti, Silver Spiked Rings: Phoenix Keating, Barbed Wired Ear Cuff: Pretty In Punk
Black Bodysuit: Bellenbrand, Black Jacket: Aryn K, Black Multi-Strapped Peeptoe Heels: Carolinna Espinosa, Hot Pink and Gold Bracelet: Forever 21
Gorge.
Photos via Terry Richardson/David Joseph Perez
AFTERNOON BITS: Beyonce Surprises Fan & Sings "Happy Birthday" + Taraji P. Henson LANDS Role Opposite Terrence Howard On FOX's "Empire"
Posted: 26 Feb 2014 02:15 PM PST
Taraji P. Henson has a new gig in Hollywood that will pair her with Terrence Howard and Lee Daniels. Get the deets inside and see Beyonce sing Happy Birthday to one of her fans....
During Beyonce's tour stop through Birmingham, she noticed one of her biggest fans, Shehnaz Khan, wearing a birthday badge and holding a sign - so she sang "Happy Birthday" to her! Shehnaz told the Daily Mail, 'I was wearing a birthday badge which she noticed early on in the show, she kind of nodded in acknowledgement. I can't believe she stopped the show for me. I was leaning over the barrier holding her hand and not realizing the camera was recording, everyone around me was going crazy',
Later, Shenaz uploaded the video to social media and tweeted, 'BEYONCE SINGING HAPPY BIRTHDAY TO ME my life has been made in every sense, literally what is life?" "I am absolutely FLOORED, but beyond grateful".

Meanwhile, Mrs. C uploaded a few new pics to her Tumblr. And, as usual, they make us want to be wherever it is she, Jay, and baby B.I.C. are: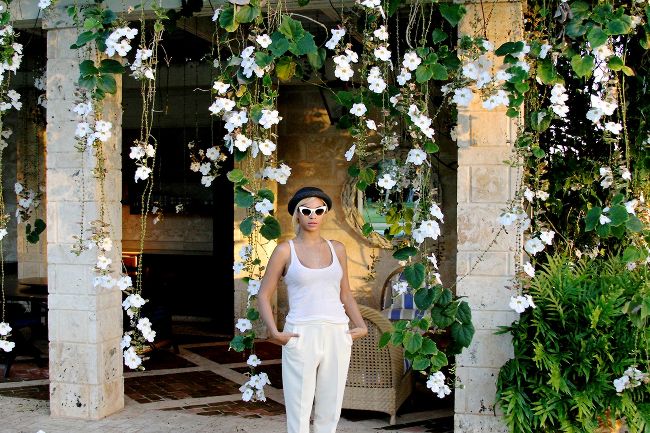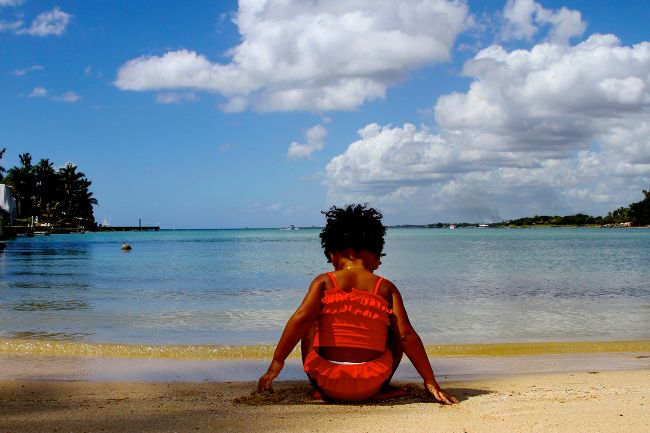 Bey also served up all types of sexy in a red, black and leopard face bathing suit: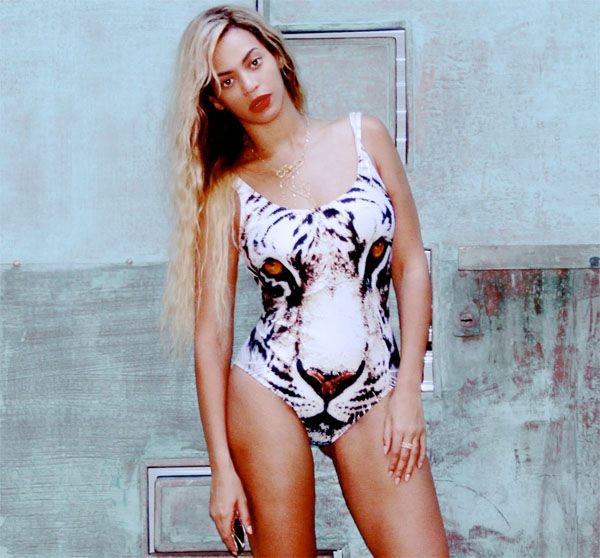 Tonight, Bey performs at the Manchester Arena in Manchester.
Taraji P. Henson has landed a new high-profile gig in Harlem. She'll star Terrence Howard in Fox's Empire, a new series from Lee Daniels and Danny Strong, "Empire" is a family drama set in the world of a hip-hop empire that will feature both original and current music. According to TV Guide,
"(Taraji) will play Cookie Lyon, the ex-wife and former business partner of music superstar Lucious Lyon (Howard). The outrageous and over-the-top Cookie has spent 17 years in prison for dealing drugs — money she funneled directly to Lucious' then-fledgling music empire. Now she's been released early for good behavior and she wants what's hers."
Who'll join Terrence and Taraji? So far...Jussie Smollet "The Mighty Ducks and The Mindy Project" (he's Jurnee's brother).. Lee and Danny will write and executive-produce the drama.
Taraji posted the news on Instagram with the caption: #watchwhatIdonext HA!!! I love you #LeeDaniels for #Cookie #Luscious & #Jemal #CANYOUSAYEPIC
Photos via Taraji P. Henson's Instagram
GROUPIE TALES: Self Proclaimed Mistress Details Her ALLEGED Relationships With Dwyane Wade & Lamar Odom, Says Wives Should Know Their Men Will Have Side Chicks!
Posted: 26 Feb 2014 01:32 PM PST
Mistress Sandrina Schultz spilled some tea on her alleged relationships with NBA ballers Dwyane Wade and Lamar Odom. Find out what she said inside...
Self proclaimed groupie Sandrina Schultz sat down with The Break Room co-hosts Robert Littal and Jill Munroe for a candid interview about being a side chick/groupie. She was named as Dwyane Wade's alleged side chick when news broke that he had impregnated another woman while he and actress Gabrielle Union were on a break.
And in between trying to convince folks that she LOVES being called a "groupie" and these men are groupies of women like HER as well (light skin, long hair), Sandrina sets the record straight on why she likes to sleep with athletes. And she goes on about whether she feels sorry for the wives/girlfriends of the men she sleeps with.
Highlights:
On if she gets offended when she's labeled a groupie:
Sandrina says she doesn't get offended when she's called a groupie because she has a certain group of man she's interested in, which so happens to be basketball players. So, therefore, she qualifies as a groupie. (Yes, she said this.) She says she's not going to stop pursuing this type of man just because someone calls her a groupie.
On her relationship with Miami Heat star Dwyane Wade:
Sandrina said she and Dwyane Wade have been friends for close to 10 years and said she was shocked to learn he had a "break" baby on the way. Actually, she said she was "hurt". Sandrina said she became friends with D. Wade when he started having marital problems with his ex-wife Siovaughn and claimed to still messing around with him when he got with Gabby Union.
On if she feels sympathy for the wives whose husbands she's dealing with:
Sandrina said she doesn't feel sorry for the athletes' wives or girlfriends, including Gabby Union. She said the women in their lives have to accept that their man, being that he's a professional athlete, will have girls on the side. She said that "they know what they're getting into when getting involved with an athlete." Oh.
On her alleged relationship with NBA baller Lamar Odom:
Sandrina alleges Lamar has been in her life for over 10 years and that she was messing around with him when he and Khloe Kardashian met. In fact, she said she was with Lamar as a guest when Khloe and Lamar met in a nightclub. And she further claims Khloe once sent a private investigator to her house to check on Lamar!
On if she thinks Khloe Kardashian Odom used Lamar:
No, she doesn't think Khloe was using Lamar. She thinks Khloe sincerely wanted to work things out with him.
Sandrina says she has a book coming out soon (of course!) where she will reveal other celebs she has messed around with. We're not saying we don't believe her--because none of this surprises us if true--but the way these jumpoffs are so ~proud~ of themselves shows how intensely basic-try has taken over.
Check the full interview below: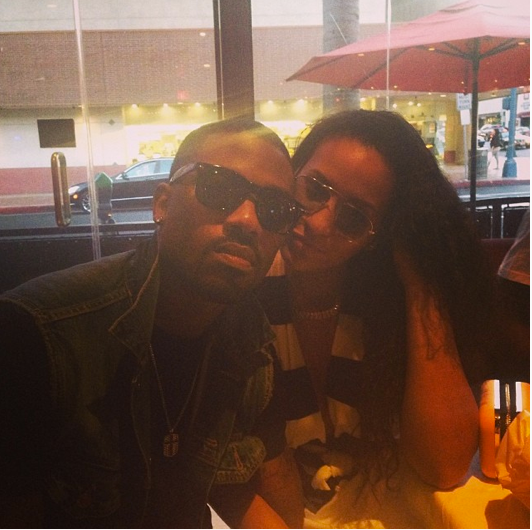 Tidbit: Seems like Sandrina may have a thing for R&B singers as well. She posted the picture above of herself and Ray J with the caption, "Good night from #rayJ and #sandrina #crustaceans "
Alrighty then...
Photos: Sandrina's IG

EVENT FAB: Michael Ealy, Nnamdi Asomugha & More Get Suited For ICON MANN Pre Oscar Dinner + Vanity Fair And FIAT Celebration Of "Young Hollywood" Party
Posted: 26 Feb 2014 12:21 PM PST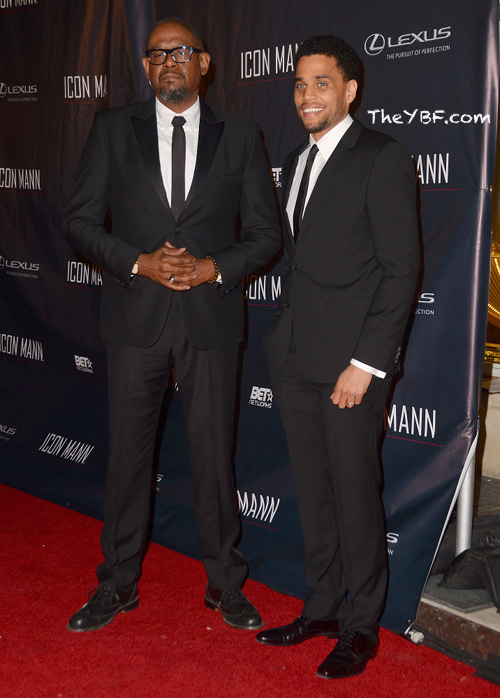 The ICON MANN Power 50 Pre Oscar Dinner party was held last night in Beverly Hills and we've got all the YBF folks who attended.
Plus, the Vanity Fair and FIAT celebration of "Young Hollywood" party was held last night in Los Angeles. Come inside and see Michael B. Jordan, Forrest Whitacker, Tracee Ellis Ross and more…
The 2nd Annual ICON Mann Power 50 Pre Oscar Dinner party went down at the Peninsula Hotel in Beverly Hills last night. Actor Forrest Whitaker and Michael Ealy looked dapper dressed in all black suits with matching black tie.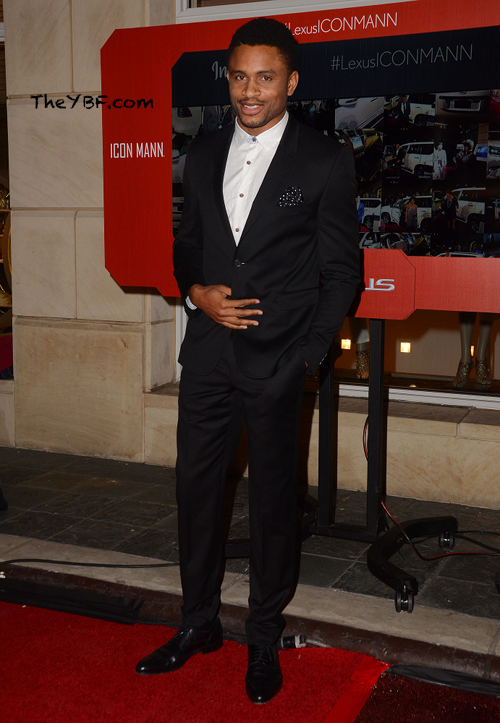 Newlywed Nnamdi Asomugha hit the red carpet solo leaving his pregnant wife Kerry Washington (who was probably busy working) behind.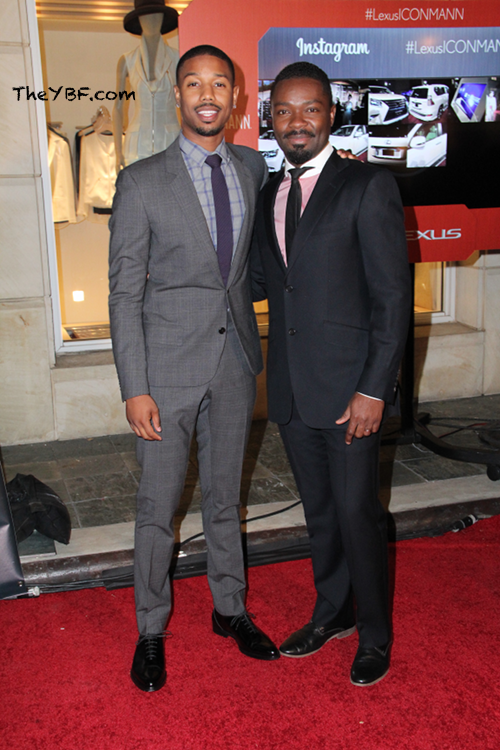 Actor Michael B. Jordan looked nice in his steel gray suit standing alongside actor David Oyelowo.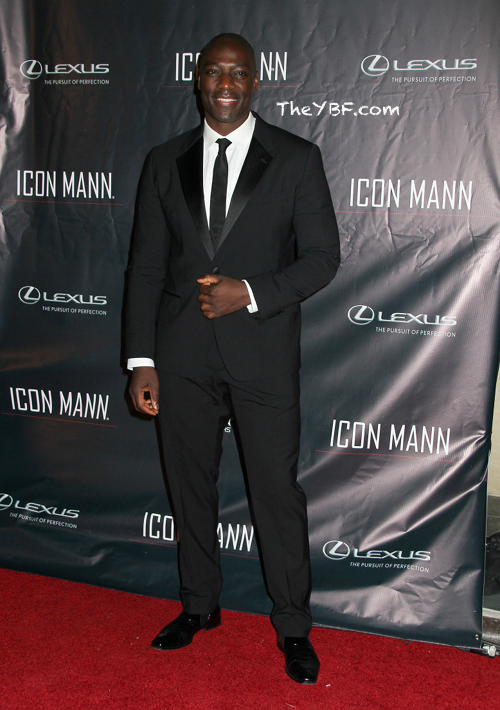 British actor Adewale Akinnuoye cleaned up nice.
NAACP Hall of Fame inductee Paris Barclay was all smiles on the red carpet.
Hottie Laz Alonso showed off one of the things we love the most on the red carpet...his smile.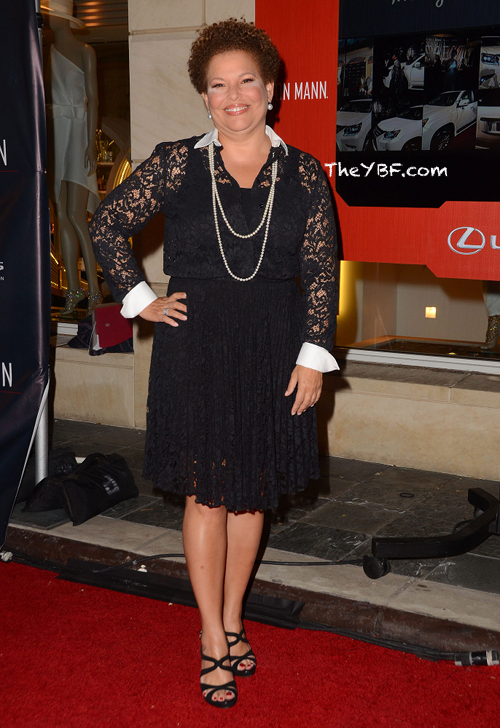 BET CEO Debra Lee was in attendance wearing a lace black dress with white accents. Is that...concealer?
And "Being Mary Jane" star Stephen Bishop kept it extra sexy on the red carpet. Yes Gawd.
And elsewhere in Los Angeles last night...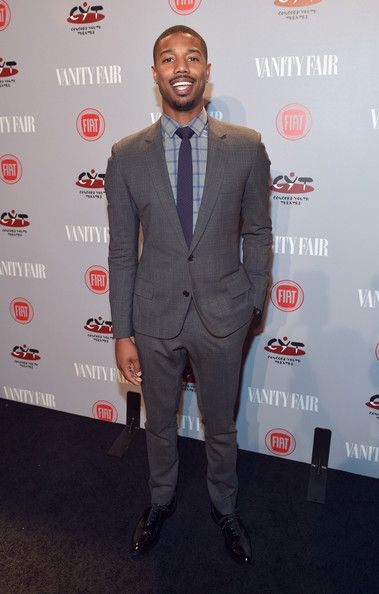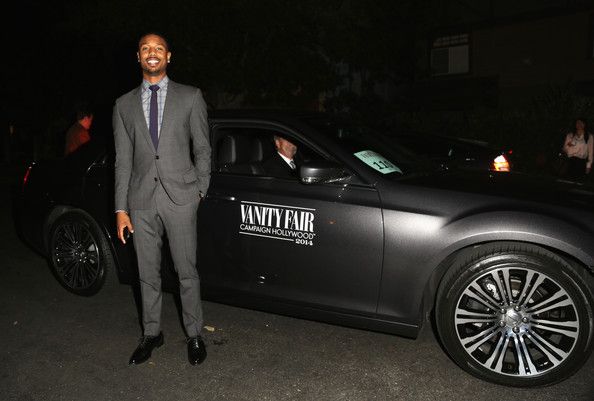 Michael B. Jordan was on double duty as he attended the Vanity Fair and FIAT celebration of "Young Hollywood" party last night after leaving the ICON MANN dinner in Beverly Hills.
Michael didn't even bother to change his suit from one event to the next. The difference between a man and a woman.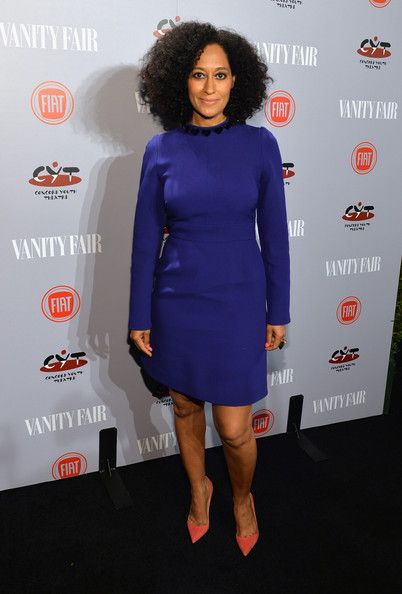 Tracee Ellis Ross looked beautiful in her long-sleeved blue dress paired with coral pointed pumps.
Zoe Kravtiz kept it cute decked out in all black.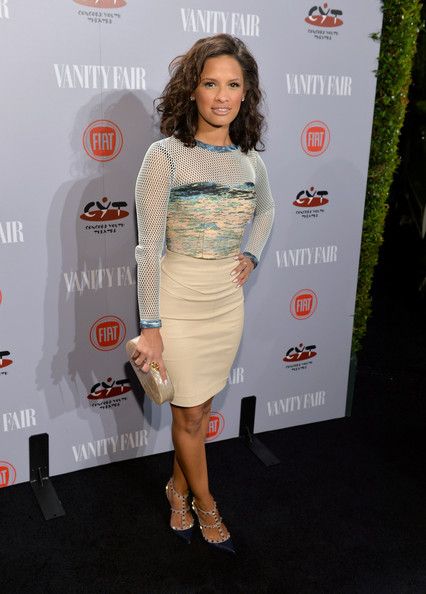 And "ET" correspondent Rocsi Diaz kept it interesting in a tan and blue long-sleeved mesh and watercolor dress.
Fab times!
Photos: Guillermo Proano/WENN.com/@firefly/Splash News/ Charley Gallay/Rachel Murray/Getty Images North America
BTS: Karrueche Goes BLONDE For ANNEX Magazine -- Do We Love It?!
Posted: 26 Feb 2014 11:28 AM PST
Chris Brown's girlfriend Karrueche Tran is switching up her look. Even if it's just for a new magazine shoot. Check out a behind the scenes peek at Kae's ANNEX magazine shoot, and decide if we love her blonde bombshell look...
Another day, another photoshoot for Breezy's girl Kae. As she spends her days partying and standing by her man who just graduated from anger rehab, Karrueche sets aside a little time to expand her modeling portfolio.
Last night, she shot for ANNEX magazine, and she went for a platinum blonde chop for the upcoming spread: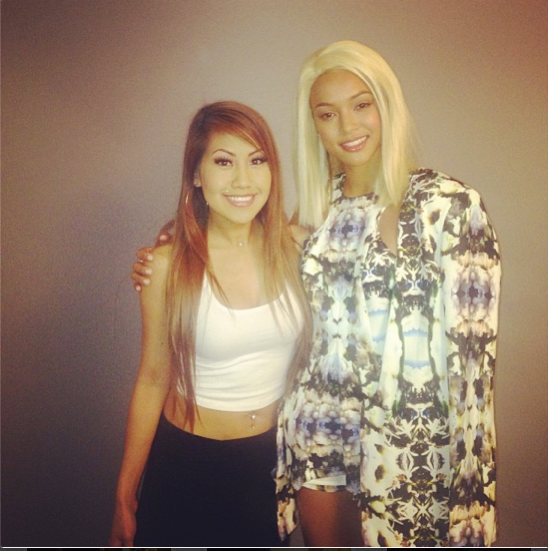 So...about this blonde wiggery we wouldn't be surprised if she kept for daily wear....
DO WE LOVE IT?!
Photos: Kae's IG
Rappers Eve and Azealia Banks Link Up At Paris Fashion Week + Zoe Kravitz Spotted At Universal Studios
Posted: 26 Feb 2014 10:00 AM PST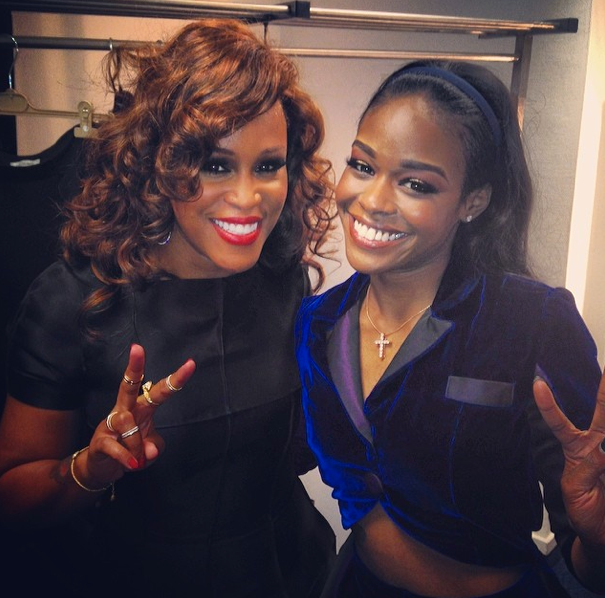 Eve and Azealia Banks made friends at Paris Fashion Week while Drake's other alleged boo Zoe Kravitz was spotted at Universal Studios. Check the pics inside...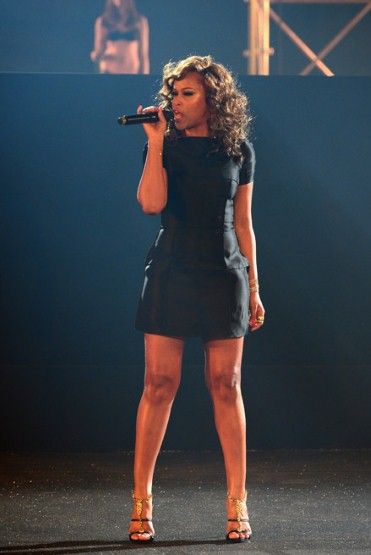 It looks like the "beef" between rap divas Eve and Azealia Banks has been squashed after the two femcees were spotted together backstage at Paris Fashion Week on Tuesday. Eve and Azealia Banks both performed at the Etam womenswear fall/winter show.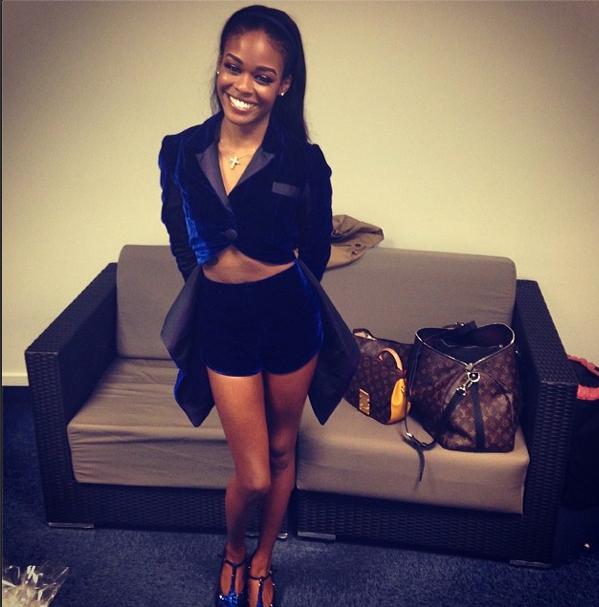 They both hit the runway alongside lingerie models and snapped pics together backstage.
If you hadn't heard, newly engaged Eve contacted Azealia for collaboration on a track for her Lip Lock album but Azealia decided to pass simply saying, "Im busy."
Eve told Power 105.1 The Breakfast Club last year, "She was doing her thing and poppin', so it could be that."
Azealia claims she was never aware that Eve reached out to do a track tweeting, "Def never even received a memo about collaborating! Def never turned you down."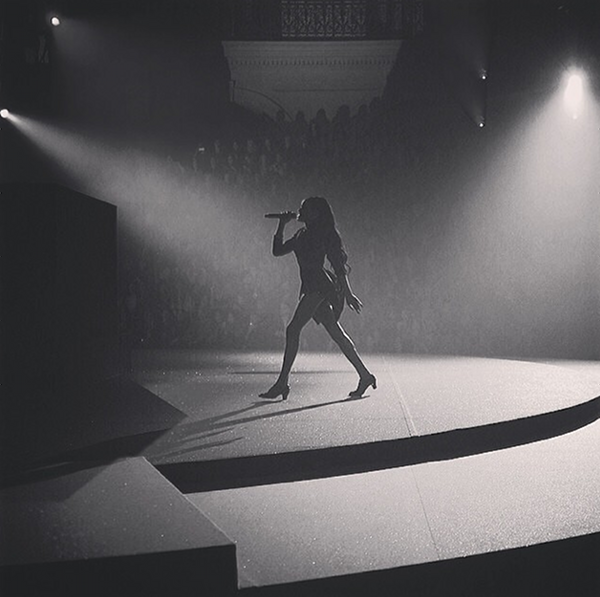 So it seems the girls have gotten past the miscommunication and seem to have grown quite fond of one another.
"Eve is such a nice lady! So happy to have performed alongside her tonight !!! Eve reminds me so much of my sister Latwan," said Azealia.
Meanwhile...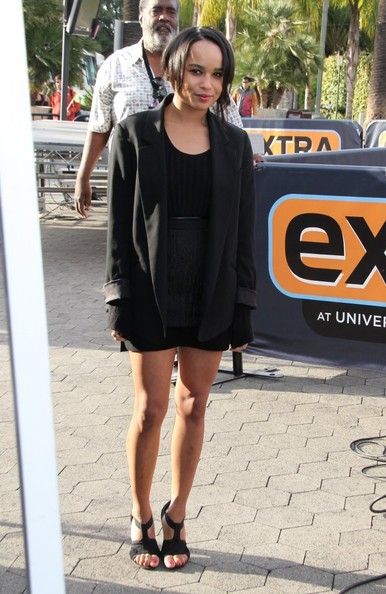 Actress Zoe Kravitz was spotted at Universal Studios for an EXTRA interview in Universal City, California.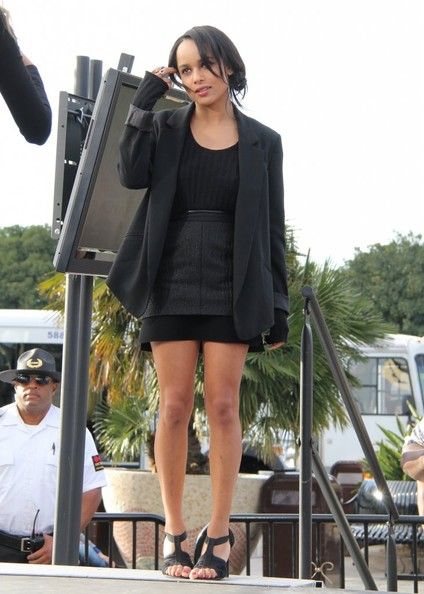 Drake's rumored boo was dressed in a black dress, black blazer and black heels and was all smiles as she walked to the stage.
Wonder how she feels about Drake and RiRi'srecent secret rendezvousand performance...
Photos: Getty/FameFlynet Pictures/Azealia Banks IG
EXCLUSIVE SNEAK PEEK: "Mary Mary" Season 3 Premiere - BETRAYAL & BREAKDOWNS
Posted: 26 Feb 2014 09:17 AM PST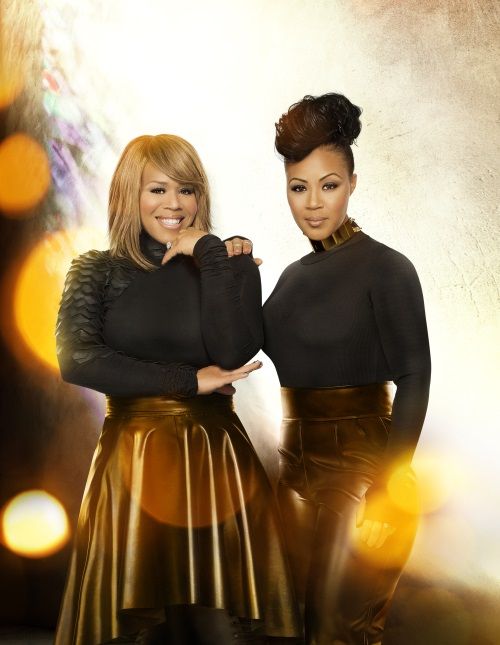 TheYBF.com has an exclusive sneak peek of the season 3 premiere of WE tv's hit series "Mary Mary". Watch it inside...
Are you ready for a third season of WE tv's hit series "Mary Mary"? You're in luck.....TheYBF.com has obtained an exclusive sneak peek at the season premiere and it's a doozy! Now, we don't usually watch the show, but it looks like ish is getting just juicy enough for us to start.
What will fans see this season? Tina shoot her EBONY cover and reveal her husband's cringe-worthy infidelity.
We'll also see Erica struggling as a solo artist and how she deals with connecting to her audience (without her sister). There's also manager Mitchell.... his job hanging by a string. Most importantly, the sisters will also deal with the untimely death of their father.
Check out an exclusive clip below:
Catch the season three premiere of WE tv's "Mary Mary" Thursday, Feb. 27 @ 9PM E/P.
BONUS: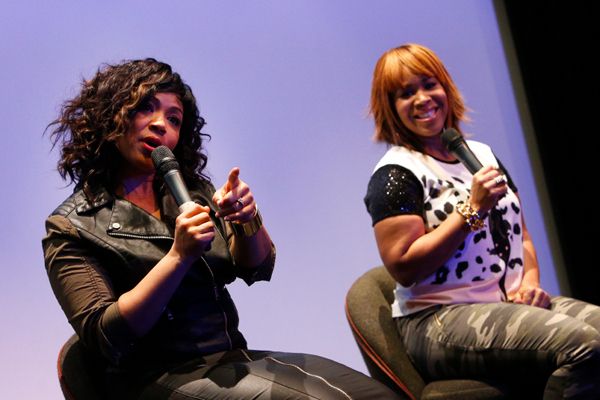 Tina and Erica Campbell took audience questions after the screening of the premiere episode last night at the Crosby Street Hotel in NYC.
Photo: WE tv/Jason DeCrow