---
CAUGHT UP: Indiana Pacers Star Paul George Denies Offering Woman $1 Million For Abortion...Says He's Waiting On Paternity Test!
Posted: 07 Feb 2014 08:07 AM PST
Paul George seems to be caught up in a heap of a mess that could have cost him a while lot less had he just used that new invention called a condom. Deets inside on the woman the Pacers baller may have knocked up...and who he ALLEGEDLY cheated on....
Knocking up (alleged) strippers is apparently many professional athlete's favorite past time. Because yet another story involving an NBA star allegedly cheatin gon his girlfriend with an alleged stripper and allegedly knocking her up has surfaced.
Paul George, the 23-year-old star of the Indiana Pacers, is now caught up in some ish.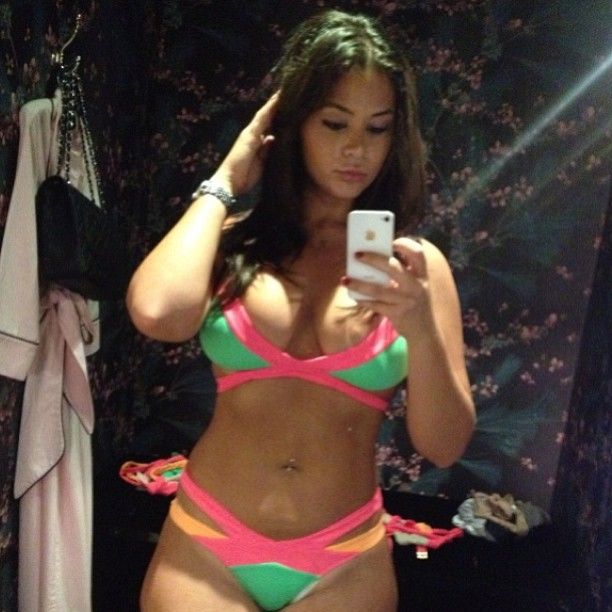 Rumors circulated this week that he reportedly offered a Miami woman named Daniela (pictured above), who is allegedly a stripper, $1 million to abort the baby she reportedly claims he fathered.
The twosome have known each other at least since last June where they definitely partied together at a yacht party in the MIA. But the owner of the yacht says he knows nothing about their relationship and he's keeping his lips sealed. Hmmm.
Now, reports say that Daniela told Paul in November that she's pregnant with his baby. She even posted selfies of herself flaunting her baby bump and posing with balloons that say "It's A Girl!". You can check out those pics over at Black Sports Online.
Paul denies he ever offered Daniella money for an abortion, but he doesn't deny it could possibly be his kid.
In a statement today, Paul said:
"If and when there is legal confirmation that I am the father, I will fully embrace my responsibilities. This is a personal matter that is still being sorted out, so I hope you can respect my privacy. "
Oh, but there's more! A baller knocking up an alleged stripper. No big deal when we've heard it all before, right? Well, it's a big damn deal when said baller is reportedly cheating on the daughter of a super famous NBA head coach!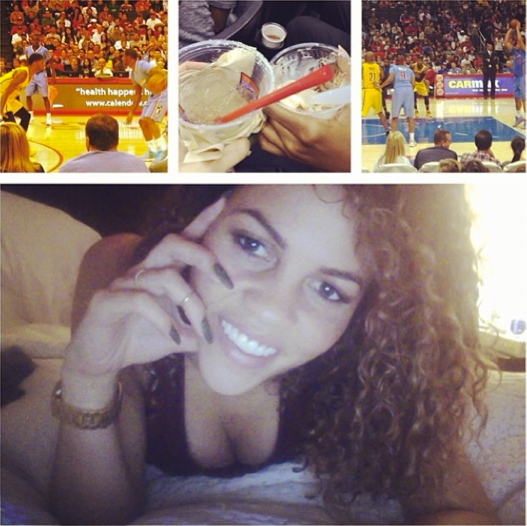 We hear Paul has been dating Callie Rivers (pictured above), the daughter of LA Clippers head coach Doc Rivers, for a while now. This past December she even posted pics from courtside at a Pacers game...and Paul is in the pics.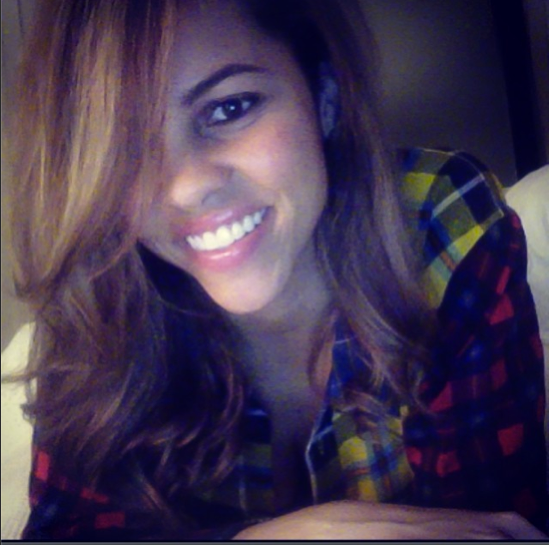 Callie is a gorgeous volleyball player at the University of Florida. And her brother, Austin Rivers, plays in the NBA for the Pelicans.
When Indiana takes on New Orleans again, ish will be awkward.
The Randomness:
1. Oprah and other celebs joined Jay Leno on his farewell show last night. STORY
Photos: Callie's IG/Black Sports Online/Paul's IG
IT'S REALLY OVER? Was Keyshia Cole's "You Can Have Him" TWEET Aimed At Daniel Gibson's ALLEGED Stripper/Mistress?!
Posted: 07 Feb 2014 07:09 AM PST
It looks like Keyshia Cole has washed her hands of hubby Daniel Gibson amid rumors he's been stepping out with a popular Houston, Texas stripper. See her tweets inside.....

We've been following the troubled marriage of Keyshia Cole and Daniel Gibson for a few months. With every tweet, Instagram caption of candid photo, we've wondered if they on the rocks, on the mend, on the fence, or simply finished. Now....it looks like the latter.
Who is the "boo" in question?
You might recall us telling you about HTown Ciara, a young "visual artist" who's been on the receiving ends of several stacks of Daniel's hard-earned NBA cash (meanwhile, Keyshia is on the hook with the IRS for $150K). Though the picture above was snapped months ago, word on the street is Daniel is STILL making it rain on Ciara.
Back to Twitter.....
In addition to shouting out her own song, "I Should Have Cheated" Keyshia posted this on IG, "It's a respect thing. No hate. Being honest and truthful May seem harsh or uncalled for at times. But relationships last longer that way. I guess that's just knowing the one you love tho. GNight. No love lost. God got me to this point. He's the only one who can take me out."
In case you're wondering, Daniel has been silent on social media....we imagine he has a handful juggling Ciara and her talents. For Keyshia, she and manager Manny Hailey are working on her next release.
Photos via Keyshia Cole's Instagram/Daniel's Instagram
Alicia Keys -- Becoming A Mom Made Me A FEMINIST!
Posted: 07 Feb 2014 05:57 AM PST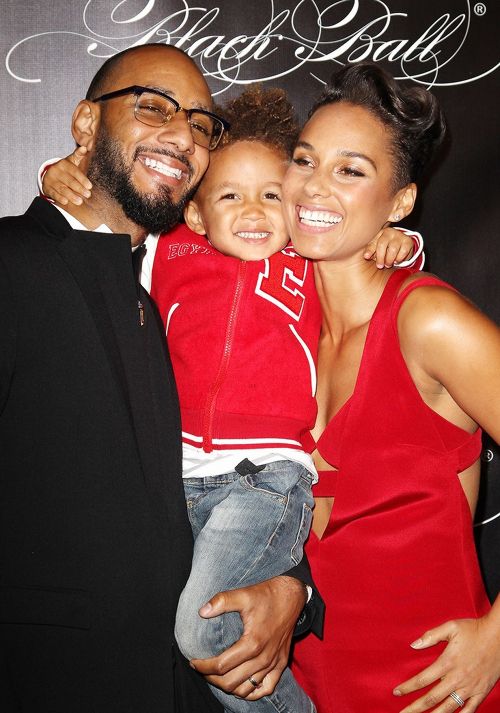 After popping out baby Egypt three years ago, Alicia Keys says that major milestone in her life turned her into a feminist. Find out how the "Superwoman" says motherhood helped her see the beauty and power of womanhood....
With the black feminist movement becoming a major faction in society these days, celebs are flexing their power of the pen (and mouth) to speak on the social & political issue. From Beyonce to Queen Latifah to controversial journalists, many are getting in where they fit in on the subject. And we're loving it.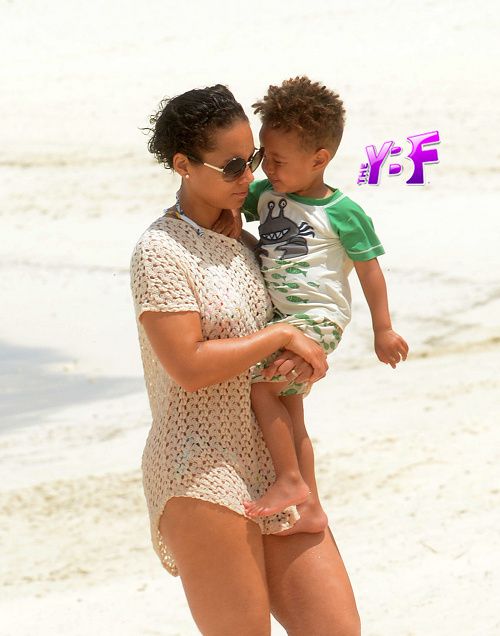 Alicia Keys recently spoke to MSN's Wonderwall about why she's become a feminist after becoming a mom.
On the most difficult part of motherhood:
"The trickiest part of being a mom is the balancing act of [doing] all the things that I love like producing films ... and making music and going on tour. It's just a balancing act between all the work and family and life and things that all of us, any woman who's a mother and has a family, understands and has to go through. That's probably the most difficult part."
On the part of motherhood that, surprisingly, she finds easiest:
"The most unexpectedly easy part is really -- insanely enough -- the really early mornings and late nights. [Laughs.]"
On how having a son has made her more of a feminist:
"I am honored to be raising a son and to be the example [for him] of what a woman is, should be or can be -- I find that to be a really powerful position. … My mother was an absolute self-pronounced feminist. I think I have that same desire to uplift the female race, so to be able to raise a man who can also uplift and respect women in the world is a really big honor."
On how her perspective of the world changed when she became a mother:
"Things become so much more poignant and so much more real to you. I've always been empathetic. I've always been a compassionate human being who sees people in struggle and wants to supply a friendly ear, conversation, assistance, love, a voice, something. …[But] the things that are going on in the world, you feel them more closely knowing that your son or daughter has to go out in that world and win or function or have a positive outcome. So it really does change things so much."
Great outlook from Mrs. Keys Beatz.
Photos: Splash
NeNe Leakes & More Go RED For The Heart Truth Red Dress Collection 2014 Show
Posted: 06 Feb 2014 08:00 PM PST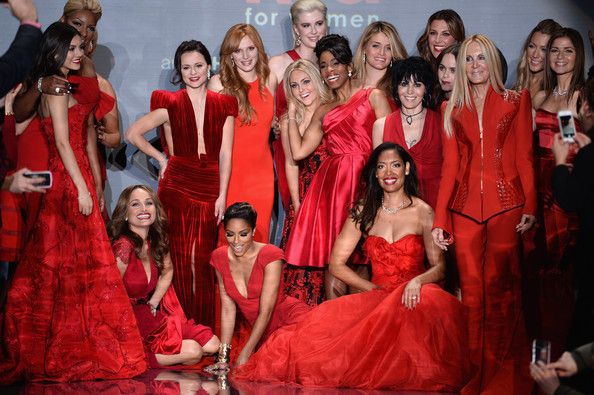 NeNe Leakes was amongst the celebs who walked in Thursday night's annual Heart Truth Red Dress Collection Show. Check out what a few of the YBF chicks wore for the NYFW show with a cause...
As usual, the Go Red For Women - The Heart Truth Red Dress Collection 2014 Show kicked off fashion week tonight at the Lincoln Center. And in honor of American Heart Month, the Go Red For Women campaign, with the American Heart Association, partners up with Macy's to show off fabulous red dresses to raise money for the cause.
NeNe looked nice hitting the carpet in Dolce & Gabbana.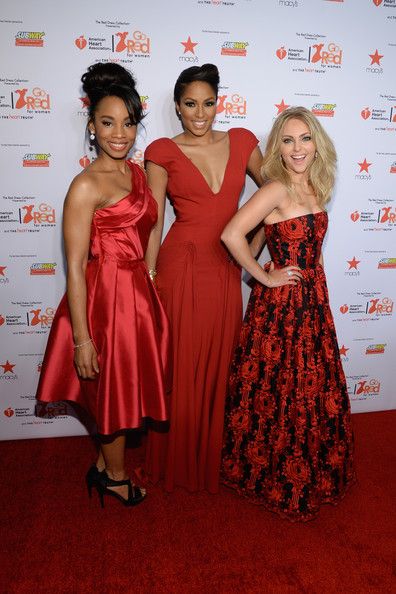 E! News correspondent Alicia Quarles posed it up with Broadway star Anika Noni Rose and "The Carrie Diaries" star AnnaSophia Robb, who rocked Alice + Olivia.
Anika rocked Pamella Roland while hitting the runway.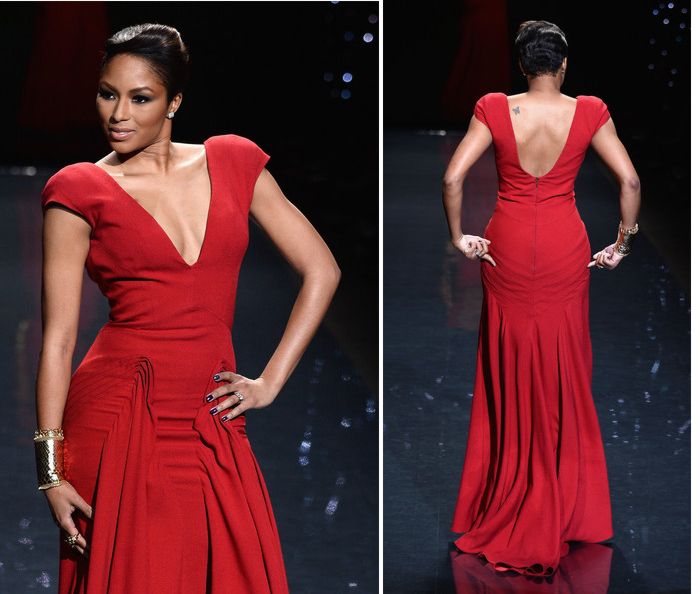 And Alicia rocked a sexy Zac Posen dress on the runway.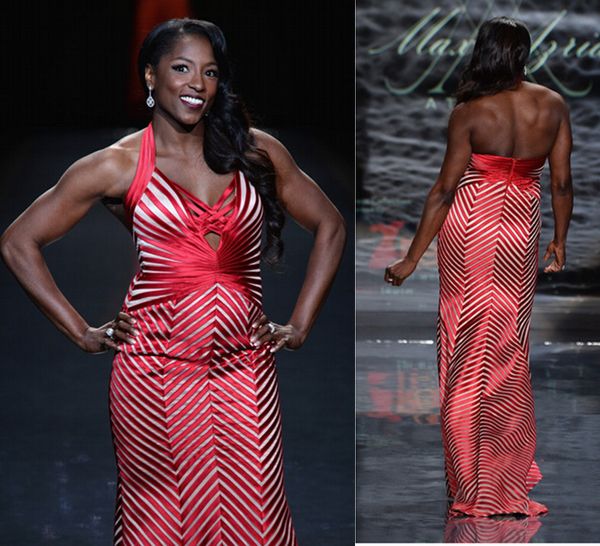 "True Blood" star Rutina Wesley, who recently got a divorce, showed off her guns in a Max Azria dress.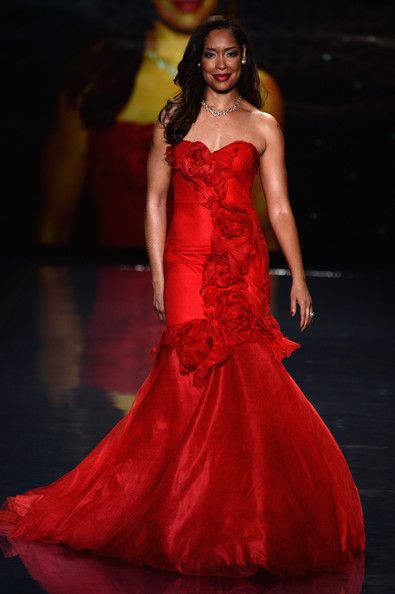 Actress Gina Torres, wife of Laurence Fishburne, looked gorgeous in Marchesa.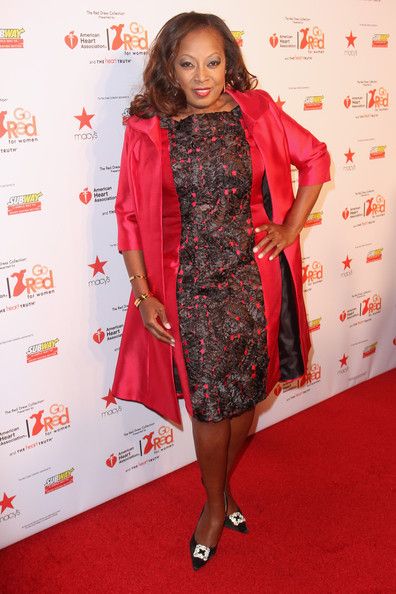 AHA National Volunteer Star Jones spoke at the event since she's had her own experience with heart issues.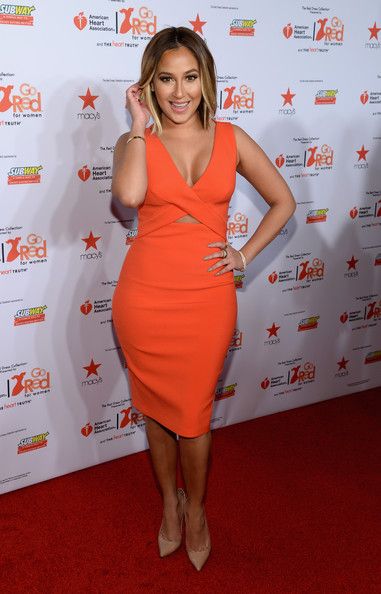 Adrienne Bailon rocked her cute blonde new cut and a tangerine cut-out dress.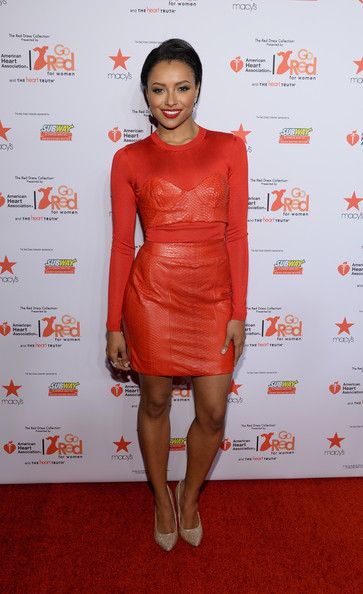 And "The Vampire Diaries' star Kat Graham rocked a sexy snakeskin red leather dress for the cause.
Photos: Getty
Get Under Nicki Minaj's Wig -- Rapstress Gives Us Natural (Hair) Hotness In New Pics
Posted: 06 Feb 2014 01:53 PM PST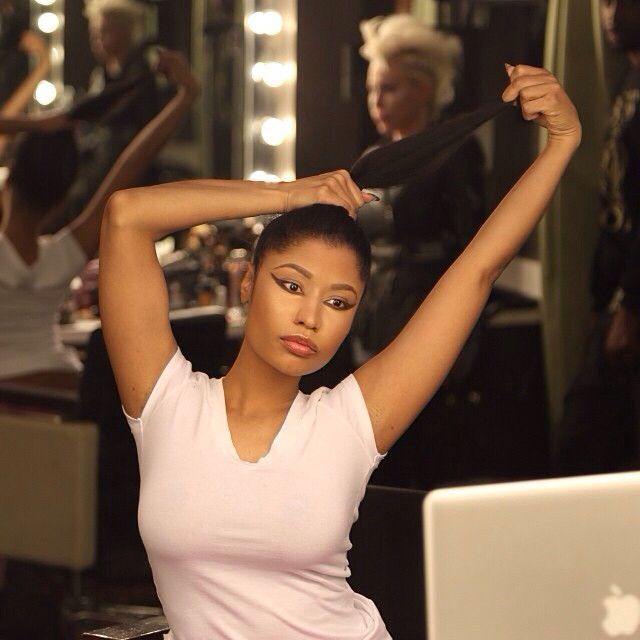 We've become accustomed to seeing her with clown-like makeup and equally clownish wiggery, but rapstress Nicki Minaj just showed us she can tone it all down and give us her real self. Well, her real hair & a new toned down style of makeup at least. And less is indeed more.
Get up under Nicki's wig inside...
It's not clear what project this is for, but Nicki Minaj is showing that she can be a pretty girl without all the over top makeup and wigs. And we actually like the toned down look much more. It reminds us of when she first came out pre-unconfirmed-but-we-all-know-Brazilian-Butt-Lift.
Nicki, who recently helped three up and coming rap chicks (P.T.A.F.) land a deal at Universal after she jacked their beat and rapped on it, said this is her with "No perm. No extensions." It's not the first time she's thrown pics of her natural un-wigged hair out to her fans. We guess she just wanted to remind folks she's a wig & weave wearer by choice.
Peep the rest of the pics with Nicki in her pasties and stripper-like gear: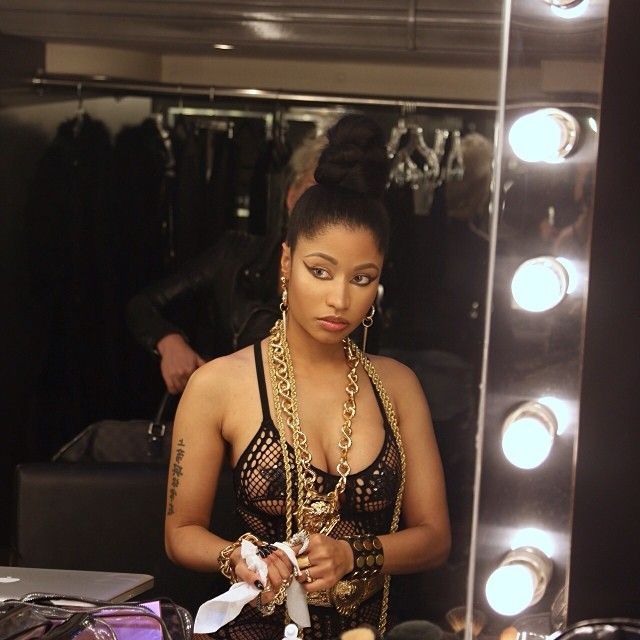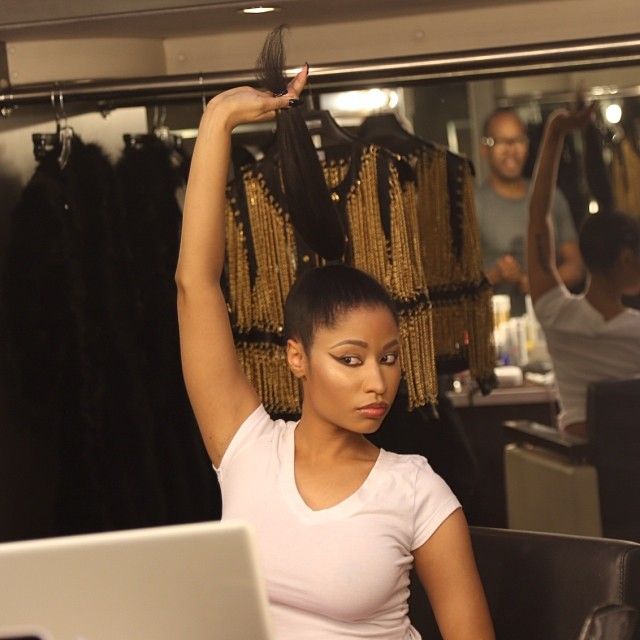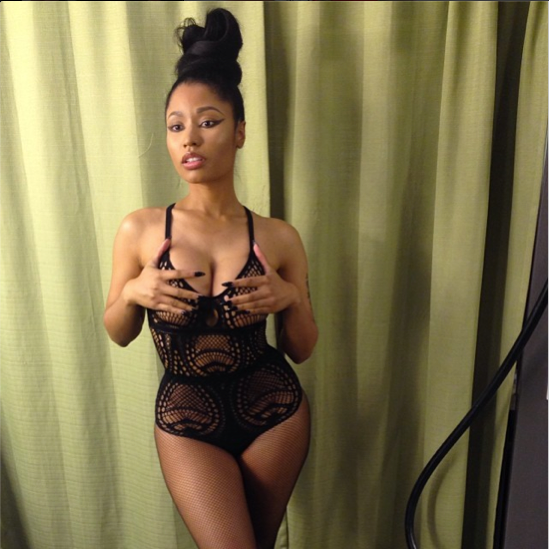 The Randomness:
1. Oprah Winfrey is gearing up for her Broadway debut alongside Audra McDonald in "Night, Mother". STORY
STILL MAD! Mama Joyce BLASTS Kandi Burruss' Fiance Todd Tucker AGAIN, "I Just Don't Feel Him"
Posted: 06 Feb 2014 01:18 PM PST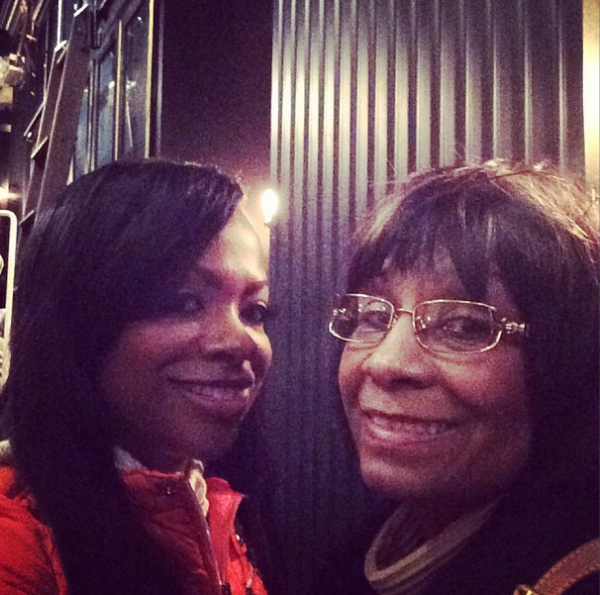 Kandi Burruss' mom is still speaking out against her fiance Todd Tucker. Watch the most recent cackle-worthy interview inside....
All season, "RHOA" fans have watched Mama Joyce voice her disdain for Kandi Burruss' engagement to former "RHOA" exec Todd Tucker. Recently, Mama Joyce appeared on CBS Atlanta's Morning Show to revisit some of those opinions.
While we didn't learn anything new, you do see how passionate and protective of Kandi she (still) can be. We guess seeing herself on tv this season changed nothing.
According to her, Todd isn't the best man for Kandi.
"I just don't feel him. That's just been a feeling that I had for a long time. I feel like this is a good opportunity for him because most producers when they go from one job to another job, very few take a year off to get their lives together. Now he says he's working on something right now and sure he is but if he didn't have her he wouldn't have this opportunity."
But....this wig though....
As we twiddle our thumbs for this Sunday's continuation of the epic pajama brawl, Watch the interview here:
Photos via Kandi Burruss' Instagram
LOST AND FOUND: Rapper Scarface's Son With Autism FOUND Safe And In Good Condition + Missy Elliott EXPLAINS Absence From Music
Posted: 06 Feb 2014 01:05 PM PST
The 20-year-old son of rapper Scarface, who was missing for a week, has been found. See the news report inside and find out where Missy Elliott has been.....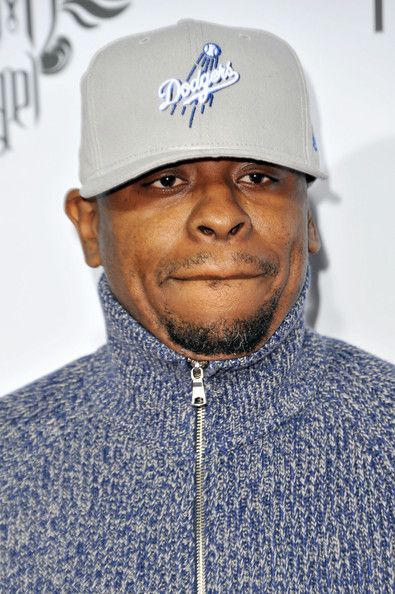 We are happy to report that Brandon Jordan, the 20-year-old son of rapper Scarface (shown above), has returned home to his mother after frightening reports hit the news today. Brandon, who has autism, was reported missing in the L.A. area on January 29, after his mother Melissa Lollis, told KABC that he became "agitated" and "stormed out of the house with nothing."
Here's the initial KABC report:
Since the segment aired, KABC has updated their initial report this afternoon saying Brandon, "has been located and is in good condition."
In music news.....
Missy (along with Timbaland) crafted some of the biggest hits of the 90s and early 2000s for folks like Aaliyah, SWV and Total, but she's been missed from the industry lately. During a chat with Yahoo!'s "The Yo Show," Missy discussed her 9-year hiatus and why she's taking her time to release new music.
"When I create something, it's gotta be special and it can't just be to throw something out there because I feel like I'm Missy. I gotta feel like what I'm giving the fans is 100 percent and that it's game-changing. I don't just throw out microwave records."
Though she released two singles in September 2012, "9th Inning" and "Triple Threat," her seventh album Block Party has been delayed.
"Just being inspired by things is what I'm grabbing for because music is different now. Not to say that it's bad, it's just different now, so I'm just trying to make sure that what I give is 100 percent because I know that expectations is high from my fans and it's high of myself."
Is Missy done with recording? The answer is no. She said, "It's coming. I just ain't telling nobody when." In the meantime, fans will be pleased to learn that Missy worked with Faith Evans on her upcoming album Incomparable. FUN FACT: Missy lived with Faith Evans before she became famous!
BONUS:
While plans for a Drake-produced Aaliyah album have been dropped, the rapper has continued to play songs he created with producer Noah "40″ Shebib. In an interesting twist, "40" revealed that he's not on-board. He told ROLLING STONE, Aaliyah's mother didn't approve of the project and personally told him she didn't want it out. "We released ['Enough Said'], but I was seven songs deep. "[Aaliyah's] mother saying, 'I don't want this out,' was enough for me. I walked away very quickly."
Here's another sample of what Drake played at a club in NYC:
Photos via Getty Images
Michael Ealy Finally Dishes On His Marriage...And How His New Wife ISN'T His Type
Posted: 06 Feb 2014 11:50 AM PST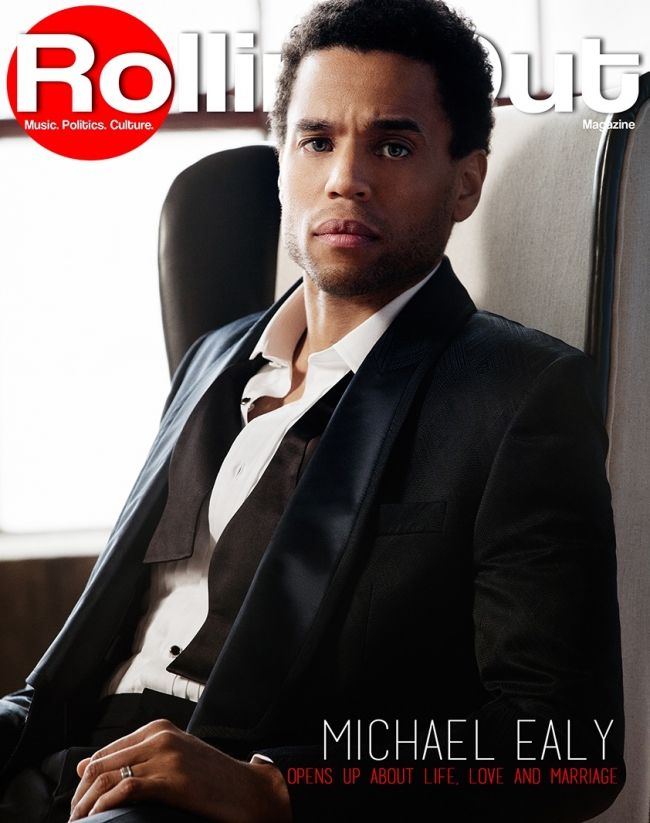 His unexpected wedding announcement shook everybody up a little over a year ago, and now, About Last Night star Michael Ealy is opening up about love & marriage. Oh, and why his wife isn't actually "his type".
Check out the green-eyed hottie serving up what we've been waiting for inside....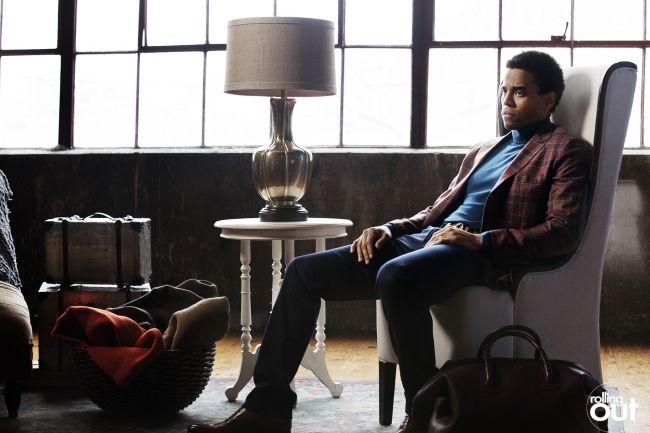 When news rang out that Michael Ealy was officially off the market, we needed more deets than that. He secretly married his (secret?) girlfriend of four years Khatira Rafiqzada in October 2012, but the sexy actor remained mum on any extra details...until now.
In the new issue of Rolling Out, Mr. Ealy tells us what made him finally stop playing games and pop the question, how he knew the time was right, and dating "his type".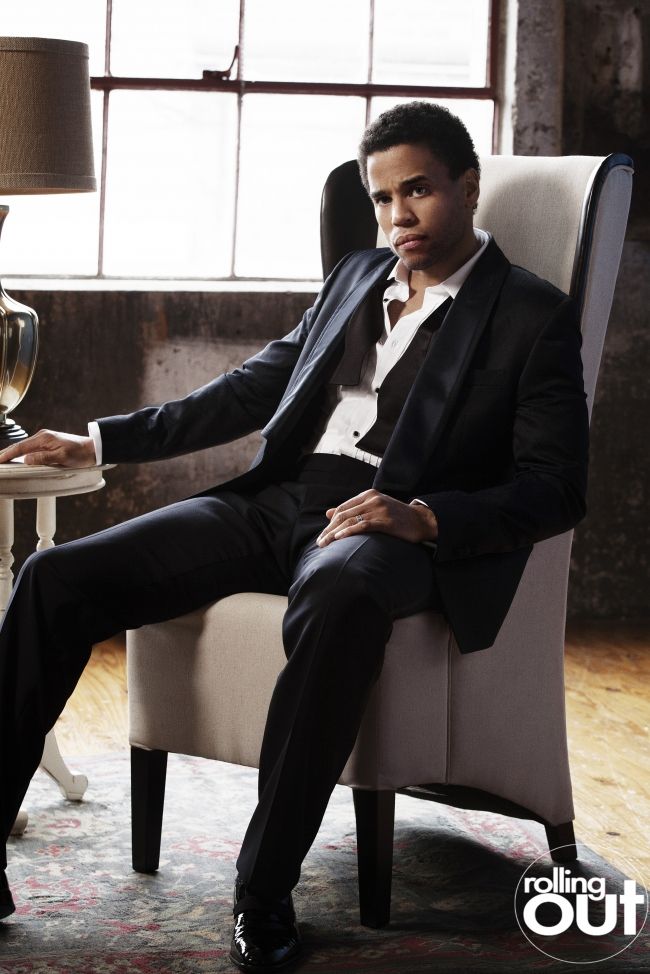 Here's the excerpts:
I think it caught a lot of people off guard when you got married. Why was it the time right to take such an important step?
Well, you know me, and you know that I am an extremely private person. But what I can say is that I'm not a young cat anymore. I've gone through my share of relationships, which ironically enough, I think have contributed to the work that I've done in some of these relationship films. I can relate to Danny in this new film, because I was him. So when I watched the film I was so happy that I had matured beyond that point in my life. Don't get me wrong; marriage opens up an entirely different can of worms as it pertains to your evolution as a man. I've found that for me, the timing of it was right … that's all that I can really say. And that's a personal decision that was not made in haste, because we were together for four years. But when you find someone — and that's something that is very hard to do … but when you find someone that you actually want to spend the rest of your life with, you have to go for it. I was just very lucky that the stars lined up for me.
Now that you have made your decision, and you're happily married, what is a piece of advice that you can give to other men who may be contemplating that next big step?
While, I don't consider myself a person that should write a book, or give advice on relationships, what I will share is my personal perspective. What helped me along the way was I had two personal friends of mine whose fiancés died. And I went through a personal struggle where my father got really sick, and I spent a week with him … and it just dawned on me that we don't have as much time as we think. And when you're done playing games, and you find someone who has qualities that are much more practical as opposed to romanticized ideals, then you've got to hold on to them.
And he even addressed why he didn't marry "his type":
People think that you're supposed to marry your type … well, I didn't marry my type. It's much more practical, and based in a day-to-day existence. So when you have that, and you're happy, and you love her, don't waste time. Because time — and I've learned that at this point in my life — time is my most precious commodity. Nothing is more precious than time. Because when it runs out … that's it.
Not sure who "his type" was, but she's totally the type we saw him wifing.
Check out the full interview HERE where he also discusses wanting to shed his rom-com star image to play a villain.
Images by DeWayne Rogers
Why Is Justin Bieber SHOWING OFF His PECS And PARTYING With Diddy, Jermaine Dupri, Rick Ross & Wale In Atlanta?
Posted: 06 Feb 2014 10:50 AM PST
Justin Bieber's "hood pass" got stamped last night as he was "approved" by everyone from Diddy and Rick Ross to Trinidad James and Lil' Scrappy. Watch the Biebs party in the ATL inside....
We hope all the weed smoking, club hopping and drag racing isn't Justin Bieber's way of "connecting" to the Blacks, but whatever he's doing...it's working. Last night, Justin (along with his "Ride Along" pal Chantel Jeffries) partied with Diddy and ALL OF YOUR FAVORITE RAPPERS at his party at ATL hotspot Vanquish.
Also, in the photo atop, he was spotted in a recording studio with Wale, Diddy and JD. Why though? We actually really want to know...
The only thing we DO know is, Diddy just announced he will serve as co-executive producer along with Rick Ross on "Mastermind," the sixth studio album from Mr. Rozay. It's scheduled for release on Tuesday, March 4th on Maybach Music Group / Def Jam Recordings.
Back at the club, TMZ copped a few pics of the plenty of rappers who seem to have just taken Justin under their wing: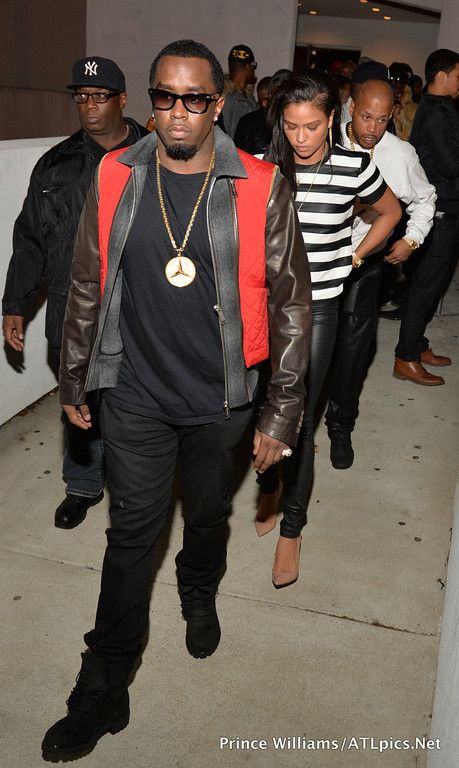 Cassie followed closely behind Diddy.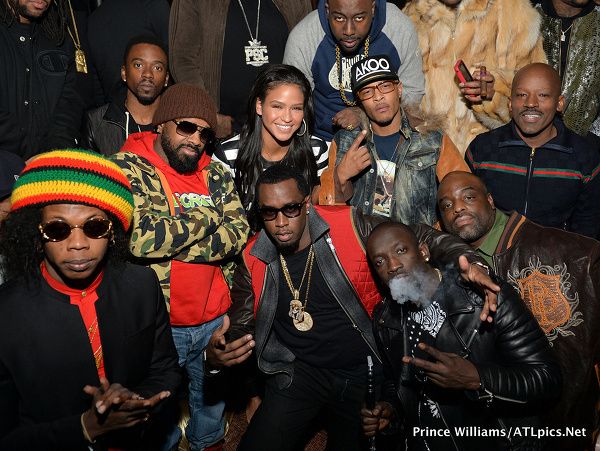 The hookah pipe was passed around, as Akon posed with JD and T.I.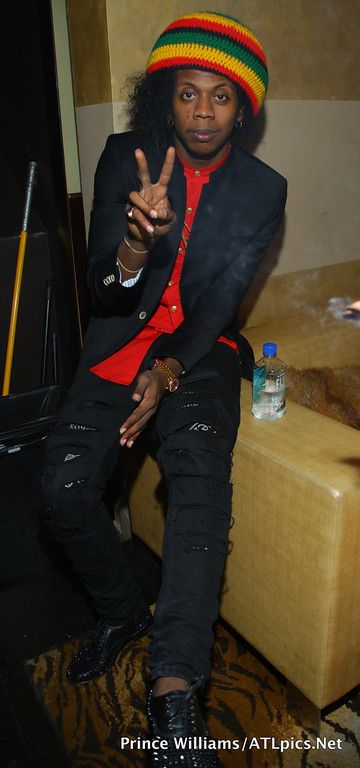 Trinidad James was there.
Erica Dixon and Karlie Redd were there. They obviously went to Diddy's party BEFORE the fight that went down over at Sleazy and Zino's.
Lil' Scrappy looks like he's been cashing a few checks. We wonder if he and Erica still battle over child support.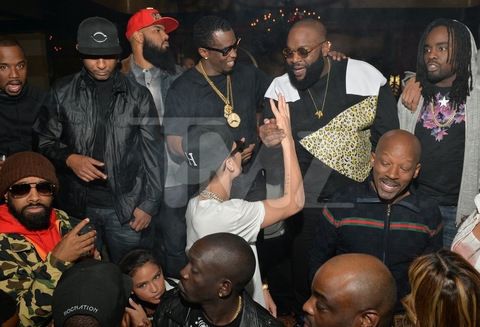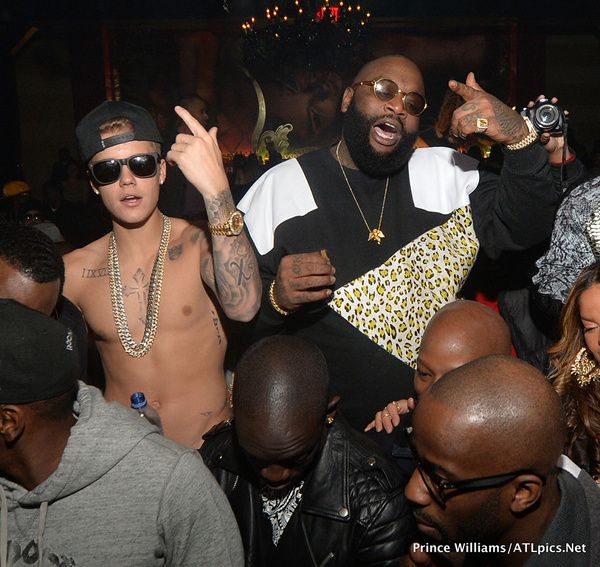 Now that he's got an arrest under his belt, it's amazing that Justin has been embraced by hip hop. What if this situation were flipped? How many White celebrities flock to troubled Black rappers and actors? How many YBF folks flock to their own when they're in trouble? Just food for thought...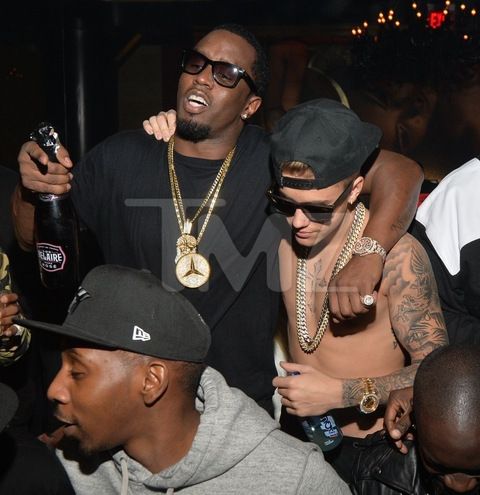 In case you missed it, Justin's shirt came off and Diddy DENIED that he and Cassie are engaged.
SIDEBAR: What does it feel like to be Chantel Jeffries right now? In under three years, she's gone from 5-mugshots (that she has excuses for) to posing in barely in clothes for Draya's Fine Ass Girls collection to popping ACE Champagne with Diddy and traveling the world with Justin Bieber.
She also claims to be a full time student who "doesn't have any interest in this life"...
Photos via Hot 97's Instagram/TMZ/Prince Williams

Angela Bassett Gets Flawless For EBONY, Opens Up About Insecurities + Selah Marley Shows Off Her Modeling Skills In The Snow
Posted: 06 Feb 2014 10:31 AM PST
Angela Bassett serves up flawlessness with zero effort. And that's why we love her. Check out the "American Horror Story: Coven" actress gracing the cover of EBONY inside, plus little Selah Marley being pretty in the snow...
As EBONY salutes Black Hollywood in their March 2014 issue, Angela Bassett, who recently starred in the musical Black Nativity, is gracing the cover.
She may be strong, poised and resilient, but the mom of two is also opening up to about her moments of doubt and insecurity.
As the actress (who's actually super bubbly in real life) reflected on moments when it was hard to secure a role, she offers the following advice on how to keep going:
"You've got to keep a good attitude. You can't think, 'This is it [during the lean times], because that's when it's going to break open for you. You've got to be ready; you've got to be prepared."
"Whatever you're dealing with seems like a mountain to you, but we truly aren't in it alone. Sometimes we need others to talk us off the cliff or to just talk to us or to be there with us [in order] to support us or love us."
Despite being a part of Hollywood's elite and being armed with an Ivy League degree from Yale University, Angela also discussed why pursuing excellence and staying grounded is so important to her.
"I understand where I come from; the strength and the people I come from. I know what has been endured and sacrificed."
This issue, on newsstands now, reveals never-before-seen images of our biggest celebrities and crowns the next generation of stars.
And sepaking of the next generation: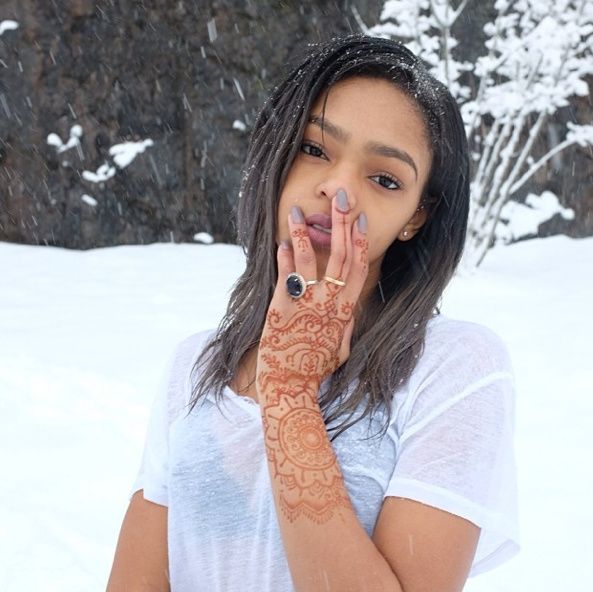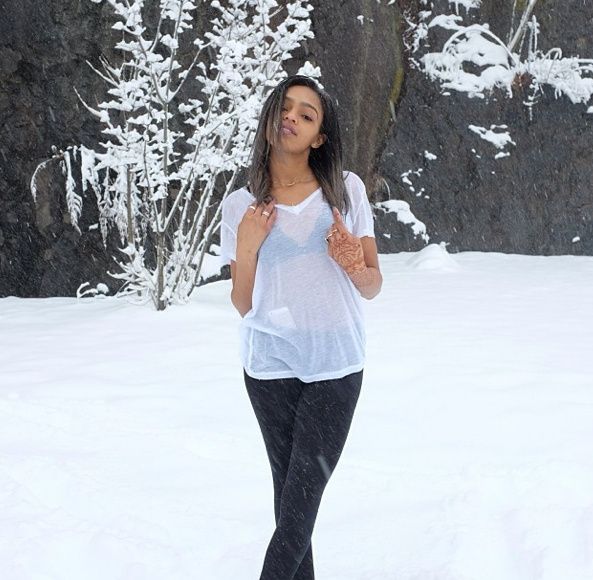 One of our fave celeb-u-spawns is showing off her modeling skills in the snow. Selah Marley, the 15-year-old daughter of Rohan Marley and Lauryn Hill, braved the arctic freeze and snowstorm in a burn-out tee and pants recently. And she posted these effortless pics to her IG.
Selah's already been featured in modeling shoots for publications like Teen VOGUE. We definitely see a future in the modeling world for her.
Such a cutie!
Photos: Selah's IG/EBONY
LaLa Anthony Is Officially A NYT Best Selling Author + LeBron James Gears Up To produce Another STARZ Series
Posted: 06 Feb 2014 09:23 AM PST
Well, it's official. All the relationship book hustlin' LaLa Anthony has been doing lately has landed her on the NYT Best Sellers List. Deets inside, plus LeBron James' newest STARZ series in the works...
Her hubby Carmelo was the first to congratulate her on the big accomplishment as he posted the above pic with a few sweet words. This week, reality star and makeup guru LaLa Anthony saw her The Love Playbook skyrocket to #1 on the New York Times Best Sellers List.
And all her advice she compiled from her celeb besties, family and friends about weddings, marriage, sex and surviving rocky times has given her a new notch on her career belt.
Her debut book came out the gate selling strong, according to the press release, and those sales continued to rise steadily throughout the week.
Congrats to LaLa!
And in other major business moves, Miami Heat star LeBron James has another tv series in the works. It's a comedy series that's giving us "Entourage" (the NBA star version) tease.
The half hour series is titled "Survivor's Remorse". It follows fictional character 'Cam Calloway' in his journey through a very real subject--how pro athletes deal with navigating their new & huge life with their family and old friends from around the way. Cam and his cousin move from Georgia into their new life in Atlanta where Ca has a multi-million dollar basketball contract, and have to navigate relationships with opportunistic family members and those still living in the poor community they came from.
It happens all the time with pro athletes, and Executive Producer LeBron is showing the struggle in a comedic way. Starz will premiere the six-episode first season in the fall.
The Randomness:
1. Pharrell, Kendrick Lamar, Janelle Monae and more have been named for the big NBA All Star Weekend 2014 performance line up. STORY
Photos: Caermelo's IG/Getty