---
SERIOUSLY? Fantasia's ESTRANGED Baby Daddy Antwaun Cook Brags About Bagging Fanny, CALLS Rickey Smiley A JEALOUS DOWNLOW Queen & More!
Posted: 12 Dec 2013 08:57 AM PST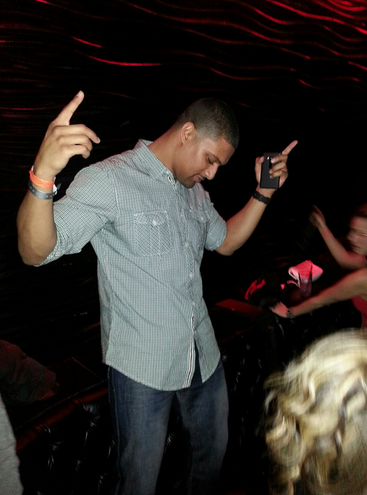 Antwaun Cook, one of the internet's worst husbands, posted a nasty tirade aimed at funnyman Rickey Smiley where he accused him of being jealous, closeted and a "paper" member of Omega Psi Phi. Not to mention he sem-bragging about bagging Fantasia. Read the rant inside....
A few days ago, we posted Antwaun Cook's return to the spotlight (via Instagram) where he talked about getting back with his wife (the one he cheated on by having a relationship and baby with Fantasia) and leaving fickle chicks behind. Now he's back with another rant. Antwaun lashed out at radio personality Rickey Smiley for talking about his situation and launched into a rant that questioned Rickey's sexuality, friendship with Fantasia and more.
So far, Rickey has not responded to the rant (which Antwaun has deleted from his IG) but we expect him to be upset that 'Twaun called him a
"paper" Que. Those are fighting words....
Photo via Antwaun Cook's Twitter

The Randomness:
1. Instagram Direct kicks off today where photos and videos can be sent via private direct message. This probably won't end well. STORY
DARK AND FURRY: Rihanna Gets DRAPED In Fur, Dines Out In NYC
Posted: 12 Dec 2013 08:05 AM PST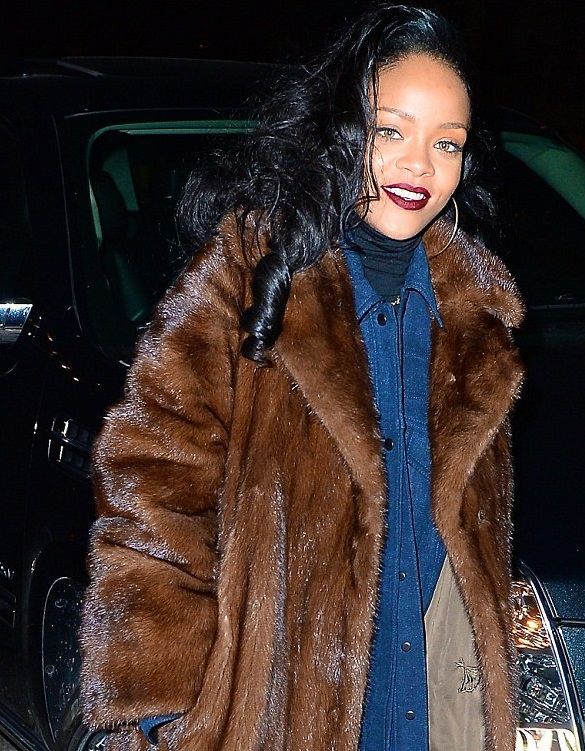 Pop princess Rihanna dined out in NYC last night. Find out where she went and get the latest on her housing drama inside...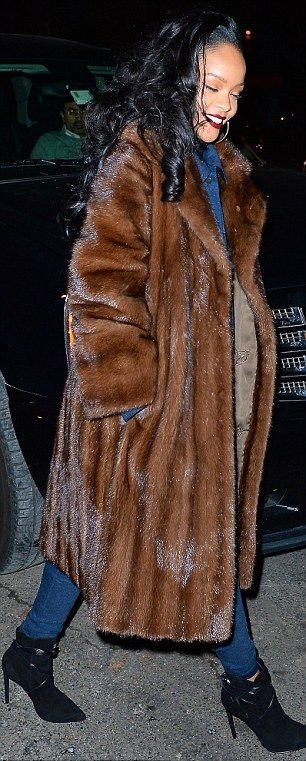 Last night in NYC, Rihanna was spotted dining at her fave restaurant Da Silvano. Our source who was also dining at the restaurant says Rihanna was was friendly with the staff, even making an effort to personally say "goodbye" to all the wait staff before she left.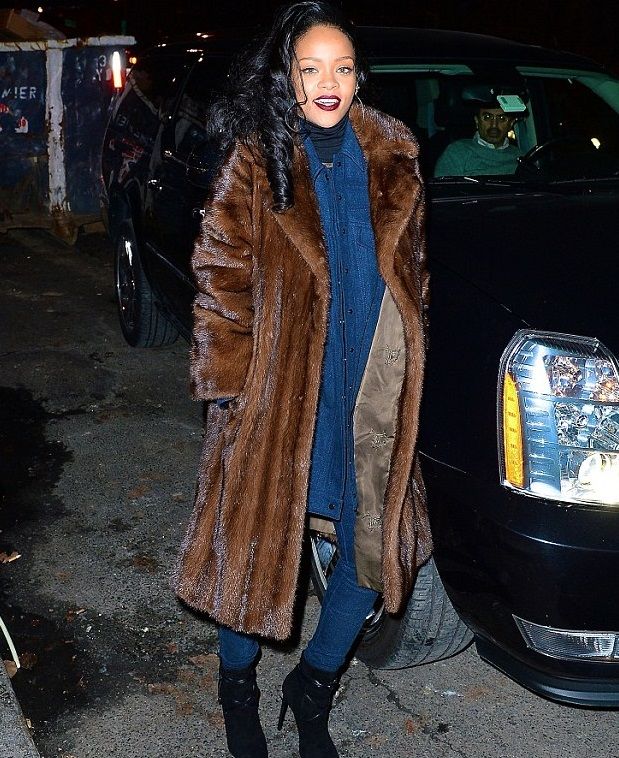 To brave the chilly weather in NYC, Ri rocked a fur coat and a full denim look. Also, she's still rocking the long dark locks that she debuted a few days ago.
On the homefront, Rihanna has been ordered back to LA to sit for a deposition involving a $6.9 Million home in she bought in Beverly Hills in 2009. And chick is suing for breach of contract claiming the mortgage company didn't tell her the home needed a lot of handy work.

By the way, her much awaited RiRi Hearts Mac Holiday collection drops today.
Photos via 247Paps/Splash News
GOLDEN GLOBE NOMINATIONS ARE IN: Kerry Washington, Idris Elba, Lupita Nyong'o, Chiwetel Ejiofor & More Nab Nods
Posted: 12 Dec 2013 07:26 AM PST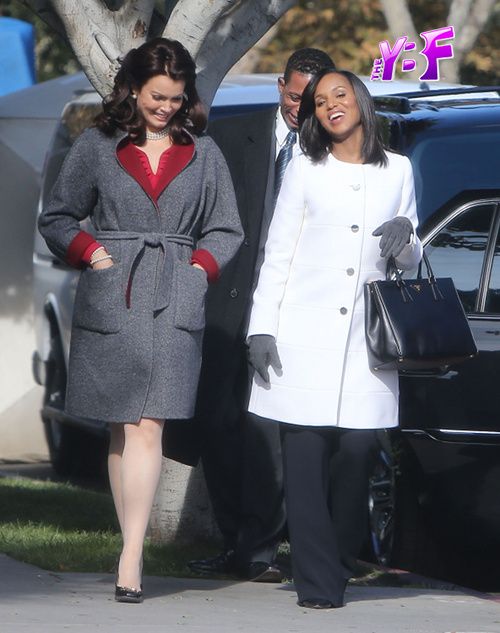 Awards season is officially underway. And the Golden Globes nominations were just announced. Find out which YBFers are going to the Globes inside!
While Kerry Washington and 12 Years A Slave stars copped nominations, The Butler was totally shut out.
After getting a SAG nod in a similar category yesterday, Kerry was nominated for Best Actress in a TV Drama for the Globes. And her competition includes Taylor Schilling of "Orange is the New Black."
12 Years A Slave has been nominated for Best Motion Picture Drama and six other nods (tied for the most with American Hustle). Steve McQueen nabbed a Best Director nod. And its stars Chiwetel Ejiofor and Lupita Nyong'o were nominated for their roles in the respective categories of Best Performance By An Actor In A Motion Picture-Drama and Best Performance By An Actress In A Supporting Role in a Motion Picture.
Chiwetel's competition for that category includes Idris Elba for his role in Mandela: Long Walk To Freedom. That category rounds out with stuff competition from Tom Hanks, Matt McConaughey, and Robert Redford.
Chiwetel & Idris also face each other in a second category--Best Performance By An Actor In A Mini-Series or Motion Picture Made For TV. Chiwetel for "Dancing On the Edge" and Idris for "Luther".
And Don Cheadle was nominated once again for Best Actor in TV Series-Comedy for "House of Lies".
Check out the full list of nominations HERE.
The Golden Globes, one of the more fun awards during the season, air live Sunday, Jan. 12 at 8/7c on NBC. And the hosts will be comediennes and besties, Tina Fey & Amy Poehler.
Congrats all around!
Photo: Fame
SPLITSVILLE: Taye Diggs & Wife Idina Menzel SEPARATE After 10 Years
Posted: 12 Dec 2013 06:30 AM PST
Best Man Holiday actor Taye Diggs has officially split from his wife, Idina Menzel after 10 years of marriage. Details inside...
We've noticed for the past several months that Taye Diggs has been hitting red carpets solo dolo. For both his latest movies, Baggage Claim and Best Man Holiday, his wife Idina was nowhere to be found. And he did not accompany her on the carpet for her premiere of the new hit animated flick Frozen.
And it seems the rumors we heard previously are true. The twosome have split.
The couple's reps confirmed to People magazine saying:
"Idina Menzel and Taye Diggs have jointly decided to separate at this time. Their primary focus and concern is for their son. We ask that you respect their privacy during this time."
Idina spoke earlier this year about their marriage saying it definitely wasn't easy:
"We work at it. I'm not going to glamorize it or glorify it – we go through tough times like everybody else, but we love each other very much. We try not to be away from each other for more than two weeks at a time, and we try to find new ways to communicate."
The two had son Walker in 2009, and Taye is featured in a cute 'got milk?' ad with him: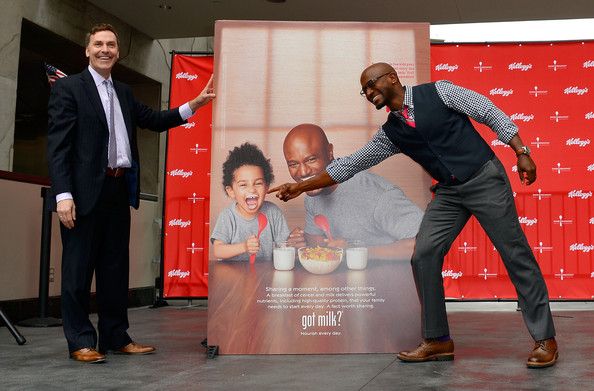 Photos: Getty
IN CASE YOU MISSED IT: Kanye Is Real Mad About Not Getting ENOUGH Grammy Nominations
Posted: 12 Dec 2013 06:05 AM PST
Kanye West copped two Grammy nominations this week, but apparently, that wasn't good enough for him. And his latest rant-o-the-day was all about the "snub". Check it inside, plus a few other folks who felt slighted by getting zero nominations...
During an interview with E! (of course) and on stage during his Phoenix Yeezus tour stop on Tuesday, Kanye let the world know he's not OK with the 2014 GRAMMY nominations. To be specific, he said, "F*ck those nominations!"
Kanye, who did land nominations for Best Rap Album and Best Rap Song for "New Slaves", took to the mic to say the nominations were "patronizing". He said, "I would have rather had NO nominations. I'm happy for my brothers who did get nominations."
He went on, "Yeezus is the top one or two album on every single list but only gets two nominations from the Grammys. What are they trying to say?"
Apparently, he was pissed Yeezus didn't get nominated for Album of the Year. That's the one category that crosses all genre lines, and we know how much Kanye wants so badly to be accepted by the "mainstream establishment"....yet speaks so hatefully about it.
Kanye said on stage that he's won 21 Grammys in his career (which is an amazing feat), but he's not pleased because he's never won a Grammy against a white artist. He says people are marginalized and boxed in. In theory, we agree. Do we think it applies to Kanye? We'll keep our comments to ourselves on that one....
But the "Bound 2" rapper looked to be back in good spirits on Wednesday as he was spotted out with his leading lady and her mom doing Christmas shopping in "the establishment"...Barneys.
By the way, K.Michelle and India Arie are also pissed about getting snubbed for a Grammy nomination. K said they must not be ready for "a little black girl speaking her mind." And India said this is the first time she hasn't been nominated for her work.
BONUS: Arsenio Hall had some words this week for Kanye after 'Ye included Arsenio in one of his rants. He had to school Mr. West on the real deal:
The Randomness:
1. The Mandela memorial service sign language interpreter who stirred up controversy this week by actually not signing anything correctly...is claiming he was hallucinating and is suffering from schizophrenia. STORY
Photos: Fame/Flynet
FAB CHICKS: Meagan Good Glistens At "Anchorman 2" Premiere + Naomie Harris Gets Coral Happy In Dubai
Posted: 11 Dec 2013 09:19 PM PST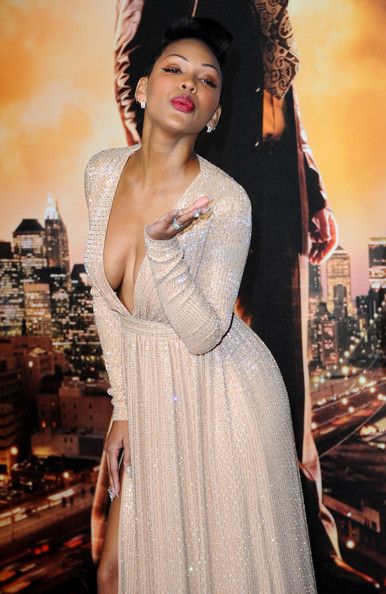 Meagan Good brought her sparkling look over to London for the premiere of Anchorman 2. Check out the sexy actress showing off her assets, plus Naomie Harris is in Dubai looking gorgeous as usual for an International Film Festival...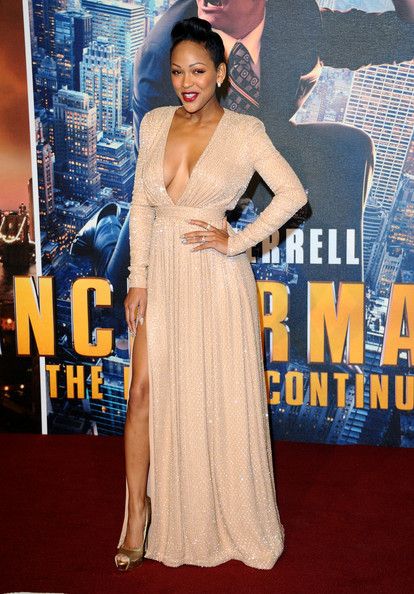 Meagan Good brought the GOODS to the Anchorman 2 premiere in London Tuesday night. She hit up the Vue West End in a nude sequin Ralph & Russo gown that flaunted that deep cleavage she rarely likes to cover and a thigh high slit. And she paired it all with gold Brian Atwood pumps.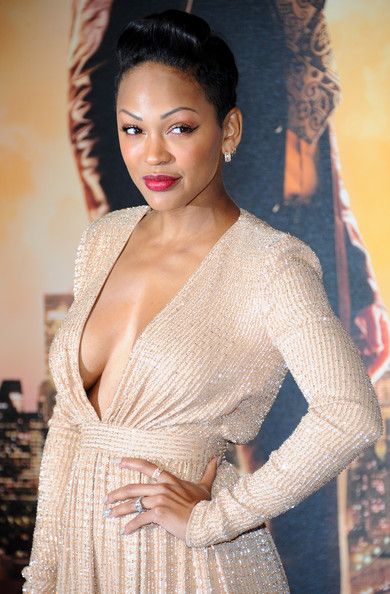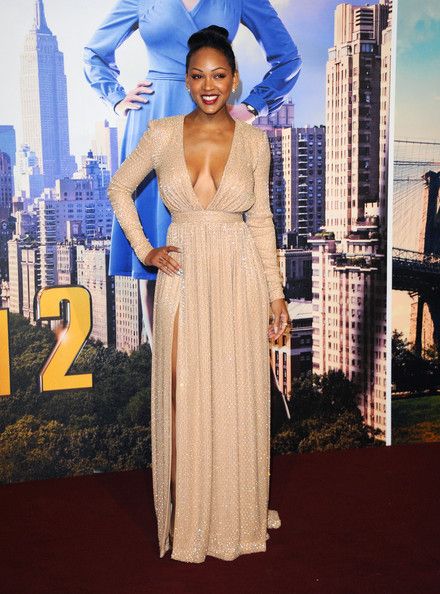 Gorge.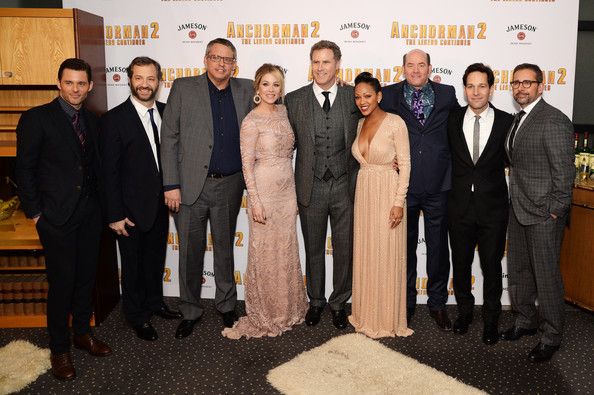 And Meagan posed it up with her co-stars James Marsden, Adam McKay, Will Ferrell, Paul Rudd, Steve Carell, Christina Applegate and David Koechner.
Also overseas:
Mandela: Long Walk To Freedom star Naomie Harris looked flawless during the Dubai Film Festival Tuesday in a coral Monique Lhuillier Spring 2014 gown complete with a lace yoke, a train and ruching.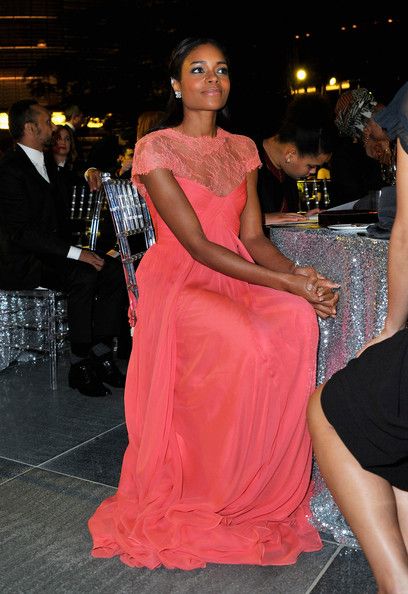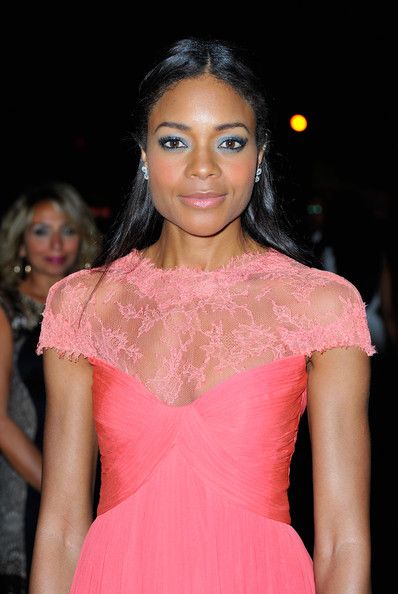 Loving the hair and makeup with this look as she hit up the Oxfam Charity Gala during day six of the International Film Festival held at the Madinat Jumeriah Complex.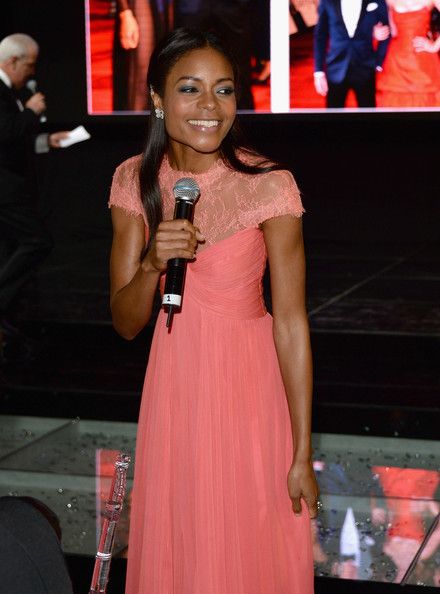 Chick never gets it wrong.
Photos: Getty
Mariah Carey Shows Off Her Holiday-Decorated Home On "Today" + NeNe Leakes Set For E! "Tell All" Interview
Posted: 11 Dec 2013 03:09 PM PST
Only MiMi! Mariah Carey popped up on "The Today Show" this AM....in her nightie. Check out how the diva showed off her Hollywood-decorated home inside, plus NeNe Leakes' upcoming tell all interview...
This is how Mariah showed up for her "Today Show" feature...in a silky neglige and diva robe. Mariah brought the morning show's correspondent/co-host Tamron Hall into her New York home to show off her pink Holiday decor.
The ladies sat atop pillows in her "Pink Room" that was complete with a pink rosette Christmas tree. She said Dem Babies don't even know the room exists...because it's full of treasured family collectibles. And those can't get ruined!
Check out the video below where the superstar opens her home to the world and talks about how she spent the holidays growing up and the story behind her classic Christmas theme, "All I Want For Christmas Is You."
In other TV news:
NeNe Leakes is getting her own hour long sit-down on E! News with Guiliana Rancic. Why, you ask? Apparently, she has some things she wants the world to know. She'll be discussing her recent hospital stint after suffering from a dangerous blood clot, going from two network television shows (not including "RHOA") to none (for now), and what's next for her.
The special will air December 16th on E!.
By the way, she and The Game had an early birthday dinner celebration the other night. She turns 46 on December 13th. Fun times.
Photos: NeNe's website, Today
Toya Wright: "Jail SCARRED Me...I Want To Advocate For Better Treatment Of Inmates!"
Posted: 11 Dec 2013 02:42 PM PST
She may have only been locked up for a few hours, but that's all it took to scar Antonia "Toya" Wright for life. Find out what she now says about her recent arrest and the inhumane treatment.
Thanks to an unpaid parking ticket (which Toya and her manager claim was simply a system error), Toya was subjected to spending the night in jail yesterday.
After getting pulled over for a traffic stop yesterday, then cuffed due to an outstanding warrant stemming from a missed court date over a ticket, the "Tiny & Toya" star was arrested and taken to an Atlanta area jail last night. She got out on bail around 1:30am, bit she says she's scarred for life. And she's never going back to jail!
TMZ reports:
...Toya, who appeared on the reality show "Tiny and Toya" -- is adamant she will never go back to jail because she's so traumatized by the things she saw on the inside.

Toya wouldn't get into specifics ... but says her fellow inmates were treated "inhumanely."

"I wouldn't wish jail time for my worst enemy," Toya says ... adding, "What I witnessed was so bad that I don't even want to leave the house right now."

Toya says she's even considering turning the experience into a positive by working as an "advocate of better treatment for prisoners."
Maybe she and AMPRO styling gel--she's the spokesperson for the company--can hook the ladies up with some hair products in their commissaries.
We're happy she's in the process of getting this messy mix-up solved.
Photo: G Paras Photos
SPOTTED: Jada Pinkett Smith Shopping It Up At GUCCI
Posted: 11 Dec 2013 02:27 PM PST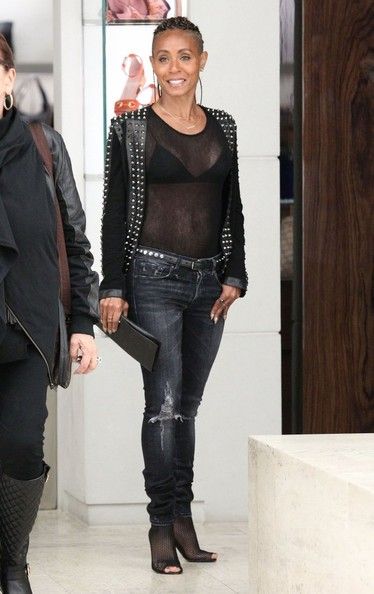 Jada Pinkett Smith put her down time and FAT pockets to good use today at the Gucci boutique in Beverly Hills. Check out the tiny fashion lover inside...
Been wondering what Jada Pinkett Smith has been up to? In between shooting her voiceovers for the new animated Madagascar movie spinoff, The Penguins of Madagascar (out March 2015), she's been performing with her band Wicked Wisdom.
And when she's not rocking out, she's hitting up places like Gucci to feed her fashion hunger.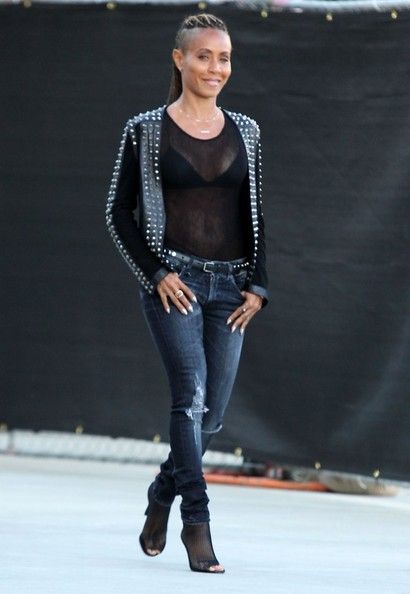 The hot 42-year-old mom of Jaden & Willow Smith (and stepmom to Trey) rocked skin tight skinny jeans, mesh booties, and a studded biker jacket over her totally sheer black top.
Not many moms can pull this look off...especially not in the daytime. But Jada can...
Photos: Splash
Lady O (Oprah Winfrey That Is) Covers 'The Hollywood Reporter' AGAIN + Nabs SAG Nomination Alongside Lupita Nyong'o, Kerry Washington & More!
Posted: 11 Dec 2013 01:44 PM PST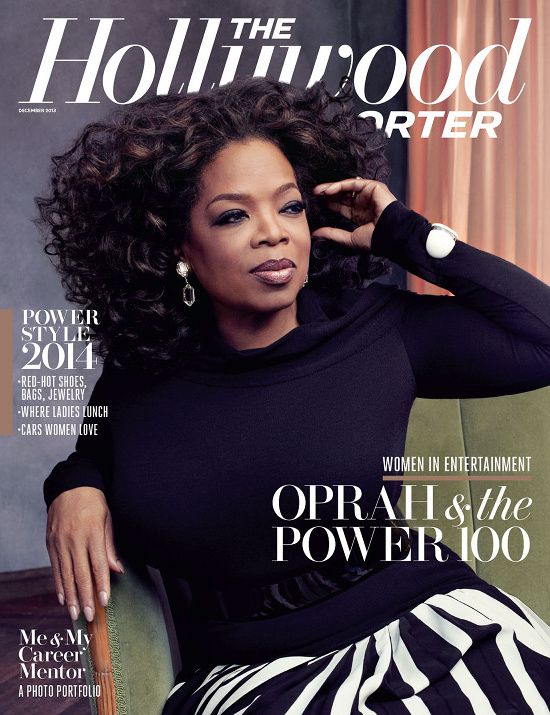 Oprah's proving why she's the true GOAT of media. She's covering The Hollywood Reporter for the second time in a row. And she just nabbed a Screen Actor's Guild Award nomination.
Check out her pics, plus the other YBF actors who grabbed noms, inside...
The fabulous Oprah Winfrey put her glam curls and pretty pics on display in her latest cover and spread for THR. It's her second cover in a row, but this time, she's the leader of the pack in the Women In Entertainment Power 100.
The Butler star also grabbed a nomination this morning for a SAG Award (one of the precursors to the Oscars) for Outstanding Supporting Actress for her role in the film. But she's got stiff competition.
Also nominated in the same category is 12 Years A Slave star Lupita Nyong'o. Lupita, pictured above in a gorgeous spread for InStyle magazine, also graced the previous THR cover with Oprah and the twosome gushed love all over each other at the roundtable discussion.
This was Lupita's first film ever as she's straight out of Yale Drama School.
Other YBFers nominated for the prestigious SAG Award: Lupita's co-star Chiwetel Ejiofor was nominated as a male actor in a motion picture leading role, Forest Whitaker received a nod in the same category for The Butler, and both the cast of The Butler & cast of 12 Years A Slave received a nod
Kerry Washington has been nominated for outstanding female actor in a TV Series. Also on TV: Don Cheadle copped a nod for "House of Lies" while Angela Bassett grabbed one for her performance in "Betty & Corretta."
The full list is below. Congrats all around! The SAG Awards air live on TBS & TNT on January 18th at 8p EST.
OUTSTANDING PERFORMANCE BY A CAST IN A MOTION PICTURE

"12 Years A Slave"
"American Hustle"
"August: Osage County"
"Dallas Buyers Club"
"Lee Daniels' The Butler"

OUTSTANDING PERFORMANCE BY A MALE ACTOR IN A LEADING ROLE

Bruce Dern, "Nebraska"
Chiwetel Ejiofor, "12 Years A Slave"
Tom Hanks, "Captain Phillips"
Matthew McConaughey, "Dallas Buyers Club"
Forest Whitaker, "Lee Daniels' The Butler"

OUTSTANDING PERFORMANCE BY A FEMALE ACTOR IN A LEADING ROLE

Cate Blanchett, "Blue Jasmine"
Sandra Bullock, "Gravity"
Judi Dench, "Philomena"
Meryl Streep, "August: Osage County"
Emma Thompson, "Saving Mr. Banks"

OUTSTANDING PERFORMANCE BY A MALE ACTOR IN A SUPPORTING ROLE

Barkhad Abdi, "Captain Phillips"
Daniel Bruhl, "Rush"
Michael Fassbender, "12 Years A Slave"
James Gandolfini, "Enough Said"
Jared Leto, "Dallas Buyers Club"

OUTSTANDING PERFORMANCE BY A FEMALE ACTOR IN A SUPPORTING ROLE

Jennifer Lawrence, "American Hustle"
Lupita Nyong'o, "12 Years A Slave"
Julia Roberts, "August: Osage County"
June Squibb, "Nebraska"
Oprah Winfrey, "Lee Daniels' The Butler"

OUTSTANDING ACTION PERFORMANCE BY STUNT ENSEMBLE MOTION PICTURE

"All is Lost"
"Fast and Furious 6"
"Lone Survivor"
"Rush"
"The Wolverine"

TELEVISION

breaking bad finale

OUTSTANDING PERFORMANCE BY AN ENSEMBLE IN A DRAMA SERIES

"Boardwalk Empire"
"Breaking Bad"
"Downton Abbey"
"Game of Thrones"
"Homeland"

OUTSTANDING PERFORMANCE BY AN ENSEMBLE IN A COMEDY SERIES

"30 Rock"
"Arrested Development"
"The Big Bang Theory"
"Modern Family"
"Veep"

OUTSTANDING PERFORMANCE BY A MALE ACTOR IN A DRAMA SERIES

Steve Buscemi, "Boardwalk Empire"
Bryan Cranston, "Breaking Bad"
Jeff Daniels, "The Newsroom"
Peter Dinklage, "Game of Thrones"
Kevin Spacey, "House of Cards"

OUTSTANDING PERFORMANCE BY A FEMALE ACTOR IN A DRAMA SERIES

Claire Danes, "Homeland"
Anna Gunn, "Breaking Bad"
Jessica Lange, "American Horror Story"
Maggie Smith, "Downton Abbey"
Kerry Washington, "Scandal"

OUTSTANDING PERFORMANCE BY A MALE ACTOR IN A COMEDY SERIES

Alec Baldwin, "30 Rock"
Jason Bateman, "Arrested Development"
Ty Burrell, "Modern Family"
Don Cheadle, "House of Lies"
Jim Parsons, "The Big Bang Theory"

OUTSTANDING PERFORMANCE BY A FEMALE ACTOR IN A COMEDY SERIES

Mayim Bialik, "The Big Bang Theory"
Julie Bowen, "Modern Family"
Edie Falco, "Nurse Jackie"
Tina Fey, "30 Rock"
Julia Louis-Dreyfus, "Veep"

OUTSTANDING PERFORMANCE BY A MALE ACTOR IN A TELEVISION MOVIE OR MINISERIES

Matt Damon, "Behind the Candelabra"
Michael Douglas, "Behind the Candelabra"
Jeremy Irons, "The Hollow Crown"
Rob Lowe, "Killing Kennedy"
Al Pacino, "Phil Spector"

OUTSTANDING PERFORMANCE BY A FEMALE ACTOR IN A TELEVISION MOVIE OR MINISERIES

Angela Bassett, "Betty and Corretta"
Helena Bonham Carter, "Burton and Taylor"
Holly Hunter, "Top of the Lake"
Helen Mirren, "Phil Spector"
Elisabeth Moss, "Top of the Lake"

OUTSTANDING ACTION PERFORMANCE BY STUNT ENSEMBLE IN A TELEVISION SERIES

"Boardwalk Empire"
"Breaking Bad"
"Game of Thrones"
"Homeland"
"The Walking Dead"
Erykah Badu Is The Newest Face Of GIVENCHY...And It Is FAB!
Posted: 11 Dec 2013 11:58 AM PST
Ciara isn't the only YBF chick who has the eye of Givenchy's head creative honcho Riccardo Tisci. He's now tapped Erykah Badu as the newest face of the luxe fashion brand. And the first pics are fabulous.
Check 'em inside...
Erykah Badu's always been a fashion icon of sorts in her own right. And we're loving that Givenchy is feelin' Ms Badu as much as we always have.
The news shook up the fashion world a bit today as Riccardo Tisci told Style.com from Paris why he chose Ms. Badu as his newest muse:
"Erykah, she's an icon—come on! What I want to do with my advertising campaign is spread the love. Already now it's been three seasons that I've been using people that express something—they are great artists, or beautiful women, or stylish women, or models that I really believe in. It's kind of a family portfolio."
Agreed! And as for why our favorite "Bag Lady" was etched in his mind while he designed the Spring 2014 collection:
"She's one of the most stylish women I've met in my life. She's got such a good sense of proportion, of colors."
And about the noticeable change in the fashion world's recent interest in black women:
"There was a lot of talk this season in fashion. Me, I was one of the persons who ended up not being touched by this. I discovered Joan Smalls, I discovered Maria [Borges]. I discovered a lot of black girls, and I've been always supporting them. For me, I grew up in a family and I grew up in a culture, an education, that we all are the same."

.....

"At the end of the day, why are not so many black girls or Latin girls in shows? When you have an American president who is black! When I see this happening, it's quite sad, I think. People can be so avant-garde, so advanced, but actually not, because people are still making differences between skin color."
Erykah, who has a current collabo track with Janelle Monae called Q.U.E.E.N", is seen in the first pics rocking a tribal inspired shirt dress and thigh high heels.
Werk!
Photos: Riccardo's IG/Style.com
Toya Wright ARRESTED....For Outstanding Parking Ticket!
Posted: 11 Dec 2013 11:30 AM PST
Oh snap! They're cuffing people in Georgia over parking tickets. And Toya Wright, the mother of Lil Wayne's daughter Reginae and BET reality star, is the latest to get ARRESTED!
Deets inside...
Toya Wright has been arrested, y'all. And no, it's not because of a DUI like her bestie and former BET co-star Tameka "Tiny" Harris has been known to get arrested for. It was all over an outstanding parking ticket. Her "WTF" mugshot above says it all.
TMZ reports:
The details surrounding the arrest are sketchy at best -- with one law enforcement official telling us Wright was pulled over in College Park, GA yesterday ... and during the stop, the cop noticed a warrant out for her arrest.

We're told ... the warrant was issued after Wright failed to appear at a recent court date -- though it's unclear why she was supposed to be in court to begin with.
After being hauled to and booked at a nearby police station, Toya was been released on a $290 bond around 1:30AM this morning.
Rolling Out spoke to Toya's manager who confirms this was all a "misunderstanding" and involved an unpaid parking ticket.
Her arrest was "based on something that was paid for but that wasn't cleared out of the system," said Blackwell.

"We're currently going over it with the lawyers," he added.
And just yesterday, the same day as her arrest, she celebrated her husband Memphitz's birthday.
Damn homie...
Photog: Paras Griffin/G Paras Photos, MugshotsAtlanta.com