---
NeNe Leakes OPENS UP About Life-Threatening Blood Clots On "GMA", BACKS IT UP On Gregg At SURPRISE Birthday Party (That No Housewives Attended!)
Posted: 18 Dec 2013 08:18 AM PST
Nene Leakes appeared on "GMA" this morning where she discussed her health scare. Watch the interview inside and see pics from her surprise party over the weekend.
Nene Leakes (shown above at her surprise 46th birthday party) appeared on GMA this morning where she talked about what forced her into a scary hospital stint a few weeks ago. Here are the highlights:
On realizing something wasn't right:
I was at work. And I started feeling a pain under my right breast that kind of went around to my side and in my back. And then, the next morning, the pain was in those places and on my right shoulder. It was really different.
And I wasn't sick as in a cold. I was feeling like -- I didn't feel like something was wrong. My husband, on the other hand, kept saying, you have gas. I'm like, really? This is not gas for a pain to be on my shoulder. I decided to go to the hospital. And once I was there, they tested me. They did a lot of bloodwork. And then, they did an x-ray. And then, a c. T. Scan. And they discovered the clots all over my right lung and some in my left lung. I felt it for two days. The second day I went to the hospital.
Where her health stands now:
They're doing photo testing for me, to see if it's genetic or not. Right now, I'm currently on blood thinners, which is helping my blood to be a lot thinner, so the blood clots can go away.
Check out the video below:
Over the weekend....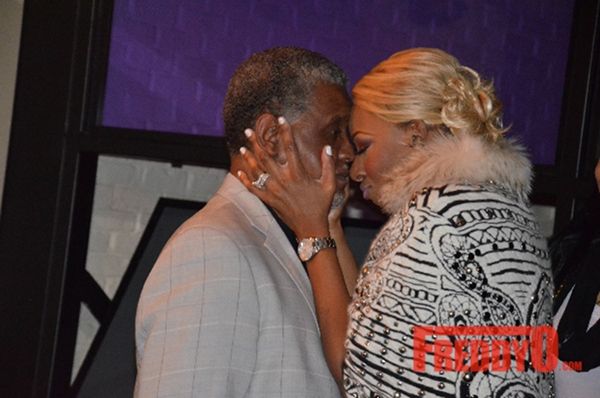 Greg Leakes surprised Nene with a party for her 46th birthday.
The "Glam Ma" received a birthday hug from her granddaughter Bri'Asia.
The party was held at STK Atlanta and attended by friends and family. Gregg convinced Nene to leave the house by arranging a quiet dinner with good friends Chuck and Mynique Smith......she never suspected that he'd shut down the entire restaurant for her. Isn't Gregg so sweet these days?!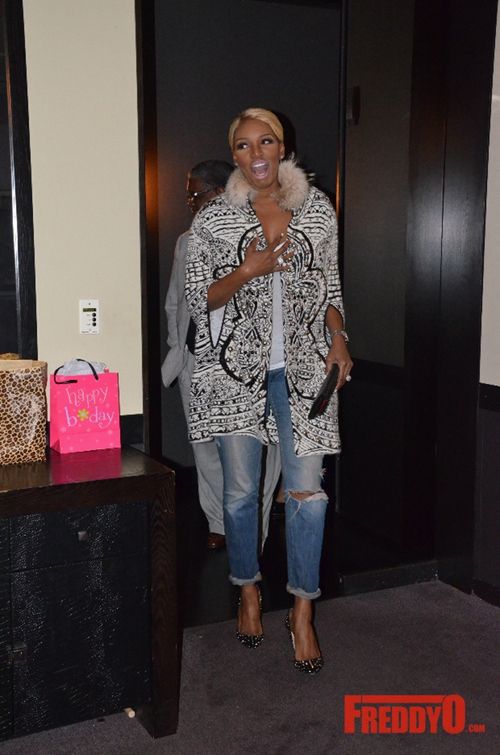 We find it interesting that NONE of Nene's "RHOA" stars were at the party. Maybe Gregg didn't want to risk them showing up "late" and spoiling the surprise! Or maybe...she's totally over these ladies and ready for another spinoff of her own. She's been hinting toward that for a while now...
Yesterday, Kenya Moore told "WENDY" that she and Nene are no longer friends and fans will watch their relationship sour on the next few episodes of "RHOA".
The Randomness:
1. Dev Hynes, producer for Solange Knowles, lost all of his life's possessions and his dog in an East Village fire. STORY
2. Egypt Sherrod is OUT at V-103. STORY
Photos via FREDDYO.com
SPOTTED: Ashanti DINES OUT With 'Mystery Guy' In Beverly Hills (But Is He Just A Team Member?)
Posted: 18 Dec 2013 06:39 AM PST
Ashanti was spotted at a Beverly Hills hotspot last night. Check out where she was and her alleged 'mystery guy' inside....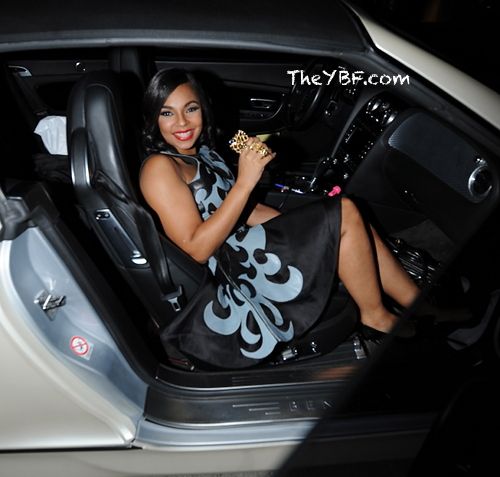 Ashanti was photographed arriving at Philippe in a turquoise Bentley last night.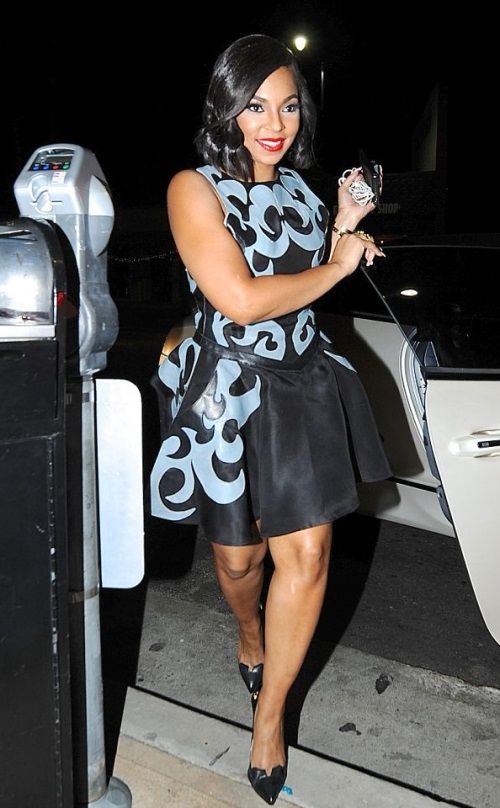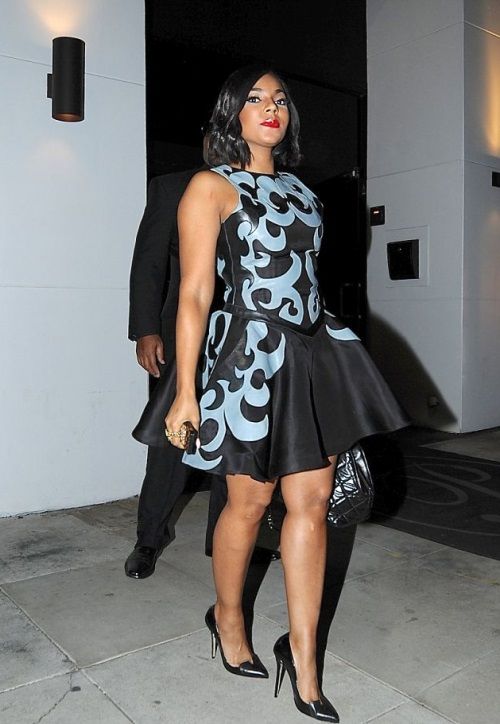 She wore a black flirty leather mini-dress with a baby blue design.
The Braveheart singer appeared on "106 & Park" this week where she dished on her new Soul Train award for Best Independent R&B artist.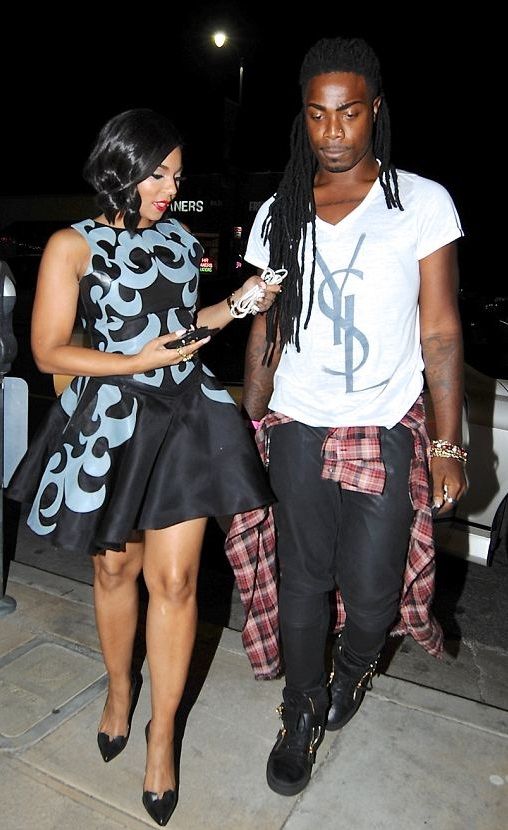 And the NY chick dined with a mystery guy. Dude's eyebrows are filled in for dear life. He very well could just be on her team as a stylist, trainer, or friend. We're not sure about her "status" as she normally keeps quiet about her relationships.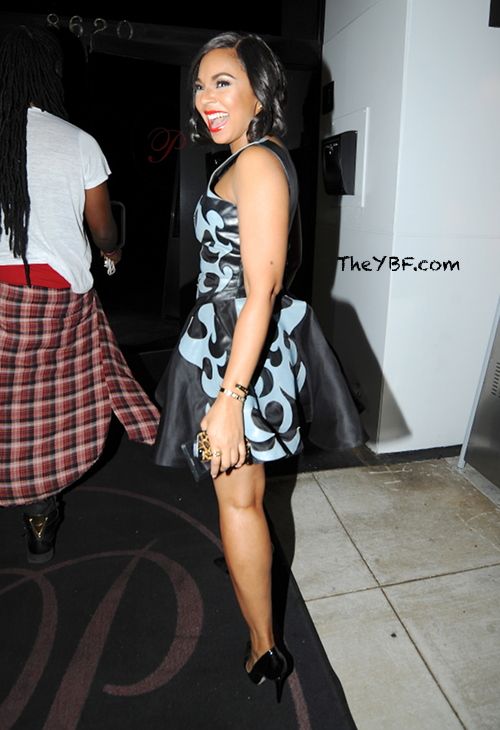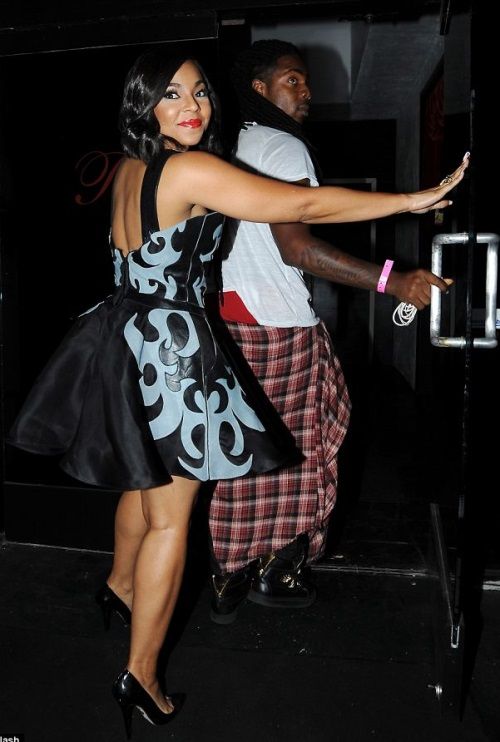 Fan of the songstress can catch her in the Lifetime holiday film Christmas in the City throughout the holiday season. And also her C=second Christmas album in stores now.
Looking cute Ashanti!
Photos via Splash
CHECK IT: Rihanna's Full BALMAIN Spring/Summer 2014 Campaign
Posted: 18 Dec 2013 06:12 AM PST
The rest of Rihanna's brand new Balmain Spring/Summer 2014 campaign ads are out. Check 'em inside...
Bad Gal RiRi has brought her hotness to the new Balmain campaign as the new spokeswoman. And after two of the fab pics from the ad campaign were revealed early yesterday, the rest of the pics that will appear in ads starting this January have been revealed as well: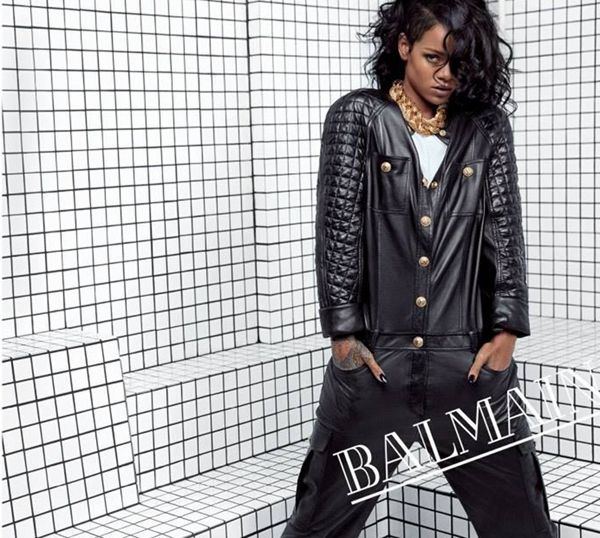 Leather jumpsuits, gold chains, sheer skirts and more are featured in the ads, and we're loving them all.
The "Pour It Up" chick was styled by her personal stylist Mel Ottenberg with creative direction by Atelier Franck Durand.
Photographers: Inez & Vinoodh

BABY FAB: Beyonce Features Blue Ivy In Part 2 Of "Beyonce" Mini Doc + Michael Jordan Is Expecting Identical Twins
Posted: 17 Dec 2013 06:01 PM PST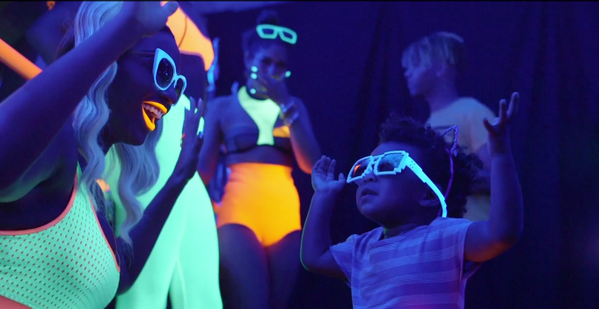 Beyonce is offering up Part 2 of her mini doc she created for her self-titled new album. And Blue's cuteness is all up in it. Check it out inside and an update on Michael Jordan's kids on the way...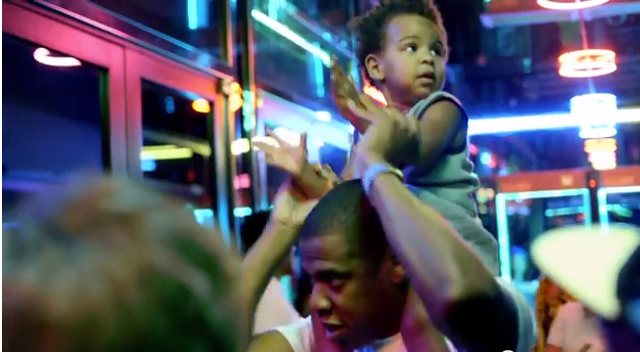 After releasing Part 1 last week, Part 2 of Beyonce giving insight into her new album is here. Check it out below:
And in other baby news, we reported last month that Michael Jordan was very likely expecting with his new wife Yvette Prieto. And now, it's being reported that not only are the newlyweds expecting, but they're expecting identical twin girls!
MJ's been super secretive about the entire situation. But word has it Yvette is doing just fine. His other three kids are in their 20's. Wonder if they're going to help change diapers too...
PARTIES: Sevyn Streeter, Angela Simmons & More At The 135th Street Agency Holiday Party
Posted: 17 Dec 2013 02:22 PM PST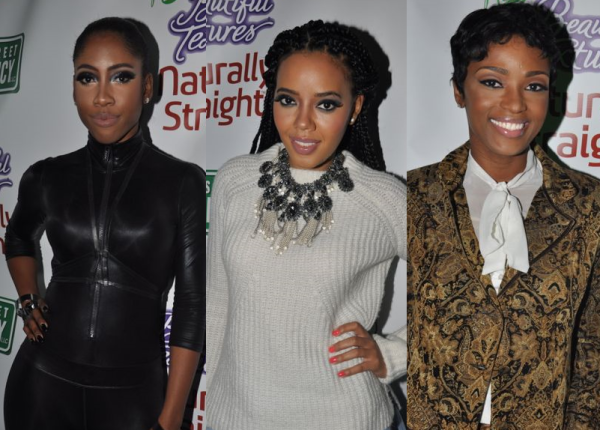 Sevyn Streeter performed at last night's 135th Street Agency Holiday Party and Beautiful Textures Upfront with Angela Simmons, Ariane Davis and Sway in the audience. See pics inside....
Last night at NYC's famed ARENA venue, Sevyn Streeter hit the stage to bring a little holiday cheer to 135th Street Agency's Holiday Party.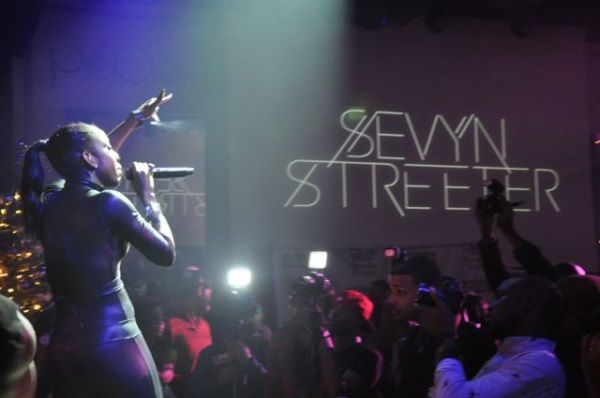 The "I Like It Singer" performed hits from her newly released "Call Me Crazy, But..." disc and helped launch the Beautiful Textures Texture Manageability System".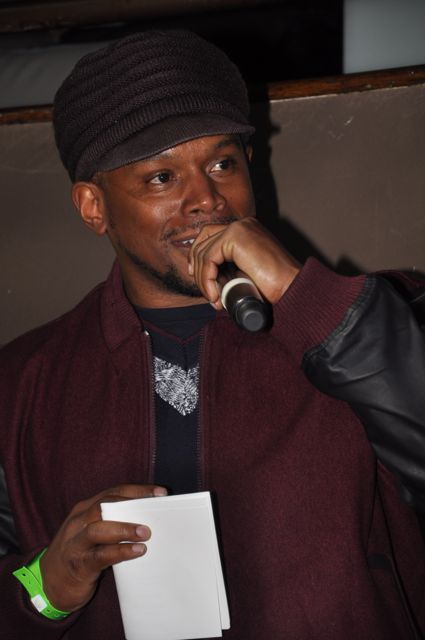 Radio and tv personalities Sway and Angela Yee hosted the holiday festivities and congratulated Sevyn on her EP release.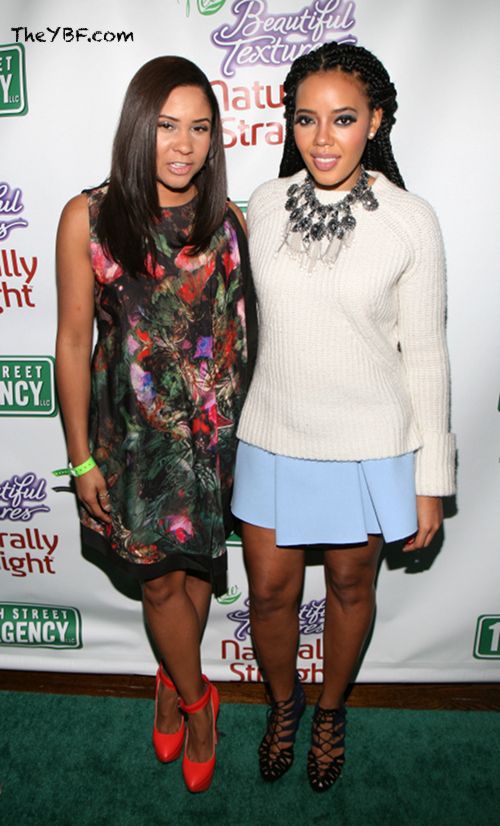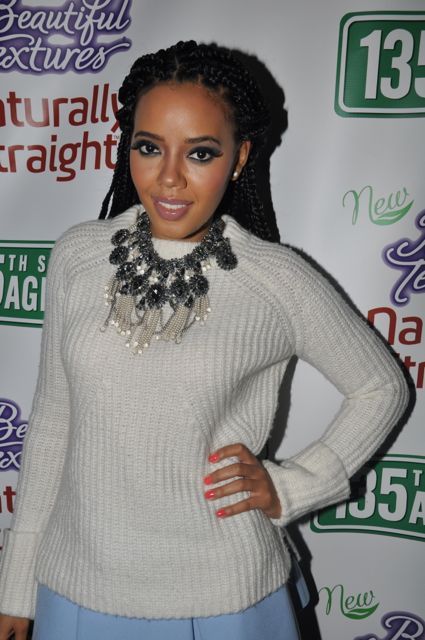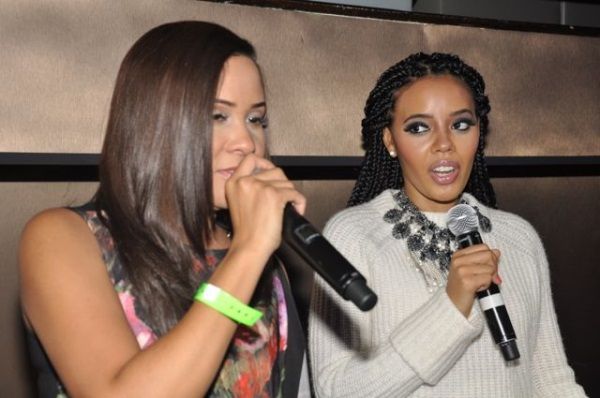 Also, "AngelaIAm" founder and fashion mogul Angela Simmons joined Angela Yee to celebrate 135th Street Agency's exciting year as one of the nation's premier pr firms.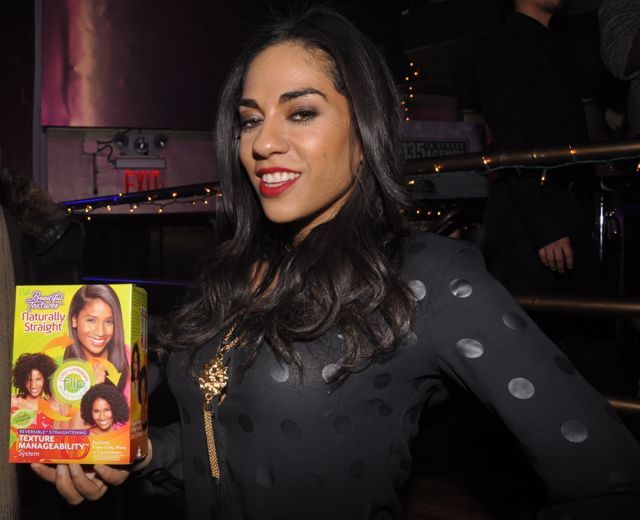 REVOLT TV host Sharon Carpenter was there.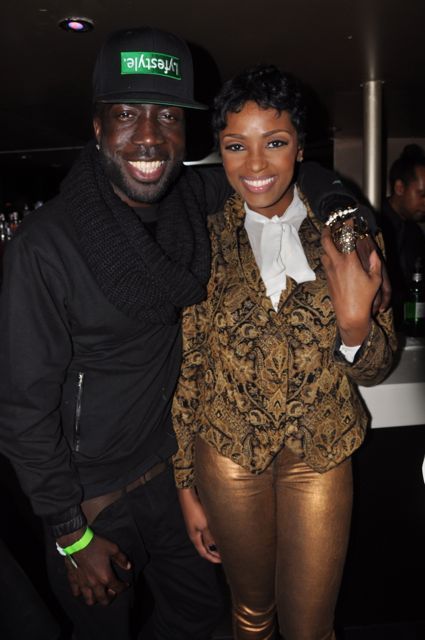 "LAHH ATL" star Ariane Davis posed with BLEU Magazine's Rae Holliday.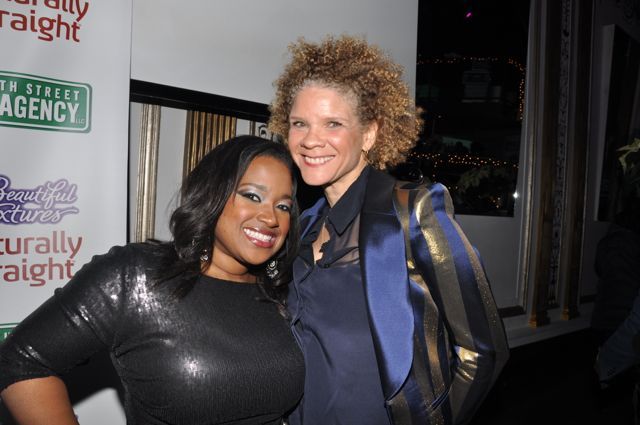 135th Street Agency CEO/Founder Shante Bacon posed with media personality Michaela Angela Davis and reality tv maven Mona Scott Young.
Sevyn also posed with Strength of Nature's Global Marketing Director Charlene Dance, Angela, Shante and 135th Street Agency's Saposta Foster.
Photos via Stephen Knight, WENN

Ashanti Gets FAB On "106 & Park" + Toni Braxton & Babyface's New "Where Did We Go Wrong"
Posted: 17 Dec 2013 01:31 PM PST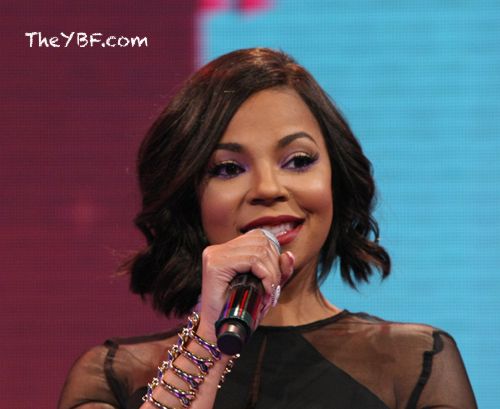 Ashanti made her way to "106 & Park" last night looking pretty fab. Check out the singer/actress inside, plus Babyface's & Toni Braxton's brand new song...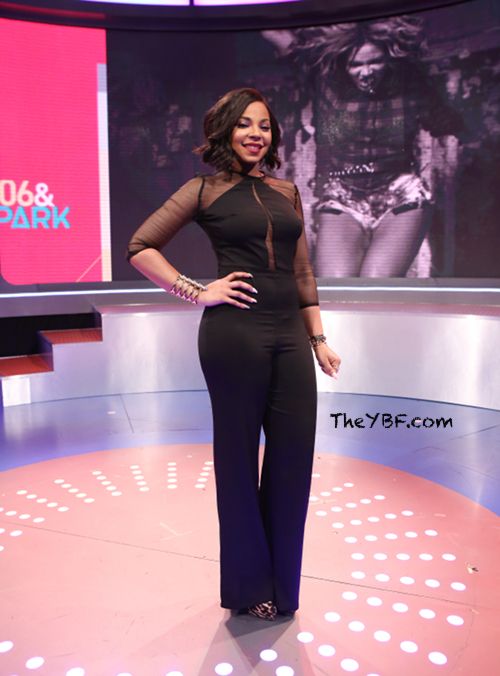 Rocking a curve hugging Olcay Gulsen jumper, leopard Lanvin boots and J Fisher Jewelry, Ashanti made her way to "106 & Park" yesterday to promote her upcoming second Holiday album. And to dish on her new Soul Train award for Best Independent R&B artist.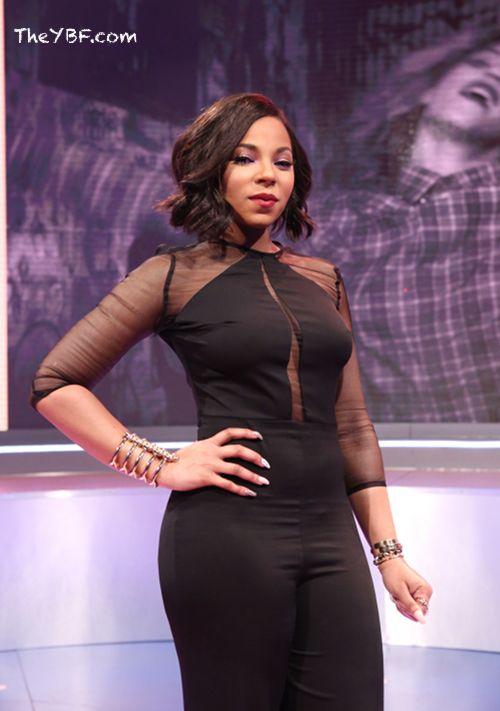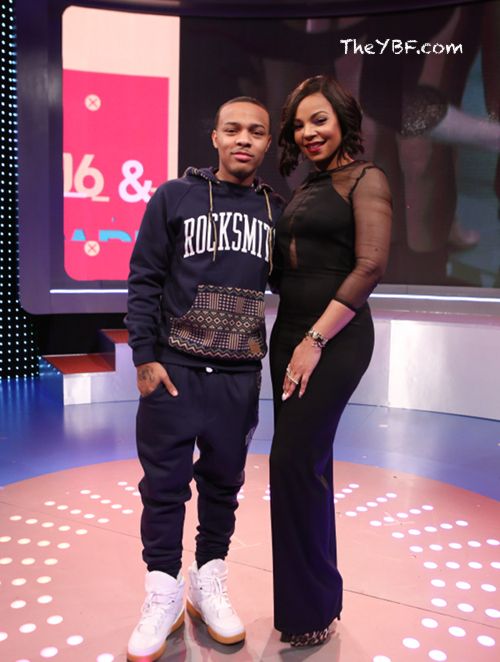 She posed it up with host Bow Wow and kept it pretty while doing interviews about all her new projects--both music and television.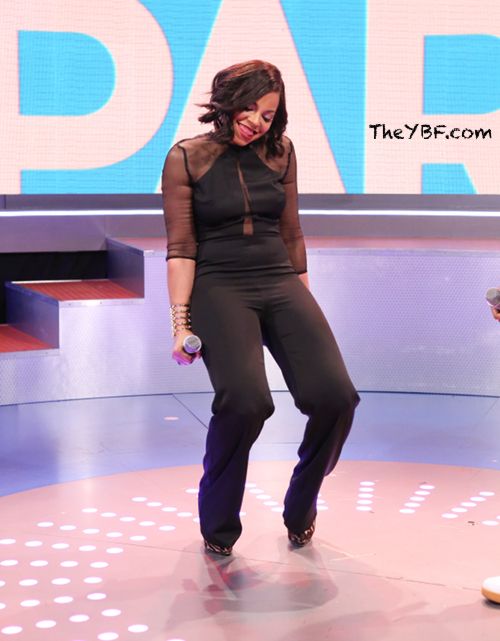 Peep the video below:
As they prep for the release of LOVE, MARRIAGE & DIVORCE, their first album of duets together out February 4th, Toni Braxton and Babyface have released a second single from the project.
Check out "Where Did We Go Wrong" below:
INSIDE STORY: Beyonce's Team Reveals Exactly How They Pulled Off "Beyonce" Under-The-Radar
Posted: 17 Dec 2013 12:00 PM PST
Some of Beyonce's closest team members and confidants spoke to ELLE.com about the secretive making of Beyonce and revealed the inside story on how she pulled it off. More inside....
We've all been consumed by the social media takeover of Miss 3rd Ward, aka Beyonce Knowles. And now, some of Beyonce's team have spoke to ELLE.com about their experience with working on the secret Beyonce visual album and how they pulled it off. Because there MUST have been some serious strategy to not only keep almost everything from the public, but to go #1 in over 100 countries.
Here are the highlights:
Producer Hit-Boy ("Flawless", "XO") on finding out about Beyonce's release:


"My DJ came upstairs into my studio and told me Beyoncé just dropped her album. I was just as surprised as everybody else!"

"I was just wondering 'Is this gonna pay off?' I knew it was Beyoncé... when the time is right, it was gonna happen. But I worked really hard. It was great for music. You're giving people a whole package where they couldn't judge it before. It was amazing for all of us."

Stylist Ty Hunter charged with overseeing the 17 music videos & on keeping the disc's production a secret:

"Well, people knew things were going on. But the thing is, we're such a tight-knit family." (People on set signed non-disclosure agreements) "When you finally see the final project, you're just like 'I can't believe we survived it. We were able to pull this off which is unheard of. It's just a celebration for the whole team. This is history that has been made!""

Ty on picking out looks for "Grown Woman":

"I'd have it sent and pray that the pieces and the packages would be received by different hotels in other countries" He added that he felt "blessed" to have five premier stylists—B. Akerlund, Lysa Cooper, Marni Senofonte, Karen Langley, and Raquel Smith—assisting him.


Model Shaun Ross, ("Pretty Hurts"), on being secretive:

"You had to put your phone away. Beyoncé has always been this person who is super-secretive with the things that she does, as far as with her camp and her family. They're also very secretive and very intuitive with her vision and keeping things under wraps."

Director Jonas Akerlund ("Haunted" "Superpower") on learning about the project in May 2012:

"We listened to some of these songs already back then. And then we started to talk about different ideas. (They shot some of the videos in September). "So actually at the very end of it [Beyoncé's team] were all waiting for my videos to be finished". He says he turned in his vidoes 24-hours before the project was released!


"The fact that she managed to do 17 videos and the music and have it all ready, it's just proof that everybody that works for her truly believes in what she does. Everybody that works for Beyoncé really loves her."
Read the full story here.
Kenya Moore DISHES On Her New Boyfriend & How WRONG She Was About Apollo Drama + Nia Long Lands Role In WeTV's FIRST Scripted Show "The Divide"
Posted: 17 Dec 2013 11:04 AM PST

Kenya Moore dished to WENDY about her new boyfriend and more. Watch the clip inside and get deets on Nia Long's new job.
Best Man Holiday star Nia Long has landed a leading role on WE tv's first original scripted drama, "The Divide". Written by the award-winning and Academy Award and nominated Richard LaGravenese and co-created by and Tony Goldwyn (Scandal) Nia Long will play Billie Page, the hard charging wife of district attorney Adam Page, played by actor Damon Gupton (Prime Suspect, Deadline).
According to the show's press release,
"At its core, The Divide is an exploration of personal morality and how all people – especially ambitious people – struggle with the shades of grey found in the absence of a simple, ordered moral universe. The show probes how truth coexists in the modern justice system alongside ambition, ethics, politics and race. As an impassioned case worker with The Innocence Initiative, Christine Rosa delves into the case of a death-row inmate she believes was wrongly convicted of a young family's heinous murder 11 years earlier. She chases down new evidence in a search for the truth and confronts an equally passionate district attorney, Adam Page, whose view of justice is colored by shades of grey. Throughout the journey, Christine and Adam's pasts resurface as they are faced with the question of one man's guilt or innocence intertwined with their own personal histories."
Production is currently underway in Toronto and ten one-hour episodes will premiere on WE tv in 2014. Nia's also set to star in Tyler Perry's upcoming The Single Mom's Club flick March 2014.

Also on tv.....
Kenya Moore appeared on "WENDY" today where she discussed season 6 drama of "RHOA", the end of her friendship with NeNe, apologized to Phaedra and shed light on being abandoned by her mother . Here are the highlights:
On her new boyfriend:
She calls him her "African Prince" but says he's not descended from royalty. Kenya says he's very successful, runs a multi-billion dollar company, and is a "mature" man. When asked if he was over 60, Kenya joked "No...I need somebody with a strong back".
On having a family:
Kenya says she wants kids in the future. "It's something that I think will make my life complete."
On her birth mother:
"She wanted to give me up for adoption. She was 16 when she had me. I think they made the decision that she was going to pretend I was never born. From that....she's just operated like that whenver I'm around. I've seen her many times since I was child. I can be in the same room ...and she just pretends I'm invisible. I have room in my heart (for her) because I'm not a monster."
On RETURNING Apollo's text:
"Considering everything...I was absoloutely wrong. He initiated the text, but I returned the text. And I was wrong."
On Kandi's fiancee Todd:
"I think Todd is smart. I think he loves Kandi."
On Mama Joyce:
"I think Mama Joyce is off her rocker.....literally."
On NeNe Leakes:
She says NeNe has changed since she isn't the"big Hollywood actress" she was last season. "It's not like it used to be. You'll see in a couple of episodes...it gets really bad." She revealed there were no physical confrontations among the housewives.
On Jay Z:
She played Jay Z's girlfriend in the past "Money Ain't A Thang" video, joking, "I played Jay Z's girlfriend for a day...Beyonce, I had him first!"
Photo via Nia Long's Twitter
COUPLEDOM: Alicia Keys & Swizz Beatz Get Cutesy In Australia + Big Sean & Naya Rivera's Sexy Christmas Card Shoot
Posted: 17 Dec 2013 10:04 AM PST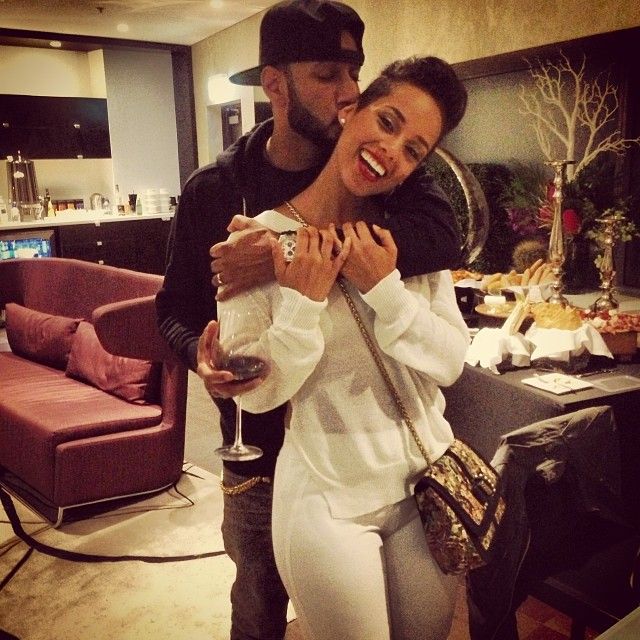 Well aren't they just adorbs. Alicia Keys has her #1 stan supporting her on tour...her husband Swizz Beatz. Check out the hubby & wife team getting all cute and kissy backstage at her concert in Sydney, plus newly engaged rapper Big Sean and his girlfriend Naya Rivera's sexy Christmas card shoot.
That's a man who loves his wife. And loves to let the world know he does. Swizzy posted a cute pic of him and Alicia saying:
Love Attack !!!!!!!!!! #thebite
And a video where he was all about his woman's bod:
Happy Spy Cam behind the scenes I know I'm a Stan
Cute.
And speaking of rappers and their loves: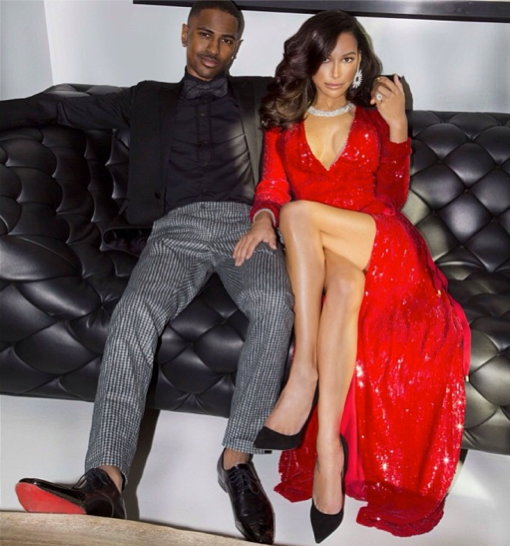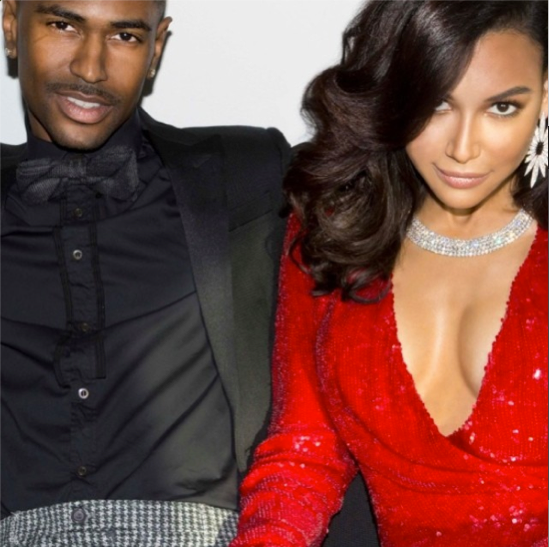 Big Sean and Naya Rivera showed off an outtake from their sexy & glammed up photoshoot for their Christmas card. Mad extra, but we love it.
Naya's red sequin wrap dress is by DVF...and it's hot.
By the way, Sean was in his hometown of Detroit last night and made a surprise appearance on stage during Drake's "Would You Like A Tour?" stop. Check out the two performing "All Me" below at The Palace of Auburn Hills:
Sean also revealed Drake will be a huge part of his next album.
Photos: Naya's IG/Big Sean's IG/Swizz Beatz's IG