---
FIRST LOOK: Trina Celebrates New PYNK Cover With French Montana, LaLa Anthony, Emily B. & More
Posted: 19 Dec 2013 08:58 AM PST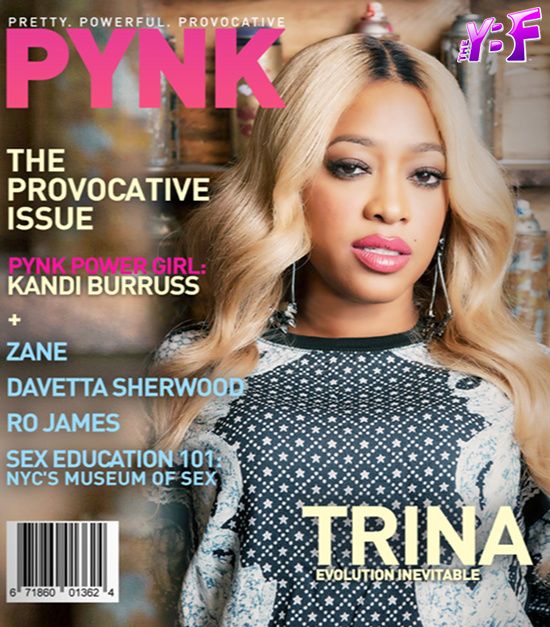 Trina is the newest cover girl for PYNK magazine. And last night at Philippe's in NYC, the rapstress celebrated it up with her boo French Montana, and her girls LaLa Anthony, Emily B., Meeka Claxton and more.
Check out the PYNK chick having some fun and her sexy spread for the mag inside...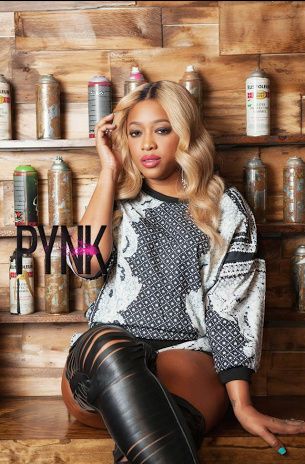 Trina and her shortset were front and center for the cover and spread of the new issue of PYNK magazine. And she spoke in the mag about where she's at in life these days and musical legacy.
On her evolution: "A lot of things I did when I came into the game, I probably would not do now but I have no regrets."
On leaving behind a musical legacy: "I just want to have those memorable records...30 years from now you can go back and remember those memories."
On her provocative image: "I just have a foul mouth sometimes. I like to say whatever I want to say, however I want to say it. I'm provocative because I know exactly what I want."
Snaps.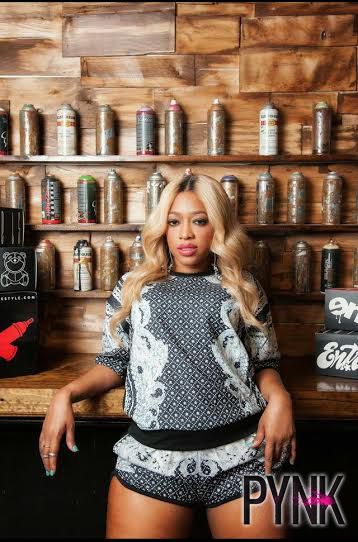 She showed off some thigh and thigh high boots in the provocative pics. Hot. And we're sure her boo (even though neither of them claim each other) French Montana loved it too.
Because last night, he was at her cover party to help her celebrate.
LaLa & French hit up Philippe's for the party, which was sponsored by Ciroc, Beautiful Textures and Flat Fitty.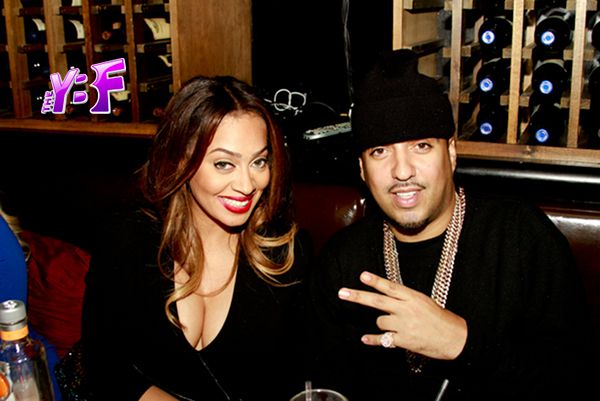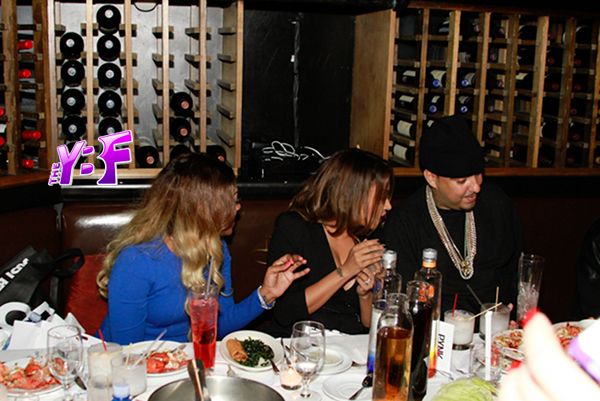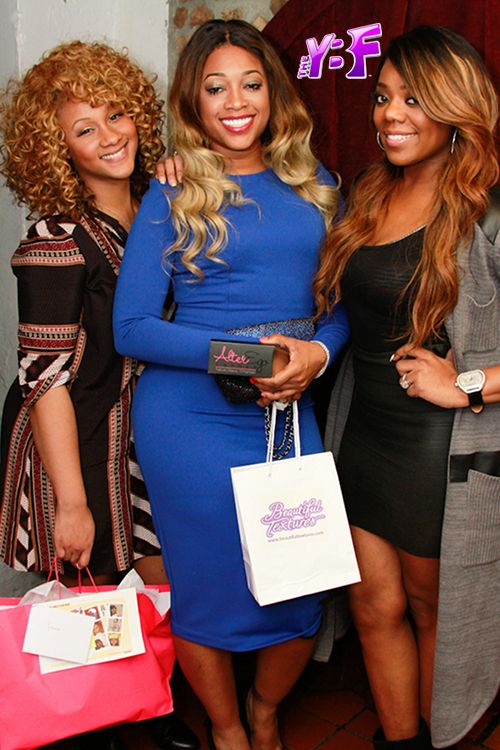 PYNK owners Mecca Moore and Meeka Claxton (former "BBW" star) posed it up. Cute dress Trina.
Julissa Bermudez was there showing off her new short cut.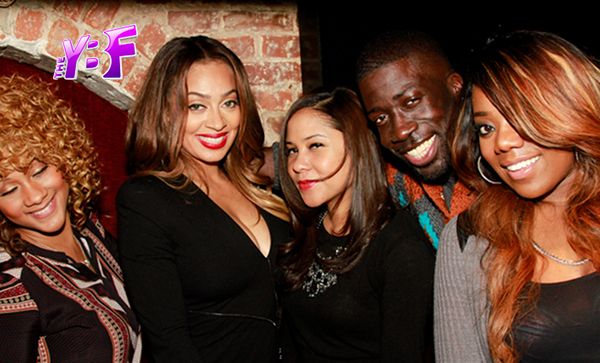 Angela Yee and Rae Holliday snapped some pics with the ladies.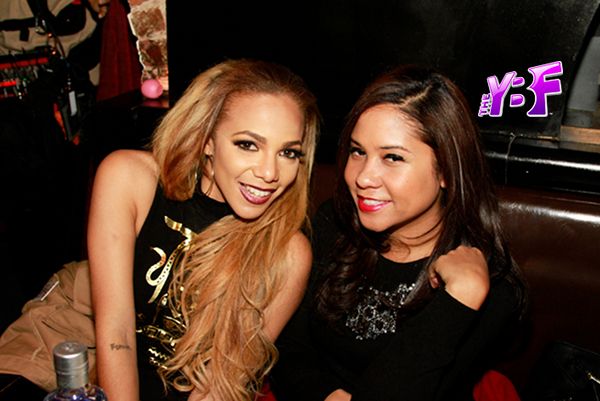 Po is still working on her music situation. She's looking cute as well.
And Emily B also came through to support.
Fun times!
Photo Credit: Patrick Neree
SPOTTED: Ashanti Gets Her Shop On With Her Stylist In Beverly Hills
Posted: 19 Dec 2013 07:38 AM PST
Ashanti was spotted shopping in Beverly Hills with her stylist. See the twosome trying on designer duds inside.....
"I Got It" singer Ashanti sipped a refreshing drink out of a wine glass while shopping on Rodeo Drive in Beverly Hills yesterday. You know, how the rich and famous like to get their shopping done.
She was joined by her stylist, EJ King, who took a few sips of wine himself.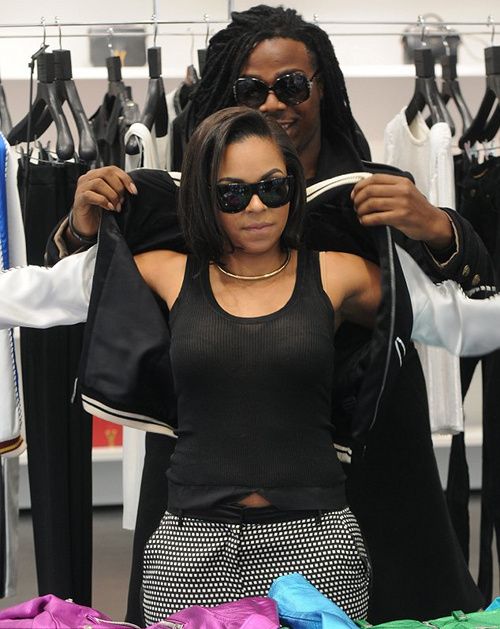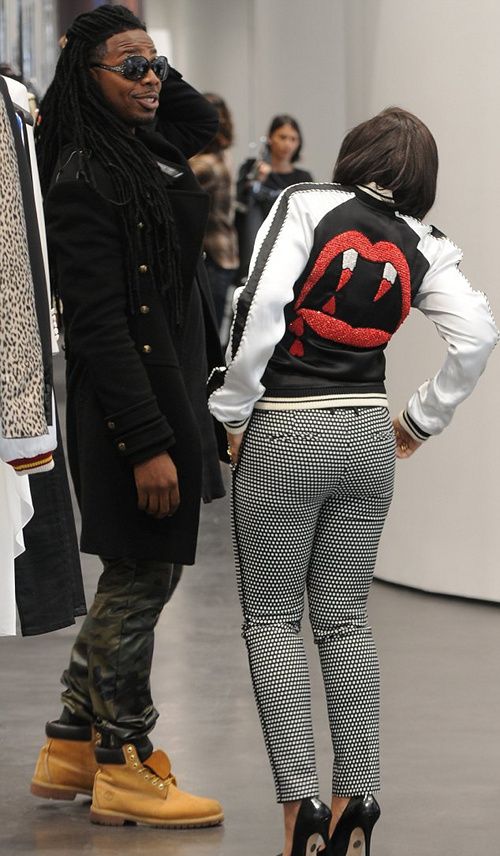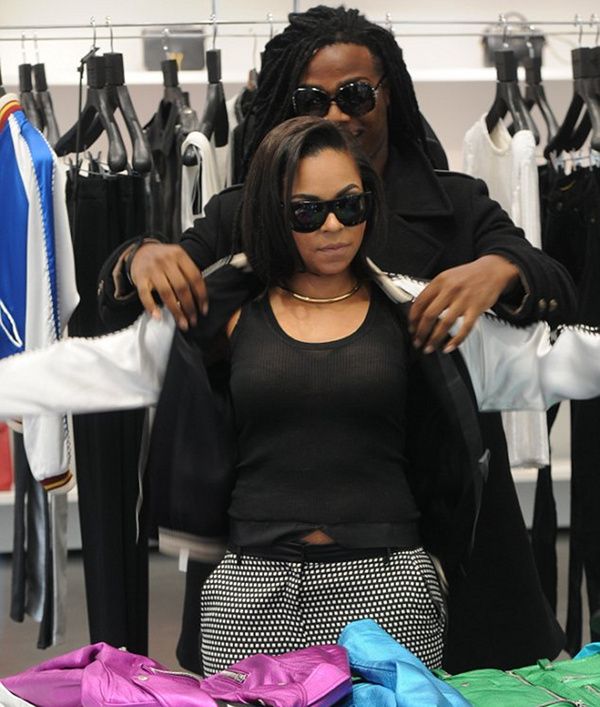 The actress/singer showed off her cute bod trying on some coats and things...
Ashanti, who's currently starring in Lifetime's "Christmas In The City", was all abut a cute jacket with fangs and lips.
Looking good chick!
Photos via Splash
NOT ON MY WATCH! Shaquille O'Neal SLAMS Shaunie's Attempts To Film New Reality Show With Their Kids
Posted: 19 Dec 2013 06:27 AM PST
Has Shaquille O'Neal shattered Shaunie's hopes for turning her family into the newest reality family on display? Get deets on Shaq shutting down Shaunie's newest reality tv desires inside...
While Shaunie O'Neal wants to turn her life with 5 kids into a reality show empire, her ex hubby Shaq ain't having it! Today in LA, Shaunie will appear in court where she hopes a judge will grant her an emergency order allowing her to shoot with the kids. So what's Shaq's response? He allegedly said, "Over my dead body."
The order would allow Shaunie to move forward with her VH1 show, "The Shaunie Project", but Shaq doesn't want his kids filmed. Shaunie wants to start filming the "Cosby-style" series in January but it's all comes down to what the judge thinks is best.
We already know where Shaq stands.
Photo via Shaunie's IG
DO WE BELIEVE IT: Will Khloe Kardashian BANK $7 Million After DIVORCING Lamar Odom?
Posted: 18 Dec 2013 04:23 PM PST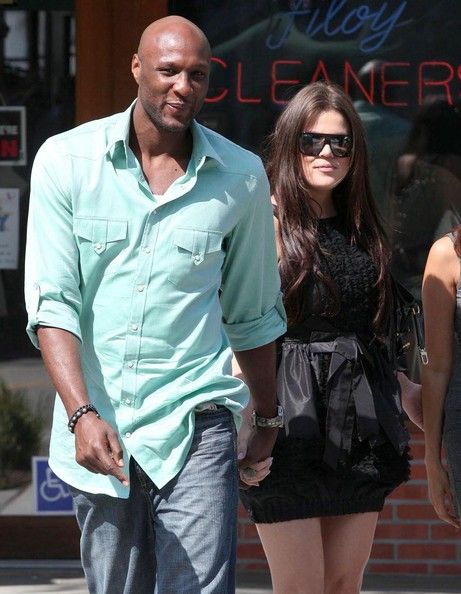 Khloe Kardashian is expected to collect around $7 Million dollars when she divorces former NBA star Lamar Odom. Get the deets on the alleged settlement inside......
A few years ago, we watched in awe as Kim Kardashian pocketed millions from her wedding to Kris Humphries and now we'll have the pleasure of watching her younger sister, Khloe, pocket millions from divorcing Lamar Odom.
According to the December 30 issue of US Weekly, Khloe stands to make $7M by divorcing Lamar. How will she do it? The magazine reports that the couple's ironclad pre-nup states that Khloe will make $500K for every year the couple were married (four years=$2M). Next, Khloe gets to keep all "gifts" and her $1M Vartan 12.5 carat radiant-cut diamond wedding ring. Khloe also keeps the former couple's $4M Tarzana mansion.
Wow....In the game of love, the Kadashians know how to make a dollar out of 15 cents.
In other Khloe news, she hopped on Twitter to shoot down rumors that she' hooking up with Matt Kemp.
We think Khloe should "silence" her camp of friends as they keep fueling rumors about Matt. One "source" told Hollywood Life,
"Matt's helping her out a lot by being there, being her workout partner and being a friend. He's been a good friend to her and she's cried on his shoulders, literally, because she's still hurting after having to divorce Lamar. The main thing now is that they're friends and they're both not trying to begin anything romantic so soon. Khloe's still sad over her marriage to Lamar and is in a lot of pain."
Meanwhile....Lamar Odom is still holding onto his NBA dreams. TMZ reports that he's been trying at an LA facility for several hours each day. Good luck with that.
Photo via FAME
1 MILLION SOLD: Mrs. Carter Officially Sells A Millie "Beyonce" Albums Worldwide
Posted: 18 Dec 2013 03:35 PM PST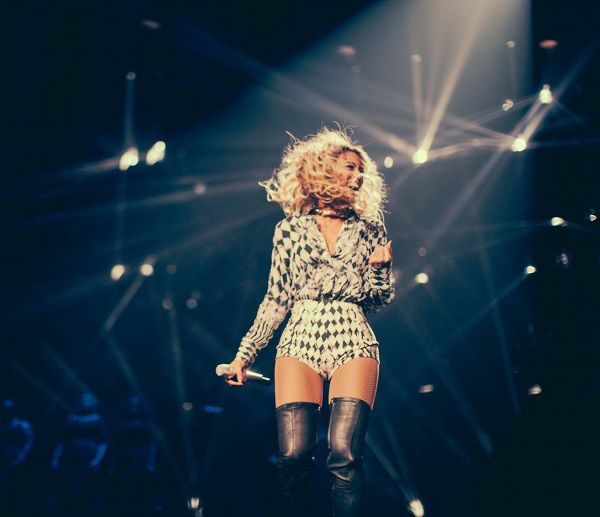 Hate it or love it...Beyonce Knowles just officially changed the game. Not only was her surprise Beyonce album a raging success, she sold a million albums to further prove it.
Details inside....
Up until last week, an artist selling a million records in a week was the tell-tale sign of a super successful album. Pretty much all of those artists that accomplished the feat did major promo in some way or another. But Beyonce just changed the game by showing she can sell a million records worldwide...in less than a week...with no promo at all.
Apple & Columbia have confirmed that Mrs. Carter and her Beyonce visual album have officially crossed that 1 million mark.
The millionth sale came around 11:15 am PST on Wednesday, a knowledgeable source told HuffPost. And this all comes after she sold over 800K in the first weekend.
This was also done strictly on the digital iTunes platform in full album form only. And since physical copies just hit many stores today, that 1,000,000 number will shoot up quickly.
The RIAA is expected to certify the pop Queen with platinum status very soon. But in the meantime, she's still trekking it away on her Mrs. Carter Show world tour (pictured above in Toronto on Monday in her new Balmain stage outfit) and releasing the full videos for her first two official singles, "XO" and "Drunk In Love". She tears down the stage in D.C. tonight and wraps for the year in Brooklyn on December 22nd.
The 2014 World Tour picks up in February in Europe.
Photographed by Robin Harper/Beyonce.com
SERIOUSLY? Peter Thomas Says He Almost CHEATED ON & LEFT Cynthia Bailey...Because They Didn't Have Sex Due To The Fibroids?!
Posted: 18 Dec 2013 12:31 PM PST
In Stupid Ish Husbands Say News Of The Day, "RHOA" stars Cynthia Bailey & Peter Thomas opened up recently about their recent trials and tribulations while dealing with Cynthia's fibroid issues.
Check out the totally unsupportive words Peter had to say inside...
When Peter caught backlash this season for being slightly cold and not watching his words while at wife Cynthia's bedside before her fibroid tumor surgery, we chalked it up to him just being a man. A man who has trouble finding comforting words in scary situations.
But Peter's newest words...
The couple chatted with Life & Style magazine about Cynthia's health crisis almost breaking their marriage. Cynthia said, "We'd be divorced for sure."
Nope, not because of all the stress between them that was based on the fear of someone losing their LIFE...but because Peter wasn't getting enough sex during this time.
Of course.
Peter agreed with Cynthia saying, "I know we would have been done. There is absolutely no way we could have survived another year if things hadn't changed."
The couple explained that the fibroids, that many women suffer from, caused a sudden downturn in Cynthia's sex drive. And it was all due to bloating and discomfort from the fibroids.
Cynthia admitted that sometimes they went three months without sex.
At one point, Peter confessed he considered cheating on his wife: "Me and my buddies were planning a trip to Venezuela because nobody knows us there."
Seriously?! So much for "In sickness and in health..."
Photos: Cynthia's IG
SPOTTED: Hill Harper Gets Frisky In St. Barts With New Girlfriend Chloe Flower! Meet His New Chick....
Posted: 18 Dec 2013 10:07 AM PST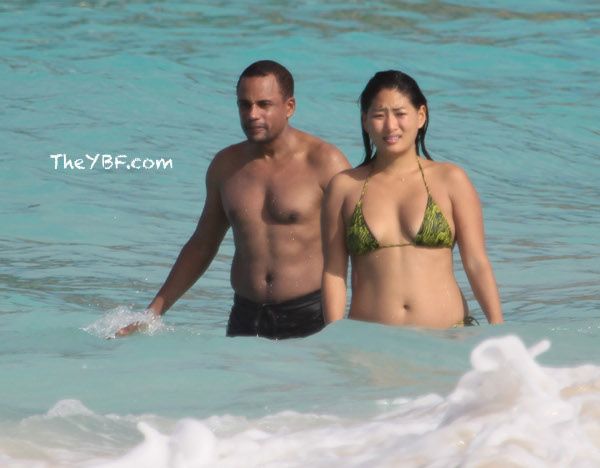 Actor Hill Harper has a new boo! They've been dating for at least a year, but it's the first time we've seen the twosome getting a little frisky. Meet Hill's girlfriend inside...
Who knew that the best selling Letters to a Young Brother author (and author of plenty of other books about relationships and life lessons) and "CSI: New York" actor Hill Harper had found love?!
The 47-year-old was spotted frolicking in the waters of St. Barts yesterday with new girlfriend, classic pianist Chloe Flower: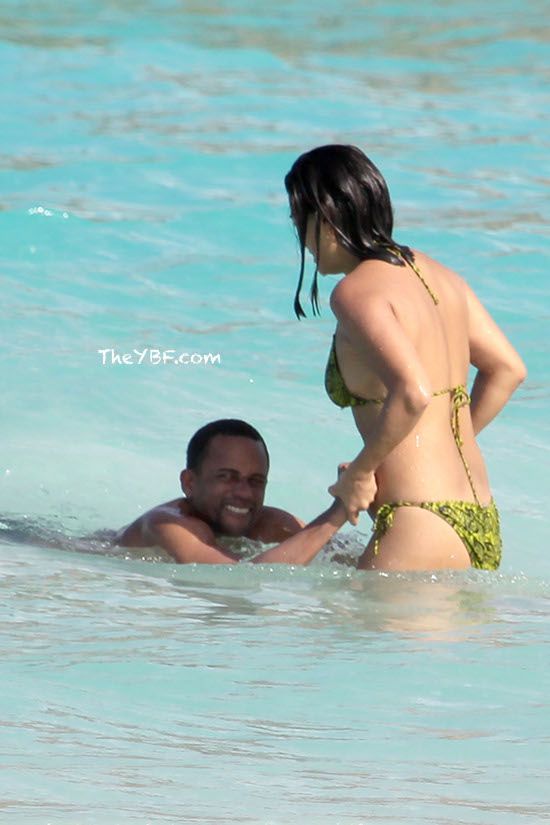 Chloe is a classically trained pianist who flexed her skills on Nas' Life Is Good album.
She's also an activist to fight human trafficking. She's a staunch supporter of the Somaly Mam Foundation which is a human rights organization that focuses primarily on sex trafficking.
And seeing that Hill, a Harvard Law grad, is a political activist for plenty of social justices, it makes sense that the two would click.
Hill was spotted playing around with his boo and a little kiddie as well.
And it's clear Hill and Chloe have been a couple for at least a year as they hit up SkiFest in Utah together in December of last year: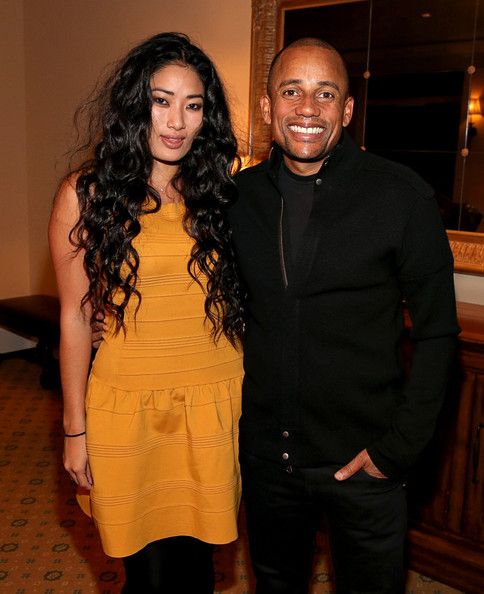 They also hit up the Manifest Your Destiny toy drive last week and snapped a pic with Boris Kodjoe: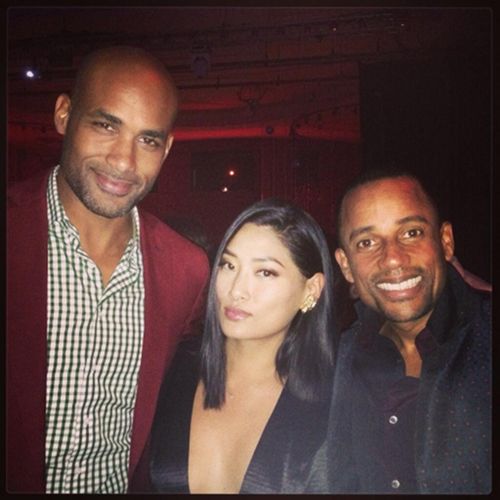 Check out her skills below: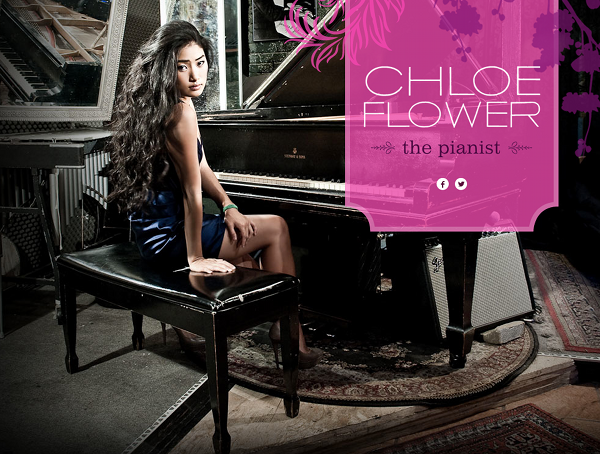 Photos: INF/Getty/Chloe's Twitter