---
CHRISTMAS GAMEDAY COUPLES! Gabby Cheers On Dwyane Wade + Keri Hilson Hits Up Serge's Game + Kevin Hart & Eniko SMOOCH Courtside
Posted: 26 Dec 2013 09:39 AM PST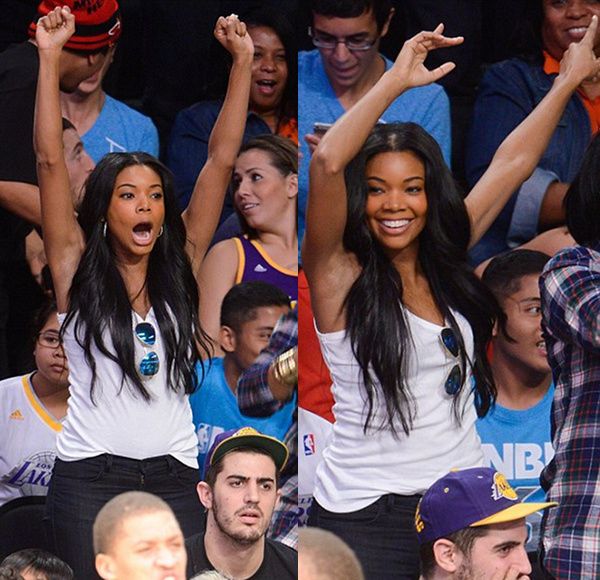 Gabby Union was front and center at the Miami Heat vs. Lakers Christmas game cheering on her new fiancee Dwyane Wade at the Staples Center. Check out the pics inside of Gabby rocking her new diamond, Kevin Hart and girlfriend Eniko getting all kissy at the game, plus Keri Hilson traveling with her boo Serge Ibaka for his Christmas Game...
"Being Mary Jane" star Gabby Union was spotted arriving to the Staples Center yesterday to spend Christmas day at her hubby-to-be's big game. She looked cute in boots and a snakeskin cropped leather jacket as she walked into the game. And y'all already know she had that ring on full display: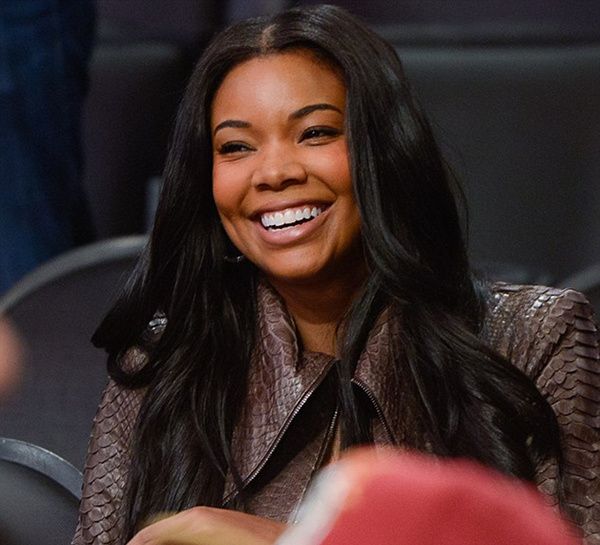 Also at the Lakers game: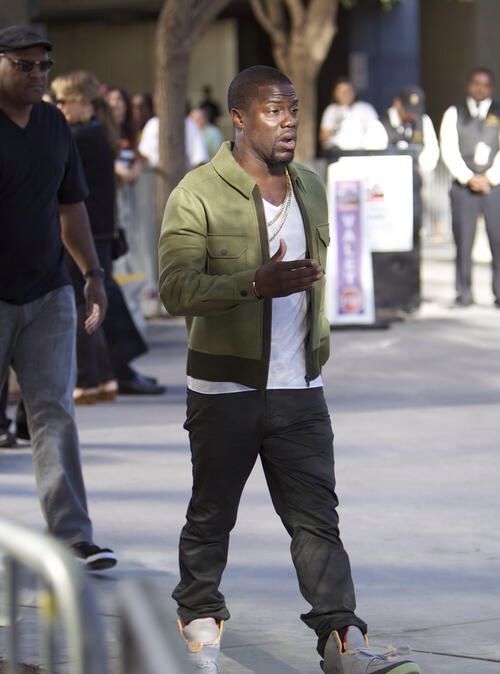 Kevin Hart spent Christmas day courtside with his boo Eniko. And the shared some hugs and kisses: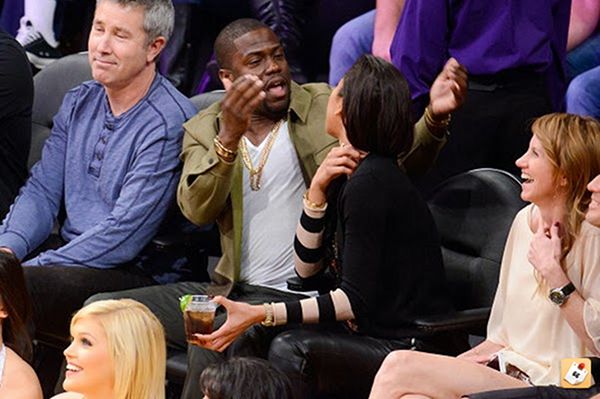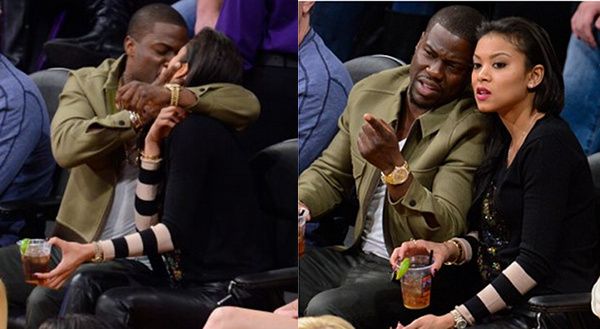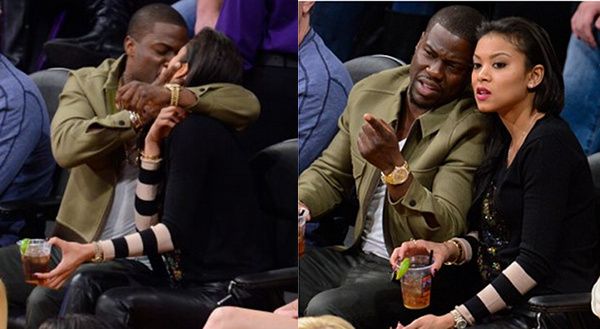 Well aren't they cute...
And over in NYC, the other big game on Christmas was the Thunder vs. the Knicks. So OKC baller Serge Ibaka brought girlfriend Keri Hilson along to the Manhattan to watch him play: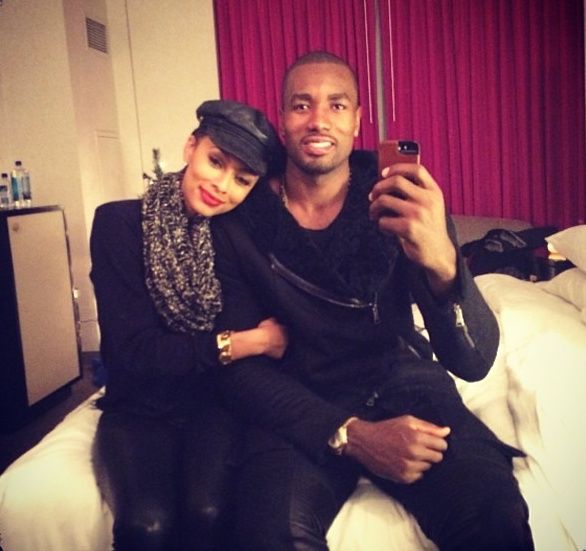 They snapped some pics from the hotel room. Keri gushed:
Merry Christmas from #TeamIbaka!! Me & @mr_avecclasse
Looks like she may be the next one entering the ring wars of 2013. Cute!
Photos: Keri's IG,Serge's IG, Getty, Splash
RING WARS: Tamar Braxton Shows Off Her GINORMOUS Christmas Present From VInce -- A Fat DIAMOND RING!
Posted: 26 Dec 2013 08:26 AM PST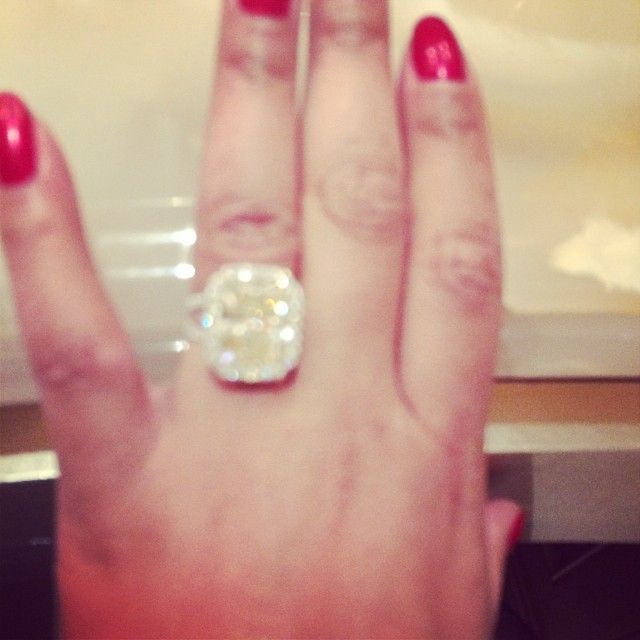 What did Tamar Braxton get for Christmas? Come inside and see the huge rock that landed on "HER" finger for Christmas.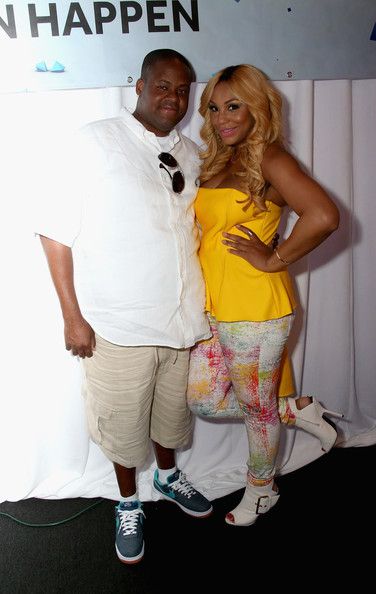 2013 has been like the war of the big ass diamonds! The latest to enter the battle--WeTV's #1 diva.
For Christmas, Vincent Herbert presented his wife, Tamar Braxton with a huge diamond. Actually, several diamonds around one huge diamond.
Tamar shared a pic of the present on IG saying, ""I'll say yes!&yes!&YES Vincent Herbert a zillions years.....cause we will #STAY&FIGHT!! I'll LOVE you forever!!..man of my dreams!!! We're so true.."
We wonder if this ring was purely a Christmas gift or if it was the "push" present Tamar's been begging for on "Tamar & Vince"? Either way....HE did that!
Tamar asking for that PUSH gift....
Photos via Getty/Tamar Braxton Instagram
IN CASE YOU MISSED IT: Chris Brown's "Wildcat"
Posted: 26 Dec 2013 07:43 AM PST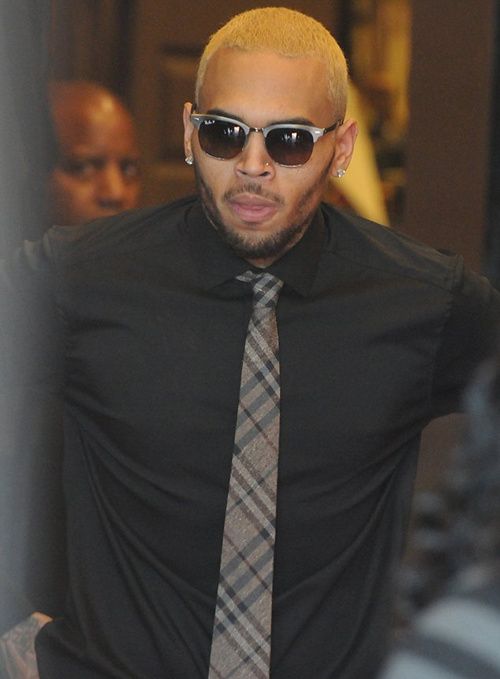 Chris Brown may be calming his anger management issues (and possibly some other issues) in rehab, but it hasn't stopped him from singing about maryjane. Check out his new track inside...
Breezy's getting high(er) with his new track "Wildcat". It appears on his upcoming album X, due out 2014. And he's letting y'all know how he wants to smoke and lick his way to his ultimate chill.
Check the Drumma Boy-produced "Wildcat" below:
And in case you missed this--check out Breezy at his Toy Drive a few days before Christmas.
CHRISTMAS ENGAGEMENT! Evelyn Lozada's 14.5 Carat Diamond From Carl Crawford! (Check Out The MAJOR Rock Inside)
Posted: 25 Dec 2013 02:57 PM PST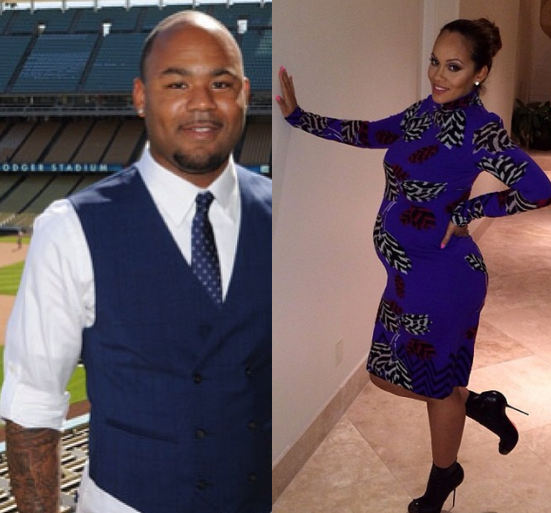 Love is in the air apparently. At least where the major ballers are concerned. MLBer Carl Crawford just popped the question to former "Basketball Wives" star and mother of his baby-on-the-way Evelyn Lozada. Check out her ring inside...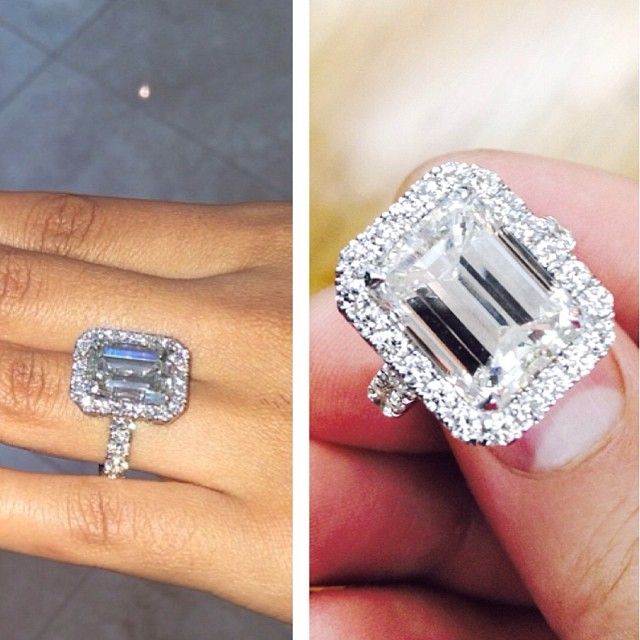 Peep THAT diamond. Evelyn Lozada is about to prove whether three times is really a charm as she JUST got engaged to her baby's father Carl Crawford. The 7-months-pregnant Ev posted pics of the 14.5 carat Emerald cut sparkler to Instagram simply saying "Yes" and how she's the happiest girl in the world. We're sure she is...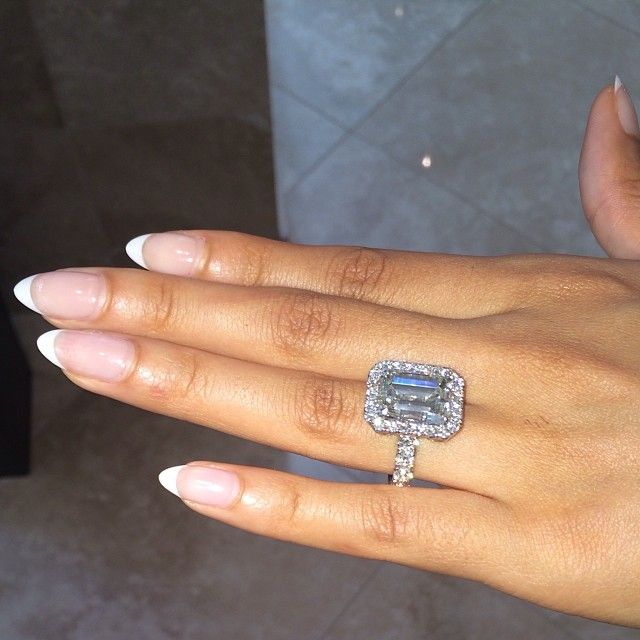 Like Dwyane Wade did for Gabby Union, Carl hit up Jason of Beverly Hills to design the engagement ring which we're pretty sure cost well over $1 mill. But Carl can afford it...he has $82.5 million still to gain from his $142 million contract with the L.A. Dodgers.
Her daughter Shaniece tweeted her excitement about it as well.
The engagement comes on the heels of Carl reportedly ordering his other baby's mother (of his 5 month old and 9-year-old) to stay away from L.A. where he lives at least part of the time and stay in Arizona. Carl also lives in Arizona, we're told, where the children's mother has lived for 12 years.
Evelyn's had a busy month with celebrating her birthday a couple weeks ago, announcing she's pregnant....then announcing the super rich father of her baby. Looks like she's accomplished every reality chick's dream...a ring, guaranteed 18 more years of cash, and continued publicity to boot.
Congrats!
Photos: Evelyn's IG, Jason of BH's IG

CHRISTMAS COUPLEDOM: Beyonce & Jay-Z Hit The Club, Drops BTS Footage Of "Drunk In Love" & More + Kanye Celebrates Christmas With His Fiancee
Posted: 25 Dec 2013 12:21 PM PST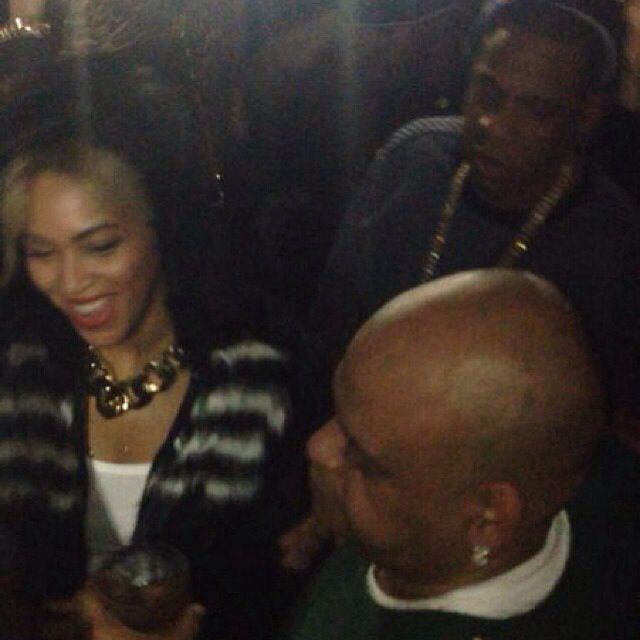 Jay-Z & Beyonce spent Christmas Eve partying the night away at Greenhouse in NYC. Check out the twosome getting drunk in love, plus some BTS footage from the Beyonce album videos, and Kanye West cozying up to his fiancee at the annual Kris Jenner Christmas Eve party....
Well that's one way to celebrate Christmas....hit the club: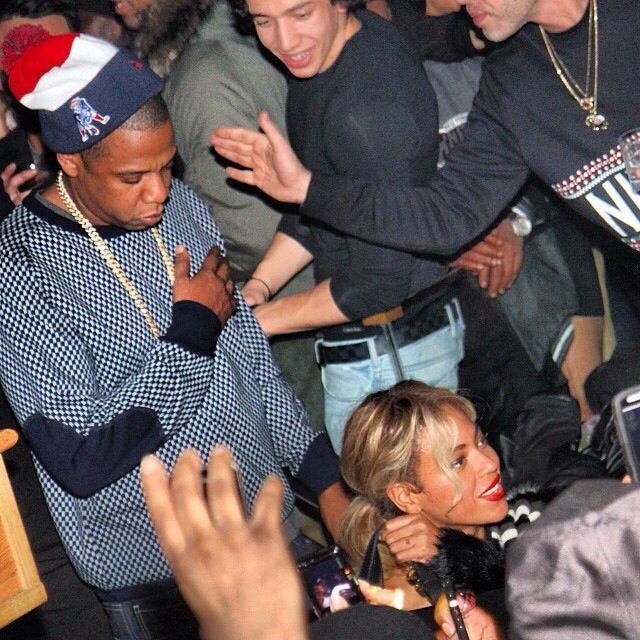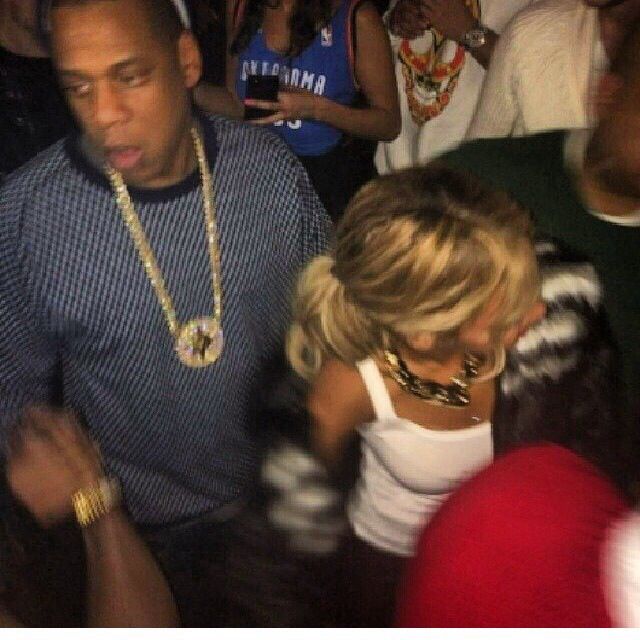 The Carters stepped out close to their Tribeca home last night to hit up Greenhouse. Now that Bey is officially on a break from the MCSWT until February and Jay is on a mini break from his tour as well, it's only right they live it up.
Wonder if they had to go back and do some drunk gift wrapping for Blue Ivy. Peep the video below:
Beyonce also released Part 3 of her mini documentary she's been doing to promote and give insight into her new self-titled album. This one shows the hip hop power couple in the studio doing what the do best (with Kelly Rowland in tow), shooting the video on the beach, and Beyonce explaining why she went rogue for this album.
"I'm trying to rebel against perfection.....It's really about fun, art....you can't plan it. If it was my choice, I would never have a permit. I would just get in the car and just shoot. Trust me, I tried."
Check it below:
And over at Kris Jenner's mansion, Kanye West put on his Christmas best to attend the annual Holiday party in Calabassas: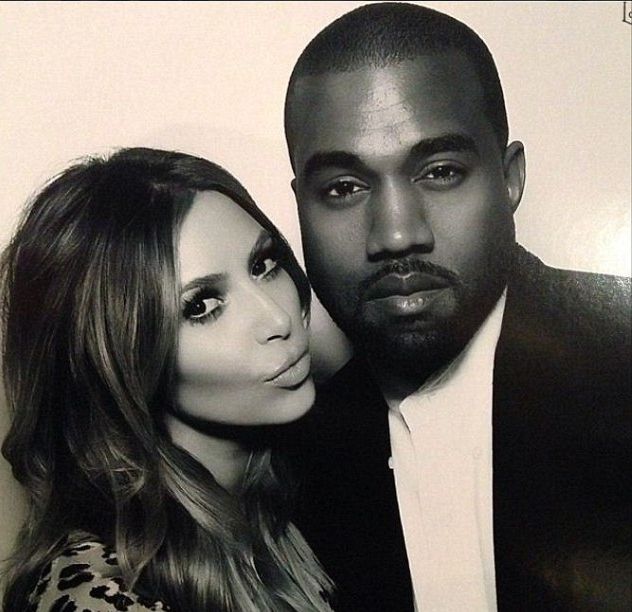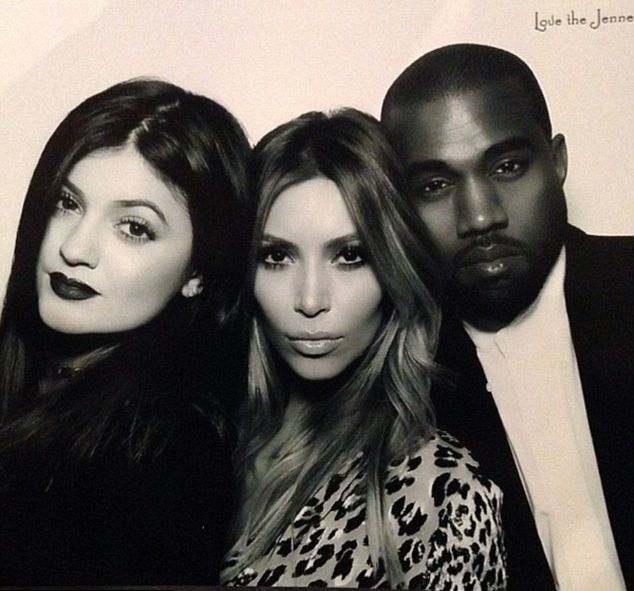 He snapped pics with his fiancee Kim in the photobooth and his future sis-in-law Kylie.
And look who else was there: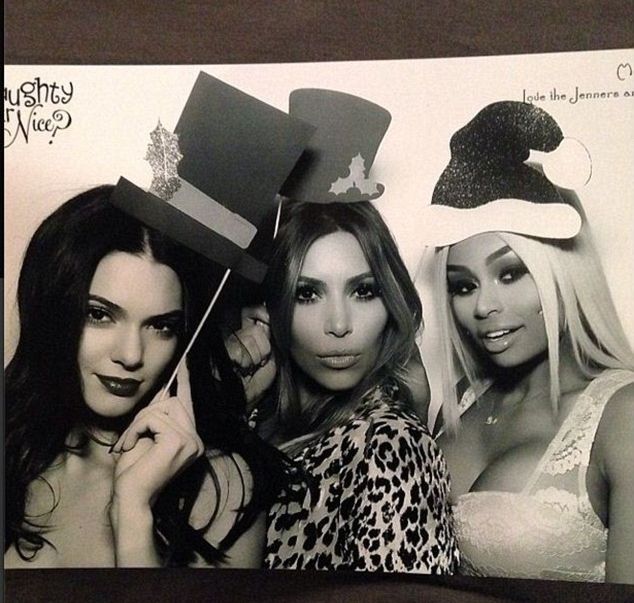 Blac Chyna of course.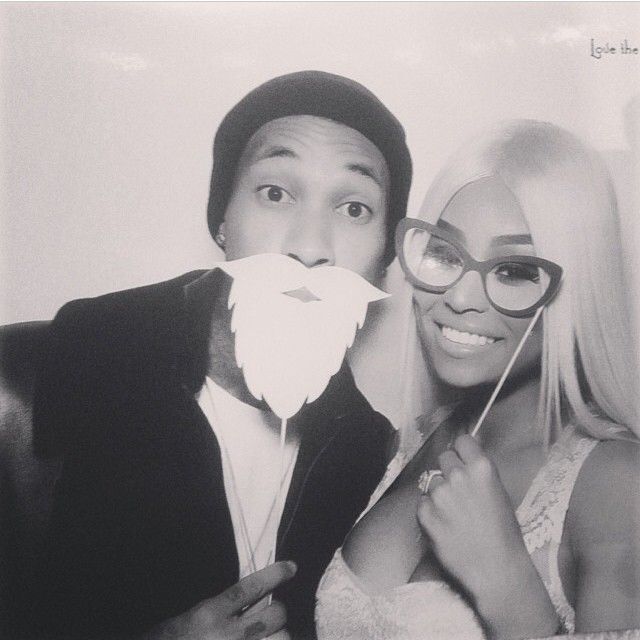 She and Tyga played around with the costumes.
And twins Malika & Khadijah Haqq also got in on the fun.
Photos: Black Chyna's IG/IG/Twitter
WHAT DO CELEBS DO AT CHRISTMAS: Rihanna, The Boshes, Diddy & Kids, And More
Posted: 25 Dec 2013 11:53 AM PST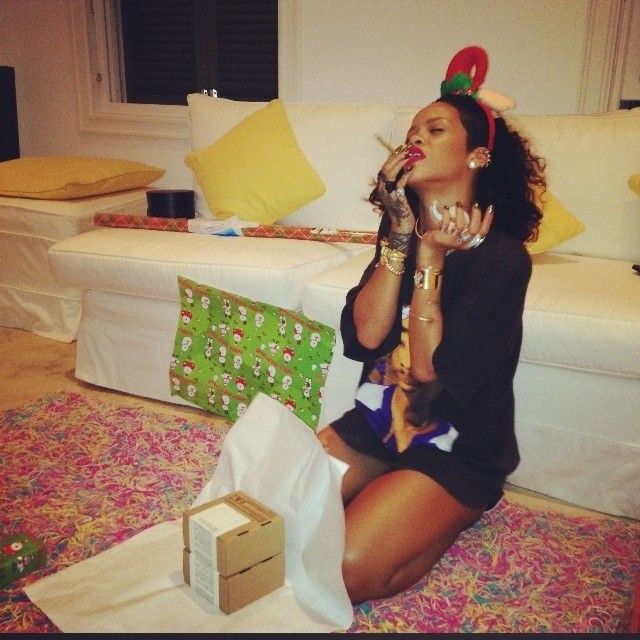 Rihanna and other celebs are just like the rest of us on Christmas Eve. Everybody's spending time with family, downing drinks, and getting in all that wrapping.
Check the pics inside..
Back in Barbados, "Pour It up" chick Rihanna is clearly in a festive mood as she's been drinking and smoking while wrapping gifts on Christmas Eve. She said she was singing along to Mariah's classic Christmas album....her fave.
Her bestie Melissa offered up some hugs (after Rih gifted her with a new Louis Vuitton bag) and Ri's other family members were on hand to celebrate too: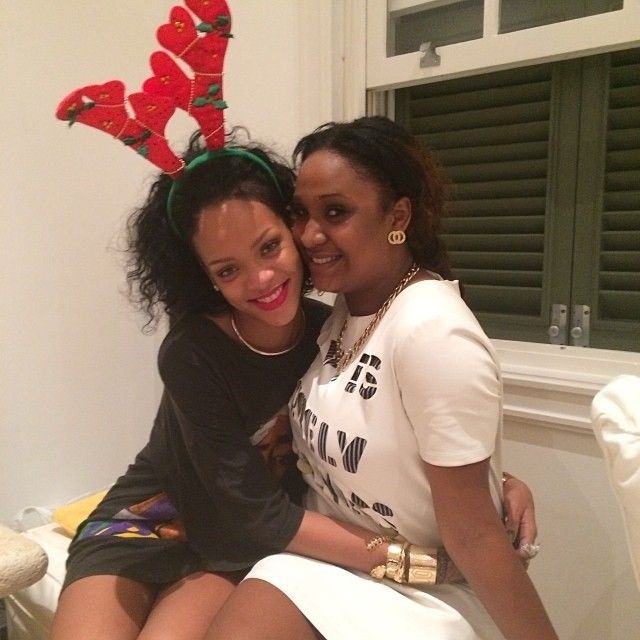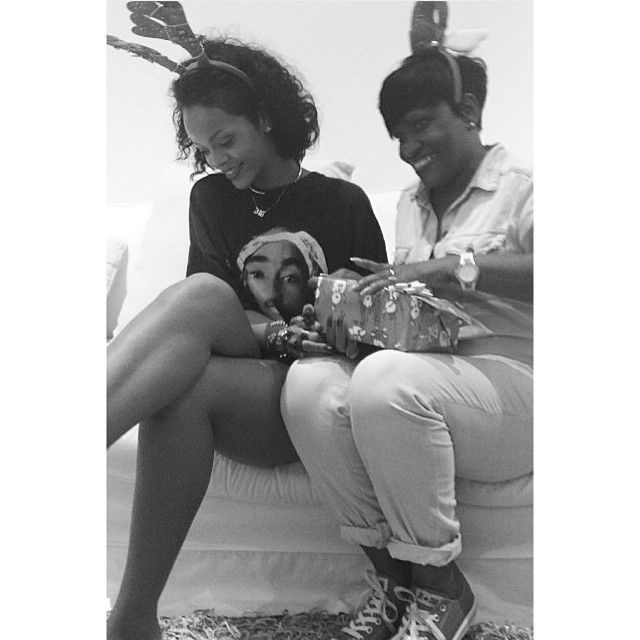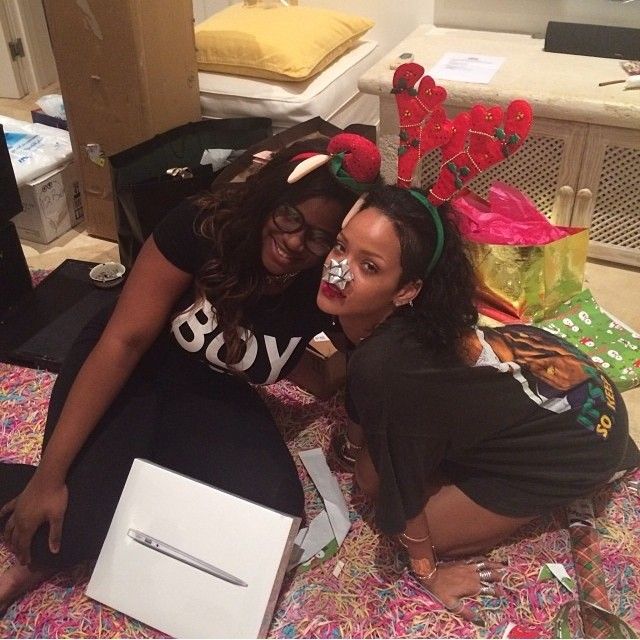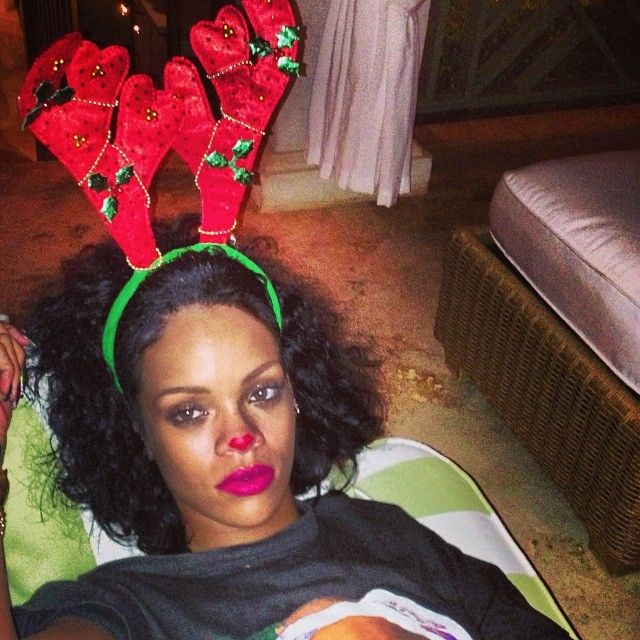 Fun times!
Over in L.A., since LeBron James and the Heat are in L.A. for the Christmas Day game against the Lakers, Bron brought his whole family along for a hotel Christmas: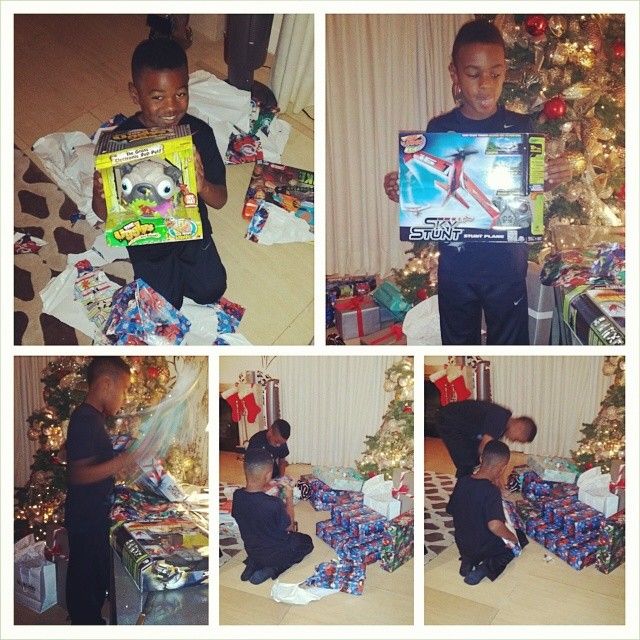 His and Savannah's sons had loads of presents there...but they also have a surprise stash of presents waiting for them back in Miami according to another pic Bron posted. Nice!
Speaking of the Heat: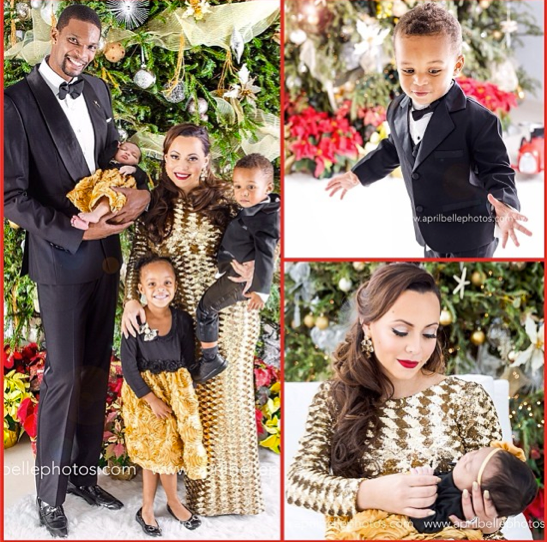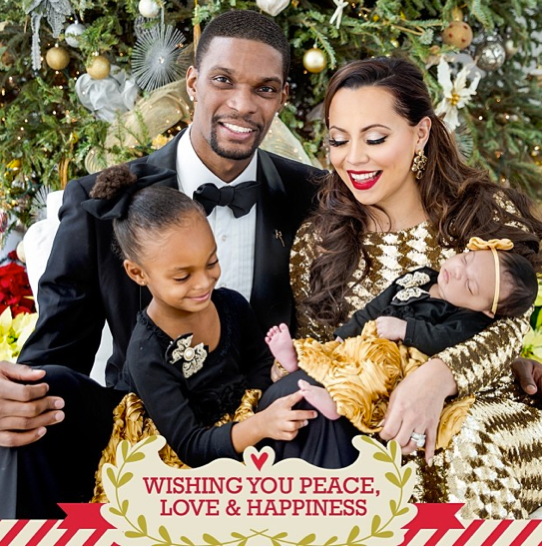 Chris Bosh and his wife Adrienne and kiddies Trinity, Jackson and Dylan Skye Bosh showed off their family photos. Adrienne has made prepping for and snapping family photos for every single thing in life a full time job. Do you boo.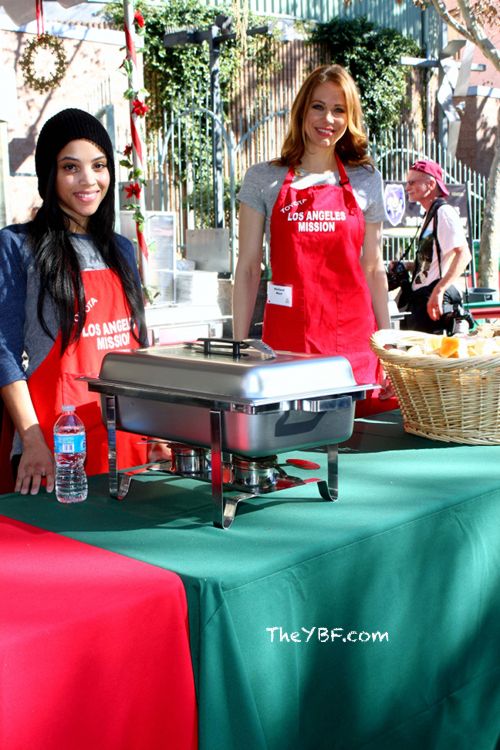 Actress Bianca Lawson hit up the Los Angeles Mission recently to volunteer during the event for the Festival for Children Foundation for Christmas Celebration.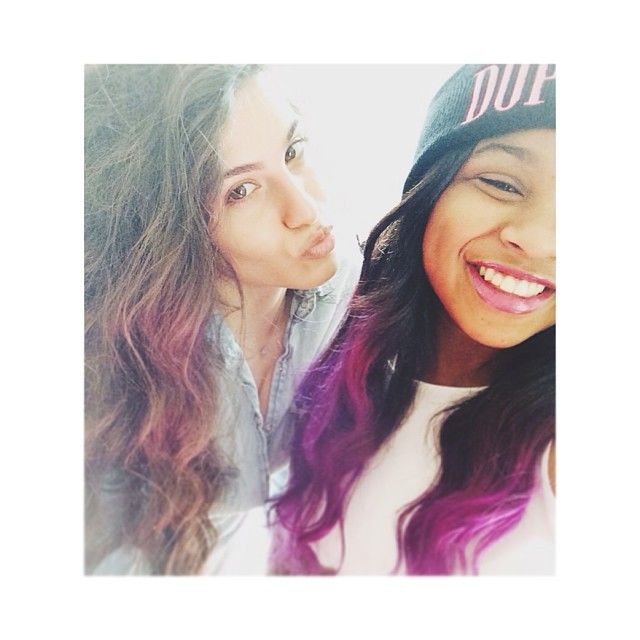 Reginae Carter is spending the Holiday with her dad this year and his girlfriend Dhea.
"DWTS" star Corbin Bleu kissed it up with his girlfriend Sasha Clements.
Rita Ora showed off her feisty Christmas spirit.
And over at the Combs mansion: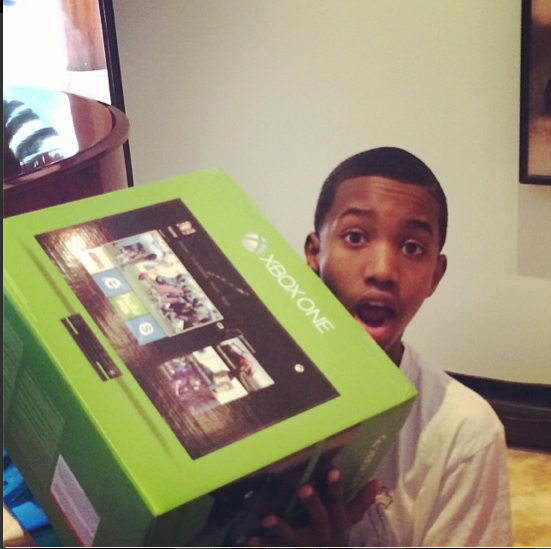 Diddy's kids opened their gifts this morning and he shared the snaps with all his fans. But it was the Christmas Eve fun that caught our eye:
Ha!
Have a fabulous Christmas all!
Photos: Instagram
Kimora Smooches Her New Boo Tim Leissner In St. Barts + The Twosome On HOLIDAY With Aoki, Ming, Kenzo & Russell
Posted: 25 Dec 2013 10:41 AM PST
Kimora Lee Simmons must be totally over her ex Djimon Hounsou...because she and her new boo are already kissing it up on vacay with her kids and her other ex Russell Simmons.
Check the pics inside, and meet KiKi's new man....
Kimora was spotted on the beaches of Barbados bursting with smooches and smiles. And apparently, it's all because of her new love interest Tim Leissner. They must be pretty serious already seeing that she brought him to the annual Simmons family Holiday vacay with her kids and ex-husband.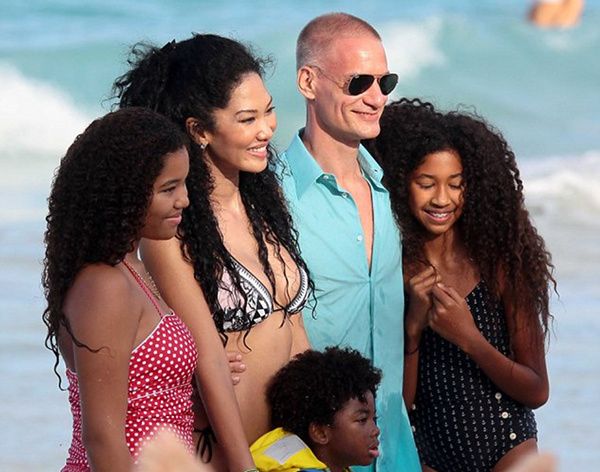 Who's this Tim Leissner you ask? Well, it's DR. Tim Leissner. He holds a Ph.D. and is the Co-President of Goldman Sachs Singapore. he does major investment banking in Southeast Asia, which means he knows how to keep some major cash flowing. Not even mad KiKi.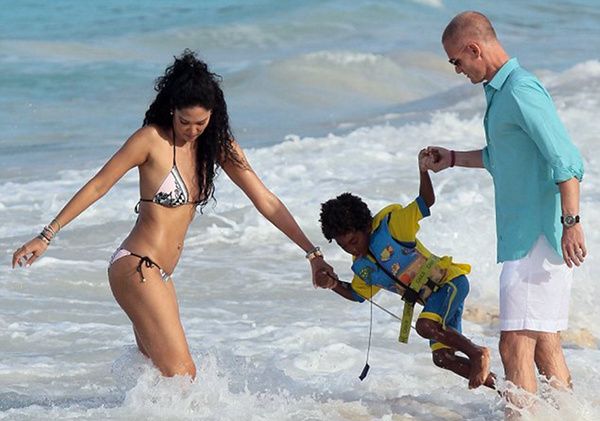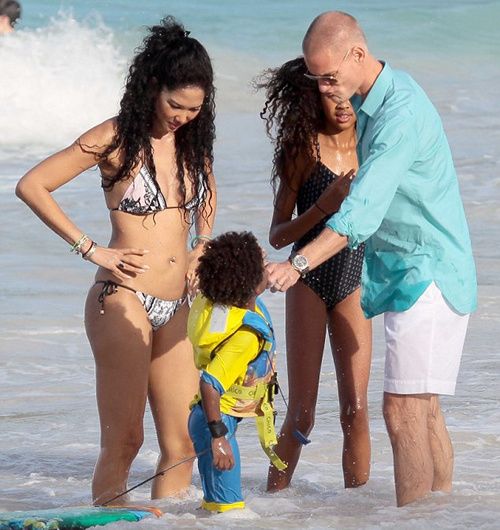 Looks like Tim has already bonded with little Kenzo.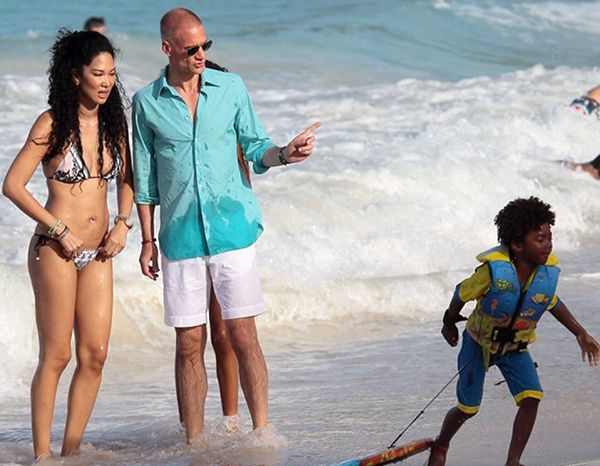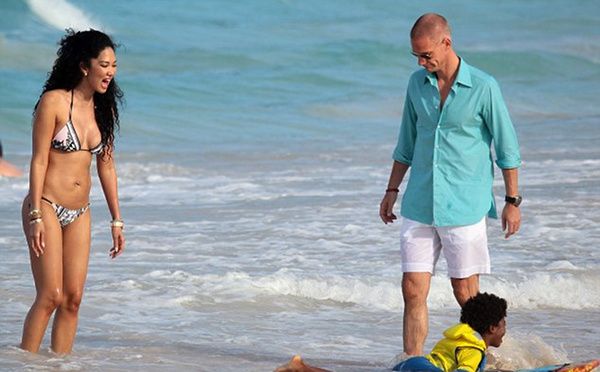 But as for Aoki:
Ha!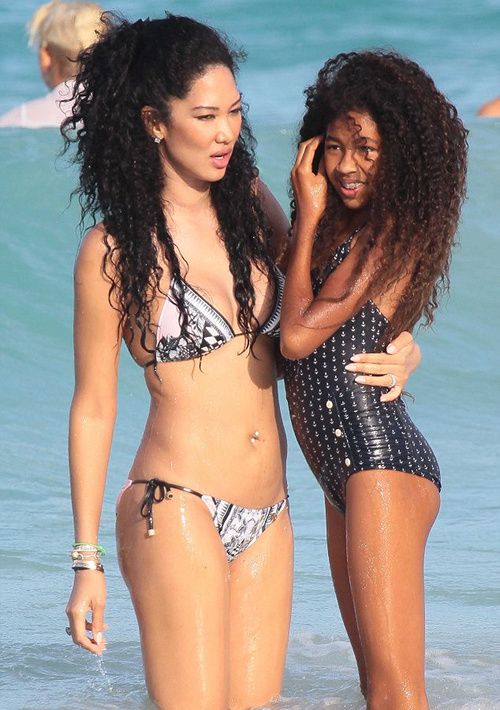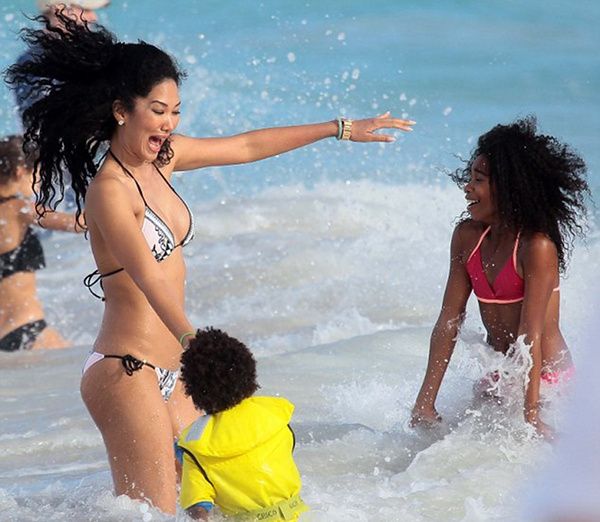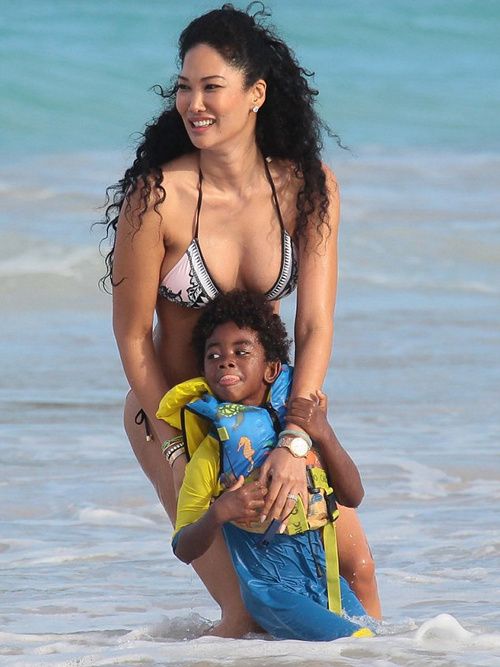 Kimora is looking fabulous and the kids are looking as adorable as ever. Fun times!
Photos: INF/FAME