---
Nicole Murphy FLAUNTS Her Post-Workout ABS At The Grove + Zoe Saldana Wants A BOOB JOB!
Posted: 24 Dec 2013 09:20 AM PST
Nicole Murphy was spotted at The Grove recently. See candids of Nicole showing off her abs inside and find out what Zoe Saldana shared with LUCKY about wanting bigger breasts.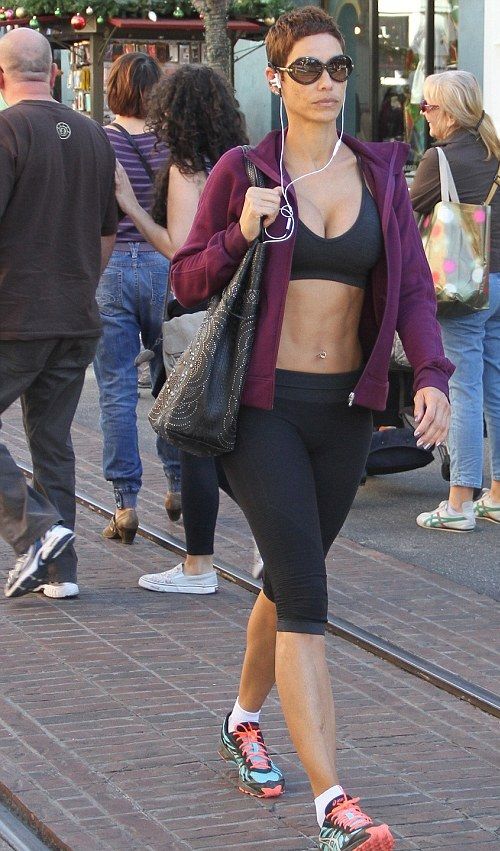 After her mid-day workout, Nicole Murphy was spotted walking through The Grove yesterday.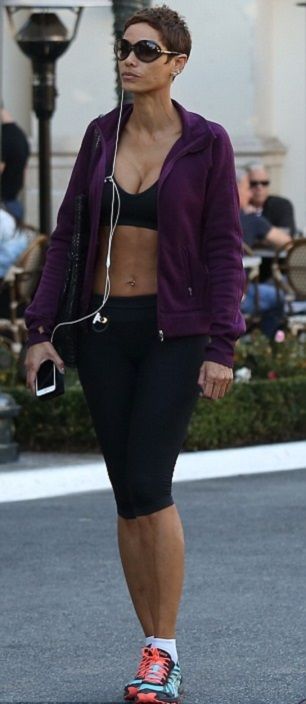 Nicole showed off her phenomenal six-pack while rocking a black sports bra, cropped black leggings and sneakers.
How does the future wife of Michael Strahan maintain her fab physique?? She told PhenoLot Magazine, 'I workout at least 4-5 days a week and have made it a lifestyle so it fits into my routine even when traveling. I do free weights, sprints/cardio, kinesis machine, and Tae Bo. I love to do lunges for my legs and butt."
In magazines......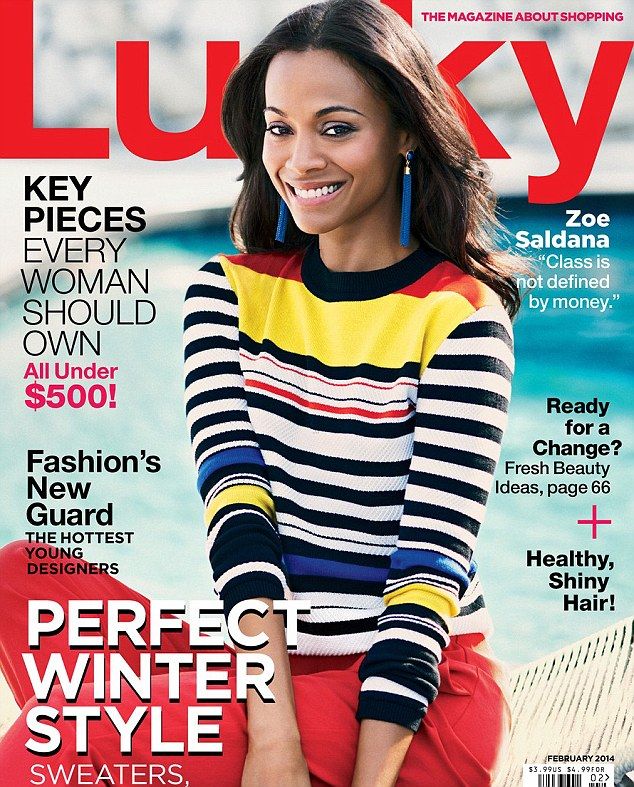 You might think that Zoe Saldana has it all, but there's one thing she still wants: bigger breasts! In the February issue of LUCKY, the newly confides to the mag, 'You always want what you don't have. My whole life I've been obsessed with breasts. I love them. I don't like fake things, but I wouldn't mind buying myself a pair before I die."
LUCKY's full article with Zoe will be available on newsstands on Jan. 1, 2014. Also, Zoe's controversial Nina Simone-biopic has been set for release in 2014.
Photos via Splash/Lucky
Kimora, Russell Simmons & The Kids LIVE IT UP For Holiday In St. Barts!
Posted: 24 Dec 2013 08:35 AM PST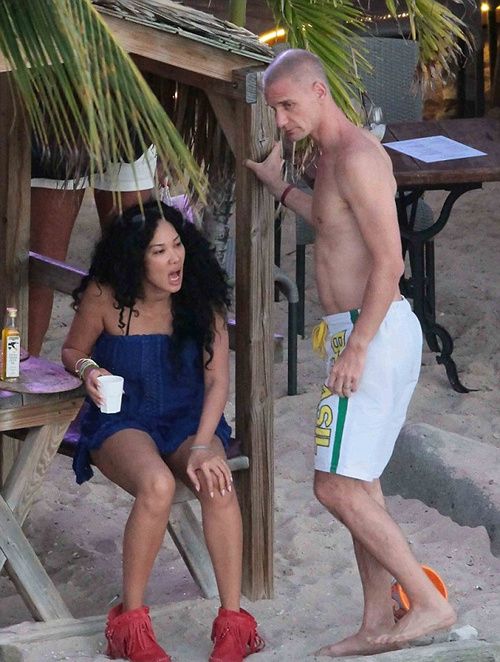 The Simmons Family Christmas is going down in St. Barts as usual. Pics of Kimora, Russell and the kids living it up on the luxe boats & beaches inside...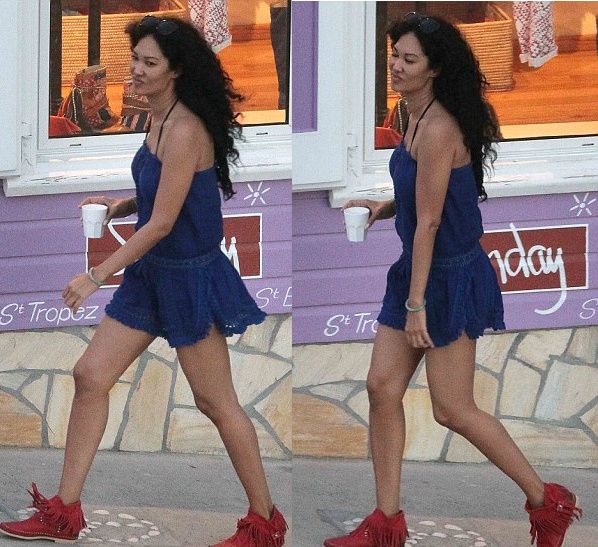 Kimora Lee Simmons is keeping it cute while on vacay with her ex-husband Russell Simmons and the kids. The close knit fam went to the french Caribbean island of St. Barts as they usually do. And look to be having some relaxing fun. Who wouldn't be having fun on a super luxe vacay with super rich parents?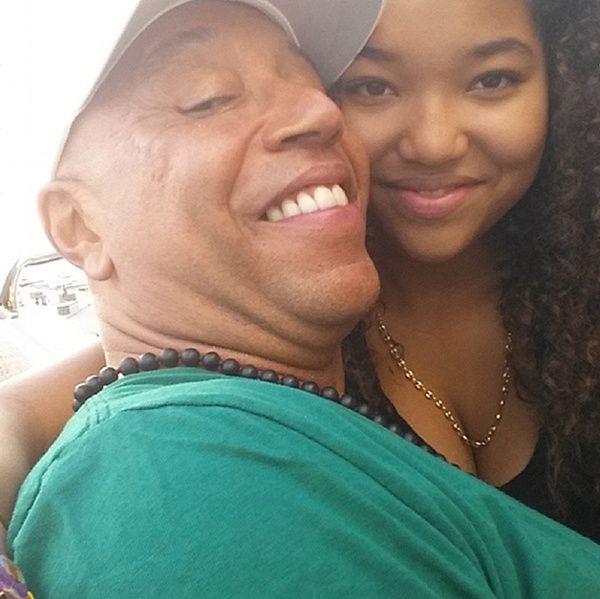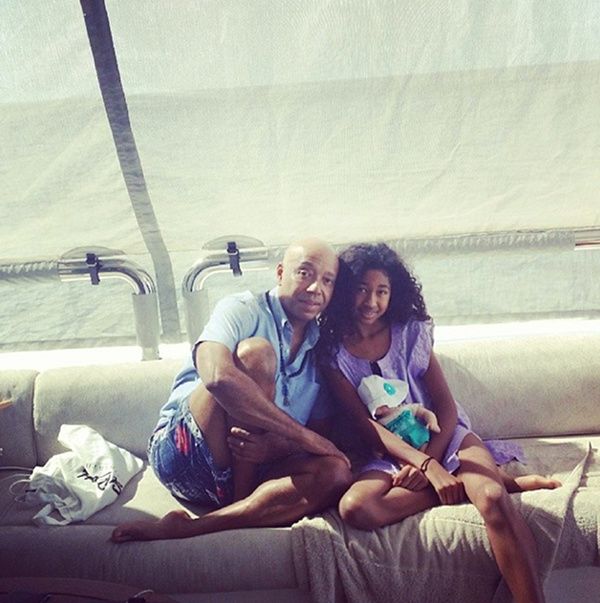 Russell played around with his daughters Aoki and Ming Lee.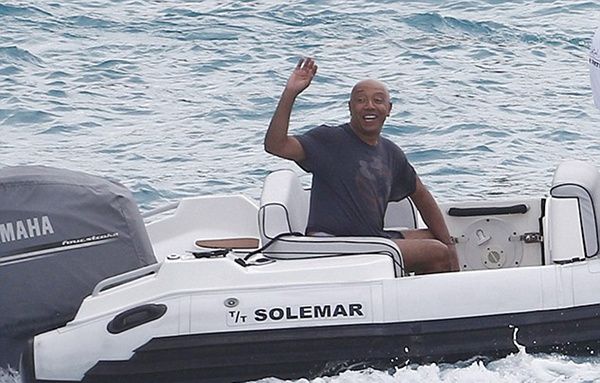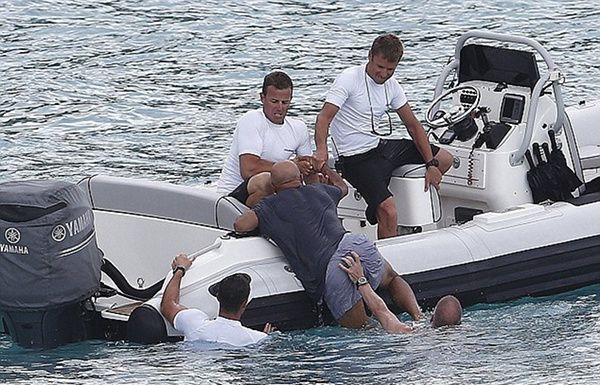 And took a dip in the water.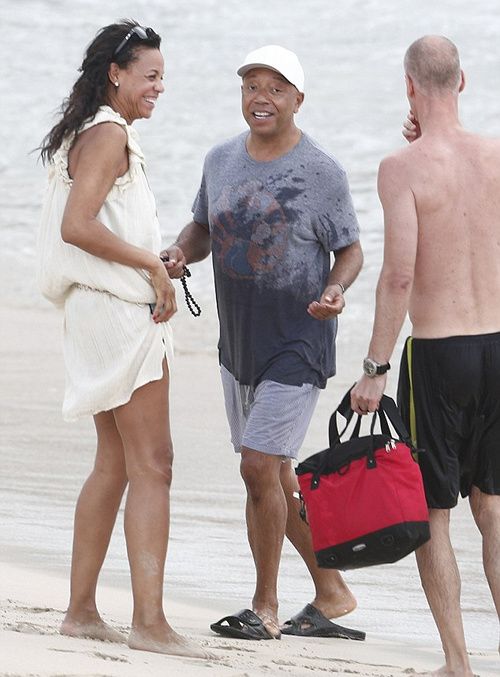 And Kimora posted a pic of Aoki, Ning and Kenzo boarding their private jet to their ridiculously luxe yacht: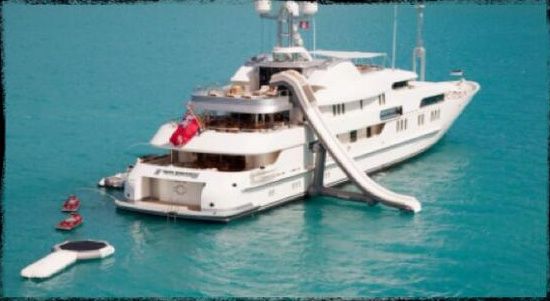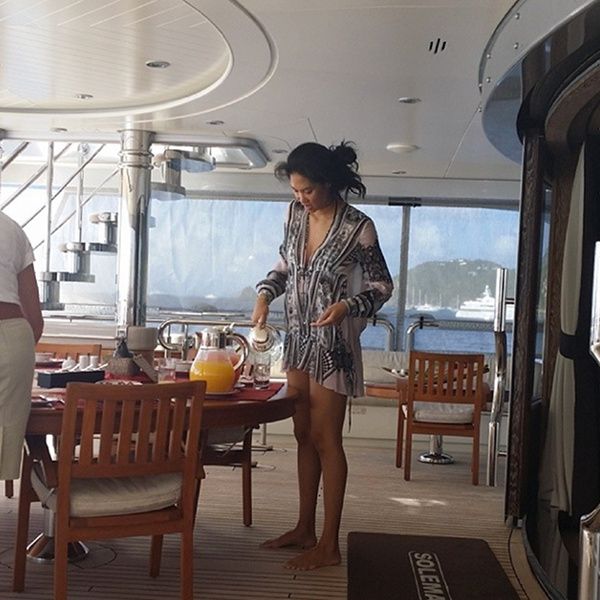 Must be nice...
Photos: Kimora's IG/Russell's IG/INF
UH OH: Former Child Star SUING Kanye West OVER "Bound 2" Sample
Posted: 24 Dec 2013 07:43 AM PST
Kanye West and his record label have been hit with a lawsuit by the man whose voice was used on "Bound 2". More inside....
Ricky Spicer, the former lead singer of the children's R&B group The Ponderosa Twins plus One, is suing Kanye West, Roc-A-Fella Records, Island Def-Jam Music, Rhino Entertainment and Universal Music Group for using his voice on Kanye's hit "Bound 2".
Ricky, 65 and of Ohio, filed suit on Monday in Manhattan Supreme Court.
The suit says, "Mr. Spicer's voice is sampled exactly as he recorded it [on the song "Bound"] and his voice … is heard several times."
He seeks compensation or demands Yeezus "cease and desist" from using his voice.
Looks like 'Ye didn't get that sample cleared...and thought he could get away with it. Time to pay up!
Listen to "Bound" here:
Photos via Fame/Ricky Spicer via Daily News
DAMN HOMIE: Arsenio Hall Crashes His BRAND NEW Porsche!
Posted: 24 Dec 2013 07:13 AM PST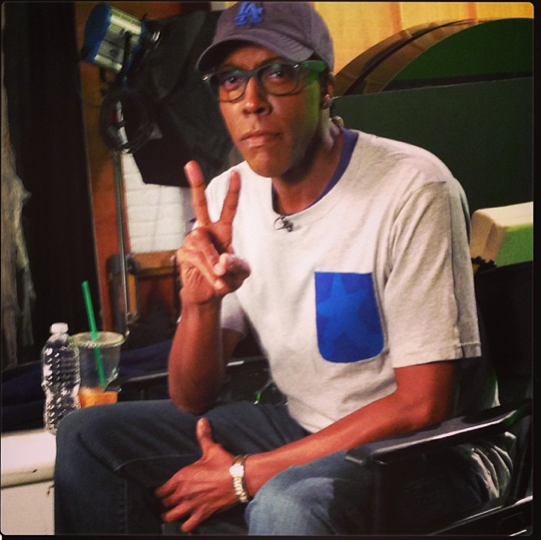 Arsenio Hall had a major crash last night....in his brand new Porsche! Deets inside....
According to reports, late night talk show host Arsenio Hall crashed his brand new Porsche Cayenne S into a dirt shoulder around 7p last night while driving in L.A.
LAPD says he was given a field sobriety test and was not under the influence. He appears to have simply lost control for an unknown reason.
No one was hurt in the incident. And since Arsenio was "super nice" to the responding offices and no crime appears to have been committed, the investigation won't go any further.
Glad Mr. Late Night is A-OK!
Photo: Arsenio's IG
PREVIEW: Extended Look At "Single Ladies" Season 3
Posted: 24 Dec 2013 06:46 AM PST
The "Single Ladies" of VH1 are offering up an extended first look at season 3. Check it inside...
Some folks are anxiously waiting for Season 3 of "Single Ladies" to kick off next month. And now, we've got the extended trailer to whet your whistle. Love, sex, lies and all the drama you're used to. Plus, LeToya Luckett has joined the cast.
Check it below:
"Single Ladies" Season 3 premieres on Monday, January 6th at 9/8c on VH1.
Photo: Arsenio
Ciara (And A Round Midsection) & Future Do Holiday Charity Event
Posted: 23 Dec 2013 09:31 PM PST
While Ciara tried to disguise her midsection behind some kids, she and her fiance Future hit up the Astronaut Kids Holiday Charity Event in Atlanta on Sunday. Check the pics inside...
Yesterday, rapper Future did something great for the kids...alongside his fiancee Ciara and his Freebandz Label and Super Bowl champion Tyrone Poole's TP 38 Foundation.
The event was open to those in need this holiday season and featured games, food and music for the hundreds of kids and families in attendance. And Future and his wife-to-be, donated coats, gifts and took photos with those at the event at Bessie Branham Park.
CiCi seemed to strategically place the kiddies in front of her as she donned an oversized sweater for the occasion. Looks like she's still hiding a baby bump.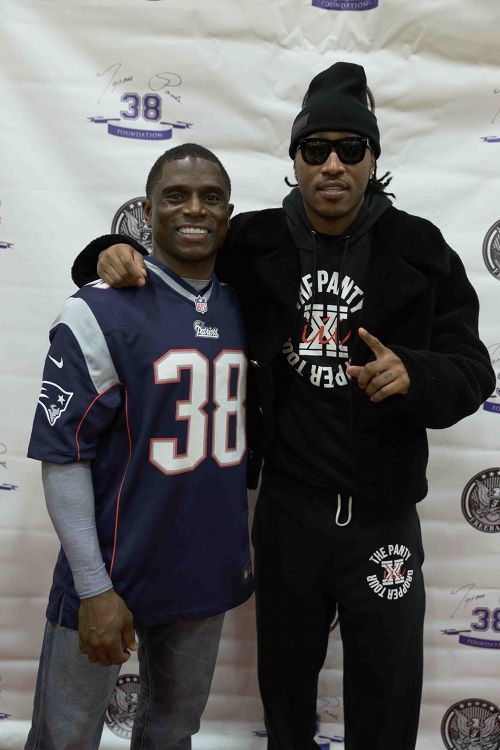 It would be a super cute Christmas bonus if the couple is indeed pregnant. But either way, great cause by CICI & Future.
SPEAK ON IT: "Blackface" In METAL Magazine + Brad Pitt DOMINATES "12 Years A Slave" Promos In Italy
Posted: 23 Dec 2013 03:03 PM PST
Racism, in both subtle and overt tones, has reared its head again. See the latest international offenses inside....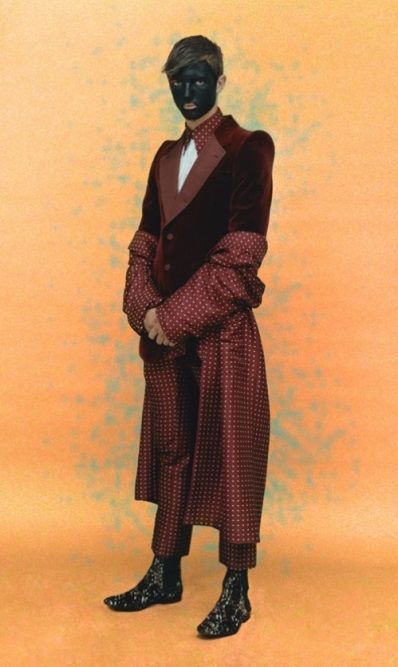 For some odd reason, the appearance of "Blackface" on the pages of international fashion magazines is like a sore that won't heal. Barcelona-based magazine, METAL, is the latest publication to paint one of its models "black" for the "Transmission" feature in the Fall/Winter 2013 issue. Joining the ranks of VOGUE Netherlands, Vogue Paris, L'Officiel Hommes, V, the fashion spread never really addresses why a dark-skinned--if that's what they were going for-- model wasn't hired to pull off the desired look.
What is this obsession with slathering black makeup on white models?
Over in Italy.....
"12 Years A Slave" is headed into theaters in Italy, but the promotional posters have a very different feel from what we experienced here in the States. Though Brad Pitt did play a small (yet pivotal) role in the film, promotional posters in Italy seem to give him top billing over the film's lead character, the enslaved Solomon Northup (played by Chiwetel Ejiofor). Why does a small white character get top billing in a film about slavery?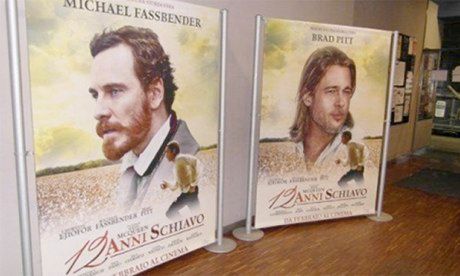 And it wasn't just Brad Pitt as the focus. Another poster used Michael Fassbender, who played a horrific slave owner, as the other poster. When usually, in movie marketing, the film's protagonost is used in most artwork, it seems the Italian makerting strategy was to do the opposite.
SPEAK ON IT: Is this racism? Is this art? Why does the "Black" experience get played to the left on an international level?
Photo via Carefree Girl Tumblr/Metal Magazine
SMOOCHIN N' SHOPPIN: Zoe Saldana KISSES Hubby Marco Perego AT Soccer Game, Shops At Barneys + Vin Diesel REVEALS "Fast And Furious 7" Release Date
Posted: 23 Dec 2013 12:46 PM PST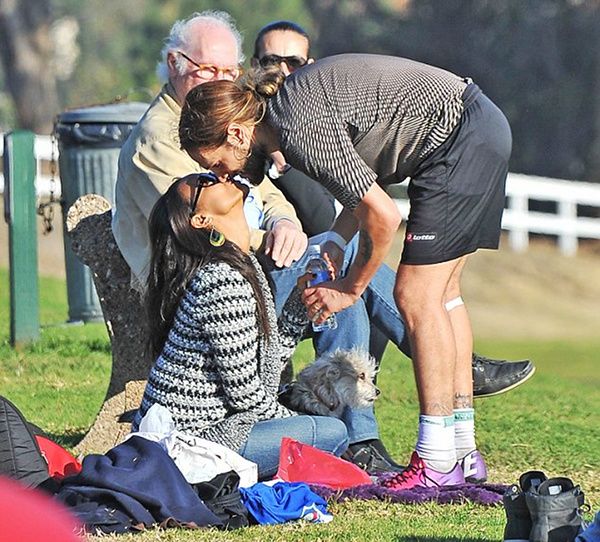 Zoe Saldana was spotted shopping with her husband, Marco Perego, and cheering him on during a soccer game this weekend. See their pics inside and find out the release date of "Fast and Furious 7."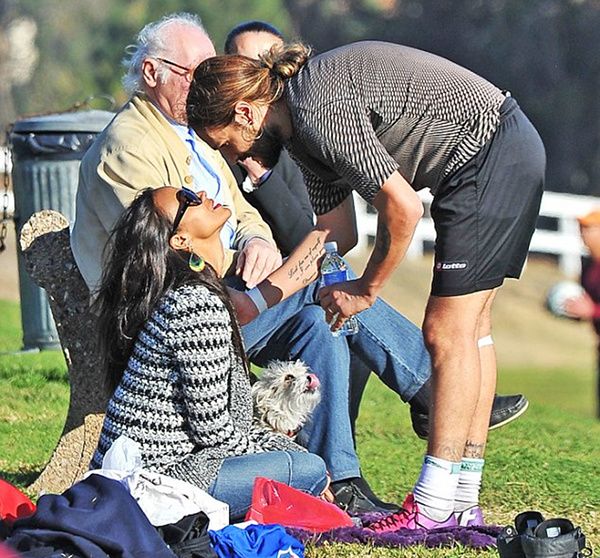 On Sunday, actress Zoe Saldana cheered on her husband Marco Perego, during a soccer match in Studio City. After Marco scored a goal, he quickly rushed to the sideline to plant a big kiss on the lips of his new wife.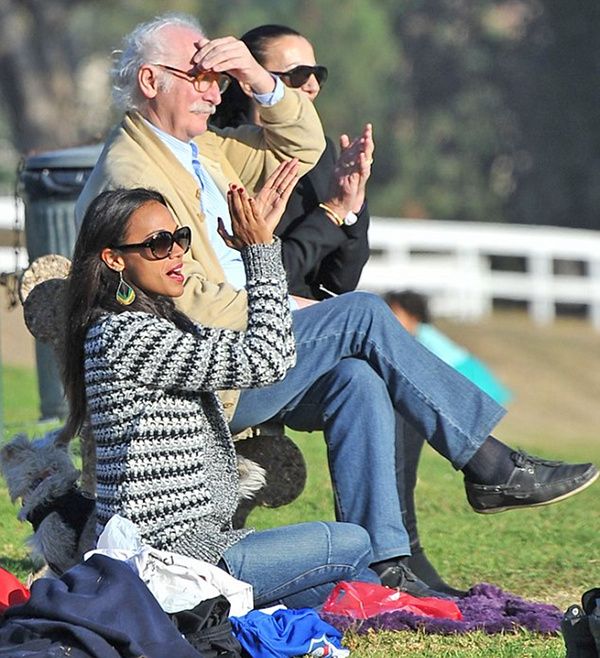 Zoe cheered for Marco and took a few pics with her in-laws and her white chow/retriever mix Mugsy by her side.
Also......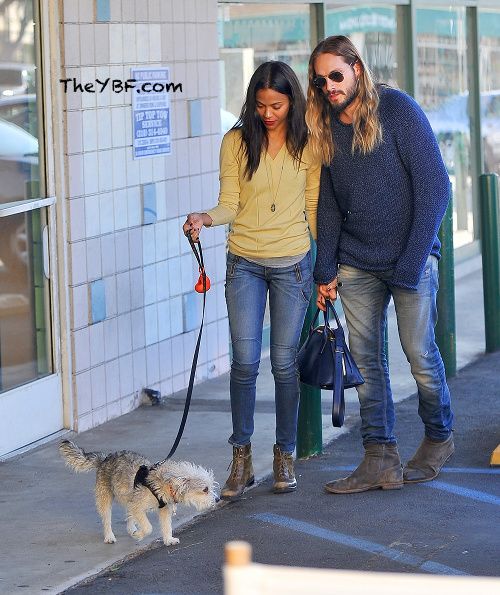 The newlyweds were seen walking Mugsy and shopping at Barneys New York.
Zoe recently completed a whirlwind press tour for her latest flick Out of the Furnace.
At the movies......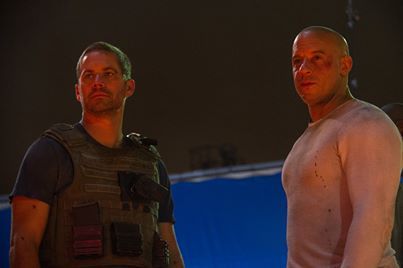 Via Facebook, Vin Diesel reveaedl the release date of Fast and Furious 7 and share one of the last pics he took with the late Paul Walker. He said,
"The last scene we filmed together…

There was a unique sense of completion, of pride we shared… in the film we were now completing… the magic captured… and, in just how far we've come…

Fast and Furious 7 will be released…

April 10th 2015!

P.s. He'd want you to know first…"
Photos via Vin Diesel Facebook/Sharpshooter images/Vladimir Labissiere/Splash News
VIDEO: Beyonce's "Yonce" Featuring Chanel Iman, Joan Smalls And Jourdan Dunn
Posted: 23 Dec 2013 10:53 AM PST
The latest official video release from Beyonce's hit visual album is "Yonce" featuring Chanel Iman, Joan Smalls and Jourdan Dunn. Watch it inside....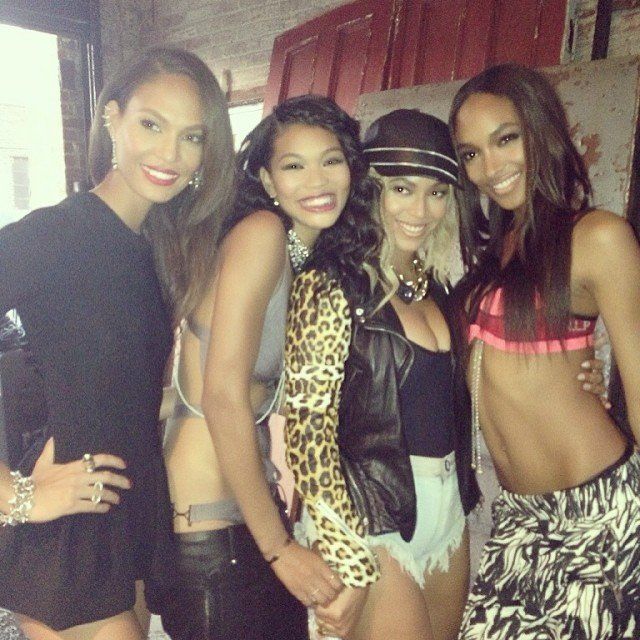 Director Ricky Saiz paired Beyonce with three of the most sought after models in the world (Chanel Iman, Joan Smalls and Jourdan Dunn) for "Yonce", the latest visual from her Beyonce album. She's released the full videos (which are also inlcuded in the album) for "XO" and "Drunk In Love" as well.
During an interview with MTV News, Ricky said he was inspired by George Michael's classic "Freedom" video. "I just tried to bring like a raw, kind of lo-fi, very New York kind of grimy, dark aesthetic to it." Here's how he broke down the video's concept:
On voyeurism and erotic sexuality

"It wasn't necessarily a fashion-driven video. I had very clear ideas of the aesthetic I wanted to bring. With themes of eroticism, leather and fishnets and close-ups and the stylist [Lysa Cooper] just really came through. [The singer] was very, very open. And she liked it and I think we made some memorable looks."


On Joan licking Beyonce's chest


"We were going through takes and it was her and Joan and they were close. And Joan went for the lick and we got it."


On Beyonce playing the role of a madam


"Beyoncé actually never sings in the video. She almost plays like a madam character and the girls are doing the performing for her in a sense. I think they are so important individually and have their own characters and they each really brought that to the set... [It's] almost like this just happened and we were there with our cameras."
Joan tweeted, "What an experience with the one and only @beyonce with my girls #SlayingIt #Yonce #MusicVideo #Dope #History #TellMeHowitsLookingBabe"
Watch "Yonce" here:
Photo via Joan Smalls Instagram
BORED MUCH? First Lady Michelle, Sasha & Malia Appear OVER IT At Basketball Game In Hawaii
Posted: 23 Dec 2013 10:05 AM PST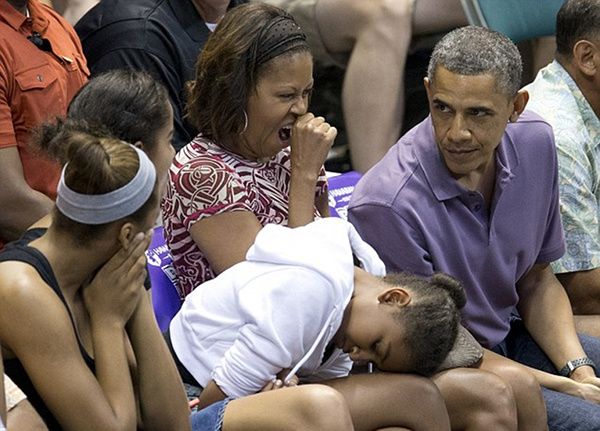 Maybe it's jet lag....maybe it's a boring game. Either way, The Obama ladies appeared to be totally over the basketball game they attended in Hawaii yesterday while on Christmas vacay.
Check the funny pics inside...
Ha! Yawns and half-sleep looks are what the Obama family dished up for Craig Robinson's (First Lady Michelle's brother) Oregon State game as head coach. His team took on the University of Akron for the Diamond Head Classic in Honolulu and the Obamas were on hand to support.
But since they just recently flew in to Hawaii....all the yawns could be a sign of jet lag. Or maybe they'd just rather be on the beach. Wouldn't we all?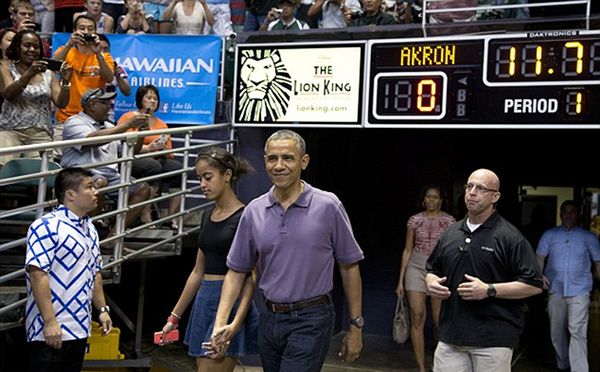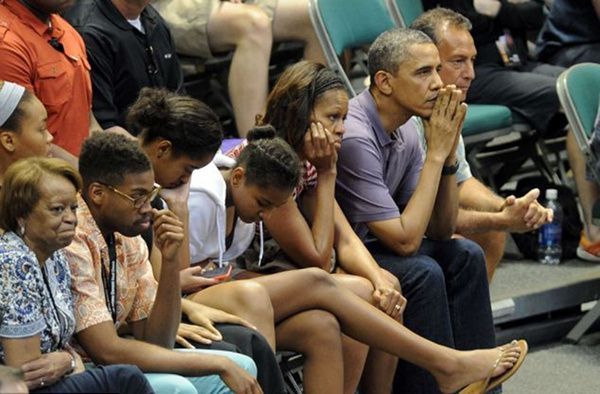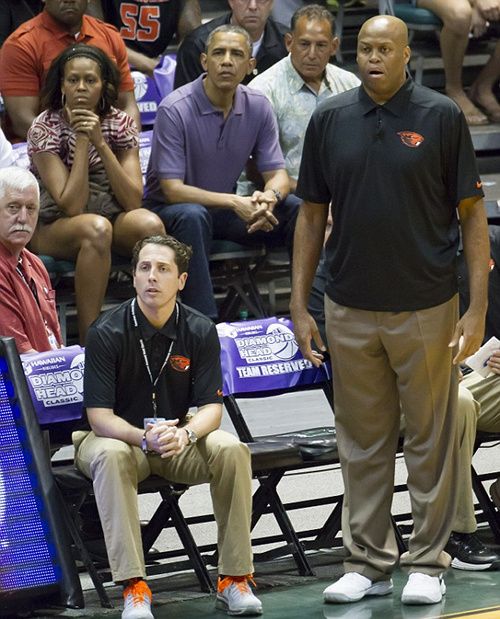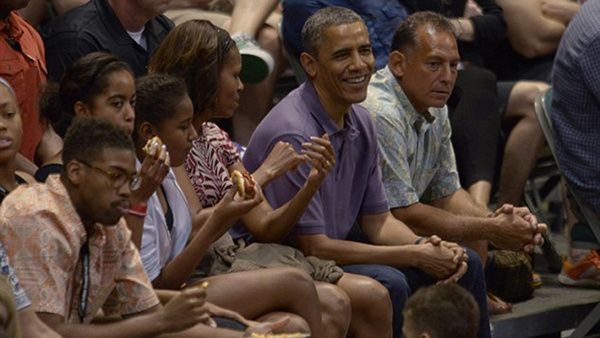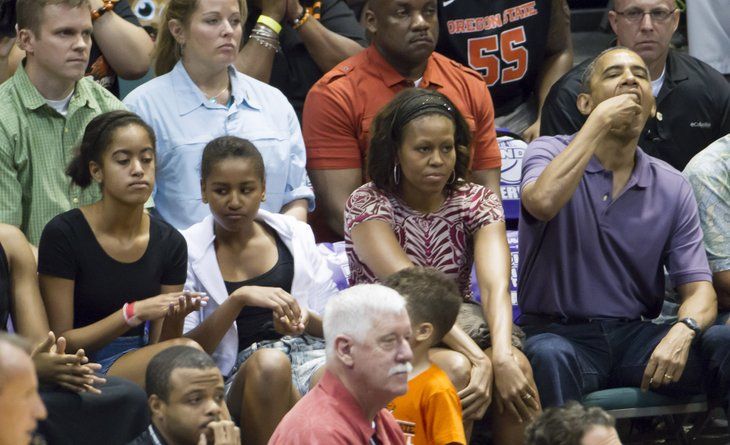 The fam chomped on hot dogs and popcorn throughout the game.
The crowd gave our First Fam tons of applause when they entered into the arena. We're sure heir annual Hawaii Christmas vacay will be major fun the rest of the time.
Photos: Reuters/AP