---
Gabrielle Union, Dwyane Wade & The Boys Snap Their First HOLIDAY Family Photo!
Posted: 25 Dec 2013 09:08 AM PST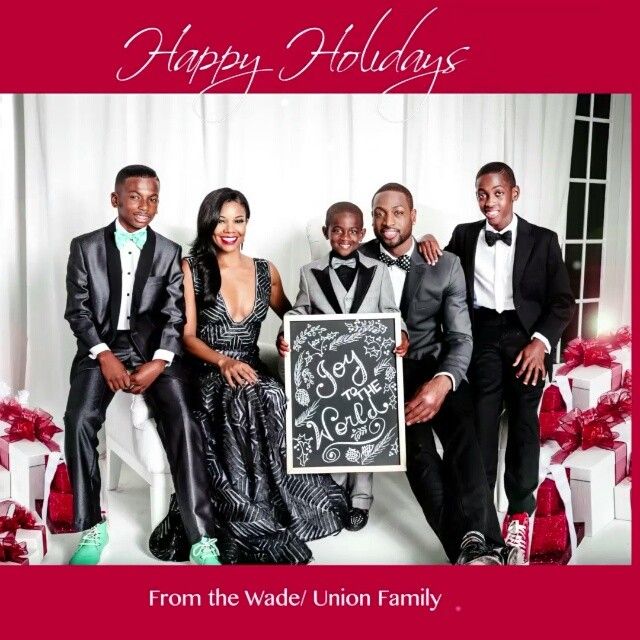 Dwyane Wade & Gabby Union shot a cutesy Holiday photoshoot with Dwyane's two sons Zaire & Zion and nephew Dahveon recently (likely before their engagement). And the behind the scenes action shows the type of step-mommy we can expect the "Being Mary Jane" star to be.
Check it inside...
Before they shot this gorgeous family photo, Gabby Union said she wanted to call it the Wade-Union Family photoshoot...since they aren't married. Well, not yet.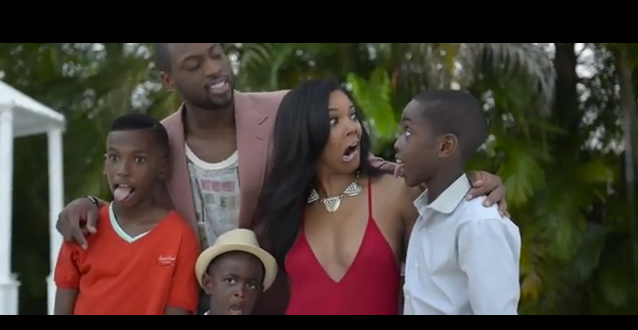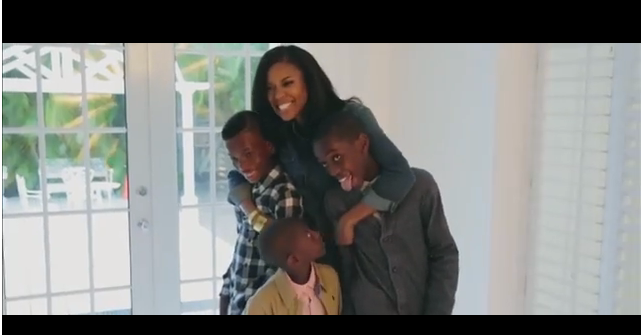 The fam did several different looks in a gorgeous location...and thanks to the mouths of those boys...hilarity ensued.
Check out the behind the scenes footage below. Looks like Gabby is going to be the fun step-mommy:
By the way, the AP reports that the three boys helped papa Dwyane out with his adorable proposal to Gabby last week.
- His youngest son Zion held a sign with her name.

- His nephew Dahveon Morris' sign said "Will you."

- And his oldest son Zaire's sign read "marry us?"
Sidenote: Siohvaughn may just want to seeing any of this today...of all days.
MERRY CHRISTMAS!
Photo: Dwyane's Twitter
REPORT: Idris Elba FLIPS His Car, ESCAPES INJURY + Ciara Working On 6th Studio Album
Posted: 24 Dec 2013 04:32 PM PST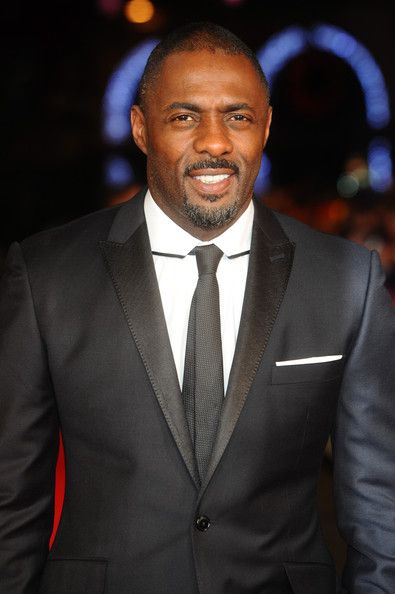 Actor Idris Elba overturned his vehicle while filming a documentary in Finland. Find out about the accident inside and hear what Ciara says is the inspiration for her 6th studio album.
While filming an upcoming documentary in Finland, Mandela star Idris Elba was involved in a car accident that overturned his vehicle.
UK newspaper, The Sun, reports that Idris was working on a racing documentary, titled Idris Elba: King of Speed, when he went over an embankment that overturned the vehicle.
"I never want to do that again. It's the first time that I have ever rolled a car. I wasn't going fast, the car just had a mind of its own when it hit the band. I cut the corner and then we rolled," he said.
Luckily, the actor escaped with NO injuries. The two-part BBC documentary is set to air in the UK on December 26 and 27.
In music news....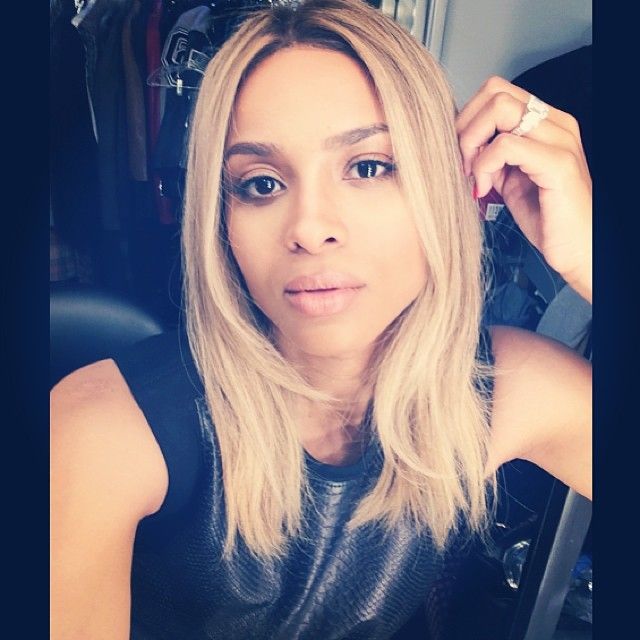 "Body Party" singer Ciara is back in the studio working her 6th studio album, the follow-up to Ciara. The newly-engaged singer revealed the news to Genlux Magazine during a chat about finding inspiration.
"My inspiration is life and reality. It's important to express myself musically. I am so connected to who I am now, and I want to share pieces of myself with the world."
We're sure Ciara will work with her new fiance, Future, on the new project. It will be interesting to see which comes first....a baby, a wedding or an album. We have our predictions....
Photo via Ciara's Instagram/Getty
Lil Kim Talks Strained Relationships With Diddy & Reality TV In ROLLING OUT + 2 Chainz & Lil Wayne's "Twerk Season" + Foxy's "D.R.U.G.Z" Snippet
Posted: 24 Dec 2013 01:45 PM PST
Lil Kim is looking good on the new cover of Rolling Out magazine. Check out everything she has to say about being the blueprint in this game....and her relationships with the media, Diddy and reality tv. Plus, new music from Lil Wayne, 2 Chainz and Foxy Brown...
Lil Kim is opening up--in an icy way according to the cover story writer--about her legacy. Find out her take on why she's still the Queen Bee in this game (or what she DOESN'T say) plus her upcoming music projects in the highlights below:
On why the public infatuation with her hasn't ceased even though she hasn't released a studio album since 2006
"No disrespect, no shade, but I'm not going to answer [that] question because I think that's kinda corny," she says adamantly. "I don't know how to answer that....That's not a question I would answer. I'm blessed. That's all I can say. And I am who I am."
On her complex business-personal relation with Diddy
"I mean … business is business and personal is personal. I think that's always been clear, but you learn more why it's clear as you live it."

"Puffy called me one day and he tracked me down through some people I knew. [He said] 'No matter what, you're going to always be my sister.' We always go through things like that. At the end of the day, we're tied to each other through B.I.G.'s estate and B.I.G.'s iconic, historic legacy."
On extending her legacy
"I'm a real artist. I [have] basically been in the game for a minute, [so it's] where I feel like it's time to go to [another] level in my career. I think every artist has that moment — if you're a real artist. I care about what I do, so in different things [you're] always concerned about your next step — but that doesn't stop me from taking it."
On steering clear of reality tv (outside of the hsows she's already done)
"I never say 'never,' but I don't look at television shows or reality shows and say 'I want to be on this show. Not really. I'm more so into just watching them for entertainment purposes."
On reigniting her music career
"I just think that my fans — not even just my fans, but even potentially new fans — are ready to hear some new Lil' Kim music and everyone knows that … I put a lot of my reality into my music [that] people can identify with. People are ready to hear real rap — real s— coming from a female. Because I've always been different, no matter what. My music has always been very sexual and very pro-women. Now I get to do that through my new artists. I have my label coming out, which makes me very driven. "

"It really wasn't about taking my time — I had legality situations where legally I could not record because I was in situations where I couldn't,"
On new album news
"Being so behind the scenes and taking on this boss lady role, I've come to know that you don't announce your album," Kim explains. "They can definitely look forward to singles from me this summer, for sure. But the album will come as soon as it's ready and the time is right."
On remaining the Queen Bee in this game
"That's something I was born with. When you're born with talent, you also have the talent to conduct your own business. With me, that's how it is. I just know how to turn it on and off. I just know what I want from myself.

"In my field, I am the blueprint of what I do. I've always starred in my own lane."
Check out the full story over at ROLLING OUT.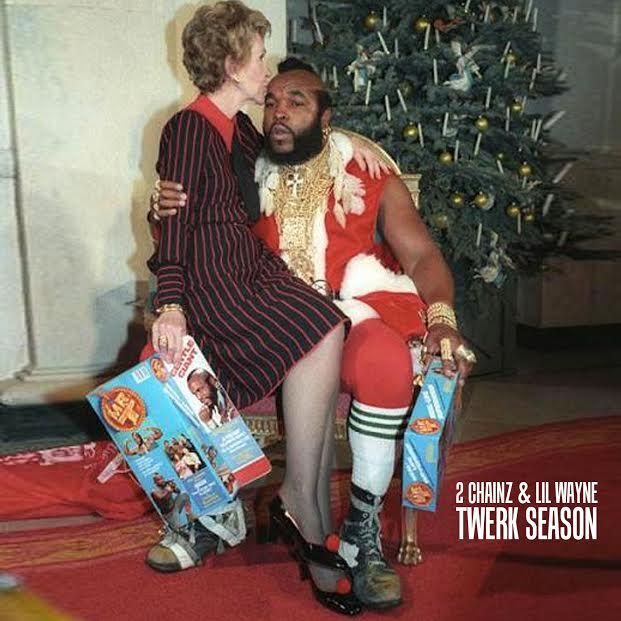 Leave it to 2 Chainz and Lil Wayne to make a Christmas style strip club track. Apparently, "Twerk Season" is a new track off a likely upcoming collabo project between the two artists.
The song debuted in ATL last night. And now, you're got the CD quality to listen nd twerk to for Christmas Eve. Peep it below:
In other music news, Foxy Brown and her Ill Na Na have dropped a preview of another comeback track. This one is called "D.R.U.G.Z." So...yeah.
The full version of the track will appear on DJ Superstar Jay's upcoming mixtape, How Superstar Jay Stole Exclusives. She spits, "I don't pop Molly, I rock the crown though."
Check it above.
The Randomness:
1. Kanye's Nike Air Yeezy 2's will NOT be released on December 27th afterall. Womp. Source
OH? Evelyn Lozada's BABY'S DADDY Carl Crawford Has A 5-Month Old Daughter...& He Told THAT Baby's Mama To STAY AWAY!
Posted: 24 Dec 2013 12:28 PM PST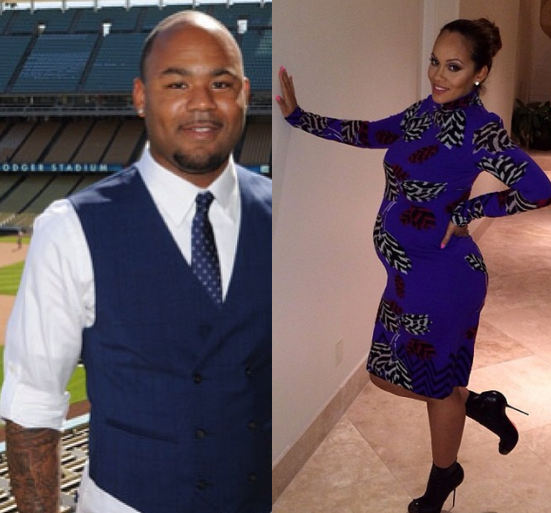 A new custody lawsuit has revealed that Evelyn Lozada's baby daddy has a 5-month old daughter and a 9-year-old son. Get lawsuit deets inside and do the math regarding a possible "overlap."
A few weeks ago, we revealed that Evelyn Lozada is 6-months pregnant by LA Dodgers star Carl Crawford, whom she quietly dated for a year. Now, a new lawsuit reveals that Carl has both a 9-year-old son and a 5-month-old daughter with Amy Freeman in Arizona! Yep, the same state of Arizona where Evelyn has randomly moved to. Is this where Carl stashes his chicks or something?
If you do the math, it may appear that Carl MIGHT have been double dipping with both Evelyn and Amy at the same time. Or just knocked them up within a very close time period. While that question lingers, the issue at hand is Carl taking Amy to court to block her from relocating their family to LA.
If you're wondering why Carl wants to prevent Amy from moving closer to him, some speculate that California's more favorable child support laws would produce a substantial increase for Amy. By the way...Carl's contract with the Dodgers is for $142M.
Messy.
Photos via Evelyn Lozada's Instagram/Carl Crawford's Facebook
TUESDAY FUNNIES: "Drunk In Love (Drunk As F*CK)" PARODY Featuring Simone Shepherd & JD Witherspoon
Posted: 24 Dec 2013 10:48 AM PST
Funnywoman Simone Shepherd teamed with JD Witherspoon for a hilarious parody of Beyonce's "Drunk In Love" video. Watch it inside....
In her latest Beyonce parody, Simone Shepherd joins JD Witherspoon (and a bottle of Ciroc) for a funny take on "Drunk In Love" called "Drunk As F*ck".
Earlier this month, Simone joined a group of Black comics to audition for a coveted slot on "SNL". We hope the execs are paying close attention to Ms. Shepherd. She's talented!
SPOTTED: Mariah Carey & Nick Cannon TAKING Dem Babies On A STROLL Through Aspen, CO.
Posted: 24 Dec 2013 09:30 AM PST
Mariah Carey was spotted on an evening stroll through Aspen, CO. with her husband Nick Cannon and their twins Moroccan and Monroe. See their pics inside....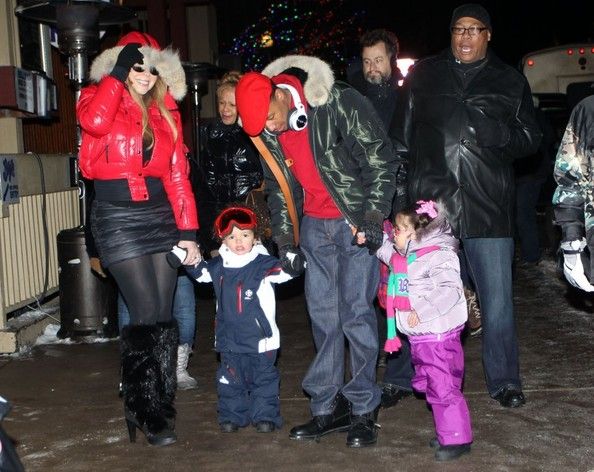 Last night, "All I Want For Christmas" singer Mariah Carey (wearing a hooded jacket, black mini skirt, leggings and knee-high boots), was spotted on the streets of Aspen, Colorado with her husband Nick Cannon and twins Moroccan and Monroe in tow.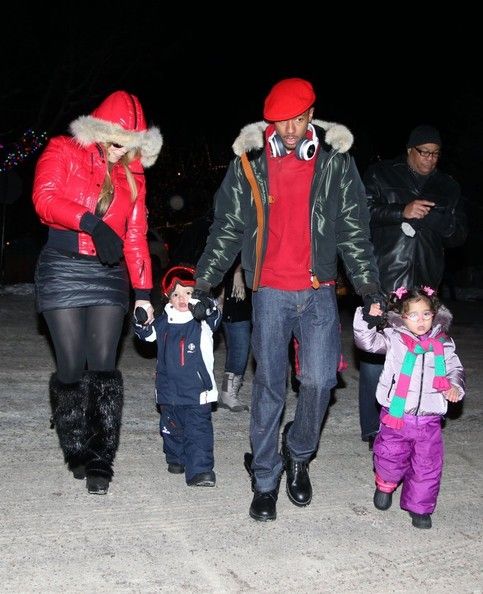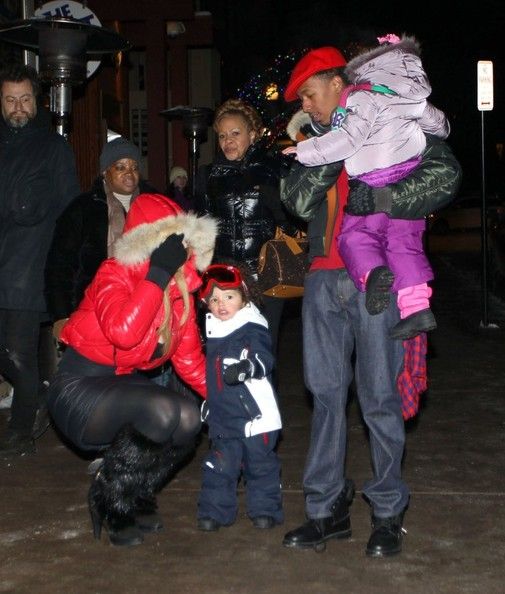 Mariah's annual holiday trip to Aspen came at the "perfect" time, allowing her to dodge the stream of negative press she got after performing for Angolan President Josè Eduardo Dos Santos.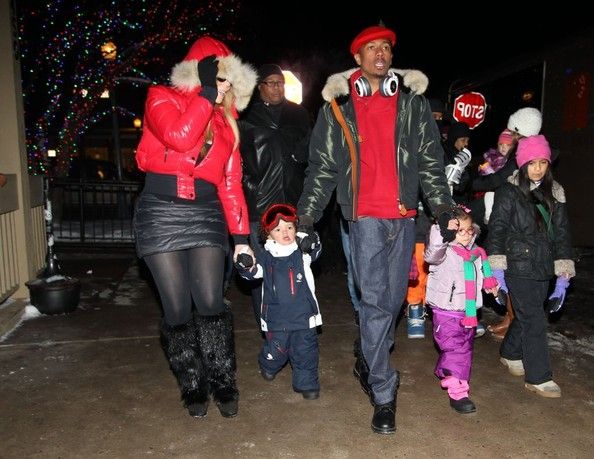 During her pre-taped appearance on "WWHL", Mariah revealed that she wrote "AllI Want For Christmas" on a small keyboard (she plays piano) and that her biggest regret was giving 50% of the song's royalties to a keyboardist who worked with her during the recording of the song.
On Instagram......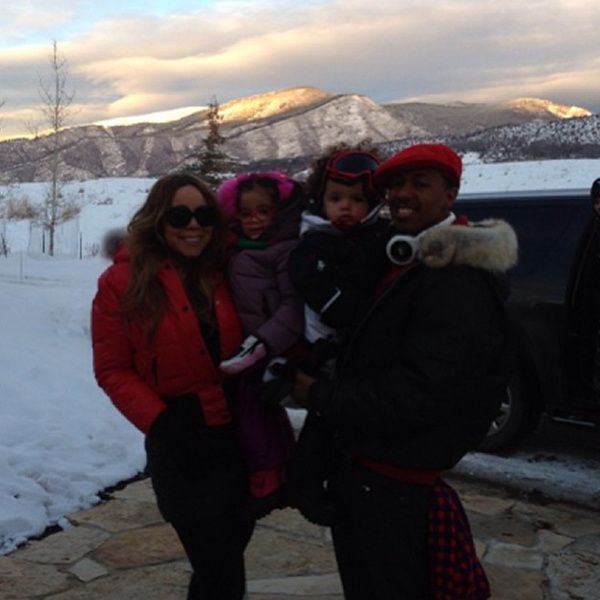 Mimi posted pics of the family in front of the mountains. "The mountains..come on!! #WhenChristmasComes."
"Waiting on Daddy!"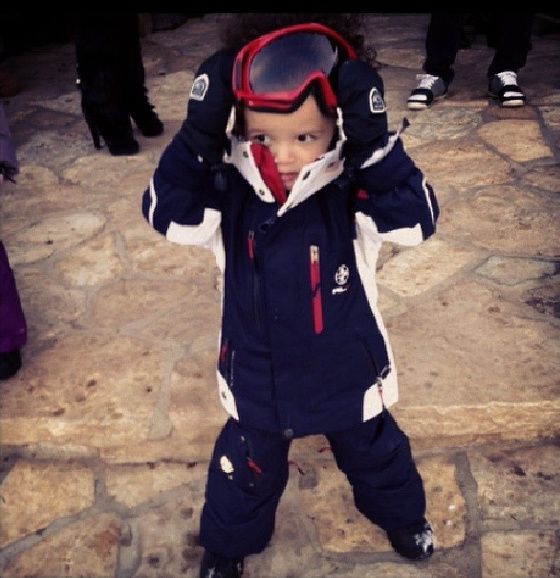 "Rocstarr ready!!"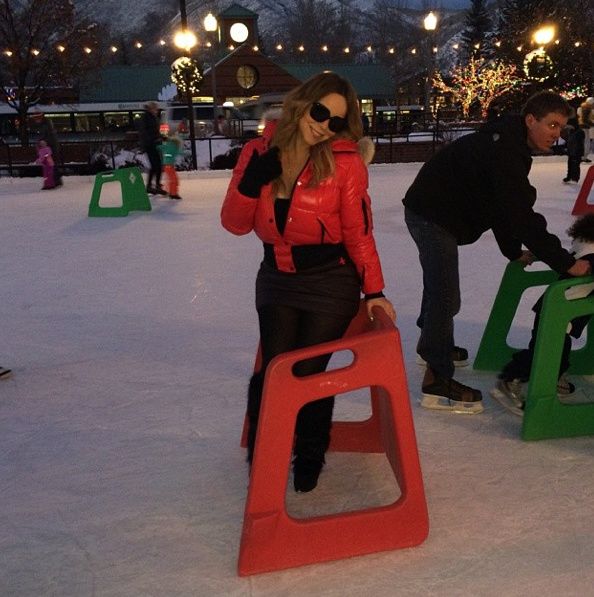 Mariah also shared a pic she took while posing on the ice skating rink.
Photos FameFlynet/Mariah's Instagram