---
Kerry Washington Talks Mommyhood & Season 4 Of "Scandal" On 'Jimmy Kimmel Live' + Misty Copeland's STUNNING "I Will What I Want" Under Armour Ad
Posted: 01 Aug 2014 09:11 AM PDT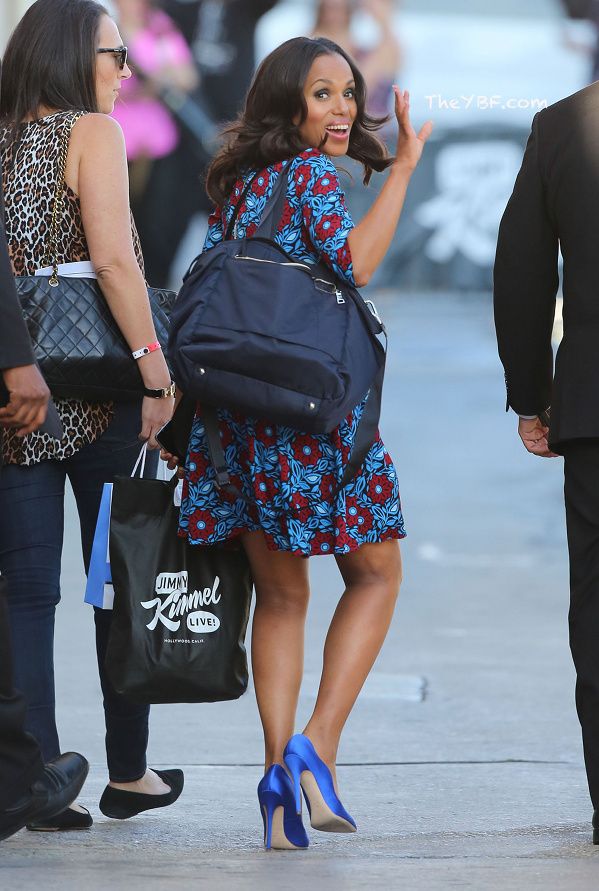 Kerry Washington hit up "Jimmy Kimmel Live" last night to dish on the upcoming 4th season of "Scandal" and motherhood. Meanwhile, Ballerina Misty Copland is breathtaking in the new Under Armour Ad, "I Will What I Want." More inside…
Last night, fab chick Kerry Washington and her amazing post-baby bod appeared on "Jimmy Kimmel Live" in a cute red and blue dress with satin electric blue pumps to promote the new season of "Scandal."
The "Scandal" star chopped it up with Jimmy about her new bundle of joy Isabelle (with husband Nnamdi Asomugha), deets on the upcoming season of her hit ABC series, being in an acapella group in high school and being a President Barack Obama supporter from the very beginning.
During the chat, Kerry revealed little Isabelle was named after her grandmother and she also reflected back on how Jimmy gifted her with some delectable goodies during her pregnancy, which she notes, "There's nothing more kind to do for a pregnant lady than a box full of froxen deliciousness." Nice.
She also talked about "Scandal" moving up to the 9pm hour and assured fans that although the show has been bumped up an hour, it will still keep all the "sexy stuff."
Check it:
On Scandal Season 4:
On singing in high school:
On President Obama:
And on the ad campaign front....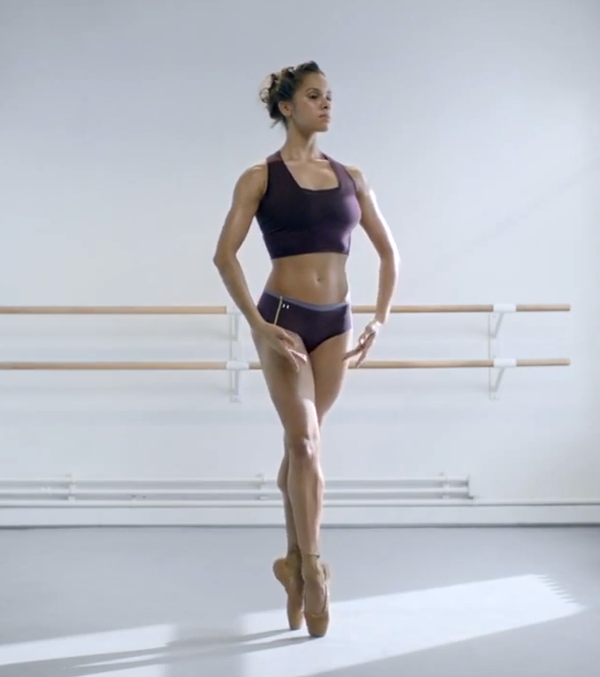 Ballet dancer Misty Copeland and her killer legs are absolutely stunning in a new ad campaign for athletic apparel giant Under Armour.
Under Armour usually focuses on men's athletic apparel in their ads, but now they are turning their attention to the brand's biggest-ever women's ad campaign. And who better to choose as the face than the flawless Misty Copeland.
Misty stars in the first spot for UA's new "I Will What I Want" campaign, along with Olympic gold medalist Lindsey Vonn, tennis player Sloane Stephens and soccer star Kelley O'Hara. Along with the television spots, the campaign will also appear in print and digital components.
During the 60-second spot, Misty is seen warming up as a young girl recites the disheartening rejection letters the 31-year-old ballerina received throughout her career. "You have the wrong body for ballet. And at 13, you are too old to be considered," says the voice. Despite her shortcomings, the spot reveals Misty eventually goes on to become a soloist for the American Ballet Theatre, making her the first African American female soloist!
Check it:
You can catch Misty in action as the spot will air on ABC, ESPN, MTV and E.
Work!
Photos: Splash/Under Armour/ Droga5
CATCHING FEELINGS: Onyx Rapper Fredro Starr's HEATED VERBAL ALTERCATION With Charlamagne Tha God OVER Sexual Brandy Comment (VIDEO)
Posted: 01 Aug 2014 08:29 AM PDT
Rapper Fredro Starr nearly came to blows with radio personality Charlamagne after he brought up a a sexual escapade about Brandy. More inside....
Yesterday, rap group Onyx ("Slam") interviewed with The Breakfast Club....and a snarky comment from Charlamagne nearly lead to an altercation. The drama starts at (5:36) when Charlamagne makes reference to a video Fredro made a few years ago where he admits that Brandy, whom he co-starred on "Moesha" with, gave him h**d.
Apparently, Fredro is NOT INTERESTED in going back down memory lane, so the comment REALLY got him heated. Although he tries to stay calm, things hit the boiling point at (8:57).
"You need to stop with all that, b," Fredro responded. "You need to stop with all that though. See, this dude right here—let that be what it's gon' be. Son, like you bringing up the past, b. Let's move to the future though. What did you say? Should I say a lot of the sh– you said n—a?"
Oh snap! Felt like we were watching Sunset Park all over again.
Throughout the exchange, voices are raised and there is a heightened sense of something about to pop off. Angela Yee, who posted the photo atop, captioned, "#tbt we have onyx on now, what's all the tension".
Luckily, everyone maintained their cool and ended the interview without the cops being called.
Sigh.....

Photo Angela Yee's Instagram
Chris Brown Takes Karrueche's FRIEND To St. Tropez...After Kae DUMPS Him?!
Posted: 01 Aug 2014 07:42 AM PDT
Chris Brown and Karrueche Tran have reportedly split up and Karrueche's changed her number! Get deets on the break-up inside and find out what Chris did with on of KT's friends to throw salt on her wounds inside.
Although they partied together at Bootsy Bellows a few weeks ago, there's a good reason that Chris Brown is in Saint Tropez without Karrueche this week. They've reportedly split...for good. But wait....there's more. He's actually in Saint Tropez with one of KT's friends (or should we say former friends).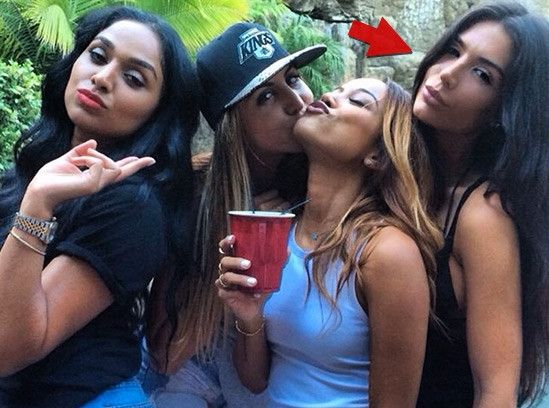 We suspected the couple was on the rocks last month when they stopped following one another on social media...and now this. According to reports, KT drew the line when Chris "liked" 2 fan photos on Instagram of Rihanna and him in bed together. And here's where it gets juicy....Chris went to St. Tropez with one of KT's good friends (see pics here). When KT found out, she reportedly changed her number.
While they've broken up before, we wonder if KT is finally done. After what she revealed to KeKe Palmer on "Just KeKe", we doubt she'll take part in another love triangle....
Photos via Chris's Instagram/ JCalderon / Splash News / CHP/FAMEFLYNET PICTURES

Usher CELEBRATES 15th Anniversary Of "Usher's New Look" Foundation With Ludacris, Jermaine Dupri & MORE + Lil Wayne Covers XXL August/September 2014 Issue
Posted: 31 Jul 2014 03:31 PM PDT
Usher celebrated 15 years of his "Usher's New Look" foundation with a luncheon and some of his celeb friends came out to support. Plus, Lil Wayne is talking about the authenticity of Hip Hop and his upcoming album in the newest issue of XXL. Pics and deets inside…
Today, Usher celebrated 15 years of his "Usher's New Look" foundation with his buddy Ludacris at the President's Circle Awards Luncheon in Atlanta. The "Good Kisser" singer's foundation aims to help disadvantaged youth develop leadership skills and help them discover careers that match their passions.
Retired professional boxer turned motivational speaker Sugar Ray Leonard came out to support.
Taking a break from the studio with Jagged Edge, Usher's friend Jermaine Dupri hit the luncheon and snapped a pic with the legendary boxer.
Broadway director Kenny Leon hit the carpet.
Grammy award winning songwriter/producer Bryan-Michael Cox and Jermaine Dupri's dad Michael Mauldin was also in the mix.
Usher's mom Jonetta Patton looked nice. Twins.
Ludacris chopped it up with Suagr Ray Leonard during the luncheon.
Sugar Ray got on stage to say a few words.
And Luda hit the stage to support his good friend.
Usher also posed it up with Atlanta mayor Kasim Reed and Malia Murray.
Fab times!
And on a magazine cover....
As he gears up his long awaited release of his 12th studio album Tha Carter V, Lil Wayne nabs the cover of the August/September 2014 issue of XXL.
Doesn't look like Wayne will have any trouble with sales of his new album because his lead single "Believe Me," featuring Drake is currently at the No.1 spot on Billboard's R&B/Hip-Hop Airplay chart. Along with topping the charts, Weezy has also garnered some extra media attention as he and Christina Milian seemingly get closer. Rumors have been circulating that the two are dating but according to Christina, they're just making music. Mmmhmm...
In the XXL cover story, Weezy sounded off on the authenticity in the Hip Hop game, his highly-anticipated upcoming album, on how he decided to sign Drake & Nicki Minaj to YMCMB and more.
Below are the highlights:
ON THA CARTER V:

"I was feeling the success of Tha Carter I. I felt like people wanted to hear me. I was amped to do that, but then Tha Carter III? I don't know what happened. It was amazing. And then Tha Carter IV was just unexplainable, and now this one here, there's no words. I just hope everyone likes it."

"I'm always feeling like I ain't done shit. I'm still nervous about Tha Carter V… I'm confident about what I do, but I'm still nervous about what people think.

ON AUTHENTCITY IN HIP-HOP:

"I know I'm authentic because I'm 35 million years in the game. I don't know where the authenticity is in the game anymore. Today everyone sounds alike, they looking alike, they acting alike, they dressing alike. I came out when everybody was super different. You had an ODB. You had a Busta Rhymes and then you had a 2Pac. You had a Biggie. And everybody was different. Biggie was talking about Mob and Mafia shit. 2Pac was wylin', talking about West Coast this and that. You had niggas like Meth and Red talking about how high they got and making people laugh. And then now, you got them, them. You got the categories and then everyone falls under it."

ON PRINCE BEING HIS MAJOR MUSICAL INFLUENCE:

"It was the way he pronounced words and the way he used his voice. It was like if he was playing with a baby. You know if he was playing with a kid. [Imitates a baby cooing] It was the way that he was exploring it. He wasn't doing it because it was funny. He was doing it because he could make it sound good and exceptional. I realized that I could do that too. He wasn't afraid of how he sounded because he knew what he was saying and how he was saying it would always sound good."

ON SIGNING DRAKE AND NICKI MINAJ:

"Call me old-fashioned and country, but with Drake, that was the first time I'd seen someone that knew how to sing and rap. That's all it was. I didn't know nobody who knew how to do that. You had those old school singing niggas, where people would do a little eight-bar verse on their songs. But [Drake] was spitting and singing and killing that too. It took a while though. It wasn't until I heard him spitting on one of my beats when I was like, 'This fool's retarded.' When I hear something that I know I can't do better? That's when I'm like, 'They need to be on the team.'"

"I wanted a female. Every team needs a female to rep your gang. She was annihilating niggas. I mean males. I was like, 'I have to beef my shit up on that muthafucka.' She just knocked it out the park from day one. She's just Nicki. I don't know whose idea it was, but it was a good idea."
Wayne's issue hits newsstands August 12th.
EXTRAS:
1. Kendrick Lamar will debut a 14-minute short film titled m.A.A.d at Sundance's first annual NEXT Fest. STORY
Photos: Getty/ Atiba Jefferson /XXL
LATE NIGHT LAUGHS: KeKe Palmer, Lisa Raye, Victoria Rowell & Brandon T Jackson At All Def Comedy Live
Posted: 31 Jul 2014 01:21 PM PDT
KeKe Palmer and Lisa Raye were among the folks who came out to laugh with the comedians at All Def Comedy Live. See pics inside...
BET host KeKe Palmer was joined by friends last night at Russell Simmons Presents All Def Comedy Live at The Famous Chinese Theater in LA.
"ET" personality Rocsi Diaz was also spotted laughing in the front row.
Rapper Kid Red posed for the cameras.
The show was hosted by Tony Rock who posed with tv host Steve Lobel and entertainment exec Steve Rifkind.
Soap opera veteran Victoria Rowell posed with "Singles Ladies" star Lisa Raye.
Actor and comedian Brandon T. Jackson was one of the evening's performers.
Photos via Kass for The Brand Group
THE WAIT CONTINUES: Remy Ma STILL Not Released From Prison, Possibly Won't Get Out Today
Posted: 31 Jul 2014 11:57 AM PDT
As we wait for Remy Ma to be released from a New York prison, there are rumors that she may not get out today. Deets inside…
It's a zoo outside of the Bedford Hills Correctional Facility for Women in New York as reporters and fans are lined up to catch a glimpse of Remy Ma once she's released from the big house.
Problem is...Rem was supposed to be released from the correctional facility this morning but as you can see (above outside of the prison)…there's still no sign of the Bronx raptress.
A close source tells TheYBF.com that the 34-year-old MC could possibly be in trouble for doing an interview with Power 105 personality Angie Martinez last week. We hear prison officials are claiming she called into the interview on a three-way call and that is the reason for the possible delay of her release.
If prison officals are delaying her release for her calling Angie, we're not exactly sure why. At the very beginning of the interview you can clearly hear, "You have a VAC prepaid call from Reminisce..an inmate at…" And then you can hear Angie tell the producer to press 3 to accept the call. Which means, there was no use of the three-way call feature.
Also, at the end of the interview, Rem tells the correctional officer that Angie Martinez said "Thank You" for the time on the call and the C.O. gave the OK sign.
You recall, Rem was originally sentenced to eight years back in 2008 for shooting her former friend Makeda Barnes-Joseph in the stomach after she accused her of stealing money from her purse. After serving six of those eight years, she was expected to be released today. Unfortunately for her, there may be a change of plans.
Clearly, something has happened because she has not stepped foot out of the correctional facility. But we have our sources outside of the prison and we'll keep you posted.
Photos: Remy's IG
FAMILY FEUD: Rob Kardashian CLAPS Back At Adrienne Bailon, Retweets "FDB" + Julissa Bermudez SHADES Kim Kardashian For "SLEEPING" Her Way To The Top (UPDATE)
Posted: 31 Jul 2014 11:37 AM PDT
It's an all out war between The Kardashians and Julissa Bermudez! Ever since Adrienne Bailon's comments about the Kardashians running her career were made public, the reality stars have been battling it out on social media. Read the Twitter feud inside…
The Kardashians are feuding. And this time, it's not with one another.
Kim and Khloe Kardashian came to their brother Rob Kardashian's rescue after his ex-girlfriend Adrienne Bailon blasted him for cheating and then going in on the Kardashian Klan for supposedly "ruining her career" in the September 2014 issue of LATINA magazine. In short the former 3LW singer said, "To be stuck with that Kardashian label, that was so hurtful to me and to my career."
Big sisters Kim and Khloe took to Twitter to bash Adrienne for her comments and to shame her for kicking their brother while he's down. But Rob isn't so "down" that he can't defend himself. He didn't say much but his actions said many things.
In the midst of their public Twitter spat, Khloe tweeted, "FDB," which is the title of Young Dro's track which means "Fuck Dat B*tch." Rob then hit his retweet button:

FDB

— Khloé (@khloekardashian) July 30, 2014
Direct shot at Adrienne.
But the reality TV family aren't the only ones coming for people on social media...
Defending her bestie, "Empire Girls" star Julissa Bermudez (who starred on the show with Adrienne) hopped on Twitter herself and had a few choice words for Kim Kardashian.
In a series of tweets, Julissa shaded the hell out of Kim saying Adrienne got the cover on a magazine for hard work while Kim simply "laid on her back for the world to see." Bloop!
Peep the tweets (read from the bottom up):
People are so brave behind a computer screen... *sips tea*

— Julissa Bermudez (@JulissaB) July 30, 2014
The shaaaade....
Rob probably has this on full blast today:
UPDATE: August 1, 2014
Adrienne Bailon responded to the Kardashian shade viaInstagram where she explained that what makes you famous may not be what you want to be labeled as. The line "If anyone should know that it should be you" was clearly a jab at Kim.
Photos: FameFlynet/Julissa's IG/Adrienne's IG

BABY FAB: Kelly Rowland Slips Up & Reveals She & Tim Witherspoon Are Having A BOY! + Eric Benet & Wife Manuela Testolini Welcome Second Daughter
Posted: 31 Jul 2014 10:47 AM PDT
It's hard keeping such a big surprise top secret. Ask Kelly Rowland. She slipped up and revealed she and her husband Tim Witherspoon are having a boy. In other baby news, Eric Benet welcomed his third daughter. Deets inside….
Oh baby! Kelly Rowland is uber excited about her new bundle of joy on the way. So much so, she accidentally revealed the sex of her unborn baby with her husband Tim Witherspoon.
During an interview with FOX411, the glowing Caress spokeswoman slipped up and referred to her baby as "him." When asked about how she's holding up during her pregnancy she said,
"We're very excited. So far, everything has been good. I just feel like the baby is already rotten–like literally, my Caress family has gotten him all of his little bathing stuff, his toys–it's just so cool."
Realizing she said too much, she let out a heavy sigh and said,
"It, it's…aw, f--k it! It's a boy. It's a boy!"
Kelly quickly got on the phone to let her husband know she let the cat out of the bag. She was heard telling her rep,
"Can you please tell him that I spilled the beans?" Kelly looked down and caressed her growing bump. "I'm sorry, baby," she said, laughing. "But yes, it's very exciting."
Cute.
So has Beyonce offered up any motherhood advice?
"All my girls have given me advice," she said diplomatically. "I have a wonderful crew of girlfriends. As women, we're powerful, and women have been so supportive. They always have such nice things to say, whether it's 'Oh my gosh, you look so nice,' or giving me different advice, and that feels good."
And she also dished on her baby boy's fly nursery saying,
"My baby's nursery is fly," Kelly said proudly. "I just wanted it to feel like a comfortable museum. Almost loft-y like. It's just looks really cool. He's got these huge pieces of artwork. It's just really fresh."
Nice!
Yesterday, Kelly held a luxe baby shower for her baby boy in Beverly Hills. The beautiful mom-to-be was spotted with a bag of blue and white jellybeans to keep her sweets cravings under wraps. See her fabness here.
And in other baby news…
After welcoming their baby girl Lucia Bella in 2011, Eric Benet (Halle Berry's ex-husband) and his wife Manuela Testolini (Prince's ex-wife) are the proud parents of another baby girl named Amoura Luna. They decided to give her the middle name "Luna" because she arrived on the night of a supermoon.
According to US Weekly, the couple welcomed their second child together on July 13th, weighing in at 6lbs 13oz with a head full of hair. Awww…
The doting dad posted his excitement on his Instagram saying,
"Amoura Luna officially begins her journey of growth, gratitude, abundance, and love. And she has a huge amaZing family complete with two big sisters Lucia Bella and @indiabenet to show her how it's done!! #blessed #overjoyed"

This is Eric's third daughter. He has a 23-year-old daughter named India from a previous relationship.
Congrats to both couples!

Photos: Getty/Kelly's IG
DON'T MESS With My Man! Chrissy Teigen SPITS FIRE At Conservative Pundit Who Told John Legend To "Shut Up And Play The Piano"
Posted: 31 Jul 2014 10:03 AM PDT
Don't come for John Legend....because Chrissy Teigen will cut you! Watch the wifey defend her hubby from a conservative pundit's attacks inside....
Conservative pundit and NY Post columnist John Podhoretz got smacked down on Twitter after he made a disparaging remark about John Legend. John P. seemed to take offense that John L. would dare to express his opinion about foreign politics. Mind you, John delivered UPENN's 258th commencement address so there's no doubt about his intellectual prowess.
Back to John P.....he tried to "check" John L. after John tweeted about Sen. John Kerry's behaviors with respect to the Israeli/Palestinian conflict. His exact words were "Shut up and play the piano"
Never fear.....John's wife Chrissy Teigen (shown above on the streets of NYC in an oversized shirt that exposed her bare breasts) DOES NOT MIND getting someone together on Twitter. She called out John P for his passive aggressive subtweet and took a quick jab and his "nether" regions.
#WeLOVEChrissy
EXTRAS:
1. Man arrest for stalking Robin Roberts. Story.
Photos via Splash/Getty
CANDIDS: Rihanna PARTIES At Jeremiah's Single Release Event In NYC+ Christina Milian PUMPS Air In Her Tire While Wearing HEELS!
Posted: 31 Jul 2014 09:30 AM PDT
Rihanna took a break from rehearsing for her upcoming Monster tour with Eminem to party in NYC. Meanwhile, Christina Milian was spotted pumping air in her tire dressed in a skirt and heels in L.A. Peep their candids inside…
In between studio sessions and rehearsing for her upcoming Monster tour with Eminem in Detroit, Rihanna made her way to NYC to hit up VIP Room nightclub for Jeremiah's new single release party.
Donning a pair of white linen shorts, black bandeau top, a jean shirt and black sandals, the "Monster" singer rolled up to the club with her bestie Melissa Forde around 2 AM. The ladies partied till about 4AM before making a bee-line to their waiting vehicle.
And Rih even stopped to snap an "us-sie" with a fan. Chick keeps her fans happy.
The three-city mini tour starts August 7th Rose Bowl in Pasadena, Cali, then MetLife Stadium in New Jersey on August 16th and finishes in Em's hometown of Detroit on August 22nd.
Peep Rih and Melissa arriving and leaving the club below:
And over in L.A....
Amid rumors that she's dating her boss Lil Wayne, Christina Milian proves there are some things she doesn't need a man for. Such as…pumping air in her tire.

C. Milli was spotted in L.A. in a cute yellow, black and white crop top with matching skirt and black Christian Louboutin sandals. And even though the fab mom was dressed to impress, she got her hands a little dirty after pumping some air in her car tire. Once she got her tire straight, she went inside to grab herself a Red Bull and she was on her way.
Gotta love a chick who can do things on her own.
Photos: Splash/FameFlynet
FRESH FACE: R&B Newcomer London Taylor's "Better Half" Video
Posted: 31 Jul 2014 09:00 AM PDT
There's a new R&B cat ready to take on the music world. And his name is London Taylor. Since we love bringing you fresh faces in the game, TheYBF.com has the official video for his newest single "Better Half." Get familiar with the newbie inside…
Watch out Chris Brown, Trey Songz, Miguel or August Alsina. There's a new R&B singer coming for that spot. Meet London Taylor. He's currently making a name for himself on the music scene and he's ready to top the charts with his sultry new single "Better Half" and upcoming debut album, Cinematic Music.
After some success from his single "Pop Big Bottles" featuring rapper Future and his "No Panties" video featuring "Hollywood Exes" star Nicole Murphy as the leading lady (remember THIS controversy?), London has a brand new track and visuals, "Better Half."
When asked why he chose this track as the lead single, he said, "It's authentic and true to my artistry."
In the video, London begs his girl to forgiven his cheating ways and reassures her that she is the most important thing in his life. He's ready to put his wild, out-of-control partying ways behind him and is now in search for more meaningful moments.
London's debut album Cinematic Music will also include a full-length feature film starring the newcomer, Kym Whitley (Raising Whitley) Imani Hakim (Everybody Hates Chris, The Gabby Douglas Story), Nick Nervies (Project X) and K.D. Aubert (Friday After Next, The Scorpion King). We can expect his album and the film to drop later this year.
Take a listen and peep the visuals to "Better Half" below:
We feelin' it?
Sponsored Post