---
Eminem BRINGS Out Rihanna For SURPRISE Performance At Lollapalooza 2014 In Chicago + Remy Ma HITS The Studio With DJ Khaled After Release
Posted: 02 Aug 2014 07:58 AM PDT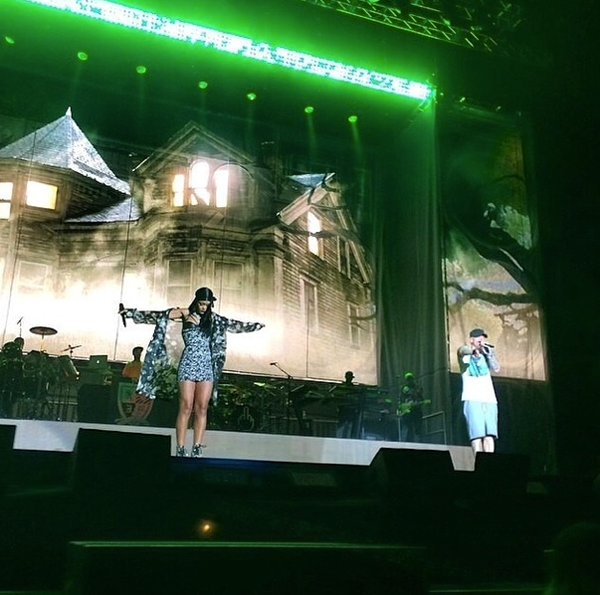 Before they head out on their mini "Monster" tour, Rihanna joined Eminem on stage in Chicago for a surprise performance. Peep their performances and check out Remy Ma fresh out of prison inside….
After roaming the streets of NYC this week, Rihanna trekked it to Chicago to surprise Lollapalooza fans last night.
Six days before they head out on their mini "Monster" tour, Eminem surprised fans bringing out Rihanna during his set. The two took the stage at Chicago's Grant Park for for the first day of Lollapalooza 2014 to perform their collaborations "Love The Way You Lie" and "Monster."
Before ending their set, Rih sang the vocals for Em's 1999 hit "Stan."

After the show, Rih hopped on Twitter to thank Em and the fans:
Thank you @Eminem and Chicago for letting me share this moment with you at #Lollapalooza pic.twitter.com/oKd5qG8wiL

— Rihanna (@rihanna) August 2, 2014
Peep their performances below.
"Love The Way You Lie":
"Monster":
"Stan":
RiRi and Em kick off their "Monster" tour August 7th-8th in Pasadena, CA then hit East Rutherford, NJ on August 16th-17th and end in Em's hometown of Detroit on August 22nd.
And before she touched down in Chicago…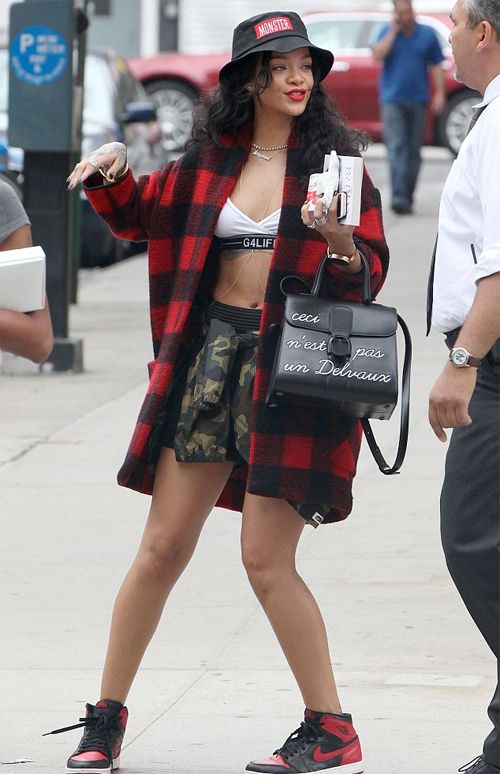 The Pop princess was spotted leaving her Manhattan apartment flossing her toned abs and killer legs. As she made her way to the airport, Rih rocked a red and black plaid coat over her G4Life bra from her own clothing line, black shorts, a pair of red and black Nikes and a black Delvaux leather handbag.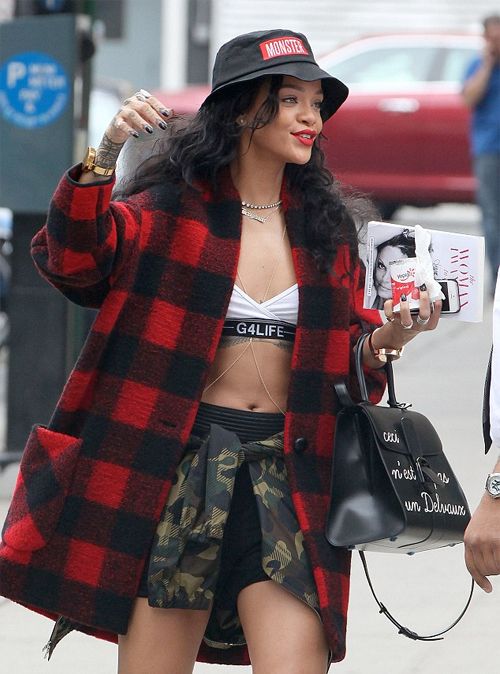 She had her hands full juggling a yogurt, her iPhone and a presale copy of Diane Von Furstenberg's new book "The Woman I Wanted To Be" to read while on her flight.

And in the studio last night...
Although she got out a day later than her scheduled release, Remy Ma didn't let that stop her from getting right back to work. The Bronx raptress was released from the Bedford Hills Correctional Facility for Women yesterday afternoon after serving 6 1/2 years for shooting her former friend Makeda Barnes-Joseph in the stomach over accusations of her stealing money from her.
After visiting her P.O., getting a fresh wig and a new fit, she made her way to the studio with DJ Khaled.
Khaled posted the pic above with the caption, "@therealremyma fresh out ! I'm telling rem GOD IS THE GREATEST! The world excited you home ! Rem back ! Bless up! @wethebestmusic"
Remy's husband Papoose (whom she married while incarcerated) made sure his woman was fresh after getting out of prison. He gifted her a brand new pair of Tom Ford knee boots and picked her up from the jail in a white Lamborghini.
And he also had a cake to celebrate her homecoming. He said, "Congratulations to the #Queen happy 2c you walk out that cage!!!!!!!!!! Time 2 begin a new chapter It's your time #therulersback wish strong was here 2c this #therulersback #therulersback #ripstrong"
Welcome home Remy...
EXTRAS:
1. Indiana Pacers small forward Paul George suffered a broken leg in yesterday's scrimmage game as Team USA preps for the FIBA World Cup. He had overnight surgery and is no recovering. STORY
Photos: INF/Rihanna's Twitter/Remy's IG/Khaled's IG
Future's Child Support Payments INCREASE + Chris Brown Takes A Puff While On A Jet Ski In St. Tropez + Kanye Performs At Riccardo Tisci's Ibiza B-Day Bash
Posted: 01 Aug 2014 06:06 PM PDT
Future has to dig a little deeper for child support payments to the mother of his 11-year-old son. Meanwhile, Chris Brown is living it up on a jet ski in Saint Tropez. Deets & pics inside….
Rapper Future just struck a new custody deal with one of his baby mamas. And no it's not Ciara.
Future and the mother of his 11-year-old son Jessica Smith have come to an agreement on visitation and child support payments. Since he's making a little more cash nowadays, the "Honest" rapper is now paying an extra $1,200 per month in child support for his son totaling $2.800 a month. According to TMZ, Future is bringing in $50K a month. Hmm…50K seems a little low to support the lifestyle he portrays to have. #noshade
They also worked out a visitation schedule on what major holidays he will spend with Future and which ones he will spend with his mother. Jessica is also moving her son to a nicer neighborhood in Atlanta so their son can attend a better school.
Glad they could work that out.
And in other news….

Chris Brown is still living it up in Saint Tropez…without his on-again/off-again girlfriend Karrueche.
In fact, he's partying with a group of friends, including Miami bred video vixen Jessica Aedo.

Seems Breezy can't leave those cigarettes alone. He was spotted puffing on one while riding a jet ski.
Oh, hey...
And again while relaxing on a yacht with some of his homies.
The good life.
BONUS:
The Kardashian-West clan is in Ibiza. And they are celebrating Riccardo Tisci's birthday. That family, Ciara, Justin Bieber and more all came out to celebrate with the Givenchy designer. And guess who performed? Kanye West. Biebz caught video of the "Black Skinhead" rapper's performance above.
Photos/Video: FameFlyNet/Future's IG/ Justin's IG
IT'S OVER! Michael Strahan & Nicole Murphy End Their 5-Year-Engagement
Posted: 01 Aug 2014 05:19 PM PDT
After a five year engagement, the busiest person in the morning show world has called it quits with fiancee Nicole Murphy! Deets inside..
It's over! "Live with Kelly & Michael" host and "GMA"'s newest addition, Michael Strahan, is now a single man again. Both his and Nicole Murphy's reps confirmed the split to People magazine today:
The model and VH1 star ended her five-year engagement to the morning television host and retired NFL player, Murphy's rep confirms to PEOPLE exclusively.
"They love each other very much, but with the distance and work schedule it has been hard to maintain the relationship," his rep tells PEOPLE.
And the timing isn't te best eiter. Michael's huge Pro Football Hall of Fame induction ceremony goes down tomorrow night.
Michael, 42, was previously married to Jean Muggli, and they share custody of their twin daughters Sophia and Isabella. And that split was quite messy.
46-year-old Nicole, who stars on VH1's "Hollywood Exes", has five kids with Eddie Murphy and lives full time in L.A.
We can only wonder if the huge blended family and bi-coastal relationship payed a factor in the break-up. Not to mention it seems Michael doesn't even have a minute of free time on his hands.
The twosome went through their share of rocky times. In 2009, a source claimed that Nicole accused Michael of putting a tracking device in her car when he suspected her of cheating on her. And in 2012, they allegedly broke up for a bit.
Did they stay together to keep up appearances? Or were they legit trying to make it work...and life got in the way? We'll never know...
Photo: Getty
The Sexy Omari Hardwick Talks "Power", How He Stays In Shape & INTERESTING Things You DIDN'T Know About Him
Posted: 01 Aug 2014 04:25 PM PDT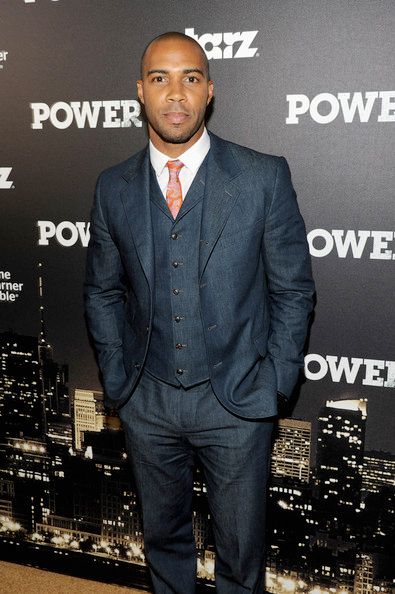 Ghost, we mean the sexy Omari Hardwick, is revealing secrets. And we can't wait to share. Find out how Omari keeps his toned physique, what it's like collaborating with 50 Cent on "Power" AND reveals something we never knew about his musical side. Get it all and more inside….
If you haven't been keeping up with 50 Cent's STARZ drama series "Power," you need to get your life.
The sexiness that is Omari Hardwick plays "Ghost," a no-nonsense drug-kingpin who opens a high-profile nightclub in NYC to "hide" all of his illegal activity he has going on behind-the-scenes. The problem is, he's trying to break away from the world of crime but his wife, best friend and drug associates won't allow him to. Meanwhile, he has rekindled a relationship with a former love and is in a full fledged erotic affair (again)! Tsk…tsk…
The season finale is on deck. But before we're knocked out of our seats tomorrow night, Omari did an interview giving us a better understanding of who he is and revealed a few things we never knew!
During an interview with The New Potato, Omari dished on how he prepared himself to play "Ghost," what it's like to collaborate with 50 Cent, how he keeps that beautiful body of his so perfect AND reveals that he writes music. In fact, he's written a few tracks for Estelle's new album!
Here are the highlights:
What's it like collaborating with 50 Cent on Power?
It was an amazing gift. He was so generous and brilliant; I was pleasantly surprised to see how active he was in the process of a major network show. He has remained more present now that they've finished the season; that says something. I speak to him twice a week for two to three hours. He's been a constant. He's become a really good friend and we've learned a lot from each other.
Best advice from him so far…
He never sleeps or eats! He's constantly telling me that he "whistles while he works." [He emphasizes] having joy in your work and being able to push through exhaustion because of that joy.

Did you do anything to prepare for your part as Ghost? Was there research? If so, what?
I went outside Queens, NY where he's from, and I watched loads and loads of documentaries. I watched a lot of The Cosby Show; I wanted to tap into the great father that he is. I'm constantly doing research while playing him.

The greatest discovery you've made so far playing Ghost…
How delusional, narcissistic and loving people can be, all at the same time. I never would have guessed you could be all of those things at once.

Is Power an accurate portrayal of the New York club scene? How so?
I think so. It captures the star status of the DJ: the international sound, the techno mixed with rap, and the lavish look (shout out to Anthony Hemingway; he made it look just right). The only thing that is not truthful is the lack of celebrity.

Three things nobody knows about you…
1. I'm a songwriter. I wrote three or four songs for Estelle's new album.
2. When I'm washing the dishes, if I'm scraping food off the plate, I personify the vegetables. They have to go down the drain at the same time, like a family. I don't know if that is OCD or I just have a high level of sensitivity about vegetables.
3. I'm secretly a cowboy. I got my first boots from my grandfather when I was five-years-old. Our way of saying "Are you good?" is to say, "You got your boots?" I wear my cowboy boots a lot.

From start to finish, what would be your ideal food day?
I would say for breakfast, I'm pretty OCD. It's oatmeal with fresh berries and brown sugar, or toast and egg whites with turkey – and some orange juice and water.

For lunch, I would say pasta to keep the energy going for the day – maybe a bowtie pasta with tomato sauce and meatballs, sometimes with turkey meat. Also some steamed vegetables or a mixed salad with avocado and fruit. I tend to drink water all day, but maybe a ginger ale for lunch. I also like to treat myself to an oatmeal cookie.

For dinner, pecan-crusted salmon if I'm feeling good or had a good workout. If not, just grilled salmon with asparagus and mashed potatoes. If I'm in a rush in Los Angeles, there is a place called Tender Greens that's really good, fresh and inexpensive.

What are your workout routines?
I switch it up so much to trick my body. I'm doing Bikram yoga this week, but I take a lot of boxing classes. I also do sprints in the pool, a lot of hiking, sprinting up hills, meditation, and isometric work where I'm able to engage my core. I also play basketball when I can. My secret is drinking a lot of water, especially when I'm working.
Check out the full interview here.
What can't this man do...
BONUS:
Looks like ish is getting real on the "Power" season finale. Above, Ghost and his right hand man Tommy are tied up and blindfolded in the sneak peak. Ms. Pink Sneakers has lost her mind. Find out what happens Saturday, August 2nd at 9pm ET on STARZ.
Photos: Getty

TV FAB: Martin Lawrence RETURNS To TV On "Partners" (PROMOS) + Tyler Perry Creates New OWN Series, "If Loving You Is Wrong"
Posted: 01 Aug 2014 03:12 PM PDT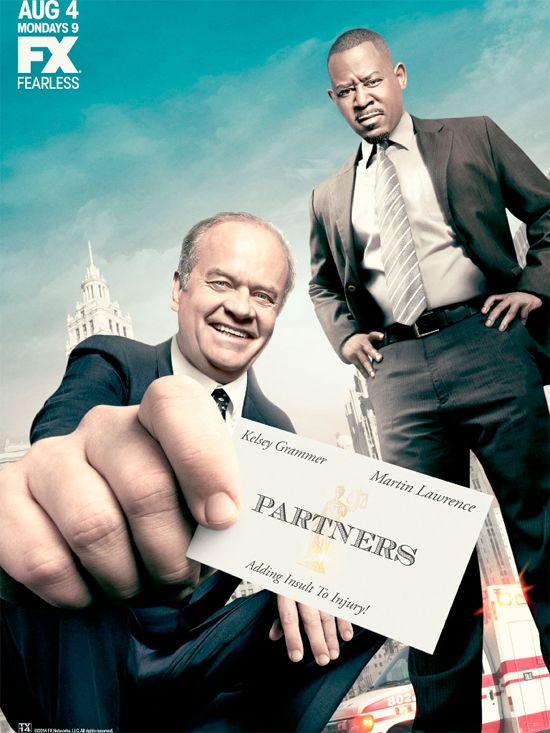 He's back! Martin Lawrence has a new comedy series he's set to star in titled "Partners." Also new on television, Tyler Perry has a brand new drama series titled "If Loving You Is Wrong" for the OWN network. Get the deets on the brand new shows inside…
Funnyman Martin Lawrence is returning to primetime television! And he's starring in a new comedy series on the FX network. And we're here for it.
From the makers of "Girlfriends" and "Living Single" comes a new show titled "Partners" about two Chicago lawyers from completely different backgrounds who unexpectedly meet in court as they each prepare to face a personal crisis.
Martin plays Marcus Jackson, a kind-hearted community activist going through a heartbreaking divorce. He meets Allen Braddock (Kelsey Grammer's character), an elitist lawyer who has just been fired from his father's firm. The two form a partnership and friendship forcing each other to find the balance between the ethical and immoral in both their professional and personal lives.
Former "Half & Half" starlet Telma Hopkins is also starring in the series as Marcus' mother Ruth Jackson.
Peep two funny clips from the show below:
"Partners" premieres Monday, August 4th at 9pm ET/PT on FX.
And on another new television series....
All you "The Have And The Have Nots" fans, Tyler Perry has a new show just for you!
A brand new soap opera is coming to the OWN network titled, "If Loving You Is Wrong" and it seems no one on the show wants to be right. It follows a group of middle-class families who on the outside appear to have the ideal happy home. But behind closed doors, there are layers of deceit, lies and heatbreak.
IndieWire gives a synopsis of the upcoming show:
The season premiere opens in the middle of a torrid affair between neighbors Randal (Eltony Williams, "24") and Alex (Amanda Clayton, "John Carter"). Randal's wife Marcie (Heather Hemmens, "Hellcats") desperately wants children, but Randal's attention is focused on the wife of his best friend Brad (Aiden Turner, "All My Children"). Just down the street, divorcee Esperanza (Zulay Henao, "Single Moms Club") is trying to move on with her life, while keeping a budding relationship with Julius (Octavio Pizano, "East Los High") a secret from her vindictive ex-husband Edward (Joel Rush, "Days of Our Lives"). Meanwhile, neighbor Kelly (Edwina Findley, "Treme") longs to marry Travis (Denzel Wells) who is away on a relief mission in Haiti and who has promised to help her raise her 8-year-old son, Justice. Outside of the neighborhood, single mother Natalie (April Parker-Jones, "Jericho") struggles to raise her children in the inner city. Lushion (Charles Malik Whitfield, "Law and Order"), the father of her son Frank, has returned to town and stepped up to the plate to help. In addition, Natalie grapples with the tough decision whether or not to allow her fourth son, Joey (Matt Cook), to return home once he is released from prison.
Check out Tyler Perry breaking down the show below:

And the official trailer:
Tyler Perry's "If Loving You Is Wrong" premieres Tuesday, September 9th with two back-to-back episodes on OWN.
Will you be tuned in?
BREAKING: Remy Ma RELEASED From Prison!
Posted: 01 Aug 2014 02:27 PM PDT
Less than an hour ago, Remy Ma became a free woman again! More inside......
The Ruler's Back! According to TheYBF.com sources who were live on the scene, Remy "The Queen Of New York" Ma walked out of Bedford Hills Correctional Facility for Women at 3 p.m. EST today. She posted the instagram message above shortly after the release.
We expected that she'd be "free" yesterday but she was held an extra day due to an alleged "phone violation" involving Angie Martinez. Her husband Papoose was there to pick her up in a white Lamborghini.
WELCOME BACK!
Photos via Remy's Instagram
THE EDIT Cover Girl: Jada Pinkett Smith On Breaking The Rules Of Marriage, Gossip About Her Relationship & Working Out LESS For That BANGIN' BODY
Posted: 01 Aug 2014 01:18 PM PDT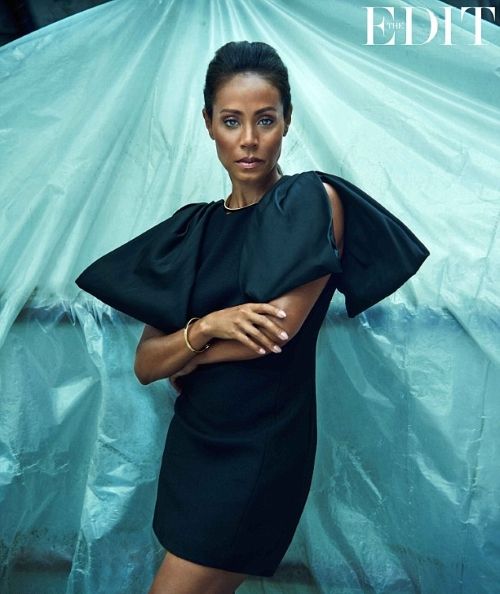 Jada Pinkett Smith redefines the little black dress in the latest issue of Net-a-Porter's The Edit. See the gorgeous pics inside and find out how she and Will Smith broke free from the conventional rules of relationships.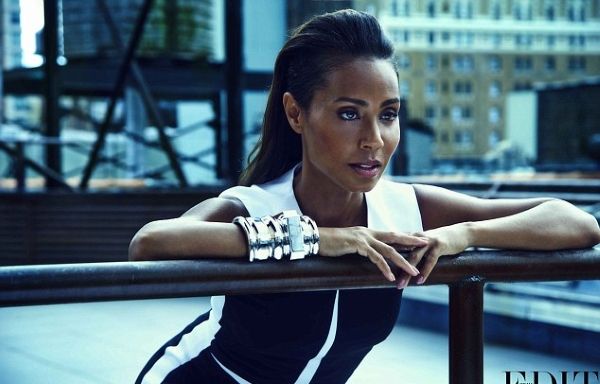 As she preps for a starring role a Fish Mooney in the upcoming FOX series "Gotham", 42-year-old Jada Pinkett-Smith posed atop a balcony in New York City in a few sexy black dresses. The classic pictorial was captured for the glossy mag Net-a-Porter's The Edit, an off-shoot of the fashion e-commerce company, and shot by Chris Colls.
In the accompanying article, Jada talks about her charitable work and efforts (eg. raising awareness about sex-trafficking), how she and Will have broken the rules about traditional relationships too make their marriage work, how she feels about all the rumors about her marriage, and confronting the aging process ('I look better than ever and I work out less. I'm never in the gym for [more than] 45 minutes'). Must be nice!
Here are the highlights and more ridiculously fabulous pics:
On loving Will and breaking the rules of relationships:

The thing I've realized about sex trafficking is that every single woman is susceptible to being trafficked. It doesn't matter what your background is, your economic status, what language you speak or the color of your skin. A lot of people want to believe it only happens to poor girls, and that's not true. When I talk to these girls, I see myself, I see my mother, I see my daughter, I see my girlfriends, I see my sons. There are a lot of boys being trafficked as well, so this is a people problem."

On how she handles gossip about an open marriage and her sexuality:

The coping technique is knowing what the truth is – there's no better technique. When you know that what's going on in your house is so the opposite [of what's being said], and you also know that when there's mystery, people fill in the gaps, that's OK," she says. "And then you look back at it and look at how creative people can be, and it's kind of entertaining. We can laugh because it's so ridiculous. But I get it. I don't take it personally."
On playing a villain in the new series "Gotham":

"Playing a villain is really about diving into your own personal shadows. I wouldn't say it's easy, but it's definitely fun,"

On aging:

You know what?" she says with a laugh, "I don't know if I feel stronger than ever, but I do feel better than ever. As I've gotten older, I've learned that it's about being physical every day. You don't have to go to the gym if that's not your thing. You can go outside your door and walk around your block. "You can take a brisk walk, a light jog, a slow stroll if you want! I feel like, as I've gotten older, I look better than ever and I work out less. I'm never in the gym for [more than] 45 minutes."
On sex-trafficking:

"When your daughter comes to you and is like, 'Hey Mom, do you know that there are people selling girls my age for sex in this country?' My first response was, 'Oh no, that doesn't happen here.' Then I did my research and I thought, 'How could this be going on here and I not know?' I felt ashamed and, being a woman in an industry that has a voice, I just felt this enormous amount of responsibility to at least let other people know. 'Guess what guys? It's not just happening over there. It's happening right here.' I just had to get that word out."

On her most shocking discovery about sex-trafficking around the world:

The thing I've realized about sex trafficking is that every single woman is susceptible to being trafficked. It doesn't matter what your background is, your economic status, what language you speak or the color of your skin. A lot of people want to believe it only happens to poor girls, and that's not true. When I talk to these girls, I see myself, I see my mother, I see my daughter, I see my girlfriends, I see my sons. There are a lot of boys being trafficked as well, so this is a people problem."
On raising Jaden and Willow and letting them make mistakes:

I want my kids to be happy and I want them to be themselves. I was saying to a friend the other day, 'Remember, our kids are not us.' They're not. Sometimes we're trying to fix things that happened to us or projecting [onto them], and that's a terrible, terrible trap."

On the value of women in society and respecting feminine energy

"It's really tough. I feel like the connection to the value of women on a bigger scale has decreased tremendously. Even though you look and go, 'Women have so many opportunities,' it's like, 'Yeah, but at what cost?' Are women valued for being women, or are women valued when they have more masculine qualities? Men and women encompass both female and masculine energies, but it seems like when the feminine is present, it's not respected."
Watch hottie Jada this fall of FOX's "Gotham" starting Monday, September 22nd.
Photos via Chris Colls/The Edit
Rihanna Struts To Dinner In NYC, Releases Sexy ROGUE MAN Fragrance Promo
Posted: 01 Aug 2014 12:25 PM PDT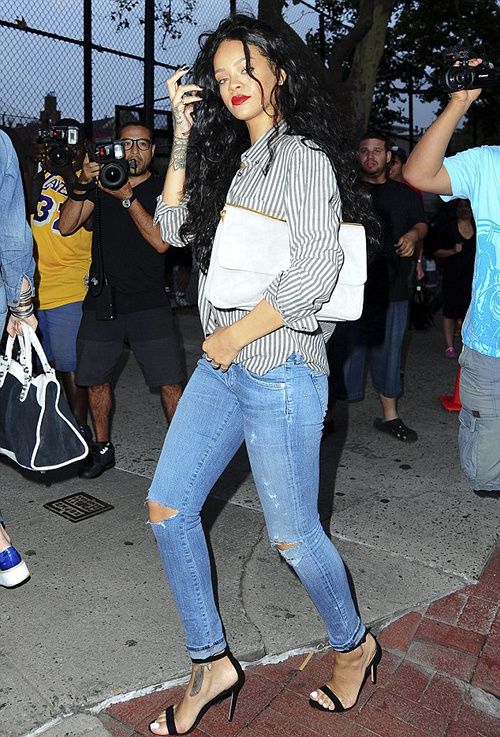 Rihanna is roaming the streets of NYC this week...looking effortlessly fabulous while doing so. Check out her latest sidewalk catwalk strut inside, plus her sexy new promo for her ROGUE MAN fragrance...
RiRi made her way to her fave NYC eatery, Da Silvano, last night in her fave sexy heels. And she kept it casually sexy in ripped skinny jeans and a striped button-down, opened just enough: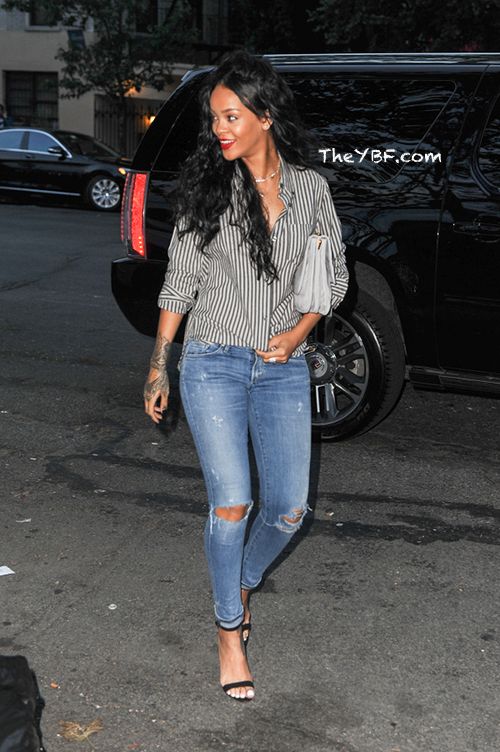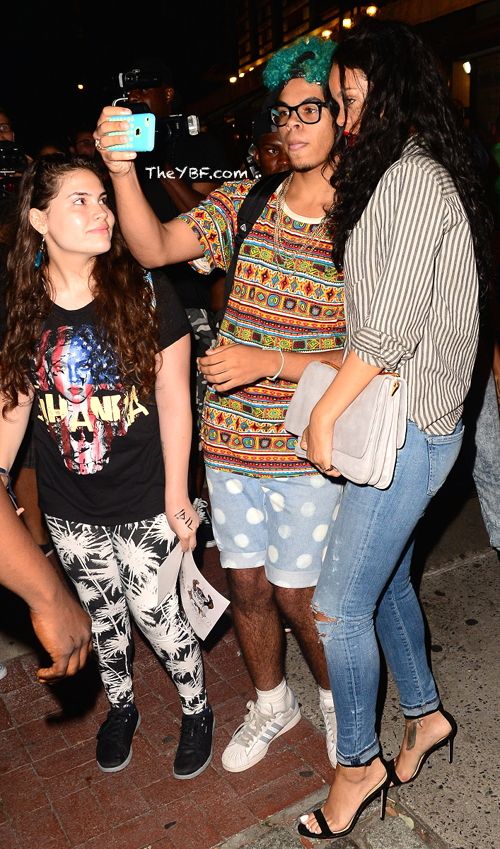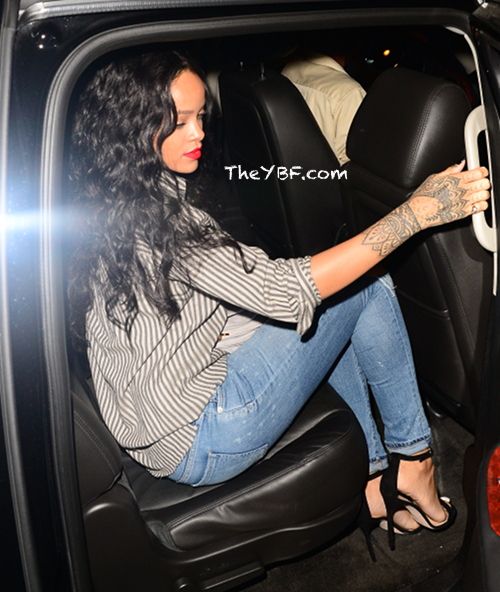 Hot. The 26-year-old just came into town from Detroit where she was rehearsing for the upcoming Monster tour with Eminem.
Meanwhile, she dropped this sexy new ad for ROGUE MAN, the new male version of her fragrance. She tweeted:
LADIES!!! This September wake up next to your man smelling like this!!! Makes you wanna steal his Tshirts #ROGUEMAN

FINALLY!!! #ROGUE for MEN is here September!!! I've waited years for this moment!! :')
You copping it?
Photos: Splash/Rihanna's Twitter
BLONDE BOMBSHELL: Jill Scott Dons A Blonde Wig For Essence Magazine's September 2014 Cover
Posted: 01 Aug 2014 12:00 PM PDT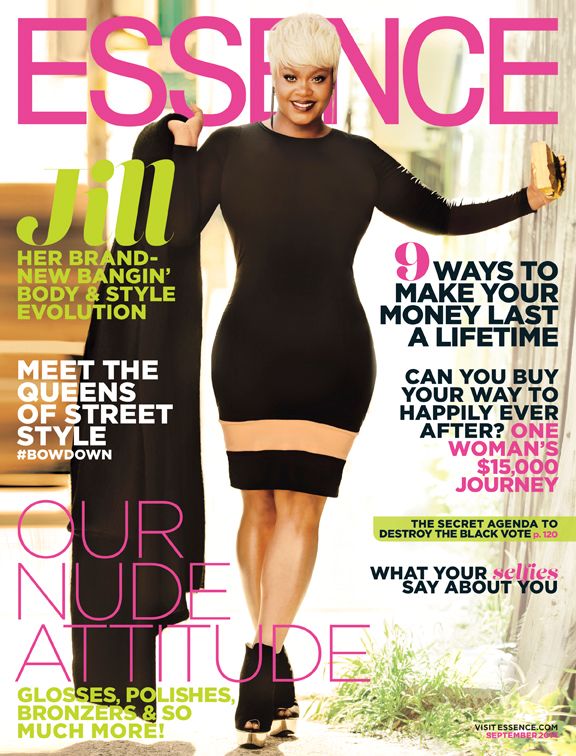 Look who's gone blonde! Jill Scott is covering the September 2014 issue of Essence magazine. And she's making a bold statement. Check it inside...
Get On Up star Jill Scott showed off her flawless curves and brand new wiggery as ESSENCE mag's newest cover girl. Even though it seems she was JUST on the cover recently, we can never get too much of Jilly.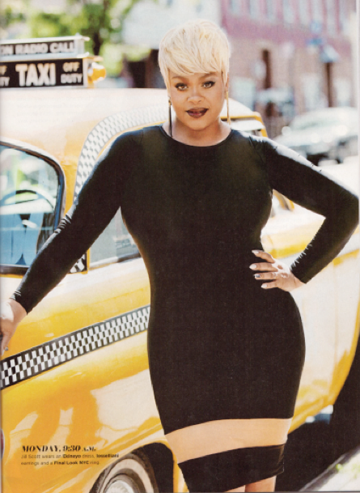 The 42-year-old says in her cover story, "My only job is to be happy. So for everybody who cares about me and is not trying to be all up in a 'celebrity's business,' just know that I'm happy. My son is happy. We enjoy our lives…"
Speak Jill! The mommy of one, singer and movie star is serving up something serious with this new look. You feelin' it?!
The September issue is on newsstands now.
Tiny DISHES To The Breakfast Club On "BEEFING" With Azealia Banks, Instagram Haters, T.I.'s Mom & Floyd Mayweather
Posted: 01 Aug 2014 11:02 AM PDT
Tiny stopped by Power 105's The Breakfast Club this morning to sound off on her relationship with her husband T.I., her beef with raptress Azealia Banks and how she felt when T.I.'s mom pleaded for her to talk to her son via Instagram. Watch the interview inside…
Today is Tiny and T.I.'s 4th anniversary of martial bliss. And before she heads back to Atlanta to celebrate, she made a stop at Power 105's The Breakfast Club. During the chat, Tiny dished on her "beef" with Azealia Banks, her track "What The F*ck You Gone Do" dropping on the same day as Tip's "Stay," ignoring the negativity on social media and of course, how she felt when Tip's mom asked her to talk to her son via Instagram, on her new reality show with Shekinah and of course…all of the drama surrounding her and Floyd Mayweather.
Here are the highlights:
On how T.I. caught her heart:
"He was sweet. Very nurturing. He was real protective."

On if she thinks a man in the industry can be faithful:
"I would hope so."

On if she's ever been a "ride-a-die" chick for another guy:
"The only other real relationship before that [with T.I.] was my lil girl's father [Zonnique's dad]. I was like 16 when I got with him. We were together for some years but then he went away to prison. But nah…not the same."

On the Azealia Banks beef:
"I mean who is she first of all? Who is she to be talking about anybody? She's not looking like anything. Bottom of my shoe and it looks a little better. I mean she just mad, get yo own. Don't try to live off my name. Iggy Azalea is who you mad at. It's really all about Iggy."

On ignoring negative people on social media:
"I try to ignore them. If I don't go on there I can do better but if I go on there and I see something really, really stupid or I see something you shouldn't be talking about anyway, you don't have the right to say it cause I'm looking at you then I might say something back. I try to refrain from that. But now the thing that really gets me is when someone says something about my kids. I been doing really good lately. I don't care that they out there, you ain't gone talk about them and if you do I'm gone check you if I see it."


On if she was trying to make T.I. jealous by hanging out with Floyd Mayweather:
"I was not. I was at the event…I mean who didn't want to go to the fight? And I was on the picture with a whole lot of people. I don't want to talk about Floyd."

On if she and Floyd ever had sex:
"Never. Never. We've always been in a room like this. Never been around…alone."

On trying to keep T.I. from responding to disrespect:
"He's just a man and he's all about his respect. He's not going to be disrespected and not feel like he doesn't have to do something or respond in some kind of way. That's just him and I guess he has been like that since I met him."

On it being hard being in a relationship in the "social media era":
"I don't really go into all that. A lot of stuff they say I know ain't true."

On her song "What the F*ck You Gone Do" and T.I.'s "Stay":
"I heard the 'Stay' song the night of the BET Awards. I loved the song. But I didn't know he was putting his song out the same day I was putting my song out and he hadn't heard my song, so he heard it the same time y'all heard it. It's just kinda God's plan I guess."

On if she's going to put out an album:
"I don't know about that. I ain't really ready for that. I just wanted to put a song out. It has done well and is doing good so I might do maybe an EP…I don't know. I'm thinking about doing an EP, like 5-6 songs."

On how T.I. feels about her singing:
"I think it's still going to be some getting use to. It's new again and it's not what he's use to."

On how she felt when Tip's mom asked her to talk to her son on Instagram:
"She's very new to the social media. She doesn't really know how it works. Shekinah set up everything for her. She doesn't really know people don't do this. I think she just didn't know everybody's watching you."

On if she feels any pressure on being a "perfect" family:
"Pressure? No. It is what it is. We living a real life and however y'all see it or take it…what you see is what you get. A lot of the rumors and stuff ain't true."

On her and Shekinah's new reality show:
"We start shooting on the 5th [of August] and it's called "The Weave Trip". It's going to be hilarious."

On her talk show "Tiny Tonight":
"I don't know. They playing around with 'Tiny Tonight.' It needs to be coming back. They were talking about doing an animated version."

Alrighty then.
Check out the full interview below:
Photos: DJ Envy's IG
VIDEO FAB: Keyshia Cole's "She" + Ne-Yo's "Money Can't Buy" Ft. Jeezy
Posted: 01 Aug 2014 10:32 AM PDT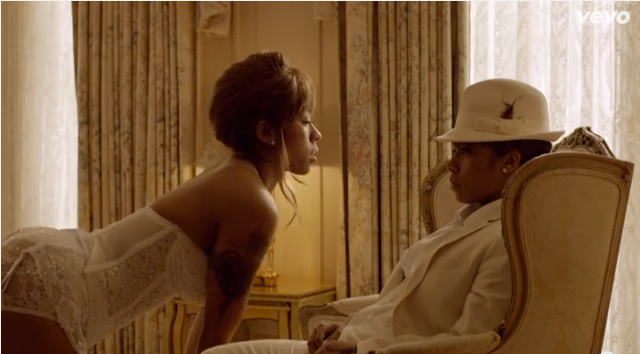 Both Keyshia Cole and Ne-Yo dropped new videos today. Peep Keyshia getting extra familiar with herself in the "She" vid and Ne-Yo falling in love in "Money Can't Buy" inside....
Keyshia Cole's much talked about new single "She" jut got the video treatment. And it's exactly what we expected. It features sparkly white lingerie, Keyshia's dancing attempt, and a usual Beats By Dre Pill plug.
The track, which at first appeared to be a glimpse into Keyshia's lesbian fantasies, stirred up a bit of controversy when it first dropped. She recently told Loni Swain at Chicago's WGCI that it actually means something else:
"I had to get familiar with myself so I think that song is really, in essence of what that song "She" is about. It's getting to know yourself. I know people think it's about girl-on-girl action, which it was at first, and then I kinda switched the lyrics around a lil bit."
So Key Key threw on her sexiest lingerie and danced in the bedroom for....the male version of herself. Check it:
Keyshia's currently on her Point of No Return tour to promote her upcoming album of the same name.
In other videos:
Ne-Yo is falling in love, and is letting folks know that it's something Money Can't Buy. Check out the singer rolling with his chick around town in a fancy Ghost as they cop the cheap and cheerful things in life...a few things from the corner store and romance itself.
Janet Jackson TEASES Fans, Won't Confirm Or Deny REPORTS About New Album + New Pics From Beyonce & Blue Ivy
Posted: 01 Aug 2014 05:53 AM PDT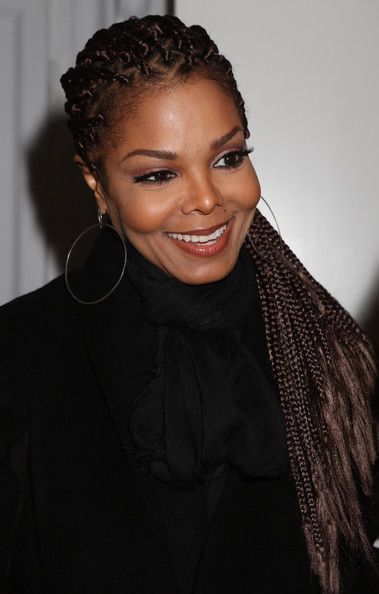 A new tweet from Janet Jackson about a possible album seems to raise more questions than it answers. See the tweet inside and check out new pics of Beyonce and Blue Ivy.
Word on the street is that Janet Jackson has been quietly cutting an album. The tip came from Ian Cross, the vocal producer and engineer who worked on Janet's last three studio albums. He told Barefoot Sound,
"Janet [Jackson] and I had a little bit more of a special relationship because we became friends naturally. You meet a lot of people and you become friends with a couple of them, but sometimes there is one person you become really good friends with. She asked me to work on an album with her called Discipline in 2007 and, again, just do the same thing, produce the vocals. That led to her hiring me full-time to work with her. That's where I'm at now."
So where have they been working?
"The Janet Jacksons of the world can't just spend their time in one studio in one city anymore…we've been working in Qatar. We've been working in Paris, the Middle East, and now we feel like we can work anywhere. The new album is going to be great. It's a process. There's a lot in store, yet to come."
Here's the thing....once Ian's story went viral, Janet herself sent out a tweet to contracdict the interview.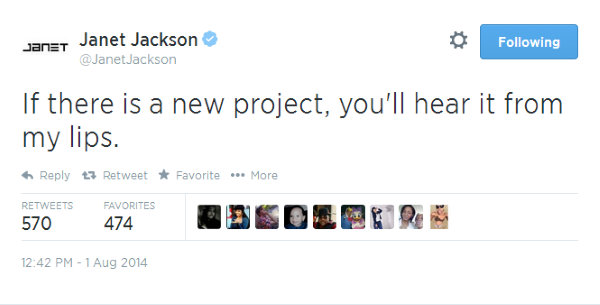 Hmmmmm.....Janet didn't actaully deny that she's working on an album. Maybe she wants to record a few tracks and decide if she wants to release them?! We'll just wait to hear it from her.....
Meanwhile: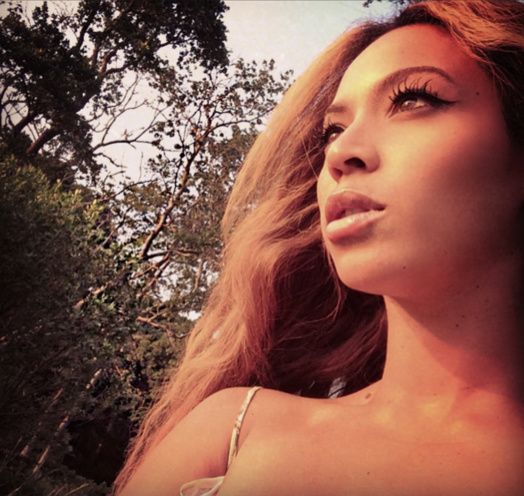 As divorce rumors percolate in the headlines, Beyonce continues to release "happy" photos.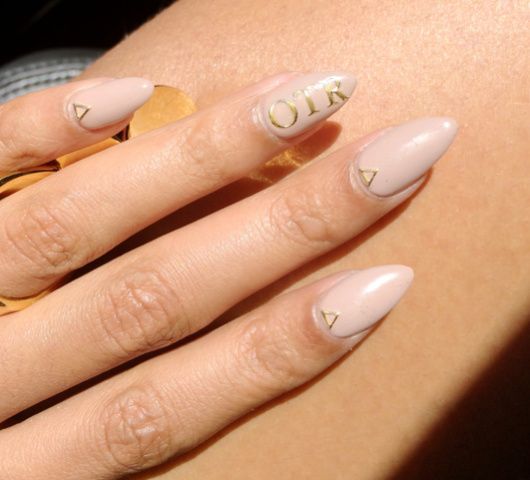 She's still "#OTR" with her hubby. And with baby Blue, who apparently loves to play dress up: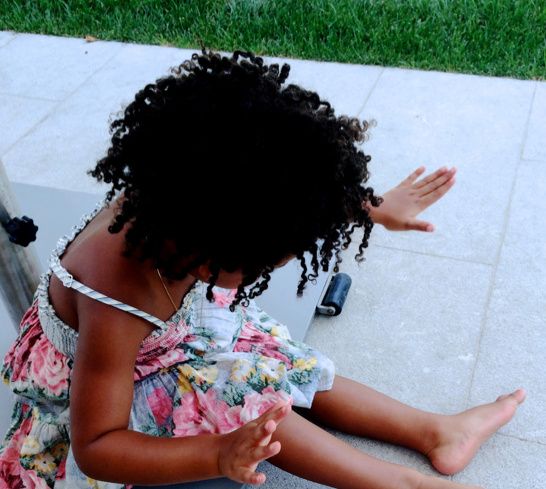 Nice.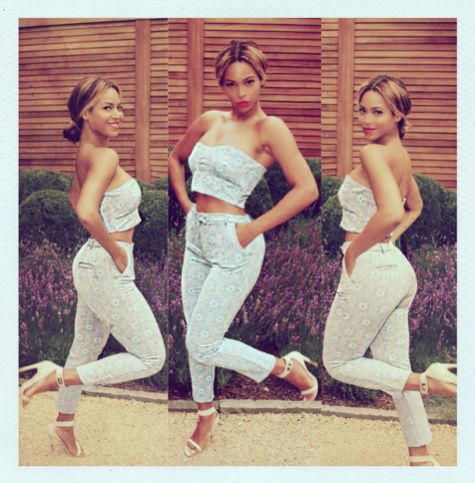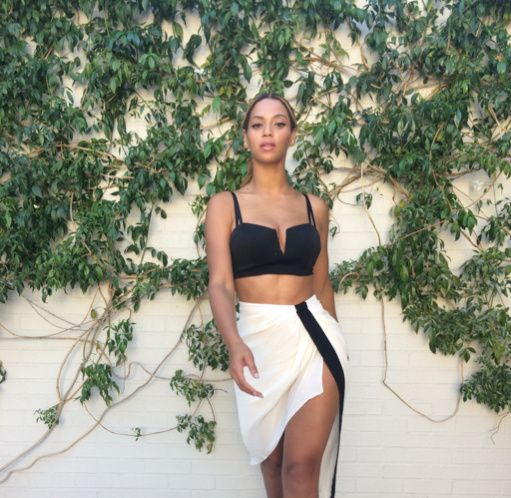 Hot!
She also posted, "Though we travel the world over to find the beautiful we must carry it within us or we find it not. Emerson"
Photos via Beyonce's Instagram/Getty