---
NO DISTRACTIONS: The REAL Issue Surrounding The Michael Brown Case
Posted: 20 Aug 2014 07:30 AM PDT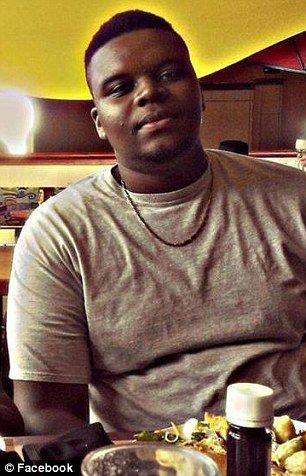 With confusing, often irrelevant and false information circulating around the Michael Brown case in Ferguson, Missouri, it's time we get to the bottom of it all. We tapped a criminal defense attorney/former prosecutor to give us the low down on how, when & if justice will be served....
On Saturday, August 9th, unarmed 18-year-old teen was shot to death by officer Darren Wilson. Afer the shooting occurred at noon, the world has witnessed one of the most tension-filled aftermaths of a police-civilian shooting in recent times.
As the protests, the unrest, both peaceful and not-so-peaceful actions from a militarized police and a few citizens continue, everyone is demanding justice. Since the Ferguson Police Department has been far from forthcoming with basic information to explain what really happened the day Michael brown was shot, an exorbitant amount of confusing information and details have taken center stage. And we have watched Michael's parents (above) grieve for their son, while searching for answers the Ferguson PD seems to have no interest in giving.
We tapped Yodit Tewolde, Criminal Defense Attorney and Former Prosecutor, to break down the facts our readers need to know. And to explain exactly how, if and when justice will legally be served. Here's her compelling take on the main issue at hand and the criminalization of young, black victims:
Let's stop the idle chatter and cut to the chase. The shooting death of Michael Brown, an unarmed black teenager, by a white police officer in Ferguson, Missouri has become the focus of national attention. There has been a game played by Ferguson police and the media with the intent to distract from key issues surrounding this controversial case. Futile attacks on Brown's character have done nothing to address the many questions thousands of protesters have been demanding to know from the very beginning: Why was an unarmed black teenager, who was walking down Canfield Drive, shot multiple times by a police officer? More importantly, was the officer legally justified in doing so?

It is no coincidence that the same day the Ferguson Police Department ("FPD") identified Darren Wilson as the officer who shot and killed Michael Brown, reports and surveillance footage claiming to show Brown in the act of robbing a convenience store were suddenly released. The FPD's irresponsible decision to release this type of information six days after Brown's killing doesn't pass the smell test. Brown's culpability in this robbery has no direct bearing on how or why he was killed. Police Chief Jackson confirmed to reporters at Friday's press conference that the robbery had no relation to the initial contact between Wilson and Brown. Whether Wilson had some knowledge of an alleged robbery occurring or not, his contact with Brown was based on the simple fact that he was "walking down the middle of the street blocking traffic," according to Jackson. So if one didn't have anything to do with the other, why would the FPD disseminate this information to the public?

Well it's simple – it's called criminalization. We've seen this transparent move done to perfection in the past – the media's conscious effort to create a negative portrayal of young, black victims to justify their killings in some way. No one cared about Trayvon Martin's school suspensions, or Renisha McBride's blood alcohol level or marijuana use. And no one should care about Michael Brown's past either. The primary focus must remain on the issue at the very core of this case and that is whether Officer Wilson believed there was an immediate threat to his life that would legally justify his use of deadly force against Michael Brown. The evidence could support Wilson's version of the events of a violent confrontation initiated by Brown, who he claims attempted to grab his gun. Under these circumstances, Wilson could have been legally justified in using deadly force. On the other hand, the evidence may discredit Wilson's account and corroborate statements made by several witnesses that say Wilson shot Brown after raising his arms in the air; therefore, Wilson's use of deadly force when the threat was neutralized would not be justified. With new information developing every day and pending the results of investigations by both local and federal officials, no one at this point can answer with certainty the question of whether deadly force was justifiable in this case.

Autopsy results on Brown's body released Monday morning shed new light on what may have occurred right before Brown was shot to death. It appears Brown was shot at least six times, including two shots to the head. A gun shot wound to the top of a 6-foot-4 Brown could suggest his head was bent forward, possibly in a kneeling position when the bullet struck him. Gun shot wounds to Brown's arms could have occurred while his arms were in the air, possibly in a defensive posture. Brown also sustained multiple abrasions to his face consistent with falling face first to the ground after being shot to death. These findings seem to support what several eye witnesses reported seeing that tragic day, but is hardly enough to forensically reconstruct the shooting according to Dr. Baden, the medical examiner who conducted the autopsy. There is still an additional autopsy pending that was approved by U.S. Attorney General Eric Holder on Brown's body that will be conducted by a federal medical examiner. An autopsy by the St. Louis County Medical Examiner's office was also done, but like everything else those results have not yet been released.

What Now?

Once the state investigation by the St. Louis County police department is complete with forensic details -- the autopsy results and toxicology tests -- the case gets handed over to the district attorney's office. The District Attorney will then present the evidence gathered to a grand jury, a group of people who represent a broad cross-section of the population of the county to determine whether filing criminal charges against Wilson is appropriate given the facts and the law. Although the wheels of justice are moving forward, charges against the officer will not come quickly until a thorough investigation is complete. Until then, thousands will continue to rally and march down the streets of Ferguson in support of Michael Brown, but more importantly, justice.

You can get more of Yodit's breakdowns of the laws that affect our everyday lives on YoditLaw.com.
Photos: ABC News/Facebook
Kevin Hart RESPONDS To "Shady" Commenters -- "I Chose Proposal Date For Eniko's BIRTHDAY, Not To Be Negative Toward Torrei!"
Posted: 20 Aug 2014 06:50 AM PDT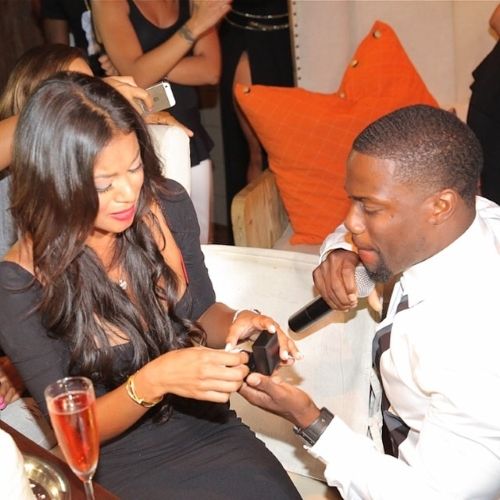 We have more pics from Kevin & Eniko's engagement (including a close-up of the ring) and Kevin's response to commenters who've called him out for coincidentally popping the questiong on the same night as his ex-wife Torrei Hart's debut on "Atlanta Exes."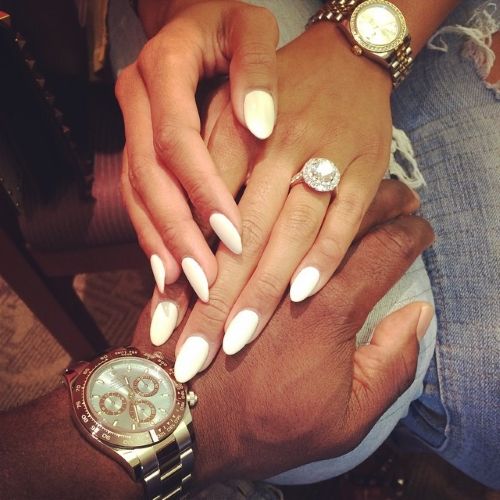 By now, you've seen our reports about Kevin Hart's engagement to Eniko Parrish, which coincidentally happened on the same night as Torrei Hart's debut on "Atlanta Exes." The coincidence didn't go unnoticed by commenters on Kevin's Instagram page who took him to task for what they considered to be classic shade. And yes, Kevin was aware of the premiere date as Torrei revealed yesterday that she actually invited Kevin and Eniko to the premiere party.
Kevin (who is known to be VERY interractive with his fans on social media) decided to respond about the shade, revealing to fans that it was out of his hands that Torrei's debut fell on Eniko's birthday and the ONLY thing on his mind was ENiko...but he wishes Torrei well. Oh...and he reitereated that he moved on SIX years ago. Just in case Torrei (or the fans) forgot.
I wish y'all could see my face when I read some of the comments that you guys leave....I just want to take a second to share some COMMONSENSE with you guys!!! August 18th was @neekibaby actual Birthday...it wasn't the day before or the day after. I will say this one more time & never repeat myself again....I wish my X Wife nothing but the best in life...I've moved forward with my life & have been doing so for the last 6 years. The only thing that was on my mind yesterday was making sure my lady had an amazing 30th B Day. I'm happy to say that my now FIANCÉ was blown away by the entire evening. #MissMeWithTheBullshit #KillNegaitivityWithPositivity
But wait....there's more! After the engagement AND after Torrei's premiere party, Torrei, Eniko and Kevin bumped into each other at the strip club! According to sources, Kev and Torrei were seated withing eye shot of one another, but NEITHER acknowledged that the other as there. However, Kevin did make a spectacle by dropping $40K and making it rain. Sigh.....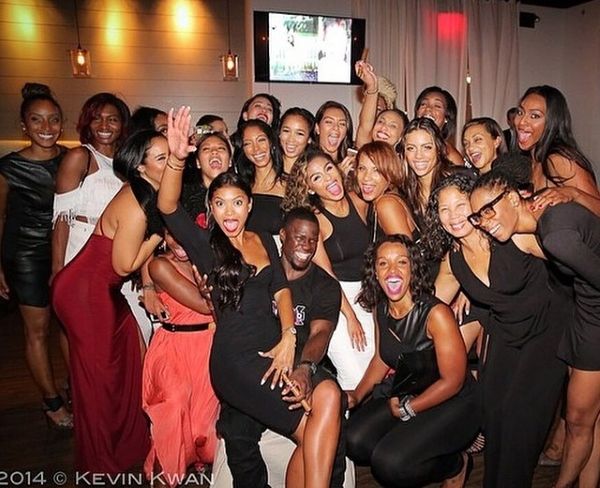 Shade or no shade....Kevin and Eniko are going forward with their love and their actions suggest that present and future fans of Torrei Hart should let it go. Despite how gut wrenching this whole mistress turned wife-to-be scenario played out.
Kevin posted the last pic gushing about his bride-to-be saying, "I surprised the shit out of her last night....I hit her with what I like to call a double banger lol. I just want to say thank you to all of her friends & family that came out & helped me make her 30th a day to remember. Last night was EPIC #NikosDirtyThirty #WeWereTurnedUp #GreatTimesWithGreatPeople."
Well good luck to them...
Photos via Kevin's Instagram
OH-MY-GOD-BECKY: Nicki Minaj Drops "Anaconda" Video
Posted: 19 Aug 2014 11:50 PM PDT
Nicki Minaj's "Anaconda" video is here. And it's exactly what you expected. Big booties, a drooling Drake, and at least one colorful wig. Check it inside...
Nicki Minaj served up big booties on a scenic platter for her brand new "Anaconda" video. The visuals are her latest offering off her upcoming album The Pink Print.
While sampling Sir Mix-a-lot's "Baby Got Back", the Polow Da Don & Da Internz-produced track is all about girls showing off their big butts in the club And, as Nicki so eloquently puts it, "F**k them skinny bitches in the club, I wanna see all the big, fat, ass b*tches in the club."
Before twerking her enhanced ASSets all over Drake (who y'all know is quite thirsty in real life to get at Nicki), she incorporates elements of Sir Mix-a-lot's video from the dances to the huge signs.
Check out Nicki dipping back into her pink wiggery and her stripper moves below:
CANDIDS: K. Michelle ADDRESSES "Beef" With Elle Varner + Zoe Kravtiz & Dame Dash Hit The NYC Streets + Dawn Richard Out & About After DK SPlit
Posted: 19 Aug 2014 07:48 PM PDT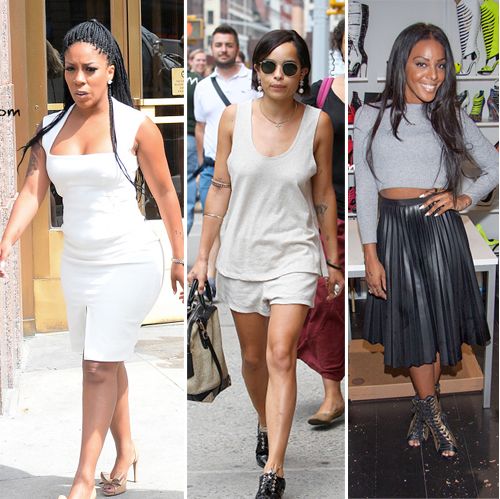 K. Michelle, Zoe Kravitz and Dame Dash have been spotted throughout NYC. Also, Dawn Richard is carrying on after the recent Danity Kane split, hitting an event in Las Vegas. Find out what they were all up to inside…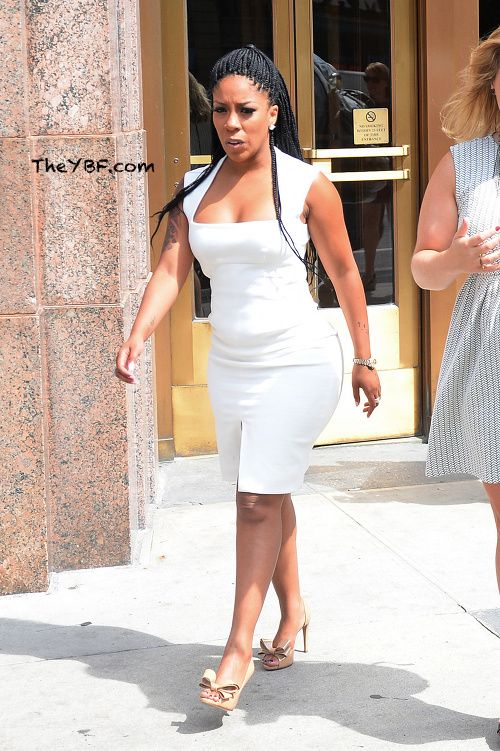 K. Michelle got dressed in a fitted white dress and nude peep toe Valentino pumps before making her way to the Hot 97 studio yesterday. She chopped it up with radio hosts on Hot 97's Ebro In The Morning Show and she decided to address the issues she has with her former friend Elle Varner.
During the interview, K reveals the real reason she has a problem with her former homie. The "VSOP" singer and the "Cold Case" singer were under the same management and at one point were pretty close. But K. Michelle now says that's no longer the case. When asked if she was still cool with her seemingly bestie Elle, she blurted out, "No, absolutely not."
Damn!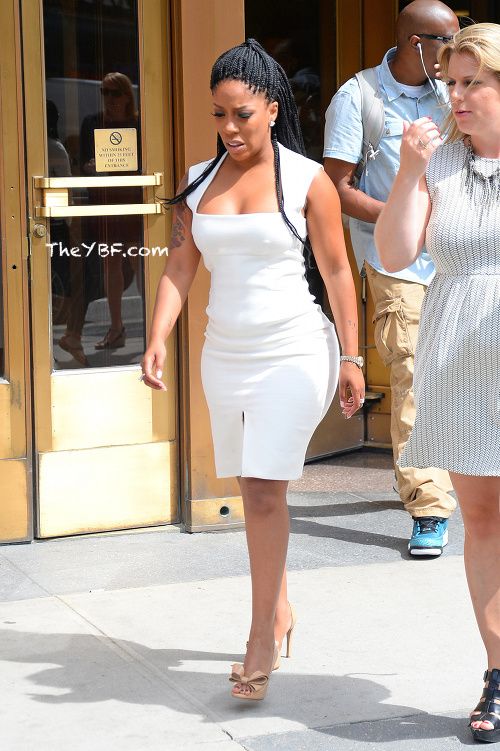 So what's the beef about exactly? She explained that the problems she has with Elle have nothing to do with MMG rapper Meek Mill (who's currently incarcerated) and confirmed she's never dated or slept with Meek…ever. She said, "That's what they wanna think. I have never slept with Meek a day in my life." She then talked about how people aren't who they seem to be, referencing Elle.
So what's the REAL deal? K is mad because she claims Elle stole a song from her…her favorite song to be exact. K said her management didn't let her release the record herself because it was too "big" for her…meaning they wanted her to keep her in a certain lane and that the song was too mainstream for her brand. She explained she played the record for Elle, and the next thing she knows, Elle later plays the same record back to her, using the same producers and everything.
She then revealed Elle started to try to dress and talk like her because she was still looking for her identity, wanting to be more sexy. Tank goodness the beef isn't over anything petty... *side eye*
Annother random K. quote -- "We don't give a f*ck about that India Arie ass music."
What? Chile…
Check it at the 8:08 mark:
Also in NYC...
Divergent star Zoe Kravitz was spotted taking a stroll in East Village today. The starlet is gearing up for the release of her new film, "Good Kill." We spotted her on the set of her latest flick, decked out in her air pilot gear for her new role.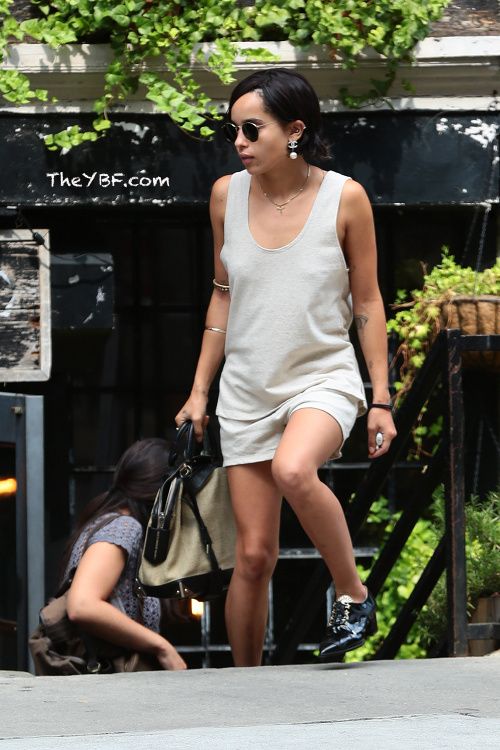 Zoe stars in the Air Force thriller with Ethan Hawke and "Mad Men" actress January Jones. Directed by Andrew Niccol, Ethan plays a pilot who questions his own ethical standing while operating drone attacks on the Taliban.
"Good Kill" is expected to hit the silver screen in 2015.
And last night...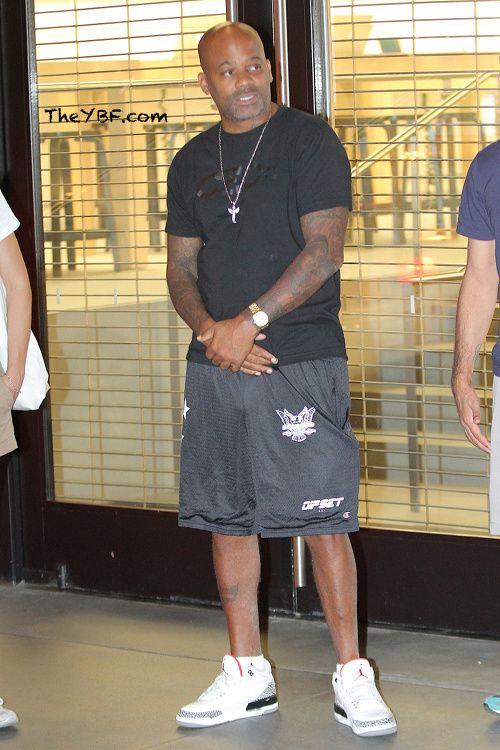 Dame Dash was spotted in his B-Boy stance, styling in a fresh pair of J's in SoHo.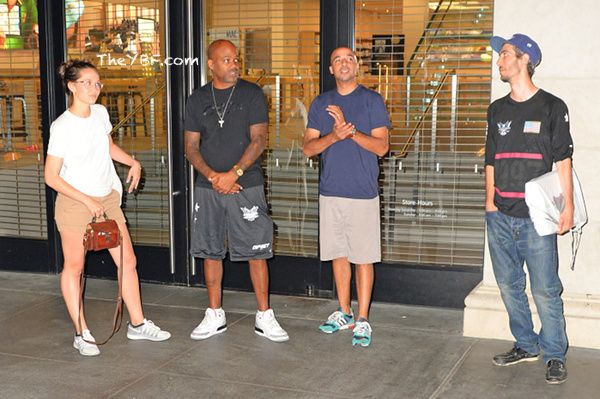 Looks like he was catching up with a few friends.
And in Las Vegas...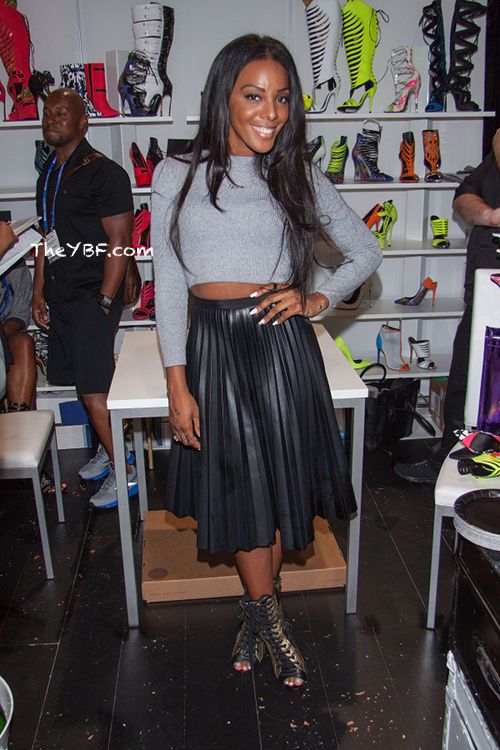 After the recent (and likely final) split of girl group Danity Kane, Dawn Richard seems to be carrying on with a smile.
The "Lemonade" singer hit up the Lust for Life booth last night as she hosted a meet and greet during the 2014 MAGIC market week at the Las Vegas Convention Center today.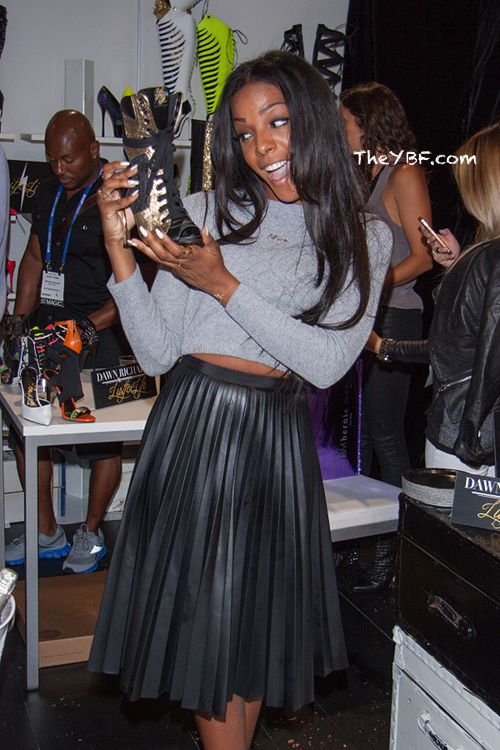 You'll recall, the group disbanded after a fight broke out between Dawn and band mate Aubrey O'Day. It resulted in Aubrey allegedly getting punched in the head, calling the cops and pressing charges. But Dawn claims it was Aubrey and Shannon who caused the demise of the group after she allegedly caught them conducting business meetings without her. Drama….
Guess she's doing what she can to collect those coins since the DK checks will soon stop rolling in.
Photos: Splash News/ Pacific Coast News
REAL LIFE YBF: 13-Year-Old Baseball Phenom Mo'Ne Nabs Sports Illustrated Cover
Posted: 19 Aug 2014 06:26 PM PDT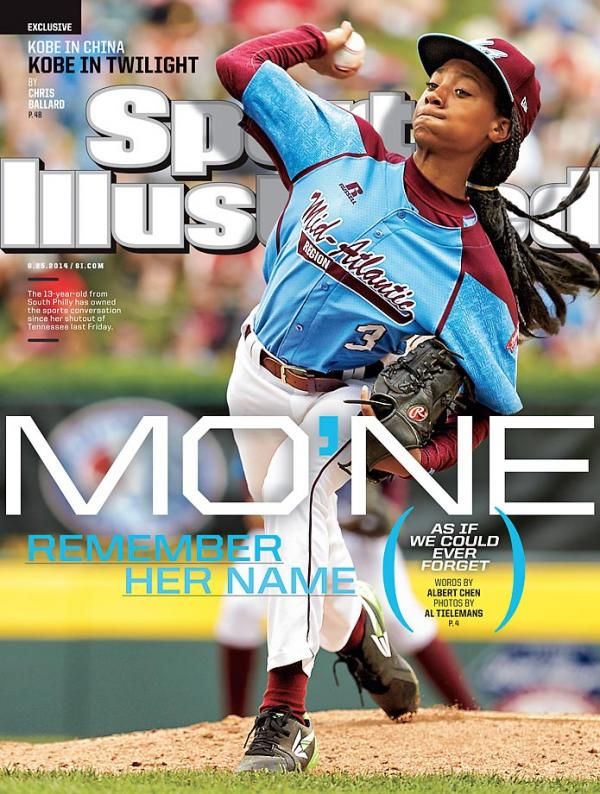 The real life YBF chick we're loving at the moment is Mo'Ne Davis. Find out why inside...
A 13-year-old girl landing a Sports Illustrated cover doesn't happen everyday. But today, for the August 25th issue, it did. Mo'Ne Davis is the baseball phenom who has made history by becoming the first female in history to pitch at shut out game at the Little League World Series. And she's not just pitching, she's pitching 70-MPH fastballs!
Mo'Ne led her team, the Philadelphia Taney Dragons, to the Little League World Series as the only girl on the team. This past Friday in the first game of the Series, she pitched a 4-0 shut out game against Tennessee. And she's not too shabby at batting either. Her walk-up music: Beyonce's "Run the World (Girls)". Obviously.
As only the fourth American girl to ever make it to the World Series, she's been getting major pub all over the place. She told CBS News about "throwing like a girl":
"Throwing 70 miles an hour – that's throwing like a girl."
Yassss! How can we not love her?! She also knows how big of a deal this is and what it can lead to:
"Probably like a couple of years from now, there'll be a lot of girls here, and then it won't be just like all boys, so they'll have to build like another dorm for girls, so it'll be a huge impact if more girls start playing," she said.
Her coach and teammates revealed that you'll never see her fall apart on the mound. The commented that she has an unbreakable spirit and is about her business.
Oh, by the way. Baseball isn't even her primary sport. Chick is a beast at basketball...and that's actually her preference. She told SI:
"To be honest, I never thought I'd be famous for baseball," she says. "I want to play basketball, and I could also do both basketball and baseball -- but I really want to play basketball."
Well, she always has something to fall back on...
Good Luck & Congrats Mo'Ne!
COUPLEDOM: Mama Tina & Richard Lawson Buy Baby Gear + Kanye & Kim On Another Mexican Vacay + More Pics From Amber & Wiz's Wedding
Posted: 19 Aug 2014 04:49 PM PDT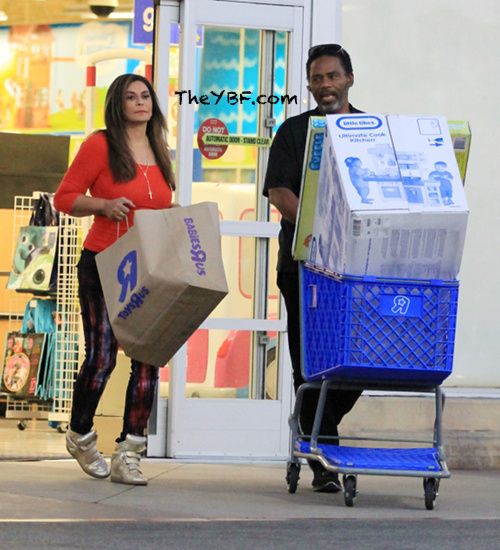 Mama Tina Knowles is still with her boo Richard Lawson...and they were spotted doing some late night shopping at Babies R Us. Cute! Pics of the twosome, plus The Wests on another Mexican vacay and more pics of Amber Rose's wedding dress inside....
Gifts for Blue Ivy and Kelly Rowland's baby on the way? Looks like it!
]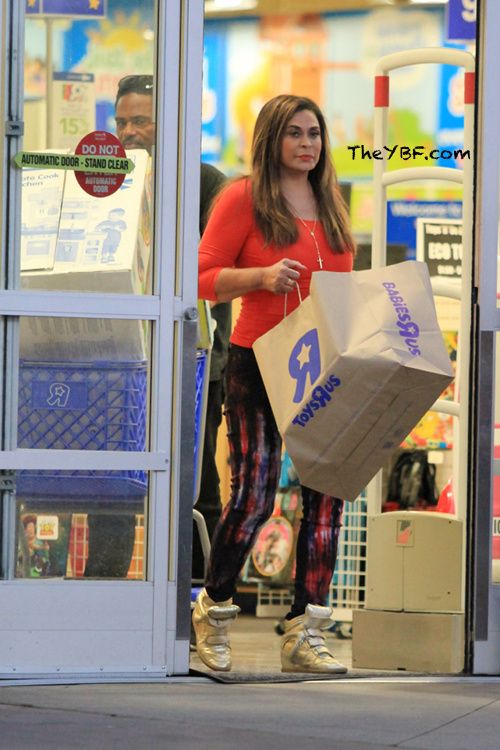 Ms. Tina Knowles is living her life as a sexy, single & dating woman and isn't afraid to show it. Beyonce & Solange's mom looked great in her colorful leggings and gold Isabel Marant sneakers as she hit up a Babies R Us in Beverly Hills with her actor boyfriend Richard Lawson last night.
They grabbed plenty of toys of the babies in their lives, and looked cute doing so. We're not mad at you Mama Tina....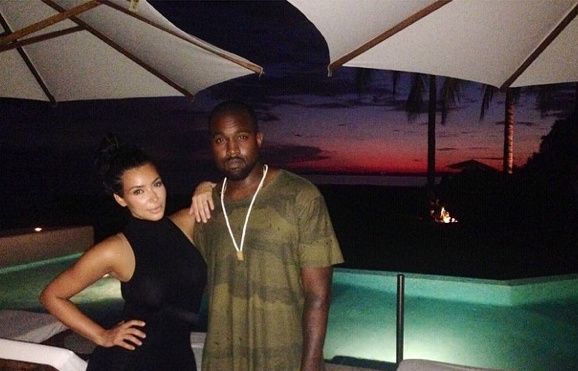 And Kanye West and his wife are back in Mexico. Again. The twosome high tailed it to their fave hideaway, Joe Francis' place, to get in some R&R from all the stresses of building a couple multi million dollar homes and traveling the world. Fun times.
Meanwhile, Amber Rose and Wiz posted a few more wedding pics: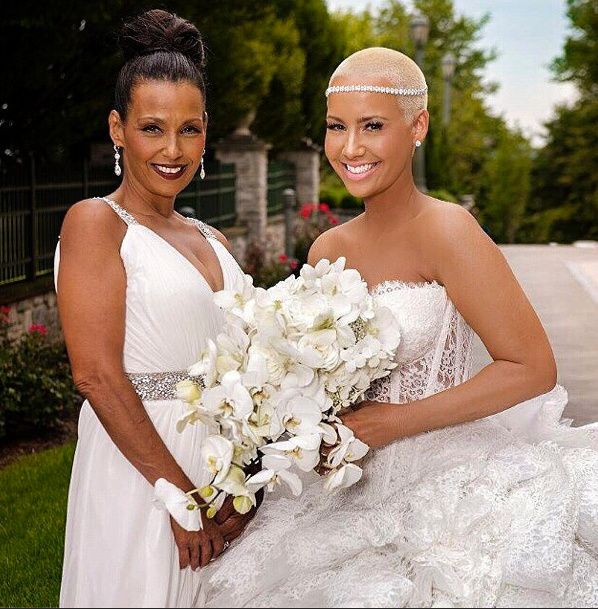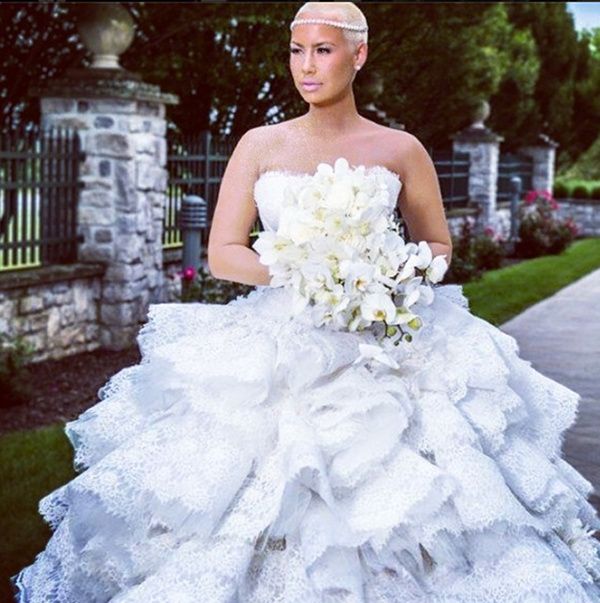 She posed it up with her mom in her big white wedding dress from her and Wiz's ceremony last August. Nice.
Photos: Wiz & Amber's IG/Kim's IG/Splash
TV BITS: TV One's "Girlfriends Getaway" Trailer + New Promo For LeBron James' "Survivor's Remorse" STARZ Series + "BAPS" Gets The Axe!
Posted: 19 Aug 2014 04:13 PM PDT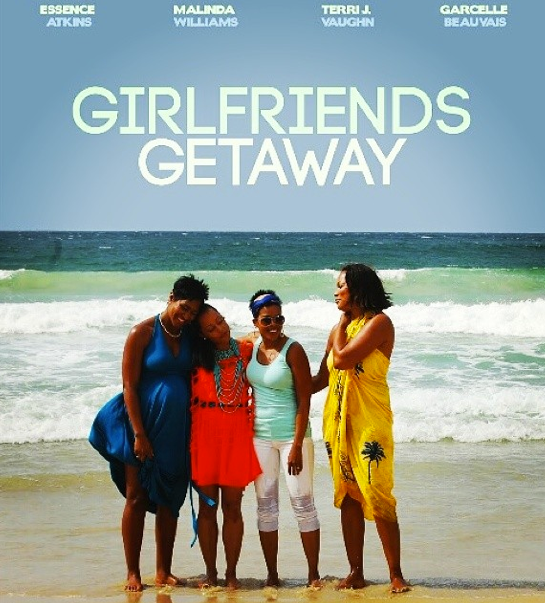 New trailers for TV One's original film "Girlfriend's Getaway" and STARZ's "Surivivor's Remorse" have been released. Also, LIFETIME's "BAPS" gets cancelled early. Get familiar with the new show, film and the deets on why "BAPS" got the axe inside….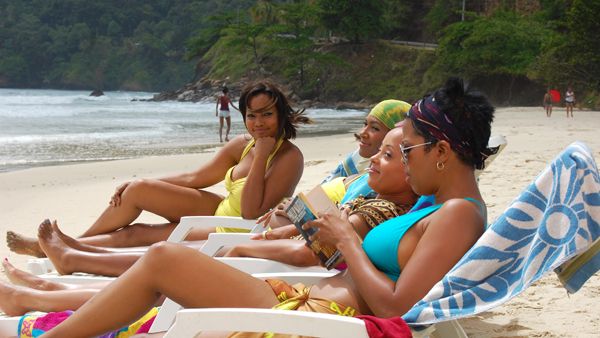 There's a new film coming to TV One. And it's starring some of our favorite YBF actresses. Garcelle Beauvais, a pregnant Terri J. Vaughn (she's pregnant in the film), Essence Atkins and Malinda Williams are starring in a two-hour original movie titled, Girlfriends' Getaway, which is set to premiere Saturday, August 30th at 8PM/ET on TV One.
The fab actresses shot the entire film in Trinidad, telling a story of an innocent birthday getaway taken by four longtime friends. And it all turns into a life changing adventure. Garcelle Beauvais stars as 'Vicki Holmes', with co-stars Terri J. Vaughn as Sophie, Malinda Williams as Camille and Essence Atkins playing Lauren.
In a press release about the film:
Vicky Holmes (Beauvais), a sophisticated, successful business owner is outwardly hitting a stride in love and life. However, just days before a romantic birthday trip, she is blindsided by her boyfriend's decision to relocate and end their relationship. Vicky ultimately decides to bring her best girlfriends – who are all facing turning points in their lives – with her for a grown girls getaway in Trinidad. After their first wild night, an innocent mistake sets blaze to a chain of events that would forever change each of their lives. When the very pregnant Sophie (Vaughn) is kidnapped and held for $10,000 ransom, the remaining girls have 24-hours to ban together in order to get Sophie back safely or end up in jail.
We're here for it. Check the trailer below:
Will you be tuned in?
And below is a pic of the ladies on the set of a promo shoot for their new film: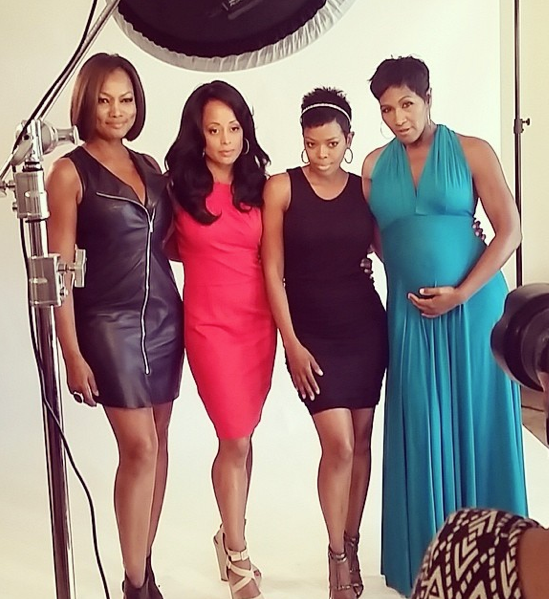 Terri, who's expecting another bundle of joy soon, captioned the shot, "Join us for a night of GLAM, GIRLFRIENDS and the ultimate GETAWAY!!! Sat, Aug 30 @ 8p on @tvonetv! Tune into the premiere of #GirlfriendsGetaway!!! @garcelle @essencesays @malinsworld #getyourgirlfriends #glamitup #getaway"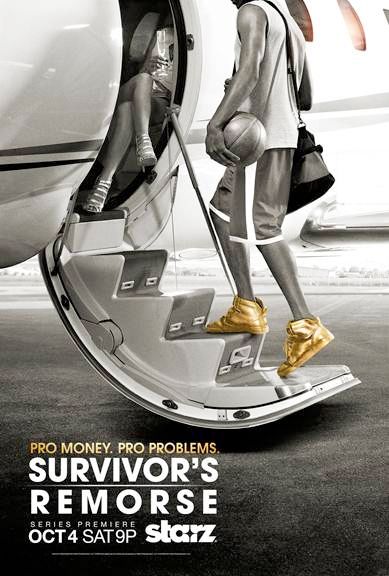 While we patiently await the return of 50 Cent's "Power" series, a new scripted comedy series, executved produced by LeBron James, is coming this October to the same network, Starz. And a new trailer, along with the new poster art (above), has just been released.
"Survivor's Remorse" is based in Altanta and it follows Cam Calloway, a basketball phenom in his early 20's who is suddenly thrust into the limelight after signing a multi-million dollar contract with a professional basketball team.
The cast includea: "Level Up" actor Jessie T. Usher will play the lead role of Cam Calloway. Cutie Ronreaco Lee ("Let's Stay Together") has been casted as Cam's cousin and confidant, Reggie Vaughn. "The Real Husbands of Hollywood" actress (starring as Kevin Hart's ex-wife) Erica Ash will star as Cam's sister, M-Chuck. YBF fave Tichina Arnold will play Cam's mother, Cassie. And "Mad Men" star Teyonah Parris will play Reggie's wife, Missy.
Peep the new trailer:
The show will premiere on Saturday, October 4th at 9pm/ET on STARZ.
And a new show that has already gotten the axe....
LIFETIME's "BAPS" series has been cancelled early! The St. Louis-based reality show was pulled today after only four episodes, even though it was scheduled to run for six episodes. Premiering this past July, "BAPS" followed an exclusive, privileged and affluent group of African-American friends from St. Louis who are self-proclaimed Black American Princesses and Princes.
According to STLToday, each cast member was sent an email from Asylum Entertainment informing them that the show was over.
The email read,
"I wanted to let you know that Lifetime informed us that they will not be airing the last 2 episodes of BAPS. We're very sorry it panned out this way. It's very difficult to build an audience for an ensemble show like this one, but we're very proud of the show and happy to have had the experience working with you."
The show saw less than stellar ratings ranging in the 500,000-600,000 viewership range. It also received a lot of negative backlash on social media, so LIFETIME execs decided to pull the plug early on the show.
Will it be missed? We doubt it....

Photos: Elise Romany / TV One/Lifetime/Terri's IG

SPEAK ON IT: Diddy Calls Out President Obama About The Ferguson Protests - Is He Doing Enough?
Posted: 19 Aug 2014 02:55 PM PDT
As tensions and the number of civilian arrests continue to rise, Diddy has stepped to the forefront (via social media) to call out President Obama for not doing more. Speak On It inside...
With nearly 9 million Twitter followers and 4 million followers on Instagram, Diddy (who coincidentally has an album with Guy Gerber dropping tomorrow) is calling out POTUS regarding the Michael Brown shooting and Ferguson, MO protests.
While watching the protests and growing unrest, Diddy flips on his camera and says "This sh-t ain't right. Obama, get on a plane -- it's serious. These are your people, baby. These are your people." He captioned the clip, "WATCH DIS! DEAR PRESIDENT OBAMA!!!!!! IF YOU FEEL THE SAME WAY SEND A VIDEO MESSAGE TO THE PRESIDENT #DEAROBAMA"
We've been seeing plenty of critique of our President when it comes to this situation But is it fair?
QUESTION: POTUS has already dispatched Attorney General Eric Holder to Ferguson (he's set to arrive on Wednesday); a federal autopsy, which will be in addition tot he city's autopsy, was approved to be conducted on Michael Brown; and the FBI is conducting an investigation to look at civil rights violations in the shooting.
While some people might argue for "more", there is also a large segment of the American constituency (e.g. The Tea Party) who want the President to stay out of "state" affairs. There's also a good segment of the population who feel it's more beneficial & impactful to hold state and local officials accountable.
Should President Obama be doing more?
SPEAK ON IT!
Photos via MTV/Diddy's Instagram
Rihanna's "River Island" Model Ataui Deng FOUND At NYC Hospital -- Reported Missing For Two Weeks
Posted: 19 Aug 2014 02:28 PM PDT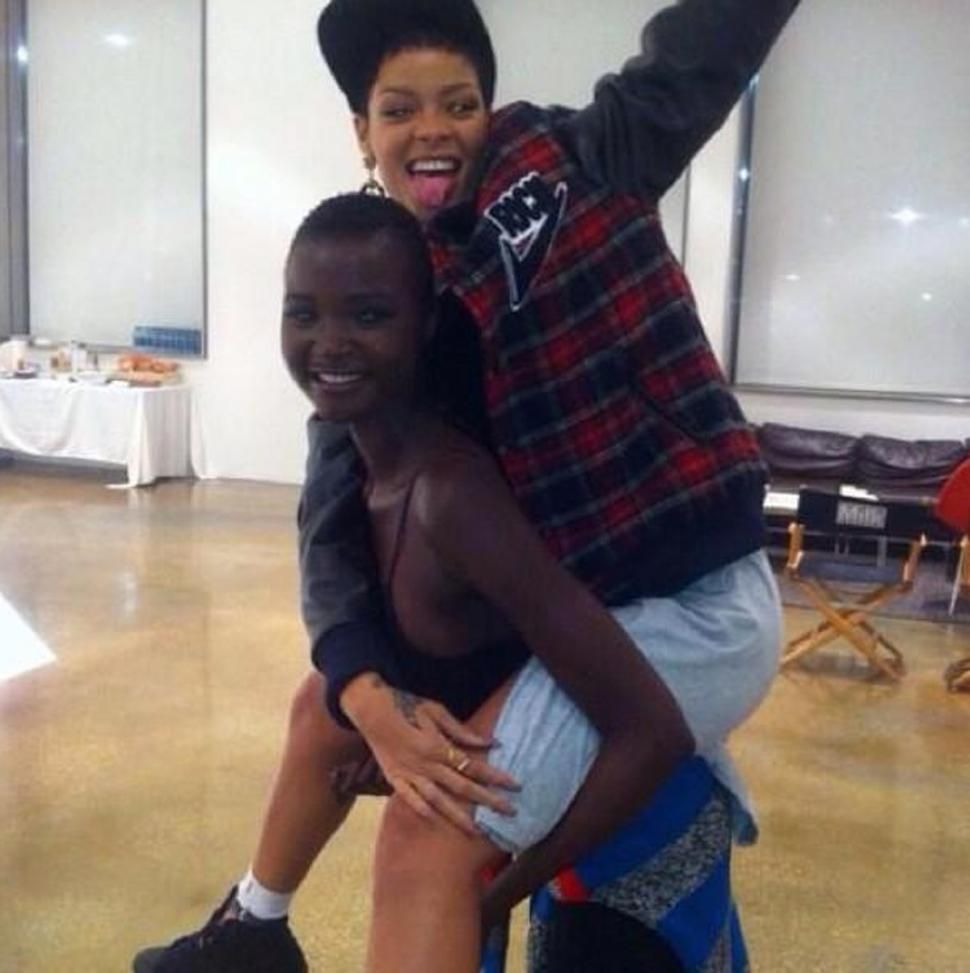 Sudanese model Ataui Deng, who's modeled for Rihanna's River Island collection, has been found at local hospital in New York City after a frantic two week search. More inside...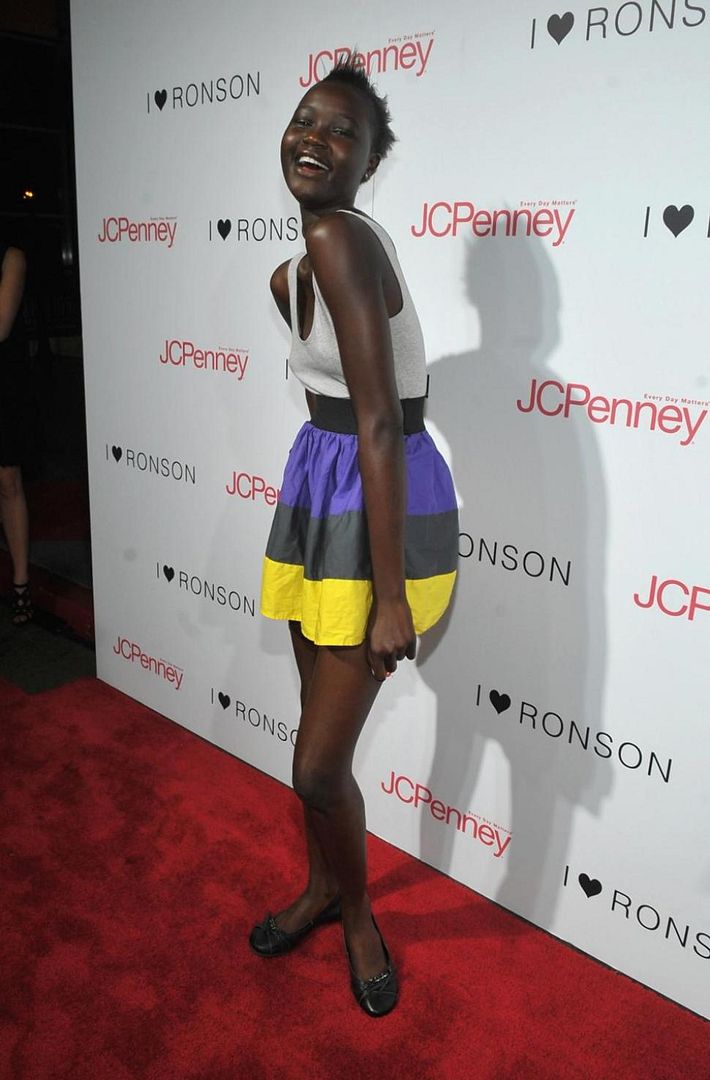 Two weeks ago, Sudanese model Ataui Deng (the niece of supermodel Alek Wek) went missing in New York City. The 22-year-old stunner was last spotted outside of Hell's Kitchen hotspot The Attic on West 48th Street; she was later reported missing by her live-in boyfriend, actor & PR worker Grant Monohon (pictured below).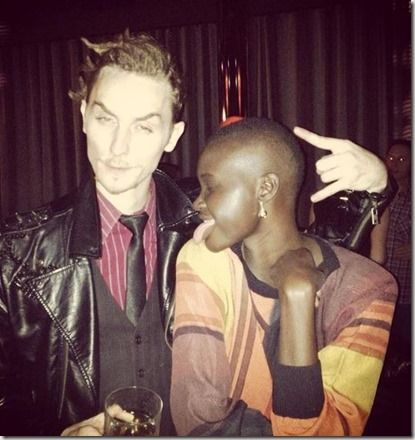 Ataui, who's made tons of friends in the industry, became the subject of a frantic search after Rihanna tweeted her 36 million followers, "If anyone has any information on this young lady's whereabouts, please call the NYPD or email findataui@gmail.com".
Thanks to that tweet and tweets from her fellow models like Joan Smalls, as well as other search efforts, a hospital worker tipped off the NYPD around 1AM this morning that Ataui was being treated at an unnamed hospital. According to the NY Daily News, the worker revealed that Ataui was safe and that her life was not in danger.
But a little research has uncovered some interesting factors about her life that may--or may not--shed light on why a successful young model would simply go missing for weeks and end up in a hospital.
We've learned that Ataui is currently going through a divorce from husband Kourtney Hopkins, who is also a model at her agency, Trump Agency.
As far as where she's been for the past two weeks or why she's in the hospital...it's unclear. But her boyfriend gave a peculiar statement about what occured.
He reportedly said that it's not unusual for her to not come home for a day or two. After leaving the party on August 6th with Ataui, Grant said that she left out again once they arrived home, and she left her phone and everything in the home. He said that she wanted to "sleep in the park."
"I was really worried the third day," he said by phone, before hearing the news that Deng had been found. "She always comes home."
Grant claims she's been acting "irregular" lately, and he got worried around the third day of her not returning home. He reported Ataui missing eight days later.
EXTRAS:
1. Queen Latifah's low ratings could spell doom for her daily talk show. Story.
Photos via Rihanna's Twitter/Instagram/Getty
"ATL Exes" Cast HOST Private Premiere Party In Atlanta + Monyetta Shaw Reveals Ne-Yo Called Off ENGAGEMENT...On The PHONE!
Posted: 19 Aug 2014 01:23 PM PDT
Last night at 10 Terminus Place in the Buckhead neighborhood in Atlanta, the cast of "Atlanta Exes" were the hosts for their private premiere party. See the party pics and deets on Monyetta's break-up with Ne-Yo inside…
The season premiere of VH1's newest reality show "Atlanta Exes" premiered last night. And to kick off the debut, the cast hosted their own private viewing party at 10 Terminus Place in Atlanta.
Usher's ex-Tameka Raymond, Kevin Hart's ex-Torrei Hart, Cee Lo's ex-Christina Johnson, Ne-Yo's ex-Monyetta Shaw and Ray Buchanan's ex- Sheree Buchanan were all there to watch the first two premiere episodes together.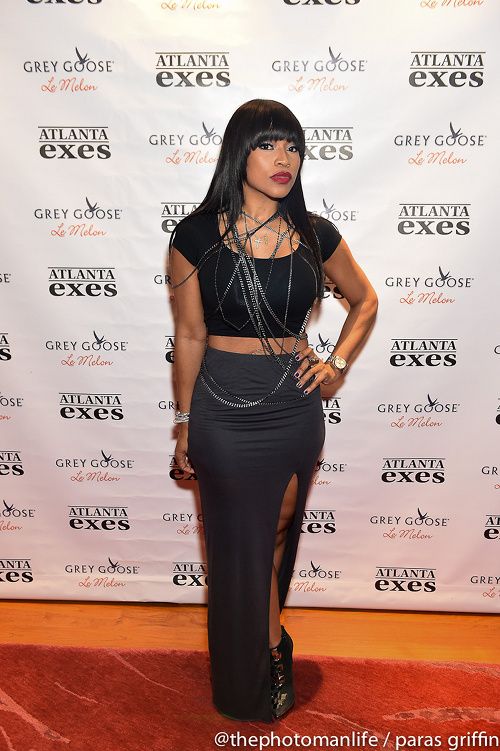 So did y'all catch when Monyetta revealed Ne-Yo called off their engagement…on the damn phone in the first episode? According to her, he called her up and told her he was not ready to be an a monogamous relationship. This dude...
On the show shee also revealed she and Ne-Yo actually still live in the home they shared when they were together. Yep…they're still living together... "for the children."(But isn't Ne-Yo in a new relationship?) And ten months after being separated (at the time of the recording of the show), she was still rocking her engagement ring. In the 2nd episode, she went to have the ring redesigned, but ended up deciding to keep it for her children. And she also revealed to Christina she can't have anymore children and that she has never talked about it.
Tameka Raymond was front and center with her royal blue suede thigh boots on the red carpet.
On the show, it seems Tameka will be the "villain" as she was constantly throwing shade at her "friend" Sheree Buchanan. And seemingly being a "Debbie Downer" whenever someone else was trying to speak.
During an interview with Ryan Cameron on V103 this morning, she tried to convince people she's not as angry as it looks on television. Ryan put her on blast as he recalled personal incidents he encountered with her. Hmph.
So has Tameka found a new man? Not yet, but she did reveal she was dating and the guy she is seeing doesn't live in the United States. Chile….
Torrei Hart showed some skin in distressed super short denim shorts underneath a cutout salmon top. She recently expressed her opinions on how she feels about her ex-husband's recent engagement announcement....on the same day as she debuts on "Atlanta Exes.". Check it out here.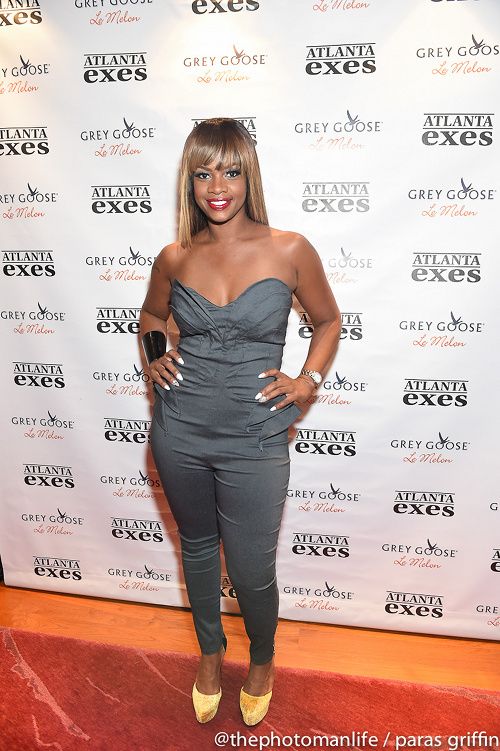 Christina Johnson looked nice the red carpet.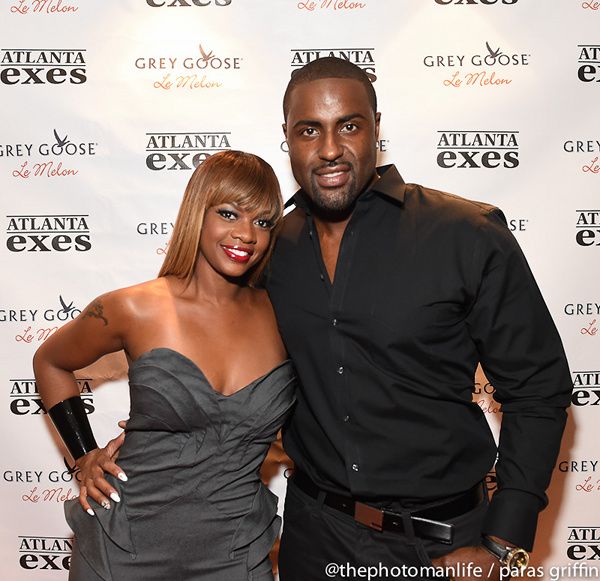 And look who she brought with her...Willie! He's the guy Sheree set her up with on a blind date. Although he's legally married (and supposedly in the process of getting a divorce), it looks like they went on that 2nd date already.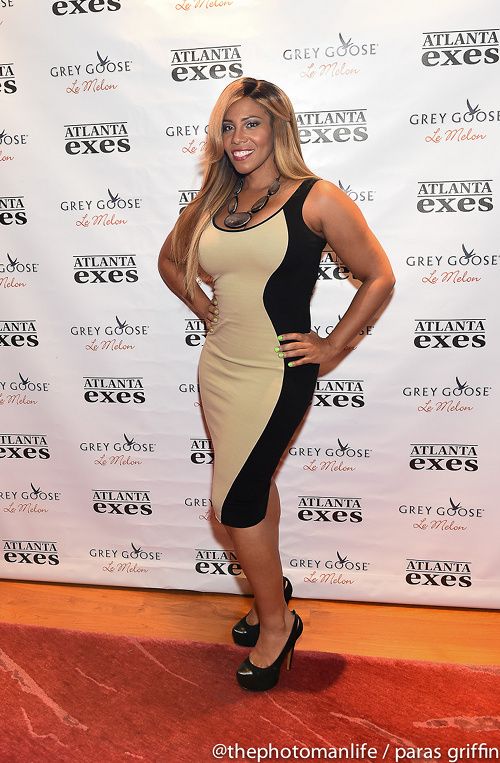 Sheree Buchanan posed it up with a smile. She and Tameka bumped heads over Tameka's criticism of the way Sheree chooses to raise her children. Parents are sensitive about their kids, so we wonder how this will pan out.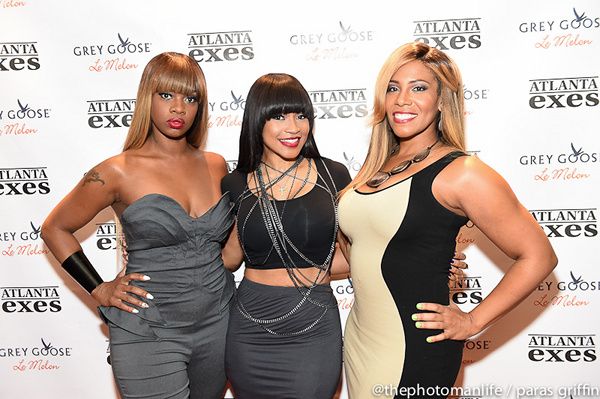 The ladies posed it up for the photogs.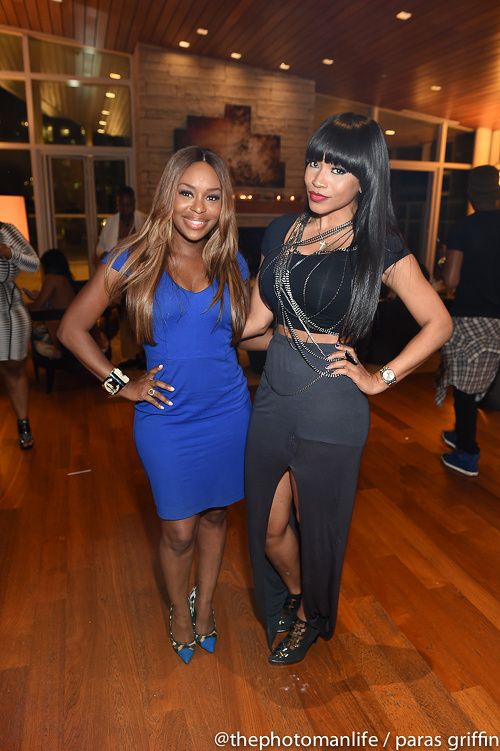 "Married to Medicine" star Quad Webb-Lunceford and Monyetta shared a few laughs on the carpet.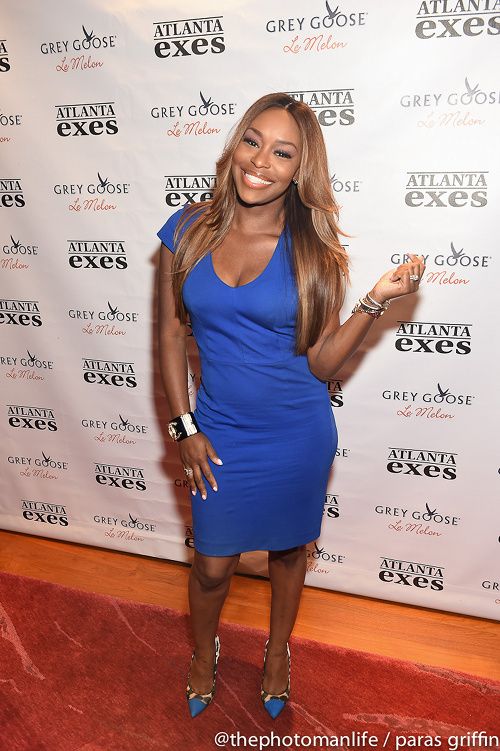 Nice look for her.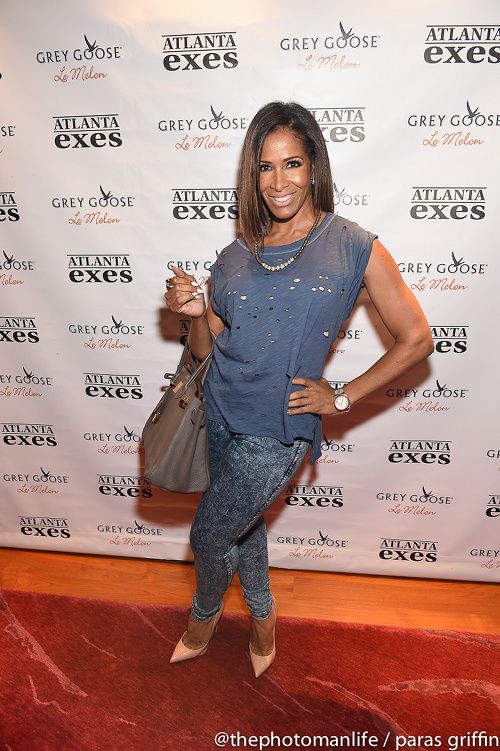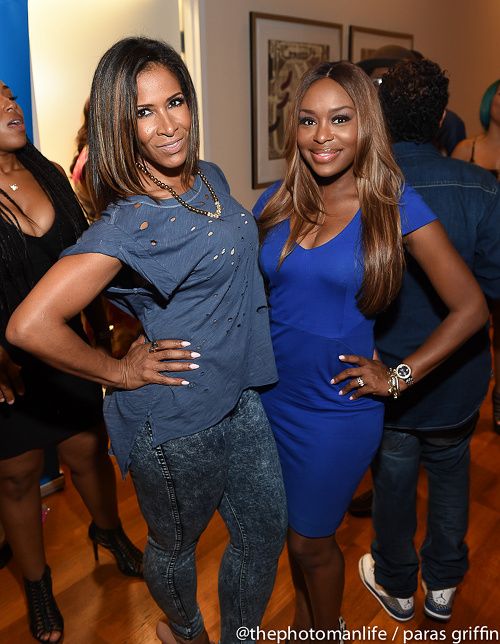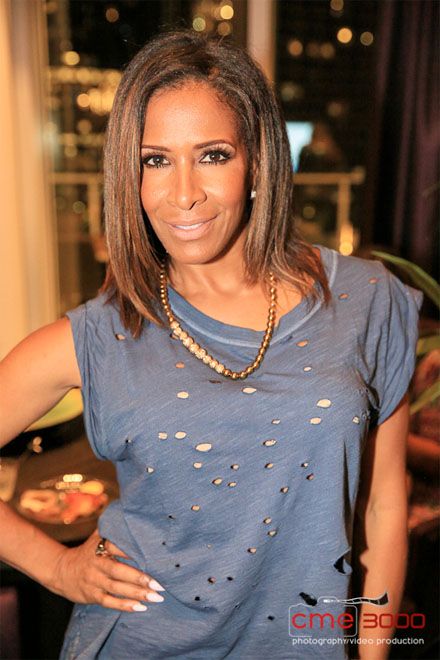 Former "RHOA" star Sheree Whitfield stopped by for a snapshot. We're sure she can relate to those "ATL Exes".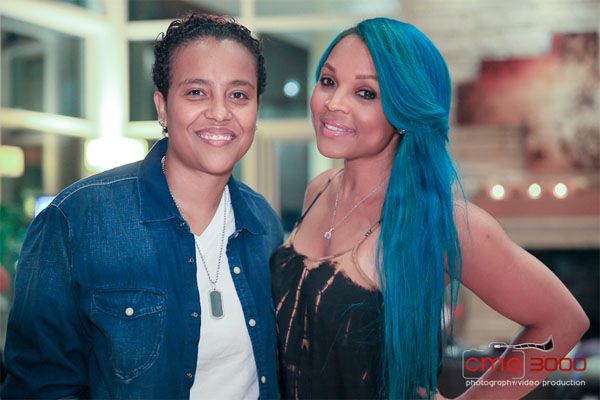 LaLa's cousin and co-star Dice was in the mix with her new girlfriend Gocha. They grabbed a pic with Quad who was quite the social butterfly during the viewing.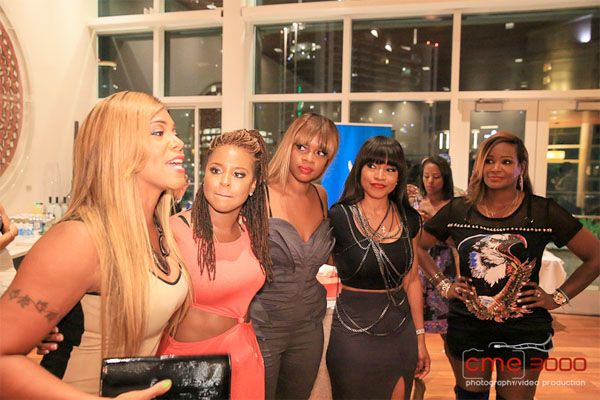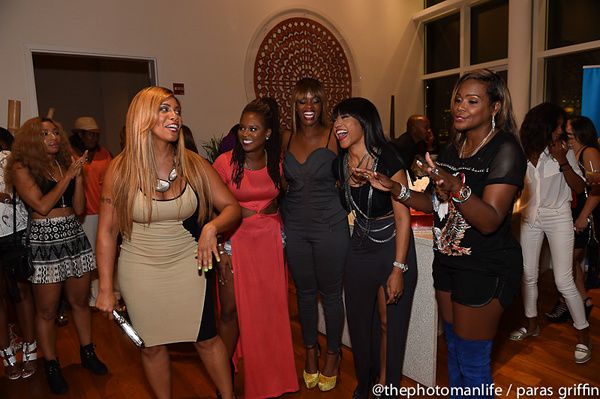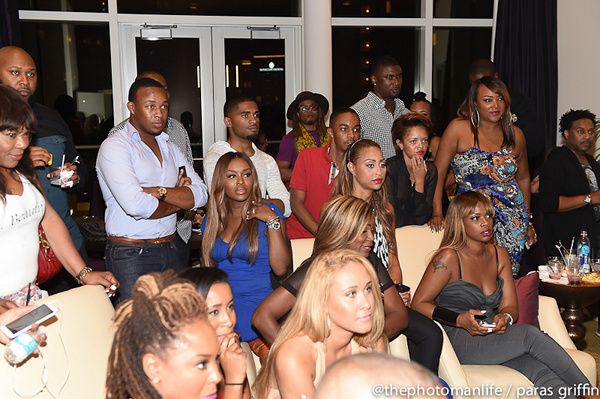 Peep a clip of the many laughs shared during the night and final words about the show below:
Looks like everyone enjoyed themselves. Will you be tuned in for the next episode?
Photos: Paras Griffin/Chris Mitchell / CME3000
Letoya Luckett & Robert Riley On The Set Of "Seasons Of Love" + First "Drumline: A New Beat" Teaser
Posted: 19 Aug 2014 11:51 AM PDT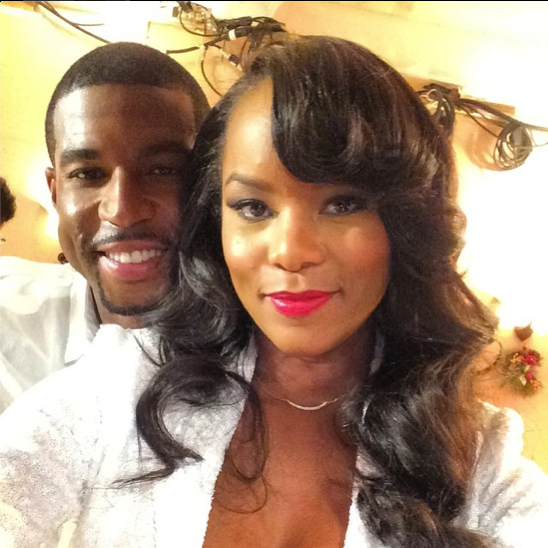 VH1 Hotties Letoya Luckett and Rob Riley have some new gigs in the works. Check out Letoya's new movie role, plus the first look at the new "Drumline" tv movie she's starring in with a few of the originals, inside.....
Now that "Single Ladies" is off the air, singer/actress Letoya Luckett has landed other projects. She's now in NYC filming an upcoming Holiday film called Seasons of Love, co-starring sexy Hit The Floor actor Rob Riley (who will play "Miles").
The snapped a pic together to infirm their fans about what's on deck, and we're already here for it: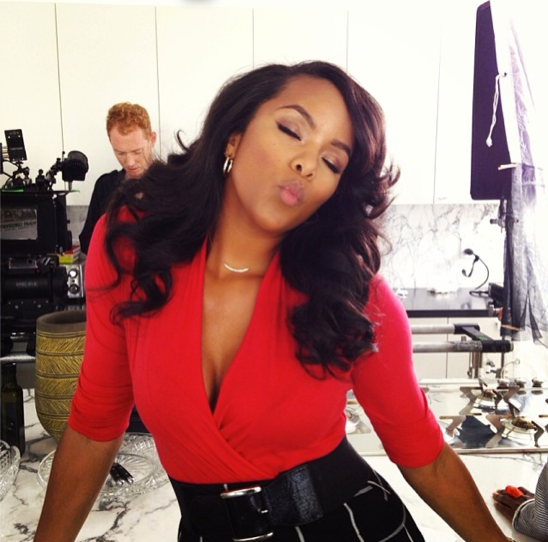 Taraji P. Henson (not pictured) and Gladys Knight are also starring in the film. It's unclear whether this is a tv movie or otherwise, but details will be released soon.
Speaking of Letoya Luckett, she's starring in the upcoming Drumline: A New Beat movie on VH1. And the very first trailer for the movie based on the original film with Nick Cannon and Zoe Saldana, is out:
And the tv movie remake is set to premiere this fall. This time, upcoming Aaliyah biopic star Alexandra Shipp plays Danielle (Dani) Bolton, a brilliant drummer whose goal is to become the first female percussion section leader in the famous Atlanta A&T drumline.
Returning to the movie is Leonard Roberts (reprising his role as Sean Taylor) as he comes on board as the new A&T Band Director looking to make a mark. And Executive Producer Nick Cannon returning as Devon Miles in a cameo.
LeToya will play the beautiful, determined Atlanta A&T Dean of Students--Dr. Nia Phillips--who has former romantic ties to Sean Taylor. Will you be watching?
Also:
Congrats to LeToya on receiving the 2014 Rising Star Award at the Houston Ensemble Black Tie Gala in her hometown this past weekend. She rocked a gorgeous gown custom designed by Melissa Greggs of Jenise Gregg Couture. Peep her look below: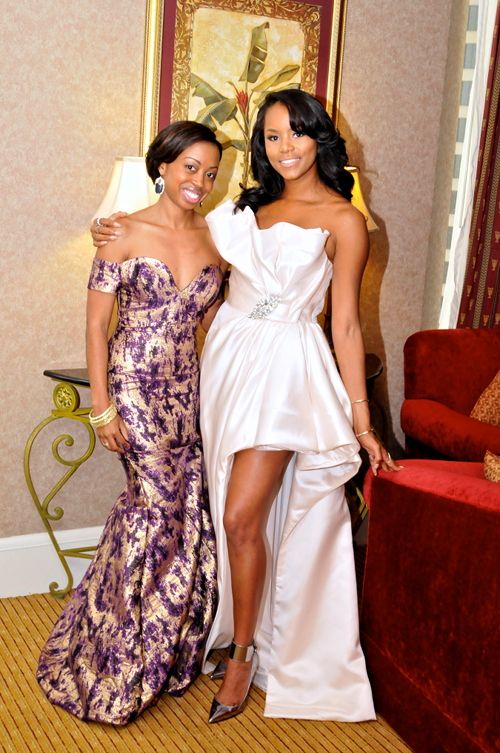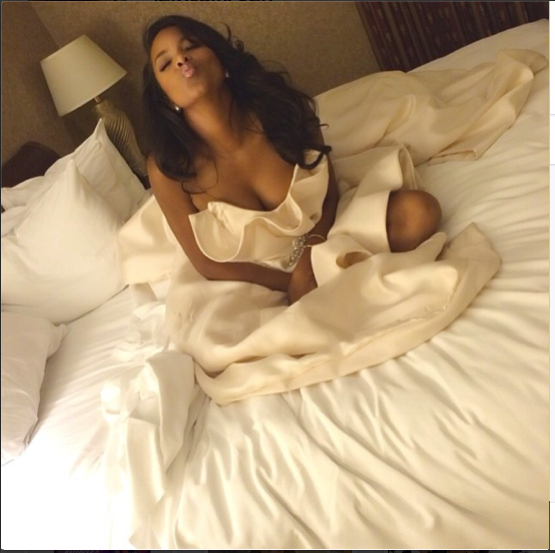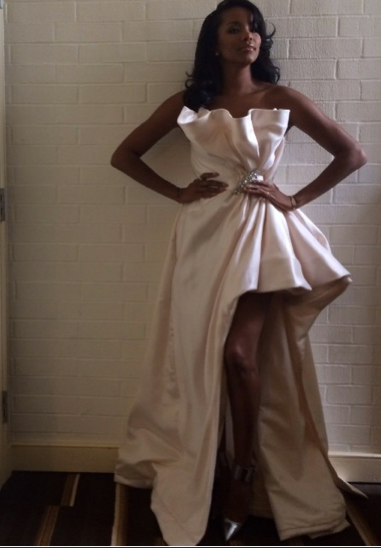 Effortlessly fab.
Photos: Letoya's IG/Rob's IG/Vicki Pink

Torrei Hart RESPONDS To Kevin Hart's ENGAGEMENT, "Well If He Cheated On Me..." + CONFIRMS She Has A New Man
Posted: 19 Aug 2014 10:10 AM PDT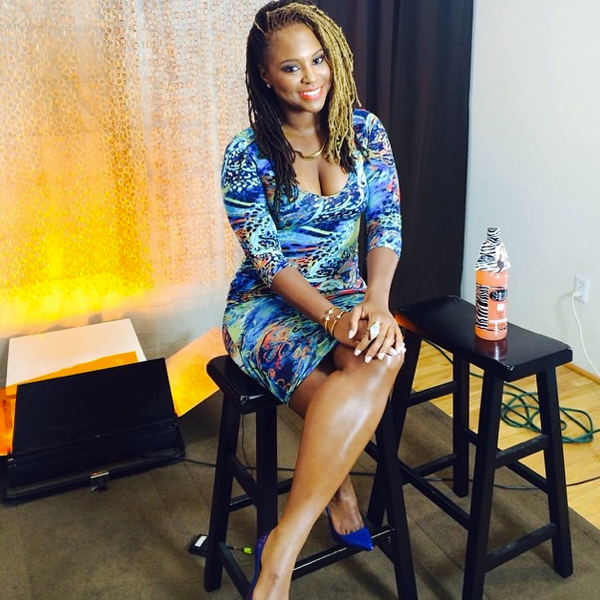 Last night, "Atlanta Exes" premiered on VH1 and it starred Kevin Hart's ex-wife Torrei Hart. But while the show aired, Kevin Hart revealed he proposed to his girlfriend of five years, Eniko Parrish. So, what did Torrei have to say about it? Find out inside…
VH1's newest reality show "Atlanta Exes" premiered last night. And while we were watching to see what tea would be spilled, comedian Kevin Hart pulled a fast one and revealed on Instagram that he and girlfriend Eniko Parrish had just gotten engaged! Yep…right in the middle of the show.
Some could see his move as calculated, but apparently he proposed to Eniko on her 30th birthday….which just so happened to be the same day as the "ATL Exes" premiere.
So what does his ex-wife think about it? Well…she actually is unfazed by the news. She said, "I think it is beautiful."
In fact, she said his proposal brought extra media attention to the show, so it actually worked out in her favor.
During an interview with Ryan Cameron on V103 in Atlanta, Torrei revealed she actually is in love too and that her man was right by her side as her show became a trending topic on Twitter. And get this…her new man is also her new manager (did she not learn from Angie Stone?) and was also present her during this radio interview. She said her new man rides for her...and she never was able to get that from Kevin.
So why does she get so emotional every time she brings up Kevin on the show? She revealed the fact that his current fiancée was also the mistress that broke up their marriage, and having to relive it on the show--which was filmed back in January--is what makes it so hard.
After her break-up with Kevin, she revealed how family members did her dirty to be on Kevin's side…with all the money and the fame. (One of her family members still works for Kevin.) She said it really hurt her but she was able to pray through it. She made a list of names, prayed over it and then burned the names in a "bon fire" to release it and give it to God. Do you boo!
And as a way to try to make amends with her ex and his new woman, Torrei revealed she actually invited Kevin and Eniko to the premiere viewing party in Atlanta last night. According to her, they responded in a derogatory way, although she didn't say who was the one being disrespectful. Hmm...
So does Torrei think Kevin's relationship with his "rib" is going to last? She never directly responded. But when asked if she thinks he's going to cheat on Eniko she responded, "Well he cheated on me..." Decide amongst yourselves on what she meant by that.
Check out her new boo below:
And in another recent interview with CNikky.com, Torrei chimed in about black men dating outside of their race once they reach a certain status. Or at elast, requiring a woman of a certain skin tone. Eniko, who is Jamaican, is perceived as "exotic" by many in the black culture, which resulted in Torrei revealing that she questioned her own beauty.
She said,
"Honestly, it wasn't all Kevin's fault. I won't say it was all his fault. Cause I look back now and I take ownership of some of the things I could've done differently. But, I did question my beauty. I did question like, wow, why is it that all black men, when they reach a certain level, they have to feel like they need someone of another race, or a different skin tone on their arm? And I'm just like, well why aren't we looked at as beautiful? We're beautiful black queens! You know what I mean? And I love my black men."

"You know and I support them 100% And I don't feel like, once I make it, I gotta go to the other side! You know? And not saying, cause I've dated outside my race, I have, but I just don't feel, like I need it on my arm to feel better about myself. And I just feel like, sometimes our men do."
Do you agree?

Photo: Torrei's IG