---
Tyra Banks WEIGHS IN On Yaya DaCosta Playing Whitney Houston On "WWHL" + EJ Johnson Hits Up Dodgers Game Then PARTIES In L.A.
Posted: 06 Aug 2014 07:59 AM PDT
Tyra Banks made a stop on "WWHL" and chopped it up about her former "ANTM" contestant Yaya DaCosta portraying Whitney Houston in the upcoming LIFETIME biopic. Meanwhile, EJ Johnson was spotted at a Dodgers game and then hitting up the L.A. party scene. Pics and videos inside…
Supermodel/Harvard Business school grad Tyra Banks (and those stockings) stopped by the "Watch What Happens Live" set in NYC last night. She was there to chit-chat with Andy Cohen about her former "Top Model" contestant Yaya DaCosta Alafia playing Whitney Houston in the upcoming LIFETIME biopic, directed by Angela Bassett.
Tyra looked like a proud mama as she gushed about Yaya's new role and all of the other accomplishments she has made since finishing second on Cycle 3 of the show. The former Victoria's Secret angel said,
"This is insane and huge for me and Yaya I'm super proud of you. You won the acting challenge on America's Next Top Model back in the day so we knew that there was something special. She's an actress that use to model."
She also revealed whether or not she would do a Victoria Secret reunion with the original angels. She revealed,
"I have been asked to do a reunion many years ago and I said 'No' because I was trying to be taken seriously as a talk show host and an executive producer and as a businesswoman. I don't know if I would, but whenever I see them I feel like we have a connection, these angels because we're like the OG original angels. Like that was invented on us."
Check it:
On a Victoria's Secret Reunion:
On her new movie Life-Size 2:
Nice.
And over in L.A....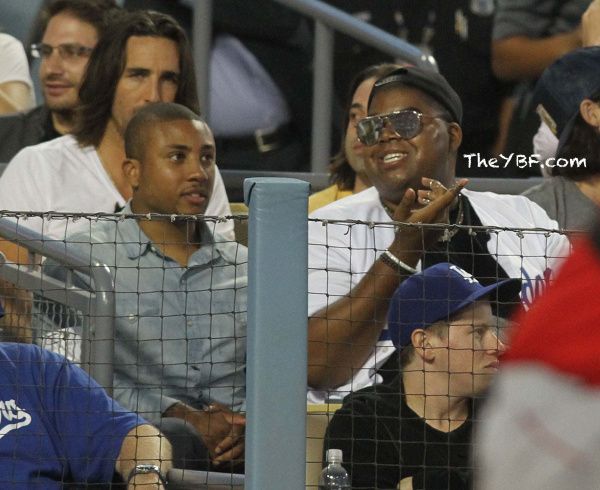 "Rich Kids Of Beverly Hills" star EJ Johnson and his sister Elisa Johnson (below) spent some sibling time together at a L.A. Dodgers game last night. Of course, they had the best seats in the house since their dad Magic Johnson is part owner of the professional baseball team.
The two even wore #32 "Magic Johnson" baseball jerseys in honor of their dad's number when he played in the NBA. Cute. Unfortunately, the Dodgers were defeated by the L.A. Angels of Anaheim 5-0.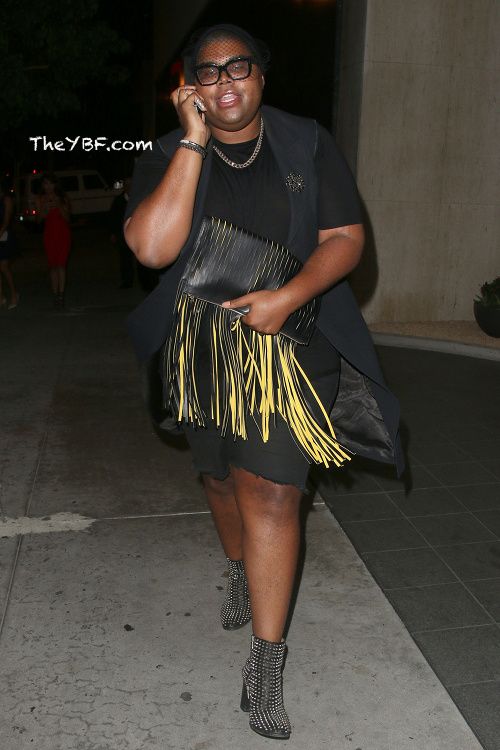 EJ then did a wardrobe change and hit the streets of L.A....with a fab bag in tow.
He was spotted chatting it up on his cell while making his way into Bootsy Bellows for a fun night out on the town. Life of a #RichKid...must be nice.
Photos: Splash News/Pacific Coast News/EJ's IG

Aubrey O'Day & Shannon Bex Post A Birthday Message For Dawn After Brawl
Posted: 06 Aug 2014 07:05 AM PDT
After news of the Danity Kane in-studio brawl between Dawn Richard and Aubrey O'Day hit the net yesterday, a mysterious video of the ladies wishing Dawn a Happy Birthday surfaced. Has all been forgiven?
Deets inside...
We were sent this video late last night of Aubrey & Shannon of Danity Kane wishing Dawn a Happy Birthday, as yesterday was the New Orleans native's 31st.
We're told Aubrey allegedly posted this, then deleted it. But, of course, folks grabbed it first.
This vid came out hours after the story broke of Dawn allegedly socking Aubrey in the head with a closed fist during a brawl inside an L.A> studio earlier this week. Aubrey filed battery charges, but has all be forgiven? Or was this video shot before the big fight?
Since none of the girls are talking, we'll probably never know.
But we do know that Dawn was unbothered yesterday....and spent her b-day skydiving:
Cakes are overrated ... I prefer wings. pic.twitter.com/Z5yemlMZfo

— Dawn Richard / NEON (@DawnRichard) August 5, 2014
Photo Credit: The Light Group
Cynthia Bailey Serves FACE On KONTROL Magazine's August 2014 Issue + Azealia Banks' "Heavy Metal And Reflective" Video
Posted: 05 Aug 2014 07:39 PM PDT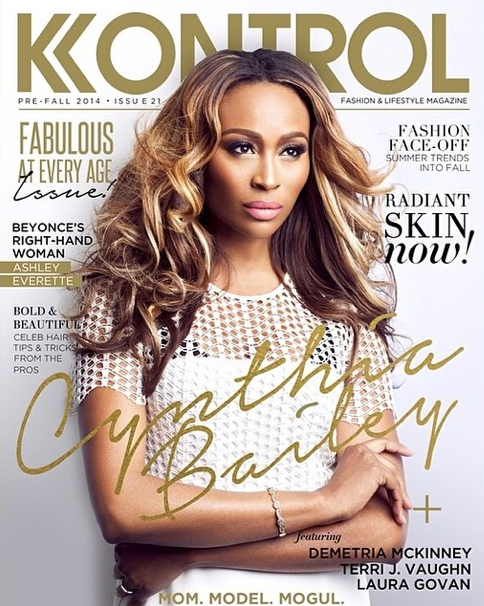 Cynthia Bailey is going back to her model roots and is serving up some uber glam fabness on the cover of KONTROL magazine's "Fabulous At Every Age" issue. Plus, Azealia Banks has given her new track "Heavy Metal and Reflective" the video treatment. More inside…
When she's not critiquing aspiring models at the Bailey Agency, "RHOA" star and former runway model Cynthia Bailey is still schooling her clients on how to perfect a magazine cover.
The 46-year-old reality star is gracing the August 2014 cover of KONTROL magazine's "Fabulous At Every Age" issue. And she's serving up some serious model fabulousness.
In the issue, NeNe Leakes' former bestie talks about the inner workings of the fashion industry, dishes on her beauty regimens to keep the perfect face, her family and how to make it as a successful businesswoman.
When asked how to succeed in the competitive fashion industry, Cynthia offers up a few nuggets of advice saying,
"You have to be able to put in the work to have a successful career in any industry. Failures not an option."
Indeed.
Check out the the behind-the-scenes video from the shoot:
And in case you missed TheYBF.com's exclusive interview with NeNe Leakes, where she talks about her fizzled friendship with Cynthia, you can check it out HERE.
And in a new video...
Since parting ways with Universal and going independent, Harlem raptress Azealia Banks isn't showing any signs of slowing down anytime soon.
Since dropping her first single on her very own record label Azealia Banks Records, the young spitter has released the visuals to her track "Heavy Metal and Reflective." In the Rob Soucy and Nick Ace directed video, Azealia escapes a kidnapping and leads her gang of bikers through the desert for her escape.

Check it:
Photos: KONTROL
THEY FIGHTIN': Danity Kane Chicks Dawn Richard & Aubrey O'Day Allegedly BRAWL In The Studio...Charges FILED!
Posted: 05 Aug 2014 03:24 PM PDT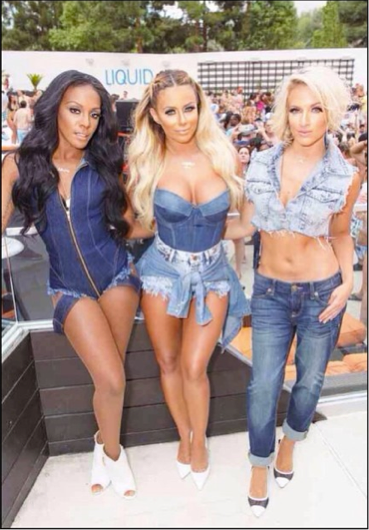 Do...Do you have a first aid kit handy?! We had to do it. Deets on Aubrey O'Day & Dawn Richard's alleged studio catfight inside...
Not sure what's going on here, but it seems that now that Danity Kane has gone to DK3, there's some serious ish going on behind closed doors.
While it's not as dramatic as ElevatorGate (mainly because we don't have video....yet), it's a bit of a shocker to us that two of the three newly reunited "Lemonade" singers would be going at it inside a studio.
According to reports, Dawn & Aubrey got into a "violent brawl" during a disagreement at an L.A. studio last night. TMZ says Dawn slugged Aubrey in the head with a closed fist. The third member, Shannon Bex, reportedly tried to break up the fight.
After Aubrey got popped in the head, she filed battery charges on Dawn.
The girls haven't directly spoken about the studio fight, but Aubrey posted this today:
hurt people, hurt people.

— Aubrey O'Day (@AubreyODay) August 5, 2014
DK3 wrapped up their one month No Filter tour in June. And we know Dawn's been spending at least some of her recent down time letting off steam at the gun range:
Clearly she's not to be messed with. She's got new body parts to protect. And by the way, today is Dawn's 31st birthday!
Photo/Video: Aubrey's IG/Dawn's IG
IN CONCERT: Drake Rocks "That Thing" With Lauryn Hill, ROCKS The Mic With Trey Songz, J. Cole & More....
Posted: 05 Aug 2014 03:02 PM PDT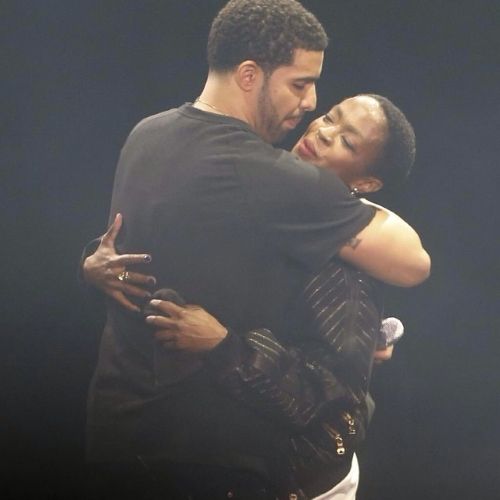 Drake's 5th Annual OVO Fest featured appearances from Lauryn Hill, Usher, J. Cole, G-Unit, Trey Songz and more. See pics from the concert inside...
October's Very Own Drizzy went back home to Toronto to host and kick off his 5th Annual OVO Fest during Caribana Weekend. The concert was held at the Molson Amphitheatre and featured a performance from one of Drake's faves, Lauryn Hill. Lauryn hit the stage to perform a mashup of "That Thing" and "Draft Day."
J. Cole also hit the stage with his "Crooked Smile."
Then...
Usher also hit the stage and challenged Drake to a dance off.
Trey Songz was there to rock the stage and support Drake.
Lloyd Banks and G Unit were there to support OVO.
DJ Khaled performed "All I Do Is Win."
You'll recall that Drake was named the Toronto Raptors' global ambassador in 2013 and he took that title very seriously once he spotted Oklahoma City Thunder's Kevin Durant at the concert.
He said, "Yo, before we leave, I just want to show one of my brothers something. You know, my brother Kevin Durant was kind enough to come to the show tonight and watch us. I just want him to see what would happen if he came to play in Toronto. Let him know what would happen."
That'll be interesting....
Photos via Cosmislogic78/KarlaMoy
DO WE LOVE IT: Teyana Taylor's "Maybe" ft. Yo Gotti & Pusha T
Posted: 05 Aug 2014 01:25 PM PDT
For those of you who keep asking "What does Teyana Taylor actually do?"...
She has finally released her brand new track "Maybe" featuring Yo Gotti and Pusha T. Decide if you're feelin' it inside…
G.O.O.D. Music artist Teyana Taylor has been in the limelight for quite some time but some often wondered...what exactly does she do? We first met her on MTV's "My Sweet 16". Then, we found out she was discovered by Pharrell and signed to his StarTrek Entertainment label. She released her track "Google Me" (off her album From a Planet Called Harlem which never saw a commercial release) that garnered her a little buzz but it soon fizzled.
The Harlem singer eventually signed to Kanye's G.O.O.D. Music/Def Jam Recordings label in 2012 but fans still waited patiently for new material. While working on her new music, she released her own line of weave, but some still questioned...what does she do?
Now… G.O.O.D. Music's first lady is finally ready to make her mark on the music scene with her new track "Maybe" featuring rappers Yo Gotti and labelmate Pusha T.
Back in May, we gave you a sample and the cover art of her long-awaited debut single (which was suppose to drop May 13th) and now the full song has been released. This is the lead single from her upcoming album titled VII, which drops October 21st.
In addition to her new single and album, Tey will hit the road on August 14th for her first major U.S. tour, joining fellow Def Jam artist August Alsina on his 21-city Testimony Live tour. Soon after, the "Maybe" singer will be starring in a new BET scripted comedy series titled, "The Start Up," alongside Diggy Simmons and Bria Murphy.
Chick is putting in some work.
Take a listen to her new single below:

We feelin' it?
Tonight, Teyana will be in D.C. for a live performance at Radio 1 DC (93.9 FM).
And if you're looking to see her perform live in your city, check out the dates for the Testimony Live tour below:
Aug. 14 Seattle, WA The Showbox

15 Eugene, OR Wow Hall

16 Portland, OR Alhambra Theatre

17 San Francisco, CA Regency Ballroom

20 Las Vegas, NV House of Blues

21 W. Hollywood, CA House of Blues

25 Tempe, AZ Club Red

27 Denver, CO Bluebird Theater

29 Houston, TX Warehouse Live – Ballroom

30 Dallas, TX South Side Music Hall

Sept. 3 Baton Rouge, LA Varsity Theatre

4 Birmingham, AL Iron City

6 Atlanta, GA Tabernacle

7 Charlotte, NC The Fillmore Charlotte

9 Silver Spring, MD The Fillmore

10 Philadelphia, PA Theatre of Living Arts

13 Boston, MA House of Blues

15 New York, NY Irving Plaza

16 Cincinnati, OH Bogart's

18 Chicago, IL Concord Music Hall

21 Kansas City, MO Arvest Bank Theatre
Will Brandon Jennings and Tae Heckard make this a date night...
CROP OVER CRAZINESS: Columbus Short & Robert Riley GET IT IN With The Ladies In Barbados
Posted: 05 Aug 2014 12:27 PM PDT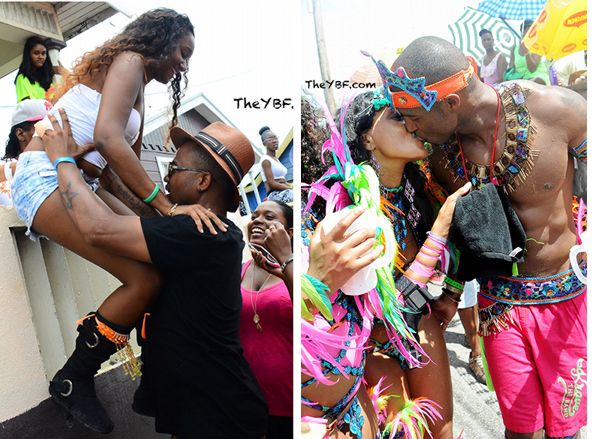 Boys will be boys. Especially during Crop Over in Barbados. Check out tv stars Columbus Short and Robert Riley soaking up all the love from the ladies inside....
It's Caribbean Carnival time! And Barbados Crop Over went down to the fullest effect. With all the partying wrapping on Monday, it seems former "Scandal" actor Columbus Short and "Hit The Floor" star Robert Riley are ending ish with a bang.
While Columbus (jokingly?) told the crowd over the weekend that he was staying in Barbados forever (likely because they do not extradite to the U.S. and he doesn't want to face all the warrants for his arrest he has back home in Cali)...he surely didn't look ready to leave in these new pics that have surfaced:
He was spotted grinding all over the parade goers and those in costume, which is totally in the spirit of Carnival season. Just wonder what his estranged wife--who he's embroiled in all this drama with--thinks of it.
He also made sure to get his grub on and snap plenty of pics with fans.
Meanwhile, Robert Riley was shirtless and in full carnival costume daily. And wasn't shy about kissing all over the ladies. He let his Trini roots take over for some fun times. But not to worry...the kiss was innocent, so we've learned.
We're told that the woman above is a friend and colleague of Robert's, and was extremely instrumental in bringing him to Barbados for the festivities. After a performance from a band, who Rob joined in celebrating with, he was snapped in a moment of pure happiness and gratitude for the one who made it all happen. Awww...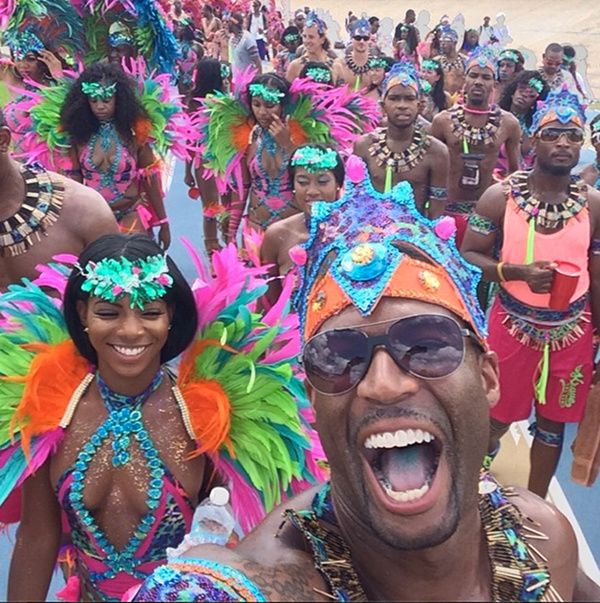 Looks like fun times were had by all...
Photos: Splash/Robert's IG/Columbus' IG
Oprah Flosses Those Curves In A Sexy Catsuit For 'O' Magazine's September 2014 Issue + Sherri Shepherd CONFIRMS Role As Evil Stepmother In Broadway's "Cinderella"
Posted: 05 Aug 2014 10:45 AM PDT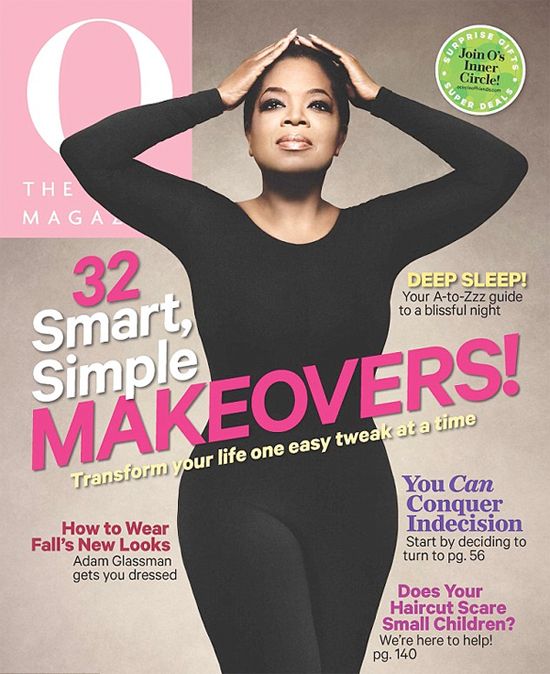 Let's all let out a collective "Weeerk!" Oprah is steaming up the magazine circuit in a sexy black catsuit. And at the age of 60, she's living proof that like wine, only getting better. Peep her self-loving cover and catch the deets on Sherri Shepherd's new role on Broadway inside…
Oprah is back with yet another sexy cover! She slayed the cover of 'O' magazine's May 2014 issue and now she's back to serve up some catsuit sexiness for the cover of the September 2014 issue.
Shot by Ruven Afanador, Lady O slipped into a black hip hugging jumpsuit flaunting her real woman curves. And she's serving up some serious grown woman fabness.

Although she's giving us life on the make-over themed issue, the media mogul admitted she was a little apprehensive rocking a skin-tight catsuit for the new cover. She said,
"I'm not built to suit a fashion model's size," quoting Maya Angelou's poem Phenomenal Woman.
She also offered up some tips to live your best life saying,
"To feed yourself with love and loving thoughts. To eat food that's delicious to you and your body. To engage in loving practices, like giving yourself the gift of stillness at least five minutes a day. To surround yourself with people who bring you light, and to banish all forms of negative energy."
Words to live by.

And last night...
Lady O hit up the premiere of The Hundred-Foot Journey at the Ziegfeld Theater in NYC. The media queen serves as a producer of the film alongside executive producers Jeff Skoll and Jonathan King of Participant Media.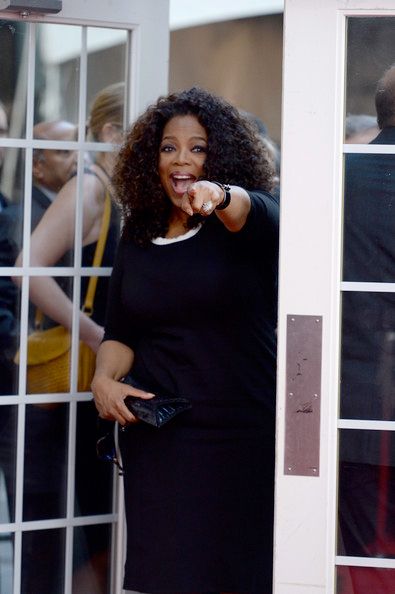 Work!
And in Broadway news...
"The View" co-host Sherri Shepherd (who recently filmed her farewell episode) confirmed on the daytime talk show this morning that she will be starring as the evil stepmother in Rodgers & Hammerstein's "Cinderella" on Broadway. And not the Fairy Godmother, like previously reported.
Although she's currently going through a firestorm of drama in her personal life, the talk show host isn't letting that affect her career moves. She's taking her talents to Broadway this fall alongside BET hostess Keke Palmer, who is making history as Broadway's first African-American Cinderella.
Keke shared her excitement on landing the lead role tweeting,
"It's honestly one of those things that I can't believe is really happening. I'm very excited. Very excited and nervous as well — a bunch of feelings all at once."
We're here for it.

Photos: Getty/Ruven Afanador/Sherri's IG
COVER GIRL: Nicki Minaj Covers FADER -- Talks Being A Role Model To Young Black Women & The Industry KILLING People Before Their Time
Posted: 05 Aug 2014 09:30 AM PDT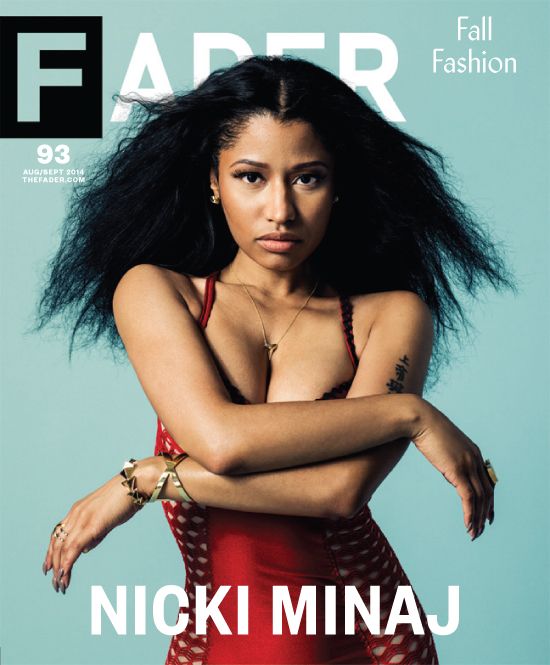 Nicki Minaj is the cover girl for FADER's fall issue. And in the cover story, the Queens raptress opens up about being a role model for young black women and the grueling demands of the entertainment industry that lead to fatal consequences. Find out what she said inside…
As she gears up for the release of her upcoming album The Pink Print (which is slated to drop later this year), Nicki Minaj is surfing the promo wave, calling into radio stations and covering magazine covers. Nicki has been the topic of discussions everywhere since hopping on Beyonce's "***Flawless" remix and the release of Bronx rapper Remy Ma.
In the August/September 2014 issue of FADER, the "Anaconda" raptress (flaunting her curves in Jean Paul Gaultier) is talking about venturing into worlds no other black female rapper has been before, as well as being a role model to young African-American women. We're sure some of you will have something to say about that....
She also dished on the hardships of being a public figure, how hard it was for her to leave her little brother, and her now infamous BET Awards acceptance speech.
Here are the highlights:
On Being a Role Model to Young Black Women
"...Every time I do a business venture or something that isn't the norm for a female rapper, I pat myself on the back. It's important that corporate America can see a young black woman being able to sell things outside of music...A female rapper! With HSN!"

On The Industry Killing People Before Their Time
"I was making a point to say that the business kills so many people and we don't even realize it. I can only imagine how many people in this business have died because they may not have wanted to... to be embarrassed publicly. We care so much about what the world thinks that we don't live, really."

On Her Comment About Writing Her Own Lyrics in her BET Acceptance Speech
"My point of saying what I said was that women need to have a perspective. If we're out here saying that we're so confident, and we're so this and so that, but we don't even trust ourselves to write down our own thoughts and spit it on a beat? It just doesn't add up."

On Leaving Her Family:
Her younger brother was just a child when she signed with Young Money and left her mom's home. 'One day he asked my mother, 'Do you ever think there'll come a time we all live in the same house again, and Onika will be back and she'll have her room, and I'll have my room?'" Nicki says. "And it just broke my heart." Before a tear can muck up any of her makeup, Samuels wordlessly pops up from the couch to nab her a tissue. As soon as the curtain of Nicki's private life slides open, revealing the sacrifices she's made for her career, it's pulled back again. 'I don't want to get emotional,' she says, 'I just miss them. Every time I talk about them, I get emotional.'"
Peep her spread below:
We must say, we're feeling the pics and the uderstated vibe.
And after all of the controversy surrounding her bootylicious "Anacaonda" cover, this vibe seems to be paying off. "Anaconda" is climbing the iTunes charts.
Nicki tweeted,
ANACONDA IS #1 in these 9 countries and #3 in the US. #1 is BANG BANG. ;). Thank you guys!!!! http://t.co/uLLhNAMtJL

— Anaconda (@NICKIMINAJ) August 5, 2014
Chick definitely keeps us talking...
Photos: João Canziani