---
MAMA KNOWLES BEST….Tina Knowles SHUTS DOWN Beyonce & Jay Z Divorce Rumors, Says Marriage Is "Perfect" (VIDEO)
Posted: 21 Aug 2014 09:12 AM PDT
If you want the real tea on Beyonce and Jay Z divorce rumors, you have to go to the source. Well, the closest source to the horse's mouth. Watch video of Mama Knowles shutting down the rumors about her first born and son-in-law inside…
Mama Knowles has spoken…..During an impromptu street interview (captured by TMZ) Tina Knowles, who was leaving lunch with Kelly Rowland at Via Alloro in Bev Hills, told the pap that Beyonce and Jay Z are NOT splitting...and their relationship is "perfect'. She also added that "Haters are gonna Hate" and she doesn't read any of the bull-ish written about her daughter. There you have it…..
SIDEBAR: Ms. Tina's body is SNATCHED and she gives the cameraman SUPER SHADE when he "offers" her the chance to clear up rumors. We see where Solange gets her spicy side...
Photo via Pacific Coast News
NOW TURNING ON DIVORCE LANE: Mariah Carey & Nick Cannon
Posted: 21 Aug 2014 07:44 AM PDT
Divorce is reportedly on the horizon for Mariah Carey & Nick Cannon, after six years of marriage. The first credible reports are painting the picture we all have been seeing shape up for a while now. Deets inside...
According to reports, 33-year-old Nick & 44-year-old Mariah are divvying up money and assets as we type as they prepare to file official divorce papers. TMZ reports:
Mariah Carey and Nick Cannon separated back in May -- and are living apart ... and we're told divorce lawyers have been negotiating a property settlement and custody agreement for months and the divorce is "a done deal."

Sources connected with the couple tell TMZ ... Mariah and Nick have been living in separate houses in NYC since May. He sees the kids but that's the extent of their contact.
So what went wrong?
Remember that interview Nick did on Big Boy's Morning Show back in March when he played the "celebrity chicks I banged" game? Yeah, we knew that wasn't going to end well. And reportedly, that was the beginning of the end. And the interview that followed on Howard Stern's show where he talked about their first time having sex....didn't help:
Nick's appearance on Big Boy's radio show in March was the beginning of the end. Nick played Big Boy's game -- name the 5 celebs you've slept with. Nick named 5, but our sources say the one that made Mariah insane was Kim Kardashian.

We're told Mariah tore into Nick for weeks ... feeling humiliated and the relationship never recovered.

We're told it went from bad to worse when Nick went on Howard Stern and talked about Mariah not giving it up before they got hitched. She went nuclear.
We haven't seen Mariah and Nick together in an official capacity since February when they both appeared on Sway's show to promote the premiere of Mariah's "You're Mine (Eternal)" video (above). And before that, they hit the carpet together at the SAG Awards in January (atop). But it's been a wrap since then.
And over on Mariah's Instagram page, where she constantly posted pics of the two, it has been absent of a pic of the couple since Mother's Day.
Unfortunately, it looks like the divorce filing is around the corner.
Photos: Getty
Rihanna In Talks To Perform At Superbowl + Spotted At Drake Vs. Lil Wayne Concert + Chills Backstage With Reginae, Toya, Emily B. & Taina
Posted: 21 Aug 2014 05:42 AM PDT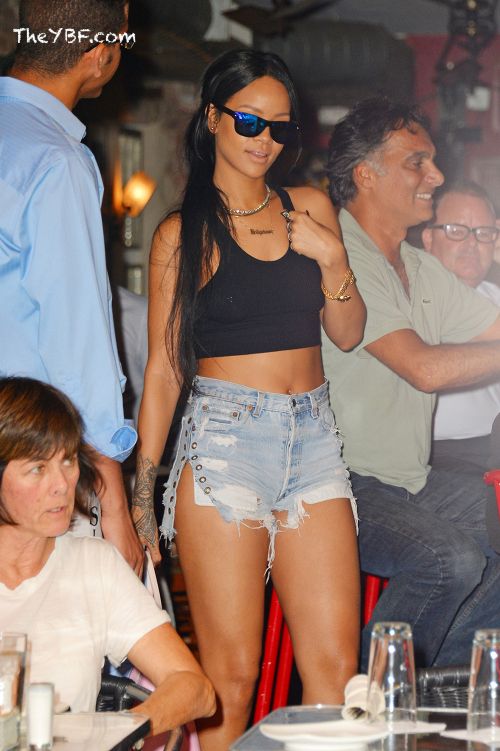 Rihanna made her way to dinner in NYC recently looking hot in cutoffs and a tank as it was revealed she's in talks to be the performer of the 2015 Superbowl. Plus, she was spotted at Drake's concert in Queens. Pics and deets inside...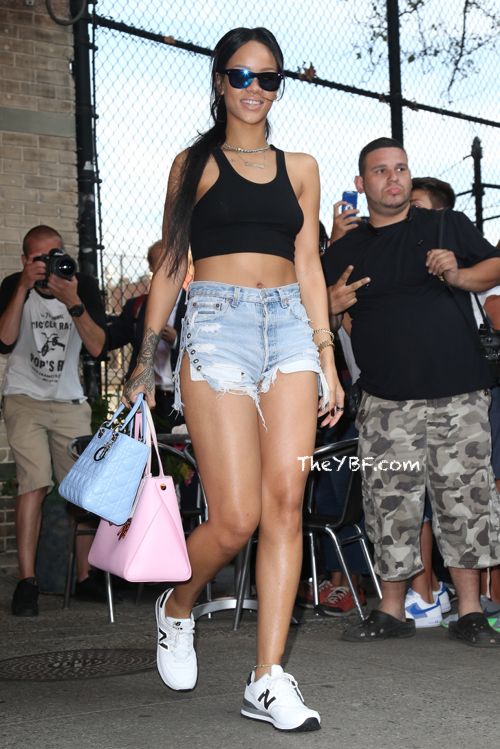 Rihanna, who can make sneakers and cutoff shorts looks like a million bucks, stepped out of Da Silvano in NYC this week (with two purses) after dinner with friends. And she was on her way to see her homieloverfriend Drake perform at the Drake vs. Lil Wayne tour stop in Queens.
She braved the crowd of paparazzi and fans to trek it back to her car: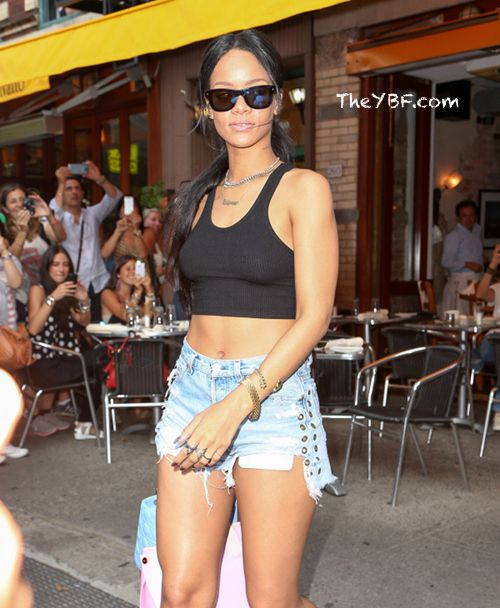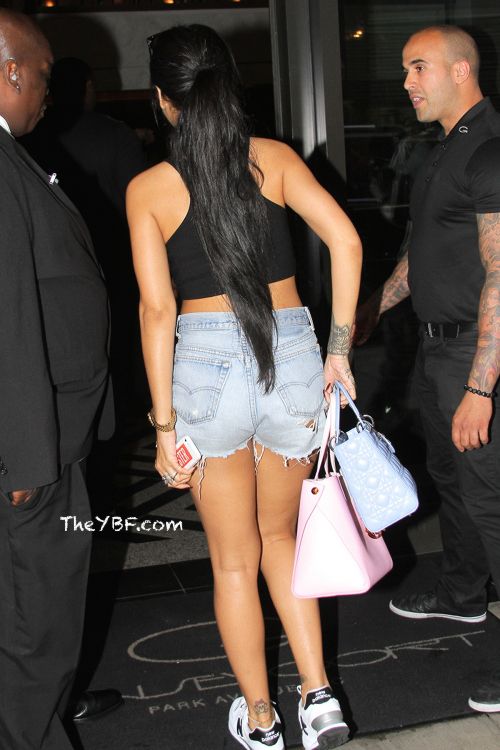 And was spotted hitting the Gansevort before the concert.
And since RiRi & Drizzy seem to be back to spending time together, it's only right she hit up his concert to support. Rih kicked it backstage with one of her biggest fans, Reginae Carter, who was there with her mom Toya Wright.
Fabolous' girlfriend Emily B. was there too and brought daughter Taina, who snapped a cute pic with Rih.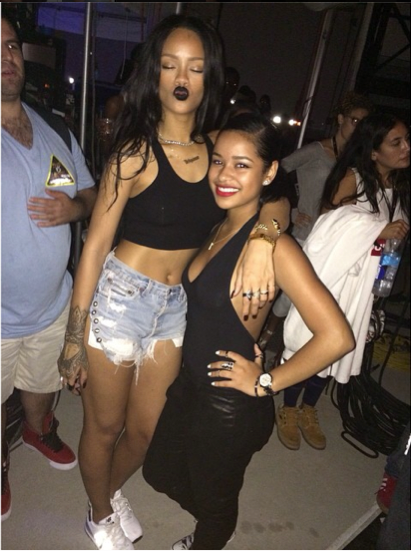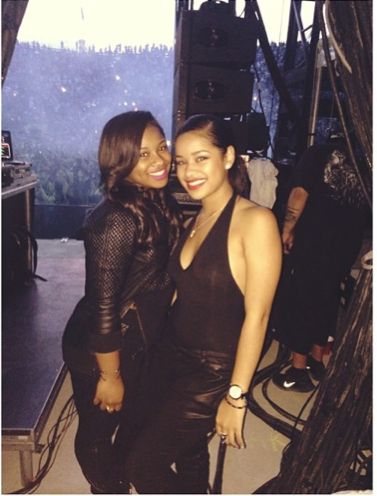 And she was spotted in VIP rapping along and dancing to "Trophies". Fun times.
By the way, rumors are swirling that the "Monster" singer is one of three frontrunners for Superbowl 2015. Coldplay's Chris Martin (who Rihanna's also been seen meeting and dining with lately, hmmm...) and Katy Perry are reportedly the other two.
But, interestingly, the NFL is now making halftime performers PAY to perform. And the frontrunners aren't feeling this "request". The Wall Street Journal reports:
Upon informing the musical acts of their candidacy, the National Football League also asked the hitmakers' representatives if they would be willing "to contribute a portion of their post-Super Bowl tour income to the league, or if they would make some other type of financial contribution, in exchange for the halftime gig.
Say what now? Doesn't the NFL make ENOUGH money with all those 30 second $2-$4 million commercials during the Superbowl? Sheesh!
Photos: Splash/Pacific Coast News/Toya's IG/Taina's IG
Chris Brown Says Karrueche Needs To HURRY Up And Have His BABIES! + Gucci Mane SENTENCED To 39 Months In Federal Prison
Posted: 21 Aug 2014 04:32 AM PDT
Chris Brown says he's ready for some babies. And he needs Karrueche to make it happen. Also, Gucci Mane, who has been incarcerated since last year, was sentenced to 39 more months in a federal prison. Find out why inside….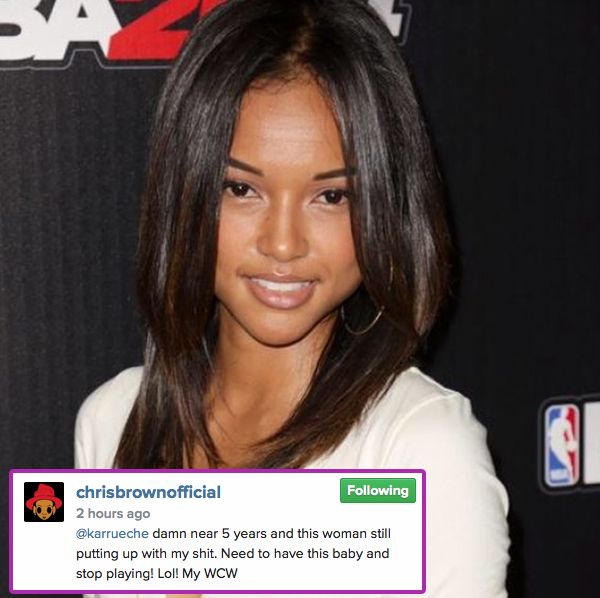 Chris Brown loves to stir things up on social media. And in honor of #WCW yesterday, he posted the picture above his off-again and now on-again girlfriend Karrueche. But the caption is what really has everyone talking.
He wrote, "@karrueche damn near 5 years and this woman still putting up with my shit. Need to have this baby and stop playing! Lol! My WCW"
We all know how he likes to play around, but we wouldn't be surprised if she turns up pregnant next month....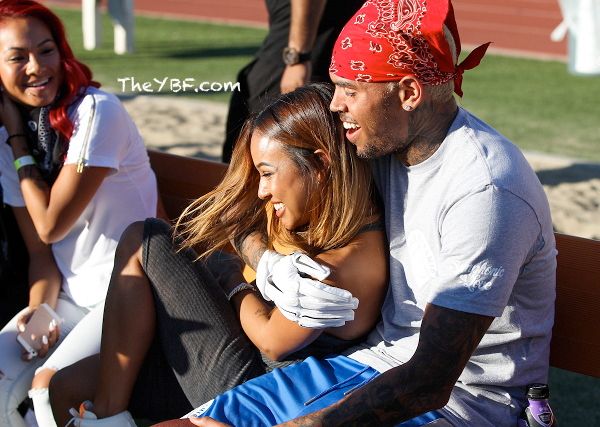 These two have been spending a lot of extra time together recently after a recent break-up to make-up. Just a few days ago, the couple was spotted all cuddled up on the sidelines of Breezy's celebrity flag football game for charity (above). Chris also shared a photo of the two in the wee hours of the morning, all smiles as they rode around L.A. And last night they enjoyed an intimate seafood dinner: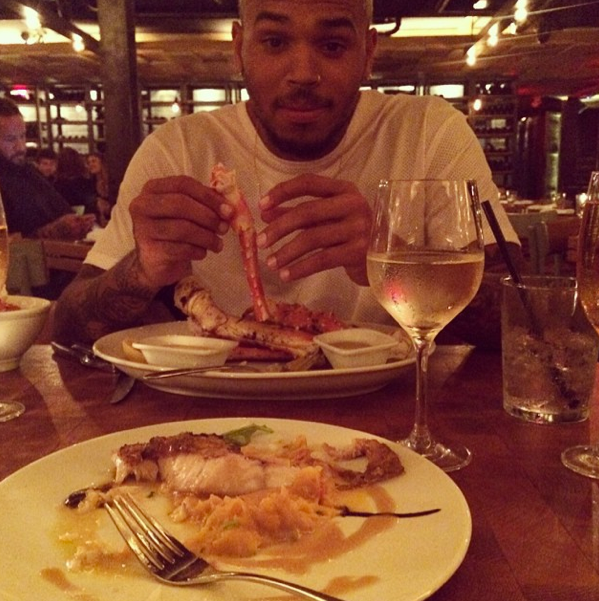 Yum! Guess Kae will be on bump watch soon….
And in rapper news...
Gucci Mane (real name Radric Davis) has been sitting behind bars for the past 11 months waiting for his fate to be determined after an incident that happened last September.
Yesterday, the Atlanta rapper was sentenced to 39 months in federal prison after pleading guilty to a firearms charge. In a plea deal, the "Gucci vs Guwop" rapper plead guilty to possession of a Glock 40-caliber handgun in exchange to facing up to 10 years in jail and a fine of up to $250,000.
Since he has been behind bars since last year, he will be granted time served and will finish the remaining 28 months before being released on three years probation.
You'll recall Gucci Mane was arrested in Atlanta after cops were called to the scene for his "erratic" behavior. According to reports, he began cursing and threatening the cops, which gave them probable cause to search him. He was later booked for carrying a concealed weapon, disorderly conduct and marijuana possession. And he also was sent to a hospital for evaluation for his "erratic" behavior.
Photos: Getty/CB's IG/Karrueche's IG
DINNER DATE: Nick Young & Iggy Azalea DINE In Beverly Hills + Ray Allen UPSET With Florida Police's Handling Of Home Invasion
Posted: 20 Aug 2014 01:36 PM PDT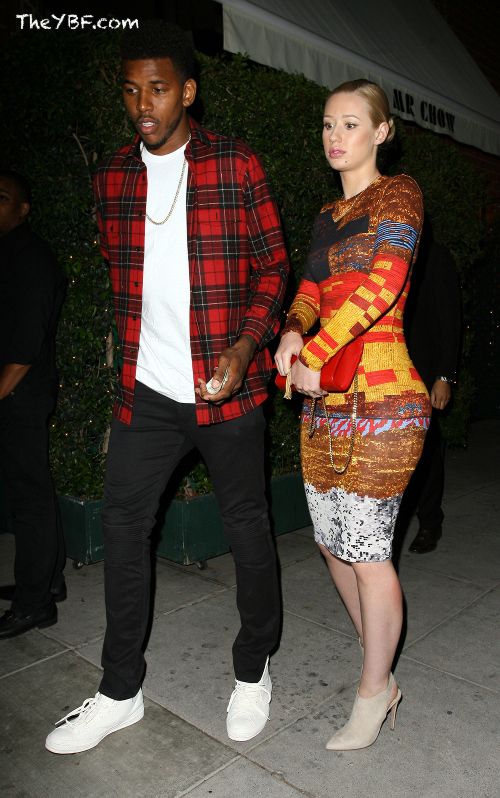 NBA baller Nick Young and his girl Iggy Azalea went on a dinner date in Beverly Hills last night. Find out where they went and why Ray Allen is pissed with the way police are handling an investigation after his home was invaded while his wife and children were slepping inside….
L.A. Lakers player Nick "Swaggy P" Young and his rapper girlfriend Iggy Azalea were hungry so they decided to make it a date night. The couple made their way to Mr. Chow in Beverly Hills for some good eats.
As you may or may not know, Nick is currently involved in a sexual assault lawsuit. An unidentified woman made claims that she had non-consensual sex with the NBA player after he bought her several drinks at a bar in West Hollywood back in 2011 (while he was playing for the Washington Wizards). The suit alleges she was taken to Nick's apartment after partying with him at the bar and he had sex with her without her permission.
The woman originally filed the lawsuit against the NBA baller and the Crown Bar but has since filed an amended complaint, dropping three of the seven allegations.
In her original lawsuit, the unidentified woman accused Nick of battery, sexual battery, assault, sexual assault, false imprisonment, intentional infliction of emotional distress and negligence in her new lawsuit. In July, Nick's lawyer, Steve Cochran, requested three of those charges be dismissed: assault, sexual assault and false imprisonment. The woman's lawyer did not oppose.
According to Nick's attorney,
"Mr. Young met with police, provided information without invoking his right to remain silent and gave a genetic sample for DNA testing," Cochran's statement read. "The DNA analyzed by police does not match Mr. Young. Proven innocent, Mr. Young was neither arrested nor charged with any crime, based on (the) plaintiff's story."
Guess we'll see how this will pan out with time. When will they learn?
And another baller involved in a case....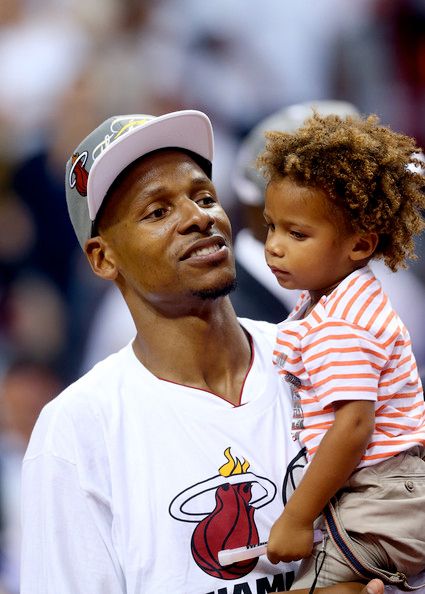 Last week, eight teenagers (ages 18-19) broke into former Miami Heat star Ray Allen's Coral Gables home while his wife and children were home alone sleeping. The teens had the audacity to roam their entire house, which resulted in his wife, Shannon, being frighteningly awakened to a group of men standing in her bedroom with flashlights!
The free agent and his wife were furious with the way the police were handling the investigation. At first, the Coral Gables Police Department decided NOT to press charges against the teens and simply characterized the incident as a silly prank. Was it because these were rich white kids? Cause we all know what would have happened had it been kids from another race…but that's for another post.
According to Coral Gables police spokeswoman Kelly Denham, the authorities decided not to press burglary charges because there was no forced entry, no intent (nont sure how they came to that conclusion other than them assuming because they "live in the wealthy neighborhood" they couldn't possibly steal things) and nothing was taken. I n Florida, long as you don't force yourself in someone's house and don't take anything…you won't be punished if you still enter without permission? Ok.
Allen's family released a statement detailing the events of that night saying,
"We want to correct the erroneous information being reported about the crime committed in our home this week. On Thursday morning at 2:30 a.m., my wife Shannon was awakened by loud voices in our bedroom where she had been sleeping with our four young children.

"She heard male voices loudly discussing our personal property and sat up in a state of alarm to find at least five people inside our bedroom with large flashlights. She was immediately fearful for the safety of her own life, but more importantly the lives of our young children. When she screamed at them, the intruders quickly fled the scene and laughter was heard as they made their way out of our bedroom, down the stairs and out of our house.

"As these individuals were fleeing our house, Shannon immediately called security and the police for help. Shannon and I believe that a number of the public statements made through media outlets have mischaracterized certain important facts and what we believe to be the seriousness of this potentially devastating invasion upon our lives, home and family," Allen said.

It wasn't until Ray and his wife spoke out about the lack of the police department doing anything were charges decided to be brought up. Now the eight teens are facing misdemeanor trespassing charges. The Allens also have decided to press criminal charges. They made a visit to the state attorney's office yesterday and have provided statements regarding the incident.
Had Shannon busted a cap in one of them, best believe she would be facing some type of criminal charges right now....
Photos: Spalsh/Getty
Jennifer Hudson's Half-Brother Stephen Angelo Simpson ARRESTED For BRUTALLY Stabbing Estranged Wife's Boyfriend
Posted: 20 Aug 2014 12:18 PM PDT
Jennifer Hudson's half-brother Stephen Angelo Simpson was arrested yesterday for repeatedly stabbing the boyfriend of his estranged wife. More inside....
There's more trouble in Jennifer Hudson's extended family. The Oscar-winner's half brother Stephen Angelo Simpson (through her father Samuel Simpson) was arrested in Michigan yesterday after he burst into the apartment of his estranged wife and repeatedly stabbed her current boyfriend in the face.
According to Van Buren County's local CBS affiliate WWMT, neighbor Torrey Hunt, said that the couple ran to his home for help around 3 a.m.
"He said someone knocked on the door, he thought he was knocking on the door for somebody, and he started getting stabbed up. I open the door and see blood everywhere. He was stabbed in his chin and his chest, he had puncture wounds in his chest and his arms and stuff." Once taken to the hospital, he received dozens of stitches and was released.

Detective Adam DeBoer went on to tell WWMT that during Stephen's attack on her boyfriend, the wife "locked herself in the bathroom until he left." He added, "It appears to be an ongoing feud over a woman."
Jen's brother has a very sketchy past and a string of domestic violence arrests. At the time of the stabbing, he was on probation and had been jailed for assaulting his estranged wife on Super Bowl Sunday back in February. For now, he is in custody in Paw Paw, Michigan, and expected to be charged with attempted murder and first degree home invasion.
Unfortunately, the arrest of Stephen is just the latest in a string of tragic events to hit the family. In 2012, Jennifer took the stand to testify in the murder trial of William Balfour, the estranged husband of Jen's sister Julia, who was convicted of murdering her mother Darnell Donerson, brother Jason Hudson and nephew Julian King.
Neither Julia nor Jen, who's been traveling around the county to promote her upcoming cd "JHUD", have spoken publicly about the arrest.
In case you missed it....
Jennifer appeared on the TODAY show yesterday where she debuted her latest single "Dangerous" from her forthcoming "JHud" disc (Sept. 23rd).
Photos via Jennifer Hudson's Instagram/TMZ Mugshot
Nicki Minaj STARS In Beats Commercial With Ariana Grande & Jessie J + OMG Girlz TRANSFORM Into "OMG" With Release Of "Boy It's Over" Single
Posted: 20 Aug 2014 11:03 AM PDT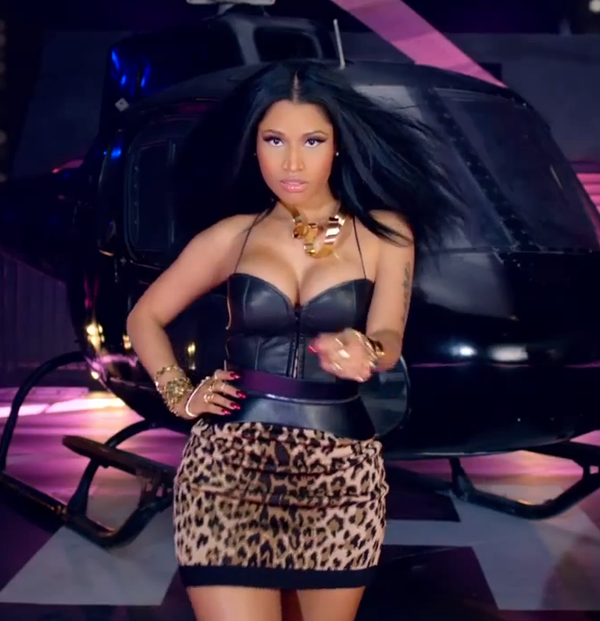 Pop lovers...this post is for you. There's a new Beats commercial starring Nicki Minaj, Ariana Grande and Jessie J. And it gives us a sneak peek at their upcoming video for "Bang Bang." Check the new spot and take a listen to the OMG Girlz's new track "Boy It's Over" inside…
Bang! Bang! Nicki Minaj has teamed up with Jessie J and Ariana Grande for a brand new Beats By Dre commercial.
After the release of her raunchy "Anaconda" video, Nicki, Ariana and Jessie J are giving us a sneak peek at the visuals for their upcoming video "Bang Bang". And it's all pink everything. The new spot promotes the new Beats Colr Mixr headphones (worn by Jessie) and new pink Beats Pill XL (which Ariana rocks out to while getting dressed).
MTV recently confirmed the ladies will be performing their infectious track, for the first time, during the 2014 MTV Video Awards. And following their performance, the official world wide premiere of the "Bang Bang" video will be released on BangBang.mtv.com.
Check the spot below:
And in other music news....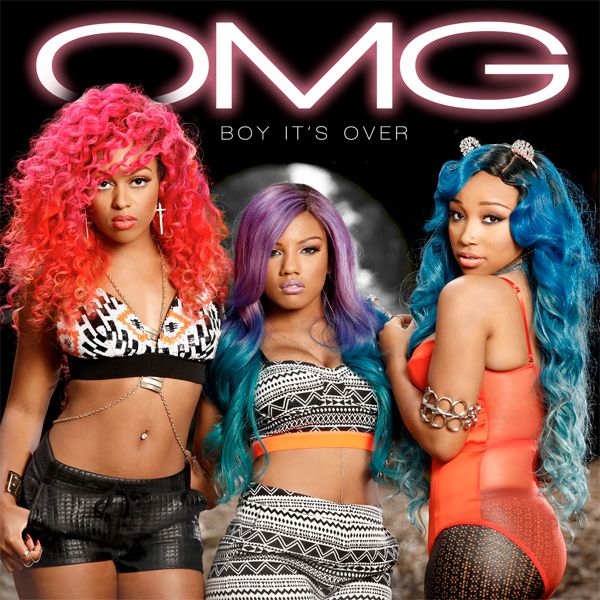 The OMG Girlz are ready to drop the kiddie image and is now ready for a new, sexier look and sound. The group has dropped "Girlz" from their stage name and are now just OMG.
As they transform into their adult selves, as evidenced by their more revealing looks, Miss Beauty, Miss Star (Zonnique/Tiny's daughter) and Miss Baby Doll (who are all over the age of 18 now) have some brand new "grown" music for their fans.
The girl group recorded a remake of Jagged Edge's hit, "Girl It's Over." Their rendition is titled "Boy It's Over," which was written by JE's lead singers Brandon and Brian Casey and produced by newcomer J. Reid. This will be the lead track from the ladies' forthcoming album, The Transformation.
They are also working closely with JE on other music projects. Nice.
Check out the 90s R&B vibe track below:
We feelin' it?
And in case you needed a refresher of JE's original track, check it out below:
Kanye & Kim SHAPE UP Their $20 Million Mansion, While Kanye SLIMS DOWN With New Diet + Khloe K. & French Montana Are Still Gushing Over Each Other
Posted: 20 Aug 2014 09:50 AM PDT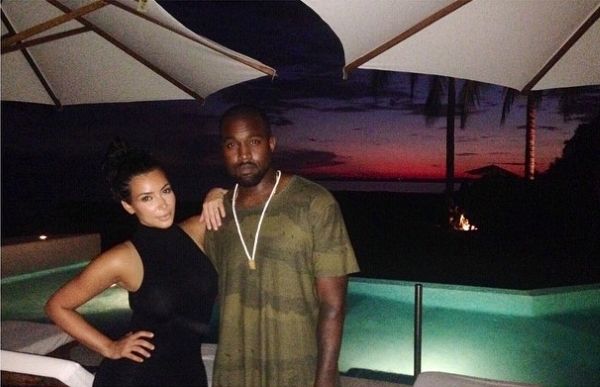 As the Wests prepare to put the finishing touches on their $20 Million mansion, Kanye has gone on a strict regimen to drop a few pounds. Get deets on their home and his workout plan inside and see what Khloe revealed about shooting "Don't Panic" with French Montana.
Pretty soon, Kanye and Kim will be moving out of Kris Jenner's home into a sprawling 16,000 sq ft estate. Their new $20 Million home (pics here) is not the Bel-Air McMansion they purchased a few months ago and Kim explained the housing swap to PEOPLE recently saying,
'Soon [we'll be moving out of my mom's]. It might be a few months, but I'm not sure. We just found a new, amazing place. 'I am so ready to be out of my mom's house, you have no idea. But it will be nice to still be close.

When we bought our Bel Air house, we didn't have a baby, we weren't even pregnant. After you have a baby, you realize that you need so many other things and a different kind of space. So being in the city is a different life. We wanted to be away and have more privacy.'
The home features a theater with suede walls, a wet bar, a library, a office, a family room, eight fireplaces and a master suite with a stone fireplace.
And while their new home is shaping up, Kanye is slimming down. He's reportedly been working out 5x a day with personal trainer Harley Pasternak who told the Daily Mirror,
'My program for him covers exercise in the gym, his steps outside, and his lifestyle habits and diet. For the first five days of the Rest diet diet he has three meals and two crunchy snacks. A white smoothie for breakfast, red smoothie for lunch and a green smoothie for dinner, made with protein, fibre and healthy fat in every meal.
Kanye works out five times a week - and I also have to influence him when he's not training. He wears a Fitbit in his pocket every day. It's a device which monitors his activity so I can chart his steps on my laptop.'

Hmm....a slimmer/trimmer Kanye? He's already showing off his pecs and rocking skinny jeans...what's next? Semi-nude selfies like his wife? Work.
In other Kardashian/rapper news...
Earlier, we told you about French Montana booking his girlfriend Khloe Kardashian as the lead in his "Don't Panic" shoot and recently, Khloe dished on the fun she had behind the scenes. Clearly they're on a campaign to let y'all know they have NOT broken up. In between sips of Champagne at Foxwoods Resort Casino's Liquid Sundays pool party in Connecticut, she told PEOPLE,
"It was my first music video so I didn't do a lot of acting. I did a lot of posing. Being in a music video you're more like posing, so I was good with that. It was great. It was easy. It was like I didn't even realize it was [work] ... we were just having fun. It didn't seem that serious – we were just comfortable hanging out. He's a great talent."
In case you missed it:
Photo via Kim Kardashian Instagram/French's IG/Khloe's IG