---
BRAXTON FAMILY DRAMA: Towanda Throws Slight Shade At "SWV", Explains BREAKDOWN And Fight With Tamar
Posted: 15 Aug 2014 08:08 AM PDT
Fans of Braxton Family Values watched Towanda Braxton reach her breaking point last night. See the emotionally charged clip inside and check out Towanda, Trina and Traci throwing shade at SWV.
Last night, season 4 of BFV kicked off with a HEATED argument--that turned physical--between Tamar and Towanda. At (32:41), you'll see the glass-shattering scene where Towanda has an emotional breakdown. During an interview with ABC NEWS RADIO, Towanda explained both the breakdown and fight with Tamar.
On Tamar: "I detested the fact that everybody thought, or everybody was feeling that Towanda was jealous of Tamar. I'm like 'how dare you think that someone who actually volunteered to carry your child to be jealous?' That's ridiculous to me. And whenever Tamar needed, and whenever Tamar wanted me to be there, I was there. That whole thing stemmed from one of Tamar's Tamartians telling Towanda that she hopes her kids get raped and killed [on Twitter]. Do you understand what I'm saying? So of course there's a certain retaliation that wells up in you when you talk about somebody's children."
On her breakdown: "I couldn't be emotional. I couldn't let everybody know how I was really feeling because as soon as I do there's always a [back]lash. So I suppressed every time," the mother of two explains. "I think there was only one other time — maybe not that big — I had lashed out and that's, like Trina said, that's when someone talked about my children. But when we were sitting together as a family I just felt that I wasn't being heard, and it was a long time coming."
After watching lastnight's episode, we're still trying to figure why Towanda is REALLY mad though. It is something deep rooted and SERIOUS chile.
Watch the full episode of BFV Season 4 Ep 1 (fight with Tamar and breakdown at 32:41):
Also, while promoting the season premiere of BFV, the Braxtons stopped by syndicated chat fest DISH NATION where they threw a little shade at fellow reality stars SWV. When asked who'd win a fight between the two groups, the trio chimed in with slight shade.
Towanda responded, "Come on now. Really? There's five of us first of all. And we're sisters – we're real sisters. They're just called sisters. We have each others' back."
Ha!
Chris Brown Drops "New Flame" Video, Announces JOINT TOUR With Trey Songz
Posted: 15 Aug 2014 06:51 AM PDT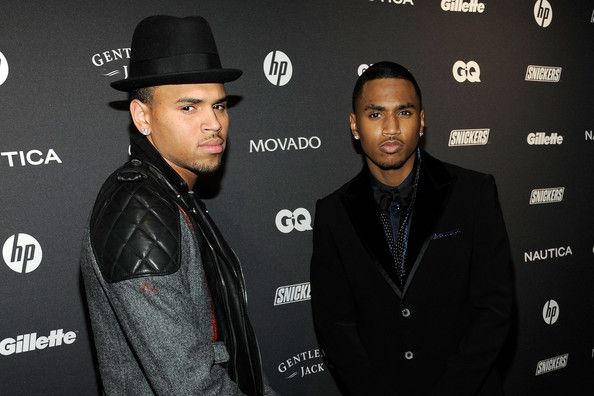 Chris Brown is continuing his comeback. He dropped his brand new music video for "New Flame", and announced a joint tour with Trey Songz. Deets inside...
The song that was originally released as a promo track (featuring only Rick Ross), has now become the fifth official single for Chris Brown's upcoming X album (9/16). For the new "New Flame" single, Breezy added Usher to the track after the 2014 BET Awards. And now he's dropped the video.
Chris and the bikini-laden chicks are dressed in all white with gold chains and accessories in the vid. And Usher and a shirtless Rick Ross make their expected cameos. Check it above.
Meanwhile, Chris posted a video from his VA homie Trey Songz, confirming what they've been hinting for several days. A joint tour is on deck!
This should be interesting, especially since they're asking fans to name the tour.
Trey and Chris have been haging out a lot lately, from performing at the BET Awards to house parties with the Jenner girls: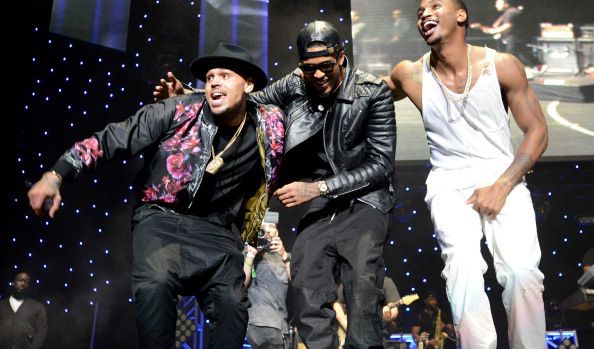 You here for it?
Photos/Video: Instagram/Getty
Columbus Short's Already Got A New Boo?!
Posted: 15 Aug 2014 06:23 AM PDT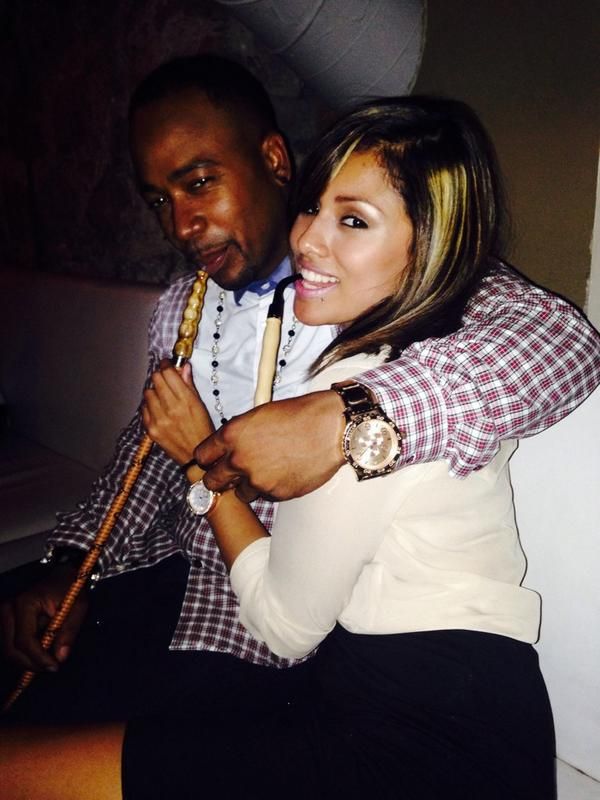 He and his wife are not yet officially divorced. But it seems Columbus Short has already moved on to something new. Check out the pics of him and his new boo inside...
We've noticed that ex-"Scandal" star Columbus Short has been boo'd up with a new chick ever since he and his wife separated. While he and Mrs. Tanee McCall-Short end their tumultuous marriage--for the third time--it seems Columbus has booked it to Atlanta after the April divorce filing. He's there to "work on his music"...and he has a new chick to there to keep him busy.
Her name is Frances Noriega-Aleman, and Columbus is not shy about posting plenty of pics with her (and of her). He's been calling her "the one" and "my little cheetah" while she's been posting her own pics and VINE videos with Columbus, calling him "my best friend forever."
As for how Frances--who seems to have done some booty model work in the recent past--describes herself, she says:
im a sexy latina 5'2 #teamGimini also a proud mother just enjoyin life.. lol the bestest
Earlier this week at singer Kris Kelli's listening party at Stir It Up Atlanta, Columbus and his boo Frances were boo'd up (above) hitting the hookah. And throwing back the drinks, so we hear.
And right before that, Columbus posted a picture with Frances AND her daughter saying, "Im HOME!!!!! #GeorgiaBeenOnMind #MissedTheseTwo.
Well, that escalated quickly.
Here's a few other things they've posted about each other this month: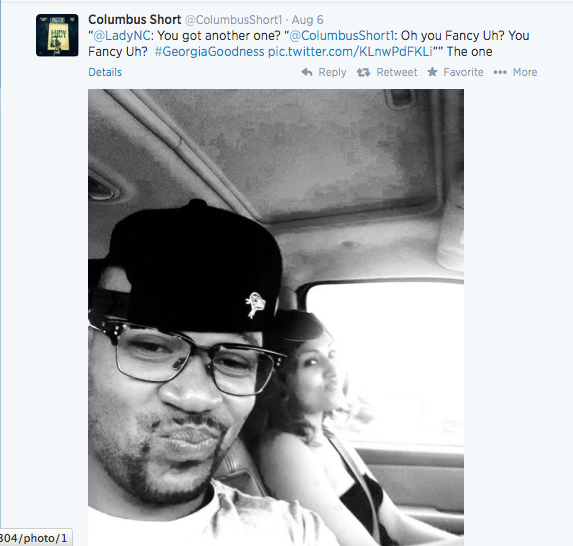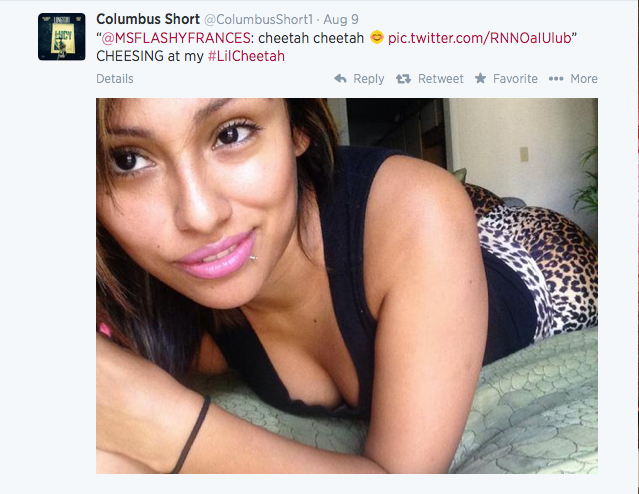 One move, one WIN, one LOVE! @BlockEntWW @kriskelli @jackielong @shawtdoggent @MSFLASHYFRANCES #WECOMING....#LOL4REAL pic.twitter.com/jdP7BBWwkv

— Columbus Short (@ColumbusShort1) August 9, 2014
Back home at the #BLOCKHOUSE @BlockEntWW @kriskelli @jackielong @shawtdoggent and babygirl @MSFLASHYFRANCES pic.twitter.com/m9xtiKRbT7

— Columbus Short (@ColumbusShort1) August 6, 2014
Safe to say he's got a new chick. For now. By the way, Columbus still maintains he was never wanted by police like reports claimed.
Photos: Columbus' Twitter/Frances' Twitter
Michael Brown Case UPDATES: President Obama Speaks On Tension & Protests + Phaedra Parks & John Legend Offer Suport + MORE Eyewitnesses EMERGE
Posted: 14 Aug 2014 05:49 PM PDT
Earlier today, President Obama made his first public remarks about the killing of Michael Brown and the protests in Ferguson, MO. Watch the POTUS' comments inside and see new interviews from eyewitnesses.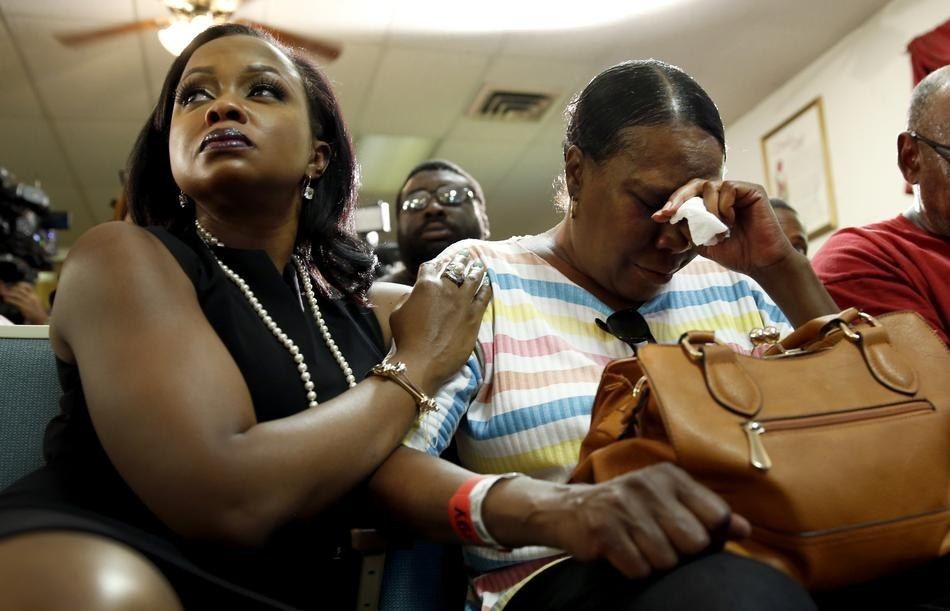 Above, RHOA star Phaedra Parks was seen offering to Desuirea Harris, the grandmother of Michael Brown, during a news conference held earlier this week. And the lawyer spoke on her social media saying:
During my St. Louis visit, I had the pleasure of meeting #MichaelBrown's mother Lesley McSpadden. Although, we come from different places & backgrounds, we are very much alike-We are both black women & mothers who deeply love our sons. Unfortunately, she is planning her son's funeral while I struggle to make sure my sons never know her son's fate. #fixitjesus #JusticeforMikeBrown #Ferguson #prayforpeace #prayforstlouis #StopPoliceBrutality
Today, President Obama addressed the nation for the first time (on television) regarding the shooting death of Michael Brown and the protests in Ferguson, MO. This is following his statement on Tuesday.
The cops and authorities in Ferguson have been dressed in riot gear, military gear, are rolling around in tanks, and have weapons that are typically used for war. Yet, the citizens are reportedly unarmed. As tensions have escalated with the unnecessary detainment of several reporters, the arrest of at least 65 protesters, police being accused of excessive force (including rubber bullets, tear gas), and media outlets shutdown (#mediablackout), POTUS had much ground to cover. He said,
"I know that many Americans have been deeply disturbed by the images that we've seen in the heartland of our country.

"I made clear to the Attorney General that we should do what is necessary to help determine exactly what happened and to see that justice is done,"

"When something like this happens, the local authorities, including the police, have a responsibility to be open and transparent about how they are investigating that death and how they are protecting the people in their communities.

There is never an excuse for violence against police or for those who would use this tragedy as a cover for vandalism or looting. There's also no excuse for police to use excessive force against peaceful protests or to throw protesters in jail for lawfully exercising their First Amendment rights."

Also, more eyewitnesses came forward to share their stories about Michael's last moments.
WITNESSES: Tiffany Mitchell & Piaget Crenshaw:
Original KEY WITNESS: Dorian Johnson
Interestingly, it took police several days to contact key witness Dorian Johnson. It is unknown if they have spoken to the two new witnesses.
In case you were wondering, the Ferguson Police Dept still refuses to release the name of the officer who shot and killed Michael. On Tuesday, Cornell William Brooks, national president the NAACP, said, "It seems to me that the most important thing here is to let the facts come out as quickly as possible, sending a signal to the community that the investigation is proceeding and that the investigation will in fact be transparent. I don't believe, where the name will be known at some point, delaying that for any undue period of time helps the situation."
For now, Ferguson Police Department Chief Thomas Jackson refuses to release the name of the officer because of potential harm to the officer and his family. But that hasn't stopped names from coming out. However, the police claim both names are incorrect. DETAILS HERE.
Tonight, all around the country, candlelight vigils and peaceful protests are being held in Michael Brown's honor, and in honor of all unarmed victims slain by police.
Meanwhile, John Legend has been speaking out on Twitter:
I believe these cops are intentionally trying to inflame the situation. They want an excuse.

— John Legend (@johnlegend) August 14, 2014
Recall the local cop telling those "animals" to "bring it" on CNN... He wants a fight.

— John Legend (@johnlegend) August 14, 2014
Calling us "animals" has been the language to justify slavery, Jim Crow and all manner of injustice. Dehumanization and racism go together

— John Legend (@johnlegend) August 14, 2014
Calling us "animals" has been the language to justify slavery, Jim Crow and all manner of injustice. Dehumanization and racism go together

— John Legend (@johnlegend) August 14, 2014
And when he got pushback, he responded:

Nice!
Phots via Getty/AP/John Legend's Twitter

Misty Copeland Biopic In The Works + Martin Lawrence CONFIRMS 'Bad Boys III' Movie + Def Jam Announces PERFORMERS For 30th Anniversary Concert At Barclays Center
Posted: 14 Aug 2014 03:49 PM PDT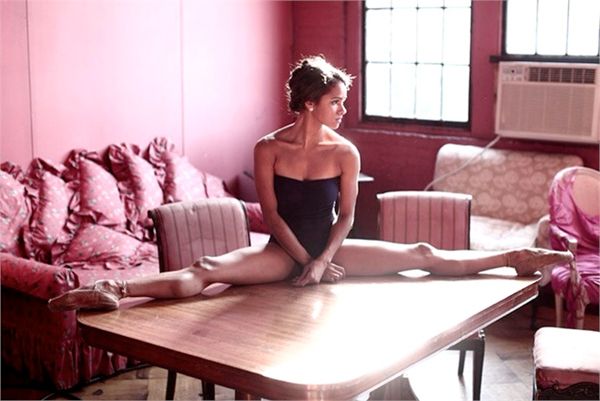 A biopic chronicling the life of ballet dancer Misty Copeland and Bad Boys III will be hitting a theater near you soon. Plus, Def Jam as announced the acts who wil perform for their 30th anniversary concert. More inside…
This year has surely been one of many biopics, including the Aaliyah, Whitney Houston and N.W.A. projects. And now, a new biopic is in the works for American Ballet Theatre soloist Misty Copeland.
New Line Cinemas has signed on to share the inspirational story of the extraordinary ballet dancer. After many disheartening rejection letters and being told she could never become a professional ballet dancer due to her age, she has accomplished some remarkable things.
She became the second African-American female soloist (and first African-American female soloist in two decades) to dance with the prestigious American Ballet Theatre. The Under Armor spokeswoman has also performed with Prince, serves on President Obama's fitness council and has appeared as a guest judge on FOX's So You Think You Can Dance.
The film will be based on the fab chick's bestselling memoir "Life In Motion: An Unlikely Ballerina." Adam Shankman and Jennifer Gibgot from Offspring Entertainment and Phil Sandaus have been tapped to produce the feature film.
According to Deadline,
In what's shaping up to be The Blind Side set in the dance world, the film will chronicle Copeland's striking rise to dance stardom. The late bloomer began training in ballet at age 13 while living in a welfare motel with her mother and siblings, learning so quickly she was dancing en pointe within months. She went from lessons at the local Boys & Girls Club to living part-time with a sponsor family while attending dance school. But as her ballet career escalated, so did a bitter custody battle between her mother and her host family.
Let's just keep our fingers crossed that this biopic will see the light of day…sans the controversy.
So what's next for the YBF ballerina? She will be making history yet again as the first African-American ballerina to dance lead in ABT's Swan Lake next month. Work!
And in another new movie...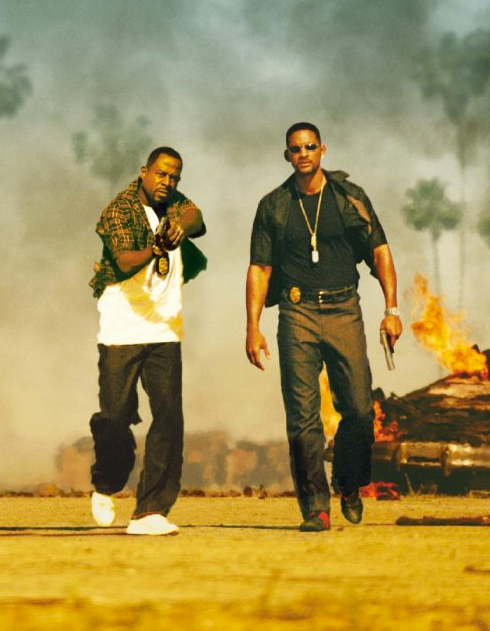 If you were a fan of the first Bad Boy, starring Martin Lawrence and Will Smith, and the sequel…get excited! Bad Boys III is confirmed to be in the works.
During an interview on the late-night talk show CONAN, "Bad Boys" actor Martin Lawrence confirmed the action comedy film trilogy is on the way.
When asked about the film, the "Partners" star said,
"I believe so. Yes. I just talked to Jerry Bruckheimer yesterday and he said its real, they're working on the script, they're getting close and it all looks good."

Martin hinted about the upcoming film via his Facebook page back in July posting,
No word yet on if Will Smith will star in the film. But he must!
Check out Martin's late night talk-show appearance below:
And in concert news: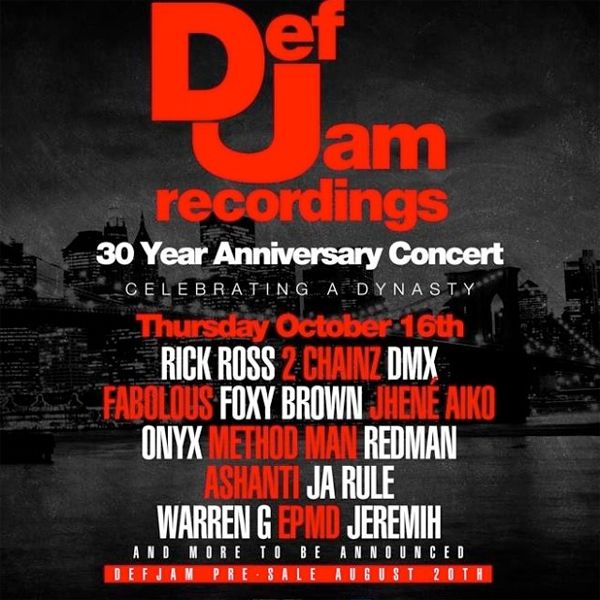 Def Jam Recordings has announced the date and performers who will hit the stage for their 30th anniversary concert held at the Barclays Center in Brooklyn.
The roster includes: Rick Ross, 2 Chainz, DMX, Fabolous, Foxy Brown, Jhené Aiko, Onyx, Method Man, Redman, Ashanti, Ja Rule, Warren G, EPMD, and Jeremih.
No LL? Interesting.
The all-star event goes down on Thursday, October 16th. Pre-sale tickets Wednesday, August 20th and regular tix will be available to purchase on Friday, August 22nd.
Will you be there?

EXTRAS:
1. Damon Dash is SUING director Lee Daniels for $25 million after investing in Daniel's movie projects (including the successful film "The Butler") and received nothing in return. So he didn't have a contract? Sighs... STORY

Photos: Gregg Delamn/VOGUE Italia/Columbia Pictures/Instagram
Rihanna Readying NEW Album, Possibly Dropping In November—Inner Circle Calling It 'R8'
Posted: 14 Aug 2014 01:55 PM PDT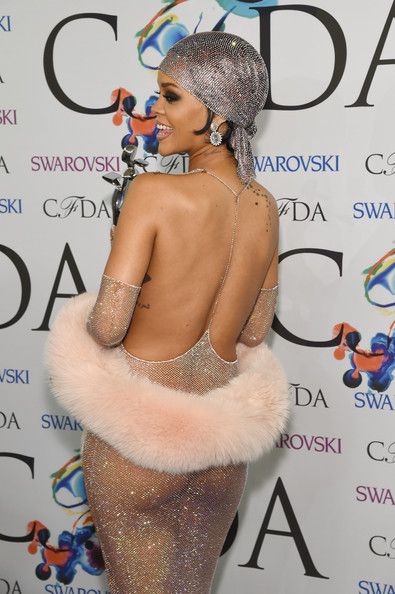 ;
We know she has been working on new music after several spottings in the studio. And now we have a possible release date and tentative title for Rihanna's upcoming album. Get all the deets inside…
Rihanna is currently making tour stops on the three-city "Monster" tour with Eminem. But in between performances and slaying magazine covers, the "Diamonds" singer has been steadily working on new music.
We've spotted her arriving and leaving studios in L.A. and NYC. And now, we have a few nuggets on her upcoming eighth studio album.
Back in June, the Pop princess posted this to her Twitter:
#R8 pic.twitter.com/fEDxaBvQ9L

— Rihanna (@rihanna) June 30, 2014
She posted a picture of a soundboard with the caption "R8"—"R" for Rihanna and the "8" which could possibly represent her eighth album.
Yesterday, her little brother Rajad and her cousin Noella (the mother of newborn Majesty RiRi is always cuddling with) posted these two messages on their Twitter pages:
Hmm…could possibly be the album's title…or something similar. So when will we hear her new tracks? Our sources tell us the new album is expected to drop this November. You ready?
Peep the most recent cuteness overload of RiRi with her little cousin/niece (no, we still haven't figured it out) Majesty below: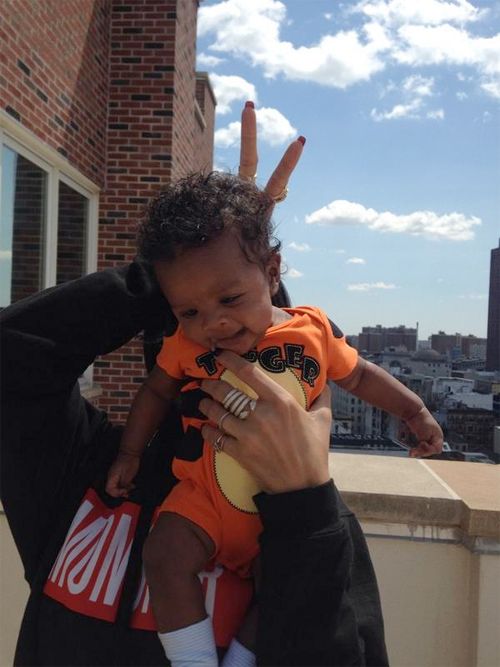 Adorbs.
The "Monster" singer's next tour stop is MetLife stadium this Saturday.
Photos: Rihanna's Twitter/Rihanna Daily/Rajad's Twitter/Noella's Twitter
"RHOA" Cast, The Newbies & More Party It Up At Demetria McKinney's Video Release Party In Atlanta
Posted: 14 Aug 2014 12:49 PM PDT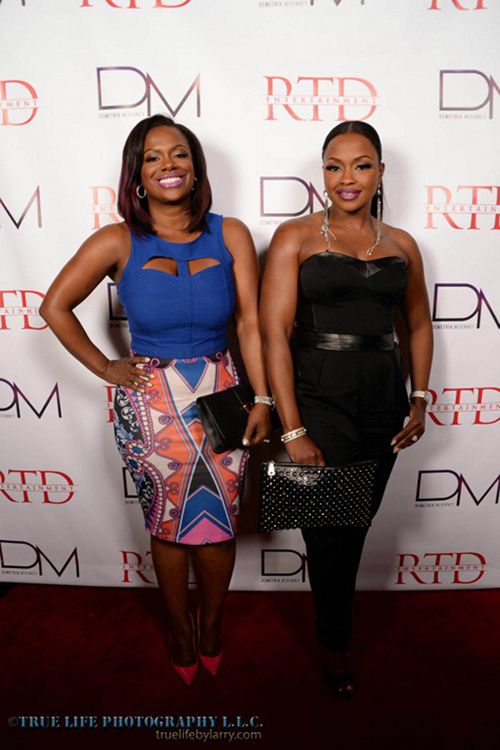 The Atlanta housewives were on the party scene last night to celebrate Demetria McKinney's "100" video featuring Da Brat. Peep the party pics inside…
Last night, the "RHOA" stars and others were front and center to party it up with former "Tyler Perry's House of Payne" star Demetria McKinney. Guess this confirms Demetria's slot on the hit reality show since the cameras were rolling. We here it's a "B" spot though, much like Marlo and Christopher Williams' woman.
The KONTROL magazine covergirl was celebrating the release of her brand new video "100" featuring Da Brat at Atlanta's Harlem nightclub. Seems "RHOA" cast mate Phaedra Parks is keeping busy in the midst of her husband's (or soon to ex) legal troubles. She posed it up alongside Kandi-Burruss Tucker before getting the party started.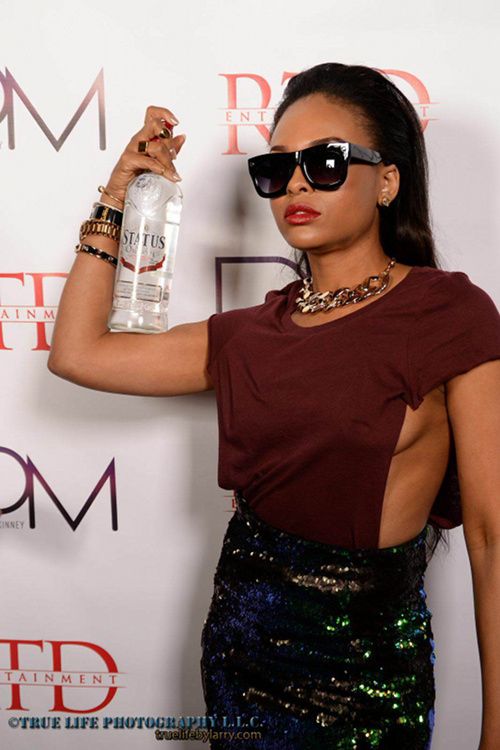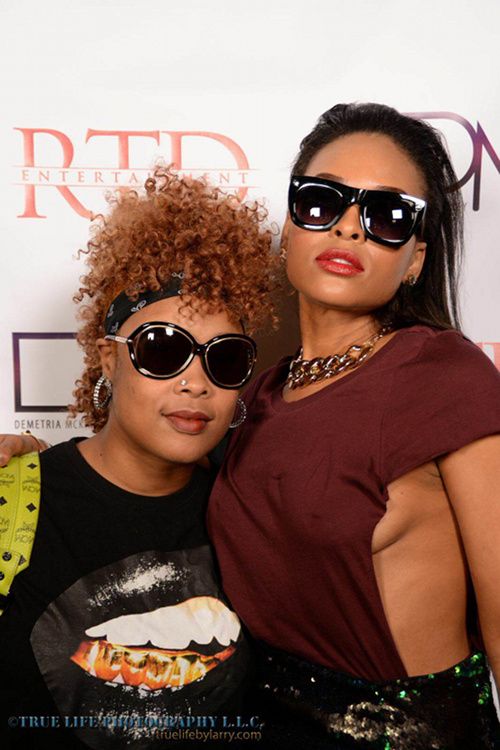 Demetria and Da Brat were the stars of the night hitting the carpet in their shades and side boob.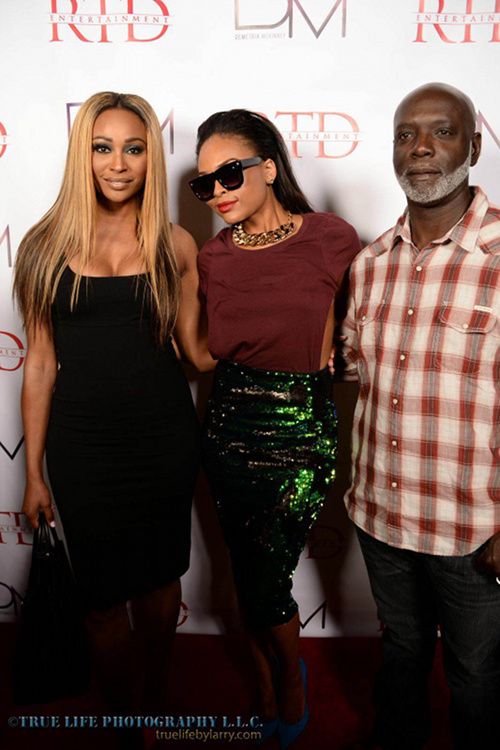 The "100" singer also posed it up alongside Cynthia Bailey (who graces the other cover of the new issue of KONTROL) and her husband Peter Thomas.
"LAHH ATL" star Mimi Faust was in the mix. Guess chick needed to show off her new Chanel bag...and get her mind off the recent revelation that her boyfriend Nikko is a married man. Chile…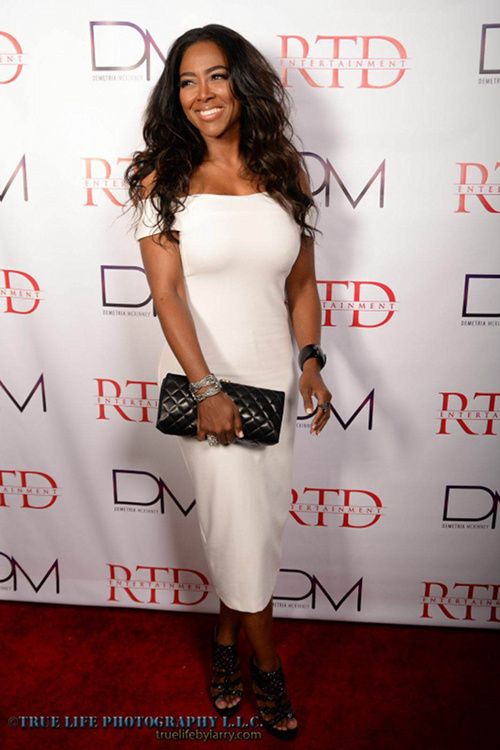 Castmate Kenya Moore made an appearance on the carpet. Supposedly, Ms. Twirl was accused of flirting with Demetria's boyfriend Roger Bobb (Executive Vice President of Tyler Perry Studios). Guess we'll see that play out on the upcoming season.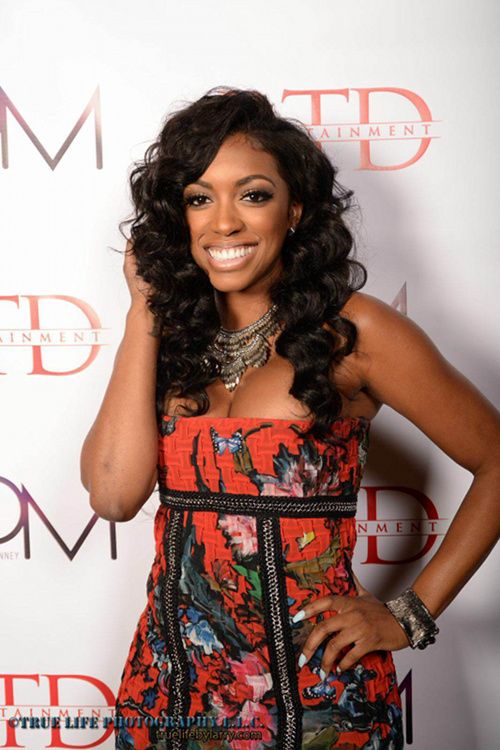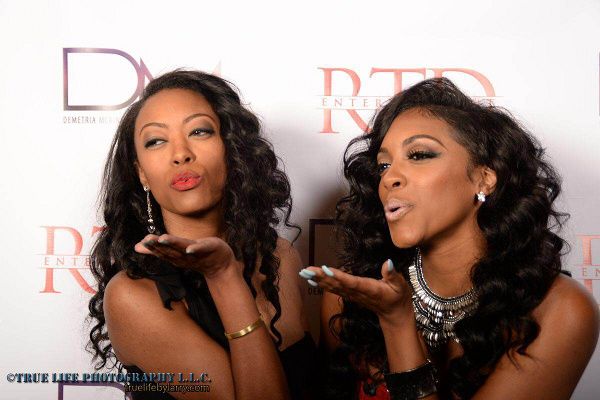 "RHOA" star and Dish Nation co-host Porsha Williams came out to party alongside her sister. We're assuming she and Kenya kept their distance since no cops were called.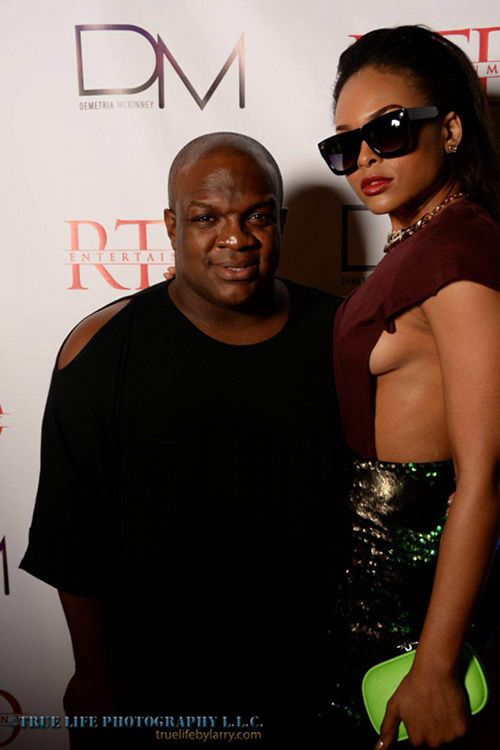 Hair stylist Derek J came out to support.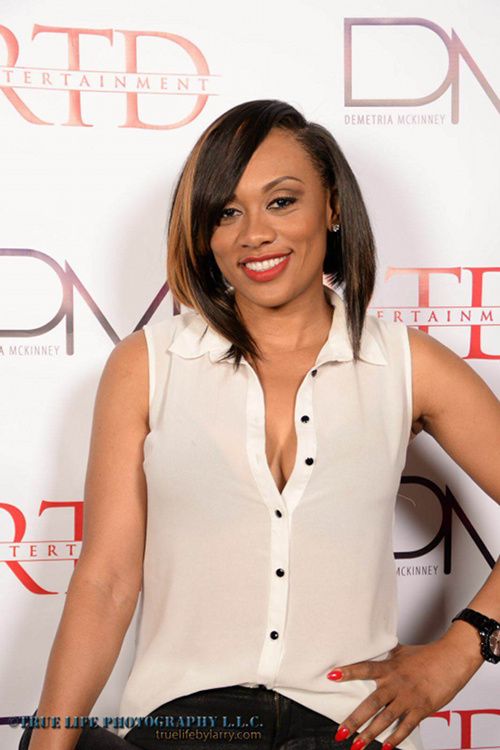 Kandi's bestie Carmon was all smiles on the carpet.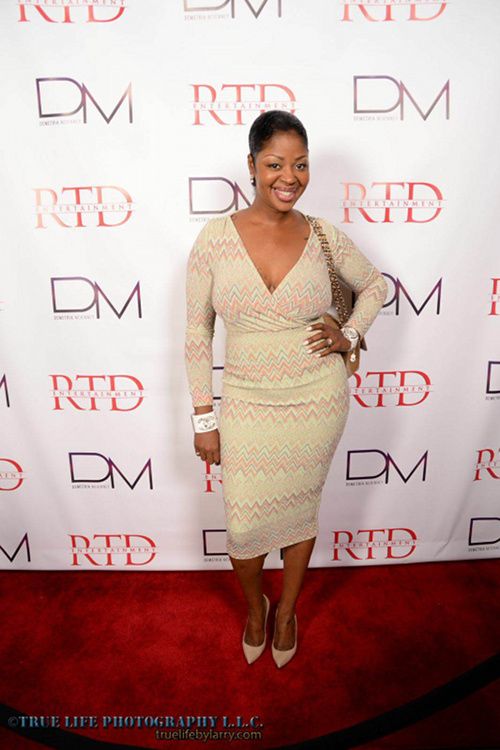 "RHOA" creator Princess Anne Banton Lofters got sassy on the red carpet.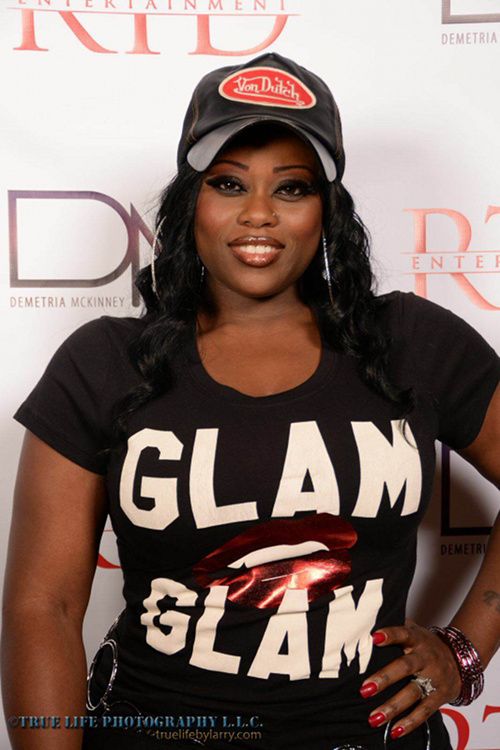 Kandi's former Xscape bandmate Tamika Scott was there.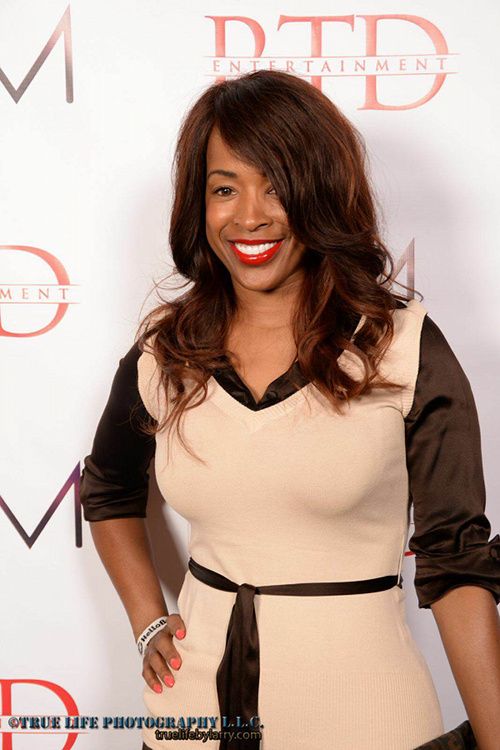 "Big Rich Atlanta" star Sabrina Rowe was all smiles before the party.
Radio personality Ebony Steele and her abs came out to party.
Fun times.
Photos: Larry Person of Jay Productions Agency
ON THE SET: Jill Scott, Eve, Regina Hall, Stephen C. Bishop, Tracey Edmonds & Gabrielle Union Gearing Up For "With This Ring" + Michael Jackson's "A Place With No Name" (VIDEO)
Posted: 14 Aug 2014 11:57 AM PDT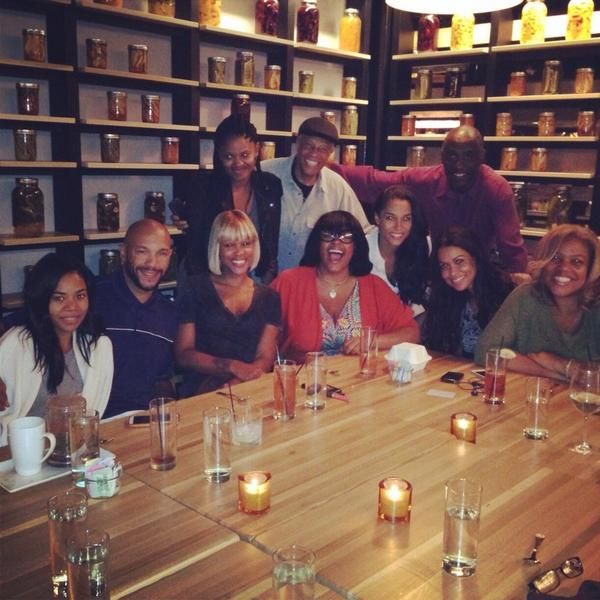 Regina Hall, Eve, Jill Scott, Gabrielle Union and other stars from the upcoming LIFETIME film "With The Ring" have shared photos from the set. See the cast inside and watch Michael Jackson's "A Place With No Name" video...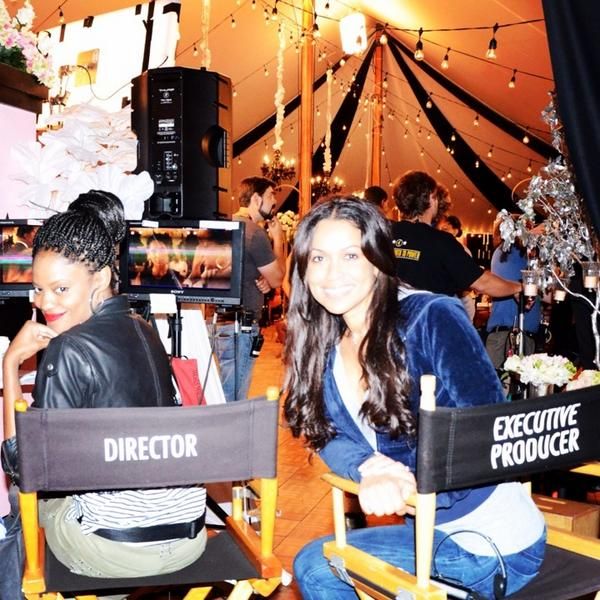 A few weeks ago we told you about Angela Burt-Murray, Denene Millner and Mitzi Miller turing their book "The Vow" into a LIFETIME film called With This Ring. The movie (being filmed in Cleveland, OH) is directed by Nzingha Stewart ("The Game") and Tracey Edmonds serves as executive producer.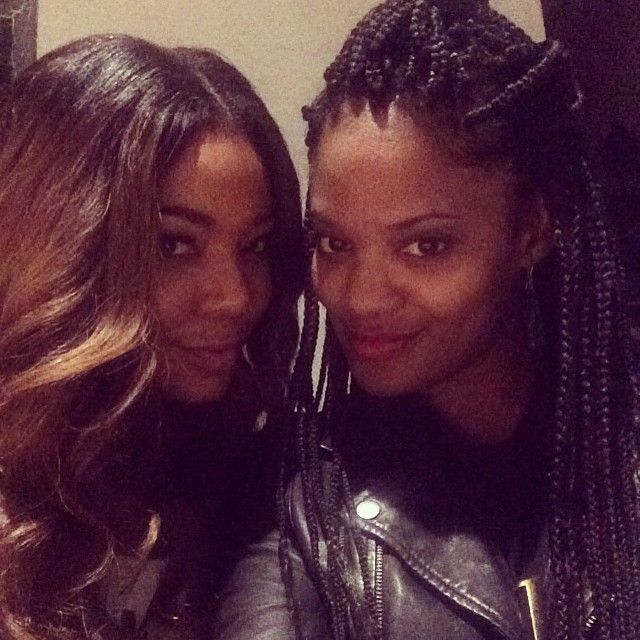 Gabrielle Union also joins both Tracey and Sheila Ducksworth as executive producer. The "Being Mary Jane" actress showed up on set to support Nzingha saying:
"With my ace and producing partner @nzingbling (and masterful director) in Cleveland on our first movie #WithThisRing ... So happy to be part of the solution and employing so many great actors... Feeling happy and blessed and hungry becuz we know there's so much more to do! Big ups to #TraceyEdmonds #SheilaDucksworth brilliant producers making it happen! Love, Light and bottomless wine!"
Brooklyn Sudano (Donna Summer's daughter), shown above with Tracey Edmonds' fiance Deion Sanders, was cast in the lead role for the film. She'll play Elise, the bride-to-be, who relies on her best friends (Eve, Regina Hall, Jill Scott) to get her down the aisle.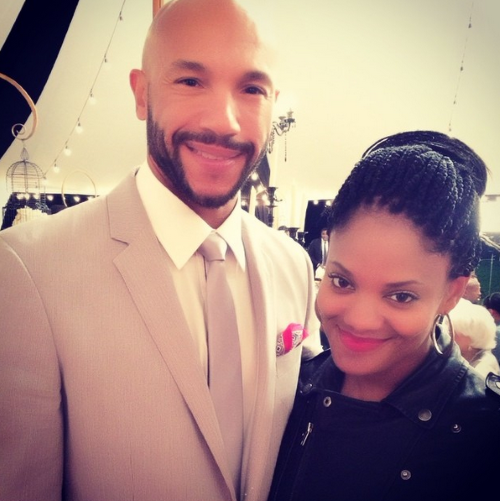 "Being Mary Jane" star Stephen C. Bishop (shown above with Nzingha) is set to play Dr. Sean Braswell, a successful plastic surgeon who is also the father to Viviane's (Jill Scott) 8-year-old son, Cory.
More pics: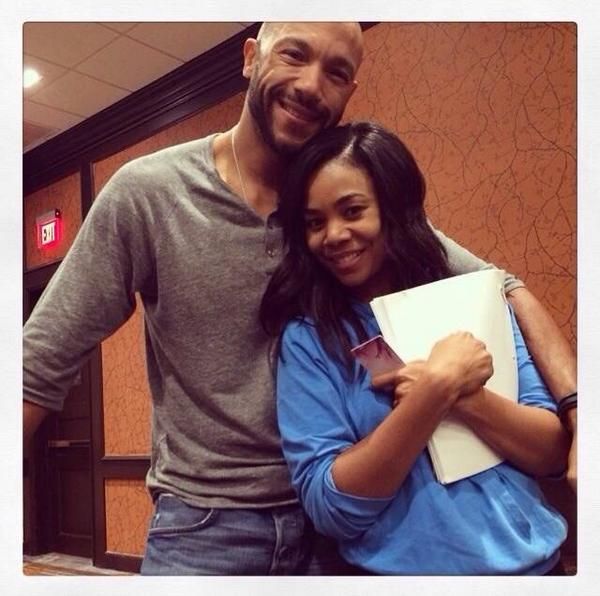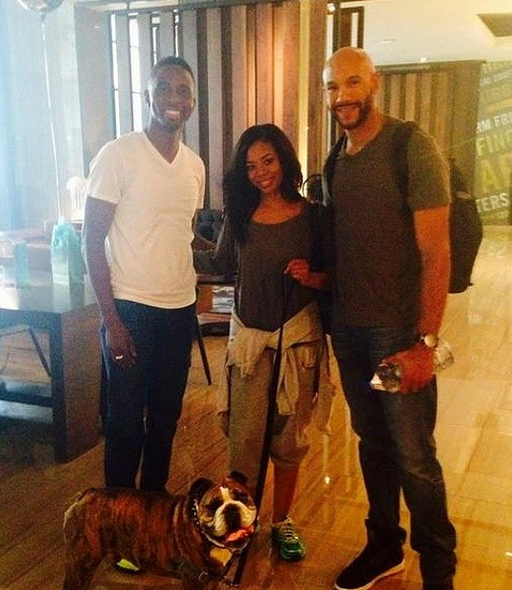 The hilarious Regina Hall is playing one of best friends who'll help Elise down the aisle.
Gabby posed with Regina. "Racing to the alter on the set of #withthisring in Ohio... ️my cast!! #reginahall"
Eve and Jill Scott (shown above with Brooklyn, Brian White and Jason Winston George) also star in the film.
Deion showed up on the set to support Tracey, Nzingha, Brooklyn and Eve. Can't wait for this film!
In new music videos......
Last night, a video 'A Place With No Name,' the official 2nd single off Michael Jackson's posthumous album 'Xscape' appeared on social media. The visual was directed by Samuel Bayer alongside Travis Payne, a long-time adviser/choreographer to MJ, who also served as the casting director, choreographer, and creative director.
Building off clips from MJ's "In The Closet" video shoot, the new video also stars dancers Alvester Martin (who worked with MJ for ten years) and Danielle Acoff who both filmed new footage and dance sequences.
Alvester, who's releasing his debut album entitled 'Love Me or Leave Me,' in the late Fall/early Winter of 2014 said, "I grew up watching Michael, I started dancing because of Michael, and as an Artist he remains the ultimate bar. I'm so privileged to be able to conclude my dance career by honoring his memory in this way."
Photos via Gabrielle's Instagram/Brian White's Twitter/Tracey Edmond's Twitter/Stephen Bishop's Instagram
DO WE LOVE IT?!: Jhene Aiko Rocks Blonde Faux Locs
Posted: 14 Aug 2014 11:15 AM PDT
Singer Jhene Aiko is causing a bit of a stir before her upcoming Souled Out album release. She's got a new 'do -- the blonde faux locs trend. Decide if we love 'em inside...
Last night "The Worst" singer Jhene Aiko showed off her new dreaded up look. Platinum blonde and in a few different styles, it looks like she's working on a new project of some sort. Or maybe just wanted a change up from her usually shoulder-length jet black straight 'do: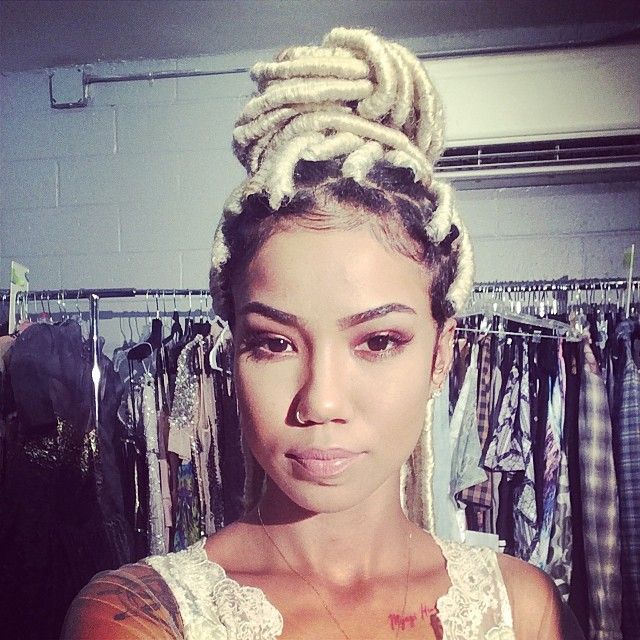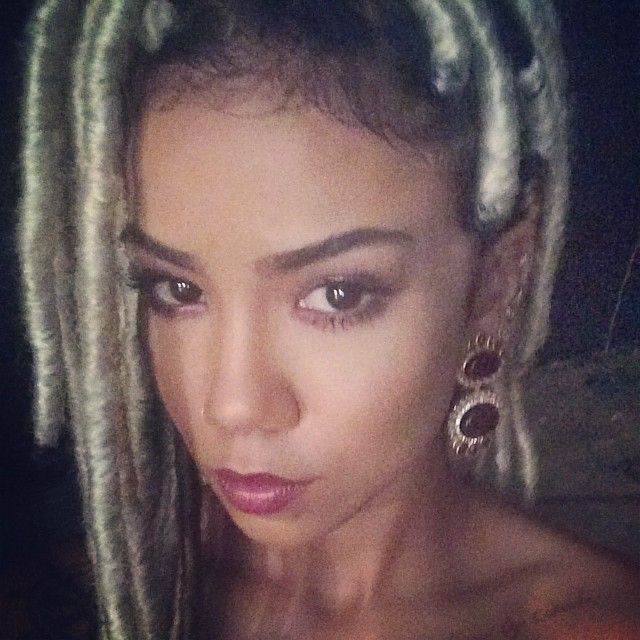 We feeling her new look?
In other news, it looks like Jhene's got a new boo: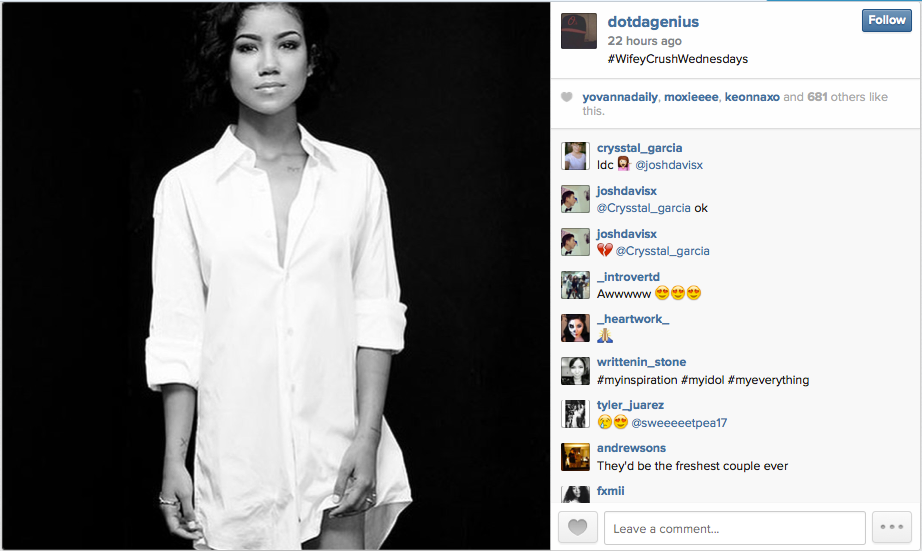 She and producer Dot Da Genius (known for working with Kid Cudi) have been boo'd up all around town after meeting about a year ago, and both post about each other quite often. Not sure if they're officially official...but it sure seems to be headed that way.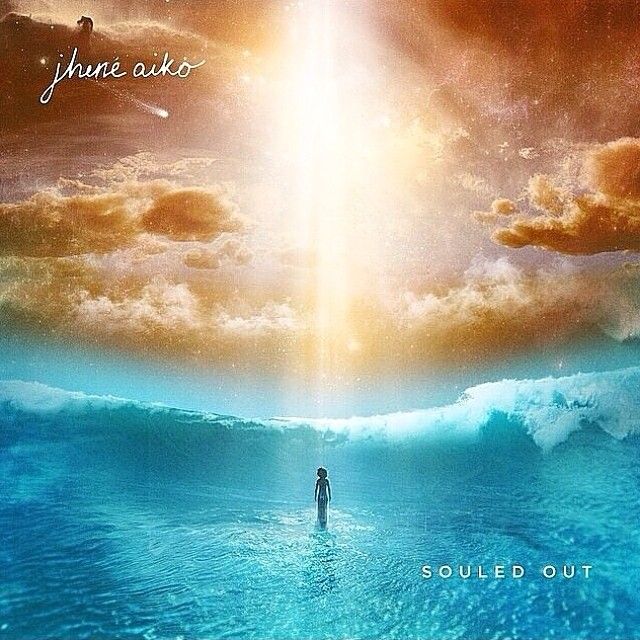 Her debut studio album Souled Out hits shelves September 9th.
Photos: Jhene's IG
Ciara Denies Giving Interview About Life After Breakup With Future...But Doesn't Deny Breakup
Posted: 14 Aug 2014 09:34 AM PDT
Ciara is pissed! She says she never gave that new interview that's circulating around about life after Future. But she's not denying the split itself. Deets inside...
While reports state Ciara has no future with Future, CiCi seems a bit pissy about an interview Us Weekly claims she did with them. Before Ciara posted the above and below pics of herself back to work in a flattering Valentino dress, a new interview posted by Us Weekly hit the net, claiming to be with Ciara herself. Their story last night went like this:
As Us Weekly exclusively revealed earlier today, Ciara has called it quits with Future — her fiance and father to her newborn son Future Zahir Wilburn — after learning of his infidelity. Before the news broke, the "I'm Out" singer spoke with Us on Tuesday, Aug. 12, about how her life has changed since welcoming her baby.

"I'm in a much more clairvoyant place in my life," Ciara, 28, told Us of motherhood. "So, I want to express that through my music." The singer, who will appear on MTV's House of Style for Degree Women, further mused.

"I'm in an even more expressive place," she said. "I think that when you become a mom… you don't really worry about the small stuff. I'm just way more centered. It makes you focus even more on what your goals are in life. And I just feel a whole new spiritual energy that's happening."
But it's the title of the story, "Ciara Talks About Motherhood and Life After Future Split: I'm Focused, "Very Happy"", that likely caused confusion. She wasn't exactly speaking on life after the couple's alleged split. She was talking about life after giving birth....but Us Weekly, like most tabloids do, added their extra context to sell a few more issues.
The "Promise" singer took to her Twitter account to blast the publication saying:
@usweekly I did not do this interview with you! This is a lie, and tasteless! Must you be that thirsty to create a story?! Unbelievable!

— Ciara (@ciara) August 13, 2014
Be CLEAR @usweekly. I interviewed with your Beauty Editor about Degree & Mtv HOS. U manipulated my words & took the interview for sensation.

— Ciara (@ciara) August 14, 2014
As I Said, Thirsty!!

— Ciara (@ciara) August 14, 2014
Oh those tricky tabloids....
Photos: Ciara's Twitter/IG