---
BIRTHDAY GIRL: Meagan Good CELEBRATES Her 33rd Birthday With A '70s to '90s Themed Skate Party!
Posted: 08 Aug 2014 08:37 AM PDT
Meagan Good celebrated her 33rd birthday alongside her husband Devon Franklin, her big brother Colbert and a host of family and friends last night. See party pics and videos inside...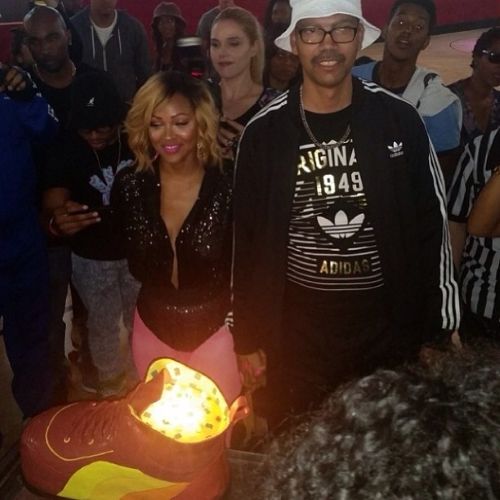 Last night, TLAM2 star Meagan Good celebrated her 33rd birthday with a 70s to 90s themed skating party. The celebration was a "family" affair as Meagan and her big brother Colbert (above) both share August 8th as their birthdate.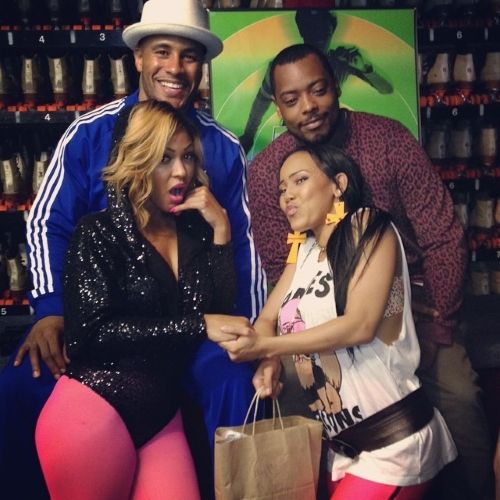 Meagan paid homage to "Fame" and rocked a sequined leotard and pink leggings at the party. And, of course, she made it look hot.Her hubby Devon opted for the Run DMC "My Adidas" look.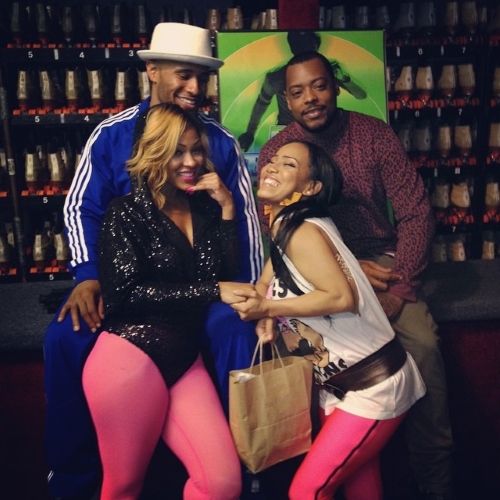 She partied (and posed) the night away with a group of friends, including her bestie Brandi who tweeted, "Meagan Is A True Beauty!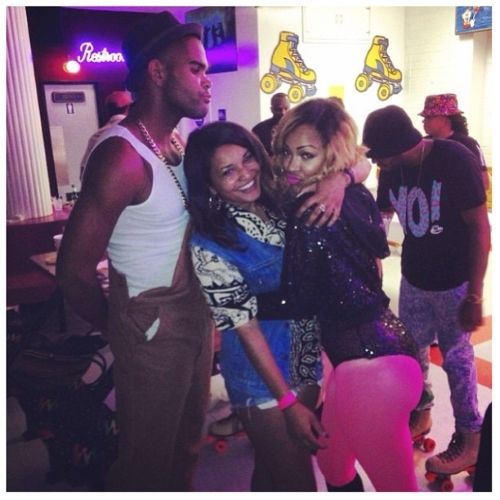 On Instagram, Meagan received birthday shoutouts from friends Paige Hurd, Taquel Graves, and Dijon Talton.
Watch Meagan & Devon's skating skills:
Watch Meagan & Colbert's birthday song:
Meagan recently wrapped filming Loose with Raven Simone, Garcelle Beauvais, Paige Hurd and Romeo. The upcoming film was shot in Gulfport, MS and is a coming-of-age story about bullying. It's expected to be released in 2015.
Photos/video via Meagan's Instagram/@BrandiBB/@djeque/@tavares
IN CASE YOU MISSED: Cincinnati Bengals Baller Pac Man Jones THREATENS Ludacris Over Instagram Joke
Posted: 08 Aug 2014 08:22 AM PDT
Cincinnati Bengals cornerback Pac Man Jones obviously doesn't like to joke…especially when the joke is on him. Find out why he's ready to lay the smackdown on Ludacris inside….
When it comes to Instagram memes, it's all fun and games….until you're the butt of the joke. Which would be the case for Cincinnati Bengals baller Adam "Pac Man" Jones.
He's pissed. Why? Well…Ludacris posted the "Moral of the story is..." picture above with the caption, "#nowthatsludacris." And it must have really gotten under Pac Man's skin because he's now spewing physical threats at Luda on social media over the post.
In the picture, Pac Man's picture is used on the bottom right, poking fun at him saying ended up in a neck brace because he had a woman of a certain size on his shoulders during a pool party. Of course, that's not Pac Man with the woman in the pool, but that IS a real picture of him in a neck brace. He actually suffered a serious season-ending neck injury in 2010 from football.
The actual picture is of him speaking with reporters after he was released from jail. He was arrested on misdemeanor charges of disorderly conduct while intoxicated and resisting arrest in 2011. Sighs...
Clearly offended by the post, Pac Man hopped in the "Party Girls" rapper's comments and threatened him saying:

Damn Pac Man it was just a joke! Take it easy...
Ludacris has yet to respond.
Photos: Ludacris' IG/Larry Brown Sports
AT HOME BIRTH: Omarion & Apryl Jones Welcome Baby Boy Megaa Omari Grandberry!
Posted: 08 Aug 2014 06:36 AM PDT
R&B crooner Omarion and his fiancee Apryl Jones welcomed a healthy baby boy into the world.....and they did it at home with no drugs! See pics of Megaa Omari Grandberry inside...
New baby alert! A few hours ago...Omarion proudly announced the arrival of his and Apryl's son Megaa Omari Grandberry.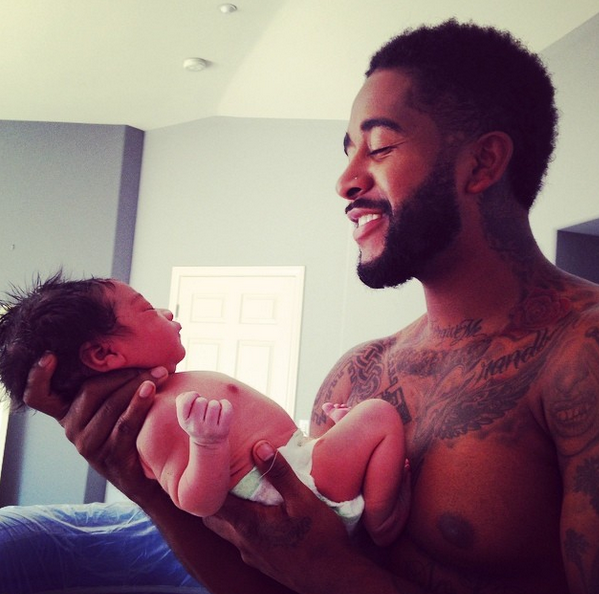 Omarion told his followers that he's committed to being a loving father and revealed that Apryl delivered Megaa at home with no drugs!
"World. Allow me to introduce. MEGAA OMARI GRANDBERRY. He is 7 pounds. 4oz & 20 inches long. My son I've been waiting on you. God is the realist!! I witnessed a miracle. My soul mate @aprylsjones is so strong! Not only did she have a un medicated birth (no drugs) she did it at home. Naturally. Just like my mom had me. I love you. thank you for having my legacy. I'll forever belong to you & you will forever be tied to me. Creating a child takes no love or skill but being a parent requires lots of both. Thanks for watching me grow. #MEGAAhome #OmarionsonMEGAA #donthateonmysonsnameillkillya #Nolol #royalObloodline #blasain #mysongotgoodhair #freshpitthewombhandsom alright. I love y'all.
Well props to her for thuggin' it out with no meds. Because....
And Apryl tweeted, "These two are my everything..... @1omarion I love you baby! He's here"
2 days ago...Omari Ishmael Grandberry aka Omarion alerted his Instagram followers that his fiancee was ready to go into labor.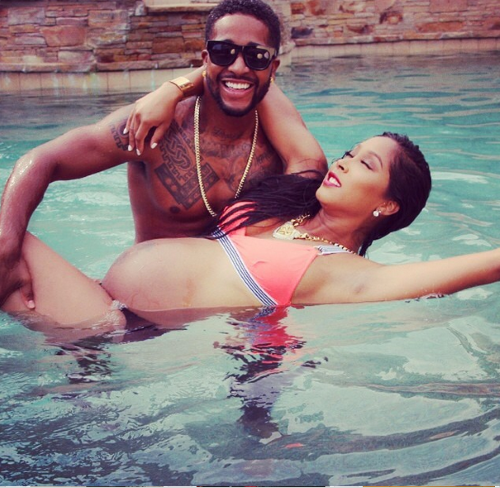 "Babe @aprylsjones just broke. #abouttobeafather #wish us health. Bless up!"
Congrats to O' and Apryl!
Photos via Omarion's Instagram/Apryl's Instagram
LATE NIGHT LAUGHS: Russell Simmons, KeKe Palmer, The Hollywood Exes & More AT The All Def Comedy Live SHOW
Posted: 08 Aug 2014 05:07 AM PDT
Russell Simmons joined The Hollywood Exes, Keke Palmer and Bambi for a few laughs last night. See pics from All Def Comedy Live inside...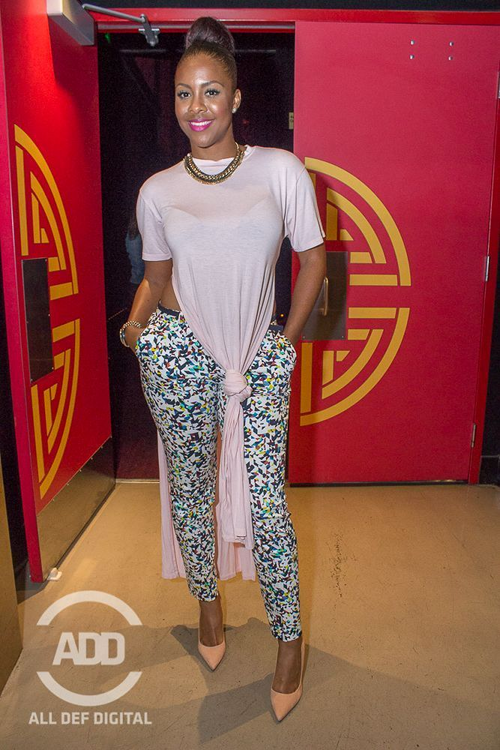 Last night, Miss Diddy (above) and The Brand Group partnered with Russell Simmons for another night of laughs with the All Def Comedy Live Presented By All Def Digital.
In the pic atop, Russell posed with some of The Hollywood Exes cast including Mayte Garcia, Jessica Canseco and Shamicka Lawrence. No Nicole?

Broadway's next Cinderella, KeKe Palmer posed for the camera.
LAHH ATL star Bambi was spotted sipping a cocktail.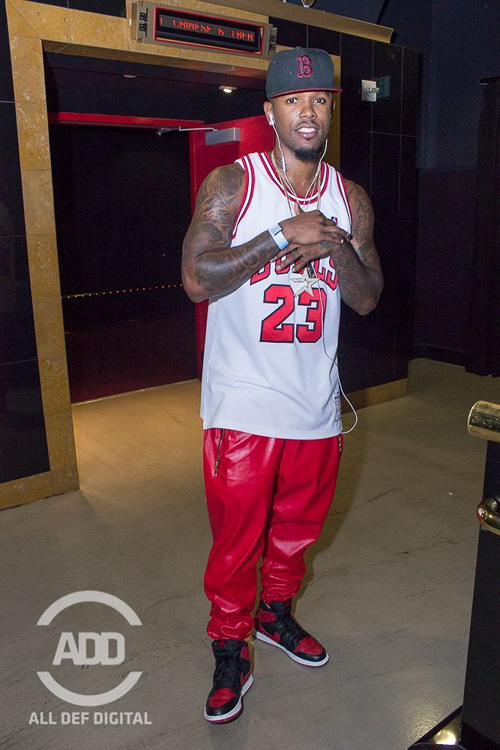 Daniel Gibson was there...again. Maybe the show helps him laugh through the pain of his split with Keyshia?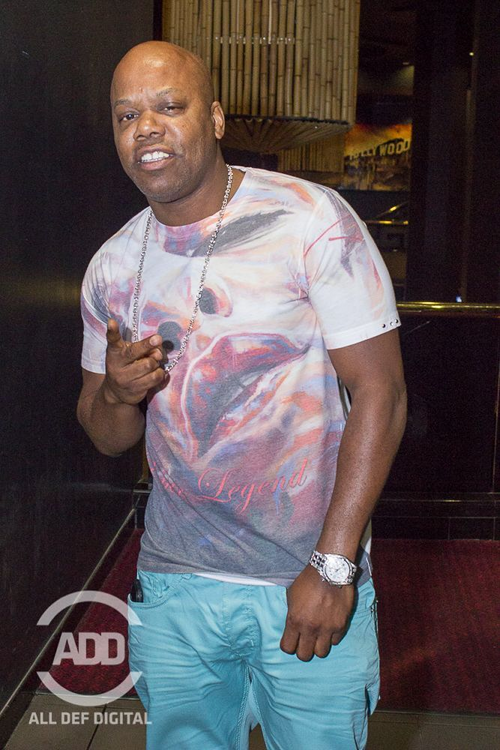 Rap legend Too Short helped support the show.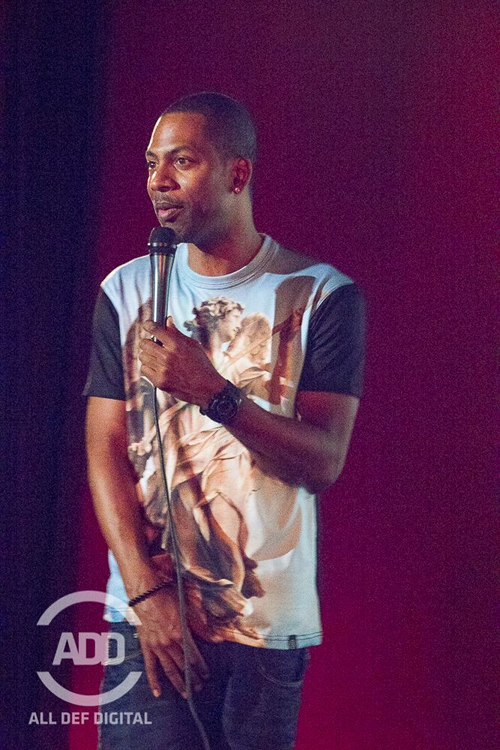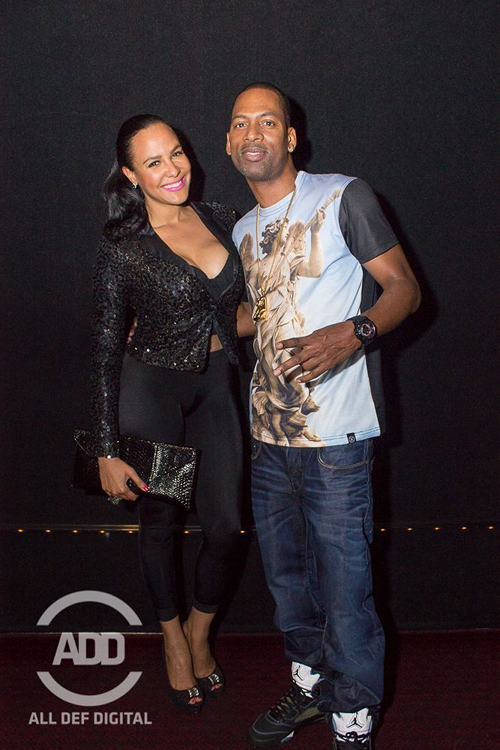 Tony Rock kept the show moving as host and emcee.
Comedian Deray Davis was a part of the lineup.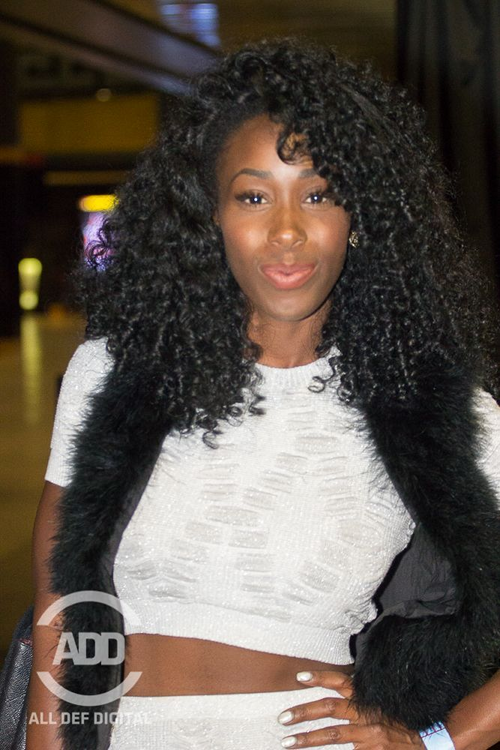 Former video model Bria Myles proved she's still got hot.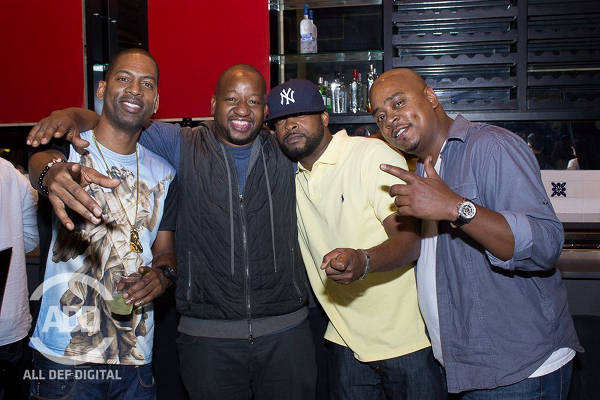 Funnyman Sherrod Small was also a part of the evening's lineup.
Photo via Kass/ Ken for The Brand Group
Gorgeous KeKe Palmer On Staying Scandal-Free In "BOMBSHELL" + Jhene Aiko In BLACK & WHITE For "ELLE"
Posted: 07 Aug 2014 04:03 PM PDT
KeKe Palmer and Jhene Aiko both lent their great looks to a pair of photoshoots for BOMBSHELL and ELLE Magazine. More inside....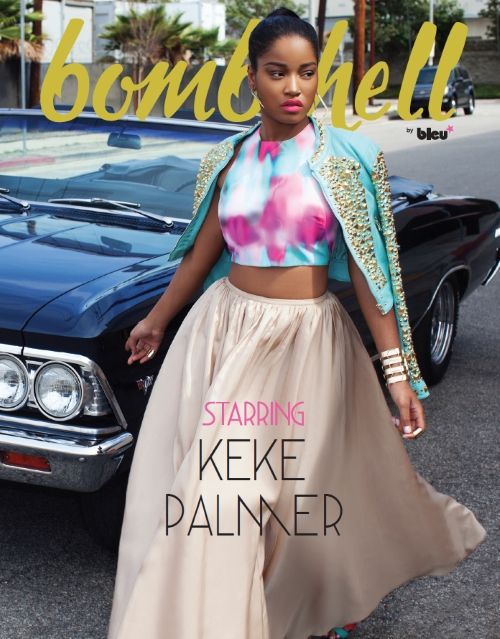 "Just KeKe" and actress KeKe Palmer looks amazing on the cover of BOMBSHELL (the female-centered BLEU Magazine insert). KeKe, who'll make history on September 9th as Broadway's first Black actress to star as Cinderella, opened up to the magazine about transitioning into more adult roles. Also, she talked about her involvement with social media and offers advice to fans about following their dreams. Highlights:
On transitioning from child star without any scandal: "I've always wanted to remain who I was, and show my growth in my roles. I've grown up in these roles, and people have finally been able to see the growth in me as an actress."
On her success and what she puts out on social media: I'm here because I believed that I can be here, and if you believe you can be there doing whatever it is you want to do, then you can be there too, but you just have to believe."
And her super hot pics below: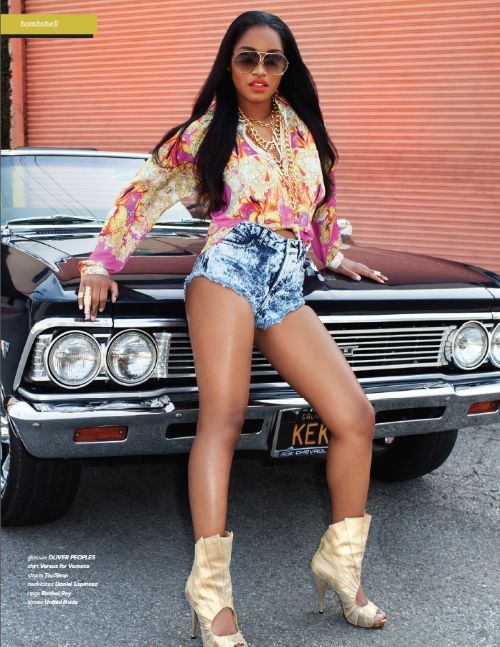 Hair, makeup, and style is on point for this shoot. Loves it!
In ELLE....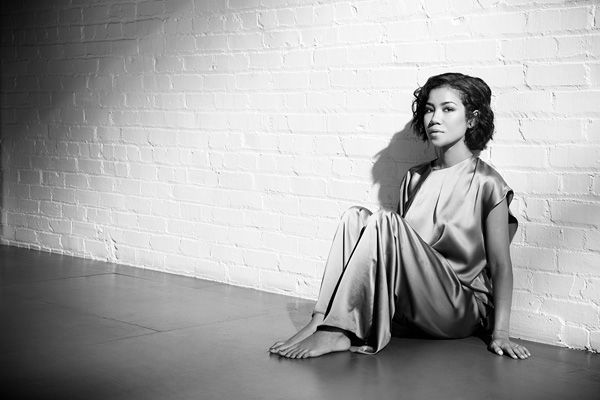 Jhene Aiko, who'll released her Souled Out album on September 9th, posed for a fabulous black-and-white pictorial in Elle titled "STEPS OUTSIDE OF HER COMFORT ZONE."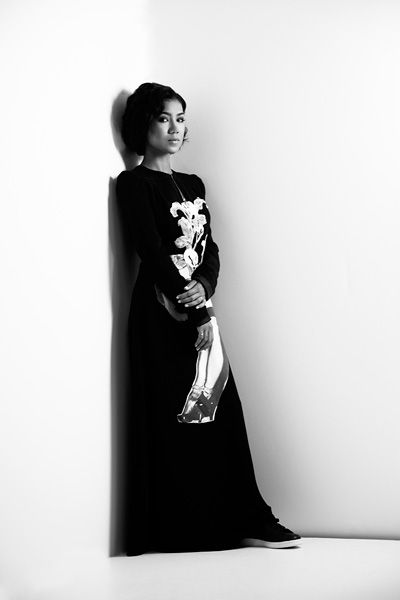 In one of the chic photos, Jhene modeled a Juan Carlos Obando silk blouse,a white Prada dress shirt, and paired a black Carven dress with adidas Stan Smith sneakers. She talked to the mag about the particular look (which seems to be her signature) saying, "It was a little out of my comfort zone. I didn't expect for it to look cool on me."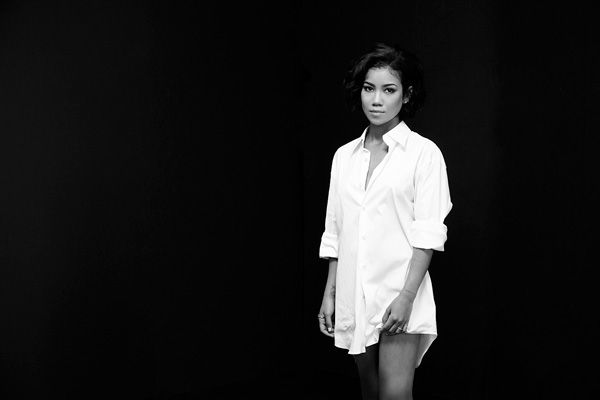 Last week, Jhene performed in Chicago for Lollapalooza were she gave a crowd-approved performance of "The Worst" during a rainfall.
Photos via Nick Walker/ELLE/Bombshell/Elton Anderson
SLAY WORTHY: Angela Bassett Gets GORGE In Lingerie For "Violet Grey" Shoot, Spills ALL Her Beauty Secrets
Posted: 07 Aug 2014 02:58 PM PDT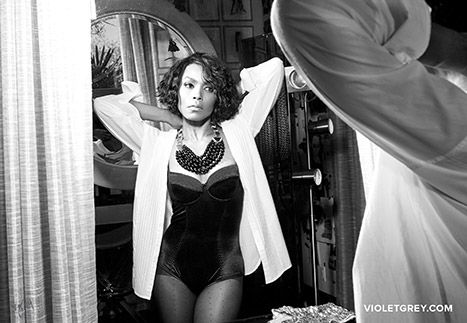 Well, Hello Mrs. Bassett-Vance! The "American Horror Story" star and upcoming Whitney Houston biopic director, Angela Bassett, is serving up some slayage for online beauty site Violet Grey. Check out her pics, and all her beauty secrets that keep her looking YBF inside...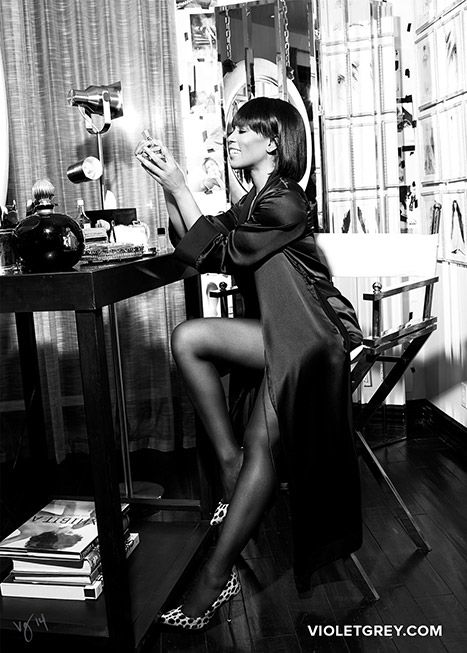 55-year-old Angela Bassett is serving up major fabness in her new VioletGrey.com shoot where she's giving us a peek into her flirty bedroom behavior. In bustiers, heels and sexy white button ups, Angela's dishing all her beauty secrets, what makes her feel vulnerable (and confident), why her actor husband Courtney B. Vance is so great, and how she gets ready for major red carpet events.
We typically only choose a few highlights from interviews, but Angela's whole interview is a necessary read.
Check it below:
VIOLET GREY: YOU'VE RECEIVED NOMINATIONS AND AWARDS FOR PLAYING ICONIC WOMEN LIKE ROSA PARKS AND TINA TURNER. WHAT ROLE DOES HAIR AND MAKEUP PLAY IN TAKING ON A PART LIKE THAT?
ANGELA BASSETT: For me, it's vitally important. Once you see that come to life you can see the character slowly emerge. It allows you to go deeper, to discover her perspective and her idiosyncrasies. I look in the mirror to see how she moves, how she feels, how she speaks; then the moment happens when it's like 'Hello, I'm here.'
V.G.: GETTING READY FOR THE RED CARPET IS A RITUAL FOR MANY ACTRESSES. WHAT IS IT LIKE FOR YOU?
A.B.: My first question is always 'Is my team available?' I wish I could do all of this, but everyone has their gifts. Then I just sit there with my eyes closed. If I open them it's only because I'm trying to get a few tips for myself!
V.G.: SO YOU GIVE YOUR TEAM TOTAL CREATIVE FREEDOM?
A.B.: I do. I just let them do what they do because they marry the look to the moment. It's like a dance: We're all doing it, and every person has their part. Everything has to meet and become one voice.
V.G.: WHAT KIND OF TIPS HAVE YOU LEARNED FROM YOUR TEAM?
A.B.: One thing that I've learned is don't bring your false lashes all the way to the end of your eyes because it will bring your eyes down.
V.G. HOW DO YOU PREPARE FOR THE RED CARPET IN THE DAYS LEADING UP TO AN AWARD SHOW?
A.B.: I try to watch my diet so I can fit into whatever I am wearing. Cut the sugar, the alcohol and the bread, and eat a lot of protein and veggies.
Getting Dressed With Angela Bassett | #VioletGrey, The Industry's Beauty Edit
V.G.: WHO MAKES A GOOD DATE TO AN EVENT?
A.B.: A friend or a sister. I mean, the husband is always great, but there is something about a girlfriend...
V.G.: WHO DOES THE RED CARPET WELL TODAY?
A.B.: Cate Blanchett, Penélope Cruz, and, of course, Lupita [Nyong'o].
V.G.: YOUR SKIN IS PRISTINE. WHAT IS YOUR SECRET?
A.B.: When I'm in New York I see my friend Mamie McDonald at Skin by Mamie. She understands skin. She makes it glow.
V.G.: HOW IS GETTING DRESSED FOR A NIGHT OUT DIFFERENT WHEN YOU DO IT ALONE?
A.B.: Well, it only takes me about 10 minutes! I start thinking about it in the car on the way home. Do I want to be flirty? Sensual? Powerful? Then I try to dress for that feeling. My husband [actor Courtney B. Vance] always says 'Lord, you've made something out of nothing, how did you do that?'
V.G.: WHAT IS YOUR GO-TO MAKEUP LOOK FOR A NIGHT OUT?
A.B.: Recently we had the wrap party for Whitney [the biopic Bassett directed], and it was real simple: foundation, mascara, a red lip, and you're done. I'm not very good with eye shadow, but I've got foundation down.
V.G.: AND WHAT IS YOUR FOUNDATION SECRET?
A.B.: The foundation is Kevyn Aucoin; I like that. and I have to use the BeautyBlender—I fell in love as soon as I tried. You don't see where the makeup starts and ends.
Getting Dressed With Angela Bassett | #VioletGrey, The Industry's Beauty Edit
V.G.: WHAT IS YOUR GO-TO RED LIPSTICK?
A.B.: Nars Red Lizard.
V.G.: WHAT IS THE FIRST PRODUCT YOU PUT ON IN THE MORNING AND THE LAST PRODUCT YOU PUT ON AT NIGHT?
A.B.: I use GrandeLash in the morning and Dr. Lancer's lash serum at night; they've really helped my lashes grow. I had individual lashes put on last year, and when you take them off you feel like you have snaggle lash.
V.G.: WHAT DO YOU SEE WHEN YOU LOOK IN THE MIRROR?
A.B.: A passionate woman who knows what she loves and has been blessed to be able to do it…and continue to do it!
V.G.: WHAT IS YOUR GREATEST WEAKNESS?
A.B.: Love…and sugar.
V.G.: WHEN DO YOU FEEL THE MOST VULNERABLE?
A.B.: When I'm told I can't do something. When I'm told I'm not good enough, that I can't have something, can't go somewhere, especially because of the color of my skin.
V.G.: YOU'RE SUCH A STRONG WOMAN, I BET YOU ALWAYS FIGHT FOR THE THINGS YOU WANT AND COME OUT ON TOP.
A.B.: Not with everything, but that's when you stick out your chest and you gather your strength. I was raised by my mother, and she taught me how! You can't be in this industry if you're afraid of a little rejection.
The living-legend actress will star in "American Horror Story: Freak Show", premiering October 15th on FX!
Photography By ROBIN BLACK
Tracee Ellis Ross Raps "No Flex Zone" + Lil Kim Strikes Again With "Hot Ni**a" Freestyle
Posted: 07 Aug 2014 01:45 PM PDT
Lil Kim is on a roll, and she just dropped her third track in just as many days. Check out her newest remix inside, plus Tracee Ellis Ross flexing her rap skills....
Fresh off her "***Flawless" remix (to Beyonce & Nicki's remix) and her own diss track "Identity Theft", Lil Kim just dropped her "Hot Ni**a" freestyle for the masses.
Kimmy Blanco spit her bars over fellow Brooklyn rapper Bobby Shmurda's single "Hot Ni**a." And it seems she's on a mission to relevancy again. We love Kim and hope she sticks to focusing on something other than dissing Nicki.
Check it below:
You feelin' it?
Meanwhile, Tracee Ellis Ross is flexing her own rap skills....on her Instagram. She posted a video of herself reading lyrics to a song she likes--Mike WiLL Made It's artist Rae Sremmurd's "No Flex Zone". She said:
"No Flex Zone" and rapping along tot he track.There's always some song you bounce along to in the car but have no idea what they're actually saying or what it means ...so I looked up the lyrics, rapped along (to practice my rap game) and then was like wait, whaaaat?!!? #noflexzone #WHATDOESTHISMEAN????
Peep T-Murda (we had to give her a rap name) above. Hilar.
DAY DATE: Ne-Yo & New Boo Crystal Renay HOLD HANDS At The Movies
Posted: 07 Aug 2014 12:39 PM PDT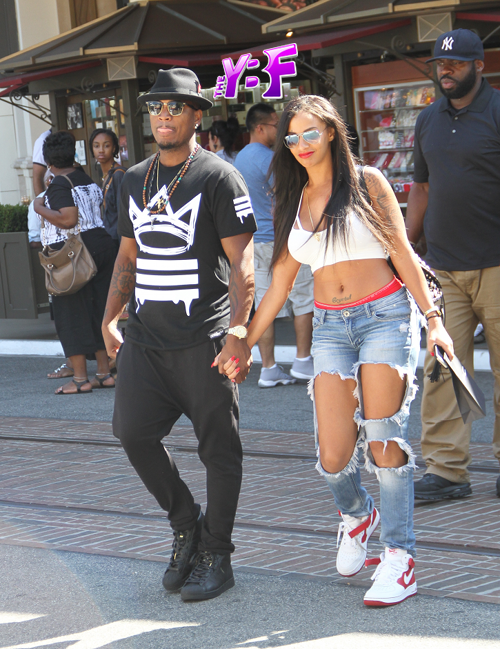 Ne-Yo and his new girlfriend Crystal Renay were spotted boo'd up and holding hands during a day date in Hollywood. More inside....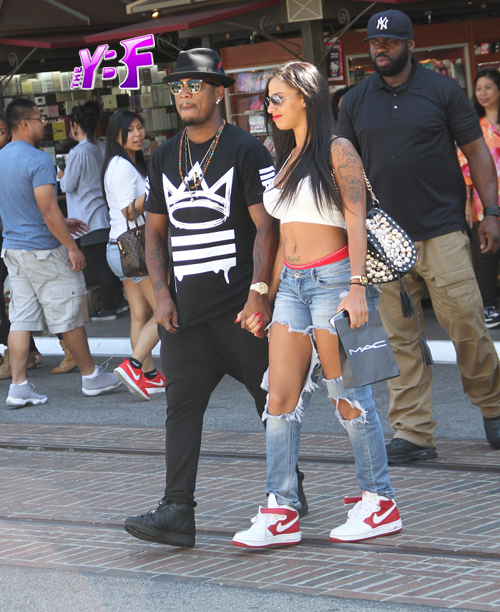 Ne-Yo and his new lady Crystal Renay were seen holding hands while walking into a movie theater in Hollywood yesterday. His new girl, who describes herslf as "MODEL/ACTRESS Italian/black/spanish", seemed A-OK with the cameras follwing them.
The "new" couple began posting pics of one another of Instagram two months ago, and now it seems like they're ready to display their affections in public.
Hi ex-fiancee Monyetta Shaw is appearing on the new VH1 show "Atlanta Exes"...so we're sure we'll be hearing more about this.
On the music side, the "Money Can't Buy" singer is releasing his sixth studio album on November 11th and he recently filed an $8 million lawsuit against former friend and manager Kevin Foster for mishandling his finances and forging his name on loan documents! We guess money can't buy "trust."
Photos via WENN
SNAPPED: Nicole Murphy Allegedly Tries To Beat Down Michael Strahan's Hotel Room Door Over "The Woman" + Sara Stokes In Jail AGAIN Over Domestic Violence!
Posted: 07 Aug 2014 11:44 AM PDT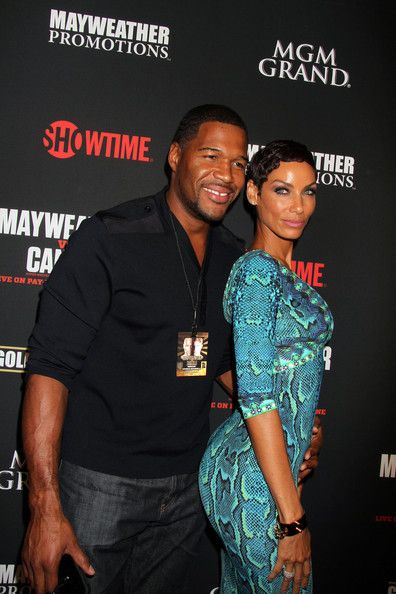 The Nicole Murphy & Michael Strahan saga continues. A new report surfaced saying that Nicole lost her ish at Michael's supposed hotel room where she thought he had his "other woman" inside. Plus, Sara Stokes--formerly of Da Band--is back in jail and seems to be setting ish up for her own episode of "Snapped".
Deets inside...
Back in January at the swanky Beverly Wilshire hotel, Nicole Murphy reportedly went batsh*t cray cay thanks to the belief her then-fiance was in a room there...with another woman. And it allegedly ended with security taking her away!
We've been mentioning the cheating allegations supposedly made by Nicole in the midst of her breakup with the "Live" co-host. And it seems ish got REALLY real several months ago.
According to TMZ:
It all went down at the famous Regent Beverly Wilshire back in January. Sources tell us Nicole had gotten word that Michael was staying there ... and she suspected he was with another woman.
We're told Nicole showed up at Michael's hotel room, unannounced ... and began banging on the door shortly before midnight, causing a major scene.

Witnesses tell us Nicole was screaming Michael's name, saying, "I know you're in there with some bitch." She also yelled, for all to hear, "It's Michael from 'Kelly and Michael' in there."

The commotion woke up several guests in neighboring rooms -- some of whom stuck their heads out into the hallway. She ranted for 20 minutes before hotel security booted Nicole from the hotel.
Chile...Nicole is NOT here for the cheating.
For some reason, we believe every ounce of this story. These two have had a tumultuous relationship for years....and this seems to fit right on in to their drama.
And speaking of drama: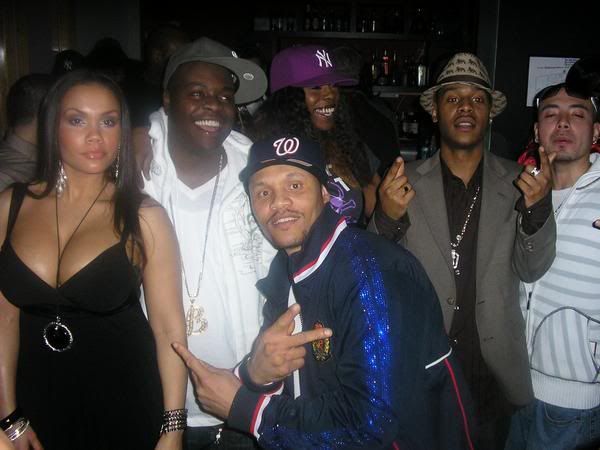 We're thoroughly convinced Sara Stokes (far left in above pic) is campaigning to have her story featured on "Snapped" on day very soon. Remember the singer from her "Making The Band" and Da Band days? The one whose manager-husband, Tony, always got the side eye for his seemingly controlling ways?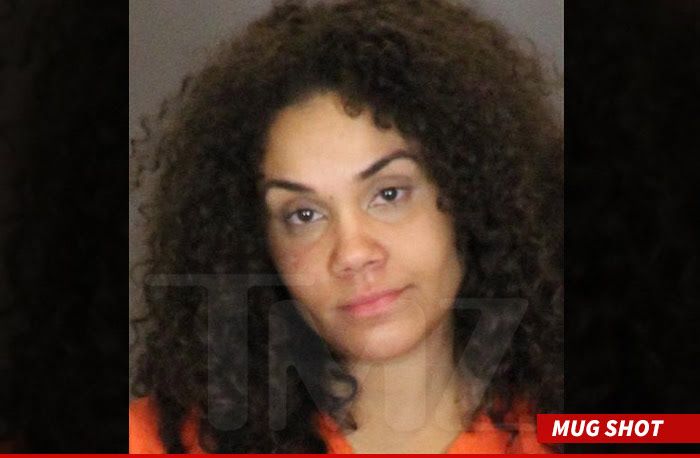 Well, she's back in jail for yet another domestic violence charge against said husband. And this time, the cops rolled up to her house and found her and her husband BRAWLING on the ground outside!
Reports from TMZ state:
Cops tell us ... they were called to Stokes' home July 21st at 3:45 A.M. ... and found her and hubby Tony outside -- fighting on the ground. They say Stokes was drunk.

Stokes was arrested and charged with domestic violence. And as if things weren't bad enough ... she's now in hot water because the arrest has triggered a probation violation for a prior DV incident -- also involving her husband. So she'll be spending the next 93 days in the pokey for that.
That mugshot though...
After her husband bought her those new boobs years ago, it's been all downhill from there. She was also arrested back in '09 for stabbing her husband. And in 2011, Tony was accused of choking her out. The couple does have kids together...but all this violence has got to make them re-think why they are still together.
EXTRAS:
1. A woman who claims to have patented "Bye Felicia" 15 years ago sues 105 companies! STORY
Potos: Pacific Coast News
Beyonce CONFIRMED For the 2014 MTV VMAS, Will RECEIVE The 2014 Michael Jackson Video Vanguard Award
Posted: 07 Aug 2014 10:34 AM PDT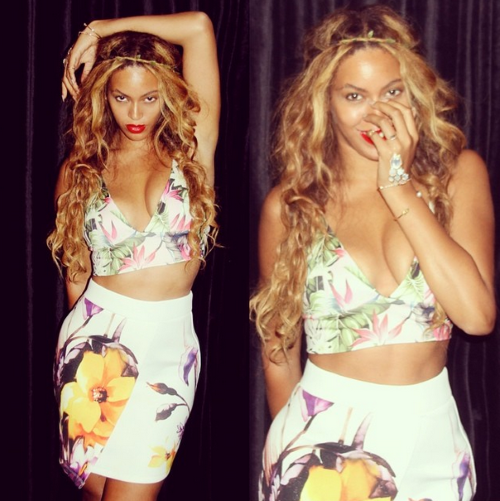 Beyonce is confirmed to perform at the 2014 MTV VMAS and she'll receive the 2014 Michael Jackson Video Vanguard Award. More inside....
Good news from the Beyhive, Queen Bey will be the "Queen" of the night when this year's MTV Video Music Awards air on Sunday, Aug. 24. We already told you that the "***Flawless" singer leads the pack with 8 nominations, and now MTV has confirmed that she'll perform at the show AND will receive the 2014 Michael Jackson Video Vanguard Award.
MTV released the news on their website reading,
"Over the course of MTV history, the Michael Jackson Video Vanguard Award has been presented to exemplary musicians who have made an incredible and long-lasting impact on pop culture. When it came time to choose the 2014 VMA recipient, one particular name stood out above the rest—global entertainer, singer-songwriter, and philanthropist Beyonce."
In other Bey news, she and Jay Z just wrapped the U.S. leg of their joint On the Run tour (which has ALREADY made $100 Million). That means that between "On The Run" and "The Mrs. Carter Show" Bey has hit the $100M twice in a year!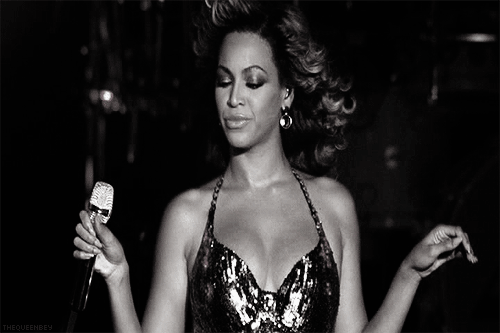 And despite rumors of marital discord and supposedly staying in separate hotel rooms, the couple was spotted having a family lunch with Blue Ivy in San Francisco at Boulevard on Wednesday afternoon. On Wednesday evening, the couple joined Will.I.Am for dinner at Tosca before returning to their $30,000/night Presidential Suite at the St. Regis TOGETHER (see pics here). Hmm....if that is what marital strife looks like...sign us up.
Extras:
1. Former Miami Heat and Portland Trailblazers star Greg Oden has been arrested in northeast Marion County on two battery charges. He is accused of punching a woman in the face. Story.
Photos via Beyonce's Instagram