---
Kandi & Todd Burruss, Tracee Ellis Ross, Robin Thicke & More Hit Steve Harvey's 2014 Neighborhood Awards
Posted: 10 Aug 2014 07:26 AM PDT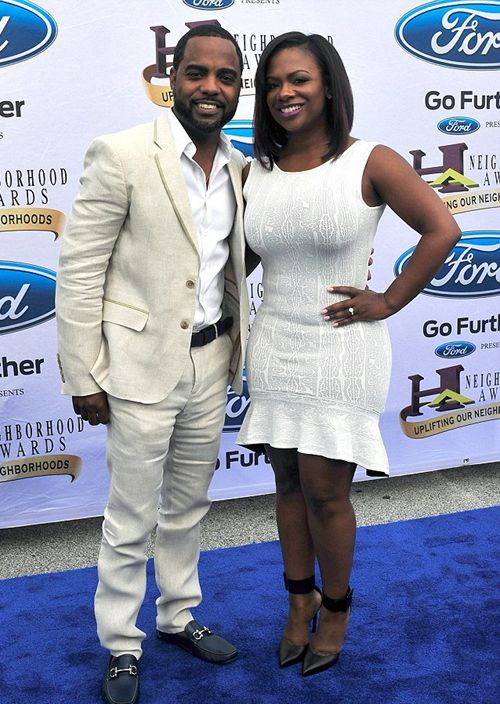 Kandi Burruss and her husband Todd Tucker put on their cream and white looks to hit the blue carpet at Steve Harvey's 2014 Ford Neighborhood Awards in Atlanta. Check out the other celebs who came out to help host Steve give back inside...
Last night was all about recognizing local businesses and people who are uplifting their communities.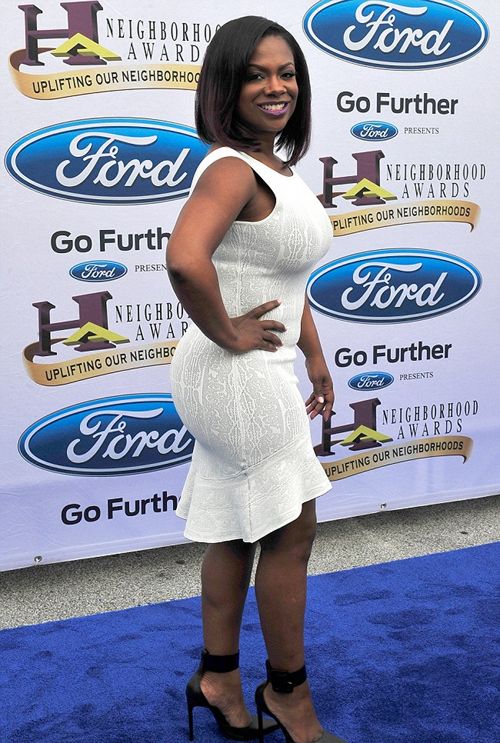 The 2014 Ford Neighborhood Awards went down at the Georgia World Congress Center last night. And this may not be our fave dress or look on Kandi, but we love how she's embracing those curves.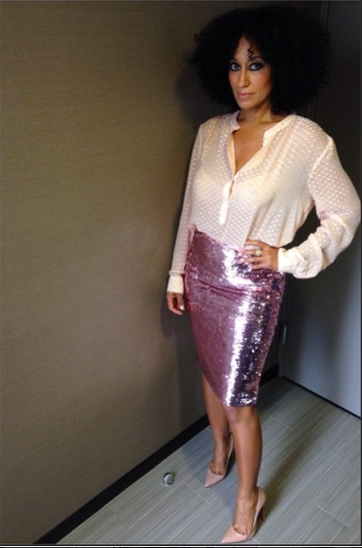 Now for a look we love...Tracee Ellis Ross looked amazing in a sequin deep pink skirt paired with a nude dotted button down and nude pumps. Fly.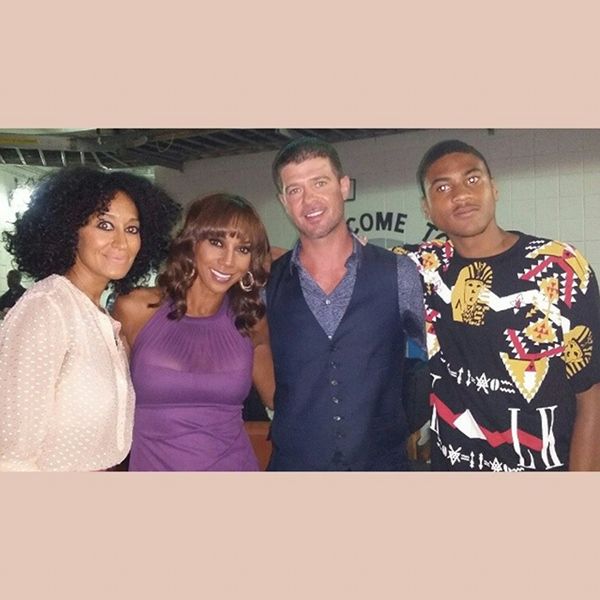 Tracee posed it up with Holly Robinson Peete, her son Rodney, Jr., Wendy Raquel Robinson and one of the night's performer Robin Thicke.
Nice look for Holly.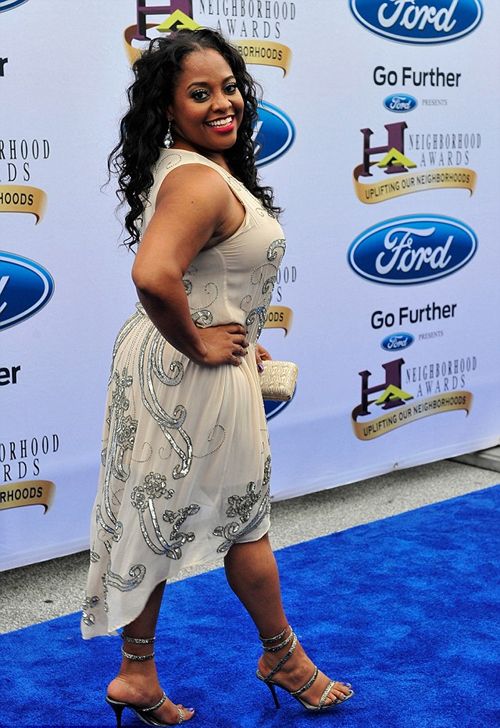 Sherri Shepherd isn't letting the latest drama with her estranged husband Sal get to her. After accusing him of "stealing" $20,000 from their joint bank account, she hit the carpet with a smile.
Steve and wife Marjorie looked great in black and white.
"Criminal Minds" star Shemar Moore showed off the skills he puts on display weekly on the show.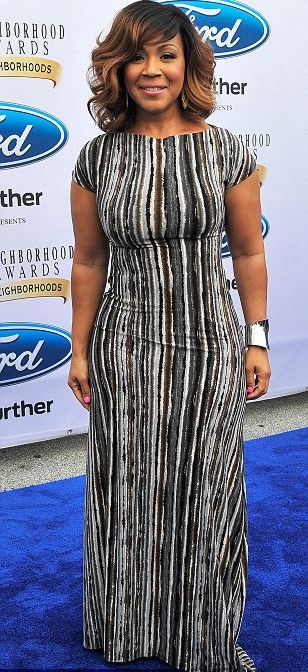 And Mary Mary's Erica Campbell kept her look simple and fab.
Photos: Getty
Rihanna's Backstage Pics With Fans & Friends Will Make Your Weekend + Rih's W Magazine Cover Sneak Peek
Posted: 10 Aug 2014 05:51 AM PDT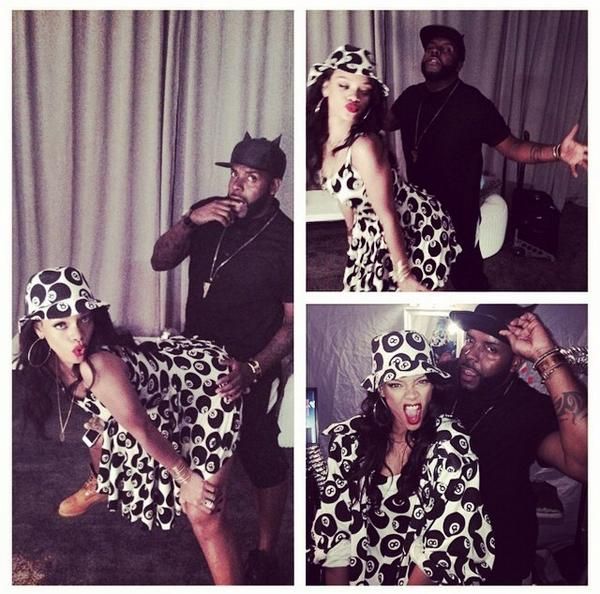 Rihanna cut up backstage after Day 2 of the Monster Tour at the Rose Bowl in Cali. Check out her pics and a sneak peek at her new cover of W magazine....
Since it was her hairstylist Yusef's birthday, she gave him a little twerk session backstage after her big show with Eminem. Also spotted backstage: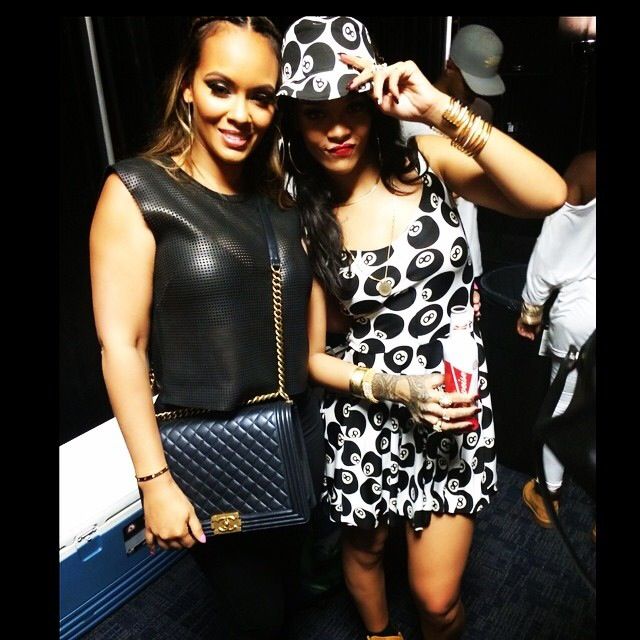 Rih's #1 fan Evelyn Lozada...and her new Chanel bag.
After having some fun with friends, she was back to kissing babies: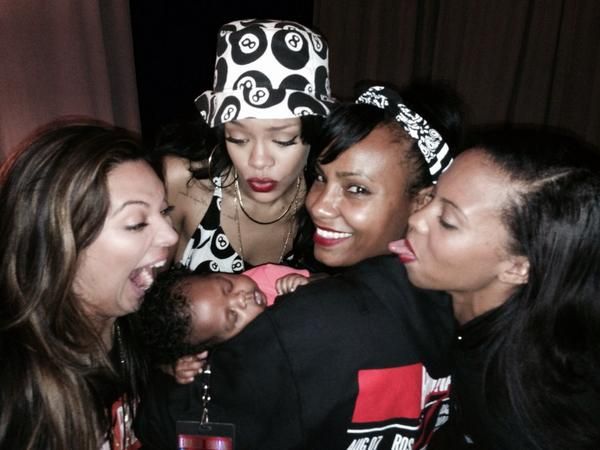 Awww.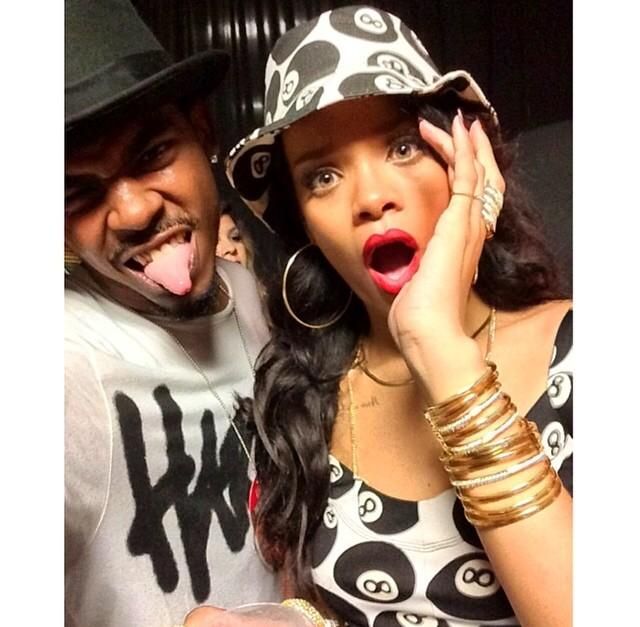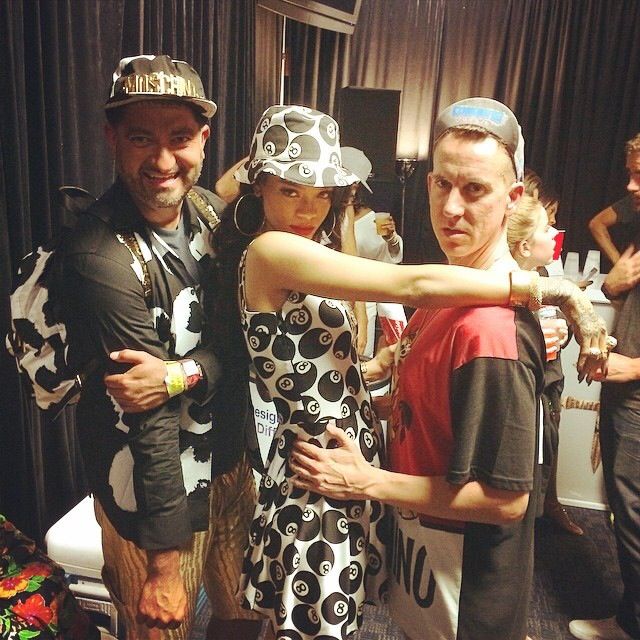 Rih's designer homie Jeremy Scott was there to support.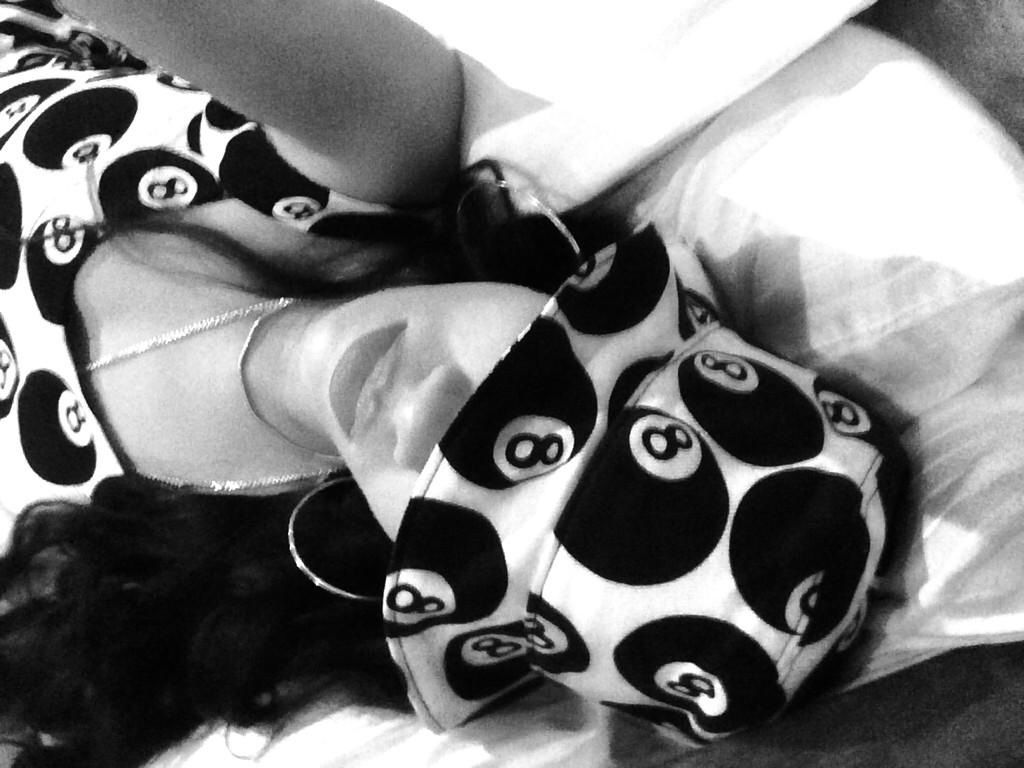 And she showed off her 8-bal covered outfit as she gave Yusef a birthday shout out. Cute.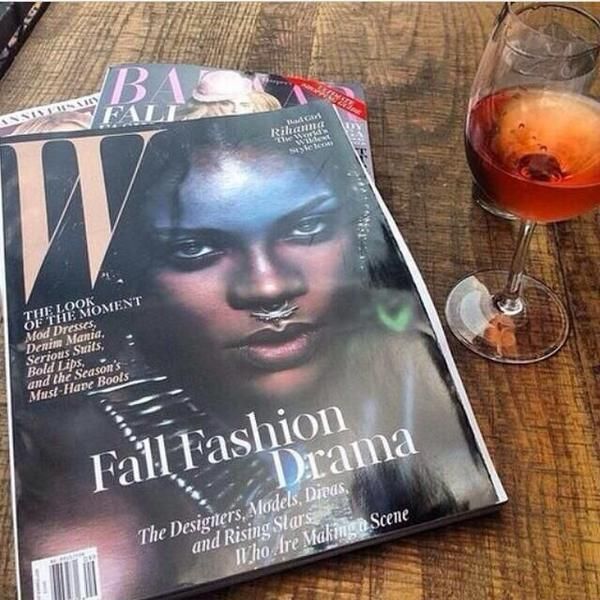 By the way, looks like she's covering W magazine once again. Peep the sneak peek above. Maybe she'll reveal more details about all those Fenty trademarks she filed for fashion merchandising and more.
The next stop on the Monster tour is August 16th in New Jersey.
Photos: Rihanna Daily's Twitter
Nicole Murphy, Brandy, Sheree Fletcher, Jamie Foxx & More Hit The Harold & Carole Pump Foundation Gala
Posted: 09 Aug 2014 02:49 PM PDT
Nicole Murphy seems to have bounced back just fine from her split from fiance Michael Strahan. Check out the "Hollywood Exes" star on the red carpet with her co-star Sheree Fletcher last night, along with Brandy, Jamie Foxx and more.....
Boobs out, skin bronzed and makeup looking good....it seems like Nicole Murphy is letting everyone know she's back on the market. Last night at the the Harold & Carole Pump Foundation Gala in L.A., Nicole and co-star Sheree hit the Hyatt Regency Century Plaza. And the big night was a swanky charity event for the awareness and treatment of cancer.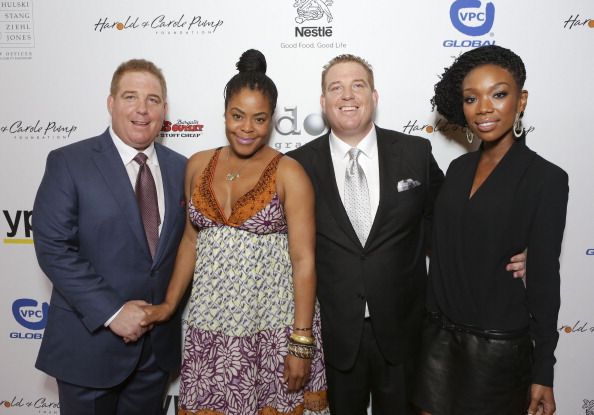 Brandy made her arrival in an all black look.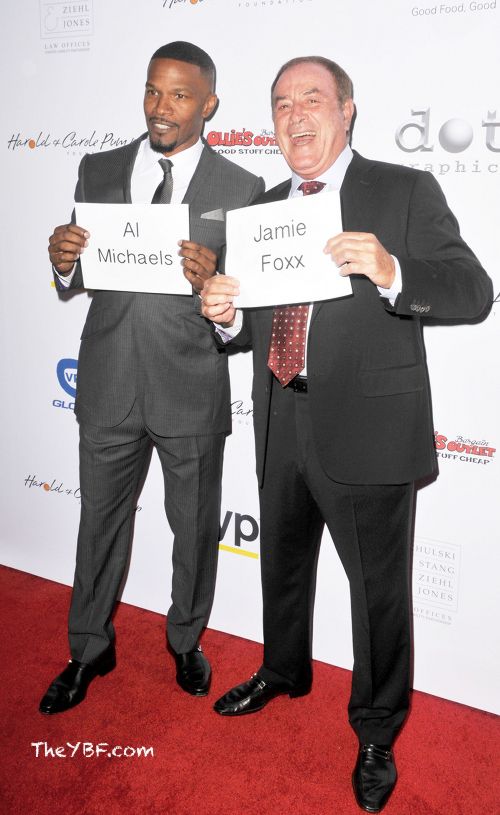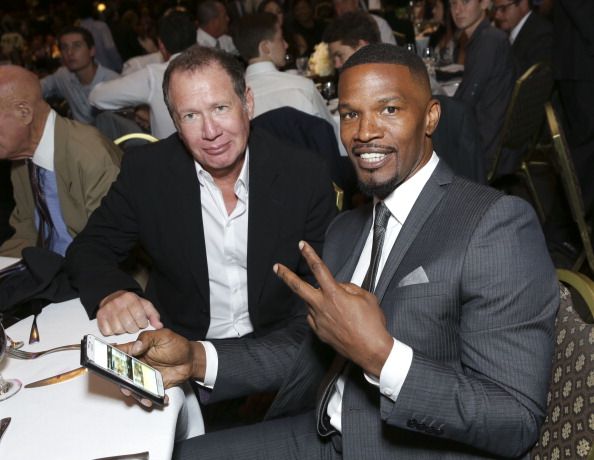 Jamie Foxx snapped pics with Al Michaels and Garry Shandling.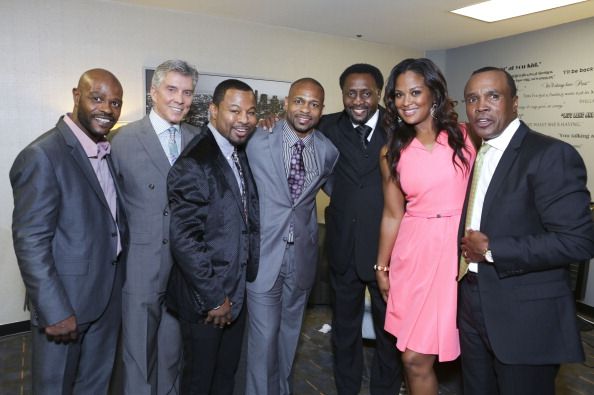 Fab chick Laila Ali, her husband Curtis Conway, Sugar Shane Mosely, Sugar Ray Leonard and more all posed it up.
Emmitt Smith and his wife Patricia looked happy in love.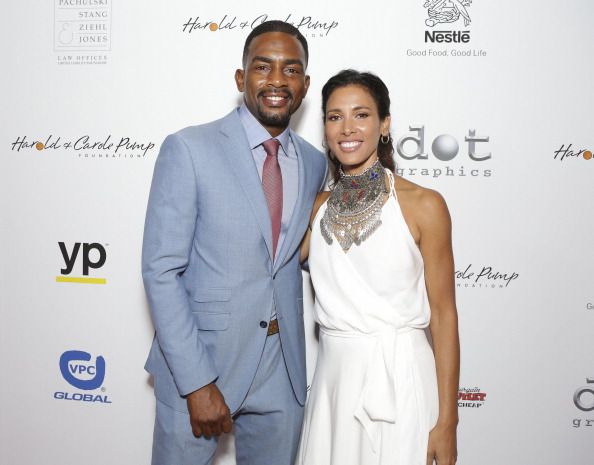 And Bill Bellamy and wife Kristen kept it fab on the carpet.
Photos: Getty/WENN
HE SPEAKS: Idris Elba Clears Up Whether That Was His Anaconda In The Pics That Went VIRAL...
Posted: 09 Aug 2014 11:57 AM PDT
Idris Elba had the innanets on LOCK all last week with these new pics from the set of his upcoming movie "One Hundred Streets". And it's all because of that alleged ANACONDA print in those pants. Find out if our dreams are real inside...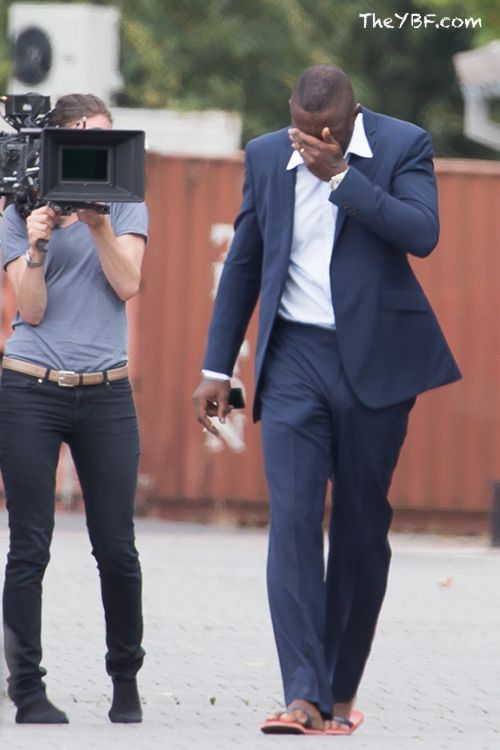 While folks were losing their minds all around the net over these pics, and while our Instagram page turned into pure pandemonium when we asked your thoughts, it's about time we all get to the bottom of it.
We've all been trying to decide if that's an actual penis print in those suit pants, which would explain Idris' sexy walk, or if it's just something in his pocket. And we hate to be dream crushers, but Idris delivered the bad news himself. He tweeted today:
The good news is i got a shit load of followers. The bad news is, that is a mic wire. #egowentintospaceshipmodethough

— Idris Elba (@idriselba) August 9, 2014
Calvin Klein called my mobile, they want me in their next campaign. Foot long john's Coming Winter 2014. #egowentintospaceshipmodethough

— Idris Elba (@idriselba) August 9, 2014
The good news is i got a shit load of followers. The bad news is, that is a mic wire. #egowentintospaceshipmodethough Calvin Klein called my mobile, they want me in their next campaign. Foot long john's Coming Winter 2014. #egowentintospaceshipmodethough
Ha! Mystery solved.
Photos: WENN
Dawn Richard Gives Her Side Of The Danity Kane Split Story, Accuses Aubrey & Shannon Of Conducting Group Business Without Her!
Posted: 09 Aug 2014 11:05 AM PDT
Dawn Richard is giving her side of the whole Danity Kane split. And she's pointing fingers at the other two group members...and is accusing them of conducting business behind her back.
Deets inside....
Now that DK3 is no more, Dawn is speaking up after Aubrey O'Day and Shannon Bex put out open letters blaming her for the group's downfall.
"Sources"--i.e. Dawn herself--tell TMZ that Dawn was enraged upon learning that Aubrey and Shannon were leaving her out of the mix....and were meeting behind her back. Supposedly, she learned that they were recording tracks without her and discussing business matters involving the group.
Her suspicions were confirmed when she walked in on them in the studio a few days ago where they were having a private session. While report--and Aubrey's police report--say Dawn punched Aubrey in the back of the head, unprovoked, Dawn says it's B.S.
She told TMZ that the stories of her actions are "exaggerated lies and false accusations."
Meanwhile, Dawn took to her Twitter to apologies to the fans: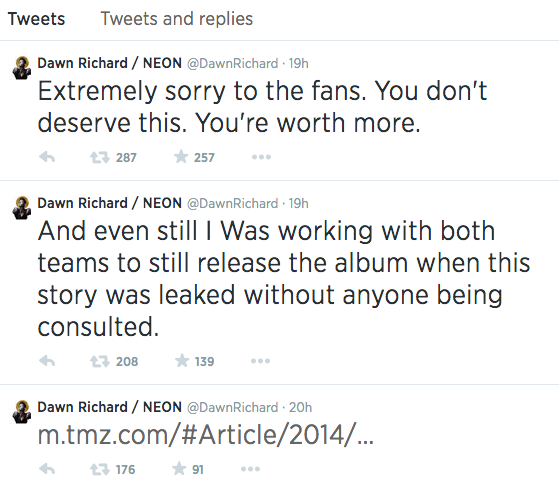 There's always one side, the other side, then the truth somewhere in between....
UPDATE: Dawn took to her Facebook page to say:
Dear Danity Kane fans,

I am sorry to everyone that this news has to come out. You're worth more. Certain choices were made that I am not proud of. However, I will not be disrespected. Once again, I am sorry to the fans as this should have been handled privately not publicly. I continued to work with both parties to try to release the album even when the original story was leaked without anyone being consulted. I have been unable to release my statement via Danity Kane social media because my access to all Danity Kane social media pages has been blocked by DK members. This forces me to make my statement on my personal page. This could have all been handled privately; however, certain parties chose to make this public before it could be rectified. I am not justifying my actions. I am saying this was all done before any changes or conversations could even be had.
Photos: Dawn's IG