---
AWWW: Gabby Union & Dwyane Wade's 'Save The Date' Video Brings The Cuteness...
Posted: 07 Aug 2014 09:44 AM PDT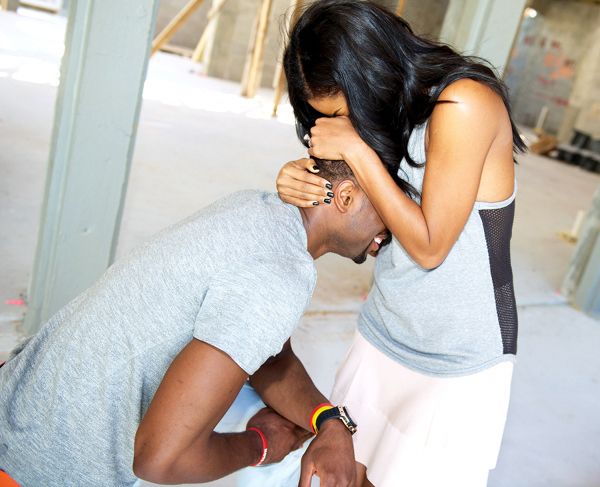 You've seen their engagement-moment photos (above) and Christmas card shoot. Now, the future Mr. & Mrs. Dwyane Wade have sent out their Save The Date videos. And, of course, it leaked to the media. Check it inside....
After getting engaged a few days before Christmas 2013, Gabby Union & Dwyane Wade are getting married on August 30th. And while all the deets are being kept under wraps, their Save The Date video isn't. Check out what leaked to the media above. It involves the engagement, D-Wade's kiddies, and yes, love.
Photo: Getty
WANTED: Arrest Warrant ISSUED After Wiz Khalifa SKIPS OUT On TEXAS Court Date For Weed Possession, POSTS RACY Pic Of Amber Rose
Posted: 07 Aug 2014 06:32 AM PDT
If Wiz Khalifa steps inside of Texas, he'll likely end up behind bars. Find out why Wiz is "wanted" inside and see the saucy pic he posted of Amber Rose's backshot.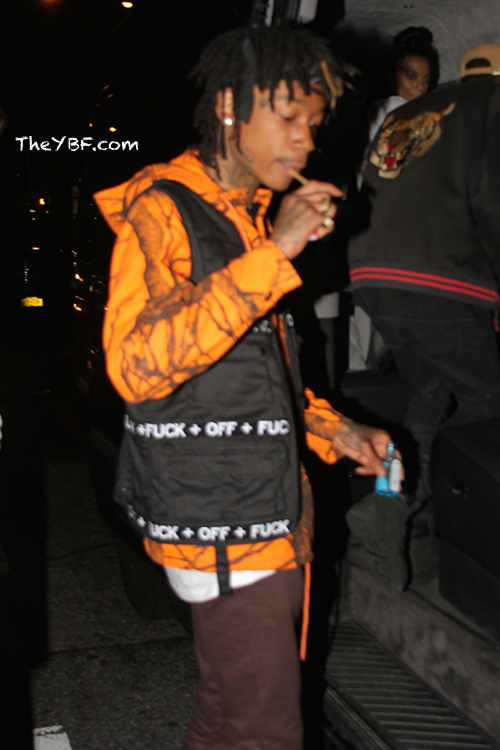 Pot-smoking rapper Wiz Khalifa (shown smoking outside Club VIP in New York City) is a very WANTED man in Texas. Earlier this year, Wiz was busted at El Paso International Airport for possessing weed and briefly jailed (where he also tweeted a jail selfie). He was let out on $300 bail and given a court date to appear in West Texas at a later date. Well....maybe he "forgot" about the court date.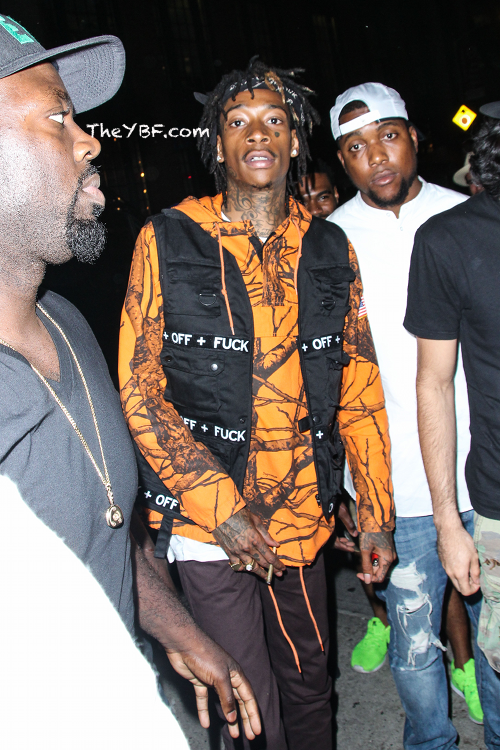 County Court-at-Law Judge Ricardo Herrera has issued a bench warrant for Wiz's arrest and we're waiting on his lawyers to get him out of this mess.
In the meantime, Wiz Khalifa definitely has his wife Amber Rose on his mind. He posted a sexy pic of her for #WCW.
Photos via Wiz's Instagram/Jeffrey Duran/Splash News
WORKING WOMEN: Tasha Smith COVERS SHEEN Magazine's Triple Threat Issue + Porsha Stewart LANDS Permanent Gig With Dish Nation
Posted: 06 Aug 2014 05:06 PM PDT
Tasha Smith is gracing the cover of SHEEN magazine's debut Triple Threat issue. And she's looking absolutely gorgeous in green. Also, Porsha Williams is now a permanent co-host on Dish Nation. Peep her cover and the deets inside…
Fab actress Tasha Smith is flawless on the brand new cover of SHEEN magazine's Sept/Oct 2014 Triple Threat issue. Her face is perfection and she's slaying that green dress.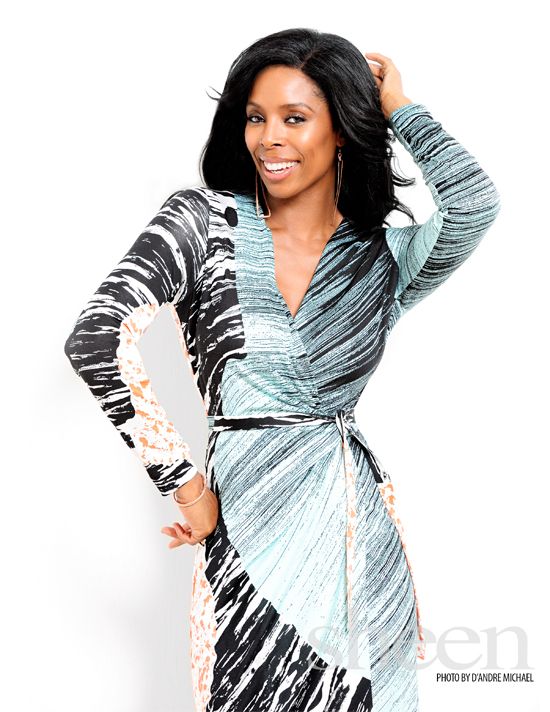 The "For Better Or Worse" actress chopped it up with the mag about her acting career, lessons she has learned from her marriage, wanting more children and her off-screen relationship with her on-screen husband, Michael Jai White.
You can catch Tasha's issue on newsstands August 26th.
By the way, the veteran actress celebrated the grand opening of her Actors Studio in L.A. She posed it up with some of her celeb friends Brandy and Angela Bassett. She's doing fab things off-screen in Hollywood.

She tweeted her excitement:
Today is the first Tsaw LA class! I'm teaching and I can't wait, you still have time to sign up, go to http://t.co/UlRqcMCBMI #tsawla

— Tasha Smith (@tashasmith4real) August 4, 2014
Nice!
And another chick on her grind...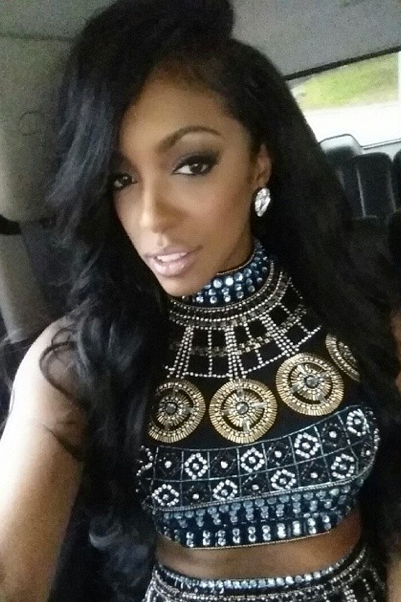 Looks like "RHOA" star Porsha Williams won't be pressed to return to BRAVO. Even though we all know she will be returning.
She just landed her a permanent gig as a co-host for Dish Nation. The reality star did a test run this summer on the "Rickey Smiley Morning Show" segment and it seems the network was impressed. During her segments, Porsha will give her take on breaking celebrity news and gossip.
Co-executive producers Michael Bachmann and Matt Blanock released a statement on Porsha's new career move saying,
"This week, 'Dish Nation' celebrates 500 episodes. We are thrilled to have the talented and tenacious Porsha Williams around for the next 500 and beyond."
Porsha also gushed on her venture saying,
"On my very first day in the Atlanta studios of 'Dish Nation' I immediately felt a natural chemistry with the team. Rickey Smiley is an amazing comic and I am thrilled to learn and grow with one of the best morning hosts in the country."
Congrats!
EXTRAS:
1. Soulja Boy officially joins "Love & Hip Hop LA" STORY

Photos: SHEEN/Porsha's IG/Angela Bassett's IG

INSTAGRAM FLEXIN': Chris Brown Reveals OFFICIAL "X" Cover Art + Makes Karrueche His #WCW
Posted: 06 Aug 2014 03:11 PM PDT
Chris Brown has finally released the official cover art to his long awaited X album. And in honor of #WCW, he gave a tribute to his (now?) off-again girlfriend Karrueche. Peep it all inside…
After living it up in St. Tropez last week (sans Karrueche), Chris Brown is ready to get back to the music. And he just released the official cover art for his highly anticipated sixth studio album X. We've seen the pic before as he promoted his album on his Instagram, but today he released the image as the official cover.
Breezy fans can except to hear his full tracklist on September 16th.

Oh, and he also posted this (and quickly deleted it):
Although the "Loyal" singer and Karrueche have reportedly broke up, he still wants us to know that Kae is his #WCW. These two...
And right before that...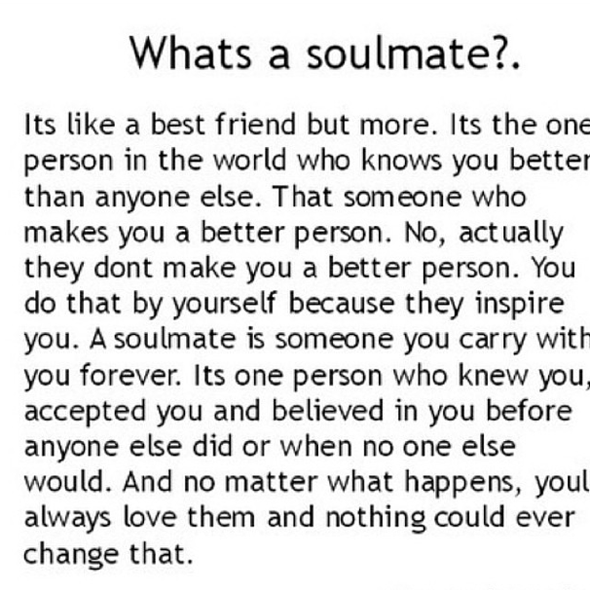 He posted the picture above of the definition of a soul mate. It reads,
"Whats a soulmate? It's like a best friend but more. It's the one person in the world who know you better than anyone else. That someone who makes you a better person. No, actually they don't make you a better person. You do that yourself because they inspire you. A soulmate is someone you carry with with you forever. Its one person who knew you, accepted you and believed in you before anyone else did or when no one else would. And no matter what happens, youll always love them and nothing could ever change that."
Hmmm…think he's trolling his own fans to stir up some buzz for his album...or nah?

Photos: CB's IG
CATCH THIS: Lil Kim Comes For Nicki Minaj…AGAIN...On "Identity Theft" + Zoe Saldana Offers Up Sex Advice In Cosmopolitan For Latinas
Posted: 06 Aug 2014 01:31 PM PDT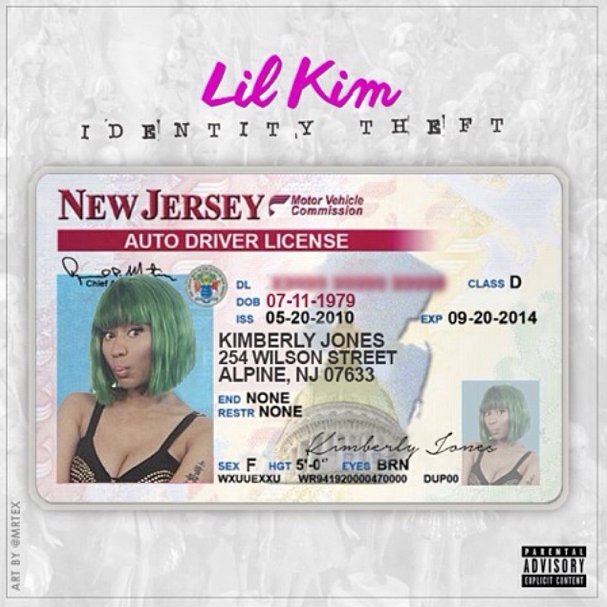 Lil Kim and Zoe Saldana have a few things they would like to put in your ear. Kimmy is coming for the self-proclaimed "Queen of Rap" Nicki Minaj on yet another diss track, while Zoe is offering up some sex advice in the newest issue of Cosmopolitan for Latinas. Get it all inside…
It's a case of identity theft. At least…that's what Lil Kim is claiming. The Queen Bee has released a new diss track (and shade-filled artwork) and it's aimed at her usual target…Nicki Minaj.
After firing shots at the "Anaconda" rapper and hopping on Beyonce's "***Flawless" track with her own remix, the Brooklyn raptress found some time in between nursing Royal Reign to hit up the studio. On her newly released track "Identity Theft," Kim is accusing Nicki of biting her style (haven't we heard this before?) and warns her enemies to steer clear because she's pissed and they don't want to feel her wrath.
She hopped on Twitter with a warning:
Be careful what U wish for... #HardCoreMixtapeUpNext #TheQueenIsBack #QueenBee http://t.co/HmWJgVA1HR

— Lil' Kim (@LilKim) August 6, 2014
And for the cover art, Kim puts Nicki's face on her New Jersey issued license. Ha!
She spits,
It's looking like I'm headed back behind bars again/cause b*tches wanna start with Kim and I ain't with the arguing/I'm jet chartering, fresh cardigan/getting my Martha in, while these broke hoes borrowing
She goes in on the second verse,
Since you insist on running your jibs off/After I drop these flowers for Big off/I'm gone come and blow yo lid off/ Like Adolf/Roll up the tints then peel off/Better wear your crosses and rosaries/read the Quran pray to Allah before you think about approaching me
Guess chick needs to build a buzz for her next project....

Take a listen:
And also catching people's ears today: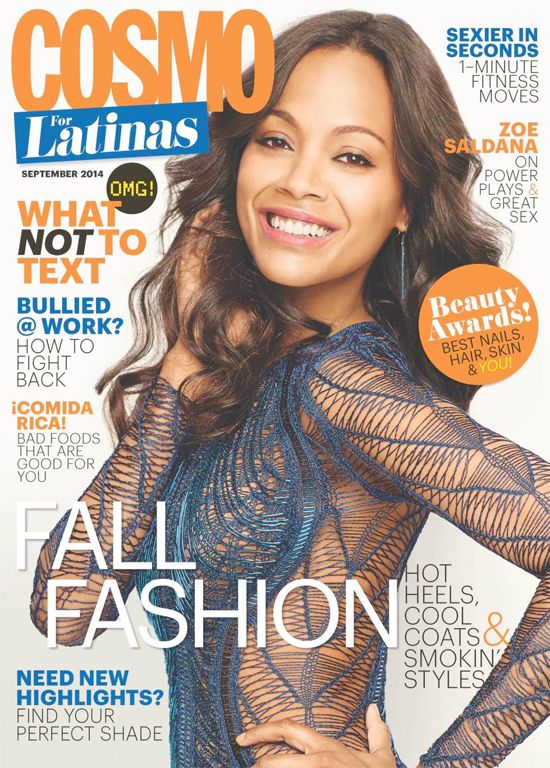 Guardians of the Galaxy & Avatar actress Zoe Saldana claims she likes to keep her personal life private. But she has no problem opening up when it comes to sex. Remember when she revealed the she once had sex was in between two dirty train cars?!
Shot by Alexi Hay, the mom-to-be dons a long-sleeve knit Julien MacDonald dress on the cover of the September 2014 issue of Cosmopolitan for Latinas – clearly shot pre-baby bump.
In the issue, Zoe gets candid on having a good sex life, offering up up a few tips to keep it HOT in the bedroom. She also dished on being a black Latina in Hollywood, challenges she faces being a woman in the industry and teaching her little one her native tongue…Spanish.
Here are the highlights:
On the most essential quality for a good sex life:
"To be uninhibited. I'm not talking about bringing in a third person or watching porn all night: That's what leads people to believe they are amazing in bed when they're the worst ever. Pornography is not sex education — it's the opposite! Don't allow insecurities to close you off. Be creative."

What is it like to be a black Latina when you're called for roles — are you compared to other actresses?
I'm sure I'm compared to everything behind closed doors. Now that I'm a producer — and I've been in the director's chair as well, for my Rosemary's Baby remake — I sympathize with what producers go through. We're in the business of making movies, and sometimes you have to make political decisions that get in the way of the art.

To what extent do you fight to tell Latina stories?
First, I want to tell good stories. After that, I want to see an accurate depiction of Americans. When I'm sitting in the theater, I'm surrounded by people from all walks of life; we're not just Caucasian. And when art doesn't imitate life, there's an imbalance.

What's the challenge of being a woman in Hollywood?
Throughout history, for every five doors that have opened for a man, only one has opened for a woman. So the moment another woman comes along — especially a younger one — she gets picked on instead of embraced. I'm 35, and I don't want to be afraid of the 22-year-olds. I'm actually in a better place than they are.

On whether her children with husband Marco Perego will learn to speak Spanish:
"Of course [our children] will speak the languages that we speak; my sisters and I grew up learning French and speaking English and Spanish, and because of that, we're able to understand Italian and Portuguese. But I'm going to have to make a conscious effort to speak Spanish to my children, because I speak Spanglish."
Well alright.
Peep her gorgeous spread below: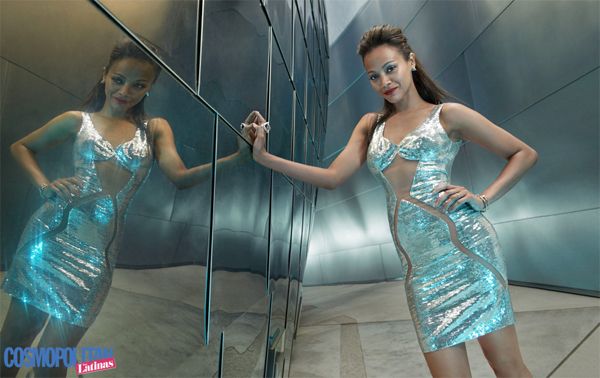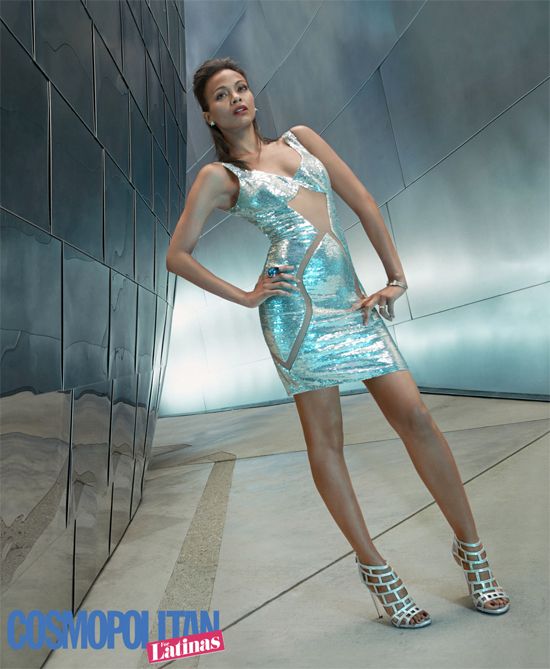 Work! Check out the starlet's full interview here. And you can pick up a copy of Zoe's issue on newsstands August 12th.
Photos: Alexei Hay/Cosmopolitan for Latinas/Lil Kim's IG
FIRST LOOK: K.Michelle & Idris Elba's "Rebellious Soul Musical" VH1 HIP HOPERA
Posted: 06 Aug 2014 12:24 PM PDT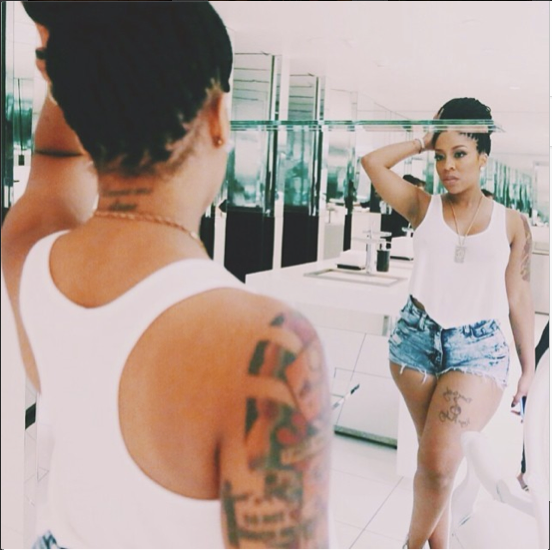 If you've been wondering what K.Michelle's been up to, she's been gearing up for her VH1 musical named after her debut album, Rebellious Soul. And the first look at her musical, directed by Idris Elba, has just been released Check it inside...
It's official. Reality star and singer K.Michelle just got a release date for her new hip-hopera style proect with VH1. She's bringing her latest album Rebellious Soul to the screen with the premiere of "K.Michelle: Rebellious Soul - The Musical."
Premiering Tuesday, August 19 at 10PM, the dark, cautionary tale is directed by Golden Globe Award-winning actor Idris Elba. Yep, the ridiculously sexy upcoming No Good Deed star, Idris.
Now, for what the musical is all about: Taking center stage in this 'hip hopera,' K.Michelle's powerful ballads capture the lust, love, heartache and redemption of a fierce woman struggling to break the cycle of bad romance. What will be her fate when she catches her man in a lie and her past comes back to haunt her?
The musical features 9 songs from the album, which debuted at #1 on Billboard's "Top R&B/ Hip Hop Albums," and they are
Can't Raise A Man
V.S.O.P.
Damn
Hate on Her
I Don't Like Me
Ride Out
My Life
When I Get A Man
Check out the very first trailer for the upcoming musical below:
Next up for K...plenty of moves to become the new queen of VH1. The world premiere of her new "Damn" music video will air on the VH1 Top 20 Countdown (and VH1 Soul) Saturday, August 16th at 9:00 AM ET/ PT. And after her stint on "Love & Hip Hop New York", her own spinoff show called "K.Michelle: My Life" will air on VH1 this November.
Photo: K's IG
Nicole Murphy SPOTTED On Vacay With Former NBA Star Jim Jackson…Amid Michael Strahan Cheating Rumors
Posted: 06 Aug 2014 11:06 AM PDT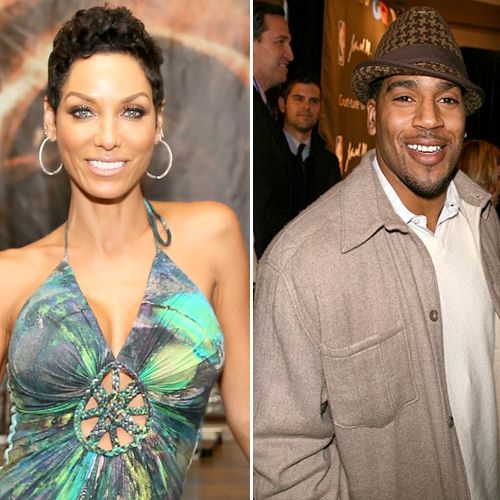 After Nicole Murphy and Michael Strahan ended their 5-year engagement (allegedly over Michael cheating) new pictures have surfaced of Nicole cuddling with former NBA baller Jim Jackson last month. Yep…one month before their split was announced. Deets inside…
A new twist has been added to the on-going drama between "Live With Kelly & Michael" host Michael Strahan and "Hollywood Exes" star Nicole Murphy.
New pictures of the reality star have surfaced of her snuggling up with ex-NBA star Jim Jackson on vacay in the Caribbean LAST month. Yep…one month before the former couple announced their split. We can't post them here, but...
The twosome enjoyed a 3-day getaway at the Dorado Beach Ritz-Carlton in Puerto Rico on July 7th-July 10th. A source told TMZ that they were really affectionate with each other, hugging up on one another and KISSING. Chick sure moves fast.
We hear Nicole and Michael actually called off their engagement several weeks before the official announcement. Reportedly, back in July, she had a hunch that there was another woman. But it seems the relationship may have been over even before then, because last month Nicole was spending her free time cup-caking with this handsome baller. Hmmm... So who was cheating on who?
Other sources claim Nicole went to Puerto Rico with some girlfriends and just so happened to have bumped into Jim. Sources also allege Nicole and Michael were on a break during her trip, but claims she didn't think the relationship was completely over. Messy boots.
Guess we will see all of this play out on the next season of "Hollywood Exes."
Photos: Getty/WENN

Mariah & Manager Jermaine Dupri Split...Again + KeKe Palmer's "Mirror Mirror"
Posted: 06 Aug 2014 10:01 AM PDT
Mariah Carey and Nick Cannon may not have split...but MiMi and her manager Jermaine Dupri have. Deets inside, plus KeKe Palmer's new enchanting song "Mirror Mirror".....
Mariah & her longtime producer turned manager Jermaine Dupri have taken breaks before...but reportedly, they've officially split this time. The twosome have been working together on & off since 2004. And they had big plans for Mariah's big "comeback" album Me. I Am Mariah…The Elusive Chanteuse. But after its major flop, it seems the two are going their separate ways.
In a statement to Billboard, J.D. says he wasn't allowed to do what he wanted to do:
"I'm a very hands-on person when it comes to my work. I put my all into every project. But when I'm not allowed to do what I do, then I know it's time for me to move on. Mariah and I enjoy working together and will continue to make great music together in the future."
MiMi's latest album has only sold 103,000 copies to date. Guess that subway ride on the 1 train in NYC was one of the last rides they'll be taking together for a while....
In other music news, rising superstar KeKe Palmer, who is currently starring in Showtime's hit series "Masters of Sex", her own BET talk show and an upcoming role on Broadway as Cinderella, is flossing her vocal skills.
The singer/dancer/actress is proving that she's indeed a triple threat (with other tricks in her bag like hosting). Check out her fairytale-like new song "Mirror Mirror", which gives us a taste of what we can expect from Broadway's first black Cinderella this September:
Extras:
1. Sherri Shepherd was not present for the birth of the surrogate baby her estranged husband is attempting to make her lay claim to. STORY
Photos: Mariah's IG/KeKe's IG