---
CELEBS GIVE BACK: SEXIEST ALS Ice Bucket Challenges--Team USA, Kevin Hart, D. Wade & Colin Kaepernick ACCEPT The Challenge
Posted: 17 Aug 2014 07:50 AM PDT
The ALS Ice Bucket challenge has gone viral. And we have rounded up the sexiest challenges thus far. Peep the shirtless ice bucket challenges inside….
The ALS Ice bucket challenge is sweeping the nation. And many YBF celebs have taken on the challenge.
The challenge calls for one (who has been called out by another challenger) to pour a bucket of ice water over their head in support of the ALS association. The rules: You endure a bucket full of ice water poured over your head or donate money to the ALS Association. Many celebs have taken on the challenge and will also donate money to the cause.
Amyotrophic lateral sclerosis (ALS), often referred to as "Lou Gehrig's Disease," is a disease of the nerve cells in the brain and spinal cord that control voluntary muscle movement.
According to the ALS Association's website,
Between July 29 and today, August 12, The ALS Association and its 38 chapters have received an astonishing $4 million in donations compared to $1.12 million during the same time period last year.

"We have never seen anything like this in the history of the disease," said Barbara Newhouse, President and CEO of The ALS Association. "We couldn't be more thrilled with the level of compassion, generosity and sense of humor that people are exhibiting as they take part in this impactful viral initiative."
Team USA (men's national basketball team) were up for the challenge. And they stripped their shirts to get soaked for the challenge. Golden State Warriors point guard Stephen Curry posted Team USA's ALS challenge with the caption, "Team USA #alsicebucketchallenge... We all were challenged by somebody so we did it together. @sydelcurry and Wes Matthews challenged me. We nominate Barack Obama, Adam Silver, and Chicago's own @Oprah"
Check it:

New York Knicks player J.R. Smith participated in the challenge...shirtless:
He captioned, "#ALSIceBucketChallenge #IceBucketChallenge Thank you @d_smith50! I nominate @carmeloanthony @cp3 @easymoneysniper next!! You have 24 hours to complete this challenge or have to donate 10k!! #strikeoutALS @Nike @NikeBasketball"
Portland Trail Blazers baller Damian Lillard also went shirtless for the challenge:
He wrote, "Gladly took part in the Ice Bucket Challenge to raise money and awareness for ALS also known as Lou Gehrig's disease. I challenge @houstonlillard @johnwall and @designer_barber"
Miami Heat guard Dwyane Wade accepted the challege:
He said, "I've accepted the #ALSicebucketchallenge from @kevinhart4real @irie @caronbutler @norriscole and I challenge @kobebryant @magicjohnson and @chrisbosh... #mannnnn #ineedtodothiseverymorningtogetmydaygoing"
Wade's soon-to-be wife Gabrielle Union also completed the challenge…black girl style. She wore a shower cap to protect her hair, which was snatched off right before she was soaked with ice water. Peep it here.
Sexy San Francisco 49ers quarterback Colin Kaepernick also got in on the challenge:
Those abs! He challenged, "I challenge @jmanziel2 @flashgordonxii and @champagnepapi to the #ALSIceBucketChallenge ........ #WhoDoYouLove #IDontGetTired #IDontGetColdEither @iamkevingates"
Washington Redskins wide receiver DeSean Jackson got soaked for the cause:
He wrote, "I've Accepted my #ALS Ice bucket challenge from @jgruden6 & @dwrightway I'm nominating @snoopdogg @dezbryant & @campgohard You have 24 hours to complete or u can donate to www.alsa.org It's cold prepare yourself Lmao"
And comedian Kevin Hart accepted the challenge, showing off his new toned physique:
He captioned, "I accept your #ALSiceBucketChallenge "Ben Roethlisberger" & @cp3 and I now nominate @dwyanewade @gabunion & @kingjames ....I will also be donating 10k on my behalf.... #AlsIceBucketChallenge #ThatWaterWasCold #IgotaHeadAche"
Nice!
Other celebs who have accepted the challenge include: Oprah, Kerry Washington, Gayle King, Tyler Perry and Iyanla Vanzant. Who would you like to see accept the challenge next?
Videos: Kevin's IG/Wade's IG/Colin's IG/DeSean's IG/Wardell Curry's IG/Damian's IG
EVENT FAB: "Scandal" Actor Joe Morton & "Orange Is the New Black" Star Uzo Aduba NAB Their FIRST Emmys!
Posted: 17 Aug 2014 06:08 AM PDT
"Daddy Pope" from "Scandal" and "Crazy Eyes" from "Orange Is the New Black" have scored their first Emmy at the 2014 Creative Arts Emmy Awards in L.A. Find out which category they won and pics of other attendees on the red carpet inside…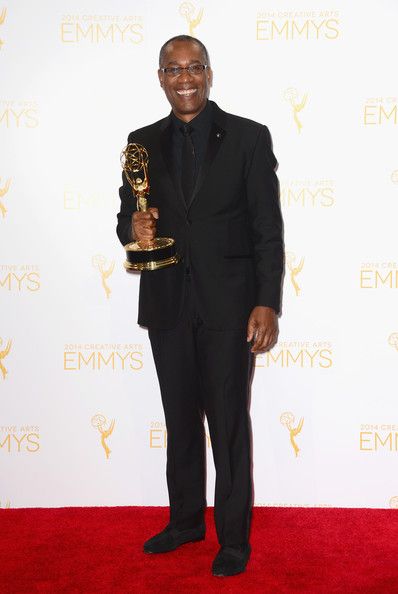 Two of our favorite television shows scored big at the 2014 at the 2014 Creative Arts Emmy Awards at the Nokia Theatre in L.A.
"Daddy Pope" aka Joe Morton, from ABC's "Scandal," nabbed his very first Emmy during the event. He won Outstanding Guest Actor in a Drama, playing the role of Rowan Pope (the father of Olivia Pope/Kerry Washington) in the popular series. His win marks the second Emmy award for the show.
Seems Daddy Pope was a bit nervous when it was time to name the winner in his category. He expressed,
"When my category came up, I looked for a door marked exit," joked Morton from the stage, acknowledging that he didn't expect to hear his name.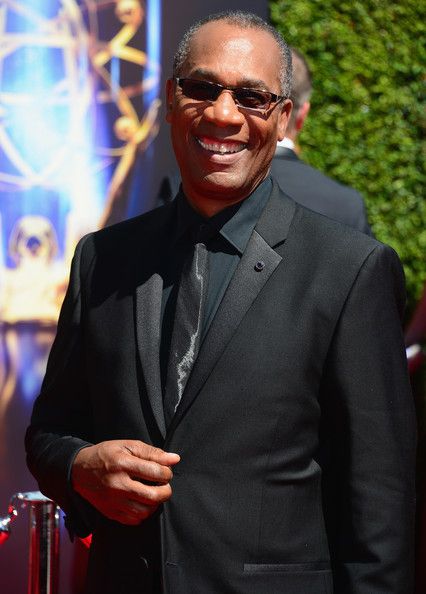 But once he received his award, all the jitters were gone and he was ecstatic about win. He said,
"It's an incredible feeling to have been in the business this long — this is the first time I've been up for one of these things – and given who I was quote unquote up against, it's terrific. My head is in the clouds somewhere, and my feet are trying to touch the ground."
Nice!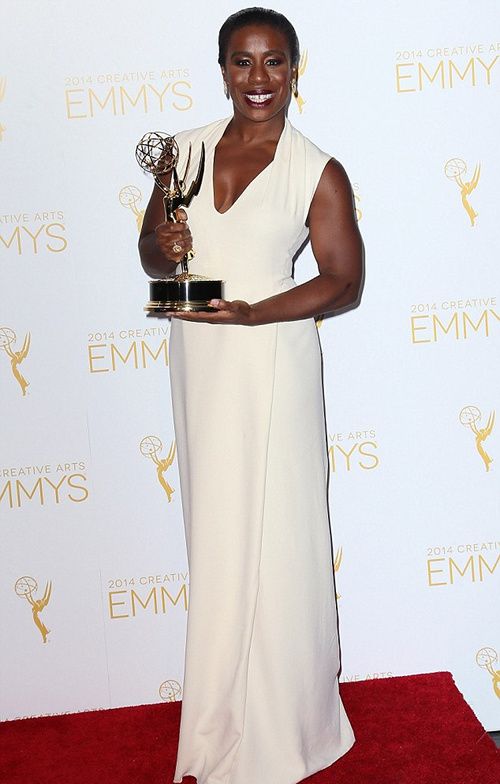 "Orange Is the New Black" actress Uzo Aduba aka Suzanne "Crazy Eyes" Warren beat out her co-stars Laverne Cox and Natasha Lyonne for the Outstanding Guest Actress in a Comedy Series. This marks Uzo and the Netflix series' first Emmy award.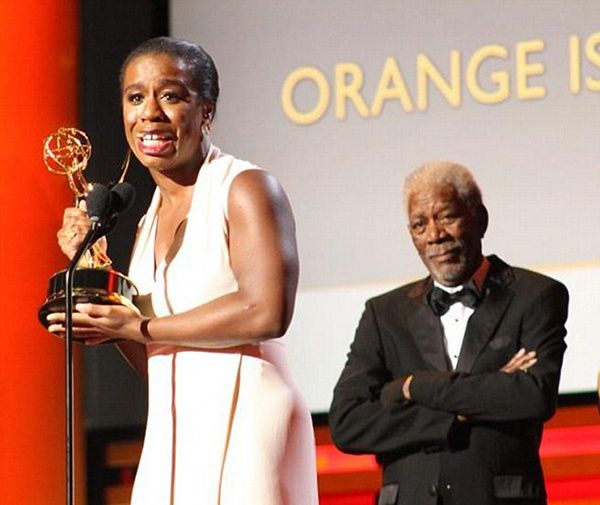 During her acceptance speech she said,
"I don't know how to say how incredibly impressed I am to be a part of this show day in, day out," said a teary-eyed Aduba from the podium after presenter Morgan Freeman handed the awestruck actress her award.

Once backstage, she could hardly contain her emotions saying,
"I feel so full, that's why the tears come out," she told reporters, adding: "I'm stuffed. My cup runneth over right now. Mission accomplished, thank you."

Congrats to her!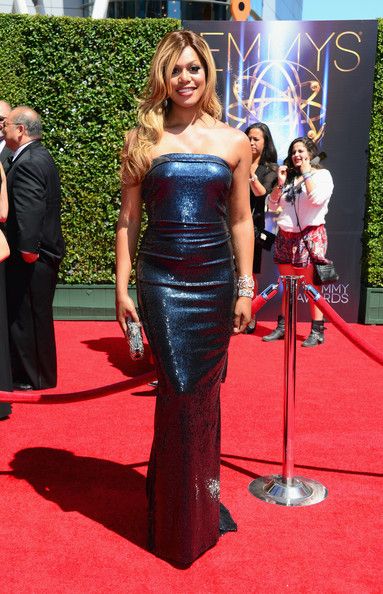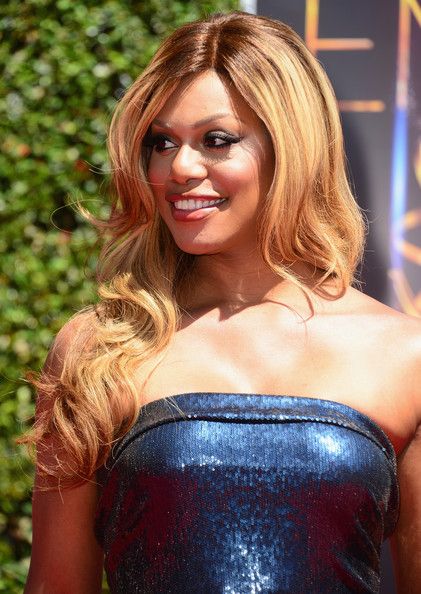 "Orange Is the New Black" breakout star Laverne Cox hit the red carpet in a deep blue sparkly gown. Although she lost to her co-star Uzo Aduba, she did make history as the Emmys' first openly transgender acting nominee.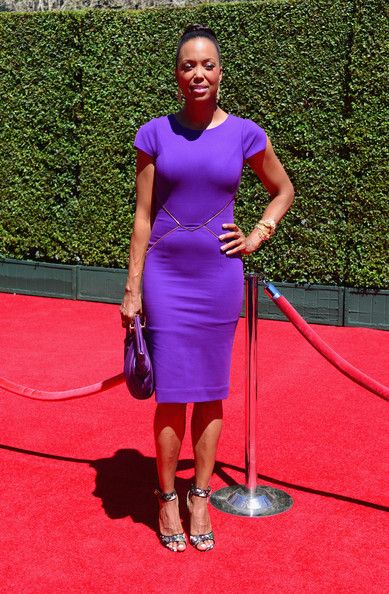 "Archer" star Aisha Tyler posed it up on the red carpet in a purple hip hugging dress trimmed in gold.
"OITNB" co-stars Laverne Cox, Uzo Aduba and Natasha Lyonne shared a laugh on stage.
And then at the afterparty…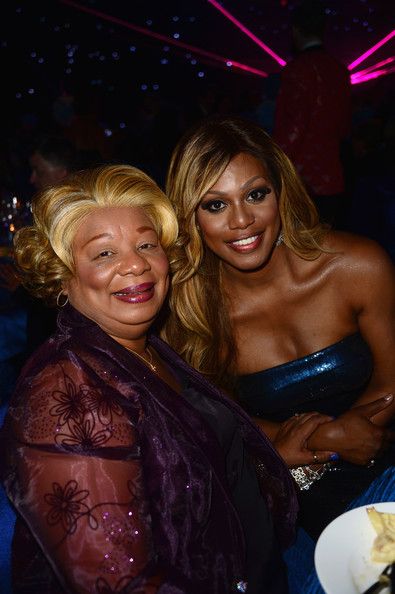 Laverne and her mother Gloria were all smiles during the Governors Ball during the 2014 Creative Arts Emmy Awards.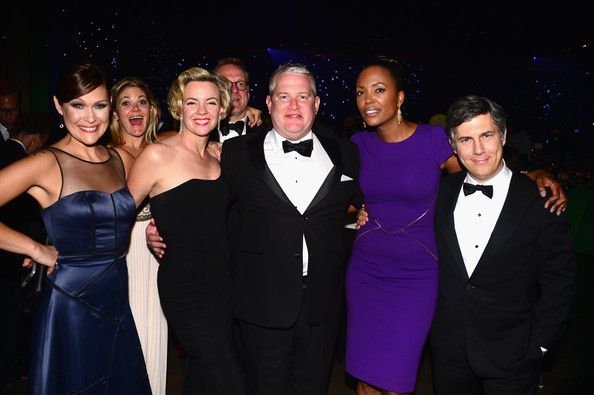 And Aisha posed it up with Amber Nash, Leigh Jackson, writer-producer Adam Reed and actor and Chris Parnel during the ball.
Fun times.
Photos: Getty/Splash News/Television Academy Twitter

Denzel Washington Allegedly DETOXES After Partying HARD On Vacation, Rep Says It's Nothing New
Posted: 17 Aug 2014 05:28 AM PDT
Denzel Washington allegedly spent more than 2 weeks detoxing after partying hard while on vacation. But his publicist says it was nothing out of the ordinary. Get the deets inside…
After a month's worth of hard partying, Denzel Washington allegedly spent over two weeks at an Orange County residence to detox.
Sources tell TMZ,
Denzel was on a yacht during the month of July with his wife ... and was partying and partying hard.

When he returned to L.A. ... our sources say Denzel went to the OC residence where he had professionals help him "detox."

One source says this was more than just alcohol ... it was an overall cleanse for toxins. In addition to the professional who supervised the detox, we're told Denzel had a nutritionist, a trainer and a chef.
The Flight actor's publicist is now addressing these rumors and says he always does a health cleanse before going back to work.
His rep tells ET News,
"He does this health cleanse every time he's about to go back to work and start his conditioning and nutritional program. Always cleans up after the family vacation in prep for work. Nothing new."
Denzel is gearing up for a worldwide tour to promote his latest film, The Equalizer. He will star as Robert McCall, a former black ops commando who faked his death for a quiet life in Boston. He then comes out of his retirement to rescue a young girl and finds himself face to face with Russian gangsters.
The film is set to be released in theaters on September 26th.
Photos: Getty