---
SPORTS FAB: Michael Strahan ACCEPTS Pro Football Hall Of Fame Nomination...Sans Nicole Murphy
Posted: 03 Aug 2014 08:18 AM PDT
The hardest working man in daytime television was up past his bedtime last night to accept his nomination into the NFL Pro Football Hall of Fame. Peep Michael Strahan's induction speech inside…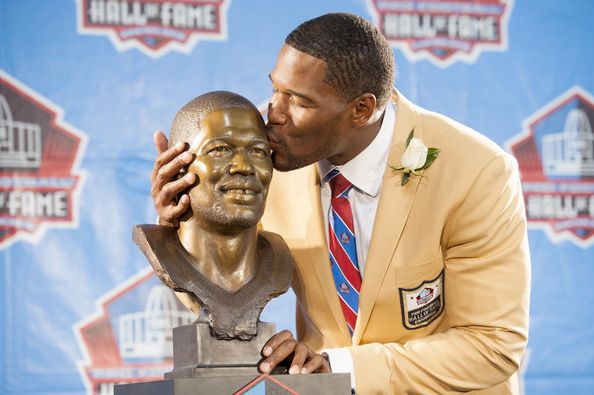 Talk about bitter sweet. "Live with Kelly & Michael" host and "GMA"'s newest addition Michael Strahan accepted his nomination into the Pro Football Hall of Fame last night. And as exciting as that news is, it comes just one day before calling off he and his ex-fiancee "Hollywood Exes" star Nicole Murphy called off their five-year engagement.
The former couple noted distance and grueling work schedules as the reasons behind their split. Michael is one of the hardest working men in television right now. He's doing "Live" Kelly Ripa on ABC, he just started his "GMA" gig and he's also a Fox sports analyst during the NFL football season.
But on a happier note, he accepted his nomination into the Pro Football Hall of Fame and received his distinctive gold dinner jacket. The former defensive end (who spent his entire 15-year career playing for the Giants) was the last one to give his speech at the NFL Class of 2014 Pro Football Hall of Fame enshrinement ceremony at Fawcett Stadium in Ohio, and he thanked all those who helped him along the way.
During his speech, the single-season sack record holder thanked all of the Hall of Famers that surrounded him, the New York Giants, coaches, one of the greatest pass rushers in the NFL Lawrence Taylor and reflected on his Super Bowl XLII win in 2008.
Michael noted this weekend as being "the best weekend of my life."
Peep his full acceptance speech below:
And here's Michael getting his NFL gold jacket presented by his close friend Fox Sports writer Jay Glazer:
Congrats to him!
Photos: Getty
Remy Ma SPITS On DJ Khaled's "They Don't Love You No More" Remix…Is She Coming For Nicki Minaj?
Posted: 03 Aug 2014 07:04 AM PDT
We showed you Remy Ma in the studio with DJ Khaled yesterday, and now we have what they were cooking up. Hear Remy's post-prison remix inside….
The Ruler, so they call her, is back! And she's ready to take the throne.
Remy Ma didn't waste anytime to get back into the studio, teaming up with DJ Khaled to hop on "They Don't Love You No More" remix. And it seems Rem is coming for the female MCs in the game…particularly Nicki Minaj.
The Bronx raptress spits:
"When y'all was on the TV, I was with the PVs/I listened to your CD, damn you really wanna be me/Don't care if your name buzzin', you know who the queen be."

"These rap chicks try to stay away from me/Maybe cause I caught that case they afraid of me/Rem got that phlegm spit it crazily/And it's a fact I'm everything that they portray to be."

She goes in on the 2nd verse:
"Some say she nice but Reminisce nicer/I can feel the tension, please don't hype her/Tell her stay in her lane before I side swipe her/Droppin' that bird shit I'd hate to windshield wipe her."
Ouch!
Seems Nicki knew Remy would be coming for her. She dropped a subtle diss on the newly released "Flawless" remix with Beyonce, rapping:
"Yo, like MJ doctor, they killing me/Propofol/I know they hope I fall/But tell 'em winning is my motherf*ckin protocol/ Cause I score before I ever throw the ball These bitches washed up and aint no soap involved..."
Sounds like the female rap game is ready to heat up!
Take a listen to the fresh-out-of-jail raptress' post-prison remix below:

EXTRAS:
1. Trinidad James got dropped from Def Jam and claims he's broke. STORY
Photos: DJ Khaled's IG/IFWT
Beyonce & Nicki Minaj's Official "Flawless" Remix -- THOT Shots & ElevatorGate
Posted: 03 Aug 2014 06:05 AM PDT
Beyoncé & Onicka just woke up and posted up "Flawless"....the ish-talking filled REMIX. Peep the shots at THOTS and Bey's Elevatorgate explanation inside...
While taking a mini-break from the On The Run tour, Beyonce tapped Nicki Minaj to help her floss all over the just released "Flawless" remix. And both ladies came out the gate swinging...unapologetically.
On the remix, posted to Beyonce's official website, Mrs. Carter has some things to get off her chest. While adding in new verses and arrangements on the interlude-like track from the Beyonce album, the diva says:
"These THOTS can't clock me nowadays..."
And yes, she even addressed Elevatorgate...with zero apologies:
"And we could go around and get some good karma, but no.

We escalatin', up in this b***h like elevators. Of course sometimes s**t goes down when it's a billion dollars on an elevator."
That last line she repeated twice to make sure y'all heard it. She wrapped up her bars saying:
"You wish I was your poundcake...You wish I was your baby mama."
"Say what you want I'm the sh*t....I want everybody to feel like this tonight."
As usual, Beyonce is mixing tough words that many may take as strikes at other women...all while uplifting others by saying they should feel the same way about themselves.
With Bey interrupting about "thirsty b*tches", Nicki spits some bars about why she believes she's the queen of the rap game, why she and Bey are "every hood n*gga's dream" and her usual raunchy lyrics about her "cookie" being top notch. :
"Yo, like MJ doctor, they killing me/Propofol/I know they hope I fall/But tell 'em winning is my motherf*ckin protocol/ Cause I score before I ever throw the ball These bitches washed up and aint no soap involved..."
We wouldn't be surprised if that last line was a subtle shot at Remy Ma...since folks like to reference soap when talking about folks who are locked up.
Southern belle Bey also included a sample of Outkast's "SpottieOttieDopaliscious" on the horn riff. Peep the remix below:
We feelin' it?!
Kanye West, Kim Kardashian-West, Ciara, Naomi Campbell, Diddy & Cassie Party It Up In Ibiza + Kim Schools Us On What "Side Chicks Be Like" & Shows North West On Vacay
Posted: 02 Aug 2014 01:50 PM PDT
Kanye West and his wife Kim Kardashian-West are partying it up in Ibiza. And you know who is two steps behind…Kris Jenner. Peep their arrival to an Ibiza party spot and throwback vacay pics of North West in Mexico when you go inside…
Kanye West and his wife Kim Kardashian-West are living it up in Ibiza. The newlyweds were spotted hand-in-hand dressed in all black as they made their way into Amnesia in San Rafael with mom Kris Jenner tagging along behind them.
And look who else is overseas for the party…Justin Bieber. Before they hit the club, they all celebrated Givenchy designer Riccardo Tisci's 40th birthday bash where Kanye performed.
Then they all met up at Amnesia to keep the party going...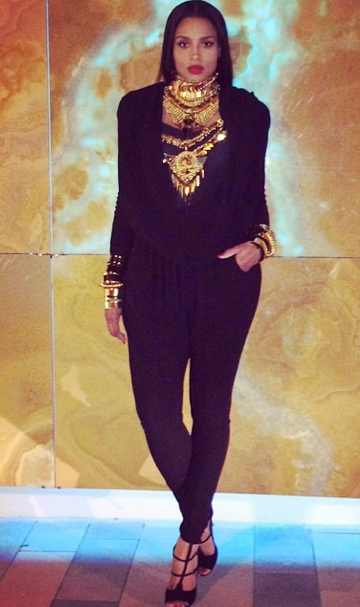 Ciara caught a break from her motherly duties to party it up with Riccardo for his birthday. And she's looking hot post-baby in all that Givenchy.
CiCi snapped a pic with Kim during the party.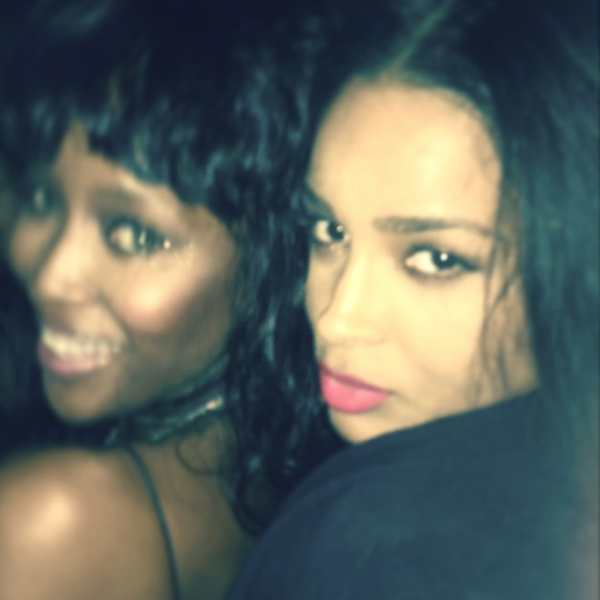 And then the "Body Party" singer caught up with supermodel Naomi Campbell. Looks like they are getting it in.
And look who else was there...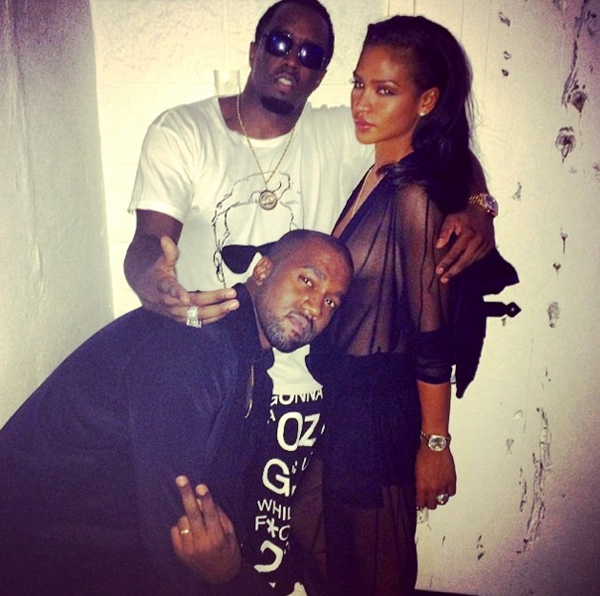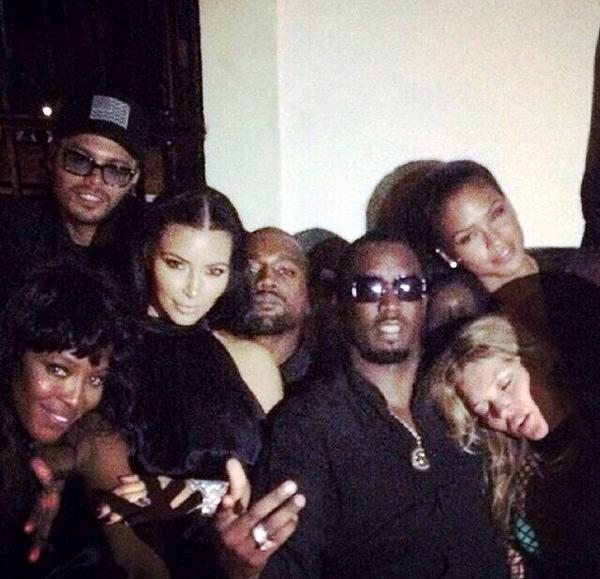 Diddy and Cassie (who have been aboard a yacht in Ibizia with Naomi this week) also came out for the festivities. Looks like Kate Moss had one too many drinks. Ha!
And before they went to bed, Kim schooled us on what side chicks be like. She posted a picture of Kanye knocked out in the bed with the caption, "Side chicks be like.…" Ummm…pot meet kettle.
In other Kardashian-West news....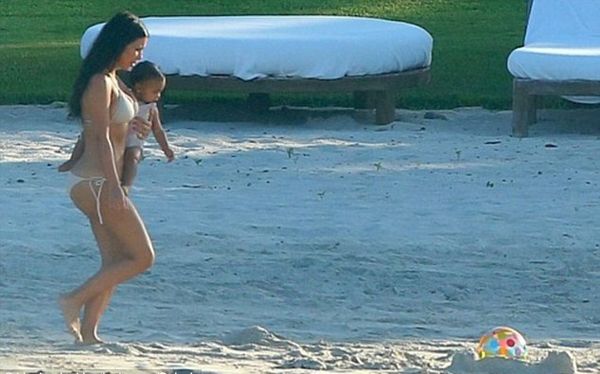 Kim shared a few intimate photos of adorable North West in her little bathing suit while on vacay in Punta Mita, Mexico.
Look at little Nori! Those cute legs and that face!
Last week, we learned one-year-old Nori took her first solo steps. She took off as soon as she got out of the water after her swim lesson. Too cute.
Photos: Splash/Kim's IG/Ciara's IG/Diddy's IG

Beyonce's Dancer Ashley Everett TALKS Bey & Jay Break-Up Rumors+ Kelly Rowland GUSHES About Her Baby Boy
Posted: 02 Aug 2014 10:11 AM PDT
Beyonce's backup dancer Ashley Everett is opening up about all the rumors surrounding Beyonce and Jay Z breaking up. Also, Kelly Rowland is gushing on her baby boy's upcoming arrival. Peep the vids inside…
If anyone would know about a break-up between Beyonce and Jay Z, it would be someone very close to her. Beyonce's long-time lead backup dancer Ashley Everett is opening up a bit about rumors that Bey and Jay could soon call it quits. Despite all of the family photos Bey has posted to her socail media accounts, there are still reports that their relationship is on the rocks.
Yahoo Insider caught up with the fab dancer and when asked about how Bey's handling the rumors she said,
"I think after a certain amount of time there's only so much a person can take, but she's expressed it through her art and through her music and so I guess that's her outlet."
During the tour, the dancer has witnessed the couple's onstage chemistry run the full spectrum of emotion. She said,
"It shows the love, it shows the affection. The love, the hate, the relationship, real things that go on in a relationships."
And she also talked about how Bey has gone from being all about work to all about family:
"She is much more down to earth than I think a lot of people think. Especially now since she has Blue. She use to be like all about work and now it's about family and Blue."
Check it:

And in another interview....
After "accidentally" revealing she and her husband Tim Witherspoon are expecting a baby boy, Kelly Rowland sat down with Yahoo to dish on her upcoming arrival. And she looked absolutely amazing!
During the interview with Yahoo Insider, Kelly revealed the best advice she has received since her pregnancy. She dished a girlfriend told her,
"The best thing to do is to focus on your husband. You got the baby but you have to focus on your husband to make sure he's happy because now you have two babies."
She also talked about working out while being pregnant, her Caress photo contest and what she's going to wear to the 2014 MTV Video Music Awards. Peep the inview above.
And here's another video of Kelly glowing as she talks about pregnancy here.
Loving all the family fabness!
Photo/Videos: Beyonce.com/Yahoo
COVER GIRL: Joan Smalls Gets Hobo Chic For Free People's A/W 2014 Campaign Maga-log
Posted: 02 Aug 2014 08:49 AM PDT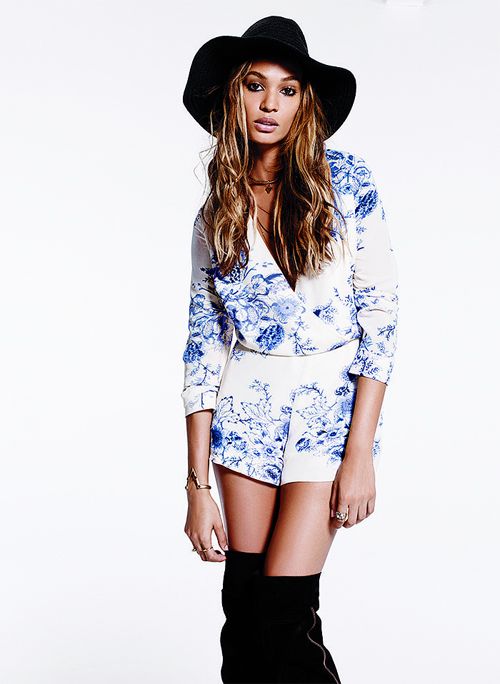 Fashion industry "IT" girl Joan Smalls is slaying the magazine circuit left and right. And on her newest cover, the super model chick serves up some hobo chic fabness for Free People's debut "magalog." Peep the gorge editorial shots inside…
Supermodel Joan Smalls is getting us ready for Fall as the face of Free People's debut August issue to promote their A/W 2014 collection. She slays the cover of the brand's "magalog," which will include 50 pages of fashion trends, styling tips and of course…fabulous photoshoots showcasing the retailers designs.
The 26-year-old "Yonce" star transformed into a gorgeous Bohemian babe flossing long layers, lace, floppy hats and thigh-high boots, giving off a hippie, Coachella vibe. And we're loving it!
FabSugar got the first look at Joan's flawless spread which you can check out below: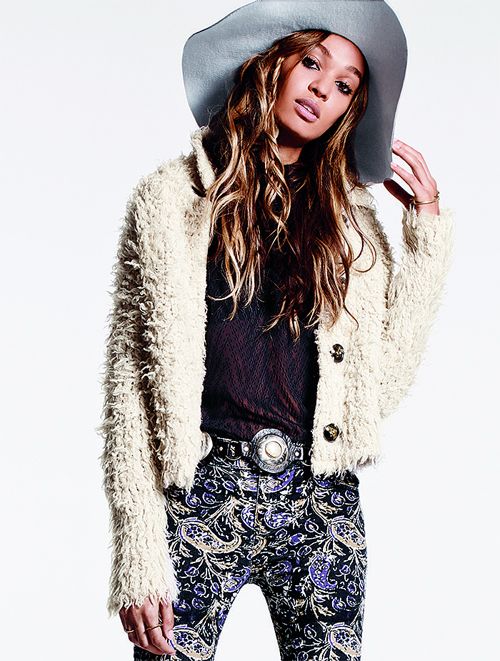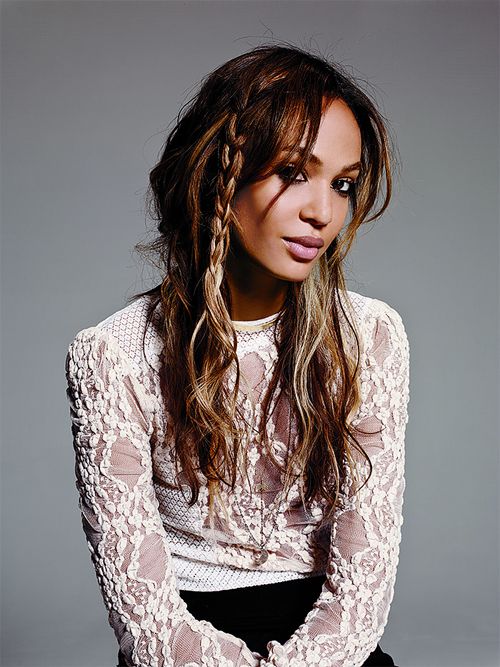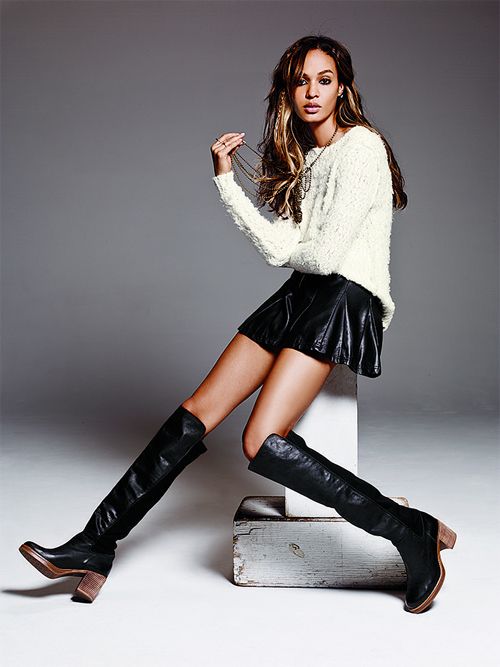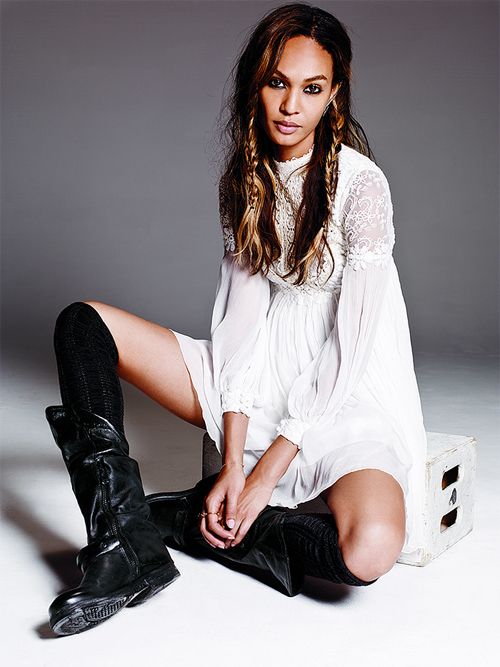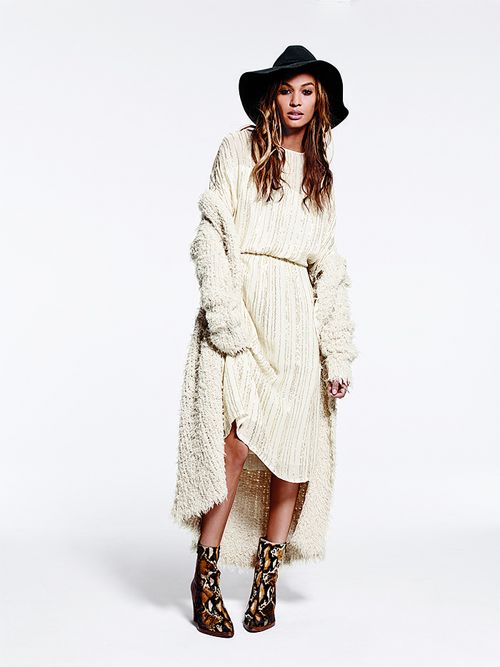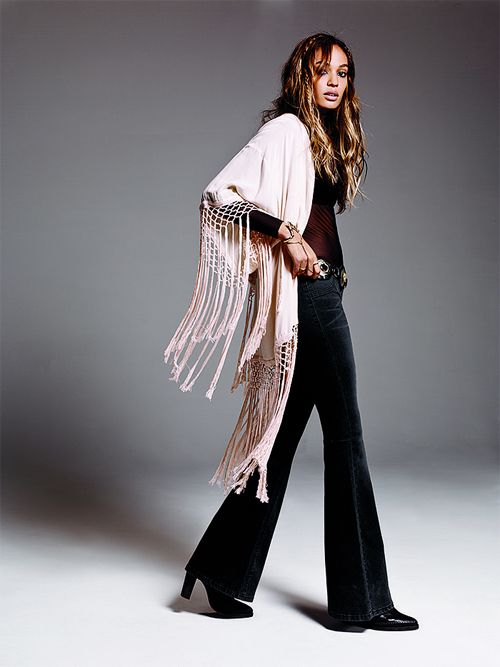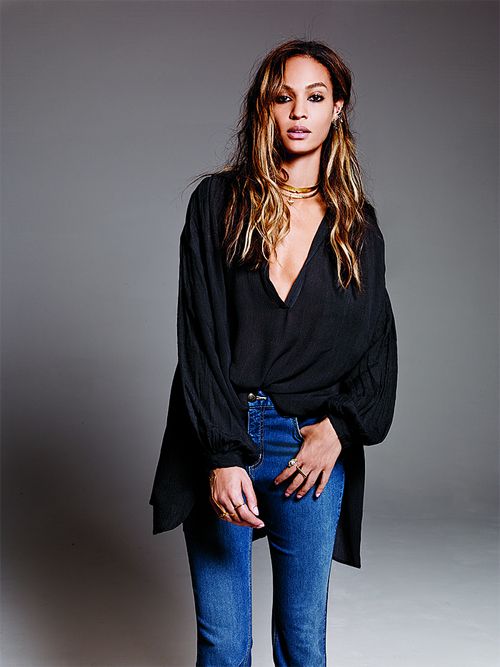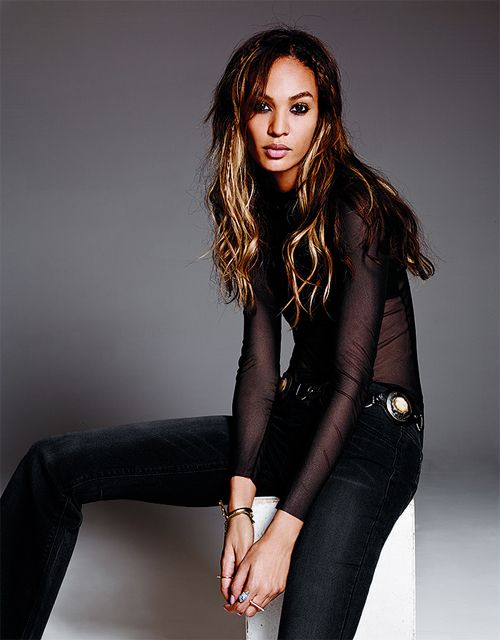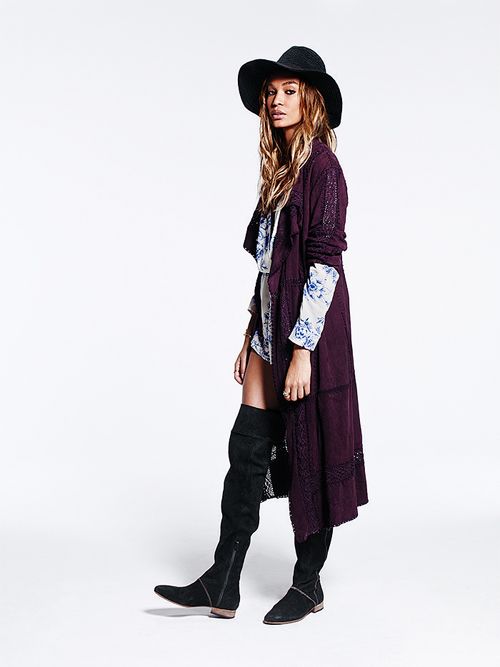 ;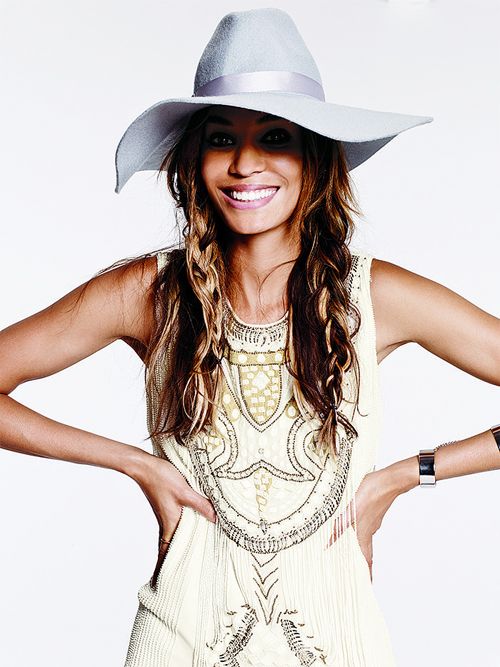 Gorge. If we weren't into hippie-chic before, we are now...
The debut issue drops August 4th.
Photos: Free People