---
DOUBLE COVERS: Chadwick Boseman, Tika Sumpter & The Cast Of "Get On Up" Take Over EBONY Magazine's September 2014 Issue
Posted: 12 Aug 2014 09:16 AM PDT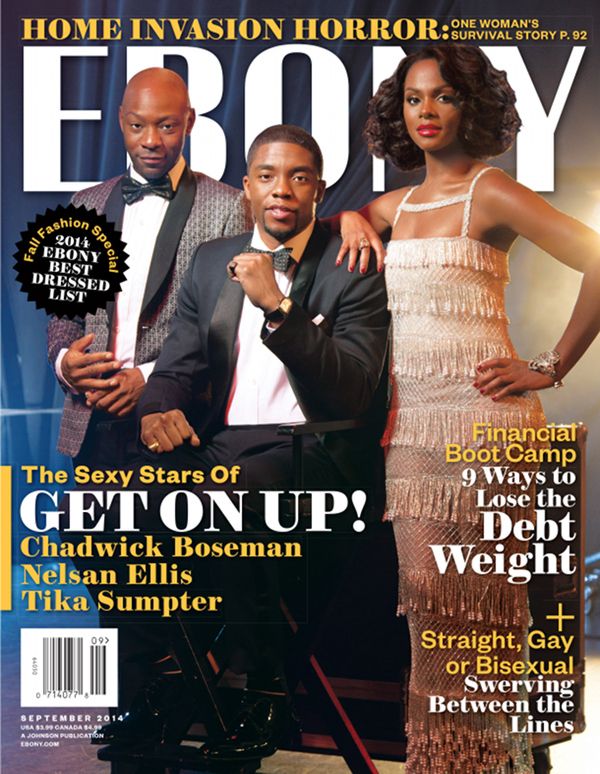 The cast of Get On Up is taking over the coveted September issue of EBONY magazine. And our sexy new crush Chadwick Boseman even landed his own solo cover. Check out the double cover madness with vintage Hollywood flair inside...
One of the hottest casts of Summer 2014 is gracing EBONY's September issue double covers. Chadwick Boseman, Tika Sumpter and Nelsan Ellis are channeling old Hollywood...and we love it.
Chadwick is getting all the praise for his portrayal of James brown in the flick (which debuted at #2 at the box office), and his supporting cast isn't too shabby either.
The sexy powerhouse-in-the-making actress Tika Sumpter (known best for her sultry character in Tyler Perry's "The Haves and Have Nots"), plays a noticeable short role in the film, and it was worth it. She tells Ebony:
"I wouldn't take this time back at all. The talent here elevated my own and has done nothing but push me forward. For me, it's not always just about the work; it's also about the connection."
By the way, the YBF chick is currently starring and producing in her own untitled project. She revealed:
"Nowadays, you simply can't wait for someone to give it to you. You have to create opportunities for yourself when nobody else will."
Yes ma'am!
As for the charming Mr. Boseman...
He's got his own solo cover moment. He dished to EBONY about landing one of the biggest roles in his career so far. He was hesitant to even attempt to portray the legend, but he came around. Oh, and he beat out 20 other actors for the role:
"When my manager brought me the script, I didn't even want to read it because I knew attempting to play James Brown would just be crazy...He was a complicated man, both good and bad. Once you understand the reasons for his dichotomy, it's easier to grasp who he was."
And "true Blood" star Nelsan Ellis credits Boseman for being a "working machine" and wanting to keep up at his level.
"I thought, 'If I'm going to act opposite [Chad], I'll need to prove myself worthy. You'll see some of the best acting I've ever done on this last season of True Blood, and I owe that to Chad. I don't know what people's reactions will be, but I do want them to see a different side of my acting in this film."
The September Issue of EBONY hits newsstands August 12.
Remy Ma HITS Up "106 & Park"—Talks Post-Prison Life, Social Media, Female Rappers & MORE
Posted: 12 Aug 2014 07:52 AM PDT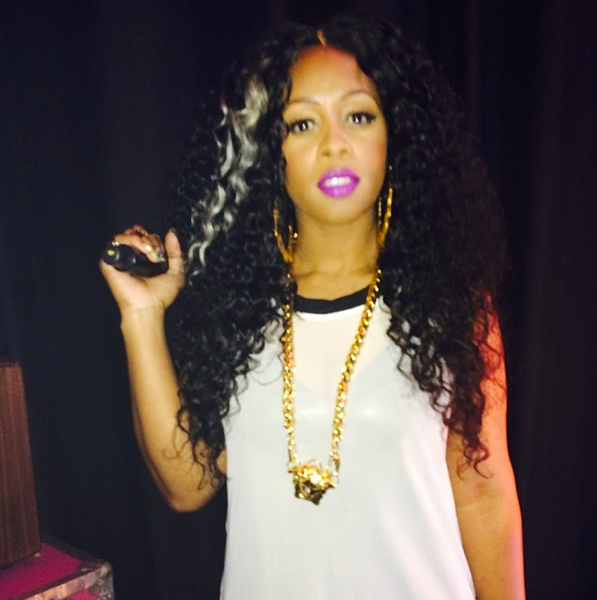 She's around! Remy Ma stopped by "106 & Park" yesterday for her first televised interview. Find out what "The Ruler" chatted about inside…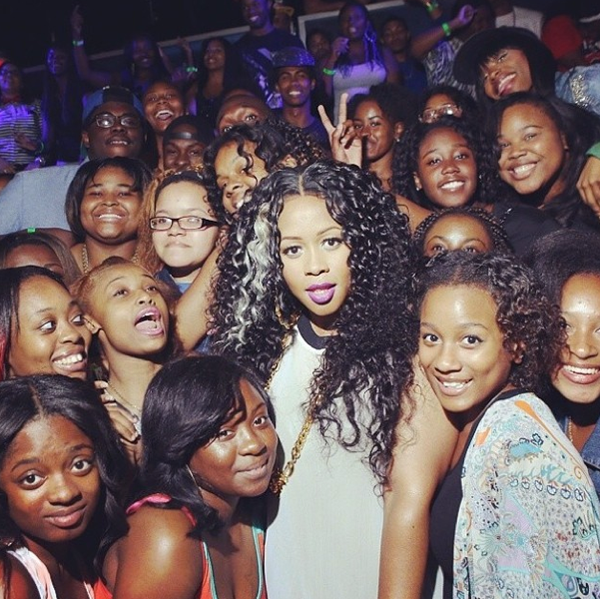 There's a lot of hype surrounding Remy Ma since her release from prison earlier this month. And for her first televised interview, the Bronx raptress made her way to BET's 106 & Park to chop it up with Bow Wow and Keisha Chante about what life is like after doing a 6 ½ year bid.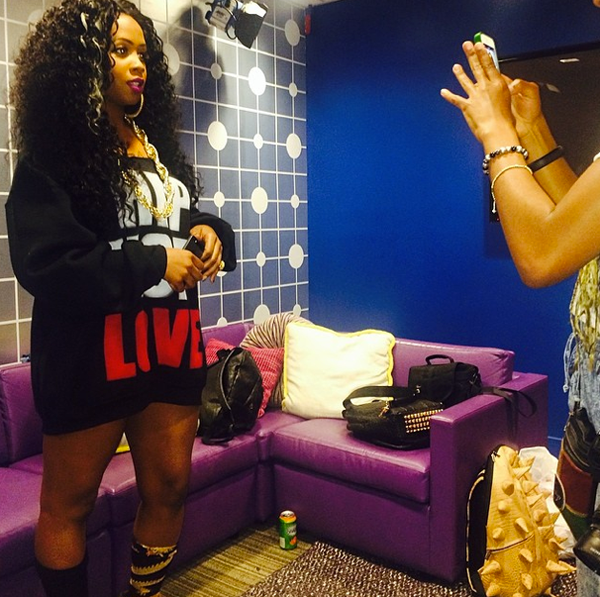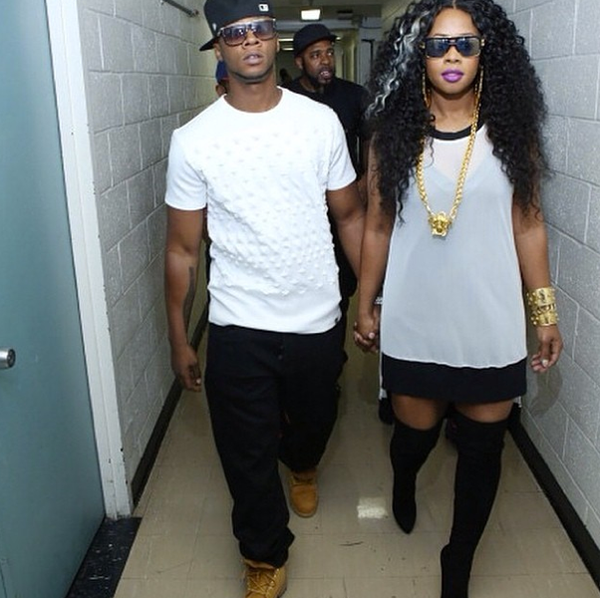 The 34-year-old raptress opened up on how it feels to come home ("I'm blessed"), how she's getting use to social media (haven't mastered the selfie or her smartphone yet), the hardest thing to get use to while in jail (asking people for things), on what she learned from her experience (be careful of every decision you make), on why she thinks there is division amongst females in Hip Hop (some females feel like it's always competition) and on her husband (legally) Papoopse (he's more hype about their upcoming wedding ceremony than her).
Check it:
And speaking of Remy....
Since her release, Remy has been very busy in the studio. On her first day home she linked up with DJ Khaled and hopped on his "They Don't Love You No More" remix. And a few days ago, French Montana, Rem and Khaled got together to shoot the visuals for the new track.
Khaled hit "106 & Park" the day before and talked about wanting to sign the raptress to his We The Best label. He said "If anybody know Remy Ma let Remy Ma know I want to sign her. I want her to be part of We The Best. It aint no secret, I'm going to at least try."

And if you still haven't had enough of the self-proclaimed "Queen of NY" take a listen to a new track she just hopped on with French Montana, Jadakiss and Swizz Beatz titled, "MegaDeath:
Photos: Remy's IG/Papoose's IG/DJ Khaled's IG/@spifftv/@mydopedontspoil_
PHOTOSHOOTS: Erykah Badu Gets Futuristic & Funkadelic For InSTYLE Magazine's September 2014 Issue
Posted: 12 Aug 2014 06:32 AM PDT
Singer Erykah Badu channels soul, glamour, futuristic flyness & funk in the September issue of In STYLE Magazine. See the pics inside...

"Love Of My Life" singer Erykah Badu posted pics from her September 2014 In STYLE Magazine shoot to give us a peek at the style she embodies. The newest Givenchy muse said:
Oooooh.. Honored to be featured in Sept. Issue of
IN STYLE mag.
Don't care to much about Fashion...
but if you got your own Style come fck wit me..
Gotta love her. Check the pics below that only she can pull off:
Erykah, who prefers the term "style" over "fashion", is wrapped in fur and channels an iconic look a la Rick James.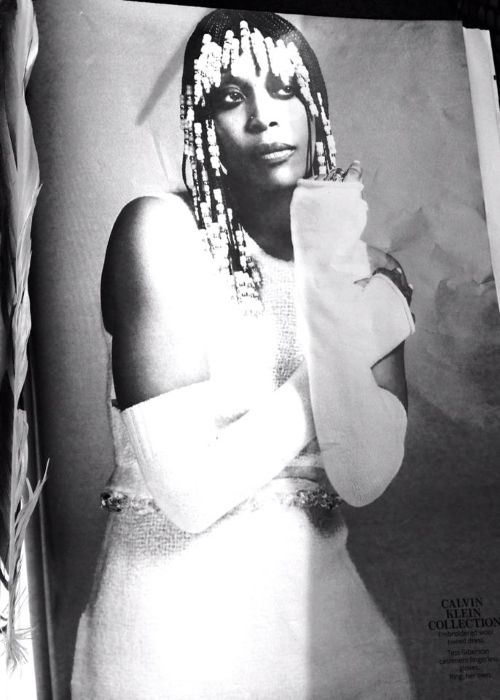 So fly.
Erykah's classic album, Mama's Gun, was recently re-issued on vinyl. What's you favorite song from that album?!
EXTRAS:
1. Civilian hit during a drive-by shooting near the N.W.A. flick "Straight Outta Compton" filming. Story.
2. Rapper Webbie's concert in Odessa, TX shut down after fans started attacking each other with bar stools. Story.
Photos via Erykah Badu's Facebook Page

VIDEO FAB: K.Michelle's "Damn" Video
Posted: 11 Aug 2014 05:50 PM PDT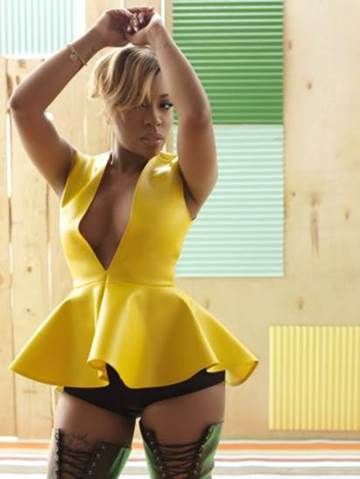 K. Michelle just dropped her video for "Damn". And it's surely damn-worthy....thanks to her sexy leading man Redaric Williams. Peep the visuals inside...
VH1 star K. Michelle has another story to tell about yet another no-good-but-sexy-as-hell-lover. In the visuals for her song "Damn" off her debut album Rebellious Soul, K is doing her main chick duties....but her man still strays.
Check out K. singing her heart out, while draped in fishnets, lace and dresses with spilts up to there, in the video below. And you may recognize her man--he's "Young & The Restless" star Redaric Williams.
This video seems to be a precursor to K.'s new VH1 project: "Rebellious Soul - The Musical", premiering Tuesday, August 19 at 10PM. It's directed by the sexy Idris Elba. Will you be watching?
Dwyane Wade, Gabrielle Union, Chris & Adrienne Bosh, Lauren London & MORE Attend Dorell Wright's Wedding + Christina Milian Gets NEW Shaved 'Do…Tribute To Lil Wayne?
Posted: 11 Aug 2014 02:56 PM PDT
It was a Miami Heat reunion at former Heat player Dorell Wright's wedding over the weekend. Plus, check out Christina Milian's new shaved 'do which has many believing it's a tribute to her alleged boo Lil Wayne. More inside…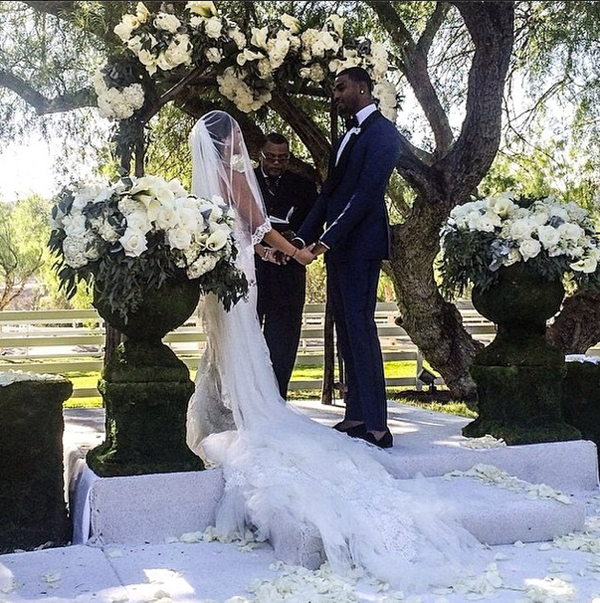 On Saturday, Former Miami Heat baller turned Portland Trail Blazer Dorell Wright married his longtime girlfriend Mia Lee in a lavish wedding ceremony fit for a king and queen in Simi Valley California.
Celeb guests included Miami Heat baller Dwyane Wade, "Being Mary Jane" star Gabrielle Union, Miami Heat player Chris Bosh and his wife Adrienne Bosh, Miami Heat player Udonis Haslem, "The Game" actress Lauren London, Oklahoma City Thunder player Russell Westbrook, singer Teairra Mari, Kevin Hart's girlfriend Eniko Parrish and rapper YG.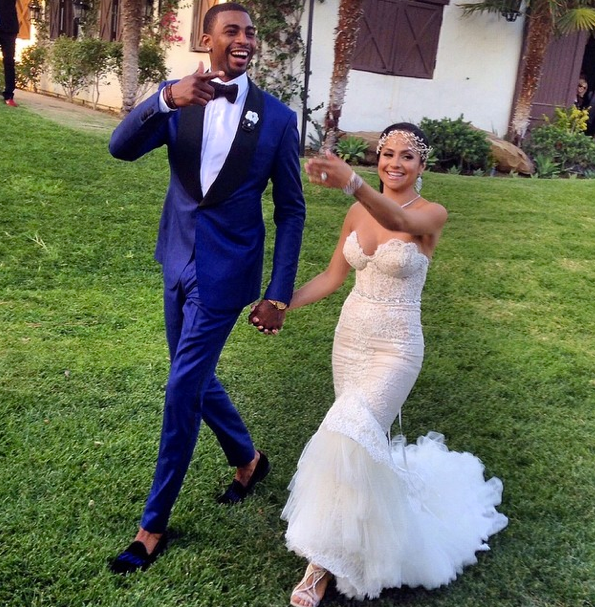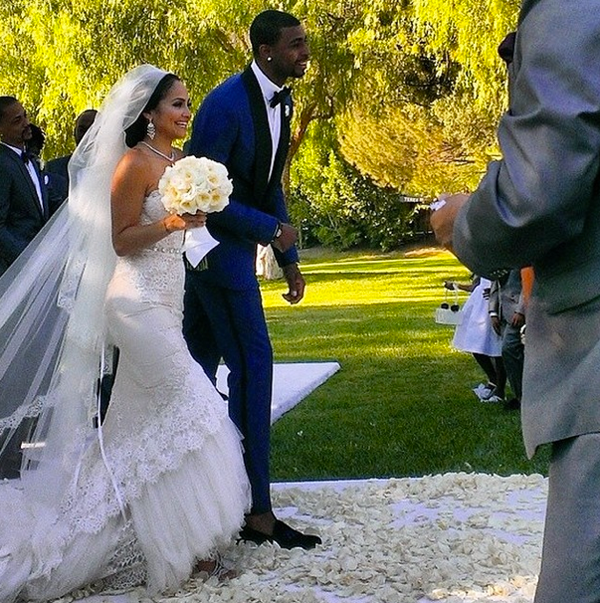 Although Dorell no longer plays for the Heat, it was a Miami Heat reunion as his former teammates witnessed him tie the knot with his girlfriend. Seems Dorell & Mia were able to move past that side-chick drama he had poppin' a few years ago.
Gabrielle Union and D. Wade were among the guests. They are weeks away from trekking down the aisle themselves. Sure she picked up a few ideas from the ceremony.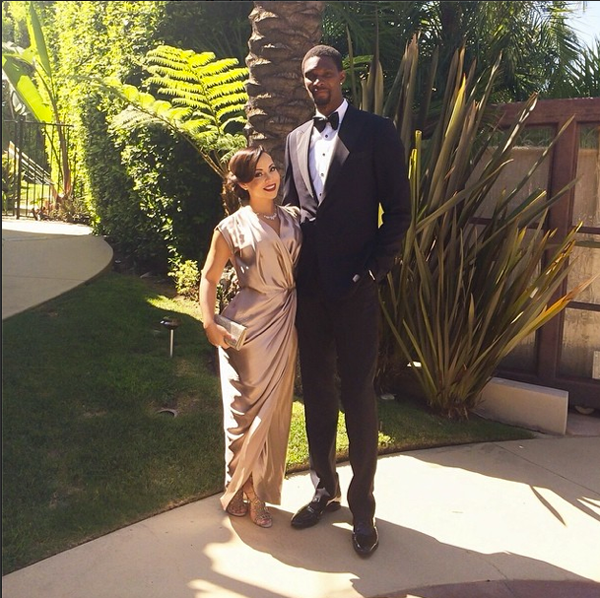 Miami Heat forward Chris Bosh and his wife Adrienne were dressed for the occasion. You know she stays camera ready.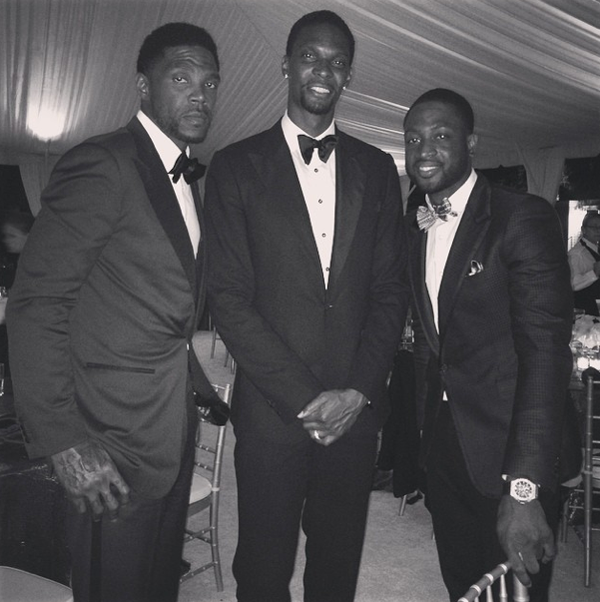 Bosh & D. Wade snapped a pic with Heat baller Udonis Haslem. Well don't they look sharp.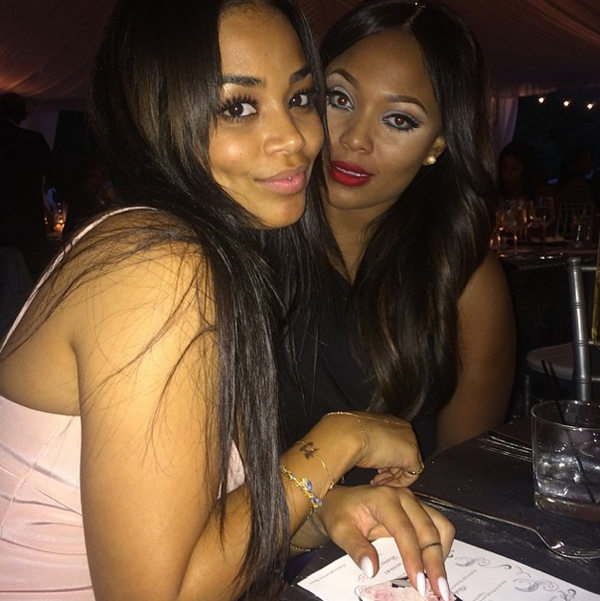 Lauren London and Teairra Mari were in the mix.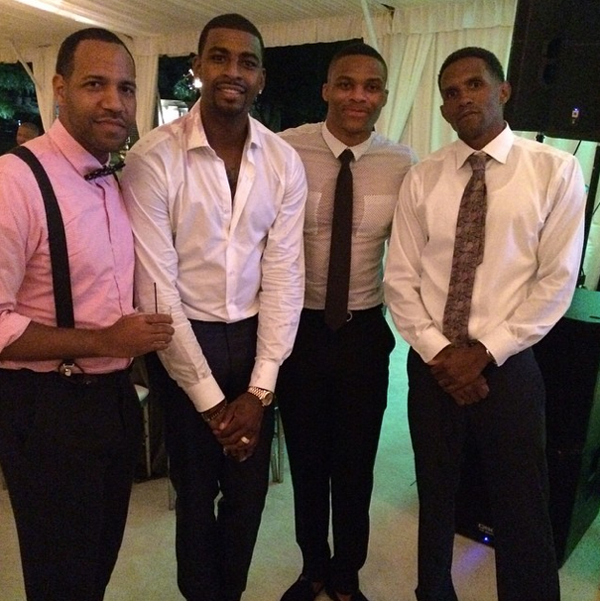 Sexy OKC baller Russell Westbrook also came out for the ceremony, posted up with the fellas.
Kevin Hart's girl Eniko posed it up with the blushing bride.
And L.A. rapper YG hit the stage to perform during the reception. Interesting choice.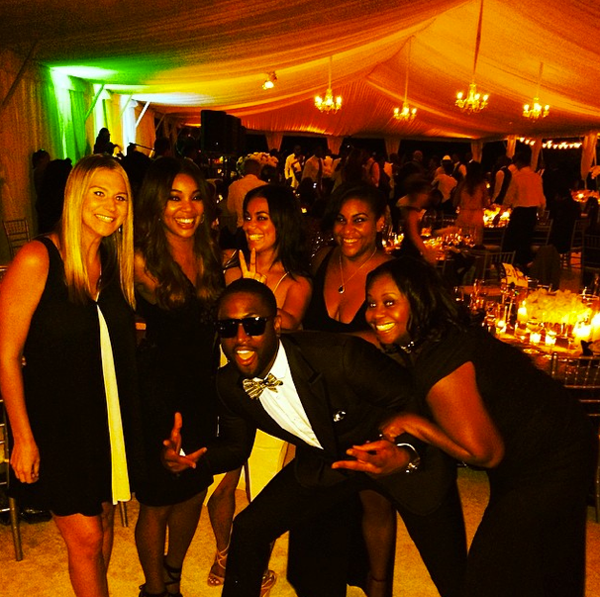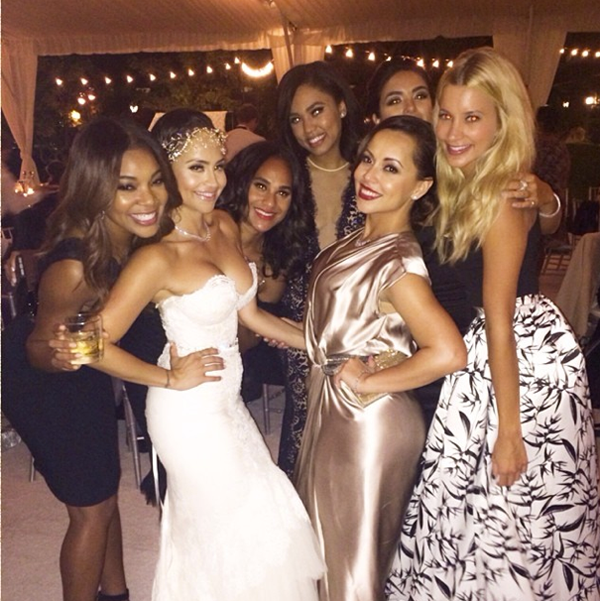 Fun times!
Also...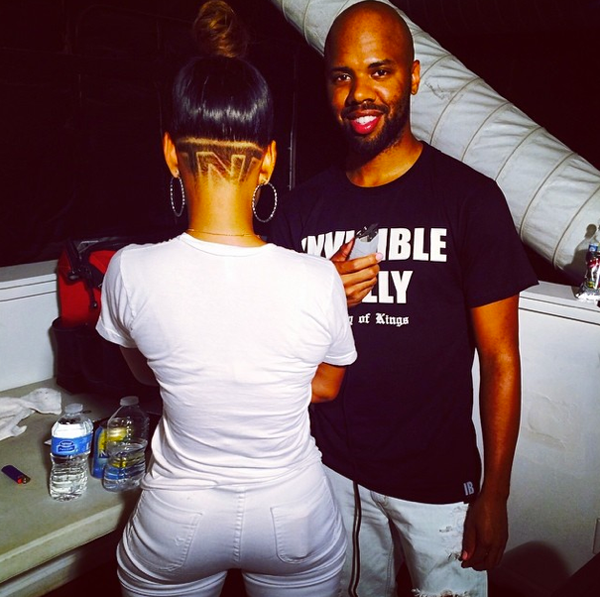 Christina Milian has a new shaved 'do. And it's fueling Lil Wayne romance rumors.
Christina etched "TNT" in the nape area of her head, which some say is an acronym for "Tina & Tunechi" As you may know, the YMCMB singer is set to release a mixtape titled "Tina Turnup" and she has been in the studio for countless hours "making music" with her boss Weezy.
Rumors first started to circulate when they showed up at the ESPY Awards hand-in-hand. And since then, the two have been spotted on a couple of outings together, further fueling relationship rumors. Also, Weezy released a track "Tina Turner Needs A Tuneup," in which he raps about his new lady needing a King….and "f*ck" them princes. And we know Christina & her ex-fiance Jas Prince called it quits back in June.
She posted the pic above with the caption, "Live in the Moment. It's your life.. TNT #weaintworried @christopherleneo & #tinaturnup"
Hmm...looks like she may have Weezy on the brain...literally.
EXTRAS:
1. Patti Labelle has joined the cast of FX's "American Horror Story." STORY

Photos: Dwyane's IG/ Gabrielle's IG/Dorrell's IG/Mia's IG/Chris' IG/Christina's IG/@marvetbritto
SPOTTED: Kelis HOLDING Hands With Mystery Man In Cali
Posted: 11 Aug 2014 12:20 PM PDT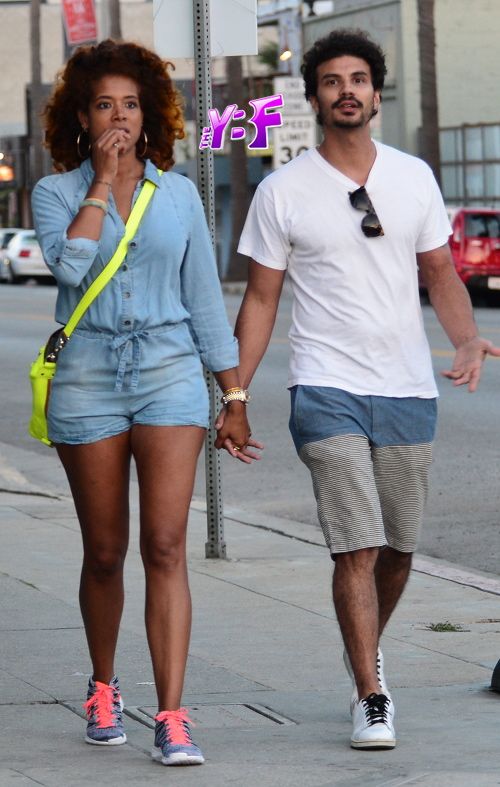 Over the weekend, Kelis was spotted hand-in-hand with a mystery man in Cali. Is this the "him" she's cooking for on her Instagram? Decide inside…
It's been about five years since she filed for divorce from her husband Nas. And now it looks like Kelis is finally ready to go public with her possible new boo.
In between rocking the stage overseas for concert performances, the FOOD singer took a moment to stroll the streets of Cali. She was spotted in a cute denim romper holding hands with a mystery man along trendy Abbot Kinney Boulevard in Venice, CA.
Is THIS the man the "Jerk Ribs" singer has been cooking up a storm for? She constantly posts pics on her Instagram of delicious eats with the tagline "Things I make for Him." Hmm…Not mad.
Photos: GoldenEye /London Entertainment
COMING SOON: BET Orders THREE New Docuseries Starring Nelly, Keyshia Cole & Tamela And David Mann
Posted: 11 Aug 2014 11:17 AM PDT
BET has ordered three new docuseries starring Nelly, Keyshia Cole and gospel's powerhouse couple Tamela & David Mann. More inside....
Now that VH1 has been confirmed as the #1 cable network among Black households, BET is hoping to take a bite out of their success with a return to docuseries. A new report published by THR reveals that BET ('The Game,' 'Being Mary Jane,' 'Real Husbands') has ordered three docuseries starring rapper Nelly, singer Keyshia Cole and a show featuring Meet the Browns stars David and Tamela Mann.
Keyshia's untitled project was picked up for six half-hour episodes, making it her third series (Keyshia Cole: The Way It Is and Keyshia & Daniel: Family First) with the network. The show will follow her new life as a single mother, her unstable marriage to NBA player Daniel Gibson and family struggles. On Instagram, it appears that Keyshia is speaking to her mom Frankie again. She posted,
"My mean mug was real but her Idgaf was REAL! Even when I'm mad at her I miss her! Her smile, her laugh. Felt horrible tonight but seeing her really made me feel better! @BirdMan5Star said u only get #One well I have 2 and love them both!!! I didn't kno her but #Respect 2 U #RIP Ms GLADYS!! @Birdman5star"
We guess this means Frankie will appear.....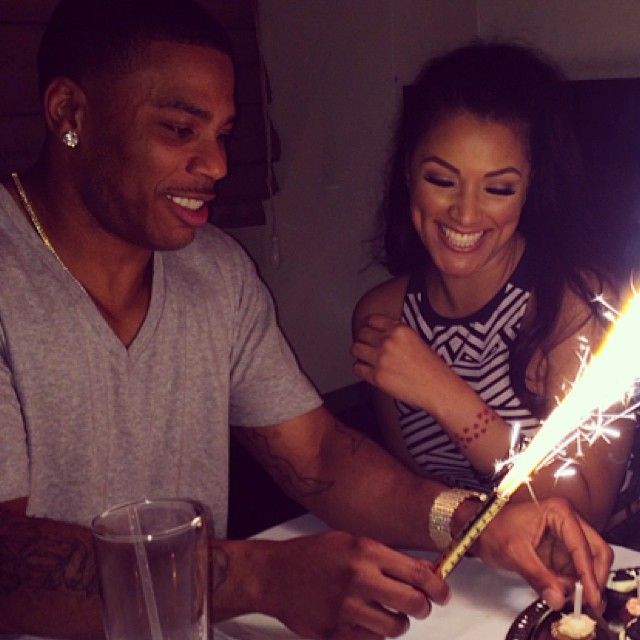 The Nelly project will focus on Nelly as a fashion businessman/co-owner of the NBA's Charlotte Bobcats, father, and his new relationship with Miss Jackson, Floyd Mayweather Jr.'s ex-girlfriend (above). BET has ordered 8 episodes. Hmm....now we know why Nelly is being so public with THIS relationship. It's for tv!
Also, "Take Me To The King" singer Tamela Mann will star opposite her husband David Mann (married 26 years) and their children on a show about their lives in the industry.
"These three shows are led by talent that our audience connects with but are also very different shows," BET senior vp original programming Charlie Jordan Brookins tells THR. "We're excited about these new shows. What BET does is give the audience what they've been looking for."

Which show are you looking forward to watching?
EXTRAS:
1. James Brown's widow reveals DNA samples were taken from his corpse for a paternity test. Story.
2. "The Real" is set to premiere on September 15th and we've got a new promo. Check it out...
Photos via Nelly's Instagram/Keyshia Cole's Instagram
MAGAZINE FAB: Rihanna Gets Eskimo Horror WILD For W Magazine's September 2014 Issue + MODELS It Up With Naomi Campbell & Iman
Posted: 11 Aug 2014 10:32 AM PDT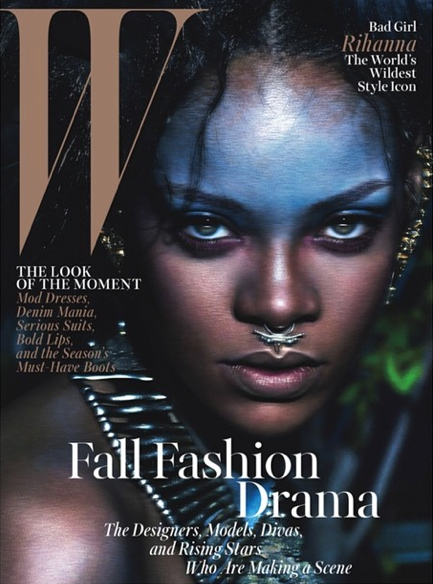 The magazine slayer is back! And she's slaying the newest cover of W Magazine's September issue. Peep Rihanna's cover and her shot with supermodels Naomi Campbell and Iman inside….
Rihanna surely knows how to serve up some model tease. And she doesn't disappoint in her editorial for W magazine's September 2014 issue. We gave you a peek at the cover and now the entire spread has surfaced. And we LOVE it!
Shot by celebrity photographers Mert Alas and Marcus Piggott, the "Pour It Up" singer gets edgy with her face paint and bold jewelry in the tribal-inspired spread. The fashion icon looks fearless and flawless wrapped in fur as she poses with a pack of wolves, showing off her decorated septum nose piercing.
Peep the Eskimo-horror spread below: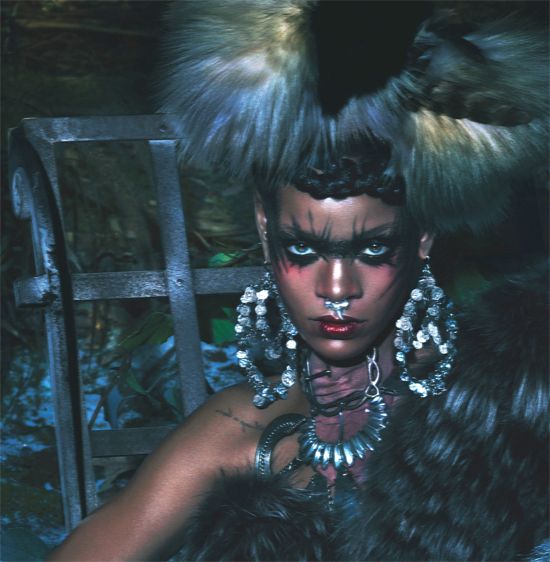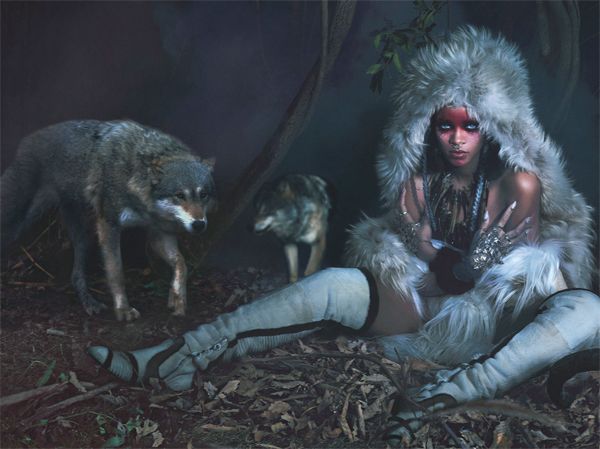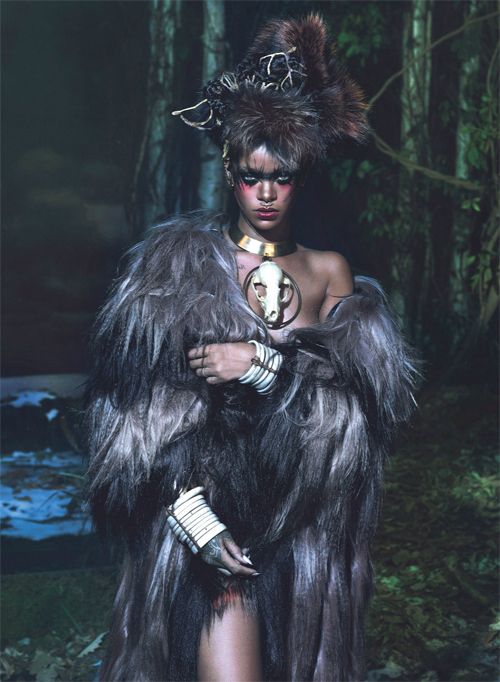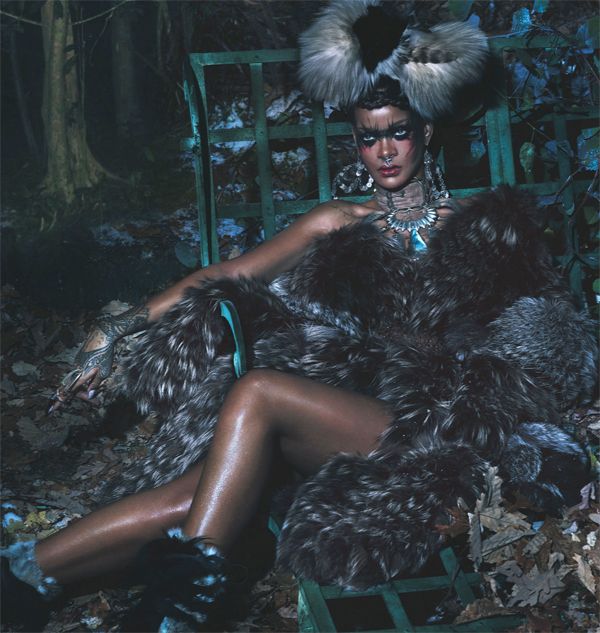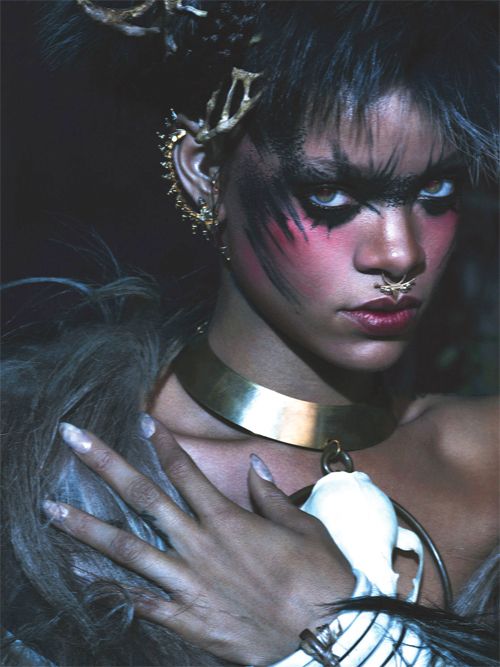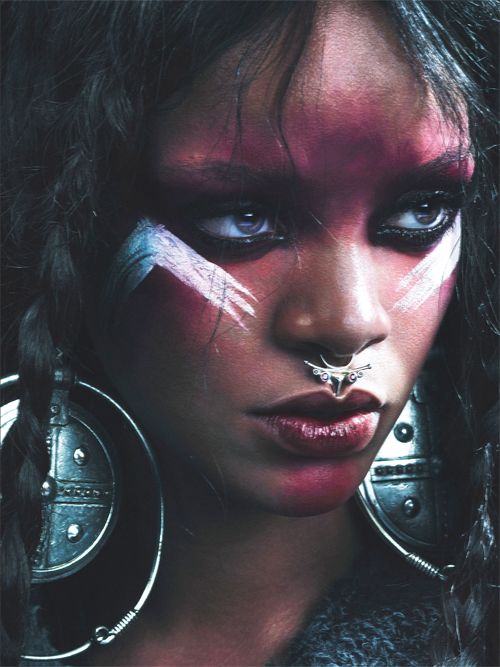 Hot.
And also in the magazine....
RiRi shows she can model with the best of the best, posing it up with iconic supermodels Naomi Campbell and Iman.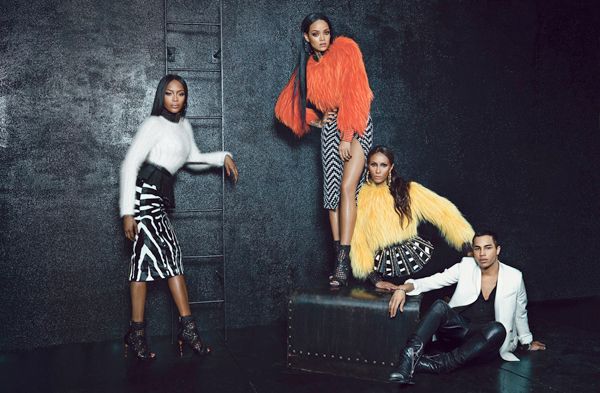 RiRi, Naomi and Iman all donned Balmain as they served up some serious supermodel realness alongside Balmain creative director Olivier Rousteing. Rih took to her Twitter to share the breath-taking photo saying, "3 Bad Balmain Bitche$ #BlackBeauty #3Generations #LEGENDS #BALMAIN @Wmag @Edward_Enninful "
Flawless.
Photos: Mert Alas and Mac Piggott/W Magazine
MUSIC VIDEOS: Lil Wayne's "Krazy" + DJ Khaled's "Hold You Down" ft. Chris Brown, Jeremih, August Alsina & Future
Posted: 11 Aug 2014 09:32 AM PDT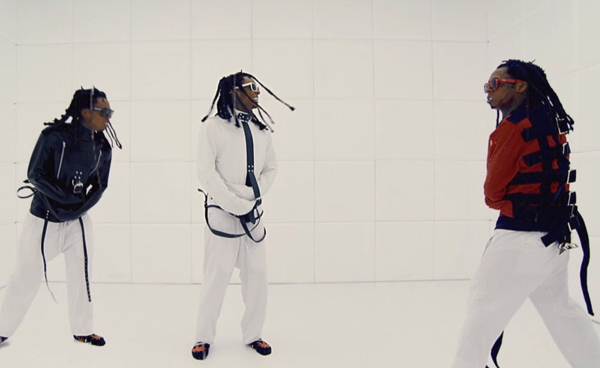 In today's roundup of music videos, Lil Wayne has released the visuals to his single, "Krazy." Plus, DJ Khaled rounded up Chris Brown, Jeremih, August Alsina and Future for his new video "Hold You Down." Check them out inside…
On the heels of the release of his new track "GRINDIN'" with Drake, Lil Wayne has given the video treatment to his new track "Krazy." Last week, we gave you a sneak peek at the Colin Tilley-directed video and now the first video from Wayne's Tha Carter V album has been released. Weezy's fourth studio album is expected to drop sometime later this year.
In the video, Wayne is admitted into an insane asylum (with his Jordans) and dragged through the facility in a strait-jacket. The video recreates scenes from the 1975 film One Flew Over the Cuckoo's Nest.
The YMCMB honcho spoke about the clip in an MTV press release saying,
"This is the first video from Carter V. It's not about anyone being crazy, although I guess some people think the things I do are crazy. I thought the idea of being in a straitjacket would work for this song, so that's what we did."

Check it:
And in another new video...
DJ Khaled got help from R&B crooners Chris Brown, Jeremih, August Alsina and rapper Future for his new track, "Hold You Down." The track will appear on Khaled's upcoming album I Changed A Lot, due to drop this fall.
In the Gil Green-directed clip, the R&B bad boys, Khaled and Future serenade their ladies for holding them down through thick and thin.
Peep the video below:
Photos/Videos: MTV
CALIFORNIA GIRLS: Kerry Washington, Tyra Banks, Chrissy Teigen & Zoe Saldana ATTEND A Brentwood Day Party
Posted: 11 Aug 2014 08:59 AM PDT
A chic day party at Jennifer Klein's home in Brentwood brought out film star Zoe Saldana, Emmy-nominated actress Kerry Washington and models Tyra Banks and Chrissy Teigen. Get deets on the ladies inside...
International movie star Zoe Saldana was spotted leaving a Jennifer Klein's Day Of Indulgence party in Brentwood, CA yesterday.
As she continues to promote her hit film Guardians Of the Galaxy, the expectant mother-of twins has become "one to watch" for many moms-to-be around the country. We admire her style selections.
Guess who else attended.....
"Scandal" star Kerry Washington (in a Parker white dress, Prada purse, Louboutin sandals) took some time away from husband Nnamdi and daughter Isabelle to appear at the party.
Kerry, who recently returned to the set of "Scandal", explained to THR why the previous season was her most difficult:
"(E)verything I understood about Olivia unraveled because of the storylines. The season really broke me. I'm a Type A actor who likes to have it all figured out going in, but suddenly I had no idea where this woman was going to go next. I had to jump in without everything being perfect. I felt like I had been in control playing the character, but it all got taken away from me last season. "
We're interested to in seeing what the writers have in store for Olivia this season....
Also at the party......
Sports Illustrated cover girls Tyra Banks (the first African American model to land a solo SI cover) and Chrissy Teigen (who covers the 2014 SI Swimsuit Issue) were also seen leaving the party. On the tv front, Tyra has been busy promoting the premiere of ANTM Cycle 21 which kicks off Monday, August 18 9/8C.
Photos via All Access Photo/Splash News
DO WE LOVE IT?! Zendaya Coleman ROCKS Two LOOKS With Her New CROPPED Wig At The 2014 Teen Choice Awards
Posted: 11 Aug 2014 08:45 AM PDT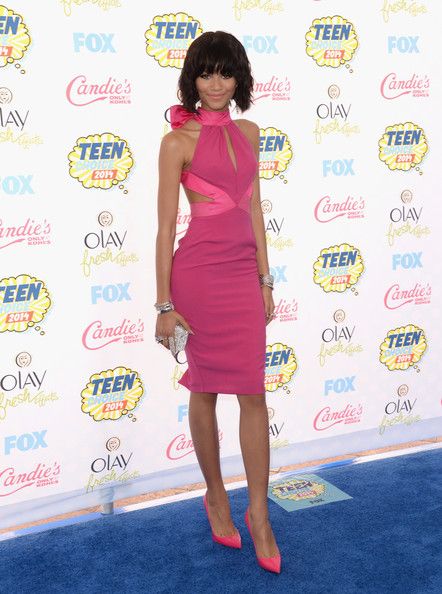 Disney star Zendaya Coleman debuted a new cropped wavy wig with two different looks for the 2014 Teen Choice Awards. Decide which look you love inside…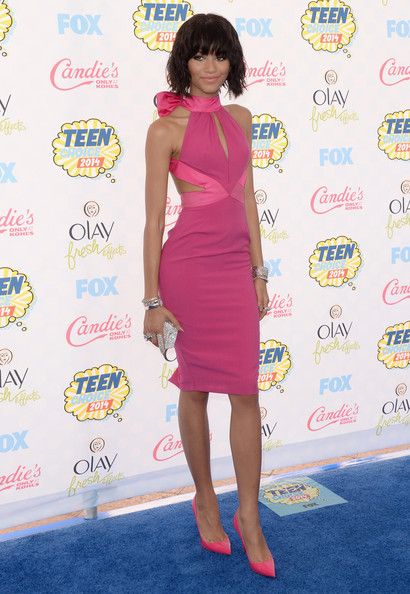 Disney starlet Zendaya Coleman (who backed out of her lead role as Aaliyah recently) hit the red carpet for FOX's 2014 Teen Choice Awards at The Shrine Auditorium in L.A. Saturday night. The "Zapped" actress tossed the long locks and debuted a new black wavy bob with two interesting looks.
Paying tribute to Madonna, the young actress rocked a custom pink cutout Material Girl halter dress from the Pop queen's collection. She accessorized her look with pink Louboutins, Marina B jewelry and a Swarovski 'Kiosque' box clutch. Zendaya is the new face of Madonna and her daughter Lourdes Leon's Material Girl campaign. Her look was inspired by Madonna's pink gown from the "Material Girl" music video.
"This is the updated version of the Material Girl. It's a tribute to the one and only Madonna," said the "Shake It Up" actress.
Zendaya even joked on IG about her new wig channeling Nickelodeon character, Dora the Explorer. She said, "If Dora rocks custom @materialgirl and diamonds....then shooooooot...I'm Dora" Ha!
And for her second look...
After accepting the Style Icon surfboard, Zendaya posed it up in the press room, donning a zebra print shirt dress by French designer Emanuel Ungaro. The Disney star accessorized her second look with over-the-knee embroidered Nicholas Kirkwood boots and the same jewels from her first look.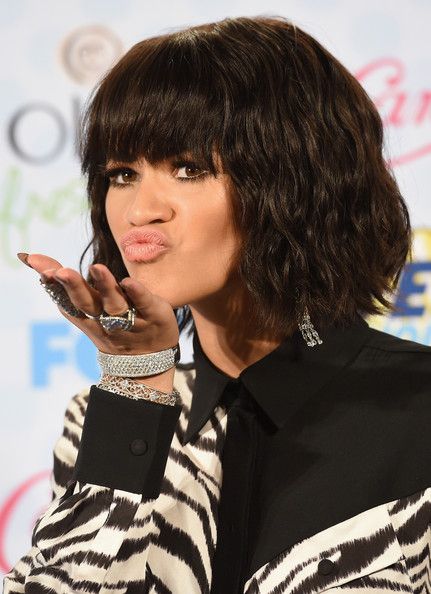 So....
WHICH LOOK DO WE LOVE?!
Photos: Getty