---
OUT AND ABOUT: Meagan Good ARRIVES At LAX + Mary J Blige AT "Jimmy Kimmel Live" + Jaden Smith Jets To NYC
Posted: 05 Aug 2014 08:14 AM PDT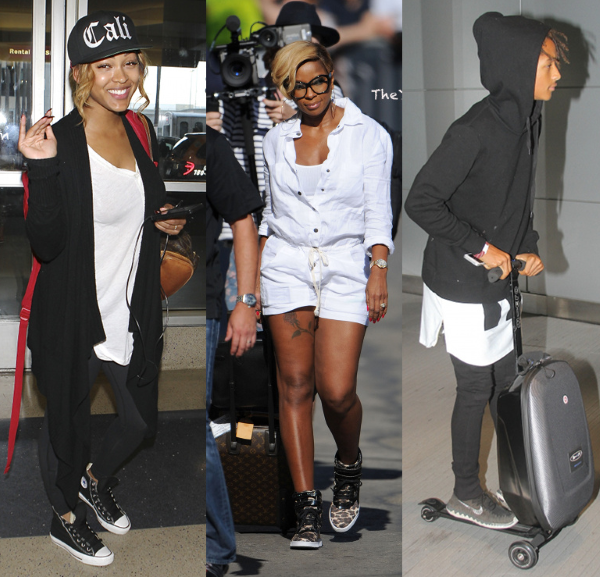 Meagan Good, Mary J. Blige and Jaden Smith were each spotted making moves yesterday. Find out what they were up to inside.....
Yesterday, photographers spotted a cute and casual Meagan Good arriving at LAX.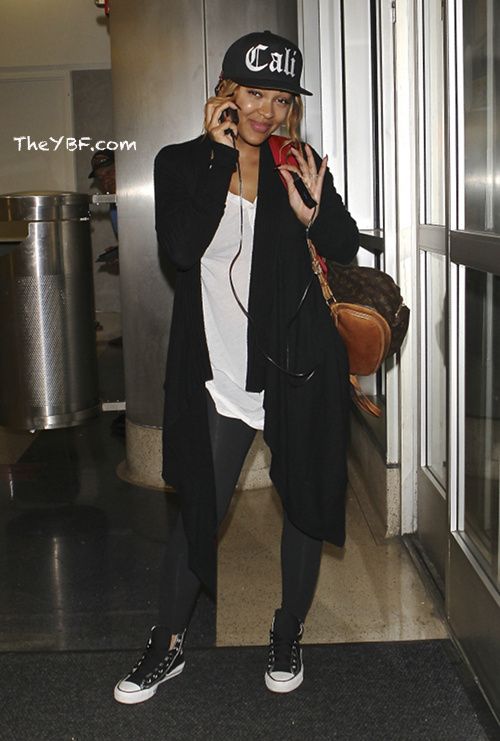 Meagan starred in this summer's blockbuster Think Like A Man 2, and next, we'll see her starring alongside Virgina Madsen in the made-for-tv film Babylon Fields.
Also...the hottie just completed a photoshoot for ATTRACT Magazine. Check out her sexy BTS footage above.
Elsewhere in LA......
Mary J Blige, dressed in white, was spotted carrying her Louis Vuitton luggage into Jimmy Kimmel studios in Hollywood.
And in case you missed it, Mary lent her voice to a new collabo, "Being With You", a remake taken from Smokey Robinson's new duets album, Smokey & Friends (August 19th).
In New York...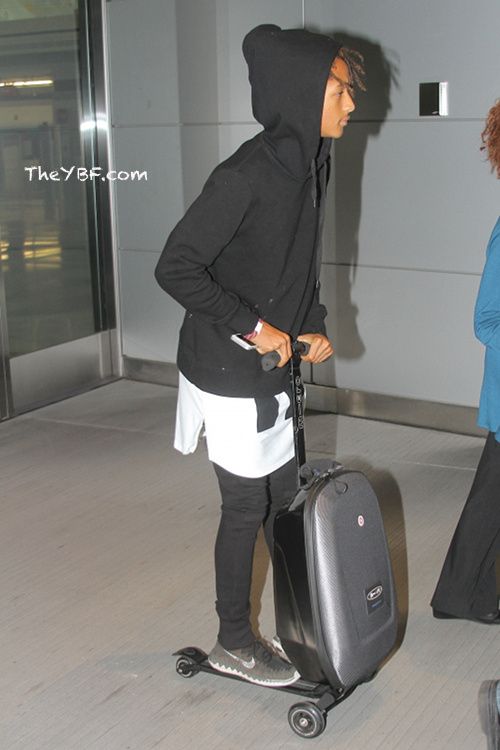 Jaden Smith was seen arriving at JFK airport....with a scooter/suitcase. He would be the one to have something like this....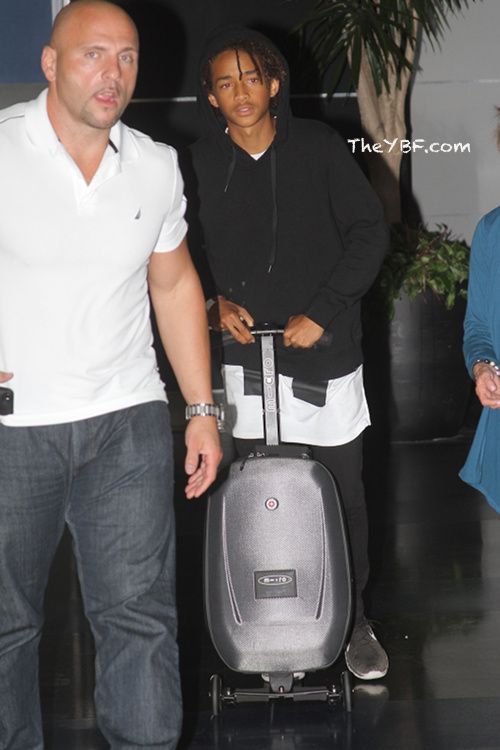 Though we've seen a lot of Jaden in pictures (with his famous friends), he is gearing up for a return to the silver screen when The Karate Kid 2 begins filming later this year.
Photos via Vladimir Labissiere/ PC/Splash News
ON THE SET! Kerry Washington Films "Scandal" In Her Stylish White Coat...With Pup Josie!
Posted: 05 Aug 2014 07:31 AM PDT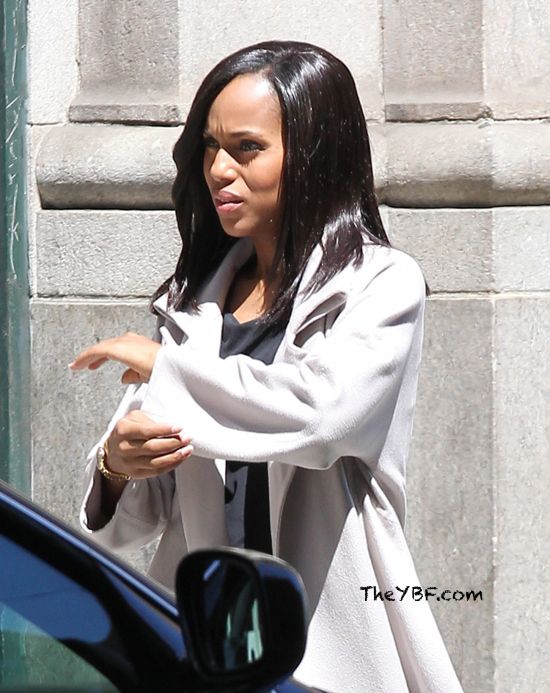 Kerry's back on the set! Or should we say...Olivia Pope & Associates are back to fixing problems. Check out the working mom doing what she does best inside...
Kery Washington filmed scenes for her hit TV show 'Scandal' in downtown Los Angeles yesterday. Almost 4 months after delivering baby girl Isabelle, the gorgeous Kerry is back in full swing at work....and in one of those coats we always drool over while watching the show.
Even though she left little Isabella and her husband Nnamdi Asomugha at home, she brought the cuteness that his her other baby girl....pup Josie along for the work day: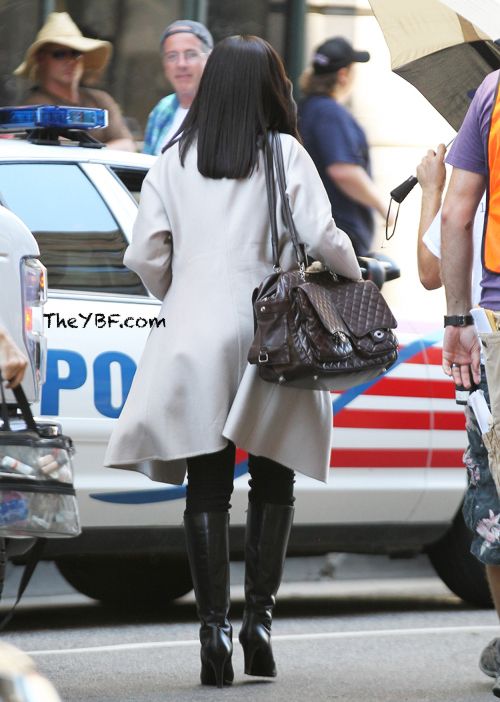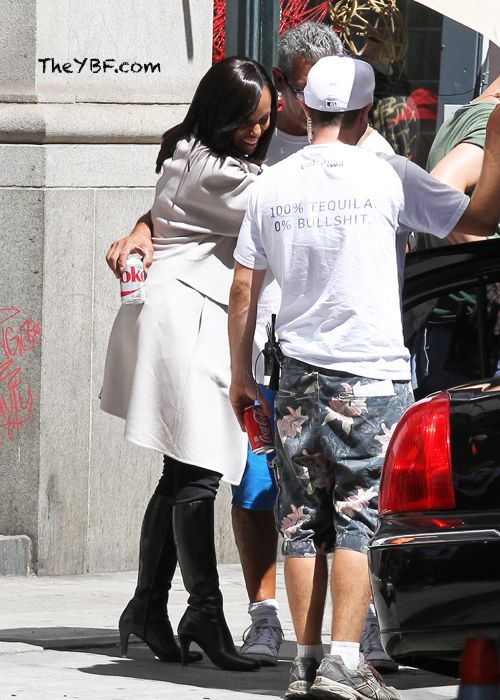 She's looking fabulous these days.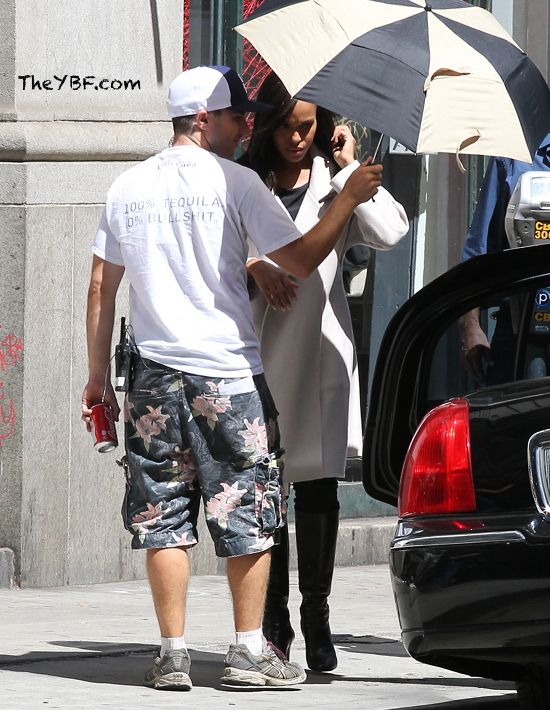 Last week, Kerry dished to talk show Jimmy Kimmel about naming her baby girl after her grandmother...and why frozen candies were her fave things while pregnant.
"Scandal" Season 4 returns September 25th at a new time -- 9p EST.
Photos: Fame/Flynet
Did Nicole Murphy Drop The "Breakup" Dime...Because She Believed Michael Strahan Was CHEATING?!
Posted: 05 Aug 2014 06:04 AM PDT
Timing is everything...and Nicole Murphy's announcement of her split from Michael Strahan (around the same time of his Hall Of Fame speech) seems to suggest that she had an axe to grind. More inside....
Did Nicole Murphy announce her split from Michael Strahan as an act of retaliation? While sources close to Nicole shoot down the "retaliation" claims, they did confirm to TMZ that Nicole recently received confirmation of Michael's infidelity. And the timing is purely coincidental, allegedly.
Reportedly, back in July, she had a hunch that there was another woman. But right before Michael headed to Ohio....she supposedly felt she knew the cheating was a fact.
Hmm....we're imagining how that scenario played out. Did she get a phone call from the other woman? Are there pics that will soon come out?
Issues of infidelity have often followed the couple. They broke up briefly in 2012 amid rumors of Nicole having an affair with musician London Taylor. Elsewhere, Page Six claims that the couple split because of Nicole's alleged opposition to a prenup. A source told the column, "Nicole was unwilling to sign a prenup, even though Michael has consistently been very generous to her." Something tells us Nicole is not going to go away quietly. And we bet this will all play out on "Hollywood Exes."
Photo via Getty
SHOTS FIRED: Lil Kim Adds Her Own Bars To Beyonce's "***Flawless" Remix With Nicki Minaj
Posted: 04 Aug 2014 04:55 PM PDT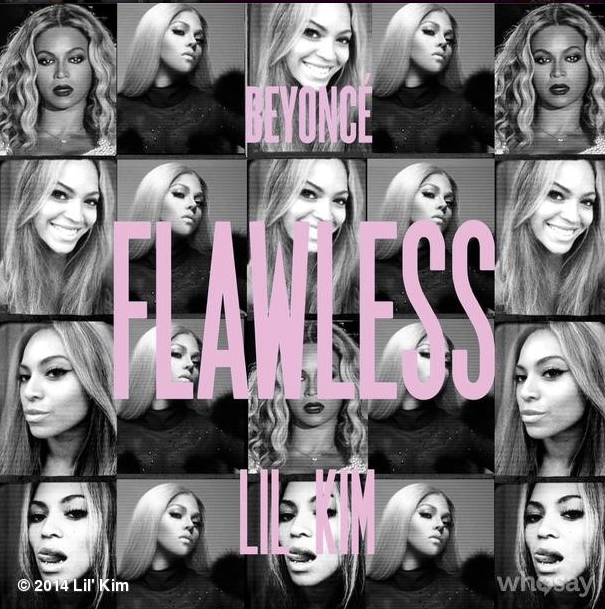 Lil Kim has hopped on Beyonce's "***Flawless" Remix with Nicki Minaj and threw a few shots at the "Anaconda" rapper. Take a listen inside…
Seems Lil Kim caught some feelings after hearing Beyonce's "***Flawless" remix with Nicki Minaj. So she hit up the studio to drop a few bars, coming for the "Anaconda" rapper.
The Queen Bee (who just had her daughter Royal Regin in June) is looking to take her spot on the throne as the "Queen of Rap" after Nicki spit a few bars on the original track, claiming SHE was the Queen.
On Kimmy's version, she spits
"UGH! Am I trippin' or did this hoe just say my name?/Queen of rap, f*ck outta here/ Queen's back, f*ck outta here/Time to get this rap bitch up outta here"
She added,
"Look at this sh*t/still got my dick on her lips/I aim to stunt on a b*tch/Damn it's a shame/I gave you the rope/b*tch I want you to hang"
And if you take a closer look at the cover art Kim posted to her Instagram, she replaced Nicki's photos with her own and snatched her name off of the cover.
The female rap game is definitely taking a turn. Wonder if Remy Ma will hop on the track next.
Take a listen for yourself below. Kim's verse comes in at the 3:13 mark:
Did she kill it or nah?
Photos: Lil Kim's IG
Rihanna Gets WIGALICIOUSLY Green In NEW MAC Cosmetics Viva Glam Ad + Chrisette Michele PENS Open Letter Over "R&B Divas: LA" Backlash
Posted: 04 Aug 2014 03:37 PM PDT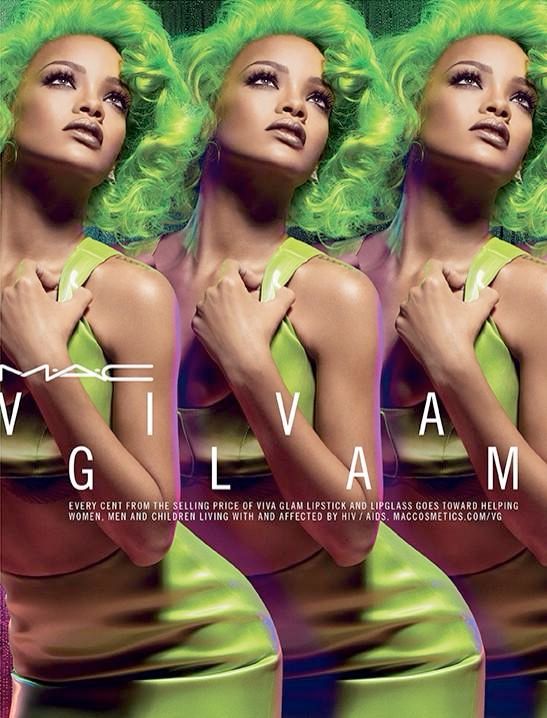 Rihanna serves up some green wiggery for her brand new MAC Cosmetics Viva Glam editorial. Meanwhile, Chrisette Michele is having second thoughts about reality TV. Peep Rih's gorgeous cover and find out what has Chrisette upset inside…
Make-up mavens get excited! The fearless one has a brand new shot for MAC Cosmestics Viva Glam ad. And we're totally green with envy.
For her second collaboration with MAC Cosmetics, Rihanna got uber glam in all of her green wiggery for the launch of her new limited-edition lipstick and lipgloss line. And it will be available globally this September, just in time for fall. We're sure her new color will sell out just as fast as her first red lippie, RiRiWoo.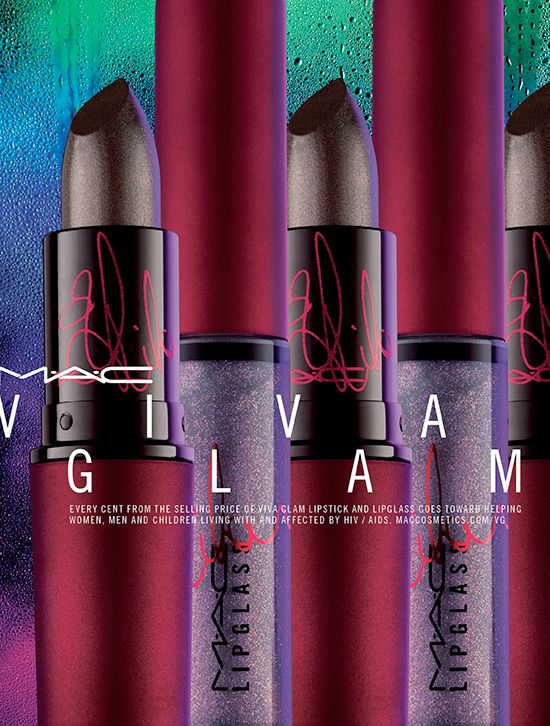 This time around, Rih is offering up a bold, frosted metallic mauve lipstick and cool mauve with red frost lipgloss.
Rih took to Twitter to share her excitement:
Available GLOBALLY in September @MACcosmetics #VivaGlam #Rihanna2 pic.twitter.com/aaAoY3RcoO

— Rihanna (@rihanna) August 4, 2014
In an effort to help fight the HIV/ADIS epidemic, all sales from her Rihanna 2 line will be donated to charities that help men, women and children living with and affected by HIV/AIDS. Nice!
And in reality TV news....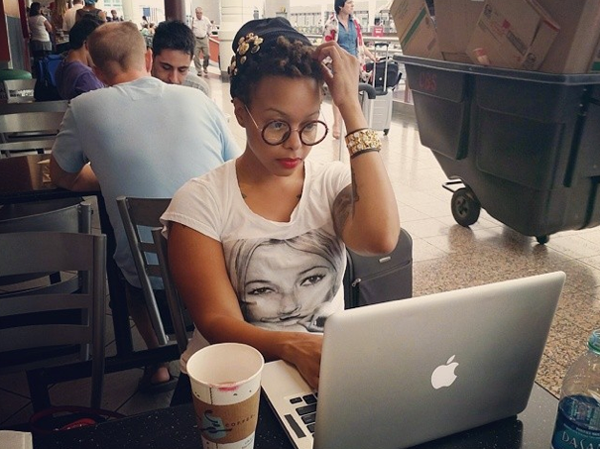 Soul singer Chrisette Michele seems to be having second thoughts about starring on TVOne's reality hit series, "R&B Divas: LA"
By now, anyone entering into the reality TV world knows it comes with a lot of negative backlash, no matter how "good" you try to appear on screen. The Better singer took to her Instagram to voice her thoughts on making a "mistake" by appearing on the show. In her letter (which she has already deleted), Chrisette reveals she just wanted to show her fans who she is outside of her music but instead she's having to deal with a slew of evil tweets and hateful phone calls.
She wrote,
"Hey can I write you a letter? Dear fans, Maybe you were right about me not doing a reality show. I have had so much fun staying beneath the radar. I've traveled to more countries then I can pronounce and made friends of fans and celebs alike, collabed with my favorite artists (you know I'm a nerdy hip hop head). Truth is, I wasn't raised on R&B. I just happen to sound okay singing it.

I've never thought that wearing angel wings and trying to be open about feelings would make people send me evil tweets and receive awful phone calls. A Diva. Maybe that's not the right term for artists now a days the way it was when Whitney was here. Maybe it's meaning has changed. I'm truly just here to say hello. On your TV screens to show you who I am outside of this music/Hollywood stuff. Maybe reality was a mistake.

Maybe I should stay in my comfortable cave where I'm only loved. Half a million twitter followers, 200k insta Rich Hipster's and 2.1 million Facebook likes have come from the music alone. From backstage hugs and kisses. From marriage proposals on my open hearted stage. From my quirky ever changing style. From hellos on the streets. From meet & greets. The moments un-telivised.

Some people aren't meant to share their personality. Maybe I'm one of those people. One of those who are protected by the Art. Art is love and it covers. It shields. I don't see myself doing reality again. I'll hang out with my pet unicorn in Artist-ville. This negativity is tragic and I can't transfer these vibes to my Art. I love you. I won't speak negativity against any one on the show in any further interviews.

I won't speak the name of people who quell my light. I can't participate in brokenness. Healing is my ambition. Light is my nourishment. Be well. The Rich Hipster Captain #chrisette #ChrisetteMichele #Art #RichHipster #randbdivasLA #rbdivasla #rbdivas #iamstillhere #itsByTheGraceOfGod"'
So we can likely count her out on appearing on the next season. Guess she had to learn the hard way that it all comes with the territory.
Photos: Rihanna's Twitter/Chrisette's Twitter
PARTIES: Stevie J, Joseline & Blac Chyna HOSTING At Velvet Room + Kandi CELEBRATED Todd Tucker's Birthday With Toya, Rasheeda, Kirk & Porsha
Posted: 04 Aug 2014 03:15 PM PDT
In today's party report, Joseline, Stevie J and Blac Chyna hosted a club night together while Kandi celebrated Todd Tucker's birthday with their ATL friends. More inside....
Somewhere in Atlanta.....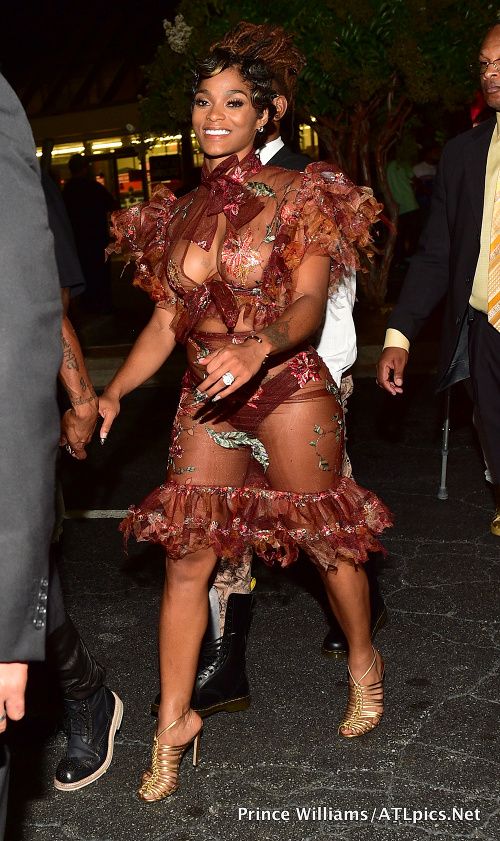 Joseline Hernandez stepped out of the house looking like this...and nobody stopped her.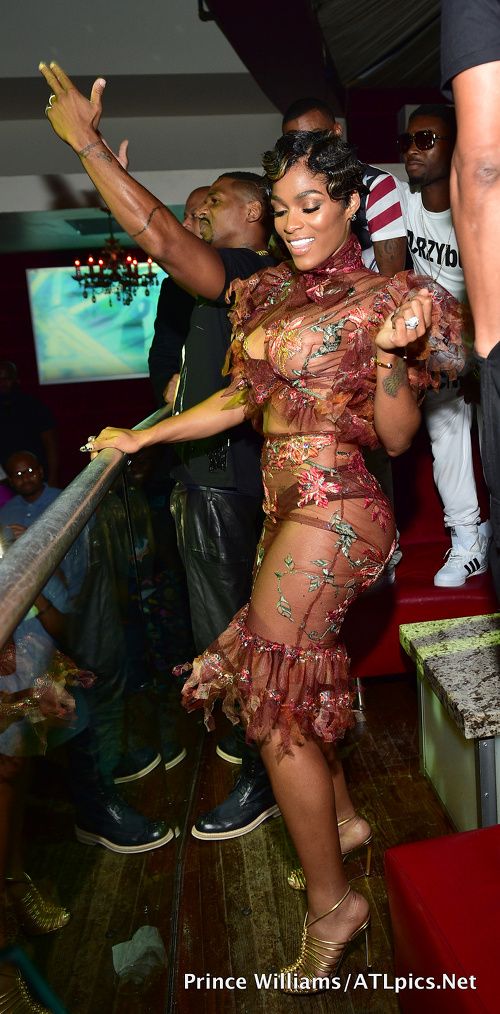 Do you remember the time on LAHH ATL when Joseline told Steebie "I don't need no stylist!"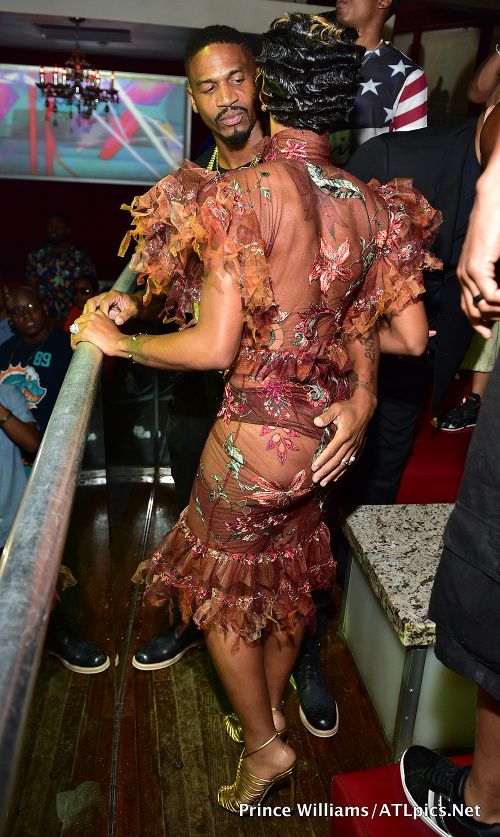 Maybe Steebie had second thoughts....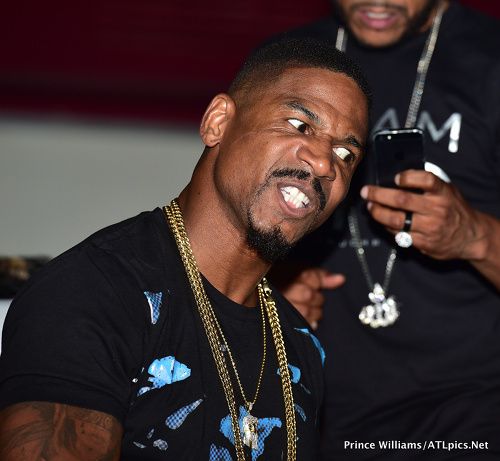 Was this the face he made after he got a good look at Joseline?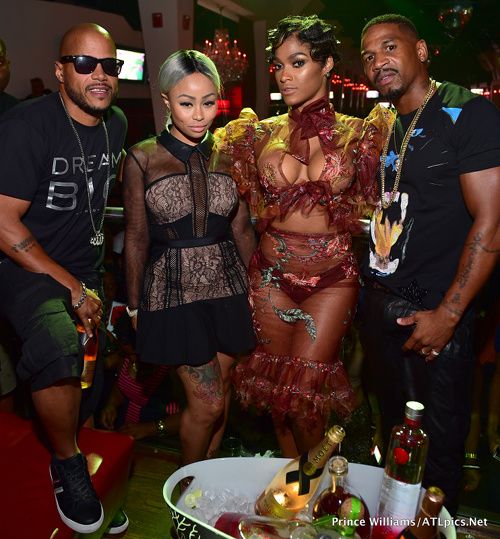 Joseline and Stevie co-hosted the party at Velvet Room with Blac Chyna (we see she's been perfecting her Kim K poses).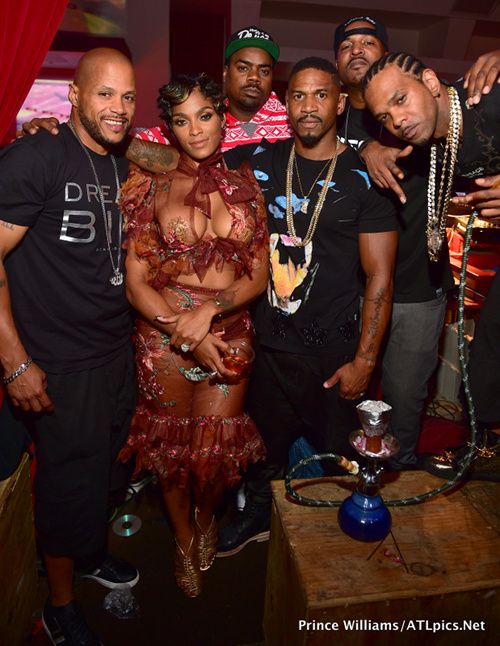 Stevie poured a few drinks out for his fans.
Also in the ATL.....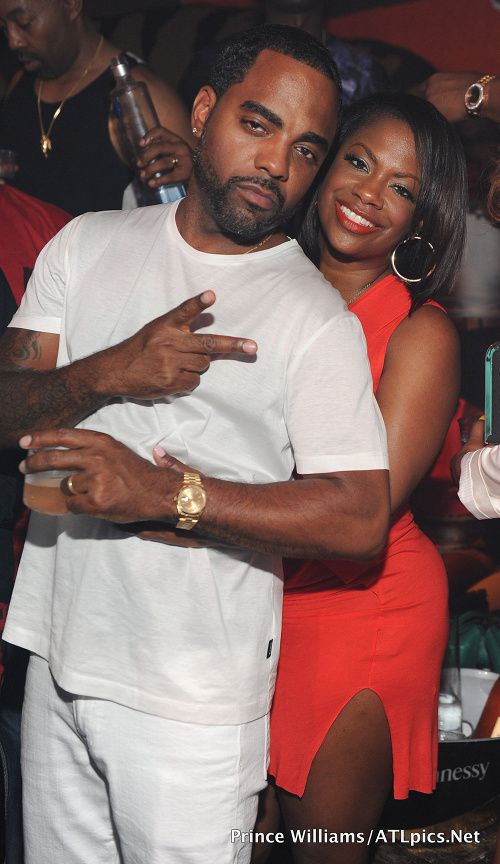 Todd Tucker has been celebrating his birthday all weekend.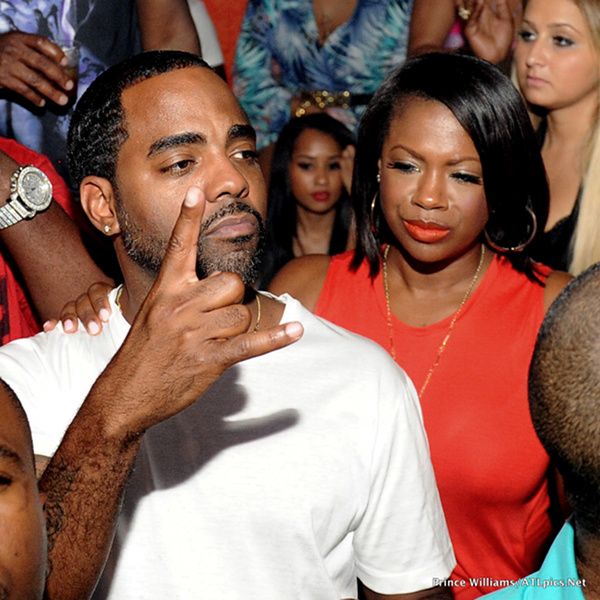 Last night, he and Kandi partied Aroma Lounge. Hmm...we wonder if he drove up in the new Corvette she bought him?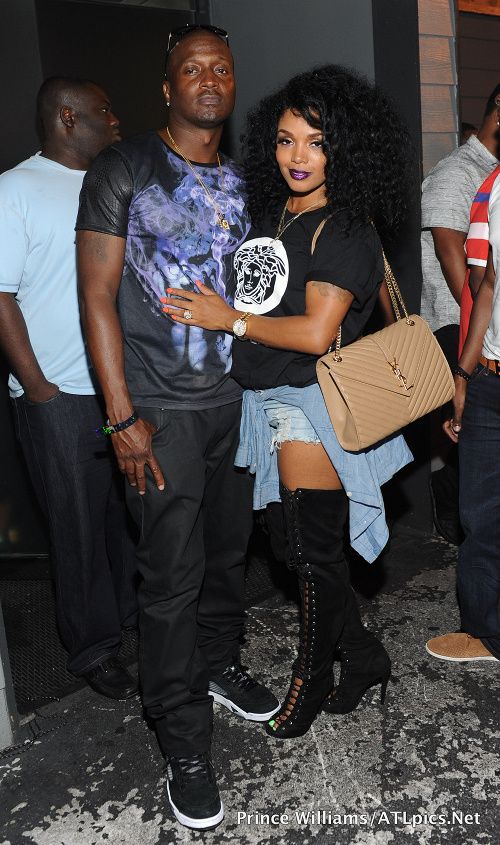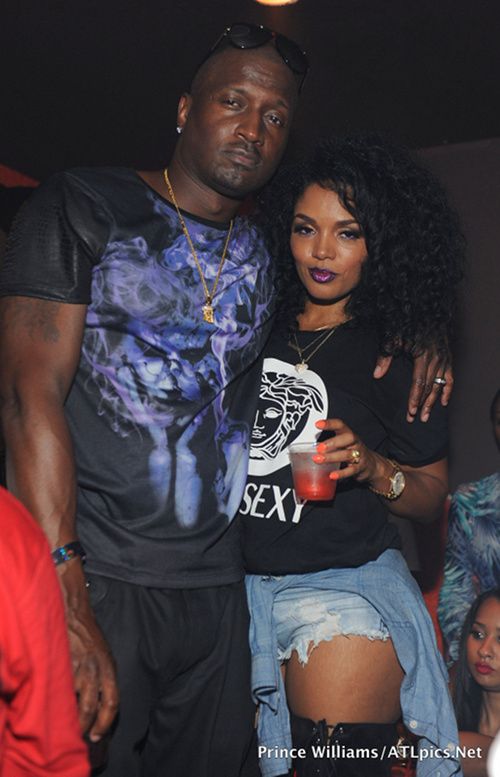 LAHH ATL stars Kirk and Rasheeda celebrated with Kandi and Todd.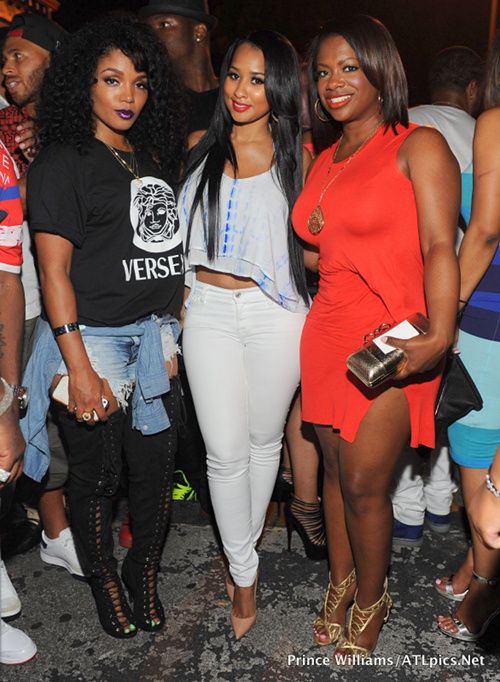 Tami, the wife of Waka Flocka and a fellow "LAHH ATL" castmember, partied with Kandi and Todd.
Kandi's RHOA co-star Porsha Williams was there rocking her Naked Hair.
Kandi's bff Toya was also spotted at the party.
Photos via Prince Williams/ATLpics.net
Michael Strahan COVERS Men's Fitness September 2014 Issue + Did Nicole Murphy Try To Sabotage Michael Strahan's NFL Hall Of Fame Induction?!
Posted: 04 Aug 2014 02:22 PM PDT
NFL star turned TV host Michael Strahan is gracing the newest cover of Men's Fitness magazine. Plus, there are rumors circulating that his now ex-fiancée Nicole Murphy may have tried to sabotage the biggest moment in his career. More inside…
Newly inducted NFL Hall of Famer Michael Strahan is currently on a career high right now. Despite the shortcomings in his love life, he recently celebrated becoming one of the newest inductees for the Pro Football Hall of Fame after his 15-year career in the NFL (he played for the New York Giants).
The 42-year-old former defensive lineman turned "Live with Kelly & Michael" television host is now gracing the cover of Men's Fitness magazine's September 2014 issue, showing off his signature gap and toned physique. And we're loving it.
In the cover story, the new "GMA" co-host talked about keeping in shape while juggling his many jobs, the evolution of football and how he's handling having to wear so many different hats in one day. Along with his daytime gigs, he's also a football analyst on Fox NFL Sunday. He has definitely been putting in work since he left the NFL.
You would think having to work so much, one couldn't possibly have time to workout. But not Michael. He revealed he actually feels in better shape now then he did when he was playing ball. He said,
"I feel better than I did when I was playing," Strahan says, flashing the goofy, gap-toothed grin that is as much his signature as the quarterback sack. "And not only when I was playing [pro], but when I was a young player, in my early 20s."
When asked about his weight he said,
"I'm leaner," he says. "The weight is distributed differently, but it's still there."
And it sure looks good too. Michael's issue hits stands August 4th.
And in his personal life...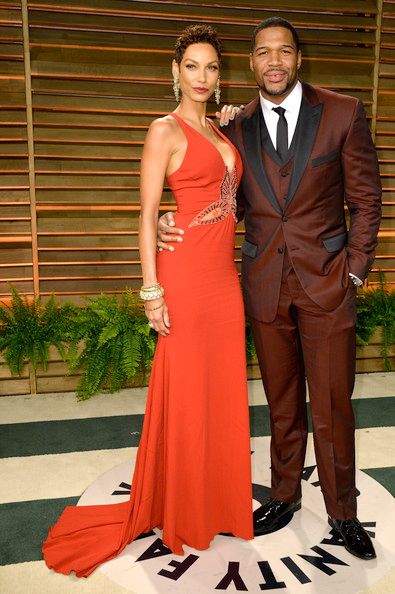 It may have seemed like a coincidence when news broke that Michael Strahan and his "Hollywood Exes" star fiancée Nicole Murphy called it quits the day before he was to be inducted into the NFL Hall of Fame.
But now, sources are telling TMZ that Nicole, or possibly someone in her camp, could have been trying to sabotage the biggest moment of his career. It's alleged Michael didn't have a clue that their break-up announcement would be released at the same time he would be accepting his momentous accolade.
We hear the two called off their 5-year engagement several weeks ago, but it was not known when they would reveal their un-coupling with the world. Unfortunately for Michael, during the presentation of him receiving his Hall of Fame gold jacket, reports were being published about their break-up.
Now...people in Michael's camp believe the timing was very calculated and Nicole, or someone close to her, was trying to ruin his big day.
Turns out, Michael didn't let any of that distract him from his big day. During his speech, he credited this past weekend as being "the best weekend of my life."
Thoughts?

BONUS:
Photos: Men's Fitness/Getty
YBF KIDS: KeKe Palmer Will Make HERSTORY As Broadway's 1st BLACK Cinderella! + Kanye & North West HANGING OUT In The Studio! + Ludacris CELEBRATES Daughter Karma's 13th Birthday
Posted: 04 Aug 2014 01:31 PM PDT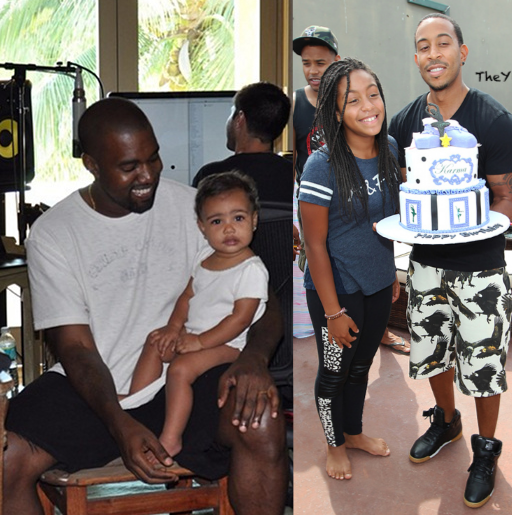 KeKe Palmer is set to make history on Broadway as the first Black Cinderella! Get the deets inside and see an adorable photo of Kanye and daughter North West and pics from Ludacris' birthday party for daughter Karma.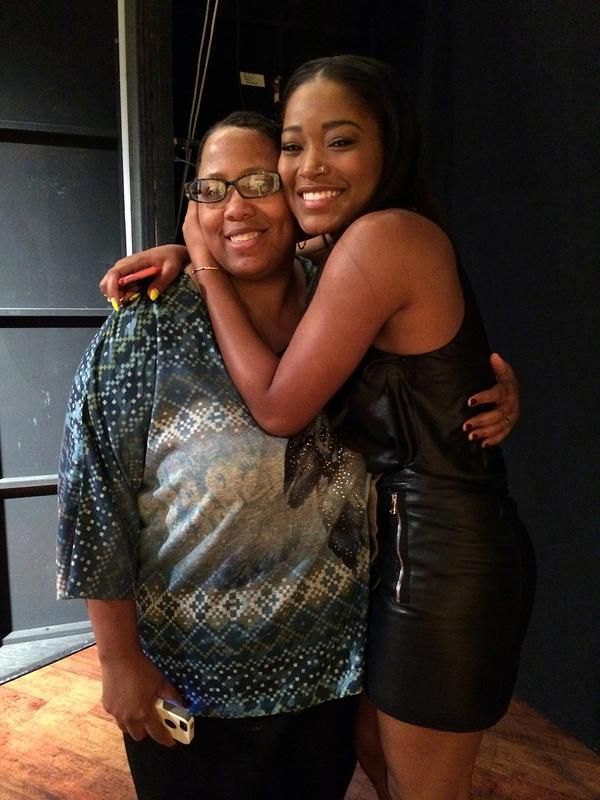 Actress and BET hostess KeKe Palmer will make history next month when she debuts on Broadway as the first Black Cinderella. KeKe (shown above with her mom during today's taping of CBS' "The Talk") expressed her excitement saying, "It's honestly one of those things that I can't believe is really happening. I'm very excited. Very excited and nervous as well — a bunch of feelings all at once." She'll step into the title role in "Rodgers & Hammerstein's Cinderella" starting Sept. 9 at the Broadway Theatre. She tweeted,
On Instagram, KeKe revealed that "Cinderella" was always a dream role and she encouraged her fans to reach for their dreams too. "UNDERSTAND ME WHEN I SAY THIS: You can do anything you want to do! Your life is your life & your belief in YOU will make it all it can be! Don't stop at anything, spread LOVE & allow God to guide you, bless you all! Let your light shine my angels!"

In other YBF Kids......
Kim Kardashian West posted an adorable pic of her husband and daughter with the caption "#BringYourDaughterToWorkDay." In addition to hanging out in the recording booth with dad, Kim revealed on IG that North took her first steps on July 23rd. She tweeted, "Our baby girl finished one week of swimming lessons today then took her 1st steps right when she got out of the pool!!!! Mommy & Daddy are so proud of you!!!!"
In Malibu.......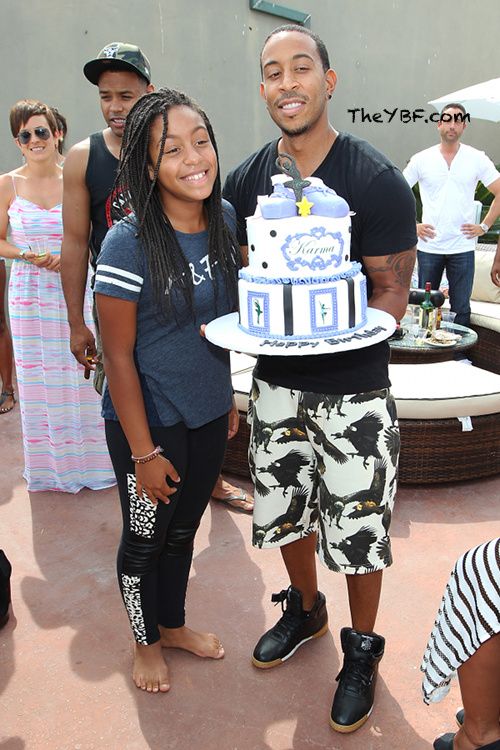 Ludacris hosted a 13th birthday party for his daughter Karma at Malibu Beach Haus.
The proud dad gifted his teenage daughter a two-tier ballerina cake that surely put a big smile on her face.
In addition to raising his kids, Luda is currently shooting Fast & Furious 7 and Run Like the Devil.
Photos via The Talk's Twitter/Kim Kardashian's Instagram/ All Access Photo / Revpix / Splash News
Nicki Minaj Talks WORKING In The Studio With Beyonce On "***Flawless" Remix & Remy Ma Collabo + Nicki Minaj's "Anaconda" [FULL SONG]
Posted: 04 Aug 2014 11:45 AM PDT
"Oh my gosh look at butt…" That's what Nicki Minaj had every one saying once she released the cover art for her single "Anaconda." And now… the full song has dropped. Take a listen to her newly released track and find out what Nicki revealed about working with Beyonce in the studio and more when you go inside…
After setting the Internet on fire with her bootylicious cover art last week, Nicki Minaj's "Anaconda" has finally dropped. And the "Pills N Potions" rapper is currently in the midst of promoting her newly released track, calling into radio stations across the nation.
This morning, Nicki called up Hot 97's "Ebro In The Morning" show to debut her new track "Anacaonda" and during the interview, she dished on another brand new track: "***Flawless" Remix with Beyonce.
As you know, Queen B and Nicki M. hopped on Yonce's "***Flawless" remix but what you didn't know is that the two divas actually worked in the studio together to create the track. The "Anaconda" rapstress said Bey's people hit her up about two months ago, asking her to do a feature on the song. And to her surprise, Mrs. Carter made a stop by the studio to lay down her verse with Nicki.

She dished,
"I was actually in New York writing the verse. I recorded the verse in New York and she stopped by the studio and she was such a sweetheart. She was hyping me up like 'yea do yo thang, don't hold back go in.' And I said 'Ok…alright.' And then just been waiting on her to drop it. She told me that she would drop it sometime while she was in the middle of the tour because I wrote the verse before she even went on tour and umm…that's basically how that happened. We just been going back and forth. I've been sending her pictures of myself and we've been going back and forth about the mixes and the single art and now here you have it."

Nice!
The Queens raptress also addressed working on a track with newly released Bronx raptress Remy Ma. She said,
"I told you guys before Remy even came home I said I would love to. I was a fan of hers before she went to jail and nothing has changed. I've always felt like she was at the top of her game and in relation to all of the MCs in the game. I always felt like she was sitting at the top. We'll see, I'm not closing that off. I feel like we'll get the right thing and we'll do it for the people."
Well there you have it.
Check it:
She also called into "Ryan Seacrest In The Morning" and chopped it up with Ryan and Nicole Richie. Take a listen to that interview below:
Now on to the audio…
Nicki Minaj is going old-school with her new track "Anaconda" using a sample from Sir Mix-A-Lot's classic hit "Baby Got Back." That explains her booty-full cover art.
Along with her recently released track, Nicki dropped a quick snippet of the visuals for the single and again, her rump is the primary focus as she makes it clap…for the Vine. Ha!
The track opens with:
"My anaconda don't …My anaconda don't…My anaconda don't want none unless you got buns, hun"
Well alright.

Check the track:
And if you're interested, the lyrics are below:
[Intro]
My anaconda don't
My anaconda don't
My anaconda don't want none
Unless you got buns, hun
[Verse 1]
Boy toy named Troy, used to live in Detroit
Big dope dealer money, he was gettin' some coins
Was in shootouts with the law, but he live in a palace
Bought me Alexander McQueen, he was keeping me stylish
Now that's real, real, real
Gun in my purse, bitch, I came dressed to kill
Who wanna go first? I had them push daffodils
I'm high as hell, I only took a half a pill
I'm on some dumb shit, by the way, what he say?
He can tell I ain't missing no meals
Come through and fuck him in my automobile
Let him eat it with his grills, and he tellin' me to chill
And he telling me it's real, that he love my sex appeal
Say he don't like em boney, he want something he can grab
So I pulled up in the Jag, and I hit him with the jab like
Dun-d-d-dun-dun-d-d-dun-dun
[Pre-Hook]
My anaconda don't
My anaconda don't
My anaconda don't want none
Unless you got buns, hun
[Hook]
Oh my gosh, look at her butt
Oh my gosh, look at her butt
Oh my gosh, look at her butt
(Look at her butt)
Look at, look at, look at
Look, at her butt
[Verse 2]
This dude named Michael used to ride motorcycles
Dick bigger than a tower, I ain't talking about Eiffel's
Real country-ass nigga, let me play with his rifle
Pussy put his ass to sleep, now he calling me NyQuil
Now that bang, bang, bang
I let him hit it cause he slang cocaine
He toss my salad like his name Romaine
And when we done, I make him buy me Balmain
I'm on some dumb shit, by the way, what he say?
He can tell I ain't missing no meals
Come through and f*ck him in my automobile
Let him eat it with his grills, and he telling me to chill
And he telling me it's real, that he love my sex appeal
Say he don't like em boney, he want something he can grab
So I pulled up in the Jag, Mayweather with the jab like
Dun-d-d-dun-dun-d-d-dun-dun…
[Pre-Hook + Hook]
[Bridge]
Little in the middle but she got much back
Little in the middle but she got much back
Little in the middle but she got much back
(Oh my God, look at her butt)
[Pre-Hook] (x2)
[Hook]
[Outro]
Yeah, he love this fat ass, HAHAHAHAHAHAHA!
Yeah! This one is for my bitches with a fat ass in the fucking club
I said, Where my fat ass big bitches in the club?
F*ck the skinny bitches, fuck the skinny bitches in the club
I wanna see all the big fat ass bitches in the muthafuckin' club
F*ck you if you skinny bitches, what?!
I got a big fat ass (ass, ass, ass…)
Come on!
We feelin' it?
Photos: Nicki's IG
WE SALUTE YOU! Happy 53rd Birthday President Obama + The First Lady's BIRTHDAYGram (UPDATE)
Posted: 04 Aug 2014 10:58 AM PDT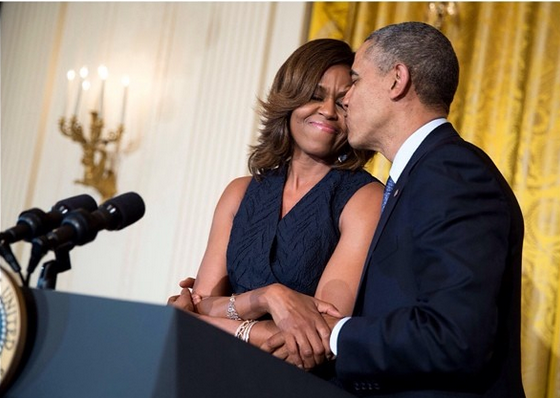 Today is the 53rd birthday of President Obama. Celebrate with the Commander-In-Chief inside....
Happy birthday, Mr. President! Today is President Barack Obama's 53rd birthday. Over the weekend, the AP reports that the POTUS kicked off the celebration with an early morning round of golf on Saturday morning at Andrews Air Force Base in suburban Maryland with three longtime friends from his childhood in Hawaii. The remainder of the weekend was spent at Camp David before he returned to the White House on Sunday.
President Obama plans to "work" today and he's been given a light public schedule that includes a string of meetings with aides throughout the day.
On Instagram, the First Lady posted the photo above with the caption,
"Happy Birthday to the man who always makes me proud. Thank you for your friendship, honesty and compassion. I will love you always. -mo"
Happy Birthday President Obama.
EXTRAS:
Over the weekend Malia Obama was spotted at Lollapalooza in Chicago. Accoording to the Chicago Sun Times, she stayed late for the finale and was seen exiting the grounds after fellow Chicago native Chance the Rapper's closing set.
Wish the President a Happy Birthday in the gallery.....
Photos via POTUS Instagram/Getty/Cleaaaaver's Instagram/MichelleObama Instagram

Kelly Rowland, Amber Rose, Rocsi Diaz & More Attend "On The Run" Tour Stop In Cali + Beyonce & Jay Z Perform "Drunk In Love" On HBO's "Beyonce: X10" (Snippet)
Posted: 04 Aug 2014 09:28 AM PDT
Beyonce and Jay Z hopped on their private jet and trekked it to Pasadena for their "On The Run" tour stop, bringing out celeb guests Kelly Rowland, Amber Rose, Miguel, Rocsi Diaz and more. Plus, check out a snippet of Bey & Jay perform "Drunk In Love" for her HBO special "Beyonce: X10" inside…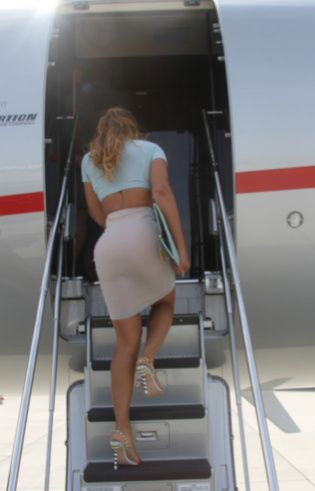 Over the weekend, The Carters jetted to Pasadena to take the stage at the Rose Bowl stadium for their joint "On The Run" tour stop. But before slaying the stage, Mrs. Carter shared a few pics of herself posing it up in front of their private jet. The fashionista donned a Topshop cropped tee along with a pair of Sophia Webster Queen Bee Ellen Heels and some dope RVS X A-Morir "Paris II" Extreme Cat Eye Sunglasses. Hot.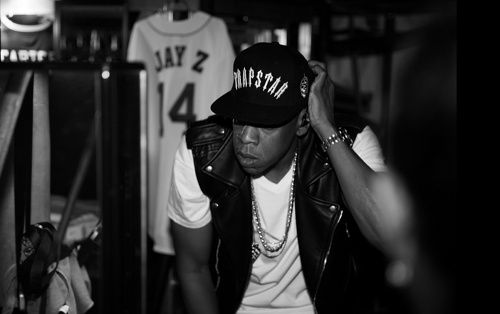 Hov was spotted backstage in his Trapstar snapback before making his grand entrance on stage last night.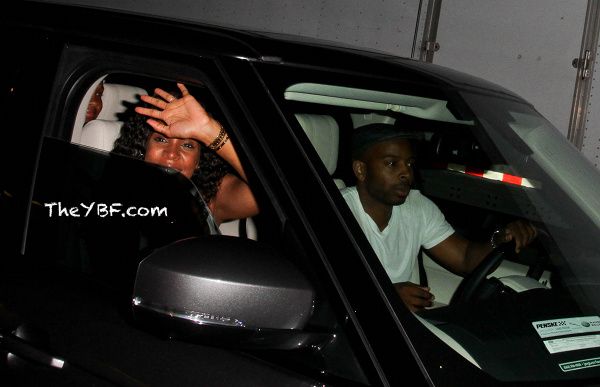 Mom-to-be Kelly Rowland was spotted with her husband Tim Witherspoon leaving the stadium after watching her bestie rock the stage with her husband. Since letting the cat out of the bag that she's expecting a baby boy, the fab first-time mom revealed the best advice she has received since entering motherhood. She shared,
"The best thing to do is to focus on your husband. You got the baby but you have to focus on your husband to make sure he's happy because now you have two babies."
Another new mom on the scene last night…"School Dance" star Amber Rose. Wiz Khalifa's wife got in some "me time" as she made her way into the Rose Bowl stadium for the show.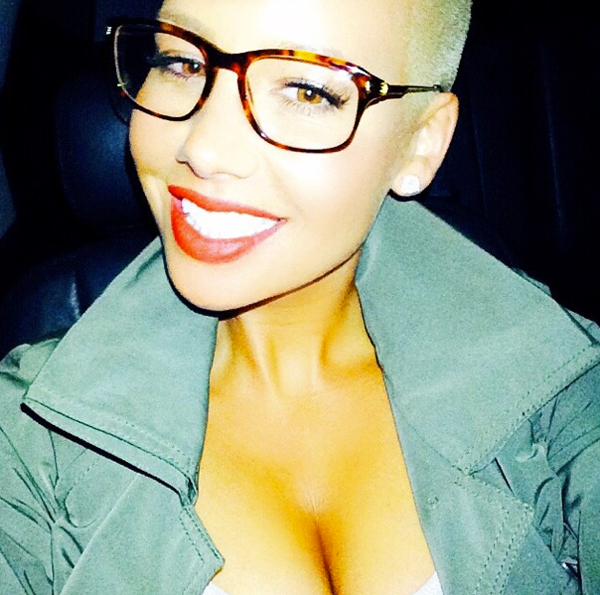 She posted a pretty selfie with the caption, "On The Run"
Singer Miguel and his girlfriend Nazanin Mandi walked hand-in-hand as they made their way inside the show. Well don't they look happy.
"ET" correspondent Rocsi Diaz threw up the peace sign as she walked inside the venue.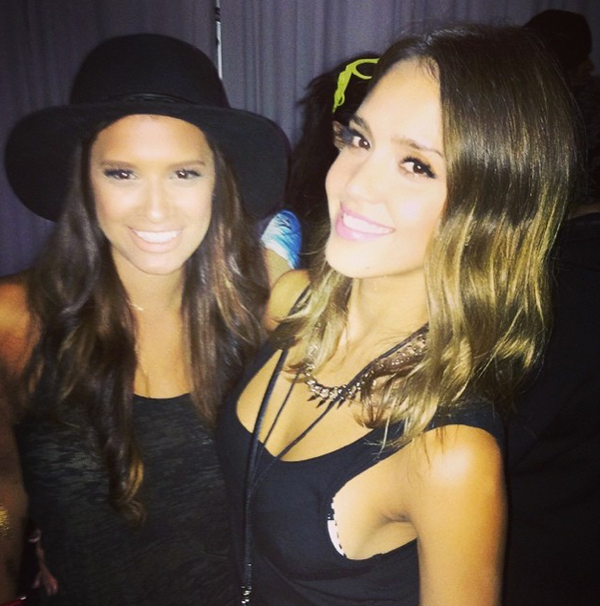 And after the show, she bumped into the gorgeous Jessica Alba.
LA Dodgers hottie Matt Kemp (who recently modeled for Gap Factory Store's fall campaign alongside Chanel Iman) looked sexy as he made his way inside.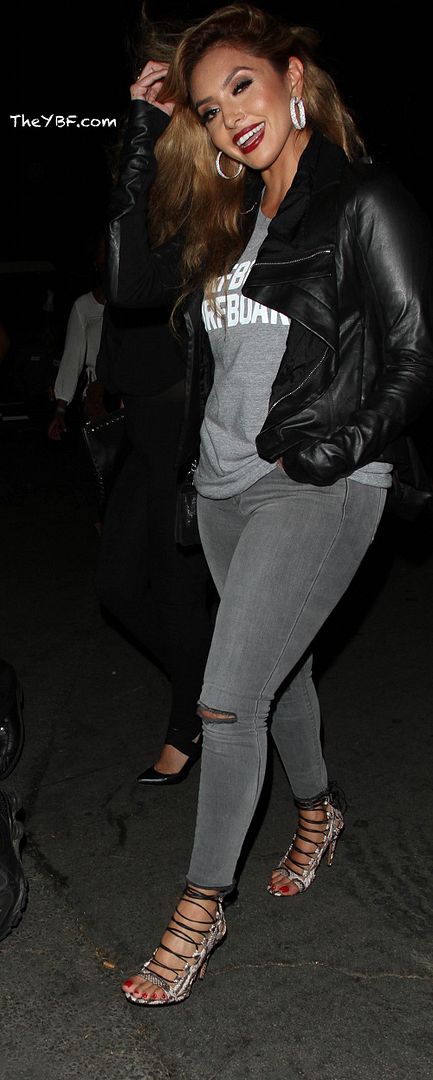 Kobe Bryant's wife Vanessa Bryant flipped her hair and flashed a smile on her way inside.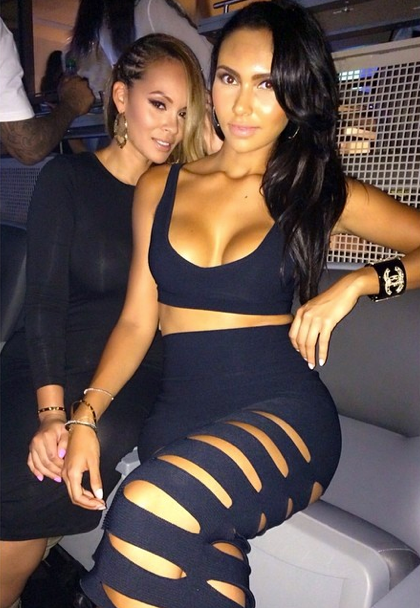 And mother-of-two Evelyn Lozada enjoyed the show with her daughter Shaniece.
Also...
'Yonce shared a snippet from her 10-episode series of concert performances from her Mrs. Carter Show World Tour for HBO's "Beyonce: X10" special. The mini-episodes air every Sunday at 8:55pm right before "True Blood" on HBO.
In the snippet, Bey & Hov playfully perform "Drunk In Love" as Bey bounced around in a shimmery nude catsuit and matching pumps. Check it above.
And if you still haven't gotten enough of Bey & Jay #OnTheRun, their HBO concert special will debut on September 20th at 9pm ET.
BONUS:
Shutting down those crazy break-up rumors, Beyonce and Jay Z made an appearance at a get-together hosted by Hov's mother Gloria Carter for the opening of her new restaurant, Diamondz N Da Ruff in Newark, NJ last week.
The Carters were there for the ribbon cutting and champagne toast to celebrate his mom's new endeavor. We hear Bey and Gloria hugged and laughed together throughout the evening. There were no paparazzi but TMZ caught a quick glimpse of them having a good time. Check it out here.
Now…can we just let them live?

Photos: Splash News/Beyonce.com/Amber's IG/Shaniece's IG

SPOTTED: Columbus Short IGNORES Bench Warrant, Gets DIRTY At J'ouvert Carnival In Barbados
Posted: 04 Aug 2014 08:57 AM PDT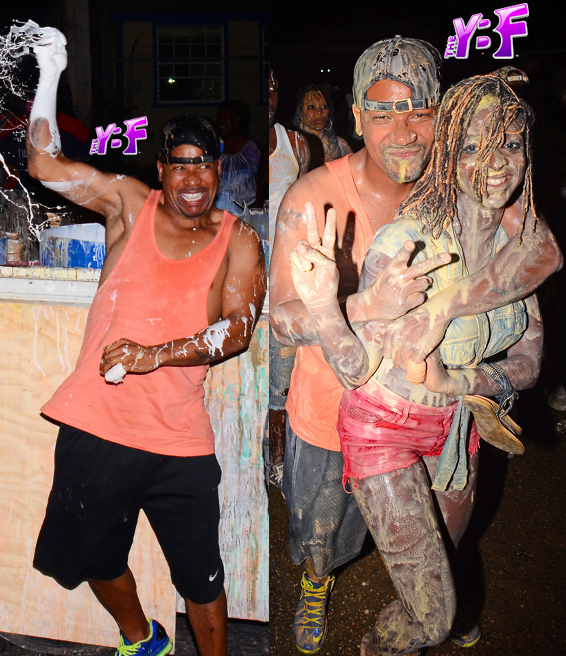 Columbus Short, a "wanted" man in Los Angeles, was spotted getting it in at carnival. See photos inside...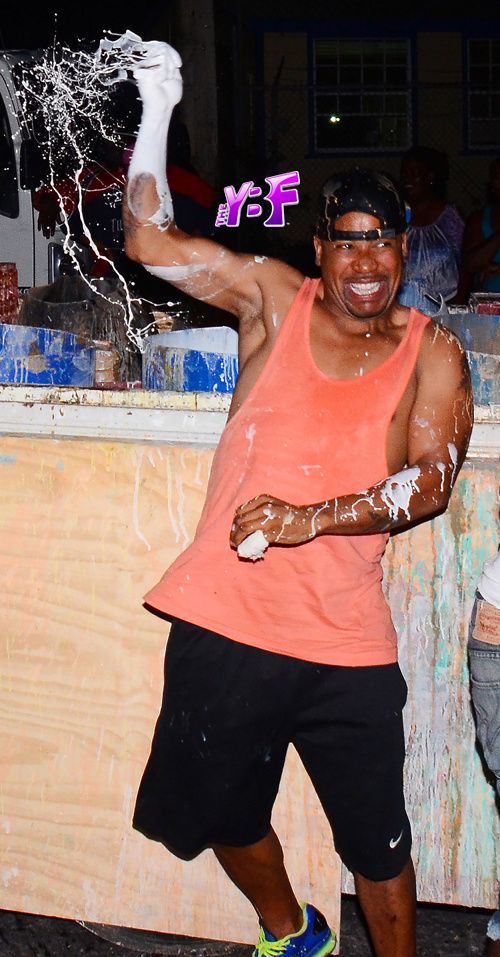 Troubled actor Columbus Short was spotted dancing his troubles away at the J'ouvert Carnival in Barbados.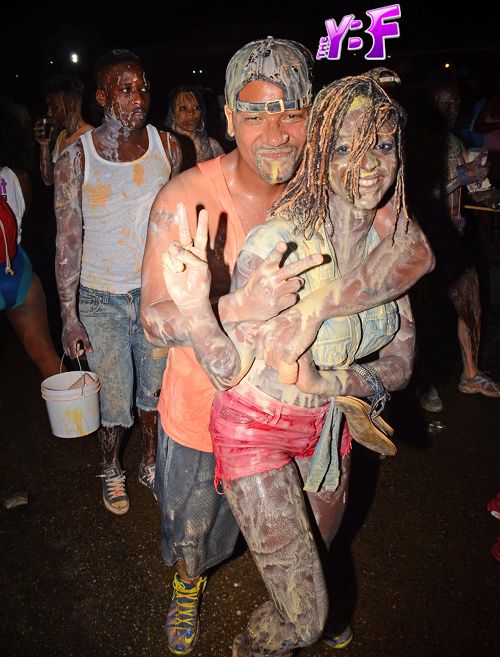 It probably isn't wise for Columbus to pose for pictures while there is a bench warrant waiting for him in LA. You'll recall that he missed a court date a few days ago. Sigh......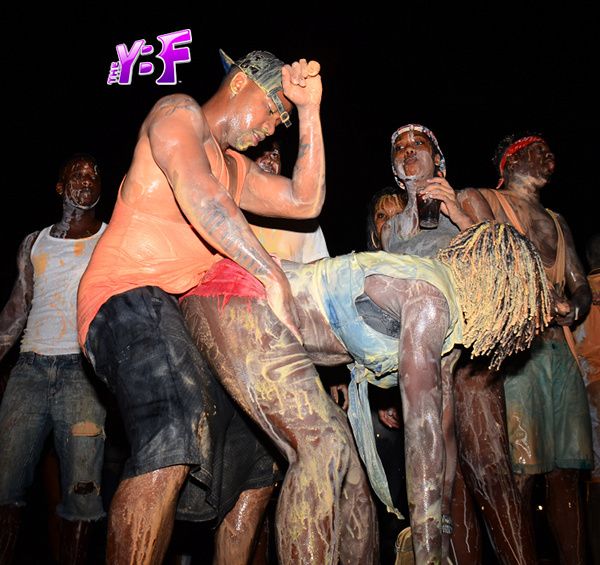 We hope Columbus enjoys his freedom...we're sure the judge in his case will review these party pics the next time he shows up in court.
Photos via 246paps/Splash News