---
SNAPSHOTS: Lark Voorhies Gets Photoshoot Fresh On The Beach In Santa Monica
Posted: 14 Aug 2014 08:37 AM PDT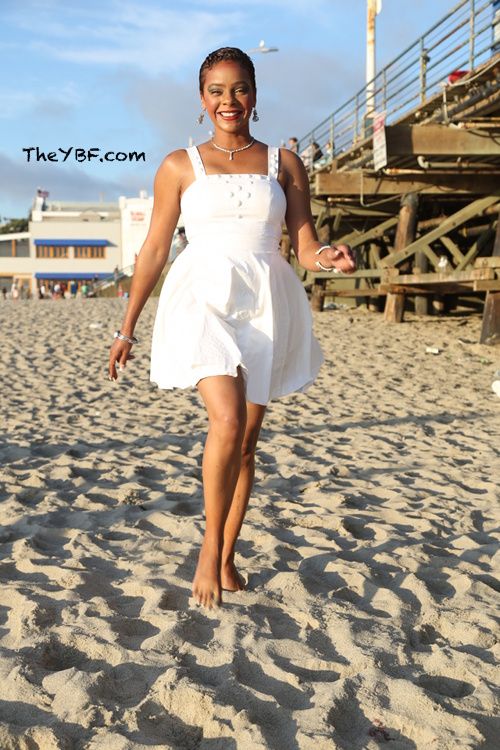 Look who hired a new makeup artist! Former "Saved by the Bell" actress Lark Voorhies was spotted posing it up on the beach in Santa Monica. Peep her pics inside….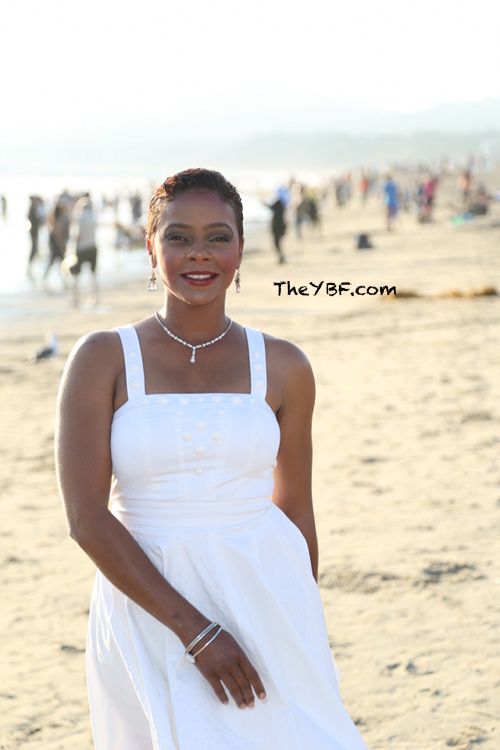 Looks like a photo shoot was in session for actress Lark Voorhies.
Dressed in a pretty white summer dress, the former "Saved by the Bell" starlet spent her day posing it up for the cameras on a beach in Santa Monica. And she's looking good these days.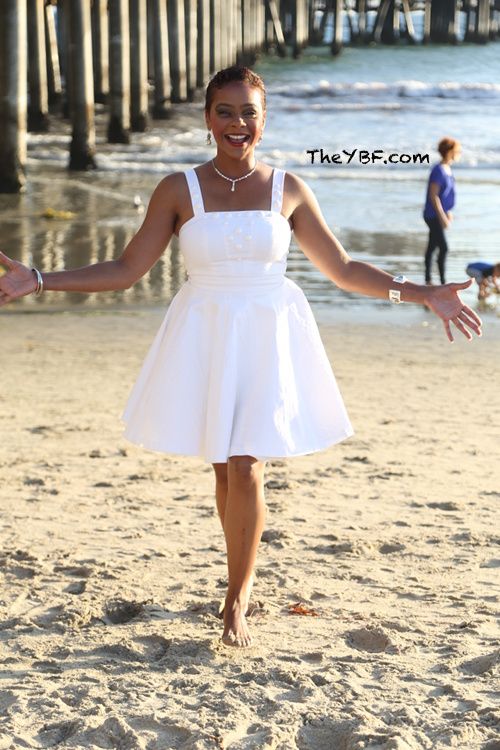 We know you all remember THESE pics with the extra...powdery...make-up. But last month, she was spotted at a BET Awards viewing party with a much better make-up job. And her make-up looks pretty good here as well. But there still may be something else going on underneath that makeup.
Glad she's beginning to get it together. Wonder if we'll see her in a film soon...
Photos: Splash News
YBF KIDS: North West Models CHANEL For CR Fashion Book, "It's Never Too Early To Care About Fashion"
Posted: 14 Aug 2014 07:42 AM PDT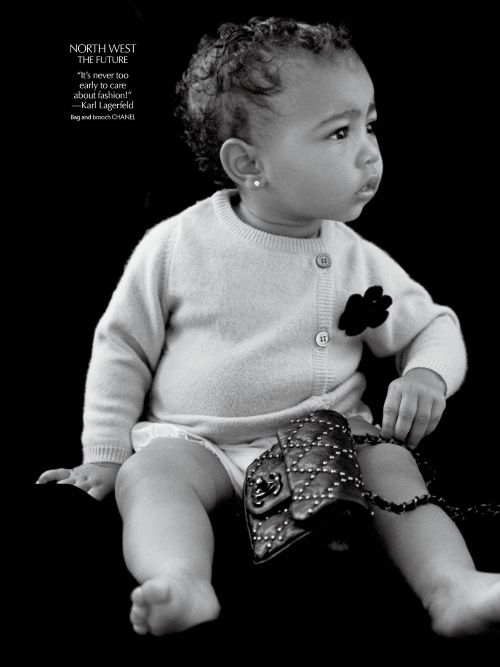 North West landed her first solo modeling gig and she's already showing she's the most adorable model-in-training. See North West sitting pretty inside...
Kanye and Kim West's daughter, North, has already graced the pages of VOGUE with her famous parents. And now she's done a solo turn in former VOGUE Paris EIC Carine Roitfeld's 'CR Fashion Book.'
In the black and white pic, North wears diamond earrings and sports a Chanel bag for a gorgeous photo that dubs her "The Future."
The "historic" moment (at least we assume that's what Kanye calls it) is capped off by a quote from fashion icon Karl Lagerfeld, "It's never too early to care about fashion!"
Very true. Or in Kanye's case, "It's never too early to care about fashion...or being the center of attention."
Photos via CR Fashion Book/Michael Avedon
Usher REVEALS How Divorce From Tameka Raymond HELPED Him + French Montana's "Don't Panic" Cover Art STARS...Khloe K.
Posted: 13 Aug 2014 03:41 PM PDT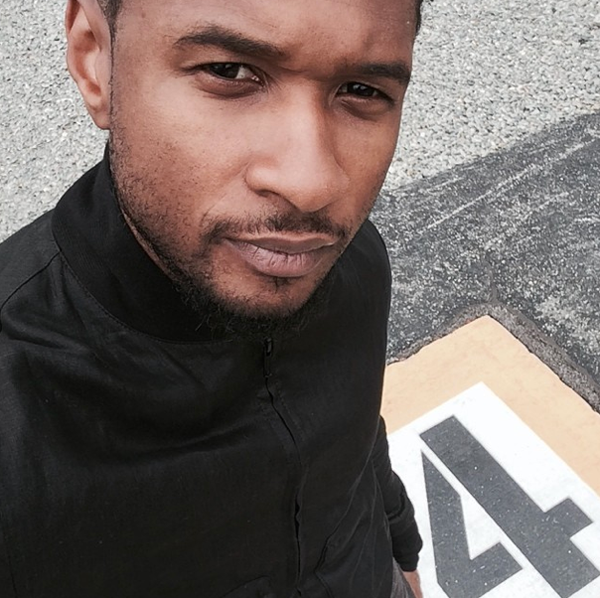 Usher is opening up on the aftermath of his highly publicized divorce from Tameka Raymond. Meanwhile, French Montana put his main chick (at the moment) Khloe Kardashian on the cover art for his "Don't Panic" track. Find out what Ursh said about his divorce and peep French's new cover when you go inside…
Since divorcing in 2009, Usher hasn't revealed much about his split with his ex-wife Tameka Raymond (not counting his sitdown with Oprah). But we all saw the long, nasty custody battle between Usher and Tameka over their sons Usher V (6) and Naviyd (5). That whole fiasco had them making headlines left and right. But now that it's all over, it seems at least one of them got something good out of the ordeal.
While his ex-wife works through her own issues on VH1's "Atlanta Exes," the "Good Kisser" singer gets a little candid on the "best" mistake he's made thus far. In the September 2014 issue of O magazine (where Lady O rocks a sexy black catsuit for the cover), the proud father-of-two dished on how his divorce has made him a better person.
He told the magazine,

"Most people probably think I regret it because I ended up getting divorced, but it helped me learn that sometimes I think I know more than I actually do."
Well, good for him. He's now dating his manager turned girlfriend Grace Miguel and they seem to be happy…at least for now. Maybe the 2nd time will be the charm.
In other news: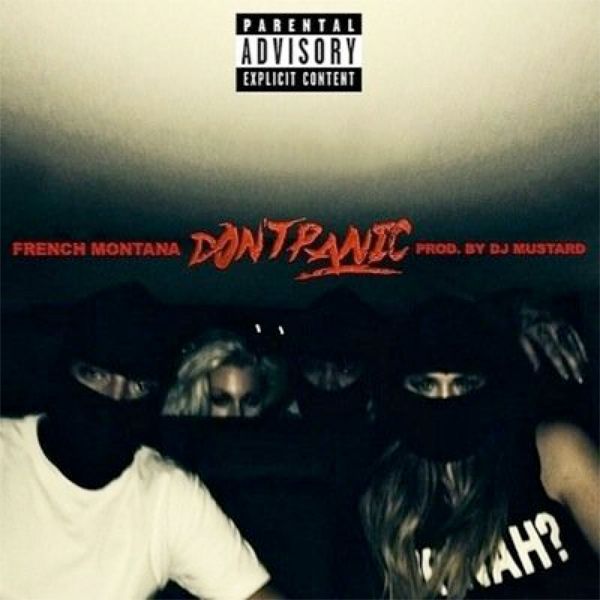 French Montana tapped his girl Khloe Kardashian for the cover art of his new single "Don't Panic." We showed you the behind-the-scenes pics of French and KoKo toting automatic weapons for the visuals. And now, the two have channeled Kanye West and Beyonce with their black ski masks for the "Bonnie & Clyde"-esque cover art.
On the DJ Mustard-produced track, the self-proclaimed Coke Boy spits about stealing his girl from another lover ... and how she fell in love with a hustler. Hmm…sound familiar?
He raps,
"Shawty fell in love with a hustla/ Man I took her from a busta/ N*ggas keep talkin' like they know something/ I slide on your b*tch like she on something/ Don't panic, don't panic."

If this is what men are saying to their girlfriends…we'll pass.
There has been some chatter that the two may have possibly called it quits, so it's likely the cover was shot before then…if true. Either way you look at it…these two just seem…odd.
"Don't Panic" appears on French's upcoming sophomore album Mac & Cheese 4 scheduled to drop this November.

Photos: Usher's IG/French's IG
SPEAK ON IT: Tia Mowry Hardrict CLAPS BACK At Online Trolls Who Talk About Her Son's Hair!
Posted: 13 Aug 2014 03:22 PM PDT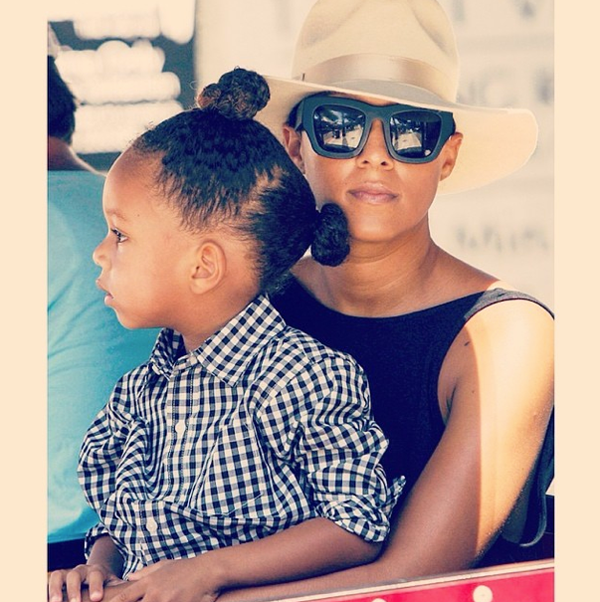 It seems celebrity moms can't catch a break when it comes to their kiddies rockin' their natural hair! Tia Mowry Hardrict is sounding off on those who think she should cut her 3-year-old son Cree's hair. Find out what she had to say and decide if you agree with her inside…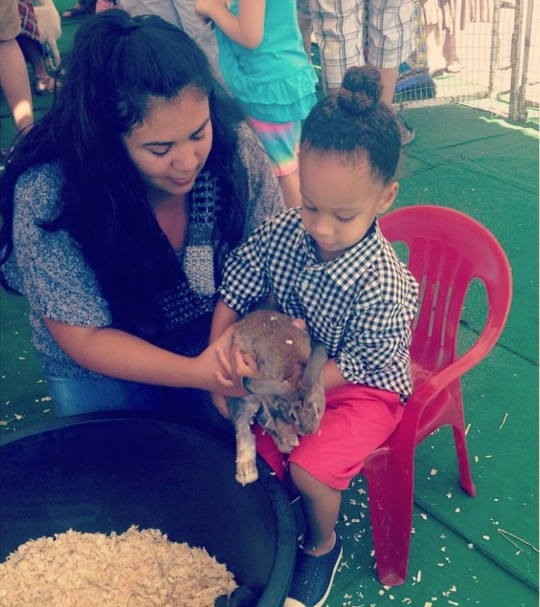 Nowadays it seems everyone has an opinion on how one should raise their children, but lately it seems people have been extra concerned with how celebrity parents style their kiddies' hair.
Much like Beyonce, "Instant Mom" actress Tia Mowry Hardrict is being bombarded with negative comments on the way she styles her 3-year-old son Cree's hair. Just recently, people were up-in-arms over little Blue Ivy's hair, saying Bey needed to comb it and put moisturizer in it.
Now, folks are all over Tia for the way she does her son's hair. Some say she shouldn't put it in a bun, that he looks like a girl and that she needs to cut it all off! Well…Tia doesn't plan on doing any of that because she's quite content with how she styles her son's hair…and that's her business!
Peep some of the negative backlash she has received below: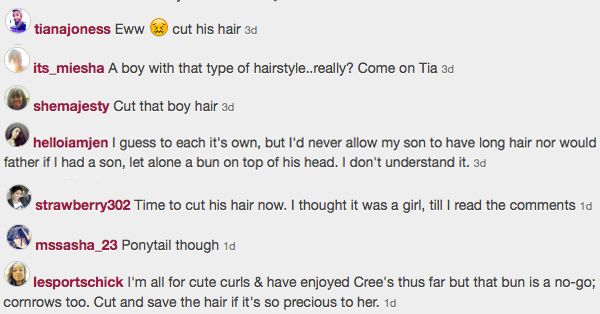 Sighs...
Guess the "Baggage Claim" starlet had reached her limit and decided to address the online trolls over the negative comments she has received about her son's natural hair. In an Instagram post, she wrote:
I am proud to have a SON that embraces his natural hair :). Hair length does not define your sex. Last I checked a penis and a vagina does. Pick up a book, educate yourself, and embrace cultures outside of your own and maybe you will see that there are PLENTY of MEN wearing top knots and MEN with long hair. Here's a shout out to all the moms who have boys and girls with natural hair! Live ON!

Should people just mind their business when it comes to celebrities and their kids' hair?
SPEAK ON IT!
Photos: Tia's IG
Faith Evans Recounts BEATING UP Notorious BIG's Mistress On Centric's "BEING" + Chris Brown, Omarion & Laura Govan At DJ Mustard's Record Release Party
Posted: 13 Aug 2014 02:52 PM PDT
On a new episode of Centric's "BEING", "The First Lady" Faith Evans opens up about her career and recounts beating up one of her ex-husband's groupies! Watch Faith dish on the Notorious B.I.G. inside and see Chris Bown partying with O'marion.
On Saturday, fans of Bad Boy Entertainment's former First Lady Faith Evans can watch her recount one of the legendary beatdowns she put on one of Notorious BIG's many side chicks (not Lil' Kim). And we've already got the lowdown:
Faith: I'm ducking … trying to make it to the elevator without being seen by Hawk, the road manager. I make it to the elevator bank. Go upstairs. I knew the room. Get off on that floor, but I'm aware there's five other guys. You know? They're about to leave so somebody might see me 'cause they might be going to wake [Biggie] up.
… I heard [Lil'] Cease moving around in his room so I'm trying to make it happen real fast and get to [Biggie's] room without anybody interrupting my plan of action.

I get to the door. Knock on the door. No answer. Knock lightly again. Then I knocked a little harder. I heard [Biggie] go, "Who is it?"
I said, "Houskeeping!" I didn't know what voice to use, anything.



The door comes open and as soon as the door came open I kicked it just so I could get in. I wasn't sure if they were going to have the latch on. I see some chick standing there, you know, fully dressed like she had on a Catholic uniform. I mean, she obviously wasn't a kid, but she had on a pleated miniskirt. I see him sitting over there . . . all of this was in a split second. As soon as I kicked in the door and saw her I just started to *punches fist*



I don't even know if she got a chance to say anything and I just looked over at him as I'm still hitting her. *punches fist again*
He's sitting there like, "Wow Faye. Why are you doing that to her? I didn't even **** her." I was like, "Well you shoulda . . . 'cause you see what happened to her."
Damn!
Along with appearances by Kelly Price, Lil' Cease, Misa Hylton-Brim and Carl Thomas, we'll get a look into Faith's life outside of the studio and of course, her marriage with the Notorious BIG and all the drama (fights, Tupac beef) that came from it.
Watch Faith's episode of BEING on Centric on August 16th at 9/8C and listen to her latest single "I Deserve It" here.
In the LA area...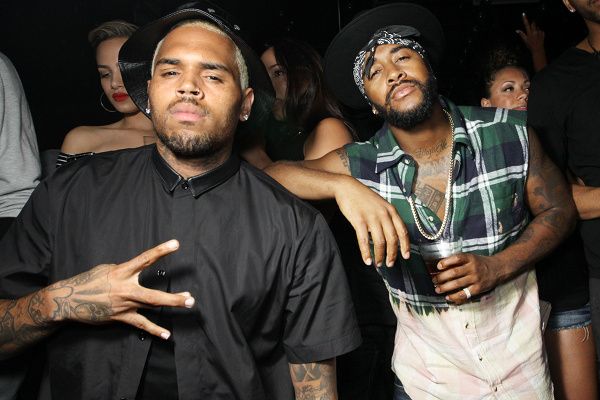 On Monday night, "Loyal" singer Chris Brown joined O'Marion to celebrate the release of DJ Mustard's debut album 10 Summers (in stores now).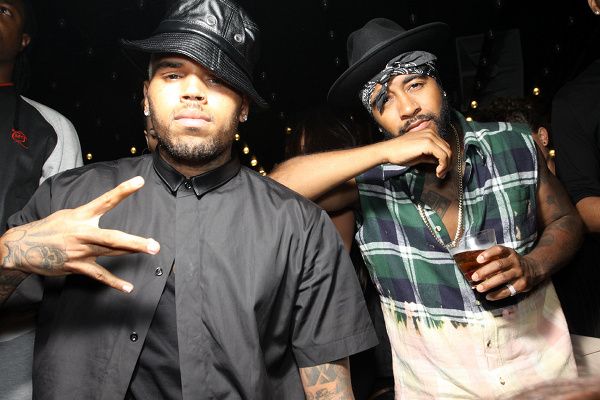 The party was held at Emerson nightclub (sponsored by Hennessy V.S.) and it was the first time we've seen O'marion out since the birth of his son Megaa Omari.
Former reality tv star Laura Govan danced the night away.
DJ Mustard (black shirt) also welcomed rapper YG, actress Torrei Hart and actor Jamie Foxx (not pictured) to the celebration.
Photos via BET/CASHMEREAgency
Rapper Brianna Perry -- "I Graduated From College, Now I Want To Work With Kanye West & Beyonce"
Posted: 13 Aug 2014 01:19 PM PDT
Up-and-coming rapper and star of the new "Sisterhood of Hip Hop" show, Brianna Perry, is letting folks know she's know your typical focus-on-my-booty sexed up raptress. She's got a college degree, and she's ready to follow her dreams. Check out the 22-year-old dishing to us about her dream collabos inside...
During last night's NYC press dinner for Oxygen's premiere of "Sisterhood of Hip Hop," our New York Corespondent caught up with "Marilyn Monroe" rapper Brianna Perry to find out how she plans to shake up the female rap game a bit.
We first peeped the Miami native back in 2012. Now, after graduating from The University of Miami and getting a few tracks and videos under her belt, she's ready for the big leagues.
On who she wants to work with on a dream collabo: "Kanye West…his mind is so wild and he is so creative. Beyonce…I'm a huge Beyonce fan. But def Kanye. These last few months of my life have been a period of growth for me. I recently graduated from The University of Miami and I feel like I have been going through a transition of really becoming a young woman, making more decision and really 'bossing up'. I don't really regret anything from the past…it all got me to this point right now."
On how her family reacted to her new stardom: "My family is really supportive. They've been that way since the first time I picked up the mic. I just released a single on iTunes called "I'm that *itch" and they all have showed me so much love and keep encouraging me and pushing me. When you have that family support, it makes that journey a little easier."
As for what to expect from Ms. Perry, her bio in the press release for the Oxygen show says:
Describing her own music as "refreshing, young and relatable to her fans," Brianna is restoring innocence to the female rap game and she refuses to compromise the femininity and the edge she needs to survive in today's hip hop world.
Peep more pics from last night's event below: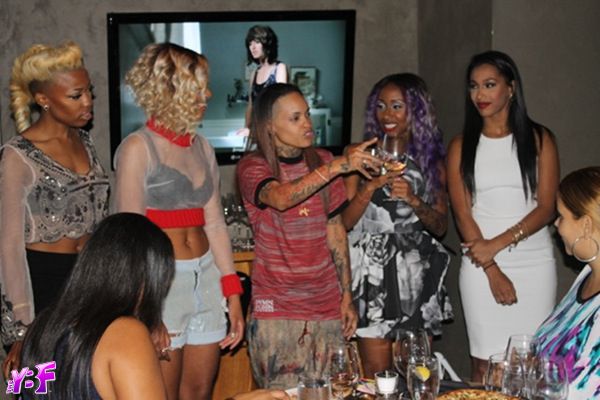 Cast (L-R) Nyemiah Supreme, Brianna, Siya, Diamond (yep...that's Crime Mob's Ms. 32 Flavas) and Bia.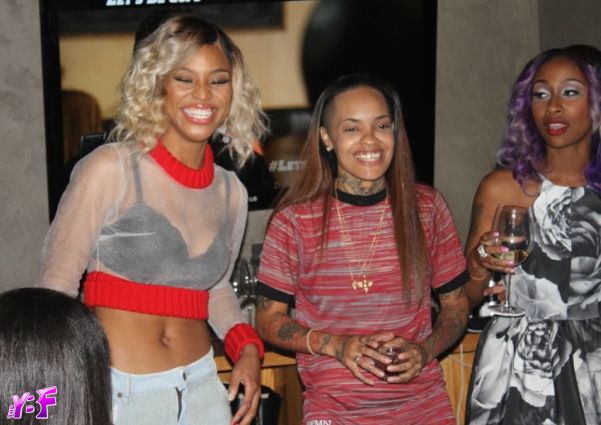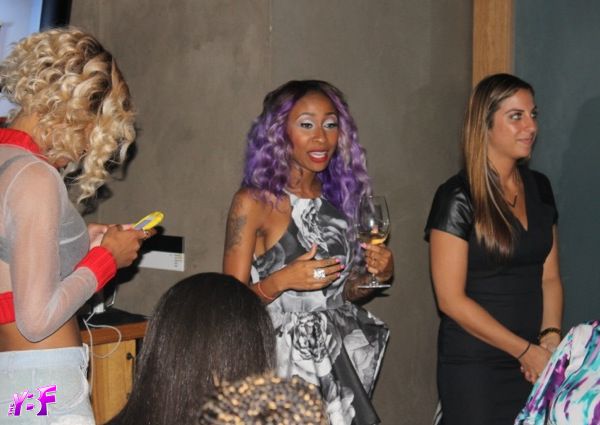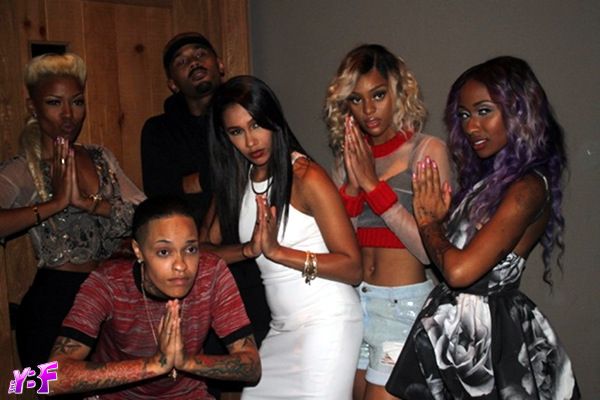 Photos: James Terrell for TheYBF.com/Brianna's IG
Jennifer Lopez FLAUNTS Her Cakes On "Booty" Cover Art + Iggy Azalea's "Black Widow" Video ft. Rita Ora
Posted: 13 Aug 2014 11:09 AM PDT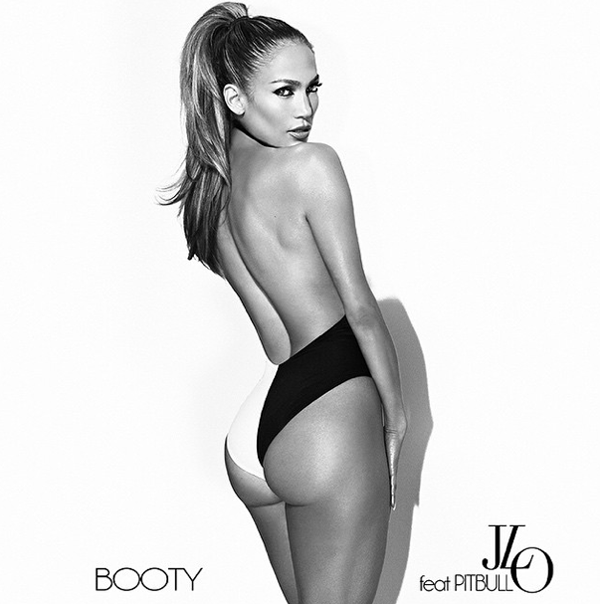 The original booty queen aka Jennifer Lopez is showcasing her cakes on the cover art for her new single "Booty" featuring Pit Bull. Also, the visuals to Iggy Azelea's "Black Widow" featuring Rita Ora has been released. Peep the cover and the video inside…
Nicki Minaj may have had the Internet going nuts over her bootylicious "Anaconda" cover, but the "original booty" is now ready to take center stage.
Donning a sexy black and white back cutout swimsuit, Jennifer Lopez flaunts her flawless cakes for her "Booty" cover art single. And did we fail to mention chick is 45-years-old?! Yes…Jenny from the block is slaying to the high heavens with this one.
Shot by celebrity photographers Gomillion Leupold, Jenny from the Block is gearing up for the release of the visuals to her Diplo-produced track, written by the Bronx singer, Chris Brown, Asia Bryant and Sam Hook. "Booty" featuring Pit Bull is the third single from JLo's newest album A.K.A.

We showed you a snippet from the upcoming video where Jenny twerks it for her life, giving these young chicks a run for their money. Check it here. We'll definitely have the official video for you once it's released.

And last night, JLo was hanging out with Iggy Azalea and snapped an "us-sie" with the "Fancy" rapptress. Iggy has a feature on Jenny's AKA album on a track titled, "Acting Like That." Wonder if they linked up to shoot the video for the song.
JLo shared the pic above with the caption, "Me and Iggy #doublebubbletrouble"
Speaking of Iggy...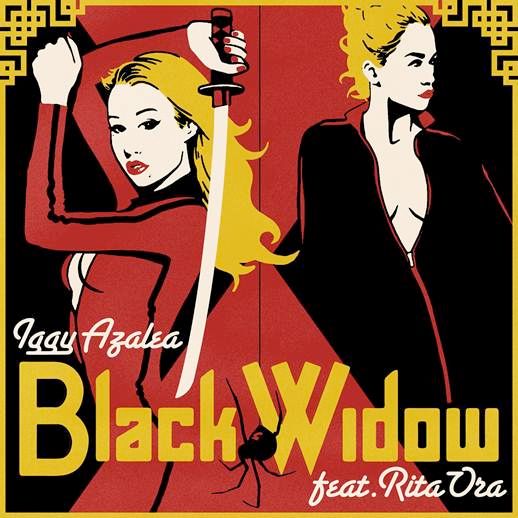 Iggy Azalea has given the video treatment to her "Black Widow" single featuring Rita Ora. We spotted the two on the set of the video in Hollywood and they performed the hit at the Wireless Festival last month.
In the Director X-directed video, Iggy and Rita seek revenge on an ex-boyfriend. As you may know, a female black widow spider sometimes kills her male black widow mate after having sex! The single is featured on Iggy's debut album, The New Classic.
Peep the video and an appearnce from T.I. below:
Photos: JLo's IG
MUSIC FAB: Omarion x Jeremih's "Show Me" + Chris Brown FLEXES His Vocals On Instagram
Posted: 13 Aug 2014 08:55 AM PDT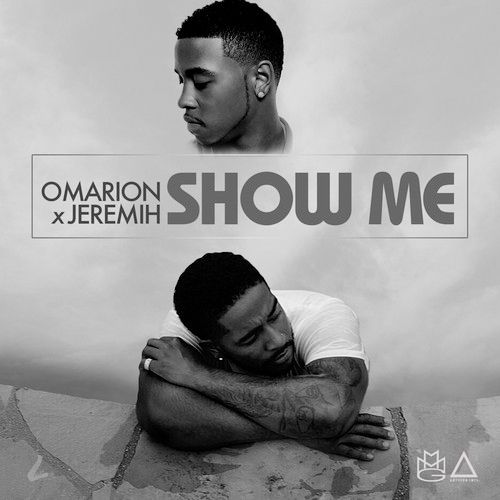 New dad Omarion has a new sexy track with R&B crooner Jeremih titled "Show Me." Meanwhile, Chris Brown is serving up some falsetto realness on Instagram. More inside…
MMG singer Omarion just welcomed his first son Megaa Omari Grandberry last week. And now, he's ready to get back to the music with his newly released track. O linked up with Jeremih for their new Da Internz-produced slow jam "Show Me."
Maybach O is also gearing up for his debut MMG album Sex Playlist, while Jeremih is prepping for his Late Nights: The Album (scheduled to drop later this year).

Take a listen below:
We feelin' it?
Proving the fast lane hasn't affected his vocals (yet), Chris Brown hopped on Instagram last night to flex his falsetto range. Donning his new blonde cut, the "Loyal" singer shared a short clip of him hitting a few high notes from DJ Khaled's recently released "Hold You Down" track featuring the VA native, August Alsina, Jeremih & Future. And he still sounds good. Check it above.
Get ready to hear a whole album's worth of Breezy's riffs on his long awaited X, which drops September 16th.
Speaking of CB...
The "Drake vs. Lil Wayne" 31-city tour has kicked off. And while performing in Illinois on Sunday, Drake took a few jabs at Breezy's "Loyal" track, which features YMCMB artists Lil Wayne and Tyga.
After Wayne spit his verse on the track, Drizzy follows up with,
"That shit sounds like a f*ckin' car commercial or some sh*t [laughs]. That's what y'all cheering for? This n*gga Tyga at the movie theater with Chris and sh*t."
Bloop!
There goes Breezy and Drizzy's newly formed friendship. OR...he could have been just poking fun at Weezy since they're "battling it out" on stage for their tour?

EXTRAS:
1. Nicki Minaj has been named as a performer for the 2014 VMAs.