---
Kandi & Todd Tucker, Toya & MempHitz Wright, Porsha Williams & MORE PARTY It Up At Bronner Brothers Hair Show Afterparty + Mya, K. Michelle & MORE Hit Up ToXic Day Party In L.A.
Posted: 04 Aug 2014 07:45 AM PDT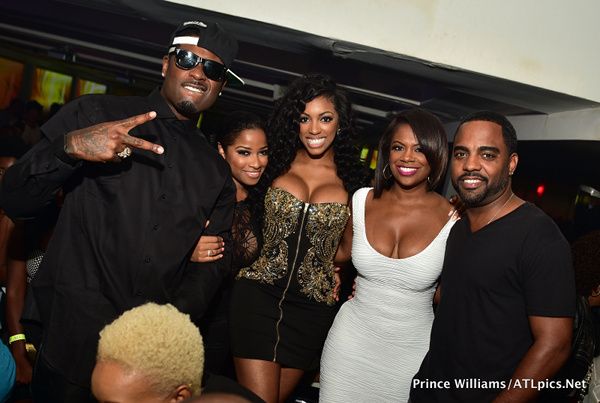 Over the weekend, the Atlanta party scene was popping with reality TV stars at Bronner Brothers hair show afterparty at Compound. Meanwhile, Mya, K. Michelle, Daniel "Boobie" Gibson and more hit up ToXic Day party in L.A. Peep the party pics inside…
On Saturday, Compound nightclub was jammed packed with reality stars who came out to party for the Bronner Brothers hair show afterparty in Atlanta. "RHOA" star Kandi and her hubby Todd Tucker, former "Tiny & Toya" star Toya Wright and her husband MempHitz, "RHOA" star Porsha Williams, "LAHH ATL" star Erica Dixon and "LaLa's Full Court Life" star Dice all came out to pop bottles for the after party.
Newlyweds Kandi & Todd rolled up on the scene arm-and-arm, making their way inside the venue. Once inside, Todd quickly got the party started, sipping on some bubbly straight out the bottle.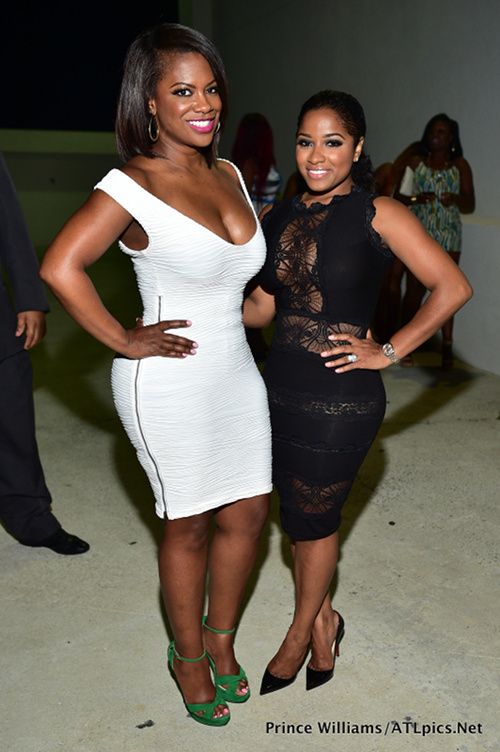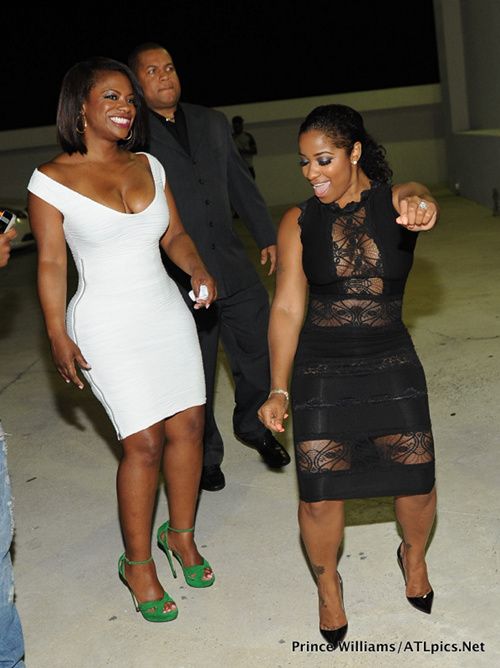 Kandi and Toya had a little fun before making their way inside. Go Toya!
Toya was spotted hugged up on her man MempHitz. Cute couple.
And MempHitz made sure to have his own bottle of bubbly as well.
Erica Dixon chucked the deuces and flashed her pretty smile.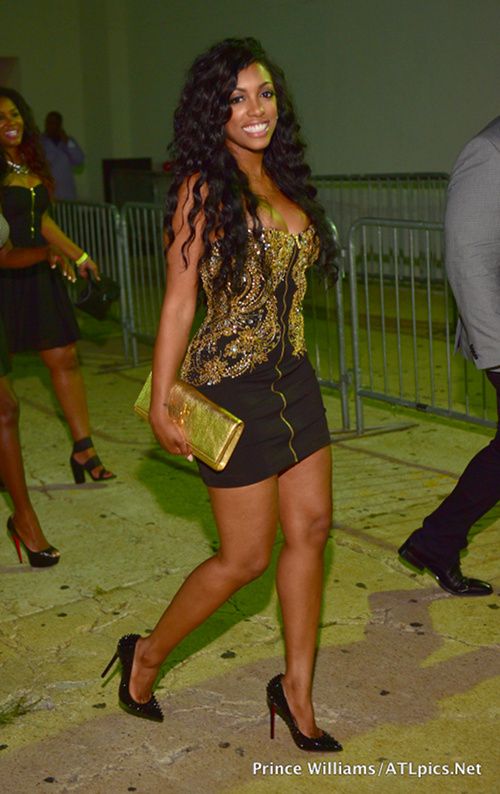 Porsha Williams pranced her way inside the party in a pair of sparkly Christian Louboutin pumps.
And her "twins" made a cameo as she posed it up for the cameras.
Porsha caught up with Toya and stopped for a photo-op with Kenny Burns.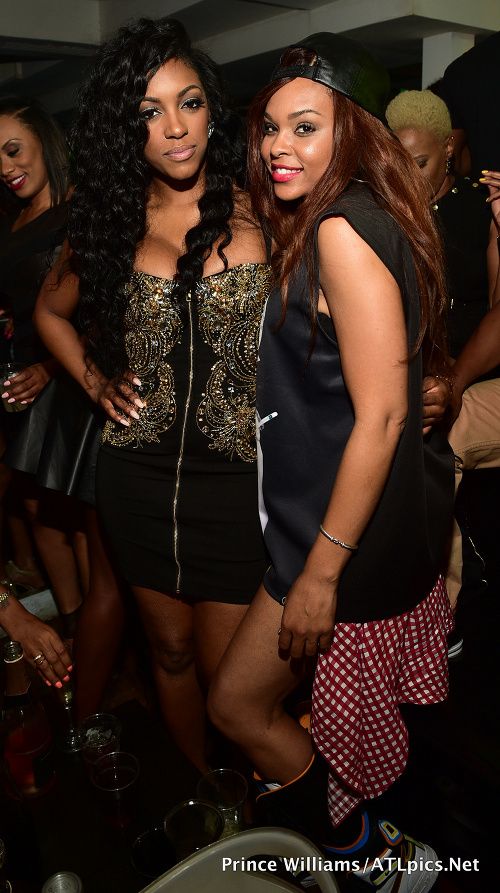 "House of Payne" actress Demetria McKinney was also in the mix.
And so was Kandi's bestie Carmon (center).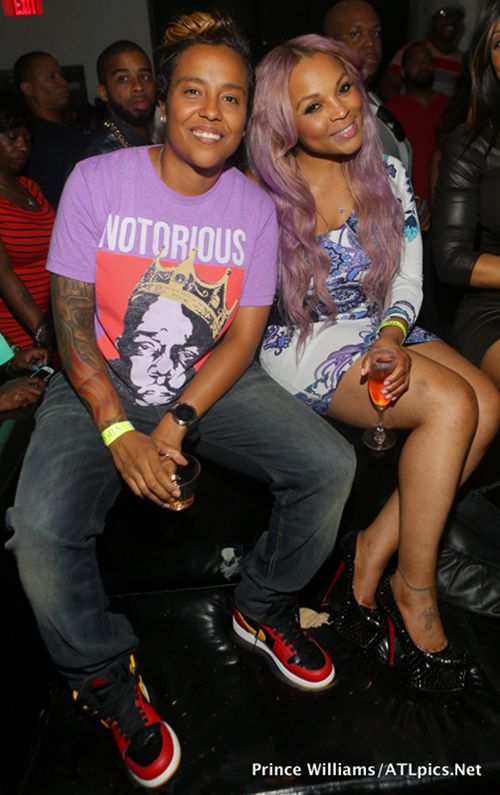 LaLa's cousin Dice came out to party with her lady friend.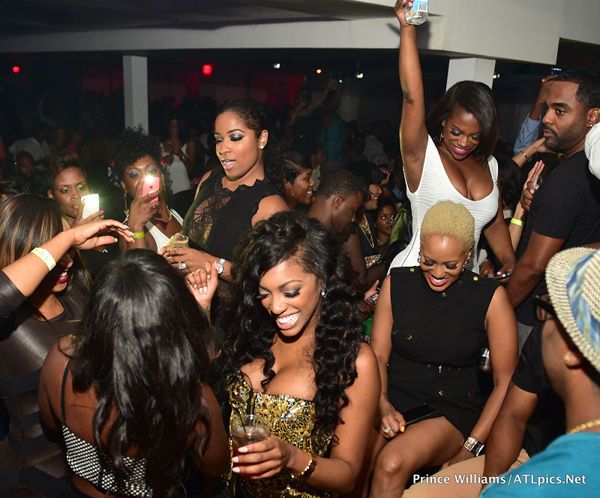 "L.A. Hair" star China was also in the mix.
And as you can see, it looks like everyone had a good time.
Once the party was over...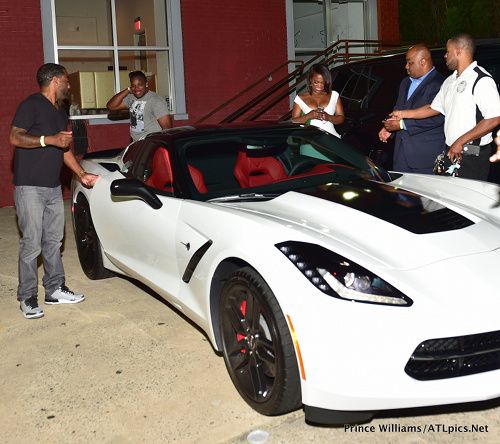 Kandi and Todd were spotted leaving in his new white Corvette that his wife gifted him for his birthday. Must be nice.
And over in L.A...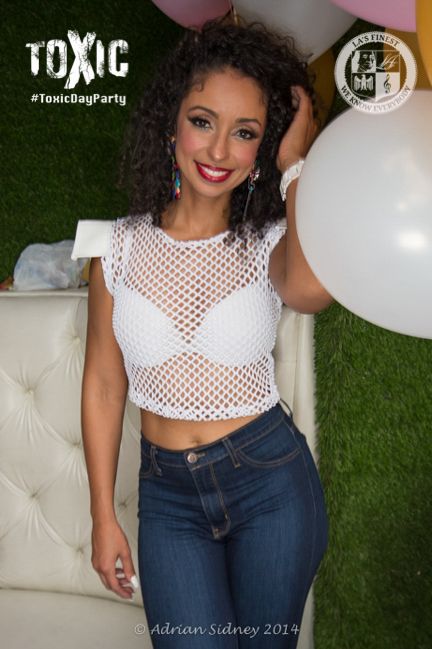 While some celebs attended the On The Run tour stop at the Rose Bowl, Mya made her way to the ToXic Day party in L.A.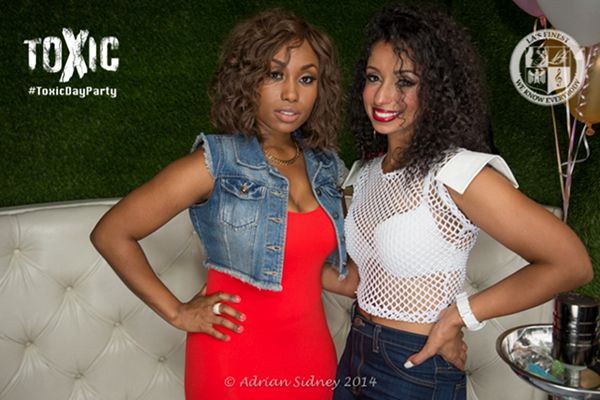 She linked up with "Young & Restless" actress Angell Conwell to celebrate her birthday.
The starlet celebrated her 31st birthday with a two-tier cake and plenty of spirits on deck.
Mya took the stage to perform a few tracks from her "With Love" EP.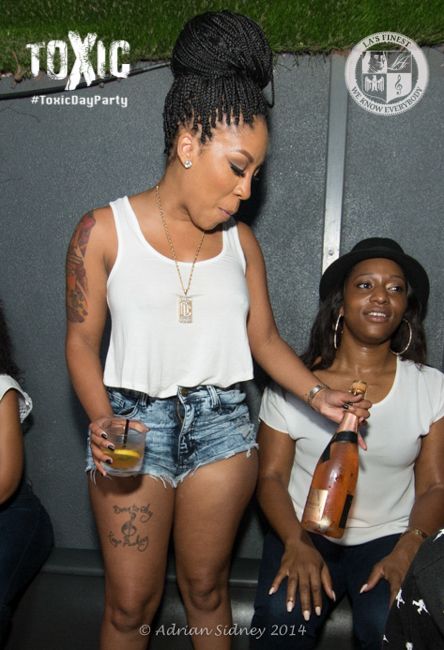 When she's not shading chicks on social media, K. Michelle is popping bottles and laughing it up with friends.
Keyshia Cole's soon-to-be ex-husband Daniel "Boobie" Gibson showed off his tats for the cameras.
And L.A. Lakers baller Nick "Swaggy P" Young partied it up...sans his girlfriend Iggy Azalea.
Fun times.
Photos: ATLpics.net/Adrian Sidney
Porsha Williams, Syleena Johnson, Meelah, Derrick J & More At The Bronner Brothers Hair Show
Posted: 04 Aug 2014 07:17 AM PDT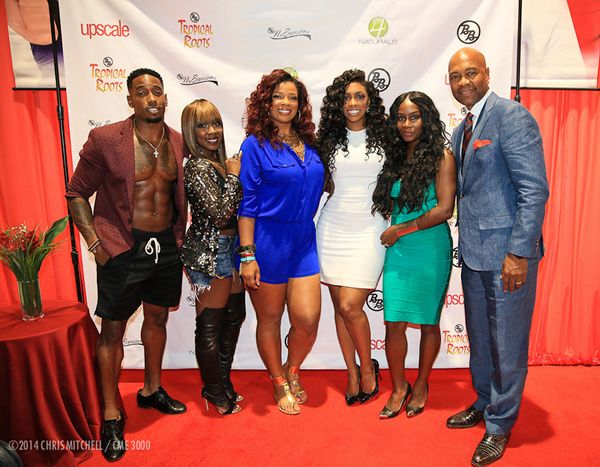 Reality tv stars Porsha Williams, Derrick J, Meelah and Syleena Johnson were among those spotted at the Bronner Bros Hair Show in Atlanta. See pics inside...
The 67th annual Bronner Brothers International Hair Show & Convention (sponsored by Ford Motor Company) was held this weekend in Atlanta at the Georgia World Congress Center.
"RHOA" Porsha Williams was on hand to sign autographs and promote her "Naked Hair"line.
"R&B Divas Atlanta" star Meelah was spotted at the show.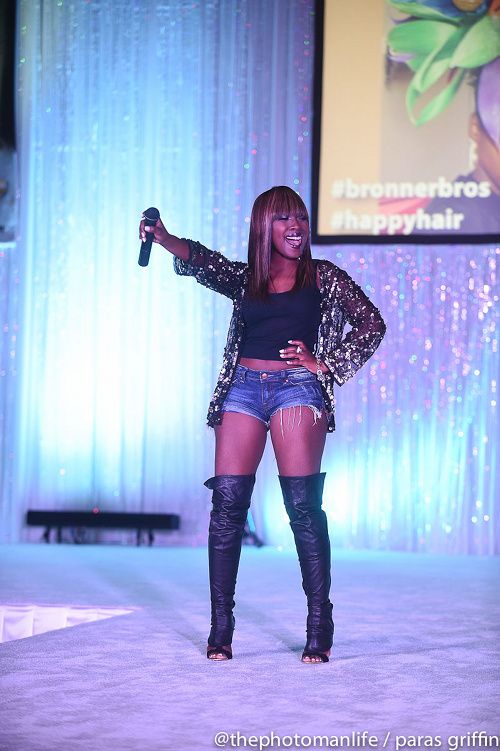 Meelah hit the stage to perform hits from her 702 era and well as her new single "Give It To You."
Syleena Johnson, who co-stars on "R&B Divas Atlanta" alongside Meelah, also hit the stage to perform a few of her hits.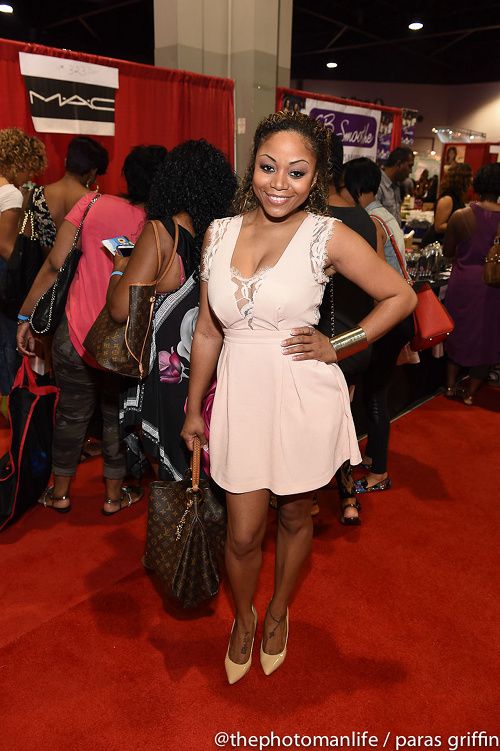 LaTavia Roberson, also of "R&B Divas Atlanta", hosted a panel discussion named "The Business of Natural Hair: Changing Landscape or Trend?"
"LAHH ATL" star Rasheeda was also on hand to sign autographs for fans.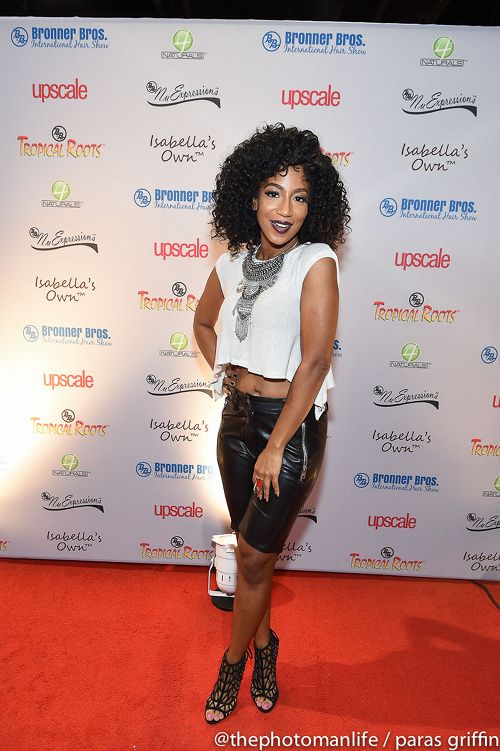 Reality star Africa, who stars on "The New Atlanta" was spotted rocking her luscious curls at the show.
Former "RHOA" personality and Atlanta hair stylist Dwight Eubanks posed on the red carpet.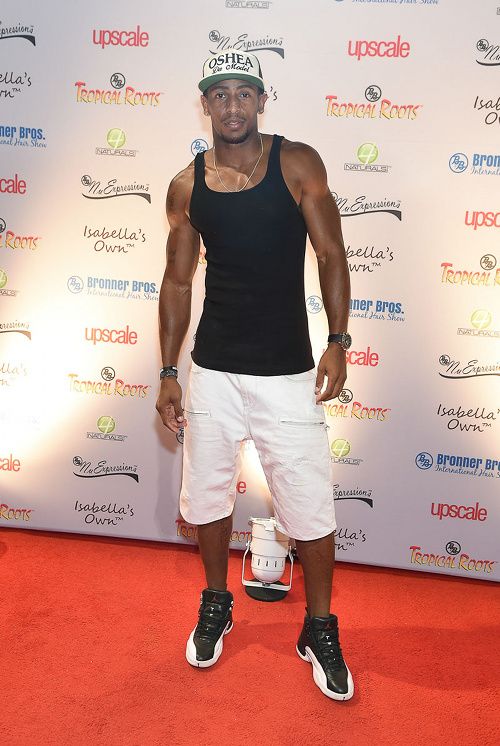 We spotted Oshea, the former boyfriend of Erica Dixon on "LAHH ATL." Hmm....we wonder if he had enough gas to get home.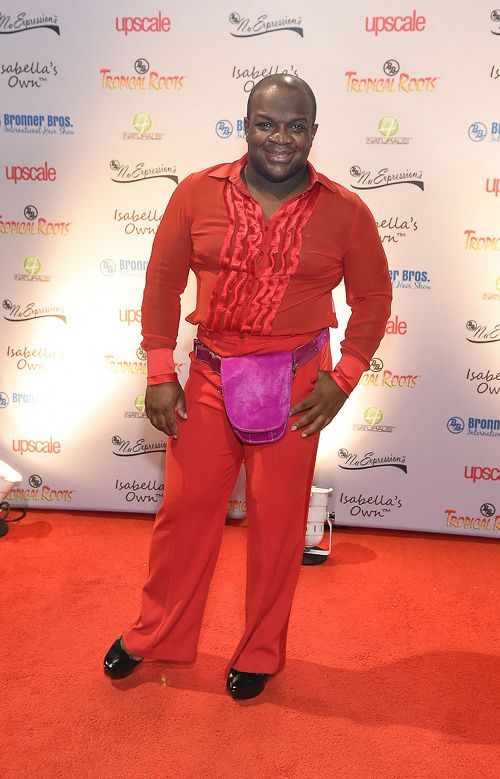 "Fashion Queens" co-host Derrick J smiled for the cameras.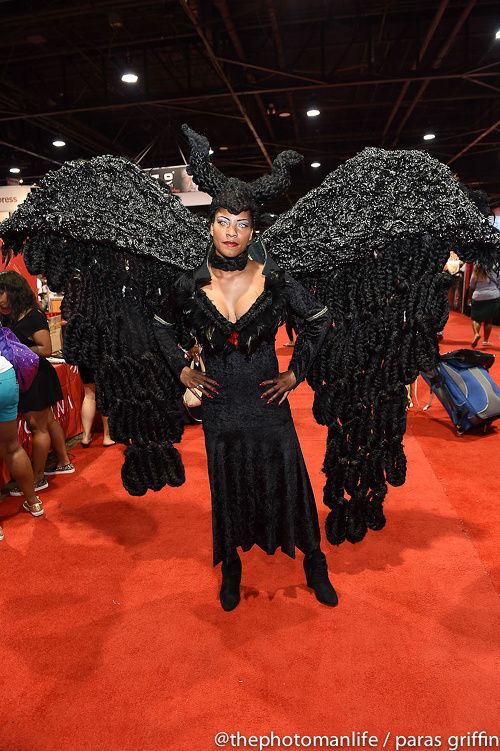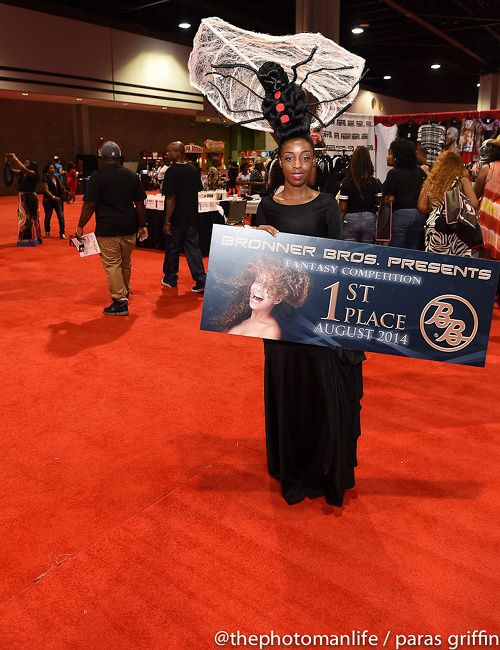 Folks who attended the hair show were treated to many innovative hair designs including a pair of wings and a spider web - all sculpted using human hair!
Photos via Paras Griffin/Chris Mitchell
VIDEO FAB: Nicki Minaj's "Anaconda" (PREVIEW) + Rick Ross "Supreme"
Posted: 04 Aug 2014 06:30 AM PDT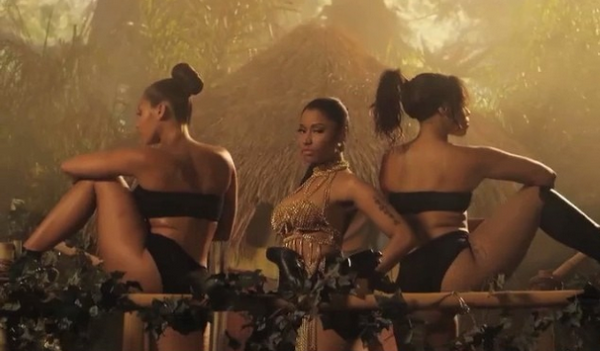 Watch a snippet of Nicki Minaj's "Anaconda" video and Rick Ross' full-length "Supreme" clip inside...
We've got a snippet of Nicki Minaj's upcoming "Anaconda" video and it looks like it will create as much controversy as the single's art work. CLick above and you'll see Nicki's rear end is the video's primary focus. And from the clip, we see that she knows how to "make it clap."
It's going to be a big week for Nicki as she's on "Bang Bang" with Jessie J and Ariana Grande and her "***Flawless" remix with Beyonce is one of the most talked-about songs in the country.
In other videos...
The latest visual from Rick Ross' Mastermind album is the Scott-Storch-produced song "Supreme." Featuring the vocals of Keith Sweat, the video was shot on South Beach and stars Meek Mill and Rick relazing on the beach and driving fancy cars.

EXCLUSIVE: NeNe Leakes Gets CANDID About Made-For-TV "RHOA" Friends, Wendy Williams' SABOTAGE And SAYS "I'm The Biggest "Queen" Of Them All"
Posted: 04 Aug 2014 04:35 AM PDT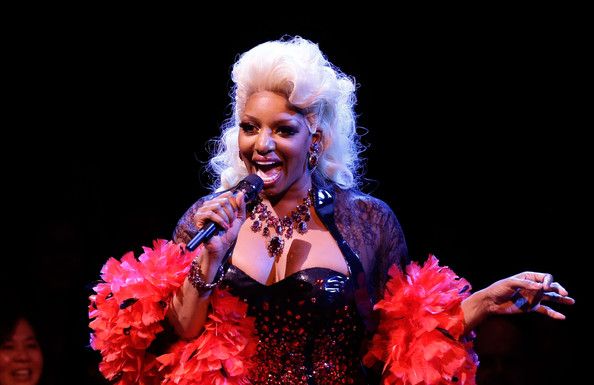 In an exclusive interview with TheYBF.com, NeNe Leakes gets candid about her messy spat with Wendy Williams, severing ties with Cynthia Bailey and how she hopes her HSN clothing line will open doors for other Black women. Keep it real with the fabulous queen of "RHOA" inside....
NeNe Leakes, arguably one of the most successful reality stars of all-time (she reportedly commands a million dollars per season from starring on BRAVO's "RHOA") saw one of her wildest dreams come true a few days ago. As she hawked her exciting new HSN line "NENE By NENE Leakes" to millions around the country, NeNe had an epiphany and was able to marvel at the dreams she'd accomplished.

"Listen, this was just a dream of mine and now I can scratch it off my bucket list. I'm a Black Girl. I've done Glee, I've done The New Normal, I've done The Celebrity Apprentice and I've done DWTS. I've been on every major talk show. I've been on all the major networks. I've done so many things. I've co-hosted many talk shows (The View, The Chew, The Insider). I did Zumanity (In Las Vegas). I sit back a lot of days and think damn. You know those things your mom or grandma may have said to you…"Reach for the stars." It sounds so cliché but you TRULY can do anything you want to do if you put your mind to it. Everything I think of I really accomplish. I see it through."
During an exclusive interview with TheYBF.com, conducted shortly after her departure from HSN studios, NeNe gave up the goods about her talk show dreams, creating her million-dollar brand, the line of affordable luxury womenswear on HSN and some of the most controversial topics that have kept her in the headlines. Nothing was off-limits. From how she feels about her place in life ("I feel inspired. I feel blessed"), the nasty war of words with Wendy Williams ("She's trying to sabotage my career"), outraging the LGBT community with the "queen" word ("I wasn't being derogatory"), why other chicks in the industry fail ("too many of them just want to be cute and wear weave down to their knees"), and the fallout with Cynthia Bailey ("It hurt") – NeNe did not hold back.
And while she will discuss the 180 degree change her "NeNe" character has made on RHOA, don't waste her time with questions about chicks who aren't her co-stars. "Marlo Hampton is NOT a cast member. She's never been one and never will be one." Ladies and Gentlemen……Here's NeNe!
On creating "NENE, The NENE Leakes Collection" for HSN:

I want to make women of all shapes and sizes feel confident and fabulous. My line is affordable luxury for every woman. I want every woman to feel like they can walk into a room and own it. I just try to do things that other women aren't necessarily doing. Obviously there are a lot of women who have clothing lines but they don't necessarily have them in the right places. I wanna be that girl that kicks that door down for us Black girls. Because I feel like if I win…you win. I think when one of us walks through the door of opportunity we can leave it open for the next girl.

On the origin of the Wendy Williams drama:

The thing with Wendy Williams has been going on for a long time. I did not know where it was coming from. Honestly, I've done her show a lot. I'd like to think I'm in the running for being on there more than anybody (else). When she first launched her show, I stayed with her the whole hour. I helped her and supported her and then all of a sudden it just switched on me. She started saying things about me. And I know Wendy does a lot of gossiping…that's how she started her career. But to just start sabotaging me. I felt like she wanted to sabotage my career because she was really saying nasty things about me. And I have done nothing to Wendy. So for me…it was not about the bag….
On TheYBF.com we told you about Wendy blasting NeNe for defacing a $15,000 Birkin bag and calling her tacky.
I was like where is this coming from because I didn't do anything to you. The last time I saw her, I was nice to her. When she had her 500th show I 'd given her a gift (a $3,200 Celine Bag). Just to support another Black sister. I gave it to her and said I'm so proud of you. It's amazing. You're a black girl sitting here doing your own talk show. You're opening up the door for me to do my own talk show. I was very supportive of her. I gave her a full-on speech and hugged her. And GENUINELY meant it. And all of a sudden she was bashing me.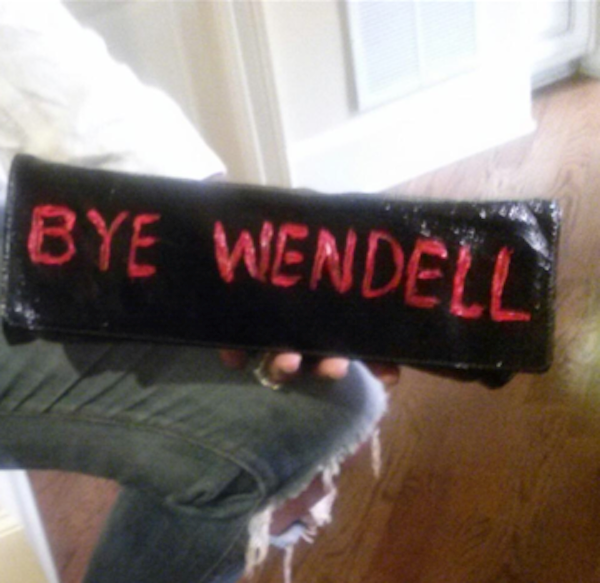 In the pic above, NeNe went on to "deface" ANOTHER expensive bag in honor of Wendy and her gossiping antics.
I felt like she'd maybe heard something, I won't say what the things are but I just thought she may have heard something about me. Nothing negative on my part, but about where my career could be going. And I thought she was just hating or sabotaging. You know I thought she would have been like I don't like NeNe's bags but she's coming out with a clothing line on HSN you guys should check it out. I was like damn…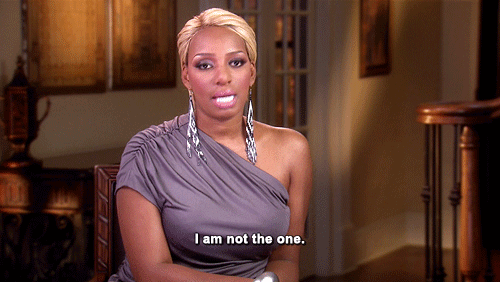 On reality TV friendship vs real friendships….and breaking up with Cynthia Bailey:
The first thing viewers need to know is that they are watching TV. And two, a lot of these friendships are reality TV friendships. I have girlfriends I have been friends with for years…and some of them were in my wedding. But those girls are not on the show. And obviously when you join a reality show you have to form friendships for those shows to go on. And when you fall out with one girl they just make you form another friendship. And to the viewers it looks kinda crazy…I get it. But I signed on to be a part of this show. All I can do is really go on. Sometimes when you do a show like this you really form friendships. I really did form a real friendship with Cynthia. I had never met Cynthia a day in my life until she signed on for this show. And when you do those shows they have to send the girl through somebody so you'll do a scene with me and then the next thing you know she's my friend. And I'd never met Kenya Moore a day in my life until she stepped her butt in Atlanta and they signed her to be a housewife. I'd never met her and never knew anything about her.

And people watch these shows and be like "But you girls were friends." Let's keep it real honey I've only know this girl 6 months. So I don't know what she went through…I just met her. I don't know her from anybody.

So when these friendships fall out, people are hurt. And people are watching…but you don't really know the full story. All you can really do is get up and keep going. I'm all about keeping it moving.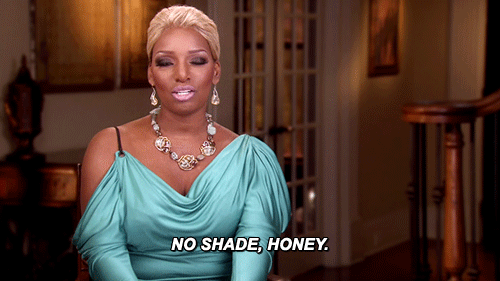 On being a good friend, while others aren't:

People judge every day and sometimes I think people don't understand that at the end of the day we are human and have feelings. Some of these things hurt. I feel like I'm a great friend…so when people say Nene's fallen out with this person, it really hurts me. Obviously it hurts me. I had a wedding and I put women in my wedding (Cynthia/Marlo) who I really trusted. So to have a fallout with them on television...its hurtful.

On sparring with Andy Cohen and the LGBT community about the controversial use of the word "Queen" during Season 6:

"I got a lot of comments from the LGBT community about "You said the word queen!" Well what you need to do is...you stop calling each other queen and then you won't have to worry about somebody else calling you a queen. Now…I DO GET IT. They were saying "queen " is ok but it's how you said it. Well don't start all that either like telling me I have to say it with a smile, slap your thighs and toast you with champagne. And as far an Andy is concerned, he's used the word many times. They have a show called "Fashion Queens" where they're sitting up there with lipstick, heels and weave in their hair. So what you want me to do chile? You sending so many mixed messages….. I don't know what you want me to do? Call you a king? I wasn't being derogatory.

On loving her LGBT fans:

For me….for anybody to come at me about some gay stuff was just crazy to me. I am the gayest queen there is. I hang out with all kinds of gay guys. I've hosted gay events, gay pride, gay everything. I'm like…girl bye. Don't even come at me like that. I can't! I never meant it to come off in a derogatory way. It just wasn't meant to offend.

On why some females don't succeed in the industry:

A lot of the girls in the industry just want be called cute. Oh. I'm cute. My weave is down to my knees. Ok girl. While you're worried about being cute I'm about go over here and get this contract! Too many of them want to get together and take selfies and wear Louboutins. I can't! They don't have their own identity. I'm about my business!

On if she'd ever invite another BRAVO housewife onto the RHOA:

"Our show is very different. There isn't another African American girl to pick and our show is all African American. I honestly don't think a white girl could survive on this show."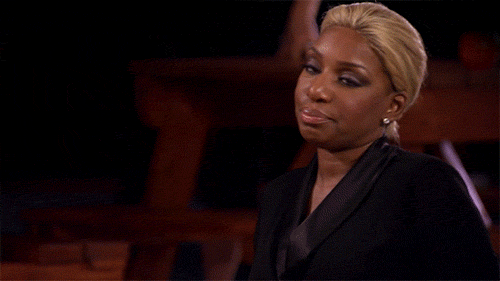 On Nene Season 1 vs. Nene Season 6:

NeNe from season 1 compared to season 6 is definitely a different Nene. Those shows only come out once a year and so many years have passed. When I started this show, my youngest son was in the 3rd grade, now he's in the 10th grade. I started this show now knowing a lot about reality TV. I'd been acting for a bit….but I was new to reality TV. Over the years I've grown and I've become a better person. I'm wiser.

On NeNe "the celebrity" vs. Linnethia Monique "NeNe" Leakes":

Now, Nene on TV is definitely different from Nene Leakes at home. I'm very private. I don't go to a lot of events. I'm just very private. I hang out with my husband. He's my BFF. I think I'm a cool chick, but I'm not that girl just hanging out. I work. I am NOT that girl popping a bottle anywhere. I love to go shopping…I love to travel. I love to go out to dinner. But I don't wear makeup when I'm not on television. I'm just a regular girl.

On the trade-offs of fame:

"I miss going to the grocery store and going on aisle 2. I miss my privacy. For me, you or anyone – to have your privacy ripped away from you is very difficult. But I feel very blessed to be able to do what I do. And before – you were just judged by your friends and family. Now you're judged by the world.
In addition to promoting her HSN line (available in sizes 2-24), NeNe still has a few items on her bucket list. She says she and her husband Gregg are in talks for a collection of menswear items and one day she'd love to star in a dramatic role. Based on what we seen her make happen thus far…we don't expect anything less.
Photos via NeNe Leaks' Official Website/Getty
OH? Tahiry Jose And Deelishis Twerk Something For Fabolous On Stage At Caribana...
Posted: 03 Aug 2014 04:30 PM PDT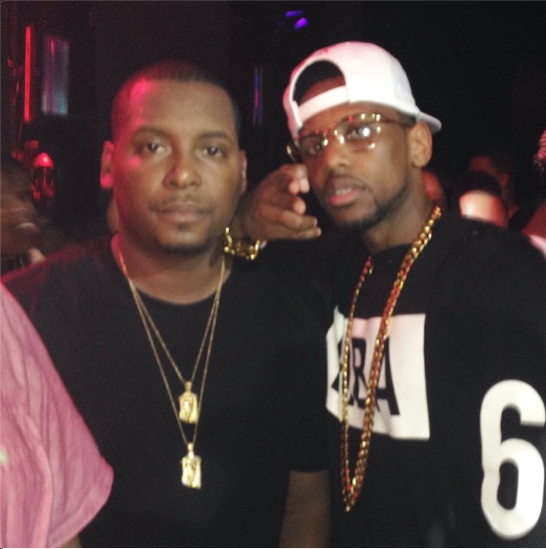 Caribana Weekend in Toronto didn't go off without some eyebrow raising things happening. Check our reality stars Tahiry and Deelishis twerking for the crowd...and for Fabolous...inside...
Emily B may want to close her eyes for this one. While Fabolous was on stage at Kool Haus in Toronto the other night, "Love & Hip Hop" chick Tairy--who was in town to host a party--hopped on stage to twerk something:
She said to Fab, "Why you talking shit while you still cuffin?" Oh? Was that a subtle way of asking why he's trying to get at her...while he has a girlfriend?
"Flavor of Love" chick Deelishis also hopped on stage to use her main resource...her ass.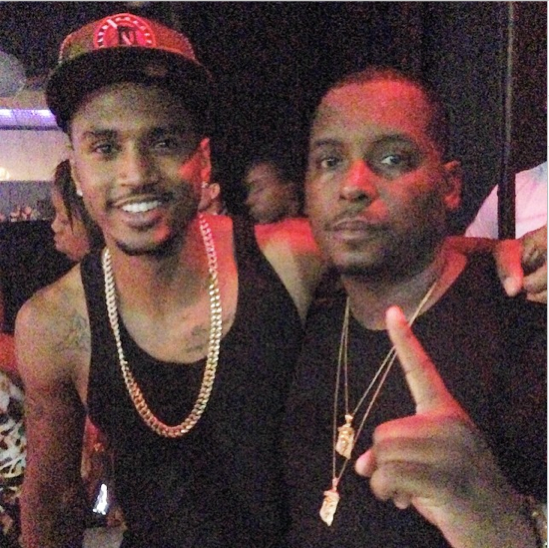 Also there to perform was Trey Songz, posing it up above with DJ Self of Power 105. Peep him and Fab rocking the stage together:
BONUS: Thanks to this little nugget from a few months ago, we learned that Fab and Tahiry use to date before she was with Joe Buddens. But clearly, they were still quite friendly with each other within the last year as BK rapper Troy Ave. revealed in an interview with The Breakfast Club.
At the 8:38 mark, he (and Angela Yee) said that while Troy was "hanging out" with Tahiry in Miami, Fab called her to help bail him out when he was about to get his car snatched due to a license situation.
Hmmmm....
Videos: @Nigel_D, @djself, Pics: @djself
50 & FAB: Vivica Fox CELEBRATES Her Birthday With Tisha Campbell & Duane Martin, Holly Robinson & Rodney Peete & MORE In Beverly Hills
Posted: 03 Aug 2014 11:14 AM PDT
Vivica Fox just turned 50! And to celebrate, she held a huge star-studded birthday bash at Philippe Chow in Beverly Hills last night. Peep the party pics inside…
50 & Fabulous! Vivica Fox is proving she still has it. And she's slaying in a sparkling purple hip-hugging number and tousled curls.
The Sharknado 2 star celebrated her 50th birthday with a celeb-filled bash complete with a red carpet at Philippe Chow in Beverly Hills last night. Tisha Campbell-Martin, Duane Martin, Holly Robinson Peete and her husband, Tamala Jones, Elise Neal and Michael Jai White all came out to party it up with the birthday girl.
The fab starlet had plenty to celebrate. SyFy's Sharknado 2: The Second One (which premiered on her actual birthday, July 30th) scored record ratings this week, reaching 3.9 million viewers for its premiere telecast. The so-cheesy-it's-good instant cult classic made history as the most watched movie in network history. How's that for a birthday gift?!
50 is looking damn good on Aunt Viv!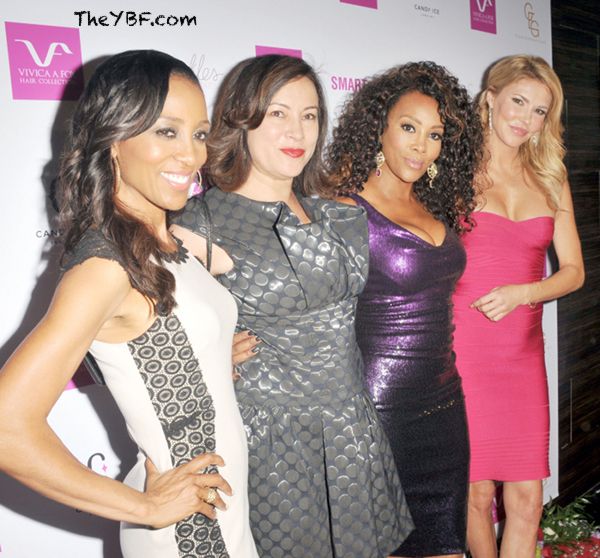 Viv hit the carpet with a few of her friends, Access Hollywood anchor Shaun Robinson, "Family Guy" voice actress Jennifer Tilly, and "Real Housewives of Beverly Hills" star Brandi Glanville.
And with longtime friends Star Jones...and those fishnets...and Vanessa Bell Calloway.
Tisha Campbell and her husband Duane Martin came out to celebrate and got kissy on the red carpet. We hear Tisha gave a special performance during the party.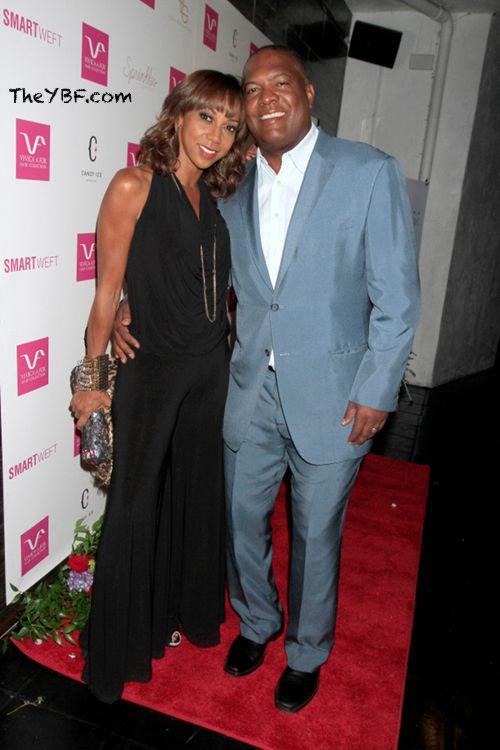 21 Jump Street vet Holly Robinson Peete and husband Rodney Peete were all smiles on the carpet. Like Vivica, Holly will be celebrating her 50th birthday on September 18th.
"Castle" star Tamala Jones looked cute in her printed romper and sandals.
"Hollywood Divas" star Elise Neal came out to party with her girl.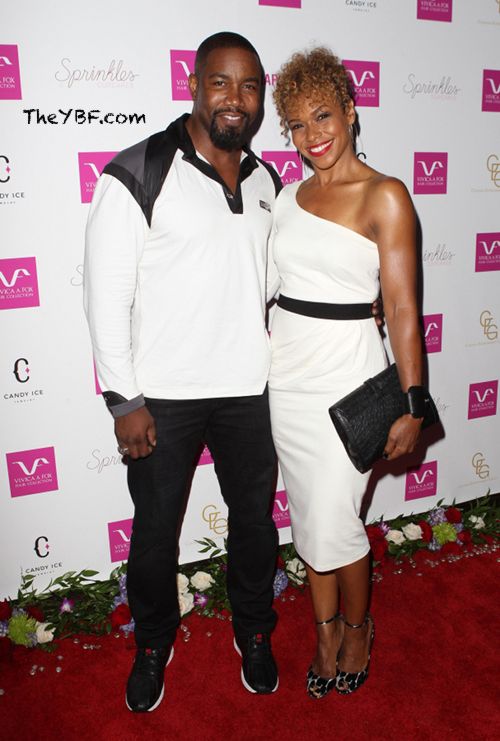 And actor Michael Jai White (who is starring in an upcoming urban-themed stripper flick named "Chocolate City") and his lady friend hit the carpet before heading in for the party.
Fab times!
Photos: Pacific Coast News/WENN/Splash
COUPLEDOM: Gabby Union & Jamie Foxx Support Dwyane Wade's Fantasy Basketball Camp + Tiny Talks Marital Status With T.I.
Posted: 03 Aug 2014 10:38 AM PDT
Jamie Foxx and Dwyane Wade's fiancee Gabby Union were on hand for the NBA baller's Fourth Annual Fantasy Basketball Camp in Florida this weekend. Check the pics inside, plus what Tiny's saying about her and T.I.'s marital status...
At the Westin Diplomat in Hollywood, Florida this weekend, Miami Heat baller Dwyane Wade hosted men who have always wanted to sharpen their b-ball skills at his 4th annual fantasy basketball camp. Labeled as the "ultimate man-camp", it's an elite, weekend-long event for campers who were willing to take their game to the next level while "showing him what they got."
Good friend Jamie Foxx and Dwyane's effortlessly gorge wife-to-be Gabrielle Union were front and center for the big weekend:
Cute.
Tameka "Tiny" Cottle hit up The Insider recently and gave some straight tak about what's going on with her and T.I. Reportedly, their VH1 show "The Family Hustle" has been temporarily put on hold. So where does that leave them...and Floyd Mayweather?
From The Insider:
"I feel like the Floyd thing is behind us and we just want to go forward and move positive. Me and my husband are in a good place and I just want to keep moving," says Tameka. That "Floyd thing" is, of course, about an altercation at a Fatburger restaurant in Las Vegas in May, where Tameka Harris' husband, rapper T.I., reportedly attacked Floyd Mayweather over rumors of a Mayweather affair with Tameka.
Peep the video above.
Photos: Getty