---
Beyonce FIRES SHOTS At Jay Z In New "Bang Bang" On The Run Tour Trailer + Jhene Aiko's "Spotless Mind" (SINGLE)
Posted: 18 Aug 2014 08:22 AM PDT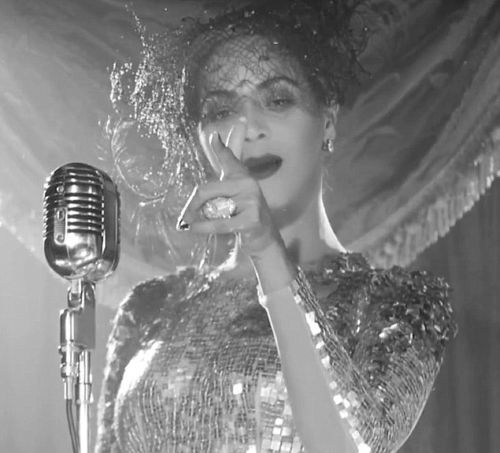 Beyonce sings "Bang Bang (My Baby Shot Me Down)" to Jay Z on the latest "On The Run" Trailer. Watch the clip inside and listen to Jhene Aiko's latest "Spotless Mind."

If you weren't able to catch Beyonce and Jay Z's "On The Run" tour when it rolled through your town, there's good news. On September 20th, HBO has your front row seat!
In anticipation of their full concert event, HBO has released a new OTR trailer featuring Beyonce singing "Bang Bang (My Baby Shot Me Down)" as Jay Z watches and smokes a cigar.
When she looks at him and points her finger, while mouthing the words "Bang Bang", you have to wonder if there's a hidden message. Is Bey about to pull the trigger on divorce?
Watch the latest "OTR" trailer:
In new music...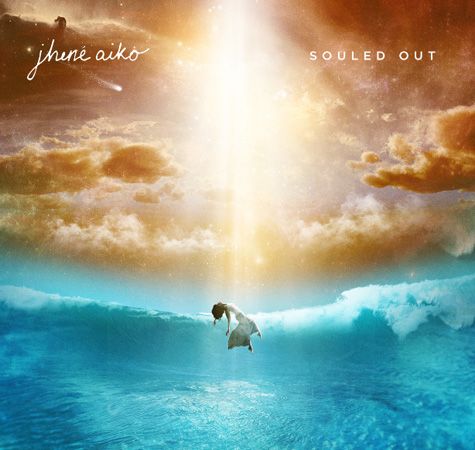 Jhene Aiko drops her forthcoming cd Souled Out on September 9th and we've got the latest release from the disc, "Spotless Mind." Produced by No I.D., Jhene sings about being a traveler and a free spirit when it comes to love.
"Started as a love song, 24 years in the making / Moving from place to place and I never really settled down."
Listen to "Spotless Mind"
Photo via HBO
YBF KIDS: Malia Obama RETURNS To The White House With President Obama + Terri J. Vaughn's BABY SHOWER With Angie Stone, Columbus Short And Trina Braxton
Posted: 18 Aug 2014 06:47 AM PDT
Malia Obama returned to the White House with President Obama this weekend while actress Terri J. Vaughn hosted her baby shower in Atlanta. See the pics inside...
Yesterday, Malia Obama was seen returning to the White House with President Obama following a family vacation in Martha's Vineyard.
It's been a pretty busy summer for Malia who's visited China with her mom and nabbed her first job as a production assistant on "Extant."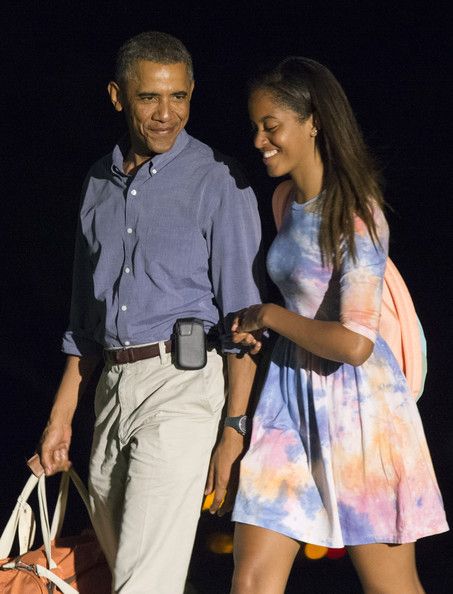 While on vacay, Malia was spotted wearing a Stanford University t-shirt prompting buzz that it's her college of choice.
In Atlanta....
Actress Terri J. Vaughn and her husband Karon Riley hosted an intimate baby shower. Terri, is set to star in the 2-hour original movie, "Girlfriends' Getaway," with Garcelle Beauvais, Malinda Williams and Essence Atkins (airing on TvOne August 30 at 8PM/ET).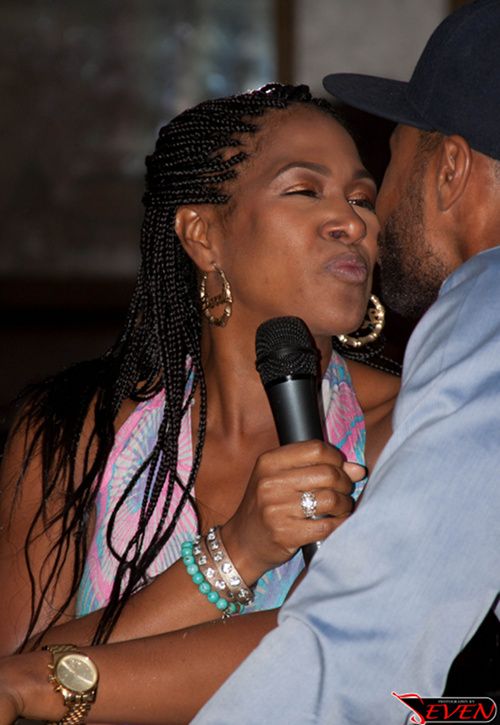 Her hubby Karon was seen giving her kisses throughout the night.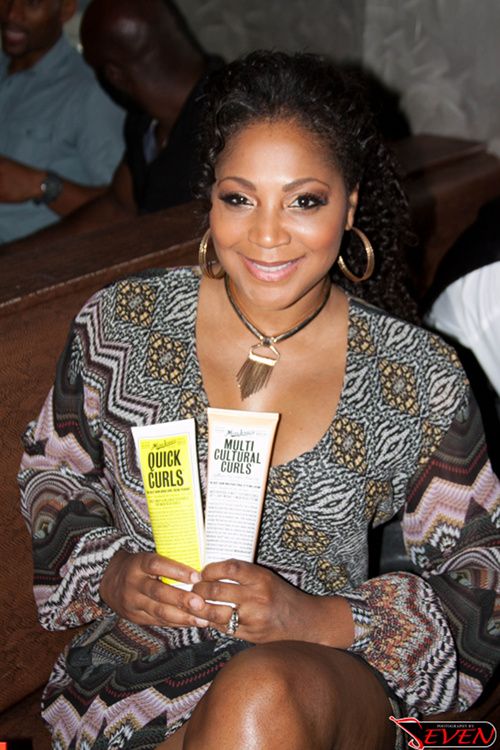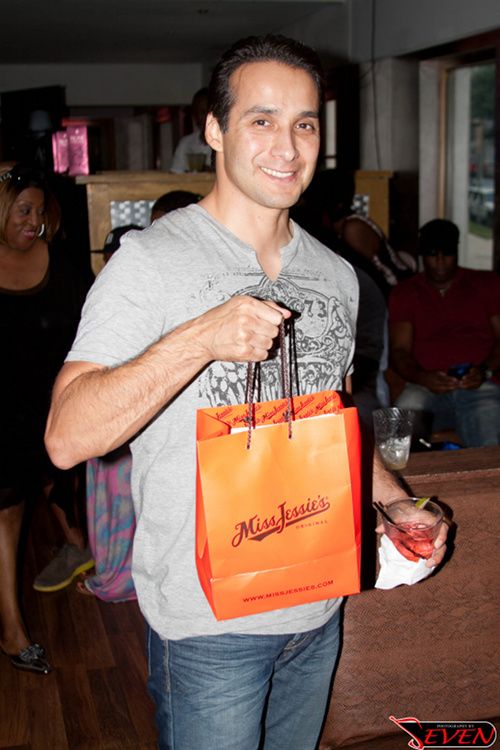 "BFV" star Trina Braxton was there with her husband Gabe.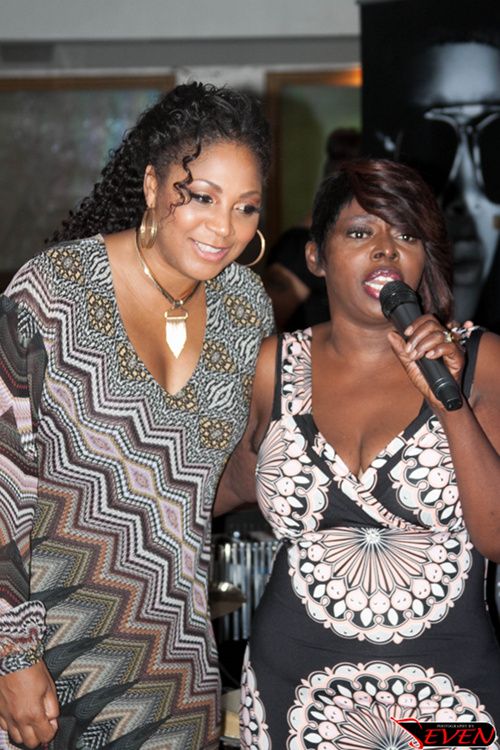 She and singer Angie Stone made a special tribute to Terri.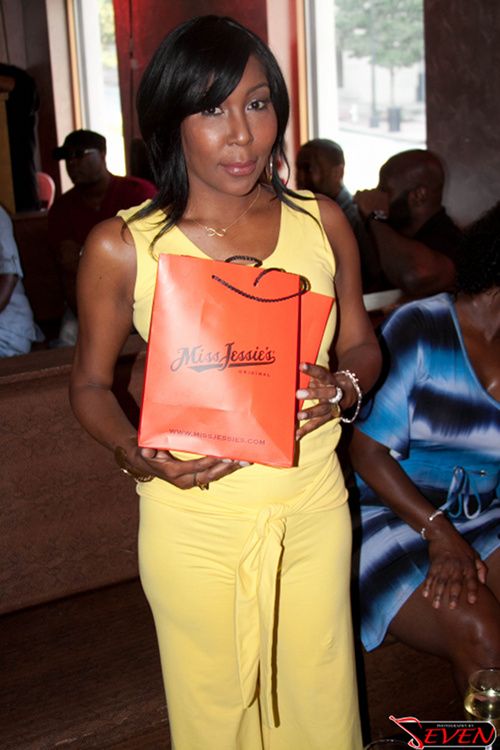 Radio personality Ebony Steele celebrated with Terri and Karon.
Angie posed with former "Martin" star Thomas Ford.
Photos via Getty/SEVEN SEVEN
FIRST LOOK: Angell Conwell, Michel Sproles & Ravaughn KNOCK OUT Breast Cancer For The Pink Line
Posted: 18 Aug 2014 05:00 AM PDT
The ladies of Hollywood are striking back against breast cancer. After a group of several celeb ladies got together recently in L.A. to shoot for The Pink Line, we have one of the first official pics.
Check out the fab ladies inside....
They're not just pretty faces! Michel Sproles, breast cancer survivor and wife of Philadelphia Eagles' Running Back, Darren Sproles, created The Pink Line after she was diagnosed with Stage 0 Breast Cancer at the age of 28. She created The Pink Line campaign to encourage young, African American women to know their bodies and be proactive when it comes to their breast health. And it's off to a fabulous start with The Pink Line photo campaign.
In an upcoming series of photos that includes a group of celebrity women and survivors standing together in the fight against breast cancer, ladies like Eva Marcille, Emily B., Melah Williams and more are featured.
And just in time for Breast Cancer Awareness Month in October, we've got the first look at one of the cute pics from the big campaign. It features Michel Sproles with "The Young & The Restless" actress, Angell Conwell and recording artist, RaVaughn. Check it above!
Most recently, Michel partnered with Susan G. Komen California Circle of Promise® African American Initiative for the first Pink Line Breast Cancer Awareness Fair, where free mammograms were given to qualifying women on a full-staffed mammography unit. Gotta love NFL wives and celeb chicks who give back. Stay tuned for more images from The Pink Line Breast Cancer Awareness photo campaign.
Photo credit: Brevin Blach
Rihanna GRABS A Late Night Meal In NYC After "Monster" Tour Stop Performance At MetLife Stadium
Posted: 17 Aug 2014 09:41 AM PDT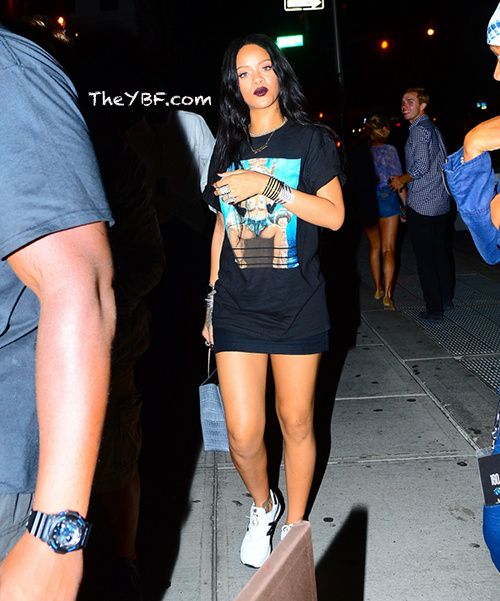 Rihanna was spotted on a late night meal run in NYC after rocking the stage at MetLife stadium. Peep her candids inside…
Chick had to refuel after twerking it out on stage. Rihanna was spotted in NYC grabbing a bite to eat after rocking the mic with Eminem at MetLife Stadium on their joint "Monster" tour.
About 2AM this morning, the Pop princess and her entourage hit up Cafeteria Restaurant for a bite to eat. RiRi wore a long black shirt with a graphic from the "Pour It Up" video on the front, a short black skirt showing off her killer legs, white New Balance sneakers and a dark maroon colored lippie.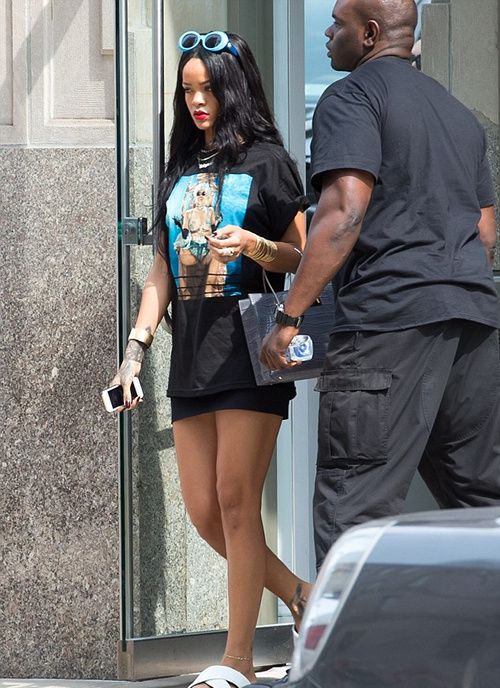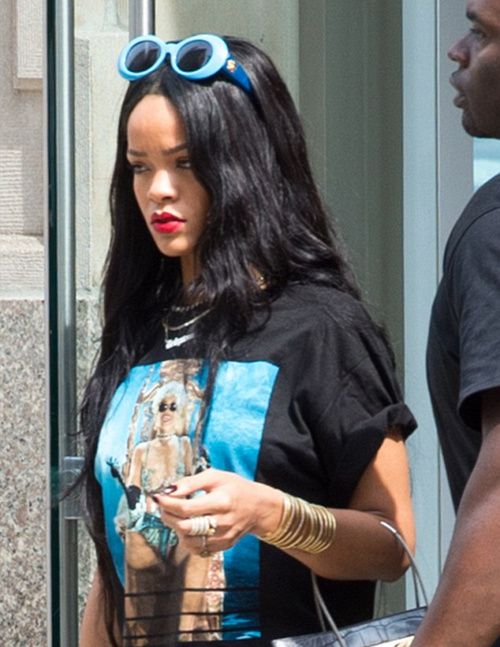 Earlier in the day, she was spotted trekking the streets of Manhattan with the same outfit but decided to wear white flip flops and a red lippie instead.
And backstage...
Before she hit the stage with Em, The "Diamond" singer showed off with a Run DMC shirt. Cute.
Peep the clips of Rih rocking it out on stage at the MetLife Stadium below:
Their next and final stop will be in Detroit, Michigan on August 22nd and 23rd at Comerica Park.
EXTRAS:
1. Christina Aguilera gave birth to her 2nd child. She and her fiancé Matt Rutler welcomed a healthy baby girl. Congrats! STORY
Photos: Splash News/Rihanna's Twitter
BACK ON?!: Chris Brown & Karrueche CUDDLE UP At Celebrity Flag Football Game In L.A. + Trey Songz, The Game, Nelly & MORE Play For Charity
Posted: 17 Aug 2014 08:47 AM PDT
Well what do we have here? Chris Brown and his "Loyal" chick Karrueche Tran extra touchy, feely during a celebrity flag football game in L.A. Are they back on? Decide for yourself inside…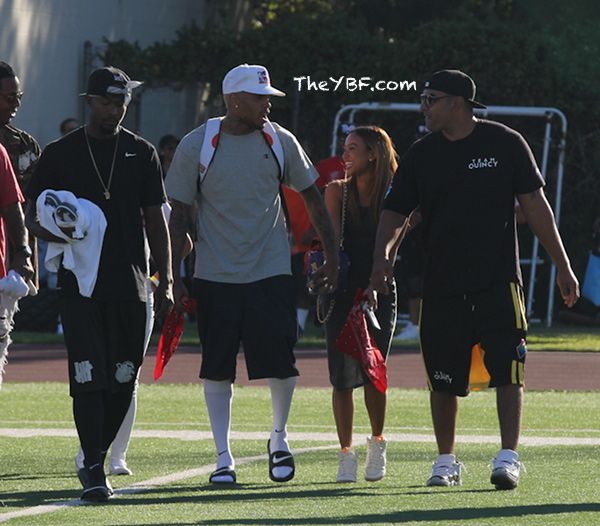 It seems the Chris Brown/Karrueche Tran drama just will not end. These two stay breaking up then making up. And this time seems no different.
Last month, the two had reportedly broken up after Chris posted a booty shot of KT on Instagram. Resulting in the two erasing every picture of each other on their respective Instagram accounts.
About a week after that, the two were spotted making their way to Bootsy Bellows in West Hollywood….together. Then Chris partied it up in St. Tropez with video vixen Jessica Aedo…sans Kae.

NOW…they're "back together" supposedly. They were all smiles as Breezy affectionately held Kae in his arms while sitting on the sidelines of the celebrity flag football game hosted by the "Loyal" singer and Quincy at Jack Kemp Stadium in L.A. Last month, Breezy and Quincy held a celebrity kickball game for charity. This time, they're playing flag football.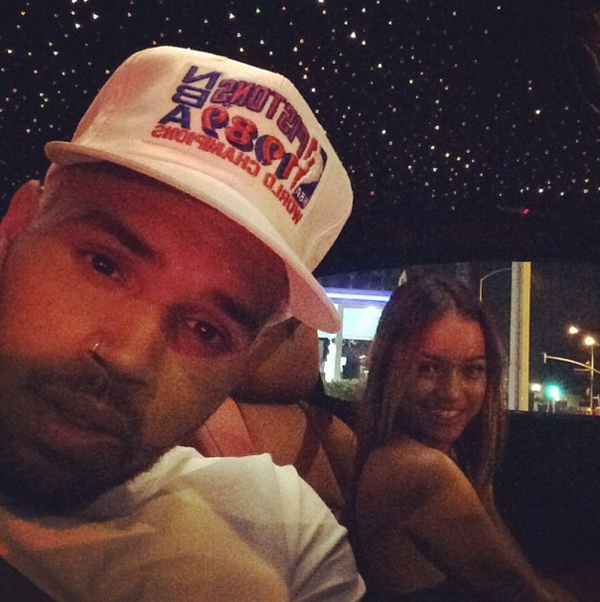 Yep...that's Chris & Kae in the car together after the game. The "New Flame" singer posted the pic above to his IG in the wee hours of the morning.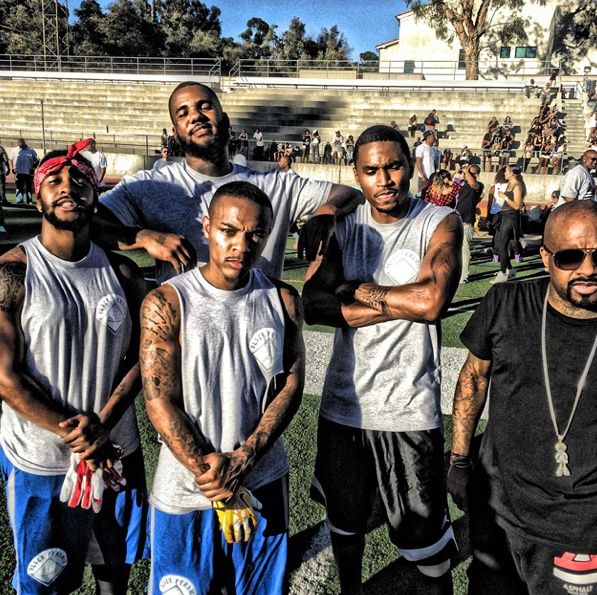 New dad Omarion, The Game, Shad Moss (Bow Wow), Trey Songz and Jermaine Dupri bought their skills to the field.
Team Breezy took home the win with a final score of 42-21. Wale, Terrell Owens and Tyga were also on Breezy's team.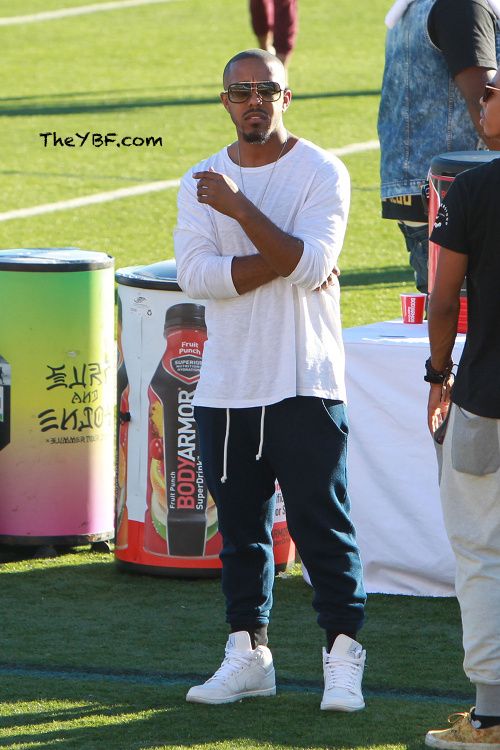 Marques Houston was there to check out the game.
Quincy was all smiles during the game as he took on his opponent, Team Breezy.
Here's Chris showing off, doing flips during the game.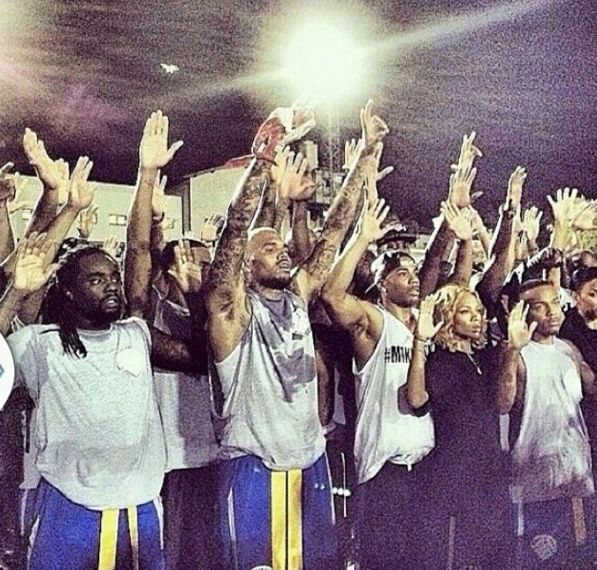 And after the game, Team Breezy, Team Quincy, Nelly, Lil Mama and many more showed their support for the Michael Brown protests. They snapped a pic with their hands up, which has become the universal sign for "Hands Up, Don't Shoot."
Loves it.

Photos: WENN/Splash News/Game's IG/@itsjustbrian/@powergodallah