---
DATE NIGHT: Jennifer Lopez SPOTTED Out To Dinner With Dancer JR Taylor
Posted: 11 Aug 2014 08:06 AM PDT
Jennifer Lopez is a single woman now. And it looks like she may have possibly found a new hot boy toy. OR...he could just be a friend? Decide for yourself inside...
Now that Jennifer Lopez has called it quits with her ex-boyfriend/ choreographer and dancer Casper Smar, it seems she may have possibly moved on to another dancer. Meet cutie JR Taylor. Yep....another dancer.
Saturday night, JLo and JR were spotted leaving Craig's restaurant in West Hollywood. They rolled up to the restaurant together, dined inside for two hours and then made a beeline to JR's parked car before speeding away.
We hear JR is JLo's main choreographer who has coached her for music videos, stage shows and commercials throughout the years. The L.A. native has worked with big names such as Rihanna, Beyonce and Mariah Carey. He has also starred in films such as Dreamgirls, Beauty Shop and Soul Man.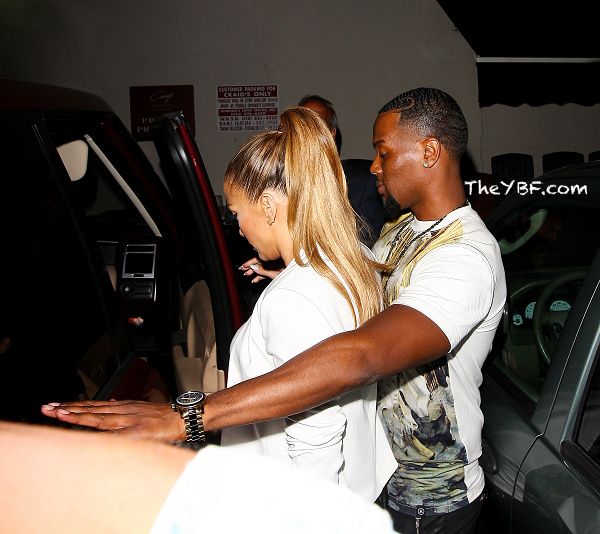 We also hear JR was by her side at her at her 45th birthday bash in the Hamptons. JLo's other rumored boo "DWTS" hottie Maksim was also in attendance at the party.
But according to Jenny from the Block, JR is just her "bestie". She posted a video showing off her fab heels for the night as they were on their way to dinner. The video ends with a shot of them looking into the camera saying "night out with the bestie":
She captioned the video, "W the bestie @didntinviteme #Igotinvited #shoeicide #PhuckYoBestie"
Some are saying this is her new boo but we're gonna go with "bestie"...for a few reasons. But what do you all think? Is this her new man or nah?
Photos: Splash News
SPEAK ON IT: Hundreds Protest By Looting After UNARMED, Black St. Louis Teenager Shot And Killed By Police
Posted: 11 Aug 2014 06:58 AM PDT
A police officer shot and killed an unarmed 18-year-old Black teenager in a St. Louis suburb on Saturday, a chain of reactionary events occured. It has all resulted in looted businesses, vandalized vehicles and tear-gassed confrontations with police. SPEAK ON IT inside...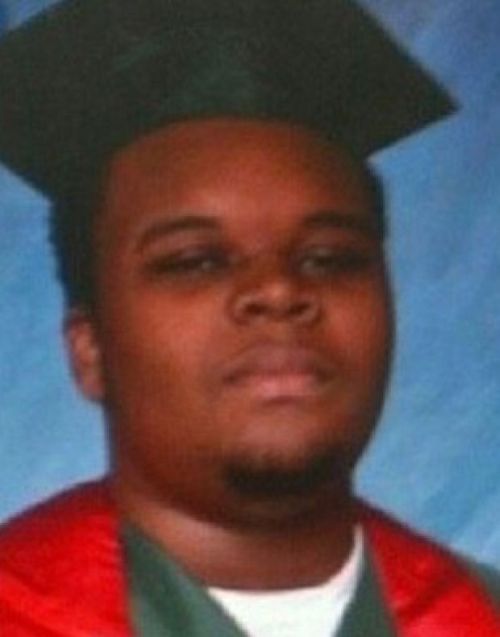 Today should have been the day 18-year-old Michael Brown started classes at Vatterott College, but his dreams of owning his own business were cut short over the weekend after he was shot and killed by police in Ferguson, a predominantly black suburb a few miles north of downtown St. Louis, MO.
According to an account of the shooting by County Police Chief Jon Belmar to the Associated Press,
"...(T)he shooting occurred after an officer encountered two people - one of whom was Brown - on the street near an apartment complex in Ferguson. Belmar said one of the men pushed the officer back into his squad car and a struggle began. Belmar said at least one shot was fired from the officer's gun inside the police car.

Ferguson Police Chief Tom Jackson said authorities were still sorting out what happened inside the police car. It was not clear if Brown was the man who struggled with the officer. The struggle spilled out into the street, where Brown was shot multiple times. Belmar said the exact number of shots wasn't known, but "it was more than just a couple." He also said all shell casings found at the scene matched the officer's gun. Police are still investigating why the officer shot Brown, who police have confirmed was unarmed."
There are MANY unanswered questions about the shooting (including why the cop approached Michael and his friend in the first place), with some witnesses claiming that Michael was actually surrendering before police shot him several times. The St. Louis County Police Department will have to piece the case together WITHOUT any video footage nor a police cruiser dashboard camera.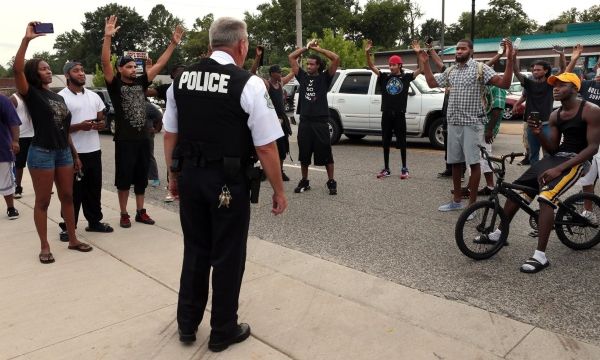 It didn't take long for the news of Saturday night's shooting to spread across the city. By Sunday, a few hundred protesters had gathered outside Ferguson Police headquarters with many of them chanting "Don't shoot me" while holding their hands in the air. Officers didn't use force.......until later.
Tension erupted Sunday night after a candlelight vigil for Michael was followed by a convenience store, a check-cashing store, a boutique and a small grocery store all looted. At some point, officers moved in with tear gas, riot gear and K-9 units.
With the death of Eric Garner at the hands of the NYPD still VERY fresh on the minds of many Blacks, it is understandable why many are suspicious of the police.
"We're outraged because yet again a young African-American man has been killed by law enforcement," said John Gaskin, who serves on both the St. Louis County and national boards of directors for the NAACP.
In addition to the St. Louis County Police Department, the U.S. Justice Department said Attorney General Eric Holder had instructed staff to monitor developments. Meanwhile, the officer (whose race has not be identified) has been placed on paid administrative leave.
We will keep you posted as this story develops....
SPEAK ON IT
Photos via AP Photo/St. Louis Post-Dispatch, Robert Cohen, J.B. Forbes/Antono French's Twitter/Facebook
OUT & ABOUT: Taraji P.Henson & Son Marcel Grab Dinner + Tia Mowry & Hosea Chanchez Hit SoulCycle + Carmelo Anthony & Kiyan Play Celebrity Softball In Puerto Rico
Posted: 11 Aug 2014 06:31 AM PDT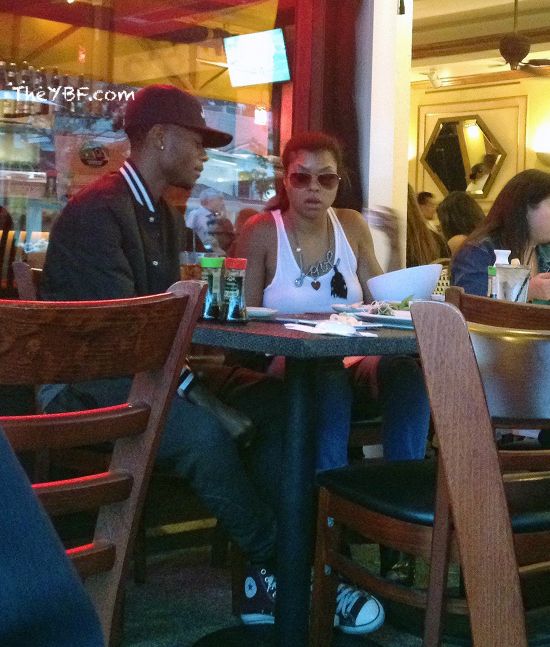 It was all about family and friends this weekend as a few of our fave celebs were spotted out and about. Check out what Taraji P. Henson, Tia Mowry and Carmelo Anthony were up to inside...
A young man is never too grown to grab dinner with his mom! Think Like A Man Too star Taraji Penda Henson was spotted out this weekend with her 20-year-old son Marcel having sushi on Sunset Plaza in West Hollywood:
Cute! Proud single mom Taraji recently spoke to Page Six about the passing of Marcel's father, and how much of an amazing young man Marcel turned out to be:
"When his father passed away, I had only $900 to my name....After the best private schools, my college son, 20, is now a writer, trying to figure it out. Needing to like what he does. He writes essays, stories, and he's also into music.
Taraji's set to star in the upcoming suspense flick No Good Deed with Idris Elba. And it looks like a must-see. We're already in there!
Elsewhere in Cali this weekend:
Former "The Game" co-stars, Tia Mowry and Hosea Chanchez, remain great friends. And the twosome, along with Tia's bestie, hit up SoulCycle to work on their fitness:
Glad that SoulCycle run-in with Charlize Theron didn't stop her fitness flow. "Instant Mom" star Tia's been on a serious health kick after having little Cree. And it's clearly paying off.
And over in Puerto Rico, NY Knicks star Carmelo Anthony hosted his annual A Very Melo Weekend charity softball match. And he brought son Kiyan along with him: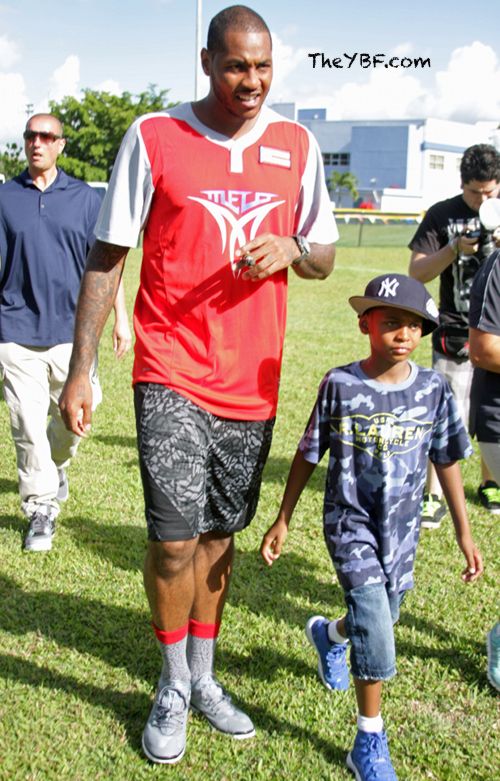 Looks like somebody's been hitting the gym in the off season.
And his teammate JR Smith was also there to support Melo's big weekend for the place where Mr. Anthony's father was born. Nice!
Photos: Splash/Pacific Coast News/WENN
Divorce Papers (Finally) Filed: Ex-MTV Reality Star Sara Stokes & Husband Tony
Posted: 11 Aug 2014 05:24 AM PDT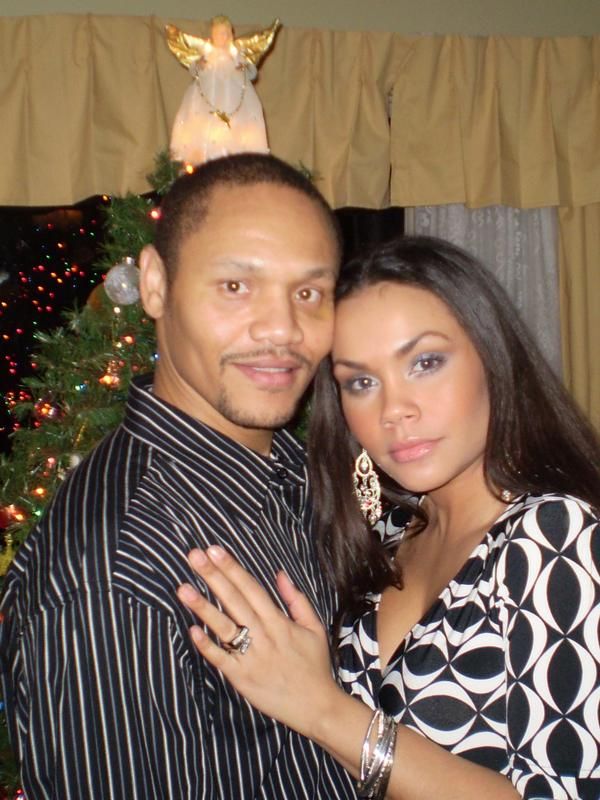 The domestic violence that has been occurring for over 8 years between ex-MTV reality star Sara Stokes & her husband Emanueil "Tony" Stokes looks to be coming to an end...finally.
Deets on Tony filing for divorce inside...
Ex-"Making The Band" and Da Band star Sara Stokes was arrested for the umpteenth time a few days ago on domestic violence charges. While both she and husband Tony have been arrested their far share of times, it seems this latest occurrence is the last straw.
On July 21st, Sara was arrested after she was found drunk & fighting with her husband outside of their home. This arrest violated her probation (she's been arrested for stabbing him and other things), so she's going to be spending some time behind bars.
Her husband, who many believe is no saint himself based on his seemingly controlling ways when he appeared on "MTB", has now filed for divorce. And he did so just two days after Sara was thrown in jail.
Tony was arrested back in 2011 for allegedly choking Sara out after a "dispute" where he accused her of being with another man.
TMZ reports Tony filed the papers in St. Clair, Michigan to end their 18-year marriage. 18 years?!