---
MAGAZINE FAB: LaLa Anthony Nabs 4th Latina Magazine Cover, Talks Having Another Child + Cam'Ron, JuJu & A$AP Mob MODEL Harlem Style For GQ
Posted: 01 Jul 2014 08:15 AM PDT
LaLa Anthony is looking uber fab with her hot new cover for Latina Magazine's August 2014 issue. Meanwhile, Cam'ron and the whole A$AP Mob get dapper for GQ. Peep their magazine pics inside….
For her fourth Latina cover, LaLa Anthony kept it white hot for the cover of Latina Magazine's latest issue. The TLAM2 star celebrated her 35th birthday recently (June 25th) and she has plenty to celebrate.
TLAM2 landed the #1 spot at the box office it's opening weekend (raking in $33M) and she's also starring in 50 Cent's new STARZ series, "Power." As she pursues her acting career, she has become everyone's favorite BFF.
She told TheYBF.com about her new sexy cover, "I really love this cover & I'm super proud to be on it. This is my 4th Latina cover. Pretty cool!"
In the cover story, the mother/mogul talked about adding a new addition to her family, her new role as a relationship guru and how she and her husband, NBA baller Carmelo Anthony, keep their marriage hot. And yes, there's talk of having another kiddie.
Here are the highlights:
On being ready to have another child: "I do start feeling bad because [my son, Kiyan, 7, will] ask about a baby [sibling] and I feel a little selfish. If I did have another child, the reason would be that I wouldn't want my son to be alone in the world as an only child. But we'll see."

On the reaction to her first book, The Love Playbook: "Almost every day I get handfuls of people coming up to me and telling me, 'Your book changed my life. You gave me confidence to leave an abusive relationship and believe in myself.' To me that's the true success, not necessarily being number one."

On her perfect night with her family: "My husband, my son and I have the best time when it's just the three of us. It's nice to all be together, put a movie on, lie in the bed and laugh. That's my idea of a perfect, fun time."
Latina's August issue hits newsstands and Nook Newsstand on July 8th.

And in another magazine...
Rapper Cam'ron and the A$AP Mob are giving us a closer look inside the liveliest neighborhoods in New York, Harlem. And they're looking extra dapper while doing so, showcasing their uptown style as they give a tour of Harlem in GQ's latest issue.
Donning a Brunello Cucinelli suit as he posed it up next to his Instagram star girlfriend JuJu in Herve Leger, Cam dished on his grown-man style saying, "A double-breasted suit is still the baller move for date night at a lounge like Ginny's Supper Club or a bar like 67 Orange Street."

A$AP Rocky and his A$AP crew also cleaned up in their uptown style for GQ. When asked about Harlem's swag, "F**kin Problems" rapper A$AP Rocky said, "Harlem has always been known for its swagger and pizzazz. I get my high-end look downtown, but my street style comes from uptown."
No wonder him and his supermodel girlfriend Chanel Iman have so much in common.
Catch the guys' full spread in GQ's July issue on newsstands now.

EXTRAS:
1. Pharrell Williams will perform his chart-topping hit "Happy" at Nickelodeon's first-ever Kids' Choice Sports 2014 hosted by Michael Strahan on Thursday, July 17, 8 p.m. (ET/PT)
Photos: Latina Magaine/Sebestian Kim /GQ
Zendaya Coleman's Dad Refutes "Skin Tone" Rumors On Why She Dropped Out Of "Aaliyah" BioPic
Posted: 01 Jul 2014 07:20 AM PDT
Zapped star Zendaya Coleman was spotted at an LA book launch with her father, who confirmed the reasons she left the planned Aaliyah-biopic. Find out what he said inside....
Zendaya Coleman, whose recent film Zapped became the highest rated film of 2014, attended the Letters To The Men I Have Loved book launch dinner in Los Angeles with her father/bodyguard Kazembe Ajamu on Sunday.
Wearing a cute pink top with matching a skirt and black Saint Laurent Paloma heels, Zendaya kept it cute despite all the tension in her career. She created a wave of controversy when she signed on to play Aaliyah in LIFETIME's planned movie THEN abruptly pulled out of production.
Kazembe, who's very protective of his daughter and her image, posted a few Tweets on Monday, explaining Zendaya's abrupt departure. He blamed the film's production values and shot down rumors that Zendaya backed out because of her skin tone. (Read from bottom to top)
LIFETIME, who seemed to have high hopes for the film, also tweeted their disappointment:

While we were looking forward to the film, we're pleased to learn that Zendaya didn't drop out over the "too light-skinned" comments. Well LIFETIME......to quote Aaliyah, "If at first you don't succeed...."
Photos via Getty/Twitter
YBF KIDS: Solange & Julez Get Wet & Wild In New Orleans +Rohan Marley's Son Nico Is A College Football Star + Mariah's Hot Tub Time With Roc & Roe
Posted: 01 Jul 2014 06:33 AM PDT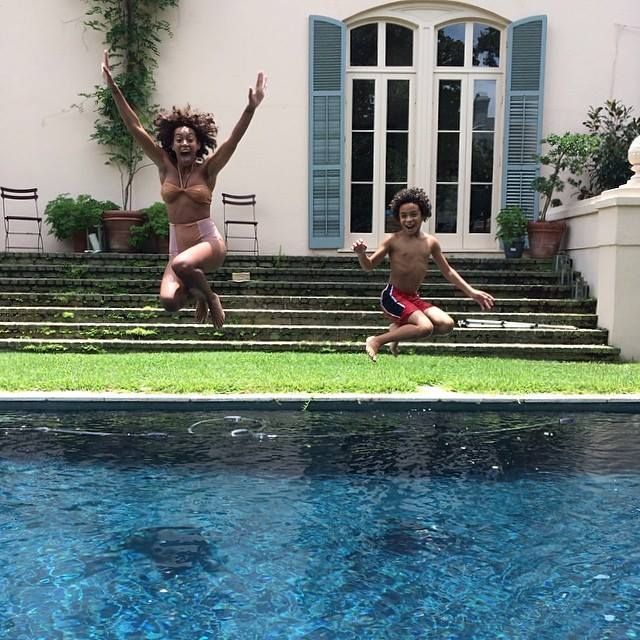 Fab mom Solange Knowles is living it up this summer in New Orleans! And she and her 10-year-old son Julez are having all types of jump-in-the-pool fun. Pics inside, plus Mariah donned a dress to hit the hot tub with Dem Babies, and Rohan Marley's son is following in his football footsteps...
Before she hits the Essence Music Festival scene this weekend in the N.O. (she's DJing a day party at the House of Blues on the 4th of July), she's parlaying in a fabulous vacay home with son Julez in the creole-filled city. She posted pics of them having a majorly fun day at their pool. And Julez playing around with a friend: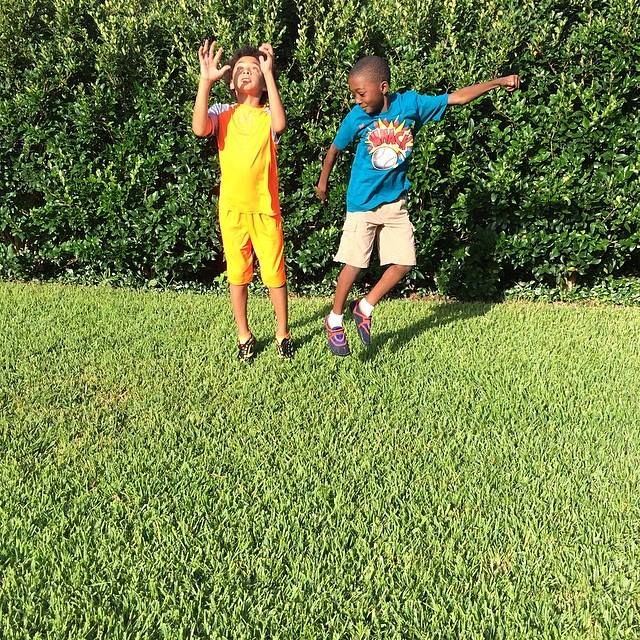 Cute!
Meanwhile, back in New York, Mariah is...being Mariah. Who needs a swimsuit to hop in your own hot tub Obviously not MiMi.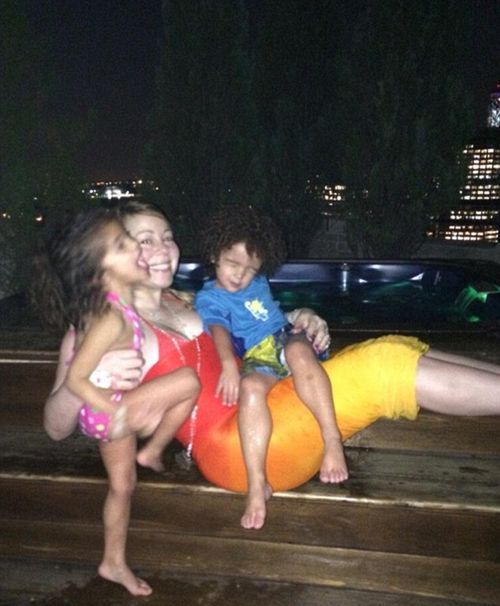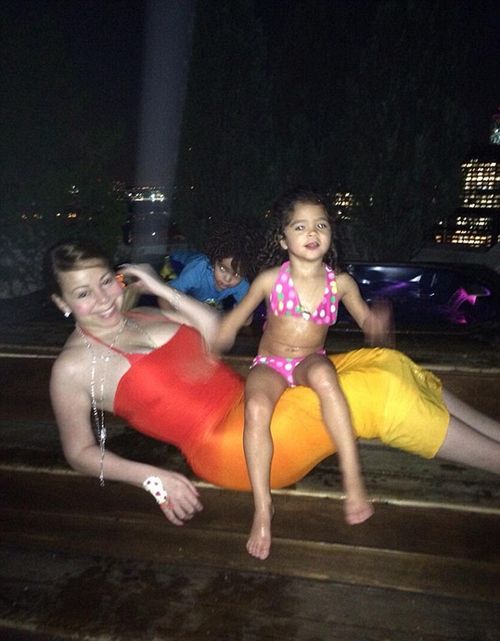 Chick donned an entire ombre maxi dress to hop in with the twins Roc & Roe. She posted the pics saying the kiddies said "Let's Go", and apparently, that's what they did.
And who new Rohan Marley was a college football star?! Now, his son (who is Bob Marley's grandson) is following in his footsteps. Nico Marley just got featured as a top college football player by USA Today. He's a Sophomore on the Tulane University football team.
Check out his profile his proud dad posted.
Particulars: 5-8, 180, sophomore. Buzz: He's the son of former University of Miami linebacker Rohan Marley, a small guy who was known for his bone-rattling hits. And he's the grandson of former reggae superstar Bob Marley, who had a few hits of his own. If there's a smaller starting linebacker in the college ranks (heck, Marley is short for a cornerback, for goodness sake), we haven't found one. But his lack of size doesn't stop him from trying to absolutely lower the boom a few times per game. Marley was the Green Wave's third-leading tackler last season (68 stops) and was second on the team with 11 tackles for loss. #LionOrder #ProudFather #NFL
Nice! Congrats Nico!
Photos: Rohan's IG/Solange's Facebook/Mariah's IG
WHO RAN IT? Ashanti VS. Keyshia Cole In DAR SARA
Posted: 30 Jun 2014 03:50 PM PDT
Keyshia Cole skipped out on the red carpet at the 2014 BET Awards but she did take the stage during the show in a haute couture mini dress by Dar Sara. But Ashanti rocked it first earlier this year at the 56th annual GRAMMY Awards. Decide who rocked it best inside…
After releasing her new single "She" (where she sings about lusting after another woman), Keyshia Cole made her way to the 2014 BET Awards at the Nokia Theatre in L.A. Although she didn't walk the red carpet, she did take the stage to introduce a performance by a member of BET's Music Matters program. And she decided to rock a haute couture mini by Dar Sara complete with long, flowy curls and dainty jewelry.
But Ashanti worked the red carpet in the heavily decorated Dar Sara number first at the 56th annual GRAMMY Awards that took place the Staples Center back in January. Shanti completed her look with a cropped, wavy blonde 'do, a pair of crystal ankle cuff Giuseppe Zanotti sandals and Nanis Italian jewelry.
So…..
WHO ROCKED IT BEST?!
Photos: Getty

2014 BET AWARDS AFTER PARTY ROUND UP: Nicki Minaj HOSTS At Belasco Theatre +Lil Wayne, Chris Brown, Christina Milian, Lauren London, Toya Wright & More Have FUN At Playhouse & More....
Posted: 30 Jun 2014 03:06 PM PDT
After the show it's an after party! And some of our fave YBF celebs partied hard after the 2014 BET Awards in L.A. Peep their party pics inside...
The 2014 BET Awards went down last night at the Nokia Theatre in L.A. and after the show, a slew of after parties kicked off around Hollywood.
After describing her near death experience and shading fellow female raptress Iggy Azalea, Nicki Minaj trekked it to Belasco Theatre to host her exclusive VIP BET Awards after party (sponsored by Myx Fusions Moscato).
Coming up in September, Nicki will be taking her talents overseas to headline the Dinokeng One Tribe Festival in Africa.
"LAHH ATL" star Stevie J and reality TV show creator Mona Scott-Young sipped some Myx Fusions bubbly as they partied.
Former Immature/IMX group member Marques Houston proved to be a ladies man as he snapped a pic with some of the MYX girls.
"Let's Stay Together" cutie Christian Keyes got in on the girl-action.
And actor Clifton Powell hit the carpet with some MYX chicks as well.
Fun times.
At another BET after party….
After hitting the stage alongside Chris Brown and breaking up mics at 2014 BET Awards last night, Weezy made his way to Playhouse to party it up with Christina Milian, Breezy, Karrueche and Charli Baltimore.
Newly single Christina Milian seems unfazed by her recent split with fiancé Jas Prince. Chick has been on the party scene heavy, which seems to be giving her solace to keep her mind off of her recent break-up.
After rocking the stage at the 2014 BET Awards, Chris Brown and his girl Karrueche partied it up at Playhouse. And quite possibly, a little too much. Breezy was escorted out of the Hollywood club with the assistance of two friends.
And he was taken to a car with Kae waiting inside (above) as he made his way through screaming fans and paparazzi. Let's HOPE he isn't going back to the old Breezy.
Still dressed in her silver Balmain mini dress, Charli Baltimore also hit the party scene.
Peep the party pics inside of Playhouse below:
Breezy had himself a good time in the DJ booth, rocking out on the mic and dapping up fans.
"The Game" actress/Lil Wayne's baby mama Lauren London came out to party, joining Nipsey Hussle, Weezy and his first baby mama Toya Wright.
And it looks like Toya enjoyed herself as she partied it up alongside Christian Milian.
Lil Wayne and comedian Deray Davis had some fun in the DJ booth.
Birdman escorted his Young Money artist Paris Hilton (who also hit up the 2014 GRAMMY Awards together) through the crowd.
Soulja Boy (who is working with Diddy on his new album, Money Making Mitch) and his styrofoam cups rocked out at the after party.
Then Soulja caught up with boxing champ Floyd Mayweather for a quick pic.
And of course Pretty Boy Floyd's new chick Doralie Medina wasn't too far.
Washington Redskins' wide receiver DeSean Jackson was also in the mix.
And at another after party....
After hitting the stage with John Legend to perform a few hits, Jhene Aiko got her drank on at the Hennessy V.S after party at Greystone Manor. She sipped on her favorite cocktail "Happy Juice," consisting of Hennessy V.S and apple juice.
Also last night…
Meek Mill, Juicy J, T-Pain and more hit Supperclub for a BET Awards after party.
Philly native Meek Mill hopped in the DJ booth for an impromtu set with DJ B.A.D.
"Dark Horse" rapper Juicy J hosted the event with Busta Rhymes (not pictured) with a big bottle of Ace of Spades in hand.
And T-Pain hopped on the mic to perform a few of his hits.
Oh, Hey Game! It was reported that there was a shooting outside of the club supposedly aiming at Game's car. Luckily, no one was hurt.
And last but not least...
Rapper Young Jeezy (who's gearing up for the release of his new album Seen It All) was fresh in all-white as he was spotted leaving NOBU nightclub in West Hollywood.
And Adrienne Bailon (who will be a co-host on "The Real" coming September 15th) kept it fab in a cobalt blue dress and her signature bun as she left NOBU.
Fun times!
Photos: JCalderon / Splash News/ Pacific Coast News/MYX Fusions Moscato/VLEX PHOTOS/ SUPREME TEAM LA/ATLpics
BLUSHING BRIDE: Ciara COVERS "BRIDES" Magazine, Says Her WEDDING Will Be EDGY & ELEGANT
Posted: 30 Jun 2014 02:37 PM PDT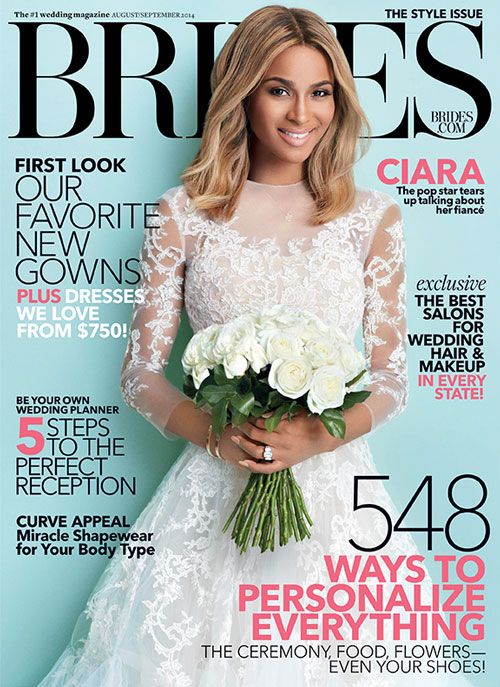 Ciara posed for the August/September issue of BRIDES where she discussed her upcoming wedding and revealed why she fell in love. More inside....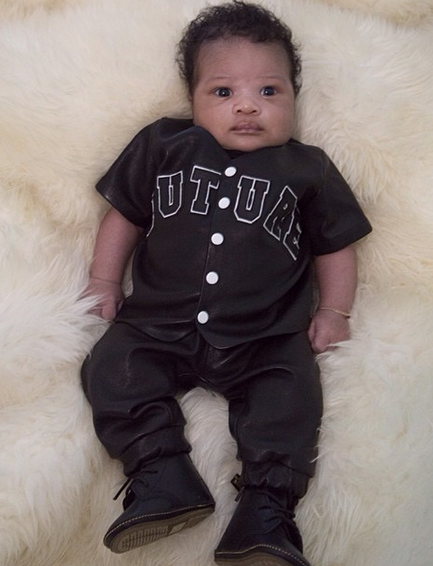 Now that she's engaged to rapper Future, and the mother of little Future Zahir Wilburn (above), Ciara has a wedding to plan! For the August/September issue of BRIDES (which she likely shot BEFORE she became pregnant), Ciara wears a long-sleeve embroidered Chantilly lace Reem Acra gown, accessorized with her very own bracelet, a chic bouquet of cream garden roses, and makeup by Urban Decay.
CiCi also wears her engagement ring on the cover. Inside, the "Body Party" singer, who described her style as "tomboy chic" told the magazine that she plans to switch it up for her wedding. "My everyday style is what I call 'tomboy chic, But for my wedding, I'm going to do elegance with a little edge."
When asked when she knew she'd marry Future, she said, "Very early on. He came with something that I'd never felt before: the true presence of a man."
The August/September issue hits newsstands nationwide July 8th.
Photos via BRIDES/Ciara's Instagram
MAGAZINES: First Lady Michelle Obama ON Higher Learning, Resilience, And Making The Most Of Opportunities In ESSENCE
Posted: 30 Jun 2014 12:08 PM PDT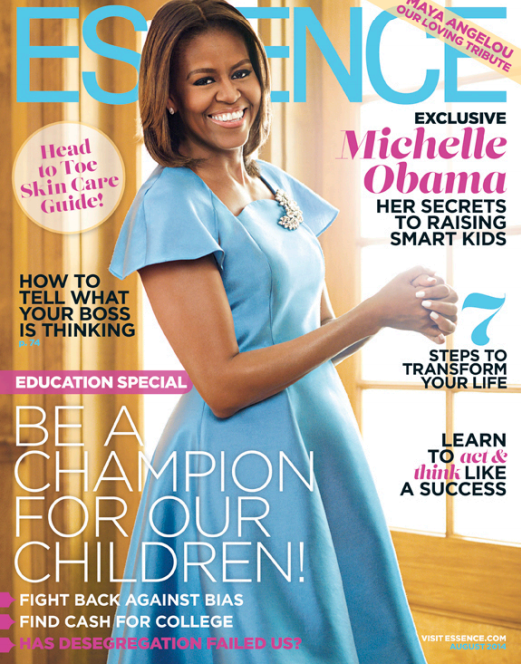 FLOTUS Michelle Obama covers the August 2014 issue of ESSENCE where she champions higher learning and the importance of resilence in the face of adversity. Find out how the FLOTUS encourages Sasha and Malia inside....
For ESSENCE Magazine's August 2014 issue, FLOTUS Michelle Obama, wearing a teal dress by Azede Jean-Pierre, explains her passion for higher learning and shares the tools and life lessons she's passing onto her daughters Sasha and Malia. She also champions hardwork and discusses the importance of nurturing resilience in our children. Here are the highlights:
On Working Hard and Believing In Yourself:

"I know I tell my kids all the time that they shouldn't shy away from difficult things, because that is the point at which you are really growing. It's not just about grades or test scores. Today our kids may shy away from applying to college if they think they don't have the right grade or test score. But the truth is that the kids who succeed and go on to be successful professionals are the ones who know how to work hard."

On Opportunity and what we owe our Ancestors:

"We cannot waste the opportunity that we have here in America, especially as African-Americans. Our ancestors fought and bled and died so that we could go to school. And I still think about that."

On Preparing Sasha and Malia for the future:

"We talk about responsibility and accountability, about making sure that they're not wasting the opportunities they're given. We make sure they know how lucky they are and that, because of that, they have an obligation to have their acts together and to take their education very seriously."
In addition, this month's issue also features ESSENCE's "Education Special," where real-life moms talk about their children's education. In "Moms on the Front Lines," ESSENCE salutes six women whose extraordinary work in education reform. In "The Secrets to Raising Really Smart Kids," ESSENCE asked experts across the country for their best tips to propel our kids to excellence. Readers can pick up the August issue of ESSENCE on July 4th.
Photo via Essence/Garcelle Beavais IG

BRAID MY HAIR: Lupita Nyong'o DEMONSTRATES Her Braiding Skills + Luke James' "Options" ft. Rick Ross + August Alsina's "Benediction" ft. Rick Ross
Posted: 30 Jun 2014 11:21 AM PDT
She has already been crowned the most beautiful person in the world (amongst many other accolades) but who knew Hollywood's newest "IT" girl could braid?! See Lupita Nyong'o's braiding skills plus, Luke James' new video "Options" featuring Rick Ross and August Alsina's new video "Benediction" also featuring the Bawse when you go inside….
Lupita Nyong'o is a woman of many hats. And most recently, she revealed she can braid! Like...foreal.
The Oscar winning starlet met up with six of her closest friends at New York City's Ludlow Blunt salon to show off her hair braiding techniques. Lupita revealed she use to braid her friends' hair on the weekend while she was in college…for free. And she loves doing it. She said,
"Your hair is your frame—it's so important," she says. And, she emphasizes, "braiding tells a story," marking the body with a symbol of communal affection.
The Kenyan beauty decided to learn how to braid after visiting an African braiding shop in New York and was left "morbidly disappointed" with the result.
The Lancôme spokeswoman went home to Kenya over the summer and asked her aunt (who is a hair stylist) to teach her how to braid. And that's when she learned how to box braid, corn row and do twists. She had planned on charging for her services but realized she didn't have the heart to charge her friends, so she did their hair as a favor for free.
Check it:
Nice!
And in new videos....
Luke James is prepping his Made To Love album (September 23rd) and to get the ball rolling, the R&B crooner has released the visuals to his directorial debut "Options" single featuring rapper Rick Ross.
While Luke asks his lady to consider their "Options", Rick Ross raps about his lady swinging from the shower rod. See what Mimi and Nikko started. Check it above.
And in another new video featuring the Bawse...
After winning two BET Awards last night, New Orleans crooner August Alsina has released the visuals to his next single "Benediction," featuring MMG rapper Rick Ross.
In the Payne Lindsey directed video, August is seen inside of an abandoned church as he counts his many blessings joined by Ricky Rozay.
If you're looking to catch a live show from August, his "Testimony Live" tour kicks off in Seattle on August 14th.
Photo: VOGUE
NOPE! NOT TODAY: Floyd Mayweather Tries To GRAB Tiny On The 2014 BET Awards Red Carpet, Tiny Dips Off Quickly + Chris Brown WHISKED AWAY From BET Awards After Party
Posted: 30 Jun 2014 09:45 AM PDT
Floyd Mayweather tried to pull a stunt on the 2014 BET Awards red carpet but Tiny wasn't having it. Find out how Tiny escaped another possible brawl between her husband T.I. and the boxing champ and check out video of Chris Brown being escorted out of a BET afterparty inside....
Last night, "Family Hustle" star Tiny hit the red carpet at the 2014 BET Awards in L.A….solo. Even though her husband T.I. was tapped to perform (and also hit the carpet), the married couple never appeared on the carpet together. And that was probably a good thing.
During an interview Tiny was giving on the red carpet, Floyd Mayweather (who presented Nicki Minaj with an award) and his new chick Doralie Medina were seen walking up behind. Floyd then starts yelling out Tiny's name and then attempted to grab her arm! Glad Tip wasn't around to see it.
Tiny nicely yelled out the name of her designer to the interviewer and quickly made her way down the carpet, walking alongside her publicist Fariley McCaskill.
Check it:
Lordt…
We all know about the drama surrounding these three by now. T.I. got upset after his wife was spending a lot of her free time partying it up with Floyd Mayweather over this past Memorial Day weekend. Tip allegedly confronted Floyd at at Fatburger which resulted in an all out brawl between their camps, leaving T.I. with a bruised hand. Sighs….
Tiny eventually reunited with her husband inside the show, smiling and being extra touchy, feely on her man (neither of them were wearing their wedding rings though). Once Tip peeps this video, hope he can keep his cool.
And in other foolishness…

After the show there's an afterparty! And Breezy made sure to party it up. Chris Brown gave a few stellar performances during the 2014 BET Awards and after the show, he hit up an afterparty.
The "Loyal" singer probably had one too many and had to seek assistance from some of his bros to escort him out of the club into a car with his boo thang Karrueche waiting inside.
So much for sobriety.
Photos/Videos: Getty/TMZ
Beyonce, Jay Z, Lebron James & Rihanna TOP Forbes Celebrity 100 List + KeKe Palmer GUSHES During Meeting With Her #1 CRUSH Michael Ealy
Posted: 30 Jun 2014 09:36 AM PDT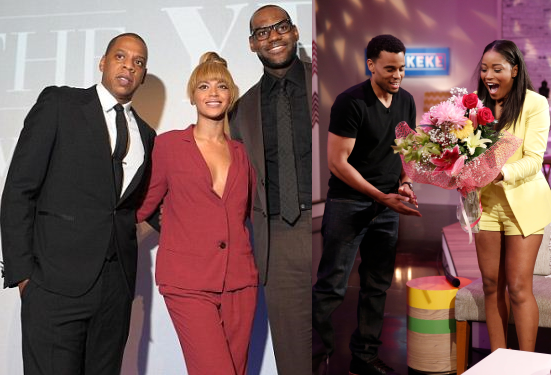 FORBES recently ranked Beyonce and Lebron James and the two most powerful celebs while tv hostess KeKe Palmer got a chance to meet her man crush Michael Ealy. More inside...
In addition to landing to cover of TIME Magazine at the most influential person in the world, Beyonce was also ranked #1 on Forbes Celebrity 100 List, which ranks the biggest names of movies, TV, music, sports, books and modeling based on money and fame (press mentions, social media influence and, for the first time, impact on the entertainment industry and pop culture).
Beyonce tops the list thanks to 95-sold out "Mrs. Carter Show" tour stops (averaging $2.4 million per show), the Beyonce album, fragrances, H&M and Pepsi endorsement deals and House of Dereon where she made an estimated $115 million between June 1, 2013 and June 1, 2014.
NBA baller LeBron James made $72 million which put him in second place. Meanwhile Dr. Dre's BEATS deal landed him in third place with $620million, Oprah Winfrey hit fourth place with $82 million, Jay-Z (#6, $60 million) with Floyd Mayweather (#7, $105 million, ), and Rihanna (#8, $48 million),
See full coverage of the Celebrity 100 here.
On television...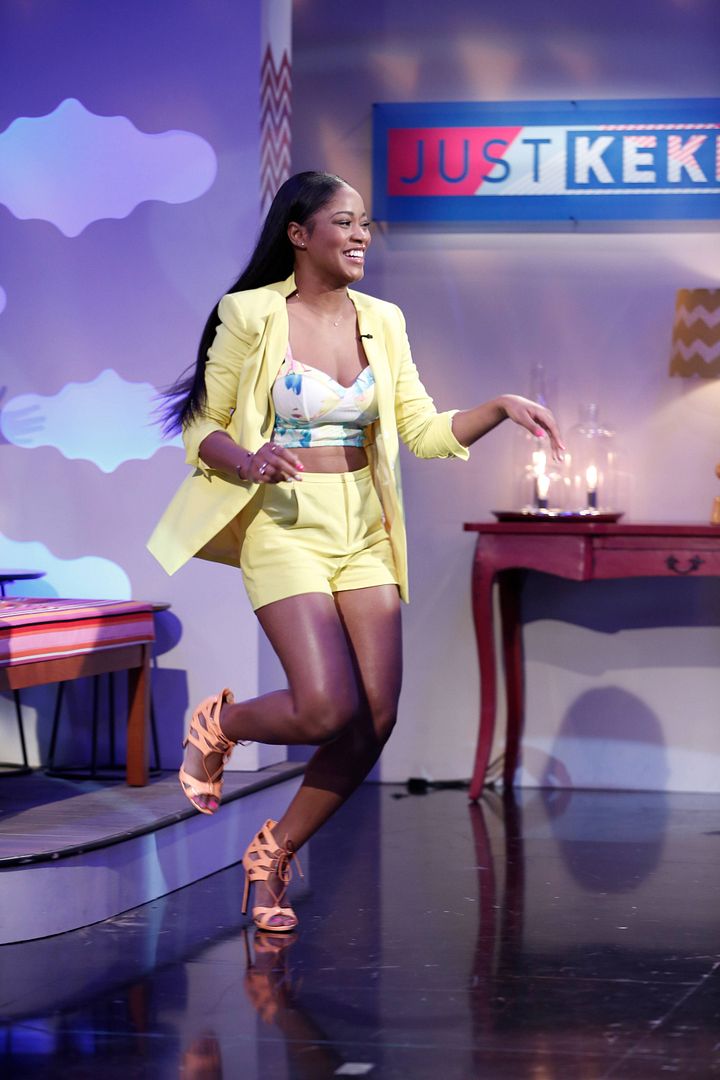 Keke Palmer, is set to make history when her new daily talker, "Just Keke," premieres Monday, June 30 at 5 P.M. ET/PT on BET Networks and we've got an hot clip from the upcoming debut.
In the premiere episode, Keke gets the shock of her life when her #1 celebrity crush crashes the set to wish her well - "Think Like A Man Too" star Michael Ealy. Keke's reaction is priceless.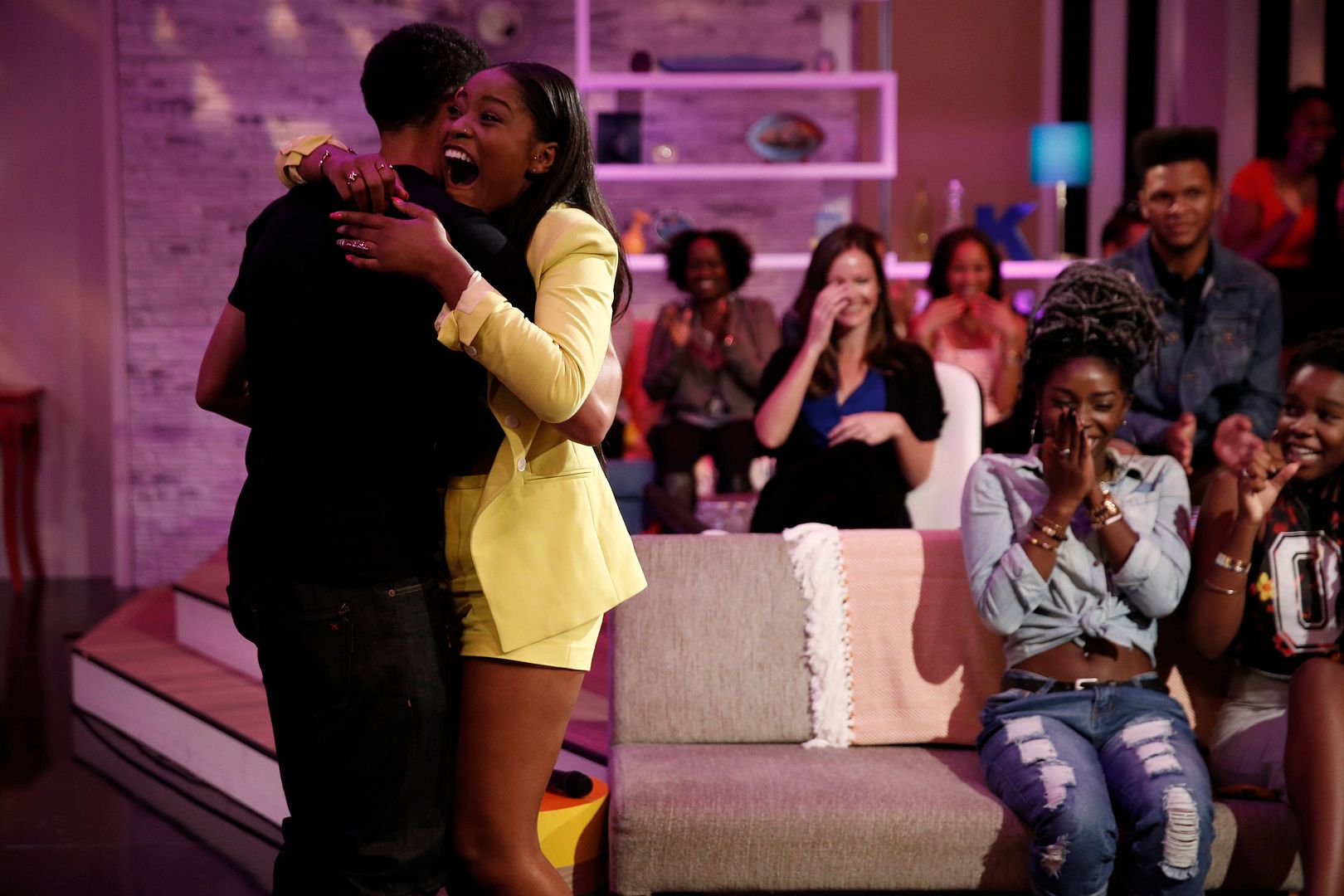 In utter shock and disbelief, Keke crawls over the audience – only to be stopped by an unwielding sofa. Check out a sneak peek......

Photos via Getty/BET