---
WTF?! Big Sean's Ex Naya Rivera Got MARRIED + Tia Mowry Blasts Charlize Theron For Being A Mean Girl
Posted: 23 Jul 2014 08:43 AM PDT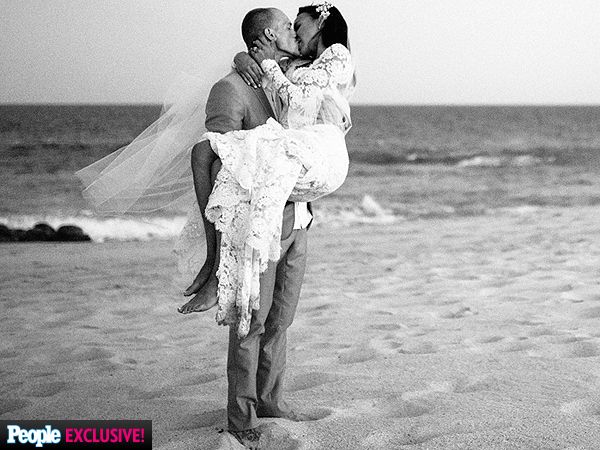 Well here's some WTF material to carry us through the day. Naya Rivera, Big Sean's ex-fiance, is now MARRIED to someone else. Plus, Snow White Charlize Theron insults our fave twin Tia Mowry. Deets inside...
So....three months after rapper Big Sean and Naya Rivera ended their engagement (and it was a messy end), chick went and got married to someone else. Not engaged, MARRIED. And had the black & white wedding photo prepped and ready to happily hand over to People magazine this morning.
After pics surfaced of the "Glee" actress and actor Ryan Dorsey boo'd up in Cabo this weekend, Naya's rep confirmed today that the twosome were actually there to get MARRIED.
About their Mexican nuptials, the couple told the magazine:
"We feel truly blessed to be joined as husband and wife. Our special day was fated and everything we could have ever asked for."
To go from dating to engaged to broken up to MARRIED to someone else...all in the matter of about a year....is many, many things. Some may some thirsty, some may say...other things.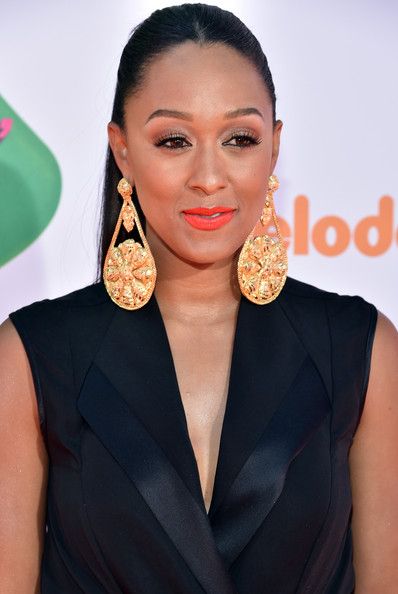 In other news, "Instant Mom" star Tia Mowry is spilling the tea about how much of a mean girl actress and Dior face Charlize Theron can be. She revealed to In Touch about Charlize Theron:
"She wasn't very nice to me. I said 'Hi,' and she actually rolled her eyes and said, 'Oh my God.'"

While Tia tells the mag that she understands that anyone can be caught on a bad day, the exchange was still a disappointment. "I wasn't over-the-top. I know how to approach another celebrity," she adds. "Charlize was just mean. I'm just being honest."
If this is true, and the Mowry girls are the last folks to makeup lies, get your entire life Charlize. You better respect and recognize YBF twin royalty...
EXTRAS:
1. Lamar Odom has already been released by the Knicks before the season even starts up again. STORY
Photos: Getty/People/Naya's IG
WE CALLED IT: Zoe Saldana CONFIRMS Pregnancy
Posted: 23 Jul 2014 07:37 AM PDT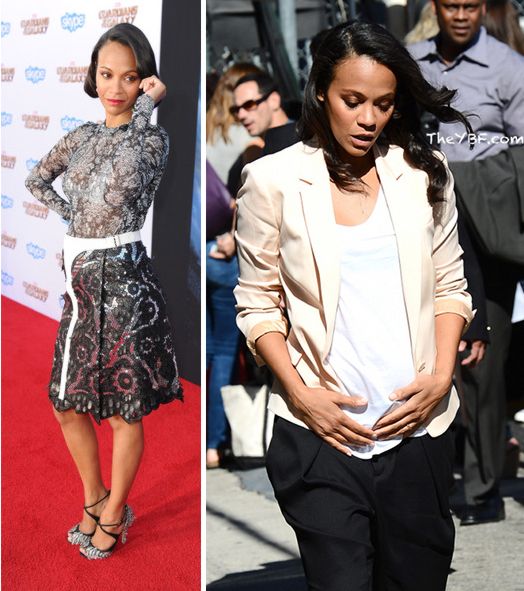 Zoe Saldana has finally confirmed what we called out almost a month ago--she's expecting her first child! Deets inside...
After showing up to her Guardians of the Galaxy premiere this week with an obvious baby bump, Zoe Saldana can no longer hide the fact that she's expecting. So her rep confirmed today that the 36-year-old movie star is indeed pregnant with her and husband Marco Perego's first child!
Her publicist confirmed the news to The Hollywood Reporter after the undeniable baby bump pics surfaced this week.
Back in In June, we posted a series of pics over on our Instagram (follow us HERE) putting Avatar actress Zoe Saldana on Preggers Watch. And we posted her growing belly over the last few weeks with raised eyebrows. And, as always, we were correct.
Well, that's one way to promote a movie that looks like a flop waiting to happen. Zoe has remained mum about the news on her own social media accounts, and posted these hide-my-bump pics from this week's premiere: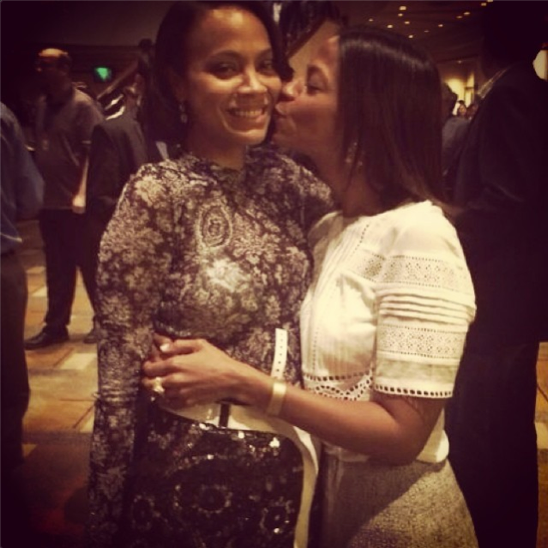 Congrats to the couple!
Photos: Splash/Getty/Zoe's Instagram
LeBron James SENDS Cupcakes TO Neighbors + LeBron & Savannah CHEER On LeBron Jr. During His 4th Grade Basketball Tournament
Posted: 23 Jul 2014 05:58 AM PDT
Lebron James apologized for causing a neighborhood traffic jam buy sending neighbors a box of cupcakes! Get the story behind his good deed inside and watch he and Savannah cheer on LeBron Jr. at a tournament.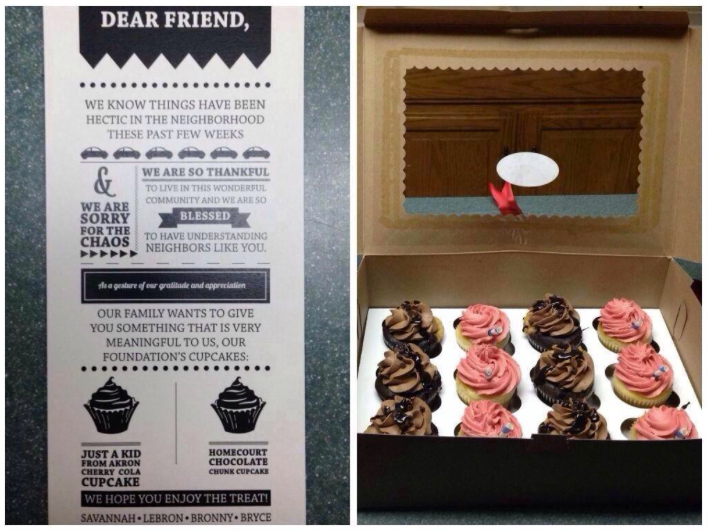 Since announcing his decision to leave Miami and return to Cleveland, reporters and news crews have been camped out LeBron's ritzy neighborhood. The ensuing interest has created so much traffic that LBJ apologized...with a box of cupcakes.
The card sent to neighbors was posted on DJ Envy's site, reading:
Dear Friend,

We know things have been hectic in the neighborhood these past few weeks & we are sorry for the chaos. We are so thankful to live in this wonderful community and we are so blessed to have understanding neighbors like you.

As a gesture of our gratitude and appreciation, our family wants to give you something that is very meaningful to us, our foundation's cupcakes. We hope you enjoy the treat!

Savannah * Lebron * Bronny * Bryce
Inside the box, six of the cupcakes were labeled "Just A Kid From Akron Cherry Cola Cupcake" while the other six were labeled "Home Court Chocolate Chunk Cupcake".
Cute.
In other LBJ news....
We came across a cute video of LeBron and Savannah cheering on LeBron Jr as he played for the Miami City Ballers in the AAU Fourth Grade Division I national championship tournament. The game was held this past weekend at Kentucky Basketball Academy in Lexington, Ky.
FYI - "Bronny" score 11 points, helping his squad top the Mississippi club DMG, 51-46. We guess he's a chip off the old block.
Watch their adorable victory hug above.....

Photos via LeBron James' Instagram/DJ Envy
So...Tiny Is Doing Music Again: New Track & Video -- "What The F*** You Gon Do?"
Posted: 22 Jul 2014 10:05 PM PDT
Tameka "Tiny" Harris is back y'all. After getting her Pretty Girl Hustle company and her daughter's singing group the OMG Girlz up and running, she getting back to her own singing roots. Check out her new song and video inside...and how she seems to have a message for her husband.
Tiny surprised her fans last night with a brand new song on iTunes and a video. Her new single is called "What The F*** You Gn Do?"....and this is what she had to say about it:
Everyone's been asking me to do music again.....well be careful what you ask for!! Im so excited to present to you my first solo single available right now on iTunes. Search Tameka Tiny Harris and get yours now! Thank you all for continuous prayers and support! This is for y'all!! #PrettyHustle #WTFYGD
The song and video are giving us a 90's Xscape feel, and since that's what made her famous, it makes perfect sense.
T.I.P. isn't the only one who can write music about his relationship drama. This song is clearly a peek into her and T.I.'s marital troubles. At the beginning of the vid, T.I. (or his look alike) is turned away from her in bed...then disappears. Then Tiny, in her satin robe and bra, starts singing in the mirror:
Really you aint thinkin'/Boy tell me how you sleep at night

Cuz I been lonely/And you know that/and if you knew what's good you would do right

I was on some shit like/I would be his ride or die

Show you what it feels like to be on the other side

Don't keep trippin' on me/You now you want it anyway

Don't be sleepin' on me
Sounds like she's telling T.I. to shape up or ship out. Or whatever. Check it below. You feelin' it?
GOOD NEWS: Sherri Shepherd VICTORIOUS In Court, Retains Physical Custody Of Nine-Year-Old Son Jeffrey
Posted: 22 Jul 2014 04:51 PM PDT
Finally, some good news for Sherri Shepherd. In one of the TWO court battles she's currently involved in, a judge has rejected her ex-husband Jeffrey Tarpley's petition for custody of their nine-year-old son. Deets inside…
They say when it rains, it pours. BUT…after the rain comes the rainbow.
"The View" co-host Sherri Shepherd can cross one major thing off of her significantly important to-do list. And that's to keep custody of her nine-year-old son, Jeffrey (above).
On Monday, Sherri and her ex-husband Jeffrey Tarpley appeared in Los Angeles Superior Court for a hearing to establish who would be awarded physical custody of their son. Luckily for the talk show host, her ex-husband's petition for temporary custody was denied and their son will remain with his mother.
According to court documents obtained by PEOPLE, Judge Michelle Williams ruled against Tarpley's request, citing that "there has not been a material change in circumstances."
Sherri's ex-husband filed the petition after making claims that she is a "horrible mother" and her hectic work schedule was causing her to neglect their son's needs. Nice Try.
After court, Sherri thanked all her supporters for their continued support and prayers tweeting:
Keep the prayers coming... Still got more battles - please judge me by my character and not from the tabloids who are having a slow news day

— Sherri Shepherd (@SherriEShepherd) July 21, 2014
Now Sherri can fully focus on all of the bizarre circumstances surrounding her messy divorce to Lamar Sally and unborn surrogate baby daddy drama.
Photos: Sherri's IG
SPEAK ON IT: Spike Lee Shows HORRIFIC Similarities In Viral Video -- Eric Garner's Death After NYPD Attack Vs. Radio Raheem's Murder Scene In "Do The Right Thing"
Posted: 22 Jul 2014 04:25 PM PDT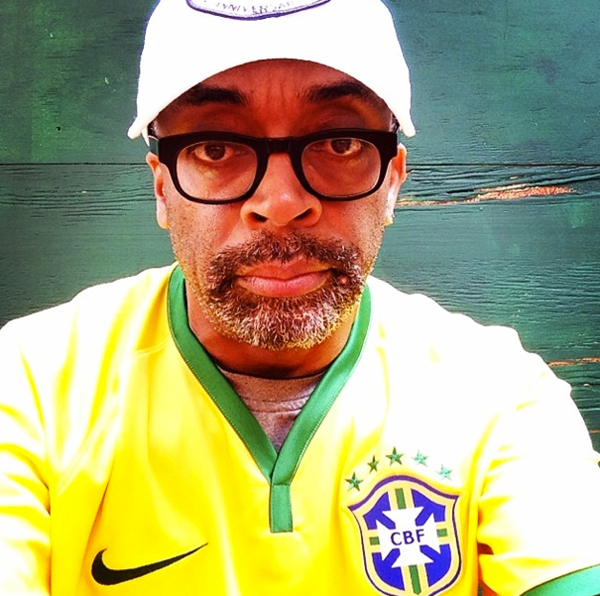 Director Spike Lee is using his editing skills and social media platform to shed light on the fatal chokehold forced apon a man named Eric Gardner by the NYPD as they tried to arrest him, comparing it to a scene straight from one of his movies. See Spike's controversial clip inside…
Police brutality has become a hot topic in the media lately with the multitude of camera phone videos capturing police violating the rights of the very citizens they are hired to protect.
Recently, a video went viral of the NYPD arresting a black man named Eric Garner for allegedly selling single cigarettes illegally. Officers placed Eric in a deadly chokehold (which most believe was completey unnecessary), which resulted in him losing his life.
Director Spike Lee came across the video footage of Eric being assaulted by the NYPD and it was parallel to a scene directly from one of the classics he wrote and starred in, "Do The Right Thing."
In the movie, Radio Raheem (who blasts Public Enemy's "Fight The Power" on his boombox throughout the film) is restrained by police in a deadly chokehold that ultimately takes his life. The same exact thing happened to Eric Garner last week.
So Spike made a clip showing the chiling similarities in the fatal chokehold used on Eric Garner and Radio Raheem.
Check out the clip below, but we must WARN you it is very disturbing:
SPEAK ON IT!
Photos: Spike's IG
KISSIN' & TELLIN': Bow Wow BLABS About His Sexual Encounters With Ex-Girlfriends Ciara & Angela Simmons
Posted: 22 Jul 2014 01:12 PM PDT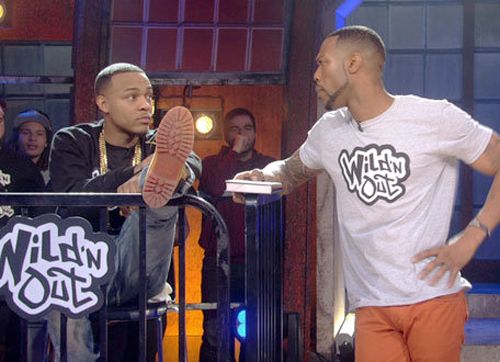 Bow Wow sure seems to enjoy sharing his sexcapades with the world. Find out what he said about his ex-girlfriends Ciara and Angela Simmons' performances in the bedroom when you go inside…
You would think the maturity level would have gone up just a notch when Bow Wow "changed" his stage name to Shad Moss. But, it seems boys will be boys. For some reason, the rapper-turned-TV host doesn't mind sharing what he has going on behind closed doors. Remember when he confirmed his "list," revealing whether or not he smashed Ciara, Angela Simmons and many others? Sighs...
Well, Shad is back to kissing and telling and he's dishing on his two "main ex's" Ciara and Angela Simmons. "Mr. 106 & Park" took a break from his BET hosting gig to make an appearance on Nick Cannons' "Wild 'N Out" show on MTV. During a game of "Plead the Fif," Shad was asked "Who gives the best head…Ciara or Rev's Run daughter [Angela Simmons]"
Nick even tried to convince Shad to plead the fifth, but he took the opportunity to dish on the intimate happenings from his previous relationships.
He responded,
"Well at one time they both was my woman, correct? So if you put one and one together I mean…of course we must have been doing the do if they was my women, correct? Well then I might as well keep it even. They both is mighty, mighty…mighty swell."
Oh Shad…
Check it:
Wonder what Future and Rev Run will have to say? And another thing, what's with Ciara's ex's (*coughs* 50 Cent) kissing & telling?
Photo: MTV
COFFEE BREAKS: Jill Scott Makes A JAVA RUN In NYC + Michael Ealy OUT TO LUNCH In Hollywood
Posted: 22 Jul 2014 01:00 PM PDT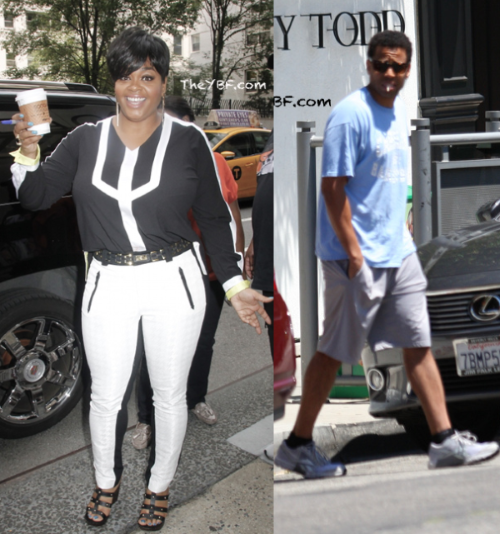 Coast to coast - Jill Scott and Michael Ealy made to best of the sunny weather in NYC and Hollywood. Find out what they did inside....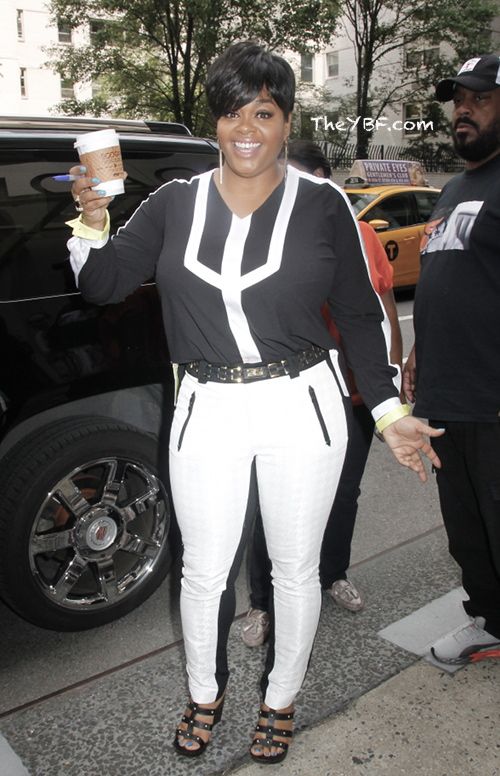 Jilly from Philly was spotted leaving a meeting in NYC with a cup of Java and a big smile. Jill is having an amazing week in NYC where she's promoting her starring role in the critically acclaimed James Brown biopic "Get On Up."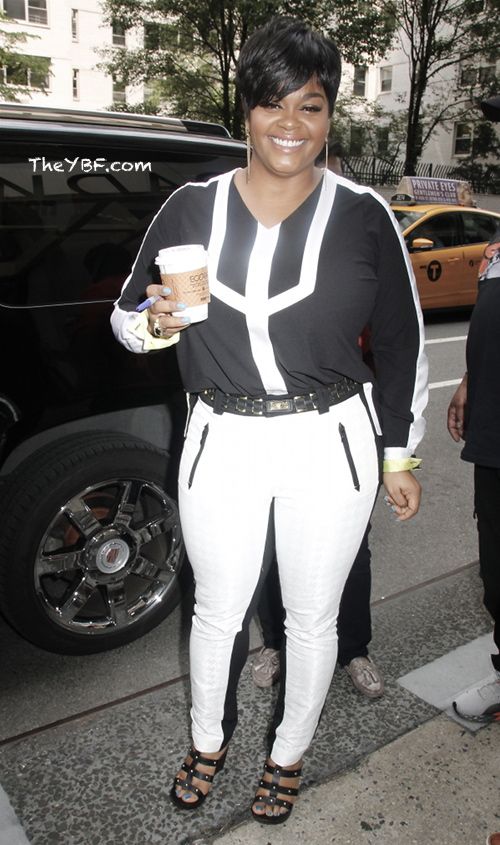 During an exclusive chat with TheYBF.com, Jill talked about her role as James' second wife Deidre "Dee-Dee" Jenkins, and revealed that the domestic violence scenes she filmed were VERY authentic. "...(W)e did a kind of smack to the face and then I let it happen. I hit the table pretty hard, and I hit the wall pretty hard...I hurt myself pretty good but I was really proud of it because it made people go [gasps]...and that's what you want."

"Get On Up" will be released nationwide on August 1st.
In Hollywood.....
Gorgeous actor Michael Ealy was spotted heading to lunch earlier today. Unfortunately for us, he covered up our favorite part: his eyes.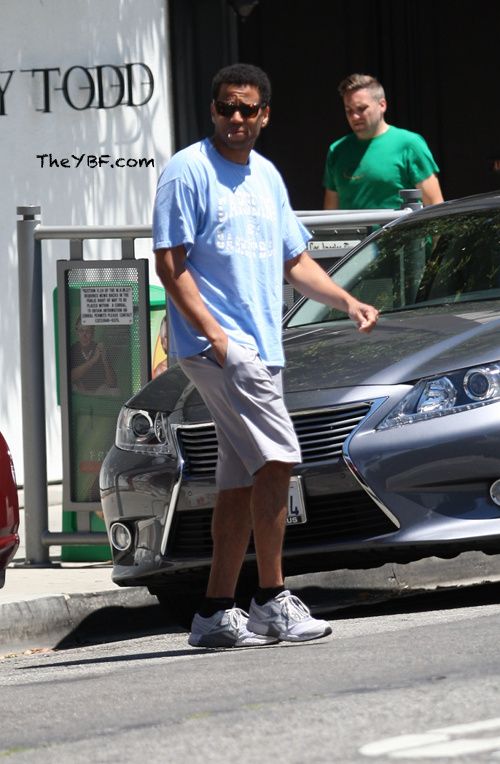 The TLAM2 star will soon start filming "The Perfect Guy", which will pair him with Morris Chestnut and Sanaa Lathan. And, he'll appear on this week's episode of "Hollywood Game Night" airing Thursday 9/8c on NBC.
Photos via Splash News
GET THOSE TANKS READY: Master P's "The Ice Cream Man" Biopic Set To Film In 2015
Posted: 22 Jul 2014 12:17 PM PDT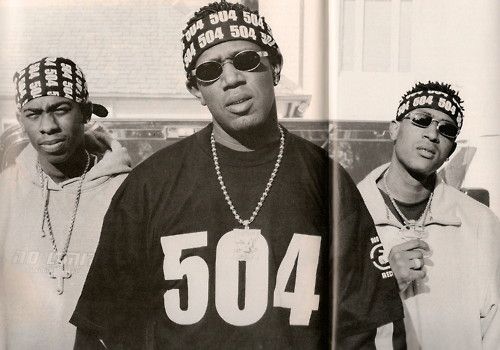 Master P is ready to tell the TRU story behind the "Bout It Bout It" No Limit Empire that brought us Silkk the Shocker, Lil' Romeo, Mystikal , Mia X, and C-Murder. Get the deets on the biopic inside....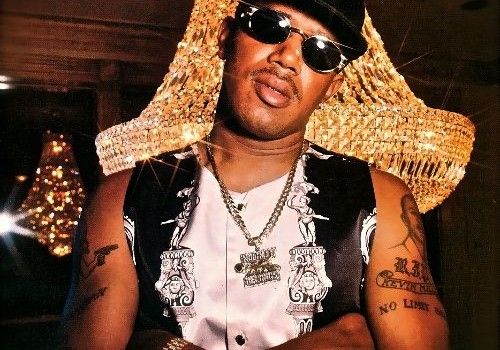 Who would you guess has the GREATEST "Rags To Riches" story? It's not Conrad Hilton. It's not any of those social media entrepreneurs. It's not even Oprah Winfrey or Tyler Perry.
According to an "ambitious" press release we received, Percy Miller, aka Master P, is so sure that he has the "greatest" rags to riches story that it's going to take three years and three movies to tell it. As a matter of fact, it's going to be the "greatest trilogy since the Godfather."
Written by Percy Miller, Pardé Bridget and Wayne Conley, the biopic (which is currently casting) will tell the story of Percy Miller aka Master P. and how he broke major music barriers in the late 90's, single-handedly going from the poverty stricken Calliope Projects to the Forbes top ten highest-grossing entertainer list.
While we're not sure Master P has the GREATEST story...he does have receipts. A quick fact, in the 1990's Master P and No Limit sold over 75 million albums independently. INDEPENDENTLY.
Here's how the trilogy will be broken down:
I). Master P the Ice Cream man is the introduction to the three piece biography of the greatest trilogy since the Godfather. (Production 2015)
II). TRU the second part of the bio pic. A glimpse of how the Miller brothers come together to form one of the most influential groups in hip hop. Their success was unheard of for a southern hip hop group, that escaped the mean streets of New Orleans. (Production 2016)
III). No Limit the Empire The final of the trilogy where Master P and his artists controlled a large share of the music industry, at one time had over 18 records on the top 200 billboard charts at the same time. Making No Limit Records the most powerful and successful Record Company in the industry. (Production 2017)
While the Miller family isn't specifically mentioned in the trilogy, it's going to be hard for Master P to ignore his current family drama (estranged wife, missing kids) or that his brother C-Murder (former No Limit artist) is serving a life sentence for murder. 3 years...3 movies...you "Bout It"?
,
Photos via Master P
TV FAB: Towanda & Trina Braxton REVEAL To "Wendy" Their FAMILY Album Is STILL NOT Done! + NeNe Leakes COMES For Wend(ell), Says "I Am Sure You're SCARED I Will Take Your Place"
Posted: 22 Jul 2014 11:37 AM PDT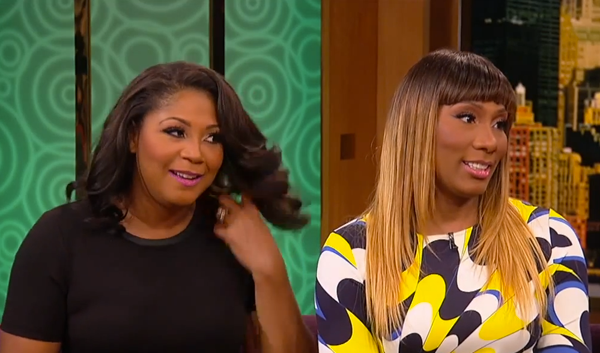 Towanda and Trina Braxton, hit the purple couch on "Wendy" to dish on the all of the drama and family issues we will see this season and preview their new trailer. Plus, NeNe Leakes is clappin' back at Wendy over comments she made about her custom Birkin bag. More inside…
Whew! If you are a Braxton fan, you're really in for some entertainment on the upcoming season of "Braxton Family Values."
Towanda and Trina Braxton are making their promo rounds for the upcoming fourth season of their hit reality show and this morning the ladies stopped by the "Wendy Williams Show."
The segment started off playing the clip of Towanda going ape sh*t at the table with their mother, sisters Trina & Traci. Towanda had a total meltdown and began yelling, "Nobody f*ckin' cares!" and then hit glass cups with her bare hands, shattering them onto the floor. Lordt…
Towanda didn't shy away from her outburst, admitting that at the moment she was releasing 40 years of suppressed feelings she had towards her sisters and family. When asked how was her relationship with her sister Tamar (who she has been at odds with for quite some time) she revealed they are "good."
Is Towanda dating Porsha Williams' ex-husband/retired NFL player Kordell Stewart? (Remember, she and her husband have an open relationship) Let her tell it they're "just friends," but her facial expression (it was so hard not to miss) really tells another story. Mmmhmm….
The big question surrounding Trina is what on earth she and her husband Gabe (of 11-years) are doing? One minute they're together, the next they're broken up. What's the deal? She claims that they are concentrating on being good parents right now. The thing is, Trina's children (ages 19 & 16) are not biologically Gabe's children. Oh…
She also admitted that she and Gabe do still sleep together from time to time, but that's none of our business. Or then again...maybe it is. They now have a joint Twitter and Instagram account (@trinaandgabe) exposing their love for the world to see. Yep…from the looks of the pics, it seems like more than just concentrating on being good parents.
Last season, the Braxton sisters agreed to put their differences aside and move forward with their lifelong dream of releasing a Braxton Family album (which they have been working on for the past 3 seasons). During the interview, Trina mistakenly dropped a nugget, revealing they STILL have not finished their family album. Oops!
Check their interview below:
We also have the explosive new trailer for the upcoming season of "Braxton Family Values."
Check it:
"Braxton Family Values" season 4 premieres Thursday, August 14th at 9/8c on WE tv.
Also on Wendy....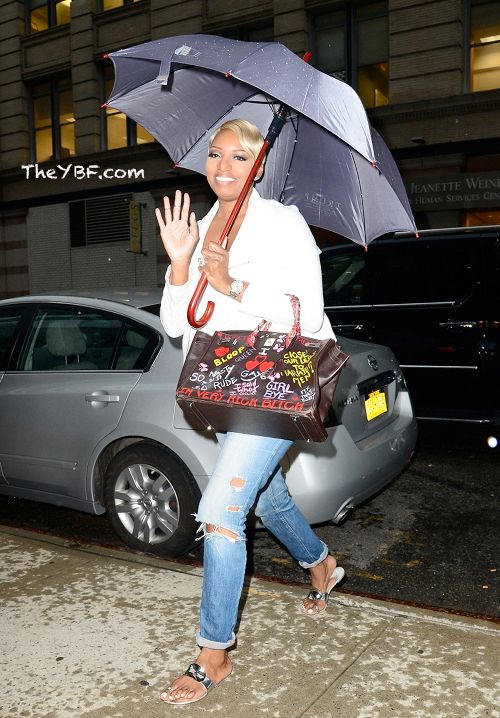 During her hot topics segment this morning, talk show queen Wendy Williams gave her two-cents on "RHOA" star NeNe Leakes' personalized couture Hermes Birkin bag. The bag is graffiti-covered with Nene's most famous sayings such as "Bloop!" and "I'm Very Rich B*tch!" and she was spotted carrying it for the first time last week.
Apparently, NeNe got wind of Wendy's comments and publicly responded to the "spewed hate" Wendy constantly dishes about her. In a post on her personal blog, NeNe reveals she is sick and tired of Wendy's negative comments about her AND she warned the talk show host to stay humble before she takes her place.
Nene writes,
Wendy I am sure people think that I've done something to you, maybe we had a beef or I slept with your man but none of that is true! I've actually only been nice to you! I gave you a beautiful black $3,200 Celine Phantom Bag to celebrate your 500th show but you haven't spoken of that! But what you have chosen to do is constantly speak negative of me and lie on me! What you need to do is stop spewing hate! When it comes to gossip you are the lowest of the low! I know you hate because I turned down the chance to come on your Talk Show and I am sure you're scared I will take your place (I know you have heard! Ummhmm wink wink) BE SCARED! I have a clothing line on HSN coming out in a few days and I know it must be hard for a black woman to support another black woman but you should try it sometime. PS: My Birkin is being turned into a work of art to raise money for a worthy charity something you fail to mention on your show! I don't have one Birkin I have five now run tell that WIG.
Bloop!
The former "DWTS" contestant also took to her Twitter, referring to Wendy as "Wendell":
Don't come 4 me WENDELL @WendyWilliams http://t.co/P7whu0uWCV

— NeNe Leakes (@NeNeLeakes) July 22, 2014
WENDELL please take several seats hunni @WendyWilliams http://t.co/P7whu0uWCV

— NeNe Leakes (@NeNeLeakes) July 22, 2014
If you're interested, NeNe will be launching her clothing line "The Nene Leakes Collection" July 28th on HSN.

Photo: PacificCoastNews/Wendy Wiliams Show
Jill Scott, Tika Sumpter, Chadwick Boseman & More Hit The "Get On Up" Premiere In NYC
Posted: 22 Jul 2014 11:17 AM PDT
Celebs flocked to support the James Brown movie Get On Up at the New York premiere. Check the pics of Jill Scott, Chadwick Boseman, Tika Sumpter and more inside...
"The Haves and Have Nots" star Tika Sumpter and her natural curls hit the red carpet last night at the Apollo Theater last night in Harlem. She co-stars as "Yvonne Fair" in Get On Up, and is looking Hollywood chic with sex appeal in this lace cropped cami and maxi skirt.
Fab chick Jill Scott, who plays James Brown's wife in the movie, was there looking fabulous as always: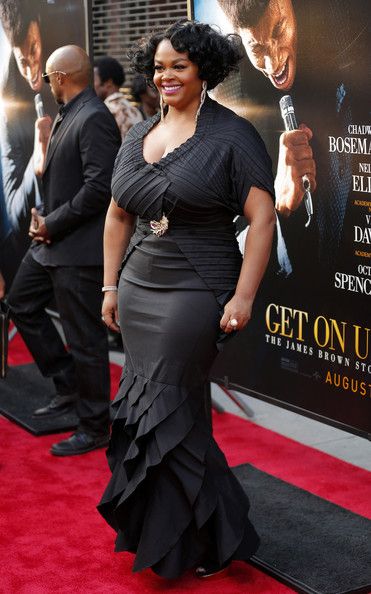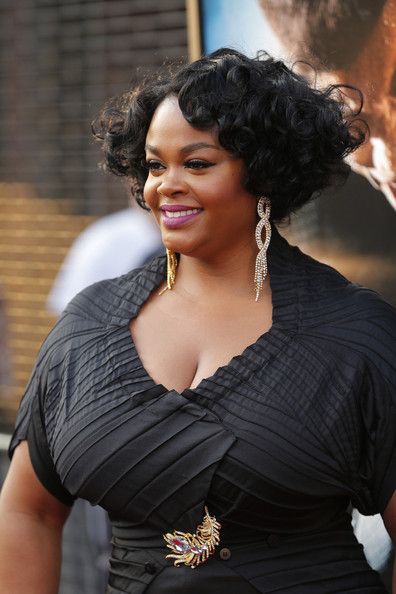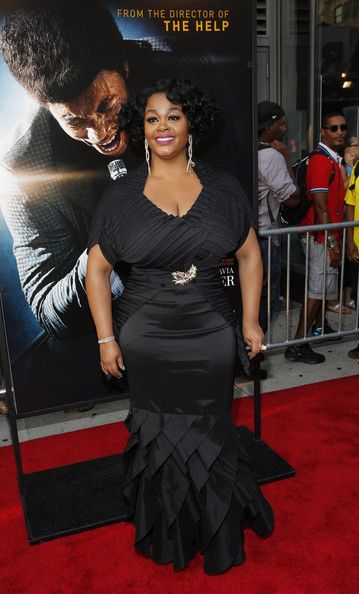 That waist is snatched to the highest of heavens. Get it Jilly!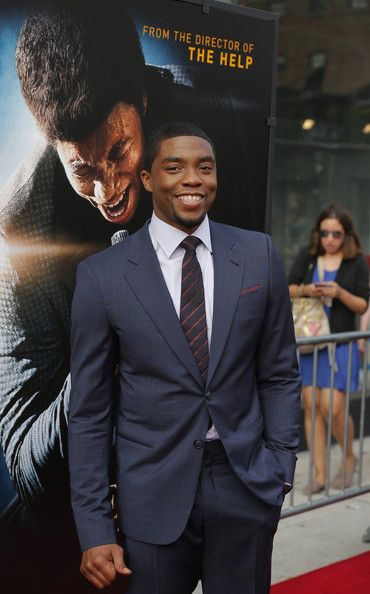 The man of the hour, Chadwick Boseman, hit the carpet on his big night as his portrayal of James Brown makes its big debut.
Craig Robinson, who plays Maceo Parker, hit the carpet in all white.
"True Blood" star Nelsan Ellis was there keeping it dapper in his own way. He plays "Bobby Byrd" in the flick.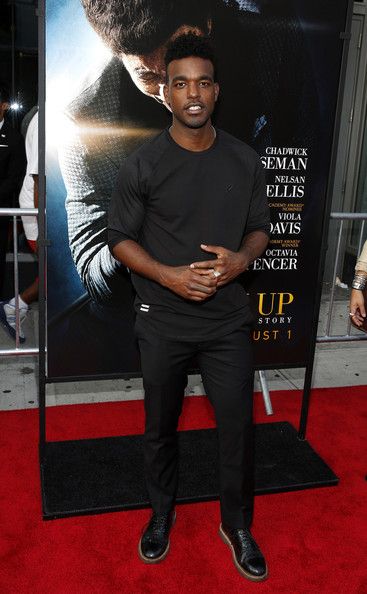 Singer Luke James came out to support.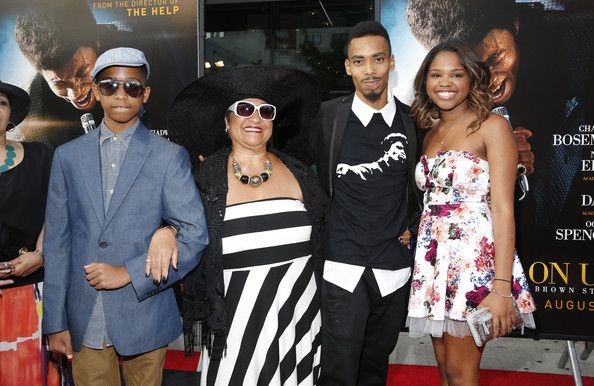 As did James Brown's second wife Deidre "Deedee" Jenkins and his family.

Married DJ couple DJ KISS and DJ MOS hitt he carpet looking cute.
And y'all already know Rev. Al Sharpton was there to support.
Get On Up premieres August 1st nationwide.
Photos: Getty
Beyonce, Jay Z & Blue Ivy EXPLORE The National World War II Museum In New Orleans
Posted: 22 Jul 2014 09:57 AM PDT
In between their On The Run tour stops down south, Beyonce, Jay Z and Blue Ivy took in a little history at the National World War II Museum in New Orleans. Find out what the fab fam was up to inside…
The Carters have been trekking it across the nation with their "On The Run" tour and while in New Orleans, they decided to take in a quick history lesson at the National World War II museum.
After hitting the stage on Sunday at the Mercedes Benz Superdome, Bey, Jay & Blue took a family stroll through NOLA. Blue rocked a cute floral summer dress with flowers in her hair as her parents grabbed ahold of each of her little hands to lift her up so she could swing her feet. Our hearts melt.
Wonder if they caught up with Auntie Solange....
Solo posted a pic on Instagram yesterday after a long night of partying in NOLA.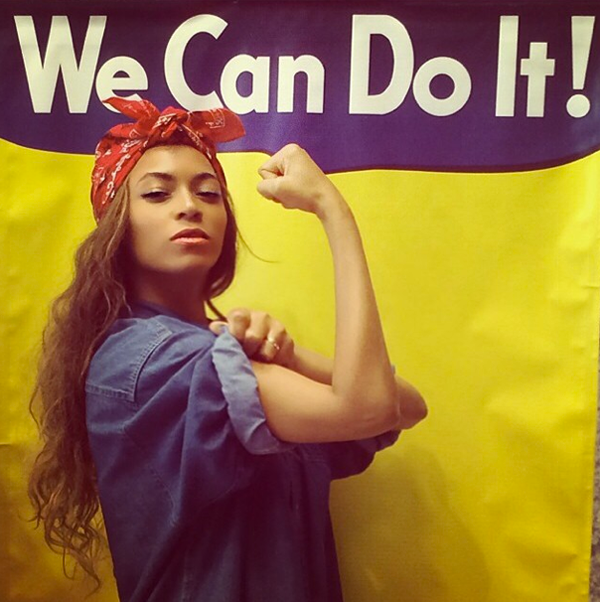 The Carters then made their way to the National World War II museum where Yonce recreates the iconic American wartime propaganda poster, "We Can Do It!" The poster was created in 1942 as an inspirational image to help boost worker morale at for Westinghouse Electric & Manufacturing Company. Women were being encouraged to take wartime jobs in defense industries, which in turn celebrated female patriotism.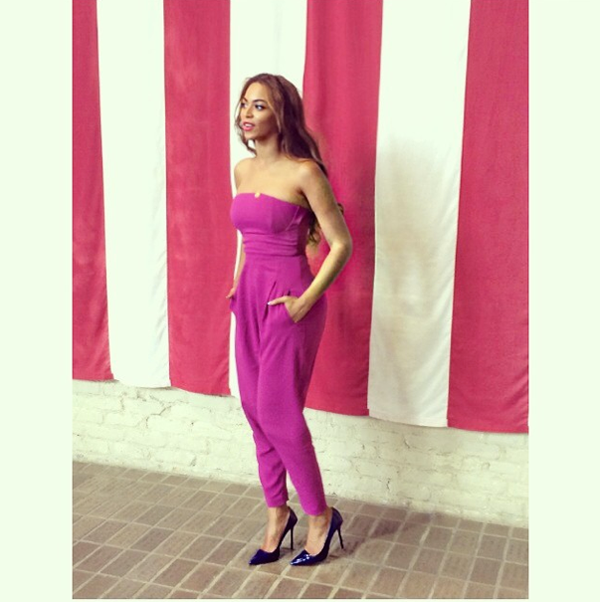 Mrs. Carter showed off her patriotism posing it up in a pink jumpsuit in front of the red and white stripes of the American flag.
And they also got a chance to check out the aircraft that was used during World War II. Nice.
Tonight, Mr. & Mrs. Carter take the stage at the AT&T Stadium in Dallas, TX.
Photos: Beyonce's IG