---
Beyonce Releases 'Fifty Shades Of Grey' Teaser …Will She Be On The Soundtrack?+ Rihanna DINES At Her Favorite Eatery Giorgio Baldi
Posted: 20 Jul 2014 07:57 AM PDT
Beyonce dropped a nugget last night when she posted a teaser of the upcoming film Fifty Shades of Grey to her Instagram. Meanwhile, Rihanna was spotted leaving her favorite eatery in Santa Monica yesterday. Deets & pics inside…
If you need another reason to check out the upcoming romance-drama film Fifty Shades of Grey, we have a new one for you.
Saturday night after rocking the stage and going skating in her hometown, Beyonce took to her Instagram to post a teaser of the Fifty Shades of Grey trailer. In the teaser, we hear a very slow-paced version of Bey's "Crazy In Love" as she chants "Uh-oh, uh-oh,uh-oh, oh, no, no," while watching the main character Christian Grey look out of his office window and a hand rubbing up on Anastasia Steele's thighs.
At the end, fans are informed that the official trailer for the movie will be released on Thursday, July 24th. We're assuming she's going to be apart of the film's soundtrack. To further validate our suspicions, a stripped down version of Bey's "Haunted" was used as the background track for a teaser of the film that screened for theater owners and press at CinemaCon back in March.
Check it out the teaser below:
Fifty Shades of Grey (also starring Rita Ora) will hit theaters February 13, 2015. Will Bey be lending her vocals for the film?
And in Cali....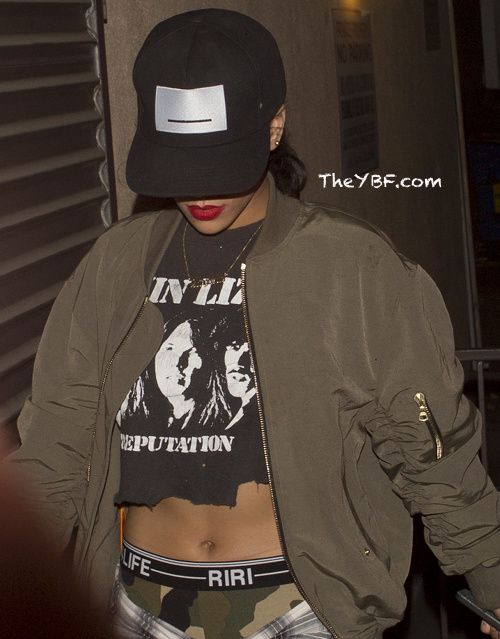 In between studio sessions, Rihanna was spotted grabbing a bite to eat from her favorite eatery Il Ristorante di Giorgio Baldi in Santa Monica.
Trying to keep a low-profile, Rih was incognito in her custom camo "RIRI Life" pants, torn cropped heavy metal t-shirt and black cap as she made her way to a waiting black Ferrari sports car.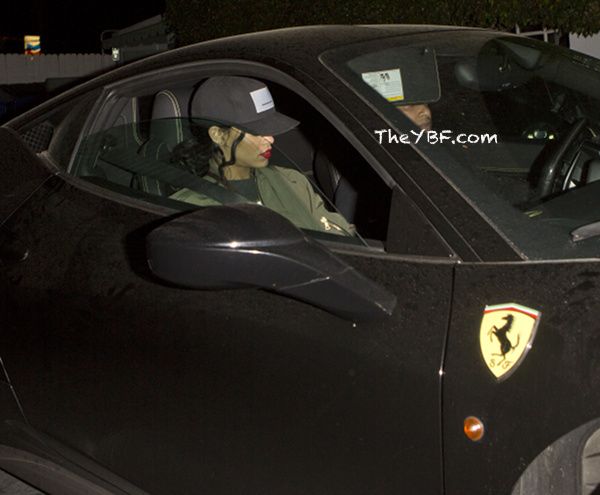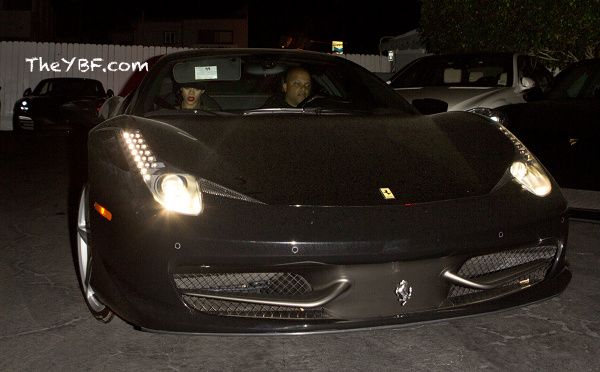 In music news, Rih's "Cheers (Drink To That)" single just got VEVO certified, with 100+ million views. She also picked up three MTV Video Music Awards nominations for the video "Monster" with Eminem.
Photos: Splash News/Beyonce's IG
Lil Wayne & Christina Milian, Jamie Foxx, The Game & More ATTEND Chris Brown & Quincy's "Kick'n It For Charity" Celebrity Kick Ball Game
Posted: 20 Jul 2014 06:33 AM PDT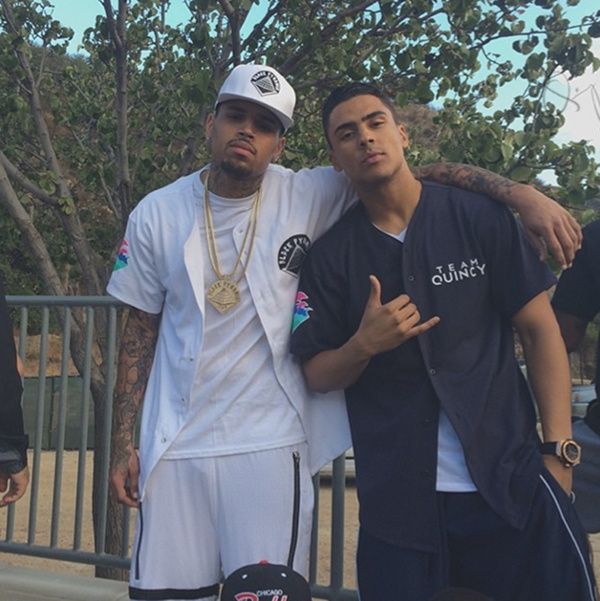 Chris Brown and Diddy's son Quincy held a kickball tournament for charity on yesterday. And who do we see together again?…Lil Wayne & Christina Milian…mmhmm. Jamie Foxx, The Game, Omarion and others also hit the field. Peep the pics inside….
Yesterday, Chris Brown and Quincy called up some friends to come out for a fun game of kickball for their celebrity "Kick'n It For Charity" event at the Glendale Sports Complex in Glendale, California. Breezy and Quincy each created a celebrity squad to go head-to-head and the proceeds from the game will be donated to charity.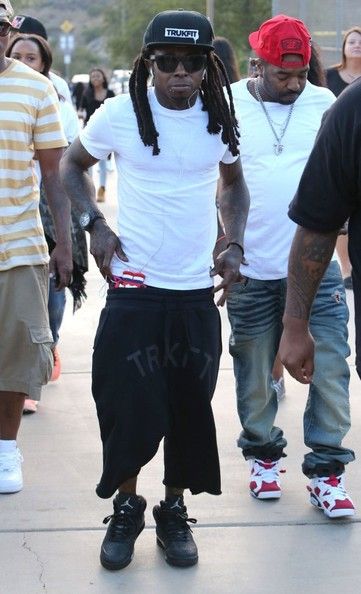 Fueling dating rumors even more, Lil Wayne and newly single Christina Milian came out to support their homies. As you know, Christina was Wayne's "date" at the ESPY's where they walked through the audience hand-in-hand as they made their way to their seats. Mmmhmm....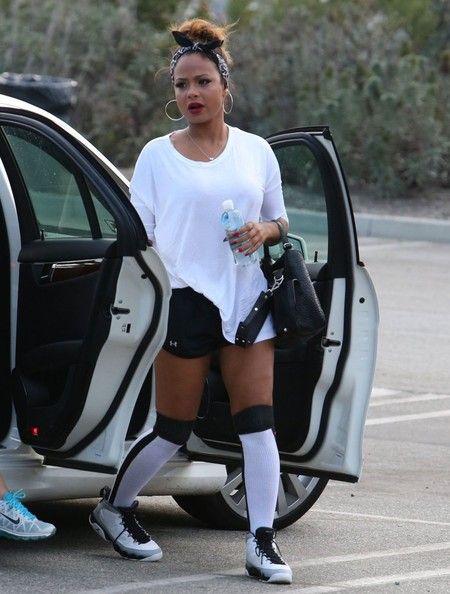 Looks like they were dressed to play on Breezy's team.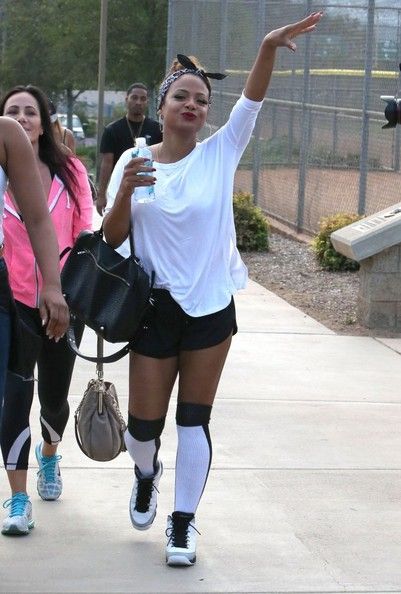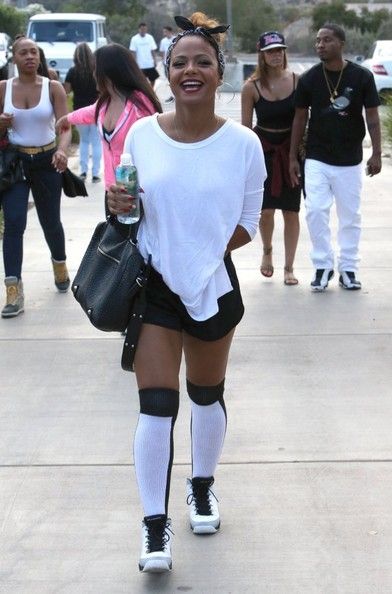 Well doesn't she look happy.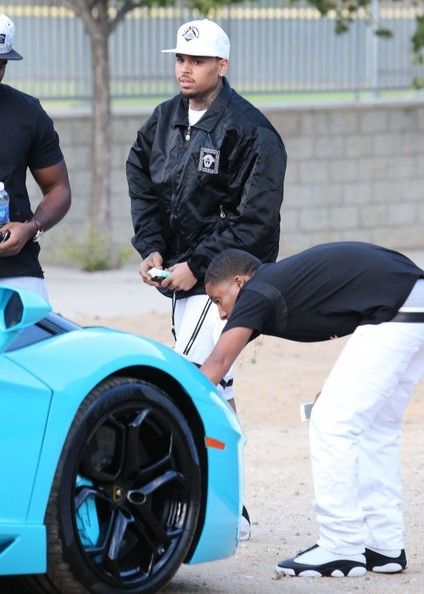 Chris Brown was spotted near his tricked out blue Lambo (which cost him a cool $10,000 to get repainted). Although you can't see under his hat, Breezy got rid of his Duke Ellington/El DeBarge cut and chopped it all off, now rocking a low-cut Caesar.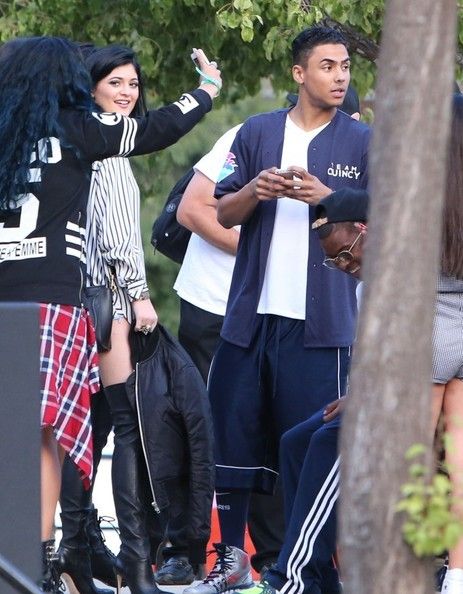 Diddy's son Quincy was spotted chatting with Kylie Jenner before the tournament.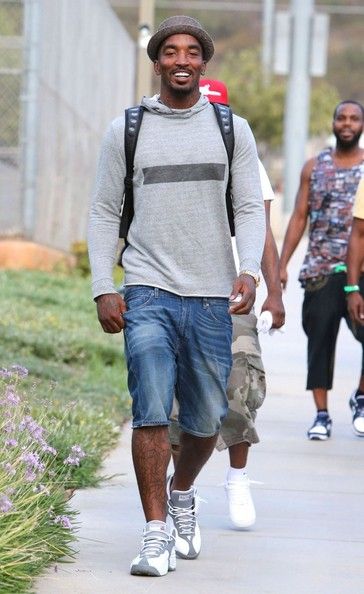 NY Knicks baller J.R. Smith came out to play.
Kendall and Kylie Jenner posed it up with Breezy before taking the field. Kendall played on Team Breezy, while Kylie played on Team Quincy. Not sure how Kylie ran in those thigh-high boots though.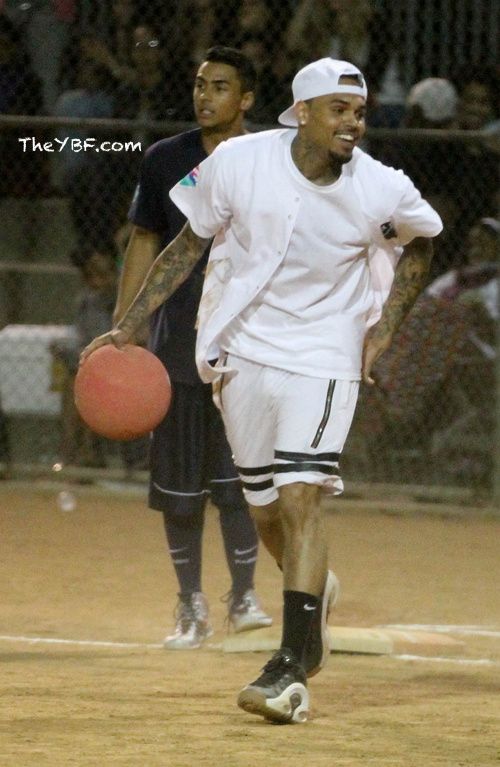 Breezy flossin' his skills on the field.
Annie star Jamie Foxx came out to support Team Breezy.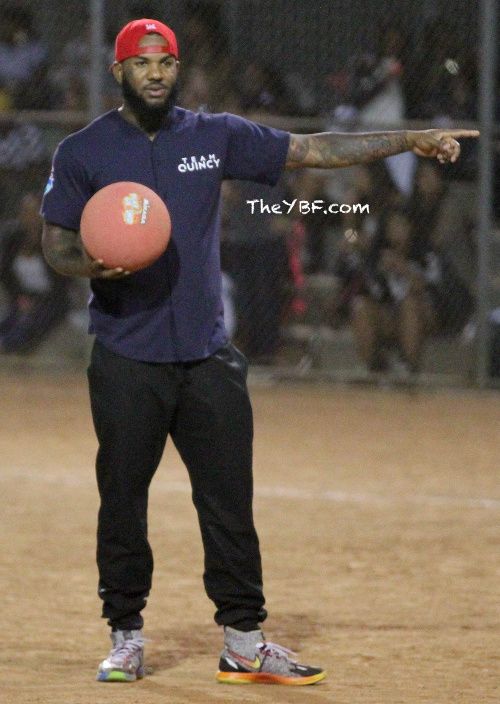 While rapper The Game put his skills to work on Team Quincy.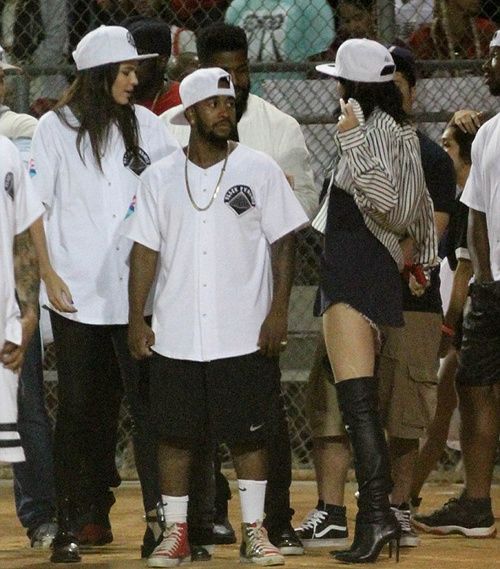 Looks like Omarion posted that $20,000 bond to get out of jail. He was arrested Friday morning after running a stop sign. Officers ran his license plate and realized a warrant was out for his arrest. Guess he thought he didn't need to show up in court for a previous traffic violation.
"School Dance" actress Amber Rose was all smiles as she played her part to beat out Team Breezy.
And this ladies and gentleman is DJ Khaled running with his butt crack on full display.
Fun times.
Photos: Splash News/FameFlynet/Chris Brown's IG/Quincy's IG/Christina's IG
SPEAK ON IT: Are LESS-Sexualized Singers Ready To Take Beyonce & Rihanna's SPOTS In The R&B World?
Posted: 20 Jul 2014 05:34 AM PDT
Sex sells. We know that. But now, there seems to be a slight shift in the R&B world and a new wave of singers are taking the field. The over-sexualized Beyonce and Rihanna seem to be old news and now a new electronic sound is emerging with artist such as Jhene Aiko and SZA. Is R&B changing? Decide for yourself inside…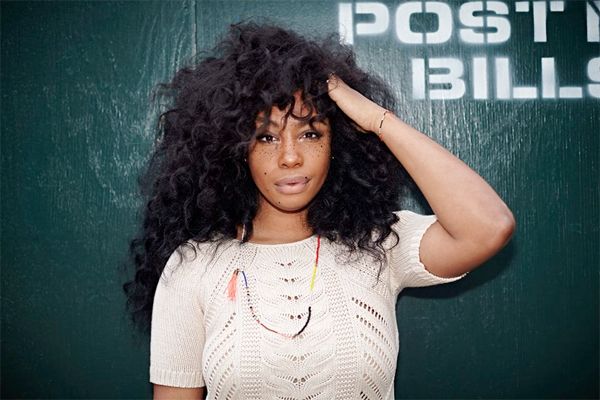 As time goes on, things change. And it seems to be true for the R&B genre. No more days of Beyonce and Rihanna dancing around on stage half-naked, singing over sexualized songs (we're not saying they're over sexualized but some are). It's now about the story telling, the perfect beat and killer vocals. Lines are being blurred between electronica and R&B when it comes to newcomers like Jhene Aiko, SZA (above), Jessy Lanza and others, changing the R&B scene with their soft vocals and actually putting a pen to paper to create the songs they are singing.
In an article in the Independent, it talks about this new wave of women taking over the R&B scene, leaving singers like Beyonce and Rihanna in the dust. This new generation of artists are making music without having to sexualize their bodies, making "good" role models for young girls to look up to. British singer Rosie Lowe gave her take on their new sound saying,
"We're a generation of women making our own music without having to sexualise our bodies," announces Rosie Lowe, the Devon-born singer, writer and producer whose Right Thing EP drew praise last year for its "off-centred soul".

She notes the need to provide an example for a young audience. "There's a generation out there who don't have that many role models who aren't using their bodies. The more we can offer an alternative, the better."

She says Rihanna and Beyoncé reinforce stereotypes. "They're the main culprits because they're so in the mainstream," she says. "I agree that your body is your own, but I do think they have a responsibility. They're making young women think, to get where they are, they have to twerk or use their bodies, and it's not true. It's scary and damaging."

Then there's singer Kelela Mizanekristos. She said,
"Sounding like I have agency in a song is important to me. I want to feel empowered by the music." "Empowerment" and "agency" are key words for Kelela. They are what separate her from her peers in the charts.

"Maybe Rihanna's agency comes in through her choice of songs," she wonders, adding: "But there are things that aren't a priority for her." For Kelela, the priority is being fully involved with the songwriting and production process.
There definitely seems to be a new sound circulating in the R&B world as up-and-coming singers introduce a new style of music. Will it soon take over the genre?
SPEAK ON IT!

Photos: Photos:@beylite/@rihannadaily/Kelea's Twitter/SZA's FB
CAUGHT ON VIDEO: Floyd Mayweather Clears Up Video, DID NOT Admit That He "F*****" Tiny + K. Michelle Twerks For The 'Gram
Posted: 19 Jul 2014 08:24 PM PDT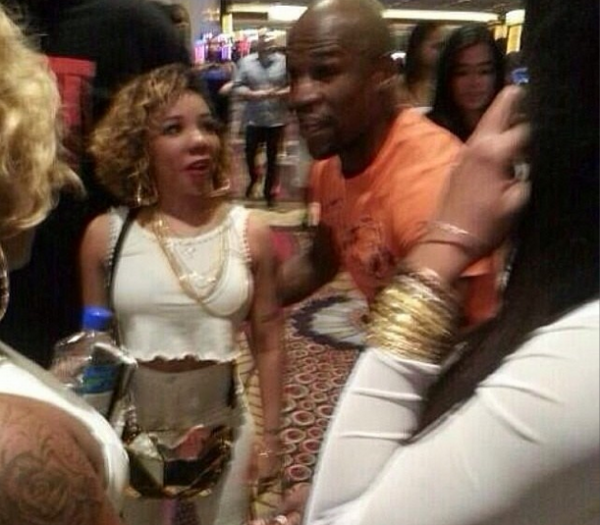 A video of Floyd Mayweather ALLEGEDLY claiming to have had sex with T.I.'s wife, Tiny, went viral on the net. But don't believe everything you hear. Find out why he actually DIDN'T say what you think, plus, K. Michelle twerks for the 'gram.
The fake love triangle and ridiculous drama amongst Floyd Mayweather, Tiny & T.I. heated up again today...based on folks jumping to conclusions.
Footage was posted by TMZ this morning of Money Mayweather at a press conference for his upcoming September fight, where they mistakenly transcribed Floyd's words as some fighting words when it comes to T.I..
In the video above, around the 1:15 mark, you can hear a fan yell out "What about T.I.?" TMZ claimed earlier Floyd answered with "What about the b*tch?....I f**ked his wife."
But that's not what was really said. If you look closely, you'll see Floyd said something right before that last part, but the mic cut out a bit. He actually said "HE THINKS I f**cked his wife." Those first two words are extra important.
Floyd cleared up the rumor on his Instagram today saying:
At the press conference, I said "… he thinks I was f*cking his b*tch". I DID NOT say "… I was f*cking his b*tch". I've never been with Tiny sexually. I respect her situation and I thinks she's a good person. I would never disrespect a marriage. #Mayhem on September 13th.
So there you have it.
Meanwhile, something that was caught on video:
This is what happens when K. Michelle celebrates her label loving her album. She posted the above video in celebration, showing off her twerk skills. And while commenters went in about how "fake asses" move while twerking (THEY said it, we didn't), we must say she's improved from this video she posted about a month ago:
Ha. We're just waiting on Drake to "Like" the above Instavid and then put her in his next video...
Photos/Videos: Floyd's IG/Tiny's IG/K.Michelle's IG
Deborah Cox's ALLEGED Leaked "I Will Always Love You" Recording For The Whitney Houston Biopic
Posted: 19 Jul 2014 08:01 PM PDT
Now that Deborah Cox has been confirmed as the cover singer for the upcoming Whitney Houston Story on Lifetime, alleged audio of her rendition of The Bodyguard classic "I Will Always Love You" has leaked. Check it inside and see how she measures up...
Almost 14 years after her "Same Script, Different Cast" duet with the late Whitney Houston, Deborah Cox is covering the legend's hit songs in the upcoming Whitney Houston Lifetime bio-pic.
TMZ alleges to have some audio from the movie set, recorded just last week. It's unclear as to why Deborah would be recording the songs on the set and not in a studio, but...here is her rendition of the Dolly Parton song "I Will Always Love You" that Whitney made oh so famous:
Interestingly, Deborah also performed the song back in 2005 at Carnival in Provincetown. Sounds pretty similar, with the audience cheering at the same time in both audio clips. Check it for yourselves: