---
MOM AT WORK: Zoe Saldana, Her Baby Bump & Husband Hit The Cinema Society 'Guardians of the Galaxy' Screening In NYC
Posted: 30 Jul 2014 08:14 AM PDT
Zoe Saldana is still bumping along, hitting up red carpets to promote her latest flick Guardians of the Galaxy. Peep the pics of the mom-to-be and her husband at the Cinema Society's private screening in NYC inside….
Zoe Saldana isn't letting pregnancy slow her down one bit. Last night, the sci-fi queen hit the red carpet at the Cinema Society with Men's Fitness and FIJI Water special screening of Guardians of the Galaxy at the Crosby Street Hotel in NYC.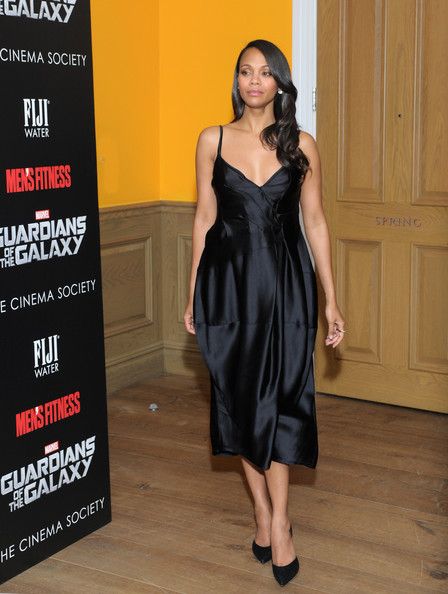 The Guardians of the Galaxy starlet kept it cute and comfortable in a black silk dress and black pointed pumps with her hair tousled in loose curls.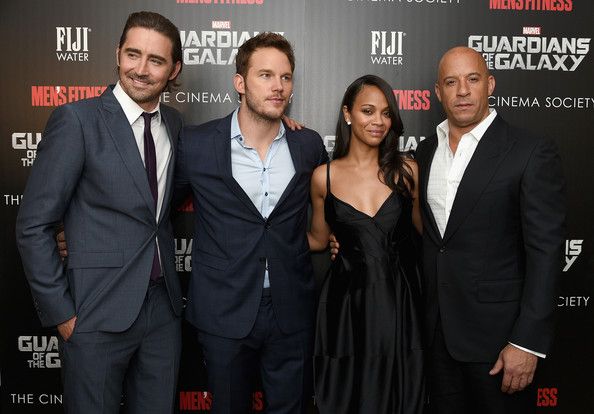 The mom-to-be (who could possibly be expecting twins) posed it up on the carpet with her co-stars Lee Pace, Chris Pratt and Vin Diesel.
Then Zoe, who apparently isn't scared to pop off on media who she blames for "outing" her pregnancy, met up with her husband Marco Perego as they made their way inside the Crosby Street Hotel to watch her in action.
And of course, she treated her fans with a few autographs. A woman's job is never done.
The film hits theaters August 1st.
Photos: Getty/Splash News
NEW MUSIC: Hi-5's COMEBACK SINGLE "It's Nothing" + Tank's "Hope This Makes You Love Me "
Posted: 30 Jul 2014 07:40 AM PDT
90s R&B sensations Hi-Five are back on the scene with a new single and EP. Listen to "It's Nothing" inside along with the latest single from R&B vet Tank.
Earlier this week, we tipped you off about the return of Hi-Five and now we have their official single called "It's Nothing".
Taken from their new EP, entitled, "HI-FIVE THE EP", "It's Nothing" is produced by Sheldon Goode, Brian Adams and Hi-Five singer Billy Covington (who also co-wrote the song with Brian). "We wanted to give our fans a familiar sound yet more mature but still the signature HI-Five delivery", said Billy.
Fans of Hi-Five can watch the group's story unfold on TvONE's "UNSUNG" on Wednesday, August 6th, 2014.
Check out "Its Nothing" here:

You feelin' their comeback single?
In other new music......
As singer Tank preps for the release of his new album Stronger, he follows up his hit song "You're My Star" with the lush balled "Hope This Makes You Love Me." Tank, who also appears on the inaugural cover of SINGERSROOM Magazine, is challenging fans to become "stronger" with a 30-day quest in the areas of physical, mental, emotional and spiritual wellness #STRONGERU. While discussing the new album, he defined what is means to be "Stronger":
"It's the person who isn't afraid to take that emotional leap, someone that isn't afraid to share that sensitivity, the person who isn't afraid to be vulnerable, that's the strongest because it's easy to not get involved," It takes a stronger person to rebound and to get back up from being knocked down. I'm gonna continue to be emotionally available, continue to put my heart out there, eventually it'll work in my favor... That is what I consider strength, that is how I define a real man, that, at the end of the day, will cry for his woman...those are the types of men that I was raised by, and that's the type of man that I want to be."
Check out "Hope This Makes You Love Me" here:
Check out the fit R&B singer's challenge below:
Photo via Hi-Five's Facebook/Tank's Facebook
DUMP & GRIND: R. Kelly Ixnayed From "Fashion Meets Music Festival" Over SCANDALOUS Past + Teyana Taylor GETS Served With A Crossover At The Jordan XX9 Release Event
Posted: 30 Jul 2014 06:55 AM PDT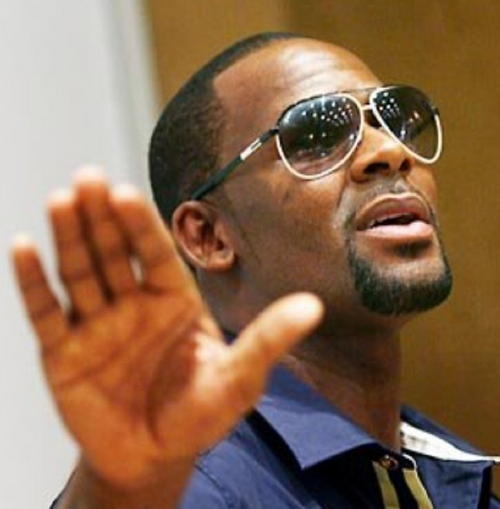 R. Kelly was bumped from a music festival in Ohio after other performers refused to share the stage with him. Get the deets inside and watch the viral video of Teyana Taylor getting crossed over.
R. Kelly's past is coming back to bite him in the butt...financially. He was recently dropped from the line-up of the Fashion Meets Music Festival in Columbus, Ohio following an outcry about his past allegations of child abuse.
The "12 Play" singer was due to perform last night, but both he and the festival organizers released statements to Columbus Alive to announce his departure.
The organizer said, "Fashion Meets Music Festival and headlining artist R Kelly have come to the mutual decision to cancel Kelly's upcoming performance at the inaugural Fashion Meets Music Festival."
Meanwhile, a publicist for R. Kelly said: "R Kelly is sorry to disappoint his fans, but looks forward to seeing them in the near future during one of his upcoming tours."
What happened? First, Folk rock band Saintseneca, who were also due to perform, wrote on their website that they were withdrawing because "we feel [Kelly's] selection as a performer ignores his very serious allegations of sexual violence and assault".
Then, local radio station WCBE 90.5 FM also backed out. General manager Dan Mushalko said that due to the opinions of listeners and those of Columbus City Schools (who hold their license), "Obviously, since they represent children and they represent teenagers, they didn't want us associated with the event if R. Kelly was a part of it...So whether you looked at it from our internal ethics, or the feedback from our listeners and the school district, it came down to everything saying, 'You just can't do it.'"
After the story of folks backing out began to gather speed on social media, organizers decided to cut ties with Robert. Of course, R. Kelly was tried and acquitted of child pornography charges in 2008......but we haven't forgotten what we saw on that tape (and neither has anyone else).
In viral news.....
The Teyana Taylor "crossover" is becoming a meme sensation. At the Jordan XX9 First To Fly event in Las Vegas this past weekend, Teyana challenged a player on the court but got crossed over. She trips and falls...semi-off camera. Expect to see the meme and VINE video popping up in your newsfeed for days to come. On the bright side, Teyana's new album VII is set to drop on October 21st...and now she's got some "buzz."
Watch the "incident" here:
EXTRAS:
1. Cops capture the man accused of stabbing Matt Barnes' aunt. Story.
Photo via R. Kelly's Instagram/VINE
Draya GRABS Some Bubbly On A Store Run With Her Son + Bobbi Kristina Works Up A Sweat In The Gym With Husband Nick Gordon
Posted: 29 Jul 2014 05:25 PM PDT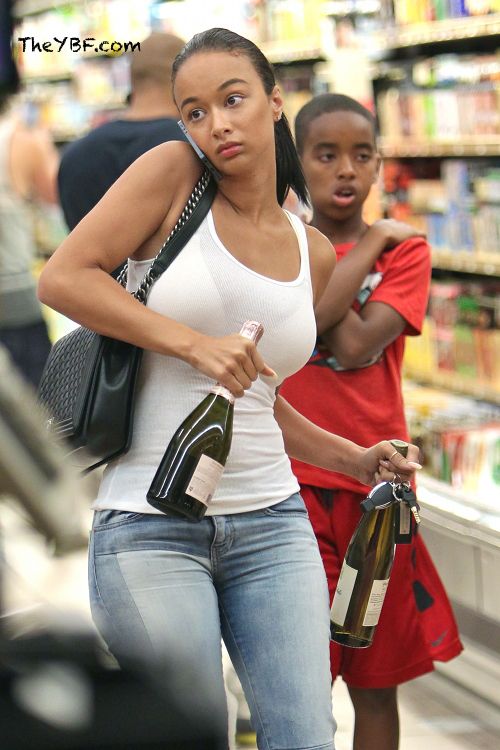 Draya had her hands full while on a grocery run with her son in Cali. While the reality star gets ready for an evening of drinks, Bobbi Kristina is sweating it out in the gym with her husband Nick Gordon. Peep the pics inside…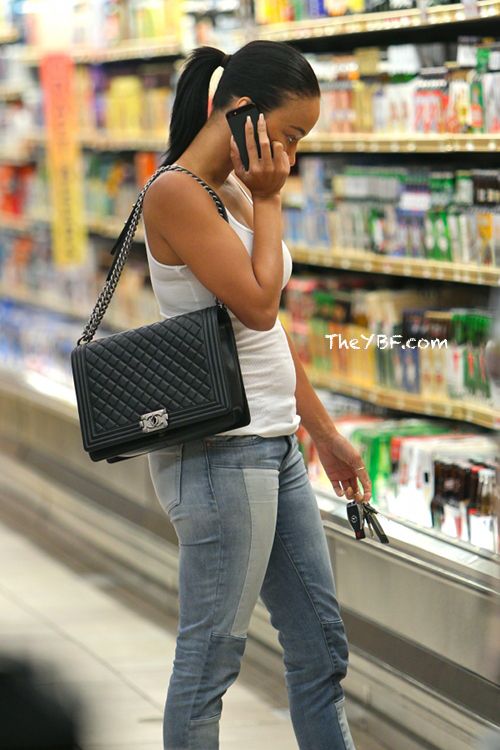 While on a grocery run in Cali, "BBW L.A." star Draya made sure to grab some bubbly to have on deck. The reality star was spotted making her way through Gelsons Supermarket with her son Kniko.
Multi-tasking at its best, Draya was deep in conversation on her cell while juggling a bottle of wine and a bottle of champagne to enjoy later.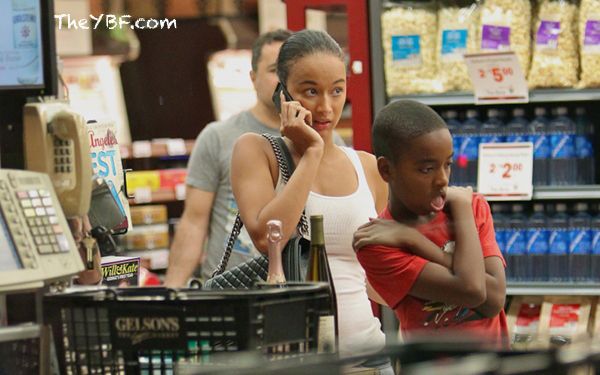 And before her domestic run....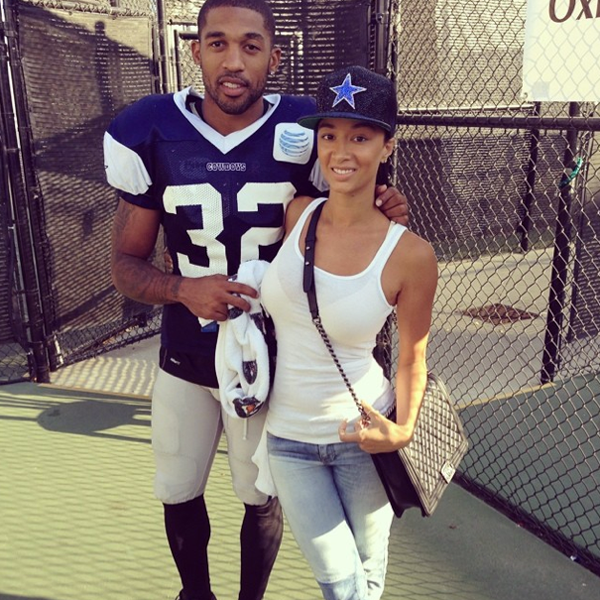 Shutting down recent break-up rumors, Draya paid a visit to her boo Orlando Scandrick at the Cowboys training camp. Guess that wine was for later that night. These two...
Meanwhile....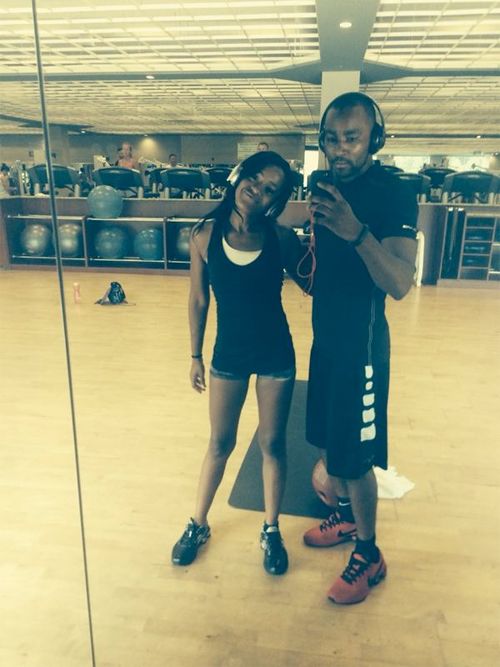 In the midst of the Whitney Houston biopic being filmed, Bobbi Kristina is sweating it out in the gym with her husband Nick Gordon. Since apologizing for her Twitter rant against Angela Bassett over the movie, the slim Bobbi is now channeling her energy into burning some calories.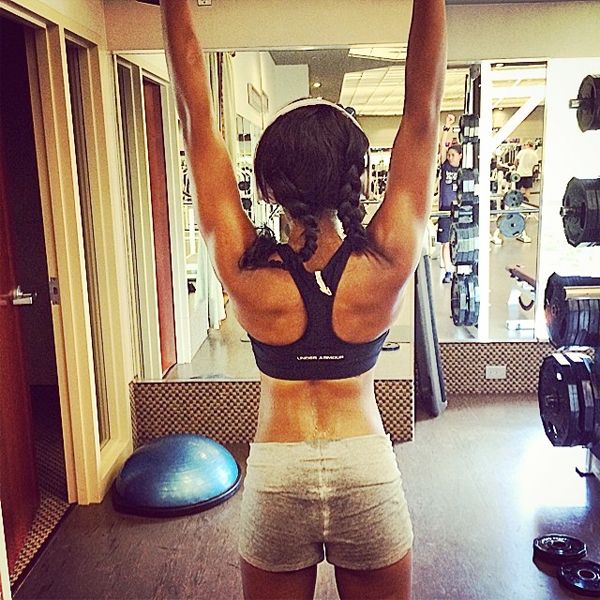 Bobbi took to her Twitter to thank her trainer for her "ass"ets saying, "Thank you2my Trainor Angie, your thee greatest ! Thanks4getting in my ass everyday & working me to perfection"
Alrighty...
Photos: WENN/Draya's IG/Bobbi Kirstina's Twitter
NEW GIGS: Stephen A. Smith SIGNS With SiriusXM, GETS Suspended From ESPN Over Domestic Violence Comments + Sherri Shepherd BUCKLES UP For "Ride Along 2" + Jamie Foxx To Play Mike Tyson In Biopic?
Posted: 29 Jul 2014 04:26 PM PDT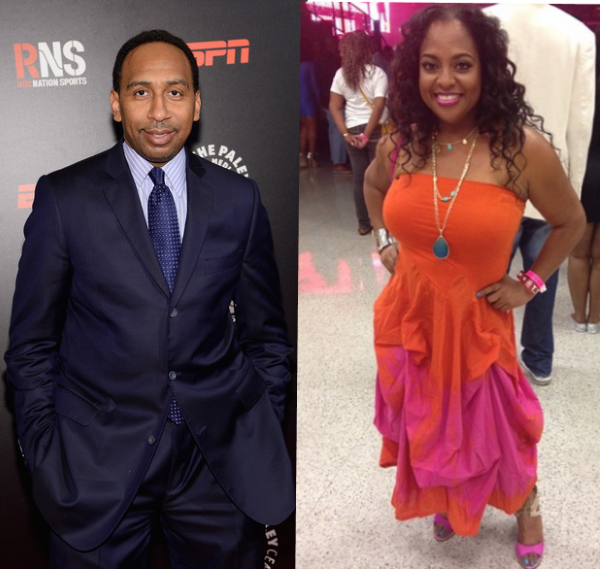 Stephen A. Smith was suspended from ESPN's "First Take" this week, but he announced a new gig on SiriusXM in the meantime. Also, get deets on new movie roles for Sherri Shepherd and Jamie Foxx.
For ESPN personality Stephen A. Smith, there's good news AND bad news. GOOD NEWS - He's leaving his ESPN Radio gig to head over to SiriusXM where he'll appear alongside Chris "Mad Dog" Russo on Mad Dog Radio for the 1-3 pm timeslot. BAD NEWS (for him) - He was suspended from ESPN's "First Take." He was not fired, but in television, if you miss a day - you miss a lot.
A statement on the First Take website read,
"ESPN announced today that Stephen A. Smith will not appear on First Take or ESPN Radio for the next week. He will return to ESPN next Wednesday."
The suspension (of sorts) came after Stephen's comments on domestic violence went viral and sparked outrage. On Monday, Stephen apologized for the remarks calling them "the most egregious error of my career."

In other new jobs.......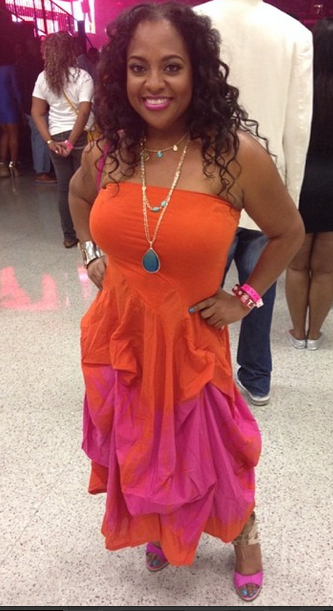 Now that Sherri Shepherd is saying goodbye to her daily gig as a co-host on "The View", she's in even greater demand as a comedic actress. Well, hopefully.
Her first post-"VIEW" gig will be alongside Ice Cube and Kevin Hart in Ride Along 2. Tim Story is set to direct again and "The Hangover" star Ken Jeong and"Newsroom" star Olivia Munn have also joined the cast. They're aiming for a January 15, 2016 release and Ice Cube and Will Packer have signed on as producers.
This is Sherri's last week on "The View" but fans will see soon in Chris Rock's upcoming film Top Five. The movie is set to debut at the Toronto Film Fest (Sept 4-14).
In other movie announcements...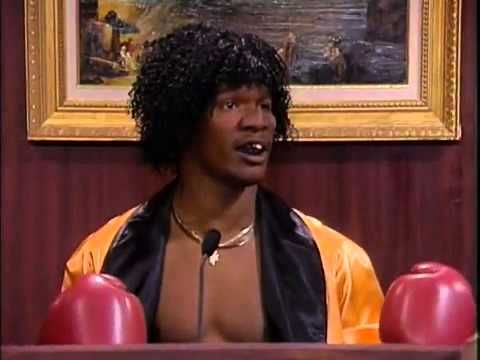 Oscar-winner Jamie Foxx (shown playing a boxing character on "In Living Color") will likely play Mike Tyson in an upcoming biopic. While the movie is still in the infancy stage, Mike is very excited about the project.
Speaking to ABC NEWS, Mike (pictured above at Comic-Con clowning around with the brand new Beats by Dre Pill XL speakers), says he's met with Oscar-winning actor Jamie Foxx about collaborating on a project:
"Me and Jamie Foxx have been talking and he's willing to take that role and portray me as Mike Tyson, doing my life story. 'I think he's splendid because he's really up to par. I think he would do a magnificent job. He doesn't have the physicality but he will. He's able to ... get bulky, so he's capable of doing it in the future."
We'll keep you posted as more deets about the project are revealed.
Photos via Sherri Shepherd's Instagram/Getty Images/ Beats by Dr. Dre.
French Montana, Fabolous & Wale SALUTE R&B Chicks In "R&B B*tches" Video + Ray J's "Never Shoulda Did That" + Chris Brown's New Neighbor Allegedly THREATENS To SHOOT Him
Posted: 29 Jul 2014 03:25 PM PDT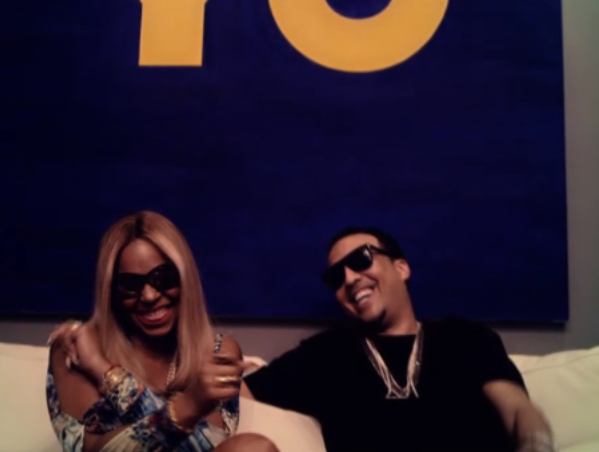 The rap game just isn't what it use to be. French Montana just released the visuals to his track "R&B B*tches" featuring Fabolous and Wale. Meanwhile, Chris Brown's new neighbors are not happy about the singer's recent move. And they aren't holding back any feelings about it...hurling threats and all...allegedly. Peep the video and find out what they said inside…
French Montana has a dream. And it's screwing every R&B chick in the game. At least he's more specific than Lil Wayne's "Every Girl In the World". As lame and misogynistic as it is...
Oddly, these chicks are the complete opposite of his current main chick (besides his wife) Khloe Kardashian.
As he gears up to release his sophomore album Mac & Cheese 4, Frenchie dropped the visuals to his new Eif Rivera-directed video for his latest single, "R&B Bitches" featuring Fabolous and Wale. While sailing the ocean in a yacht, the Coke Boy runs down his list of R&B chicks he would like to get it in with including Rihanna, Kelly Rowland, Mary J. Blige and…Ashanti, who made a cameo in the video.
Fabolous chimes in with his dream list including Christina Milian, Christina Aguilera and Kelly Clarkson, while Wale dreams of hopping in the bed with Erykah Badu, Tamar Braxton and new R&B sensation Tinashe.

Check it:
Sighs...
And in another new video...
Since taking shots at Kim Kardashian and Kanye West on his controversial track "I Hit It First," Ray J is back to singing about is personal life. He's sliding back on the music scene with his brand new track "Never Shoulda Did That."
"For me the song is about recognizing where I am in my life now and thinking about some of the things I've done that I have come to regret." He continued, "This song is my way of moving forward."
The single will be featured on his upcoming mixtape Ray J: Uncut 2, which will be available for fans in August…for free.
We feelin' it?
And in other R&B news...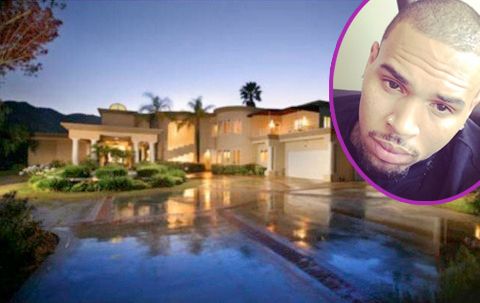 Seems the word on the street that Chris Brown is allegedly a lousy neighbor travels fast! After all of the drama surrounding Breezy and his old neighbors in West Hollywood, looks like his new neighbors are going to be even worse.
Breezy is currently renting an 8,000 square foot luxe bachelor pad in San Fernando Valley, complete with six bedrooms, a dance studio, a commercial ice cream bar and tennis court. With the new house, comes new neighbors. And they are NOT feeling CB.
TMZ spoke with one of the "Loyal" singer's neighbors about their new resident and he/she got straight to the point, spewing physical threats towards Chris if he ever thought about setting foot on his property. He/she allegedly said "It can be the devil. I can care less. I don't care if they're having orgies. It can even be Saddam Hussein for all I care, as long as he doesn't trespass onto my property. If he does, I shoot him."
Well damn.
Luckily, the R&B bad boy just copped himself $3 million worth of security…two Chinese Tibetan mastiffs. Hope they can stop bullets.
Photos: MTV/MLS
Nelly SHADES Floyd Mayweather About His Education Level + Floyd Shades Miss Jackson In Birthday Message To Doralie Medina
Posted: 29 Jul 2014 12:26 PM PDT
Floyd Mayweather showered his new chick Doralie "Bad" Medina with a photo gallery, a birthday message, several watches and more for her birthday this week. But the message had some indirect shade thrown at his ex Miss Jackson. Check it inside, plus what Nelly had to say about Floyd....
For girlfriend Doralie Medina's birthday dinner over the weekend, Floyd had desserts, jewelry and a Bugatti waiting for his chick:
But it was the below message below, accompanied with a photo gallery of pics of the twosome, that Floyd posted that had folks like, DAMN:
Happy birthday @badmedina. I appreciate you and I LOVE you. You've been by my side for 5 years and helped me win 5 of my 11 World titles. Every time I called on you, you were my shoulder to cry on and a friend that I could talk to about anything. Every gift you received from me, you truly deserve because you're a gift that God gave me.
5 years? He just broke up with Miss Jackson 1 year ago. Given, she COULD have JUST been the "massage therapist and friend" the four year prior. But knowing Floyd...
Meanwhile, now that Miss Jackson is with Nelly, folks have been trying to get his take on the beef between him and Floyd:
So Nelly went on ESPN this week and answered a few questions. The sports fan talked about everything from the "Tip Drill" video to Floyd's education level.
On which celebs asked to be edited out of the "Tip Dril" video but thoroughly enjoyed the shoot
"I am not Jose Conseco. I am not saying. There were a whole lot of people who weren't edited in. I don't think it was for tv purposes, it was for at-home purposes."
On the beef between Nelly and Floyd
"I don't have a beef with Floyd Mayweather. For me, for the most part, I think the whole thing is misunderstood. I try to understand where he's coming from which is a little hard to do. He's one of those people who don't like the word No said to him. And if anybody does that, it gets under his skin a little bit. I don't know. It's kind of hard talking to someone who hasn't graduated High School."
On the craziest experience with a fan
"I had a woman drive all the way from Houston, TX to my front door with a 14-year-old, swearing up and down he was my son."
Oh Nelly...
Photos: Bad Medina's IG/Floyd's IG
FOOLYWANG MATERIAL: "Retired" Aaron Hall BRAGS On His "Historical Penis", Says "I Like To F*ck In Public -- Ask Jodeci, Puffy, Jamie Foxx Or Denzel!"
Posted: 29 Jul 2014 11:52 AM PDT
"I Miss You" singer Aaron Hall is quite the character. In a "shockingly" candid, he brags about his "historical" sexual prowess and reveals that Diddy, Jamie Foxx, Jodeci and Denzel Washington can all co-sign that he's got a big....d**k. So he says. Find out how they know the "truth" inside.....

HOOD FACT: There is a tattoo on "I Miss You" singer Aaron Hall's chest that reads "WARNING." You are "warned" because he's going to destroy your lady parts!
In an interview with VLAD TV, Aaron (alongside Bishop Don Juan) spits some old school "pimp" speak. While revealing that his grandfather was a pimp, Aaron takes up into his world of sex and video chicks from his baby mama Gloria Velez (who tattooed "Aaron's" on her lady parts) to a weird and intriguing story about public sex and orgies.
Mr. Hall says he likes to get it in public because he wants dudes to know he's got a big...you know. So......if you'd like to know which celebs can "allegedly" attest to Aaron Hall's anaconda, he name checked Denzel, Jamie, Puffy and all of Jodeci.
#toomanythings
MAGAZINE FAB: Tracee Ellis Ross Talks Love, Being BLACK, Keeping Her Booty Right In UPSCALE's August 2014 Issue
Posted: 29 Jul 2014 10:36 AM PDT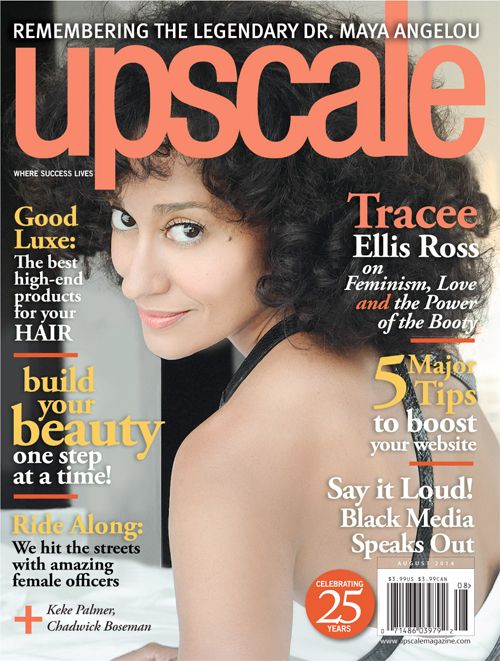 Tracee Ellis Ross is serving up some Diana Ross tease for the August 2014 cover of UPSCALE magazine. Peep her fab cover and find out what she had to say about being black, loving her body at the age of 41 and more inside…
Actress Tracee Ellis Ross is gracing the cover of UPSCALE magazine's August 2014 issue with all of her beauty. And we are so loving that face and her curls!
Tracee is starring in a new comedy series coming to ABC (September 24th) titled, "Black-ish," where she plays a mother-of-four named Rainbow Johnson. Tracee's character is the wife to Anthony Anderson's character and the two of them are searching to find a sense of cultural identity while raising their kids in a predominantly white, upper-middle-class neighborhood. The show is scripted by Kenya Barris and produced by Laurence Fishburne's (who is also starring in the sitcom) Cinema Gypsy production company.
So in the new issue of UPSCALE, the "Black-ish" star dished on what it means to be black, how she thinks people will react to the new comedy sitcom, keeping her booty rotund at the age of 41 (which she's doing a damn good job at) and more.
Here are the highlights:
On what it means to be black:
"What is blackness? What is being black? Who defines that and do we need to define that? I don't have the answers to all of those questions but I think these are the conversations we're all still having."

On her ABC show, Black-ish:
"The beauty of the show is that it's just a family comedy, but it has another layer to it. I don't know what I necessarily want people to think or talk about after watching it but for me in general with cultural identity, racial identity and feminist identity, dialogue is important. People communicating in a light and open way about issues that have a lot of depth and weight to them is a great thing."

On loving her body:
"I'm proud of my body—I work very hard to keep my body at 41 years-old, because my booty could drop… Gravity is not a joke."

On advice & romance:
"Any one rule [as it pertains to romantic relationships] that people think works everywhere is just not true. In general, with everything it's an intimate discovery of trusting yourself and allowing yourself the room to have curiosity about life and self."
Check out a clip from the pilot episode of "Black-ish" below:
The show premieres on Wednesday, September 24th at 9:30/8:30c on ABC. We'll be watching!
Photo: Upscale Magazine
YBF KIDS: Young Jeezy's Son Jadarius CELEBRATES His 18th Birthday With His Dad, T.I. & A New Car In Atlanta
Posted: 29 Jul 2014 09:25 AM PDT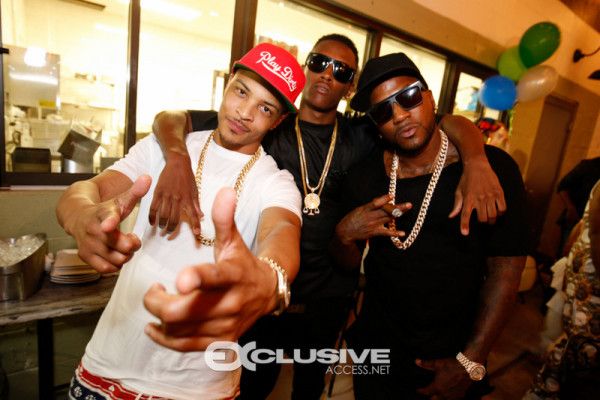 Last night, Young Jeezy celebrated his son Jadarius Jenkins' 18th birthday in Atlanta. And fellow ATL rapper T.I. came out for the festivities. Peep the party pics inside….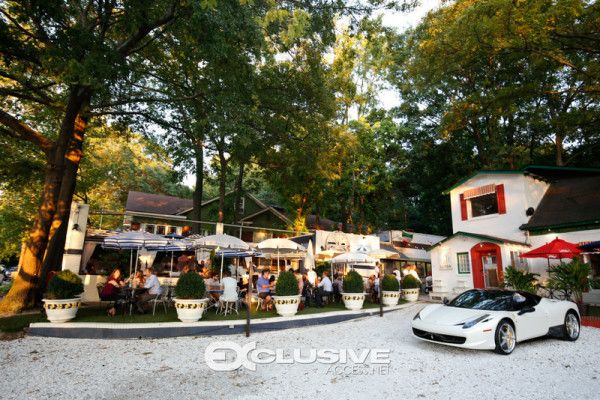 Taking a break from trekking the nation on his Under the Influence Tour with Wiz Khalifa, Young Jeezy threw a lavish dinner party with family and friends for his son Jaradrius' 18th birthday at Gio's in Atlanta last night.
Good friend of Jeezy's and fellow rapper T.I. was also in attendance. We hear Tiny was also there but she somehow steered clear of any pictures.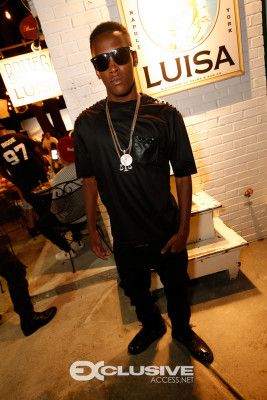 Looks like everything is good between Jeezy and his son now. You'll recall, the "Seen It All" rapper was arrested earlier this year for allegedly serving his son with a brutal beat down and threatening to kill him. He was charged with battery, terroristic threats and false imprisonment. Guess they hashed things out. Nice cars and fancy parties always seem to do the trick....
Like most 18-year-olds, Jadarius had a chick on his arm. Looks like he's down with the swirl.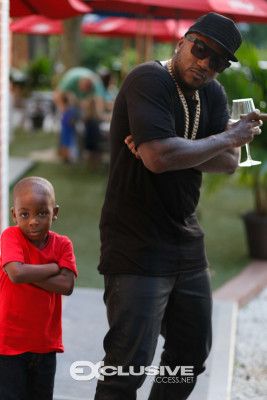 And his pops posed it up with one of the kiddies at the party.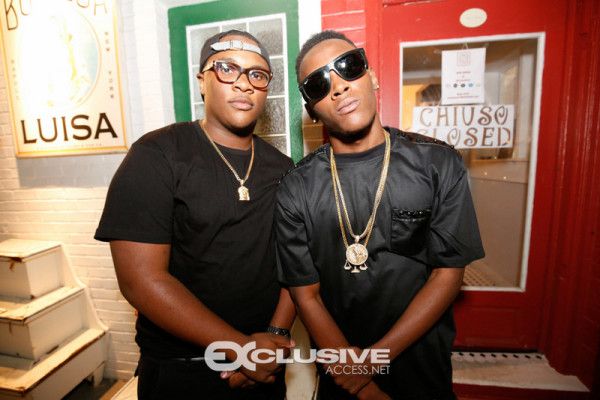 After dinner, Jeezy gifted his son with a brand new ride, complete with a big red bow: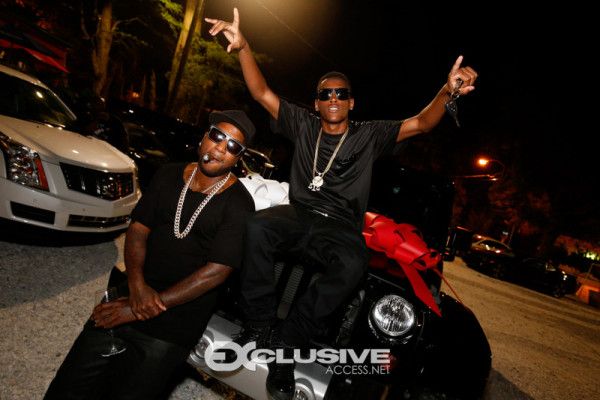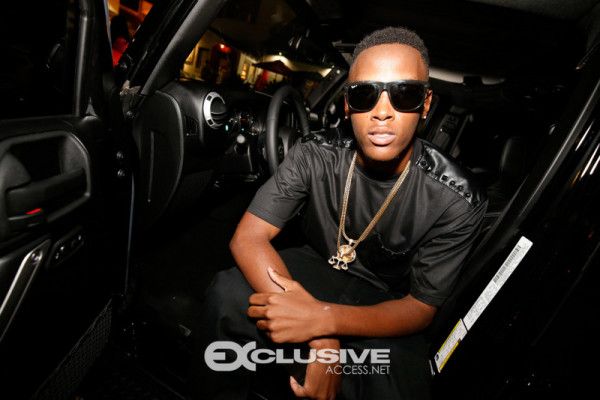 Must be nice. Happy Birthday Jadarius!
Tonight, Jeezy hits the Molson Canadian Amphitheatre in Toronto.
Photos: Exclusive Access.net