---
POST-SCANDAL: Columbus Shorts ATTEMPTING To Turn Life Around...In Texas, ADMITS He Drinks Too Much, EXPLAINS Bar Brawl
Posted: 12 Jul 2014 08:05 AM PDT
Former "Scandal" star Columbus Short confronts his demons (alcohol) and explains that his infamous LA-bar brawl was because someone disrespected his wife. More inside.....
Following his high-profile dismissal from "Scandal", Columbus Short has had some time to do some thinking (and drinking)...in Texas. A few days ago, we reported that Columbus was arrested for public intoxication and skipping out on a bar tab in Dallas. Well....since then, Columbus realizes that he's out of control..sorta. While he stops short at calling himself an alcoholic (umm....DENIAL - table of one) he does admit that he drinks too much (ya think?).
He was recently photographed by TMZ with crisis counselor and Dallas money manager Ed Butowsky who plans to help him get back on track. Though he is refusing to enter a rehab program (tsk tsk) he has vowed to cut back on drinking. Also, he's looking to move to Dallas to get out of LA for a while.
Now...let's go back to the bar brawl in LA that first raised the eyebrows of ABC execs and Shonda Rhimes. Columbus talked to V-103 and said he beat the crap out of that dude because he disrespected his wife. Mind you....this is the same "wife" we've seen Columbus disrespect and threaten (we guess only HE can disrespect her) #noshade.
What happened? Columbus said, "I had to defend my wife at a bar. This man was being highly, highly disrespectful ... slapping her in the face with $20 bills."
Well..ya'll remember what happened? HE KNOCKED HIM OUT.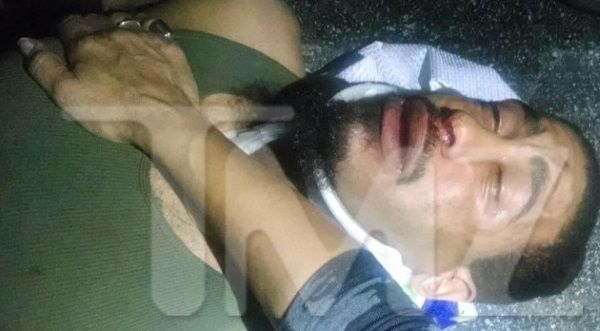 Right or wrong, we bet Felton Hyche III doesn't even carry $20 bills in his pocket anymore.
Columbus explains the bar brawl:
BONUS:
In case you care, Columbus says he's NEVER put his hands on a woman (side-eye).
Columbus discusses whether a return to "Scandal" is in his future above.
Photos via TMZ/Columbus's Twitter
SPOTTED: Rihanna Sipping Beer On Her Balcony In Rio de Janeiro + Willow Smith BIKES IT Around NYC
Posted: 12 Jul 2014 06:00 AM PDT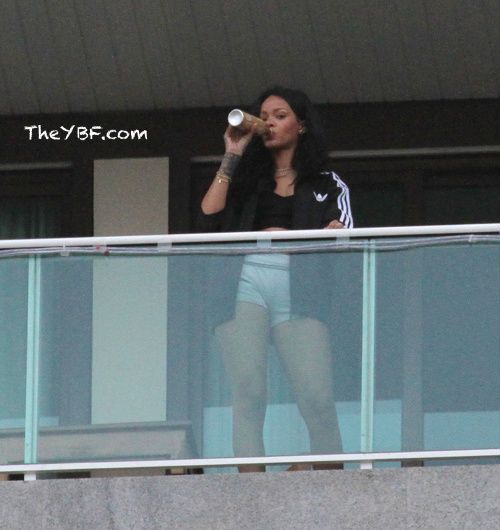 Yesterday, Rihanna made a grand entrance in Rio de Janeiro for the 2014 FIFA World Cup Finals. But before the game, she chilled out on her balcony with a cold one. Meanwhile, Willow Smith was spotted riding around NYC. Peep their candids inside…
Cheers to the freakin' weekend!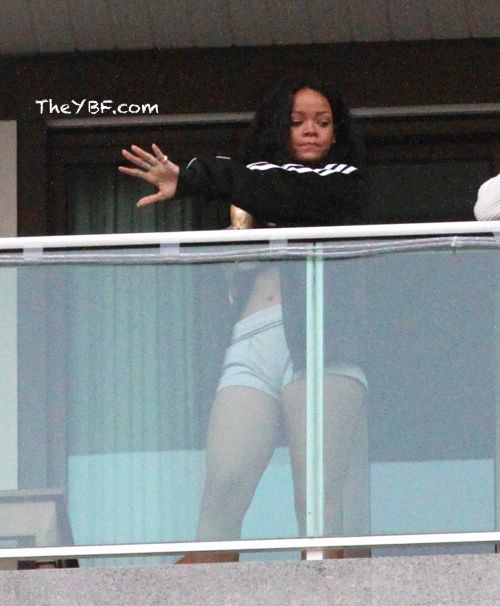 RiRi is ready to hit the stands at the 2014 FIFA World Cup Finals, so she trekked it to Rio de Janeiro ahead of Sunday's big game. The "Pour It Up" singer got it poppin' soon after arriving to Copacabana, sipping on a cold Budweiser beer as she looked out over her balcony from her luxe penthouse hotel room.
Rih has been cheering for Brazil hard on her Twitter timeline the last few days. Brazil will battle it out against the Netherlands today for the third place playoff game. And on Sunday, Germany and Argentina will duke it out in the finals.
I'm feeling right at home!!!! #BUDWEISER #BUDgal #FIFAWorldCup2014 pic.twitter.com/w64NY2AOHI

— Rihanna (@rihanna) July 11, 2014
Since joining Budweiser's "Made for Music" campaign and endorsing the brand, the beer giant flew RiRi out to Brazil for the big games. Posting a picture of her welcome to Brazil basket from Budweiser, Rihanna tweeted, "I'm feeling right at home!!!! #BUDWEISER #BUDgal #FIFAWorldCup2014"
Bet she's about to really enjoy herself.
Meanwhile...
Willow Smith was spotted in NYC on another bike ride around around the city, sans her mother this time.
The young starlet recently opened up about dropping her role in the "Annie" remake (produced by her father) in Teen VOGUE's August 2014 issue. On why she decided to give up the role, she said, "To be honest, something inside me was just, like, Don't. I'm very connected with my intuition."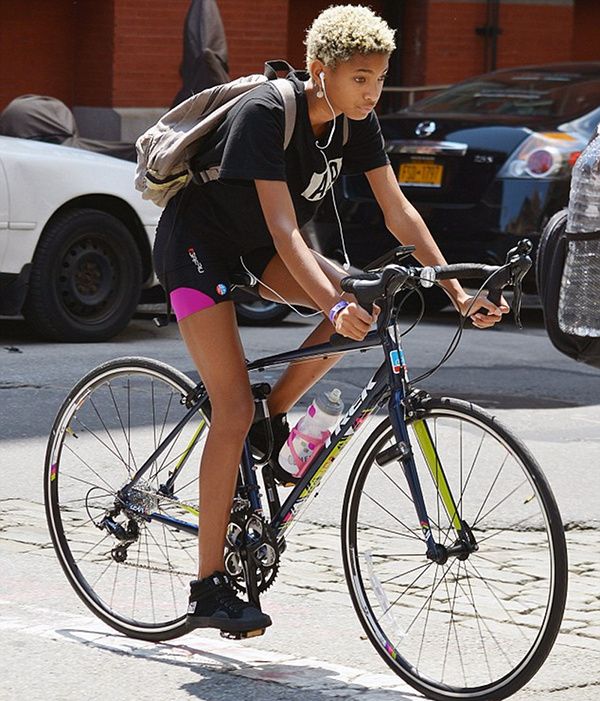 While Willow bikes around NYC, her dad Will Smith is currently vacaying in Ibiza before he heads back to work on a new film. He's set to star as former Pittsburgh Steelers center Mike Webster. The movie, which is reportedly titled Game Brain, will follow the investigation lead by Dr. Bennet Omalu on football-related brain injuries.
Photos: TNYF/WENN/Splash News
UH OH: Tracy Morgan SUES Wal-Mart OVER Deadly Crash + Meek Mill VIOLATES PROBATION, Will SPEND A FEW MONTHS In COUNTY JAIL!
Posted: 12 Jul 2014 05:50 AM PDT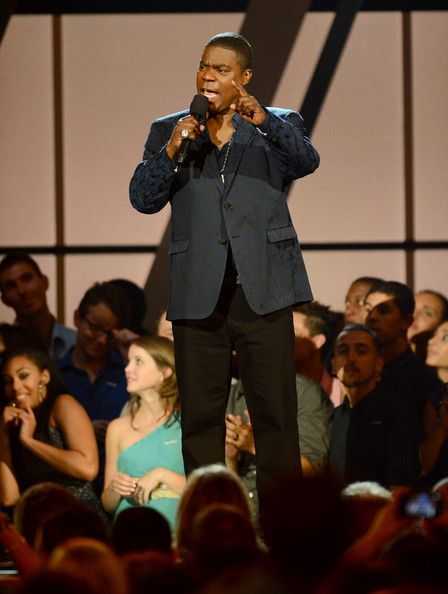 Comedian Tracy Morgan has put the legal department at Wal-Mart on NOTICE....plus Meek Mill is headed to the county jail. More inside....
Guess who won't be getting any rest over the weekend? Lawyers for Wal-Mart. VERY famous comedian Tracy Morgan has filed suit against the retail giant for a crash that left him critically injured and one of his closest friends dead. Let's just say.....this case won't go away quietly. The complaint reads:
"Wal-Mart was careless and negligent in the ownership and operation of its motor vehicle, which caused Mr. Morgan to suffer severe personal injuries. As a direct and proximate result of said collision, Mr. Morgan was caused to sustain severe painful bodily injuries, including but not limited to multiple fractures which required multiple surgeries, extensive medical treatment and will require significant physical rehabilitation."
The plaintiffs (who include Krista Millea, the wife of late comedian James McNair, who died in the accident, Tracy's assistant, Jeffrey Millea, and comedian Ardie Fuqua) are suing for negligence and seeking compensatory and statutory damages, punitive damages, legal fees, as well as pre and post-post judgment interest, among other things at a trial by jury.
The suit was filed on Thursday and Wal-Mart responded saying,
"This has been a terrible tragedy. We wish Mr. Morgan, Mr. Fuqua Jr., and Mr. Millea full recoveries. Our thoughts continue to go out to them, their families and friends, as well as to the families and friends of everyone involved, including Mr. McNair who lost his life. We are deeply sorry that one of our trucks was involved. As we've said, we're cooperating fully in the ongoing investigation. We know it will take some time to resolve all of the remaining issues as a result of the accident, but we're committed to doing the right thing for all involved."
Since the accident....Tracy has been moved to a rehab facility. We will keep you updated on his progress and the lawsuit itself.
In other entertainment news...
A word of caution to anyone on parole...in the words of 2 Chainz "Feds is Watching." Rapper Meek Mill is going to spend a few months in county jail for parole violation. Why? Maybe Meek forgot that prosecutors and parole officers have access to Instagram...and Facebook...and Twitter. Whichever one, the PO PO saw some suspicious activities on social media (that amounted to parole violations). Here's the thing: if you are on parole, NEVER pose in a pic with a gun. It's that simple.
Prosecutors also say Meek repeatedly scheduled concerts without getting them pre-approved and changed his cell number without telling them. Tsk Tsk.
According to Philadelphia officials, Meek was locked up Friday night. Hmmm....we wonder who's gonna go to the bar and get Elle Varner's refills now? #noshade.
Photos via Getty Images
FRESH FACE: Meet Singer/Songwriter SZA & Listen To New Track "Divinity" ft. Jill Scott
Posted: 12 Jul 2014 04:10 AM PDT
We just love a YBF fresh face. And Kendrick Lamar's labelmate SZA is heating up the music scene with her music and beauty. Check out SZA's new track with Jill Scott titled "Divinity" inside…
Meet Top Dawg Entertainment artist SZA (real name Solana Rowe). The 23-year-old songtress was born in St. Louis but raised in New Jersey as a Muslim, who grew up on eclectic music influences ranging from Billie Holiday, Björk and Wu-Tang Clan.
As the only singer on the TDE label, she has been working on creating her own buzz in the industry, dropping free music to expand her fan base. In 2012, the young singer released two free EPs titled See.SZA.Run and S. In April of this year, she released her ten-track digital download Z EP (on iTunes here) which features appearances from labelmates Kendick Lamar & Isaiah Rashad and also Chance the Rapper.
SZA definitely has a different style, which is refreshing to hear since everything else almost sounds the same. Check out her new track "Divinity" with Philly native Jill Scott below:

We feelin' it?
Photos: SZA's FB
FIRST LOOK: Lil Kim REVEALS First Photo Of Daughter Royal Reign
Posted: 11 Jul 2014 03:40 PM PDT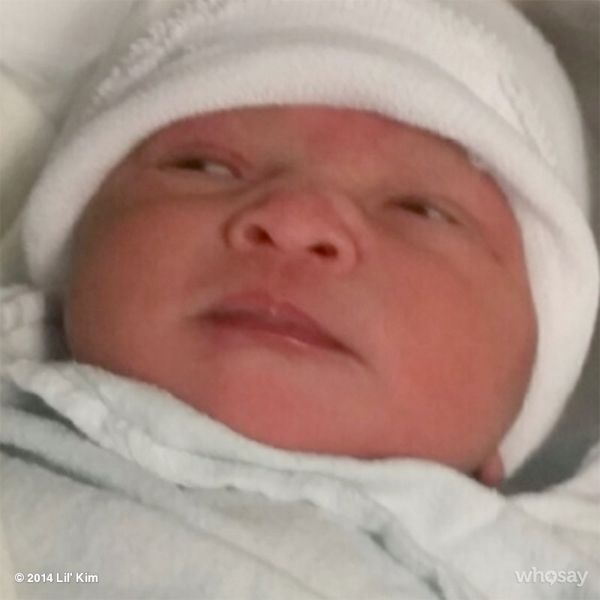 To celebrate her 40th birthday, rapper Lil Kim shared with the world the very first picture of her little bundle of joy on the first day she was born. Check it inside…
The Queen Bee turns 40-years-old today! And to celebrate, she shared the very first look of the "greatest gift" she's ever received…baby Royal Reign.
In a post to her WhoSay account, the Brooklyn raptress gushed over how life changing the birth of her daughter has been and how she wanted to share her greatest gift with her fans on her special day. She said,
Thank U to all my fans #TeamLilKim #KillerBees #Beehive & friends for the Birthday love. I Love U guys so much and we will be together soon again. On my Birthday I want to share something special with U all.... The greatest gift I have ever received. My princess, Royal !!!!! This is her first picture on the day she was born. It was life changing and I want to share a small piece of my pride and joy with U on my special day today!!! Love U :) :) !!!! #HappyBirthdayLilKim #Royal #Reign #RoyalReign #TeamCancer
Royal was living the fab life before she even made her entrance into the world. Celebrity wedding planner and WeTV's "My Fair Wedding" host David Tutera threw a super luxe baby shower fit for royalty, complete with a decked out honey comb cake, royal trumpet fanfare and glowing purple decor.
Then baby Royal made her debut on June 9th in New Jersey with her dad/Kim's boyfriend Mr. Papers there every step of the way. We're sure he's one proud dad right now. Wonder when he's going to put that ring on Kimmy's finger, since he said he's ready to.

Congrats again to Kim & Mr. Papers!
Photos: Kim's WhoSay/Getty
"IS THIS THE END?" Bobby Brown DROPS OUT Of The New Edition Tour, Cites MEDICAL Reasons + Flavor Flav PLEADS Not Guilty To Speeding, Rocks A "Heavy D" T-shirt In Court
Posted: 11 Jul 2014 01:26 PM PDT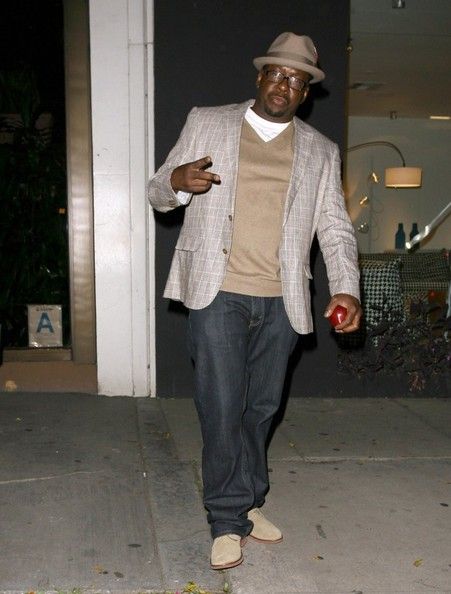 Bobby Brown, a founding member of New Edition, has dropped out of the group's nationwide tour citing medical reasons. Get the deets inside and see Flavor Flav on his way to court.

A few days ago we posted a video of Bobby Brown missing a few steps during a performance of "If It Isn't Love" with his band New Edition. At the end of the clip, we see Bobby walked off stage mid-performance....and he won't be back!
Today, Bobby revealed that he's "walking" off the the tour for medical reasons. Though he's never revealed his ailment, a rep told TMZ that he had "an intrusive medical procedure" and needs to be under the care of his doctor - making performing impossible.
He released a statement to all fans (and ticket holders) saying, "I apologize to the fans of New Edition. I really wanted to be with my brothers, but presently I am unable to give the fans what they typically expect from New Edition."
All jokes aside, we wish Bobby a speedy recovery and hope to see him onstage again soon.

In other news....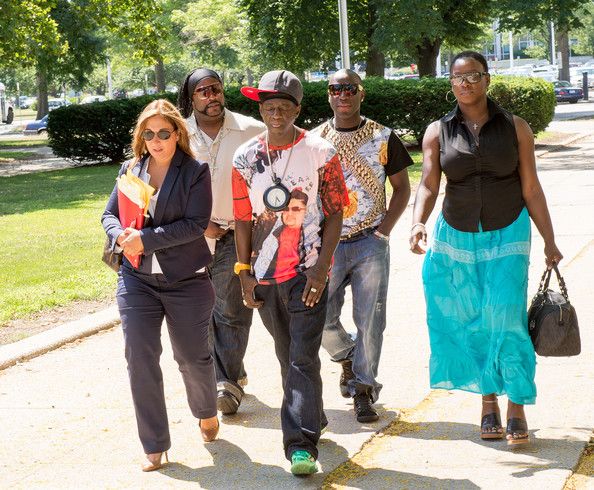 Former reality star and Public Enemy hypeman Flavor Flav appeared at a court hearing in Nassau, NY earlier today to address charges for speeding and driving with a suspended license. You may recall that we told you about the arrest a few weeks ago as Flav was enroute to his mother's funeral when he was pulled over.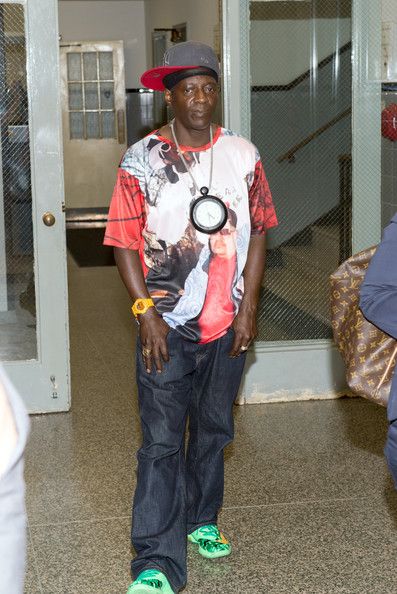 In court, Flav paid homage to deceased rapper Heavy D and wore his signature clock.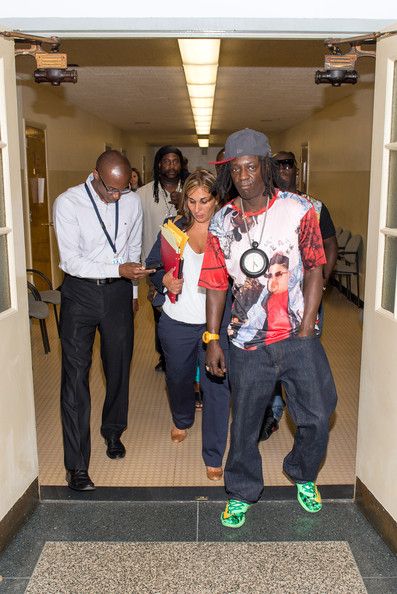 After the hearing, Flav let his hair down (literally) as he exited the court with his lawyer. For the record, he pled "not guilty" and it will be up to a grand jury to decide if he should be indicted.

Photos via Mike Pont/Getty Images North America
YBF KIDS: Monica JET SETS With Daughter Laiyah & Sons Rocko & Romelo + Master P's Daughter Itali Miller Gets MODEL Ready In New Photoshoot
Posted: 11 Jul 2014 10:00 AM PDT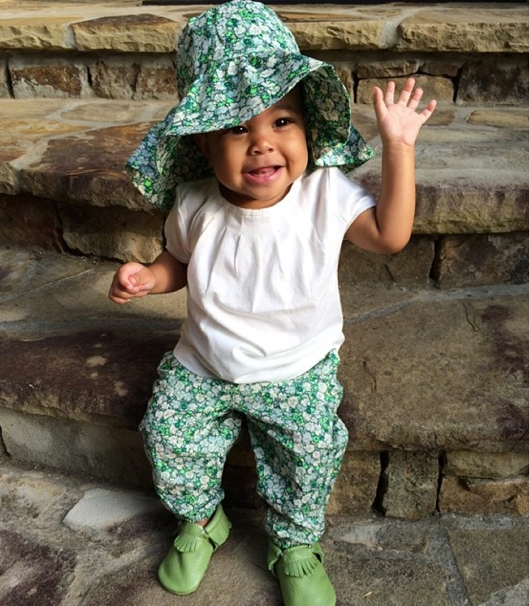 Adorable alert! Monica shared the cutest photos of her kiddies as they hopped on a plane for a trip, while Master P's daughter Itali Miller is working on her modeling skills in a new photoshoot. Peep the YBF kiddie pics inside…
How freakin' adorable is Miss Laiyah?! She is stuntin' in all her green as she flashes her cute baby smile.
Fab mom Monica and her babies Laiyah, Romelo and Rocko have hopped on a plane (to an unknown location) and she shared the cutest photos of her kiddies. Laiyah was all smiles as she waved rocking her green floral printed bucket hat, matching pants and adorable little green shoes.
Monica captioned the pic, "Talk to the hand honey!! Today is a shade free day so says Laiyah LOL Nothing but love and positivity allowed!!! I teach my children to be positive in ALL things (yes even this young ) and I do that by being the example. Wake up with a positive attitude, tell them I love them and that they can do anything!! Our children should be our greatest reflection. #HaveAGreatDay #ClaimIt #BEPOSITIVE"
The boys, on the other hand, looked a bit tired as they wait for the plane to take off. Monice posted the pic above with the caption, "Late Nights & Early Mornings aren't for everyone LOL #ThaTLookWheNYourMommaToldYouGoToBedAMillionTimes BUT YOU DIDNT LOL #MyBoys #RockoAndRomelo #TeamSLEEPY" Ha! Too cute.
Another YBF kid making moves....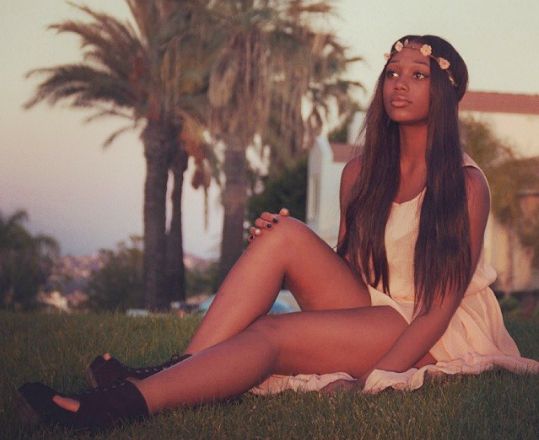 Master P's 14-year-old daughter Itali Miller may be looking to get into the modeling industry after pics of her in a new photoshoot surfaced.
Itali took her talents in front of Oliver Krentzman's lens for a mini photoshoot, posing it up as the sun set.
You'll recall Itali and her father have been at odds since their family drama was made public. Itali is the only child between Sonya Miller and Master P who wanted to stay with her mother, while the other children decided to live with their father. In a YouTube video created by her father he accused her mother of letting her travel out of town with a boy and his parents for a weekend. He also said Sonya allegedly hosted a party for Italy that involved drugs.
Soon after, P assumed Itali had ran away and sent out a plea for help to find her via Twitter. Luckily, she returned home safe and sound. Apparently, the Millers are currently shopping a reality show reportedly titled, "The Miller Dynasty," so we're left to wonder if all of this drama is manufactored for the show. Hmph.
Anyhoo, peep Itali's model pics below: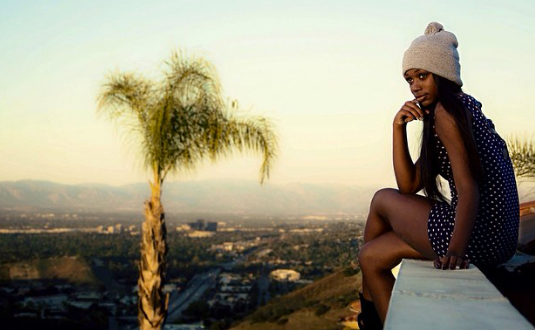 Photos: Monica's IG/Oliver Krentzman/BCK
BREAKING: LeBron James ANNOUNCES He's Returning To The Cleveland Cavaliers And CONFIRMS That Savannah's Having A Girl!
Posted: 11 Jul 2014 09:50 AM PDT
BREAKING NEWS - LeBron James is making a triumphant return to the Cleveland Cavaliers and wife Savannah is pregnant with a little girl! Get the deets and read the personal essay he wrote for SI explaining his decision to return home inside....
Earlier today, LeBron James answered one of the biggest questions being debating among basketball lovers. Who will LeBron play for next year? The answer: The Cleveland Cavaliers.
The statement comes as a shock to many who may recall his DRAMATIC exit from the team, four years ago, which prompted Cavaliers fans and owner Dan Gilbert to turn VICIOUS. The backlash was UGLY. And even LeBron felt that it was racially motivated. In 2010, he told CNN's Soledad O'Brien that he thought race was a factor in the backlash saying, "I think so, at times. It's always, you know, a race factor." So now he's going back? Ummm.....please explain.
In a personal essay published on Sports Illustrated's website, King James explains the who, what, when, where and why about his "DECISION 2014" and reveals that he and wife Savannah will soon welcome a baby girl into their fold. Here's his statement:
Before anyone ever cared where I would play basketball, I was a kid from Northeast Ohio. It's where I walked. It's where I ran. It's where I cried. It's where I bled. It holds a special place in my heart. People there have seen me grow up. I sometimes feel like I'm their son. Their passion can be overwhelming. But it drives me. I want to give them hope when I can. I want to inspire them when I can. My relationship with Northeast Ohio is bigger than basketball. I didn't realize that four years ago. I do now.
Remember when I was sitting up there at the Boys & Girls Club in 2010? I was thinking, This is really tough. I could feel it. I was leaving something I had spent a long time creating. If I had to do it all over again, I'd obviously do things differently, but I'd still have left. Miami, for me, has been almost like college for other kids. These past four years helped raise me into who I am. I became a better player and a better man. I learned from a franchise that had been where I wanted to go. I will always think of Miami as my second home. Without the experiences I had there, I wouldn't be able to do what I'm doing today.
I went to Miami because of D-Wade and CB. We made sacrifices to keep UD. I loved becoming a big bro to Rio. I believed we could do something magical if we came together. And that's exactly what we did! The hardest thing to leave is what I built with those guys. I've talked to some of them and will talk to others. Nothing will ever change what we accomplished. We are brothers for life. I also want to thank Micky Arison and Pat Riley for giving me an amazing four years.

I'm doing this essay because I want an opportunity to explain myself uninterrupted. I don't want anyone thinking: He and Erik Spoelstra didn't get along. … He and Riles didn't get along. … The Heat couldn't put the right team together. That's absolutely not true.

I'm not having a press conference or a party. After this, it's time to get to work.
When I left Cleveland, I was on a mission. I was seeking championships, and we won two. But Miami already knew that feeling. Our city hasn't had that feeling in a long, long, long time. My goal is still to win as many titles as possible, no question. But what's most important for me is bringing one trophy back to Northeast Ohio.

I always believed that I'd return to Cleveland and finish my career there. I just didn't know when. After the season, free agency wasn't even a thought. But I have two boys and my wife, Savannah, is pregnant with a girl. I started thinking about what it would be like to raise my family in my hometown. I looked at other teams, but I wasn't going to leave Miami for anywhere except Cleveland. The more time passed, the more it felt right. This is what makes me happy.
To make the move I needed the support of my wife and my mom, who can be very tough. The letter from Dan Gilbert, the booing of the Cleveland fans, the jerseys being burned -- seeing all that was hard for them. My emotions were more mixed. It was easy to say, "OK, I don't want to deal with these people ever again." But then you think about the other side. What if I were a kid who looked up to an athlete, and that athlete made me want to do better in my own life, and then he left? How would I react? I've met with Dan, face-to-face, man-to-man. We've talked it out. Everybody makes mistakes. I've made mistakes as well. Who am I to hold a grudge?

I'm not promising a championship. I know how hard that is to deliver. We're not ready right now. No way. Of course, I want to win next year, but I'm realistic. It will be a long process, much longer than it was in 2010. My patience will get tested. I know that. I'm going into a situation with a young team and a new coach. I will be the old head. But I get a thrill out of bringing a group together and helping them reach a place they didn't know they could go. I see myself as a mentor now and I'm excited to lead some of these talented young guys. I think I can help Kyrie Irving become one of the best point guards in our league. I think I can help elevate Tristan Thompson and Dion Waiters. And I can't wait to reunite with Anderson Varejao, one of my favorite teammates.
But this is not about the roster or the organization. I feel my calling here goes above basketball. I have a responsibility to lead, in more ways than one, and I take that very seriously. My presence can make a difference in Miami, but I think it can mean more where I'm from. I want kids in Northeast Ohio, like the hundreds of Akron third-graders I sponsor through my foundation, to realize that there's no better place to grow up. Maybe some of them will come home after college and start a family or open a business. That would make me smile. Our community, which has struggled so much, needs all the talent it can get.

In Northeast Ohio, nothing is given. Everything is earned. You work for what you have.

I'm ready to accept the challenge. I'm coming home.
There you have it.
One more thing....CONGRATS to LeBron & Savannah!
Photos via LeBron's IG/Sport Illustrated