---
NIGHT WALKERS: Drake PARTIES At Hooray Henry's In Hollywood + Djimon Hounsou SINGS In The Rain With His Umbrella In London
Posted: 19 Jul 2014 08:25 AM PDT
Fresh off hosting the ESPY Awards, Drake was spotted leaving a nightclub in Hollywood. On the other side of the pond, Djimon Hounsou was spotted singing in the rain with his big green umbrella. Peep their candids inside….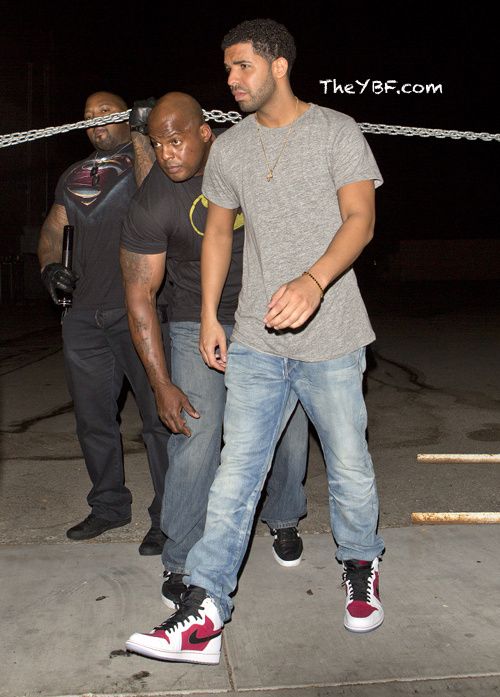 After killing his hosting gig at the 2014 ESPY Awards, Drake was spotted making his way out of Hooray Henry's nightclub in West Hollywood last night.
On Wednesday evening, Drizzy had Twitter abuzz with his humorous punch lines, comical skits (with a cameo from Chris Brown) and his satirical track "Side Pieces," dominating the social media atmosphere with tweets and retweets of the night's funniest moments.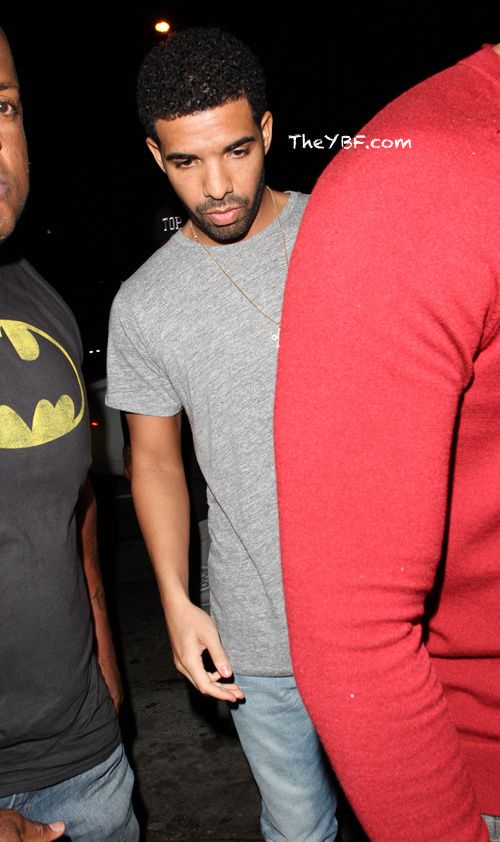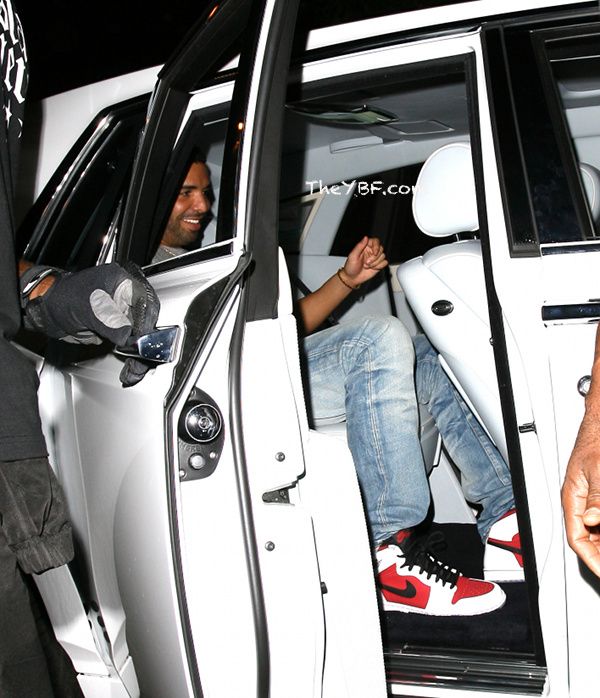 The "Worst Behavior" rapper garnered an impressive 1.1 million tweets during the awards broadcasting.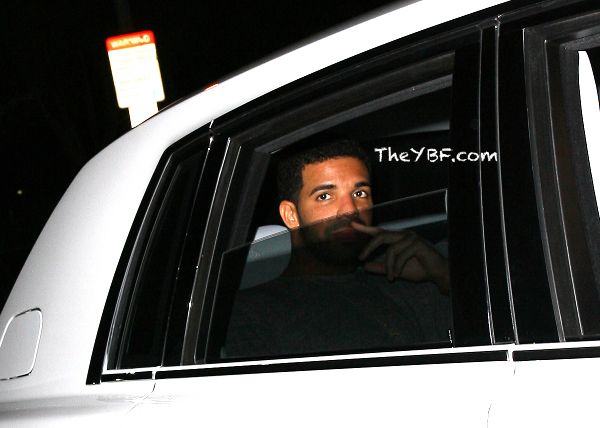 Not only that, the Canadian rapper's parody tracks "Side Pieces" landed at the No.1 spot on Billboard's Trending 140 as well as his equally funny "Honorable Mentions" track, which peaked at No. 4. Nice.
And on the other side of the pond....
"How To Train Your Dragon 2" star Djimon Hounsou was spotted smiling and singing in the rain under his big green umbrella. Djimon was leaving the Chiltern Firehouse in London, where he is currently filming for the new Tarzan film with Samuel L. Jackson and Margot Robbie.
He is also currently filming for a sci-fi thriller titled Air, which is reportedly about two custodians who struggle to hold onto their sanity living in an underground bunker with cryogenically frozen people meant to re-populate society. Not mad.
Photos: Splash News/Pacific Coast News

Benzino & His Girl Althea BLASTS Mona Scott-Young For Allegedly Setting Up "LAHH ATL" Reunion Brawls + "Preachers Of L.A." Season 2 Trailer
Posted: 19 Jul 2014 06:14 AM PDT
Benzino and his fiancée Althea Heart are blasting Mona Scott-Young for setting up the multiple fights that broke out during the taping of "LAHH ATL" reunion. Also, a new trailer for the upcoming season of "Preachers of L.A." was just released. More inside…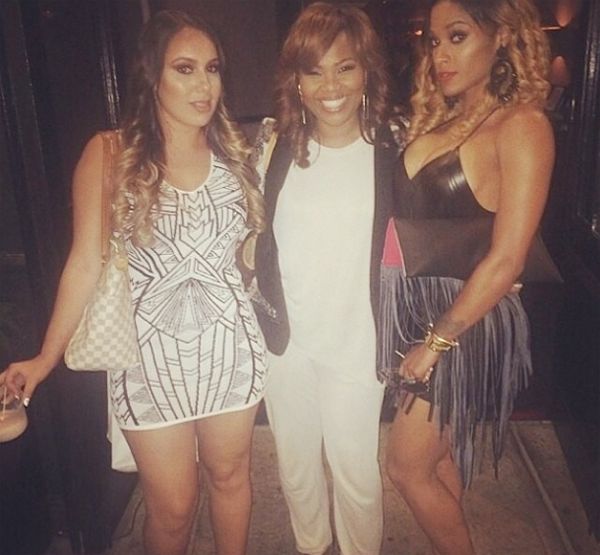 "LAHH ATL" reunion taping went down this week. And it ended with one big bang…actually multiple big bangs. Multiple fights broke out which resulted in the cops and paramedics having to come on the scene to tend to several people who were injured.
Cast mates Benzino and his fiancée Althea Heart believe Mona Scott-Young was behind all of the shenanigans that went down during the reunion show taping. Why? Well…a picture surfaced soon after the brawls, which led them to believe Mona was behind it all.
It was reported, Joseline was the aggressor in all of the fights that broke out. After taping for the reunion ended, Stevie J posted a picture of Joseline with a friend….and who is in the middle? Mona Scott-Young!
According to Benzino, Mona went out to dinner at Mr. Chows with Joseline right after the reunion. Stevie allegedly posted the picture (above) and was supposedly asked by Mona to take it down. But you know, what's it's out there, it's out there.
In the caption, Benzino said,
THIS WAS THE PIC THAT MONA SCOTT YOUNG WAS TAKEN RIGHT AFTER THE REUNION! THIS WAS IRRESPONSIBLE ON MONA'S BEHALF! STEVEIE POSTED IT THEN ONCE MONA CALLED AND TOLD HIM TO TAKE IT DOWN HE DID! AFTER JOSE RUINED THE REUNION, THE ENTIRE CAST SAT ALL AGREED 100 PERCEN THAT JOSELINE NEEDS TO BE STOPPED AND SHE STARTED EVERYTHING!! EVERYONE UP THERE DEFENDED ME AND ALTHEA AND SAID THEY DO NOT WANT TO SHOOT WITH JOSELINE, MONA NEVER CALLED ME, ALTHEA OR EVEN MIMI TO FIND OUT IF WE WERE OK! But she went TO MR CHOWS AND HAD DINNER WITH THE ANIMAL SMILING RIGHT AFTER THE REUNION! SMFH, SOMETHING AINT RIGHT AND THE TRUTH WILL COME OUT.. #lhhatl #thisaintover HOW CAN 40 SECURITY GUARDS ALLOW JOSE TO RUN WILD AND NOT CONTAIN HER! I HAD ABOUT 7 ON ME ALONE!! ALTHEA NEVER ONCE THREATEND ANYBODY, IT SEEMS LIKE THE WHOLE THING WAS A SET UP, BUT TRUST, THEY FUCKED UP
Althea caught the pic first and posted it to her Instagram with the caption, "That reunion was planned all good though. [heart]it too. You guys got the wrong one!! Lol."
The thirst...
And on another reality show...
"Preacher of L.A." is returning for a new season. And we have the new season's official trailer. The new season premieres August 20th at 10PM ET and from the looks of the trailer, it looks to be another drama-filled season.
The six mega-pastors Bishop Noel Jones, Minister Deitrick Haddon, Bishop Clarence McClendon, Pastor Jay Haizlip, Pastor Wayne Chaney and Bishop Ron Gibson are returning to the pulpit and the small screen with cameras following them as they maneuver through their family relationships and of course, their respective ministries.
Along with the new season, "Fix My Choir" star/former Destiny's Child member Michelle Williams will be hosting a two-part special featuring each cast member as they reflect back on the first season. The special will premiere on July 23rd at 10/9c. Check the trailer above.
EXTRAS:
1. Karrueche Tran confirms she and Chris Brown are back on and thought the skit Breezy appeared in with Drake at the ESPY's was hilarious. STORY
Photos: Benzino's IG/Althea's IG

Universal Studios RESPONDS To "Straight Outta Compton" Casting Call Backlash, Says Filmmakers Did NOT Approve + "Bad Girls Club" Star Tanisha Thomas JOINS "Orange Is The New Black"
Posted: 19 Jul 2014 05:19 AM PDT
We told you about the offensive and down right racist casting call the "Straight Outta Compton" movie put out. Now find out what Universal Studios had to say about the casting information. Also, "Bad Girls Club" star Tanisha Thomas just landed a new gig. Deets inside….
As the NWA biopic "Straight Outta Compton" is gearing up to begin filming, there was a casting call released for the film that left many African-American women (and men) offended. Why? Well take a look at how they described what they were looking for below: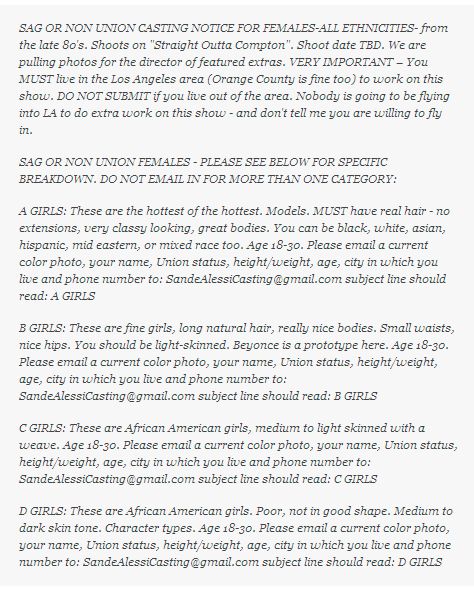 Ummm...yea...THIS is the casting call they're responding to.
Now the studio is speaking out saying NO one approved for this casting call to be released. In short it was explained, "the filmmakers ... did not approve and do not condone the information in this casting notice. We regret and sincerely apologize for being in any way associated with the offensive descriptions it contained."
So why did Sande Alessi Casting post it if it wasn't approved? Hmm…
You'll recall, TMZ spoke to a rep for Sande Alessi Casting who said the ad was an "innocent mistake"…wait what? A mistake. Chile....
Do you feel their apology was sincere?
And coming to NetFlix…..
"Bad Girl" Tanisha Thomas has landed herself a new gig. And it's on one of the hottest television show series, "Orange Is The New Black." The show has been becoming quite popular in it's 2nd season, picking up two Emmy nominations for Outstanding Comedy Series and Laverne Cox grabbed a nod for Outstanding Guest Actress in a Comedy.
Tanisha made her exciting announcement that she's joining the television show for Season 3 on her social media accounts saying, "And guess who just got invited?!!! #blessed #oitnbseason3 look out for your girl"
Right now, Tanisha is currently working on saving her marriage with her husband Clive on WE Tv's "Marriage Boot Camp." If you watch the show, it will be interesting to see if the two will remain together. She's definitely a handful! Guess we'll find out next week during the finale.
Photos: Michael Buckner/Getty Images North America/Universal Studios/Twitter
Kanye West Flosses For The August 2014 GQ Cover
Posted: 18 Jul 2014 07:28 PM PDT
Self-proclaimed fashion god Kanye West is finally the due he believes he deserves...from the men's fashion bible GQ. Check out his August 2014 cover inside...
LOCKED UP: Omarion JAILED After Skipping Out On Traffic Court
Posted: 18 Jul 2014 03:05 PM PDT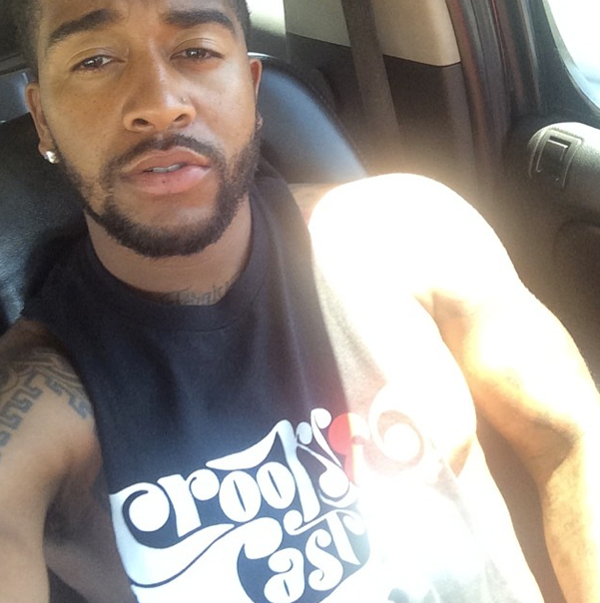 Omarion is following in the footsteps of his MMG labelmate Meek Mill. He was arrested this morning for skipping out on traffic court. Get the deets on Maybach O's arrest inside...
Omarion is currently working on building his street cred…we're kidding. But he did get arrested and was hauled off to jail for not appearing in traffic court this morning.
According to TMZ, the MMG singer ran a stop sign while driving around Fernando Valley earlier today. An officer spotted him making the traffic violation, ran his license and found a warrant was issued for his arrest.
The dad-to-be was wanted for failing to appear in court on another traffic ticket, so they detained him and sent him off to jail.
He's currently being held on a $20,00 bond.
Story developing….

Photos: Omarion's IG
YEP.....IT'S OVER! Apollo Nida BLASTS Phaedra Parks For SKIPPING His SENTENCING, Says Their MARRIAGE WON'T Survive His Jail Term
Posted: 18 Jul 2014 01:28 PM PDT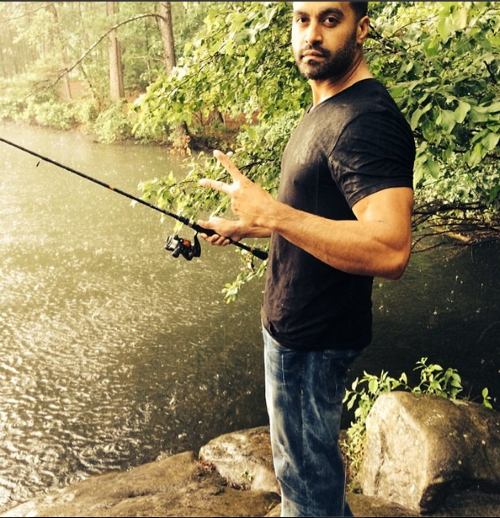 Apollo Nida is finally speaking out since his sentencing and he's confirmed that he and wife Phaedra Parks are not in a good space and he doesn't think their marriage will survive his upcoming jail term. Listen to his interview inside.
In his first interview since he was sentenced to 8-years in jail for identity theft and other crimes, Apollo Nida talked to BE100 Radio's STFU! Crew and host Rodney Perry where he confirmed what we'd already suspected, Phaedra is done with him.
You'll recall, while Apollo was in court, Phaedra was in Cancun with Fantasia and Kandi. Tsk Tsk. In addition to blasting Phaedra for skipping his sentencing, he says he regrets what this will do to his family. Here are the highlights:
On Phaedra and the status of their marriage:
When asked if his marriage will survive his jail term, he said, "I doubt it...My wife didn't even f—king show up for my sentencing. I'm still salty about that. You know, whatever."

On his two sons and how this will impact their lives:
"'It doesn't make you less of a man to cry, to shed tears. I'm really upset about how I was raised and I could possibly take my sons through the same thing. 'But by the grace of God he's still young and we have many years ahead of us. I just cant make those same mistakes."

On making peace with his crimes:
"'This is hell, hell on wheels I've asked God to forgive me, I've forgiven myself I had to move on like a lot of people I know who didn't.'
Though he'll be heading to the slammer soon (he's awaiting word from the US District Court in Georgia), Apollo did get some good news. He only has to pay back $1.9M that he stole. This is good news because he was facing 30 years and could have been asked to pay back $14M. Clearly, he had some good lawyers.
According to TMZ, the money will be split like this:
-- JP Morgan Chase $828,300
-- IRS $127,011
-- Delta Airlines $24,985
-- State of California $15,778
-- State of Connecticut $45,525
-- State of Texas $39,275
Listen to the interview here:
"Beyonce" Fashion Exhibit To DEBUT At Rock and Roll Hall Of Fame + Wendy Williams JOINS "Aaliyah" Biopic As Executive Producer & Alexandra Shipp REPLACES Zendaya As Aaliyah
Posted: 18 Jul 2014 11:19 AM PDT
A new exhibit at the Rock & Roll Hall of Fame will centers around some of Beyonce's iconic outfits. Also, Wendy Williams announced today she will be joining Lifetime for the Aaliyah biopic as an executive producer and Nickelodeon actress Alexandra Shipp is replacing Zendaya Coleman as Aaliyah. Deets inside…
A new exhibit is coming to the Rock and Roll Hall of Fame and it will feature iconic ensembles from Beyonce's closet. This is the first time an exhibit has been featured in the "Legends of Rock" for an artist who has not been inducted into the Hall of Fame. Work Bey.
According to AP, outfits from the "Drunk In Love" singer's Super Bowl performance and select music videos will debut Tuesday in the Ahmet Ertegun Main Exhibit Hall in its Legends of Rock section. Bey's threads will be showcased right next to iconic pieces from Michael Jackson, David Bowie and Bruce Springsteen.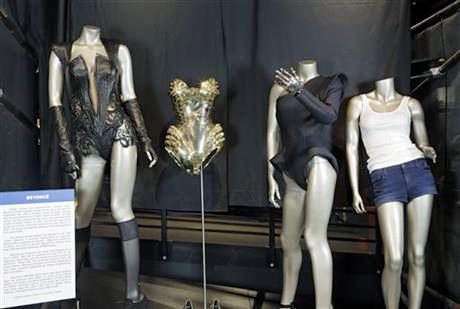 Highlights of the fashion exhibition include:
Rubin Singer leather and lace body suit, skirt, and jacket from the 2013 Super Bowl Performance. The Super Bowl performance was a 12-minute hypnotizing experience seen around the world. The exotic edges and curves of this lace and leather bodysuit spoke for Sasha Fierce and Beyoncé as one.

BEYONCÉ'S stylist Ty Hunter remembers:
"A lot of different designers came to Beyoncé with sketches, but in the end Russian designer Rubin Singer created something magical. Beyoncé wanted funky, edgy, and feminine all in one and that's what Rubin created."

Givenchy black beaded and purple feather mermaid gown from the 2012 Met Gala. Beyoncé's appearance on the red carpet in this lace dipped mermaid gown with a purple ombréd bottom was the talk of the 2012 Met Gala. She was the last to arrive on the red carpet and well worth the wait for fans and photographers alike.

Ty Hunter remembers:
"Beyoncé had just given birth to her child four months prior to this event. She wanted to be sexy, and the illusion of being naked amplified the dress and her figure to perfection."

Gareth Pugh gold dress from the "Run the World (Girls)" Video (2011). This dress makes a bold statement and future projection in gold that matches the sentiment of the song and video for "Run The World (Girls)."

Ty Hunter remembers:
"I saw Gareth Pugh's show and it reminded me of "Sweet Dreams," a futuristic Beyoncé video fromthe I AM...Sasha Fierce album. I asked Pugh to pull this specific outfit, and it ended up working very well with the desert as a backdrop in the video."

One-sleeve black leotard from the "Single Ladies" video (2008). The Single Ladies video is one of the most iconic videos in Beyoncé's visual history. It's no doubt that the costume, replicated by thousands around the world was a result of the videos viral assault.

Ty Hunter remembers:
"Beyoncé wanted a minimal look. Designer Tina Knowles, Beyoncé's mother, designed the look. A Lorraine Schwartz titanium glove accompanies the famous hand swing."

White cotton tank-top w/stones, J Brand Denim shorts and red Stuart Weitzman patent leather sling-back pumps from the "Crazy In Love" video (2003). The Crazy In Love video ensemble is a classic summer look; a white tank top paired with denim shorts. This look is timeless and effortless, and can be worn by anyone. The outfit is carefree and comfortable; two things love should be.

Ty Hunter remembers:
"Beyoncé wanted to let the fashion build. She wanted simplicity."

Thierry Mugler gold metal body suit with gold pumps from the "Sweet Dreams" video (2009). Thierry Mugler's take on powerful futuristic high fashion robot resulted in a gold, haute couture suit of magic.

Ty Hunter remembers:
"Beyoncé wanted a cool robotic moment and it was very complex to put on and off, but it was a great moment in the video and added to the futuristic theme perfectly."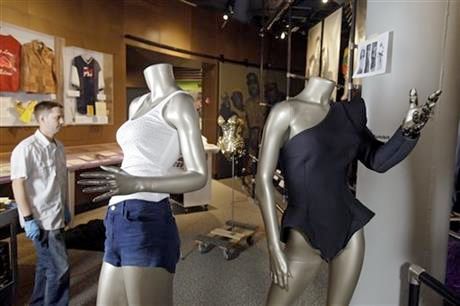 Bey will be eligible for induction into the Rock & Roll Hall of Fame as a member of Destiny's Child in 2022 and as a solo artist in 2027. Tonight, she's taking the stage with her husband Jay Z in her hometown at the Minute Maid Park stadium.
And in other news...
Talk show host Wendy Williams (who turns 50 today) proudly announced her Wendy Williams Productions company is joining LIFETIME for the Aaliyah biopic titled, Aaliyah: Princess of R&B. Wendy will serve as an executive producer and production for the film begins later this month. Wendy is bringing in 50 with a bang!
Also, a new actress has been tapped to replace Zendaya Coleman for the lead role of Aaliyah. Nickelodeon actress Alexandra Shipp (above) will now be playing the late singer in the upcoming biopic. Along with her new role, Alexandra is also playing the lead in a new modernized version of Drumline, executive produced by Nick Cannon.
VH1 is producing the film which is titled, Drumline: A New Beat and it's set to premiere this October.
Will you be watching?
Photos: Getty/AP/Gf/Bauer Griffin
MAGAZINE FAB: Lupita Nyong'o SHINES On The Cover Of Elle France's July 2014 Issue + Marsha Ambrosius Talks 'Friends & Lovers' In Rolling Out Magazine
Posted: 18 Jul 2014 10:13 AM PDT
She does it again! Lupita Nyong'o nabbed yet another magazine cover and she is simply radiant. Check out her effortless fabness on the cover of Elle France magazine's newest issue and Marsha Ambrosius on the cover of Rolling Out magazine inside…
When it comes to slaying magazine covers, Lupita Nyong'o can do no wrong.
After giving us all life with her first ever VOGUE cover, the Oscar-winning actress stuns on yet another magazine cover. Lupita is effortlessly fab in a beautiful yellow Giambattista Valli's Haute Couture dress, serving up some Marliyn Monroe tease on the cover of Elle France magazine's July 2014 issue.
Shot by photographer Alexi Lubomirski, the most beautiful one glowed as she flashed her million dollar smile and showed off a little leg. Not only can she braid hair like a pro, the Lancôme spokeswoman proves she can rock covers with the best of the best. And we're totally here for it.
The Kenyan beauty is currently filming her new role in Star Wars Episode VII and is gearing up to play the voice of Rakcha in The Jungle Book alongside Scarlett Johansson and Idris Elba.

Can't wait.
And on another magazine cover....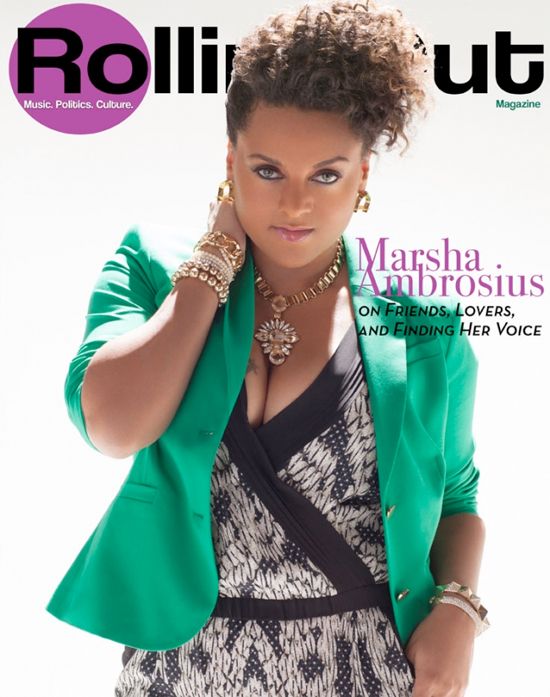 Marsha Ambrosius is gracing the cover of Rolling Out magazine's newest issue. And she's dishing on her new album Friends & Lovers.
In the cover story, the Grammy Award-winning singer/songwriter reveals hurdles she had to jump to release her new album, her outlook on life, finding love, inspiration and more.
Here are some highlights:
Tell us about Friends & Lovers and how the two met.
The two met because of my album previous to this one, which was Late Nights and Early Mornings, which resulted in me meeting some friends … and lovers. So on one album, I decided to talk about all of those relationships; all of those situations that I'd been in and already had with a late night and an early morning.

How do you pull that through? It's obviously expression. If I'm feeling lonely and I'm listening to you, they should know that you're with them too?
Absolutely. That's what music does. It's your soundtrack to life. You still want to feel something. Like, I'll go back to my holy trinity of music which is: Michael Jackson, Stevie Wonder and Prince, in no particular order. I'll know what I want to play because I know how I want to feel. If I throw on "Take Me With You" by Prince, I know where I want to go. If I switch it up to Michael Jackson's "Working Day and Night," I know I might want to dance and escape — just leave everything behind like I've never had to pay anything in my life. That's what music does.

Can lovers and friends be one and the same?
Absolutely. It depends on the friendship. It starts there. It depends on the dynamics. It depends on the particular relationship. You have friends and you just call. Then there are associates, and if you cross that line, there are no emotions to that. However, if you have a long-standing relationship that you genuinely care about, that has all these emotions for you. You care about their family; they care about yours. You've known about their past relationships; they know about yours. When you cross that line and it doesn't work, that's heartache and pain waiting to happen.

Who gives you the inspiration?
Life. Stevie Wonder … and I say that because to have no sight and write as visually as he does, it just makes me know that it's not judged. It's completely emotionally based. I've never seen music the way I have seen his. Whether it's "Ribbon in the Sky" or "Where Were you When I Needed You?" he paints the picture. I don't know anyone in the world that can make me feel visually the way Stevie Wonder does.


I'm so glad to have that conversation [with him]. Actually our first time meeting was me getting off stage with Gerald Levert, God rest his soul, and who I had done a duet with to honor Smokey Robinson. I get off stage and I hear Stevie Wonder calling my name saying "where's that 'Butterflies' girl?" He yells "Marsha, come over here." I was thankful for that experience. I thank the Lord every day. I called my parents the other day to share a magical moment.
Check out Marsha's full interview here.
In celebration of her newly released album, Marsha performed her lead single "Run" on Conan this week.
Check it:
And she's also joining John Legend on his "All Of Me Tour," starting July 22nd in Cedar Park, TX. Nice!
Photos: Elle France/Rolling Out

EXCLUSIVE: "Get On Up" Star Jill Scott SPEAKS About Her DOMESTIC VIOLENCE Scenes And You Won't Believe Which FAMOUS Ex-BASKETBALL WIFE Gave Her The BEST Advice EVER!
Posted: 18 Jul 2014 09:37 AM PDT
TheYBF.com caught up with Get On Up star Jill Scott who opened up about her demanding film role, preparing for her domestic violence scenes and also revealed the best piece of advice she got from Michael Jordan's ex Juanita, (who got one of the biggest divorce settlements of all time). Read our exclusive inside...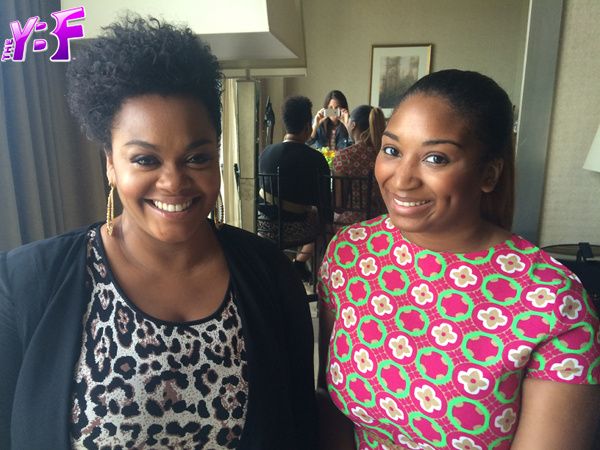 TheYBF.com headed over to the luxurious Mandarin Oriental NYC recently, where correspondent Bree Green sat down with Jill Scott to discuss her role in the upcoming James Brown biopic Get On Up. Jill plays Deidre "Dee-Dee" Jenkins, James Brown's second wife, who is subjected to bouts of domestic violence. During our chat, Jill revealed how she "went all in" and actually bruised herself during her scenes.
"...(W)e did a kind of smack to the face and then I let it happen. I hit the table pretty hard, and I hit the wall pretty hard...I hurt myself pretty good but I was really proud of it because it made people go [gasps]...and that's what you want."
Wow......should we be getting ready for the 2015 Oscars Jilly? By the way, Jill, looked amazing in a Pink Tartan dress, Calvin Klein Jacket, Prada Shoes and BeBe belt. And she was surprisingly candid about her own mother's bout with domestic violence, the importance of paying homage to our musical greats and how James Brown influenced her. Then, Jill shocked us when she revealed that Michael Jordan's ex-wife Juanita (who received one of the biggest divorce settlements of all time) gave her the BEST advice she's ever received. Check it.....
TheYBF: For your role, there was some domestic abuse and you've touched on the fact your mom was also in a domestic situation. What did you do to prepare for that scene?

Jill: Well I knew it was going to happen and I prepared with a stunt man just so I could know how to fall and then I decided that knowing wasn't going to help me that I needed to allow myself to really be afraid and to fall... So we did a kind of smack to the face and then I let it happen. I hit the table pretty hard, and I hit the wall pretty hard...I hurt myself pretty good but I was really proud of it because it made people go [gasps]...and that's what you want. You don't want it to look prepared because you know Dee Dee wasn't prepared for that smack. So how could I be prepared for it. But far as the domestic part of it, when I was told by her grandson that she was still in love with James...now...that's all I really needed. That's how I felt, that that was what I needed to know. The most important thing was that she was absolutely, unequivocally devoted to the man. So this was a bump in the road. This was a bad day, but it wasn't the end of the world. Dee Dee loves James. Period. He's a powerful man and he's someone to love...for many reasons, the talent alone. Then he was actually very loving...at times, and very generous which I'm sure she enjoyed based on the fur and the clothes and the jewels and things of that nature. She enjoyed that, but about 11 years into their marriage she had had enough.

TheYBF: Another powerful moment was when Little Richard gave him [James] the advice on how exactly to kick start his career. If you had to pick one moment with someone that you felt had a great impact on your career, what moment would it be?

Jill: It's been a lot. Trying to think who gave me the best advice. Because I went around, and I asked everybody. Everybody that I met, how do you deal with fame, how do you deal with money, how do you deal with friendship lost, how do you deal with jealousy, how do you deal with feeling alone in a room full of people...trying to maintain your humility. You know all of those things, and I think the best advice I got [laughs] this might sound really trivial but from Michael Jordan's ex wife, she told me to get a stylist. I was just like I'm asking you philosophical, emotional, spiritual questions and you're telling me to get a stylist?! And I understood about 5 years later what she meant. You're in a business and you're a grown up, the least you could do. If you feel bad you don't have to look it, and I was just like..oh [laughs]


TheYBF: It was an "aha moment"

Jill: Yeah it was like you know even if I'm tired, even if I'm feeling kind of overworked try my best look like I care as much as I do and I'm like alright. Sometimes I win, sometimes I lose.


TheYBF: You've been looking great. So it's been pretty much an outpour of biopics lately with the James Brown pic, Aaliyah and Whitney[Houston] in the making. What do you think about them putting out more black musical biopics?

Jill: Well I think it's time, I think it's time because this is the thing…when Marvin Gaye was out fresh and new, and The Pips, and The O'Jays, Patti Labelle…or LaBelle at the time. There were a lot of other artists out too. With #1 hits too…but the cream is remembered, the cream is revered and respected and looked to to remind you what music is. So we're in a time where this may not necessarily be the cream at this moment. There's always going to be some thank God, some miraculous talent that reminds us to be human and to allow ourselves to feel and have a good time. I'm really happy about that. But I think that the biopic is important for these up and coming artists as well as myself to remind us that it takes some "los"t to win. It takes some pain to flourish, and the cost can be very high. To be naked figuratively in front of an audience….there's a cost to pay. The biopic is really cautionary in a lot of ways and it's also, it makes us aware of where this stuff comes from. Currently there are a lot of artist that sings songs by other people, that they don't really have a connection too but they sing the song well. Some of the best songs in the world have been written by songwriters and sung by amazing artist. But then you also have artist like James Brown who put his pen to paper, and all that angst and frustration and passion and [Grunts] witcha bad self. You know just this power comes from him. So I'm really happy to see this, I'm really happy about the Nina Simone story, I'm really excited about Aaliyah. I want to see this stuff, I want to see it. Hopefully it'll inspire other people to appreciate artists more, to look at their lives more, and to respect this thing. It's not all flowers and daisies, and diamonds. It's more too it.


TheYBF: If they were to produce a bio pic from your life and you had to pick from today's pool of actresses……

Jill: I don't know they're somewhere in North Philly


TheYBF: So a brand new actress?

Jill: Yes, coming out of theatre I hope, you know so they could have some chops you know. I would hope for that. It would definitely be a theatre actress.


TheYBF: So you're also going to be in a new movie with Eve, and Regina Hall, tell me about that.

Jill: No we actually start filming in a few days. I read the script and really liked it. I thought it was sweet hearted and funny. I know a couple of those girls you know what I mean?

TheYBF: Who's your character?

Jill: I'm not sure yet…I know one of the three! That's all I know at this point but I liked all three of them so I'm geeked to play any one of the three. I just have to find all my nuances before I go. I got a day or two. We'll see how this works out, but the chemistry is good between Eve and I we're both Philly girls. Then Regina every time I see her I just want to squeeze her cheeks, on her face [laughs], so you know it should be a lot of fun. I can relate to that whole wanted to get married tonight. I can relate, and as much as we're powerful women doing things on our own…everyone wants someone to love wholeheartedly. Front if you want to.

TheYBF: I know you talked a bit downstairs about your favorite James Brown song being, "I'm Black and I'm Proud" but is there a moment where James Brown influenced you in your career, where you maybe -when you did something it reminded you of him?

Jill: You know what I don't read music[either] and I'm always telling my band what to do based on…I'll give them pictures and I will tell an entire story for them to make this sound the way I need it to. I'll give them colors, I'll bring in food for them to taste. This is the way I work. I've always felt like pretty crazy for being that way but finding out that James was just like me is such a confirmation that I'm alright. It is what it is, I haven't changed anything and my band is always superior. My band is amazing, over the last 14 years all the people that have come and gone, my bands have been amazing. I'm hoping that that'll be a part of my legacy. That I really kept a tight band.


TheYBF: Do you have any new music coming?

Jill: Oh yes…


TheYBF: Do you want to tell us about it?

Jill: Oh no [laughs] not yet, it's not time. But I've worked with some producers that I really, really love…and they're showing their asses. You know it's left and it's right. I've been saying left of right all day but you know, that's me thinking about James. I'm really excited for the new music. I have so much to say!



"Get On Up", which will be released nationwide on August 1st, stars Chadwick Boseman as James Brown, Jiill Scott as James' second wife, Deidre "Dee-Dee" Jenkins, YBF fave Tika Sumpter as Yvonne Fair, Viola Davis as Susie Brown, Octavia Spencer as Aunt Honey and
Ralph Tresvant as Sam Cooke. With so much R&B talent, we expect this to be one of the must-see movies of the year. GET ON UP and get to the theater!
Watch the trailer here:
Photos Bree A. Green/TheYBF.com