---
WHAT BEEF?: Chris Brown & DRAKE Spotted Working TOGETHER In The Studio! + Chris & Karrueche...Back ON?
Posted: 11 Jul 2014 08:51 AM PDT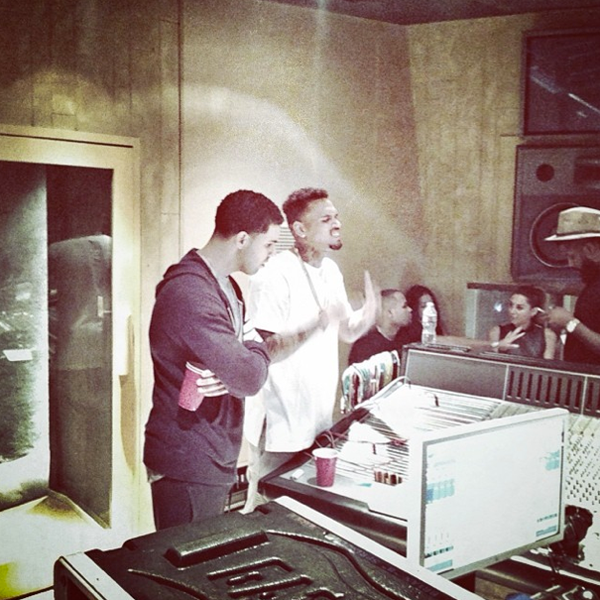 We definitely didn't see this one coming. Chris Brown and Drake hit the studio in the wee hours this morning. And guess who was also in the studio? Karrueche. Deets inside….
*Gasp* This certainly caught us by surprise this morning. Looks like Chris Brown and Drake have put their beef behind them to cook up some brand new music. The two linked up in the studio early this morning, possibly working on a new track….TOGETHER.
You know by now, Breezy and Drizzy have had an on-going beef allegedly over their former fling, Rihanna. A little backstory…Back in June 2012, a huge bottle-throwing brawl broke out between Breezy's camp and Drizzy's camp at W.I.P. nightclub in downtown Manhattan. NBA baller Tony Parker suffered an eye injury and Karrueche was allegedly treated for a concussion.
Both Chris and Drake were sued by the nightclub for millions of dollars but luckily for them, neither had to cough up any dough.
Since the fight, the two have steered clear of one another but it was reported months later the two had buried the hatchet. A"peace treaty" was worked out by Def Jam music exec Abou Thiam, one of Chris' managers (and Akon's brother). He supposedly worked with the two to try to get them to put their differences aside.
And It seems their talk may have worked. Good for them.
Breezy took to his Instagram and posted pics from inside the studio with the caption, "Studio like the club!" Looks like it was one big party in the studio early this morning.
And look who else was in the studio with Breezy: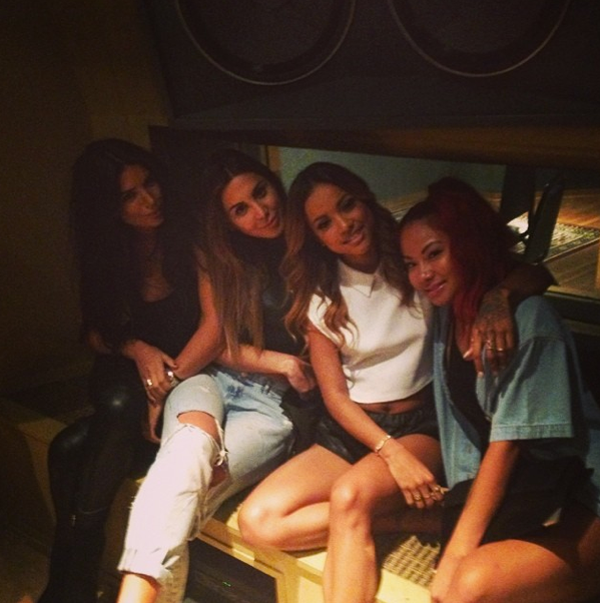 His on-again/off-again "loyal" chick Karrueche. You'll recall reports that the two had allegedly called it quits after deleting all of the pictures of one another on their Instagram accounts. Seems they have kissed and made up. Before hitting the studio, the couple was spotted leaving the Hollywood Hennessy party.
Guess their back "on"....for now.
Photos: Chris' IG/@kosine5
COME BACK KING: Cleveland Cavaliers Co-Owner Usher LAUNCHES Twitter Campaign To Bring LeBron BACK To Cleveland + French Montana POSTS Booty Pic Of Khloe Kardashian
Posted: 11 Jul 2014 08:09 AM PDT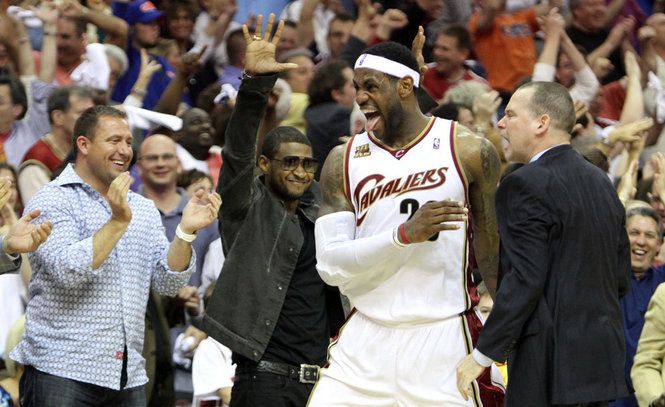 Usher Raymond has launched a campaign to lure LeBron James back to Cleveland. Find out what he's up to inside and see how French Montana "captioned" Khloe Kardashian's booty shot.
Usher Raymond, who co-owns the Cleveland Cavaliers, wants to bring LeBron James back to the team. Earlier this week, Usher offered to make a personal call to LeBron, and now, he's created a series of "#BiggerThan #Purpose #Legacy" tweets that he hopes will inspire LeBron to flee Miami.

So far.....Usher's tweets have inspired hundreds of fans to retweet the #hashtags and come up with their own messages for LeBron. Will it sway his decision? Time will tell....
Watch Usher offer to recruit LeBron...
In other news....
French Montana posted a booty shot of Khloe Kardashian on Instagram with the caption ""#asssscap."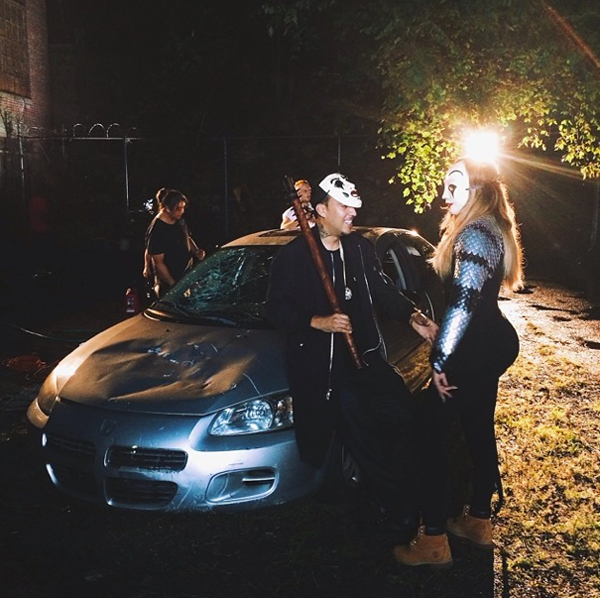 The booty shot popped up shortly after Khloe and French wrapped filming his gun-toting video "Don't Panic. " We suspect that the video for the DJ Mustard-produced track will feature gratuitous shots of Khloe's rear as that seems to be French's favorite part of Khloe's body.
EXTRAS:
1.
FOX News personality Stacey Dash raised a few eyebrows when she launched into an attack on Kanye West this week. Stacey took issue with Kanye ranting at the London Wireless festival about having his picture taken. During his rant, he compared the paparazzi experience to rape....upsetting Stacey. Stacey blasted him saying, he should to prison so he could experience rape for himself.
"For Kanye to say 'rape,' maybe he needs to spend some time on Rikers Island. "Go to Rikers for a little while and then he'll know what rape is." Clearly siding with the photographers, Stacey added, "I don't get celebrities not understanding that the paparazzi are doing their job."
Hmmm.....Does she have a point? Was Kanye guilty of poor word choice?

2. "Chapplle Show "star Donnell Rawlings arrested for DWI and allegedly driving the wrong way down a one way street. Story.
Photos via Getty/French Montana's IG
LATE NIGHT SALES: Nicki Minaj Makes A MIDNIGHT Appearance On HSN To PROMOTE "Minajesty Exotic Edition" Fragrance + Azealia Banks RELEASED From Record Deal
Posted: 11 Jul 2014 05:42 AM PDT
"Pill & Potions" rapper Nicki Minaj appeared on HSN last night to promote her latest fragrance, "Minajesty Exotic Edition." See the pics she shared with fans inside and get the deets on Azealia Banks' departure from Universal Records....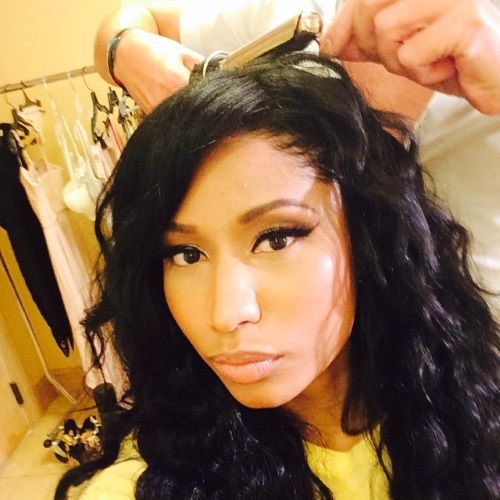 At 12:01amET, Nicki Minaj appeared on HSN to launch her latest fragrance, MINAJESTY Nicki Minaj Exotic Edition. The midnight showing was her first-ever live appearance on the network. Before her debut, she posted a few pics on Instagram as she prepped her hair and makeup. "#NickiAtHSNTonight getting my hair done. Who's gonna b watchin????"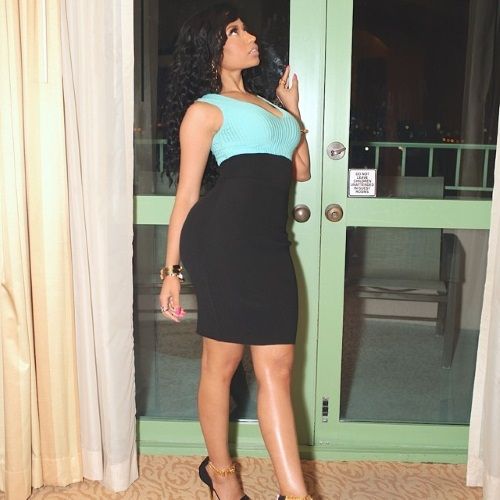 She captioned this one, "Lookin for a fuq 2 giv"
For her big debut, Nicki selected a dress by Fuasto Puglisi that showed off her curves, shoes by Versace and jewelry from both Tom Ford & Michael Kors.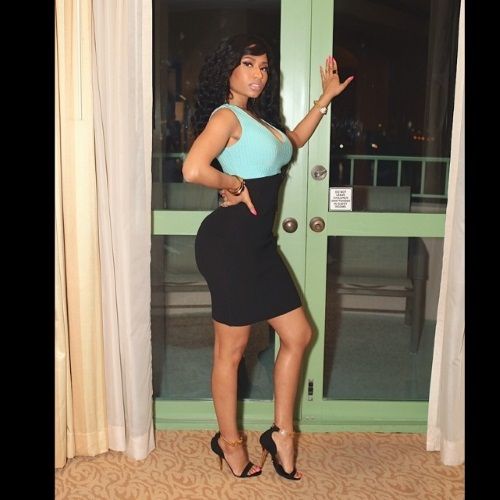 In a press release touting the appearance, she explained that the scent was inspired by adventure.
"I am so excited to debut my new fragrance on HSN for the first time. I adore my fans and want to share this experience in a unique way - live, on TV. I hope this fragrance inspires my Barbz to feel positive and fearless. Every girl loves the thrill of adventure. Exotic to me, represents that crazy feeling you get from taking a risk and getting out of your comfort zone."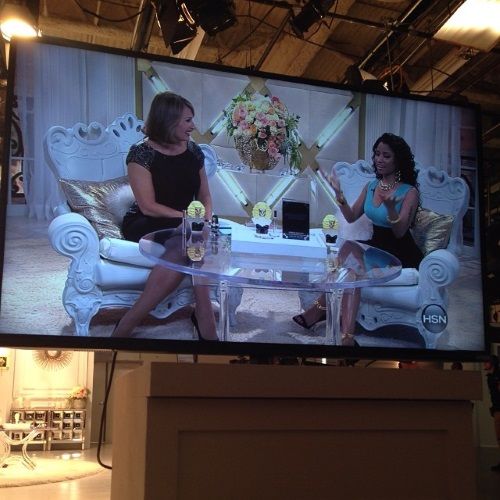 During her brief apearance, Nicki sold over 5,000 bottles of the exclusive scent.
Watch Nicki's sales pitch here:
In other music news.....
"212" rapper Azealia Banks has been released from her record deal with Universal Records. You'll recall that she signed with Universal in 2012 based on strong underground buzz, but she's failed to produce a hit for the label.
On Thursday, she tweeted her excitement regarding the departure and hinted at a fresh start with an "indie" label.
On Instagram, she posted a snarky homage to The Color Purple which may be aimed at her former label or the music industy that's seemingly shunned her.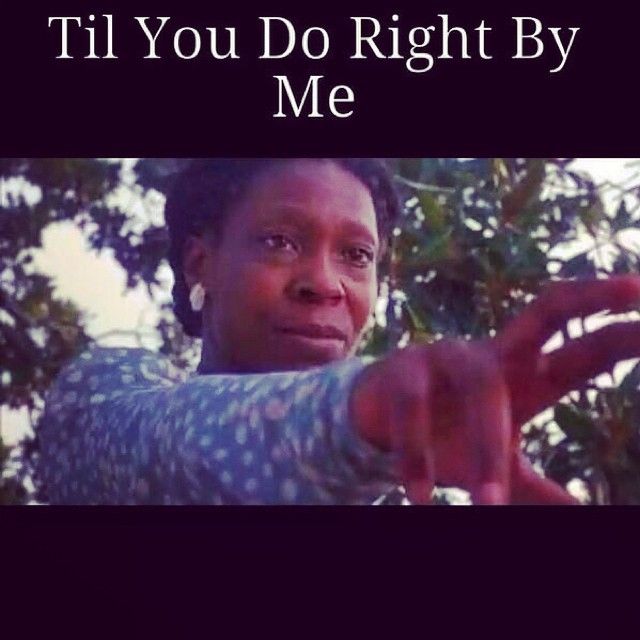 Although she's currently unattached to a label, Azealia told fans that her next single will be a song called "Wallace." We'll let you know if and when it drops.
Photos via Nicki's Instagram/Azealia's Insagram
Beyonce x Jay Z's 'On The Run' Tour FILMED For HBO Special + Dr. Dre SUES Chinese Vendors For FAKE "Beats By Dre" Headphones + Meagan Good's Husband DeVon Franklin Inks New Deal With SONY
Posted: 10 Jul 2014 04:09 PM PDT
In case you don't get a chance to see Beyonce & Jay Z "On The Run," you're still in luck! HBO is set to film a concert special. Meanwhile, Dr. Dre is suing Chinese counterfeiters for selling fake "Beats by Dre" headphones and Meagan Good's husband DeVon Franklin has landed a new production deal with Sony. Deets inside…
In case you weren't able to see Beyonce and Jay Z live as they trek across the nation and overseas for their "On The Run" tour, HBO has you covered.
The cable network has teamed up with The Carters (yet again) to film the couple's Paris stops at the Stade de France (on Sept. 12th & 13th) for a HBO special. The show will feature Bey & Jay as they perform over 40 hits from their catalogues.
This isn't the first time The Carters have linked up with HBO. You'll recall the "Partition" singer's Beyonce: X10 (four 10-minute segments from the Mrs. Carter World Tour) airing before new episodes of "True Blood." Also in 2013, Jay premiered Picasso Baby: A Performance Art Film and Bey's Life Is But a Dream documentary debuted on HBO.
In other entertainment news...
Dr. Dre (who recently made a nice lump sum selling his BEATS to Apple) is laying down the law on Chinese vendors who are selling counterfeit "Beats by Dre" headphones, using his red "b" logo.
According to TMZ, Dre's company claims various websites based in China are making some serious cash from the fake headphones, raking in an alleged $135 billion (yes, billion) in revenue.
Beats is suing to stop the sale of the fake headphones, to get ownership of the domain names of all the websites selling the fake headphones AND wants all of the profits the counterfeiters have made thus far. Not mad.
And in other news....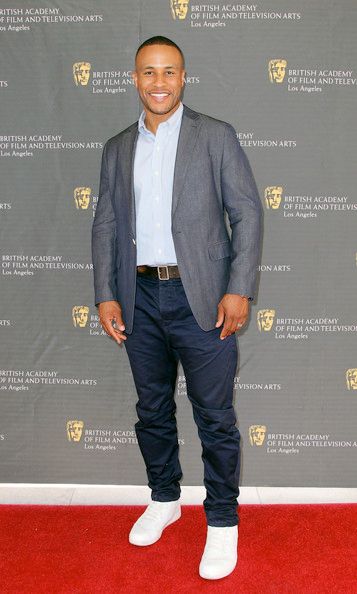 Meagan Good's husband/preacher DeVon Franklin just inked a new production deal with SONY.
The Hollywood film executive's production company Franklin Entertainment has teamed up with SONY to develop mainstream, inspirational and diverse content for the company's portfolio of labels.
In the press release about the deal:
DeVon Franklin will transition from his position as senior vice president of Production for Columbia Pictures to a long- term, first-look producing deal with the studio. In his new role, Franklin will continue to develop and produce mainstream commercial material, including projects that are geared towards the urban and faith-based markets. Franklin will work across feature film and television units at Sony Pictures Entertainment.
Congrats DeVon!

Photos: Splash/INF/Getty
TV FAB: Brandy REFLECTS ON TV's CLASSIC "Moesha" With "Just KeKe" + J. Cole, Daniel Gibson, Sheree Whitfield & More LAUGH IT UP At Def Comedy Jam
Posted: 10 Jul 2014 04:00 PM PDT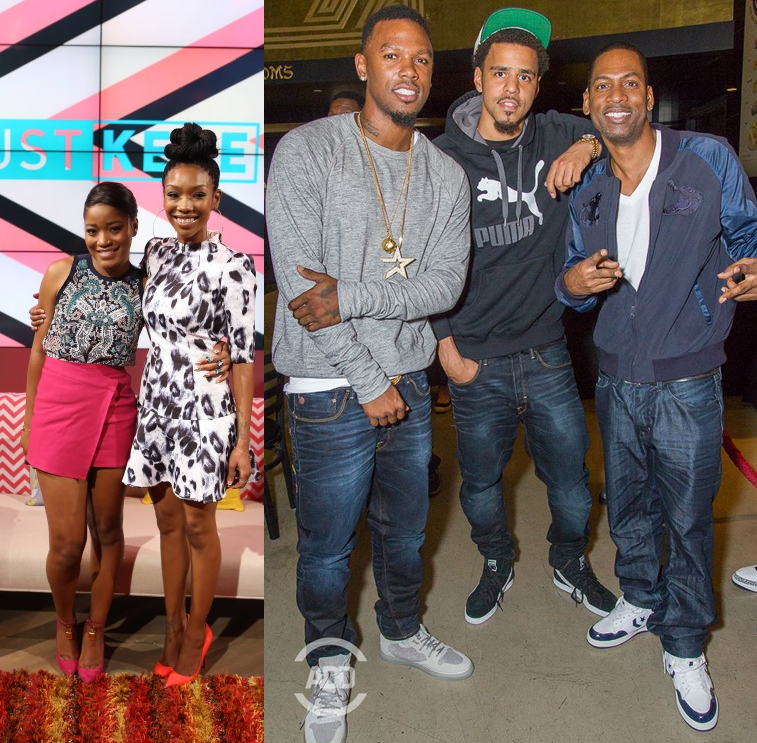 Brandy stopped by "Just KeKe" to talk about her classic series "Moesha", while former "RHOA" star Sheree Whitfield laughed it up with J. Cole, Daniel Gibson and others at Russell Simmons Def Comedy Jam last night. More inside...
Brandy, who stars on BET's "The Game" makes an appearance on "Just Keke" with Keke Palmer today.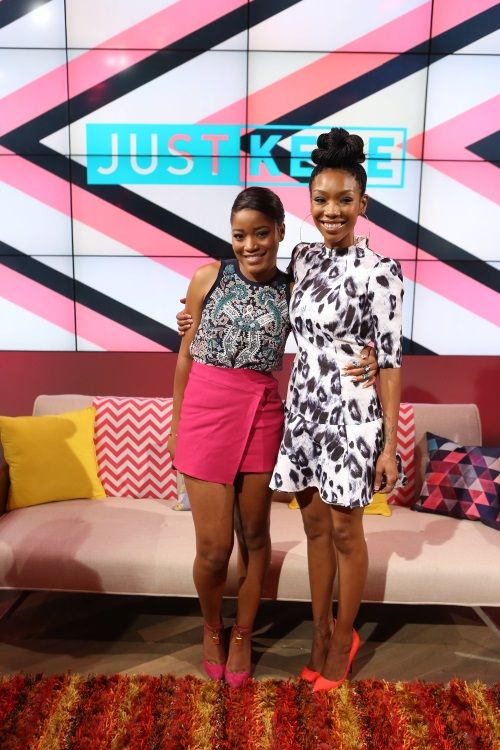 For #tbt, Brandy reflects on the classic series "Moesha" and discusses the controversial non-ending of the series. Fans of the show may remember that it vanished from the tv lineup before ever solving the mystery of Miles' disappearance.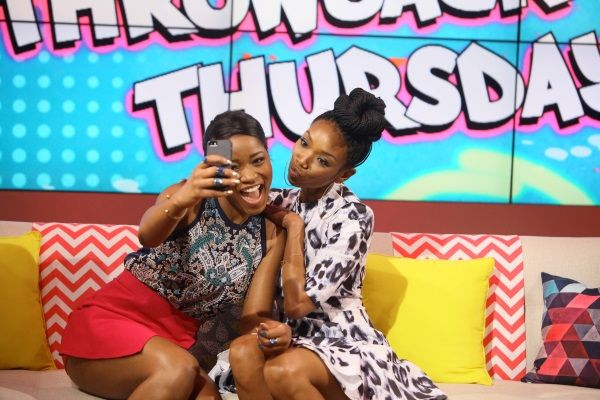 Also, she talks about working with her idol Whitney Houston.

Brandy on The Ending of "Moesha" and More

Keke: So today my producers have invited someone they say I love, I have no idea who it is, Ireally really don't. I tried to get them to tell me but they wouldn't tell me, so surprise guest come on out!

Brandy enters.

Keke: …Ya'll it's Throwback Thursday and ya'll know "Moesha" was my show!

Brandy: I mean I'm a little jealous, I didn't get as big of a surprise as Michael Ealy but I'm happy to be here.

Keke: You guys, you know when I first met Brandy I was literally like, (singing) "Woke up this morning, a new day is calling, it's me, it's me." … I love you so much, how's everything been with you?

Brandy: It's great, I'm just so happy to be here. I'm so proud of you girl, this is just...Cause you know I met her [Keke] when she was so young. Remember when I gave you that journal, your first journal?

Keke: You know I still have that. I wrote in that whole journal. That's my first journal I ever completed. I remember what you wrote in the top of it. She said, "I am who I am because you are who you are." I never forgot that…Now, you know I always have a bone to pick with her cause why did ya'll just leave ["Moesha"] ending with Miles disappeared? What happened Brandy?

Brandy: I don't know what happened. I don't know what happened and I feel so bad because, you know, so many of the fans, they're mad about that and that's not the way you end a show that's been on for six years. So, I'm sorry ya'll.

Keke: When I tell you that I was heart broken that was the last episode Miles just was missing and what happened? We didn't find out nothing. And I'm sitting here like, wow, that's the end of the show.

Brandy: And you know that's something when we don't know, the cast members didn't know neither.

Keke: You didn't know? That's too much. But then you came out with "Full Moon" and we was cool again…So now you're starring in "The Game," how much fun is that? You guys look like you have a lot of fun.

Brandy: We do. We stay laughing. It doesn't feel like work and, you know, "The Game" is a great cast, I love being a part of it. They really embrace me as the newcomer. I love it, I love it.

Keke: What I love about it is on "Moesha" we always saw you playing the straight man, you were always kind of the one that anchored it and everything like that. But on this show, we get to see you be really funny…I love seeing that side of you it's a lot of fun.

Brandy: Me too. I love the comedy. I want to keep exploring in that area.

Keke: Yes, we gotta do something together.

Brandy: We should.

Keke: We do. We really really do.

Brandy: Ya'll heard it here….

Watch the Clip here:
"JUST KEKE" airs weekdays at 5pm Et/Pt on BET.
Also in LA.......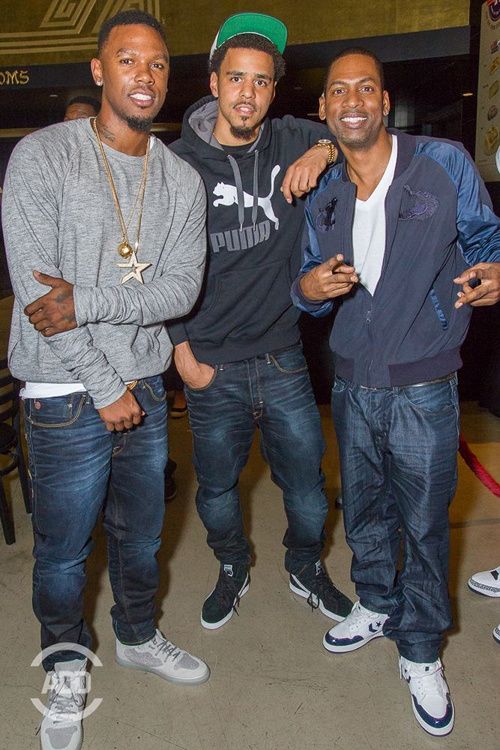 Last night, funnyman Tony Rock hosted another installment of All Def Comedy Live presented by Russell Simmons.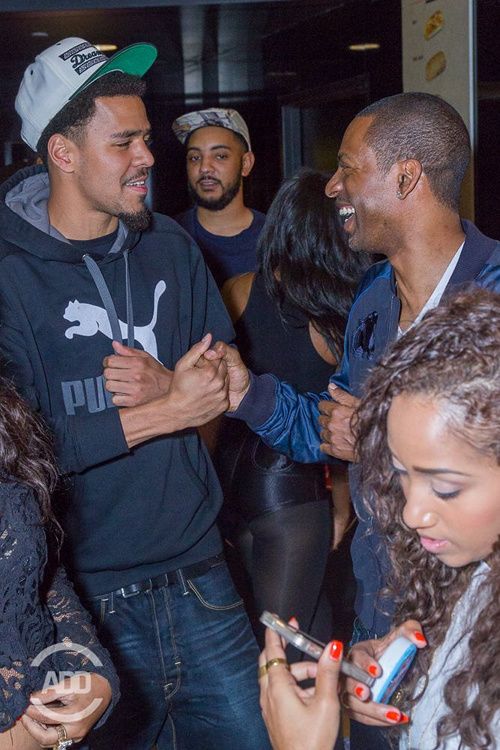 Powered by All Def Digital and The Brand Group in Hollywood, CA, Tony entertained Roc Nation artist J. Cole and NBA star/Keyshia Cole ex Daniel Gibson at the theatre. During the show, the fellas posed for pics together backstage.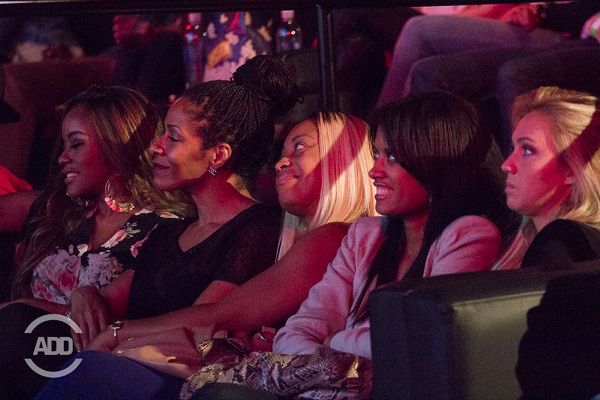 Guess who! We don't often see ex-RHOA star Sheree Whitfield out and about...but there she was! We love her braids.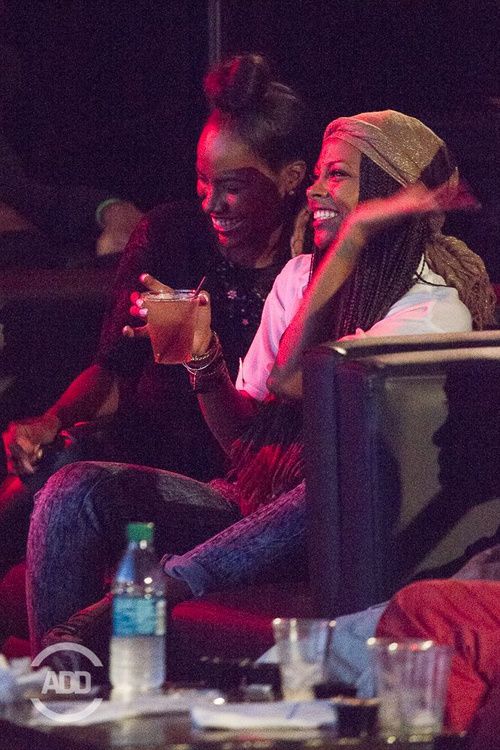 ANTM winner Eva Marcille and her box braids were also in the building.
REVOLT tv personality Lil Twist was there with friends too.
Photos via BET Networks/TheBrand Group
SUMMER FUN: Angela Simmons Does The NAE NAE Before Diving Into Ocean + Will Smith Snap Selfies With Fans While On VACATION In Ibiza
Posted: 10 Jul 2014 02:53 PM PDT
Angela Simmons is brushing up on her "Nae Nae" skills in Barbados, while Will Smith stopped to snap selfies with fans on the beach in Ibiza. Pics and videos inside…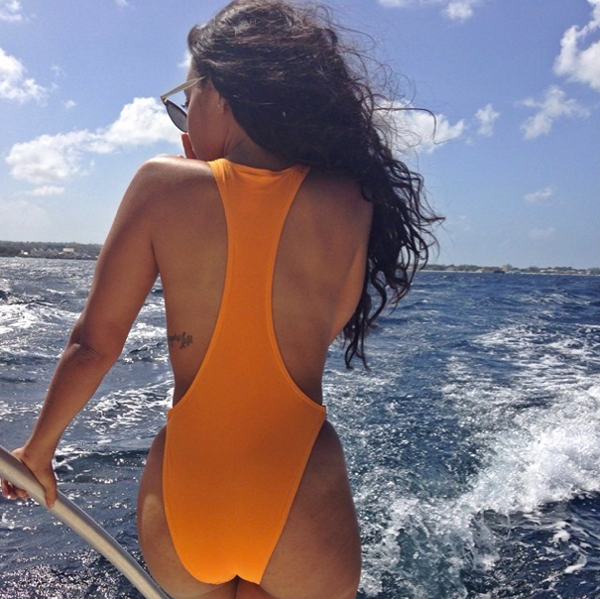 Angela Simmons is steadily living the fab life over in Barbados. The Angela IAM designer is currently hitting up the white sandy beaches and crystal blue waters on the Caribbean Island. And from the looks of her pics, she is really enjoying her summer getaway.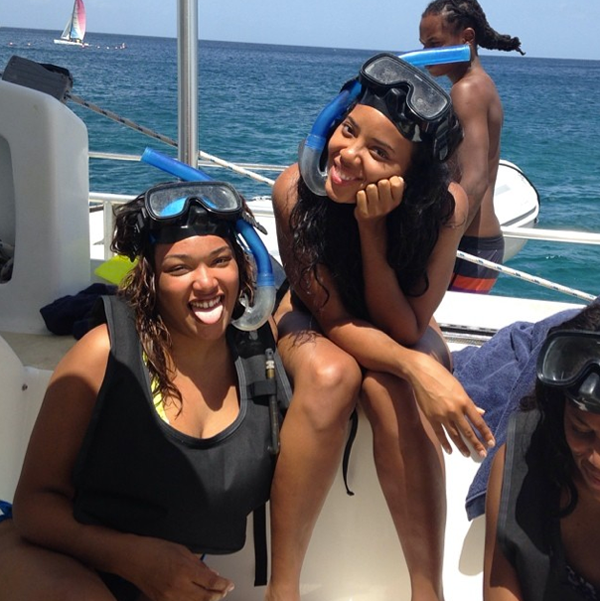 Flaunting her curves in a orange cut-out one piece, the fitness fanatic enjoyed a boat ride and snorkeling with friends.
In a video posted to her Instagram, Angela stops to do the "Nae Nae" before she jumps off of a boat into the ocean. Check out her skills below:
Fun times.
Also on a white sandy beach....
After Earth star Will Smith took a break from in front of the camera for some R&R on a beautiful beach in Ibiza, Spain.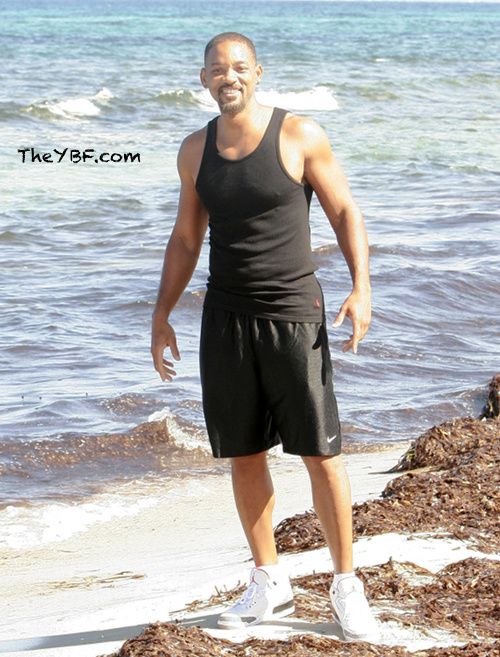 Hitting the seashore solo, Will drew a huge crowd of admirers and surprised one fan, stopping for a quick selfie. Say cheese!
Will is resting up before he begins filming. The Men In Black 3 star is set to play former Pittsburgh Steelers center Mike Webster. The movie, which is reportedly titled Game Brain, will follow the investigation lead by Dr. Bennet Omalu on football-related brain injuries.
Photos: FAME/Splash/Angela's IG
POWER COUPLE: John Legend REVEALS Inspirational "You & I (Nobody In The World)" With Chrissy Teigen & Laverne Cox + Chrissy COVERS DuJour, Says Social Media RUINS Relationships
Posted: 10 Jul 2014 01:39 PM PDT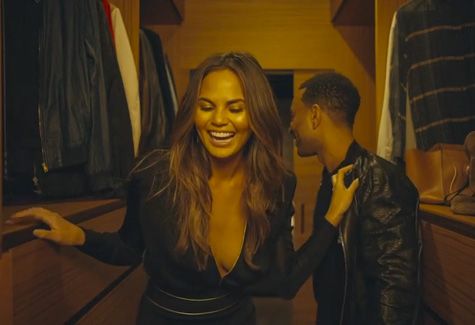 John Legend enlisted wife Chrissy Teigen and Emmy-nominated actress Laverne Cox to star in his latest video "You & I (Nobody In The World). Watch the clip inside and see why Chrissy thinks social media ruins relationships.
How do you follow-up the #1 worldwide smash "All Of Me"? Well....John Legend has an answer. He's enlisted his supermodel/tv host wife Chrissy Teigen and Laverne Cox, who made history earlier today as the first out Trangender actress to receive an Emmy nomination, to star in "You & I (Nobody In The World)."
Directed by Mishka Kornai, the video co-stars women of all races, ages, and sizes who replace their sad and stoic faces with smiles as they embrace their differences, flaws and all. It's a moving visual as we watch a cancer patient remove her wig, a topless pregnant woman and Laverne wiping away her makeup.
Alongside the video, John has launched #OperationGirl Charity Challenge, a fundraising campaign for charities focused on women and girls.
Watch "You & I (Nobody In The World)" here:
On Magazine racks....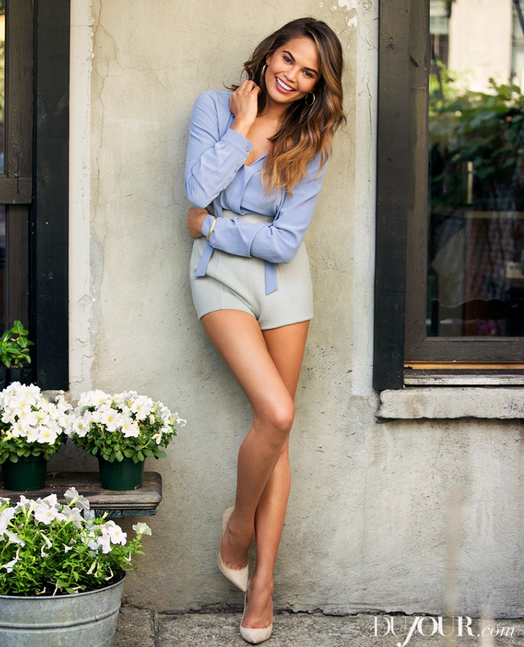 John's fabulous and funny wife, Chrissy, cover the latest issue of DuJour Magazine. Inside, the social media savvy model dishes on her new tv gig and also shares her thoughts on social media.
If you follow Chrissy, you know she has a HUGE presence on Twitter and doesn't mind sharing her thoughts. Surprisingly, she thinks social media is BAD for relationships. Find out why below....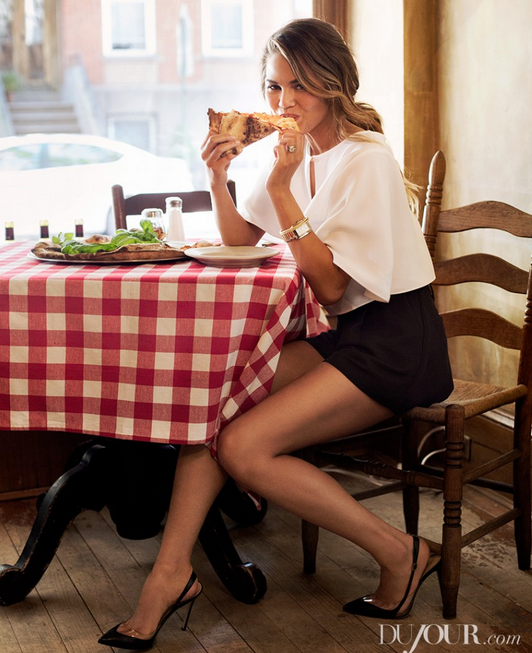 Do you think social media is ruining relationships?
Definitely. It's ruining relationships that are already in the shitter. I've never been in a new relationship during the Instagram era, but I could see myself getting jealous. I can't imagine having to deal with that stuff.
What's your favorite John Legend song?
It's easier to say what my least favorite John Legend song is, honestly. I remember when he was shooting the video for "Green Light" and I was like, 'This is horrible. This isn't gonna go anywhere. I hate this song so much.' There was nothing about it I liked. And then all of a sudden it's all over the radio. It was his first big radio hit. And I was like, 'Listen kid, this song's going nowhere.' Clearly I don't know shit. So now I don't really speak up as much.
What's something you've tried but would never try again?
Eating a raw cashew nut out of the stem. I did it in Brazil and it was one of the biggest mistakes of my life. Online there are so many stories of people doing the same thing. You start to hallucinate. I scooped it out with a butter knife, and I ate it and within 10 minutes I was hallucinating. I was seeing purple blobs. Apparently in its raw form, it's like eating a rare cactus. We were at dinner with people and my eyes started twitching and then my tongue got really slippery—that was the weirdest part—I lost control of my tongue and everyone is like, 'So where are we going next?' And I was like, 'I gotta go.' So we go home, and I lay on the ground and took all my clothes off and curled in a ball naked. And John was like, 'What the fuck is going on?' And I'm cackling laughing and throwing up all over the floor and between my legs while sitting on the toilet. So yeah, I would never do that again. Just Google: I ate a raw cashew nut. You'll see.
If you could be anybody for a day, who would it be?
I would love to be a first daughter. I have a weird, crazy obsession with first daughters. I would love to know everything that happens behind the scenes. It's such a cool world to me. I would be Malia or Sasha or Chelsea.
Read the full interview....
Photos via DuJour/Victoria Will
FIRST LOOK At Yaya DaCosta Alafia As Whitney Houston For LIFETIME Biopic + Kelly Rowland Gets FAB For New Special Edition TW Steel Watch Campaign
Posted: 10 Jul 2014 12:05 PM PDT
We told you Yaya DaCosta Alafia was playing Whitney Houston in the LIFETIME biopic. And now the first official photo of Yaya portraying Whitney has been released! Also, mom-to-be Kelly Rowland stuns in a new campaign for her special edition TW Steel watch. Peep the pics inside…
Whoa! Former "Top Model" chick Yaya DaCosta Alafia is a complete carbon copy of the late iconic singer in the first photo released for the LIFETIME Whitney Houston biopic. Get ready to GAG!
We told you earlier the 31-year-old actress was cast to play Whitney Houston in the made for TV LIFETIME film. Actress Angela Bassett will be making her directorial debut for the film, which will chronicle the turbulent relationship between the legendary singer/actress with her singer/songwriter ex-husband Bobby Brown.
In the first picture (atop), Yaya recreates Whitney's iconic 1987 cover of her sophomore album titled, Whitney (above). Yaya put her Top Model skills to work for the photo saying, "I just looked at the picture and did the pose!"
Loves it!

TW Steel ambassador Kelly Rowland stuns in a brand new ad campaign for her special edition timepieces. In one of the ads, the fab mom-to-be rocked her black CE4006 (which also comes in pink and blue) timepiece along with a sultry black laced dress and sexy black sandals.
Kelly admits she loves wearing big statement pieces. She said,
"I love the statement wearing a big watch makes and they just get what it is to be fun and stylish at the same time. "

Peep the campaign pics below: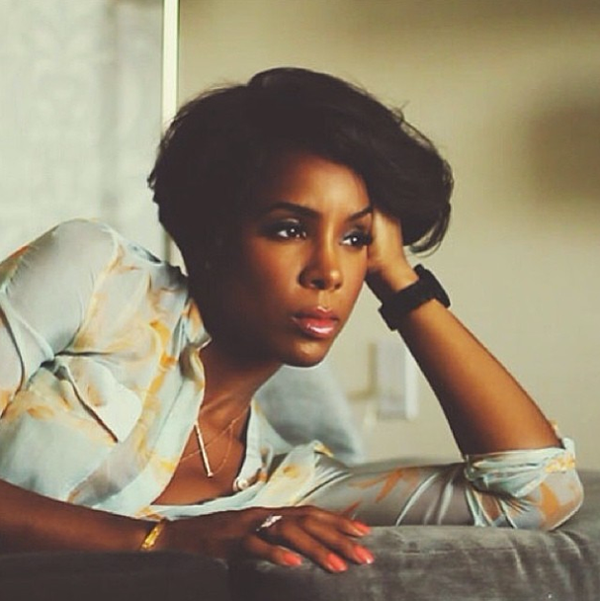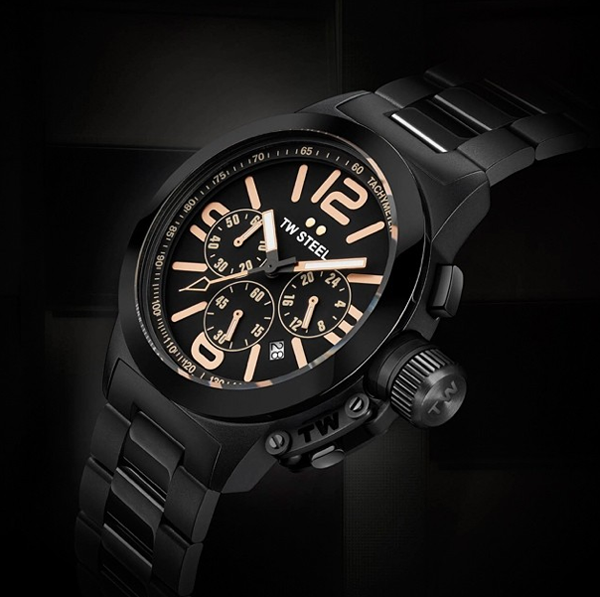 If you're looking to purchase one of Kelly's special edition watches, it'll run you a cool $1,295.00. Check them out here.
Photos: Entertainment Weekly/Kelly's IG