---
CONCERTS: Jay Z GIVES Jay Electronica His 5% Nation Chain + J. Cole, Talib Kweli & More Hit The Stage At The Brooklyn Hip Hop Festival
Posted: 13 Jul 2014 08:05 AM PDT
The Brooklyn Hip-Hop Festival celebrated its 10th anniversary this weekend with appearances from Jay Z, J. Cole, Talib Kweli and a headlining set from Jay Electronica. See what Jay Z presented Mr. Electronica with inside....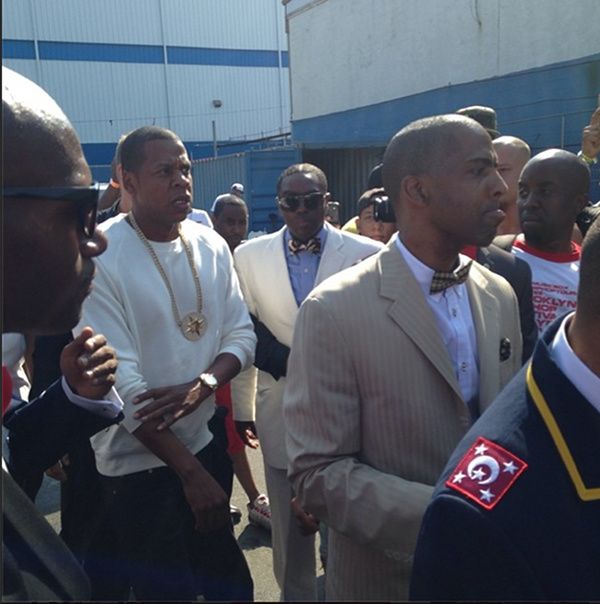 On Saturday, Brooklyn played host to NYC's largest and longest running Hip-Hop cultural event, The Brooklyn Hip Hop Festival. This year, Jay Z took time out from his own "On The Run" tour to pop in for a few songs and a very special presentation.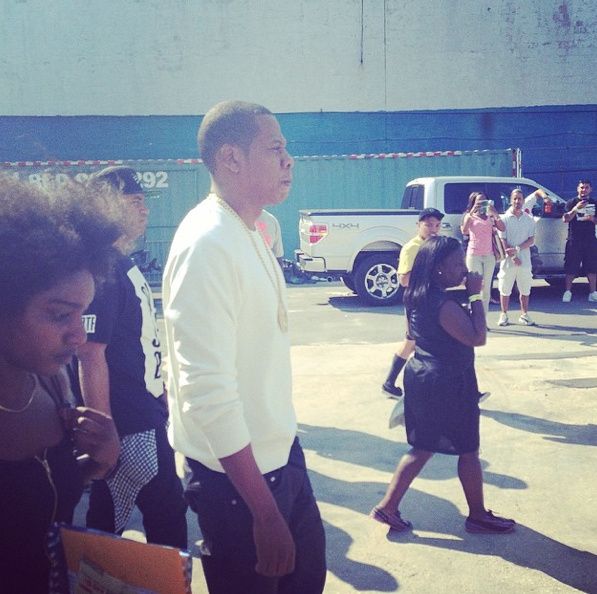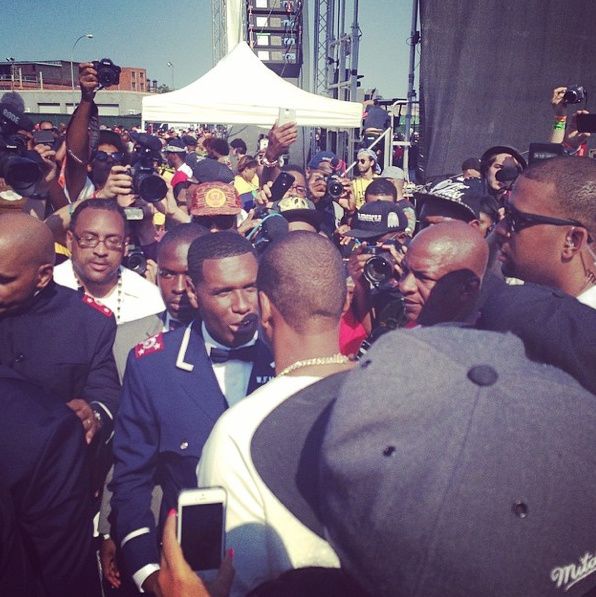 Jay was on hand to support his Roc Nation artist Jay Electronica (aka Erykah Badu's baby daddy) who headlined the festival.
In addition to the support of his Roc Nation boss, headliner Jay E. also had the backing of The Fruit of Islam (FOI).
His manager, radio personality Angela Yee was also on hand.
Jay Z hit the stage with Jay E. for performances of "Shiny Suit Theory," "We Made It (Freestyle)," "Young, Gifted, & Black," and "Public Service Announcement."
During their set, Jay Z took off his Five-Percent Nation chain and handed it to Jay E.
You'll recall that Jay did something similar a few months ago when he presented J. Cole with a Roc Nation chain during his birthday performance.
J. Cole and Talib Kweli made surprise appearances at the fest as well, performing their collaboration "Just Begun."
Watch Jay Z and Jay Electronica "Brooklyn We Made It"
Watch J. Cole and Talib Kweli here:
Photos via angelayee/photorobnyc/chuckcreekmur/elliott wilson/bkhiphopfest Instagram
Wendy Williams BARES Her Tummy At World's Largest Bachelorette Party' + Lupita N'yongo OVERCOMES Her Fear Of Snakes For VOGUE Shoot
Posted: 13 Jul 2014 07:17 AM PDT
Wendy Williams hosted the World's Largest Bachelorette Party over the weekend while Lupita N'yongo shared behind-the-scenes footage from her VOGUE shoot. More inside...
Saturday afternoon, talk show diva Wendy Williams put on a two-piece bikini and hosted The World's Largest Bachelorette party at TAO with RHOBH star Brandi Glanville.
Wendy turns 50-years-old this year and we are not mad at her for flaunting her toned tummy!
The party wasn't the only "gig" that brought Wendy to sin city this weekend. On Friday, she kicked off the comedy series 'Lipshtick' at the Venetian with her FIRST one-woman show/comedy gig.
On her daily talk show, Wendy revealed that she enlisted the help of comedy vet Luenell to help her with the timing and structure of her jokes.
In magazines.....
A few days ago, we brought you pics from Lupita N'yongo's fabulous VOGUE pictorial which featured her posing with a snake. Though she looked very comfortable in the pics, it turns out that Lupita has a fear of snakes! On Instagram, she posted BTS footage from the "snake" shoot and encouraged her followers to fight their fears.
She said, "@voguemagazine #bts: rehearsal for the snake shot. Nobody said being on the cover would be easy. #FightYourFearAndWin. (DOP and laughter by @rscapellan)"
Hmmm.....Fear never look so fashionable.
Photos via Lupitia's Instagram/DJDM/WENN.com
GOOD NEWS: Wheel-Chair Bound Tracy Morgan RELEASED From Rehab, REQUESTS Privacy + Jill Scott, Eve & Regina Hall SET To Star In The Movie-Adaptation Of Angela Burt-Murray's Novel "The Vow"
Posted: 13 Jul 2014 06:25 AM PDT
Comedian Tracy Morgan has been released from rehab and will continue his recovery at home. Read his statement inside and get the deets on a newly revealed LIFETIME movie staring Jill Scott, Eve and Regina Hall.
Wheel-chair bound Tracy Morgan will continue his recovery at home, having been released from a rehab facility following a fatal car crash that killed one of his closets friends.
Today's good news comes on the heels of a huge lawsuit Tracy filed against Wal-Mart on Thursday. Following his release, his publicist released a statement requesting privacy as Tracy recovers at home with fiancée Megan Wollover, and their year-old daughter, Maven Sonae.
"Tracy has been released from the rehabilitation center and will continue his recovery efforts at home with an aggressive outpatient program. He asked me to pass along his sincerest gratitude to everyone who has helped him get to this point. He would also appreciate some privacy during this crucial point in his recovery. In regards to the reports of a lawsuit, I can confirm that Tracy, along with the other victims of this horrific accident, have filed suit"

Get well soon Tracy.
In other good news....
Angela Burt-Murray , the former Editor-in-Chief of Essence Magazine and current host of Aspire's "Exhale" revealed that the novel she co-wrote with Denene Millner and Mitzi Miller, Ebony's Editor-In-Chief, will be turned into a feature film for Lifetime. She posted:

According to THR, "The Vow" (retitled "With This Ring" for LIFETIME) is described as a comedy that "centers on three single best friends (Jill, Eve and Regina) who attend the lavish wedding of a fourth on New Year's Eve, and desperation pushes them to make the vow to be married within the year. Each woman starts the year with hopes of what will happen over the next 12 months, but will they all make it to the altar?"
The film will be produced by Tracey Edmonds, Sheila Ducksworth (Soul Food) and Gabrielle Union and written and directed by Nzingha Stewart. Set to debut later this year, filming will take place in August in Cleveland.
Congrats to the ladies!
Photo via NYPOST/ Angel Chevrestt/AP/GETTY
HITCHED! Reggie Bush MARRIES Lilit Avagyan....And You'll Never GUESS WHO Attended!
Posted: 13 Jul 2014 05:52 AM PDT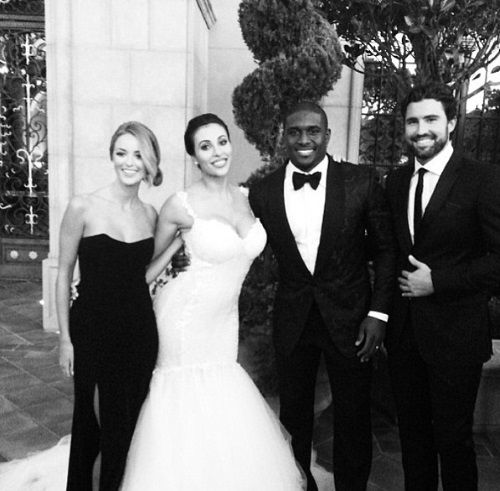 Detroit Lions running back Reggie Bush married Lilit Avagyan yesterday with a lavish wedding in San Diego. Get wedding deets inside and find out which of his ex's brothers showed up to toast the nuptials!
Pro-football player Reggie Bush married his fiancée Lilit Avagyan during a lavish ceremony at The Grand Del Mar in San Diego on Saturday, PEOPLE confirms. Reggie, who once dated Kim Kardashian, has been with Lilit since 2011 and they share a 14-month-old daughter Briseis.
It was interesting to spot Brody Jenner, the brother of Kim Kardashian at the wedding...especially since he skipped out on her nuptials to Kanye West! It was reported that Brody backed out of KimYe's festivities because the couple did not invite his girlfriend. Tsk Tsk.
Well....it looks like Brody's girlfriend Kaitlynn Carter landed an invite to Reggie's wedding. #nodrama
Congrats to the couple.
Photos via Brody Jenner's Instagram