---
Lil Mo SHADES The Purple One At Essence Fest, Fans READ Her...But Did Prince CLAP Back?! + Kanye West BOO'D 2nd Night Of Wireless Festival, Fans Chant "We Want Drake!"
Posted: 06 Jul 2014 08:18 AM PDT
You definitely don't come for the Purple One. Unless you want a slew of fans reading you for filth soon after. Singer Lil Mo tried it and she's learning the hard way. Find out what she said, how Prince possibly clapped back and about Kanye West getting boo'd for a second night at the Wireless Festival inside…
The Essence Festival is in full swing down in New Orleans. And last night, there seems to have been a little drama with one "R&B Diva" and the legendary Prince.
The Purple One was tapped to headline last night at the Mercedes-Benz Superdome. And while Prince fans were utterly excited to see him take the stage, it seems Lil Mo had better things to do.
In an Instagram post, Mo ranted about being stopped by police and not being able to make her way to the bathroom because Prince was walking through backstage before he went on. She posted: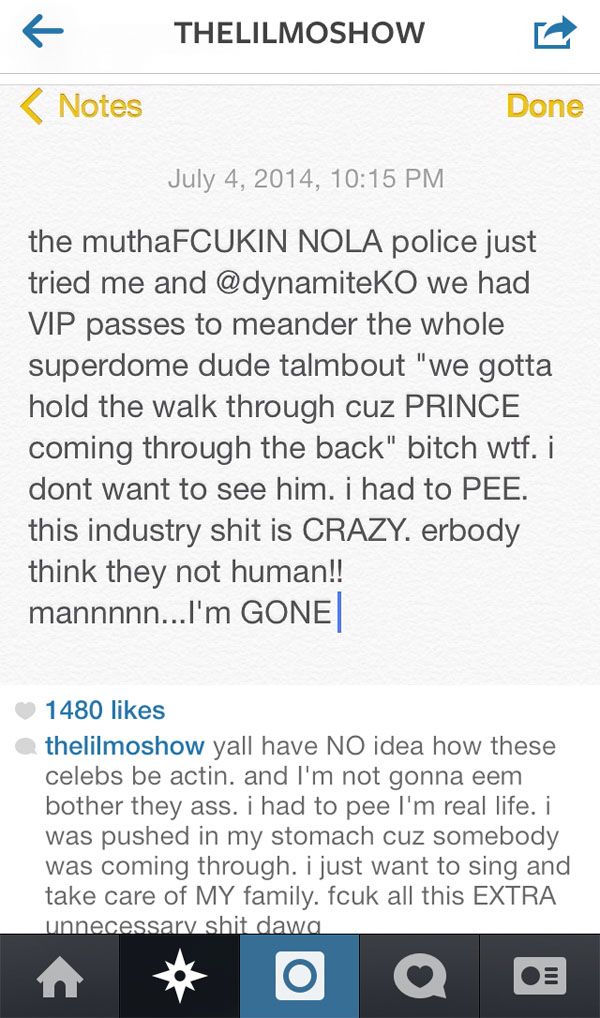 She then added fuel to the fire posting: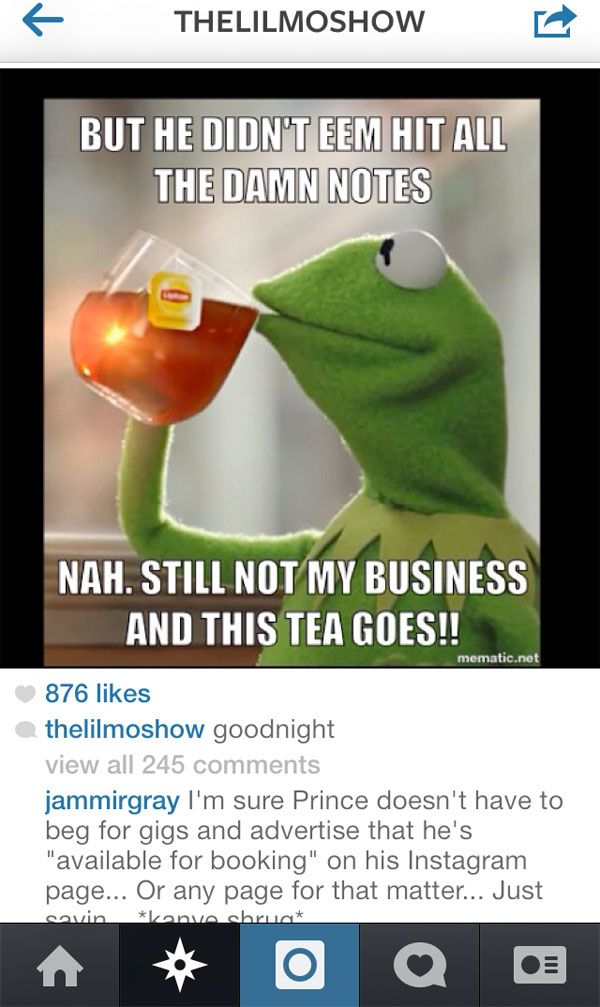 Umm...Mo! This is what you don't do.
And of course, the fans gave it to Mo for shading Prince. Some said:
"but wait you have a VIP all access pass tho!!! You must've won that from 92q cause real celebs don't need those to walk freely back stage! Sit ya short big lip ass in the corner some damn where and be quiet!! You haven't been relevant in 13 years... Shit you wasn't relevant then lol"

"First of all I had to Google your ass to even know who u were. Second no matter what you do you will never be at his level. Prince is music royalty. No he hasn't had an album in a few years but you still hear all his old shit in the radio. Sounds like someone has a little celebrity attitude to but it didn't work for you. So in the words of Ice Cube.......BYE FELICIA."

"Real celebs, even HAS BEENS, don't need a PASS to mingle with their peers, and last I checked Prince didn't work for a security company so why is your hatefulness directed at him? You need to take several fuckin seats and perhaps get some class about yourself. #crabsinabucket #whenkeepingitrealgoeswrong"

"I'm sure Prince doesn't have to beg for gigs and advertise that he's "available for booking" on his Instagram page... Or any page for that matter... Just sayin... *kanye shrug*"
NOW...it looks like Prince may have gotten in on the shade throwing to. He took to his Twitter early this morning and posted the picture below with the caption:
Bloop! Is that shade for Mo? We know she sometimes can get a little crazy with her outfits. But does he even know who Mo is? Chile....
But Mo doesn't seemed fazed...she posted the pic below of her "Brady Bunch" family with her boo thang Karl Dargan: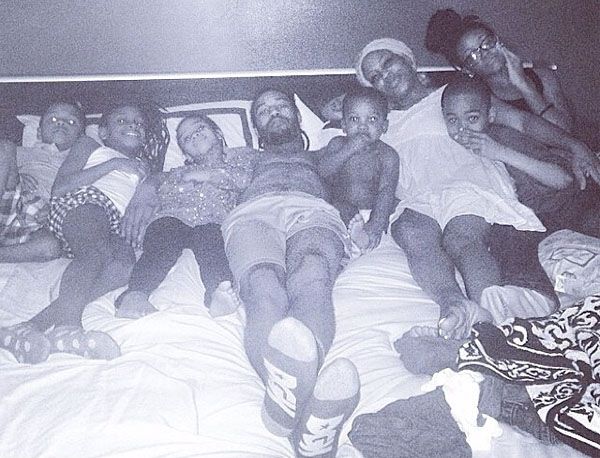 She captioned, "this is ALL i want and need!!"
And overseas...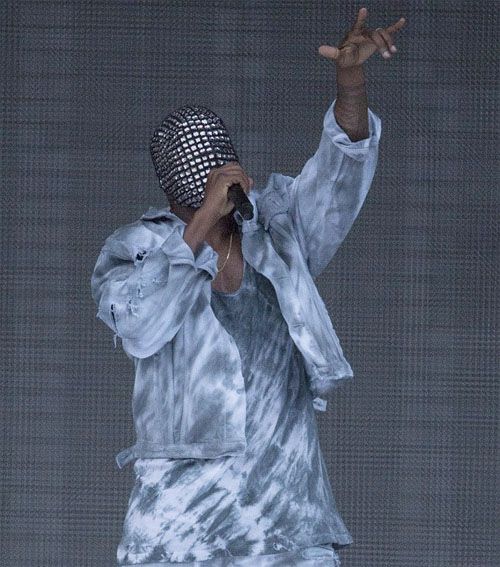 Kanye West was boo'd for the second night in a row at London's Wireless Festival last night.
After Drake became ill and had to cancel his performance, Kanye was tapped to do an additional show on Saturday to make up for Drizzy's absence. Ye' was typical Ye' with his ranting and raving and concertgoers just wasn't feelin' it.
He was late starting his set, and then after being on stage for just 15 minutes, he starts getting in his feelings while ranting about how shy he is. He said,
"I'm very shy in real life. Because I'm too shy to put out some b*tches. Sometimes it's hard because I'm too shy to carry off a lot. I'm arrogant and shy and a little bit lazy. I'm too shy to lie to anybody and I'm too arrogant to make myself lie to anyone because lies take too much work."
After close to 20 minutes of his preaching, according to Daily Mail, fans grew frustrated from his antics and began chanting, "We want Drake!" Ye' eventually finished and went back to performing and fans cheered him on.
The fans may have had enough of Ye', but Drizzy was thankful. Drake took to his Instagram to express his gratitude to Kanye for playing some of his music during his missed performance. He said,
"Man I appreciate Kanye playing Trophies at Wireless so much. I want to be at all the shows more than anything in the world right now. I just keep watching the video over and over. Slow motion for me right now but I promise all the fans an incredible experience as soon as I am back. I am so sorry once again I love you all dearly. Thank you Ye for giving me that joy tonight."
Really wish Yeezy would stop with the rants. We know…the same companies you're complaining about are the same ones you're trying to make deals with. We get it.

Photos: Prince's IG & Twitter/Lil Mo's IG
ROUND UP: Celebs Do Bikinis, Vacay, Prince & Essence Fest For 4th Of July Weekend!
Posted: 06 Jul 2014 05:13 AM PDT
It's been a weekend of fun in the sun...and in the New Orleans Superdome...for your fave celebs. Check out how folks spent the 4th of July Holiday weekend inside...
For the second year in a row, Christina Milian rolled to fellow YMCMB artist Paris Hilton's 4th of July Malibu beach bash: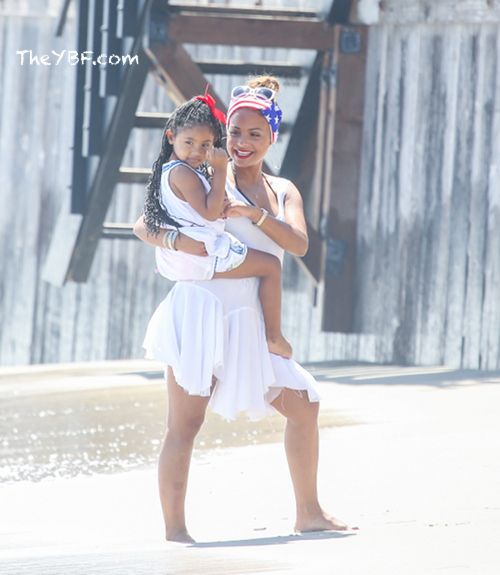 Her super cute daughter Violet looked totally unimpressed in that pic with Paris, but she looks to have had the best time with mommy: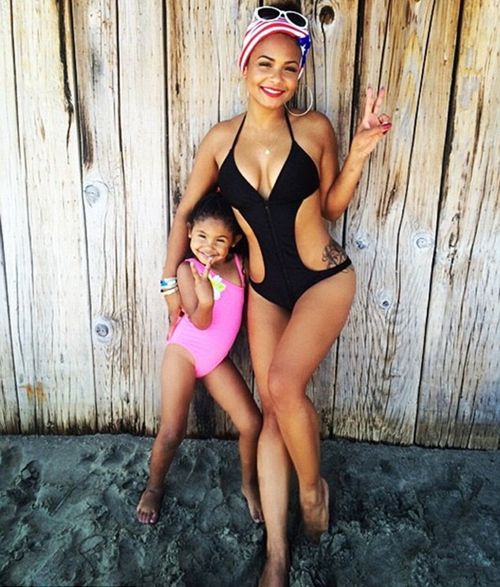 Too cute!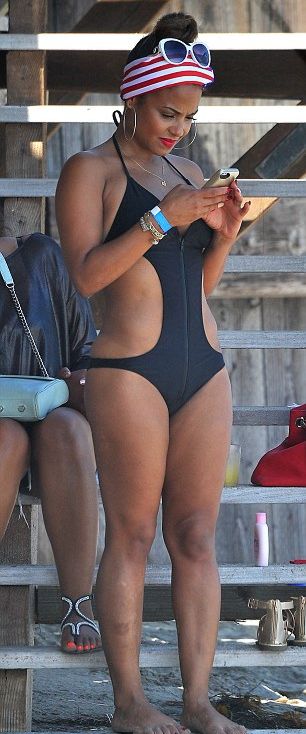 Christina showed off her hot little body in a black monokini.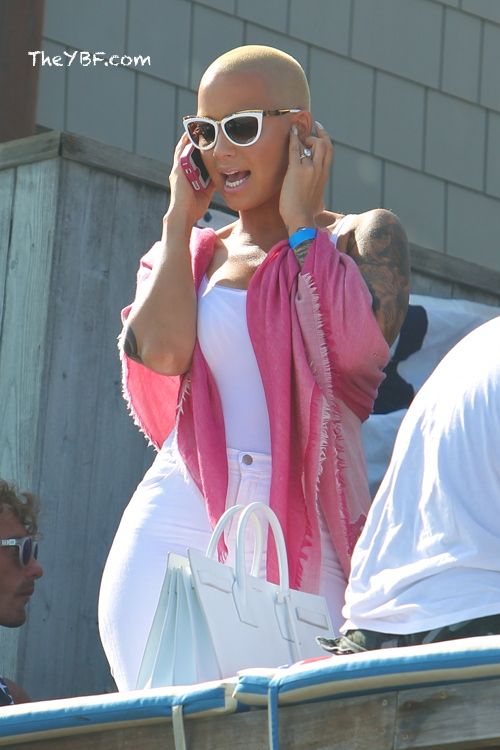 Amber Rose was also there dressed in all white and showing off her new white Birkin bag: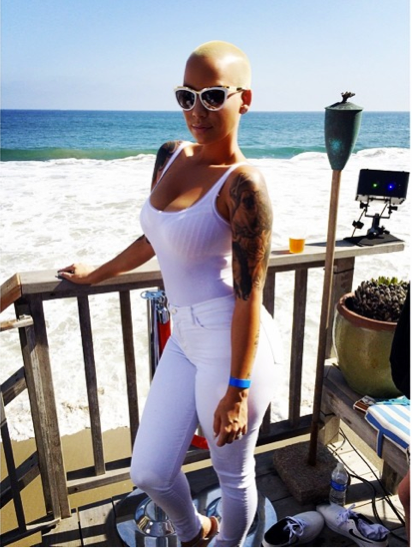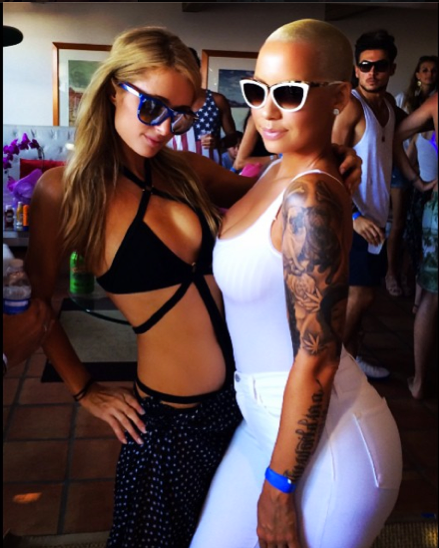 And she posed it up with the hostess and the fabulous EJ Johnson. Work.
Chris Brown and Tyga (plus Karrueche, not pictured) were also in Malibu: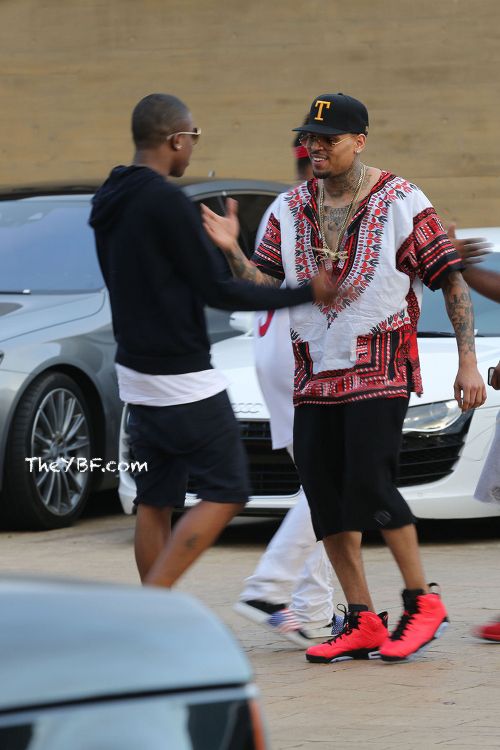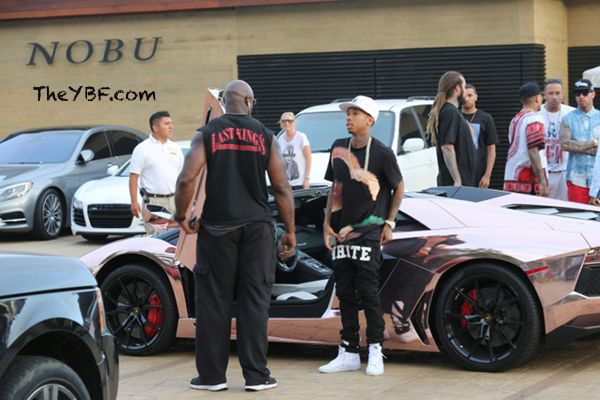 They hit Nobu restaurant on the 4th for some fancy Holiday grub and Tyga was spotted outside with his mirrored Lamborgini.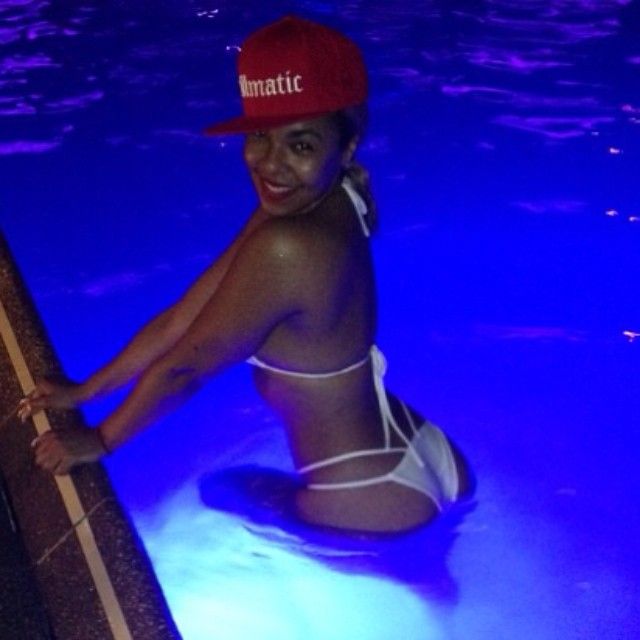 Ashanti kept it sexy in a white hot bikini while swimming it up for the fourth. Chick puts that bod on display every chance she gets. Can we blame her?
Down in New Orleans: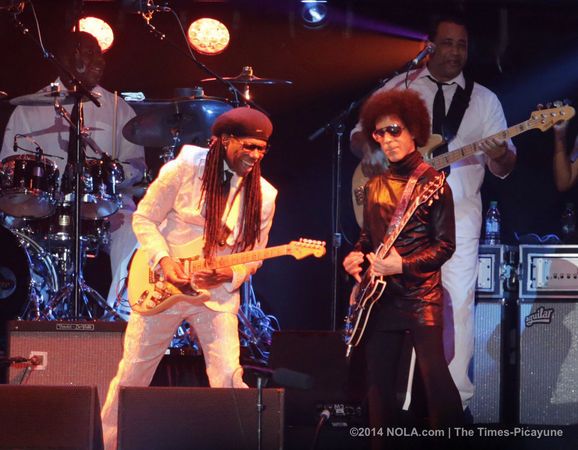 Prince shut down the stage at the Essence Music Festival Friday night. And had the whole audience rocking purple.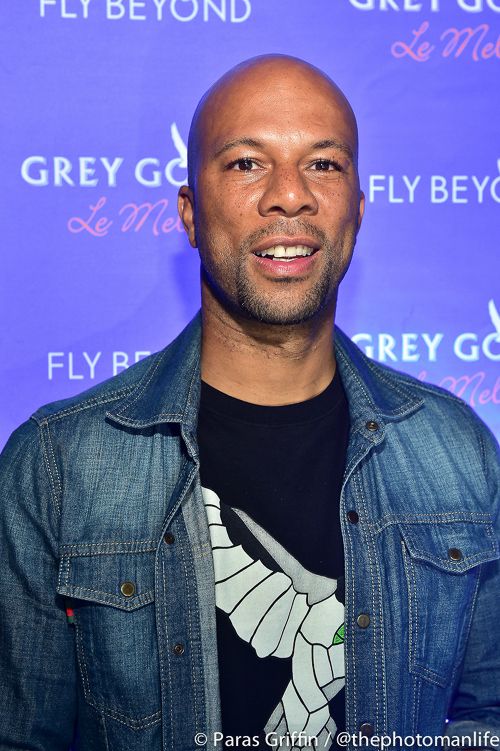 Alicia Keys, Melissa Harris Perry, and Common hit the Convention Center and the Grey Goose Le Melon day party at Eiffel for a women's empowerment event an some fun.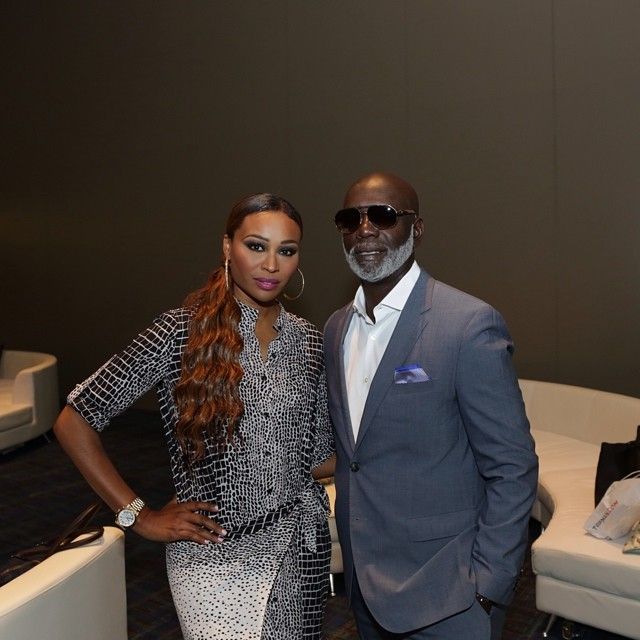 And Cynthia Bailey and Peter Thomas were spotted in the VIP ounge watching the Purple One.
Over in Vegas: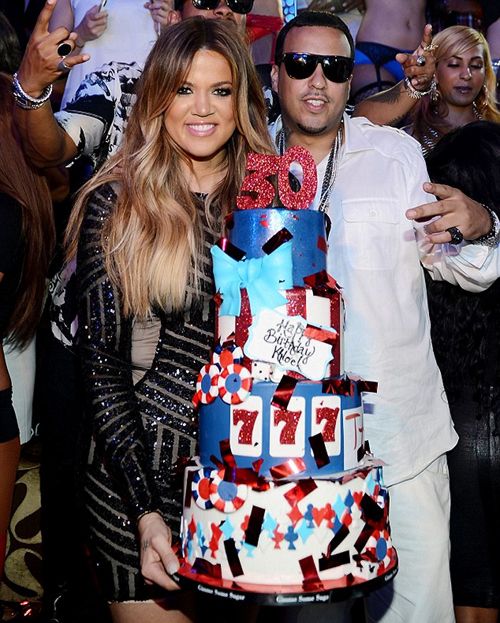 On Friday, French Montana & Khloe Kardashian celebrated Khloe's 30th birthday...again...with a big party at TAO nightclub.
Mariah Carey hit up a costume party of some sorts (at least we HOPE it was) in a mermaid costume and then rushed home to see Dem Babies.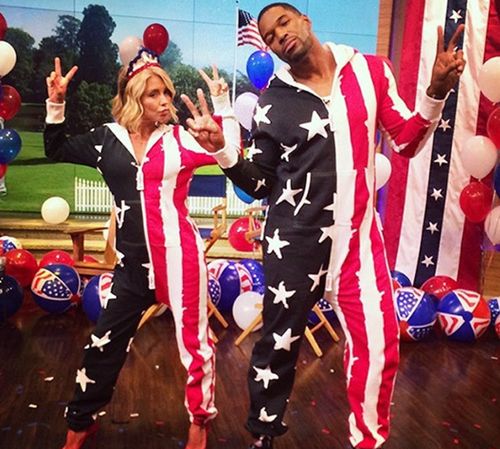 Kelly Ripa and Michael Strahan did the most with their 4th of July onesies on Friday's show. Loves it.
And the coupledom was in full effect: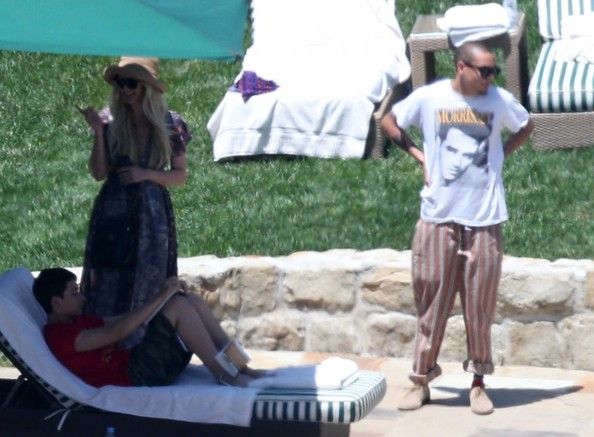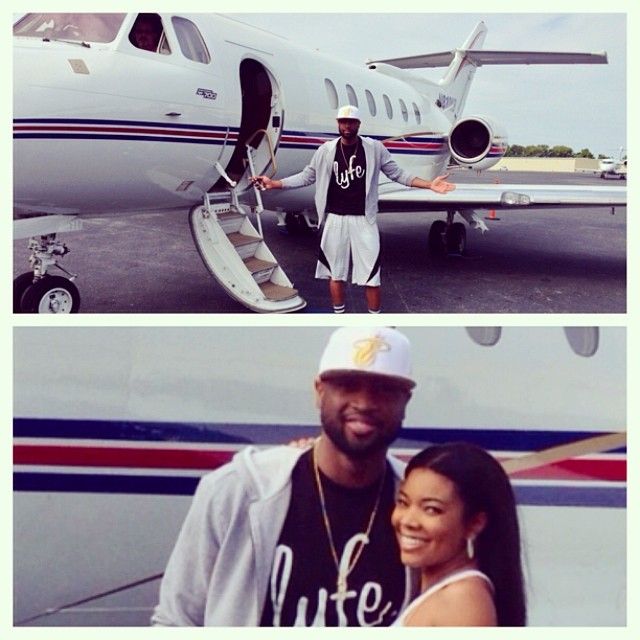 Evan Ross and fiancee Ashlee Simpson prepped for big sister Jessica Simpson's wedding weekend in Santa Barbara, while Gabby Union took Dwyane Wade on a surprise vacay where she said she was showing him what a "black actress vacay" is like. She loves to spoil her man.
Photos: Instagrams of everyone above/Paras Griffin/@thephotomanlife/TheYBF.com/Getty/Splash
LOCKED UP: Columbus Short ARRESTED For Public Intoxication In Dallas!
Posted: 05 Jul 2014 10:55 AM PDT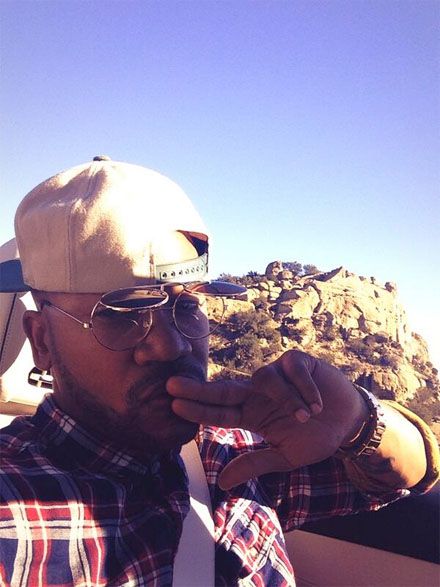 We all need to drop Columbus Short's name in the prayer box at church tomorrow. He was arrested for being drunk in public, but wait until you hear the details surrounding his arrest. More inside….
Columbus Short can probably label 2014 as one of the worst years of his life. The former "Scandal" star spent his 4th of July behind bars after he was arrested for public intoxication. But he could have landed in jail for a lot more.
After hanging out at Katy Trail Ice House in Dallas for about four hours, the "Gave Ya" singer felt he had enough to drink and decided to leave. But…he allegedly didn't pay his tab, so the bouncer at the door talked to him about it.
Apparently, Columbus was pissed the bouncer asked him about his unpaid tab and began screaming. An eyewitness tells TMZ the shamed actor accused the security guard of being a racist…but we're not sure why seeing that the guard was also black. Then their screaming match turned into an all out scuffle.
Lucikly, two off-duty cops were there and broke it up before things got completely out of hand. Columbus could have possibly walked away a free man, but once he saw the cops were called, he started screaming at them too! It was reported he tried to attack the authorities as well. Sighs...
So…they locked him up and sent him to jail and he was only charged with public intoxication. No assault charges.
You'll recall he skipped out on family court last week costing him to cough up over $46K in sposual support, child support and his estranged wife's legal fees.
This guy really needs in intervention…
EXTRAS:
1. After Hi-Five member Russell Neal reportedly walked into a Harris County Sheriff's Office station and admitted his wife was dead, the victim's family has spoken out and revealed he charged her $40 to "babysit" his own children. STORY
Photo: Columbus' Twitter
CONCERT FAB: Nicki Minaj, Jennifer Hudson & Questlove ROCK OUT At The Philly 4th of July Jam + Kanye West BOOED At Wireless Festival Over 20-Minute Rant While Iggy Azalea & Rita Ora Get Flirty On Stage
Posted: 05 Jul 2014 10:20 AM PDT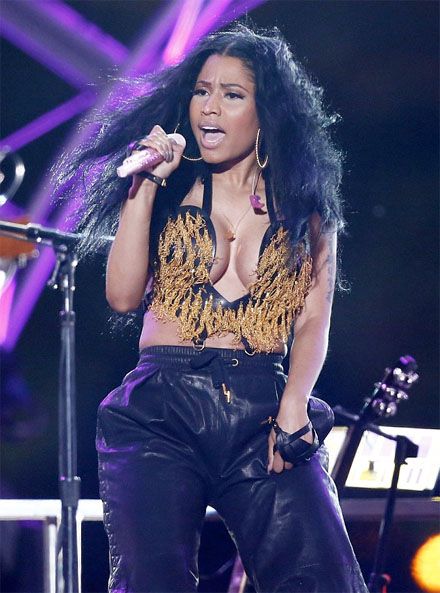 It was a super busy 4th of July yesterday for the celeb set! To celebrate Independence Day, Nicki Minaj, Jennifer Hudson and Questlove rocked out on stage for the Philly 4th Of July Concert. Also, Kanye West took the stage at the Wireless Festival in London and got booed by concertgoers for ranting, while Iggy Azalea and Rita Ora got flirty during their performance. Pics and videos inside…
Philly fans got to celebrate their 4th of July in an explosive way. With comedian Marlon Wayans hosting, Nicki Minaj, Jennifer Hudson, and Roots band member Questlove all stormed the stage at the Philly 4th of July Jam for the "Largest Free Concert in America" on the Benjamin Franklin parkway.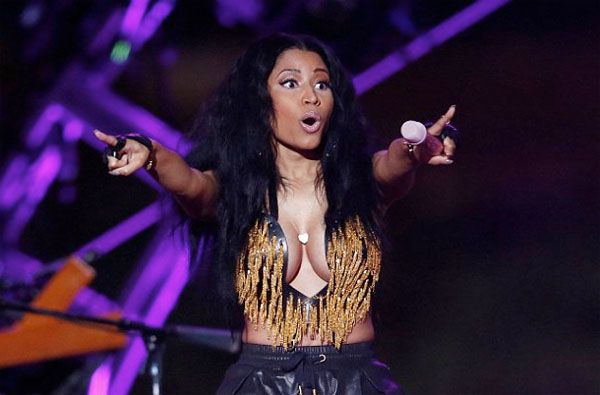 After setting the record straight over her 2014 BET Awards speech, Nicki and her boobs hit the stage in a plunging gold-fringed crop top paired with leather trouser pants and strappy Louboutins. YMCMB's first lady kicked off her set with "Super Bass" followed by her current hit "Pills N Potions." She then rocked out to "Yasss Bish," "Beez In The Trap," and then slowed it down for "Freedom" as she declared her own independence.
She closed her set with her hit track "Moment For Life."
Check it:
Before Nicki took the stage…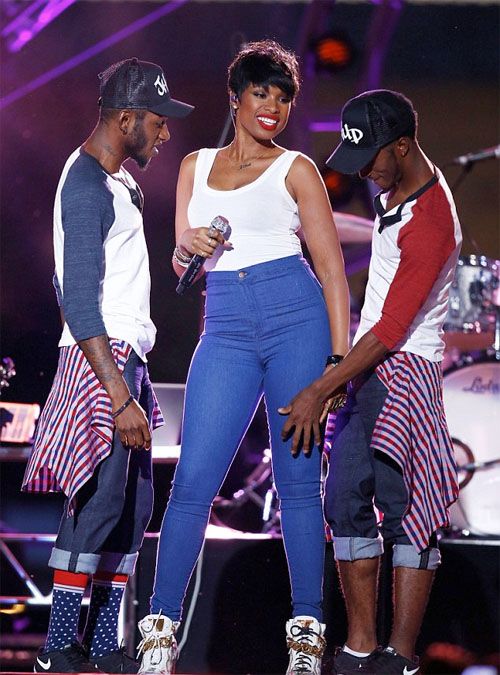 Jennifer Hudson got felt up on stage as she performed some of her hits for screaming fans. The "Walk It Out" singer got patriotic in blue high-waisted jeans, white tee and a red lippie.
Backed by The Roots, JHud served up "And I Am Telling You" like only she can.
Check it: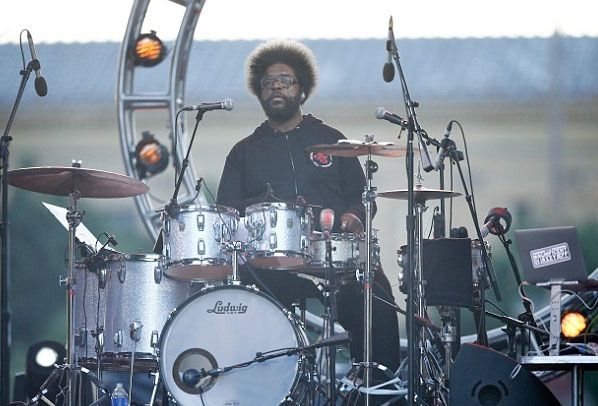 Philly band The Roots provided the beat for the performances, including Ed Sheeran (who landed the cover of Vibe's newest issue with Mack Wilds and August Alsina).
Questlove (above) provided the beat as Ed performed a few of his hits "The Lego House," "Sing" and "The A Team."

And overseas...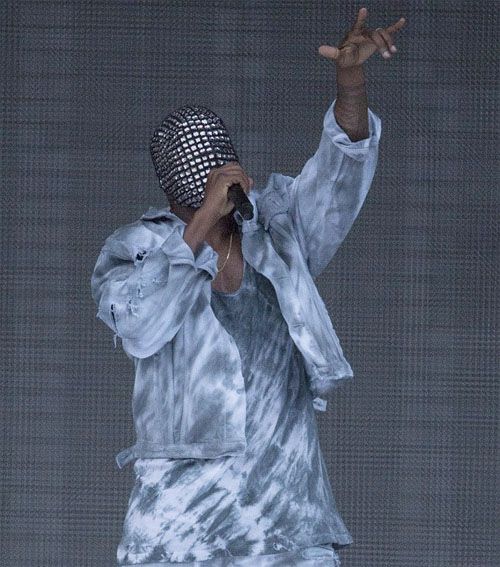 Kanye West is back to being…Kanye West. He hit the stage in London at the Wireless Festival (the same concert Drake had to cancel after falling ill) and while ranting the crowd got fed up with his antics and started to boo him.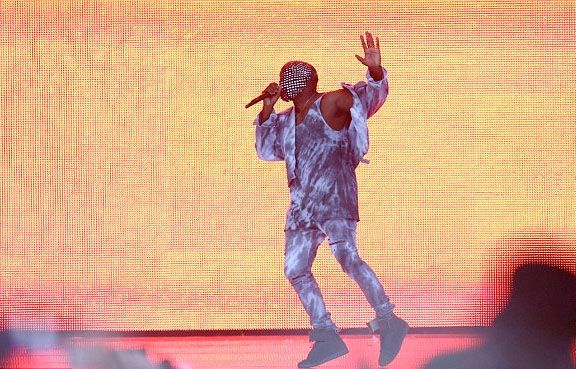 On stage in Finsbury Park, Yeezy preached to concertgoers about discrimination in the fashion industry.
He ranted,
"What have I ever done that was so wrong than believe in myself?"

"I'm not going to mention any names but... Nike, Louis Vuitton and Gucci. Don't discriminate against me 'cos I'm a black man making music."

"F**k saving face and what it's supposed to mean, it's about living my dream."
Sighs. SO he's still claiming "discrimination" from the very companies he has/had deals with? Alrighty then.
Check it:
Also at the Wireless Festival…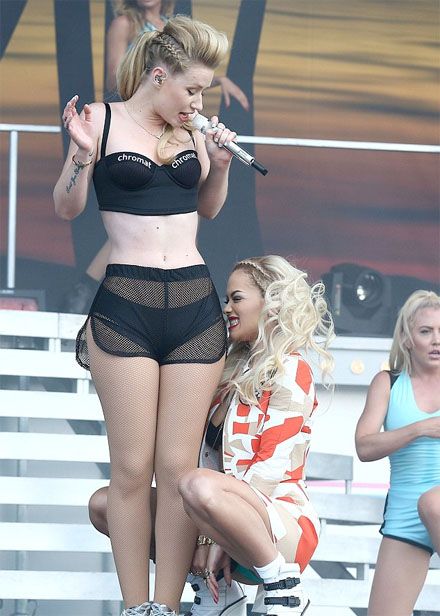 As model Jourdan Dunn sipped some brandy from the crowd, Rita Ora and Iggy Azalea got extra touchy-feely on stage at London's Finsbury Park for the Wireless Festival.
The Australian raptress and the "Radioactive" singer teamed up to perform their single "Black Widow" along with their own respective hits. As they took the stage together, Rita dipped low and bit Iggy on her thigh. Oh…
Check a clip of their performance below:
Photos/Videos: Getty/AP/DM
Beyonce BUILDS $7 Million Housing Complex For The Homeless In Houston + Tyler Perry Beats Out Reality Star POPRAH For "What Would Jesus Do" Trademark!
Posted: 05 Jul 2014 09:20 AM PDT
If you had any doubt about Beyonce's philanthropic endeavors, she proves yet again how giving she really is. Bey dropped $7 million on a housing complex in her hometown to put a roof over homeless men and women heads. Also, Tyler Perry just won the rights to use "What Would Jesus Do" for a film, beating out reality TV star Kim "Poprah" Kearney in court. Deets inside….
Beyonce is really on her philanthropic ish. You may not know this, but the hot Houston native dropped a cool $7 million on a housing complex in her hometown for homeless men and women to have a place to stay.
During an interview with KHOU (spotted on B. Scott), Bey's pastor Rev. Rudy Rasmus (who presided over the Carters nuptials in 2008) opened up about the superstar's generosity to her church. He said,
"She's an incredible human being. Has an incredible heart and has been extremely helpful in our mission and our ministry here."
He also revealed Beyonce has donated millions of dollars to the church and that she embodies the true spirit of love.
"She has a global platform and is doing some amazing work and I'm glad she's a friend of mine."
Bey holds her church very close to her heart since being a part of the congregation since she was a little girl.
"She used to sing right here," said Rasmus. "I don't remember the song but I do remember she had long braids, tennis shoes and jeans on. A far cry from what she is today."
Aww!
Peep the full interview with Bey's pastor below:
And in other news...
Remember the chick Kim "Poprah" Kearney from the VH1 reality show "I Want To Work For Diddy?" Well, it seems SHE was the reason behind Tyler Perry having to go to war in court to use the "What Would Jesus Do" title for an upcoming film.
Tyler and Poprah have been battling it out in court since 2008 to use the coined phrase. According to the Guardian, Poprah filed a trademark application to use "What Would Jesus Do" for a Christian reality show in January 2008. In May of the same year, Tyler filed a trademark to secure the rights to use the phrase for entertainment products including films, musicals and television series.
Poprah claims she pitched the "What Would Jesus Do" reality television show idea to Tyler months before his team filed for the trademark. Tyler's team argued that Poprah had no intention of using the phrase so the studio sought to cancel her trademark. Tyler's team was able to prove the burden of proof and now Poprah's trademark cancellation is pending after the trademark office granted its cancellation on non-use grounds.

There you have it.
Photos: Getty/Beyonce.com