---
Carmelo Anthony, Tia Mowry-Hardrict, Pharrell, Kevin Durant, Gabby Douglas & MORE Hit The Orange Carpet At The 2014 Kid's Choice Sports Awards
Posted: 18 Jul 2014 07:06 AM PDT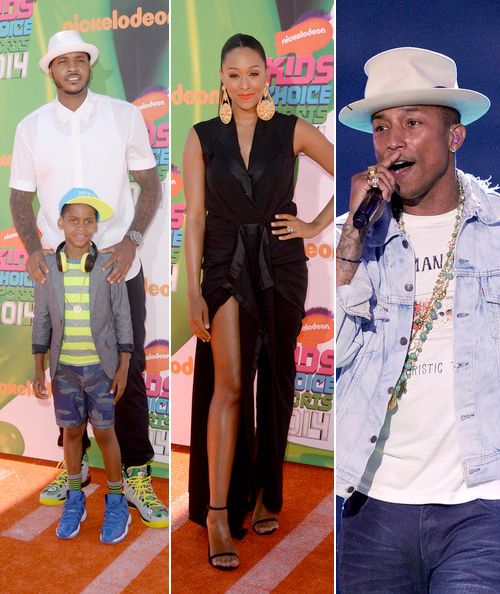 Carmelo Anthony and his son Kiyan, Tia Mowry-Hardict, Kevin Durant, Russell Westbrook and many more hit up the orange carpet at Nickelodeon's Kids' Choice Awards yesterday. See the YBF celebs and their kiddies inside...
Nickelodeon's Kids' Choice Sports Awards went down yesterday at UCLA's Pauley Pavilion in L.A. And NY Knicks star Carmelo Anthony (who just signed a $124 million deal with his team) was on daddy duty, hitting the carpet with his mini-me Kiyan.
See those custom blue Air Jordan 11's Kiyan has on? His pops surprised him with new kicks before they made their way to the awards. Nice.
Tia-Mowry-Hardrict posed it up on the carpet in a black tuxedo jumper by Indonesian designer Jeffy Tan.
And look who was in the audience with his mama...Cree. Too cute.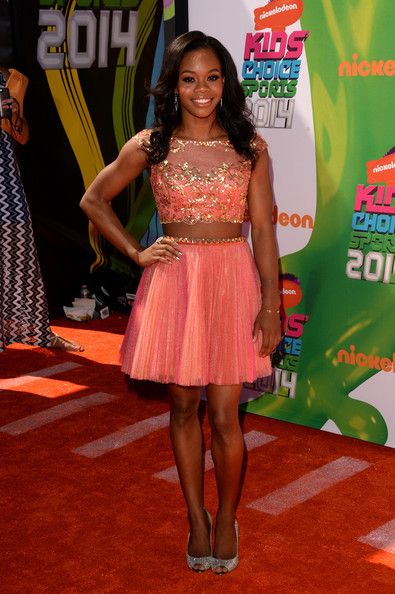 Olympic gold medalist Gabby Douglas looked fab in a coral and gold crop top with matching swing skirt. She took home two awards last night: Best Female Athlete and Queen of Swag. Dwyane Wade took home the King of Swag award.
ESPSY Best Male Athlete winner Kevin Durant lit up the carpet with his sparkly gold sneakers. He also won the Kids' Choice Sports award for Best Male Athlete. Go Kevin!
OKC Thunder baller Russell Westbrook and his fashion flair hit the carpet. He was in the running for two categories last night: King Of Swag and Favorite Comeback Athlete. Unfortunately, he didn't win the Swag award, but he did have on a shirt from his newly released clothing line, My Westbrook XO Barneys New York. He also just released a new line of unisex eyewear.
Dallas Mavericks center Tyson Chandler bought his family out for the show.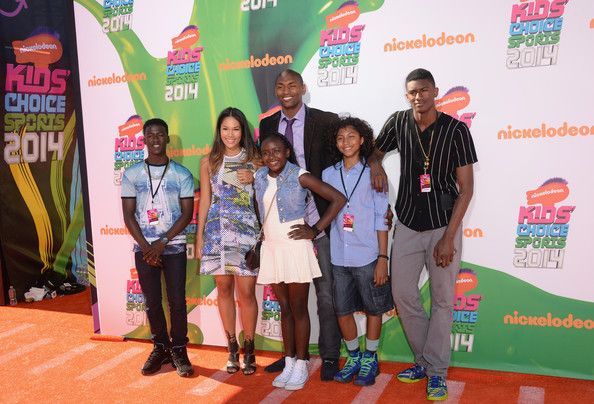 Metta World Peace and his clan stepped out on the carpet. During the half-time show of the awards, Metta and Tyson Chandler were onstage to give 15-year-old L.A. native Ricardo Jacobo Jr. $50,000 after he made the remarkable half-court shot. Nice!
NY Giants receiver Victor Cruz, girlfriend Elaina Watley and their daughter Kennedy Cruz were all smiles on the carpet. Victor took home the Party Like A Sports Star award.
"Live with Kelly and Michael" host Michael Strahan was on hand to host this year's Kids' Choice Sports Awards. Before kicking off the show, he and his twin daughters Sophia and Isabella posed on the carpet.
"Hollywood Exes" star Nicole Murphy was there to support her man as he hosted the show. She looked amazing on the carpet with her daughter Zola Ivy Murphy.
After hitting up the ESPY's, WNBA star Lisa Leslie rounded up her kiddies for the awards show.
L.A. Laker Matt Barnes hit the carpet with his wife/former "BBW" star Gloria Govan and their twins Isaiah and Carter.
Oh, hey Mario!
And Lolo Jones struck a pose on the carpet.
Melo and Kiyan caught up with Tyson Chandler and his son.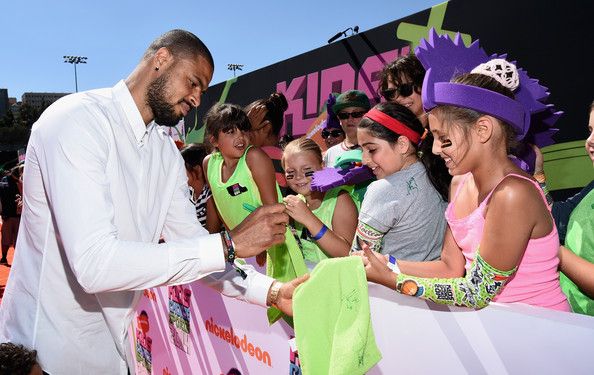 Tyson and Gabby stopped to sign some autographs and greet fans.
Melo brought Kiyan onstage with him to accept the Clutch Player of the Year award.
Pharrell took the stage to perform his hit "Happy."
And host Michael Strahan got slimed at the end:
Fun times!
Photos: Getty
PARTIES: Wendy Williams Gets Her AARP Card, DRAWS Out Sherri Shepherd, Lil' Jon, Tami Roman And Joe For Her 50th Birthday!
Posted: 18 Jul 2014 06:19 AM PDT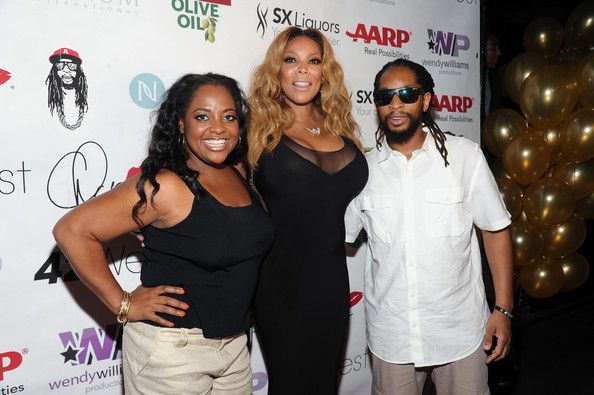 Wendy Williams turned 50-years-old with a huge celebrity-studded bash that brought out Sherri Shepherd, DJ Lil' Jon, Tami Roman and others. See the photos inside...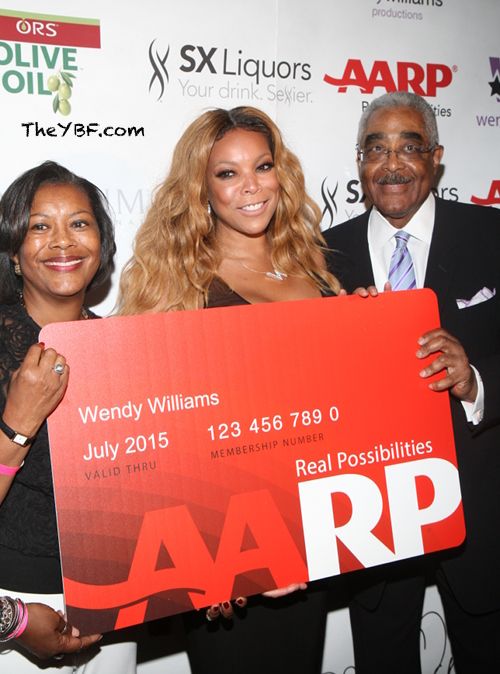 Talkshow host and radio legend Wendy Williams gets her AARP card this month!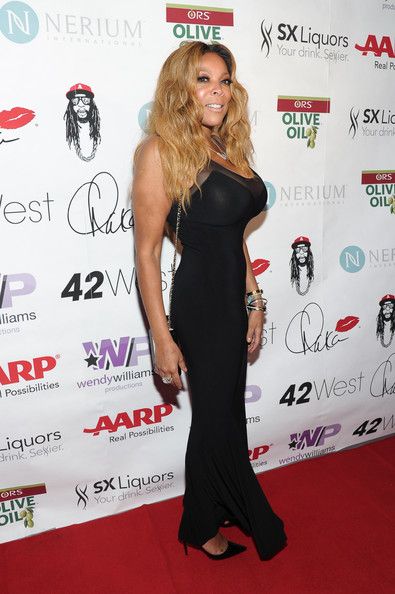 Last night, she celebrated with a big bash at NYC's OUT Hotel In Times Square.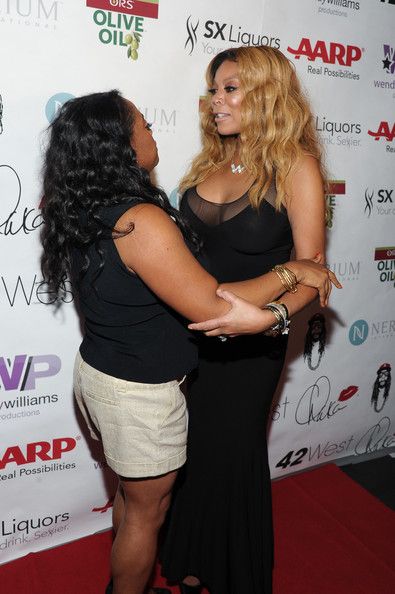 "The View" co-host Sherri Shepherd put her marital woes aside and partied with Wendy.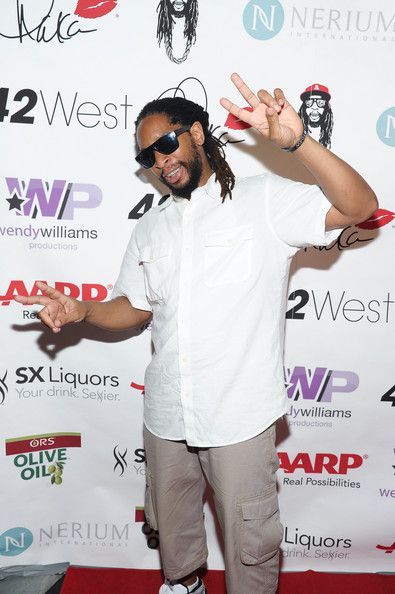 Former "Celebrity Apprentice" contestant DJ Lil' Jon was on the 1s and 2s for the eveing.
Ex-"BBW" star turned cosmetics company owner Tami Roman supported Wendy. By the way, Tami also stars on Halle Berry's new series "Extant."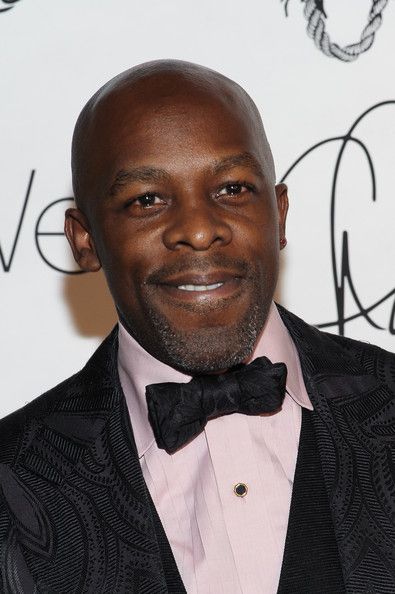 Singer Joe was in the building.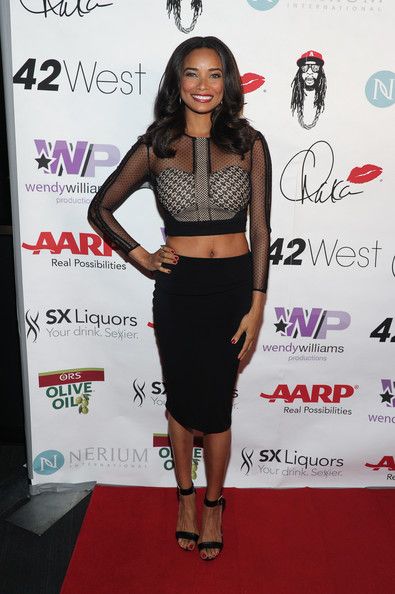 Rochelle Aytes, who stars on ABC's "Mistresses", wished Wendy a happy birthday as well.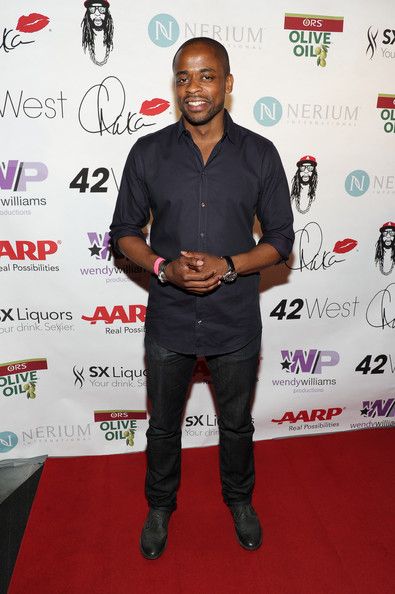 Dule Hill's tv series "Psych" was recently cancelled, but that didn't stop his party as he celebrated with Wendy.
Photos via Rommel Demano/Getty Images North America/WENN
Beyonce LEADS The Pack With 8 MTV VMAS Nominations + Jay Z TEARS UP Writing "Seen It All" Verse + Jhene Aiko's "The Pressure"
Posted: 17 Jul 2014 04:00 PM PDT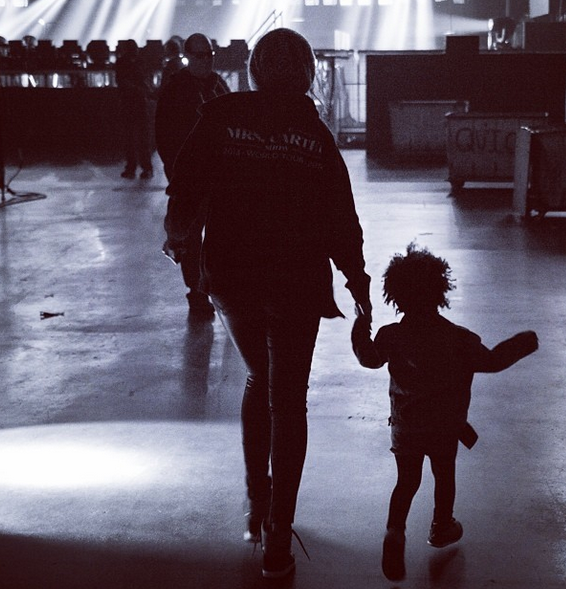 Beyonce leads the MTV VMAs with eight nominations while rapper Jeezy says Jay Z teared up while writing his "Seen It All" verse. Get those deets inside and listen to "The Pressure" inside.....
Beyonce (shown above in a new photo with Blue Ivy) leads the pack with EIGHT nominations at the VMAs. The announcements were made earlier today and the actual ceremony will be held at the Forum in Inglewood, Calif., on Aug. 24. Eminem and Iggy Azalea got seven nominations each while Pharrell Williams, Ariana Grande and Sia received three. So far, Usher, Ariana Grande and 5 Seconds of Summer are confirmed to perform.
The nominations in full:
Video of the Year:
Iggy Azalea ft. Charli XCX – "Fancy"
Beyoncé ft. JAY Z - "Drunk In Love"
Pharrell Williams - "Happy"
Sia - "Chandelier"
Miley Cyrus - "Wrecking Ball"
Best Hip Hop:
Eminem - "Bezerk"
Drake ft. Majid Jordan - "Hold On (We're Going Home)"
Childish Gambino - "3005"
Kanye West - "Black Skinhead"
Wiz Khalifa - "We Dem Boyz"
Best Male:
Pharrell Williams - "Happy"
John Legend - "All Of Me"
Ed Sheeran ft. Pharrell - "Sing"
Sam Smith - "Stay With Me"
Eminem ft. Rihanna - "Monster"
Best Female:
Iggy Azalea ft. Charli XCX - "Fancy"
Beyoncé - "Partition"
Lorde - "Royals"
Ariana Grande ft. Iggy Azalea - "Problem"
Katy Perry ft. Juicy J - "Dark Horse"
Best Pop:
Pharrell Williams - "Happy"
Iggy Azalea ft. Charli XCX - "Fancy"
Jason Derulo ft. 2 Chainz - "Talk Dirty"
Ariana Grande ft. Iggy Azalea - "Problem"
Avicii ft. Aloe Blacc - "Wake Me Up"
Best Rock:
Imagine Dragons - "Demons"
Arctic Monkeys - "Do I Wanna Know"
The Black Keys - "Fever"
Lorde - "Royals"
Linkin Park - "Until It's Gone"
MTV Artist To Watch:
Sam Smith - "Stay With Me"
5 Seconds of Summer -"She Looks So Perfect"
Charli XCX - "Boom Clap"
Schoolboy Q - "Man Of The Year"
Fifth Harmony - "Miss Movin On"
Best Collaboration:
Beyoncé ft. JAY Z - "Drunk In Love"
Ariana Grande ft. Iggy Azalea - "Problem"
Pitbull ft. Ke$ha - "Timber"
Chris Brown ft. Lil Wayne and Tyga - "Loyal"
Eminem ft. Rihanna - "Monster"
Katy Perry ft. Juicy J - "Dark Horse"
MTV Clubland Award:
DJ Snake & Lil Jon - "Turn Down For What"
Zedd ft. Hayley Williams - "Stay the Night"
Calvin Harris - "Summer"
Martin Garrix - "Animal"
Disclosure - "Grab Her!"
Best Video With a Social Message:
Angel Haze ft. SIA - "Battle Cry"
Avicii - "Hey Brother"
Beyoncé - "Pretty Hurts"
J. Cole ft. TLC - "Crooked Smile"
Kelly Rowland - "Dirty Laundry"
David Guetta f/ Mikky Ekko - "One Voice"
Best Cinematography:
30 Seconds to Mars - "City of Angels"
Beyoncé - "Pretty Hurts"
Arcade Fire - "Afterlife"
Gesaffelstein - "Hate or Glory"
Lana Del Rey - "West Coast"
Best Editing:
Eminem - "Rap God"
MGMT - "Your Life is a Lie"
Zedd ft. Hayley Williams - "Stay the Night"
Beyoncé - "Pretty Hurts"
Fitz and The Tantrums - "The Walker"
Best Choreography:
Sia - "Chandelier"
Beyoncé - "Partition"
Usher - "Good Kisser"
Michael Jackson f/Justin Timberlake - "Love Never Felt So Good" Jason Derulo f/2Chainz - "Talk Dirty"
Kiesza - "Hideaway"
Best Direction:
DJ Snake & Lil Jon - "Turn Down For What"?
OK Go - "The Writing's On the Wall"
Miley Cyrus - "Wrecking Ball"
Beyoncé - "Pretty Hurts"
Eminem ft. Rihanna - "The Monster"
Best Art Direction:
DJ Snake & Lil Jon - "Turn Down For What"
Iggy Azalea ft. Charli XCX - "Fancy"
Eminem - "Rap God"
Arcade Fire - "Reflektor"
Tyler, The Creator - "Tamale"
Best Visual Effects:
DJ Snake & Lil Jon - "Turn Down For What"
OK Go - "The Writing's On the Wall"
Disclosure - "Grab Her!"
Eminem - "Rap God"
Jack White - "Lazaretto"
In other news about the Carters...
During an interview with MTV News, Jeezy says Jay Z teared up while recording one of his verse for Jeezy's his upcoming album Seen It All. He told MTV,
"We got on the phone and [Jay] was like, 'Yo, Jeezy, when I was writing the verse I had tears in my eyes, man,' because it took him so far back to Marcy. Every bar in that song was real—I put my hand on the Bible."
Watch Jeezy discuss Jay here:
In new music....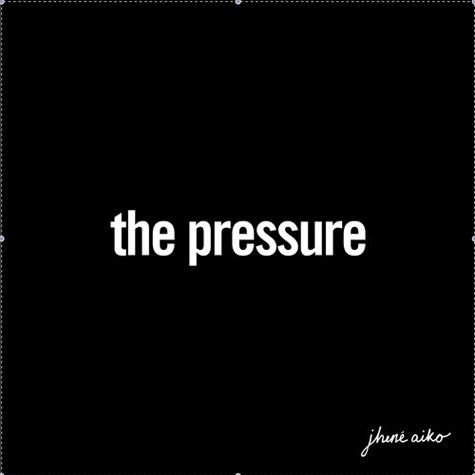 Jhene Aiko's latest single is the Fisticuffs produced track "The Pressure." The song is expected on her debut album Souled Out, scheduled for a September release.
Listen to the song here........
EXTRAS:
1. Richard Nichols, The Roots' Manager & Producer died. Story.
Photos via Beyonce's Istgram/Jeezy's Twitter
Meeka Claxton REVEALS Divorce From Husband Craig "Speedy" Claxton + Nikki "Hoopz" Alexander RETURNS To TV With "It Takes A Sister"
Posted: 17 Jul 2014 12:23 PM PDT
Remember former reality television stars Meeka Claxton and Nikki "Hoopz" Alexander? Well, both ladies have some new developments in their lives. Get the latest inside…
Former "Basketball Wives" star Meeka Claxton has been keeping a low profile after she was axed from the VH1 reality show back in 2011. But recently, she has opened up about her pending divorce from her estranged husband/retired NBA star Craig "Speedy" Claxton.
After 8 years of marriage (and being together for 16), the two are headed down Splitsville Lane and she confirmed their split with a heartfelt letter about starting a new chapter in her life.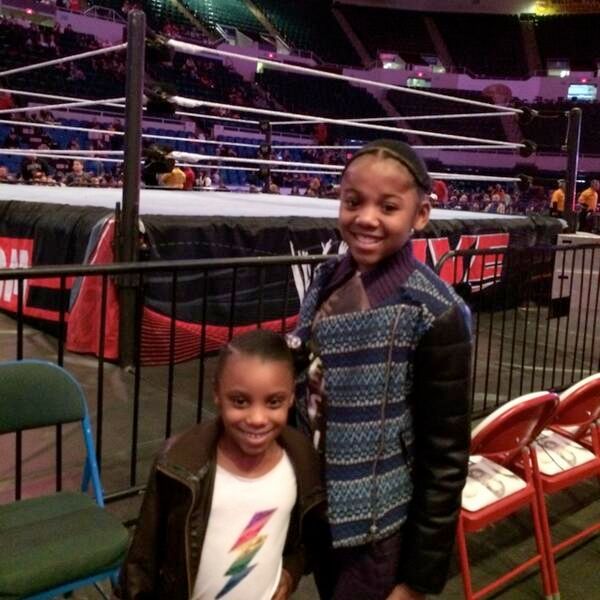 In an open letter posted on PYNK magazine's website for her weekly column, Meeka opened up about hard it was to explain to their two daughters (above) that their mother and father would no longer be together. She also revealed she fought like hell over the last 10 months to keep their family together, but things just didn't work out.
She wrote,
"Our next chapter will be our best chapter…" This was my promise to my daughters as I looked them in their big brown eyes and explained as best I could that mommy and daddy could not be together anymore.

After 16 years together, 8 years of marriage, living in 7 different cities, 2 beautiful daughters and a championship, unfortunately, Speedy and I have decided to separate.

But not because we didn't try or because we didn't want our family to work. If you know me even a little bit, then you know that my family means more to me than anything else.

For the last 10 months I have fought hard for my family because I didn't get married to get divorced. I love Craig (aka Speedy) and our family more than anything. I believe in the bond of family and the positive effect a two parent household can have on children because that's how I was raised. It's #FOE…Family Over Everything and that's what I have been instilling in my kids since Day 1.

As a mother, I try my best to raise young girls to be independent, confident women but there comes a time when you have to teach by example and this was one of those times.

Giving up doesn't always mean you're weak. Sometimes it means you are strong enough and smart enough to let go and move on.


Craig is an amazing father and he and I will continue to co-parent. Life is about accepting what is, letting go of what was, and having the utmost faith in what will be…God's got us

-Meeka Claxton
Meeka also took to her Twitter this morning, thanking fans for their support tweeting:
Every1 has been so sweet.I woke up w so much love & support But in the end my concern isn't me, it's my babies.FocusedOnMyGirls #Mommy1st Xo

— Meeka Claxton (@MeekaClaxton) July 17, 2014
Sad to see them break-up after being together for so long, but happy to know that they are committed to co-parenting in the best way they know how for the sake of their daughters. Keep your head up Meeka!
And another reality chick making moves....
Former "Flavor of Love" contestant Nikki "Hoopz" Alexander (who dated Shaq at one point in time) is returning to a TV near you soon.
The OXYGEN network just gave the greenlight for her new reality show tentatively titled, "It Takes A Sister." The upcoming docu-series will follow Hoopz and her five younger sisters (ages 24-31), along with their 11 children, as they try to get settled on Hoopz's rural ranch in Knoxville, Tennesse.
In the press release about the show, it reads:
"…these city girls are fish-out-of-water as they try to fit in down south. Their relationships will be tested as Nikki, known as the "Mama Bear" of the family, pursues her dream of opening her own boutique, while also helping her sisters accomplish their own goals. Can Nikki do it all being the head of this hectic household, older sister, world's best aunt and business owner?"
Will you tune in?

Photos: Getty/Hoopz's IG
WTF? Why Is The CASTING CALL For " Straight Outta Compton" So BLATANTLY RACIST?!
Posted: 17 Jul 2014 11:29 AM PDT
A casting call for the NWA biopic went out this week and it's pretty...uh...racist. See the call for "poor, out of shape" Black girls inside.
Director F. Gary Gray and producers Ice Cube and Dr. Dre are hard at work on "Straight Outta Compton", the NWA biopic, and all they need now is to complete the cast of extras. To do this, they enlisted Sande Alessi Casting. Here's the problem, the casting call they put on Facebook seems a little racist. Actually, it's a lot racist.
From a glance, Straight Outta Compton needs a group of well-built African American street thugs and dark-skinned out of shape "poor" Black girls. Oh....and Sande really values women who have real hair. "Potential" actors who wear weaves are NOT "the hottest of the hottest." And "Fine" girls are light-skinned Beyonce types will natural hair.
Really Sande Alessi?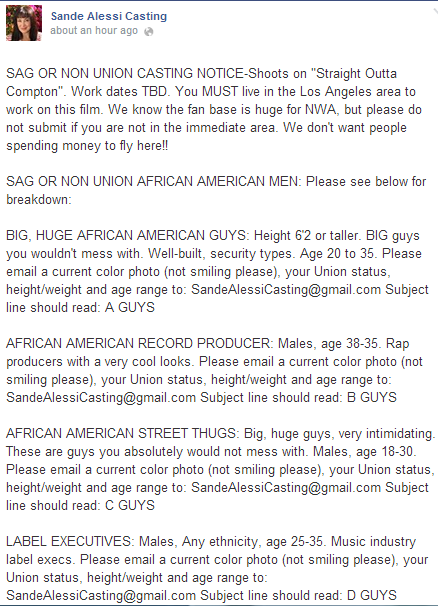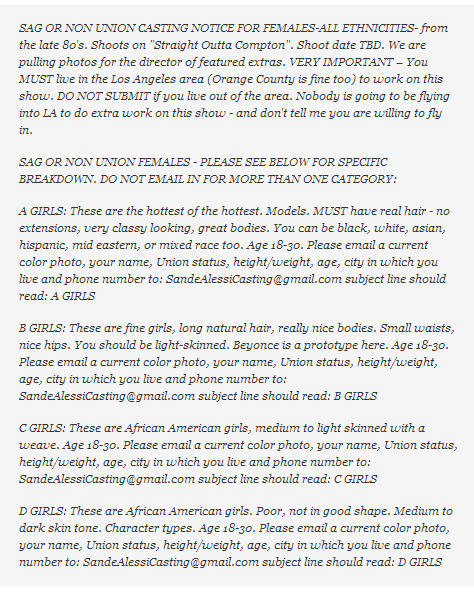 Doesn't this just make you cringe?
UPDATE:
TMZ spoke to a rep for Sande Alessi Casting who said the ad was an "innocent mistake" -- and "when it comes to casting the "poor" people, they're also looking for women of various skin tones and body types"
Photos via Michael Buckner/Getty Images North America/Universal Studios

DO WE BELIEVE IT?: Lil Wayne & Christina Milian Arrive At ESPY's HOLDING Hands…Are They Dating?
Posted: 17 Jul 2014 11:00 AM PDT
Lil Wayne hit the 2014 ESPY Awards last night with a new chick on his arm. And it was his newly single YMCMB artist Christina Milian. They were spotted walking in together…holding hands. Hmmm…think they're dating? Decide for yourself inside…
Newly single Christina Milian has been all over the place recently since it was announced she and her fiancé Rap-A-Lot Records CEO Jas Prince called it quits last month. And last night, she was on Lil Wayne's arm for the 2014 ESPY Awards at the Nokia Theatre in L.A.
The two were spotted holding hands as they made their way to their seats, which now has everyone wondering….are they dating?
Back in 2012, Weezy signed Christina to his YMCMB label, so she could have just been Wayne's "date" in support of her labelmate Drake hosting the awards…but there's always the possibility of things being more than what they really are.
To add fuel to the dating rumors, Wayne released a new track back in May titled "Tina Turn Up Needs A Tune Up," in which he raps about his new lady needing a King….and "f*ck" them princes. Oh…
He spit,
"She need a king, fuck them princes / You're a queen / Let's have a princess," he raps, adding, "Oh, ya'll just datin'? Well I'm still hating."
Hmmm…They also have been spending quite a bit of time in the studio working on Wayne's upcoming album Tha Carter V.
While Christina explores her options, her ex-husband The-Dream recently got married for the third time. Earlier this month, the producer and his girl LaLaonne Martinez supposedly said their "I Do's" at San Francisco's City Hall.
Seems Wayne loves The-Dream's ex-chicks…yes plural (did we forget about Nivea?).
Do we believe it?

Photos: Getty
Michelle Obama HONORS Janelle Monae At Grammy Museum's Education Awards Luncheon + Willow Smith JOINS SZA On Stage To Perform "Domino" In Brooklyn
Posted: 17 Jul 2014 09:39 AM PDT
Yesterday, Janelle Monae was honored by FLOTUS Michelle Obama during the Grammy Museum's Education Awards luncheon. Meanwhile, Willow Smith put her vocals on display in Brooklyn, singing a duet with singer SZA. Deets and video inside…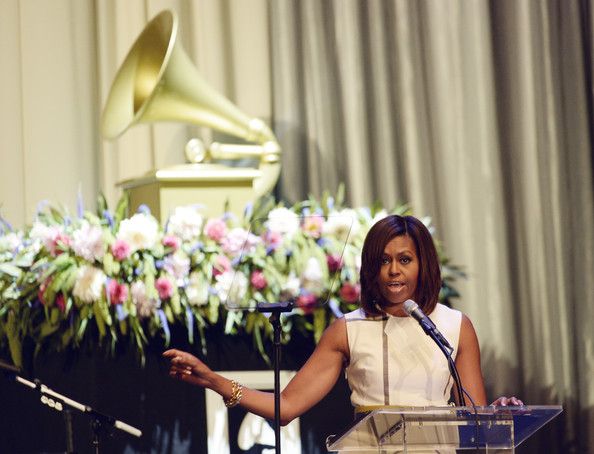 Our First Lady Michelle Obama (looking effortless in a 3.1 Phillip Lim dress) was at Club Nokia in L.A. yesterday to deliver the keynote speech on the importance of keeping arts education in our school systems and to honor singer Janelle Monae at the Grammy Museum's Jane Ortner Education Award luncheon.
The six-time Grammy nominated singer was honored, along with teacher Sunshine Cavalluzzi, for her efforts in mentoring young students through the Grammy Museum's educational efforts.
During Mrs. Obama's speech, she talked about expanding programs so that each child is introduced and exposed to the arts, which she believes is the key to unlock a world of possibilities for our young people.
She said,
"So many of the young people walk away transformed with a new sense of purpose and hope," she said. "Engagement in the arts can unlock a world of possibilities for our young people. ... For many young people, arts education is the only reason they get out of bed in the morning, just like Janelle."
Peep "The Electric Lady" embrace Mrs. Obama with a hug and her moves during her performance below: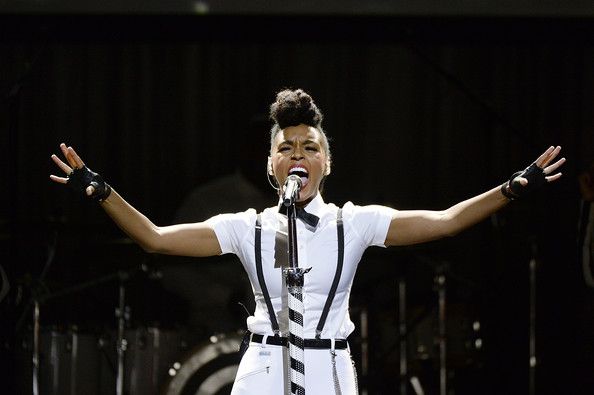 Yes Janelle!
And in Brooklyn....
We recently introduced you to singer SZA, who is labelmates with one of the hottest rappers out right now, Kendrick Lamar.
On Tuesday night, the budding songtress took the stage at Rough Trade in Brooklyn to perform before a sold out crowd. And who does she bring out to help with her vocals? Willow Smith!
After performing tracks from Z EP, SZA bought out Willow to perform a duet to an unreleased song titled "Domino." And Willow sounds great.

Check it:
After their performance, SZA sent a special thank-you to the 13-year-old starlet/singer via her Instagram saying, "Thank you to my baby girl my sunflower my genius my sister @rookooks (willow smith) for coming out to perform our special song tonight !!! baby your such a force to be dealt with and tonight you gave them a GLIMPSE..glow on I love you...if you wasn't there to hear it you wasn't there.. You'll have to wait ;) #CUBANPETE"
Nice.

Photos: Getty
COUPLEDOM: Nick Young & Iggy Azalea DINE OUT In Beverly Hills After The ESPY's, Nick DEFENDS Iggy AGAINST Nicki Minaj DISS
Posted: 17 Jul 2014 08:53 AM PDT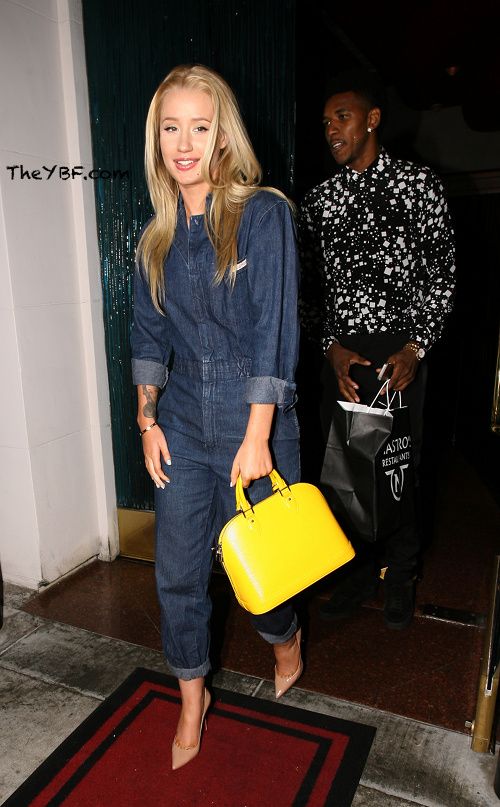 Nick Young dined out with his "Fancy" girlfriend Iggy Azalea last night. Find out where they went inside...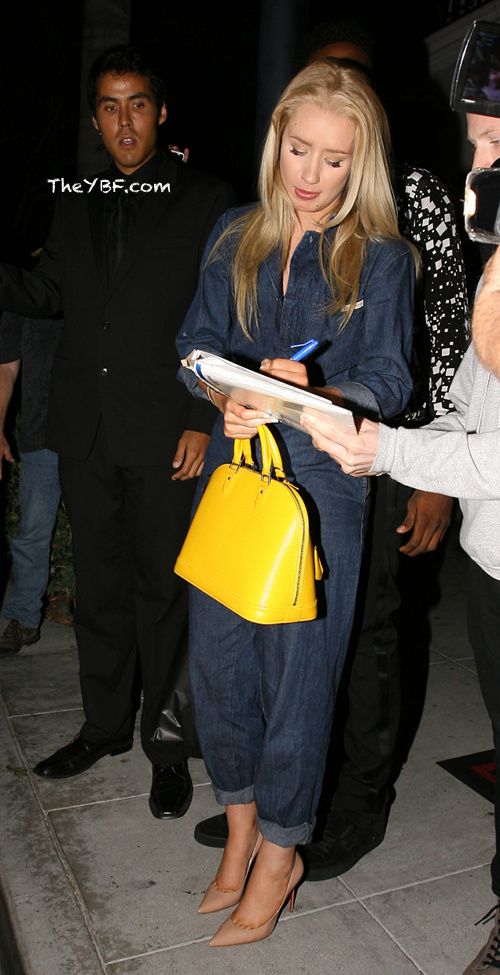 "Beat Down" rapper Iggy Azalea was spotted signing autographs outside of Mastro's steakhouse in Beverly Hills, CA last night.
Iggy had just finished dining out with her boyfriend, LA Lakers star Nick Young. Earlier in the evening the couple stepped out together on the red carpet at the 2014 ESPYS which Iggy kicked off with a performance of "Fancy."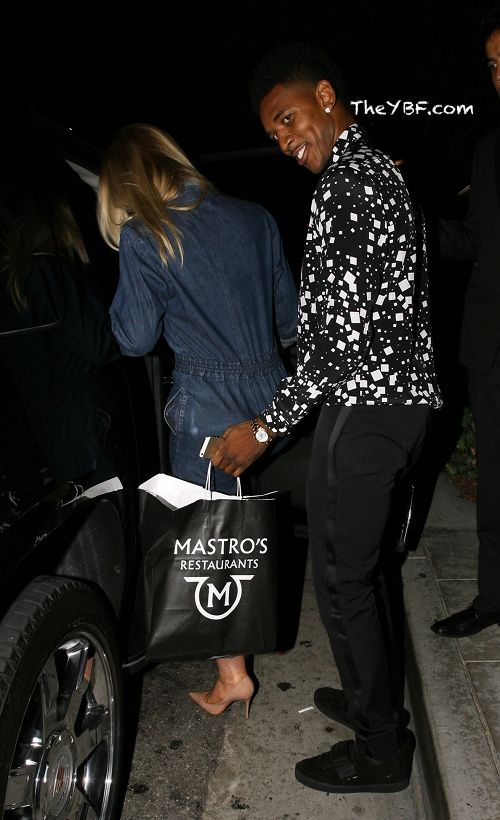 At the ESPYs, US Magazine asked Nick how he supported Iggy after Nicki Minaj allegedly dissed her at the 2014 BET awards. He said,
"Oh man! You know, it is what it is. I had to deal with the aftermath when she came home. When she got home and was going through her phone and hearing all the things and people talking trash about her, you know I had to be there for her. But you know what, Iggy is doing big things and its scaring a lot of people! She don't let it get to her. She's number one right now so what can you do when you are at the top right now? Of course they will all come at you!"
BONUS:
Watch Iggy kick off the ESPYs above....
EXTRAS:
1. Accoriding to USA Today. "A Malaysia Airlines Boeing 777 en route from Amsterdam to Kuala Lumpur with 295 people aboard crashed Thursday in Ukraine near the Russian border after reportedly being hit by a missile, according to an adviser to Ukraine's interior ministry." Story.
Photos via Roshan Perera/Splash News