---
Joseline Hernandez CONFIRMS Split With Stevie J+ Sherri Shepherd's Does NOT Want That Surrogate Baby...Says Husband TRICKED HER For Child Support!
Posted: 05 Jul 2014 08:01 AM PDT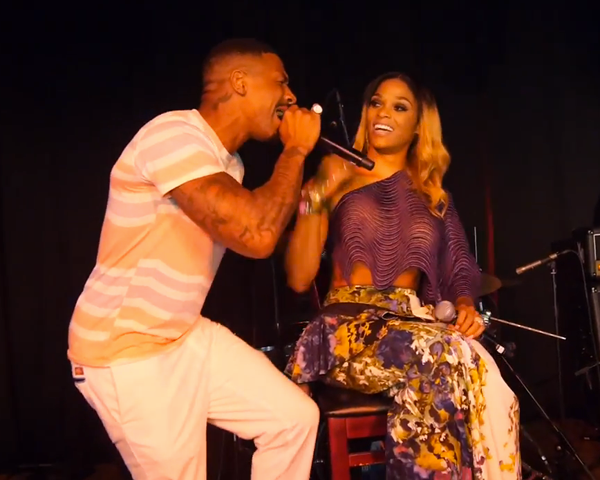 Joseline Hernandez is done with Stevie J…at least for now. Meanwhile, Sherri Shepherd believes her soon-to-be ex-husband Lamar Sally tricked her into getting a surrogate baby so he could receive child support payments from her! More inside…
Looks like there's trouble in paradise. And it was all good just a week ago…literally. "LAHH ATL" stars Joseline Hernandez and Stevie J seemed to have called it quits. Previous reports stated Stevie ran to media to tell them they broke up. And Joseline apparently confirmed their split recently, on stage at Supperclub.
In a video sent to Baller Alert Joseline said, "And to answer your question n*gga, NO I ain't got on no muthaf*ckin wedding ring since you wanna be all up in muthaf*ckin business."
Hmph. And before her announcement, it seems as if someone hacked Joseline's Twitter account. Stevie J perhaps? You be the judge after you peep the tweets: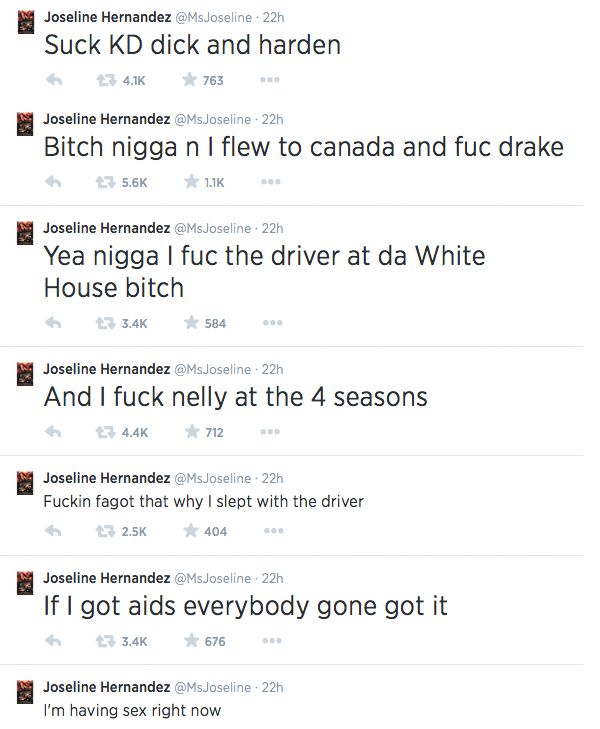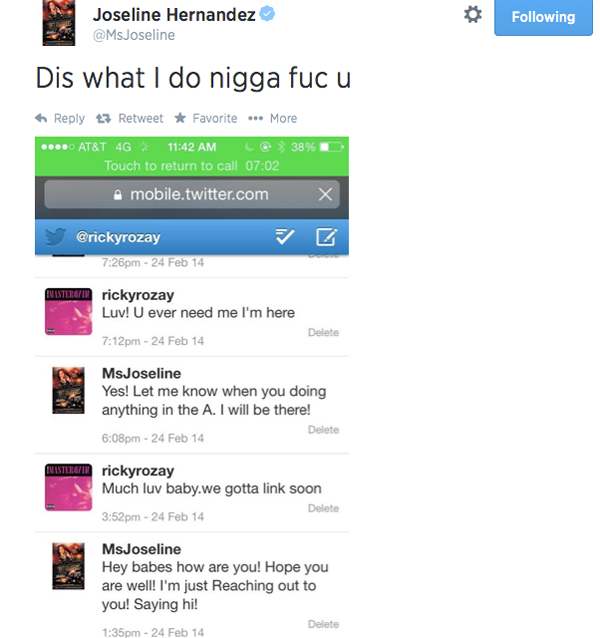 Guess the Rick Ross DM exchange would explain the rumors that she was pregnant by Rick Ross. Yea, we weren't believing that ish either.
Since then, Joseline has created a new Instagram page, making a video to confirm her page was indeed hacked. She said,
Sighs...
And to think, it was all good a week ago. Peep the video below of Stevie serenading the Puerto Rican Princess:
Publicity stunt much?
In other break-up news....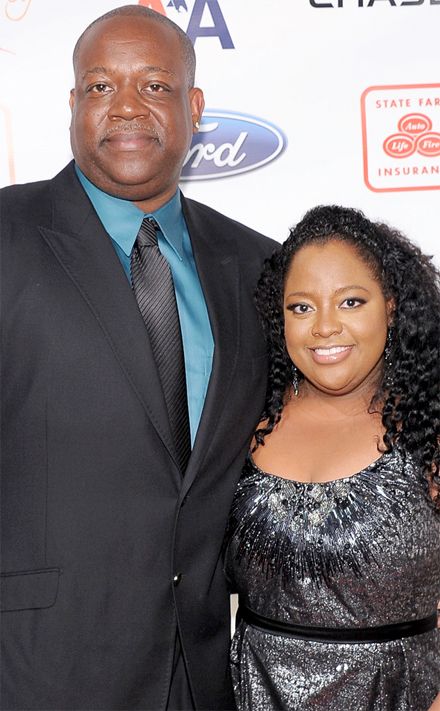 "The View" co-host (for now) Sherri Shepherd is giving up all parental rights to the unborn surrogate baby she and her estranged husband Lamar Sally was suppose to share.
According to TMZ sources, the baby was conceived with Lamar's sperm but not Sherri's egg! So now, Sherri wants a judge to rule that she has no parental rights or responsibilities. Although she signed a contract with Sal for the surrogate to carry their baby, she does NOT want custody of the child.
Sources say Sherri believes Sal tricked her into having a surrogate so he could benefit from child support payments. She claims he got her to sign the contract knowing then he would divorce her to try to get paid.
And there's more…
We told you Lamar filed for divorce first in California while Sherri filed in New Jersey. Well, Sherri may have filed in NJ because the state does not recognize surrogacy agreements, unlike California. It's said Sherri tried to get pregnant via in vitro but when that didn't work, that's when they decided on a surrogate.
This whole thing is one big MESS!

EXTRAS:
1. TheYBF.com is ON THE SCENE at the 2014 Essence Festival! Follow us on INSTAGRAM for tons of instant coverage!
Photos: Getty/Joseline's Twitter
Wait…WHAT?!: Keyshia Cole Says She's EXCITED To Go To London To See…The Eiffel Tower?!
Posted: 05 Jul 2014 07:12 AM PDT
Seems Keyshia Cole may need a refresher lesson in geography. The "She" singer posted on Instagram about how excited she was to travel to London to see…the Eiffel Tower? Umm…deets inside…
After dropping a few behind-the-scenes pics of her new video "N*ggas Like You," Keyshia Cole is ready to travel overseas. But…there's one problem. It seems as if the songtress is a tad bit confused on where some major landmarks are located.
In an Instagram post, Keyshia said, "On my way to London!! This should be exciting!!! I won't miss the lights on the Eiffel Tower this time! Mad moms couldn't find DJs passport. And so was he."
Talk about a Jessica Simpson Chicken-of-the-sea moment.
Err…the Eiffel Tower is in Paris. And you know her fans on Instagram made sure to let her know it…with some additional shade as well.
Check it: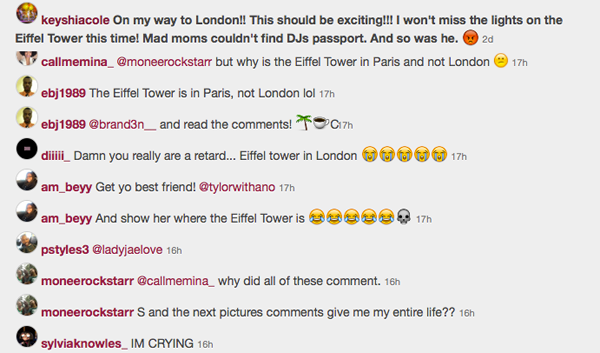 Gurrrrl.
Photos: Keyshia's IG
Karrueche Tran Cuddles Up With Chris Brown, CELEBRATES The Launch Of New Limited Edition V/SUAL T-Shirt
Posted: 04 Jul 2014 10:40 AM PDT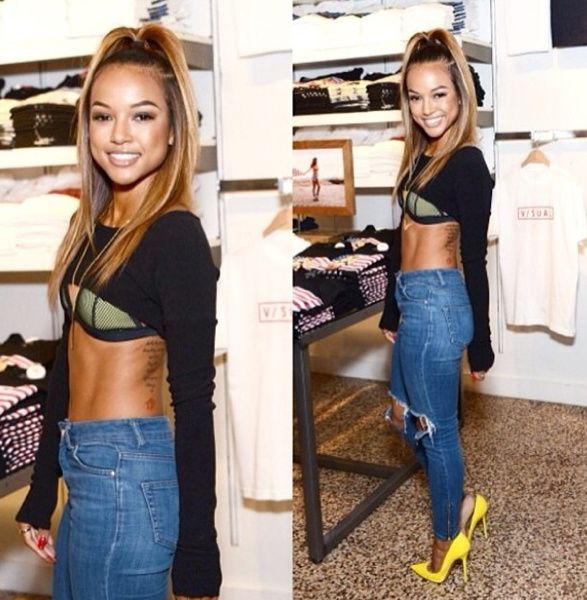 Outside of being Chris Brown's "Loyal" chick, Karruche Tran is proving she's more than Breezy's main chick. Kae teamed up with retail clothing giant Pac Sun for her limited edition 4th of July V/SUAL t-shirt. Peep the pics inside…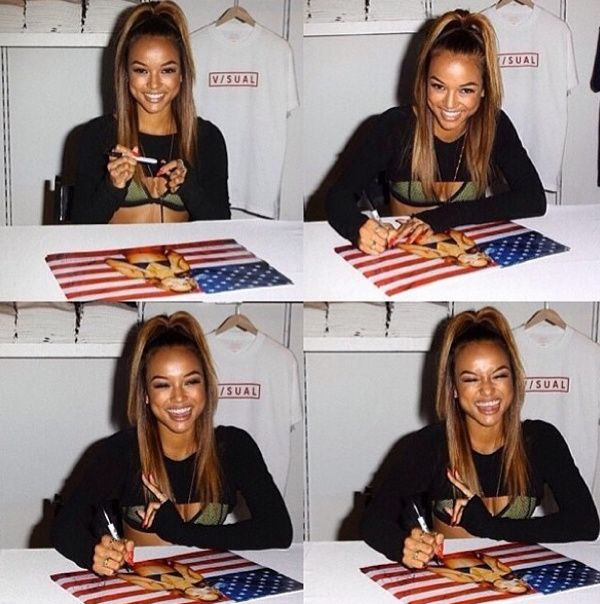 It's the 4th of July! And to celebrate, Karrueche Tran is in L.A. celebrating the launch of her new, limited edition 4th of July V/SUAL t-shirt.
Kae's new shirt features the budding model getting patriotic in a red, white and blue swimsuit covered with the United States flag.
Kae snapped a pic with the photographer of the V/SUAL photoshoot, Van Styles. She posted the pic above with the caption, "Me and the man behind the camera @van_styles."
And of course, her bestie Christina Milian was there to show her friend support.
Peep the visuals from Kae's V/SUAL photoshoot below:
Today, Kae is doing a meet-and-greet at Glendale Galleria's Pac Sun for fans to grab their limited edition 4th of July tee.
After the launch...
After a long night at her t-shirt launch, Kae met up with her boo thang Chris Brown at 4AM in the morning for a cute cuddle sesh. Chick isn't going anywhere any time soon.
Photos: Karrueche's IG
ESSENCE KICKOFF : Monica, Nas, Trey Songz, Jazmine Sullivan, K. Michelle, Elle Varner, Boosie & Meek Mill Roll Into EssenceFest Weekend
Posted: 04 Jul 2014 09:00 AM PDT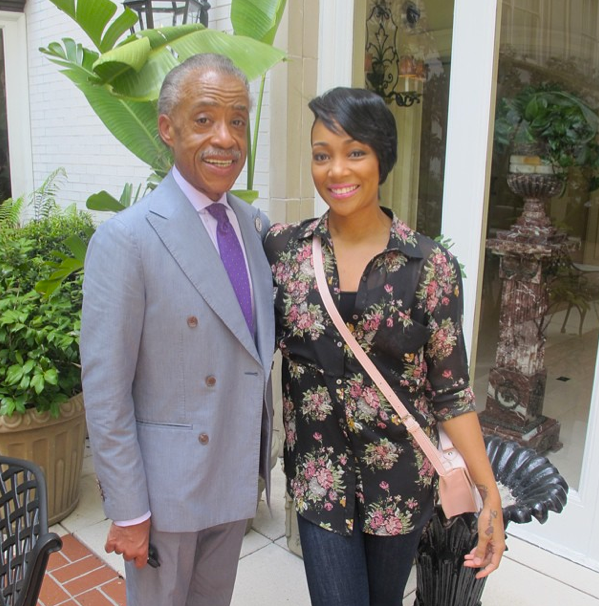 The 2014 Essence Festival in New Orleans is in full swing. And to kick things off, Jazmine Sullivan, K. Michelle, Trey Songz and Nas hit the stage for the "Now Playing" concert in the Mercedes-Benz Superdome. Peep the IG pics inside…
Folks are trekking it to New Orleans this weekend for the 20th annual Essence Festival weekend. And to kick off the weekend full of festivities, Nas, Jazmine Sullivan, K. Michelle and Trey Songz rocked the stage at the Mercedes-Benz Superdome last night.
But before the concert, singer Monica caught up with Rev. Al Shaprton (above). The slim-and-trim Al Sharpton was on his way to the welcome reception hosted by Essence Communications president Michelle Ebanks backstage at the superdome.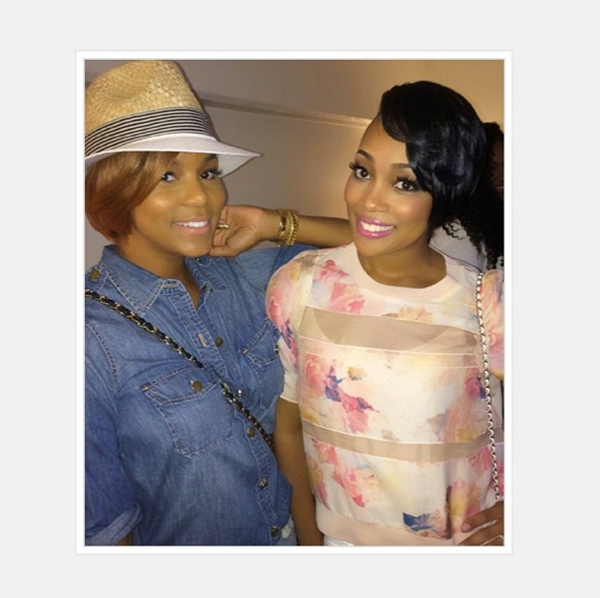 Monica caught up with Letoya Luckett (still rockin' her new 'do) and said, "There just aren't to many like this lady right here!! Nothing but love & positivity [heart emoji] so glad she's here #NOLA #Masquerade #LoveMyFriends @letoyaluckett"
Before Jazmine Sullivan took the stage, she posed it up alonside Monica backstage.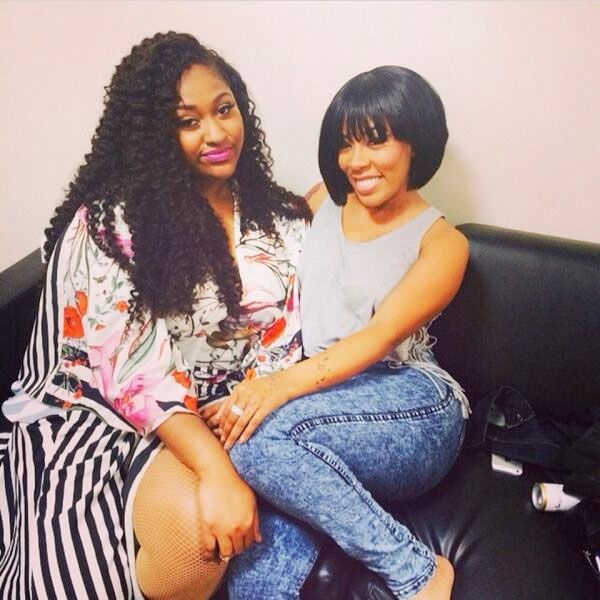 After poppin' off on Elle Varner on Instagram recently, K. Michelle snapped a pic with Jazmine Sullivan before they stormed the stage.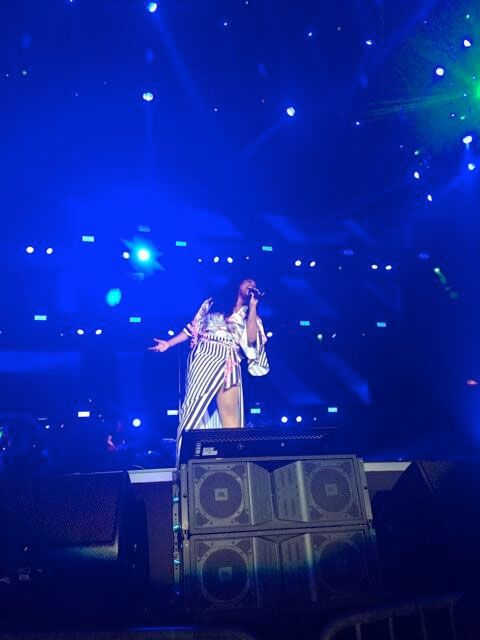 Jazmine is steadily making her comeback to the music scene. She started her set with her new track "Dumb" featuring fellow Philly native Meek Mill. During her set, she gave a tribute to Lauryn Hill, singing covers to some of her classics.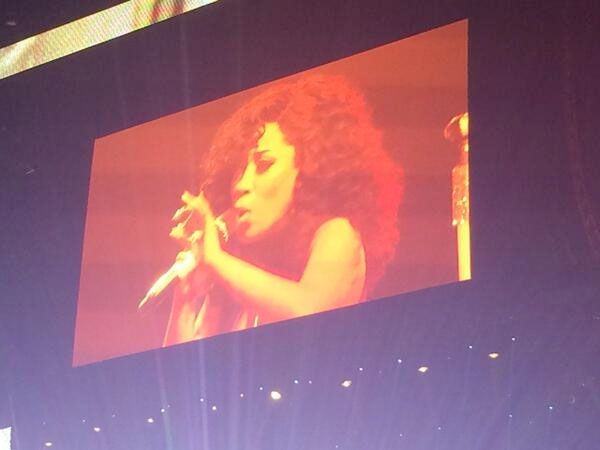 K. Michelle sang her hit "Can't Raise A Man" then did a 90's R&B medley including SWV's "Rain" and Monica's "Don't Take It Personal" & "Before You Walk Out My Life."
As she closed her set, K said she will no longer be on "Love & Hip Hop" and announced her own reality show on VH1, which will premiere on Nov. 3rd.
Trey Songz (who dropped his new album Trigga July 1st) took the stage and got the ladies all riled up with his track "Dive In."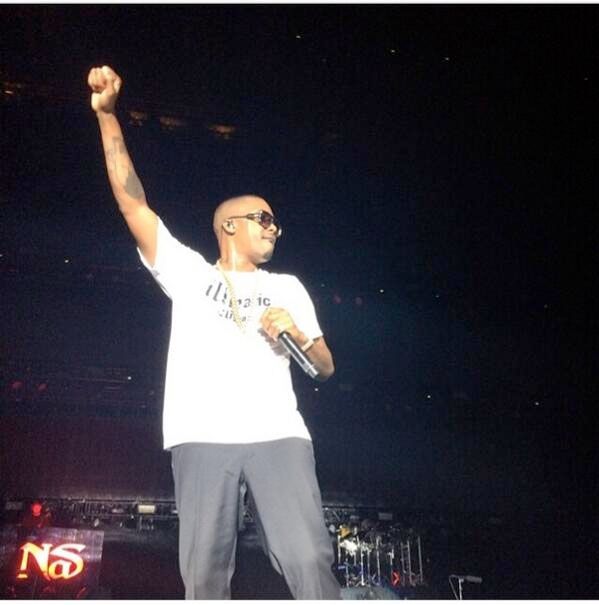 As he celebrates 20 years since his classic album Illmatic dropped, Nas headlined the "Now Playing" concert at the 20th annual Essence Festival. Nas dedicated his performance to the recently deceased Maya Angelou and then performed some of his hits "Made You Look" and "One Mic."
Peep the videos below.
K. Michelle singing "Before You Walk Out Of My Life" cover:
Trey Songz on stage:
After the concert...
Monica changed into a printed Clover Canyon dress paired with Christian Louboutin shoes and blue Chanel bag before heading out to a party in New Orleans. She captioned, "Tonight was a blast as usual #NOLA #Masquerade Thx to all who came out ...."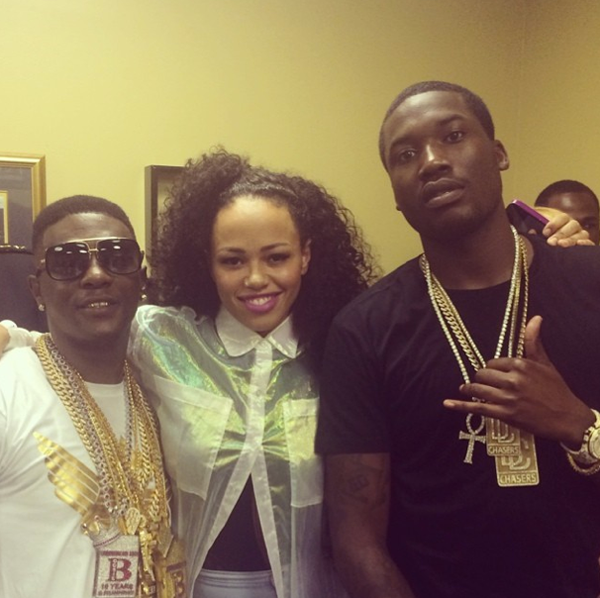 Looks like Elle Varner and Meek Mill are getting extra chummy after K. Michelle blasted Elle over a pic she took with Meek. We're not sure why K is mad, but Elle and Meek don't seem fazed.
Elle and Meek posed it up backstage at Southern University Minidome in Baton Rouge for Lil Boosie's homecoming concert. Elle captioned, "Gas tank on E but all drinks on me! @officialboosieig @meekmill #church"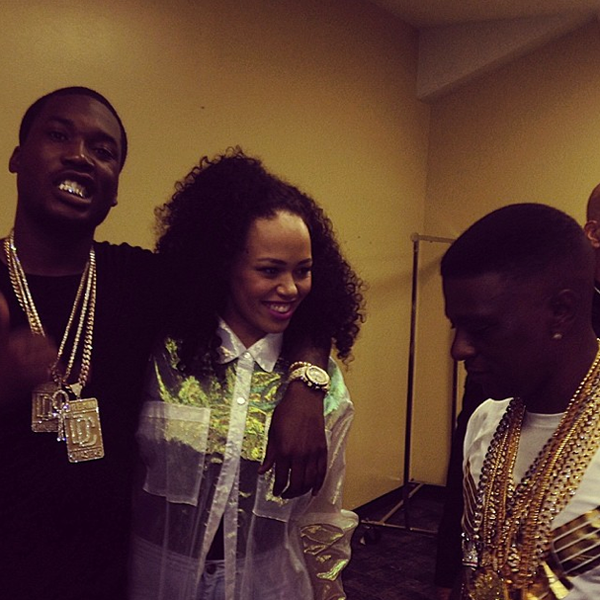 Meek (who also took the stage) posted the pic above with the caption, "@officialboosieig checking dat ass out @ellevarner lol" Ha!
Photos: Elle's IG/Meek's IG/Monica's IG/Trey's IG/EssenceFest's Twitter