---
WEEKEND CANDIDS: "The Talk" Co-Host Aisha Tyler DENIED Club Entry + Russell Westbrook HITS THE RACKS At Barneys + Robin Roberts OUT TO LUNCH With Girlfriend Amber
Posted: 26 Jul 2014 08:41 AM PDT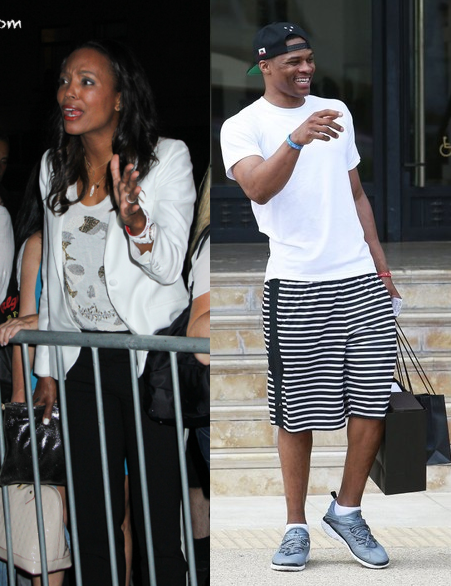 Talk show host Aisha Tyler, NBA baller Russell Westbrook and "GMA" anchor Robin Roberts were all spotted out and about yesterday. Get the deets on what they were up to inside....
"The Talk" co-host Aisha Tyler was so not in the mood last night when she was spotted outside the Playboy And A&E 'Bates Motel' Comic-Con Party in Cali.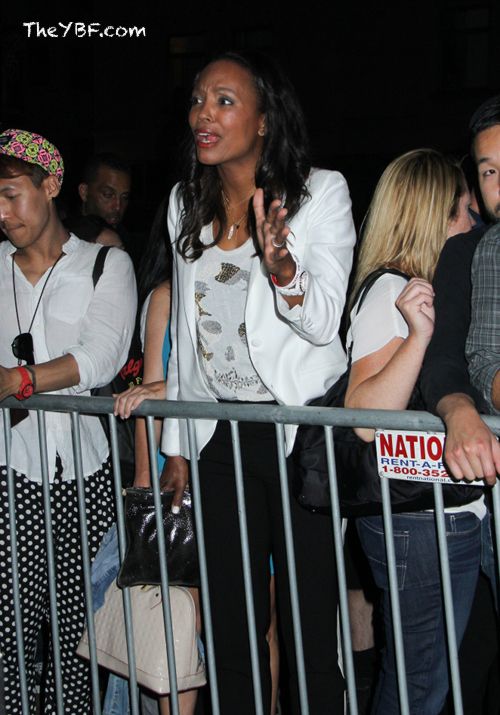 Sources say the "Archer" actress and several other celebs were denied entry after fire marshals shut down the entrance for over 30 minutes due to the party being over capacity. Luckily, we hear Aisha was eventually allowed into the party. But chick looked like she was ready to pop OFF. When celebs are treated like real peope....
In Beverly Hills: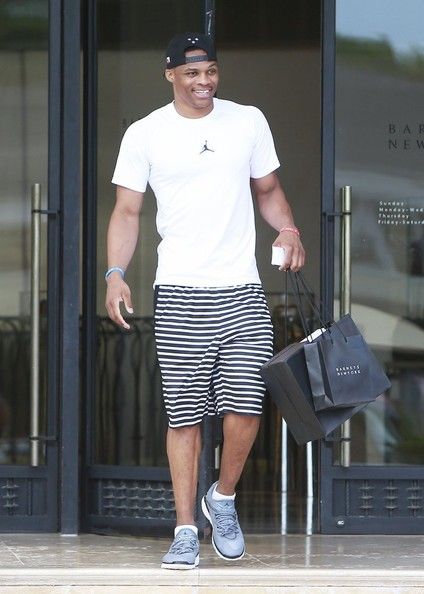 Russell Westbrook is known around the country as one of the top NBA players in the game, but on the streets of L.A., he's known most for his fashion sense.
The dapper baller was spotted walking out of Barneys New York yesterday with some new ish: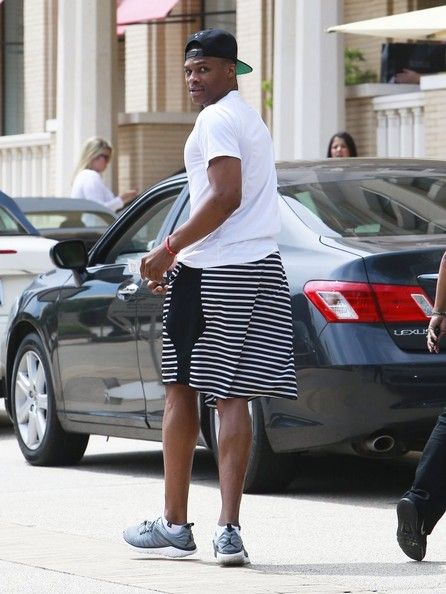 Recently, Russell and Barneys collaborated on an ongoing XO Exclusively Ours collection of 16 pieces ( hats, shoes, bags, and sunglasses) all designed with Russell's playful and bold aesthetic. Y'all talk about that man's fashion sense...but he's got Barneys collabos in his pocket.
And.....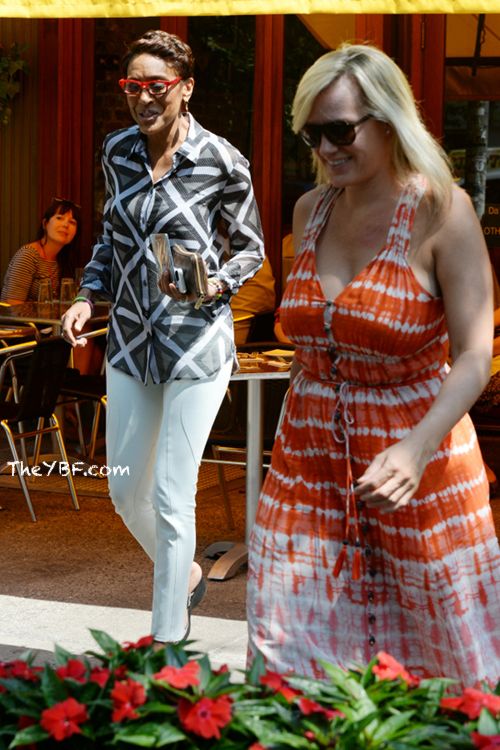 "GMA" anchor Robin Roberts, who received the 2013 Arthur Ashe Courage Award at the ESPYs, was spotted out with her girlfriend Amber Laign yesterday.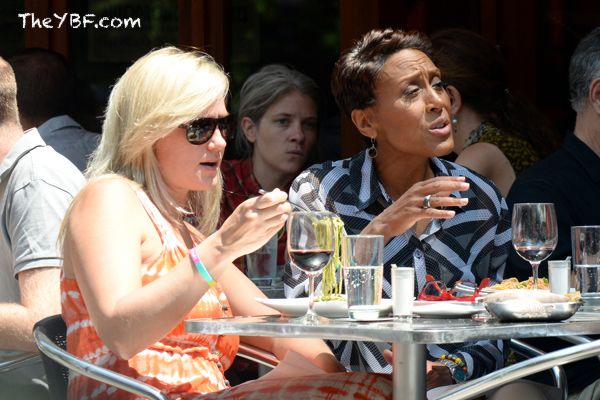 The two enjoyed NYC's fab weather by grabbing lunch at Da Silvano with friends. Nice.
Photos via Splash/FameFlynet
HOUSE PORN: Mariah Carey & Nick Cannon DITCH Bel-Air Mansion For $10 Million As Unconfirmed Split Rumors Persist
Posted: 26 Jul 2014 07:17 AM PDT
Mariah Carey and Nick Cannon have sold their luxe 3-acre Bel-Air mansion for $10 Million. See pics of their former abode inside.....
In the midst of dodging divorce rumors (which have become persistent) Mariah Carey and Nick Cannon pocketed a cool $3 Million profit for the sale of their Bel-Air mansion recently.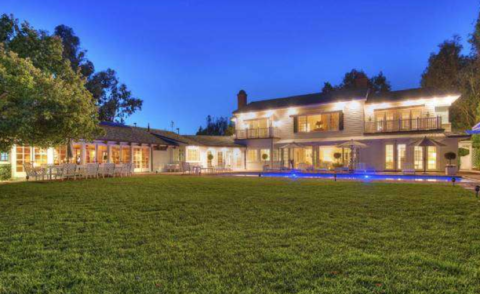 The couple purchased the 3-acre mansion for $7 million back in 2009 and were able to unload it for $10 Million this year. Wonder what's going to happen to that monogrammed pool floor...
It's too bad Mimi wasn't able to flip that kind of success with her latest album, Me. I Am Mariah… The Elusive Chanteuse. Nearly 3 months into its release...the disc hasn't really produced a hit single.
The massive digs feature a movie theater, a gym, an indoor basketball court and a putting green. And the rest of the gorgeous home:
On Instagram, we noticed that Mariah has only posted pics of Dem Babies recently and she was escorted down the red carpet at the New York premiere of Hercules by her business associate Kevin Liles.
Has the couple hit an alleged rough patch, much like all the uncofirmed rumors swirling about the Carters?
Photos via MLS
DO WE LOVE IT?!: Ashanti Gets BRAIDED Up
Posted: 25 Jul 2014 04:28 PM PDT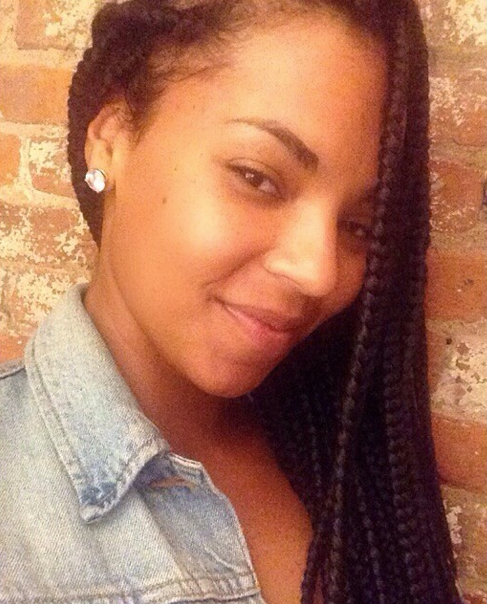 Ashanti just copped a new 'do. And it looks like it's for a new movie role. Decide if you love it inside…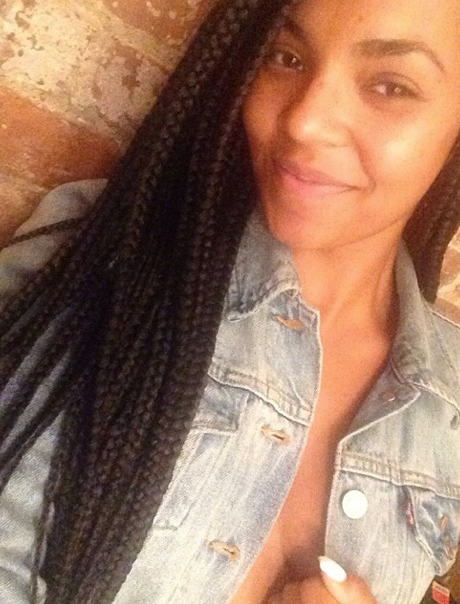 Ashanti just switched up her look for long medium-sized box braids. The Braveheart singer flossed her Poetic Justice-style braids on Instagram today with the caption, "Fresh face & braids #nextchapter #newbeginnings #grateful #braveheart"

Flawless face with no makeup. Cute!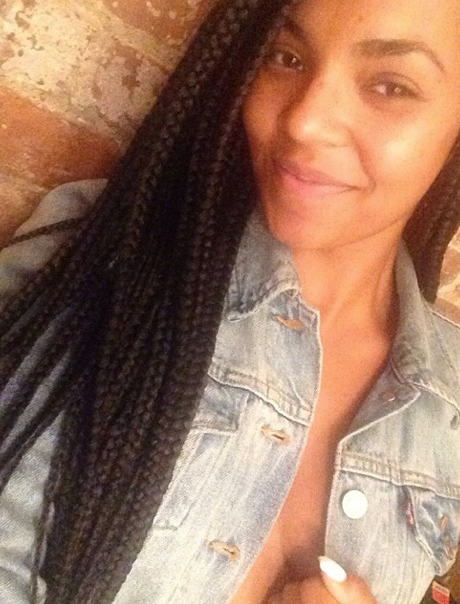 The babe in braids has plenty to be grateful for. She's gearing up to begin filming for her new role as "Eve" in the new movie "Stuck."
So...
DO WE LOVE IT?!
Photos: Ashanti's IG
Keyshia Cole CLAIMS "SHE" Is NOT A Lesbian, Dishes On Leaving Daniel "Boobie" Gibson & Admits Her Family Needs Help!
Posted: 25 Jul 2014 04:00 PM PDT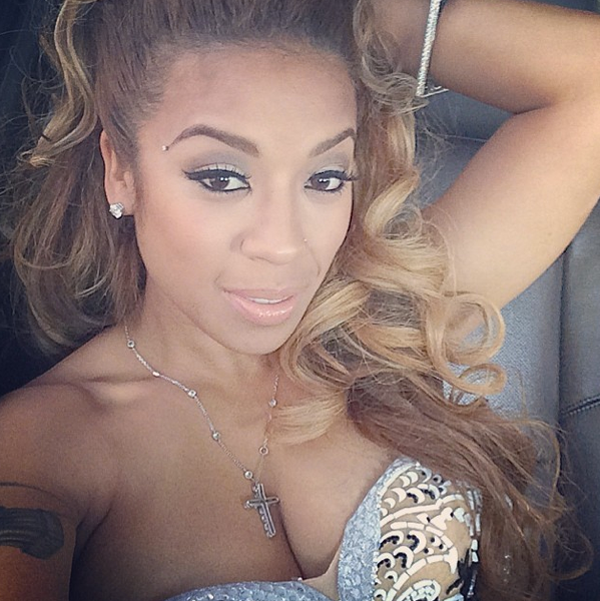 Keyshia Cole is clearing the air about her "SHE" track being about a lesbian love affair, says she's having a hard time trusting men again and she chimes in about her family's rumored reality TV show. Check it inside…
As she treks along her "Point of No Return" tour (which kicked off this week), Keyshia Cole made a stop in Chicago before taking the stage at the House of Blues. She hit up the WGCI radio station to chop it up with radio host Loni Swain and some of her fans about her upcoming sixth studio album Point of No Return, what the "SHE" record is really about, difficulty trusting a man again, her family getting a reality show and more.
After the release of Keyshia's "SHE" record, it was no denying the lyrics seemed to refer to a lesbian love affair, in which many believed Keyshia was singing about a personal experience. Well, according to her the song is NOT about girl-on-girl action, but rather about exploring your own body. She said after being married for 4 years and then not having anyone by her side, she learned how to get familiar with...herself.
She said,
"I had to get familiar with myself so I think that song is really, in essence of what that song "She" is about. It's getting to know yourself. I know people think it's about girl-on-girl action, which it was at first, and then I kinda switched the lyrics around a lil bit."
As you may know by now, Keyshia and her estranged husband Daniel "Boobie" Gibson have been in talks about getting a divorce, although neither of them have officially filed in court. Most recently, Keyshia was hit with fake divorce papers by someone claiming to be Boobie, but he says it wasn't him...it was an imposter. Hey, crazier ish has happened. During the interview, Keyshia was asked how has her perspective on love changed since separating from her husband. She responded,
"It's no way of getting around not knowing if somebody is ready or not. That's the whole thing about friendship. Whoever I end up with, I've been praying that he's my friend first. If you think about being friends, you're not going to go and get them hit up. You not gone put them in a situation where you gone get them shot. You ain't gone put me in a situation where you make another woman think she got something over me. If we friends and you really love me like you say you do, it's certain things you're not going to do out of respect."
Here are a few more highlights:
On her blocking her family's reality show:

"Nah, not true at all. I definitely do think they do need help…as a family we need help. My whole main objective from that reality show from jump was to make sure that we grow."

On her new reality show:

"We went over to Africa and did some filming. Filming DJ had his birthday. Just things I've been going through everyday. We shot for a minute. BET said they wanted to pick it up so…you know what I mean. It is what it is. The fans always ask me can I do it so I don't mind long as they're not intrusive."

On if there are any positive songs on Point of No Return:
"Nah [laughs]. I have some sexy songs though. Once you leave a dude you be like 'aight I'm cool.' Especially if you've been heart broken before. I'm just at the point where I don't want to go through it again but I mean I'm only human. And I have feelings. At the same time being sexy now…that's a whole nother thing."

On what she has been doing to get over her break up:
"Gym…yea. Just trying to eat better. I did a fast for about 4-5 days…just juicing. I actually loved it. I go in the steam room before I work out for about 10-15 minutes then go work out for about 2 -3hours then go pick up my son from school and get back to my motherly duties. Right now, working. Trying to stay focus."
The "SHE" singer also talked about the backlash she received for posting a picture with Justin Bieber, her fave reality show on TV now and more.
Check it:
Keyshia's next stop on her "Point of No Return" tour is the Paul Brown stadium in Cincinnati, Ohio on Saturday.
And speaking of her new album….
Keyshia just dropped off the official cover art for her sixth studio album, Point of No Return. Looks like we're getting closer to hearing the full album.
EXTRAS:
He's back! Bobby Brown is returning to the New Edition tour (after a brief departure for medical reasons). He'll be hitting the stage tonight. The venue "Chene Park" tweeted "DETROIT STAND UP! Bobby Brown is back TONIGHT at @cheneparkdetroit! It's going down. #chenepark #detroit #newedition #bobbybrown" Welcome back.....
Photo: Keyshia's IG/CheneParkDetroit
Karrueche Hits The Beach In Miami...While Chris Brown Hits The Bowling Alley InCali With Friends
Posted: 25 Jul 2014 02:45 PM PDT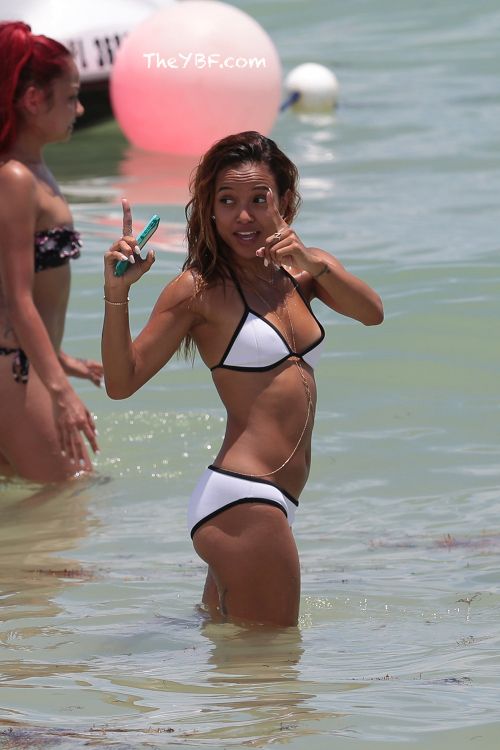 It's still unclear as to whether Karrueche Tran and Chris Brown are "on" or "off"....as of today...but Kae trekked it down to Miami for the weekend to party it up. And Chris was spotted back in Cali hitting a bowling alley with friends.
Check the pics inside....
Looks like the sometime-y couple is spending some time apart this weekend. Kae hit the beaches of Miami today with her girls. And looked like she was having some fun snapping pics and pointing out some interesting things in the ocean.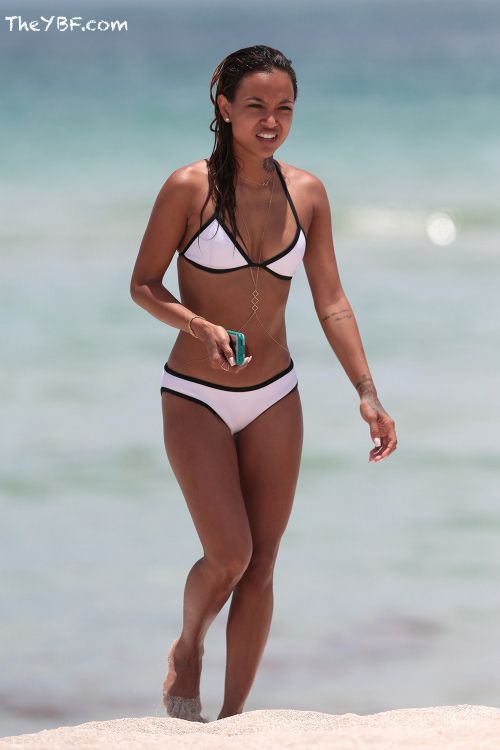 And she showed off her bikini bod in a black & white two piece.
And back in Cali: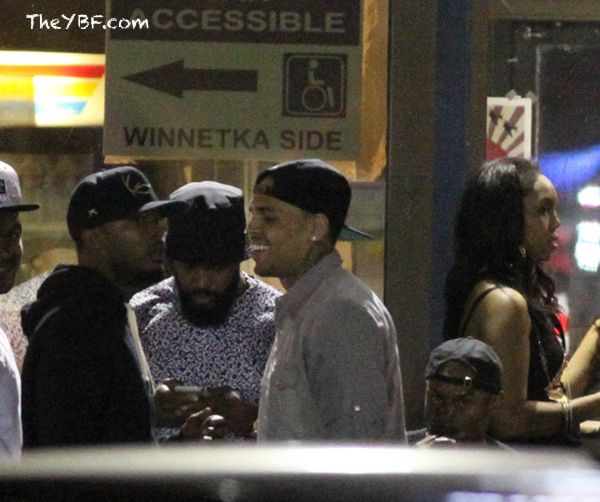 Chris Brown was spotted leaving Canoga Bowling Alley in Woodland Hills. Glad to see he's staying out the clubs...

EXTRAS:
1. B.o.B has been named the face of the Fall/Winter 2014 Ecko campaign. STORY
2. Lil Wayne has officially kicked off his new sports management company....with soccer star Cristiano Ronaldo as a client. STORY
Photos: Pacific Coast News/Splash
HOT WATER: Stephen A. Smith OFFENDS Viewers With Anti-Domestic Violence Rant, SUGGESTS Women Shouldn't PROVOKE Men!
Posted: 25 Jul 2014 01:53 PM PDT
While attempting to reprimand Ray Rice and condemn domestic violence, Stephen A. Smith stepped DEEP into some ish earlier when he seemingly implied that women have to refrain from "provoking" men into potentially threatening situations. Watch him explain inside...
If you've never seen ESPN's "First Take" or heard of Stephen A. Smith, one (not everyone, but some people) MIGHT describe him as the Kanye West of sports journalism. He has ALL THE ANSWERS, he's always right and he's LOUD. Most of the time, he does make great points and he definitely knows his stuff. But.....he has his moments.
A little backstory: Baltimore Ravens running back Ray Rice has been suspended for two games for allegedly knocking out his wife Janay Palmer a few months ago during a trip to Las Vegas before being seen, on surveillance tape, dragging her limp body off an elevator.
Fast forward to today....Stephen A. Smith suggested Ray deserved a harsher penalty however, he stepped in the doo doo when he tried to take women (often on the receiving end of the abuse) to task for their behavior.
In the clip below, you want to pay attention to these two key lines:
".. let's make sure we don't do anything to provoke wrong actions..."

and

"...the elements of provocation, you got to make sure that you address them, because we've got to do is do what we can to try to prevent the situation from happening in any way."
You can see in Stephen's eyes that this clearly didn't come out of his mouth the way he wanted it to sound in his head. But....it's live television. What can you do?
Here's his full rant followed by video:
"We know you have no business putting your hands on a woman. I don't know how many times I got to reiterate that. But as a man who was raised by women, see I know what I'm going to do if somebody touches a female member of my family. I know what I'm going to do, I know what my boys are going to do. I know what, I'm going to have to remind myself that I work for the Worldwide Leader, I'm going to have to get law enforcement officials involved because of what I'm going to be tempted to do. But what I've tried to employ the female members of my family, some of who you all met and talked to and what have you, is that again, and this what, I've done this all my life, let's make sure we don't do anything to provoke wrong actions, because if I come, or somebody else come, whether it's law enforcement officials, your brother or the fellas that you know, if we come after somebody has put their hands on you, it doesn't negate the fact that they already put their hands on you. So let's try to make sure that we can do our part in making sure that that doesn't happen."

"Now you got some dudes that are just horrible and they're going to do it anyway, and there's never an excuse to put your hands on a woman. But domestic violence or whatever the case may be, with men putting their hands on women, is obviously a very real, real issue in our society. And I think that just talking about what guys shouldn't do, we got to also make sure that you can do your part to do whatever you can do to make, to try to make sure it doesn't happen. We know they're wrong. We know they're criminals. We know they probably deserve to be in jail. In Ray Rice's case, he probably deserves more than a 2-game suspension which we both acknowledged. But at the same time, we also have to make sure that we learn as much as we can about elements of provocation. Not that there's real provocation, but the elements of provocation, you got to make sure that you address them, because we've got to do is do what we can to try to prevent the situation from happening in any way. And I don't think that's broached enough, is all I'm saying. No point of blame."
There's a way, a time and place to say everything. Unfortunately, Stephen's words--despite the fact he did disagree with that weak 2 day suspension--are infuriating plenty of people in this moment. They believe he's doing the often typical act of putting the onus on the female victim when it comes to domestic violence.
So......."the elements of provocation."
Your thoughts?
Photo via ESPN
TELL 'EM WHY YOU MAD: Zoe Saldana BLASTS The Media For Revealing She Was PREGNANT!
Posted: 25 Jul 2014 10:00 AM PDT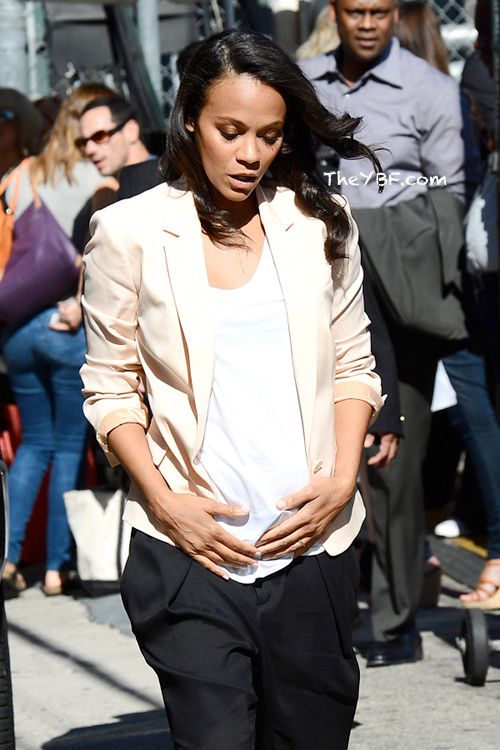 Zoe Saldana is pissed her worst kept secret was revealed to the world. But why is she mad? She blasted the media for invading her privacy but we only revealed what everyone else could clearly see on their own. Deets inside…
Seems Avatar actress Zoe Saldana is salty everyone knew about her pregnancy before she was ready to share it with the world. You'll recall we put her on bump watch (via our Instagram) a month ago after pics of her wearing baggy clothes and billowy tops surfaced. Soon after, she was spotted hiding her belly with a Barney's bag while out shopping in L.A. We also spotted her on a grocery run earlier this month where you couldn't deny she was toting a bump up under her shirt.
Then she showed up on the red carpet at the Guardians of the Galaxy premiere earlier this week (above) in a lace Louis Vuitton Resort Dress, clearly with child.
A blind man could see she is pregnant…not just the media. And Zoe is not happy about it. Now, she's claiming the media is "invading her privacy" after reports that she was pregnant with her and husband Marco Perego's first child began circulating. New reports claim she's actually pregnant with twins! She took to her Twitter yesterday to air out her frustrations tweeting,
"I believe that any violation of privacy is nothing good."~Lech Walesa. I would like to thank all the fucking media for invading our privacy

— Zoe Saldana (@zoesaldana) July 24, 2014
Sooo…we were suppose to act like we didn't see her growing belly? Oh…ok.
Invasion of privacy would be the stealing of sonograms or medical files. It is not calling out a VERY obvious baby bump on a person who is out and about in public.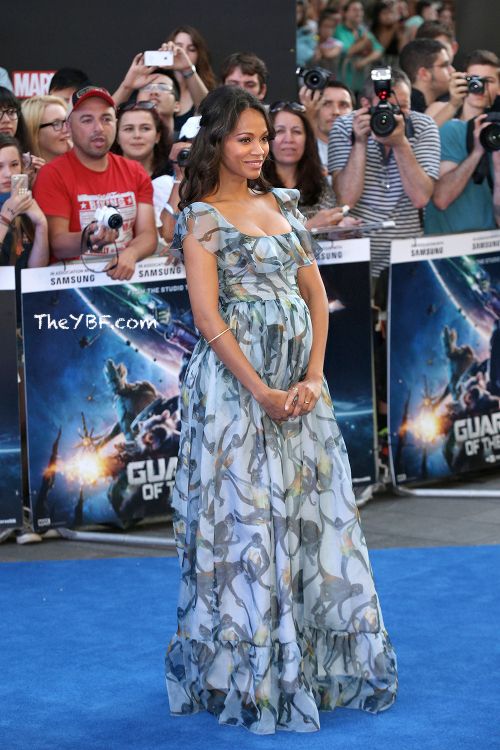 The Guardians of the Galaxy star's publicist confirmed she was pregnant to the Hollywood Reporter, in which she graces the cover of their newest issue. Seems Zoe is furious people figured out she was preggo beforehand, messing up her cover story exchange.
Bah Humbug!
Photos: Getty/Splash
IN CASE YOU MISSED IT: Ne-Yo MOVES ON, POSTS Pic Of His NEW LADY Crystal Renay+ "Atlanta Exes" SUPERTRAILER With Ne-Yo's EX-Monyetta Shaw, Tameka Raymond & Torrei Hart
Posted: 25 Jul 2014 09:30 AM PDT
Ne-Yo has found love again. See the pic he posted of his new lady inside and watch his ex-fiancee Monyetta Shaw pick up the pieces (alongside the exes of Usher and Kevin Hart) in the "Atlanta Exes" trailer..
Ne-Yo has bounced back from his engagement to "Atlanta Exes" star Monyetta Shaw with Black, Italian and Spanish model/actress Crystal Renay. For now, the couple are keeping it pretty quiet (compared to some celeb couples). Crystal started her Instagram account in June and has only posted one pic of Ne-Yo (so far) while Ne-Yo posted the pic atop earlier this week.
We've seen what social media does to relationships (unless you're KimYe) so we hope these two play it safe. Congrats.
Coming to the small screen....
We've been telling you about it for months, and now the trailer for "Atlanta Exes" is here. In the clip above, watch Monyetta Shaw (Ne-Yo's Ex), Tameka Raymond (Usher's Ex),Torrei Hart (Kevin Hart's Ex), Christina Johnson (CeeLo's Ex) and Sheree Buchanan (Ray Buchanan's Ex) join the reality kingdom of VH1 as they move on from their famous exes. And surprise surprise - it looks like Tameka Raymond is the villain! The shows kicks off on August 18th.
Photos via Neyo's Instagram/Crystal Renay IG
#FBF: Case, Christopher Williams, Sisqo, Joe & More Celebrate Keith Sweat's 53rd Birthday
Posted: 25 Jul 2014 09:00 AM PDT
Music vet turned radio host Keith Sweat brought out a bunch of R&B folks we have and haven't heard from in a while for his 53rd brithday. See Case, Christopher Williams, Carl Anthony Payne II, Sisqo, Joe & more inside...
It's Flashback Friday...and look who we have here.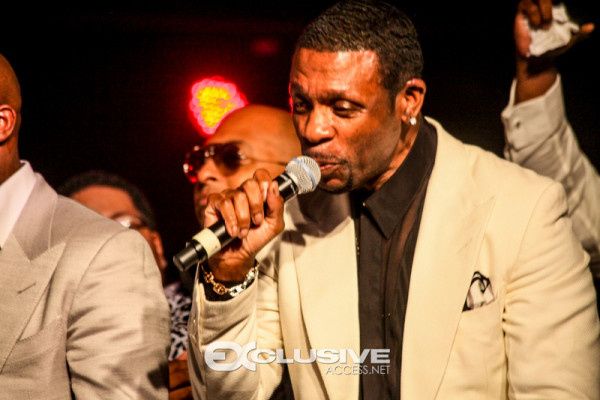 Keith Sweat celebrated his 53rd birthday this week with a party thrown by Jamahl King and S.T.E.P.S Events at his new restaurant Fuego in Duluth, GA. And his homies from the 90's and beyond showed up.
Keith, who's been keeping up with fans on his iHeartRadio channel "The Sweat Hotel", invited some of his famous friends to party including Joe and Case.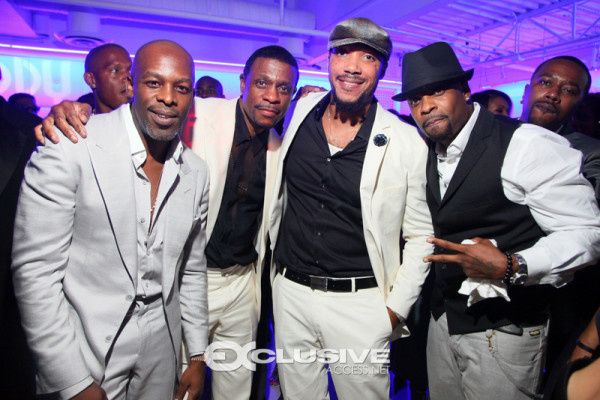 Lyfe Jennings also posed with the fellas.
At some point, a toast was made and a microphone was passed around. "Star" singer Tank was among the fellas who sang.
Dru Hill's Sisqo took a turn. Would love to know what HE sang...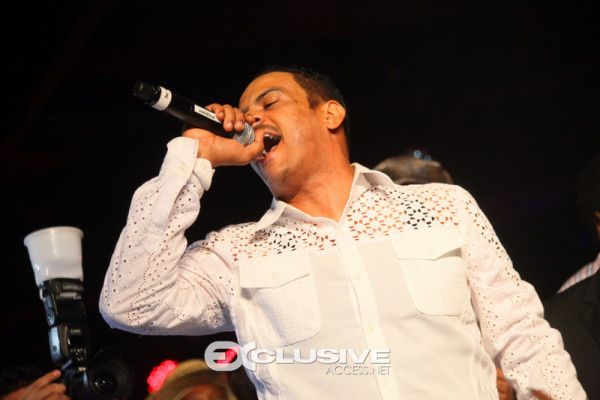 Christopher Williams sang a note or two. Wonder if he plans to re-appear on "Real Housewives of Atlanta" next season....
112's Q Parker made a toast to Keith as well.
Radio personality Ryan Cameron, who hosted the party, and RHOA star Peter Thomas saluted Keith as well.
Photos via Thaddaeus McAdams/ExclusiveAccess.net