---
2014 ESPY AWARDS HIGHLIGHTS: Drake BLOWS In Lance Stephenson & Paul George's Ear, Chris Brown Makes Appearance In Skit, Skylar Diggins KISSES Drake & Stuart Scott's Emotional Speech
Posted: 17 Jul 2014 07:16 AM PDT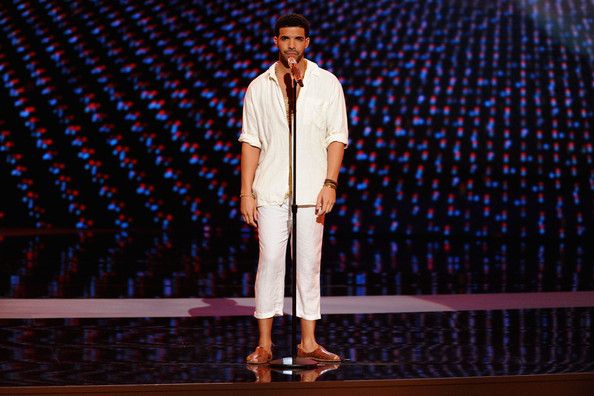 Last night, the 2014 ESPY Awards went down at the Nokia Theatre in L.A., hosted by Drake. And we've rounded up the awards show highlights. Get ready to laugh when you go inside…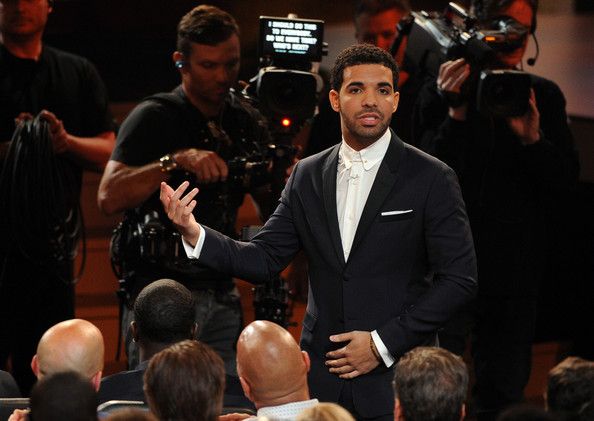 For his first hosting gig at the ESPY Awards, Drake pulled out all the stops when it came to cracking jokes on the many sports stars that were in the Nokia Theatre last night. Drake went right in throwing funny jabs at newly drafted Cleveland Browns QB Johnny Manziel, NBA superstar LeBron James and Seattle Seahawks player Richard Sherman.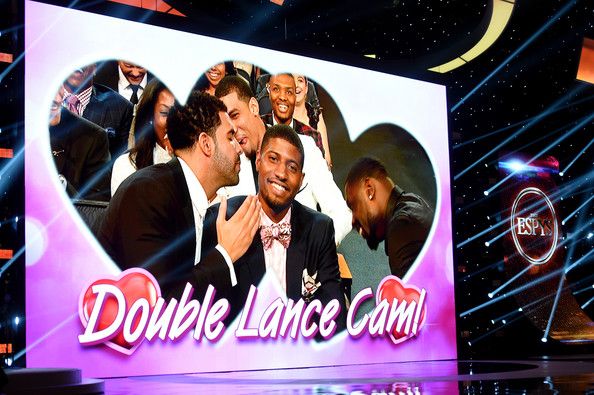 But his jokes got funnier when Drizzy pulled out the "Lance Cam" and blowed in Charlotte Hornets player Lance Stephenson's ear! He was mocking Lance when he blew in LeBron's ear during Game 5 of the Eastern Conference Finals. Then Drizzy went over to Lance's ex-teammate Paul George, got Lance to kneel on the other side of him and they BOTH blew in his ear! #doublelanced
Check out Drake's opening monologue and him blowing in the NBA stars' ear:
Ha!
A surprise to many, Chris Brown popped up at the 2014 ESPY Awards. It seems Drake and Breezy have let bygones be bygones and are now working together to get that money! We first spotted the two in the studio working on a song last week. NOW, Chris and Drake are acting in skits together. Breezy made a cameo alongside NBA star Blake Griffin as a operating surgeon about to perform surgery on Drake. "BBW LA" star Draya also made an appearance. Check it below:
Funny!
Next, Drake introduced Floyd Mayweather to the stage using a British accent (and two trumpeters) as he read Floyd's real (and fake) accolades. He was soon surrounded by big muscular men dressed in TMT (The Money Team) t-shirts. He then made a joke, "Wow, this is crazy. I'm getting the T.I. treatment tonight." Bloop.
Another hilarious moment during the night, Brian McKnight and Drizzy's duet titled, "Side Pieces" and Drake's "Honorable Mention" songs. They were hilarious. Check them out below:
Hilar!
At one point, Drake took the stage in a very interesting and rather colorful ensemble (above) mocking OKC Thunder player Russell Westbrook and his "unique" sense of fashion.
And the highlight of Drake's night was when he was kissed by WNBA star Skylar Diggins. Drake switched it up donning Skylar's college basketball jersey before he started a poem dedicated to the female baller titled, "Can I Dig In?" Skylar surprised Drizzy on stage, coming up behind him as he read his poem. Drake then requested a kiss…but she straight friend-zoned him. She gave him a nice, big kiss…on his forehead.
Check it:
Newly drafted St. Louis Ram player Michael Sam (who is the first openly gay player in the league) gave a heartfelt speech after accepting 2014 Arthur Ashe Courage Award.
During his speech, he would become overwhelmed by tears, trying to hold them back as he talked about how far he has come. He said,
"This year I had a lot of experience being part of something bigger than myself," Sam said. "At times, I've felt like I've been living in a massive storm, without knowing when the storm will end. But I'm here tonight to tell you that the lessons I learned about love, respect, being true to yourself will never leave me."
Check out his full speech below:
And last but not least, ESPN analyst Stuart Scott's inspiring and motivational speech after accepting the Jimmy V Award. Back in January he announced he was battling cancer for the third time, but said he is not letting it take over his life.
During his speech, he revealed his body had almost completely shut down last week, causing him to have to endure four surgeries in the last seven days. Talk about perseverance.
He said,
"When you die, it does not mean that you lose to cancer," Scott told the audience. "You beat cancer by how you live, why you live, and in the manner in which you live."
Peep his full speech below:
Photos: Getty
RED CARPET FLAIR: Colin Kaepernick, Keri Hilson & Serge Ibaka, Russell Westbrook, Iggy Azalea & Nick Young & More At The 2104 ESPY Awards
Posted: 17 Jul 2014 06:16 AM PDT
Last night Drake hosted The 2014 ESPY Awards at Nokia Theatre L.A. Live and we have your red carpet roundup of our YBF celebs inside...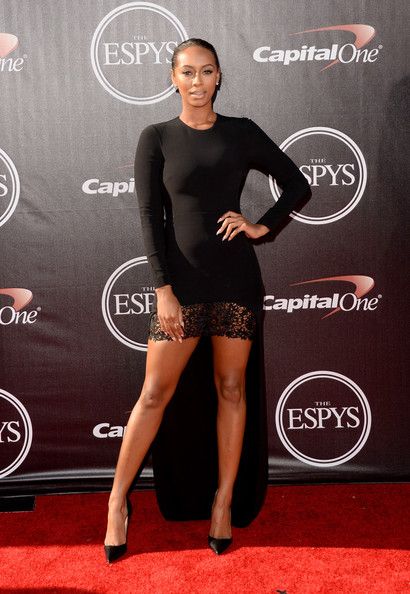 "Knock You Down" singer Keri Hilson walked the red carpet with her Oklahoma Thunder star bae Serge Ibaka.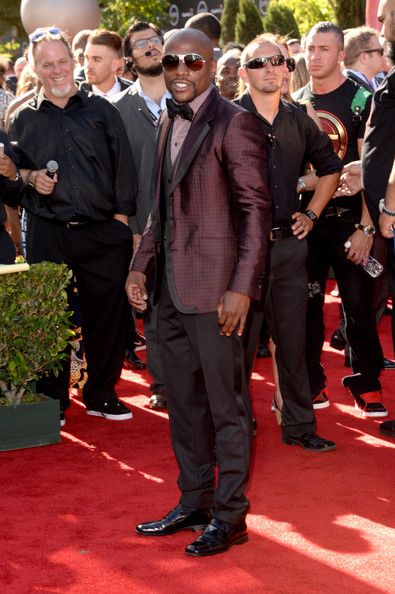 Floyd Mayweather made it a family affair with all of his children.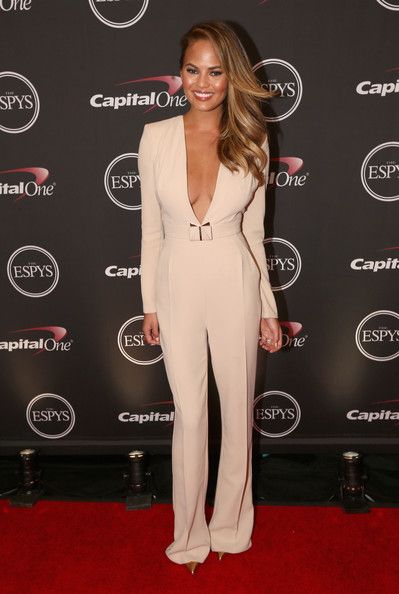 Sport Illustrated covermodel Chrissy Teigen was among the celebs at last night's ESPYS.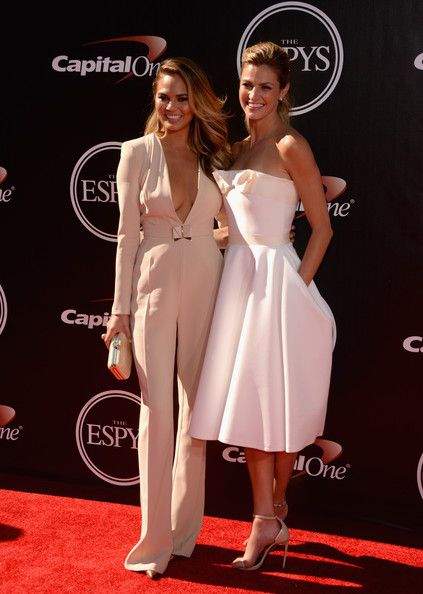 She posed with Erin Andrews, who's replacing Pam Olivier in the top spot on Fox Sports.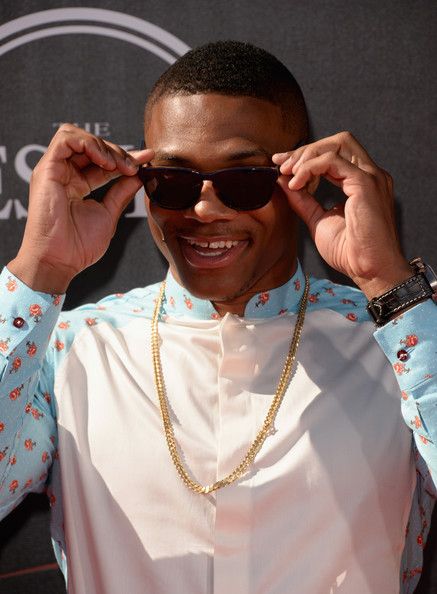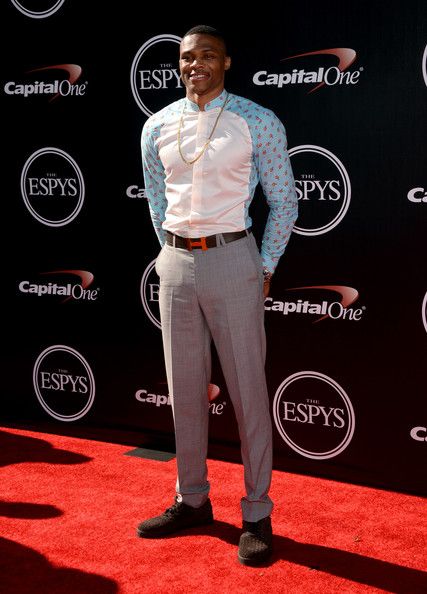 Fashion maverick Russell Westbrook never misses a moment to dazzle on the red carpet.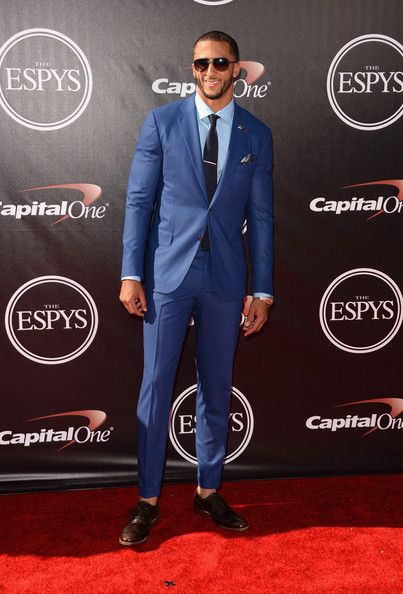 San Francisco's own Colin Kaepernick sported a dapper suit.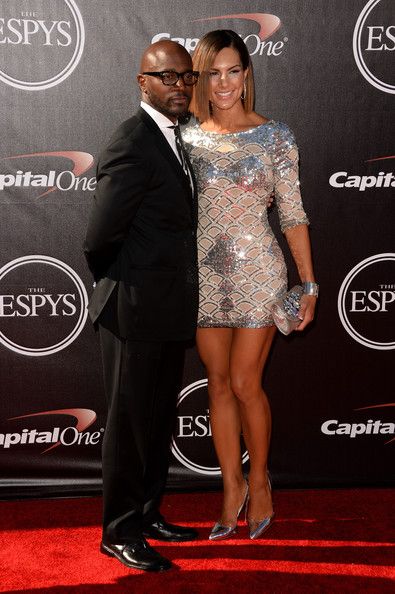 Taye Diggs brought out his new lady friend Amanza Smith Brown.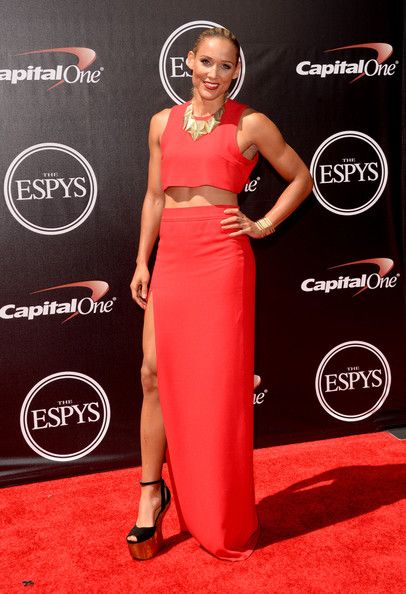 Olympian LoLo Jones showed off her well-toned calves.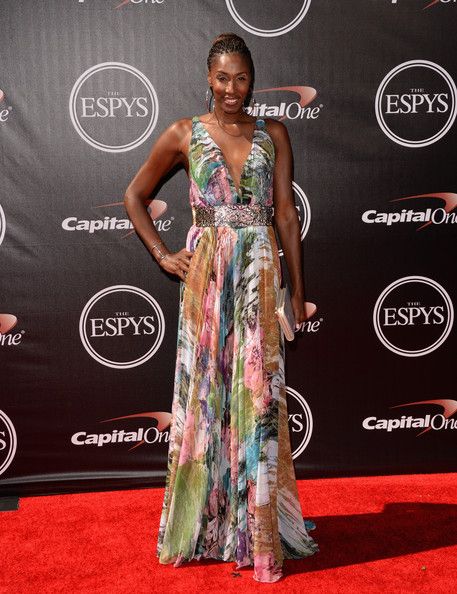 WNBA legend Lisa Leslie looked radiant in her colorful gown.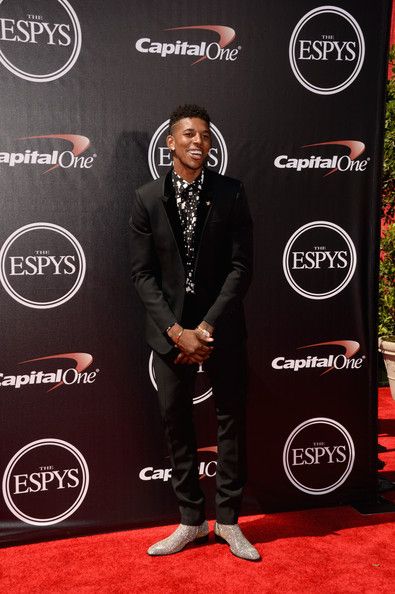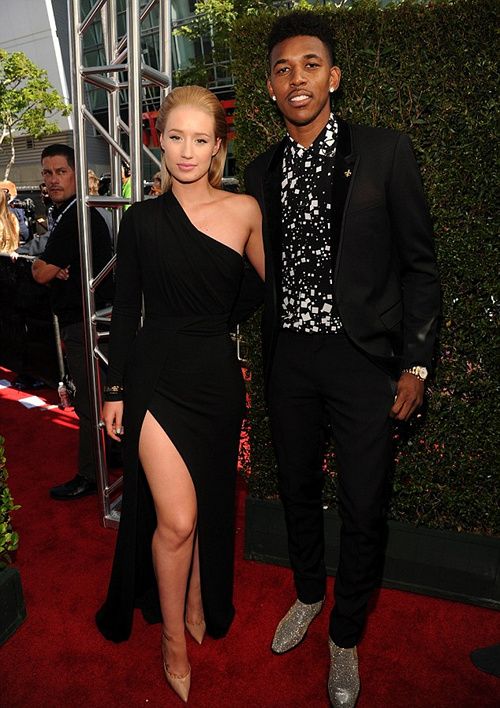 LA Lakers player Nick Young walked the carpet with his "Fancy" girlfriend Iggy Azalea.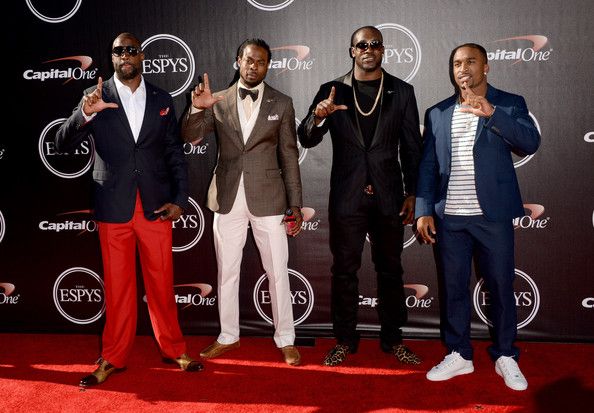 Seattle Seahawks football players Brandon Browner, Richard Sherman, Kam Chancellor, and Jeron Johnson all posed together. They accepted the award for "Best Team" while Richard took home an award for "Best Breakthrough Player."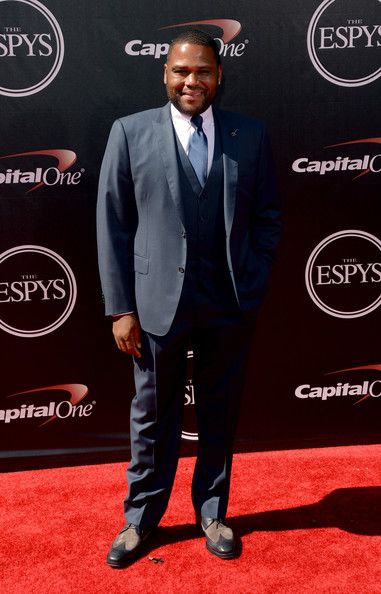 Anthony Anderson, who'll be heading to ABC this fall with "Black-ish", posed for pics.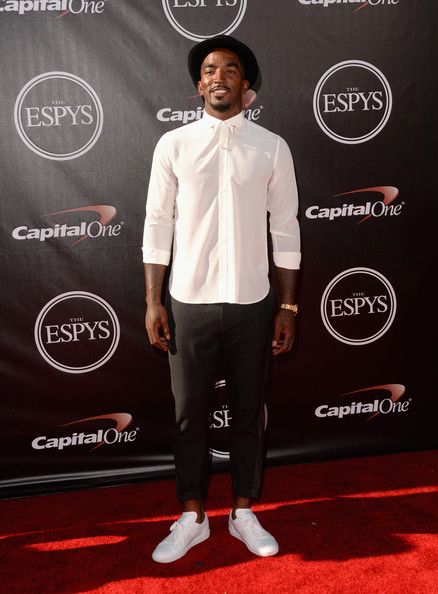 J.R. Smith, of the NY Knicks, admitted to ESPN's "First Take" that this past season was his worst ever.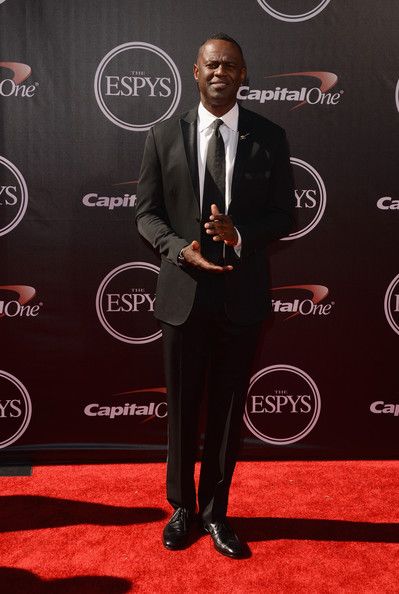 Singer Brian McKnight was spotted.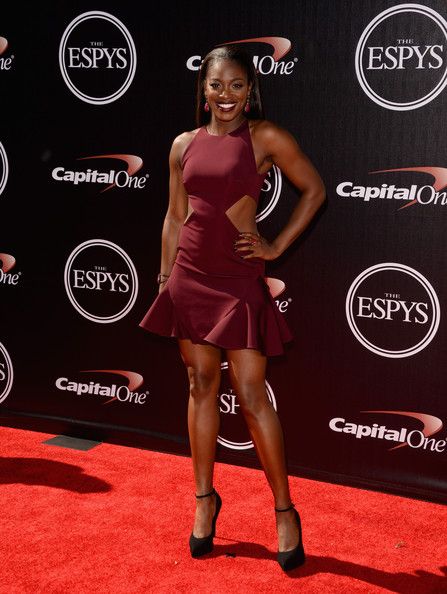 Tennis player Sloane Stephens, who's ranked World No. 18 by the Women's Tennis Association, wore Cushnie Et Ochs.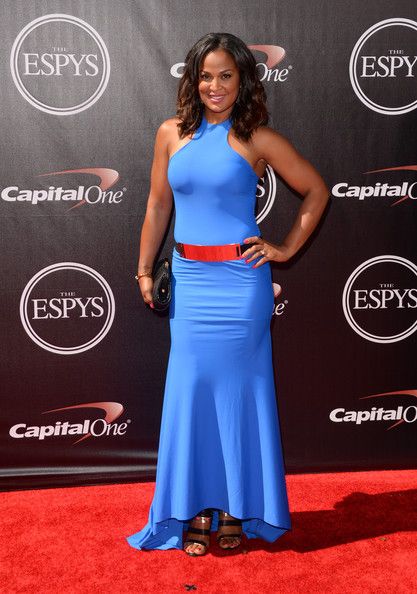 Boxing champ Laila Ali wore a light blue gown.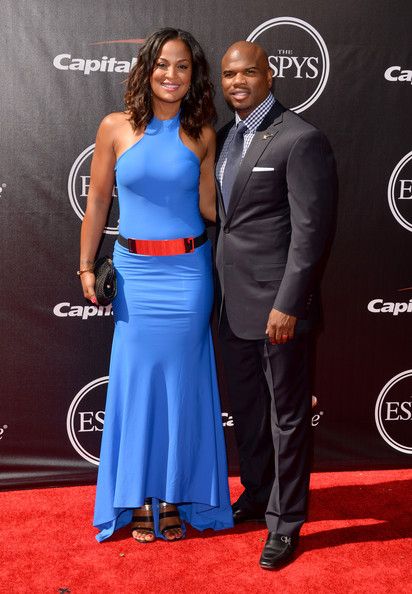 She attended with husband Curtis Conway.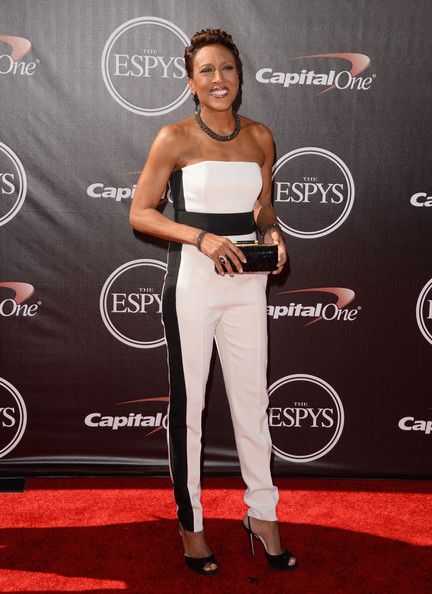 We can all agree that "GMA" anchor Robin Roberts looked amazing.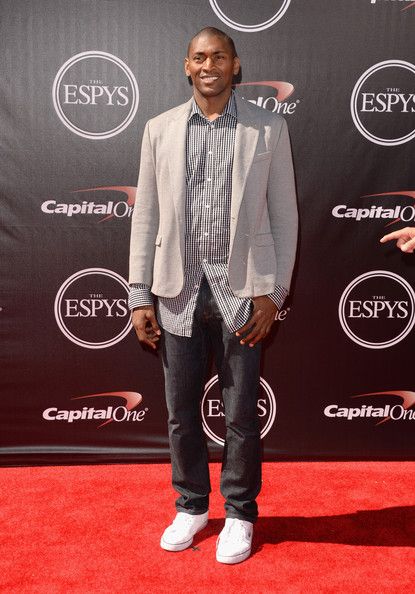 Did Metta World Peace know the world would be watching? His red carpet"ATTIRE" looked very rushed.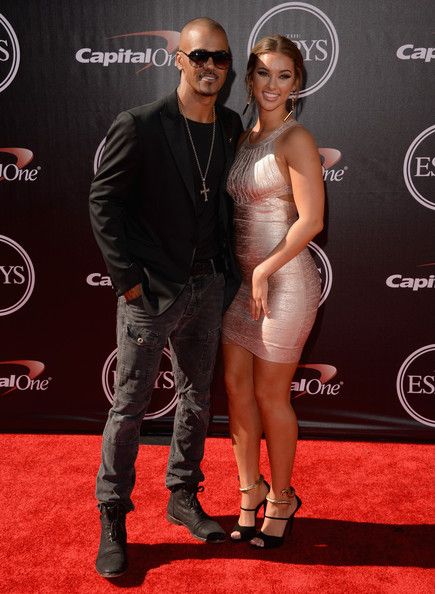 Shemar Moore looked very coozy on the red carpet with Lauren Wood.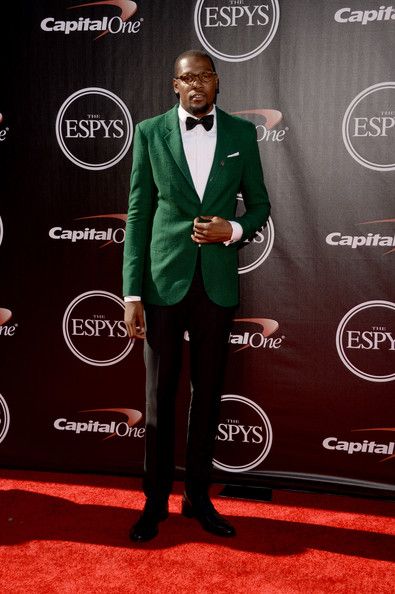 OC Thunder star Kevin Durant won two ESPY Awards, including male athlete of the year.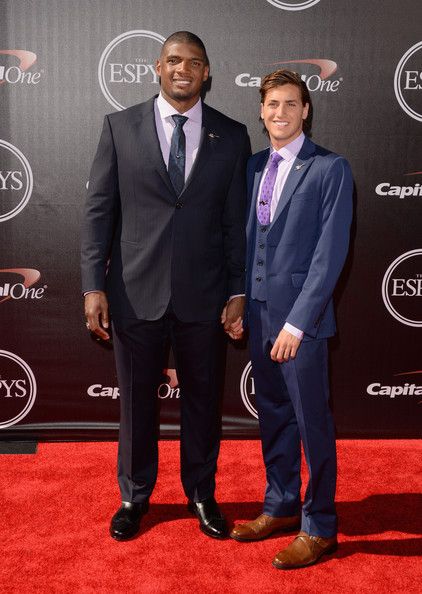 Michael Sam received the Arthur Ashe Courage Award. He walked the red carpet with boyfriend Vito Cammisano.
Funnyman Tony Rock was there.
NFL legend Jim Brown made an appearance.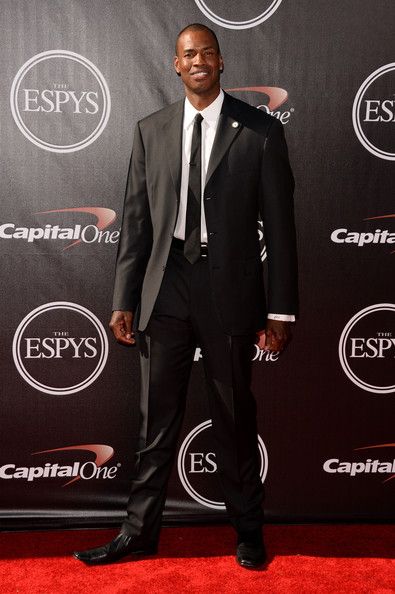 Jason Collins made a triumphant appearance on the red carpet.
Dwayne "The Rock" Johnson smirked at the photographers.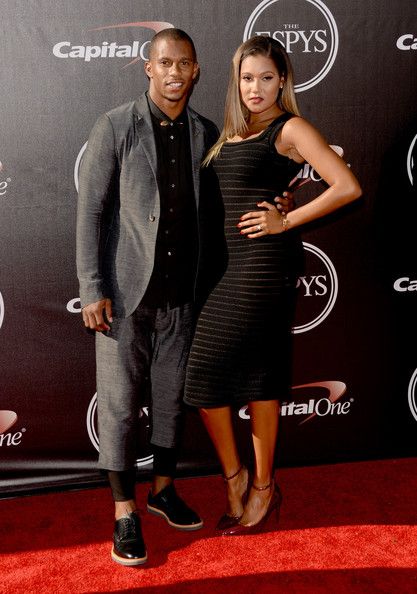 NY Giants star Victor Cruz made a daring fashion choice with his slacks. He posed with girlfriend Elaina Watley.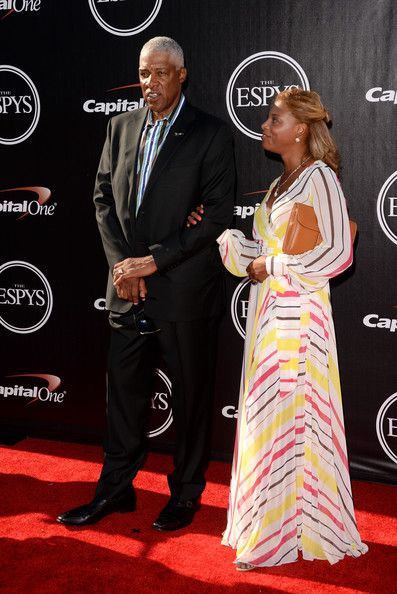 NBA legend Julius Erving also posed for pics.
"Sportscenter" anchor Stuart Scott received the 2014 immy V Perseverance Award. He walked the red carpet with wife Kim.
Photos Jason Merritt/Getty Images North America
Stevie J SOUNDS OFF After "LAHH ATL" Reunion Brawls, Says Benzino Should Have NEVER Jumped In + Kandi Burruss, Toya Wright, Malaysia & Monyetta Shaw Attend "On The Run" Atlanta Show
Posted: 16 Jul 2014 03:51 PM PDT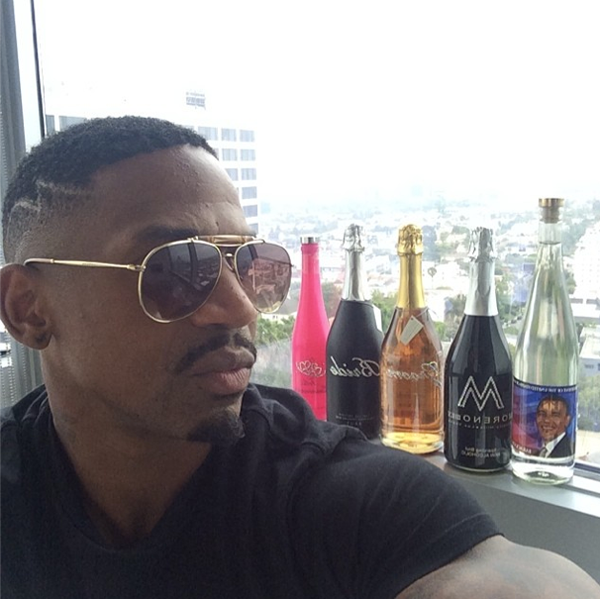 Several brawls broke out during the "LAHH ATL" reunion taping, resulting in the cops and paramedics being rushed to the scene. Now, Stevie J is speaking out on what happened during the taping. Also, the Atlanta ladies Kandi Burruss, Toya Wright, Monyetta Shaw and Malaysia made their way to the Georgia Dome for the "On The Run" tour stop. Deets and pics inside…
Ish went totally left last night during the "Love & Hip Hop: Atlanta" reunion show taping. Cops and paramedics were called to tend to several people after they sustained injuries during multiple fights.
We figured something was going to pop off after Stevie J tried to air out Benzino's fiancee Althea on Twitter yesterday. This morning, Stevie called into Hot 97's Ebro In The Morning Show to speak out about last night's shenanigans.
Stevie said Benzino should have never got in between the ladies fighting and should have let the "hoes handle hoe business." He said dudes shouldn't even being getting involved and confirmed he threw a punch at his wife, Joseline Hernandez.
He said,
"When a dude jump into broad business, he might has well be a broad"

Stevie also said he and Benzino can no longer be friends after he put his hands on his wife.
Check it:
Also in Atlanta last night...
Last night, the Atlanta ladies went "On The Run" with The Carters at the Georgia Dome. Kandi Burruss, Toya Wright, Monyetta Shaw and Malaysia Pargo were all in attendance to see Beyonce and Jay Z slay the stage.
Kandi caught up with producer Jermaine Dupri (who jump-started her career) at the Dome. She captioned, "Ran into @jwarhol last night at the #OTR concert! I'm forever grateful to this guy for giving me my start in the entertainment business 22yrs ago! Crazy that it's been that long."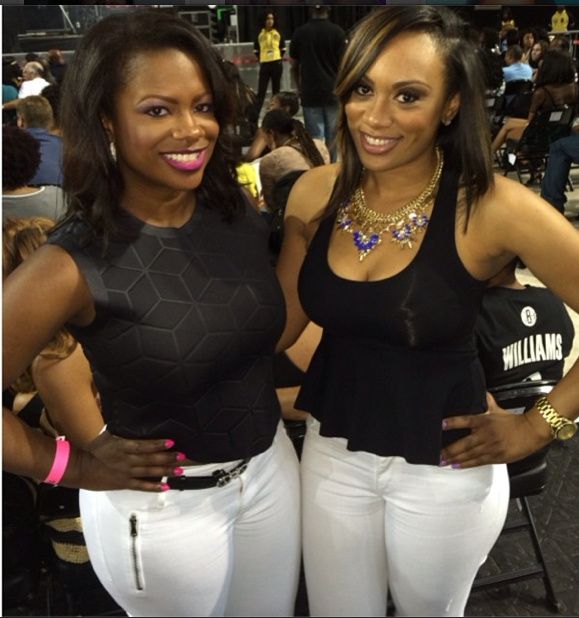 To her surprise, the newlywed color coordinated her look with her bestie Carmon, both rocking a black tank and white jeans.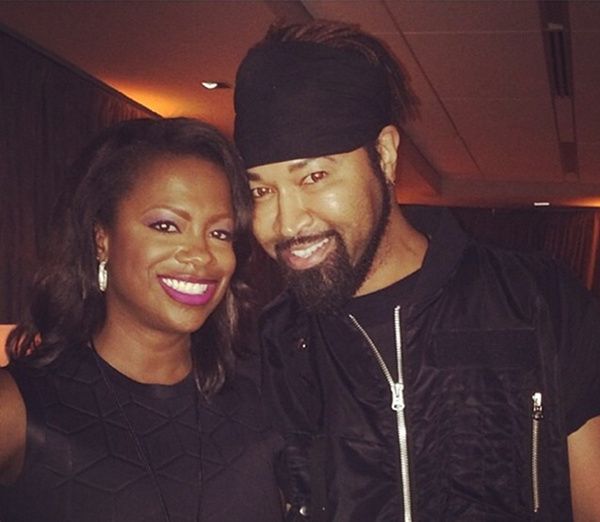 Kandi snagged a pic with Beyonce's stylist Ty Hunter backstage.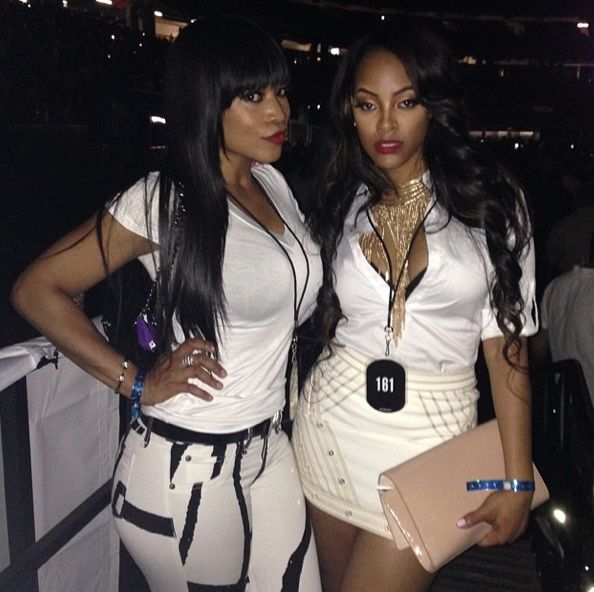 "Atlanta Exes" star Monyetta Shaw and "BBW LA" star Malaysia Pargo gave face in their photo-op from their seats.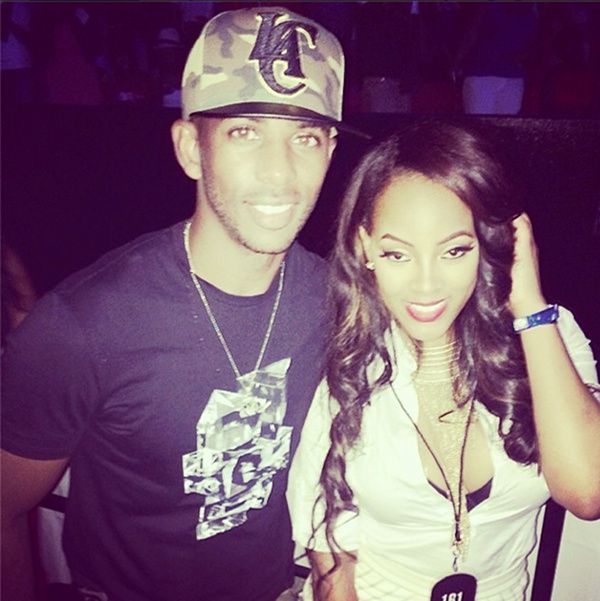 And look who else was in attendance…L.A. Clippers point guard Chris Paul.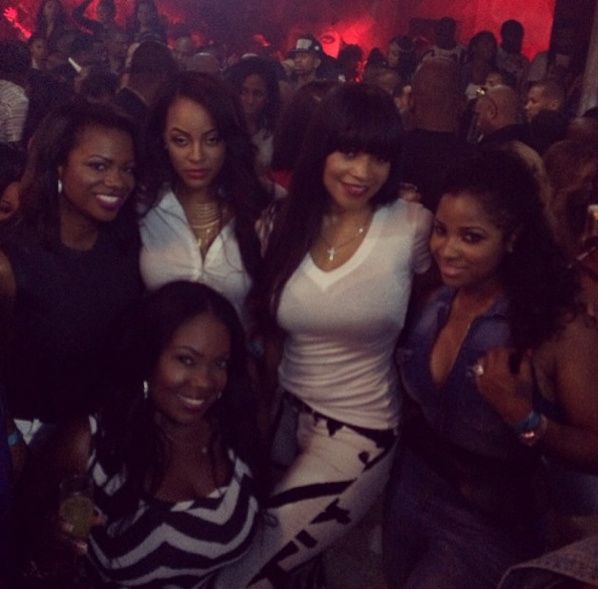 After the show, it's an afterparty. So the ladies linked up and made their way to Prive nightclub to party the night away.
Fun times.
Photos: Stevie's IG/Kandi's IG/Toya's iG/Malaysia's IG/Monyetta's IG
Brandy INDUCTED As Honorary Member Of Alpha Kappa Alpha Sorority, Inc., JOINS Her Mother + Kanye West Added To "Made In America" Festival L.A. Roster
Posted: 16 Jul 2014 03:00 PM PDT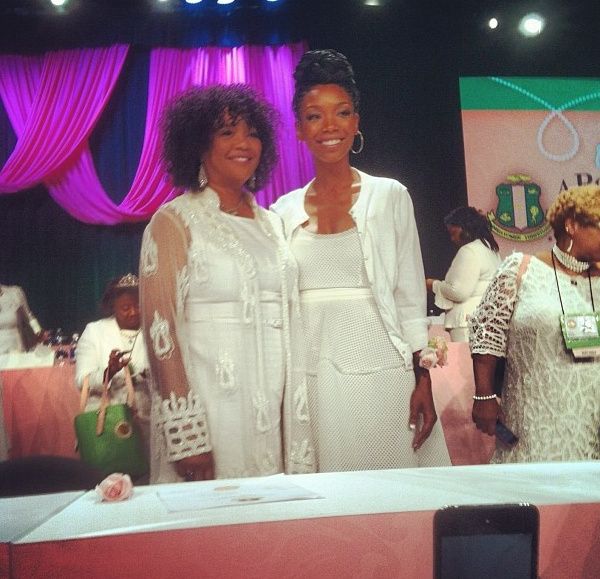 Momager Sonja Norwood was smiling ear-to-ear after her daughter Brandy was granted honorary membership into Alpha Kappa Alpha Sorority, Inc. Meanwhile, Kanye West has been added to the "Made In America" L.A. roster. Deets inside…
Brandy is continuing the legacy and sisterhood of love for Alpha Kappa Alpha Sorority, Inc. "The Game" star joined her mother Sonja Norwood in honoring the 106 years of sisterhood after being inducted into Alpha Kappa Alpha Sorority, Inc. as a honorary member.
Today, Brandy was inducted as an honorary member at the AKA's 66th Boule in Charlotte, NC. Brandy's mom Sonja was initiated as an AKA at Southern University's Beta Psi's chapter. Along with Brandy, writer/director Ava DuVerna and Senator Z.C. Allyson Maynard Gibson have also nabbed honorary admissions.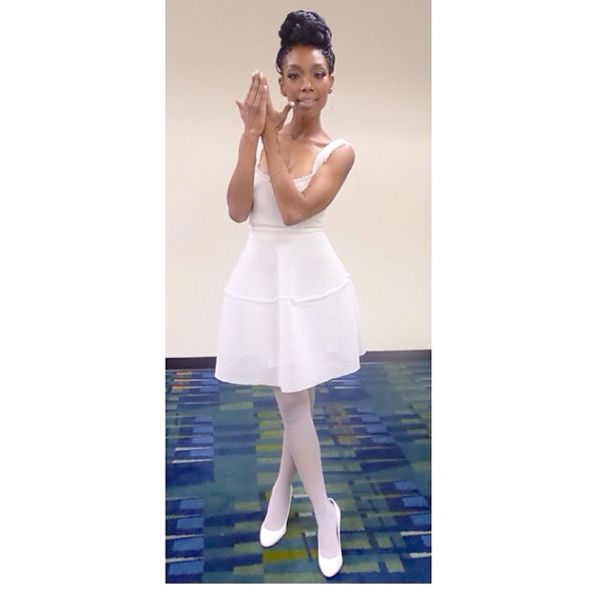 And here's Brandy throwing up The Ivy. Congrats Brandy!
And in other news....
Kanye West will be super busy this Labor Day weekend. It has been announced Yeezy will be taking the stage at his homie's "Made In America" festival in L.A.
Back in April, Jay Z (alongside L.A. Mayor Eric Garcetti) announced he was bringing his "Made In America" festival to Los Angeles, in addition to his Philadelphia festival. The festival will go down this Labor Day weekend (August 30th-31st) simultaneously on both the east and west coast.
Raptress Iggy Azalea has also been added to the line-up, joining previously announced acts Kendrick Lamar, Rita Ora, YG, Chance the Rapper, Nipsey Hustle, ScHoolboy Q and others.
Yeezy is also performing for the Philly festival as well, joining superproducer Pharrell and rapper J. Cole.
Thiis year's festival will offer 60 Performances, 6 Stages, two cities, one weekend. And tickets are on sale now for both cities at MadeInAmericaFest.com.
Peep the "Made In America" line-up for Philadelphia and L.A. below:
PHILADELPHIA LINE-UP:
Saturday
Kanye West
The National, Steve Aoki
J. Cole, Chromeo, City and Colour
R3HAB, Baauer, Mayer Hawthorne
The Neighbourhood, Holy Ghost, Will Sparks
Destructo, DJ Cassidy, Cherub, Young & Sick, Kaneholler
Sunday
Kings of Leon
Tiësto, Pharrell Williams
Girl Talk, Spoon, Grimes, AWOLNATION
Gareth Emery, Tommy Trash, Kongos, Danny Brown
YG, Penguin Prison (DJ Set with Live Vocals)
3Lau, Mimosa, Bleachers, Cut Snake, Bixel Boys, Vacationer
LOS ANGELES LINE-UP:
Saturday
Imagine Dragons
Kendrick Lamar, Afrojack, Iggy Azalea
Sublime with Rome, Metric, Capital Cities
Gareth Emery, ScHoolboy Q, Borgore
DVBBS, YG, MUTEMATH, Dr. Dog, Hit-Boy
ZZ Ward, Classixx, Ab-Soul, Isaiah Rashad, Jay Rock, Cut Snake, GrandTheft
Sunday
Kanye West, John Mayer
Juanes, Weezer, Rise Against
Steve Aoki, Chance the Rapper, Cypress Hill
R3HAB, Wolfgang Gartner, 12th Planet
Rita Ora, Nipsey Hussle, Terraplane Sun
Yellow Claw, Will Sparks, Scavenger Hunt, SZA, A Tribe Called Red

Photos Getty/@fwilliams31605/@amerikanprince
IN CASE YOU MISSED IT: Solange Knowles SHARES Her Life Through Pictures + Yaya Dacosta POSES For Tom Ford's Fall 2014 Campaign
Posted: 16 Jul 2014 02:30 PM PDT
In case you missed it, Solange shared scenes from her life on VULTURE while Yaya Dacosta posed for Tom Ford's 2014 Fall Campaign. See the pics inside...
A recent pictorial in VULTURE/New York Magazine features Solange Knowles. For the mag's latest edition of "Life in Pictures," Solange allowed photographer Charlotte Hornsby to follow her around for four days from an Airbnb rental in the Louisiana countryside to work on her upcoming album to . Take a look into Solange's life here......
"My dad told me that Michael Jackson recorded in his "on" clothes. The essence of his delivery had a lot to do with that energy of having a certain stylistic vibe. When I'm actually producing and writing the music, I look like shit. But when I'm creating vocals, I present myself in whatever kind of melodic character I want the song to take."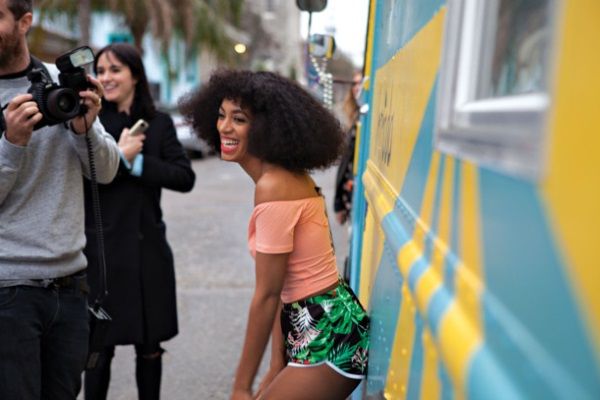 "3:43 p.m. I remember having a conversation with an artist friend of mine who just had a baby, where we discussed how finding that rhythm, that balance again, is really difficult. No one really talks about that."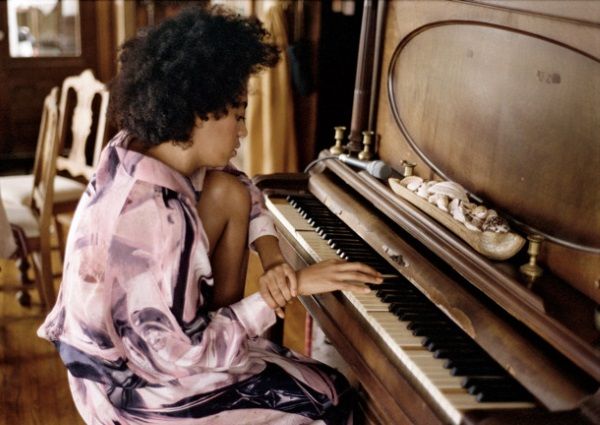 "March 13, 2:16 p.m. For me, it starts with the melody. I took piano lessons when I was a kid, from 6 until 9, off and on. I kind of play as slow as I talk. I'm always a little behind the beat."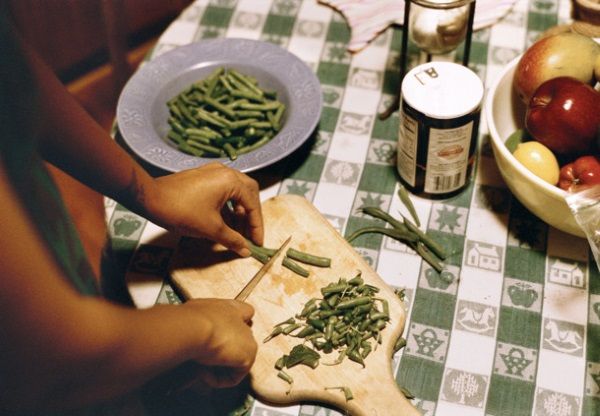 "8:41 p.m. Everything that I cook, I use Cajun seasoning. That's the way I grew up. My mom used to use Tony Chachere's, which is the more known brand, but here I became completely obsessed with Slap Ya Mama seasoning. I also discovered Punch Ya Daddy."

"March 14, 2:13 a.m. My son, Julez, was with his father, so it was really unusual to be able to wake up when my body woke up naturally, instead of having to get up at seven to get him ready for school. Though he was missed for sure, it was really nice for my creative process. When he's around, Julez gives ideas. They haven't been used yet, but they should be giving him a producer's credit."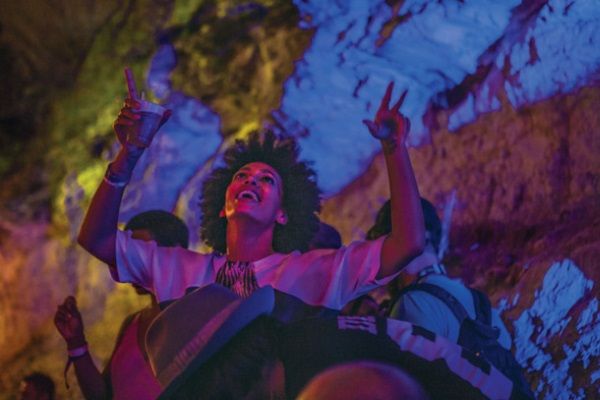 "March 16, 1:06 a.m. Saint Heron, my label, had a showcase at South by Southwest. My Austin Airbnb had a chicken coop! I recently learned that at sundown, they just go back into their coop. For a long time before that I was chasing them so they'd go back in there. I didn't perform in Austin, but I said a few words, so I was kind of the showcase host. Me and my friends spent the whole day draping the venue with Christmas lights."
In other fashion news....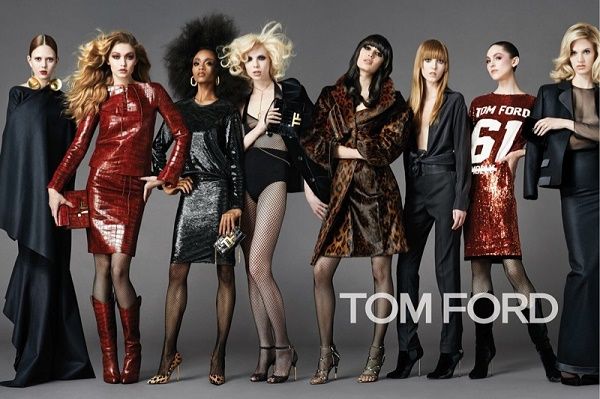 YaYa Dacosta, who'll play Whitney Houston in Lifetime's bio pic, recently posed for Tom Ford's 2014 Fall Campaign (shot by Johnny Dufort). Tom described the campaign in WWD saying, "The concept is individual style, which was the idea behind my first women's show in N.Y. The campaign is focused on the personal, individual style of different types of women."

Looking good Yaya!
Photos via Johnny Dufort/WWD/Vulture/Tom Ford's Instagram
SURPRISE: Lance Gross ANNOUNCES Baby On The Way With Girlfriend Rebecca Jefferson!
Posted: 16 Jul 2014 01:28 PM PDT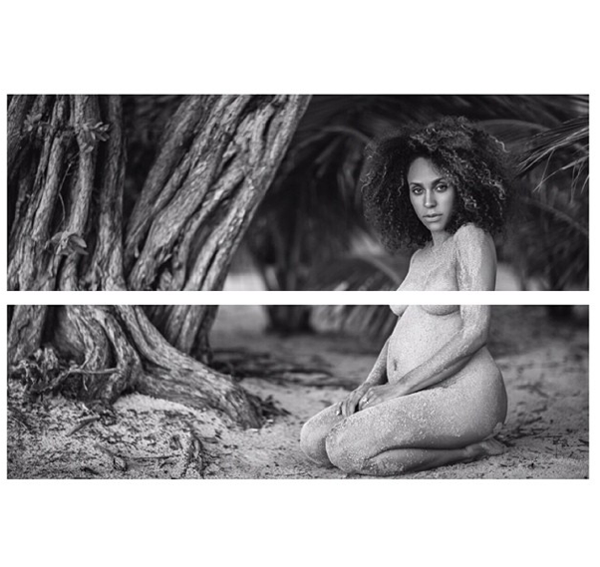 Lance Gross is about to be a dad! And he announced the pregnancy news on Instagram, posting a picture of his very pregnant girlfriend Rebecca Jefferson. More inside…
Lance Gross is ready to be a doting father. He just announced that he will soon be a proud dad to a little boy or girl after posting a picture of his girlfriend Rebecca Jefferson…and she's clearly with child!
The sexy actor shows off his photography skills on IG quite a bit, but when he turned his camera on his girlfriend, it definitely caught us by surprise to see her rocking a baby bump as she posed nude in the wilderness.
He captioned the photo above, "GOD has Gifted me. It's like I get to unwrap you daily. Your presence continues to bring me joy each time without exhaustion. I AM IN LOVE WITH YOU. I Turned My Camera On @becjefferson :)"

Wonder if wedding bells will be ringing soon...
Congrats to the couple!
Photos: Lance's IG
MUSIC FAB: The-Dream SHARES Personal Pics Of His New Wife In "Culture" Video + Deborah Cox Will PROVIDE VOCALS For The Whitney Houston Bio Pic + Cam'ron's "So Bad" Featuring Nicki Minaj
Posted: 16 Jul 2014 12:46 PM PDT
Both The-Dream and Cam'ron dropped new music videos today. Watch "Culture" and "So Bad" Featuring Nicki Minaj inside and get the deets on Deborah Cox's role in the upcoming Whitney Houston bio pic.
Earlier this month, we told you about The-Dream's secret wedding to LaLonne Martinez and in the video for "Culture", he allows fans a peek into their lives. The concept of the video is simple....take a flip through The-Dream's photo album. Fans get to see the newlyweds stroll the streets of Paris and hit the beach in the snapshots from their travels. "Culture" appears on the EP Royalty: The Prequel.
Watch "Culture"...
On television...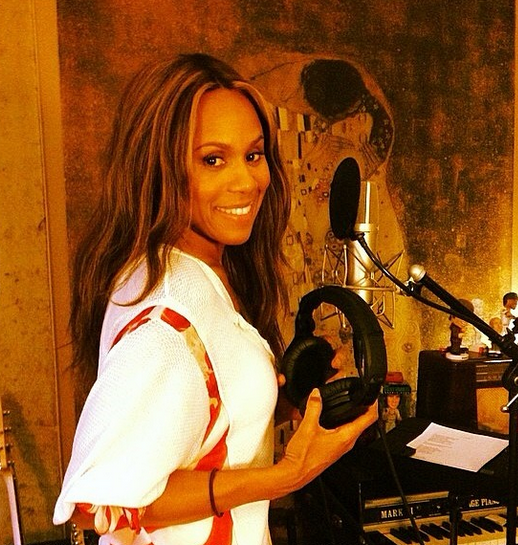 When Angela Bassett's"Whitney Houston" bio pic debuts next year, fans will not "see" Deborah Cox, but she'll play one of the biggest character in the film: the voice of Whitney's music.
It's no secret that the Houston Estate does not want this film made, so Angela and LIFETIME have commissioned Deborah to recreate the vocals for the film. This is huge news for music lovers who are fans of both artists. You'll get to hear Deborah sing all of Whitney's classics! Congrats to Deborah!
In new music videos...
Cam'ron enlists Nicki Minaj and Yummy Bingham to assist him in his latest video, "So Bad." Directed by Amntwn Smith, Cam'ron attempts to rent a swanky apart from his ex-girlfriend (Nicki). The song will appear on Cam's 1st of the Month EP series, set to drop at the top of August.
Photos via Deborah Cox's Instagram/
CANDIDS: Willow Smith SIDE-EYES The Paps While Leaving Bike Shop With Jada Pinkett Smith In SOHO + Keke Palmer & Her Abs Stroll Through LAX + NeNe Leakes Rolls Up To "Watch What Happens Live"
Posted: 16 Jul 2014 11:11 AM PDT
Jada Pinkett Smith and her daughter Willow Smith are enjoying NYC on another bike ride, while NeNe Leakes rolled up to the set of "What What Happens Live." On the west coast, Keke Palmer and her abs made their way through LAX and she recently spoke about why she was stoned face at the 2014 BET Awards. Peep their candids inside….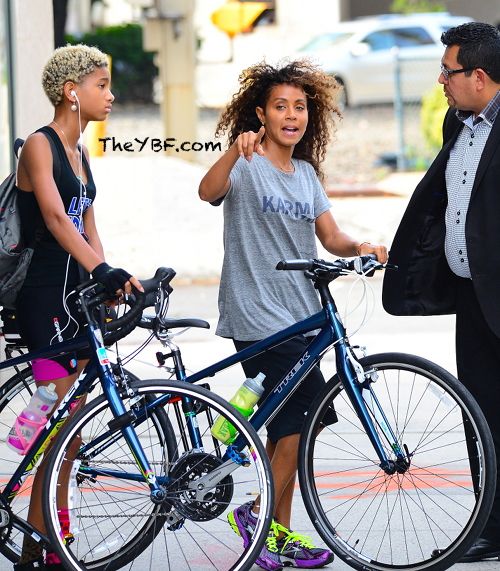 Jada Pinkett Smith and Willow Smith (who's in the August issue of Teen VOGUE) met up for another bike ride around New York City. The mother-daughter duo was spotted leaving Metro Bike Shop in SoHo. As you can see, Willow looked over the paparazzi following their every move.
Almost the same look she gave last week on their mother-daughter bike ride.
Over in L.A.
"Just Keke" talk show host Keke Palmer was all smiles as she made her way through LAX airport showing off her toned abs.
Recently, Keke sounded off on why she looked so angry in all of her photos on the red carpet at the 2014 BET Awards.
During an interview with Hip Hollywood on her "Just Keke" talk show set, Keke explained she tried to give everyone a picture and one lady started going off on her. She said, "It hurt my feelings," especially since she got to know the woman over the years from being at red carpet events.
She added,
"Don't be disrespectful to me, cuz I'm not disrespectful to you!"
Check it:
And back in NYC....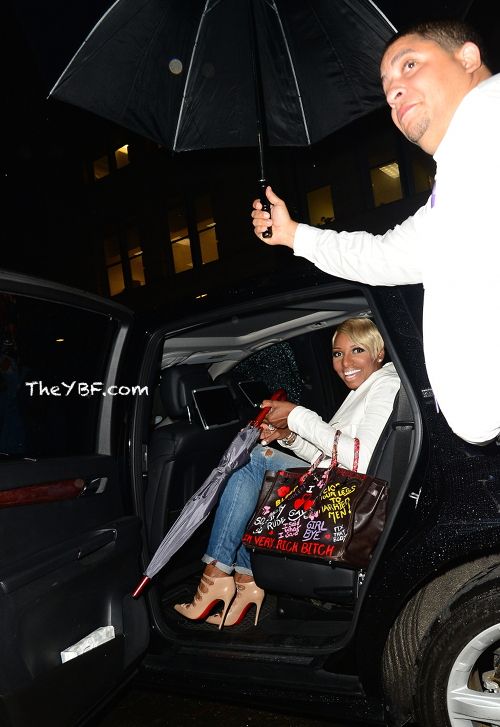 "RHOA" star NeNe Leakes was spotted as she pulled up to the set of BRAVO's "Watch What Happens Live" in NYC. The reality star is making her own lane in the fashion industry with the debut of her personalized couture Hermes Birkin bag. The bag is graffitied with Nene's most famous sayings such as "Bloop!" and "I'm Very Rich B*tch!" And it looks like she loves it.
Along with her personalized Birkin, NeNe will be launching her clothing line "The Nene Leakes Collection," catering to sizes 2-24 on HSN July 28th.
Photos: Splash/PacificCoastNews
REUNITED: Teyana Taylor Co-hosts "106 & PARK", Dishes On Relationship With Iman Shumpert + Adrienne Bailon Gets Her Rob Kardashian Tattoo REMOVED!
Posted: 16 Jul 2014 09:44 AM PDT
Bow Wow aka Shad Moss reunited with former "Madea's Big Happy Family" co-star Teyana Taylor last night as she co-hosted "106 & Park." Watch Teyana dish on her relationship with New York Knicks basketball player Iman Shumpert and watch Adrienne Bailon get a tattoo of her ex removed inside....
Singer/actress Teyana Taylor brought her Harlem swagger to the "106 & Park" studio recently where she co-hosted with her former "Madea's Big Happy Family" co-star Shad Moss.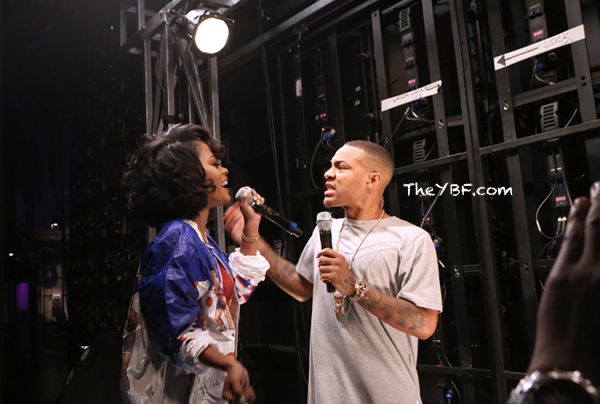 Shad and Teyana (who shared some of the FUNNIEST scene in the Tyler Perry flick) fell right back into the swing of things with each other. They have great chemistry.
During one of the segments, Teyana was put on the hotseat and asked about her bae, New York Knicks basketball player Iman Shumpert. She told the audience, "His birthday just passed so we was in Hawaii for his birthday. It was really fun; I'm very, very happy. We are getting right. He is amazing. I can't even stop smiling. He's simply, simply amazing and he never fails to amaze me."
Before Iman, you'll recall that Teyana had a fallout with former friend Tae Heckard after she began dating her former fiance Brandon Jennings a few weeks ago. So...how does she feel now? Well......she rocked a gold bracelet that read "unbothered." #message!
In between breaks, Teyana posed with fans.
Watch a clip from the show here:
"106 & PARK" airs weeknights at 6:00 P.M. ET/PT on BET.
In other entertainment news...
"The Real" host Adrienne Bailon has OFFCIALLY put her relationship with Rob Kardashian in the past. For an upcoming segment of EXTRA!, Adrienne allowed the cameras to follow her to get her Rob K. tattoo removed. "I'm excited, anxious, excited more than anything. I think I've waited a long time, long enough, to have this officially gone."
She shared that living with the tat has been the most painful part. "I thinking living the last six years with somebody's name on your body is a little weird and that's more painful, like, you know, to have to explain it to my kids."
She also explained how her NEW man felt about the tatt. "It's great that he's somebody that wants it gone, but not in a selfish way. He wants it to be done right, and it won't be something that will damage my skin and I'll be scarred for life."
So.....did the removal hurt? Yes. Adrienne said, "I'm not going lie to you… I was so nervous. I had really painful experiences before doing laser tattoo removal before, like smelling my flesh burning. With this, I literally didn't get to the chorus of a song and it was done. I love the fact [Dr. Brauer] used an ice pack and numbing cream. This was painless."
Congrats Adrienne....MOVING ON!
Photos via BET Networks/Bennett Raglin/BET/Getty Images