---
PRE-ESPY's EVENT FAB: Keri Hilson, Serge Ibaka, Colin Kaepernick, Nick Young & MORE Attend ESPN's BODY Party In Hollywood + Laila Ali, Lisa Leslie, Karrueche & MORE Hit Up American Federation For Children Event
Posted: 16 Jul 2014 08:22 AM PDT
The 2014 ESPY (Excellence in Sports Performance Yearly) Awards go down on Wednesday (hosted by Drake) and YBF celebs have flocked to L.A. for the pre-ESPY's festivities. Pics of the fab folks inside…
Serge Ibaka graced the cover of ESPN magazine's 2014 BODY issue so he came out with his girlfriend Keri Hilson for the magazine's pre-ESPY's party at Lure in Hollywood last night. The sexy OKC baller served up some GQ swag on the red carpet, posing alongside his woman. The power forward/center dished to ESPN on what it felt like winning defensive player of the year:
That's it, that's all I think about in my mind. Every time I'm about to give up, I think to myself, "You lost three years in a row Defensive Player of the Year." That's what I am going for. I feel like I have that gift and that talent, I feel like if I keep working and doing what I have been doing, then one day it will happen. I believe it, I really believe it.
Keri was all smiles on the red carpet drenched in camo. She has been spending a lot of her time in the studio working on a new album.
San Francisco 49ers quarterback Colin Kaepernick (who recently confirmed he's single and ready to mingle) hit the carpet. Last month, the sexy QB was cleared for any wrong doing in a sexual assault case filed against him. Now he can stay focused on making good plays this upcoming NFL season.
Iggy Azalea's boo Nick "Swaggy P" Young was all smiles on the carpet, sans his rapper chick girlfriend.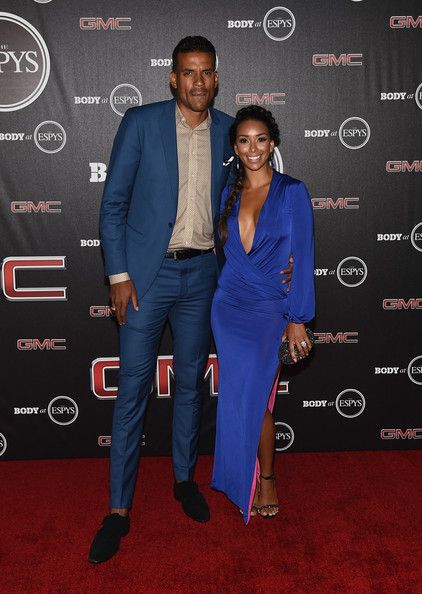 Los Angeles Laker Matt Barnes and his wife/former "BBW" star Gloria Govan got flirty with one another on the red carpet. Matt tried to get in a quick feel as they made their way down the carpet.
Retired NBA baller/"BBW" reunion host John Salley got dapper for the party.
SWV members Taj, Coko and Lelee hit the carpet in black and white.
And track & field star Lolo Jones was also in attendance.
At another pre-ESPY's event....
The pre-ESPY Awards' American Federation for Children event and 3rd annual Champions for Choice went down last night on the rooftop at LUXE in L.A. YBF celebs came out to honor Hall of Famer Deion Sanders, hosted by boxing champion Laila Ali, WNBA and six-time Olympian Lisa Leslie, NBA veteran Jalen Rose and ESPN sports analyst Stephen A. Smith.
Laila Ali and her husband/former NFL baller Curtis Conway looked nice on the carpet.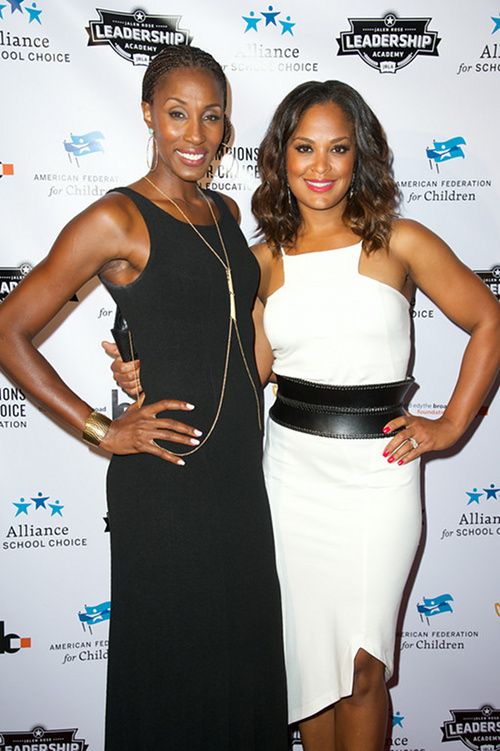 Laila Ali & WNBA star Lisa Leslie posed up on the red carpet before hosting the event.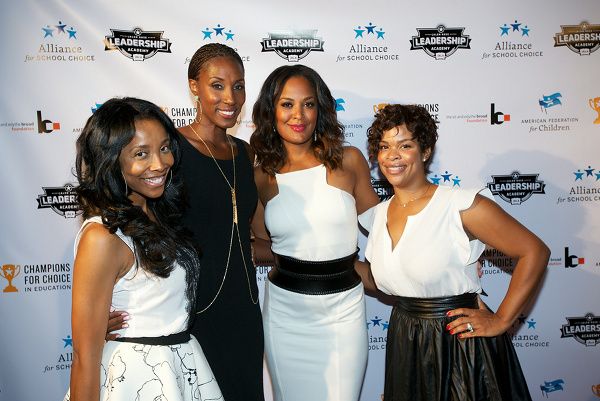 Then the ladies caught up with publicists Kita Williams and Monique Jackson on the carpet for a photo-op.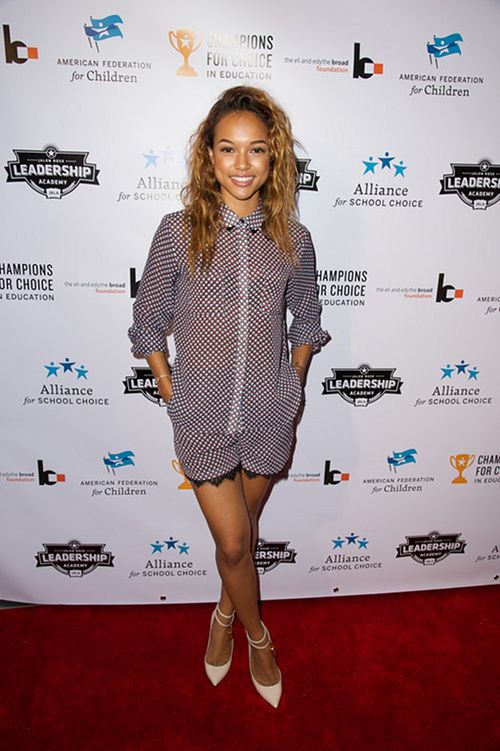 After getting teary-eyed on "Just Keke" talking about the love triangle she was involved in with Chris Brown and Rihanna, Karrueche hit the red carpet all smiles. Kae's episode of "Just KeKe" airs today at 5PM ET/PT on BET.
VH1's "Hollywood Exes" star Nicole Murphy and her absolutely ridiculous bod hit the carpet. Work!
New "Atlanta Exes" star Torrei Hart hit the carpet in a black sheer paneled dress. The VH1 "Atlanta Exes" reality show will also star Tameka Raymond, Christina Johnson, Sheree Buchanan and Monyetta Shaw. And it's premiering this summer on VH1.
ESPN analyst Stephen A. Smith was there to help host the event.
Retired NBA veteran Jalen Rose looked dapper on the red carpet.
Former "Girlfriends" star Jill Marie Jones posed it alongside her new man. Alright now.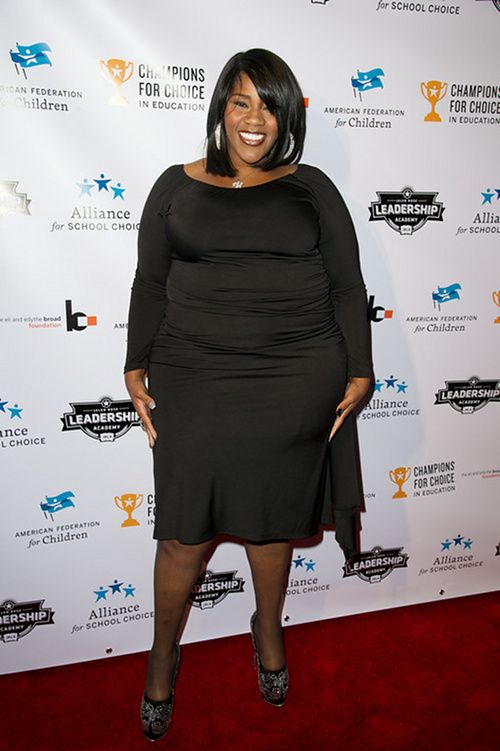 Former "R&B Divas" Kelly Price flashed her smile on the red carpet.
Another former "R&B Divas" star Nicci Gilbert was in attendance.
"BBW" star Sundy Carter hit the carpet in a leopard print one-piece. She looks nice.
Former "BBW" star Laura Govan hit the carpet in a teal pantsuit. This works for her.
"Notorious" actress Antonique Smith was there for the event.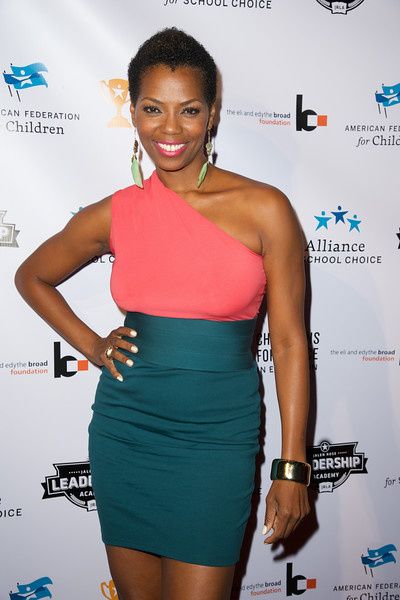 Actress Vanessa Williams posed it up in a cute colorblocked number.
"Access Hollywood" correspondent Shaun Robinson was pretty in pink.
And "The Insider" co-host Kevin Frazier snapped a pic with Stephen A.
Fab times!
Photos: Getty
SPOTTED: Chris Brown & Karrueche Tran PARTY At Bootsy Bellows In West Hollywood
Posted: 16 Jul 2014 08:17 AM PDT
Chris Brown and girlfriend Karrueche Tran were spotted out partying in West Hollywood last night. Find out where they went inside....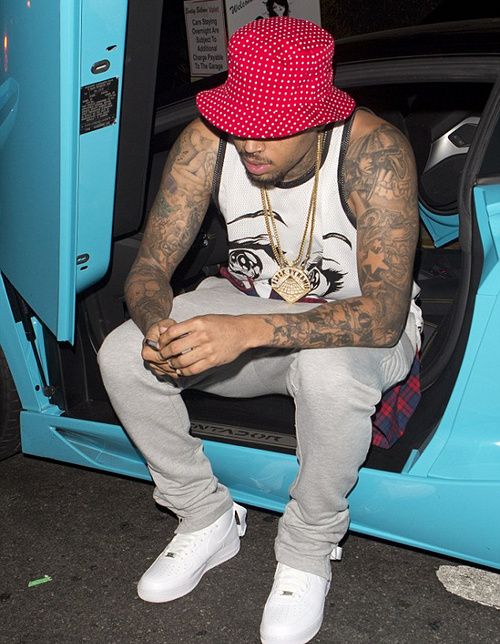 Last night, Chris Brown pulled up to West Hollywood hotspot Booty Bellows in his freshly painted Lambo.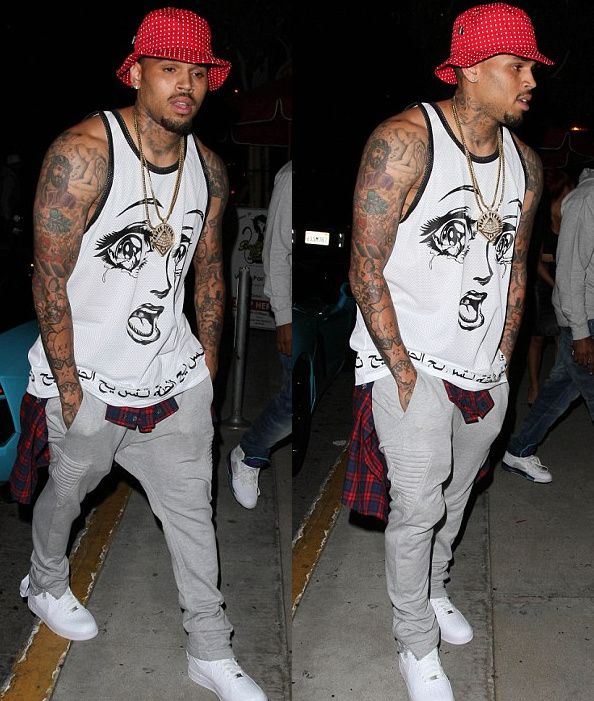 Since his release from jail, Chris has been spotted in and out of music studios all over LA. We even spied him working on a track with Drake.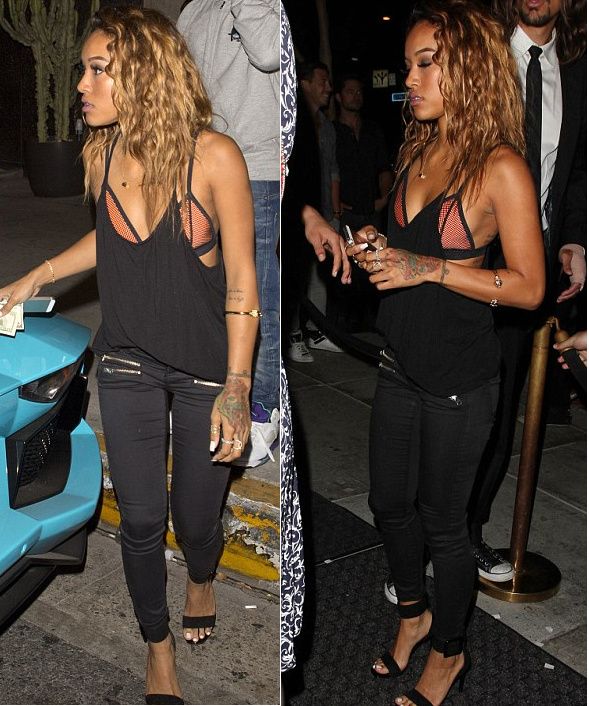 Chris' girlfriend Karrueche Tran was spotted right by his side last night.
Tonight on BET, we'll get to watch Karrueche open up and share her truth regarding the Chris/Rihanna love triangle when her exclusive interview with KeKe Palmer airs on "Just KeKe" at 5pmET.
Photo via JCalderon / Splash News

EVENT FAB: Kelly Rowland SHOWS OFF Her Baby Bump At A Private Dinner HONORING Carmelo Anthony With Tina Knowles, Gloria Govan & More
Posted: 16 Jul 2014 07:01 AM PDT
Kelly Rowland looked radiant last night as she showed off her baby bump and celebrated NBA baller Carmelo Anthony during a private dinner. See the photos inside and find out why Carmelo with honored....
"Motivation" singer Kelly Rowland, who's expecting her first child with husband Tim Witherspoon, was among the guests at Sunset Tower in West Hollywood for a GREY GOOSE-sponsored dinner honoring NY Knicks baller Carmelo Anthony.
Wearing a black dress with diamond earrings, a black wrist watch, her gorgeous wedding ring and black booties, Kelly posed with Tina Knowles (whom we should mention looked very youthful!).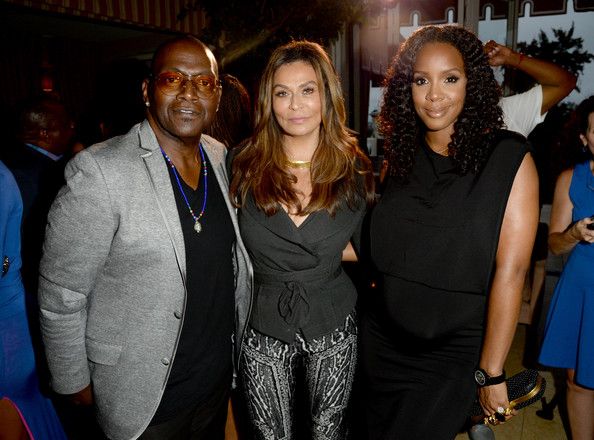 While making their rounds, Kelly and Mama Tina posed with music producer and reality tv show judge Randy Jackson.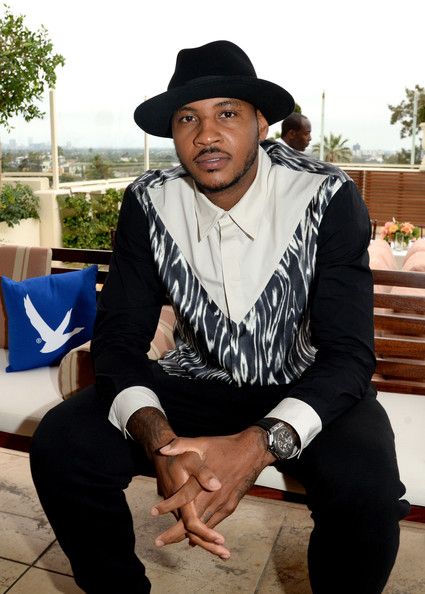 Grey Goose sponsored the dinner to celebrate the launch of their new flavor GREY GOOSE Le Melon. They partnered with artist Kehinde Wiley to commission a portrait crowning today's modern kings of culture and Carmelo Anthony was one of the honorees.
During the evening, Kehinde revealed the portrait he painted in celebration of Carmelo's contributions to basketball and pop culture.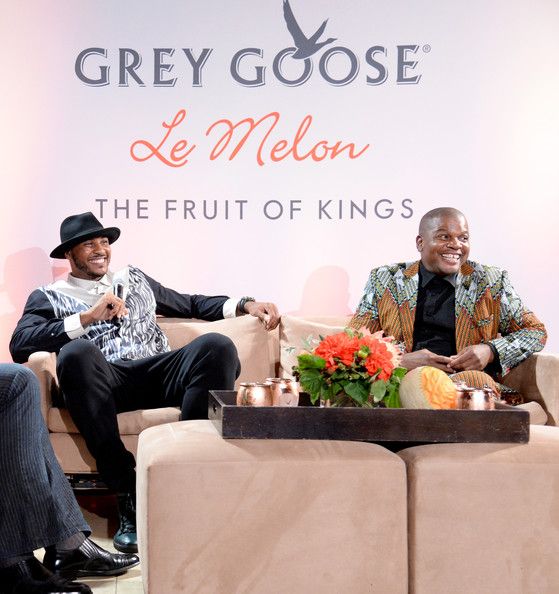 Before guests were served dinner, Carmelo and Kehinde held a Q-n-A where Carmelo discussed his journey to achieving the extraordinary.
Matt Barnes and Gloria Govan came out to celebrate with Carmelo.
Later, Matt and Gloria joined Randy in a photo with Carmelo's portrait.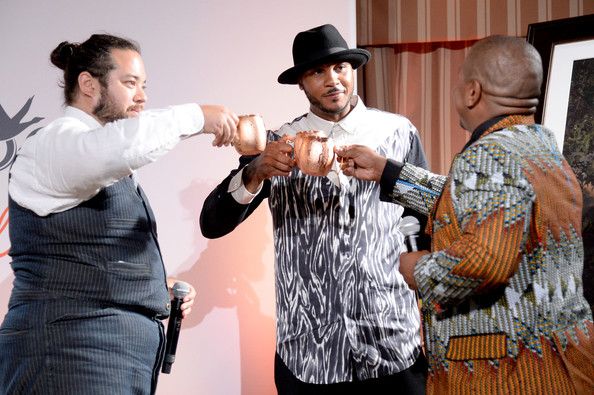 Carmelo and Kehinde also posed with Max Chow (of the famed Mr. Chow restaurant chain).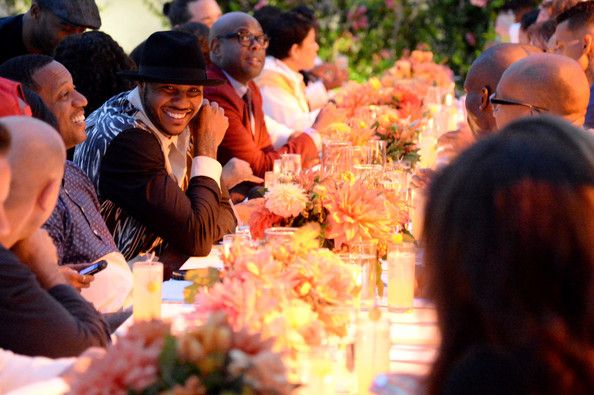 At dinner, guests sipped on the signature cocktail, the Melon Mule, a blend of sweet Cavaillon melons and ginger beer served in a copper cup. Sounds tasty.
For the record, Carmelo joins Swizz Beatz and Spike Lee as this year's GREY GOOSE Le Melon Modern Kings of Culture series honorees.
Photos via Jason Merritt/Getty Images North America
REALITY FEUDS: Cops & Paramedics Called After MULTIPLE Fights Break Out During "LAHH ATL" Reunion Taping + Bobbi Kristina DENIES Posting Drug Photo On Instagram
Posted: 16 Jul 2014 06:16 AM PDT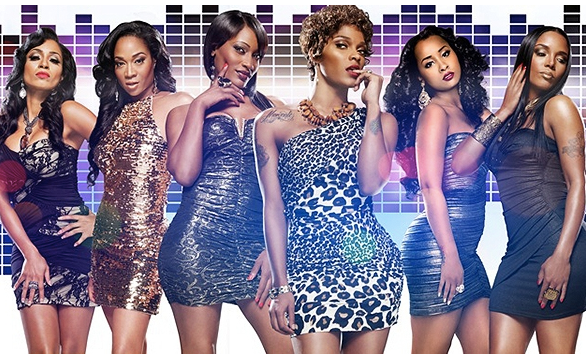 Cops & paramedics rushed to the scene after several fights broke out during the LAHH ATL reunion taping yesterday. Find out who brawled and read Bobbi Kristina's tweet denying a very incriminating photo of alleged drug use inside.
The -ish got real yesterday during the taping of the "LAHH ATL" reunion where cops were called and several people were treated for injuries attained during multiple fights.
According to TMZ, the fights involved Benzino, his fiancee Althea, Stevie J, Joseline, Debra, Tammy, and Mimi. Tensions apparently boiled over after Benzino cracked a joke about Stevie J and Joseline's alleged drug use coupled with tension surrounding Stevie tweeting a few suggestive pics of Althea (which we told you about yesterday.)
While Stevie J and Benzino were held apart by security, TMZ reports that Joseline managed to attack Althea. Messy. Messy. Messy. Of course the cameras NEVER stopped rolling so we'll be able to watch all of the fights when the reunion special airs.
Sigh.....we'll keep you posted about the reunion air date and any other leaks about the brawl.
On social media...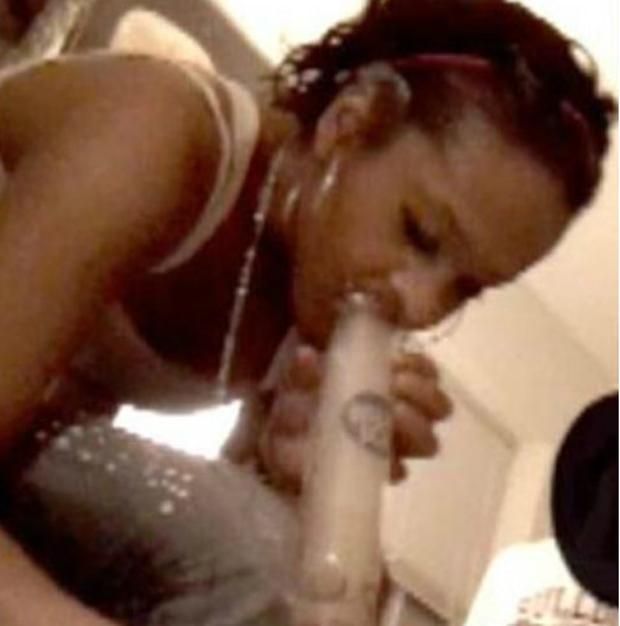 Tuesday evening, a photo surfaced on Instagram of a young woman, assumed to be Bobbi Kristina Brown, smoking what appears to be marijuana from a bong. The pic included a caption (attributed to Bobbi Kris) where she admits to past drug use and seems to be reaching out for help.
"This picture may be inappropriate but I want to make a connection with you all," Bobbi Kristina Brown allegedly wrote alongside the below photo. "Don't worry this picture isn't recent just hear me out. Do you know what I feel? I feel strange I can't feel any pain anymore. I don't take any drugs as of recently. Things just happened. But then there is some situation that force me to do things and the impact I'll feel pain. I did and I do. I was hurt

People kinda expect more from me. But I can't. I have lost my sense. It just happened. Then here we go again I'm in the same pain. I'm hurt. I'm trying to. I really do. But I know that I'm hurt and in pain but I can feel it but I don't know what it is. What do I really do? God, Help me ignore and rebuke what these demons are saying, in Jesus Name. Amen."
After the pic gained traction on the web, Bobbi Kris went on Twitter to DENY posting the photo and explained that someone is trying to tarnish her image.
Though Bobbi Kris never claims she was hacked, it's worthy mentioning that her Instagram page has been deleted and Twitter appears to be her main method of social media interaction now.
The entire situation seems suspicious as it could have been the act of a mean-spirited individual, or Bobbi Kris may have gotten caught up in her feelings again. You'll recall, it's not out of character for Bobbi Kris to overshare and pop off on social media like she did when she cursed out Angela Bassett a few days ago. For now, we'll have to take Bobbi Kris' word for it and keep watching this story as it develops....
Photos via VH1/Instagram/Bobbi Kris's Twitter
EVENT FAB: Vivica A. Fox, Michelle Williams, Viola Davis, Shonda Rhimes & MORE Attend The 2014 Television Critics Association Summer Press Tour
Posted: 15 Jul 2014 02:27 PM PDT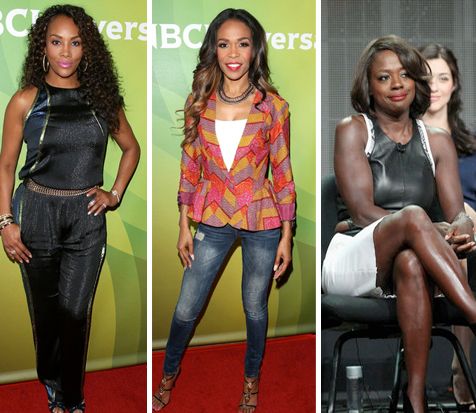 The 2014 Television Critics Association Summer Press Tour was held in Beverly Hills last night and Vivica Fox, Michelle Williams, Viola Davis and Shonda Rhimes were among the attendees. See the celebs inside....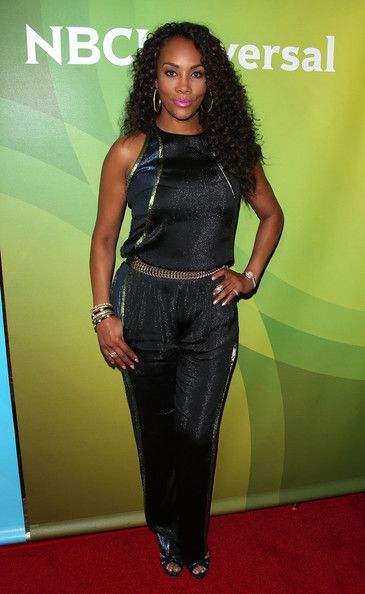 "Celebrity Apprentice" contestant/actress Vivica A. Fox (who turns 50 at the end of the month) was front and center on the red carpet for NBCUniversal's 2014 Summer Television Critics Association Tour at the Beverly Hilton Hotel. Aunt Viv looked cute and casual in her shimmery black and navy one-piece.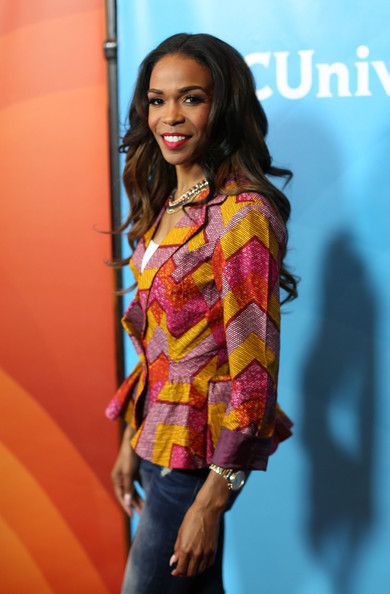 "Say Yes" singer Michelle Williams was colorful on the red carpet in a multicolored blazer and jeans, paired with some summery sandals.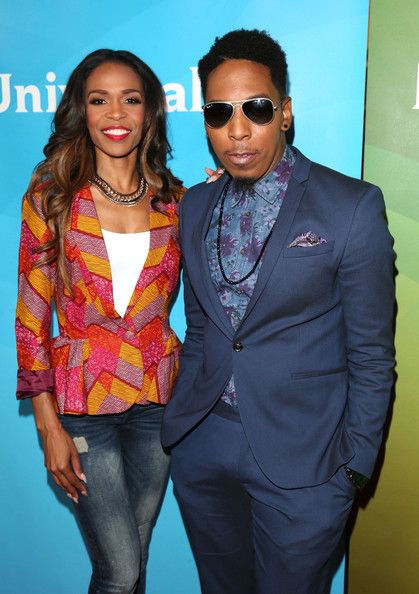 Michelle posed it up alongside "Preachers of L.A." star Deitrick Haddon. The twosome will appear in a new reality show coming to OXYGEN titled, "Fix My Choir".
The show will follow the duo as they surprise a community, gospel or school choir each week to help them find perfect harmony within their group. Michelle and Deitrick will help each group tackle the issues most choirs endure including leadership, inter-personal conflicts, artistic direction and presentation.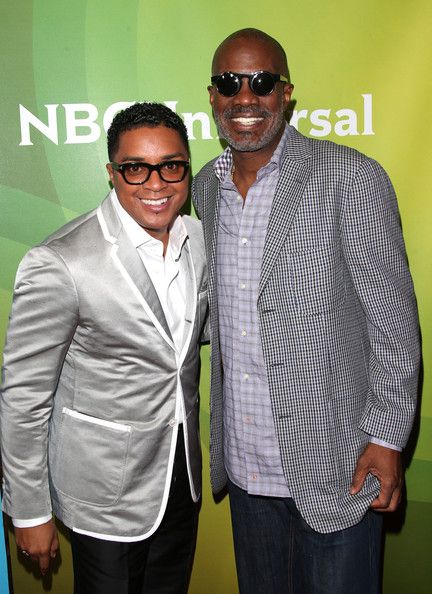 "Preachers of L.A." stars Bishop Clarence McClendon and Bishop Noel Jones were all smiles on the carpet.
Shonda Rhimes' "How To Get Away With Murder" is coming to ABC this fall, starring actress Viola Davis. The Oscar-nominated actress took the stage to speak at the show's panel during the Disney/ABC Television Group portion of the event.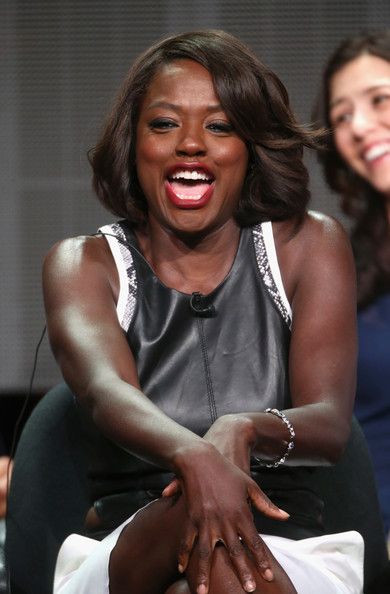 Love her.
ABC series creator Shonda Rhimes was also on the panel with Viola. Speaking of Shonda, the official date of the brand new season of "Scandal" was revealed today. Kerry Washington took to her Twitter account and tweeted, "Get ready to put your white hats back on! #Scandal returns on Thursday, September 25 at 9|8c! #TGIT " Can't wait!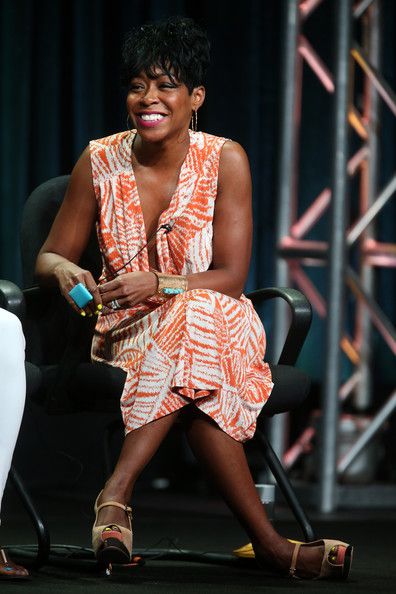 On another stage, actress Tichina Arnold spoke at the "Survivors Remorse" panel during the STARZ portion of the TCA tour.
Joining her in the discussion were executive producers Mike O'Malley, Maverick Carter, Tom Werner, actors Jessie T. Usher, RonReaco Lee, Teyonah Parris and Erica Ash.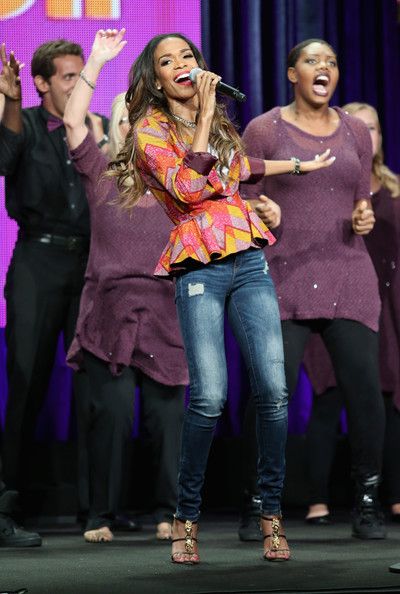 Michelle also took the stage to speak during the "Fix My Choir" panel during the OXYGEN portion of the tour.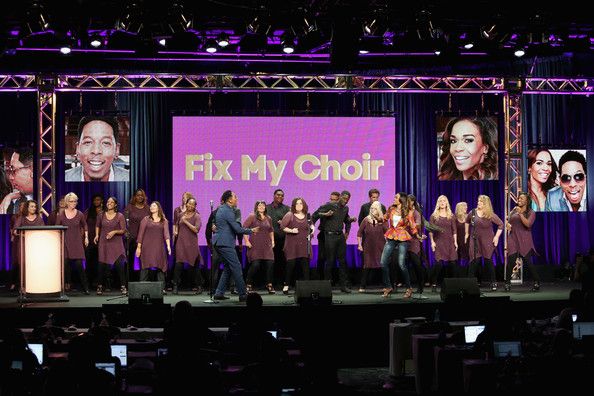 Fab times!
EXTRAS:
1. Gladiators get ready! "Scandal" will be returning for a brand new season on Thursday, September 25th at 9/8c on ABC.

Photos: Getty
ENTERTAINMENT BITS: Nas' Fan-Made Video "Represent" + Drake ANNOUNCES New Album + Fat Joe MAKES A PLAY At The All-Star Celebrity Softball Game
Posted: 15 Jul 2014 02:03 PM PDT
In entertainment, Nas released a fan-made video for the Illmatic classic "Represent" while Drake announced his fourth album. Get deets inside and watch Fat Joe in the celebrity All-Star baseball game.
Nas celebrated the 20th anniversary of his iconic debut album Illmatic with a contest (via his own Mass Appeal mag) that gave an aspiring director the chance to produce the official music video for his classic "Represent." Director Brian Katz walked away the winner and now we have his long-awaited music video made for "Represent." He said the black-and-white visual was inspired by the soundtrack to the 1924 silent film, The Thief of Bagdad, which DJ Premier sampled on the song.
"As someone who has had Illmatic in heavy rotation for the past 20 years, the opportunity to represent as a true fan in sharing my vision with Nas and have Jason Goldwatch help bring that vision to reality is proof positive that indeed 'The World Is Yours.'"
Watch "Represent" here:
In other music news...
Drake is back in the studio and working on a new album. Recently, he told Billboard that his fourth album will named Views From The 6. Although he didn't confirm a date, it's expected to drop spring 2015.
You'll recall that we posted a pic of Drake and Chris Brown in the studio together and now things are making sense. Looks like we'll be getting big returns/comebacks from both of them.
EXTRAS:
Fat Joe participated in the MLB and Taco Bell's annual All-Star celebrity softball game over the weekend. A fan snapped a clip of the rapper making a run from first to third base. Check it out....
Photos Drake's Instagram
Rick Ross SPEAKS On Meek Mill & Wale's Public Fall Out + Dwyane Wade REVEALS He's Staying In Miami
Posted: 15 Jul 2014 11:57 AM PDT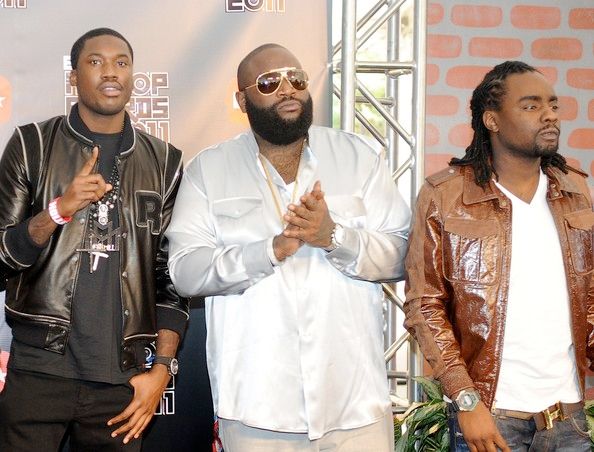 MMG honcho Rick Ross is addressing the public feud between his two artists Meek Mill and Wale, while Dwyane Wade confirms he will be playing for the Miami Heat next season. Deets inside….
There's tension brewing inside the MMG camp after Meek Mill called Wale out on Twitter for not supporting his upcoming album, Dreams Worth More Than Money (dropping Sept. 9th).
Once Meek announced his album's release date, he realized his MMG labelmate Wale didn't acknowledge his album's release on social media. So he called him out for it, saying:
Wale just ain't gone tweet a thing about my album.... He's been hating on me long time now ...don't even text me cornball! #UNOTMMG

— Meek Mill (@MeekMill) July 8, 2014
Everybody can see it! None of y'all dudes don't call me text me nothing it is what it is!

— Meek Mill (@MeekMill) July 8, 2014
I don't really want no suckas in arm reach of me.... My hands might lose control! That's how I'm rocking

— Meek Mill (@MeekMill) July 8, 2014
Wale clapped back in an Instagram post which read:
"Few weeks ago. (7w) I posted this .but ok. Movin along . My Avi always changed when it's THAT time .. Ok that's not enough y'all see "razor ramon" post on his no. But I don't care.. I wrote a long ass post day before his single dropped .. Mariah record dropped nobody said a word I didn't care .. I still don't... I carry myself with confidence and humility ., I always try to have a lighter side to MMG.. Cuz I understand I don't "fit the mold" so if I'm tryna spruce an interview up to show that we not tryn be "serious tough guys" on the red carpet Or try to be a bit more engaging to broaden our audience forgive me . I never wanted anybody to think we take ourselves THAT serious. (Were rappers )I don't need to take anybody shine.. Or hate on anybody . I walk in a completely different world .. Where I look for slp jeans and Shanghai dunks online and know what "kayfabe" means. I check nbadraft.net daily . I'm on whatculture allll day I enjoy shyt like that. I play fuckin Zelda and fuck wit bitches who teach yoga and paint... I get it . I'm different . I always embrace that shyt.. I encourage y'all to embrace what y'all like or the person y'all wanna be.. I text niggas happy Father's Day and get no reply .. I laugh it off .. I laugh at how I write songs about "chain music" and y'all get lost or "600benzz" i like to have fun with our culture. Because I beleive I add THAT to a "gangster rap" faction. I made my opportunity work for me that way. I write poems . I watch wwe . I collect kicks. I'm sensitive ok. Maybe bi polar. But one thjng I'm not is a hater.. I see Daquan jokes all day yesterday and patted myself on the back that I'm regarded as the aforementioned adjectives and not "Daquan". I'm me and I'll be me and do this shyt wit my "dew" till I don't wanna do it. I encourage you to wake up soon as you find time. This was a post about #nothin"
Now the MMG captain Rick Ross is addressing the drama in his camp for the first time. During an interview with Bullett Media at one of his Wing Stop restaurants in Brooklyn, Rozay revealed he hopped on the phone with both of them right after shots were fired.
Here are the highlights:
On the way here, something was going on with Meek Mill and Wale. As the owner of the label, how do you handle when there's conflict between two of your guys?
It's a misunderstanding. As soon as the tweets went out, I spoke to both of them on the phone. Those two guys, they're brothers. At the end of the day, they're brothers and it's time to turn up right now. It's time for all of us to turn up and stay turned up, you know what I mean? But it's all love between those two and everybody knows that.

The fact you got on the phone though shows how much you care.
Of course! That's why you seen whatever was said, the little brotherly jabs and then that was it. That's all you're going to see. They're two real dudes, two successful dudes, and we all came from the same place. When I first brought them on the team, we all drove to our first video set together. It was just us three, and I felt we all was at the bottom at the time. You know, Wale was in his new situation, Meek in his first situation, and me in my very first situation being a CEO, being a bawse with my own label deal. So we all was on the same flow, and once we mention that, it's all good.

It's just a testament to how you handle beef, because you're pretty laid back about conflict, and when it's done it's done.
Of course! That's how it's supposed be, because we're not here for that. What we're here for is this, the culture! Fashion, the clothing, sneakers, sending that message – that's what it's about. You know certain things will occur; that's just the nature of the game. There's going to be dust kicked up at every arena, and you should all expect that. But at the same time, we're focused on what we came for.

That's right Ross...keep these young brothers in line.
And in sports news....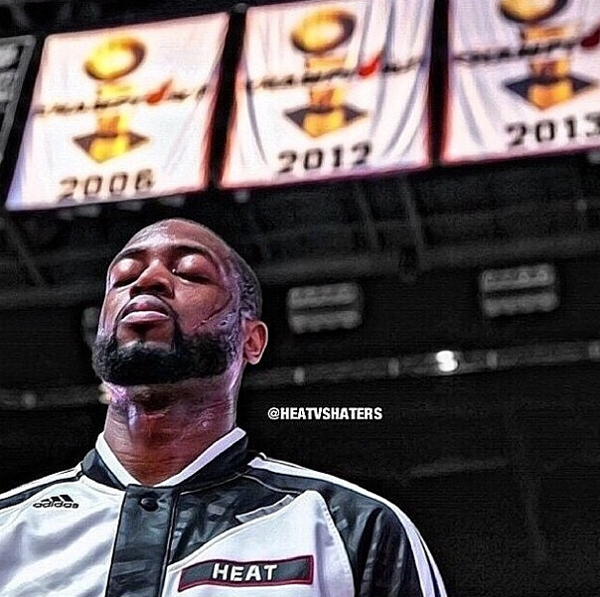 After news broke that LeBron James was leaving Miami to return to Cleveland and Chris Bosh would be returning to the Heat, free-agent Dwyane Wade has finally broken his silence about where he will be playing for the next NBA season.
D. Wade (who has played his entire career in Miami) took to his Instagram today to reveal he will be playing with the Miami Heat for yet another season. He posted the picture above with the caption, "Home Is Where The Heart Is... My Home,My City,My House..#HeatLifer"
Now D. Wade and Bosh will need to conjure up an impeccable post-LeBron plan if they want to see the playoffs or an NBA title again.

Photos: Getty/Dwyane's IG
MANUFACTURED DRAMA: Stevie J Tries To Out Benzino's Fiancée, LEAKS Sexual Pics On Twitter + Joseline Hernandez Gets BOO'D During Performance In Dallas
Posted: 15 Jul 2014 10:26 AM PDT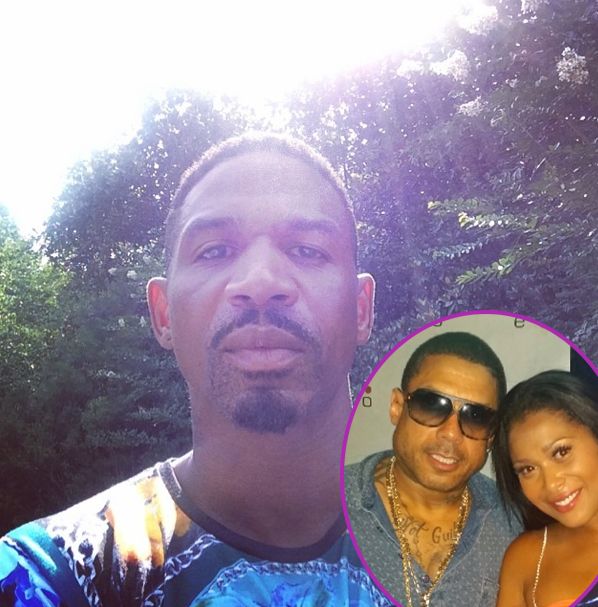 Stevie J and Benzino are securing their jobs on "LAHH ATL" for the next season. The two are "beefing" on Twitter after Stevie leaked a photo of Benzino's girl Althea in a compromising position. Meanwhile, Joseline did a show in Dallas and got boo'd during her performance. Get the deets and peep the video inside…
So if you've been keeping up with the shenanigans carried on by "LAHH ATL" star Stevie J, this new "beef" should come as no surprise. In the latest episode of "LAHH ATL," Karlie Redd tipped off Joseline Hernandez that her husband slept with Zino's new chick Althea Heart back in the day. Not only that, Mimi's boo Nikko also revealed he slept with her once before as well.
Zino seems to be head-over-heels in love with Althea because he pushed all of that aside and still put a ring on it. Since then, Zino has been going hard on social media dragging Joseline with memes and Twitter rants after she and Stevie broke up recently (and got right back together). Guess Stevie was feeling some type of way over Zino's disrespect for his girl, so he decided to blast his girl Althea on social media.
Stevie took to his Twitter account and posted:
Apparently, Stevie posted a picture of Althea on her knees in front of a man with his pants down….but it seems it was a pic of her in front of her man Benzino.
Althea caught wind of the tweet and responded:
Hmmm...how did Stevie even get his hands on this pic in the first place?
Stevie then says:
Benzino then jumps in to defend his soon-to-be-wife, making claims that his former friend is not really married to Joseline and has the receipts to prove it. He said (read from the bottom up):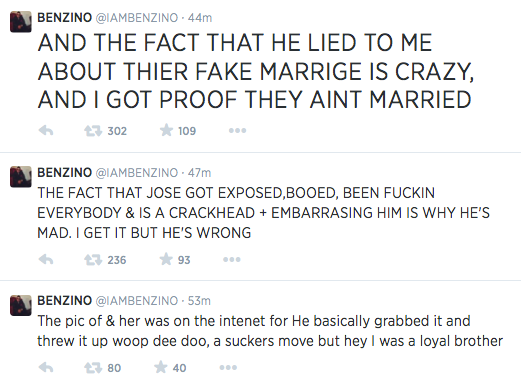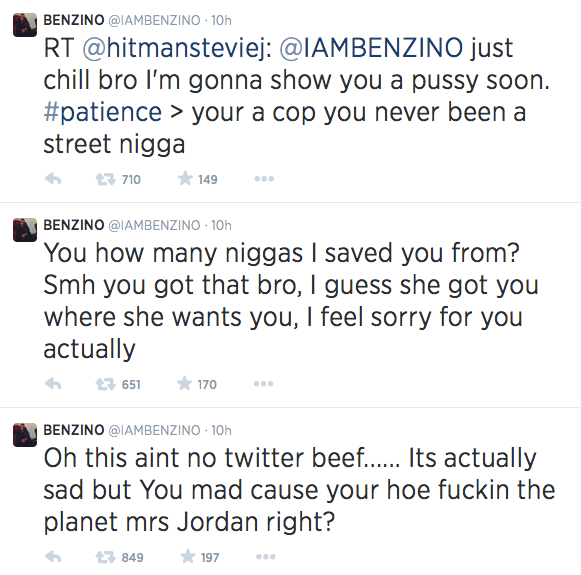 And to further prove this is all a PR stunt, Stevie tweets:
Yup...just like we said...manufactured drama. Bet Mona Scott-Young is loving this.
Meanwhile....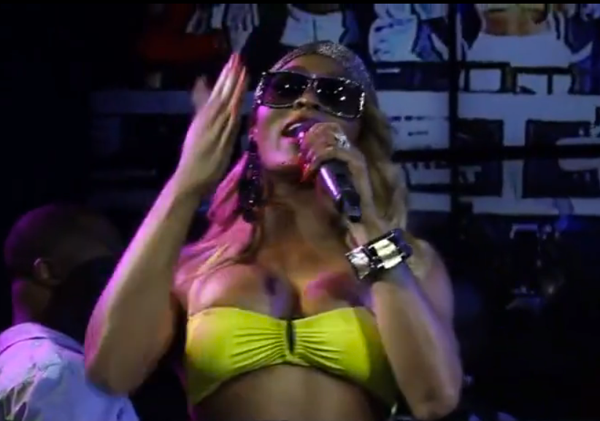 Over the weekend, the Puerto Rican Princess hit the stage for a performance that didn't end quite like she wanted it to.
After breaking up with her husband Stevie J, then making up days later, the couple took their "talents" to a rap club in Dallas, TX. Joseline gets on the mic and starts…rapping (if you want to call it that) only to be bum-rushed with boo's from the crowd.
Luckily for her, Stevie wasn't too far away. He hopped on stage, grabbed the mic and the crowd went wild.
Check it:
Sighs…
Photos: Stevie J's IG/Benzino's IG/Missy Wright's FB

TALKING BACK: KeKe Palmer DEFENDS Karrueche Tran INTERVIEW, Says She Deserves A Platform To Tell Her Truth!
Posted: 15 Jul 2014 09:46 AM PDT
KeKe Palmer is defending her Karrueche Tran interview, airing this week. Find out why KeKe feels Karrueche's side of the story should be heard inside....
Tomorrow, KeKe Palmer's heavily-hyped interview with Karrueche Tran airs on BET at 5PM Eastern during "Just KeKe". Now, KeKe has taken to social media to defend the segment. It seems like Rihanna's Navy has been ripping KeKe a new one and she's fighting back (in a very professional manner).
So.......let's all tune in to watch Karrueche Tran tell her truth tomorrow. Got it? Good.
BONUS: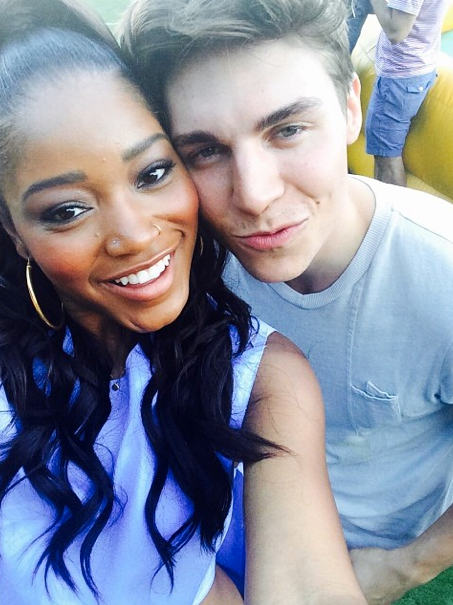 KeKe also posted a few pics from her weekend fun which included a party with her besties Nolan Gerard Funk and Jessica.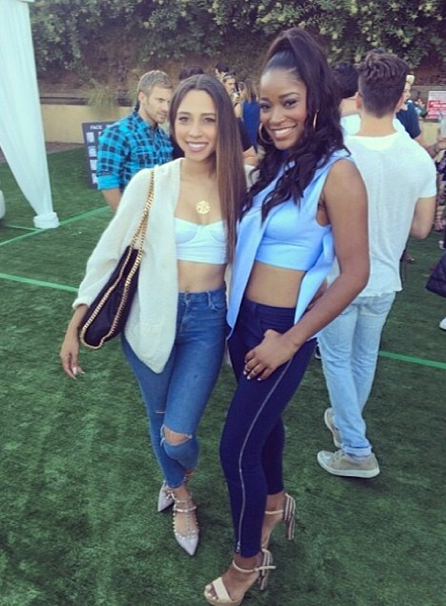 Keke wore an Alexander Wang shirt and Sandros pants.
Photos via KeKe's Instagram
Tracy Morgan FLASHES The Peace Sign In First Video Since Fatal Accident, SAYS "Thank You, I Appreciate Everything"
Posted: 15 Jul 2014 08:40 AM PDT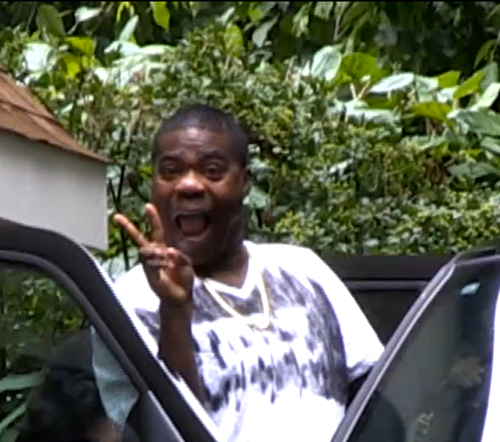 Tracy Morgan is in good spirits as he recuperates since his tragic car accident. Peep the video of the comedian flashing the peace sign and thanking his supporters inside….
A few days after he was spotted leaving rehab wheel-chair bound, comedian Tracy Morgan seems to be in good spirits following the deadly crash on the New Jersey Turnpike which claimed the life of one of his good friends.
Yesterday, the former "30 Rock" star was spotted by Entertainment Tonight leaving his home in New Jersey as he made his way with a walker to a waiting vehicle. As he climbed into the car, Tracy flashed the peace sign with a smile and thanked everyone for their continued support.
He said,
"I'm OK," he told photographers simply. "I love you very much. Thank you. I appreciate everything."

Tracy was released from rehab this past Friday after suffering from a broken leg, a broken femur, a broken nose and several broken ribs.
This video comes days after Tracy, along with his assistant Jeffrey Millea and comedian Ardie Fuqua, filed a lawsuit against retail giant Wal-mart for negligence for their part in the deadly multiple vehicle pile-up. Wal-Mart driver Kevin Roper allegedly slammed into the limo bus Tracy and his crew were traveling in after allegedly falling asleep behind the wheel. They are seeking compensatory and statutory damages, punitive damages, legal fees, as well as pre and post-post judgment interest.
Check Tracy in good spirits below:
Get well soon!
Photo/Video:Entertainment Tonight