---
Mya DISHES ON Going Vegetarian And Running The New York City Marathon IN "Women's Running"
Posted: 22 Jul 2014 09:08 AM PDT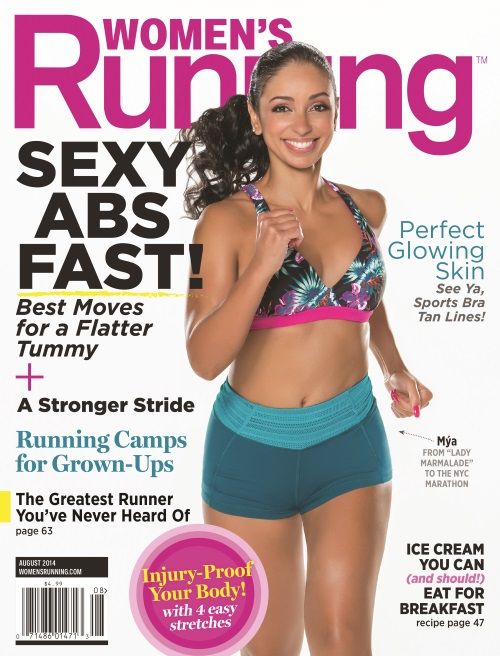 Mya covers WOMEN'S RUNNING this month where she gets candid about being a vegetarian, working out and why the New York City Marathon is so important to her. More inside...
We haven't heard much from Mya lately, outside of a few non-credible Jay Z rumors, a few club appearances and the very quiet release of her "With Love" EP. But Mya fans should know...she's still here!
The "Free" singer covers the August 2014 issue of "Women's Running" where she talks about going vegetarian and how completing the NYC marathon was her ultimate challenge. Here are the highlights:
Why the New York City Marathon was her 2011 New Year's resolution: "It was a test of my own strength and will" . . . "I wanted to prove to myself that I was still physically healthy and that I could do something to challenge myself."



How going vegetarian for a year changed her outlook for good: "There's a stigma attached to vegetarian food. My friends would say, 'Oh, gosh, that's no fun" . . . "But I discovered so many great dishes that I eat habitually now, because they're delicious."



Why she likes to train outdoors: "Getting outside and getting in touch with nature is such a spiritual cleanse for me."



How that New Year's resolution became a lifestyle: "I am so happy and proud to call myself a runner."



What She Really Eats: Mya shares snapshots of her daily meat-free meals, including her favorite smoothie recipe
Mya's issue of WOMEN'S RUNNING hits stands today.
EXTRAS:
1. NFL baller Victor Cruz propsed to his longtime girlfriend. STORY
Jada Pinkett Smith Gives Marital Advice...And The Secret To Her & Will's Marriage
Posted: 22 Jul 2014 07:45 AM PDT
Ever wondered about the key to a successful marriage? And the one thing that will keep you and your partner together forever? Well, Jada Pinkett Smith is letting us in on a secret that has kept she and her husband Will Smith together for 17 years. Find out what she disclosed inside….
If you had any doubt if Will and Jada were still REALLY together, listen to what Jada dished to ExtraTV at FOX's TCA panel Sunday.
"Gotham" actress Jada Pinkett Smith (above at the "Gotham" TCA press conference) is offering up marriage advice for all who are wondering…what exactly does it take to have a long-lasting happy marriage? Jada and Will Smith have been married for almost two decades.
Jada was asked if she had any advice for the newly married "The Voice" judge Adam Levine. She said the key to a successful relationship is,
"Your partner has to be your best, best, friend. And he's my best friend."

And what exactly keeps a marriage strong and stable?
"You have to have kind of a warrior mentality. You have to be a solider for love. You have to be able to withstand tough times and just because the tough times come doesn't mean it's time to stop… it means it's time to dig in."
Agreed.
So what's in store for Will & Jada in a few years? They're celebrating their 20th anniversary…and they're very much excited about it.
"We're going to be celebrating 20 years in two years, so we're starting to plan now for a big 20th year."

Check it:
Nice.
The premiere of "Gotham" airs September 22nd on USA.
Photo: Getty
Zoe Zaldana Shows Off Her OBVIOUS Baby Bump At "Guardians of the Galaxy" Premiere...Alongside Ex Boyfriend Bradley Cooper! + HITS "Jimmy Kimmel"
Posted: 22 Jul 2014 06:53 AM PDT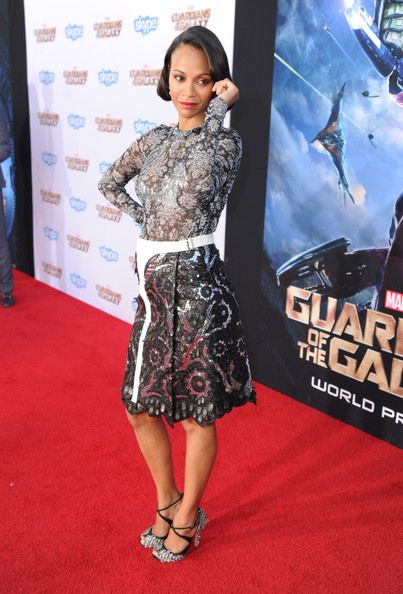 Zoe Saldana has not confirmed her pregnancy, but last night's lace Louis Vuitton Resort Dress was all the confirmation we needed! See Zoe and her baby bump on the red carpet for "Guardians of the Galaxy" inside and watch her on Jimmy Kimmel Live with ex-boyfriend Bradley Cooper.
International movie star Zoe Saldana attended the world premiere of Marvel's "Guardians of the Galaxy," at the Dolby Theatre in Hollywood yesterday.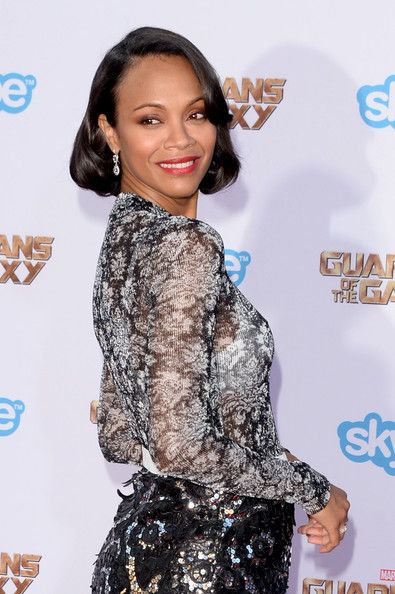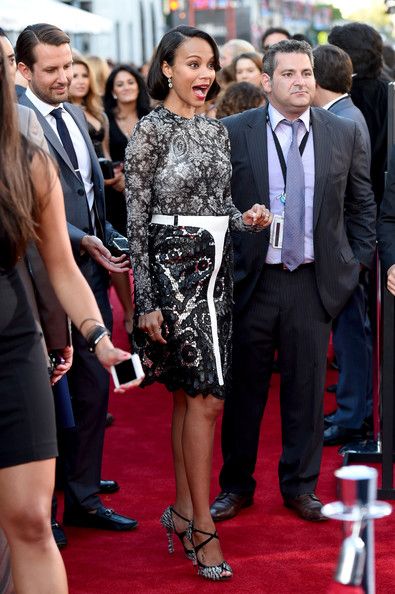 The fashionista chose a black lace 2015 Louis Vuitton Resort dress that she paired with Jimmy Choo Kamelia Feather sandals. And it looks like she won't be teetering in those expensive heels for much longer...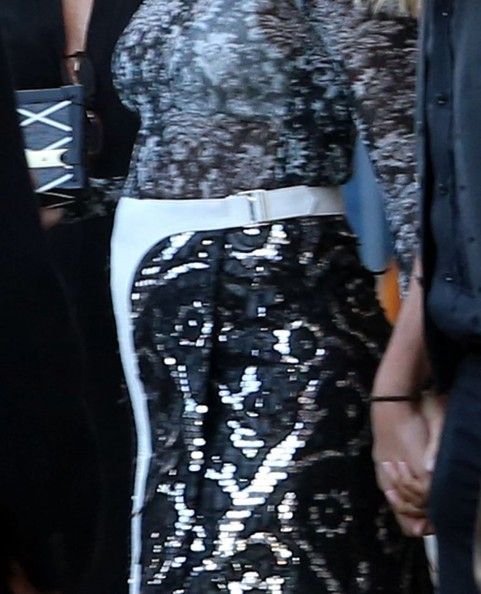 Her best accessory is the baby bump we've been keeping an eye on. Neither Zoe nor anyone in her camp have officially confirmed....but it can't be denied!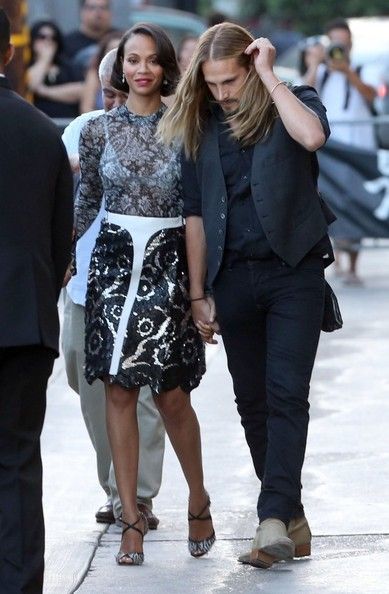 Zoe attended the premiere with her husband Marco Perego. We wonder if the press tour had a few awkward moments since Zoe's ex-Bradley Cooper co-stars in the film and is on the junket as well.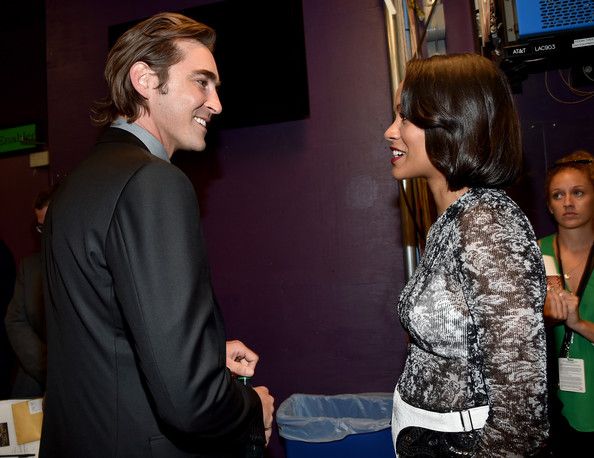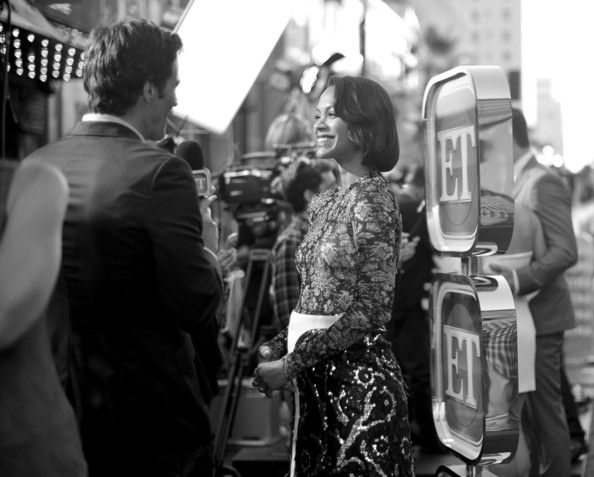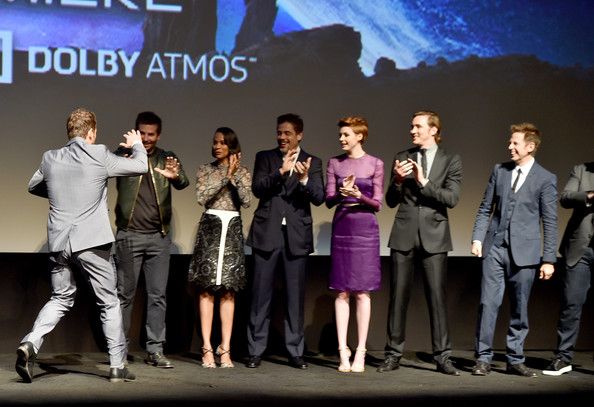 Awkwaaard....
On late night......
Zoe and the cast appeared on Jimmy Kimmel. And the bump is still obvi. Peep the vids.
Also......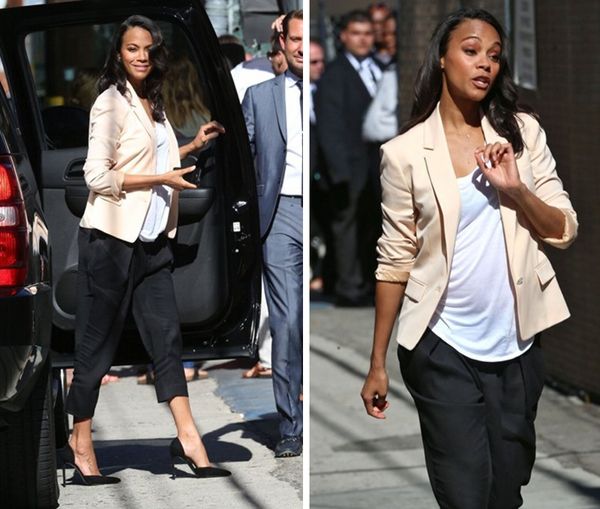 She tried to cover up that belly while arriving to "Kimmel" yesterday....
EXTRAS:
1. Ray J has been charged with 10 crimes in connection to his drunken rampage for May 2014 including 4 counts of resisting arrest, 3 counts of assault and battery and 2 counts of vandalism. Story.
2. The comedian who "pretended" to be the son of Eddie Murphy has dropped his $50M lawsuit against the actor. Story.
Photos via Getty/FameFlynet
MORNING EYE CANDY: "Hit The Floor" Stars McKinley Freeman & Rob Riley Go TOTALLY NUDE..With (Basket)Balls
Posted: 22 Jul 2014 05:48 AM PDT
If you missed "Hit The Floor" last night, you missed a lot. Mainly, sexy actors McKinley Freeman (Derek Roman) and Rob Riley (Terrence Wall) stripping down to nothing but their balls...basketballs that is...for a fictional "Skin Issue" for a sports magazine. And guess what....that ish just got the real life treatment with official photos.
Check 'em inside....
Hotties McKinley Freeman (above and below) and Rob Riley are showing the goods for a new official shoot for VH1's show "Hit The Floor". While the pics are based off a fictional photo shoot a la ESPN's "Body Issue" that went down on last night's episode, while their dancer girlfriends Taylor Paige (Asha) and Logan Laurice (Jalena) watched on, VH1 just released the real things: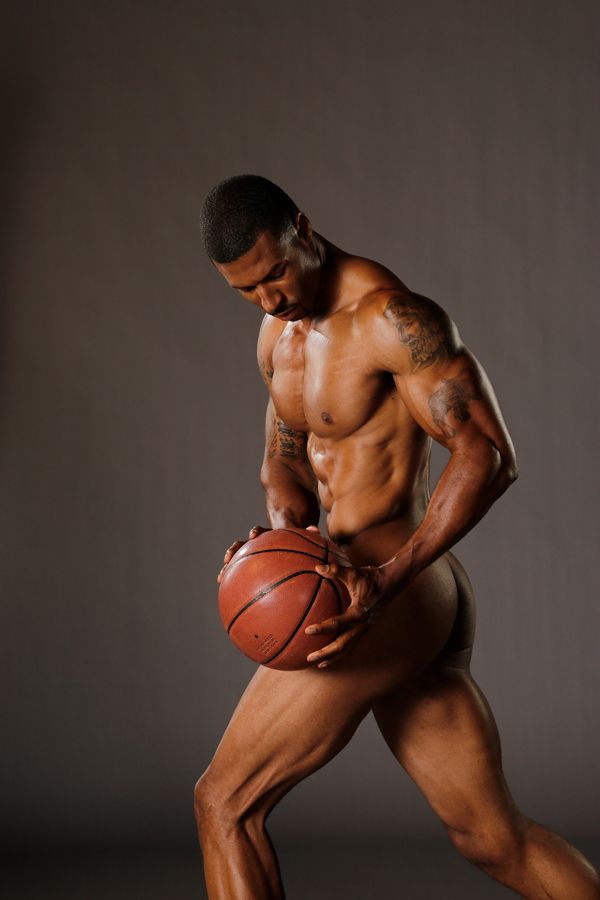 Good morning.
Kendrick Lamar Covers Complex, Talks Avoiding The Sophomore Slump + Nicki Minaj & August Alsina's "No Love" Remix
Posted: 21 Jul 2014 07:15 PM PDT
Kendrick Lamar opens up about slaying the sophomore curse in the August/September 2014 issue of COMPLEX. More inside, plus Nicki Minaj & August Alsina's "No Love" remix...
Weeks in the making, August Alsina debuted his new single "No Love" featuring Nicki Minaj today. The duet remix puts a twist on the original anti-love song which was featured on Alsina's debut album 'Testimony'.
Nicki added some singing and some bars saying as she sings, "August you know, I'm here to save you, me and them girls, we ain't the same boo, you know I hate it when you leave me". Then raps, "You can't treat me like you treat them , yes I am the crème de la crème, yes I am from one to ten-ten, you frontin' in them streets keep sayin we just friends".
Check out the full song above.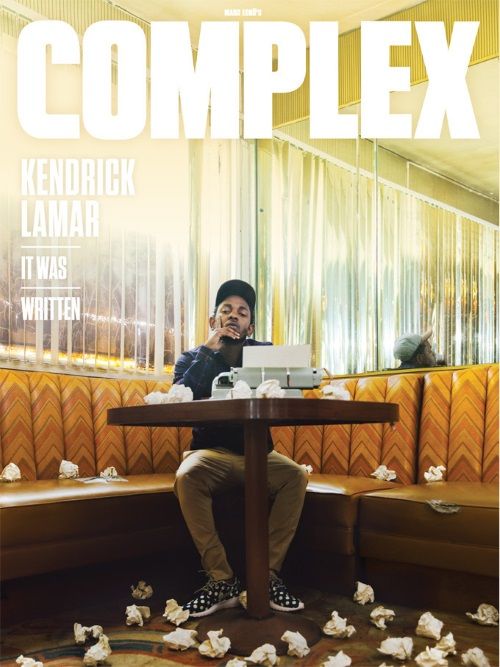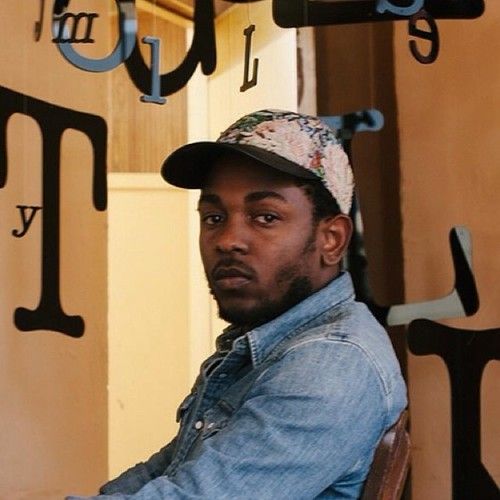 Inside Studio 2 of the LA soundlab, Kendrick Lamar is in deep thought. Will he be able to match the critical acclaim of good kid, m.A.A.d. city? How does he create another verse that ignites the social firestorm of "Control"? As he steadies his next album, Kendrick Lamar realizes that the world is watching...and expectations are high. "When I went back to my old high school, all these kids looking at me like I'm the real big homie, the same way I look at Jay Z, Nas, or Dr. Dre," says Kendrick with a laugh, sitting in his luxury trailer at his Complex cover shoot. "You would've thought Michael Jackson walked through that joint off the excitement that they had."
In the August/September 2014 issue of COMPLEX, Kendrick allow the magazine to document a studio session and opens up about fighting self-doubt, accessing his voice, figuring out how to follow-up a classic. Here are highlights:
On the pressure of the sophomore slump and following up GKMC: "If I keep focusing on, 'I need to make something better than good kid,' it's going to be just that," says Kendrick. "That's not challenging yourself. I don't want to become that person reflecting on what has been done. What I'm doing now is the question. I'm only as good as my last word, my last hook, my last bridge."
On overcoming self-doubt and the advice Pharrell gave him: "I was on the tour bus going back and forth on the text with Pharrell," says Kendrick. "I asked him, 'You think they gon' get it?' And he told me, 'Don't ever doubt yourself again. Always be aware but don't ever mistake your first mind, your input of where your heart is at.'"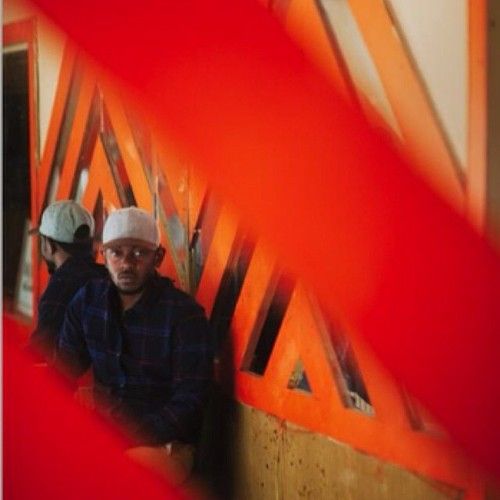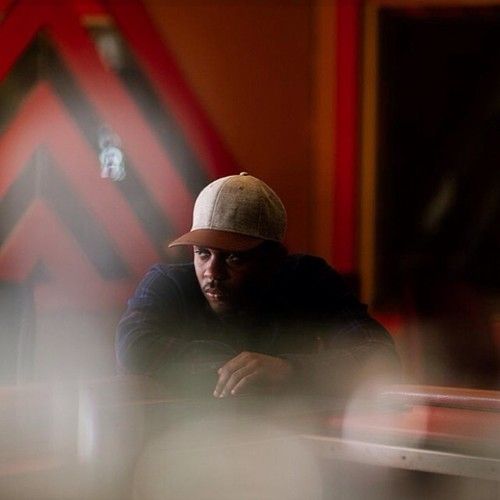 On Macklemore and the Grammy snub: "It wasn't really a huge deal for me," says Kendrick, who's known Macklemore for over a year. "Macklemore deserves the accolades. That's still my partner regardless. He probably didn't need to Instagram the text. But what's done is done."
His first big word and how he learned to expand his vocabulary: "My first-grade teacher flipped out because I wrote the word 'audacity' in a story," he recalls. "I knew the word only because I heard my auntie and uncles arguing, saying, 'You got the audacity to take my motherfucking drink and pour it out?!' I learned all my words like that, so when I went to school it was in my head."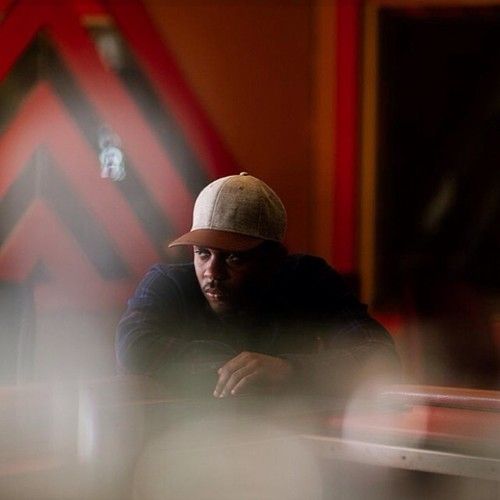 On using music as his message and gift: "I got a greater purpose," he says. "God put something in my heart to get across and that's what I'm going to focus on, using my voice as an instrument and doing what needs to be done." The only place to do that is back in the studio.
On creativity, making music and accessing his power: "This is truly a blessing from a higher power," Kendrick says, "and as long as I understand that there's really no limitations to what I can do. Everything is forward with me. When I'm in the studio I'm looking for creativity I haven't matched yet, a feeling I haven't felt. It's a high. When you look at people like Jay Z, Nas, Dr. Dre, these people are established, but they love music and they love that high. You always want that feeling of creativity."
Pick up Kendrick's issue of COMPLEX now.
Photos via COLEMAN AND B+ FOR MOCHILLA.COM
Judge DENIES Meek Mill's Emergency Hearing Request, Will Remain In Jail + Sherri Shepherd's Estranged Husband NOW Suing Her Over Surrogate Contract
Posted: 21 Jul 2014 02:36 PM PDT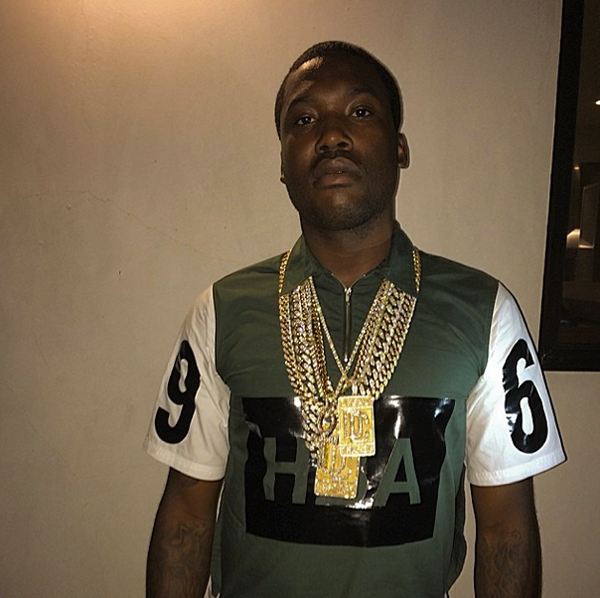 Looks like Meek Mill will be spending the rest of his summer behind bars, while Sherri Shepherd battles it out in court with her estranged husband Lamar Sally. Sal is now suing Sherri over the surrogate contract they signed, trying to force her keep her alleged parental rights of the unborn child. Deets inside…
MMG rapper Meek Mill (real name Robert Williams) is currently behind bars for a probation violation. And recently, he filed a request for an emergency hearing in hopes of getting out of jail sooner.
Unfortunately for Meek, the judge residing over his case denied his request and he will likely be gone 'til September. So much for definitely getting out before the release of his sophomore album Dreams Worth More Than Money (which is scheduled to drop September 9th).
The 27-year-old rapper was jailed by Common Pleas Judge Genece Brinkley on July 11th for violating the terms of his probation, stemming from a 2009 drug and gun conviction. He was sentened to three to six months in jail.
According to Philly.com,
Brinkley said the rapper failed to provide his probation officer with a working phone number, used his Twitter account to disparage the officer and the prosecutor assigned to the case, booked out-of-town concerts without court permission, was "combative" and "disrespectful" to probation-office staffers and posed for a picture posted on Instagram holding a gun.
Judge Brinkley reportedly denied his request due to her schedule not allowing her to preside over such a hearing until September. She also rejected a request for another judge to oversee the case. Bloop.
On Monday, Meek's attorney plans to file another request asking a higher court to override Judge Brinkley's decision and force her to hold an emergency hearing. Good luck with that.
Sure that's not the news Meek wanted to hear, but he did have a few visitors recently to help put a smile on his face. MMG honcho Rick Ross and crew (dressed in their #FreeMeekMill t-shirts) paid a visit to their homie last week.
And in other legal drama....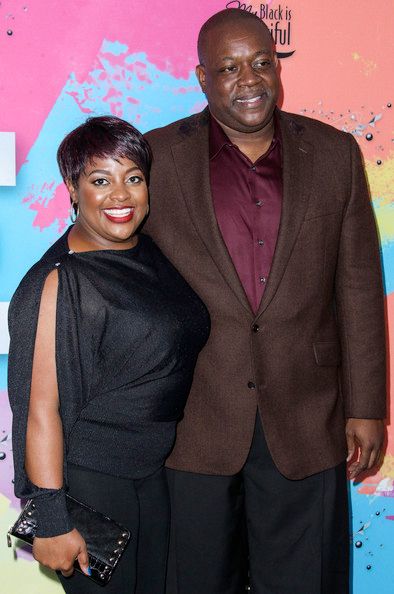 If you thought things couldn't get any messier with former "The View" co-host Sherri Shepherd and her estranged husband Lamar Sally's divorce, you thought wrong!
Sal is now filing legal documents to prevent her from backing out of the contract they signed when they decided to have a child together via surrogate. As you may know, Sherri gave up all parental rights to the unborn surrogate baby they were supposed to share (she doesn't want her name on the birth certificate or any parts of this), but Sal isn't letting her off the hook that easily.
According to sources, Sherri believes Sal tricked her into having a surrogate so he could benefit from child support payments. She claims he got her to sign the contract knowing then he would divorce her eventually in order to get paid.
Sal is now ready to duke it out in court to have Sherri's name on the unborn baby's birth certificate. We told you Sal filed for divorce first in California, while Sherri filed in New Jersey. She likely filed in NJ because the state does not recognize surrogacy agreements, unlike California.
Dude seems to be trying his damnedst for a come-up…
EXTRAS:
1. Supermodel Naomi Campbell settles (for an undisclosed amount) with an Italian photographer for allegedly attacking him back in 2009. STORY
Photos: Pacific Coast News/Meek Mill's IG
VIDEOS: Kenya Moore Takes A FALL On Stage....RECOVERS With A TWIRL! + Estelle's "Conqueror" + Future's "T-Shirt"
Posted: 21 Jul 2014 01:55 PM PDT
In today's video roundup, RHOA star Kenya Moore falls onstage (but recovers fabulously) while Estelle releases a visual for "Conqueror" and Future debuts "T-Shirts."
You can't keep a good Queen down...or a "Housewife". Over the weekend, RHOA star Kenya Moore joined a few other Bravo Housewives (Kyle Richards, Melissa Gorga, Vicki Gunvalson, Jill Zarin), at a Caesars Palace event where they were paired with a few high rollers for a competition.
During one of the events (runway walk) the former Miss USA took a spill, but she cleaned it up and came back with a twirl (of course). While some may remember the fall, no one will forget the comeback.
Watch the fall and the twirl-up here:
New R&B/soul videos...
Grammy-winning singer Estelle is back with an inspirational video for "Conqueror," the lead single off her upcoming album True Romance (November 4th) album.
She described the concept of True Romance to Rap-Up saying it will cover four themes—passion, courage, true romance, and the bullshit.
"Every song fits into one of these themes. This is a real body of work, just like when you do an art piece, or when you have all these awesome images on your Instagram. You want people to see the full you."
Are you ready for True Romance?
Meanwhile:
Future is back with another video from his HONEST disc. "T-Shirts", directed by Cricket, shows a day-in-the-life of Future hanging out in Atlanta. We see him hopping off a plane, visiting a shoe store, hanging out with fans, and performing a show. Watch out for a cameo for Mike WiLL Made-It.
Photo via Kenya Moore's Instagram
Malaysia Pargo, DeVon Franklin, Sybrina Fulton & More ATTEND The Trayvon Martin Foundation Power Brunch + Trey Songz, Brandy, Ray J & More PARTY IT Up At ToXic Day Party
Posted: 21 Jul 2014 10:47 AM PDT
Over the weekend, Malaysia Pargo and DeVon Franklin supported a good cause with Trayvon Martin's mother Sybrina Fulton at the Trayvon Martin Foundation Brunch. Meanwhile, Trey Songz had the ladies swooning over him at the ToXic Day party. Peep pics from the events inside…
The Trayvon Martin Foundation held a special brunch in honor of Trayvon Martin at XEN Lounge (owned by Duane Martin & Tisha Campbell) in Studio City over the weekend.
Preceding the brunch, Trayvon Martin's family and friends participated in a peace rally at Crenshaw High School in L.A., bringing out NBA superstar Kobe Bryant and rapper Nipsey Hussle. Saturday marked the one-year anniversary of George Zimmerman's acquittal of Trayvon's murder.
"BBW LA" star Malaysia Pargo came out to support Trayvon Martin's mother Sybrina Fulton. The reality star also had to deal with a tragic death in her family. Malaysia's brother was allegedly murdered by a police officer, so she and Sybrina shared many heartfelt moments during the brunch.
Meagan Good's husband DeVon Franklin came out to show his support, hitting the carpet all smiles with Sybrina.
Recently, the sexy producer inked a new deal with SONY to develop mainstream, inspirational and diverse content for the company's portfolio of labels.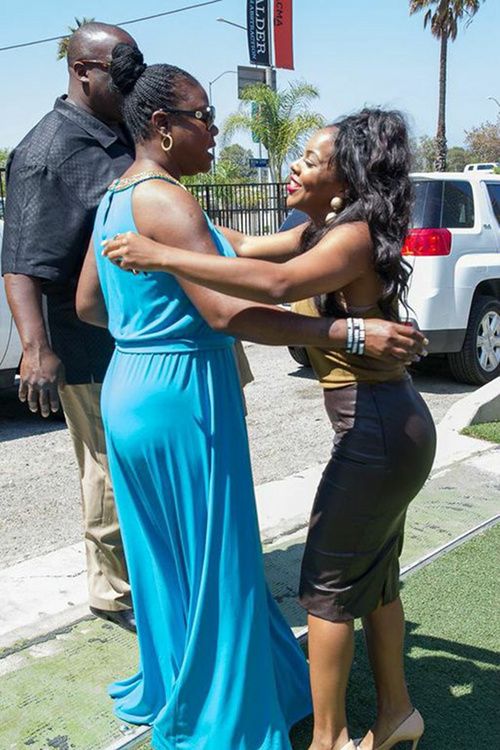 Miss Diddy of The Brand Group embraced Sybrina with a hug before posing it up on the carpet.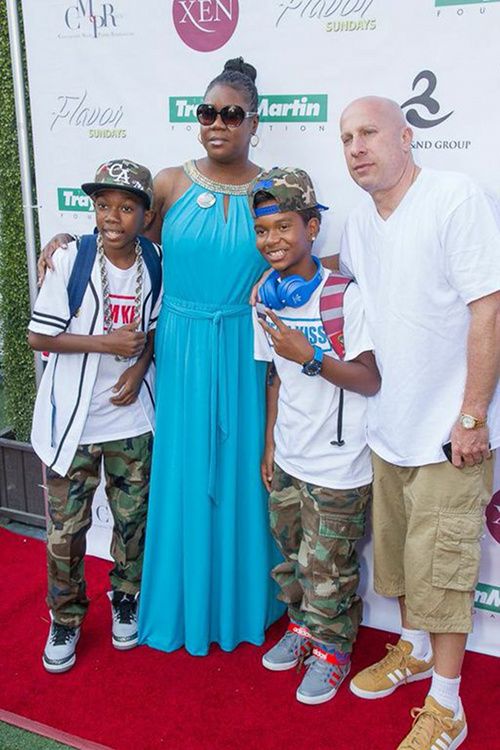 Sybrina also hit the carpet with music manager Steve Lobel and two young men (possibly a group he's managing).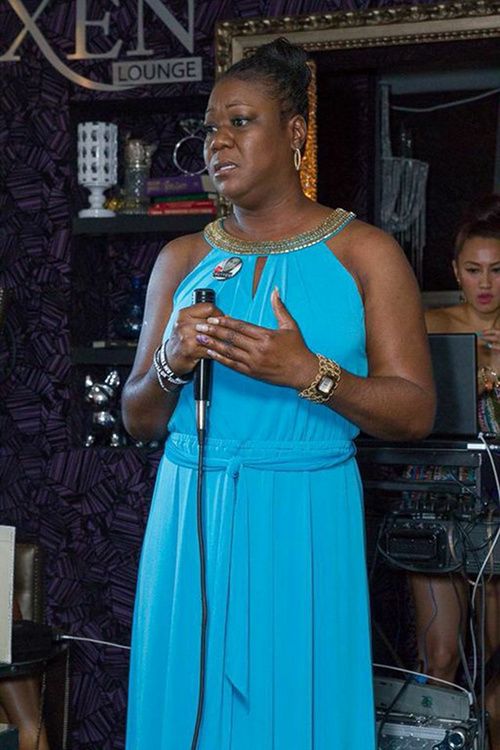 During the brunch, Sybrina stood up and thanked everyone for the support. She also shared special memories of her son and ended her speech saying, "Its vital and important that you do your part, whatever that part may be."
And at another event....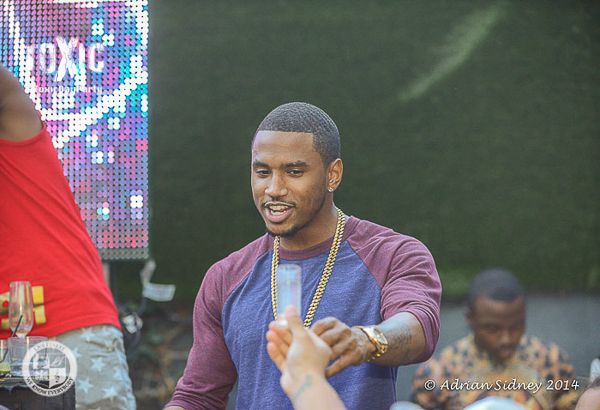 On Saturday, Trey Songz bought the ladies out to the ToXic Day Party in L.A. In celebration of his second No. 1 album (Trigga), Trey put on a full concert, performing all of his new album's tracks for partygoers. And of course, the ladies couldn't get enough of Trey.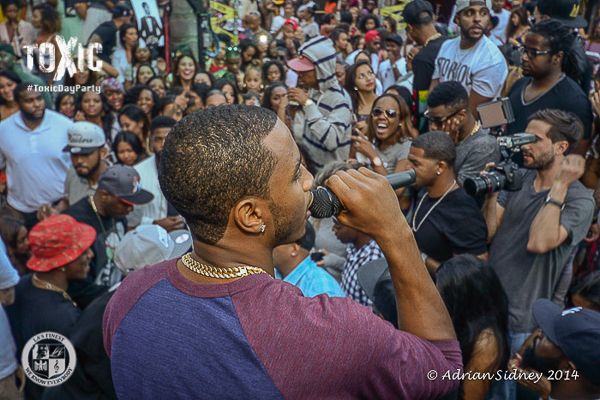 Also spotted at the party...
"The Game" star Brandy and her brother Ray J (who is rumored to be filming for an upcoming season of "Love & Hip Hop: L.A.) were spotted posing for pics in their VIP section.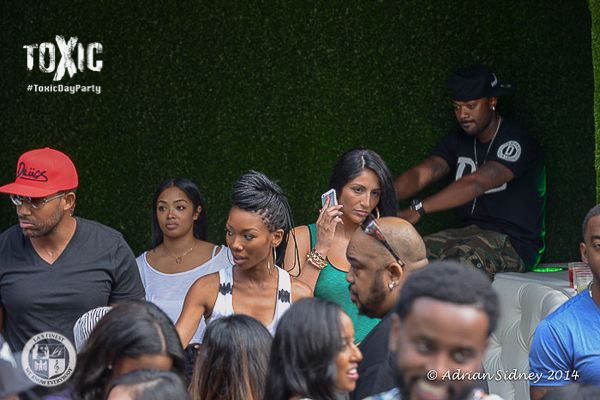 Ray J opened up recently about the Whitney Houston biopic coming to LIFETIME. During an interview with Hip Hop Hollywood, he said he hasn't "really paid attention" to details surrounding the movie, but he's hopeful that it will show Whitney "in the right light."
Brandy looked fab saluting the cameras.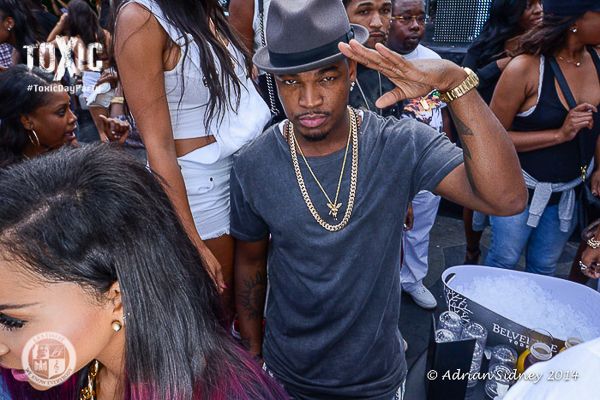 And Ne-Yo (who is becoming a ToXic Party regular) also saluted the cameraman. He has a new album coming out this fall titled Non Fiction and recently premiered a new track from the album titled "Money Can't Buy" featuring Young Jeezy.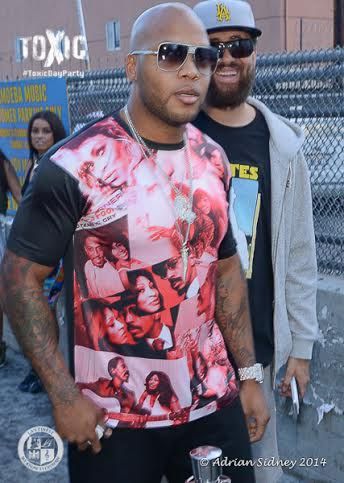 Flo Rida came out to party and he debuted his brand new single on stage.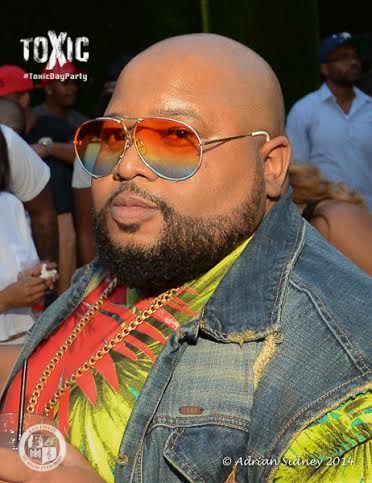 And Jazze Pha was spotted getting his drink on.
BONUS:
Check out this clip (above) of Kobe Bryant and Nipsey Hussle speaking during the Trayvon Martin rally at Crenshaw High in L.A.
Photo Cred: Kass for The Brand Group/ Adrien For Bar Tabz/ LAs Finest Enterprises
So.....That Explains It: Police Say Farrah Franklin Was "Highly Intoxicated" + Her "NFL Friends" ALLEGE Drug Use Before Arrest
Posted: 21 Jul 2014 09:57 AM PDT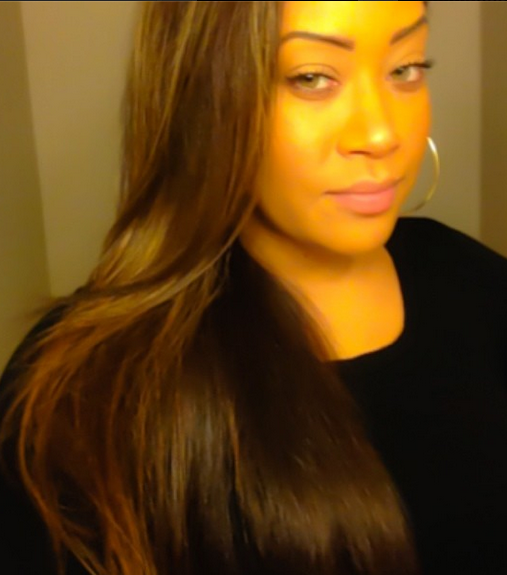 The arresting officers who handled Farrah Franklin over the weekend have spilled the MESSY deets which involve public drunkenness, passing out in a stranger's yard and alleged drug use. Get the "made for TV" scoop on Farrah's arrest inside...
We told you that Farrah Franklin was arrested over the weekend for disorderly conduct, and now, the deets that have emerged suggest a child whose destiny is in crisis. Seriously...it's so outrageous it's like an episode of "Cops" waiting to happen. Mona Scott-Young couldn't make this up!
So.....the police say Farrah was flown to Myrtle Beach by Tampa Bay Buccaneers defensive end Da'Quan Bowers (Mmhmmm). Once she arrived, she linked up with Da'Quan and his friend, Houston Texans linebacker Ricky Sapp and the three partied ALL day.
Now...Da'Quan and Ricky say they began to get suspicious because Farrah would disappear into the bathroom for long periods of time. In addition to getting really drunk, allegedly, they believe she was high. At some point, Farrah started acting "crazy" and started screaming and slamming doors. She was so turnt up that they (the two big, strong NFL players) called the cops on her! This caused Farrah to flee from Da'Quan's house!
Here's where it gets even more outrageous. The police found runaway Farrah lying face down in a neighbor's yard. Then, once they picked her up, she was described as "highly intoxicated" and "unsteady on her feet."
We can only imagine she was slurring all of her words at this point. The police report goes on to say that Farrah denied drug use to the cops and she told them she had nowhere to go (remember she'd upset her host Da'Quan by this point) and she planned to sleep in the woods. Yes....the woods!
Sigh.......this is a far fall from the lip synching days of the "Say My Name" video. But we do know she's a Survivor. She tweeted from the Myrtle Beach International Airport yesterday so we trust she made bail and got out of town.
Somewhere in America.....LeToya and LaTavia are shaking their heads.
Photo via Farrah Franklin's Instagram