---
BIRTHDAY GETAWAY: Fantasia Turns 30 In Cancun With Kandi Burruss-Tucker, Todd Tucker, Phaedra Parks, Shekinah Jo & MORE
Posted: 02 Jul 2014 08:16 AM PDT
The Atlanta Housewives (and a husband) trekked it to Cancun this week to celebrate Fantasia turning the big 3-0! And we have the celebratory pics inside that are heating up Instagram…
"Without Me" singer Fantasia Barrino turned 30 on Monday, so she and a handful of her friends made their way to Cancun, Mexico for some fun in the sun.
"RHOA" star Kandi Burruss-Tucker, her husband Todd, Phaedra Parks, Shekinah Jo and friends stripped down to their swimsuits to enjoy some pool fun. And Tasia is looking damn good these days, rocking a sexy red cut-out one piece.
Shekinah Jo and Tasia flashed their smiles in their matching bathing suits as they partied in the pool.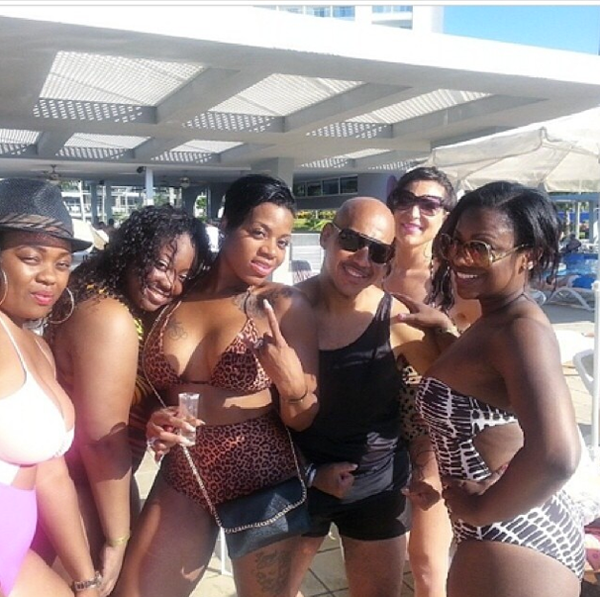 Fanny and Kandi posed it up for a pic before the turn up. Kandi said, "The birthday girl is here!!!! @tasiasword is looking hot! Time for the turn up to begin!!!!!"
The Southern Belle Phaedra Parks came to Cancun…face beat and all…
Tasia got all modelesque for a mini photoshoot in her red-hot bathing suit.
Shekinah flexed on some haters in her red one-piece after commenters on her Instagram went in on her about her supposedly gaining weight.
She said, "It's always great to be around great people!!!!!! And to everyone who is talking about how much weight I have picked up, guess what I don't care what you think or how you feel about my weight!!!!! One thing you need to know is that I am blessed!!!! And I am free! oh yes, and I am HAPPY!!!!!!! Oh yes, and I don't have a problem with men!!!!! They stay trying to get at me!!!!! But I am doing me!!!! Never forget that!!!! Independent, I have my own everything!!!!! I don't want for nothing!!!!! I go when I want, I do what I want!!!!! And I thank GOD everyday for it all!!!! And also I thank God for the people he put in my life to help make my dreams come true!!!!!! So be BLESSED!!!!!!!"
Tell 'em chick!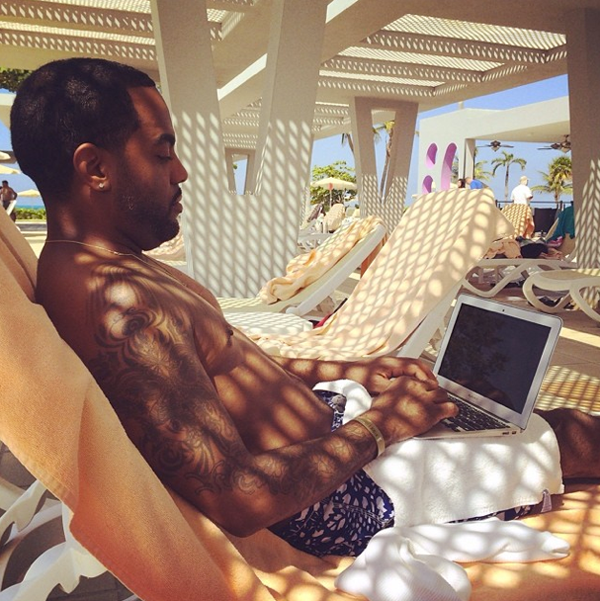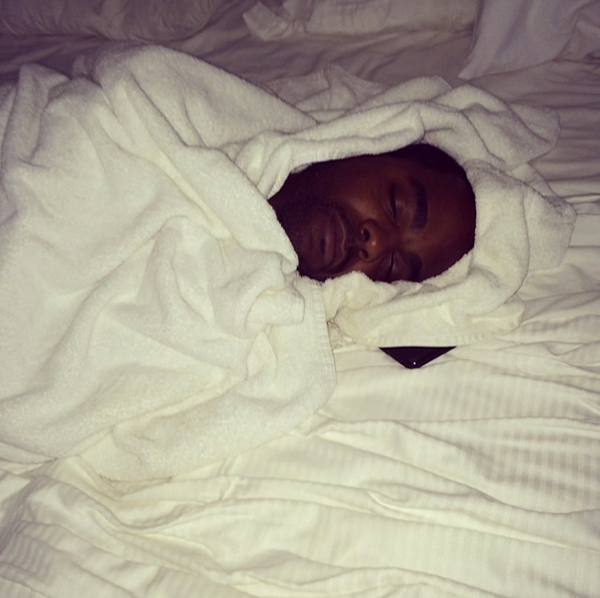 Kandi's husband Todd Tucker started his vacation working, but ended up passed out and wrapped in covers after one too many. Kandi jokingly said, "Why @todd167 got out the shower & layed on the bed wrapped in a towel like a baby??? Lol! I guess that's what happens when you have to many Patron shots! #tooturnedup #Fatasias30thBdayTrip #Funtimes"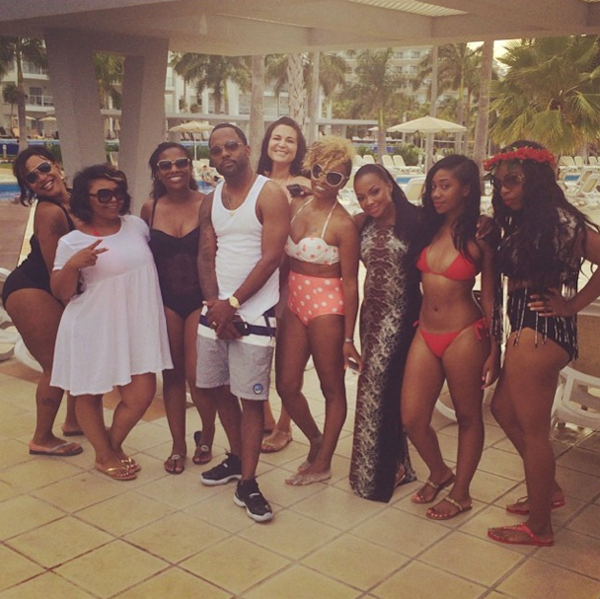 Fun times.
Peep the videos below.
Fantasia turning up:
Tasia and Kandi singing happy birthday to their friend/stylist:
Photos/Videos: Kandi's IG/Fantasia's IG/Shekinah's IG
LOVERS & FRIENDS: Chris Brown, Karrueche Tran & Christina Milian PARTY In Hollywood
Posted: 02 Jul 2014 07:38 AM PDT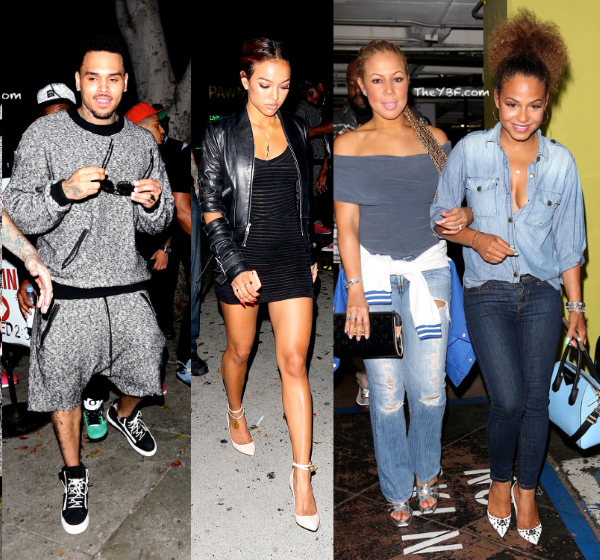 Chris Brown, Karrueche Tran & Christina Milian were spotted partying in Hollywood last night. Find out where they went inside...
My my my........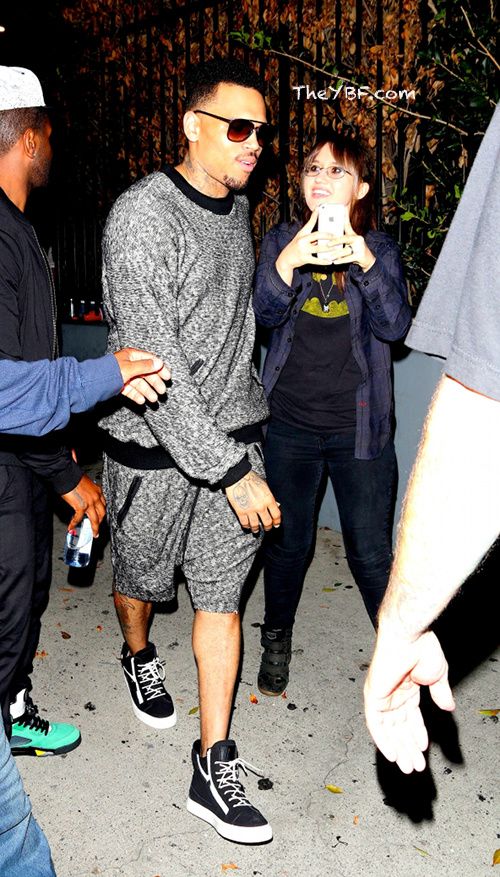 What a difference a good night's rest makes. Chris Brown, who appeared fully recovered from his sloppy club exit over the weekend, partied at the Emerson Theatre in Hollywood last night. These eyes are still telling a story though.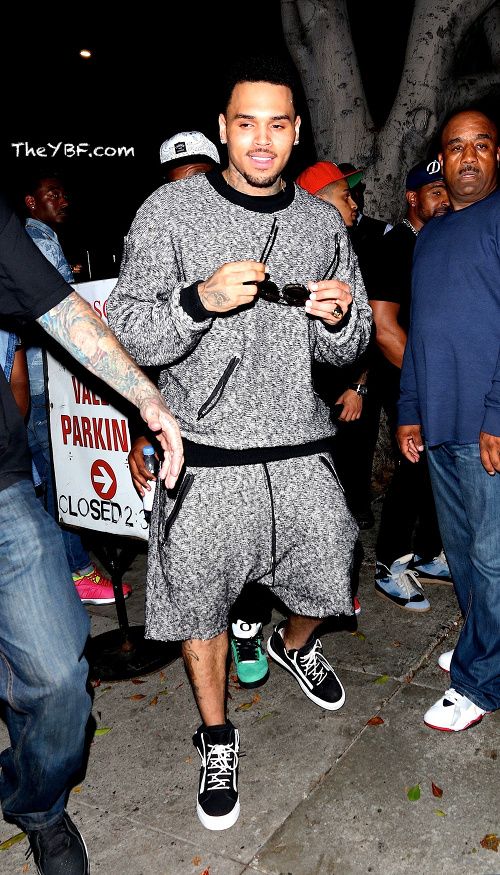 He was warmly greeted by fans after his much heralded appearance on the 2014 BET AWARDS.
Chris' designated driver, Karrueche Tran, was spotted walking in....thankfully. We hope KT is helping Chris stay away from bad influences. But, TMZ reports that he was throwing up gang signs at the club a few nights ago so......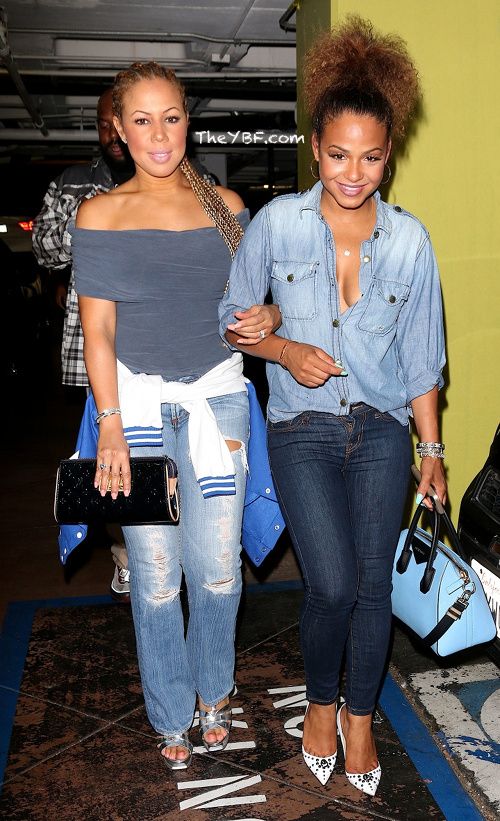 Christina Milian, who recently broke off her engagement with Jas Prince, partied alongside Chris and her bestie Karrueche and other friends. And no, we're not believing the rumors of a romance brewing between her and her YMCMB boss Lil Wayne....yet.
Photos via Winston Burris/WENN.com
Serena's Wimbledon Health Scare -- Exits Match After Illness Causes MAJOR Struggle!
Posted: 02 Jul 2014 06:56 AM PDT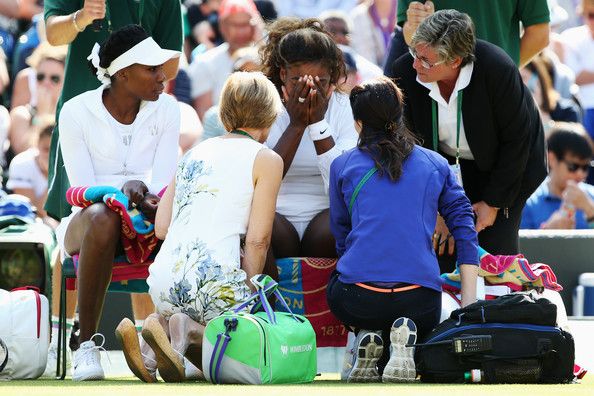 Yesterday's doubles match was a scary situation for Serena Williams. Details on why her bizarre actions and struggle on the court were all a result of a health issue....
Watching the most powerful tennis champ in the world struggle with bouncing, catching, and serving a ball was scary to see. Yesterday at Wimbledon, Serena and her sister Venus were taking on Kristina Barrois and Stefanie Voegele when Serena was acting completely unlike herself.
Fifteen minutes prior to the match, news reports state she was teary eyed and had a hard time getting through the warmups. The court officials went to speak to her while medics took her blood pressure, and she decided to power through. But it seems her body wasn't having it.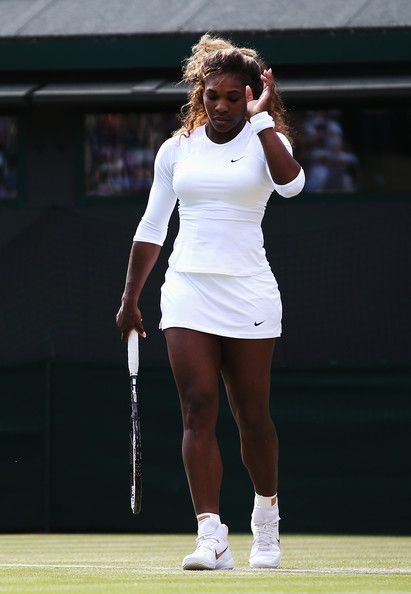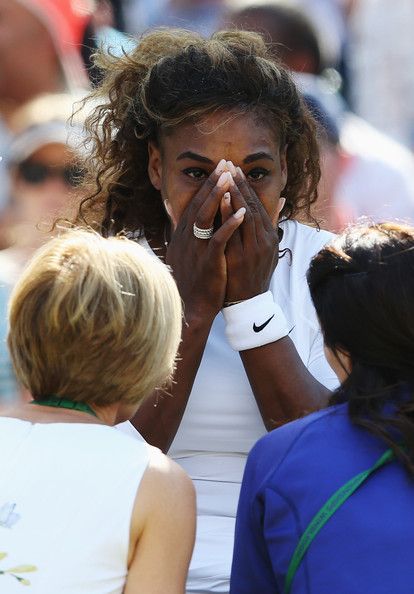 A dazed Serena serving up no fewer than four double faults in the third game of the Round 2 match. And eventually she had to call it quits. She was spotted leaving the court in tears. In a statement yesterday, Serena revealed it was due to a virus:
"I am heartbroken I'm not able to continue in the tournament. I thought I could rally this morning, because I really wanted to compete. But this bug just got the best of me.''

"I want to thank my sister, Kristina, Stefanie and our teams for their support. We were looking forward to a great match. From the bottom of my heart, I thank all of the fans for their cheers and understanding. I look forward to returning to Wimbledon next year.''
Her sister Venus added, "Unfortunately, Serena has been feeling unwell for the past few days and she just couldn't play to her potential today. I'm really proud of her trying because we just love playing doubles together.''
Serena's a Grade A fighter so we know she'll recover and return to the top. Get well soon 'Rena!
EXTRAS:
1. Michael Strahan has a knife-wielding stalker! STORY
Photos: Getty
DOTING DADDY: Idris Elba Takes Daughter Isan To Warner Brothers' Summer Screening Of "Harry Potter"
Posted: 02 Jul 2014 04:48 AM PDT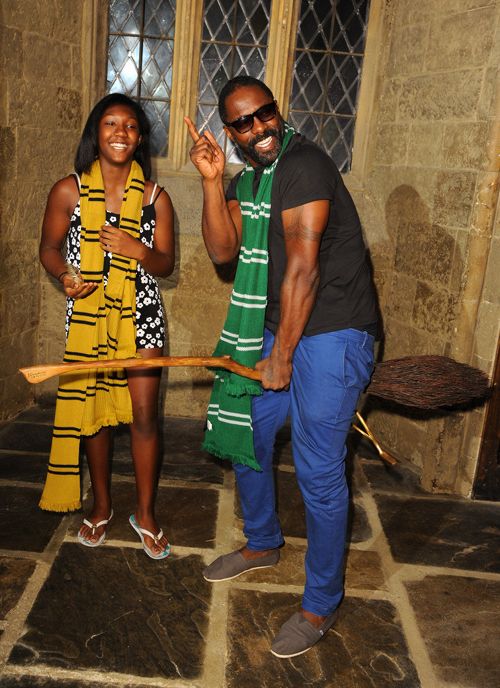 Idris Elba put on his 'fun dad' hat yesterday to bring his 12-year-old daughter Isan to Warner Brother's summer screening of 'Harry Potter And The Philosopher's Stone' in England. Check out the daddy-daughter fun times inside...
Hot actor (and even hotter dad) Idris Elba made his daughter's summer even better yesterday by taking her to Warner Bros. Studio Tour and Summer Screenings in London. And it was all for a VIP screening of 'Harry Potter And The Philosopher's Stone' at Leavesden Studios. Fun!
Idris, who will be voicing one of the characters i the upcoming Jungle Book flick, was spotted riding a broom and embarrassing his little girl. And they snapped a few pics looking cutesy: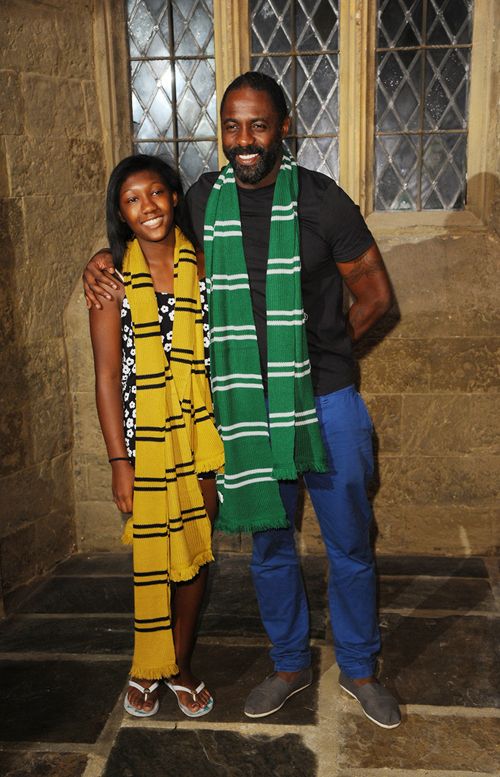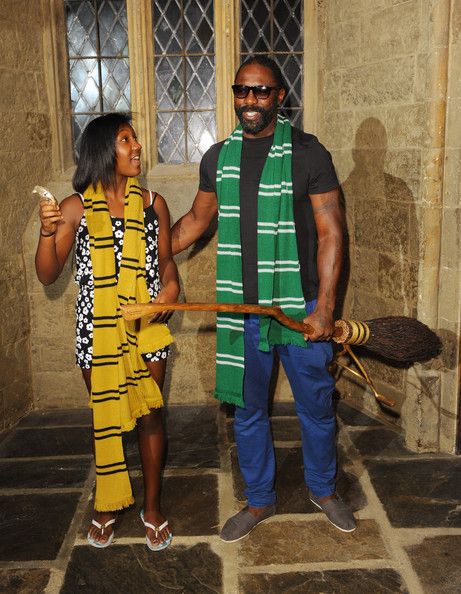 We remember when he was carrying her as just a little tot on a red carpet. How time flies....
BONUS: Idris is starring in the upcoming thriller No Good Deed with Taraji P. Henson. And it looks all kinds of good. Peep the trailer below:
The movie hits theaters September 12th.
EXTRAS:
1. Eazy-E's son is pulling a Bobbi Kris and is pissed he wasn't cast int he upcoming NWA movie Straight Outta Compton. STORY
Photos: Wireimage
NEW MUSIC: Shad Moss Ft. Problem - "Ya Heard"
Posted: 01 Jul 2014 06:06 PM PDT
Bow Wow said he would no longer go by that name after the BET Awards. So today, he made it official by releasing his new track with his new moniker, Shad Moss. Yep, his government. Check out "Ya Heard" inside...
Shad Moss teamed up with rapper Problem to release his first buzz track under his new name. Apparently Mr. 106 & Park wants to go by his government name these days. Check out his new League of Starz-produced track "Ya Heard" below:
Looks like he changed his Twitter moniker in time, but not his Soundcloud...
EXTRAS:
1. Christ Bearer -- the WuTang rapper who chopped off his own penis -- says his ish is still fully functional...and he wants to do PORN to prove it. This video is pretty out there... STORY
Robin Thicke REVEALS He Hasn't Seen Paula Patton In FOUR Months, Talks Candidly About Their SPLIT + Sneak Peek At Keyshia Cole's New Video "N*ggas Like You" Video ft. 2 Chainz
Posted: 01 Jul 2014 04:48 PM PDT
Robin Thicke is still trying his damnedest to get Paula Patton back. And now he's finally ready to talk about it. Find out what he said about his split with his estranged wife and peep the behind-the-scenes pics of Keyshia Cole and 2 Chainz for her newest video "N*iggas Like You" inside…
After pouring his heart out singing "Forever Love" in yet another attempt to get his estranged wife Paula Patton back at the 2014 BET Awards, Robin Thicke is finally breaking his silence about their shocking uncoupling.
His new album Paula hit stores today and to promote his newest LP, he hit up Hot 97's Ebro in the Morning Show and got very candid about heading down Splitsville lane with the woman he has been with since they were 14-yers-old.
During the interview, the Paula singer revealed he has not seen his wife in four months…yes four! And that's the reason why he decided to name the album after her.
"She's the best girl in the world, a great mother and still a good friend. But because we weren't ever together anymore and I still had so much I wanted to apologize for and things I wanted to take responsibility for so that's pretty much what the album is about."

The ring he's wearing on his ring finger nowadays? Nope…it's not his wedding ring.
He talked about how he and Paula did everything together and built everything they have…together, so it's hard to leave something so familiar. He admitted that he messed up and he takes full responsibility for his actions but also said,
"We're apart because we just couldn't be together anymore. There are a hundred of different reasons, there's a long list. I changed and I got a little too selfish, a little too greedy, a little too full of myself."
By the end of the interview, he talked about his 4-year-old son Julian (whom he shares with Paula). He dished on how he would let Julian listen to his songs and he'd say "Daddy, this one is for radio and this one is for the album." Too cute!

Check it:
And on a new video shoot...
Keyshia Cole is gearing for the release of her new studio album Point Of No Return, which is slated to drop this summer. And in preparation, she is currently working on the visuals for a new track featuring 2 Chainz titled, "N*ggas Like You."
On the heels of shooting the video for her lesbian-lusting "SHE" track, Keyshia is putting in work for the rest of the visuals to accompany her singles. She tweeted, "@hairweavekiller thank u so much for being apart of this album! Coming thru and also being apart of the visual! [heart emoji] 4 Life."
The "SHE" singer will be taking her talents on the road, kicking off her "Point of No Return" tour on July 20th in Minneapolis. And we can expect appearances from artists such as Wale, Juicy J and August Alsina as well as production from Mike WiLL Made-It, Stargate, Mario Winans, and RedOne on her new LP.

Peep the behind-the-scenes pics below: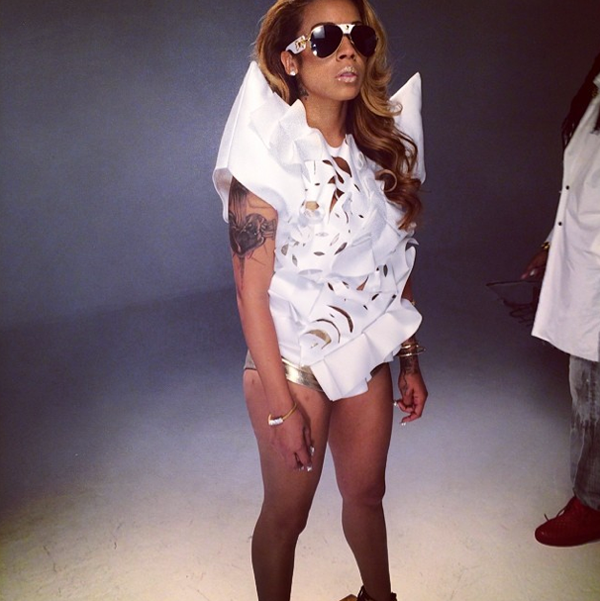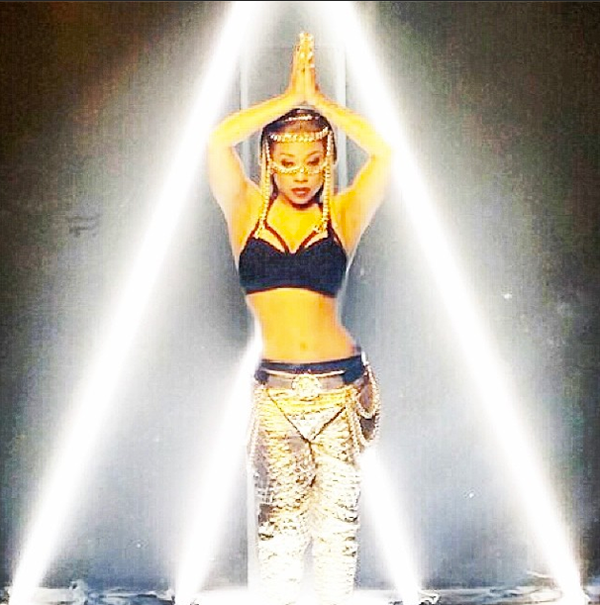 Nice.
Photos: Getty/Keyshia's IG
FRESH FACE: Meet TRACK AND FIELD Superstar Queen Harrison
Posted: 01 Jul 2014 04:00 PM PDT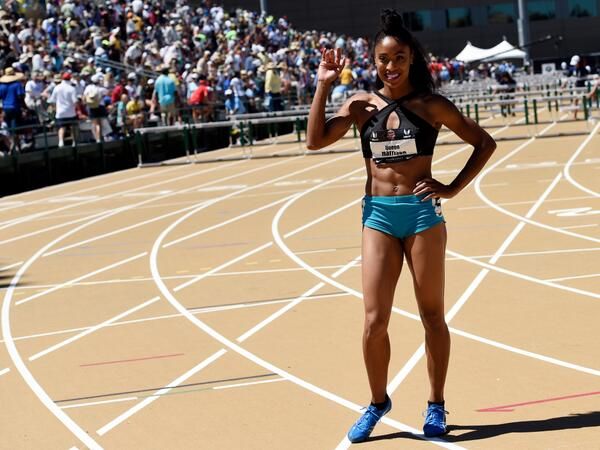 Track and Field has a new "Queen"....... last name Harrison. Come inside and meet the American hurdler and sprinter who's bringing style, sex appeal and GREAT hair to the sport. And of course, major talent.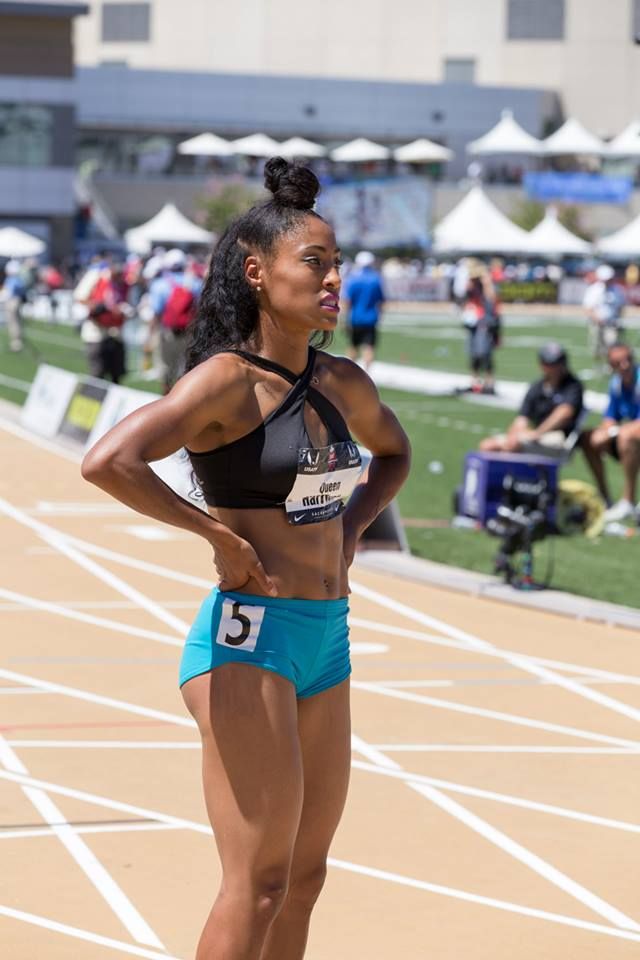 We love fresh faces of YBF folks who are slaying their respective fields. Stepping up to the hurdle with style, flair and class, meet Queen Harrison....track and field has a new superstar. Born in Loch Sheldrake, New York and raised in Richmond, Virgina, Queen is gearing up for the 2016 Olympics and has been killing the competition in the meantime.
This past weekend, Queen caught some eyes and set Twitter on fire while competing at the USA Championships in California after placing second. And she even beat out Olympians like LoLo Jones.
While she was prepping for the London games in 2012, she became injured and was controversially disqualified at the Olympic trials. But she's back and ready for the spotlight. Peep her pics (and her LOVE for hair):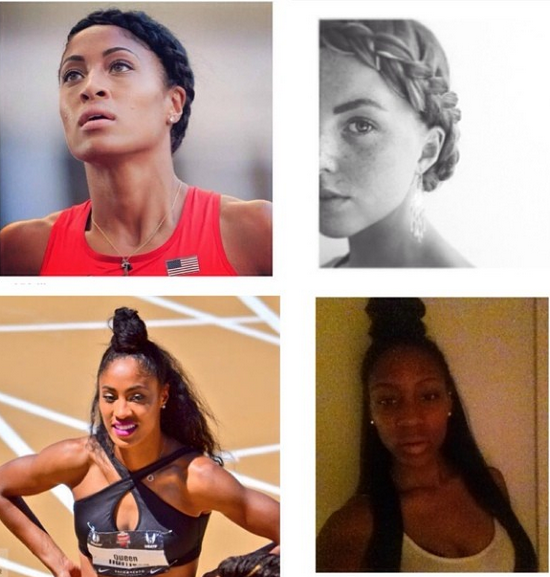 Olympian! Hurdler! Hair Lover! Loving life and living out my dreams, one race at a time.
She also competed in the 400 meter hurdles at the 2008 Summer Olympics. Among her many accolades, she won The Bowerman, the "Heisman of Track and Field" in 2010.
And Ms. Harrison is truly a "Queen" on track. Among her numerous accolades, she also was the first woman to win both the 100m and 400m hurdles titles at the NCAA Outdoor Championships.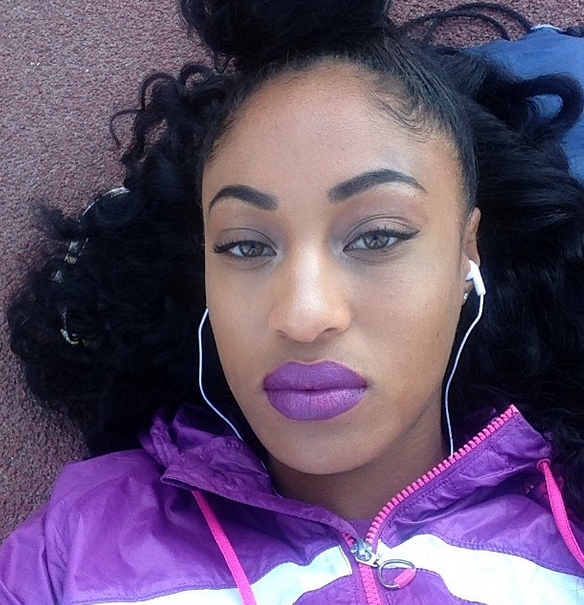 On Instagram, followers are treated to Queen's various "GAME FACE" posts and make no mistake....she is always BEAT for a competition. Eyes popping, lips popping, and hair flowing. And winning. We like it.

Watch the "Queen" in action below:
She's @goqueengo on both Twitter and Instagram.
Photos via Instagram
IN CASE YOU MISSED IT: Erykah Badu Crashes NYC's PIX11 News Segment & Tries To STEAL A KISS...During A LIVE Broadcast!
Posted: 01 Jul 2014 03:11 PM PDT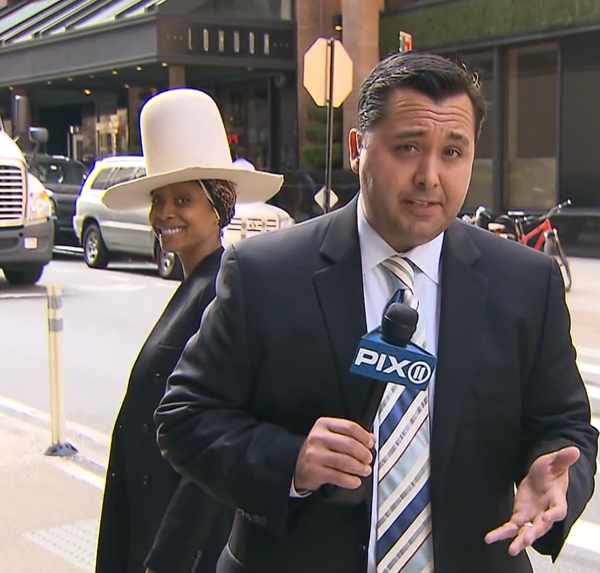 Well this certainly had us cackling. Over the weekend, Erykah Badu crashed a live news broadcast in New York. And in the midst of the reporter shooting his segment, Ms. Badu tried to steal a kiss! But he wasn't having it. Peep the funny exchange inside…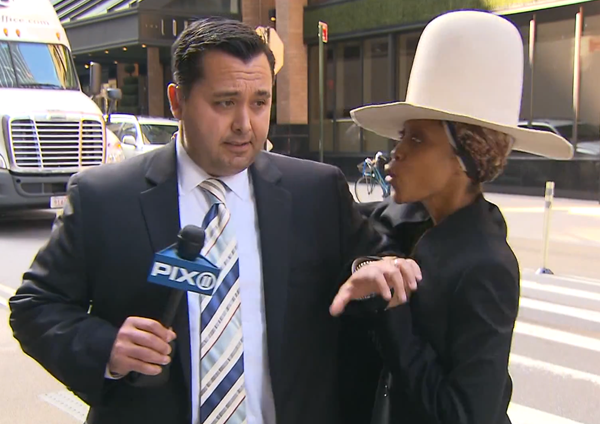 So it seems as if Erykah Badu loves to keep a trick up her sleeve. When she isn't offering up sex advice via Twitter, the Givenchy ambassador is "video bombing" live newscasts.
Over the weekend, Mario Diaz of New York station PIX 11 was reporting the latest updates on the recent arrest of "Transformers" actor Shia LaBeouf. Ms. Badu spotted the news reporter and did what a lot of people do when they're trying to get their quick 15 seconds of local fame…make faces and walk aimlessly in the background.
After walking past the camera a few times while smiling in her top hat, the 43-year-old singer tried to kiss the news anchor who quickly shoved her away and kept reporting the news. He then referenced Ms. Badu as a "fan" who tried to kiss him. Ha!
Check it:
Later, Erykah jokingly tweeted:
What street u gone be on today ? :-) "@MarioPIX11: Just another Monday right @fatbellybella ?"

— ErykahBadoula (@fatbellybella) June 30, 2014
Hilar!
FASHION: Skylar Diggins DEBUTS The Nike Pro 360 Fit System Bra Collection + Kanye West REVEALS New A.P.C. Collection And Release Date
Posted: 01 Jul 2014 01:25 PM PDT
Skylar Diggins is a spokeswoman for the Nike Pro 360 Fit System. See stills from the ad campaign inside and check out Kanye West's new collection for A.P.C.
After more than two years of research, Nike is ready to debut a revolutionary new bra collection and Nike Pro 360 Fit System and they've tapped WNBA star Skylar Diggins as a spokesmodel.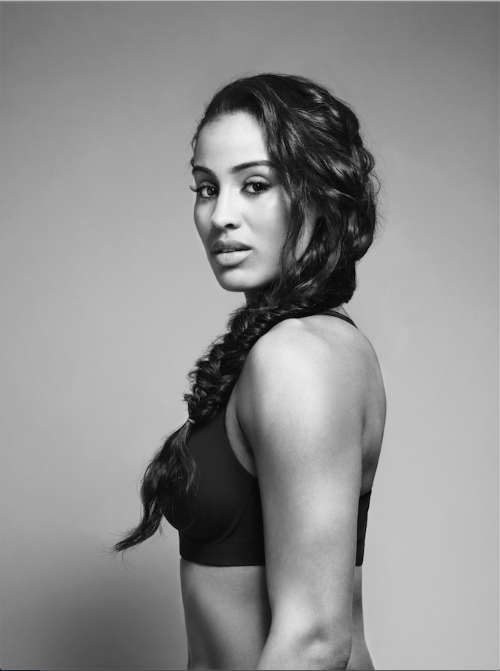 Since signing with Roc Nation Sports, we seen Skylar turn up in several ad campaigns. She told the South Bend Tribune, "It was funny, because people were asking me, after seeing all the stuff I did, 'Do you play basketball anymore?'"
In other retail news.....
Kanye West has revealed that he'll release a second collection for A.P.C. (Fall/Winter 2014) on July 17th. It will be 'Ye's second time teaming up with A.P.C. founder Jean Touitou. You'll recall that their 1st collection sold out in minutes!
Did you see anything you liked?
Photos via Getty/AP/NIKE
SPEAK ON IT: Were High School Officials Justified In PUNISHING The 1st Black Female Student Body President Because Of An "Offensive" Photo To White Males?
Posted: 01 Jul 2014 11:44 AM PDT
Meet Maya Peterson, the high school student who was ousted from her role as student body president after pics of her "mocking" white male students surfaced online. It's causing an uproar online, likely because it all went down at the most expensive school in the country.
SPEAK ON the school's actions inside....
Maya Peterson, above, is the former student body president at the Lawrenceville School in New Jersey. It's the most expensive high school in America with tuition reportedly topping $53,000 year!
Before we proceed, let's point out why Maya stands out among her peers. 1. She is one of a handful of black students. 2. She's openly gay. 3. Her family paid her tuition in full. 4. She was the FIRST black female student body president
Now for the main event. Maya was removed from her position after her classmates began circulating the pic above. According to an article on Buzzfeed, Maya says she took the pic as a joke because she was questioned about senior photos, where she and 10 friends - all of whom were black - raised their hands in a 'Black Power' salute.
So....Maya posted her pic--wearing a Yale sweatshirt and carryng a hockey stick--which she says is a typical 'Lawrenceville boi.' She added hashtags like '#romney2016,' '#confederate,' and '#peakedinhighschool.'
In explaining the photo, Maya said, 'Yes, I am making a mockery of the right-wing, confederate-flag hanging, openly misogynistic Lawrentians,...If that's a large portion of the school's male population, then I think the issue is not with my bringing attention to it in a lighthearted way, but rather why no one has brought attention to it before…'
She added,
'I understand why I hurt people's feelings, but I didn't become president to make sure rich white guys had more representation on campus,' she told the website. 'Let's be honest. They're not the ones that feel uncomfortable here.'
Now....here's where the ish comes in. Maya was told she had to resign or face disciplinary action because she offended the people she was elected to represent. In fact, one of her classmates said, 'You're the student body president, and you're mocking and blatantly insulting a large group of the school's male population.'
Is wearing a Yale sweatshirt and carrying a hockey stick strictly "white male" attributes or negative connotations. We all know BLACK FACE is. But are these things equally "offensive"?

So here are our questions:
1. Was the school justified in ousting her from her position because of photos deemed "offensive" by classmates?
2. Can we call a college sweatshirt and a piece of sporting equipment "culturally offensive"?
SPEAK ON IT!
Photo via Instagram
Posted: 01 Jul 2014 10:58 AM PDT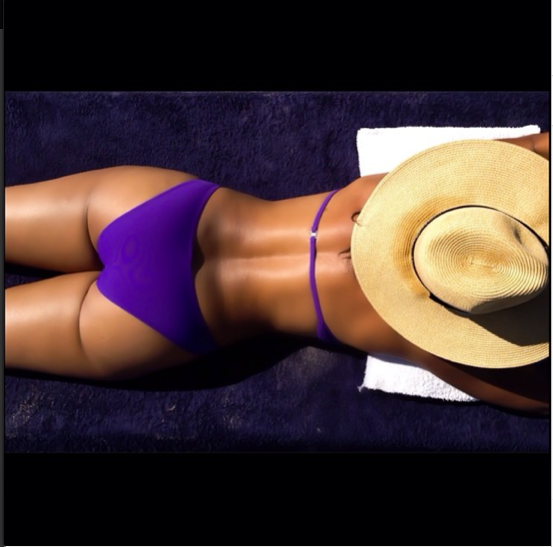 This hottie is that Girlfriend of yours with the ridiculously hot body....who works pretty hard for it. Guess who's showing off her vacay cakes inside...
Can you guess who's flaunting this bangin' summer body in this purple bikini and chic hat?
Wait for it....
Wait for it.....
It's Tracee Ellis Ross! The upcoming "Blackish" tv star is chillin' out in Italy this summer and she gave us a peek at the back...and cake..she's worked on all winter.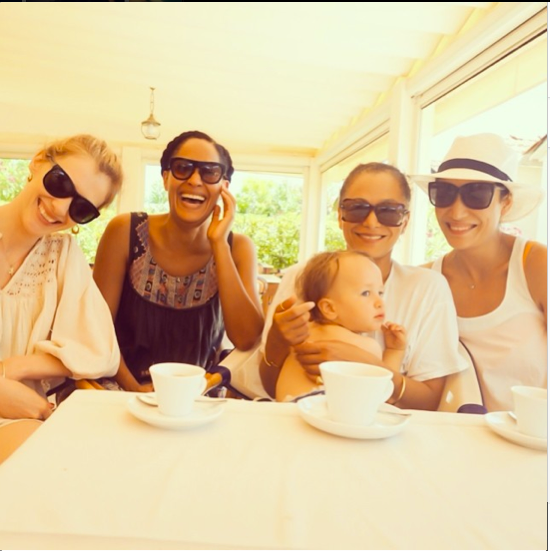 Tracee's been chillin' with friends and family along the Italian coast before the debut of her and Anthony Anderson's new show "Blackish" this fall on ABC.
It seems her fitness journey she posted on IG all winter has DEFINITELY paid off. Get it Tracee!
Photos: Tracee's IG
TELL 'EM WHY YOU MAD: Tank Rants About BET Awards SNUB, "I Don't Care To Be Nominated For Any Of This FAKE SH*T!"
Posted: 01 Jul 2014 10:09 AM PDT
So somebody's mad. And it seems to be over the winner of the "Best Group" category at the 2014 BET Awards. Young Money took home the award beating Tank, Tyrese & Ginuwine (TGT) and Tank's pissed! Find out what he had to say when you go inside….
The 2014 BET Awards have come and gone but it seems it's still fresh on the minds of some of its nominees. One in particular…R&B singer Tank.
Tank's group TGT (consisting of him, Tyrese and Ginuwine) were defeated by the Young Money team in the "Best Group" category. And Tank is upset…and confused over it.
With their debut album Three Kings debuting at No. 3 on the Billboard 200, Tank is trying to figure out how Young Money won the best group category when they're not even a real group and the hypocrisy behind it all. The R&B crooner claims he didn't even want the award but rather for the real winner to win the award (which we assume would be TGT according to him).
He rants:
Im never defined by an award! Only the truth!.. A group that wasn't even a group won tonight!..lol. Hypocrisy! @BETAwards

— Tank (@TheRealTank) June 30, 2014
This shit is hilarious.. Not that I wanted the award.. I just wanted it to be truthful.. Too much to ask..

— Tank (@TheRealTank) June 30, 2014
We'll kill each other before we kill anybody else!! Are we watching the same channel??

— Tank (@TheRealTank) June 30, 2014
I don't care to be nominated for any for this fake shit!! What matters is how the fans feel! And they show up!! Done!!..

— Tank (@TheRealTank) June 30, 2014
Overheard that I was mad at young money..lmao I love social media and people with nothing else to do.. #strongeraug12 #youremystar

— Tank (@TheRealTank) July 1, 2014
We kinda agree with Tank about Young Money not being an actual group...but is he salty?
Photos: Getty
VIDEO FAB: Mase Ft. Eric Bellinger's "Nothing" (Starring "BBW LA" Star Malaysia Pargo)
Posted: 01 Jul 2014 09:33 AM PDT
If you're an independent chick who doesn't need a man for anything…this might be your new summer jam. Check out the visuals to Mase's "Nothing" featuring singer Eric Bellinger and starring "BBW LA" star Malyasia Pargo as the leading lady inside…
Harlem rapper Mase is making a comeback on the music scene. And to kick things off, he has released the visuals for his latest single, "Nothing" featuring Eric Bellinger.
Gearing up for his upcoming solo album Now We Even (dropping in October), the rapper-turned-pastor-turned rapper again dished on his new album to REVOLT TV revealing Kanye West and Rick Ross will be appearing on his new album. He will also reunite with his old crew the Diplomats on his new album.
Rumors have been circulating that Mase and Malaysia are romantically involved and after seeing the chemistry between these two in the new video, we see why.
Peep Malaysia's video vixen hotness:
We feelin' it?
Lark Voorhies Gets It Together, Hits BET Awards Viewing Party Hosted By Anti-Bullying Group
Posted: 01 Jul 2014 08:58 AM PDT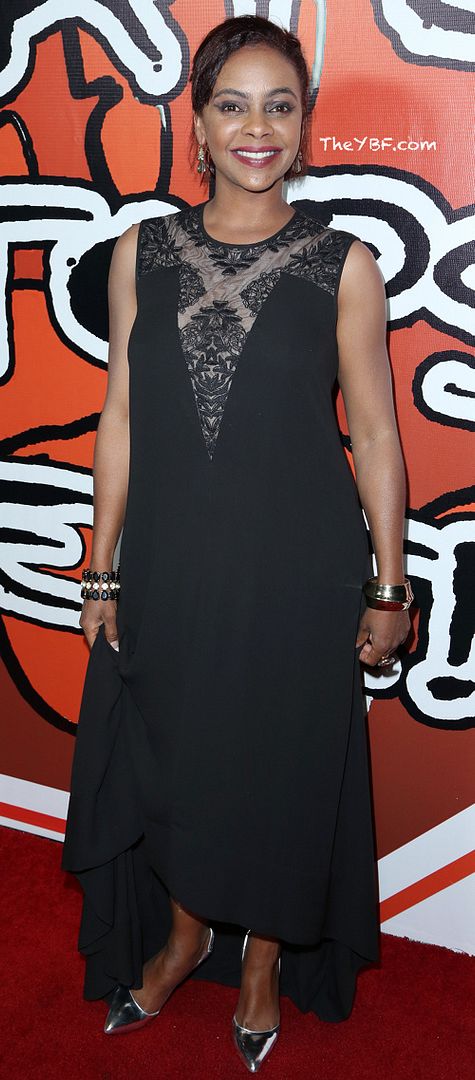 Actress Lark Voorhies seems to have gotten her life and gotten back in the mix this weekend. Check out the former "Saved By The Bell" star hitting the carpet at a BET Awards viewing party inside...
Lark Voorhies showed up at a BET Awards viewing party hosted by anti-bullying group Hate Stops Here SUnday night. And she looks to have gotten a new makeup artist for the occasion:
Remember when THESE pics went viral? The ones where she had an...intersting...makeup job? Looks like she fired whoever was bullying her with that makeup, because she looked like a different person Sunday night.
Welcome back Lark.
Photos: WENN