---
CANDIDS: Brandy ROCKS Her Shirt INSIDE OUT In Calabasas + Chris Brown PARTIES On A Yacht In Saint-Tropez
Posted: 31 Jul 2014 06:17 AM PDT
R&B starlet Brandy Norwood made a fashion faux pas in Calabasas while Chris Brown partied on a yacht in Saint Tropez. See pics inside....
"The Game" star Brandy was snapped out and about in Calabasas, California yesterday.
We think Bran was in a rush when she left the house because she put her shirt on backwards. She made light of the fashion faux pas on Instagram with the caption, "Yo Bran, next time, don't wear ya shirt inside out... Smh! #lawdhavemercy #whyaintnobodytellme #andthisisthedaythepapswannabecreepin"
And Bran wasn't alone.....she was spotted with a mystery man.
We don't know if he's a family member or a business associate...but he's a cutie. Could the "Full Moon" singer be dating again? And maybe that explains why her shirt was on backwards. #noshade #weloveyouBrandy
In France.....
Chris Brown was seen checking his messages on a yacht with friends in Saint-Tropez yesterday.
Breezy, who's looking a lot "healthier" these days, was in good spirits as he waved at fans.
The excitement of the crowd must have startled the captain as sources report he rammed into the dock and damaged the yacht before Chris and his friends disembarked. Hmm....who gets that bill?
Photos via FameFlynet Pictures and Pacific Coast News
DO WE LOVE IT? H-Town RETURNS With "Green Light"
Posted: 31 Jul 2014 05:34 AM PDT
90s R&B group H-Town want you to turn on the "Green Light." Listen to their comeback single inside....
Dare we say it.....the 90s are back. First SWV came back. Then JADE came back. Earlier this week we revealed the return of Hi-Five and now, H-Town, who rose to fame with "Knockin' da Boots" and "Part Time Lover" are stepping back on the scene with "Green Light."
Here's the good news....they've still got it. If you were a fan of H-Town back in the day, you'll be pleased to hear that their new track "Green Light" captures the essence of that signature sound. Since the death of Dino, singers GI and Shazam are going forward as a duo on their upcoming album Child Support. Hmm....we can only imagine the backstory behind the album title.
"Green Light" opens with a snippet of H Town's "They Like It Slow" and closes with Shazam hitting his infamous high notes.
Turn on the "Green Light":
"GREEN LIGHT" will be available on iTunes on Sept.9.
DO WE LOVE IT?
PREGNANT (AGAIN)! Alicia Keys & Swizz Beatz Announce Baby #2, Show Off Baby Bump In Gorgeous New Photoshoot
Posted: 30 Jul 2014 11:15 PM PDT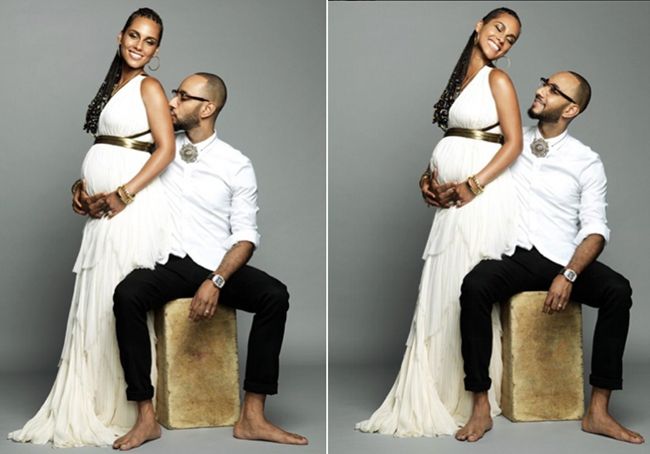 Is there a better way to celebrate your 4-year-anniversary?! Musical couple Alicia Keys and Swizz Beatz just announced they're PREGNANT with their second child! And they've already got a gorgeous new baby-bump centered photo shoot to boot. Check the pics and the announcement inside...
Get your "Awwwwww"s ready. Mr. & Mrs. Beatz posted the above photos just minutes ago with sweet messages to each other on their 4th wedding anniversary (7/31).
We called it back in June, and the Deans are now confirming that they are expecting baby #2!
In a romantic new shoot seemingly inspired by their wedding day, Alicia wears a white grecian-like gown that shows off her protruding second baby bump, much like the one she wore on her wedding day where she also showed off her then pregnant belly.
Swizz rocked a white button up and slacks, much like on his wedding day, but in a more casual way as he gave some kisses to his wife.
Alicia wrote:
Happy Anniversary to the love of my life @therealswizzz !! And to make it even sweeter we've been blessed with another angel on the way!! You make me happier than I have ever known! Here's to many many more years of the best parts of life!
And Swizzy also wrote:
Love is life & life is love and we're so excited for another GIFT from up above Happy Anniversary my Goddess 4 years of greatness & cheers to 100 plus more inshallah @aliciakeys.
Sweet! The couple are parents to 3-and-a-half year old Egypt, and also to Swizzy's kiddies Nasir, Kasseem Jr. and Nicole from previous relationships.
Congrats to the Deans!
Re-live their gorgeous wedding day in Spain HERE.
Photos: Alicia's IG/Swizz's IG
VIDEO FAB: Janelle Monae Lets Her Hair Down In "Electric Lady" + Jagged Edge RETURNS With "Hope"
Posted: 30 Jul 2014 02:51 PM PDT
In today's roundup of new videos, Janelle Monae breaks out her dance moves and let's her hair down in "Electric Lady," while Jagged Edge is currently on the comeback trail with their new video "Hope." Check out the new vids inside…
Nearly a year since dropping her sophomore album "The Electric Lady," Janelle Monae has released the visuals to the album's title track.
In the new video, Janelle pays homage to all the Electric ladies with a high-energy college party complete with step routines and Janelle donning a letterman jacket in her signature black and white.
Making up her very own Greek organization, T-Boz, Monica, Estelle, Esperanza Spalding and Kimbra are the leading ladies in Electro Phi Betas Emeritus. And T.I. even makes a cameo.
Check the "Electric Lady" and her "sorors" get down below:
And in another new video...
Jagged Edge is on the comeback tip. And to kick things off, they have released the visuals to their newest single, "Hope." The foursome is currently making their triumphant return into the limelight after fourteen years since the release of their double-platinum album, J.E. Heartbreak. Y'all know y'all was jamming to their album back in the day.
But back to their new video. It starts off with a scuffle between Jagged Edge and some random guys in a bar, after one of the random guys had it out with his girl. Soon after, it quickly changes to the JE singing to their women, hoping to restore their hope in ove. The single was written and produced by twin brothers Brian and Brandon Casey and Bryan-Michael Cox.
And to all the true R&B fans, Jagged Edge will be releasing a new album titled J.E. Heartbreak Too, executive produced by Jermaine Dupri. Who's excited?
Peep the video below:

We feelin' it?
MOST WANTED: Judge ISSUES Bench Warrant For Columbus Short Over MISSED Court Appearance
Posted: 30 Jul 2014 02:36 PM PDT
Former "Scandal" star Columbus Short is a wanted man. Find out what legal slip-up has Columbus ducking and dodging the police inside...
Somewhere in LA County, Columbus Short is wanted by the police. A judge issued a bench warrant for him today after he didn't show up for a criminal court hearing in his domestic violence case concerning his wife.
Sadly, this isn't his only "legal" situation. On Tuesday, he was a no-show for a DIFFERENT criminal case but he suddenly appeared in court after THAT judge threatened to issue a warrant. Sigh....maybe his lawyer didn't tell him that Tuesday wasn't a "2 for 1" deal. You gotta come back tomorrow....
Watch video of Columbus ignoring questions about his tardiness:
UPDATE: This may be why Columbus missed his hearing...he was spotted at CropOver in Barbados! Tisk Tisk...
Photo via Columbus Short's Instagram
PHOTOSHOOTS: Joan Smalls Slays As "Personal Trainer" For Industrie Magazine, Stars In SURREAL Campaign for Missoni's 2014 Fall/Winter Collection
Posted: 30 Jul 2014 12:47 PM PDT
TOP MODEL Joan Smalls gets her "pose" on for Missoni's 2014 Fall/Winter campaign and for Industrie Magazine. See the fab photoshoot flicks inside....
As far as the fashion world in concerned, "Yonce" star Joan Smalls stays on the mouths of fashionistas like liquor. We simply can't get enough of Joan, who's been ranked as the #1 model in the world by her peers and has graced the covers of numerous international magazines.
Recently, she starred in an exciting pictorial for INDUSTRIE Magazine entitled "Personal Trainer."
The exciting shoot was snapped by Lachlan Bailey.
On the campaign front.....
Joan Smalls is also the star of Missoni's Fall/Winter 2014 campaign. And below is the reason she's the #1 model in the world. WERK!
Shot by Dutch photographer Viviane Sassen, Joan poses at an archeological site with surreal and futuristic pop art.
Gorgeous shots........
Photos via Industrie Magazine IG/Missoni
Adrienne Bailon Blasts Ex Rob Kardashian For Cheating & His Family Name "Ruining Her Career", Khloe & Kim CLAP BACK
Posted: 30 Jul 2014 12:05 PM PDT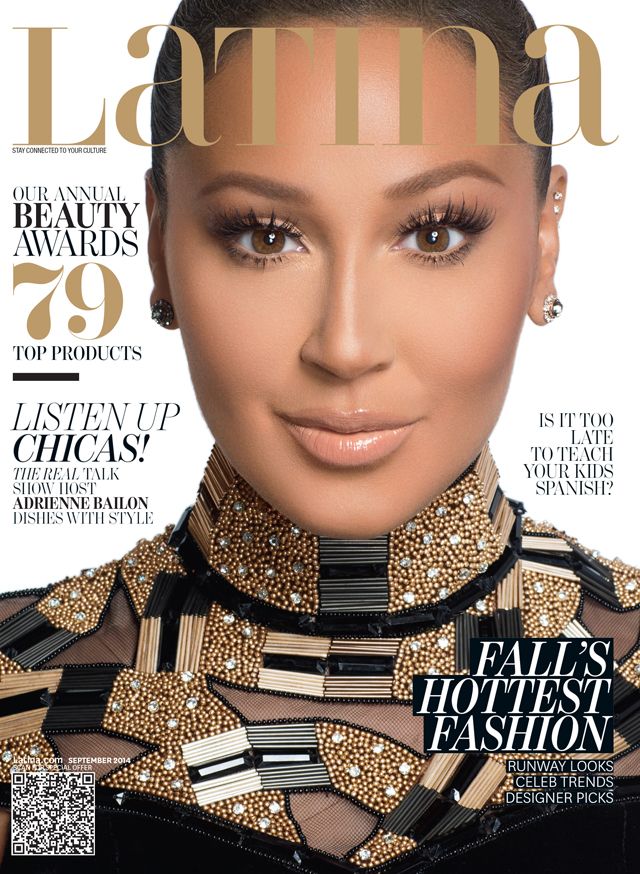 Well, Adrienne Bailon's definitely stirred up some publicity for herself with her chatfest inside her LATINA magazine cover story. Check out why Kim & Khloe Kardashian are now coming for her inside...
As she gears up to promote the new talk show "The Real" and a few other projects, Adrienne Bailon is covering the September 2014 issue of LATINA magazine. And while she's serving serious FACE on the cover, a certain family wasn't feeling what she had to say.
Years ago, Adrienne dated Rob Kardashian. The 3LW member turned Cheetah Girl was on several episodes of "Keeping Up With The Kardashians" with her then-man....and arguably garnered a few new fans from those appearances.
She and Rob broke up after he admittedly cheated on her. And now, Adrienne is speaking on what it was like having her relationship woes publicized, why she keeps her current long-term relationship with Def Jam exec Lenny Santiago under wraps, and why the "Kardashian name" supposedly ruined her career.
On the aftermath of Keeping Up With the Kardashians: "To be stuck with that Kardashian label, that was so hurtful to me and to my career. I probably realized that too late—not that it would've affected my decisions in terms of who I dated, but it would've affected my decision to appear on the show. At the time, I didn't think anyone would even care. To this day, people will still say, 'You ruined Rob's life!' and I'll think, Damn, I was still playing with Barbie dolls when I met him."
On why she won't bring her boyfriend on a reality show: "When I was doing the reality show [Empire Girls] with Julissa [Bermudez], the producers wanted me to show my relationship with Lenny, but I didn't want to do that; I didn't want a repeat of what happened with Rob."
On suffering Rob Kardashian's infidelity in the public eye: "It's common knowledge that he cheated on me, and it always bothered me that people were like, 'Pero, why couldn't you forgive him?' Why are women always the ones who have to forgive? If you cheated on a man, he would be like, 'You're disgusting, and I want nothing to do with you.' But women, we're supposed to be like, 'He messed up. He made a mistake.' And, in my situation, it wasn't like, 'Oh my God! I made a mistake!' He strategically planned things out so that he could cheat on me, and that to me was so disloyal."
On going public with her new love, Def Jam Records exec Lenny Santiago: "I wanted to let people know that we're not a secret—we're just private. Secret relationships are shady, and it's never been that. Five years into our relationship, we're no longer at the beginning—we're established now. We're in a great, strong place where any negativity cast our way won't affect us. It was a big birthday for him—he turned 40—and I felt like, 'I want people to know that I love you, and I think you're freakin' amazing.'"
Here's her BTS footage below:
But not everybody is feeling her new cover story. It's no secret that Rib has been going through some things lately--from getting bullied about his weight to him leaving Kim's wedding early and being caught in ALLEGED drug-filled situations. Rob's sister Kim K. took notice of Adrienne's story and offered up some SHADE.
Funny how she says being with a Kardashian hurt her career yet the only reason she has this article is bc she is talking about a Kardashian

— Kim Kardashian West (@KimKardashian) July 30, 2014
#LetItGoooooLetItGoooooo (FROZEN VOICE)

— Kim Kardashian West (@KimKardashian) July 30, 2014
So sad when people try to kick my brother when he is down #FamilyForever

— Kim Kardashian West (@KimKardashian) July 30, 2014
Robs' other big sis, Khloe, RT'd all of Kim's sentiments...and then added a couple of her own:
thought her and I were cool SMH "@Kardashian411: Adrienne has a lot of nerve to talk shit about Rob when he is obviously dealing with shit."

— Khloé (@khloekardashian) July 30, 2014
Don't think it was a secret. For sure. Don't kick my brother while he's down "@macklemroe: @khloekardashian was kimberly shading her?"

— Khloé (@khloekardashian) July 30, 2014
So, is Adrienne totally wrong for blasting Rob in an interview about what happened in their relationship...or is she well within her right to do so, since Rob admits to cheating on her and the interview IS about her life?
ONE DAY & A WAKE UP: Remy Ma Is READY To Hit The Streets!
Posted: 30 Jul 2014 11:44 AM PDT
After 6 ½ years behind bars, Bronx raptress Remy Ma is on her way to becoming a free woman. Hmm...are Nicki Minaj & Iggy Azalea ready? More inside…
Remy Ma is counting down the hours till she is released from the Bedford Hills Correctional Facility for Women. She captioned the above pic, "One more day and a wake up"—jail slang for how much longer she has until she's a free woman.
In the past weeks, celebs such as Bow Wow, Jadakiss and Busta Rhymes (along with anxious fans) have been making videos announcing the "Conceited" rapper's return, posting them to her Instagram account. Rem was originally sentenced to eight years back in 2008 for shooting her former friend Makeda Barnes-Joseph in the stomach after she accused her of stealing money from her purse.
Last week, the 34-year-old raptress spoke with Angie Martinez on Power 105 from behind bars and she dished on her life inside the big house, how she can't wait to make her grand return on the rap scene and even talked about the competition…Nicki Minaj. She also talked about hashing it out with her former labelmate Fat Joe, marrying rapper Papoose in prison, getting her associates degree in Sociology while locked up and starring in her own reality show when gets out.
After so many years, is Rem ready to take over the rap game? She said, "Stand back. It's not gonna be fair. My pen game is crazy."
Hopefully SOMEBODY can save us from the current female rap game...
Here are the highlights:
On her marriage to Papoose: "After six-and-a-half [years], it's kinda serious. You gotta respect that. That's official. … He's an official dude. Nobody can ever front on that."

On Fat Joe: "That was one of my epiphanies that I had. I was like, 'OK, now I see why he wanted to kill me.' I understand that. … I can never hate him. I'm the type of person that if I ever loved you, even if you make me mad, I'ma love you to death. I'd never be able to stand there and watch somebody do harm to him."

On signing a new deal: "I didn't want to sign anything as major as a deal from [prison]. A lot of things have changed since I've been gone, so I wanted to come home."

On female rap: "I've always repped for the chicks or whatever, but I can stand next to the best of the dudes that's out there. That's what I intend to do again."

On Nicki Minaj: "Nick has always been a supporter and vice versa. I like what she does. She's done wonderful things for females, but I just wish there was more of them. I don't know what they're doing letting these guys take over."

On her reality show: "They're making me do it. I keep telling them no. It's too real."
Check out the full interview below:
Tomorrow morning, she will be a free woman. Welcome Home Remy!
Photos: Remy's IG
Momma Dee Implies Andrea Kelly's Ex-Husband Is Her New Boo....Brian McKee Calls Her A "Really Good Friend"
Posted: 30 Jul 2014 11:10 AM PDT
Remember the crazy drama with Andrea Kelly and the man she divorced just as quickly as she married him? Well, her suspicious ex Brian McKee has moved on....with Momma Dee! Allegedly. But, is it all a publicity stunt?
Deets inside...
Just a couple months ago, all was revealed when Andrea Kelly's husband she surprised her "Hollywood Exes" co-stars with....became her ex. Andrea married Brian McKee within just two months of getting engaged to him. And it doesn't seem they knew each other long before the engagement, because NONE of Andrea's co-stars/friends had even met the guy until the season premiere when she introduced Brian as her fiance.
Well, just two months after their split, Brian the "barber" seems to have already moved on with another VH1 chick....Momma Dee! Yes, really.
Dude is really not helping his case when it comes to folks thinking he's a straight up opportunist...and a few other things.
Momma Dee posted the above pic and the below sentiments last night:
Finally my king @B_crispy1 :) pic.twitter.com/3yh0sFRhkY

— Momma Dee (@ThaRealMommaDee) July 29, 2014
Really though? And yes, the "Queen" of the imaginary castle is well aware of his history. She also tweeted:
Inquiring minds wants to know he's divorce and so am I. ....

— Momma Dee (@ThaRealMommaDee) July 29, 2014
Chile...good luck with ALL of that. Especially because this seems to be a desperate attempt at publicity stunting.
Brian posted the following, making it seem like he and Momma Dee are just "good friends" and she posted their pics to "get people's attention".
People in this world is so crazy! Its unreal how people think! People love to think the worst about people.smdh

— Brian mckee (@B_crispy1) July 29, 2014
People need to get a life and stop speaking on things they have no idea about.u need to know a person before u open ya mouth!

— Brian mckee (@B_crispy1) July 29, 2014
My good friend @ThaRealMommaDee really knows how to get people's attention!lol [crying tears emoji#calmdown

— Brian mckee (@B_crispy1) July 29, 2014
"Reality celebs" and their "please look at me....wait, why are you looking at me?" tactics. The thirst....
Photos: Momma Dee's Twitter & Instagram
Vivica Fox Celebrates The Big 5-0...With GQ & "Sharknado 2"!
Posted: 30 Jul 2014 10:34 AM PDT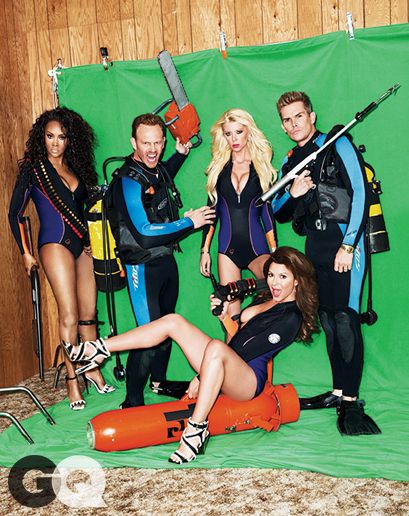 Looky Looky...Vivica Fox is 50! And she's showing off what that looks like in the new issue of GQ magazine (with Kanye West on the cover). Peep the Sharknado 2 star inside...
Before tonight's big debut of the Syfy channel cult classic Sharknado 2, Vivica A. Fox will be celebrating her 50th birthday!
Not only will she be celebrating her new pic with her co-stars in the brand new issue of GQ magazine, but we hear she and her hair company, VIVICA A. FOX HAIR Collection, have a huge celeb-filled bash planned in Beverly Hills this weekend. And she's also gearing up for the the upcoming season of "Celebrity Apprentice" she recently wrapped.
So...who else is catching the Sharknado 2 craziness that we just must watch?!
Photo: GQ mag
Stevie J, Joseline Hernandez, Big Tigger & Keisha Knight Pulliam Do The Most At Grey Goose Le'Melon Launch Party
Posted: 30 Jul 2014 09:35 AM PDT
Grey Goose just launched a new flavored vodka: Le'Melon. And to celebrate, Stevie J, his wife Joseline Hernandez, Big Tigger and his girl Keisha Knight Pulliam stepped out to party in Atlanta last night. Check out the party pics inside...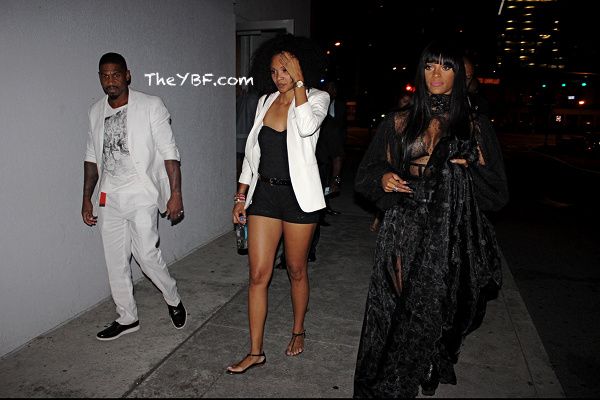 The spirits were flowing last night at the Grey Goose launch party for the company's newest flavored vodka Le'Melon on the rooftop at the Whiskey Blue bar in Atlanta.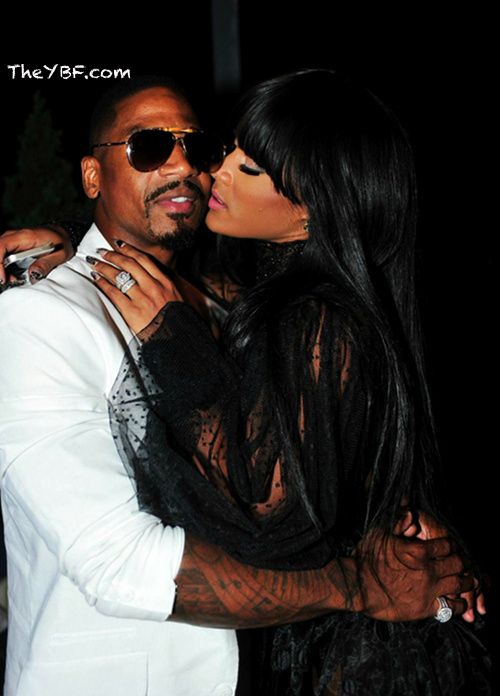 "LAHH ATL" stars Stevie J and Joseline Hernandez, in a sheer outfit, did the absolute most for the cameras. They got all kissy before getting to their hosting duties for the launch of Grey Goose's newest flavor. And Joseline made sure to keep everyone's undivided attention. The self-proclaimed Puerto Rican princess donned a sheer black long-sleeve Tristan Blake (Blake of All Trades) custom dress...and it was many things.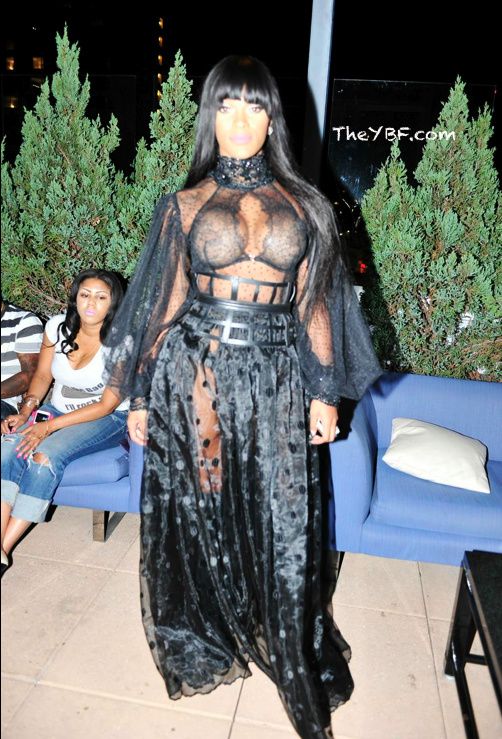 Per usual, it had that "wait-is-that-her-nipple" effect.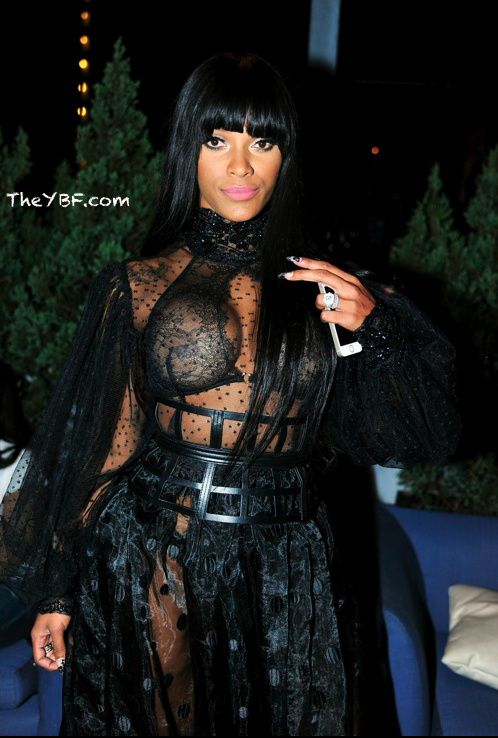 Well alright...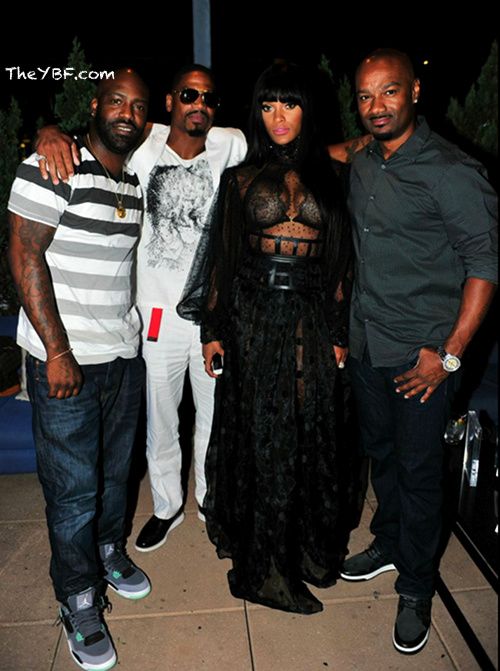 V103 radio host Big Tigger also came out to party.
And his girlfriend Keisha Knight Pulliam was also in the mix. Nice to see they're no longer hiding their relationship.
Fun times.
Photos: Linx Images/Moses Robinson