---
EVENT FAB: Kandi Burruss-Tucker, Toya Wright, Tameka Raymond, Rasheeda & More ATTEND 'Lucy' Screening In ATL + Eva Marcille, Kyla Pratt & Omarion Hit The L.A. 'Lucy' Screening
Posted: 24 Jul 2014 08:51 AM PDT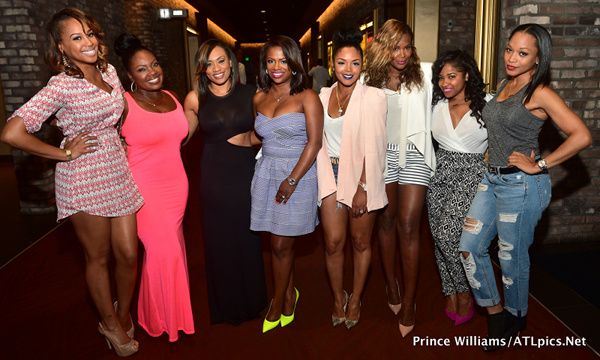 Last night, two screenings for the Lucy film were held in Atlanta and L.A. Kandi, Toya, Tameka Raymond, Rasheeda and more attended the private viewing in Atlanta, while Eva Marcille, Kyla Pratt & Omarion hit up the L.A. viewing. Peep pics from both events inside….
The reality ladies of Atlanta were out on the town last night. And they all met up at Cinebistro for the private screening of the new action/sci-fi film, Lucy.
"RHOA" star Kandi Burruss-Tucker left her hubby Todd behind for this girls' night out this time (remember he was the only man in Cancun for Fantasia's birthday?)
The reality star/singer is currently gearing up to go on tour for her musical, "A Mothers Love." The tour kicks off Labor Day weekend in Columbus, GA and will end in New York on December 1st. Kandi said this about her new endeavor,
"I'm so excited to officially announce the North American Tour Dates for my musical #AMothersLove!!!! @todd167 & I have been working hard on this & its a dream come true to be able to take #AML on tour! Please spread the word & get your tickets now on TicketMaster.com This is a show that you can bring the whole family too!!!" she shared on social media on Thursday."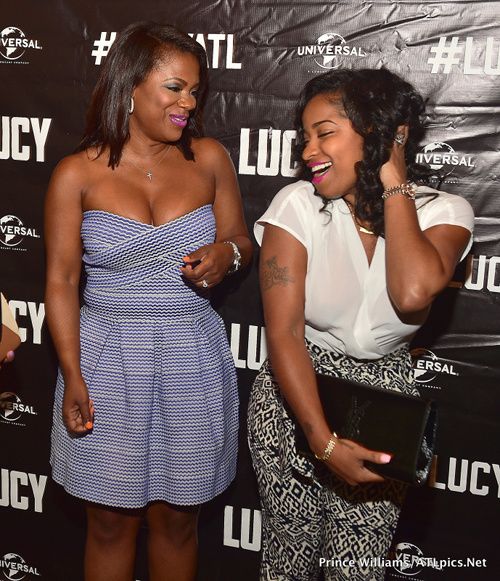 After a fun-filled family day of golf with her husband and daughter, Toya Wright came out to the private screening. She and Kandi shared a laugh as she posed it up on the carpet.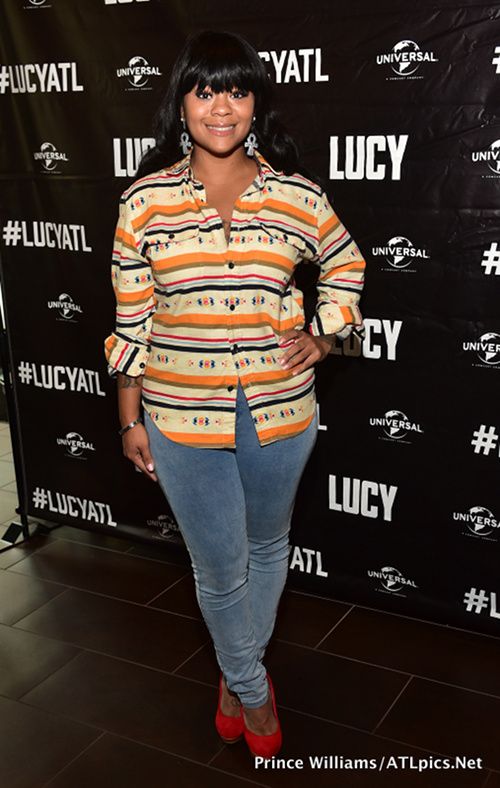 Lil Wayne and The Dream's ex-Nivea was also there to peep the movie. Wonder what she has to say about how close Christina Milian and Lil Wayne have gotten recently…
"LAHH ATL" star Rasheeda got a break from her mommy-duties to hit up the event, posing it up alongside Kandi on the carpet.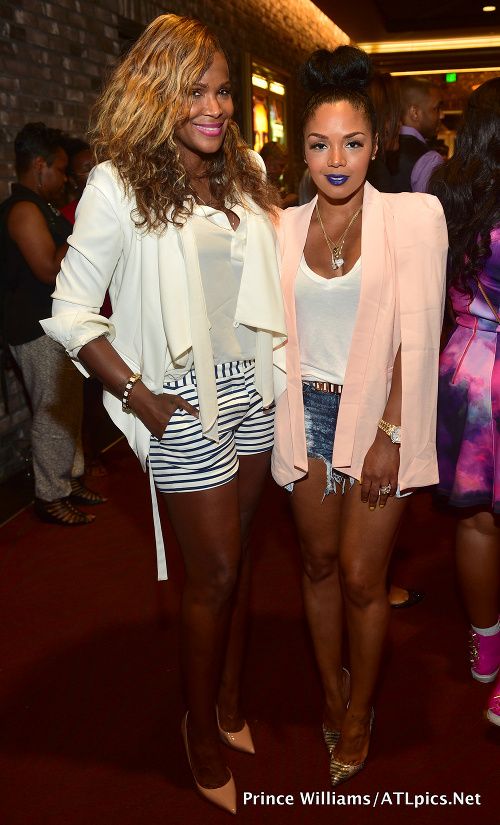 "Atlanta Exes" star Tameka Raymond was also at the screening. She's gearing up for the premiere of her reality show on VH1, which is scheduled to air August 18th. Will you be tuned in?
Well look at that. Mama Joyce can crack a smile. She's probably happy Todd wasn't there. There were unconfirmed rumors that Mama Joyce and Kandi weren't talking to one another. If true, seems they got over it.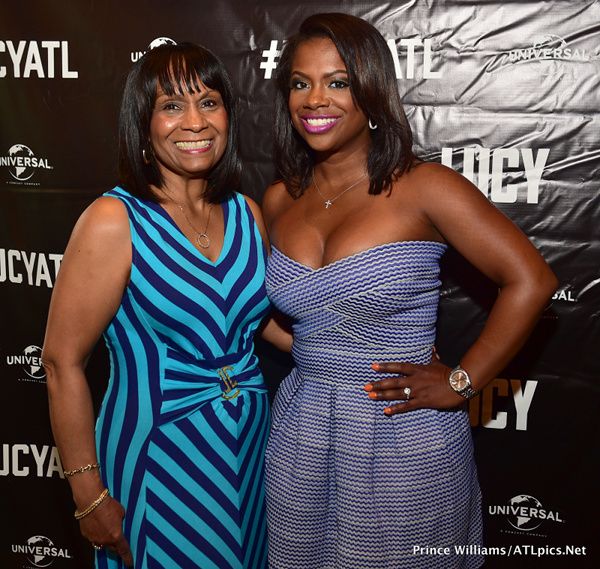 Looking good Mama J.
Kandi's daughter Riley was also there to check out the new movie.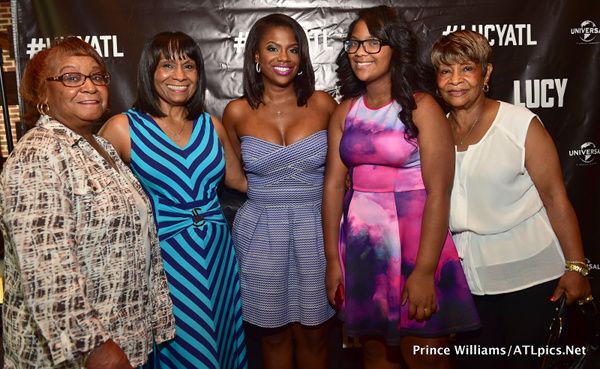 Kandi's aunties Bertha and Nora also came out.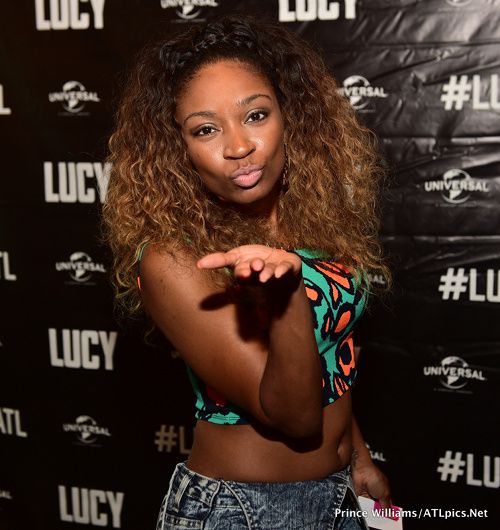 Ex-Danity Kane member D. Woods posed it up alongside Kandi. Wonder what she thinks about the DK comeback with three remaining group members.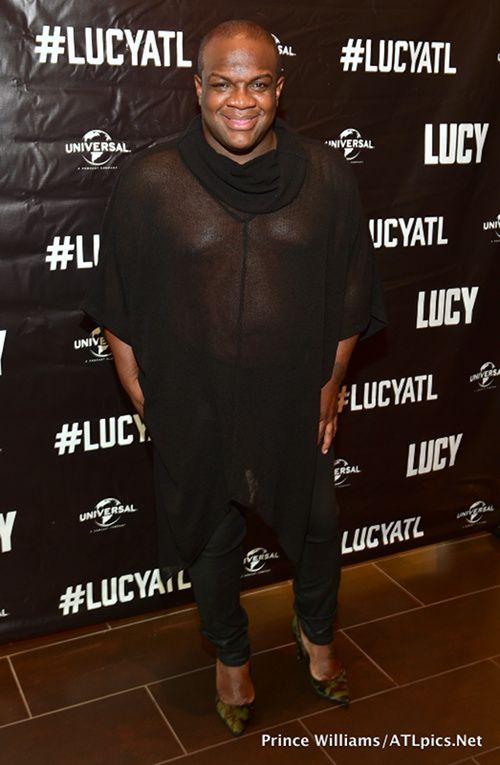 ATL hairstylist Derek J and all his fabness hit the carpet.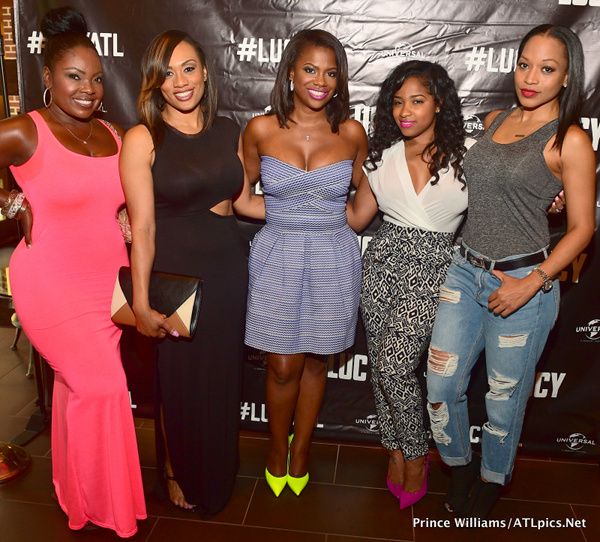 And Kandi's bestie Carmon was also in the mix.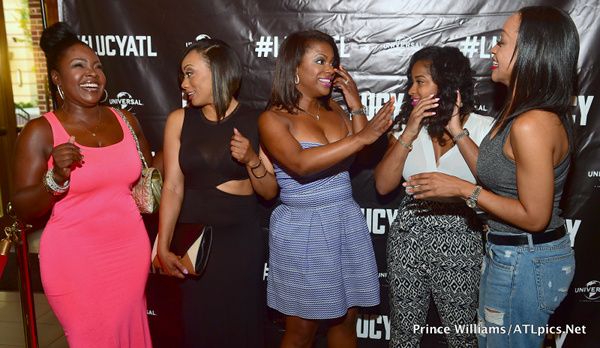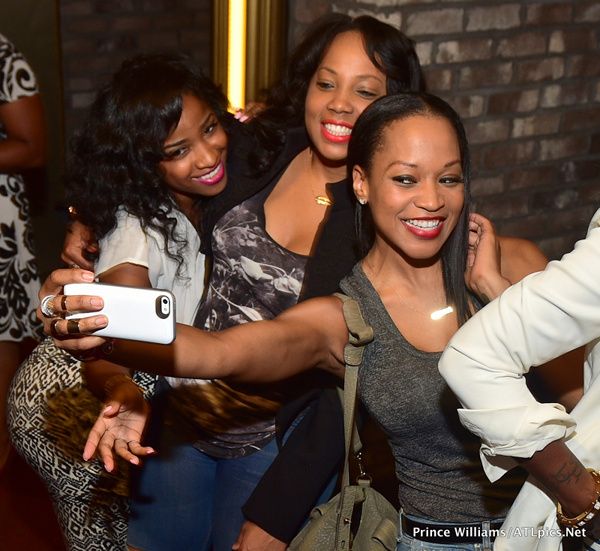 Fun times.
And over in L.A....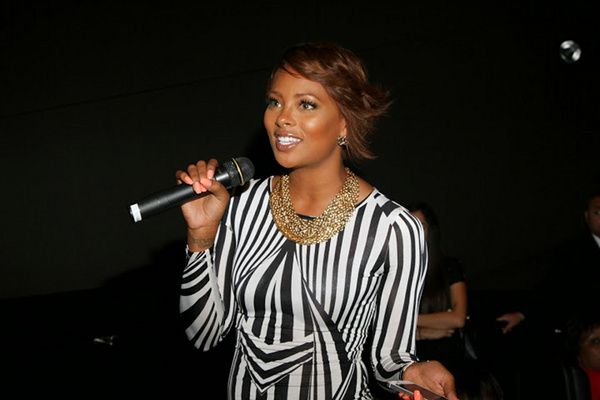 "Top Model" chick Eva Marcille was tapped to host the Lucy private screening at the Landmark Theater in L.A. Eva awarded one lucky winner a $100 VISA gift card for joining the social conversation using hashtag #LUCYmovieLA before introducing the film.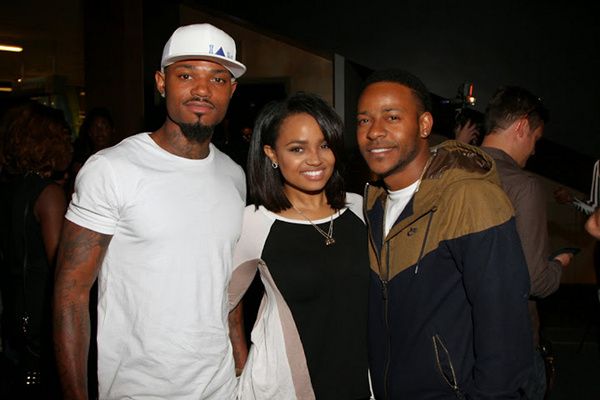 Fab mom-of-two/"Let's Stay Together" actress Kyla Pratt came out to view the movie with her boyfriend Danny Kirkpatrick.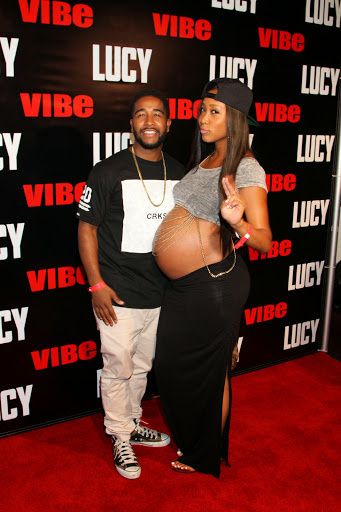 MMG singer Omarion (who recently got out of jail for skipping out on court) and his baby mother Apryl Jones with her baby bump hit the carpet. Sighs….
Lucy hits theaters Friday, July 25th.
Photos: ATLpics.net/Arnold Turner/A Turner Archives
So...Nicki Minaj's "Anaconda" Cover Looks Like This...
Posted: 24 Jul 2014 07:53 AM PDT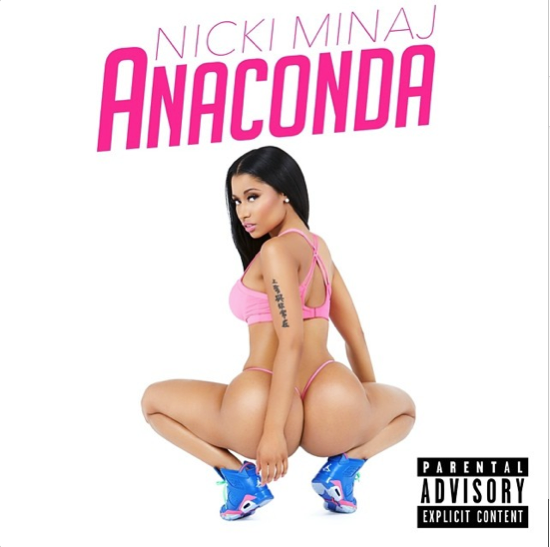 If you were waiting to see what Nicki Minaj would pull this time around to promote the release of her upcoming album The Pink Print, she's ASSed out on the cover of her new single (dropping 7/28) "Anaconda"...
Yep, that's it. A pink thong, a pink crop top, pink & blue Jordans, and the started-from-the-bottom booty magazine pose.
Meanwhile, it was just announced that Nicki will perform at the iHeart Radio Music Festival taking place Sept. 19-20 in Vegas.
And she also teased a new collabo with Ariana Grande and Jessie J:
FULL "50 Shades Of Grey" TRAILER: Beyonce Re-Creates "Crazy In Love" For First Trailer
Posted: 24 Jul 2014 06:54 AM PDT
Beyonce recorded a new version of "Crazy In Love" for the first trailer for FIFTY SHADES OF GREY. Watch inside...
Mr. Grey summoned Beyonce to his office and had her singing a new tune...or at least a new version of her modern classic. Mrs. Carter recorded a new version of "Crazy In Love" for the first trailer for FIFTY SHADES OF GREY, which stars Jamie Dornan and Dakota Johnson. It's unclear whether the song will also appear on the frisky movie's soundtrack, but we can't imagine why it wouldn't.
Watch the trailer and check out the film in theaters everywhere February 13, 2015. Or else.....you may get a spanking (if you're into that type of ish).
EXTRAS:
1. Busta Rhymes announces departure from Cash Money records, says he isn't mad at them. Story.
Photo via Beyonce's Instagram
CELEBS GIVE BACK: Beyonce GIFTS Texas Teens With FREE "On The Run" Tickets + Dwyane Wade HOSTS Wade's World Foundation Dinner In His Hometown
Posted: 23 Jul 2014 02:29 PM PDT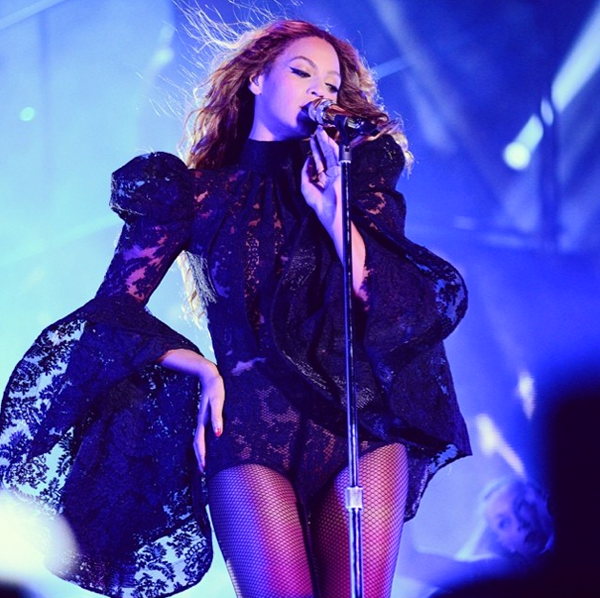 We have some positive news to share! Beyonce personally invited a group of teens from North Texas to her "On The Run" stop in Dallas yesterday…for free! Also, Dwyane Wade hosted his Wade's World Foundation (WWF) dinner in his hometown. Deets and pics inside…
One hundred (yes...100) lucky North Texas teens were awarded the time of their life after Beyonce personally invited them to her and Jay Z's joint "On The Run" performance at AT&T stadium on Tuesday.
Dozens of teens involved with a non-profit organization called "Hanna 4 Hope" received an email inviting them to the show as Yonce's special guests. "Hanna 4 Hope" was started after 15-year-old Hanna Clark took her own life. The charity has provided resources to help the teens who were affected by their friend's suicide and gives them a safe haven to discuss issues they are facing in their own lives.
After months of tears and heartache, the teens finally had a reason to smile. Awww.
Check it:
And there's more…
As Bey and Jay make their stop on their tour, she has been donating tickets to her shows to local charities. Bey's camp randomly select organizations that spread positive messages to teens to give free tickets to. Nice!
And another celeb giving back...
Last night, Miami Heat superstar Dwyane Wade hosted the Wade's World Foundation Dinner at Chicago Cut Steakhouse in his hometown of Chicago. And look who came out to show his support…Rev. Jesse Jackson Sr!
WWF provides support to community-based organizations that promote education, health and social skills for children in at-risk situations.
"I can't just let basketball define who I am and what I am supposed to become," said Wade. "Like my mother always tells me, '[My life] is bigger than basketball.'"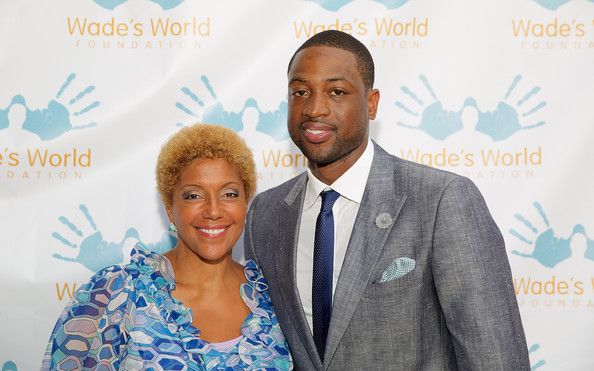 Also showing their support, Chairman of JPC (publisher of EBONY and JET magazines) Linda Johnson Rice posed it up on the carpet with D. Wade.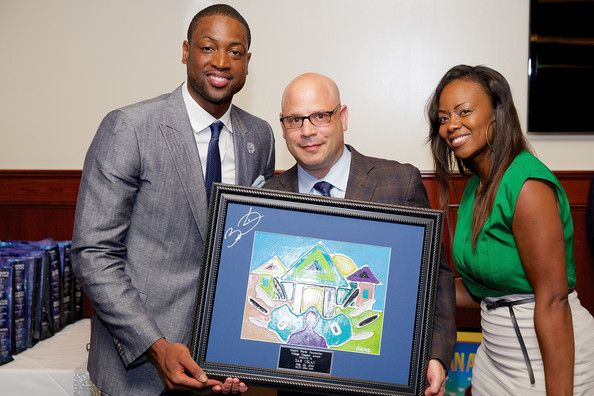 D. Wade held up a student's artwork posing alongside President/Publisher of Michigan Avenue Magazine Dan Uslan and his sister/ President of Wade's World Foundation Tragil Wade. In Tragil joined the organization in 2007, she has raised $3.2 million dollars while implementing new programming and also expanding the foundation's global reach through outreach.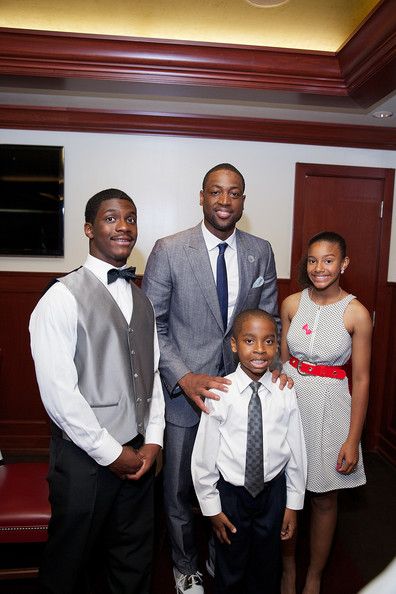 D. Wade posing with the kiddies. Cute.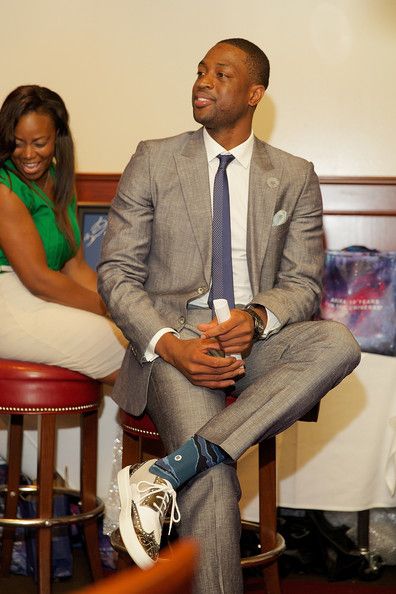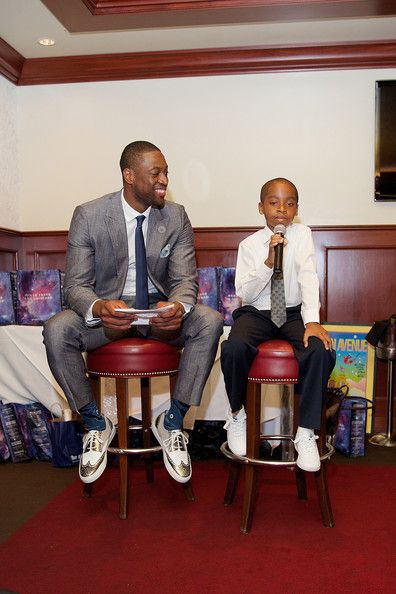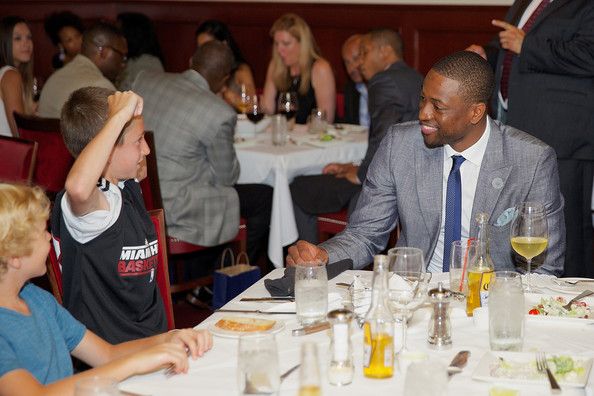 During the dinner, the Miami Heat star stopped to have conversations with the young kids benefiting from his foundation.
And spoke some words of wisdom to the attendees.
Fab times.
Photos: Getty/Beyonce's IG
HUSTLE HARD: Regina King JOINS 'American Crime', RETURNS To 'Big Bang Theory' And DIRECTS 'Scandal' Episode + "The Best Man Wedding" RELEASE Date Revealed
Posted: 23 Jul 2014 12:10 PM PDT
Regina King is officially the hardest working woman in Hollywood. Get the deets on her three gigs inside and find out when The Best Man Wedding will hit the silver screen next year.
Regina King is grinding away in Hollywood. The NAACP Image Award winner has three high-profile gigs lined up that are going to make a her a force to reckon with in Tinsel Town. First, she'll return to CBS' "The Big Bang Theory" to reprise her role as the university's director of human resources. "BBT" is one of the most watched comedies in America and is syndicated internationally. It's a HUGE look for Regina.
Next, she's been tapped to direct Kerry Washington and the rest of the Gladiators for the 16th episode of "Scandal."
And in perhaps her biggest feat, she's signed on for the ABC drama "American Crime." According to THR, "American Crime" will star , Timothy Hutton and Felicity Huffman and explore the personal lives of the players involved in a racially charged trial. Regina will appear in 7-episodes as "the devoutly religious sister of Carter who comes to Modesto in order to help her brother navigate a judicial system that she believes is stacked against him."
After her 7-spisode run, Regina has an option for two additional installments.
Congrats Regina!
Watch the trailer here:
Coming soon...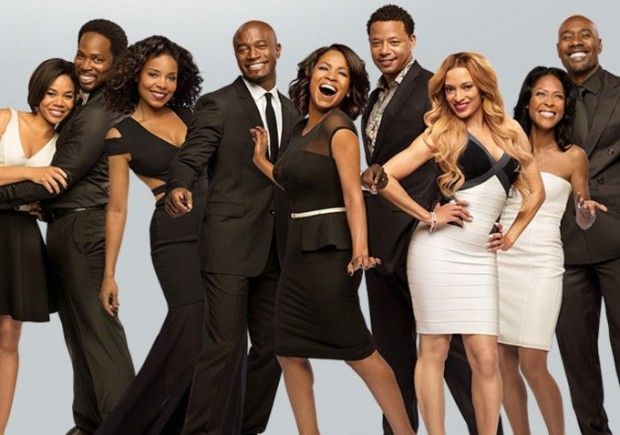 If you were one of the millions who fell in love with Best Man Holiday last winter, we've got good news about the third installment. For starters, Malcolm D. Lee is hack t the helm as writer/director of the film with will be called "The Best Man Wedding." And for the big news....we can expect "someone" to walk down the aisle on April 15, 2016. We're wondering which characters will get married.
Get ready to see Morris Chestnut, Taye Diggs, Regina Hall, Terrence Howard, Sanaa Lathan, Nia Long, Harold Perrineau, and Melissa De Sousa back together!
Photo via Robert Erdmann
HOT MAMAS: Jennifer Hudson ARRIVES At LAX, Amber Rose TAKES A Coffee Break, Melanie Brown OUT And ABOUT In NYC
Posted: 23 Jul 2014 11:31 AM PDT
We spotted three of our favorite YBF moms out and about yesterday. Find out where Mel B, Jennifer Hudson and Amber Rose were inside...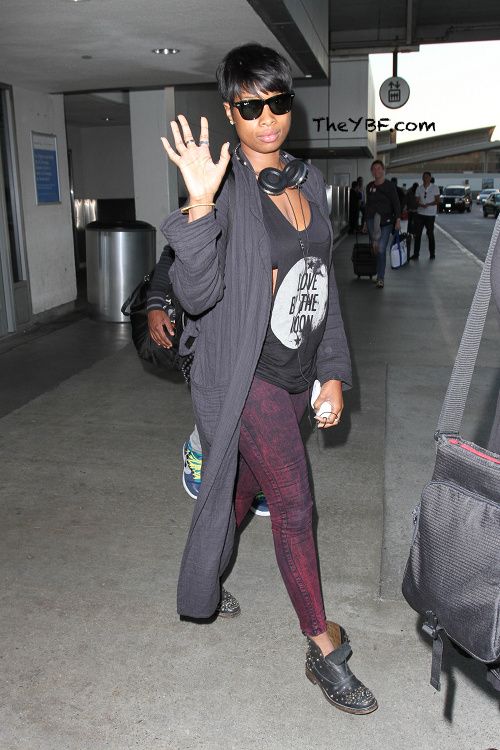 Hot mama Jennifer Hudson waved at photographers as she arrived at LAX, fresh off a flight from Dallas, Texas yesterday. Looking super fit in a longline blazer, a black t-shirt and leggings, JHud explained to Weight Watchers' digital magazine Momfeeds that she's passing on her healthy eating habits to her son David Jr. "What I've realized is that the secret ingredient to teaching my son anything is fun. By taking some of the things that I've learned from my own experiences, and wrapping them up in a whole lot of fun, I'm making the healthy choice the easy choice."
"One of my favorite tricks is the fruit bowl. In fact, when I travel for work…I make sure that there's a fruit bowl waiting for us at the hotel," she said. "It's good for me because I always have a healthy snack available, but it's even better for David Jr. because, unlike me, he doesn't even think about the chips and candy bars in the vending machine down the hall."
Great tips Jen!
Also in the LA area.....
Amber Rose was spotted in her workout gear yesterday on her way to grab a cold drink.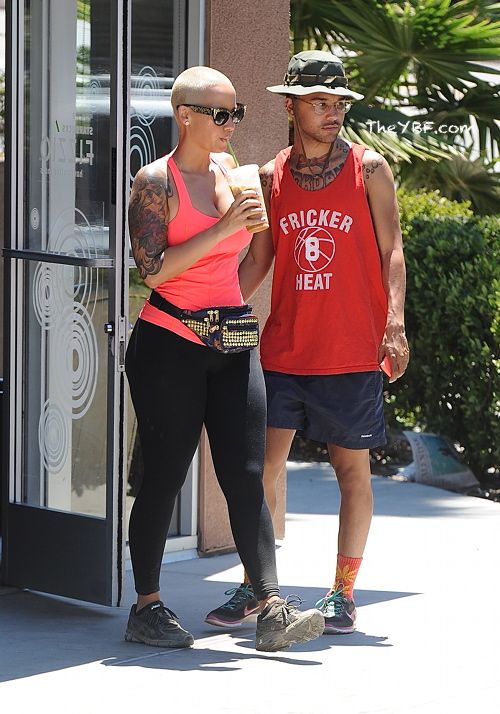 During a recent interview with Global Grind, Amber gushed about her 16-month-old son Sebastian, who's become quite talkative.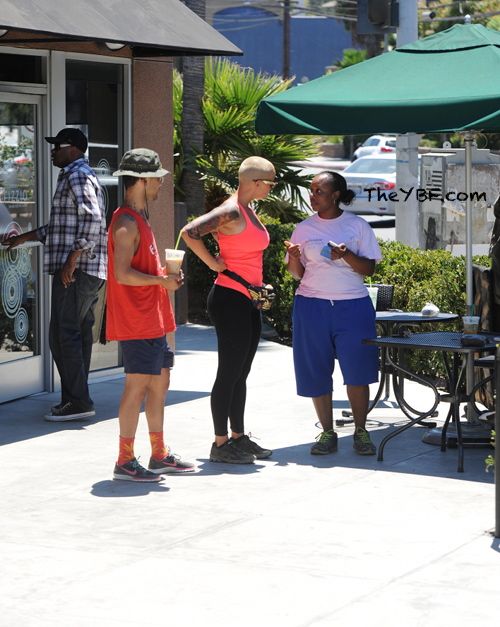 "He's a very happy rambunctious little boy. If he wants to play the piano, if he wants to play the violin, if he wants to do karate. He loves books. Whatever he wants to be I just want him to be happy. We talk to our son all day long. He's 16 months and he talks. When he wants to go outside he's like go. If he wants to eat he's like food. Anything he wants he can say it. He knows exactly what he's talking about."
Moving on to a hot mama in NYC.....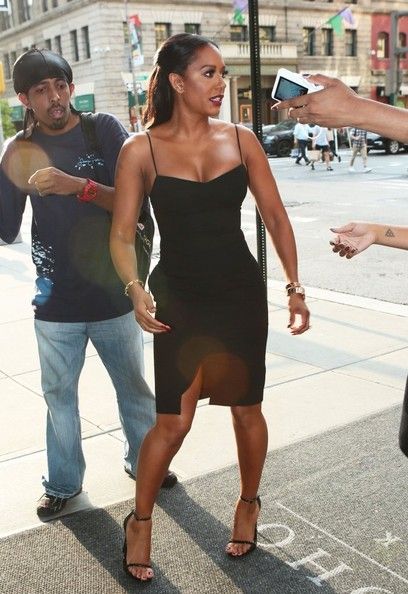 TV personality Mel B looked fit for a cocktail party as she walked outside of her hotel in NYC last afternoon.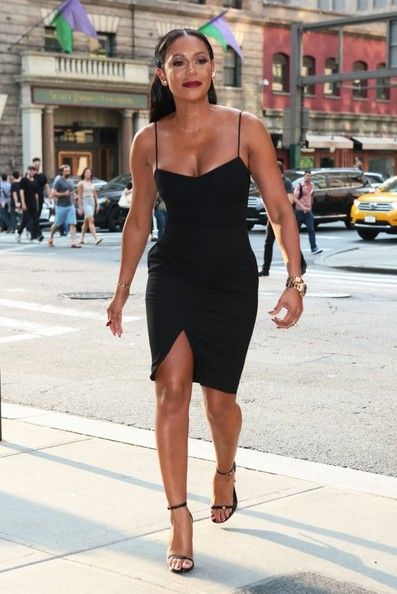 Mel was actually on her way to tape an appearance on The Tonight Show with Jimmy Fallon.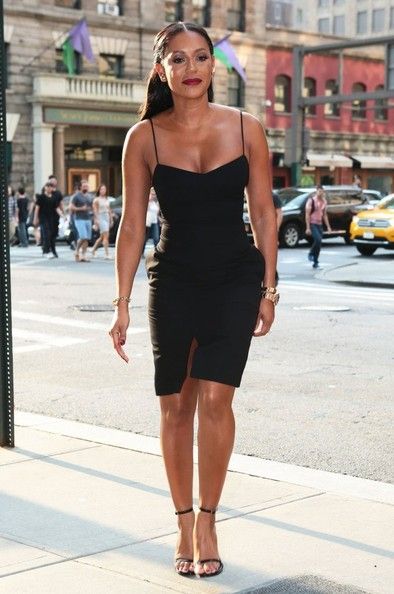 If you've ever wondered what type of mom "Scary Spice" is at home...she's strict! During a recent appearance on "Oprah: Where Are They Now?" She said, "I'd like to think that what I give my kids is a lot of confidence and a lot of love. I always tell them I love them. I think that's really important. I'm a strict mom, but I have a lot of fun with my kids. I'm all about routine -- especially during the week when it's a school day, I help them with their homework -- but then on a weekend, we'll get to hang out with Justin Bieber."
Photos via FameFlynet Pictures/Sharky / Splash News/Vladimir Labissiere
T.I. DECLARES His Love For Tiny On "Stay" Ft. Victoria Monet + Robin Thicke & Paula Patton Put Their $3 Million Hollywood Hills Mansion Up For Sale
Posted: 23 Jul 2014 11:03 AM PDT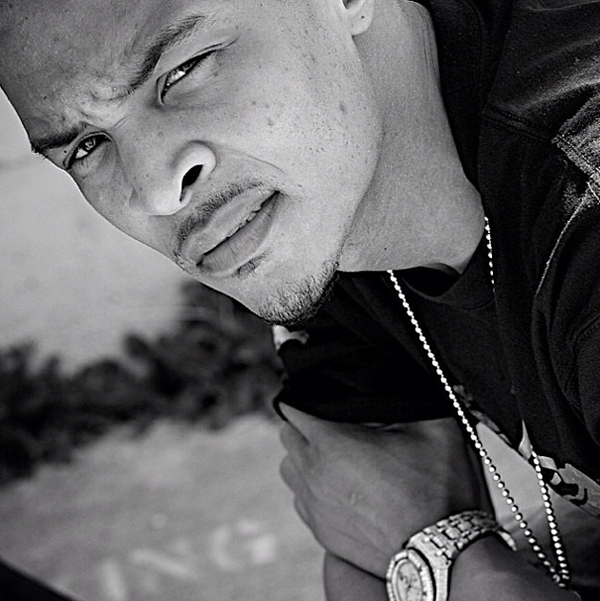 T.I. and Tiny have been putting in work in the studio. Along with Tiny's new "What The F*ck You Gone Do?" track, Tip is begging his wife to "Stay" on his new track featuring singer Victoria Monet. Hmm..PR stunt? Meanwhile, Robin Thicke and Paula Patton are getting rid of their Hollywood love shack. Get the deets inside…
Seems the Harris household would rather put their true feelings on wax instead of discussing their issues behind closed doors. T.I. has released a new track titled "Stay" featuring singer Victoria Monet, likely a new track from his upcoming album Paperwork.
On the track, the Kang of the South raps about going to the ends of the earth for his woman and hopes they can eventually get it right. Clearly, this track was written for Tiny.
He raps:
"Man after everything we will never be the same/ Man I'm tired of tellin' lies, know you sick of playin' games/ I remember you got a tattoo, put my name on it."

"Shawty, I'd die, kill for ya if you keep it real / Go to jail, even if I got to kneel, I will."

"And you can't say that I ain't changed your whole life since we met that day/ And when we get it right, God bless that day/ But until then, shawty, I just pray."
Anyone else find the timing of their released tracks...odd? Maybe...for publicity?
Check it:
Tip's 9th studio album Paperwork drops in September.
And in another marriage....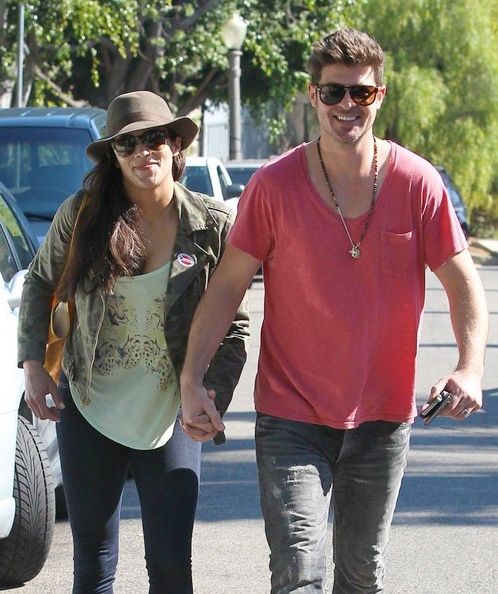 Doesn't look like a reconciliation is in the future for high school sweethearts Robin Thicke and Paula Patton. Even after all of his begging, pleading and breaking down on stage to get her back.
It was reported the couple could have possibly been working on a "re-coupling" but now it's being reported that they have put their Hollywood Hills mansion up for sale. Huge bump in the road...
According to the Hollywood Reporter, the three bedroom, three-and-a-half bathroom home on the exclusive Bird Streets has been listed for $2.985 million. The home was passed down to Robin in 2005 after his father Alan Thicke purchased it in the '90s.
This news comes five months after the couple announced they were splitting. Guess an album named after her (and every song dedicated to her) just wasn't enough….

Photos: Fame/T.I.'s IG
CISSY HOUSTON: 'I HAVE NOTHING'.....Great To Say About Whitney BioPic, "Please Let Her Rest" + BTS Of "Whitney" With YaYa DeCosta, Angela Bassett And Deborah Cox
Posted: 23 Jul 2014 10:23 AM PDT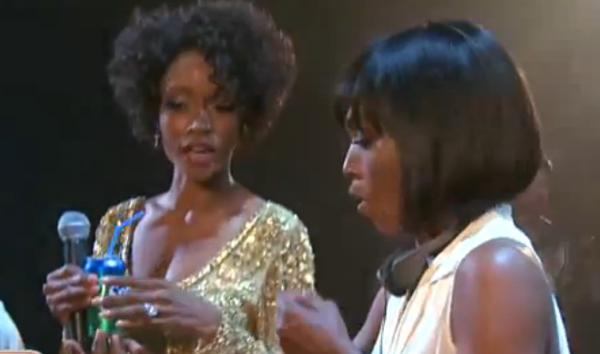 Cissy Houston is not happy about LIFETIME's planned Whitney Houston biopic and wants fans, foes, critics and Angela Bassett to "Please Let Her Rest." Find out what else Cissy said about her beloved Nippy inside and watch BTS video of Angela Bassett, Deborah Cox and YaYa Decosta on the set...
Outside of her memoir, highly-publicized Oprah interview and the antics of estranged-granddaughter Bobbi Kristina, Cissy Houston has remained out of the spotlight since the death of her daughter Whitney Houston...until now.
Thanks to Lifetime (and director Angela Bassett), Cissy has been forced to speak out on behalf of the Houston estate, and they are not pleased that yet again, Whitney's life is being dissected by "continuing misinformation and comments offered by people who did not know her." In an exclusive to ET, Cissy spoke against the upcoming biopic saying,
"Lifetime has chosen to go ahead with the movie about Whitney in spite of my family's objections. No one connected with this movie knew Whitney or anything about her relationship with Bobby," she said in a statement to ET. "In the two years since Whitney's death, many people have stepped forward to speak about their close relationship with her. I find it difficult to believe people who knew and supposedly loved her would participate in a movie about her done by folks who didn't know her. We are exhausted by the continuing misinformation and comments offered by people who did not know her. Please please let her rest."

Cissy Houston just dropped the mic.....#nuffsaid
On the set.....
ET is all up in the Whitney Houston mess! In addition to talking to Cissy, ET went behind the scenes of Lifetime's Whitney Houston biopic for an exclusive first look at the set. Speaking to director Angela Bassett (who commented on Bobbi Kristina's love for her mother), Yaya Decosta (who said she's ignoring the naysayers) and Deborah Cox (who sings a line from "The Greatest Love Of All") we get a taste of what we can expect. Check it...

Photos via Getty/Damian Dovarganes / Associated Press
Lauryn Hill KICKS Out Heckler After Showing Up LATE For Performance In Chicago + Jay Pharoah's "Bad Kisser" Parody
Posted: 23 Jul 2014 09:50 AM PDT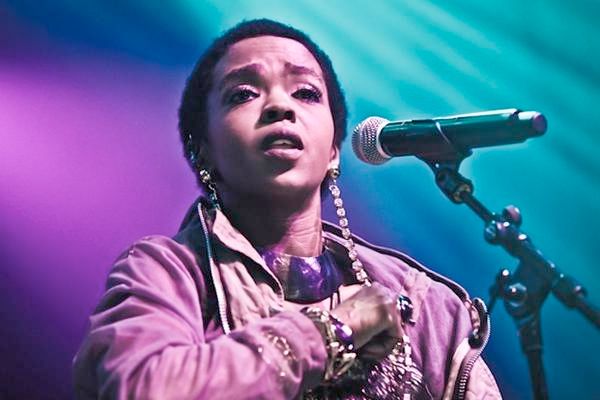 Lauryn Hill had to flex on a fan after he tried to heckle her for being late at a Chicago performance. Also, comedian Jay Pharoah made a parody of Usher's "Good Kisser" with his rendition, "Bad Kisser." Peep the funnies inside….
You definitely don't come for L-Boogie and think you won't suffer the consequences.
One fan learned the hard way after Lauryn Hill had him escorted out of House of Blues in Chicago last week. Ms. Hill was tapped to take the stage at 10:30pm before a sold-out show. So why did a paying fan heckle L-Boogie? Well...she was late (which she does from time-to-time) and didn't hit the stage until 11:20. And some fans were pissed.
Sources tell TMZ her opening song sucked and that's when a fan started to call her out on it. This set Lauryn off and she went into a rant before having security escort the man out.
She said,
"I do this because I love it, not because I owe you anything. You can get on the blogs, you can tweet and you can say whatever you want to…I don't give a rat's a**! I do this because I love it. Give that man his money back. Security…security…"
Ha!
Sources also say L-Boogie gave a lousy performance and saw a line at the box office for a refund. Sound familar?
Check it:
In another funny video...
"SNL" comedian Jay Pharoah did a hilarious parody of Usher's new track "Good Kisser." In his version…Jay is dealing with the a "Bad Kisser."
He sings about waking up to woman with foul morning breath…*gags* Check above.
Photo: HOB Chicago's Twitter

VIDEO FAB: Pharrell Williams' "Come Get It Bae"
Posted: 23 Jul 2014 09:43 AM PDT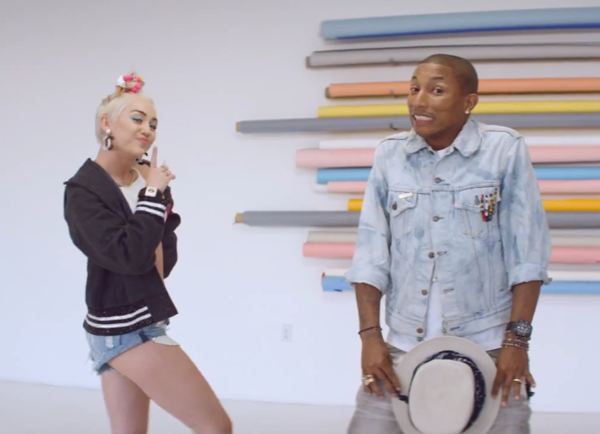 Pharrell Williams has given the video treatment to another single off of his G I R L album titled, "Come Get It Bae." Guess who pops up in the vid! Find out inside…
Pharrell Williams has just released the visuals for his single "Come Get It Bae," from his chart-topping album G I R L.
The Luis Cerveró-directed clip seems to have used the same concept from Pharrell's video "Marilyn Monroe".....an array of women of different races showing off their dance moves. And guess who makes a cameo? Miley Cyrus. She lends her vocals to the song and dances around with P in the video. Celebrity choreographer/music video director Fatima Robinson also graces us with her presence.
Check out the visuals below:
Photo: VEVO