---
MAGAZINES: Pre-Baby Bump Zoe Saldana Goes Nude For Women's Health UK, Speaks On Journey To "Just Knowing Who The F**k I Was"
Posted: 29 Jul 2014 08:05 AM PDT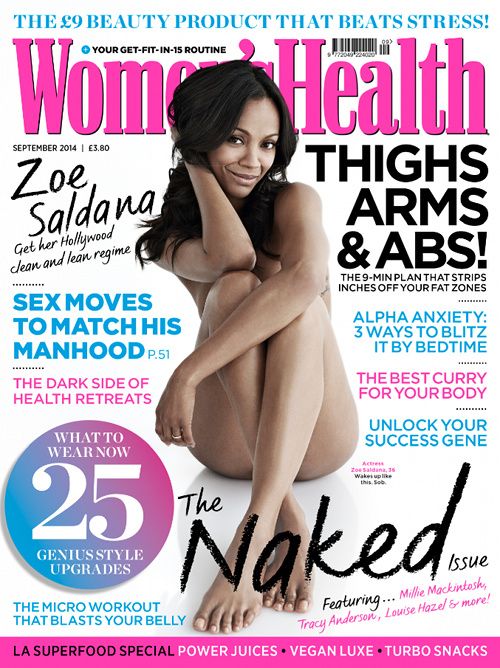 In pics taken prior to her "pregnancy" announcement, Zoe Saldana stripped down for the Naked issue of Women's Health magazine and shared her thoughts on aging, body image and finding true love with husband Marco Perego. More inside....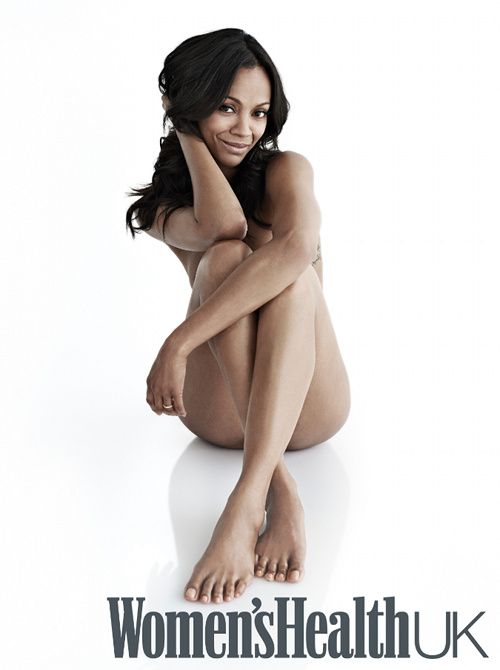 "I do look in the mirror and see things I don't want."
For Women's Health UK and their Naked issue, Guardians Of The Galaxy Zoe Saldana opens up about her body issues. Yes....even she has body issues! So she says.
In the article (with pics taken prior to her protruding baby bump), Zoe shares her thoughts on aging, slowing down and coming to love and accept her body for what it is. Here are the highlights:

On coming into her own and trust issues:
'I've learnt to listen to myself, so whenever I don't feel like doing anything that starts with 'I should' then I don't."
On her body image:
"I'm exactly where I want to be. I do feel beautiful in a way that even when I was working out a whole lot, I sometimes didn't.
'Because there have been times that I was really slender and I didn't like that I sometimes looked a little too muscular and flat chested - you'll never be completely happy, so at the end of the day it's like "F**k it. Just be happy, regardless."
On listening to nature:
This past year I've had to start letting go. My body dictated it as if saying, 'Slow the f**k down!' ... And I struggle with that. I love to be an athlete.' 'My body is less toned. I do look in the mirror and see things I don't want. My first reaction is I breathe and I think, 'I'm a woman, I'm 36, my body is changing.''
On husband Marco Perego:
We give each other a great deal of support and love but it wasn't because we found it in each other, we came that way and then got together. That's what I love about it. I do believe whatever's meant to be will be - but had the universe said, 'Let's just wait, he's going to come into your life later,' I would've been fine on this journey I was on just knowing who the f**k I was."
Zoe's issue of Women's Health UK is out now and her new flick Guardians of the Galaxy hits theaters August 1st. Hot pics!
Photos Women' Health UK
She's Here To Stay! Phaedra Parks IS NOT Taking a Break From "RHOA", FILMS Scenes With Apollo + "Hit The Floor" RENEWED For Season 3
Posted: 29 Jul 2014 05:40 AM PDT
Phaedra Parks is NOT taking a leave of absence from "RHOA"...and she's even filmed scenes with jailbound Apollo Nida! Get more deets on Phaedra's RHOA situation inside and the good news about VH1's "Hit The Floor."
Rumor control! Contrary to online reports, Phaedra Parks (shown above with RHOA co-star Kandi Burruss) has not taken a leave of absence from "RHOA." While a story hit the net that Phaedra walked out on the show, it seems that's not fully the case.
TMZ reports that Phaedra has been filming for a month and has taped several scenes with Apollo Nida, who'll soon depart for an 8-year jail sentence. While Phaedra may miss some filming to take care of family business, there's no way she'll allow Apollo's situation to cut in on her bread and butter.
In other tv news.....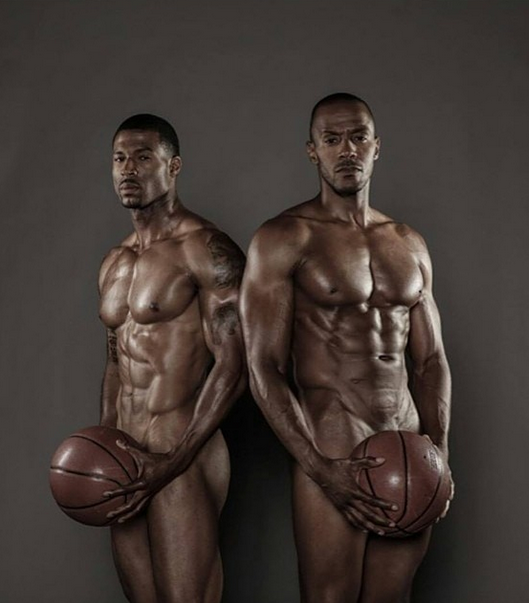 VH1's hit scripted series "Hit The Floor" has been renewed for season 3. While we enjoy the dance scenes and the thrilling soap opera storylines, we're most excited that we will get a third season of stars McKinley Freeman and Rob Riley.
Logan Browning, who plays "Hit The Floor" villainess Jelena, celebrated the good news on Instagram with a cast pic and a word of thanks for her fans,
"From the day I earned the privilege of playing Jelena to us now being a third season show, I've grown so much. In faith, character, performance, dance, even this new found popularity. I didn't expect any of it, but from the beginning of it all to today I have kept my dad's words close to my heart. It's what I've done & it works so it's what I will continue to do..."Have fun"! Thank you for having fun with us Devils Nation! Enjoy the last 2 episodes & we'll see you in #HTFSeason3"
Susan Levison, EVP of Original Programming & Production for VH1 said, 'Hit The Floor' delivered again with fantastic ratings and social media engagement in season two, especially among women. We look forward to seeing what kind of trouble the Devil Girls will get into next season." And perhaps VH1 could do us all a favor as dedicate the entire season to the making of the faux ESPN "Body Issue." Just a thought.....
Photos via Phaedra Park's Instagram/TheYBFDaily Instagram/Logan Browning's Instagram

Terrence Howard Wants Divorce Settlement Thrown Out, Says He CAN'T Afford It! + Mariah Carey & Nick Cannon's Mansion Goes BACK On The Market
Posted: 28 Jul 2014 05:18 PM PDT
Terrence Howard is fighting his estranged wife in court. And it's over the amount of spousal support he's supposed to cough up. Meanwhile, the buyer who was going to purchase Mariah Carey and Nick Cannon's Bel-Air mansion has backed out. Deets inside…
Although she filed for divorce over 3 years ago, Terrence Howard and his estranged wife Michelle Howard are still trying to come to an agreement on how much Terrence should be paying her for spousal support. He wants to have the divorce settlement thrown out so he filed legal documents to have it amended.
The Best Man Holiday star is making claims that he simply can't afford the set amount of spousal support Michelle is requesting a month. He also believes she blackmailed him into signing the document in the first place. Michelle, who was only married to Terrence for one year, claims her ex owes her a whooping $325,000. Ouch...
So why can't Terrence afford the spousal support? Well, according to him he is only bringing in $5,878 a month. He revealed he's left that amount after coughing up coins to another ex-wife, Lori McMasters, to pay her spousal and child support. TMZ reports Terrence is an employee under Lori and has his movie money going straight to her and she cuts him a check after she gets her share. Hmmm…
Sounds a bit crazy but crazier ish has happened.

Meanwhile....
Unfortunately for Mariah Carey and Nick Cannon, they are still on the hunt to unload their million-dollar Bel-Air mansion. The couple thought they had neogiated a $10 million deal for the uber luxe pad but apparently, the buyer backed out…and didn't say why. Hmph.
Now the house is up for sale for a cool $13 million if any of you are interested.
EXTRAS:
1. Joe Jackson has started a blog, opening up about his very private family and writing personalized open letters to each of his children. In his most recent post, he penned a heartfelt letter to his daughter Janet Jackson, expressing his love for his youngest daughter. He went down memory lane reminiscing on the time when he fell ill after suffering from 4 strokes and she, along with his granddaughter Brandi were the only two people to visit him in the hospital. STORY

Photos: Getty/MLS
NEW MUSIC: + Nicki Minaj, Ariana Grande & Jessie J "Bang Bang" + Willow Smith's "8" + Lenny Kravitz "Sex" (UPDATED)
Posted: 28 Jul 2014 03:11 PM PDT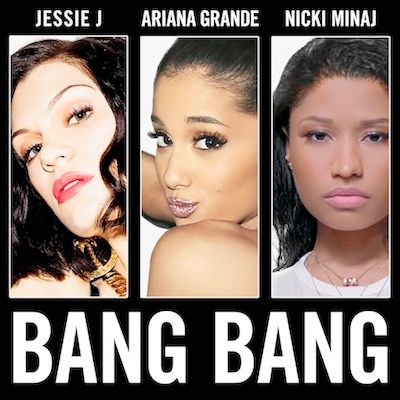 In today's new music roundup, Lenny Kravitz struts to "Sex", Nicki Minaj teams with Ariana Grande and Jessie J for "Bang Bang" and Willow Smith releases "8." Listen inside....
Have you ever pressed the play button and realized a song was a hit the minute the drums kicked in? Get ready for the "Bang Bang" experience. For her new single, Jessie J teams with Ariana Grande (who just had a hug #1 hit with "Problems") and hip hop -ishstarter Nicki Minaj. While the song is pure radio-friendly pop, Nicki bring the streets with her verse "It's me, Jessie and Ari/If they test me they sorry/Ride us up like a Harley/And pull off in this Ferrari." Also....she didn't have to get naked to keep our attention.

The track is produced by Max Martin, Savan Kotecha and Ily and is from UK singer Jessie J's forthcoming album My Everything. The three ladies will perform the song at the MTV Video Music Awards in L.A. on August 24.
Though the song doesn't drop until tomorrow, we managed to grab a leaked version of the song. #thankuslater
Listen to "Bang Bang"
In other new music......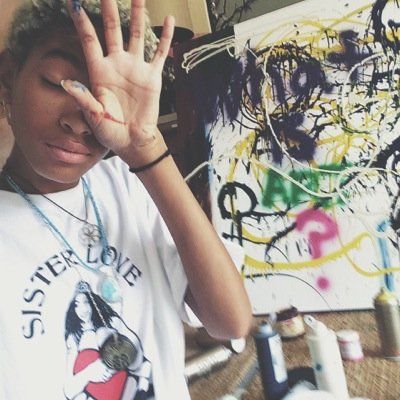 Willow Smith lends her voice to a track named "8" off of DJ Kitty Cash's Love the Free II mixtape. The 13-year-old songstress explained the "idea" behind the song to MTV News saying, "I've been really into numerology lately because a lot of numbers have been following me and my friends. I've been coming into this new phase in my life, just becoming one with all that is, going deeper into myself and getting to the goal of my music, which is to share that feeling and pass on knowledge so that consciousness can be raised on this planet."
Hmm....those are some pretty deep thoughts from a pre-teen.
Listen to "8" here:
Did "8" raise you consciousness?
For rock & roll lovers...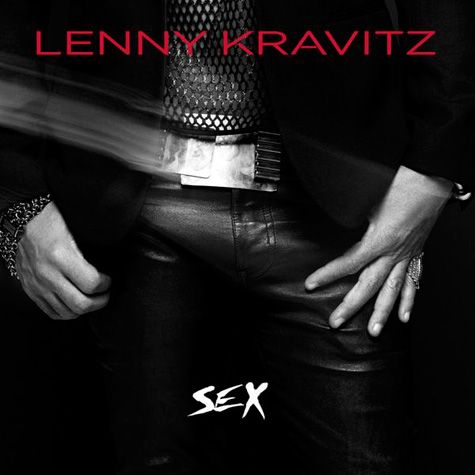 Lenny Kravitz cover art cover screams SEX, and that happens to be the title of his latest single. The funky guitar-driven groove kicks off Lenny's 10th album, aptly titled "Strut."
Talking to Billboard, Lenny described the direction of his upcoming disc saying, "It was recorded with minimal instrumentation, guitar, bass and drums. The strength of the groove comes from the sparse production which creates space."
Lenny will "Strut" into music stores on September 23rd. In the meantime....enjoy "Sex" with Lenny.
Photo via Willow Smith's Twiter
COUPLEDOM: LeBron James & Savannah BUMP Along The 'Train Wreck' Movie Set In NYC
Posted: 28 Jul 2014 12:33 PM PDT
Look at her belly! Princess James is getting closer to entering the world. Peep the baby bump candids of LeBron James and his wife Savannah as they made their way to the Train Wreck movie set inside…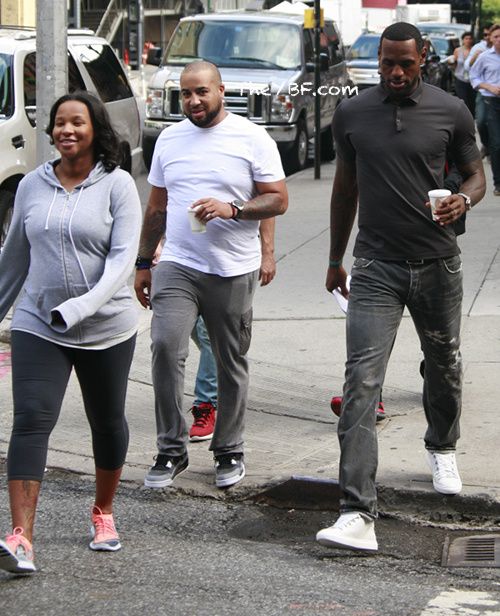 After melting our hearts as they cheered on their son LeBron Jr. at his 4th grade basketball tournament, LeBron James and his pregnant wife Savannah made an appearance on the Train Wreck movie set in NYC. How cute is Savannah preggo?!
Mrs. James has been keeping a pretty low profile up until recently when she flossed her growing belly during the James Family Vacation earlier this month. We caught the first glimpse of her growing belly back in May in a picture with LeBron Jr. and his basketball teammates.
We were the first to tell you that Savannah was expecting a baby back in March. Months after, the NBA superstar confirmed his family will soon be welcoming a baby girl. The new Baby James will be joining big brothers LeBron James, Jr. and Bryce Maximus James.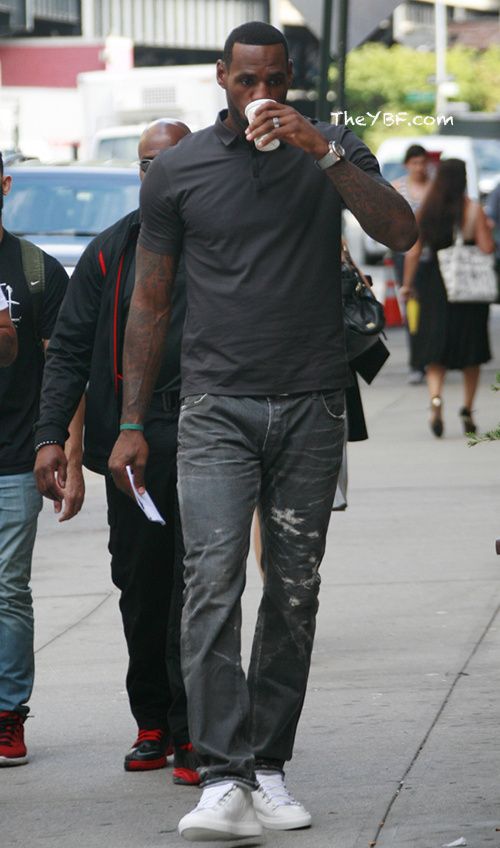 Before heading back to his hometown for his 2nd run with the Cleveland Cavaliers, LeBron announced a jersey number change. He will now be wearing the iconic No. 23, the same number Michael Jordan wore during his legendary basketball career.
He tweeted:
23 it is! It's only right I go back. 2·3=6 We still family 6. #HomeTeam #StriveForGreatness http://t.co/2MpznC8JNM

— LeBron James (@KingJames) July 27, 2014
MJ chimed in on his thoughts about King James (who wore No. 23 in high school) wearing his number. He told ESPN via text, "I'm cool with it. I don't own a number.''
Nice!
EXTRAS:
1. In case you didn't know….El Debarge and Pebbles have an "alleged" secret love child! And now their 20-year-old secret is ready to release a tell-all book. STORY
2. Sean Kingston got his ride towed in Hollywood last night…for the THIRD time. STORY
Photos: Splash News

Elle Varner BELTS Out The National Anthem At The EBC Celebrity Basketball Challenge + Fabolous, Kendrick Lamar, Big Sean, Wale & More Kick It Courtside
Posted: 28 Jul 2014 10:45 AM PDT
Elle Varner was tapped to sing her soulful rendition of the National Anthem at the EBC Celebrity Basketball challenge last night. Check out the "Cold Case" singer's performance and peep pics of Fabolous, Kendrick Lamar, French Montana, Big Sean, Wale and more from the event inside…
After hitting the red carpet at "The Knick" movie premiere, Elle Varner took her talents to the Barclays Center to sing her rendition of the National Anthem at the EBC Celebrity Basketball Challenge last night. She snapped a few pics on Instagram as she warmed up her vocal chords before taking the court.
The "Don't Wanna Dance" singer belted out the National Anthem before a packed audience, kicking off the celebrity basketball game with Kendrick Lamar, Fabolous, French Montana, Big Sean and Wale in attendace.
After her performance, Elle (who has been wearing a lot of black lately) chopped it up about her sophomore album 4 Letter Word. The sultry singer described her new album as being more authentic and soulful. She said,
"I'm making a very cosmic shift in my career with this album. It's all about artistry, being authentic in music and the message. It's more soulful, soulful in the sense that you feel it in different ways."

Check it:
Elle's 4 Letter Word is expected to drop sometime this summer.
During the challenge, Fabolous and Big Sean took the court to perform some of their hits, while Kendrick Lamar and Wale were cheering on their respective teams in the tournament.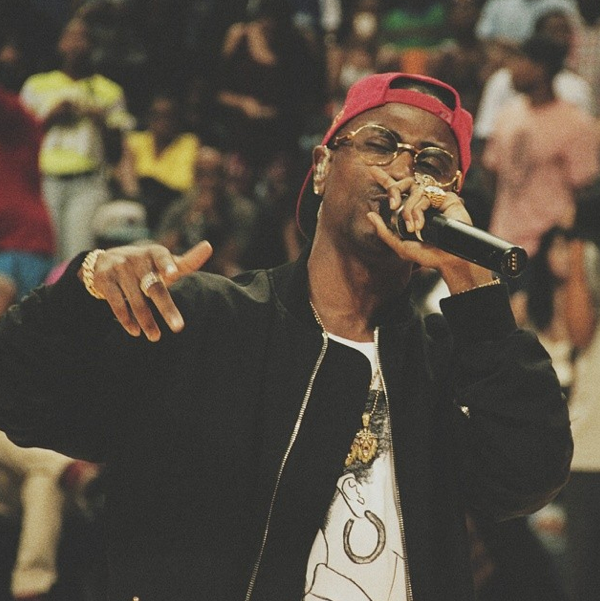 Unfortunately for Kendrick, his L.A. team was axed from the tournament after losing to the N.Y. team (backed by French Montana).
And from the look on his face, he was not happy about it.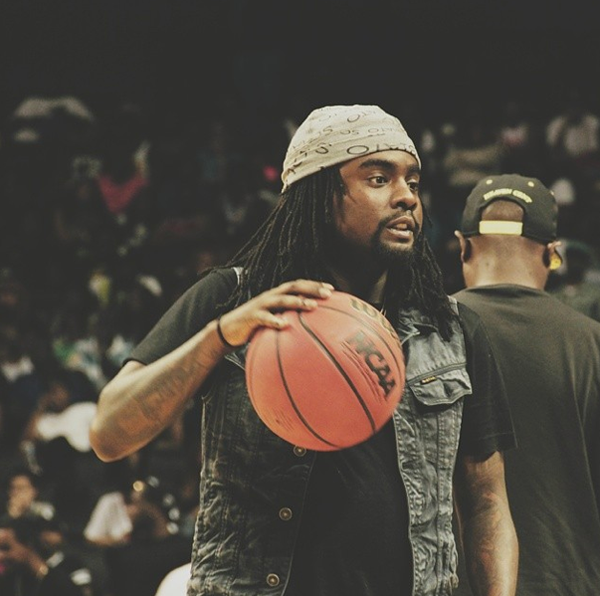 But Wale had plenty to celebrate after his DMV team took home the championship.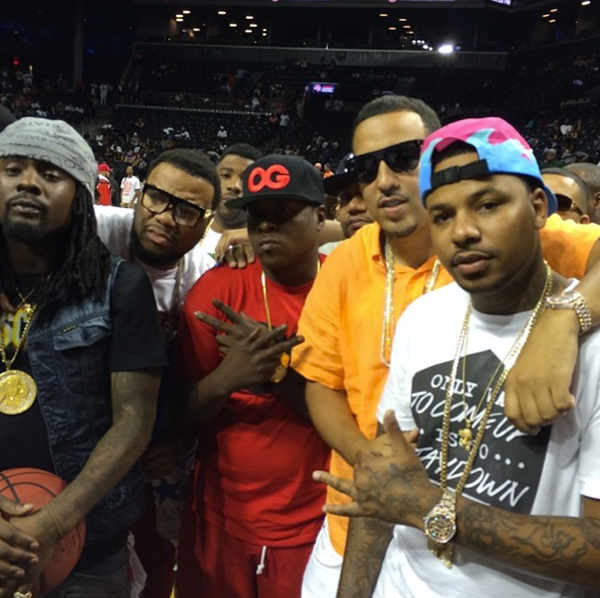 French Montana congratulated Wale on his win.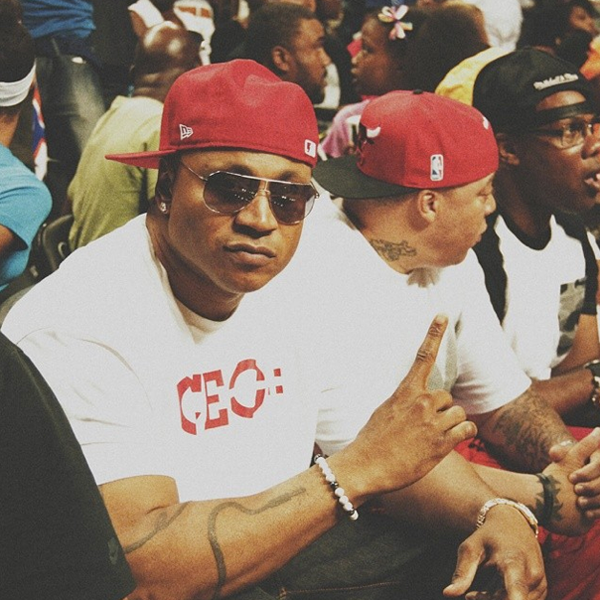 And L.L. Cool J was spotted courtside.
Fun times.
And before Elle hit the Barclays Center....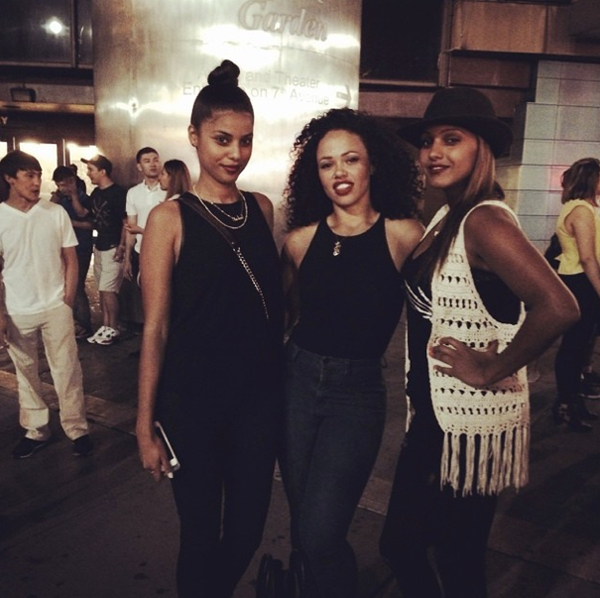 On Saturday, Elle hit up Madison Square Garden with a few of her girlfriends for the Gennady Golovki vs. Daniel Geale boxing match.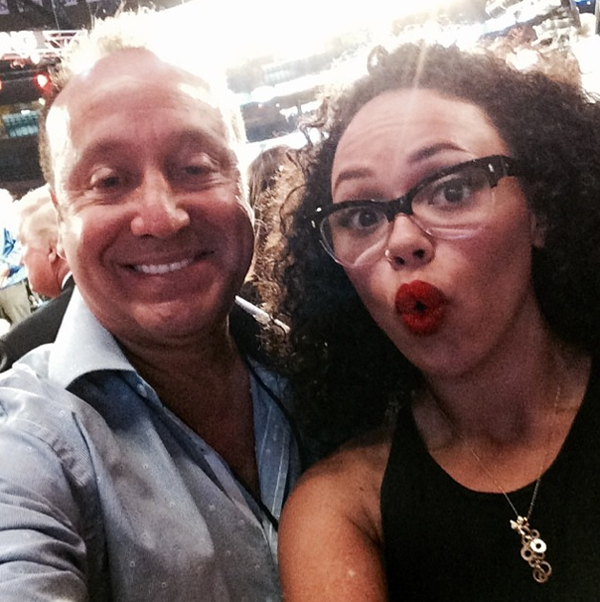 During the fight, Elle snapped an "usie" with E! Entertainment Television founder Alan Mruvka. He captioned, "My favorite recording artist @ellevarner, she's the best follow her, at the @GennadyGolovkin fight. Thank you @tomloeffler @k1 and @wladimirklitschko for your hospitality. #boxing #madisonsquaregarden #efounder #E!"
Wonder if she was taking notes just in case she and K. Michelle cross paths again…

Photos: Elle's IG/EBCRuckerPark's IG

ON THE COMEBACK TIP....R&B Group Hi-Five GEARING UP For New Single "It's Nothing" And Album
Posted: 28 Jul 2014 09:59 AM PDT
R&B group Hi-Five, who rose to fame with hits like "She's Playing Hard To Get" and "The Kissing Game" have announced a new single and album. Get more deets about their comeback inside....
"I Just Can't Handle It" singers Hi-Five are mounting a comeback with a new single and album all set for release in August. The group's latest single, "It's Nothing" marks a return to the music charts, which they topped back in 1990 with "I Can't Wait Another Minute" (Pop #8, R&B #1), and "I Like the Way (The Kissing Game)" (Pop #1, R&B #1).
Over the years, the group has been hit with several major setbacks, including the overdose and death of lead singer Tony Thompson in 2007 and the arrest of former member Russell Neal, who was charged with murdering his wife in July. Now, the group is comprised of members Treston Irby, Marcus Sanders, Shannon Gill, Billy Covington and Faruq Evans and they're ready to sing again!
In a press release from the group, they revealed how eager they are to return. "It has been a long time coming and we are just filled with excitement to reconnect with our loyal fans and meet new ones along the way", says Treston Irby. And speaking of "It's Nothing", produced by Sheldon Goode and written by Brian Adams, group member Billy Covington said "We wanted to give our fans a familiar sound yet more mature but still the signature HI-Five delivery."
"It's Nothing" will appear on their upcoming EP entitled, "HI-FIVE THE EP". "The EP" will be released this August and available on iTunes and all digital retail outlets under the Bronx Most Wanted Entertainment label imprint. In addition to new music, Hi-Five will be featured in an upcoming episode of the popular TV ONE "Unsung" on Wednesday, August 6th, 2014
We'll will keep you posted about the release of "It's Nothin."
Go back down memory lane....
Photo via Hi-Five's Facebook
OUT & ABOUT: Zoe Saldana BUMPS It Around SoHo And On The Set Of "Good Morning America" In NYC
Posted: 28 Jul 2014 08:55 AM PDT
Mom-to-be Zoe Saldana and her baby bump are making their rounds around NYC today. Peep the Guardians of the Galaxy star and her cute baby bump make a stop at "GMA" studios and stroll through SoHo inside…
Since officially confirming she's pregnant (although we've had her bump watch a month prior), Zoe Saldana is proudly showing off that cute little bump of hers as she make her way around NYC today.
The fab mom-to-be was spotted making her way inside "GMA" studios to promote her new film Guardians of the Galaxy, donning a burgundy midi dress and nude Christian Louboutins that showed off her growing belly. It's reported Zoe is expecting twins with her Italian husband Marco Perego.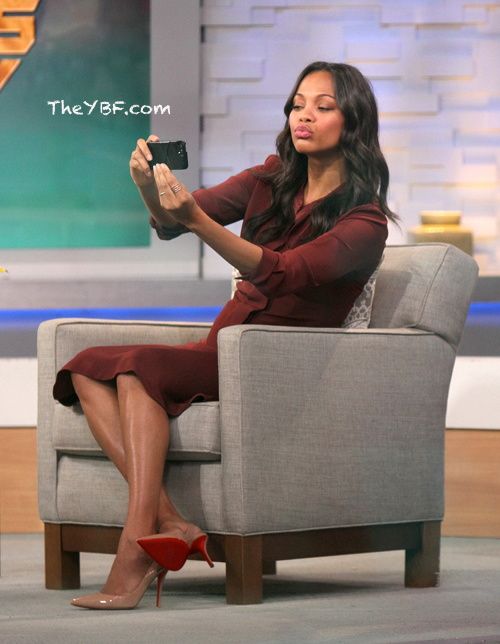 The 36-year-old actress chopped it up with GMA host George Stephanopoulos about her role as an alien warrior named Gamora in the upcoming sci-fi film. She talks about her character being a bullfighter (inspired by her husband) and what inspired the fight scenes. She said,
"It was the most graceful form of dance… it was at the time when I was wondering if I was going to do 'Guardians' and I thought, 'oh my God I should, and she should totally be a bull fighter, instead of just a martial artist.'"
The sci-fi queen also talked about her love for playing in space-type movies (i.e. Avatar, Star Trek). She dished,
"I've always had an affinity for the unknown and imagining the unimaginable. It feels good to be in space."
Check her interview below:
After hitting GMA….
Zoe did a quick wardrobe change before rolling up to her hotel in SoHo in NYC.
Some lucky fans got an autograph from the starlet before she made her way inside for a little R&R.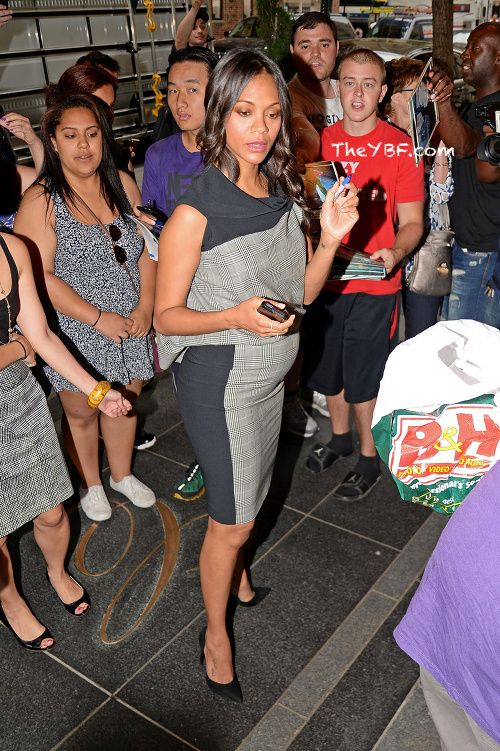 Then she trekked it to to "Live! with Kelly and Michael" for an appearance.
Chick isn't letting pregnancy slow her down.
Photos: 247PapsTV /Santi /Splash News/Pacific Coast News
YACHT LIFE: Naomi Campbell & Cassie ROCK Bikinis, SAIL Around Ibiza With Diddy
Posted: 28 Jul 2014 08:40 AM PDT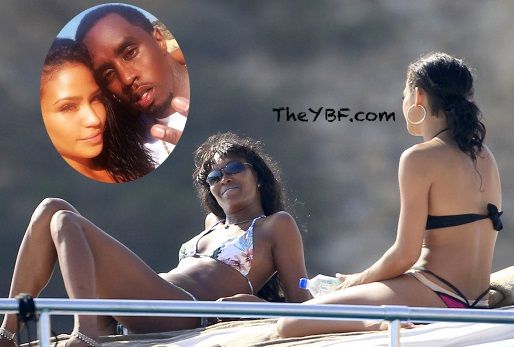 Bikini-clad model Naomi Campbell partied alongside Cassie and Diddy in Ibiza over the weekend. See their pics inside.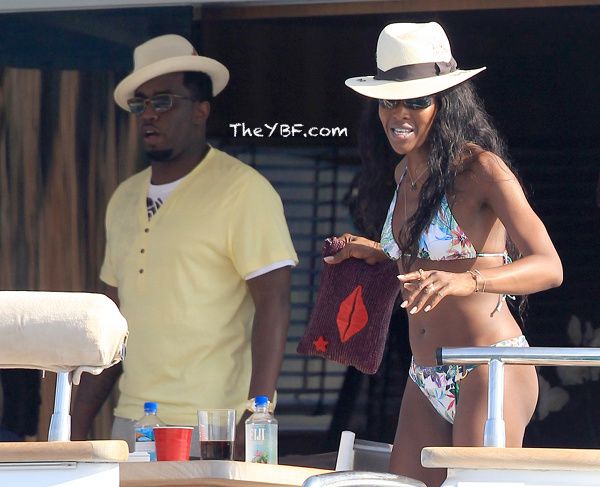 Media mogul Diddy and supermodel Naomi Campbell were photographed aboard a party yacht in Ibiza yesterday.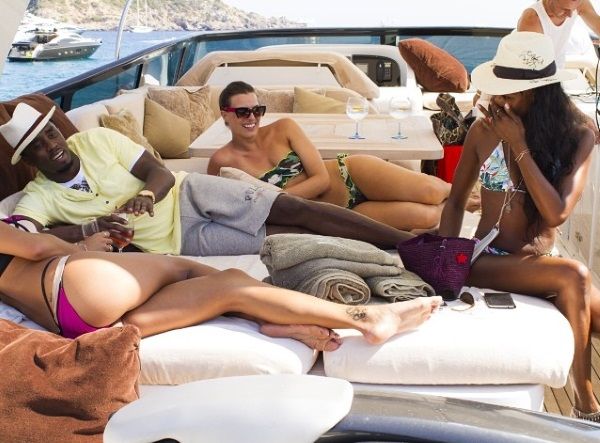 Diddy snuggled next to longtime girlfriend Cassie during one of Naomi's theatrical moments.
NaNa and Cassie showed off their bikini bodies while sun tanning on the boat's deck.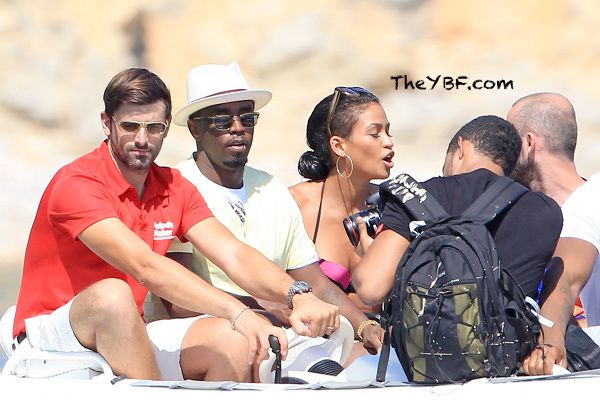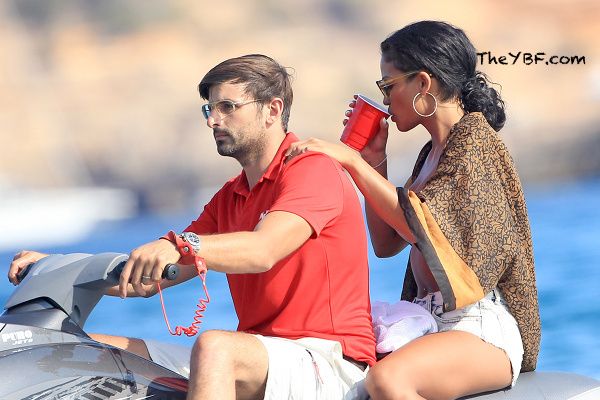 In addition to the success of Ciroc, Diddy launched his own tequlia venture (DeLeon Tequila) as well. We wonder what's in Cassie's cup?
BONUS:
Cassie and Diddy haven't posted many "summer pics" of one another on their Instagram accounts, but it looks like they were really enjoying the selfies in Ibiza this weekend.
Photos via GTRES/FAMEFLYNET PICTURES/Diddy's Instagram/Cassie's Instagram