---
EXCLUSIVE PREMIERE: Mary J. Blige's "Vegas Nights" Featuring The-Dream
Posted: 10 Jun 2014 08:19 AM PDT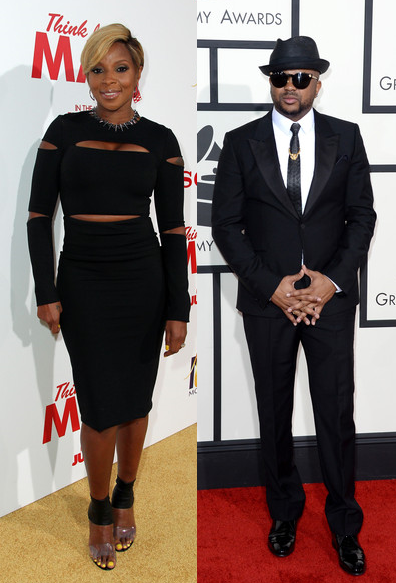 As we anxiously await the release of the Think Like A Man 2 film and soundtrack, TheYBF.com has the EXCLUSIVE premiere of Mary J. Blige's latest release from the soundtrack. Get ready for "Vegas Nights" featuring The-Dream.....
After a highly successful run at the box office with Think Like A Man, and also a successful turn on the Billboard charts with the TLAM soundtrack, there are very high expectations for Will Packer's sequel, TLAM2. Naturally, the greatly anticipated soundtrack needed an artist with the clout to deliver the goods for the soundtrack.
Producers enlisted the help of the Queen Of R&B Soul Mary J. Blige, who recorded 14-new songs for and inspired by the film. We've already treated you to "Suitcase" "A Night To Remember" and "A Moment To Love" and today's exclusive may be one of the soundtrack's best gems.
On "Vegas Nights", Mary teams with The-Dream for a slinky, smooth R&B gem that easily sets itself up as weekend getaway theme song. With lyrics that include "Lift off take flight/I'm living the life/racing down the boulevard/under the Vegas lights", MJB and The-Dream pay homage to Michael Jackson, Roberta Flack, Aretha Franklin and other R&B great who all get shout-outs on the song's chorus. Could this song become the theme of the summer?
Listen to "Vegas Nights" here:
The "music inspired by" style soundtrack for Think Like A Man Too will hit stores on June 17th, while the film debuts on the silver screen on June 20th.
Photo via David Buchan/Getty Images North America/WENN
RED CARPET TAKEOVER: Celebs Flock To The Hollywood Premiere Of "Think Like A Man Too"
Posted: 10 Jun 2014 07:55 AM PDT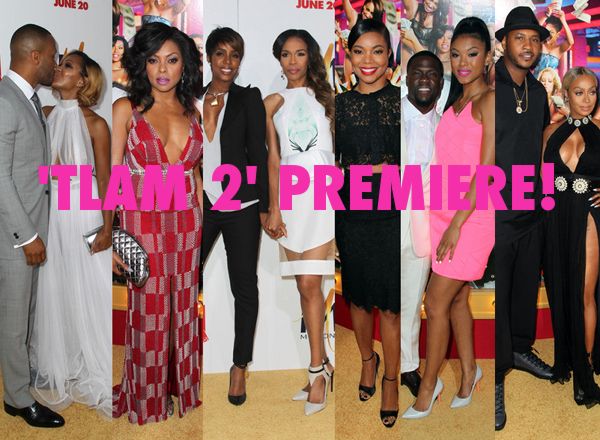 It was a total celebrity takeover last night at the Hollywood premiere of Screen Gems' Think Like A Man Too. Check out the cast and slew of celebs who came out to celebrate inside...
Last night at the TCL Chinese Theatre, Kevin Hart, Taraji P. Henson, Meagan Good, Gabby Union, LaLa Anthony and the rest of the cast glammed up the red carpet for the HUGE premiere of their upcoming flick Think Like A Man Too.
YBF celebs came out in full force to support the ensemble cast, and we've got all the pics and deets.
Kevin Hart and his girlfriend Eniko "looked good as a unit" like Kev likes to say. The TLAM 2 star kept it dapper in an off-white suit, while his lady stole some shine in a hot pink dress with a matching hot pink lip and grey and neon orange pumps. Love the look.
Star Gabby Union rocked a lace crop top and matching lace pencil skirt with a bold red lip. We're not impressed by her shoe choice but this seems to be one of Gabby's faves. And she flew solo dolo since her fiancé Dwyane Wade is in the middle of the NBA Finals.
Cute couple Meagan Good, who stars in the film rocking a super short coif, and husband DeVon Franklin got all kissy on the carpet.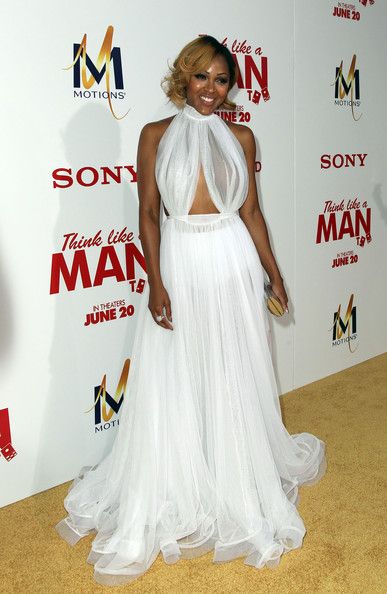 The dress make us feel like we're about to see a wedding take place. But she looks pretty nonetheless.
LaLa Anthony went for full out sex appeal in her head to toe Alexander McQueen look for her premiere:
With two slits and a cut-out bust, Mrs. Anthony showed that body off in the revealing McQueen dress and a Jacob & Co. diamond wing ear cuffs and a Dionea Orcini black & white diamond full finger ring.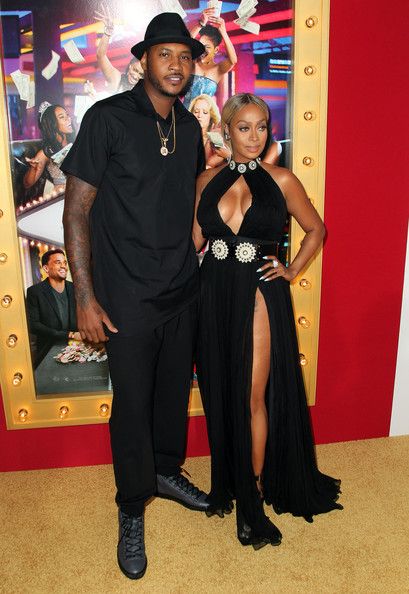 We're sure her hubby Carmelo loved it. Chick has been loving these sky high slits lately.
Star Taraji P. Henson kept it chic in a red plaid dress with a plunging neckline and front slit and a small train.
Star Regina Hall was in a black & white mood, and we adore it.
Producer Will Packer posed it up with his stars Terrence J. and Michael Ealy.
Heeey Michael.
Draya was on her grown woman steez in a super deep plunging black dress and lace up heels.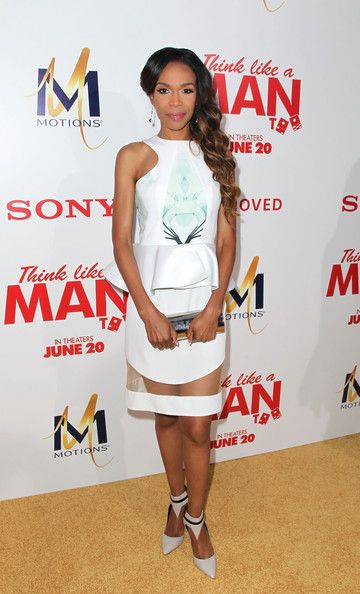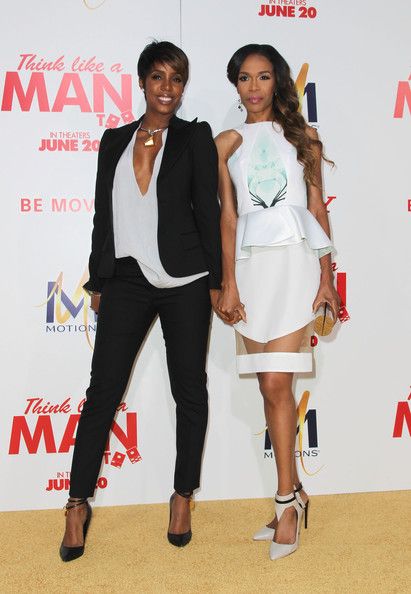 Bosom buddies Kelly Rowland and Michelle Williams hit the carpet together to support their girl LaLa. Rumors are swirling that Kelly MAY have a bun in the oven, hence these blousy shirts as of late. But time will tell if the newlywed will be popping out a playmate for Blue Ivy.
Pretty look for Michelle.
Star Romany Malco posed it up with his date for the evening, his wife Taryn.
Romany's co-star, the hilarious Gary Owen, posed it up with his wife Kenya.
Ms. Keri Baby was looking amazing last night in a white tuxedo style blazer and black shorts and black pumps. Fabulous look for her.
Mary J Blige, who is at the helm of the soundtrack for the film, kept it hot in cutouts and a pencil skirt.
Actress Reagan Gomez looked stunning in a red jumpsuit. Love this! Reagan is still looking fabulous these days.
KeKe Palmer's yellow cut-out Cushnie et Ochs dress definitely works for her. The upcoming BET talk show host hit the carpet in her gold metallic Louboutin pumps.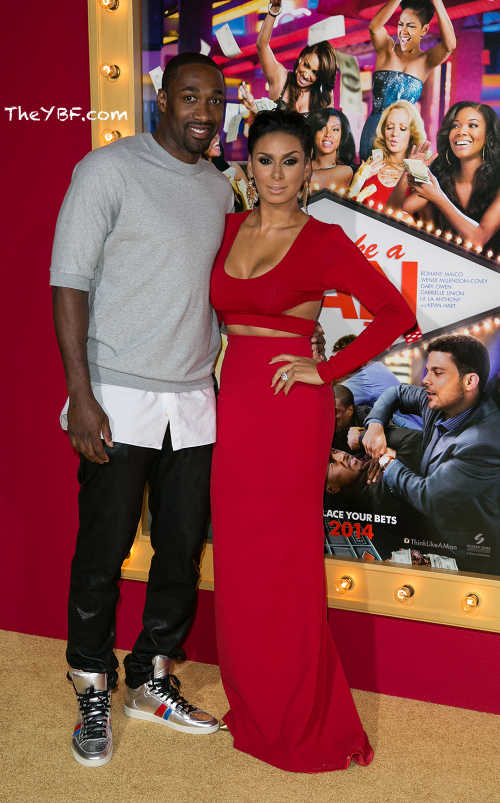 Laura Govan looked pretty in red with her man Gilbert Arenas.
EJ Johnson (and all his fabulousness) of "Rich Kids of Beverly Hills" hit the carpet with sister Elisa.
Clippers baller Chris Paul hit the carpet with his wife Jada, who looked fab in her gray rope-up boots.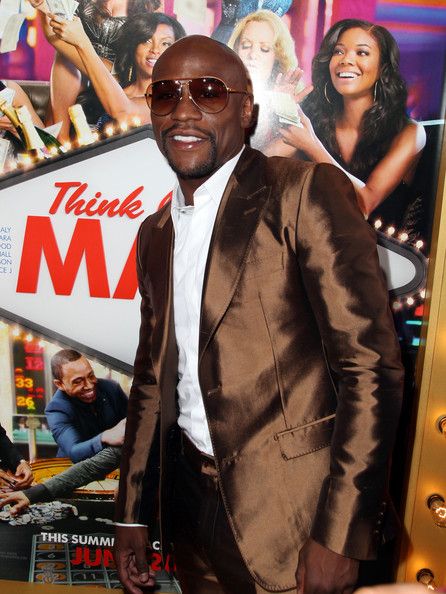 Floyd Mayweather hit the carpet in a shiny brown suit. Extra as always.
Jenifer Lewis made her way to the carpet looking great. She stars as Terrence J's hilarious mom in the movie.
Director Tim Story and his wife Vicky brought the kids on the carpet for Tim's big night.
Best Man Holiday star Melissa DeSousa looked white hot in her flirty dress and white cut-out heels.
Upcoming star of "Hollywood Divas", Golden Brooks, did the lace crop top and skirt look.
Robinne Lee of "Being Mary Jane" came out to support her girl Gabby Union.
And Lisa Leslie and her neon yellow nails summer'd up her black & white look. Cute.
Extras:
1. Derek Fisher expected to be named as NY Knicks head coach. STORY
Photos: Getty/WENN
VIDEO FAB: Nicki Minaj's "Pills N Potions"
Posted: 10 Jun 2014 05:20 AM PDT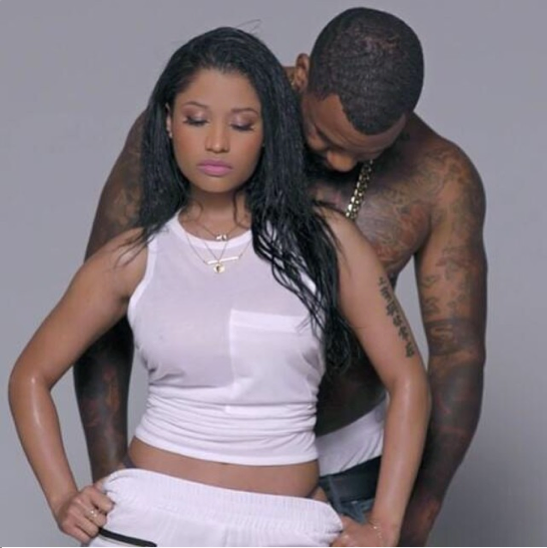 The visual treatment for Nicki Minaj's highly anticipated track "Pills N Potions" has finally been released. Peep the full video inside…
Nicki Minaj has been promoting her newest single "Pills N Potions" from her upcoming album The Pink Print, dropping sneak peeks of the visuals on daytime television. And now the full video has been released.
YMCMB's first lady hit up "GMA" last week and "LIVE! with Kelly and Michael" Monday morning to tease fans with quick snippets of the video for "Pills N Potions" starring rapper The Game as her love interest.
Nicki dished on the concept behind her new ballad this morning saying,
"And what that felt like to me was forgiveness. Just understanding that everybody gets mad but when you love somebody I feel like you'll always love them. I don't feel like there's ever been a person that I loved that I no longer love. I just may not be able to live with you or have you in my life and that's really what the song is about.The video is dropping today on VEVO. I'm thinking about 8pm eastern standard time."

Peep the full video below:
BONUS: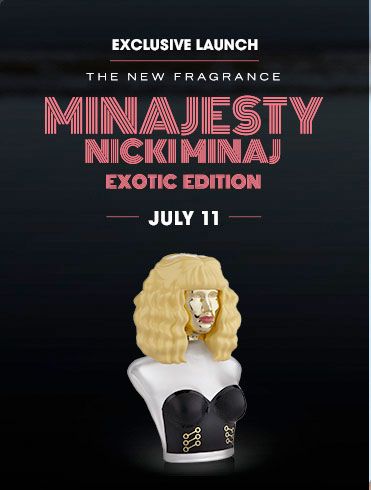 Just in time for summer, Nicki Minaj announced she will be releasing a brand new fragrance called Minajesty EXOTIC for women. The "Pills N Potions" rapper tweeted, "Barbz! I will be LIVE on HSN with my new fragrance, Minajesty Exotic! Tune in July 11th!"
Nicki revealed the new exotic scent is a summery, fruity version of her Minajesty eau de parfum, following her Pink Friday and Minajesty fragrances.
Photos: Nicki's IG
CLAPPIN' BACK: French Montana HUMBLY Responds To Tichina Arnold's Epic READ + 50 Cent CLAIMS He Didn't Steal Slowbucks' Chain, Slowbucks RESPONDS
Posted: 09 Jun 2014 03:46 PM PDT
French Montana and 50 Cent have been making headlines lately and the two rappers have taken to their Instagrams to respond. Read how French responded to Tichina Arnold after her nice-nasty read and what 50 had to say about being accused of stealing Slowbucks' chain at Summer Jam inside…
Chile…
"A Day Late And A Dollar Short" actress Tichina Arnold held back nothing when she read Moroccan rapper French Montana after he tried to come for her. Or so she thought.
The former "Martin" star sent for the "Pop That" rapper in the most nice-nasty way after he posted a funny meme of her to his Instagram. In so many words…she let him HAVE in the classiest way possible.
Now, French Montana has responded to "Pam's" read and according to him, he was just reposting a funny picture…like the rest of us on Instagram. He said,
I didn't make this picture I just reposted it like a million other people, don't use me to plug your charity I use to be a fan Pam. I was shocked to see this pic iam not disrespecting you stay blessed
Good response. Don't think he was ready for Pam.
And in another Instagram response….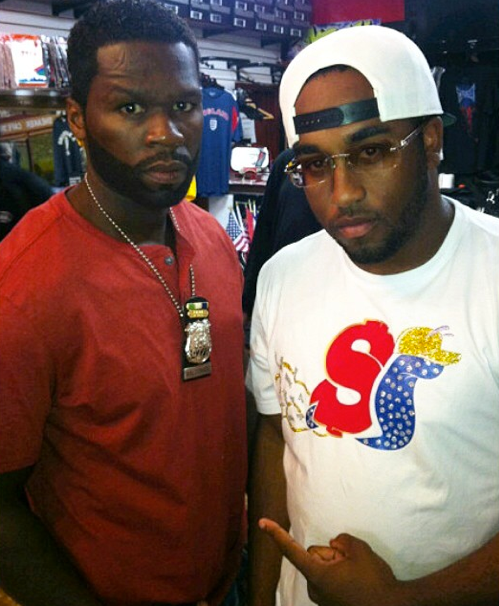 50 Cent is speaking out after being accused of stealing Slowbucks' chain during a scuffle that broke out while the Jamaica Queens rapper performed at Hot 97's 2014 Summer Jam festival in New Jersey.
Slowbucks launched a civil investigation on 50 Cent and his entourage after the alleged beat down and snatching of his chain. He teamed up with Civil Investigator John P. Bostany and they plan to file civil charges of brand dilution against 50 and whoever else was involved.
Days after the launch of the civil investigation, a criminal arrest was made. Mikey Fingers (who is allegedly linked to 50's entourage) was reportedly arrested for his involvement in the incident.

On the heels of 50's "Power" TV series debut, he posted an Instagram video (in true 50 fashion) about Slowbucks being a snitch and that he is making up the entire thing.

He posted the video above with the caption, "Stop telling TMZ I can keep your chain Boy. I don't snatch chains,This don't make no sense.#smsaudio #animalambition"
In his defense, Slowbucks took to his IG and posted a picture of himself and 50 (atop) wearing a police badge around his neck with the caption, "This n%a 50 aka 5-0 got some nerve! Who shot me? You think it was Preme, Freeze or TahTah? (Lord 4 Give Me, 4 I've Sin, Over & Over Again Just 2 Stay On Top)"
He also told TMZ, "People know how I roll in the streets," and that he doesn't want this to escalate into a Tupac/Biggie situation.
These guys...
Photos: Rodney Gibson/French's IG/Slowbucks' IG

PHOTOSHOOTS: Kiely Williams Goes NUDE For The "Be You" Campaign + Skylar Diggins MODELS Swimwear For ESSENCE's "Body Issue"
Posted: 09 Jun 2014 03:21 PM PDT
Former "Cheetah Girl" Kiely Williams went nude for the "Be You" campiagn. See the photos inside and check out Skylar Diggins pics form the ESSENCE "Body Issue."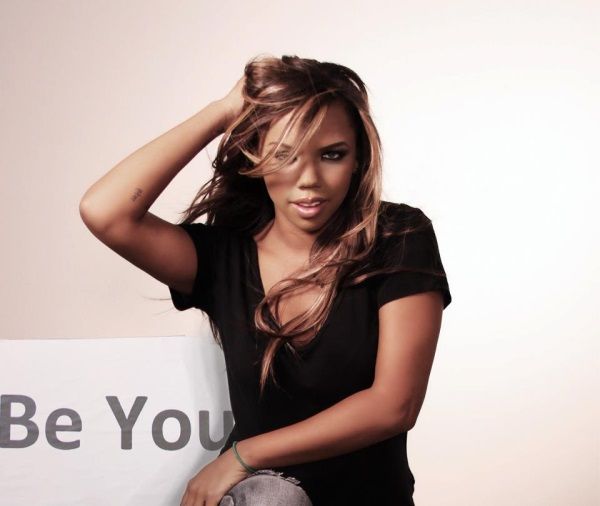 We've been sharing pics from J Ryan's anti-bullying "Be You" Campaign for several months (featuring Christina Milian, Karrueche Tran, Adrienne Bailon) and the most recent set of pics include former 3LW and Cheetah Girls singer Kiely Williams....NUDE! Speaking of Kiely.....the last time we heard from her, she'd been shopping a reality show pilot "Dinner With Friends." Is she prepping a comeback?
The "Be You" campaign also released a new pic of Adrienne, who'll be heading to tv this fall on "The Real."
In magazines....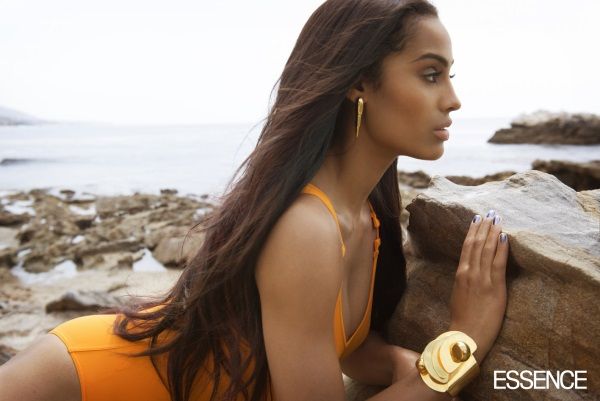 Sexy WNBA star Skylar Diggins shows off hot swimwear in ESSENCE's July 2014 issue (with the stars of TLAM2 on the cover), dubbed "The Body Issue." Inside, she details how she balances being a budding fashionista with her inner tomboy.
She told the mag, "My message? Beauty and the beast – be a beauty off the court and a beast on the court…"
Photos via BeYouCampaign.org/Essence

Halle Berry ORDERED To Pay $16K A Month In Child Support AND $115K LUMP SUM To Nahla's Dad + Michael Baisden's FORMER Bosses Overpaid Him $1 Million...And They WANT It BACK!
Posted: 09 Jun 2014 02:36 PM PDT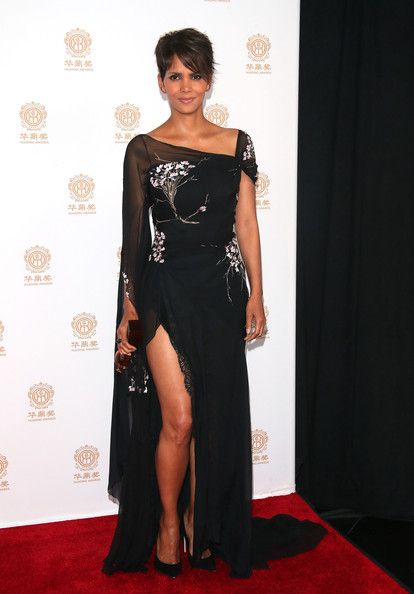 A new legal victory has ordered Halle Berry to pay her baby daddy $115K in retroactive child support plus $16K a month! Get the deets inside and see why Michael Baisden's former bosses claim he owes them $1 Million dollars!
Maybe it's not so bad that pretty boy model Gabriel Aubry got beat up by Halle Berry's husband Olivier Martinez a few years ago. A new legal victory (which we just found out about) will take care of all of Gabe's pain and suffering...via a substantial raise in child support.
PEOPLE reports that a May 30th judgment orders Halle to pay Gabe $16,000 per month to support their daughter Nahla, 6, until she turns 19 years old or graduates from high school, whichever comes first. In addition to the 16K, Gabe was also rewarded $115,000 in retroactive support!
The new order comes after an initial custody agreement in 2012 and that infamous fight. Hopefully this settlement keeps the peace.....
In other legal news.....
Former radio show host Michael Baisden might be on the hook for $1 Million if his former radio bosses win a new lawsuit. Here's the backstory:
According to AlwaysAList.com, around March 2013, Michael's hit-syndicated show came to a halt after he failed to reach a new agreement with bosses Cumulus Media Networks. Thanks to what MUST have been a clerical error, Michael's "checks" never stopped coming...even after he was no longer employed by CMN.
Legal documents filed by the company claim Michael cashed 15 checks in the amount of $66,666.67 resulting in an overpayment of approximately $1,000,000. When the company reach out to Michael....he REFUSED to return the money. Now CMN hopes a judge will see it their way because allowing Michael to keep the dough would be a "gross inequity and would be unconscionable."
Now that you know the back story.....its worth noting that Michael has not spoken publicly about the lawsuit. Maybe he considered the "overpayments" a blessing from God or a "surprise" severance package. We look forward to seeing what he tells the judge.
Photos via Getty Imags/Michael B's Twitter
Djimon Hounsou, Tia Mowry Hardrict & Holly Robinson Peete Hit Up The 'How To Train Your Dragon 2' Premiere With Their Families + Danity Kane Sends Off Aundrea During Final Performance At LA Pride Festival
Posted: 09 Jun 2014 01:01 PM PDT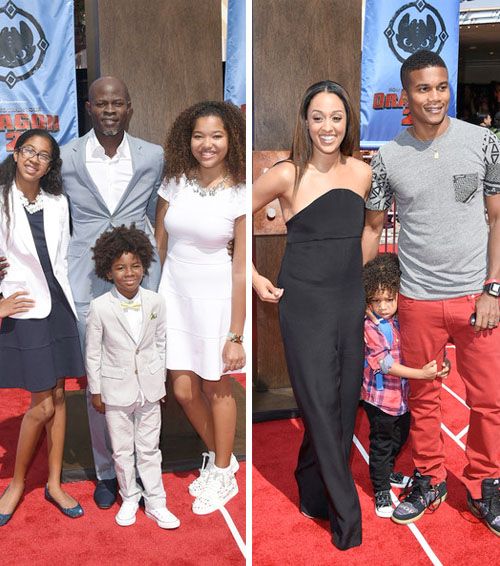 Djimon Hounsou, Tia Mowry Hardrict and Holly Robinson Peete rounded up the kiddies for the "How To Train Your Dragon 2" premiere in L.A. Peep the cute family photos and also see Danity Kane say goodbye to bandmate Aundrea during their final performance inside…
Oscar nominated actor Djimon Hounsou was on super-dad duty this weekend. He picked up his son Kenzo (who he shares with ex Kimora Lee Simmons) along with his sisters Ming and Aoki (Russell Simmons' daughters) for the premiere of the Dreamworks animation film How To Train Your Dragon 2 at the Regency Village Theatre in L.A.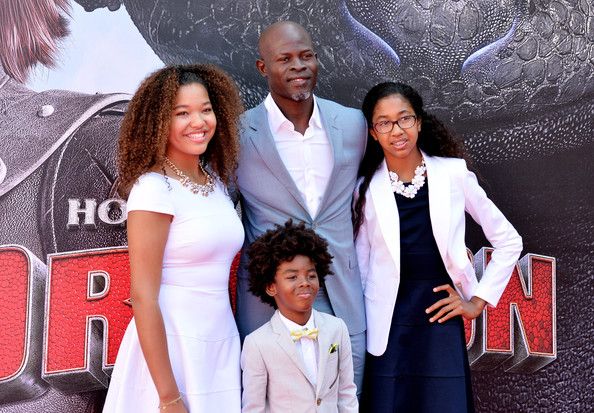 The beautiful blended family cleaned up nice as they posed it up on the red carpet for the animated movie premiere. Little Kenzo followed in his dad's footsteps looking dapper in his light cream-colored suit and yellow bow tie. The girls kept it cute in a navy blue and white dress as they flashed their pretty smiles.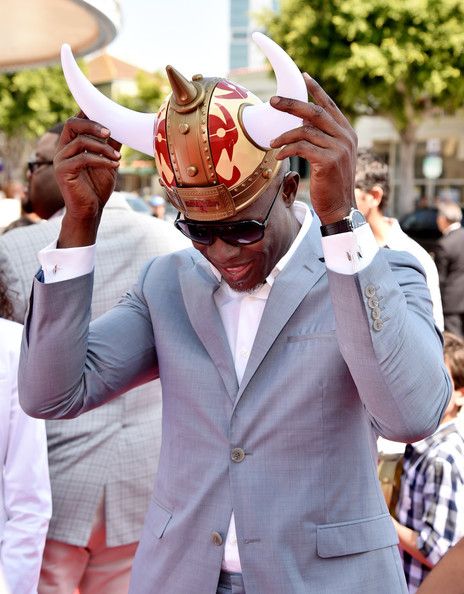 Djimon voices the dragon-hunting villain named Drago Bludvist in the action fantasy film. Wonder how little Kenzo reacted when he heard his father's voice in the movie.
"Instant Mom" actress Tia Mowry Hardrict and her husband Cory Hardrict assisted their adorable son Cree on the red carpet for the family affair. Tia kept it cute and comfortable in a black Elena Reva romper proving you can still keep it fab while on mommy-duty.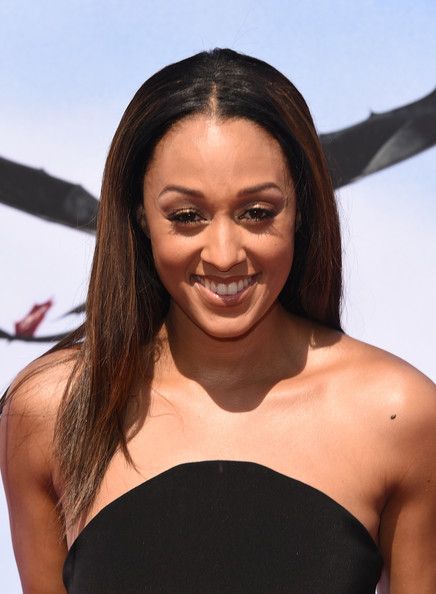 Cute.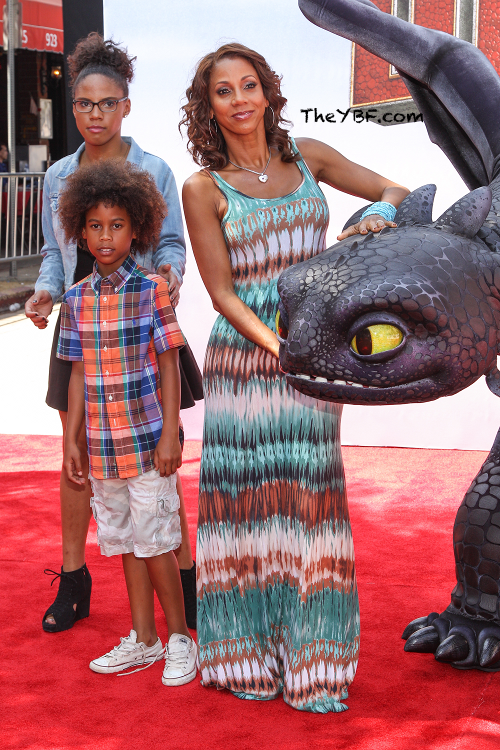 And Holly Robinson Peete was also in attendance looking fab with two out of the four beautiful children she has. Peep how her daughter has grown taller than her and we are loving her son's hair.
And in music news....
The ladies of Danity Kane bid farewell to their bandmate Aundrea Fimbree after the announcement that she would be leaving the group to enjoy the married life.
After celebrating the release of their new track "Lemonade" at the Empire State building, the foursome made their way to the L.A. Pride Festival in West Hollywood for their final performance together on Sunday.
During their final performance together Aundrea revealed,
"This is actually my last show with Danity Kane," said Aundrea.
Surprising her with a bouquet of flowers and a bottle of Patron, the remaining Danity Kane members showered their departing member with plenty of hugs and lots of love saying,
"We love you, Drea. We want to give you so much love, so much support for the prospects for your life. You will always be Danity Kane, you will always be the love of our life."
Nice. The girls recently wrapped up their DK No Filter Tour and is now promoting their new single, "Lemonade."
Peep the heartfelt tribute and Aundrea's final goodbye speech below:
And here's DK performing their new single "Lemonade" at the L.A. Pride festival:
Photos: Kevin Winter/Getty/Paul A. Hebert/Press Line Photos/Rap-Up
BIKINI HOTTIE: Gabrielle Union SIZZLES At The Encore Beach Club DAY PARTY
Posted: 09 Jun 2014 01:00 PM PDT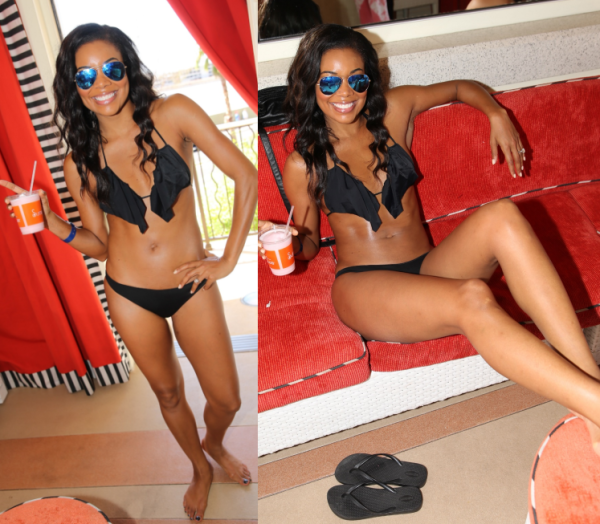 TLAM2 star Gabrielle Union partied with friends at Encore Beach Club's Day Party over the weekend. See Gabby in her black bikini inside....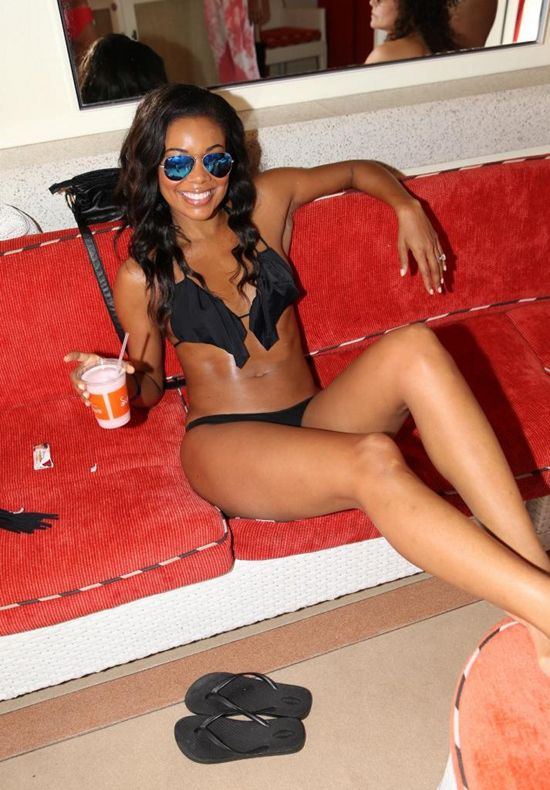 Las Vegas LOVES Gabrielle Union. Over the weekend, the TLAM2 (June 20th) star celebrated her VEGAS Magazine cover at Drai's Beach Club & Nightclub in Vegas Saturday night and the celebration continued on Sunday. That's when Gabby threw on a sexy black bikini and headed to the Encore Beach Club day party at the Wynn.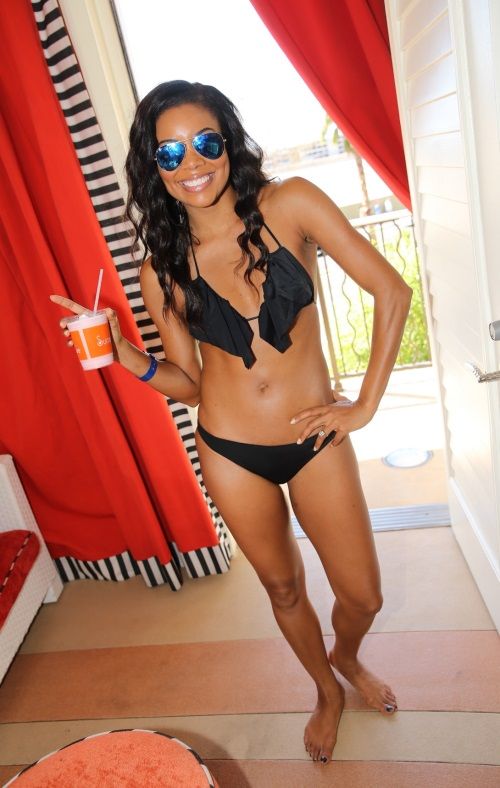 Gabby and eight girlfriends reportedly partied in a luxury cabana and kept themselves cool with frozen margaritas. Nice. Meanwhile, Gabby was spotted watching the game in her cabana and cheering on her fiance Dwyane Wade and the Miami Heat as they battled the San Antonio Spurs in Texas. The Heat won (98-96).
We're looking forward to their wedding....
Photos via Encore Beach Club
MORE DETAILS: Truck Driver Who Caused Fatal Collision Involving Tracy Morgan REVEALS He Had Not SLEPT In 24 Hours Prior To Crash
Posted: 09 Jun 2014 12:05 PM PDT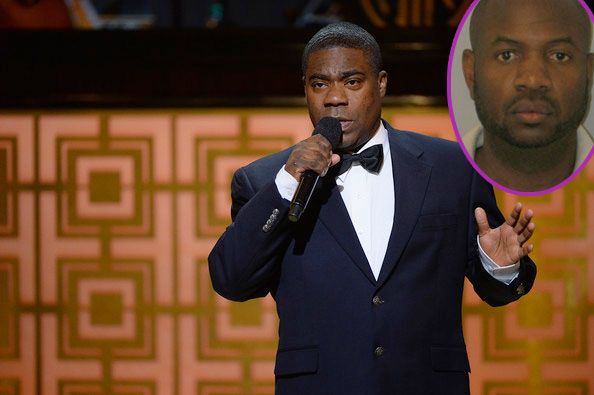 More details are emerging about the fatal car collision that landed Tracy Morgan in intensive care and claimed the life of Tracy's good friend Jimmy Mack. Find out the details surrounding the truck driver who caused the crash inside….
Former "30 Rock" actor/comedian Tracy Morgan was critically injured along with four others around 1AM Saturday morning after the limo bus they were traveling in overturned on the New Jersey Turnpike in Robbinsville. The fatal crash claimed the life of Tracy's good friend and writer James "Jimmy Mack" McNair.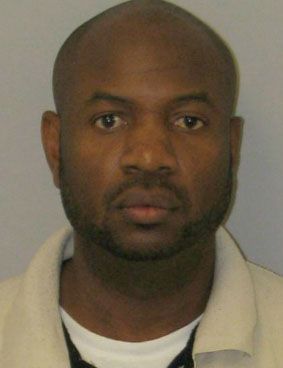 Kevin Roper of Jonesboro, Ga (above) is the Wal-Mart truck driver who allegedly caused the six-vehicle pile-up. He has been charged with vehicular homicide and revealed he had not slept in the 24 hours leading up to the crash. Police are investigating if the truck driver fell asleep at the wheel before slamming into the vehicle Tracy and six others were traveling in.
He allegedly tried to swerve to avoid hitting the limo (after coming up on stalled traffic) but wasn't successful and ended up hitting the limo bus. The impact caused the limo to lose control, slam into other cars and overturn.
According to a criminal complaint from the Cranbury Township Municipal Court,
"Roper allegedly commit[ted] vehicular homicide by operating a vehicle recklessly and caus[ing] the death of James McNair, specifically by operating a 2011 Peterbilt Truck ... on the New Jersey turnpike without having slept for a period in excess of 24 hours resulting in a motor vehicle accident in violation of NJS 2C 11-51, a crime of the second degree."
The driver turned himself in to authorities Saturday night and was released after posting $50,000 bond. He's set to appear before a judge Wednesday to answer to the charges filed against him.
Tracy is currently recovering after surgery for his injuries, following the deadly crash that took the life of his friend. He suffered a broken femur, broken nose and several broken ribs. Tracy's rep Lewis Kay released an update on the comedian's progress stating,
"We expect him to remain in the hospital for several weeks. His family is tremendously overwhelmed and appreciative of the outpouring of love and support from his fans," Kay said.
Two other passengers, Tracy's assistant Jeffrey Millea and fellow comedian Ardie Fuqua Jr. are still listed in intensive care at Robert Wood Johnson University Hospital. Tracy's friend/comedian Harris Stanton has since been treated and released.
The driver of the limo bus revealed chilling details of the moment right after the crash saying,
"I climbed around and heard Tracy screaming for help," said his driver, Tyrone Gale. "I climbed up on the body of the limo bus ... but I couldn't reach them."
Sad. Tracy and his team were traveling to NYC from a stand-up gig at the Dover Downs Hotel and Casino in Delaware on Friday.
We're keeping all of those involved in our prayers...
Photos: Getty/New Jersey State Police

WOMEN OF HIP HOP TAKE OVER DAYTIME: Nicki Minaj Premieres "Pills N Potions" Video Snippet On "LIVE With Kelly & Michael" + Mona Scott Young CO-HOSTS On "The View"
Posted: 09 Jun 2014 10:59 AM PDT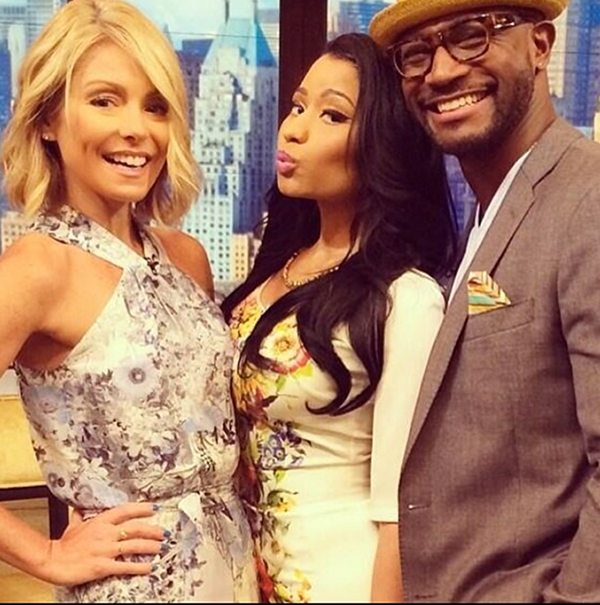 The ladies of Hip Hop took over daytime television this morning. Nicki Minaj sat down with Kelly Ripa and Taye Diggs (who was filling in for Michael Strahan) on "LIVE with Kelly & Michael" and "LAHH" creator Mona Scott Young was a co-host on "The View." See the hip hop divas on daytime TV inside…
With the release of her new single "Pills N Potions," Nicki Minaj stopped by the "LIVE! with Kelly and Michael" show to premiere a snippet for the visuals of the new track. Last week, Nicki hit up "Good Morning America" to reveal a sneak peek at the visuals and announced she would be premiering the full video after her appearance on "LIVE with Kelly and Michael"
Donning a Dolce & Gabbana crop top, matching pencil skirt and Versace sandals, the "Pills N Potions" rapper sat down with Kelly Ripa and Taye Diggs (who was filling in for Michael Strahan) to dish on the concept of her new track, the love she receives from her Barbz/fans, her love for West Indian food and she gave out sample smells of her signature fragrance, spraying the audience with Minajesty.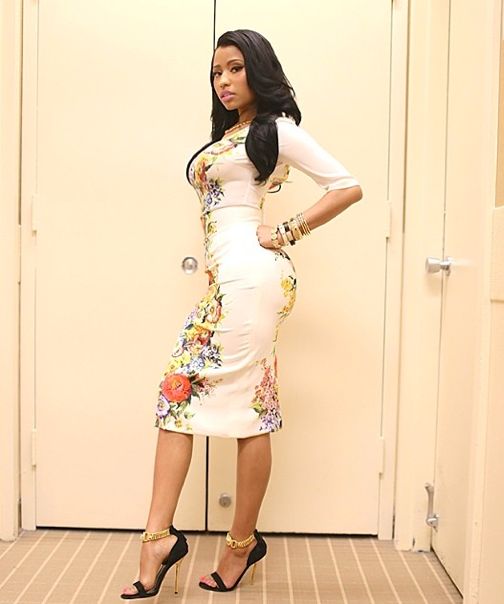 When asked about the concept behind her new lush ballad, Nicki said,
"And what that felt like to me was forgiveness. Just understanding that everybody gets mad but when you love somebody I feel like you'll always love them. I don't feel like there's ever been a person that I loved that I no longer love. I just may not be able to live with you or have you in my life and that's really what the song is about. The video is dropping today on VEVO. I'm thinking about 8pm eastern standard time."
Hmm…wonder if this song was written for her "boo" SB?
Check it:
Stay tuned for Nicki's "Pills N Potions" premiere later today.
And on another daytime talkshow….
"Love & Hip Hop" creator Mona Scott Young was in the hot seat this morning as she co-hosted "The View" with Whoopi Goldberg, Sherry Shepherd and Jenny McCarthy.
Sherry went right in to grill the reality TV show guru about the violence that is shown on the reality shows she creates. When asked about the violence between the women on "LAHH" Mona responded that reality TV is a guilty pleasure for many and the drama is what we like to see so that's what is shown. She said the women on the show are navigating a specific world, which has led them to be who they are and how they react to certain situations and that's what we see on television.
Mona is currently in the midst of new controversy after a pilot video for a new reality show "Sorority Sisters" hit the net. Black greeks are up-in-arms over the show and have started a petition to keep the show from seeing the light of day. Peep the petition here.
FUN FACTS we learned about Mona:
1. She is married and has been married for almost 10 years.
2. Her husband is a stay at home dad.
3. She has two children, a 16-year-old son and an 11-year-old daughter
4. She's Haitian

Photos: Nicki's IG/Mona's Twitter
JUST BORN: Lil Kim Gives BIRTH To Daughter Royal Reign
Posted: 09 Jun 2014 10:58 AM PDT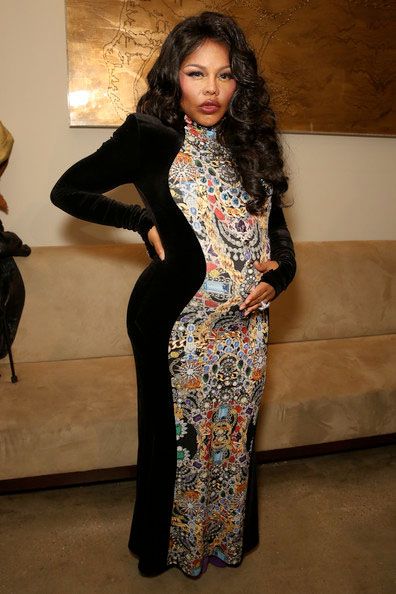 Lil Kim is now a mommy! Her baby girl made her royal debut this morning. Get the deets inside…
The princess has arrived! Lil Kim birthed a healthy baby girl at 9:58AM this morning in New Jersey. The brand new mom named her daughter Royal Reign and she weighed in at 6lbs 5oz.
Kim shocked us all after popping up good and pregnant (above) at the Blondes show during Fashion Week back in February.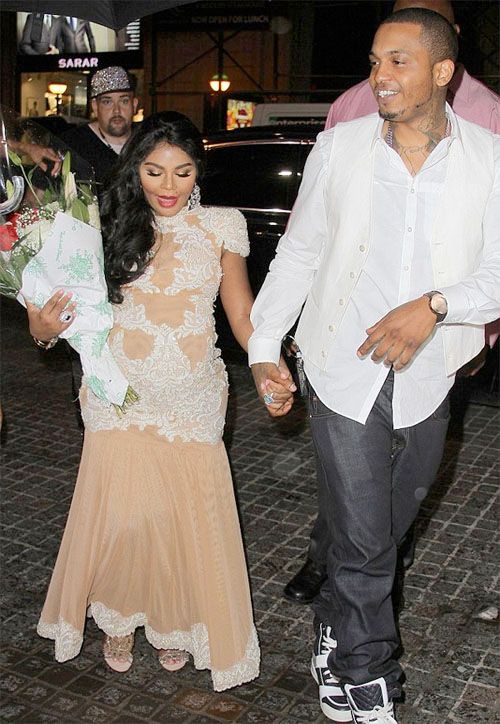 Kimmy kept quiet on who her child's father was but her on-again/off-again boy toy Mr. Papers revealed he was Kim's sperm donor soon after Kim revealed her baby bump.
He was spotted right by the Queen Bee's side during her royal baby shower thrown by WeTV's "My Fair Wedding" host David Tutera in NYC. He also dished on how Kimmy was holding up during her pregnancy and revealed he wants to marry his daughter's mother in the near future.
Royal Reign is the raptress' first baby.
Congrats to the couple!
Photos: Getty/Splash
"Notorious" Star Jamal Woolard BUSTED For Domestic Dispute, TURNED In By Stepson + Columbus Short CRACKS "OJ Simpson" Joke About Upcoming Domestic Abuse Case
Posted: 09 Jun 2014 10:41 AM PDT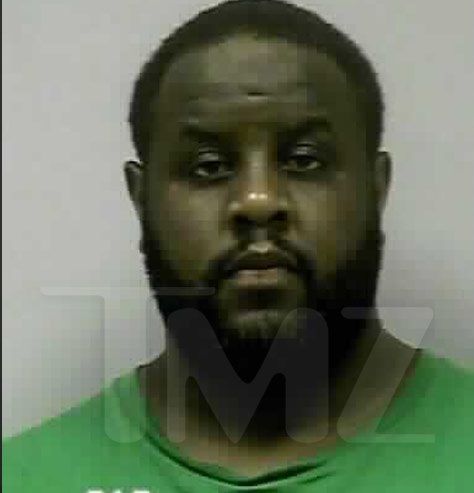 Jamal Woolard, who played Biggie Smalls in the "Notorious" movie, was busted for an alleged domestic dispute. Find out who called the cops inside and watch Columbus Short make an inappropriate joke about domestic violence.
38-year-old Jamal Woolard, best known for playing Biggie Smalls in the Notorious film was arrested over the weekend after his stepson reported an alleged domestic violence incident.
The -ish went down Saturday in Gwinnett County, GA when police responded to Jamal's 15-year-old stepson making a call to the cops saying, "Dad hit Mom." TMZ reports that Jamal's wife asked her son to make the call.
Jamal was booked for battery, cruelty to children, and simple assault. We will keep you posted as this story develops.

In other legal drama....
Sigh....Columbus Short is all kinds of "inappropriate." The brother was spotted walking out of LAX yesterday when he was stopped about asked about his pending domestic abuse case. So what did Columbus do? He made an OJ Simpson joke. We're not kidding!
Maybe it was his attempt at making "light" of a serious situation...but c'mon Columbus! When the cameraman asked if he ever hoped to return to "Scandal", you could see the sadness in his eyes. On one hand you feel sorry for him....then you remember how violent he can get. SMH....
Photo via TMZ
LADIES NIGHT: Tiny, Tamar, Toya & Miss Mykie POP CORKS At Buckhead Bottle Bar + Tamar Braxton Covers UPSCALE Magazine, Admits Her Mouth Gets Her In Trouble
Posted: 09 Jun 2014 09:44 AM PDT
It was ladies night at Atlanta's Buckhead Bottle Bar with Tamar, Toya, Tiny and Miss Mykie sipping bubbly and having fun. See pics inside and highlights from Tamar's UPSCALE interview.
So......Tiny is back in Atlanta. Thank God. She partied with a a few of her girls at Atlanta's Buckhead Bottle Bar over the weekend and thankfully she didn't pose with anyone other than her girls. No need for TI to be upset...this time.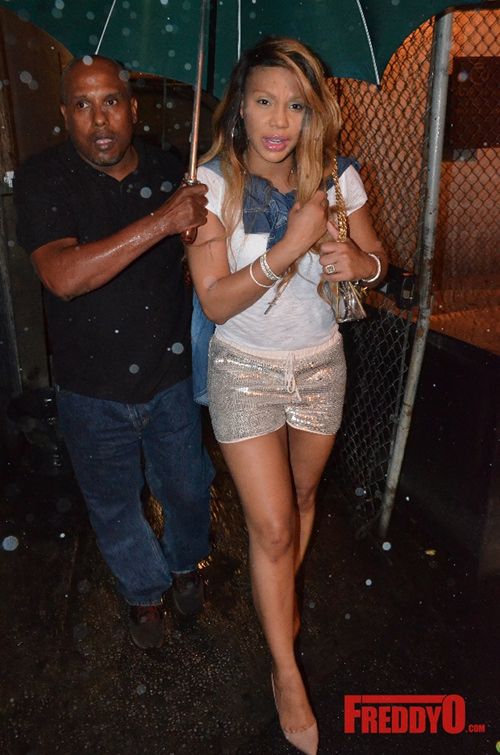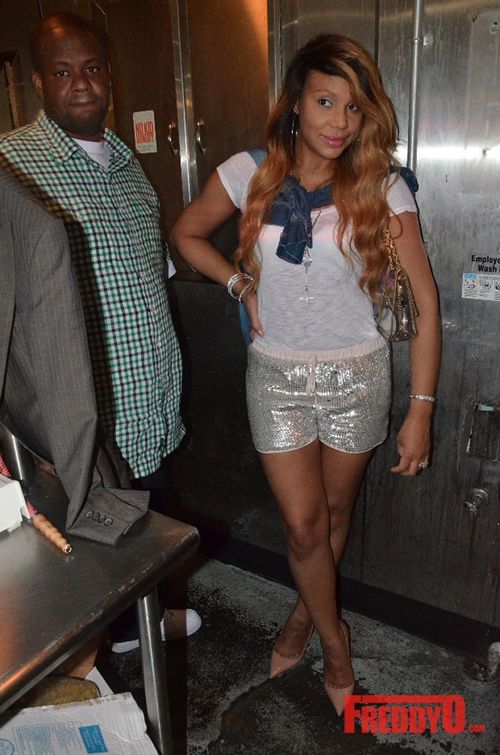 The weather was NASTY but that didn't stop the girls from hopping under umbrellas and heading out to the club. Luckily...nobody's weave got wet.
Inside....
The girls turned all the way up. They posed for pics, drank lots of bubbly and enjoyed each other's company.
Tamar brought hubby Vince along and they sipped on Rose.
And Apollo Nida isn't letting a possible prison sentence stop him from partying. Umm.....wouldn't his time be better spent at home with his sons? Just sayin....
In Magazines....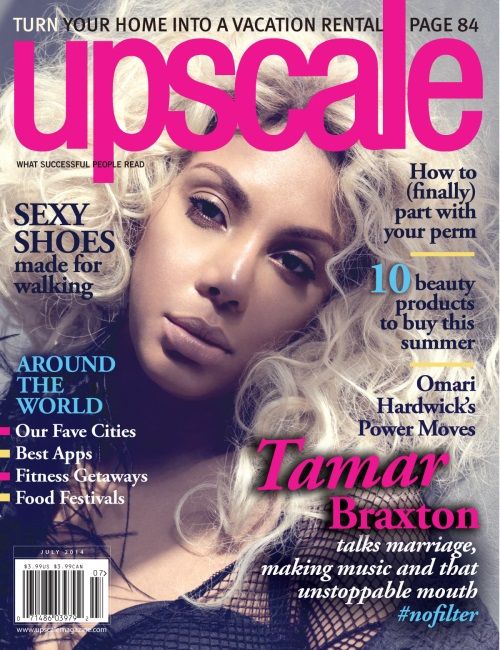 Tamar Braxton covers the July 2014 issue of UPSCALE Magazine where she provides an intimate look at her relationship with Vince, admits that she "pops off" too often and discusses how she comes across on social media. Here are the highlights:
Relationship w/ Vince:
I don't think the level of exposure changed my relationship with Vince, I think the work that we do together changed our relationship. It went from me supporting Vince and all the things that he was doing to it switching around. He supports me and everything that I'm doing. It's like our relationship has taken a turn because communicate because we have to. We have to get along or else we couldn't get anything done. The level of respect for each other has increased and also, we've grown up because of it. The maturity of the relationship has matured. I know I've matured. Now he's a father, I'm a mother. We don't have time for that.
On social media:
Everything I post is not personal for me, let's just go there. One of my post I call "Instagram psychics," everybody thinks they know what the hell you're talking about. There was a week where there was a lot of side chick posts on Instagram, and I was saying this is a repost—I don't know how that turned into the blogs saying that Vince is cheating on Tamar. I don't play with that, [laughing]. I just thought it was interesting that [being a side chick is] something that people are proud of these days. I wrote about this in my book, being a side piece, sometimes you don't know. But when you do know, you shouldn't be proud of it. If you're 100 percent woman, you should be loved 100 percent. One of [the posts] that worked on my last everlasting nerve said, "I can't help it if he chooses to be with me more than you." Excuse me!? And that's what I was saying, this is when you can tell that you're not somebody's wife because that should bother you. Why should it not bother you that this man gets up and leaves you to go home? Wait a minute, you have to want more than this. I just wanted women to know that and it somehow became Vince cheating on me, which was sad.
On her mouth getting her in trouble:
"Watching yourself on television it's like, wait a minute! I didn't mean it like that! It took me a long time to understand that just because somebody is talking about something around me or to me does not mean that they want me to always talk or have something to say or want my opinion…"

Photos via FreddyO.com/Upscale