---
YBF KIDS: Christopher Wallace Jr. GRADUATES From High School + Diddy Has Daddy-Daughter Soccer Day With His Girls
Posted: 02 Jun 2014 07:59 AM PDT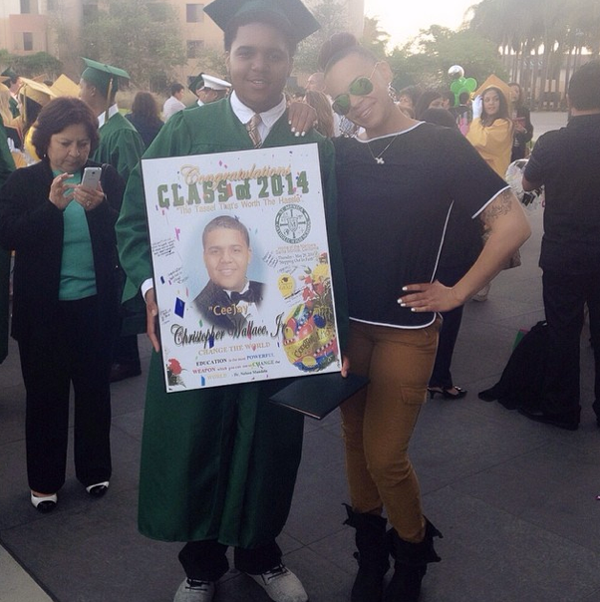 Former "R&B Divas" starlet Faith Evans was beaming after her first-born son Christopher Wallace Jr. (son of the late Notorious B.I.G.) walked across the stage to accept his high school diploma. Peep his graduation pics and also a cute pic of Diddy and his girls dressed in their soccer gear inside….
We're sure the late Notorious B.I.G. is all smiles right now. His son with R&B singer Faith Evans trekked across the stage to accept his high school diploma from Santa Margarita Catholic High School this weekend. C.J. was only one-year-old when his father was gunned down in L.A. in a drive-by shooting in 1997.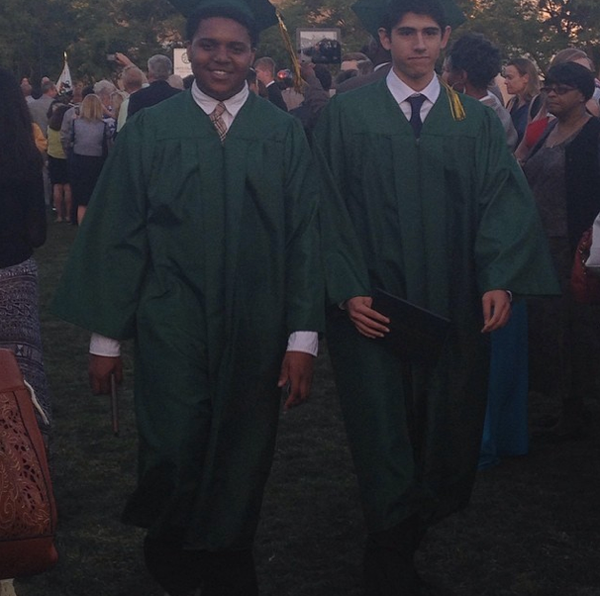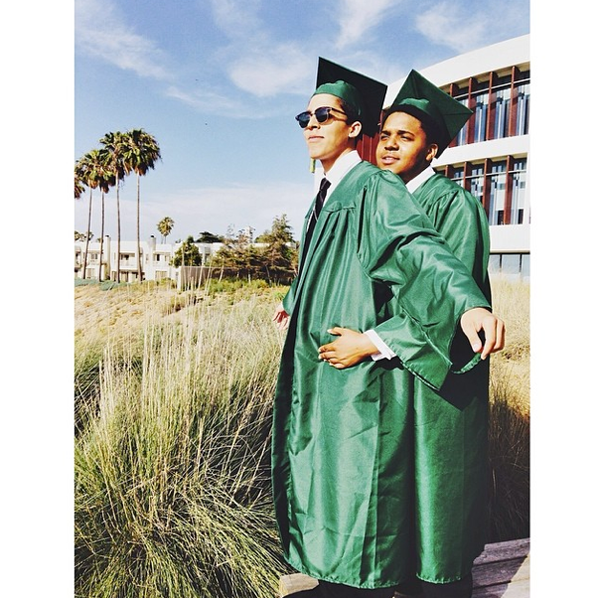 Christopher Wallace Jr. aka CJ smiled his way through his graduation ceremony as his mother and family looked on. The proud mom of the 2014 graduate tweeted, "My first born son @cj_toa & I #proud"
CJ was also very proud of his accomplishment tweeting, "yung boi made it" Nice. CJ is currently following in his father's footsteps, creating his own music.
Congrats CJ!
And Biggie's right hand man was all about family this weekend....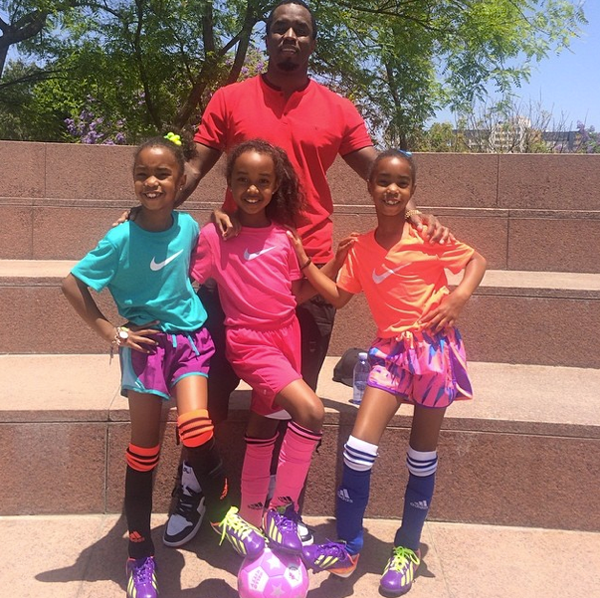 Diddy enjoyed a daddy-daughter filled weekend with his girls D'Lila, Jessie and Chance.
Diddy and his daughters played a little soccer for a funday Sunday. Decked out in their knee high socks and colorful soccer cleats, the girls posed it up alongside their dad for a day out in the field. Puff captioned, "Getting the girls ready for the world cup. Daddy time. Fun day Sunday."
And on Saturday, he enjoyed the company of his three leading ladies. He captioned, "I'm the luckiest man in the. World' thank You GOD!!! And @ladykp and @callmepumpkin I lovey family :)"
Love when daddies spend time with their daughters!
Photos: Faith Evan's IG/CJ's Twitter/Diddy's IG
SPOTTED: Prince ATTENDED The French Open...With A BEDAZZLED Scepter!
Posted: 02 Jun 2014 07:19 AM PDT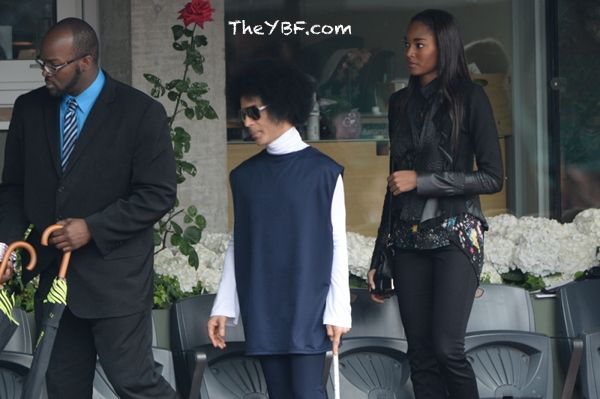 High Royal Highness of Funk, Prince Rogers Nelson, was spotted at the French Open with his bedazzled scepter today. See the candids inside...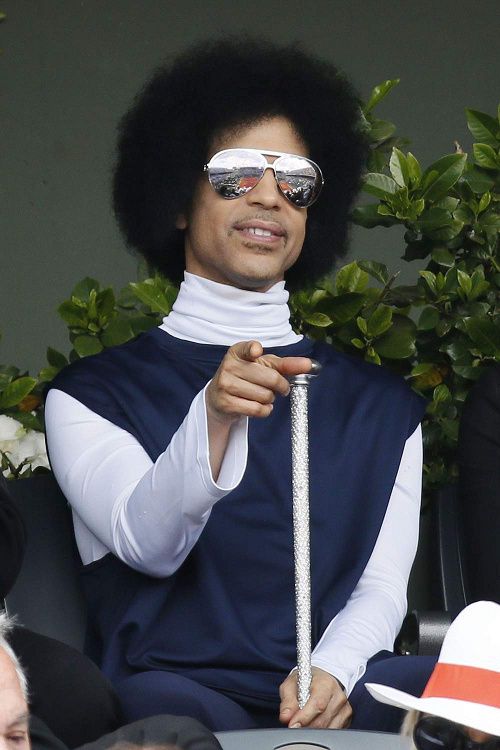 Prince (with his royal scepter) was among the spectators at the Roland Garros French Tennis Open in Paris today.
He and his group of fashionable companions (which included his muse Damaris Lewis) were there to watch Rafael Nadal's fourth-round match against Dusan Lajovic. Prince is a huge fan of Rafael and even invited him to his concert last night.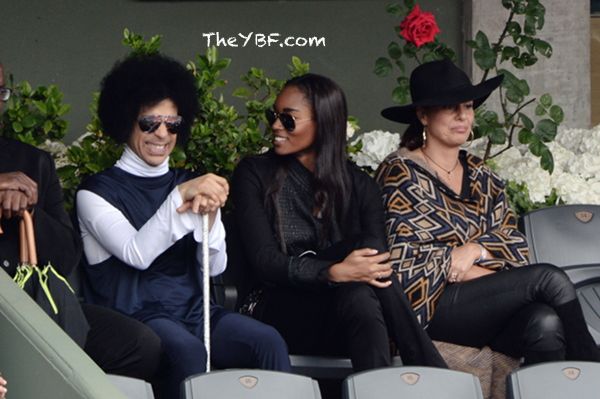 Damaris is clearly able to tap into Prince's playful side. The cameras caught him chuckling and smiling at one of her jokes.
Prince, who's currently on tour in Europe, will play the Essence Fest on Friday, July 4th with Janelle Monae.
BONUS:
As his muse, Damaris is often backstage with Prince during those quiet moments before he hits the stage. She posted this pic on Instagram, shortly before his concert in Paris last night. She captioned, "Selfies before the funk. #PrinceAndDamarisTakeParis". SIDEBAR: Prince does his OWN makeup?!
Photos via INF/Getty/Damaris' Instagram

REALLY? Donald Sterling ATTENDED A Black Church In South Los Angeles + V. Stiviano ATTACKED Outside A New York Hotel
Posted: 02 Jun 2014 05:52 AM PDT
The Donald Sterling/V. Stiviano saga continues. Over the weekend, Donald went to a black church on the southside of LA while V. was attacked by two men in New York. More inside...
Yesterday, the Holy Spirit summoned Donald Sterling to worship with the Blacks. The vilified owner of the LA Clippers was greeted by a gospel choir as he walked into Praises of Zion Baptist Church on San Pedro Street in South Los Angeles. He's been invited by senior pastor, Dr. J. Benjamin Hardwick, who met him two weeks ago and invited him to worship.
"I'm here to support this wonderful group," Donald told NBC4. While sources say Donald was mobbed for pictures after the service, some members of the congregation were disgusted by his presence. One member said, "I feel sorry for him because, first of all, he's a slum landlord. And second of all, I don't think he really cares for people as he should."
We're not sure if Mr. Sterling plans to attend the church next week, but he did tell NBC4 that the service was "fabulous."
In related news, V. Stiviano was reportedly attacked by two men in New York City last night outside of the Gansevoort Hotel. Her lawyer, Mac Nehoray, told the NY Post, two men "punched her on the right side of her face several times."
According to Page Six, V. was exiting the hotel when she and her group of friends became involved in an argument with another group. Nicholas Pietro, manager of the Chester restaurant in the Gansevoort, told Page Six that a customer witnessed a woman being hit in the face.
"One of the patrons who saw the whole thing said they saw one guy punch her in the face out nowhere," he said. "So they got into a tussle and she tried to get away. Some people tried to break up the fight. One of the guys who was trying to beat her up ended up really bloody."
Surprisingly, no charges were filed and NYPD officials said, "As of now this has no legs." V. is reportedly in NYC to appear on Anderson Cooper's CNN show. We're sure he'll get the tea about the fight.
Photo via Ronald Martinez/Getty Images
FREE AGAIN: Chris Brown RELEASED From Jail!
Posted: 02 Jun 2014 05:11 AM PDT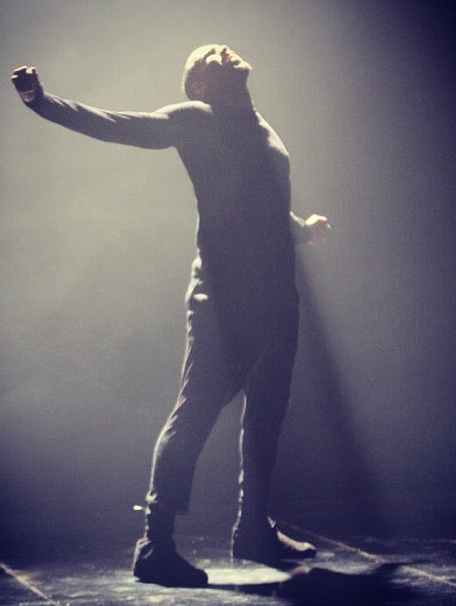 Chris Brown received his "Get Out Of Jail" card this morning. Find out more about the release inside....
Having served 108 days in a Los Angeles county jail, Chris Brown was released at 12:01am, according to Los Angeles Sheriff's deputy Tony Moore.
You'll recall that the "Loyal" singer was locked up a few months ago after a judge ruled that he'd violated his probation in the Rihanna case when he got kicked out of rehab. Then on May 9th, while still in custody, Superior Court Judge James R. Brandlin sentenced Chris to an additional 131 days stemming from an assault outside of a Washington, DC hotel last year.
Although he could have spent a year behind bars, this morning's release came because the judge gave Chris credit for nearly eight months - thanks to his time spent in rehab, as well as credits for good behavior while behind bars.
Now that he's "free", Breezy has 800 hours of community service left to do (from the Rihanna incident) and still has his D.C. assault trial looming. That should begin in the next few months.
Since his release, Chris tweeted:
Welcome back Chris. Behave yourself!
Photos via Chris Brown's Instagram
CAUGHT ON VIDEO: Baller Brandon Jennings Attempts To Pass Suspicious Pill To Nick Young At Party?!
Posted: 02 Jun 2014 03:34 AM PDT
We're not sure what was REALLY going on here, but video footage doesn't lie. And it indeed seems Detroit Pistons Baller Brandon Jennings was caught passing on a suspicous pill to his fellow NBA homie Nick Young (both pictured above at the party). Well, at least attempting to.
Get the video and pics inside...
While this video is getting snatched down left and right (The Game also posted it but quickly removed once he realized what was in it), we've got it for now.
Saturday at the ToXic Day Party in L.A., Brandon Jennings, Tae Heckard's man, and Iggy Azelea's man Nick Young were spotted near the DJ booth while rapper Drake did a set. Somebody in the crew whipped out their camera and caught Brandon trying to pass some pill to the Lakers star. Nick seemed to wave it off with a smile. But....what IS that suspicious pill anyway?
We haven't confirmed whether it was Molly or another drug of some type or Tylenol?, but folks all around the net are pretty convinced it was Molly. Check it for yourselves below before this vid gets snatched as well:
Also at the party: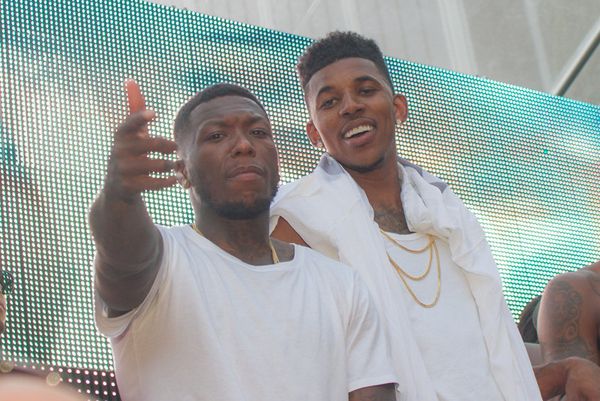 Nick was also celebrating his birthday as he partied it up with Nate Robinson. Swaggy P turned 29 on Sunday, but couldn't celebrate with his boo Iggy Azalea just yet as she was performing across the country at Hot 97's Summer Jam.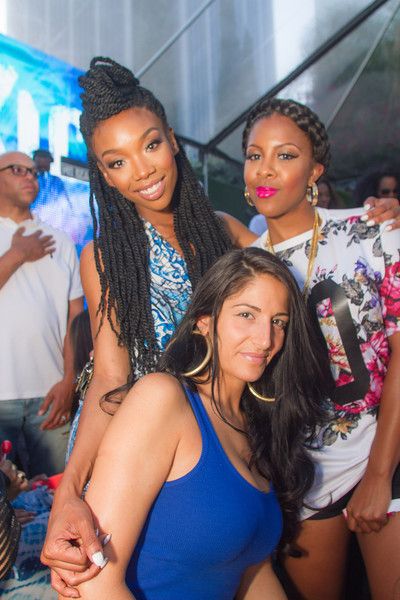 Brandy posed it up looking pretty with Miss Diddy LA, who is currently shooting "Love & Hip Hop Hollywood".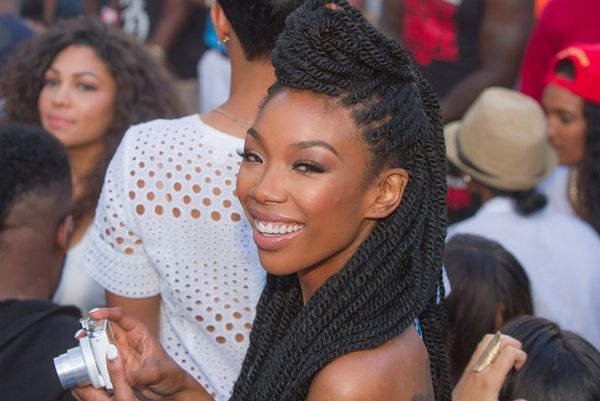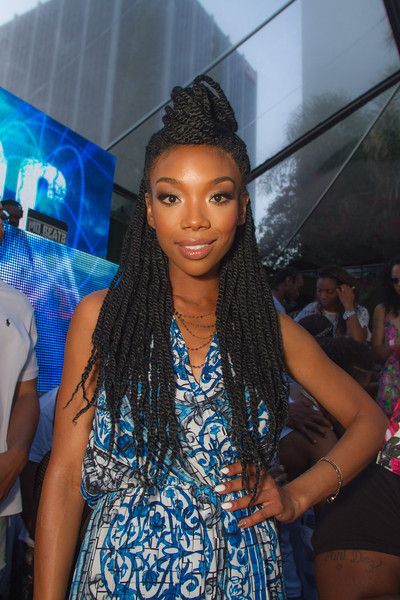 Pretty look for B Rocka.
And it looks like she got to link up with former "The Game" co-star Tae Heckard: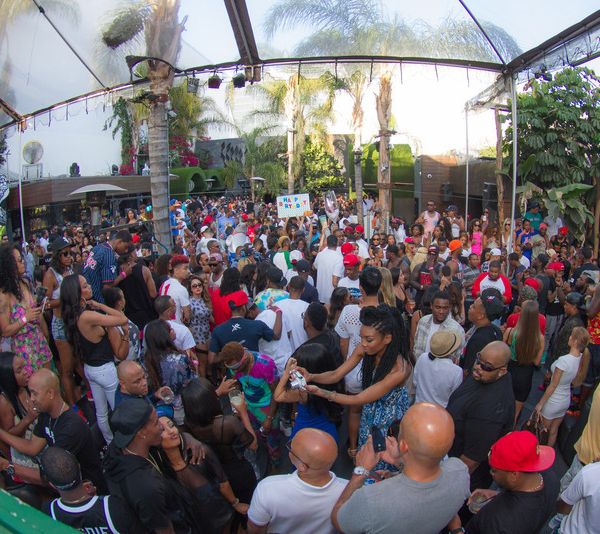 Cute.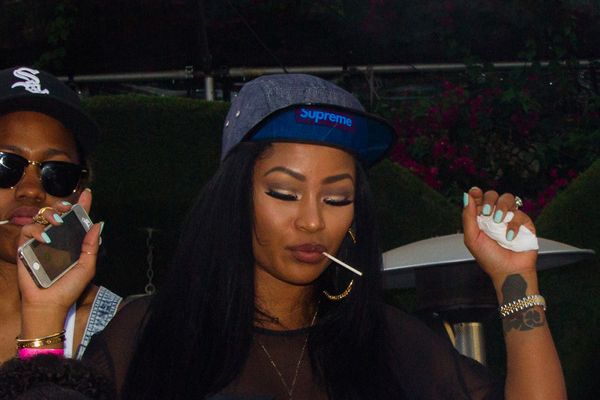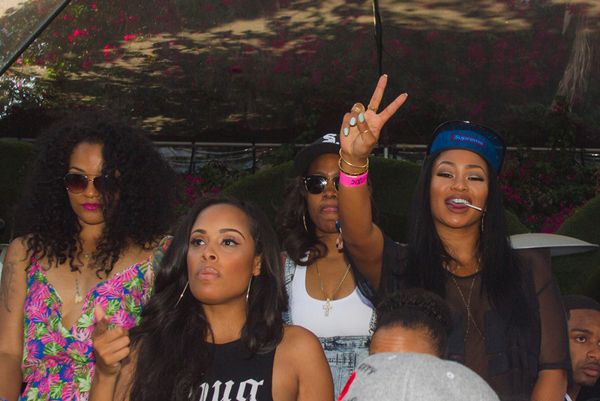 Drake kicked it with the homie The Game and DeRay Davis: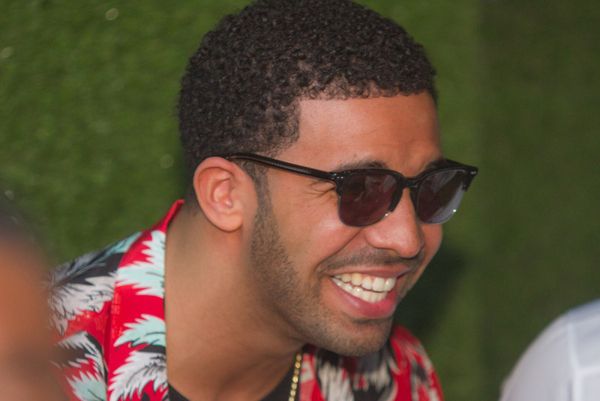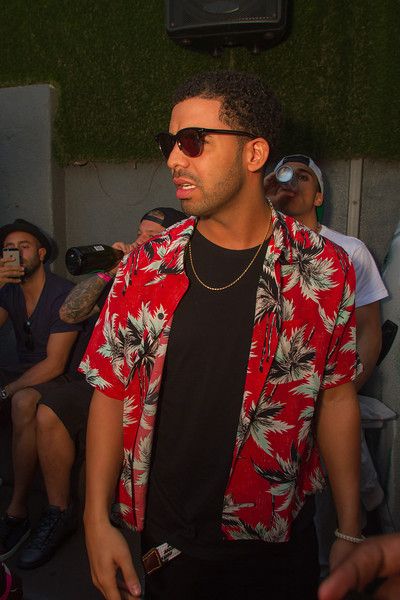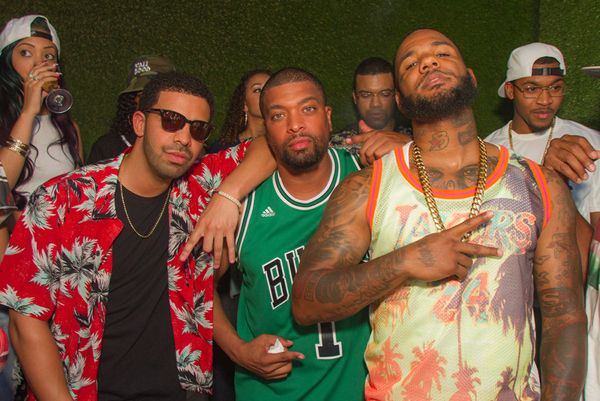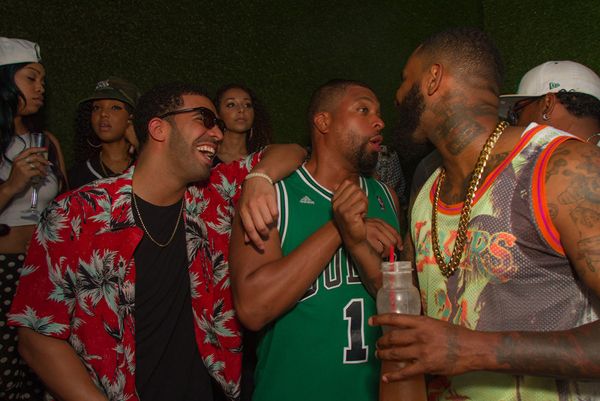 And hit the 1s and 2s for a set.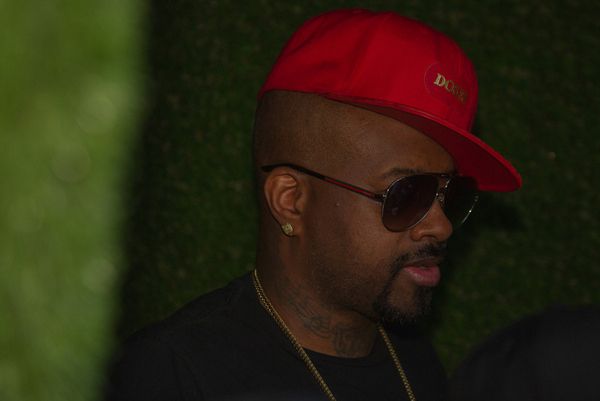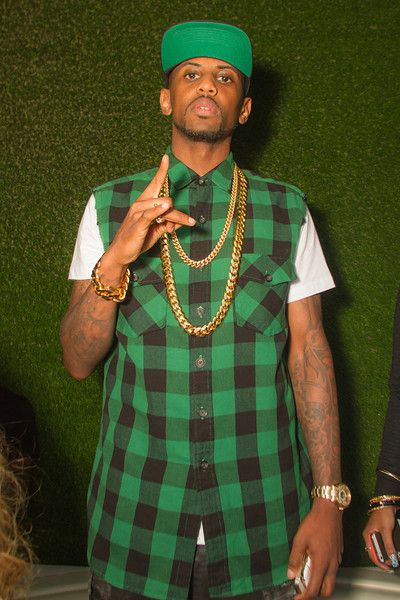 And J.D., James Harden and Fabolous also partied it up.
Photo Cred: Rudy & Adrien for Bartabz/LAs Finest, Video: @lonz1021's IG
FOOLYWANG MATERIAL: Fight Breaks Out On Summer Jam 2014 Stage...DURING 50's PERFORMANCE (VIDEO)
Posted: 01 Jun 2014 10:51 PM PDT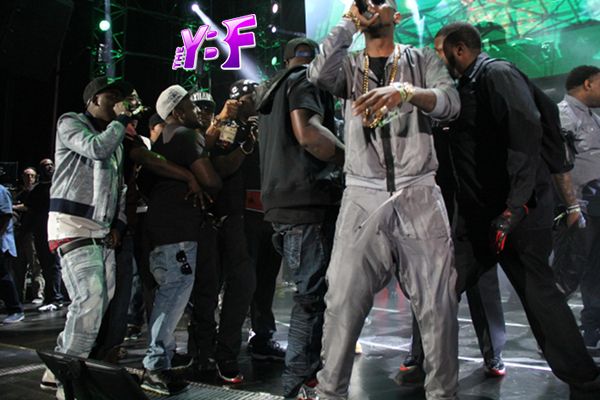 Drama at Hot 97's Summer Jam! Again. Get the deets and rumors about the fight that went down during 50's big performance...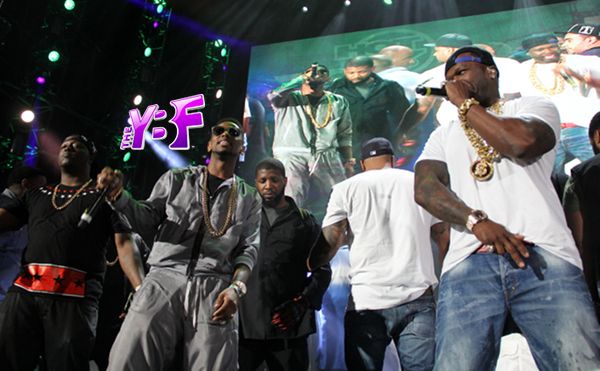 50 Cent had Hot 97's Summer Jam 2014 on fire at MetLife Stadium in New Jersey Sunday night (pictured above backstage) with a G-Unit reunion plus Nas, Fabolous and more. And the rapper, who's coincidentally set to drop his album Animal Ambition on Tuesday, kept it straight gutter.
Once 50 brought out Fab to debut their remix of "Cuffin' Season", ish went down on stage. You probably couldn't tell even if you were there on the scene (like us) or watching the live stream, because 100 dudes were on the stage at that time. But our own sources on the scene tell us that in the midst of mad people being on stage, a fight was going down in the background.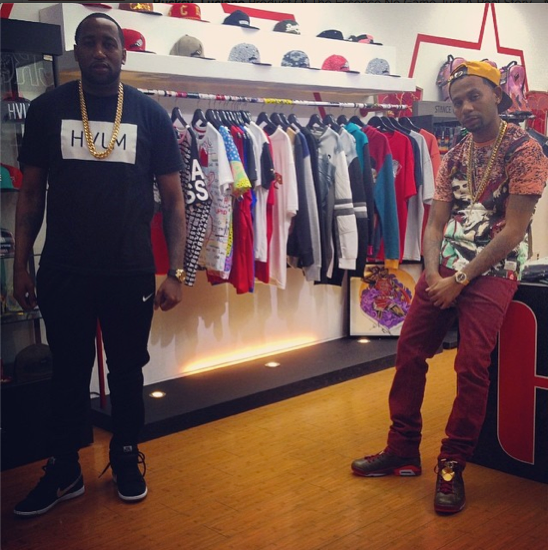 Now here's where details get sketchy. Unconfirmed rumors are circulating that 50's crew allegedly beat up Slowbucks (pictured above). Slowbucks is a duo, so it's unclear as to whether one, both or either were beat up. Apparently, the fight went down ON STAGE...while Fab was on the mic. 50 kept performing during the scuffle.
Here's video thanks to RealTalkNY:
You can see one half of Slowbucks (dude in the black tee and gold chain and goatee in the vid) walking up to the front and getting hugs from everyone. But then ish seems to go south when he gets surrounded and you see a scuffle go down. Smells like a setup.
One half of the duo, on the left in the above pic, who actually goes by Slowbucks on IG, says on his profile he's "co-owner of Slowbucks Viral Wear and Lifestyle Brand Curator & Strategist A&R for Epic's SBOE".
Dude's partner is rapper Bucksy Luciano (above right). And the twosome have been running pretty hard with rappers like Nas (who was also on stage during the fight), Dipset and Meek Mill.
Word also has it 50 supposedly got a hold of one of their chains and rocked it during his set (we see multiple chains on Fif with one that could very possibly be from the pic above).
Here's a (very) possible reason 50's crew may have hemmed up Slowbucks on stage. We all know the drama that popped off between 50 and rapper Trav during Meek Mill's performance at the Mixshow Live Summit in Atlanta last year. Meek had to break it up and stop the two from going at it.
Fast forward to this past April at SOB's.
Trav, Slow Bucks, Bucksy Luciano snapped a picture with Marquise, 50's son. With a middle finger up. The origin of the beef between Trav (and now Slowbucks) and 50 is unknown, but we ALL know the hoopla surrounding the relationship between Curtis Jackson and his son. 50 apparently didn't take kindly to his enemies fraternizing with his youngin'. So he commented on the picture with a not-so-subtle warning that said, "This picture was a Bad idea."
Slowbucks removed the pic. But it's still up on Trav's page.
As for why Slowbucks thought it would be a good idea to trek his ass on to the Summer Jam stage Sunday night...during 50's set...as if everything was peachy keen is beyond us.
50 said more than once while on stage, "I like this hood sh*t. I like this ghetto sh*t." And ghetto and hood it was.
Everything ended when the crews (those who WEREN'T actually rapping) were taken off stage. And eventually, 50's mic got cut off because he was going over time.
Stay tuned. Pics and more deets to follow....
Photos: Slowbucks' Instagram/Michael Freeny's FB/DDotOmen/HipHopNMore/Rodney gibson

Serena Williams PHOTOBOMBS A Wedding On South Beach In Her LEOPARD Swimsuit!
Posted: 01 Jun 2014 10:49 AM PDT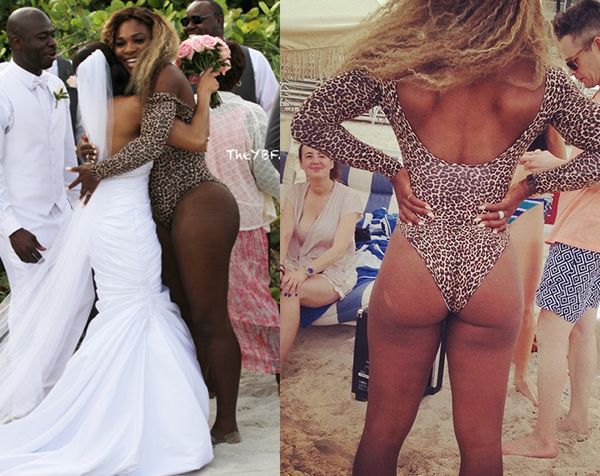 Serena Williams hit South Beach in a leopard-print leotard and crashed a couple's wedding this weekend. See pics inside....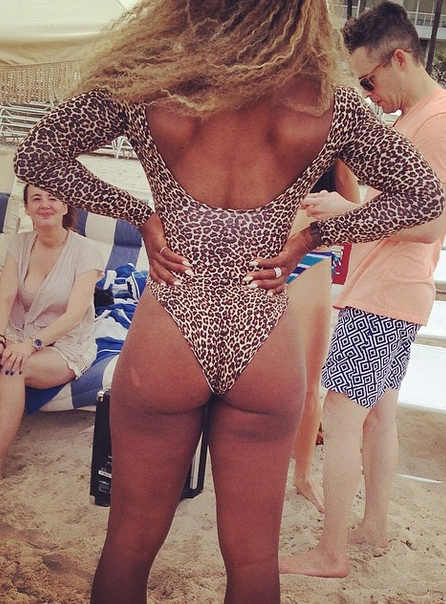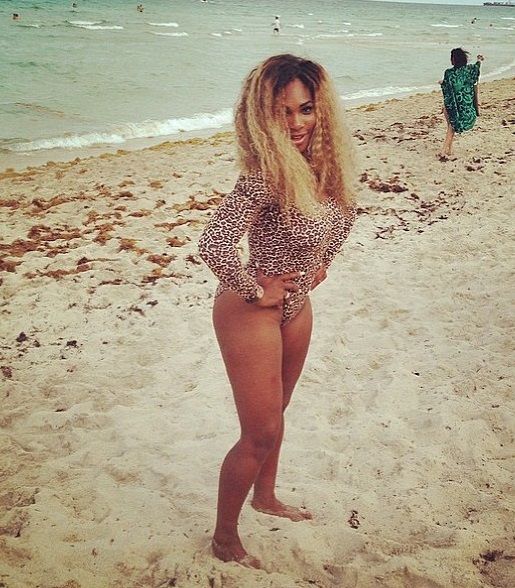 Serena Williams stopped traffic on South Beach with her animal-print swimsuit. She tweeted, "Leotard is the new bikini."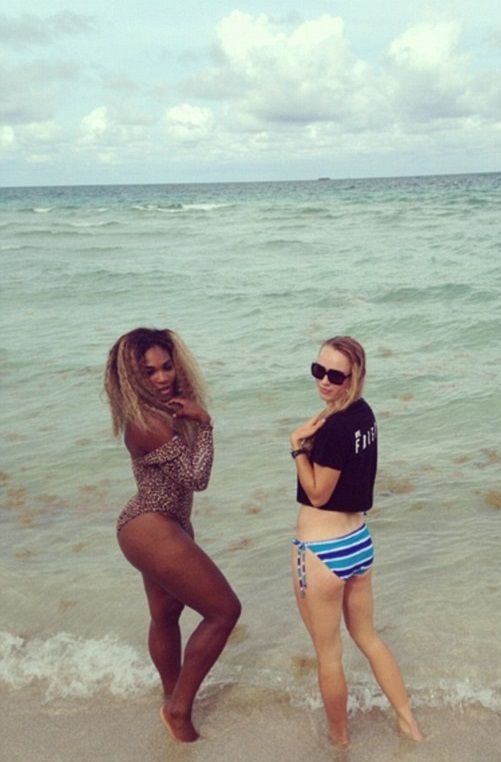 The trip to South Beach was great for Serena, allowing her to put the French Open behind her (she lost in the second round). She was accompanied by BFF and fellow tennis star, Caroline Wozniacki.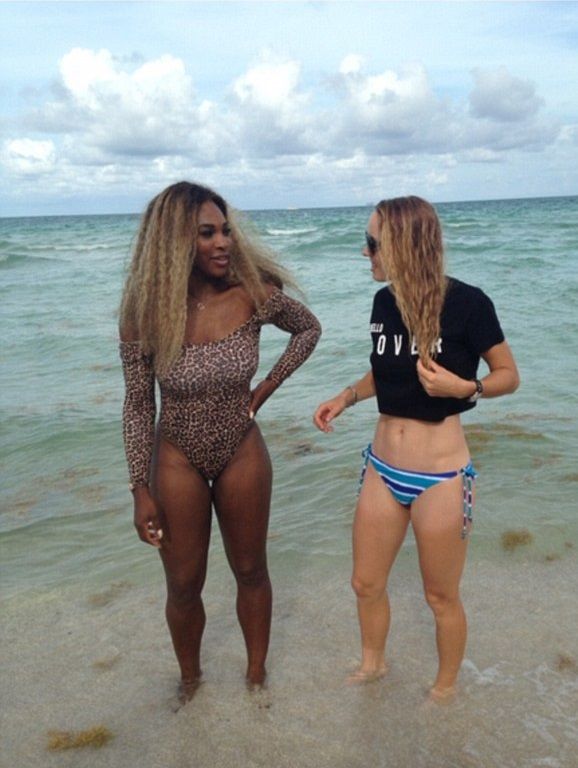 The ladies also watched the Heat defeat the Pacers in the NBA finals.
Serena's cute dog made an appearance.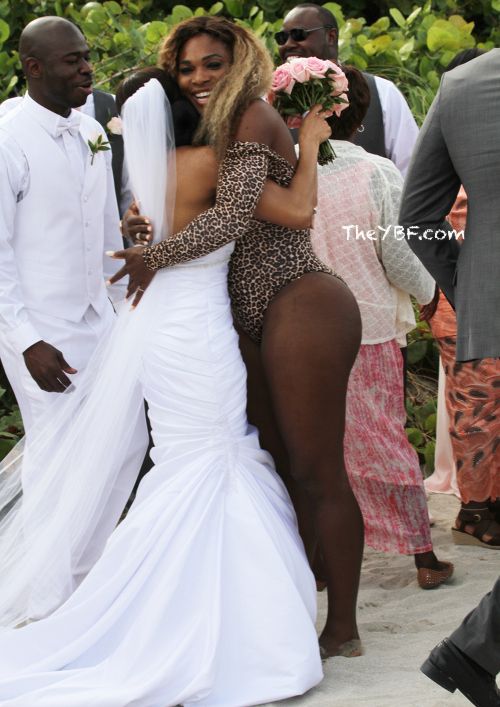 And we're not sure how this happened, but Serena stumbled upon someone's wedding. Don't worry....they were happy to see her.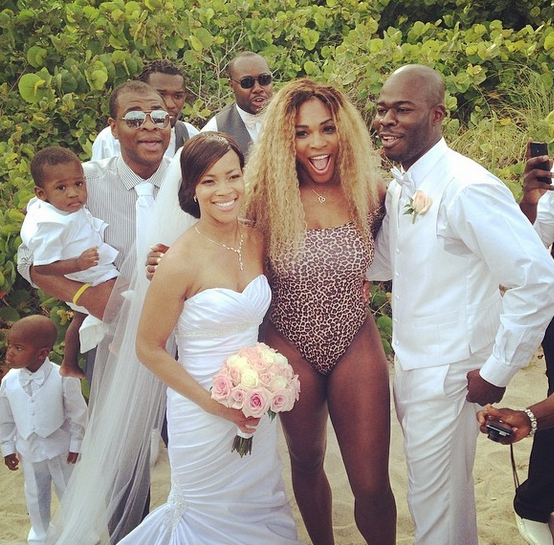 The bride, groom and other wedding guests all posed for pics. Serena tweeted, "Bikini wedding crasher!"
Cute!
Photos via Serena's Instagram/Serena's Twitter/Pichichi/Splash
FRENCH KISSIN' In The Czech Republic: Kanye And Kim Play Tongue Hockey & Dress Alike At A Friend's Wedding
Posted: 01 Jun 2014 09:27 AM PDT
Kanye & Kim were spotted playing "I Declare War" witht heir tongues instead of their thumbs yesterday at Ye's stylist's wedding. See their candids inside...
Following wedding celebrations in Paris and Florence and their honeymoon in Ireland, Kim and Kanye headed to the Ploskovice Castle in the Czech Republic where Ye's stylist, Renelou Padora, got married. Castles and fortresses for everyone! (Apparently.)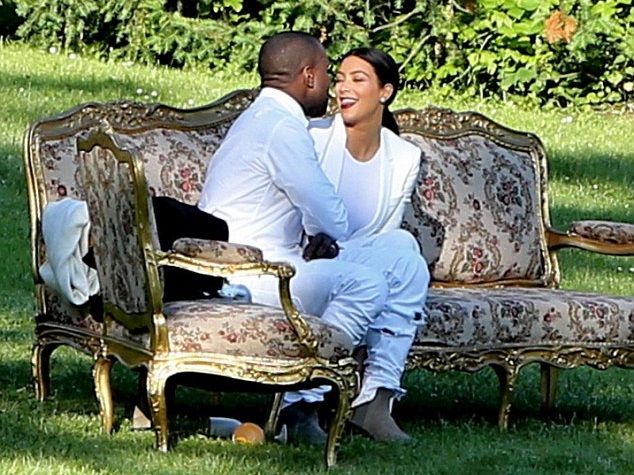 The newlyweds have been in Prague all weekend for the nuptials and their travels are getting the best of Kim. She let out a huge yawn in between laughs with her hubby. You know, because of the super hard life they've been leading trotting around the gorgeous Euro-lands lately.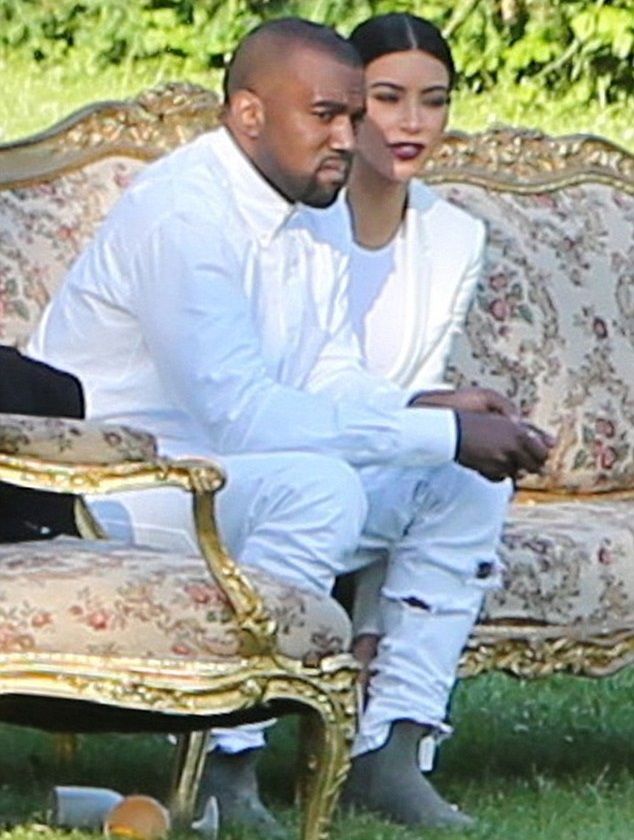 Kanye's next stop is Austin, Texas where he'll be headlining at the 2014 Summer X Games on June 7th.
The Randomness:
1. A newly released tape shows a 15-year-old Justin Bieber using the phrase "Run N*gger" while telling a joke. Story.
2. V. Stiviano makes rude comments about "Blacks" on reality tv show pilot. Story.
Photos via Pacific Coast News