---
SNEAK PEEK: Beyonce, Kelly Rowland and Michelle Williams In First Pic From "Say Yes" Video + Michelle Dishes On Secret Video Shoot & Working With Destiny's Child Again
Posted: 04 Jun 2014 08:41 AM PDT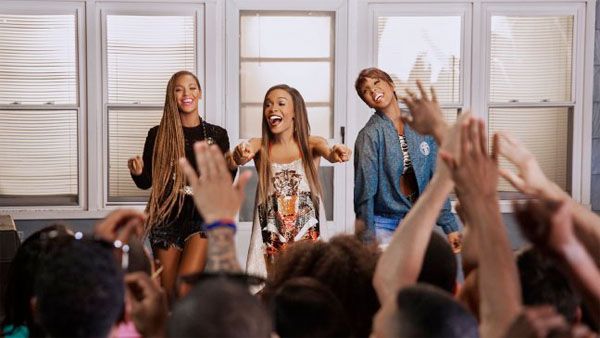 After Beyonce, Michelle Williams and Kelly Rowland tried to secretly film Michelle's "Say Yes" video in New Jersey last month, Destiny's Child fans totally lost it once the word got out that they were filming. Now, a brand new picture from the video set has been released. Peep the pic and find out what Michelle had to say about the making of the video inside….
A Destiny's Child reunion went down a few weeks ago when Beyonce, Michelle, Kelly and Solange met up in Maplewood, New Jersey to film the visuals for Michelle's new single "Say Yes."
The foursome filmed the video inside someone's house in New Jersey and Michelle believes the secret got out after the owner likely got excited and called up family and friends to let them in on the secret filming. Soon after, a huge crowd gathered outside of the residence, which resulted in hundreds of people screaming their heads off once they spotted Bey making an exit to her black SUV.
Now…the first sneak peek of the video has been released and Michelle is dishing on the deets on what happened that night in NJ.
In an interview with the Hollywood Reporter Michelle detailed how the crowd outside of the set came about, her feelings about her first single "Say Yes" leaking, her upcoming gospel album Journey to Freedom (dropping in September) and she also dished on her cancelled Jesus Christ Superstar arena tour.
Here are the highlights:
On how fans found out about the secret filming of the video "Say Yes":
"We heard all this commotion going on while we were filming. We filmed at somebody's house and they probably got excited and called their cousins and friends and, next thing you know, the whole town was on one street. ... I woke up to the news of the song being leaked and I just hate when that happens because it was an unmastered version. At the same time, I was overwhelmed by the support. I know things happen for a reason. I don't want anyone to think I'm pissed. I'm not."

On reuniting with her Destiny's Child bandmates:
"It was so much fun," says Williams. "It was like we were little kids again. I have their back and they have mine. They have showed themselves to be loyal to me time after time. They have proven they are my sisters time and time again."

On the Harmony Samuels produced track:
"It is a song that came from Africa more than a hundred years ago. I don't think anyone knows who wrote it or who started singing that chorus. When the song leaked last week, so many people from Africa and Nigeria were trying to let me know where it came from."

On how Beyonce and Kelly came about to be featured on the song:
"They received an advance copy of the album and called saying, 'We love 'When Jesus Says Yes'… there has to be a Destiny's Child mix of the song,'" Williams recalls. "Kelly did it and Beyonce got right in the studio and did her part. I kept it a secret because I didn't want anyone to know until it was time."

On hoping to reconnect with DC fans with her gospel music:
"Destiny's Child had millions of fans but the second I did 'gospel,' they were, like, 'We love you but I don't know...' My message is that I'm here to inspire and to encourage and give hope. Whatever you want to do, you can do. I'm not saying it's going to be easy, but I've been there. I have been down in a dark place and I want to tell people my story of how I got to that dark place and how I'm free from it now."

On the cancellation of her Jesus Christ Superstar arena tour (which she was set to play Mary Magdalene):
"I'll be honest and say this frees me up to work my album for the summer," she says. "I know there were sacrifices made for the tour. I couldn't take certain offers that came my way so now we're able to capture some of those opportunities again."
Nice.
Photo: Erik Umphery/The Hollywood Reporter

BEHIND THE SPIN: Mariah Carey's ELUSIVE Album Sales....Despite Entering Charts With #1 R&B Album
Posted: 04 Jun 2014 08:06 AM PDT
Mariah Carey's latest disc "Me. I Am Mariah… The Elusive Chanteuse" is a hit...according to her PR team. But we're wondering if true chart success has become elusive for the chanteuse. More inside....
FACT: Mariah "Mimi" "Butterfly" Carey is the biggest selling female artist of all-time. The Grammys, AMAs, MTV Awards, World Music Awards, Billboard Awards, NACCAP Images Awards and even Hoodie Awards all agree.
But we're sure the head of her publicity team has been sweating bullets since last Tuesday when Me. I Am Mariah… The Elusive Chanteuse dropped in secret. Not a secret Beyonce type drop....just a drop where her fans kinda knew about it, and didn't really go out and buy it.
Direct from DefJam, the press release reads:
ME. I AM MARIAH... THE ELUSIVE CHANTEUSE, released May 27th on Def Jam Recordings, the brand new album by multi-platinum global super­star Mariah Carey, is greeted with critically overwhelming raves across the board, and soars to #1 on the iTunes pop chart in 33 countries including the U.S. The new album also debuted at #1 on the Soundscan R&B Albums chart, which marks her 15th Top 5 album.
Sounds all good right? That's what you get when you can afford a million-dollar SPIN cycle. Behind the well-written press release, Mimi's album sold 57K in the US last week. And had a prediction of less than 10K in the UK. To make it simple and plain, K. Michelle had a better week. Tamar Braxton had a better week. And wait for it.....Ciara had a better week. #noteanoshade.
To put it into perspective, this was a significant decline from her 168,000 debut week total for her previous Memoirs of an Imperfect Angel, which represented a significant decline from the 463,000 opening week for E=MC².
We love Mariah...don't we all have a favorite Mariah song? But shouldn't she give it a break with the over-the-top diva antics (the "D" train in a ball gown) and bad-lip sync moments (the BET Honors performance)? What we would LOVE to see her on: The HBIC on Rupaul's Drag Race. We actually loved her on "Idol", so this may be right up her alley....
The Randomness:
1. 50 Cent announced a new G-Unit album. Story.
Photos via Mariah's Instagram
Hey Alicia Keys...Hiding Something Under That EXTRA WIDE Belt?!
Posted: 04 Jun 2014 05:40 AM PDT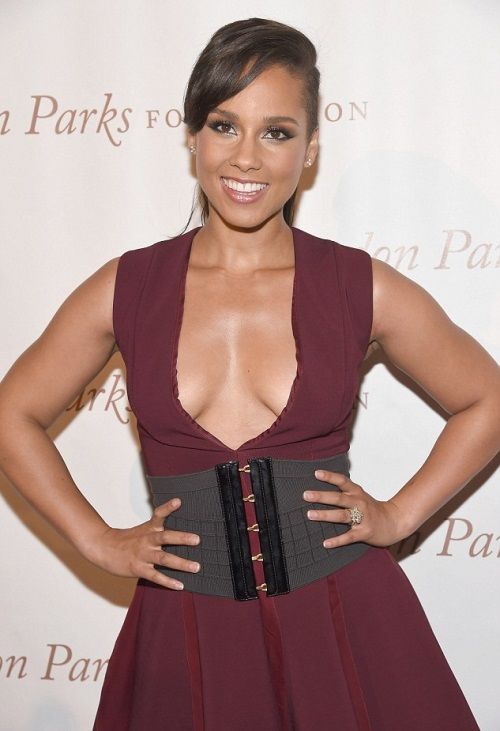 Alicia Keys and her husband Swizz Beatz stepped out to honor a YBF legend last night, but we were distracted by her attire. Which isn't totally out of the ordinary. But...Is Alicia keeping a secret? See the pics inside....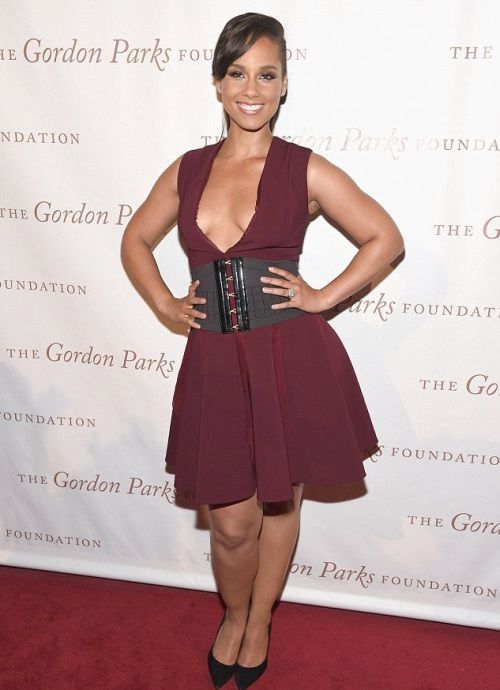 When it comes to putting celebs on "bump watch", TheYBF.com was 100% correct when we called out Tamar Braxton, Savannah James and Kerry Washington to name a few. Now....we're simply going to "lightly suggest" that Alicia Keys may have something growing under her wide belt last night and billowy top earlier this week. Could be a baby...or a food baby. But we're thinking it's something.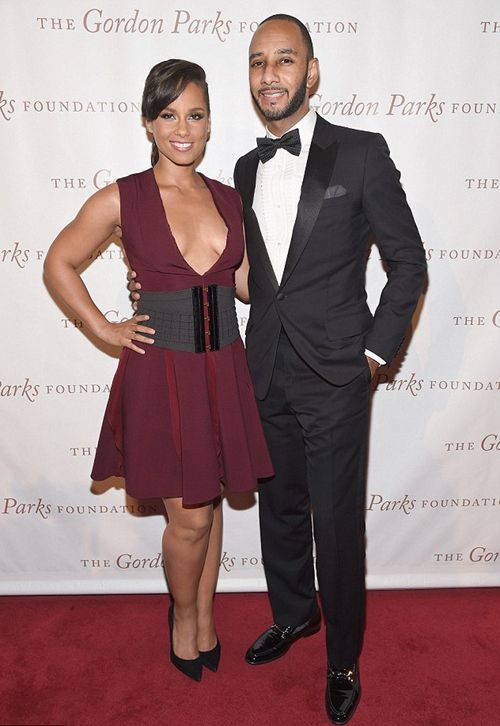 We spotted Alicia (alongside Swizz Beatz) at the 2014 Gordon Parks Foundation awards dinner at Cipriani Wall Street last night. Alicia and Swizz were the evening's Co-Chairs (with Karl Lagerfeld & Donna Karan) where George Lucas and Mellody Hobson were presented with the first Gordon Parks Patron of the Arts Award. Gordon Parks is best known as the director of Shaft, and also was a well known photographer for LIFE magazine.
As we wait for new music (and possibly an announcement of another kins), we'll just say Alicia and Swizz are glowing.
Photos via WireImage
BRAIDLESS IN GUCCI: Beyoncé Gets WHITE HOT At Chime For Change 1 Year Anniversary Party With Solange, Donates $500,000
Posted: 03 Jun 2014 06:43 PM PDT
Beyoncé switched up her look for Gucci's Chime For Change anniversary party tonight. The "XO" chick took out the braids and let it flow while rocking a white hot look by Gucci.
Check out her fab look inside...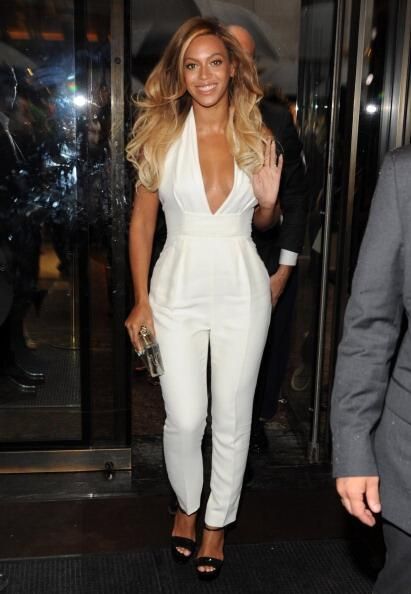 At the Gucci store on 5th Avenue in NYC, Beyonce rocked a sexy white jumpsuit for Chime For Change's 1 year anniversary party. And it was all hosted by Gucci Creative Director Frida Giannini and T Magazine Editor-In-Chief Deborah Needleman, which explains why the pop queen is covering the new issue of T magazine this week.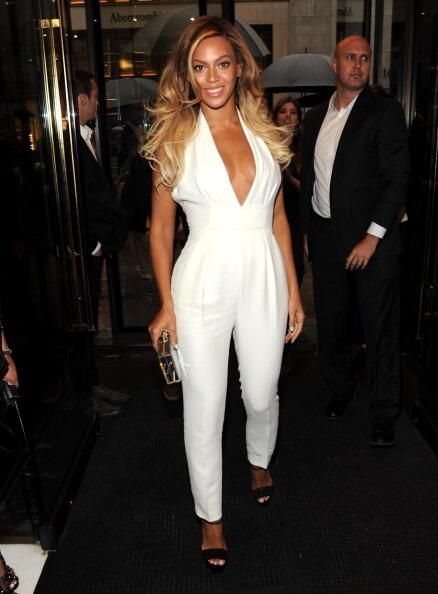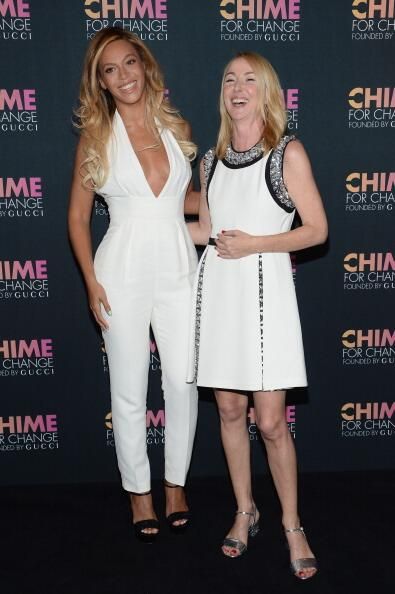 She laughed it up with Gucci Creative Director Frida Giannini, as both ladies, along with Selma Hayek, founded the Chime For Change organization.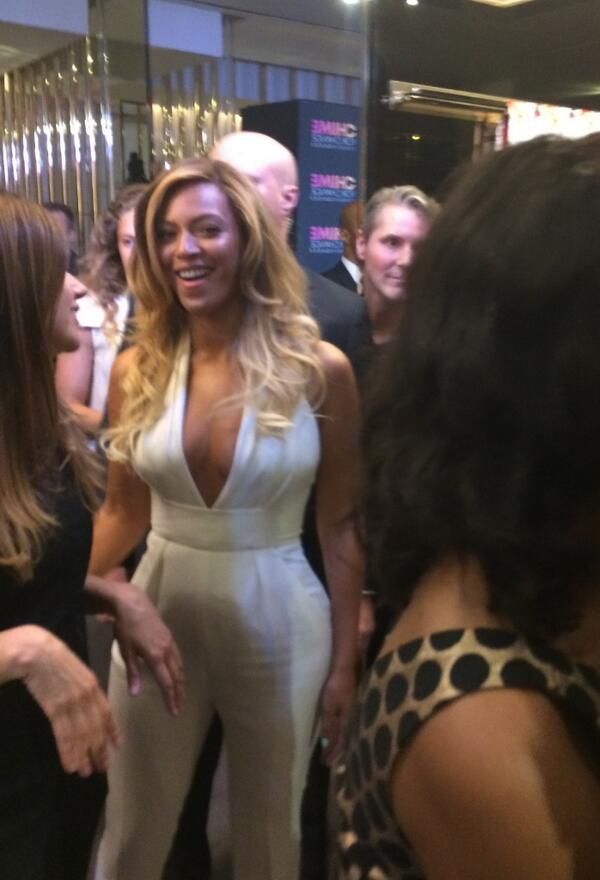 And little sis Solange was also there to support and rock a special guest DJ set in this cute orange and cream summery look.
The sisters, who are making their first public appearance since levatorgate (outside of their personal pics in New Orleans), chatted up actress Blake Lively.
Over the last year, Bey has participated in a commercial for the organization, whose mission is to raise funds and awareness in support of projects for girls and women around the world through sharing "powerful stories" about inspiring females. And she's rocked out with the Sound for Change concert, as well as told her own stories. Mrs. Carter shared her take on gender equality last April for the campaign saying:
"I have always felt strongly about equal opportunity for women. Girls have to be taught from early on that they are strong and capable of being anything they want to be. It's up to us to change the statistics for women around the world. I'm honored to be in the company of women who live fearlessly and set an example for the next generation of young ladies."
Fab look and a fab cause. And to show how serious she is about giving back to young girls, she donated $500,000 to the cause: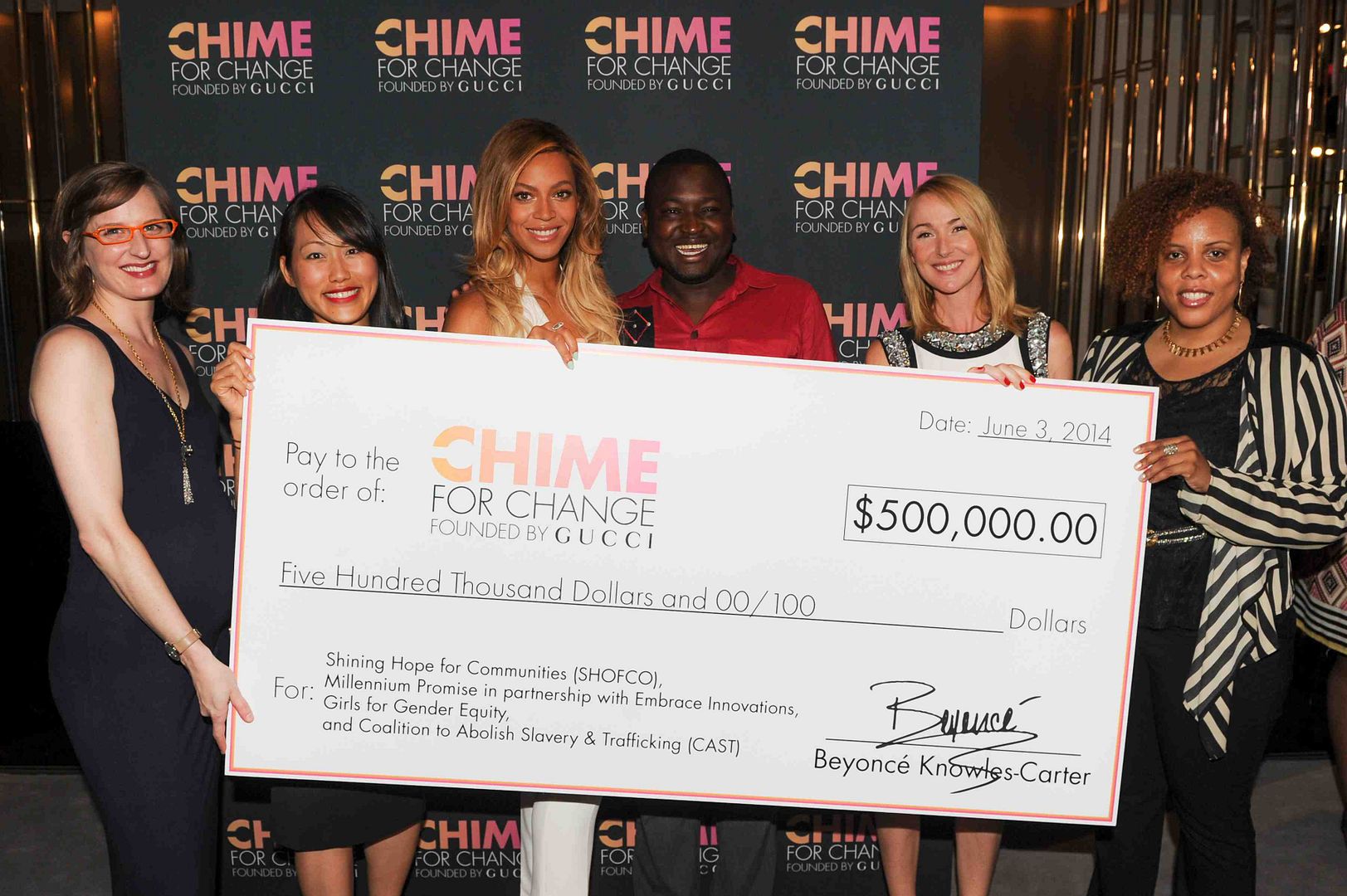 According to the press release issued by Gucci:
Beyoncé committed to donate $500,000 to fund Chime For Change projects for girls and women in the areas of Education, Health and Justice as follows:

EDUCATION: $125,000 to support 100 school girls at Shining Hope for Communities (SHOFCO) schools in Kenya for one year.
· HEALTH: $125,000 to provide 320 Embrace infant warmers to 100 rural health facilities in 11 Millennium Village sites across 10 countries in sub-Saharan Africa (Mali, Kenya, Uganda, Nigeria, Senegal, Ghana, Tanzania, Rwanda, Malawi, and Ethiopia). The Embrace infant warmers will help more than 1,900 at-risk newborns survive and thrive.
· JUSTICE: $125,000 to provide 600 Sisters in Strength Youth Leaders and Alumni in New York City with the critical educational and mentoring support, job training, counseling services, and resources they need to successfully navigate and graduate from high school and college through Girls for Gender Equity.
· JUSTICE: $125,000 to provide 25 human trafficking survivors in Los Angeles with counseling, medical care, legal services, and individual recovery treatment to rebuild their lives through the Coalition to Abolish Slavery & Trafficking (CAST).
Nice!
Twitter: @WomensWearDaily/Jamie McCarthy/Chime For Change
Rihanna Was INSPIRED By Josephine Baker For Her Jaw Dropping CFDA Fashion Awards Gown + Jhene Aiko Goes Straight WESTSIDE On Twitter Critics Over Summer Jam Performance
Posted: 03 Jun 2014 05:16 PM PDT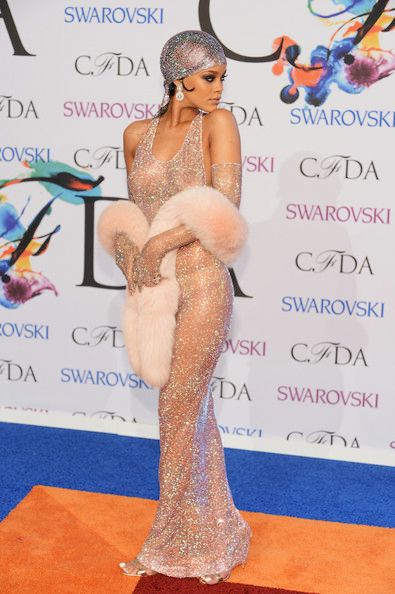 Today would have been the late Josephine Baker's 108th birthday and in honor of the world-renowned singer/dancer/actress, Rihanna paid tribute to Ms. Baker with her CDFA Fashion Awards gown. Meanwhile, Jhene Aiko went straight "westside" on Twitter trolls who trashed her performance at Hot 97's Summer Jam. Get all the deets inside…
Rihanna literally shut down the carpet last night at the 2014 CFDA Fashion Awards in NYC's Lincoln Center to accept her Fashion Icon Award.
Inspired by the late Josephine Baker, the Fashion Icon dazzled in a custom hand-embellished Adam Selman fishnet dress (wearing only a thong underneath) with matching headscarf and gloves made up of 216,000 Swarovski crystals.
The Bajan beauty paid tribute to the legendary dancer, who was famously known for her exotic attire, with her ensemble and no one else could possibly pull this off such as Rih.

Rihanna took to her Twitter to pay her respects with a birthday message to the late dancer tweeting:
Happy birthday to the late Josephine Baker! You have and will continue to inspire us women for decades to come! pic.twitter.com/VVizGnvoen

— Rihanna (@rihanna) June 3, 2014
And in case you missed Rih's jaw-dropping gown in motion check it below:
Happy Birthday to the fabulous Josephine Baker.
Meanwhile...
Some fans weren't pleased with Jhene Aiko's Hot 97 Summer Jam performance and they didn't hold anything back going in on the singer via Twitter. Apparently, Jhene was a little loose off the juice (possibly) and went ape sh*t on her Twitter critics.
In a handful of tweets, "The Worst" singer sent a nice "FU" message to all the haters and made it clear that she is NOT the one to be effed with.
Peep the tweets: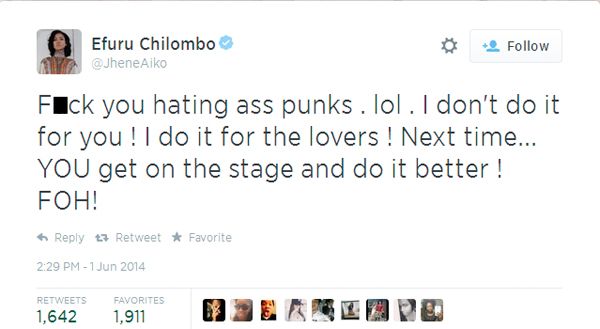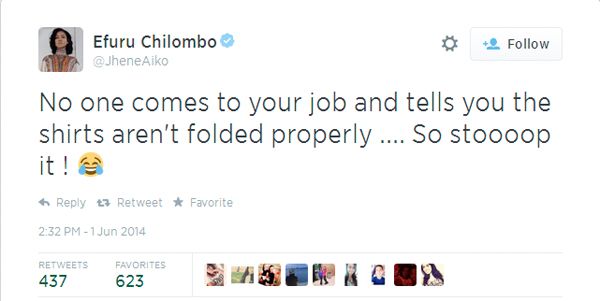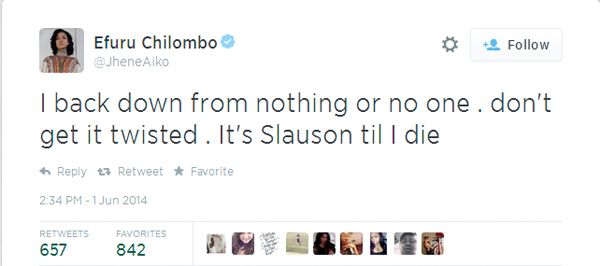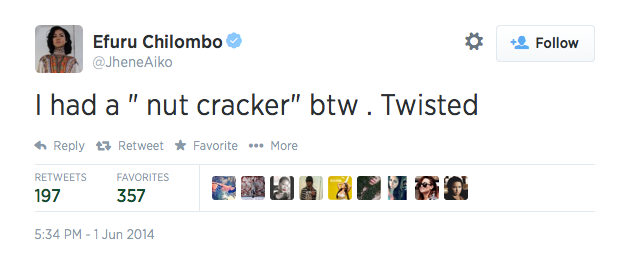 Lordt....
See her Summer Jam performance below:
Soooo...how did she sound to you? We have our thoughts...
Photos/Video: Getty/Rihanna's Twitter/Jhene Aiko's Twitter/Bader TV/HeatKings
Swizz Beatz Brings His Mom & Alicia Keys To Carmelo Anthony's 30th Birthday Party
Posted: 03 Jun 2014 04:49 PM PDT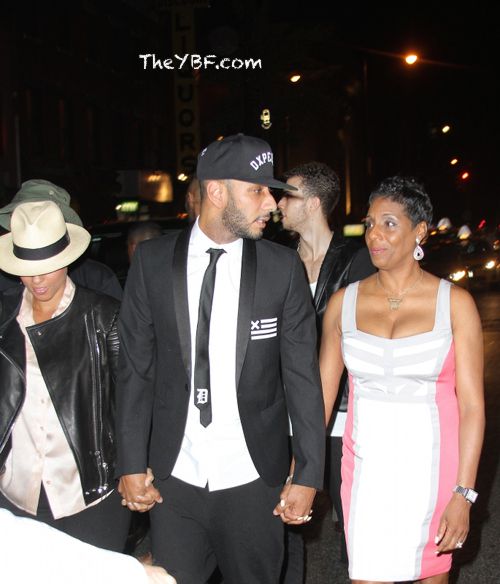 It was a big night of birthdays last night at Swizz Beatz celebrated his homie Carmelo Anthony's 30th birthday (his actual birthday was May 29th) and brought his own birthday girl, his mom, and wife Alicia Keys along. Pics inside, plus the BIG gift LaLa gave to her man...
After the "Power" premiere last night in NYC, folks were spotted pouring in to Up & Down nightclub for Carmelo's big 30th birthday party: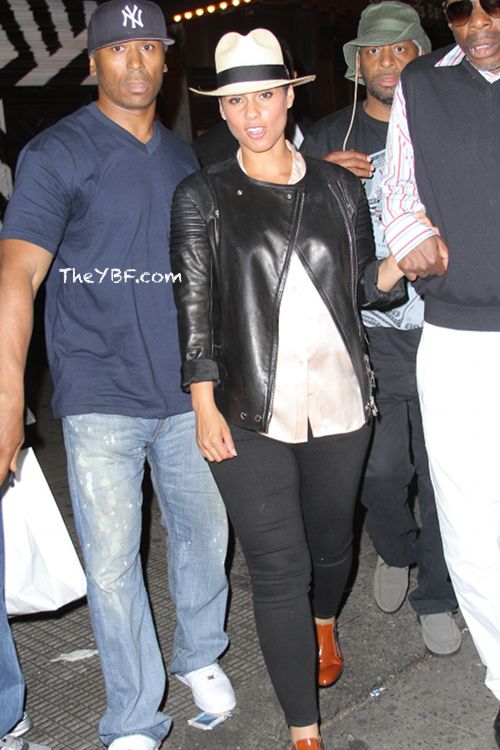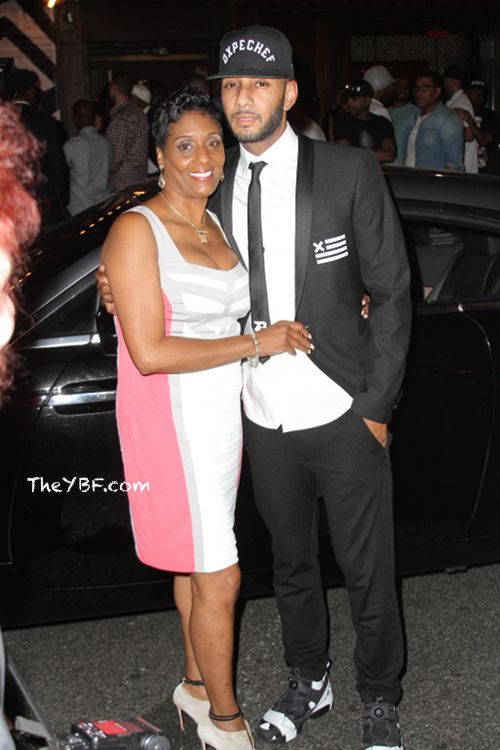 Alicia Keys was spotted getting escorted in, while her husband Swizz Beatz posed it up with his mom, who was also celebrating her birthday. He posted about buying his mom a COMPANY for her birthday.
Sweet!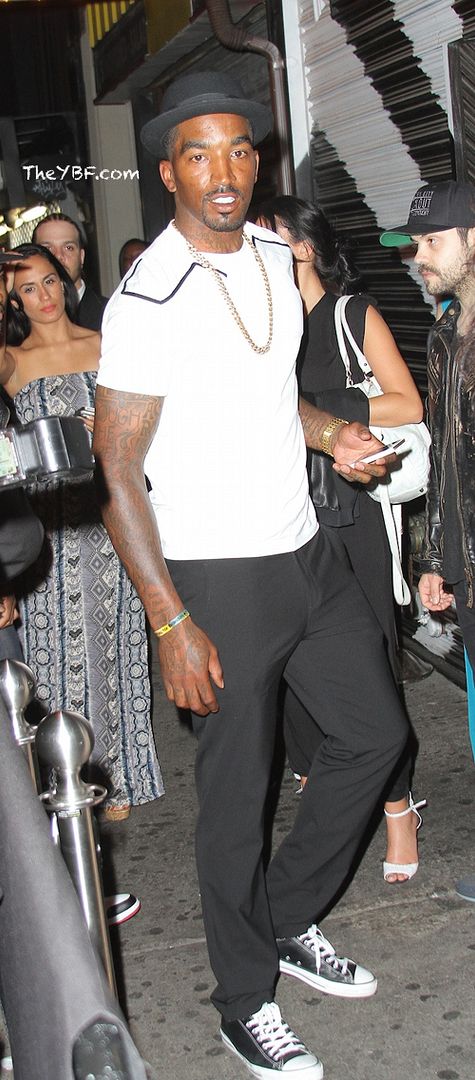 Melo's teammate J.R. Smith hit the party.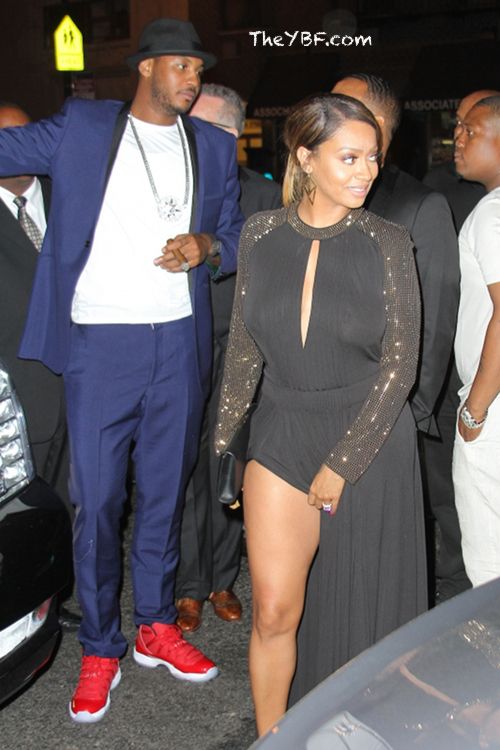 And the birthday boy was spotted arriving with his wife, who's starring in the upcoming STARZ show premiering June 7th.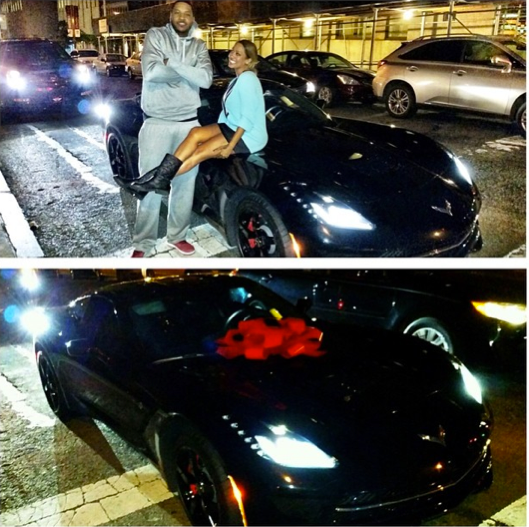 As for what LaLa got her man for the big 3-0. A sleek Corvette! She said:
@carmeloanthony I met u when u were 19...fell in love with u when u were 20...& TODAY we celebrate your 30th BIRTHDAY! hope you enjoy ur new Corvette Stingray from me with ALL MY LOVE!!! Thank you @therealswizzz & @dancyautogroup for making today so special!! HAPPY BIRTHDAY BABY!!! I LOVE U
Nice! And the twosome also celebrated with family and friends on a Caribbean vacay for a few days last week.
And if looks like everybody had plenty of fun at the party last night while Nas performed:
Happy birthday Melo!
Photos/Video: Splash/Swizz's IG/LaLa's IG
COVER GIRL: Beyonce Gets Understatedly Sexy For "T" Magazine
Posted: 03 Jun 2014 03:13 PM PDT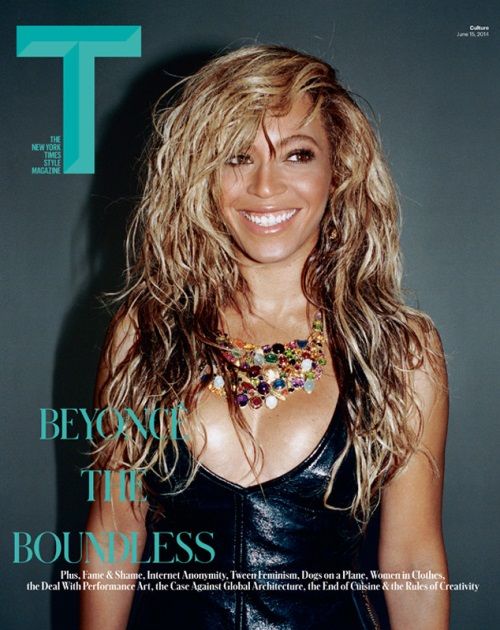 Beyonce posed for a pictorial in The New York Times Style Magazine, called T. See the understated yet super sexy photos inside....
In the midst of prepping for her "On The Run" tour with hubby Jay Z, Beyonce landed the cover of the NY Times Style Magazine this week.
Inside the pictorial, the ***Flawless singer rocked her signature blonde & brown tresses and modeled fashions from Louis Vuitton, Miu Miu and Chanel. Chick makes a white Vince tee and Louis Vuitton leather pants look like a million bucks.
A snippet of the cover feature on the Queen Bey buzzes her praises saying:
As "SNL" suggests, Beyoncé has become something more than just a superstar. She is a kind of national figurehead, an Entertainer in Chief; she is Americana. Someday, surely, her "Single Ladies" leotard will take its place alongside Mickey Mouse and the Model T Ford and Louis Armstrong's trumpet in a Smithsonian display case.
Historically speaking, this is no small achievement. Black women have always been dominant figures in American popular music, but no one, not even Aretha Franklin, has reached the plateau that Beyoncé occupies: pop star colossus, adored bombshell, "America's sweetheart."
But it also brings up her ability to be a hot topic of social media and academia:
Inevitably, Beyoncé is also a flashpoint, provoking ire from naysayers and ideologues of all stripes. In March, Bill O'Reilly decried "Partition," a song that details a Beyoncé-Jay Z tryst in a limousine, for setting a poor example for "girls of color." (Postmarital sex between consenting adults: immoral.) Last month, the black feminist author and activist Bell Hooks told an audience at a New School symposium: "I see a part of Beyoncé that is in fact antifeminist, that is assaulting — that is a terrorist . . . especially in terms of the impact on young girls." There is a growing scholarly literature on Beyoncé; the Women's and Gender Studies department at Rutgers University has offered an undergraduate course called "Politicizing Beyoncé." Beyoncé is, as a cultural studies professor might put it, popular culture's most richly multivalent "text." The question these days is not, What does the new Beyoncé record sound like? It's, What does Beyoncé mean?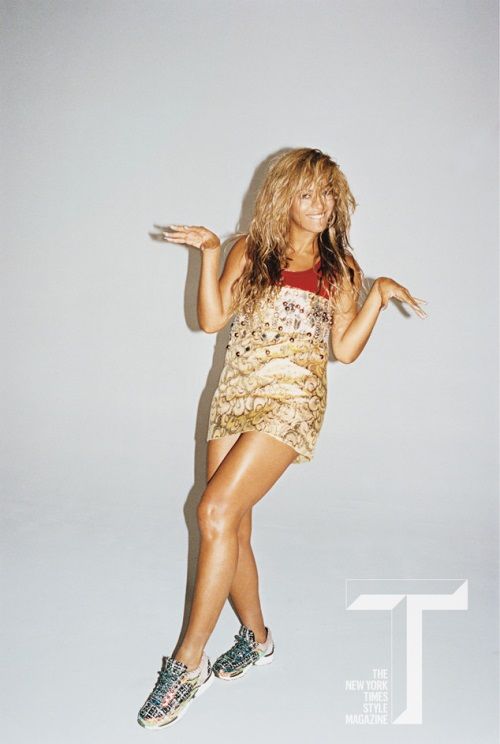 During a recent interview with Hello Beautiful, Kelly Rowland gave Beyonce and Michelle the highest praise, calling them her soul mates.
"I believe soul mates are not just in relationships, but they're in friendships. I have soul mates through Beyonce and Michelle [Williams] and [Beyonce's cousin] Angie [Beyince] and Solange [Knowles] and LaLa [Anthony]. I have soul mates. I'm so thankful for that too because I think they understand you. If there's something on my heart or my mind, before I can even pick up the phone, one of them is calling me saying, 'What are you doing? Are you ok?' We're connected and I think that's such a beautiful thing. It's the greatest gift you can have."
Love their friendship. Fab chick and fab pics.
Photograph by Juergen Teller
NEW MUSIC: Ameriie "What I Want" + Luke James "Options" Featuring Rick Ross + Mary J. Blige "A Night To Remember" & "A Moment To Love"
Posted: 03 Jun 2014 12:51 PM PDT
In new music releases, Ameriie returns with "What I Want", Luke James drops "Options" featuring Rick Ross, and Mary J Blige shares two more songs from the TLM2 soundtrack Listen inside...
After a long hiatus, Ameriie returns to the music scene with "What I Want." While she lays out her wants and needs to her potential lover, the song relies heavily on a sample of Sugarhill Gang's "Apache." The song will appear on Ameriie's follow-up to 2009's "In Love And War."
Listen to "What I Want" below:
In other new releases:
After a successful stint on the road with Beyonce and an appearance in her "Superpower" video, Luke James is prepping his Made To Love album (September 23rd).
Earlier today he dropped a track from the disc, "Options", featuring Rick Ross. While Luke asks his lady to consider their "Options", Rick Ross raps about his lady swinging from the shower rod. Yes...."shower rod" is now a thing.
More new music.....
We've got more music from the Mary J. Blige-helmed TLM2 soundtrack. Following up "Suitcase", Mary puts her spin on the Shalamar classic "A Night to Remember." The TLM2 soundtrack and movie are both due June 20th.
Listen to "A Night to Remember"
BONUS:
Check out another MJB track from the sountrack, "A Moment of Love."
Pharrell's Ex-Girlfriend Vashtie Kola REVEALS What She Learned From Ex Boyfriend Pharrell
Posted: 03 Jun 2014 12:05 PM PDT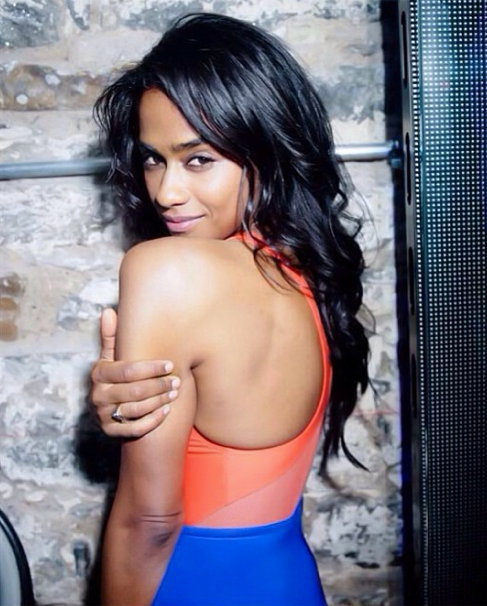 In a rare occurrence, famed director and artist Vashtie Kola opened up--a tiny bit--about her past relationship with Pharrell Williams. Find out what she had to say about P inside…
Before Pharrell Williams married his wife Helen, he was in a longtime relationship with a woman named Vashtie Kola.
In case you didn't know, Vashtie Kola is a woman of many talents. She's an artist, director and designer but notably, she is the former longtime girlfriend of superproducer Pharrell.
Making her own in lane in the industry, she has worked with big brands such as DKNY, Air Jordan and she styled/modeled for Pharrell's Billionaire Boys Club. She also directed videos for Solange, Kendrick Lamar, Jadakiss and Justin Bieber. Their union seemed like a match made in heaven since she has a love for art and all things creative, just like P, but that wasn't enough to keep them together in the limelight.
The 33-year-old famed video director sat down with The Combat Jack Show for a candid interview about her life and many accomplishments, but she also touched on her past relationship with Pharrell. When asked about P she seemed very uncomfortable talking about him. But she said a couple things.
Here are the highlights:
On how she met Pharrell:
She said she met P through Pusha T.

On the type of person Pharrell is:
"He's a very nice guy."

On what she learned from her relationship with Pharrell:
She said she learned a lot about business by watching Pharrell. His focus on his music and taking it to the next level is what impacted her the most.

On being with Pharrell:
"I think it's hard being a figure in the industry and being with someone who is creative. It's sort of a difficult situation."
Check it at the 55:05 mark:
Photos: David X Prutting/Vashtie's IG
The Game Gushes His Love For "Hard Working Assistant" LoLo -- PR Stunt For "LAHH: Hollywood"?!
Posted: 03 Jun 2014 11:00 AM PDT
Rapper The Game was in his feelings early this morning as he professed his love for his "assistant" LoLo. Read the heartfelt (or possible PR stunt) message he wrote up inside…
As you may have heard by now, Compton rapper The Game and his sexy assistant LoLo have been gearing up for their starring roles in the "Love & Hip Hop: LA" spinoff and taking meetings…together...with Mona Scott Young and others.
Meanwhile, The Game and his on-again/off-again fiancée/"Married to the Game" co-star Tiffney Cambridge have been battling for quite some time with whether they want to stay together for their family or call it quits. And with the alleged domestic dispute and restraining order filed by Tiffney, it seems the former couple and his new "chick" will bring plenty of drama to the new show.
In an Instagram post, Game dug deep and gushed on his feelings for his "assistant" revealing how much love he has for her and how she has been loyal to him and his family, showering him with unconditional love since the beginning. Although he claims he and LoLo haven't been intimate with one another, if you watch the show you'll realize she seems to be way more than just an assistant. She definitely doesn't dress like a real celebrity assitant and she stays tagging along with him in the club.
He writes:
Her..... Let me tell you a little bit about "Her". #1 she is the best friend that I have in this world & probably the next. She has done in 3 years what no one has managed to do in all my years on earth & that's love me unconditionally !!! Some people say it, some come close to actually pulling it off but no one has successfully been there for me day in & day out no matter the weather, task or support needed.... This girl right here is "MY NIGGA" !!!! Not my WOMAN, not my GIRLFRIEND, NO WE AINT FUCKING & to honestly be able to say that I've been to be around a woman this beautiful, fly, dope, smart & all around AMAZING & be able to maintain our friendship says all it needs to say about her character & loyalty to me, my children & my family. There's not one thing in the WORLD I wouldn't give her, & although she might know that.... She hasn't onced asked me for anything.... She works her ass off, plays her position & never complains about a fucking thing & that alone gave her an eternal place in my heart as long as it beats !!!! I love you with all my heart Lo & you will forever be appreciated as a gift from God to my life at a time when only he knew I needed someone to help redirect my life into a positive light... I'm FOREVER in debt to you & I wish you the most amazing 25th birthday EVER !!!! & since I'm right here, I guarantee it will be everything it's supposed to be....... As long as I'm alive, you ain't got to worry bout a mothafuckin thing !!!!! #LaFamilia
Do people really gush about their assistants like that? Possibly. Especially if it's their birthday. But um, we gotta ask. Is Game puposely stirring up some ish since he knows this may get under Tiffney's skin? Thoughts?
Photos: The Game's IG

Danity Kane CELEBRATES The Release Of "Lemonade" At The Empire State Building
Posted: 03 Jun 2014 10:01 AM PDT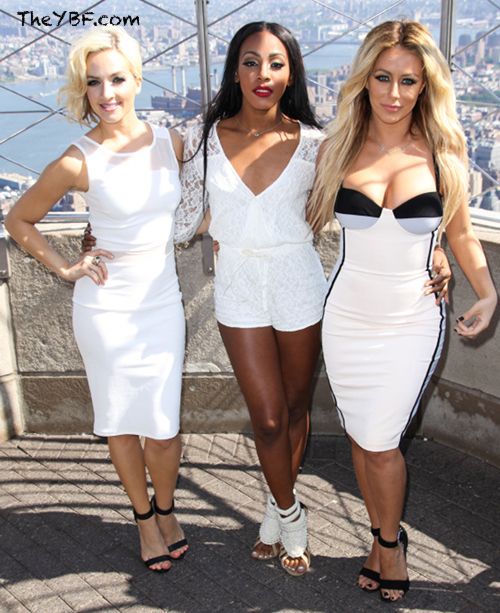 And then there were three. Danity Kane posed atop The Empire State Building to celebrate the release of their latest single "Lemonade." More inside...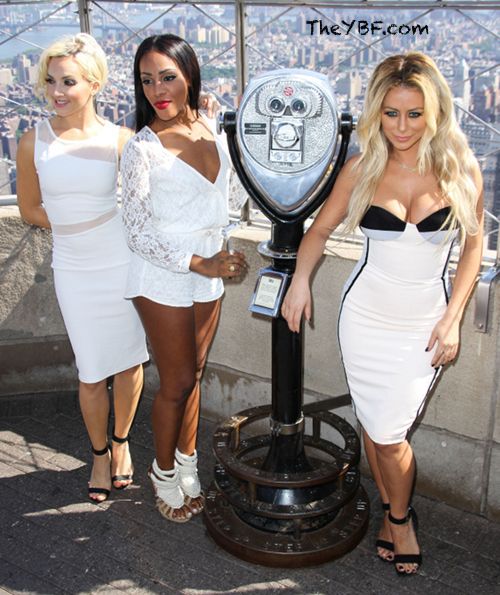 Shannon Bex, Dawn Richard and Aubrey O'Day of Danity Kane (Aundrea Fimbres left the group) visited the Empire State Building to celebrate the release of their new single 'Lemonade' yesterday. And they kept it sexy in white ensembles.
The Tyga-assisted song reached No. 1 on iTunes R&B/Soul chart last week. And the ladies will perform it (along with other hits) at New York's Irving Plaza tonight during their sold out show on their "DK No Filter Tour."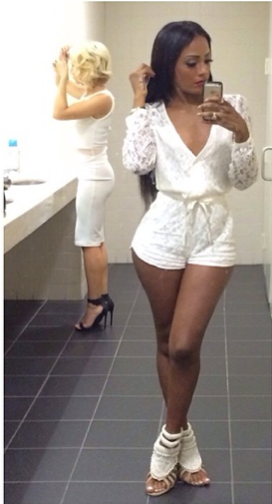 Peep the bathroom selfie and listen to the song here in case you missed it. Def a summer banger.
Photos via Pacific Coast News