---
SHE MAD OR NAH?: K. Michelle SHADES Elle Varner…Over Meek Mill?!
Posted: 30 Jun 2014 08:23 AM PDT
Well what do we have here? Seems like K. Michelle is throwing some subliminal shade at singer Elle Varner. And it looks like it could be over rapper Meek Mill. Chile...tea inside…
"Love & Hip Hop" star K. Michelle is known for speaking her mind and throwing shade when she feels the need. And it seems she was a little pissed after peeping pics of her "former" friend Elle Varner and Philly rapper Meek Mill.
Now why is K mad? We're not entirely sure. But we believe it's over a picture posted of Elle with her arms wrapped around Meek's neck, which they both posted to their respective Instagram accounts.
On Saturday, Meek and Elle attended a private dinner at Mr. Chow to celebrate Russelll Simmons and Steve Rifkind's launching of their new music label, All Def Music (ADM). The two snapped a pic (above) and Meek posted it to his IG with the caption, "#nocurvezone @ellevarner." Elle also posted the picture with the caption, "R/P @meekmill #nocurvezone [heart emoji]"
Apparently, a few months back Meek and Elle had a little run-in with one another where Meek tried to "holla" at the "Cold Case" singer and she "curved" him. Meaning…she played him. She went on Twitter saying she gets awkward when it comes to guys trying to talk to her tweeting, "I'm so awkward I accidentally curved Meek Mill once lol"
Meek later hopped on Twitter and dismissed Elle's comment tweeting, "She said she curved me I don't remember… Lol" That explains why the MMG rapper captioned the picture "#nocurvezone."
K. Michelle must was feeling some type of way and got caught up in her feelings about the picture because she hopped on Instagram and posted this message (which has since been deleted):
REFILL? Y'all know that's Elle's hit track. But why is she mad? Did she date Meek? Hmm…
And why is she throwing subliminal shade at Elle? Especially since she said Elle were once close friends. Close enough for her to call Elle her sister and give her a special shout-out on her birthday, gushing on how she will always have her support and loyalty.
Check it below:

"Happy Bday to my sister my friend @ellevarner Thanks for having my back and being such a beautiful soul. I don't trust a lot of people anymore, but you my dear will always have my support and loyalty! Enjoy your Bday. Love ya"
Is K mad that her "sister" is pushing up on her "man" or former flame? So many questions...not enough answers.
Photos: Kass of The Brand Group/K Michelle's IG
IN CASE YOU MISSED 'EM: FUNNIEST Memes From The 2014 BET Awards
Posted: 30 Jun 2014 07:04 AM PDT
Last night, the 2014 BET Awards went down in L.A. and we've rounded up a handful of the funniest memes floating around social media. Get your laugh on inside…
The 2014 BET Awards bought out some of our favorite celebrities and of course, social media was on fire with the funny memes.
From Karrueche's "shredded dress" to Beyonce & Jay Z being a no-show, we've rounded up the top funniest memes from your timelines and Tumblrs for your morning laugh.
Decide which are your favorites below:
EXTRAS:
1. There was a stabbing inside a Meek Mills party and a fatal shooting outside an unauthorized BET Awards afterparty last night. Story.
Photos: Instagram
DADDY'S GIRL: Rihanna SKIPS The BET AWARDS For Intimate EVENING With Her Dad
Posted: 30 Jun 2014 06:57 AM PDT
Rihanna was spotted in the LA area last night.....but not where you'd think. Find out why she skipped the 2014 BET Awards inside...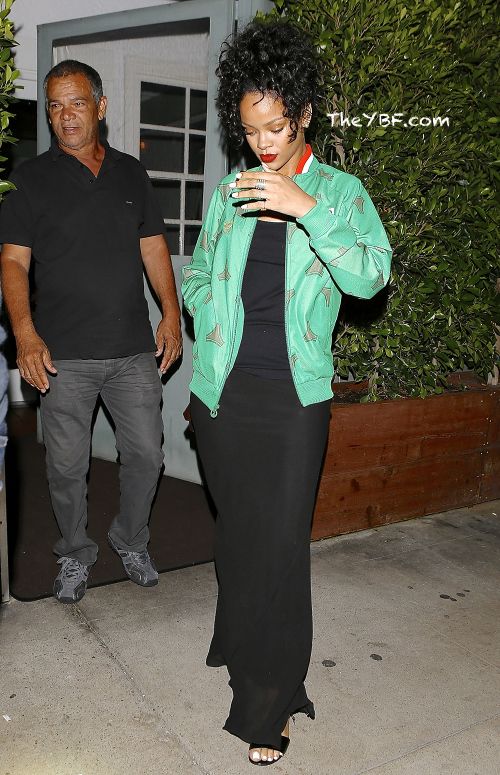 If you watched the 2014 BET Awards last night you might have picked up on some noticeable absences. Rihanna, one of the biggest pop stars in the world, was not in the audience. Why?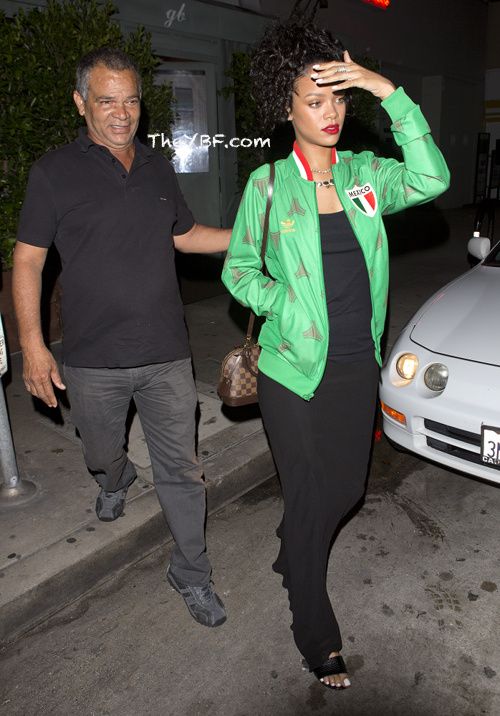 Rihanna skipped the awards for a quiet evening with her dad Ronald Fenty in Santa Monica. If you're wondering how the fashion icon dressed for her date with Dad, she selected a Mexico soccer jacket, sensible flats, a long black dress and wore her hair in curls.
The pair shared an intimate embrace after dinner, showing the close bond they've maintained over the years.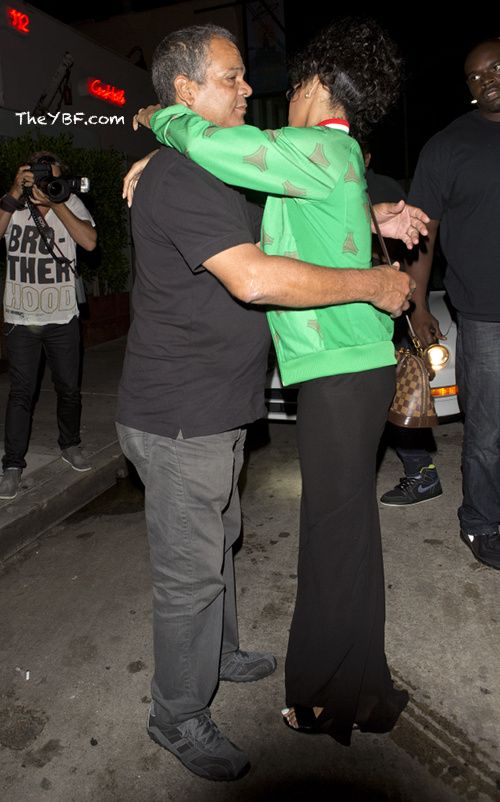 On the music front, Rihanna was spotted leaving the same West Hollywood studio as Kanye West a few days ago. We suspect the "Run This Town" duo are working on something new.
Photos via PacificCoastNews/SPLASH NEWS
GIRL......REALLY? Bobbi Kris CALLS Angela Bassett The "B" Word, BLAST Her Over Planned "Whitney Houston" Biopic
Posted: 30 Jun 2014 06:00 AM PDT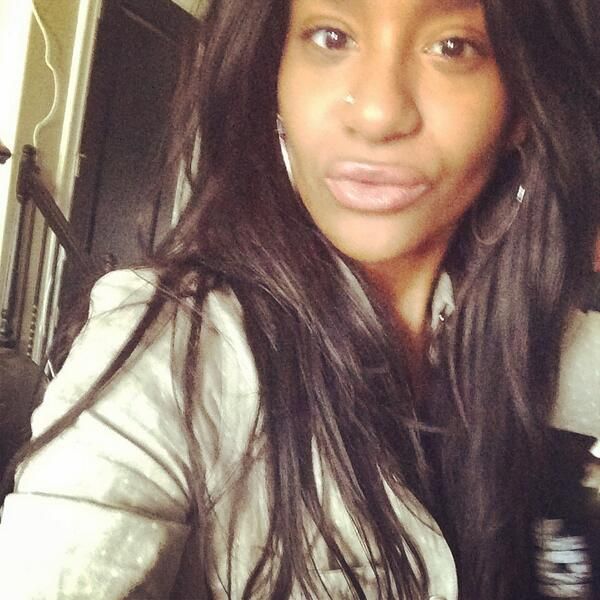 Bobbi Kristina got all up in her feelings over the weekend and called Oscar-nominated actress Angela Bassett the "B" word....and a made a few other insinuations. See her outrageous tweets and find out what set her off inside.....
A few days ago, we told you about LIFETIME's planned Whitney Houston bio pic and how UNHAPPY the Houston family was about the made-for-tv film. Recently, Academy Award nominee Angela Bassett, who's been tapped to direct the film, talked to EW about the film and mentioned why she never gave a second thought to casting Bobbi Kristina in the lead role. She told the mag,
No, I did not think about that. I did not think about casting her. And probably for a number of reasons, you know. One being that she's not an actress. I know she's acted here and there. I know she's been on their family's reality show, but she's not an actress and acting is a craft. It's an attempt to illuminate the complexities of human behavior and life. And this is a very fast-paced schedule; we have just 21 days to tell this story. It's more than just saying lines and turning the light on. You have to drive the story—there's a technical aspect.
Well.....someone must have dropped that EW issue off at Bobbi Kris's front door and got her all stirred up. She got on Twitter (the Tweets have been deleted) and called Angela the "B" and questioned her womanly virtues.
Bobbi Kris's disrespectful words have been met with silence from both LIFETIME and Angela Bassett. What do you think? Does Bobbi K have a right to be pissed?
Photos via Bobbi Kris' Twitter
2014 BET AWARDS: Couples Galore Hit The Red Carpet -- Kevin Hart & Eniko, Larenz Tate & Thomasina, Chris & Jada Paul & More
Posted: 30 Jun 2014 02:30 AM PDT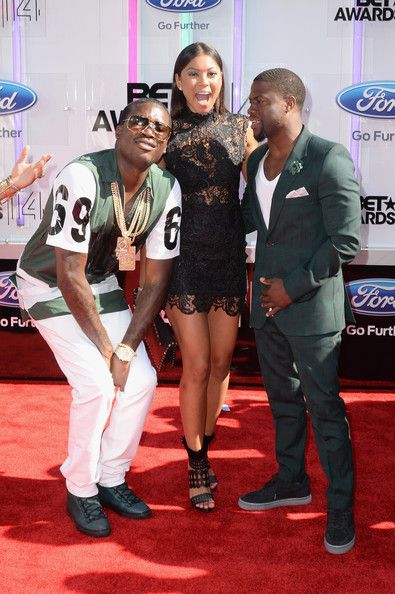 Mr. Box Office -- his new name we're going with after Chris Rock ponted out this dude is in EVERY movie in theaters -- Kevin Hart and his girl Eniko had some fun on last night's BET Awards 2014 red carpet. Check out the twosome and the rest of the couples getting wrapped up in love inside...
Meek Mill had jokes Sunday night as he scrunched down to snap a pic next to Kevin & Eniko. Ha!
Eniko Parrish rocked a sexy black lace dess with laser cut heels while on the arm of a green plaid suit-rocking Kevin Hart. The TLAM2 star was there to present an award with Kerry Washington.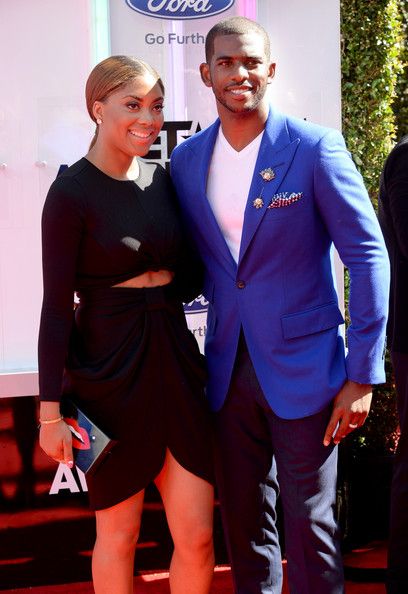 Clippers baller Chris Paul made a statement in a cobalt blue dinner jacket, while his wife Jada kept it sassy in this tulip skirt and crop top.
Taye Diggs is ready to go full-on public with his new chick. He made his first red carpet appearance with girlfriend Amanza Smith Brown at last night's awards. Looks like things are heating up for these two....
Judge Joe Mathis (who is responsible for getting KeKe Palmer her own talk show) and his wife Linda cheesed it up on the red carpet.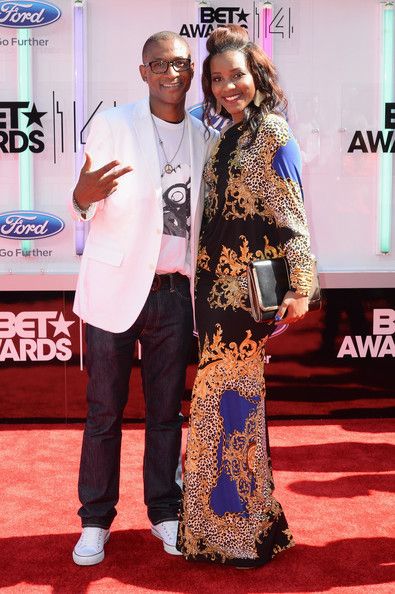 Tommy Lee Davidson and his date for the night hit the carpet.
Larenz Tate, who is starring in BET's upcoming original series "Gun Hill", hit the carpet with wife Thomasina. Cute!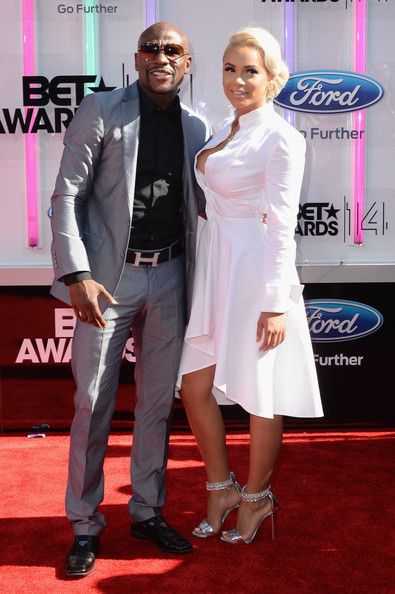 Floyd Mayweather appeared unbothered about his ex-fiancée moving on with Nelly. He hit the carpet before presenting on stage in a grey Dolce & Gabbana suit and sparkling Hermes belt with his new chick of the moment.
Hilarous TLAM2 star Gary Owen had his grogeous wife Kenya on his arm Sunday night.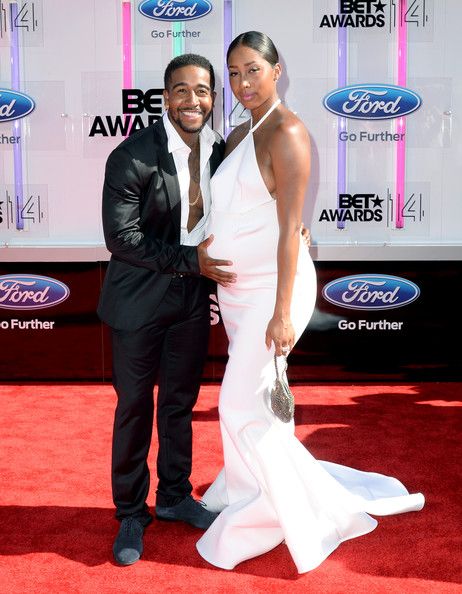 Dad-to-be Omarion brought his fiancée Apryl Jones on the carpet to flaunt that baby bump. Glad she didn't wear anything like she wore at her baby shower.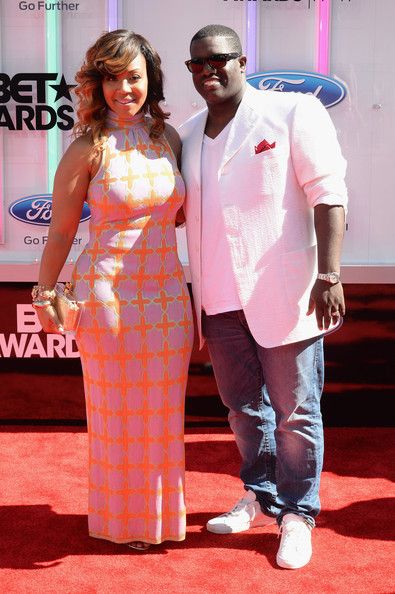 Erica Campbell and her husband Warryn Cambell hit the carpet together. Erica revealed she had a wardrobe malfunction right before the awards, so her sister (her stylist) copped this knit dress as an emergency.
Kevin Liles and wife Erika are expecting baby #2 together.
Kyla Pratt's nude Louboutin lace up laser-cut Impera heels don't even save this dress. But we're sure her man loves her anyway.
Draya Michele, who co-starred on "Real Husbands of Hollywood", is still holding on as Dallas Cowboys baller Orlando Scandrick's girl. Chick is determined to become a wife. And that's not a bad thing.
And Fonzworth Bentley and wife Fuane Chambers looked like a dapper couple on the carpet. Cute.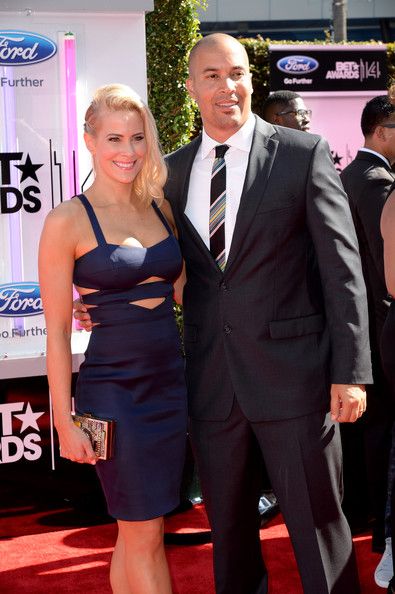 And yes, we know, they're not a real life couple. But we're still loving Jason & Kelly Pitts from "The Game". Brittany Daniel, rocking a dress from Bec and Bridge", revealed on the BET Awards After Show that the original Mrs. Pitts is indeed returning next season. And the love triangle drama with Brandy and Coby Bell (Chardonnay and Jason) will be at an all time high.
Photos: Getty
RETURN OF THE SOULFUL BOY BANDS: Silk, Troop & Color Me Badd Hit The 2014 BET Awards Show Stage!
Posted: 30 Jun 2014 01:00 AM PDT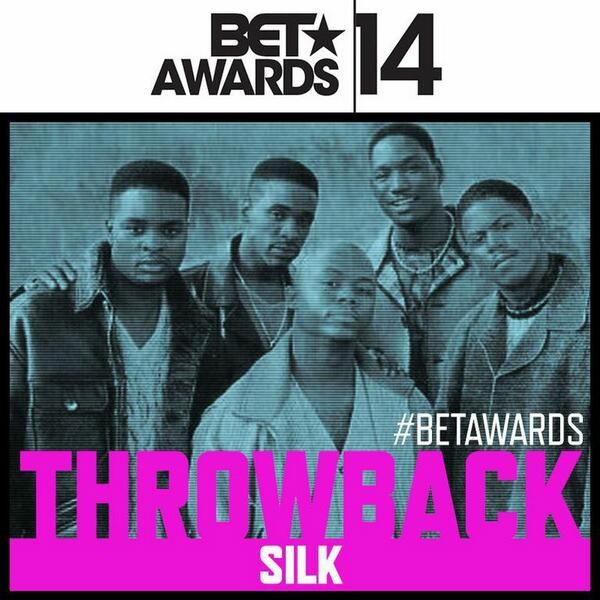 They're baaaack. At least on the 2014 BET Awards stage. Check out Silk, Troop and Color Me Badd making a surprise appearance inside...
This is one of the moments that made watching this Awards show totally worth it. BET brought us back to the late 80's and early 90's with "Sex You Up", "Freak Me", and "All I Do". We got our ENTIRE life with these. How about you?
Next tie, hopefully we'll get the lady groups of the 90's....
BONUS: Speaking of soulful crooners, Robin Thicke was still pining away for his wife Paula Patton last night. Check out his performance of "Forever Love" below:
Somebody please go tap Paula Patton on her shoulder and ask her how much longer she plans to wait, i.e. how much longer will we be listening these begging songs. Not mad at his love for her though.
Photo: BETAward's Twitter
2014 BET AWARDS: Beyonce x Jay Z PERFORM "Partition"....Via Video From Their "On The Run" Ohio Show
Posted: 30 Jun 2014 12:37 AM PDT
To close the 2014 BET Awards, BET's "special performance" was a sexy taped performance by Beyonce and her hubby Jay Z. Peep their hot performance inside….
In the midst of their "On The Run" stadium tour, Hip Hop power couple Beyonce and Jay Z rocked out the 2014 BET Awards show, ending with a sexy performance of Bey's "Partition" via a video of them from their Cincinnati Ohio show over the weekend.
Jay opened their set spitting a few new verses before Bey hit the stage in a colorful one-piece leotard on a stripper pole. And she made it WORK.
Check it:
Video: DDot
2014 BET AWARDS: John Legend, Yolanda Adams & Ledisi Rock STIRRING Tribute To Lionel Richie + Jennifer Hudson's "It's Your World"
Posted: 30 Jun 2014 12:06 AM PDT
Lionel Richie copped his well deserved Lifetime Achievement Award at Sunday night's 2014 BET Awatsa. Watch Ledisi and John Legend tribute the living legend, plus watch Jennifer Hudson "Walk It Out" to "It's Your World."
Oscar-winner Jennifer Hudson appeared on the show in a leather dress and leather boots wearing two M.C.L. by Matthew Campbell Laurenza cuffs and a Carla Amorim black diamond ring. JHud performed "Walk It Out" and "It's Your World" and even featured a cameo from a man who could double as #PrisonBae Jeremy Meek's twin. Or cousin. Watch it here:
Chick walked it out alright in that flirty little dress. Loves it.
Check out John, Yolanda Adams (who gave everybody the Holy Ghost) & Ledisi putting their own twists on Lionel Richie's classics "Brick House", "Jesus Is Love" and "You & I (Nobody in the World)":
Photos via WireImage
2014 BET AWARDS: Kerry Washington, Zendaya, Kyla Pratt, Tiny, Michelle Williams, Letoya Luckett & MORE Floss On The Red Carpet
Posted: 29 Jun 2014 11:10 PM PDT
The 2014 BET Awards went down at the Nokia Theatre in L.A. on Sunday. And many of the ladies of the night kept it fab, while others…not so much. See their pics inside…
Two months after giving birth to her daughter Isabelle, "Scandal" star Kerry Washington made her first televised appearance. And she is looking absolutely flawless in a floral Dolce & Gabbana strapless dress, Jimmy Choo white pumps and a green clutch by Amanda Pearly.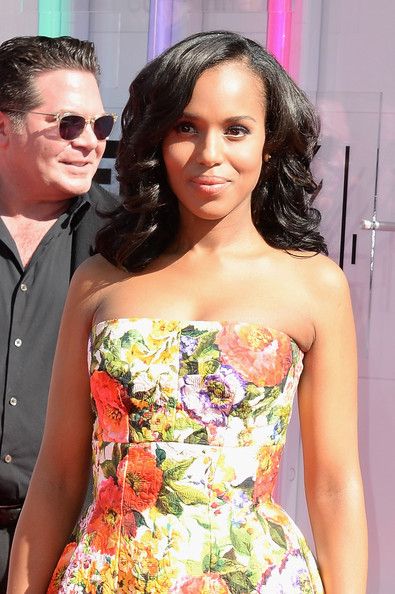 Perfection.
Disney star Zendaya Coleman (who just confirmed she's no longer playing Aaliyah in the LIFETIME biopic) rocked an interesting look on the carpet. Giving off a street/urban vibe, according to the wprds SHE used to describe it, the "Zapped" star wore a blue and black Emanuel Ungaro number. Can't say we're feeling this look. At all. But she's 17...now's the time to take those risks boo.
Tiny hit the carpet solo (although her husband T.I. was there and performed) and sans her wedding ring. She rocked a custom piece from a Filipino designer whom she mentioned on the carpet, yet we couldn't understand what/whom she said.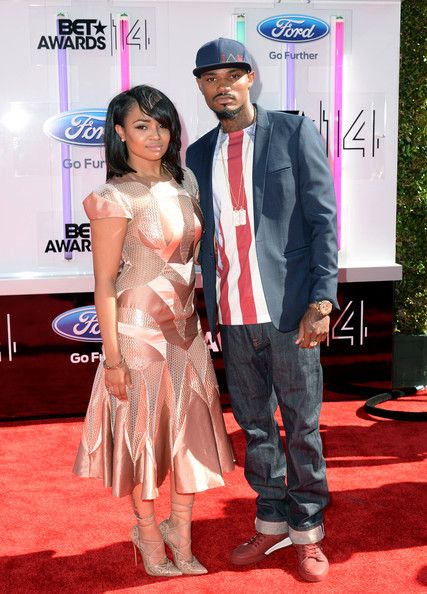 "Let's Stay Together" star Kyla Pratt left the babies at home to hit the carpet with her man...in an interesting look.
Are y'all feelin' it? Because...she makes us feel liek she's beign forced to go to the church revival and she's being a rebel....
"Say Yes" singer Michelle Williams was pretty in cut-out teal Olcay Gulsen dress and YSL sandals on the red carpet. She's gearing up for the release of her upcoming gospel album Journey to Freedom, which is scheduled to drop in September.
Michelle hit the carpet with Destiny's Child member Letoya Luckett, who debuted a new cropped burnt orange 'do.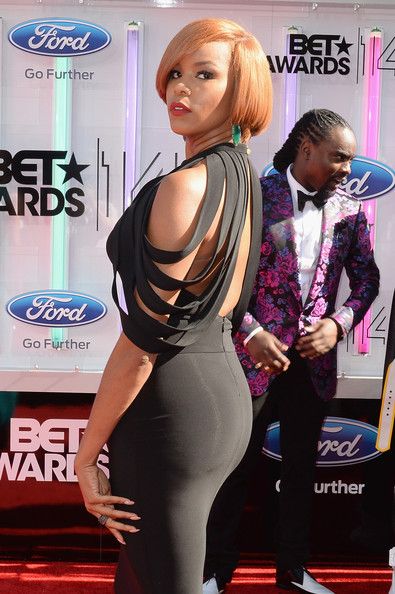 Toya kept it fab in this slashed exaggerated shoulder Sen Couture dress and Gianvito rossi shoes.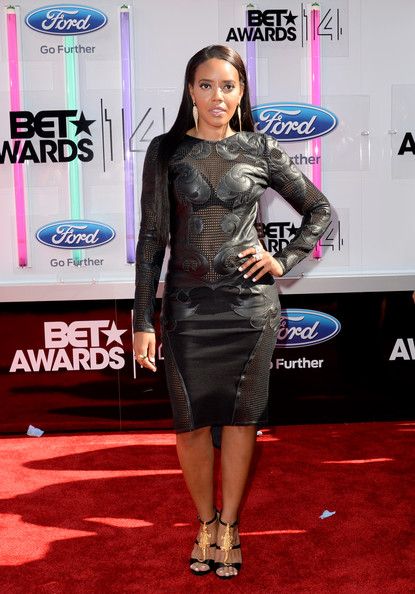 Gym fanatic Angela Simmons rocked a black leather and mesh Valery Kolvaska dress with cute black and gold sandals.
"CrazySexyCool" star Lil Mama lit up the red carpet in a mini orange dress with matching hair. She's making that hair color WORK for her honey...
4 Letter Word/Music Matters singer Elle Varner hit the carpet in comfortable look right after coming off the BET Experience stage. She rocked a pair of blue parachute trousers with a black bustier and black blazer. The singer recently coined her style as "trap jazz" saying,
"It's the product of a girl who grew up listening to Ying Yang Twins and Ella Fitzgerald," she said. "I like to keep the beat rocking, but I have those jazzy vocals. I can't get away from that."
And she gushed on twitter about Lionel Richie giving her words of encourageent at the Awards.
MC Lyte is giving the young ladies a run for their money. She looked ageless in a Roberto Rodriguez dress. Wrong shoes, but she def gets a pass.
Soul singer Ledisi rocked a black ruffled dress on the carpet. Possibly not the right choice for THIS event, but she rocked it nonetheless. She later hit the stage to honor Lionel Richie performing his classic "Brickhouse."
Charli Baltimore lit up the red carpet in a silver Balmain mini dress and Jimmy Choo shoes. Let us find out hard raptress Charli is going high fashion...
Gospel superstar Yolanda Adams rocked a pewter draped jersey style gown. Lovely look. She hit the stage for Lionel Richie's Lifetime Award segment and sang "Jesus Is Love."
CEO of BET Debra Lee hit the carpet in a web-like black dress.
Former "BBW" star Laura Govan hit the carpet in an unusual ensemble. We know she has a flair for the unique, but we're not sure how to take this one. She rocked a mult-colored skirt, black sheer top with black bra underneath. She finished her look with a semi-bun on top of her head. Emphasis on semi…
Emily B kept it bright in a yellow hip-hugging gown, her signature dress shape.
"Let's Stay Together" star Joyful Drake looked nice in her pink one-shoulder gown.
Her co-star Nadine Ellis got electric in blue.
"2 On" singer Tinashe hit the carpet in a black jumpsuit and kicks. The 21-year-old singer is gearing up for her debut album Aquarius. Don't know her? No worries, we didn't either. but apparently she's the next new thing....
Magic Johnson's daughter Elisa Johnson posed it up on the red carpet in Chanel.
Gospel singer Kierra "Kiki" Sheard got floral on the carpet.
And track star Lolo Jones was all smiles in a paint brush-style crop top with matching skirt and dolorful heels.
Check out everyone who hit the 2014 BET Awards red carpet HERE!
Photos: Getty
2014 BET AWARDS: Usher's GREATEST HITS Medley & "Good Kisser" + Nicki Minaj's "Pills & Potions" Performance
Posted: 29 Jun 2014 10:45 PM PDT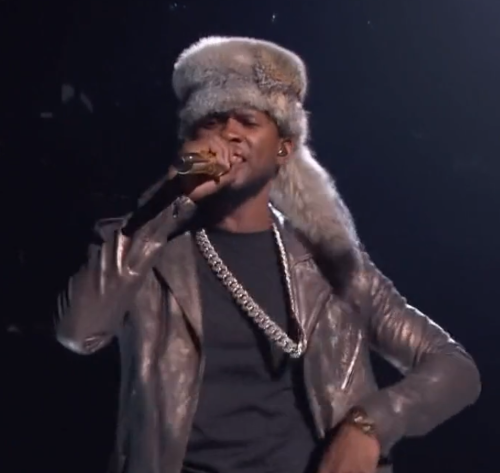 Usher hit the stage Sunday night to perform "Good Kisser" and a Greatest Hits style medley. Watch him inside and see Nicki Minaj's "Pills N Potions."
Usher rocked a fur hat, played the drums, and performed some of his biggest hits Sunday night at the 2014 BET Awards. He ended his segment with his latest gem "Good Kisser". Make no mistake....Usher reminded the audience that he's the greatest dancer alive. Or is he?
Then.........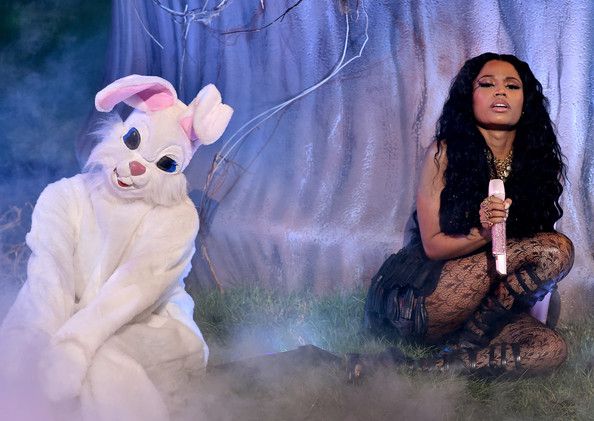 Nicki Minaj "rode" onto the stage via motorcycle. Afterwards, the set became "Wonderland" and even had a rabbit similar to her new video for the "Pills N Potions" song. Walk through the looking glass with Nicki above....
By the way Nicki's shade-filled acceptance of her award for Best Female Hip-Hop Artist...hilar. It's her 5th year in a row winning that award.
Photos: BET/Getty
2014 BET AWARDS: August Alsina Rocks The Stage With Trey Songz & Chris Brown + T.I. & Iggy Azalea "No Mediocre" & "Fancy"
Posted: 29 Jun 2014 10:14 PM PDT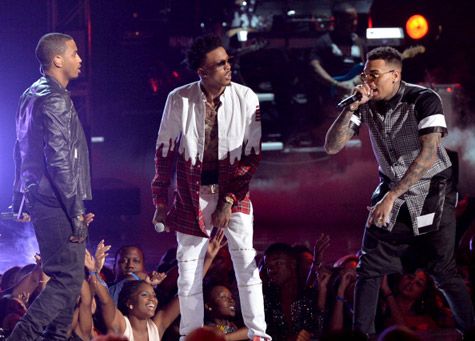 August Alsina reunited with Trey Songz and brought out Chris Brown at the 2014 BET Awards. Watch their performance and see T.I. perform "No Mediocre" with Iggy Azalea.....
Well....it looks like August Alsina and Trey Songz are friends again. Hitting the stage for "Kissin' On My Tattoos" and "I Luv This Sh*t," August had the crowd on 100 when he brought out Trey and Chris Brown. August also picked up his first BET awards including Best New Artist and a Viewers Choice Award for "I Luv This" feat. Trinidad James. Congrats to him.
Later....
T.I. (who attended with wife Tiny) hit the stage with Iggy Azalea to perform "No Mediocre" and "Fancy". Were y'all feeling Iggy's lip synching-to-her-own-track-while rapping?
2014 BET AWARDS: Tyrese, Nelly, Diggy Simmons & The Fellas Take Over The Red Carpet
Posted: 29 Jun 2014 09:01 PM PDT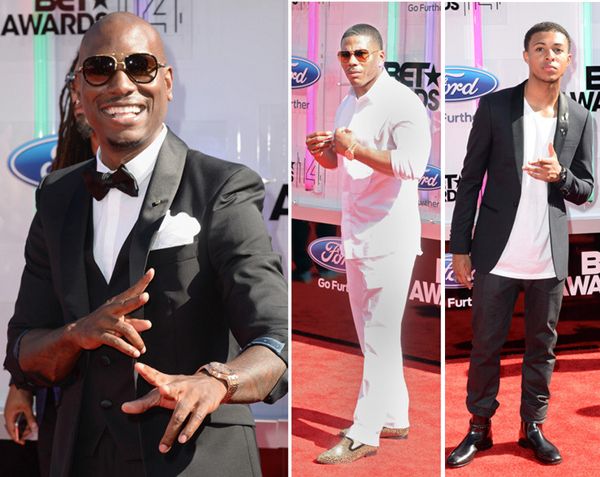 The ladies may get the most attention on the red carpet, but the fellas are not to be missed. Check out Tyrese, Diggy Simmons, Nelly and more hitting the 2014 BET Awards red carpet inside...
Sunday night at the Nokia Theater, the men made the hot carpet (literally, it was like 100 degrees out there) even hotter.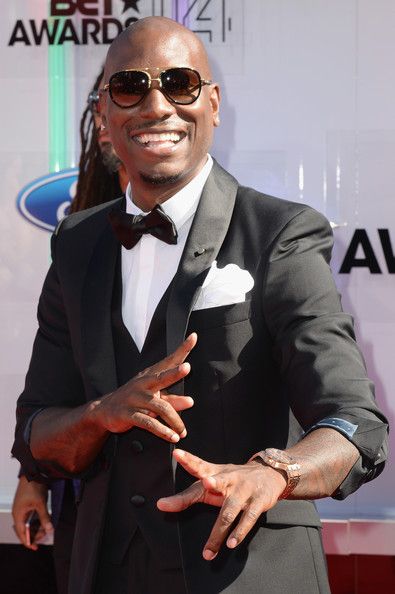 Tyrese was on hand to rock the Bobby Womack tribute...and looked damn good while doing so.
Ne-Yo, sir, it was entirely too hot for this.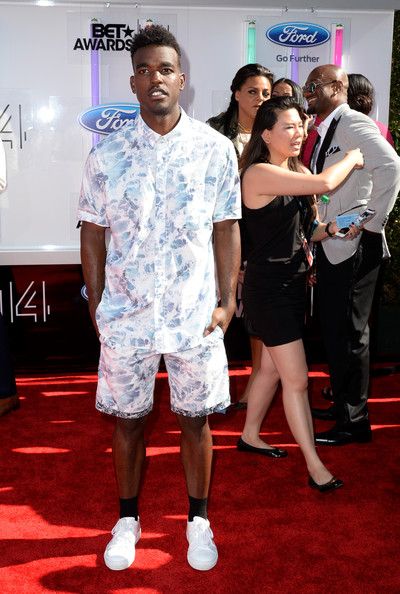 Luke James was print happy in a matchy matchy look from Opening Ceremony.
Diggy Simmons flossed with his Gucci boots, Marc Jacobs watch and tailored Sandro suit.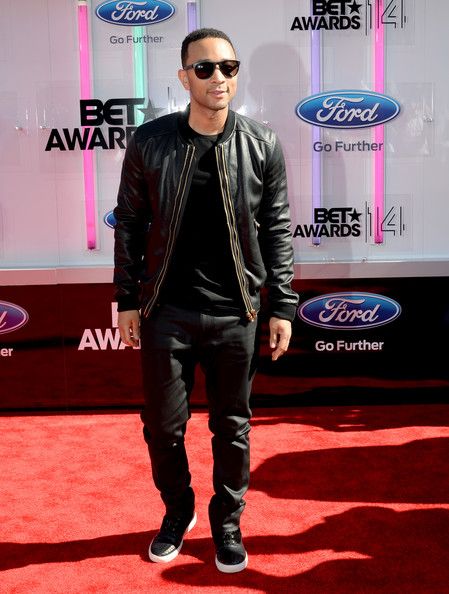 John Legend was there to perform his own set (where he brougt out Jhene Aiko) and the Lionel Richie tribute.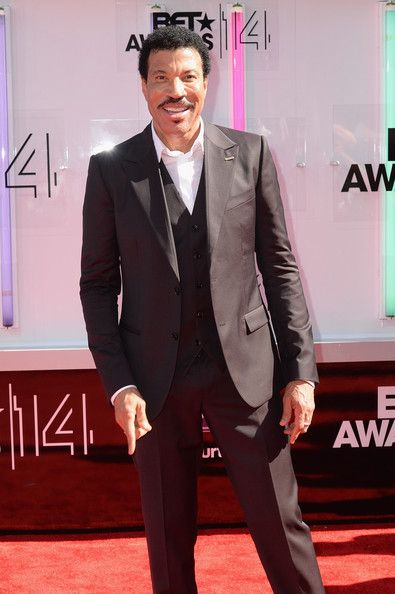 Speaking of Lionel, he schooled the audience during his own Lifetime Achievement tribute video. Legendary.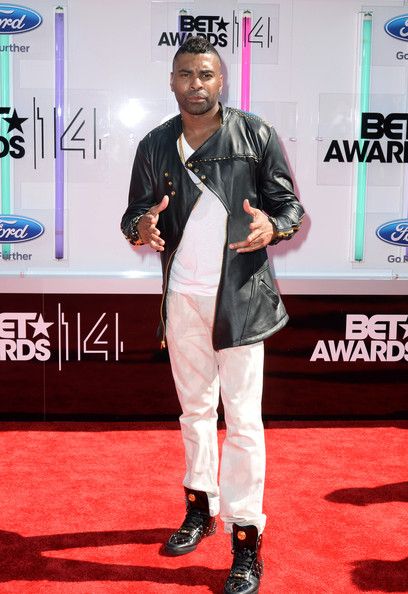 1/3 of TGT, Ginuwine, braved the heat in a black leather coat.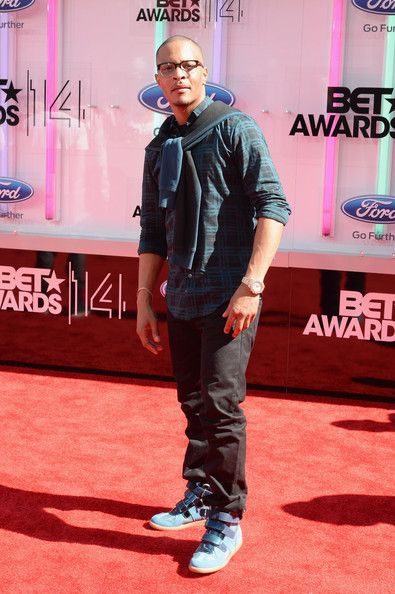 T.I. got his model stance on with the sweater tied around his neck. His wife Tiny was indeed there though, so it seems they're on the makeup trail.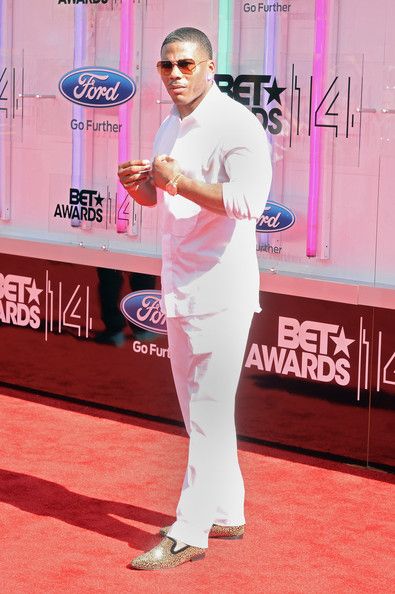 Nelly kept it sexy in all white. These cheetah loafers though...gotta love the flair.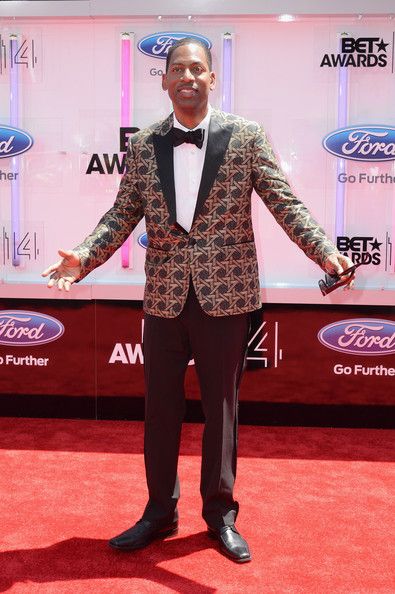 Singer Kem and comedian Tony Rock (who also was there to support his brother, host Chris) were suited up.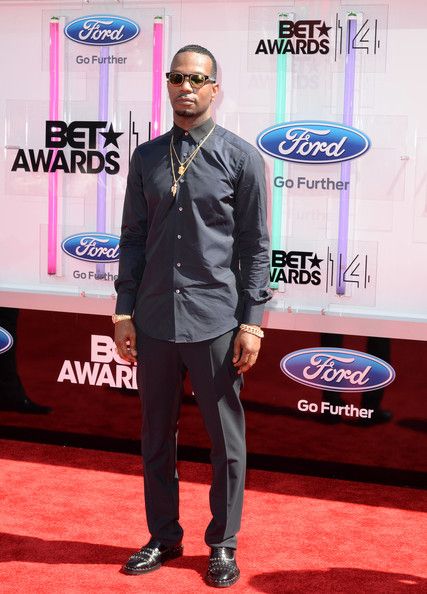 Juicy J rocked the pre-show with his medley of recent hits...but he looked like somebody's daddy when he hit the carpet afterwards.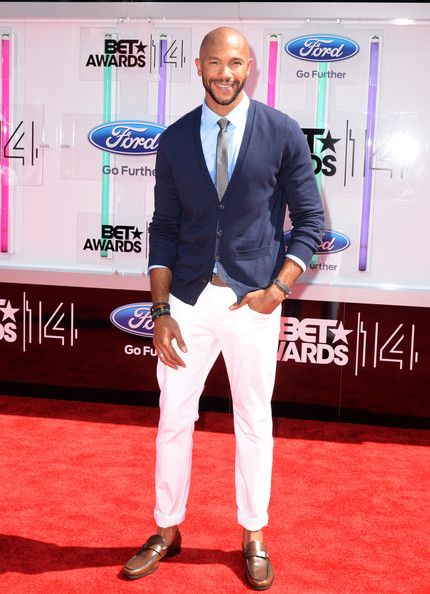 And "Being Mary Jane' star Stephen Bishop flashed that sexy smile.
Photos: Getty
2014 BET AWARDS: Pharrell & Missy Elliott's "Come Get It Bae" & "Pass That Dutch" + John Legend & Jhene Aiko "You & I" & "The Worst"
Posted: 29 Jun 2014 08:58 PM PDT
Pharrell performed "Come Get It Bae" at the 2014 BET Awards with special guest Missy. Then...John Legend and Jhene Aiko performed "You & I" and "The Worst." Watch both inside...
Pharrell opened the 2014 BET Awards with an awesome performance of "Come Get It Bae" featuring the student of #BaeUniversity. During the performance, he brought out Missy Elliott who did "Pass That Dutch." It's the first time we've seen Missy E. perform live on an awards show in a long time. Welcome back.
Pharrell's "Happy" won Video Of The Year and he also won for "Best Male R&B Artist".
Later.......
John Legend and Jhene Aiko performed a mash-up of their songs "You & I" and "The Worst." John even added a little sumthin' on the vocals. Check it.
2014 BET AWARDS: Gabrielle Union, Ashanti, Eva Marcille, Sevyn Streeter & MORE Get WHITE HOT On The Red Carpet
Posted: 29 Jun 2014 08:01 PM PDT
The YBF ladies heated up the red carpet at the 2014 BET Awards in the color of the night -- stark white. And we have all the smoking hot pics. Peep them inside…
The BET 2014 Awards just got white hot! YBF chicks Gabrielle Union, Ashanti, Eva Marcille, Sevyn Streeter, Adrienne Bailon, Tamar Braxton, Amber Rose, Faith Evans and Regina Hall all got dressed in white to slay the red carpet at the Nokia Theatre in L.A.
After chatting it up with Andy Cohen on "What What Happens Live," "Being Mary Jane"/TLAM2 star Gabrielle Union hit the carpet in a Maria Lucia Hohan gown with thigh-high black boots. Seems a little too hot for these boots, but at least she looks good.
Braveheart singer Ashanti channeled vintage Hollywood in a white lace cut-out Michael Costello fown paired with Tom Ford shoes. Say what you will about Ashanti, but she stays bringing BODY to the red carpet.
"Top Model" chick Eva Marcille got white hot showing her post-baby bod in a cut-out Sin Couture gown. Hot.
Sexy singer Sevyn Streeter was her usual risk-taker self rocking a white cut-out/high-split skirt and matching flowy top. One gust of wind though...
BET Awards correspondent/"The Real" co-host Adrienne Bailon got fierce in a white knit Michael Costello gown and bright lippie. And her signature top bun.
Making a stop on her "Love & War" tour, "The Real" co-host Tamar Braxton got fab in a white gown and Christian Louboutin pumps. Glad she's feeling better these days.
After partying it up with Emily B at Bootsy Bellows, Amber Rose looked gorge in her all white gown with silver belt. Looking chic there Amber...
After celebrating the upcoming release of her eighth album Incomparable, Faith Evans let it all hang out in her white Alexander McQueen look, flaunting her black laced bra underneath.
And TLAM2 star Regina Hall looked fab in her chic white tuxedo. Chick always knows how to pull off a pantsuit.
Photos: Getty
2014 BET AWARDS: Karrueche, Jennifer Freeman, Tatyana Ali, Kenya Moore, Holly Robinson Peete, Bria & Shayne Murphy ROCK The Red Carpet
Posted: 29 Jun 2014 07:38 PM PDT
Chris Brown's booski Karrueche Tran landed a new job as a 2014 BET Awards correspondent while Jennifer Freeman, Tatyana Ali, Kenya Moore, Holly Robinson Peete, Bria Murphy and Shayne Murphy braved the heat and hit the red carpet. See their pics inside…
Karrueche Tran hit the red carpet at the 2014 BET Awards as the BET Digital Live Stream host at the Nokia Theatre in L.A., which streamed live online. She interviewed celeb guests as they made their way down the red carpet joining hosts Bow Wow (who know goes by Shad Moss), Keshia Chante, Adrienne Bailon and style expert Lloyd Boston.
Kae rocked a shredded custom designed dress and we're not too sure if we're feeling her look. Actually, we know we're not.
Former "My Wife And Kids" actress Jennifer Freeman hit the carpet in a new EXTRA blonde 'do and a pink Michael Costello couture gown. She was almost unrecognizable.
"RHOA" star Kenya Moore hit the red carpet in all of her "Gone With The Wind" fabulousness. Ms. Twirl rocked an orange floor-length Victoria Beckham gown.
"Love That Girl" star Tatyana Ali and her twins hit the carpet in a red Walter Mendez gown. Chick was trying to keep cool in all of that heat. Not mad at it.
"Instant Mom" actress Holly Robinson Peete was beautiful in a sherbet one-shouldered Elisabetta Franchi gown and clutch.
And the Murphy girls slayed the red carpet. When they're not bonding on the beach, Bria and Shayne Murphy are flaunting their fit bods, taking notes from their hot mother Nicole Murphy.
Bria hit the carpet in a custom silk two-piece she put together with her stylist.
And her sister Shayne was smoking hot in a white one-shoulder mini dress.
Photos: Getty