---
Bobby's BBQ: Bobby Brown DEBUTS Line Of BBQ Sauces & More + Dave Chappelle Reflects On Comedy's Best Night Ever In GQ
Posted: 06 Jun 2014 10:05 AM PDT
Singer Bobby Brown has developed a line cooking supplies. Get the deets inside and find out more about Dave Chappelle's upcoming set of stand-up shows....
Bobby's staying out of trouble and staying IN the kitchen. "Good Enough" singer Bobby Brown, who posed in a new promo shoot with his products and his wife Alicia and their son Cassius, is launching "Bobby Brown Foods" which is a line of barbecue sauces, seasonings and mixes. The new venture consists of Bobby's Original BBQ Sauce, Sweet and Spicy Sauce, Boston Blend Seasoning for grilling and Bobby's Everyday Seasoning, all made from scratch from Bobby's personal recipes and manufactured right out of Los Angeles.
And since Bobby looks like that uncle who comes to the reunion in his sandals JUST to throw down on the grill, we bet this ish tastes great. Bobby says:
"I learned to cook a long time ago. When I was younger and on punishment, that was my punishment, where I had to stay in the kitchen with my mother and actually learn how to cook. This is not something that is new to me; it's been a part of my life for a long time." He adds, "Bobby Brown Foods, which is eco-friendly, provides "…a healthy way to eat the foods you like" and "soul food with a clean way to eat".
But wait....there's more. Coming soon: "There will be a cookbook where you can use my spices and my sauces to create the dishes that I make." Bobby even has plans for cooking utensils "It's from me and by me and I can't wait for everybody to taste it."
Bobby Brown Foods Product Line is scheduled to be in stores and online Fall 2014 and he'll host a tasting event in Boston on June 27th at The Sunset Cantina. You better get that money Bobby.

In other entertainment news.......
Dave Chapelle....the elusive comedian...is doing stand-up again. Though he's never retired from stand-up, the opportunity to see Dave live is rare, which explains why his five consecutive comedy shows at Radio City Hall in NYC sold out within minutes. As a result, he's added three more shows on June 24th through 26th.
The shows will include both standup and live musical performances from the likes of The Roots, Busta Rhymes, Janelle Monáe and Erykah Badu.
And........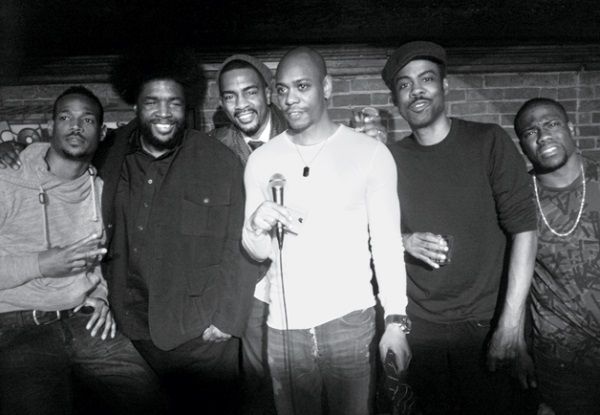 In a article that appears in the June 2014 issue of GQ, the magazine salutes Dave Chappelle's sold out shows with a look back at what some folks (at least the one's who were lucky enough to be there) consider to be one of the funniest nights on earth. They literally called it that! One night, Dave made a surprise appearance at the Comedy Cellar in N.Y.C. and he invited several of his famous friends onstage. It turned into a comedy roast/toast/pass the mic session. Here are their reflections:
Chris Rock: Dave is like Prince.

Marlon Wayans: Like Bigfoot.

Rock: You never know when he's going to show up. That night was a comedy booty call from Dave. [in Chappelle's voice] "I'm in town, man! You should come on down!" Dave's my favorite comedian. So…

Ahmir "Questlove" Thompson: I was on a date, and I was trying not to look at my phone, but I heard a beep and saw the name Rock: "I'm down here at the Cellar. Chappelle's going on in twenty minutes." That was the fastest "Check, please!" I've ever said in my life. I lied to my date and said I'd been called into the studio.

Wayans: I was out with Bill [Bellamy] after a Knicks game and hit Kevin [Hart] up. He was in town to host SNL. He was like, "Yo, I'm at the Comedy Cellar. Chappelle and Rock are here." I was like, "Word. Let's go."

Thompson: I grabbed the only seat left: There's a piano onstage, and I took the bench. Chappelle gets up and riffs for forty-five minutes about—who's the guy with the prosthetic legs? Oscar Pistorius? Dave was talking about how Pistorius would be the least vulnerable guy in prison, because all he has to do is scrape his legs on the steel bars every night. He started making this sharpening noise, and we were just done, all of us.

Bill Bellamy: Me and Marlon walk in, and Dave is onstage. When he was 18 or so, I hosted a night at this club in East Orange, New Jersey—the Peppermint Lounge—where he used to perform. So I know if he sees me, he's gonna go crazy. He sees me. He says, "People, this is unbelievable. I think I'm having a flashback."

Thompson: Then, one by one, he just called them up, kind of like the Harlem Globetrotters' Magic Circle.

Bellamy: Kevin Hart walks out. And here comes Chris Rock. Then Dave was like, "Who else is in here?" That was rich. So then me and Marlon come up. People go goddamn crazy. And we just start passing the microphone, telling stories about each other. It was a Black Pack moment.

Kevin Hart: That crowd got something money can't buy. They got authenticity.

Rock: Yeah, it was kind of a lovefest.

Bellamy: I remember Chris saying Marlon fucked one of his ex-girlfriends.

Wayans: Dave says something about my mama's vagina, about her having ten kids. I said, "Don't make me call all the Negroes that came up out that vagina. You don't want to get the Wayans beat-down." He goes, "Oh, please don't call them niggas."

Bellamy: Chris said something to Kevin that congratulated him on his success—but it was like, "You may be hot right now, but Dave Chappelle is hot forever."

Rock: You're not going to sit there and let other people be funnier than you. I mean, I like Kevin, but come on. I'm not conceding.

Bellamy: But we all had our moment to say how much we love and appreciate each other's talent. It wasn't a roast. It was a tribute.

Rock: And it'll never happen again. There's no Coachella of comedy where we all get together, you know?

Dave Chappelle: I had no idea all those guys were going to be there. You know, comedy is surprisingly competitive. It's like being in the Karate Kid tournament every night. I've known these guys for years and have always respected their talent, but on that night, I got to experience it up close. That's why it was special. But it made me laugh that Ahmir told his date he needed to go to the studio. Why didn't he just bring her to the show?
Ha!
Photos via Laff Mobb PR/GQ/Bobby Brown's
REMEMBER HER? Rachel Jeantel Gets Her High School Diploma, Sets SIGHTS On Fashion School...Maybe College
Posted: 06 Jun 2014 08:47 AM PDT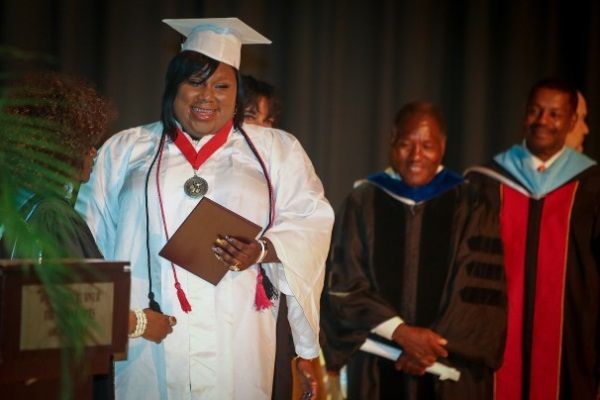 Rachel Jeantel, the good friend of Trayvon Martin who gained noteriety after her viral testimony, defied all the odds and received her high school diploma recently. Find out about her post-graduation plans inside and see what her mentors said about her growth and development.
Months have passed since the racial-charged George Zimmerman trial turned 20-year-old Rachel Jeantel into a national "hot topic" where critics focused more on her skin tone, weight, dialect and assumed education level than the tragic death of her friend Trayvon Martin. Despite the backlash, something good did come out of the tragedy.
The media attention created a village of supporters who rallied around Rachel to make sure that she had a shot at success.
Since she's been out of the spotlight, Rachel, whose reading skills were once assessed at a fourth-grade level, has received her high school diploma from the Academy for Community Education in Miami. And she's officially a member of the Class of 2014.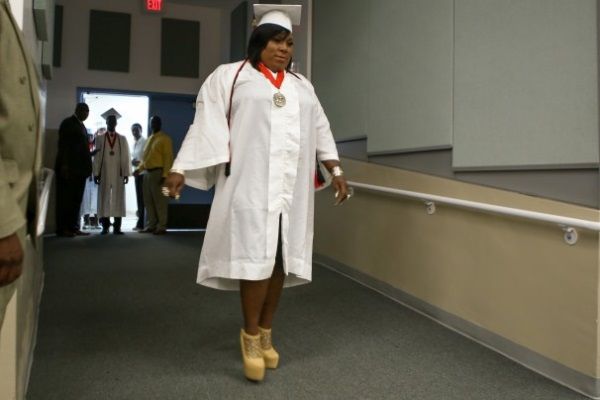 In a recent profile published by The Washington Post, her friends admit that the road to graduation was not easy, but Rachel's "village" made she sure didn't get left behind. Radio personality Tom Joyner said,
"I think the thing that moved me most was when the attorney kept asking her questions and she kept saying, 'You're not listening to me.' And it occurred to me, 'Yeah, not only was that attorney not listening to her, but I think that none of us were listening to the Rachel Jeantels of the world.'"
Roderick Vereen, a high-profiled lawyer who helped engineer an educational program for Rachel added, "ten months ago her word choice was terrible. She didn't know how to communicate or express herself clearly. Rachel has learned to confide with adults. She has become very open now."
Going forward, Rachel admits that she's not clear about the path her future will take, but she's seriously considering going to fashion school or taking up Tom Joyner on his offer to attend a four-year HBCU....where he already offered pick up the tab.
Congrats Rachel (and to all the Class of 2014 graduates)!
Photo via Angel Valentin/The Washington Post
EXCLUSIVE: Kandi Burruss Dishes On Her Body, SEX TOYS, & The SHOWDOWN Between Mama Joyce & Todd's Mother
Posted: 06 Jun 2014 07:29 AM PDT
Newlywed Kandi Burruss chopped it up with TheYBF.com for an exclusive conversation about her new spinoff show "Real Housewives of Atlanta: Kandi's Wedding", how she feels about folks saying she packed on a few extra pounds and how she and Todd get down with her own sex toy line. We're not mad at it...
"RHOA" star Kandi Burruss is now OFFICIALLY a "Housewife". Still not in the tradition sense, but she's a married woman now. And she even nabbed her very own spinoff show to chronicle the days that lead up to her walking down the aisle to marry the love of her life, Todd Tucker. If you've seen the first episode, you know that it seems like a miracle will be needed just to get Kandi and Todd down the aisle. But we already know how it turns out.
Mrs. Tucker made reality show history after "Real Housewives of Atlanta: Kandi's Wedding" scored 2.4 million total viewers and became the #1 rated spin-off in the franchise history. Work Kandi!
So, it was only fitting that hot bodied svelte singer-songwriter, rocking a black leather mini dress from Hush Boutique and cutout gladiator-style boots by Alexander Wang, sat down with us in NYC this week. And she dished on her new spinoff show, how she feels about the few extra pounds her mother cruelly harped on her about and the squabble between Mama Joyce and Todd's mother.
Oh, and she keeps it very real about whether she and Todd actually use her Bedroom Kandi products.
We were also joined by Kandi's bestie Carmon who revealed what pushed her over the edge, how she felt when Todd checked her about the wedding and more.
Here are the highlights:
On people blaming her weight gain on Todd:
"That's messed up. Let me just say, since I have been on the Housewives, I have gained 30lbs, but that was before I met Todd. And then, you know, my lifestyle has changed. I haven't been able to workout like I use and I love to go eat. I feel like now, I'm not happy with my weight. If I could just knock off a good 15-20lbs, I'll be in the game now. You won't be able to tell me nothing."

On if she has used any of her Bedroom Kandi products:
"Yes! Todd and I, we tested out a number of our Bedroom Kandi products. My Kandi pop..the lollipop…love that. Obviously the Kandi Kisses lipstick. That kiss puts the work on the regular…I mean, I don't know if I should tell you what we do with it." [Do you boo.]

On if she served any of her auntie's "Ghetto Purnch" (spelled exactly that way) at the wedding:
"[Laughs] Not at the wedding."

On what sparked the arguing and finger pointing between Todd's mom and Mama Joyce at the table:
"His mama is on 10 after seeing this past episode when my mom was calling her a whore. Oh, that was horrible. Sorry. That was not true by the way. His mother is SO upset over what my mother said about her."

On what we can expect from her CD/DVD "A Mother's Love":
"The musical, I put my heart and soul into it. It basically was inspired by what was going on in my relationship with the stuff that was going on with my mom. I just it beautiful love story out of it and did a full soundtrack of 19 songs, original music. It's jamming! You got Eddie Levert, you got Porsha [Williams] from "RHOA" with me, you have Q Parker from the group 112, D. Woods, Shirley Murdock, myself. It's amazing to me. [laughs] And then the play, you get to see the full play. If you go to KandiOnline.com you can order it or you can see it in the fall. We're going to take it on tour for 15 weeks."

We had our thoughts about Carmon after that first episode, but she joined the interview and shed some light on why she may have come off as a hater. She wasn't feeling the way she was being treated by Mama Joyce and Todd (and it probably didn't help that Kandi didn't seem to check either of them about it).
On what pushed Carmon over the edge:
"Taping this show is what really pushed me over the edge, I think. Well no, Mama Joyce. That situation was crazy. And then going into taping the show again and knowing I would have to face her mom again. I was like 'I don't want to do this again.'"

On Carmon "working" for Todd and their fall out:
"I don't work for Todd. Todd doesn't sign my check so he shouldn't have had nothing to say to me. And you [Kandi] was suppose to check him on that."

Check out our FULL interview below as YBF Correspondent Shirley V. mixes it up with one of our fave "Housewives":
"Real Housewives of Atlanta: Kandi's Wedding" airs Sundays at 8/7C on BRAVO.
Photos/Video: Shirley V/Sean Anthony
Nicki Minaj Gives Sneak Peek Of "Pills N Potions" Video On "GMA"
Posted: 06 Jun 2014 06:42 AM PDT
Nicki Minaj brought her "Pills N Potions" video sneak peek to "GMA" this morning. Check out what the pink lady had to say about it, and who she nabbed as her leading man in the video...
Nicki stopped by "GMA" this morning to chat it up with Lara Spencer about her brand new video for "Pills N Potions". The track is the lead single off her upcoming album The Pink Print, and she dished on the inspiration behind it all.
When asked about her new natural look and sound in the video and beyond, Nicki revealed:
"It's just a toned down look. It takes a lot less time to get out the house. And I'm using my natural hair....The crazier you look the crazier you think you can be. But I think at a certain point you have to be able to turn that on no matter how you look. And that's kind of where I am right now."
And about that release date for The Pink Print, Nicki said she's purposely keeping it under wraps.
"It will be out this year. I know the date but I don't want to say the date. I want people to absorb the singles as they come out."
The MYX Moscato honcho also revealed that she's on a mission to be a mogul like the male rappers that came before her.
She pulled a page out of her "Right By My Side" video treatment (where rapper Nas was her love interest) and nabbed another sexy rapper, The Game, as her leading man.
Check out the 47 second video snippet of "Pills N Potions" below:
She's slated to premiere the full video on Monday after appearing on "Live with Kelly & Michael".
BONUS: Nicki posted a pic of her stalkers/Barbz who were waiting outside her hotel room this morning: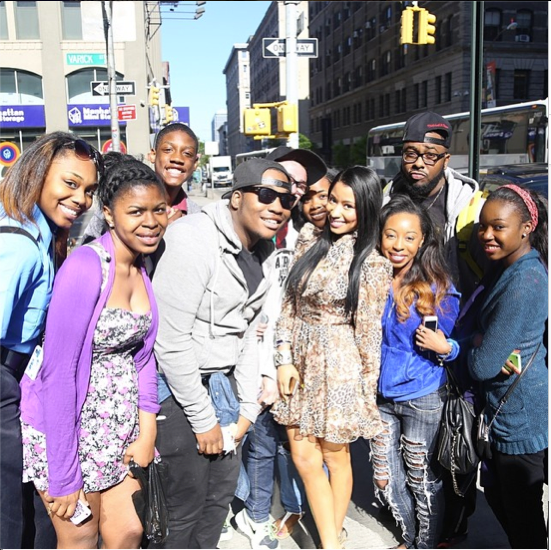 Cute.
The Randomness:
1. Restauranteur, former model, B. Smith reveals Alzheimer's battle. STORY
Photos: Nicki's IG
BREEZY'S HOMECOMING PARTY: Karrueche Kisses Her Man + T-Pain, Big Sean, Amber Rose, Tyga & More CELEBRATE With Chris Brown
Posted: 06 Jun 2014 05:46 AM PDT
Karrueche stayed by Chris Brown's side while he was in jail these last several months. And now that he's out, she right there to lock lips with Breezy at his homecoming party. Check out the twosome and the celeb friends who partied with CB at his homecoming party...
Looks like these two are back on...now that Chris is out. Camo covered Breezy, Kae and friends celebrated the singer's homecoming last night in L.A. And they were kissing and cuddled up all night: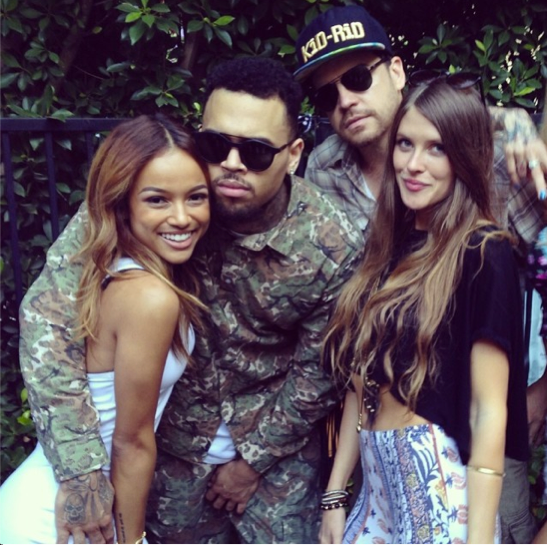 Amber Rose came out to celebrate as well, and Kae offered up the obligatory ass grab.
Chris' homies Tyga, Big Sean, T-Pain, Fuzzy Fantabulous and more were there with their red cups in hand (and it better be some SPRITE up in that cup Breezy).
And T-Pain, who said in a recent interview that Chris was one of the very few people who showed him love during his depression, posed it up with his homie.
Time to get back to the music Breezy. Welcome home.
Photos: Karrueche's IG/T-Pain's IG/Fuzzy Fantabulous' IG
MAKE OUT SESSION: Kimora Lee & Her Man Tim Spotted Getting Hot & Heavy...At Event Alongside Russell Simmons
Posted: 05 Jun 2014 05:11 PM PDT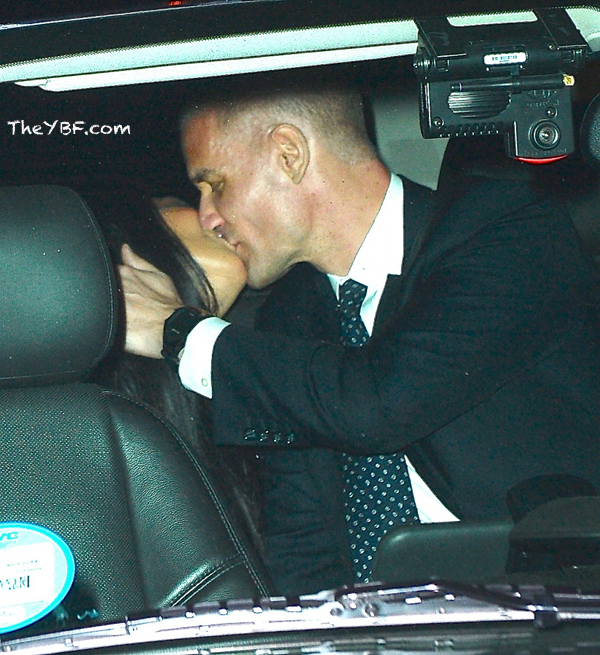 Kimora Lee still hasn't totally fessed up to whether she's ACTUALLY married to her man Tim Leissner like her ex Russell Simmons recently revealed, but she has no qualms making out with her boo in public. Even with her ex Russell there as well....
Before they hopped in the car and totally made out for a minute, Kimora Lee and her supposed new husband Tim posed for pictures while leaving the Trump Soho hotel last night after an event: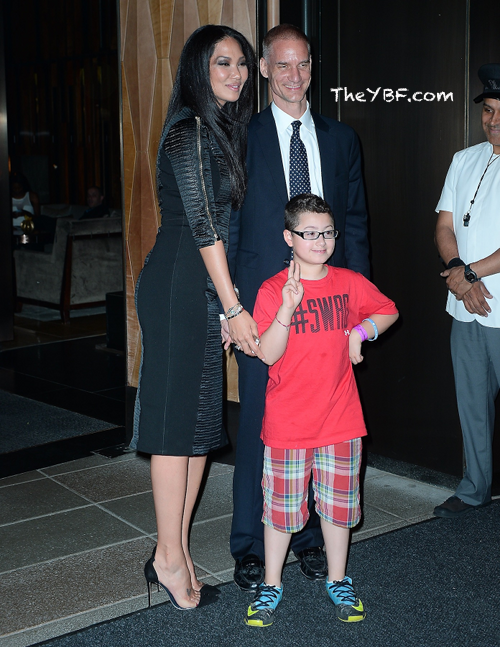 They even snapped a pic with a little fab. Cute.
Also at the event was KiKi's ex husband Russell Simmons and his chick: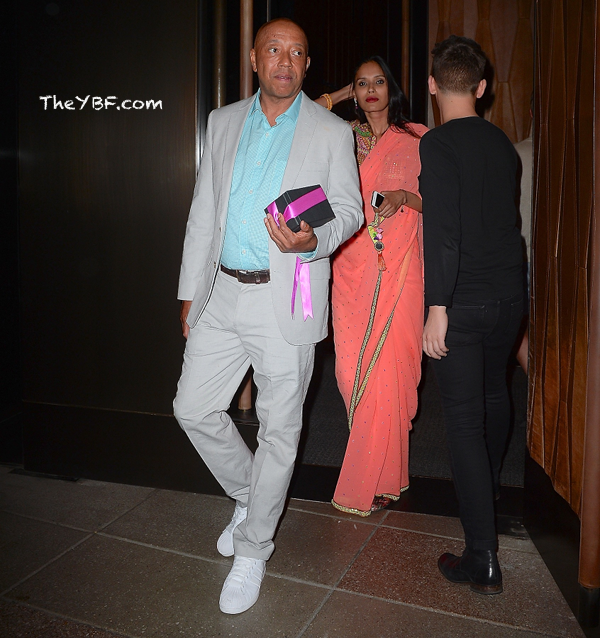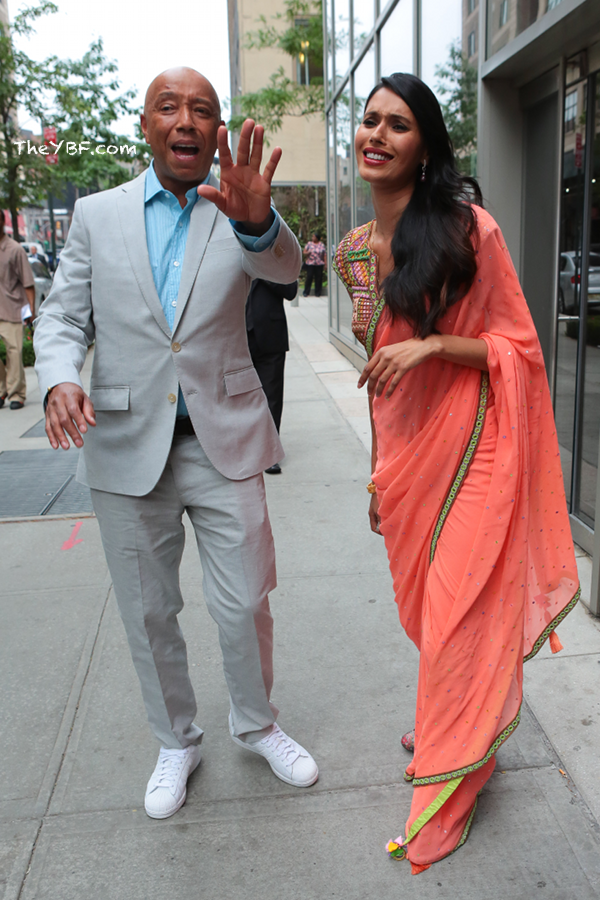 Russ and Kimora are still great friends and co-parents. Glad to see them out and about together...
The Randomness:
1. Now there are TWO films in the works about Tupac Shakur thanks to the rapper's cousin. STORY
Photos: Splash News
Slowbucks Launches An Investigation Against 50 Cent Over Alleged Summer Jam Incident
Posted: 05 Jun 2014 04:33 PM PDT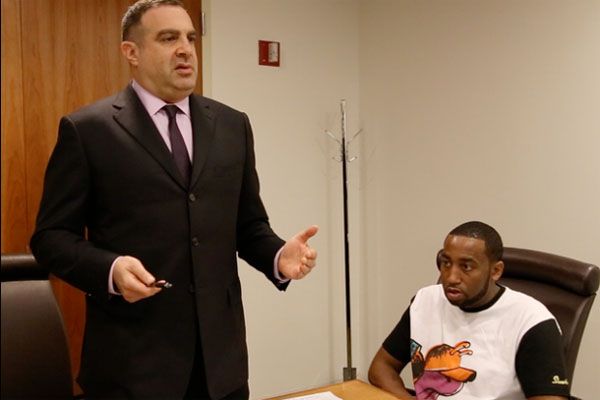 All of the foolery that went down on stage during 50 Cent's performance at Hot 97's Summer Jam is turning into legal trouble and paperwork for 50, the alleged vicitim Slow of Slowbucks and others involved. Get the latest inside…
FOOLYWANG activities ensued during Hot 97's Summer Jam at MetLife Stadium in New Jersey Sunday night. And it all went down during 50 Cent's performance.
You'll recall, after 50 brought out Fabolous to debut their remix of "Cuffin' Season" along with the 100+ dudes on stage, all hell broke loose when a fight broke out towards the back of the stage.
Apparently, a rap duo that owns the clothing company "Slowbucks" (one guy is named Slow & the other Buck) were allegedly assaulted and one or both of them had their chain(s) snatched. 50 allegedly rocked the chain(s) for the remainder of his performance after the melee died down.
50 has gone on the record in an interview with Hot 97's Angie Martinez to share his side of the story and he says he didn't see ANYTHING. He revealed:
"I didn't even see it. I was performing," he said to Martinez and co-host DJ Enuff. "I look at Media Takeout and see the rumors and stuff like that, all these different things, but I've seen so many things about me that weren't true…there were so many people. People didn't' leave the stage. The excitement of the show left everyone who was on the stage, and additional people were added on to it. So it was like a crowd. It felt like a park jam. "

"Do you think I want to be attached to that at this point? I don't need that. It does nothing for me. People make mistakes all the time…"
Mmhmm…
Now Slowbucks is fighting back...the legal way. He launched a civil investigation on 50 Cent and whomever else was involved over the alleged brawl that went down on stage at Summer Jam.
Bostany Law Firm says Slowbucks has teamed up with Civil Investigator John P. Bostany. They believe his chain was snatched because 50 (and whoever was with him) allegedly sees the Slowbucks brand as competition,,,and they plan to file civil charges of brand dilution.
AllHipHop reports:
"They know he is the founder of Slowbucks, the #1 urban brand on the rise today. They want to hurt that brand and they are trying to hurt that brand we are going to put and end to that. We're here, I'm a Trademark attorney, I'm a copyright attorney and I fight unfair competition," said Civil Investgator John P Bostany.
According to Slowbucks' civil investigator, he claims 50 is lying about not seeing anything because the video footage shows he watched the whole thing go down.
"I looked at the videos and I heard 50′s interview on [Hot] 97 by Angie, who did an excellent job. Questioning him and I heard his responses and his demeanor. If you look at him he says 'oh I was looking at the crowd.' I didn't know what was going on behind me. I was happy that day.' But if you look at him when he's telling that story, he doesn't look happy. He doesn't look like he want to talk about it. If you look at the videos, every single one, whether he's the one picking up the chain or not is irrelevant. His body is facing what's going on and the he turns around, in the middle of it all, and faces the crowd."
He added,
"He had the courage and the strength to come here and remind everyone that no matter how rich or powerful some might become, how popular they may be, they still are not above the law."

And Slowbucks has taken to his/their Instagram to clear up that he isn't pressing criminal charges but rather civil charges, because, you know, these "street dudes" don't do cops.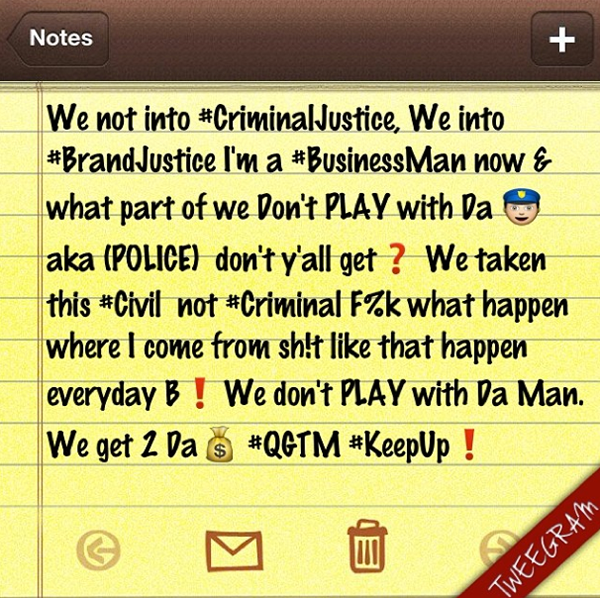 And this: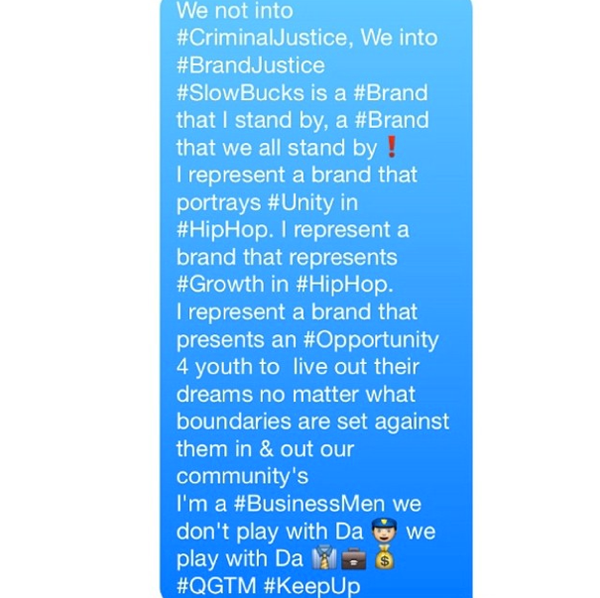 Messy...
Photos: All Hip Hop/Slowbucks' IG
COMING SOON: Lifetime Prepping New Docu-Series -- "BAPS" -- On St. Louis' Black Upper Crust
Posted: 05 Jun 2014 03:52 PM PDT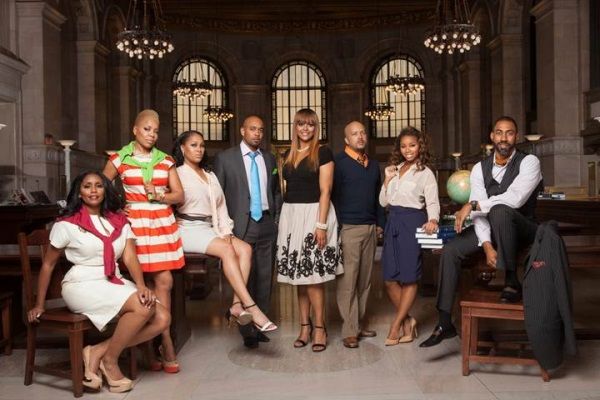 Another day, another reality show. Does the Lifetime network have an upscale answer to the ratchet reality docu-series on the dial? Get the deets on "BAPS", a new show about affluent Blacks in St. Louis....
Are you ready for a group of African Americans who are chasing the American dream while maintaining a sense of decorum? Well, as much decorum as you can on a reality show?
A new Lifetime docu-series called "BAPs" pulls back the curtain on an exclusive, privileged and affluent group of African-American friends from St. Louis who are self-proclaimed Black American Princesses and Princes. No, not extras from Halle Berry's iconic (you know that ish was legendary) film of the same name.
The series follows lifelong friends who are educated, sophisticated and believe being a BAP in today's world is a birthright. The press release reads:
"There is no shortage of conflict, humor and heart that comes along with being a part of this tight-knit clique, which includes, Anisha, Kristen, Gina, Jason, Riccarda and Brandon. Together, this group, whose dynamic can change from best friends to frenemies at the drop of a hat, attends St. Louis' elite fashion shows, the symphony and charity events… but no occasion is conflict-free. Competing to be the most successful and most beautiful person in their circle is sure to bind and divide them, especially when Anisha's boyfriend, Kendrick, and his niece, Rai-Rai are the anti-BAPs."
Does it sound appealing? We checked out the trailer and it looks pretty interesting. Is it time the world learns that Black folks come in shades other than "RHOA" and "LAHH"?
Lifetime will be making the sneak pubic very soon....

Photos via Lifetime
MAGAZINES: Sherri Shepherd LAUGHS IT UP For SHEEN's Comedy Issue + JET Magazine RELEASES Its Final Print Issue
Posted: 05 Jun 2014 03:26 PM PDT
Sherri Shepherd covers SHEEN Magazine's annual comedy issue. See the pics inside and the LAST print cover of JET Magazine ever.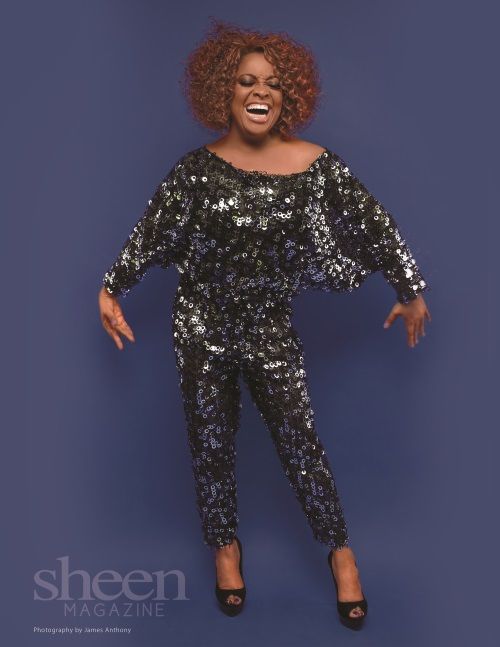 Soon-To-Be-Divorced comedienne Sherri Shepherd covers the latest issue of SHEEN MAGAZINE where she offers great girlfriend advice and an insider's view on the feminine side of comedy for the July/August 2014 Comedy Issue: Laughter Is Good For The Soul.
While she DOES NOT address her pending divorce (because it isn't funny), she does talks about the importance of motherhood, friendship, and good health. And as an avid Tweeter, she revealed the following, "I love social media but you can't define me in 140 characters!"
In addition to Sherri, readers will find in the issue articles on Tracee Ellis-Ross' style, Sommore discussing the return of BET's Comic View, and R&B Divas ATL star Kameelah Williams talking about her new role.

Pick up your copy now.
In other magazines....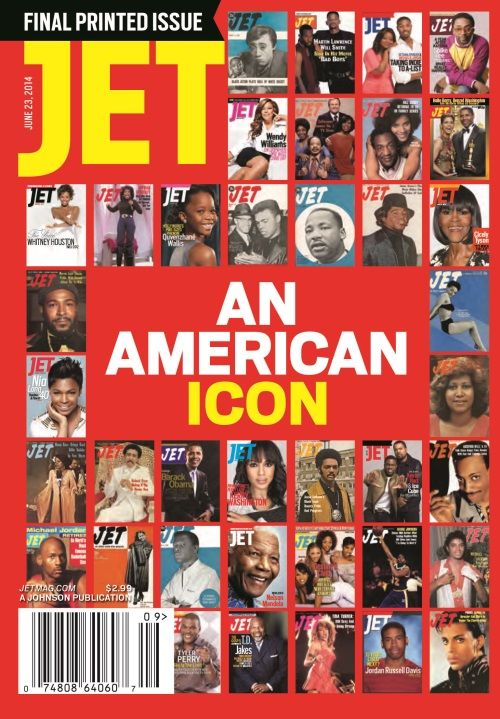 In case you hadn't heard, this is the last week that JET Magazine will appear in print form. So......Feast your eyes on the last physical cover of the iconic magazine!
Hitting stores on June 9, the cover of the last issue salutes JET magazine's iconic history by featuring images of previous covers throughout the past 63 years. Inside, readers will find a retrospective of the news covered in the magazine from 1951 to the present.
JET is launching a new weekly digital magazine app to address the needs of its readers to get information quickly. And that is scheduled to launch June 30 for all tablet devices and mobile platforms.
So...if you've always have dreams of being one of the "Beauties Of The Week", you can still nab that spot. It'll be online.....
The Randomness:
1. FLOTUS to speak at Maya Angelou's funeral. STORY
2. Mariah Carey is giving a press conference on June 9th to announce the launch of her go N'Syde bottle "Butterfly" at the St. Regis Hotel in NYC.
Photos via James Anthony
UMMM…IS THAT YOU DWIGHT HOWARD?!: NBA Baller ALLEGEDLY Flies Out Young Chicks To Florida Hotel…Where Is His Girlfriend Christine Vest?
Posted: 05 Jun 2014 02:53 PM PDT
Hmm…what do we have here? Some pics popped up on these internet streets and it looks like Dwight Howard inside of a hotel room with two young girls. Come inside to see for yourself…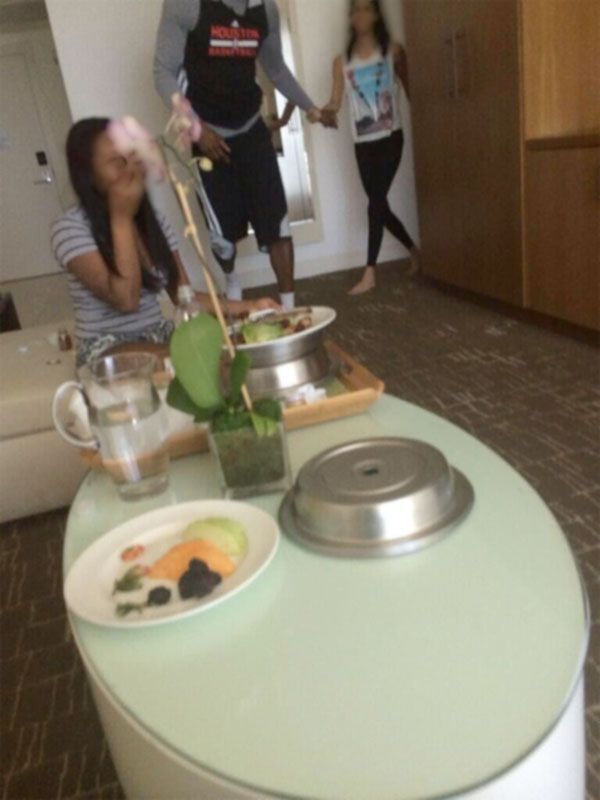 *squints* Is that you Dwight Howard?
Wait for it...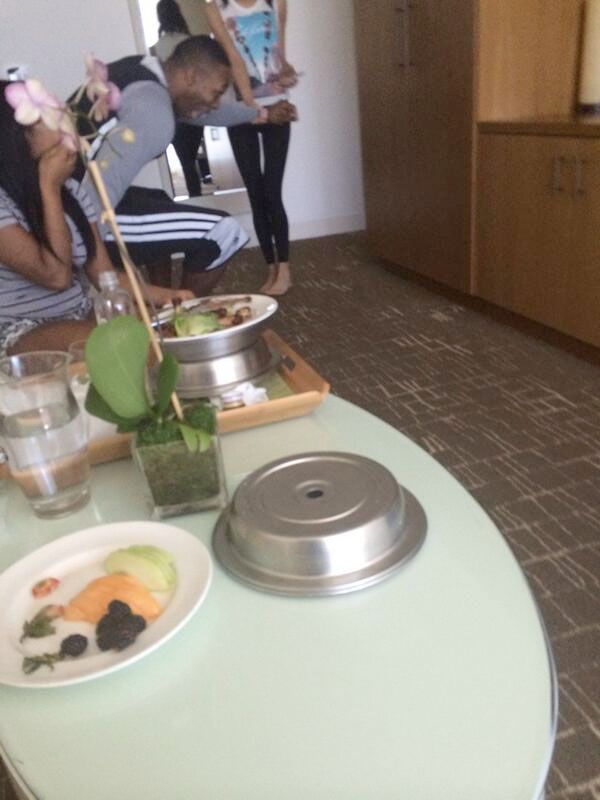 Hmm...surely looks (exactly) like him.
Houston Rockets baller Dwight Howard has plenty of extra time on his hands now after the Portland Trailblazers defeated his team in the Western Conference playoffs. And it seems he's allegedly spending that extra time with some young tenderonis.
Twitter is buzzing over these alleged pics of Dwight Howard in a room with two young ladies…who look way to young to be in a hotel room with Dwight. But according to one or more of the ladies' Twitter account(s), he supposedly flew them out to Florida to come visit him: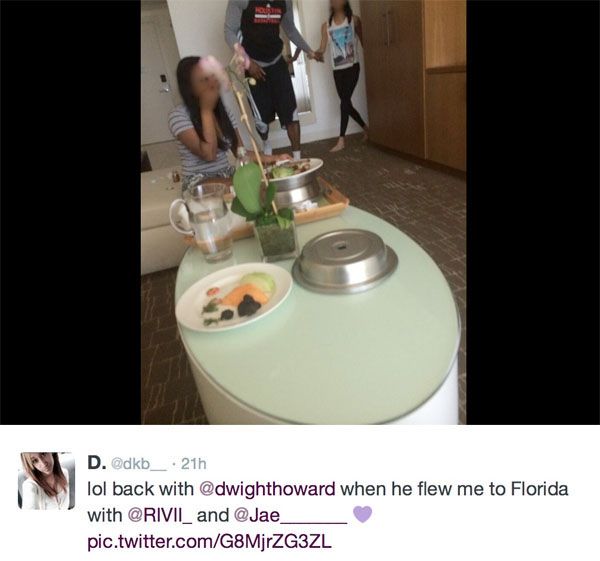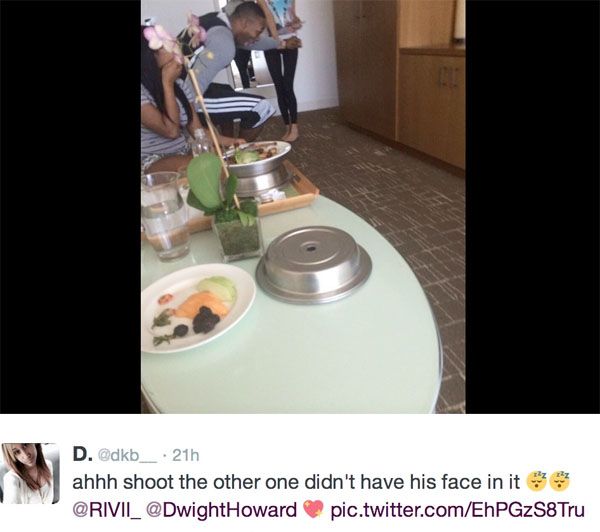 The girl who posted these pictures, age unknown, is allegedly named Debbie and it appears she's possibly still in HIGH SCHOOL. She's pissed…for whatever reason so she decided to BLAST Dwight on Twitter with pics. She was on a mission:

And she also posted this alleged text message conversation between him and her (which we can't really make out what they're saying) but there is no confirmation if it's really him or not.
Sighs...
It appears "Debbie" has deleted her Twitter and of course, Dwight hasn't said anything. And we don't expect him to.
You'll recall Dwight is currently in a relationship with "Christian singer" Christine Vest who birthed his child last year. Yep…she's baby mama #...well we lost count (we think she's circa #5). Wonder how she feels about her man allegedly partying it up in a hotel room with extra young-looking chicks...
Photos: Getty/Dwight's Twitter/@dkb__
HAVE YOU SEEN ME?!: Beyonce's Bodyguard Julius Has Been M.I.A. Since The Knowles-Carter Reunion In New Orleans...Do YOU Know Where He Is?
Posted: 05 Jun 2014 01:42 PM PDT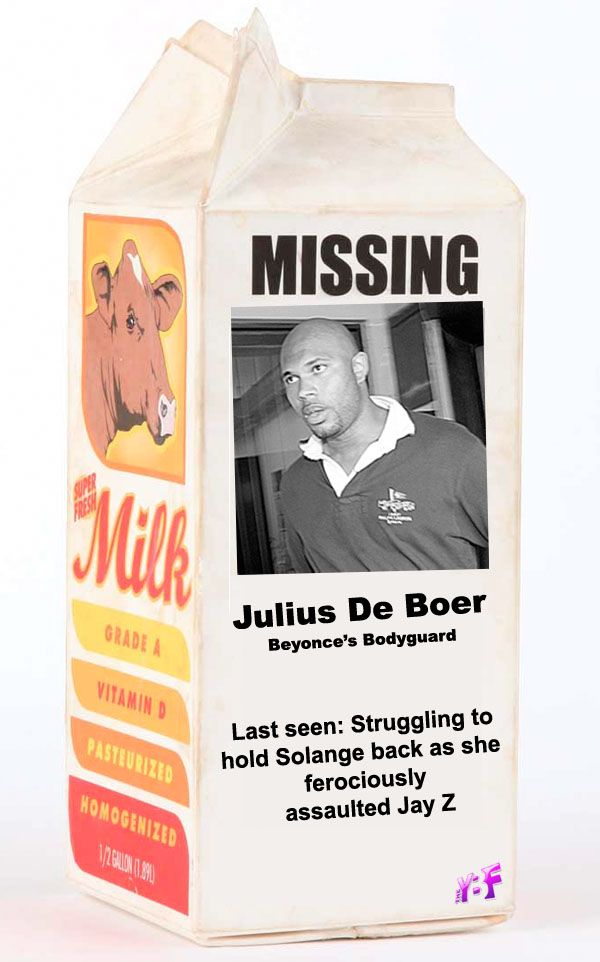 Since the infamous CARTERGATE scandal INSIDE The Standard Hotel's elevator in New York City, there has been very few sightings of Bey's longtime ALWAYS present bodyguard Julius. We could be overthinking it...but have you seen him??...
Have you seen Julius De Bor?
We haven't seen him much when he's normally ALWAYS there. We've noticed that ever since Julius was seen trying his damnest to keep Solange from pummeling her brother-in-law Jay Z in an elevator at the Met Ball afterparty, Bey's longtime bodyguard has been semi-missing in action.
We all know Julius from the many years he has kept Mrs. Carter and her family safe from all hurt, harm and danger. But we find it quite...odd...that he has been missing since their reunion in New Orleans last month. Bey and her hubby Jay Z have been spotted out and about recently but there has hardly been any sign of dude. He pulls double duty as our eye candy as well, so...
Did he quit? Did he take an already planned sabbatical? Does he know too much?
So many questions…very few answers.
COMING CLEAN: Daniel Gibson Accepts Blame For FAILED MARRIAGE To Keyshia Cole, Admits To CHEATING (Kinda...)
Posted: 05 Jun 2014 01:00 PM PDT
Daniel Gibson is coming clean about his doomed marriage to Keyshia Cole, and he places the blame solely on himself. Find out what led to their breakup inside....
In the latest issue of ROLLING OUT, we watched NBA star Daniel Gibson put a "period" on his marriage to singer Keyshia Cole. It's over. Officially. As we've covered the former couple from their courtship to their marriage, and been there through family drama, reality shows and the birth of their son Daniel Jr. - it's sad to see it come to such a nasty end. Clearly...both sides were hurt.
While Keyshia will undoubtedly reveal her side of their breakup for years to come (through her music and a possible new reality show), the latest issue of ROLLING OUT is Daniel's chance to have his say. And he does not hold back.
If you blame him for breaking Keyshia's heart - he agrees with you. If you say he cheated - he agrees with that to. But it's a little confusing. While he dodges and skirts around a direct response about sleeping with other women, Daniel admits to cheating on Keyshia emotionally saying:
"I won't say that I didn't cheat, but I will say that I cheated my wife out of a friend in a lot of situations where I was supposed to hold her down and I didn't. I cheated my wife out of a lot of different things."
Outside of admitting to other women, Daniel really bares his soul and seems guilt-ridden about the failed relationship and his role in. Here are the highlights:
On what went wrong:

I think that life happened. In certain situations, you are a match made in heaven. But at the same time, nothing is perfect — and nobody is perfect. Then in some situations, you aren't going to be as perfect as some people expect you to be. What happened with me and her was that our relationship was out there for everyone to see. So whenever we were going through our problems, it became public and everyone saw the ups and downs. With us, I think it was just a matter of us growing apart over time. I can't say that there was one thing that broke us up, but what I can say as a man; when you are in a relationship, and you say those vows, I take full responsibility for everything that didn't go right.

On taking the blame for the failed marriage:

I take that responsibility — I do.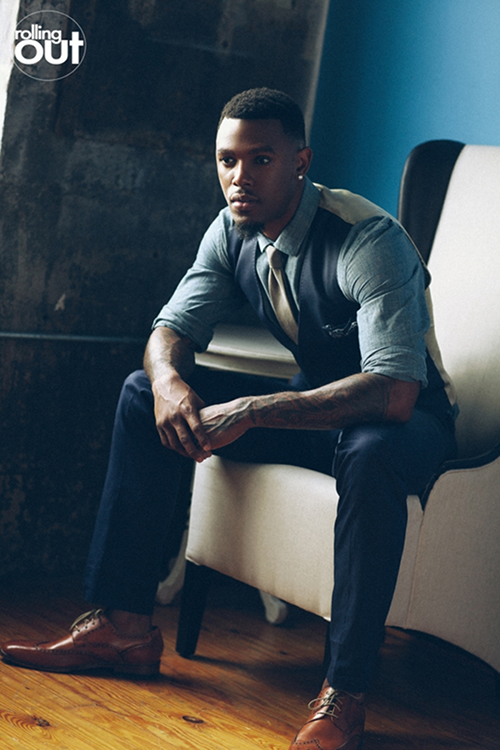 On why he blames himself:

I'm giving you the real answer because I feel like you're never supposed to allow your marriage to fall apart. Whether it's the blogs saying I cheated, or if I don't like your attitude, at the end of the day, when you're married to somebody, and you say "I do," it says for better or for worse, and regardless of what comes in your relationship, you're supposed to work through it. For example, even if you wanted to say that I cheated, you're still supposed to figure out a way to make that work. So I'm not backing down from anything that people have to say about me, and I'm not taking the easy way out. But I am taking full responsibility for that not being my wife.

Did you cheat?

No.

Well there are songs out by her that say something totally different.

Well, let me put it like this. I won't say that I didn't cheat, but I will say that I cheated my wife out of a friend in a lot of situations where I was supposed to hold her down and I didn't. I cheated my wife out of a lot of different things. I feel like when we got together, I thought I was a man, and I thought I had it all figured out but I didn't. I think I was like 23 when we met, and so a lot of mistakes that you shouldn't make as a man in a relationship with your wife, I made. So you can go down the line — I probably made every mistake. The difference between me then and me now is that back then, I probably would have tried to sit here and make an excuse like, "oh it was because of her attitude, and it made me go out and cheat on her." No, that's a sucker move — that's for a coward to say. So I'm sitting here telling you that regardless of what she did, I married her. I loved her. And none of that other stuff should have happened. We're supposed to still be together doing it right.
On strippers....

As far as the whole stripper thing goes, of course I went to the strip club and had a picture taken of me with a stripper. But what I've been trying to figure out when I hear people gossiping and talking is, since when do two pictures constitute a relationship? It only happens that way when the media tries to paint a picture that this is what happened to our relationship. And what I will say about my wife is that she's really into the social media world. So when stories like this start floating around, and she feels the need to get involved with it, it makes it seem more true than it really is. But that didn't really have anything to do with us being separated, because when you think about it, we were actually already separated before all of that came out.

The reason the relationship failed:

And that's why I say it's way deeper than a superficial story that I cheated. It's way deeper. What it really boils down to was, I just wasn't a good friend to her, and I wasn't a good person for her at the end of the day.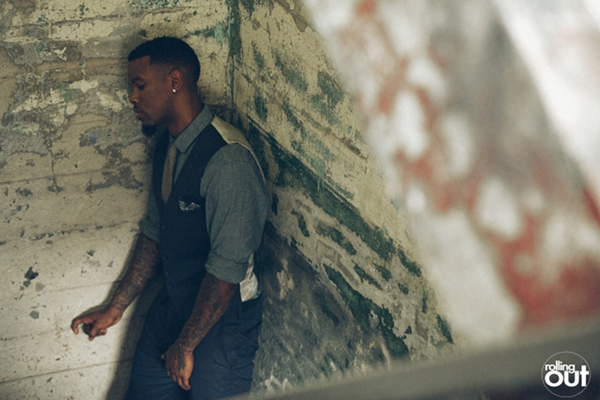 I understand where you're coming from, but what I don't understand is why you're taking the fall for something if you didn't do it. If I was accused of cheating, and I didn't, I would be proclaiming my innocence from the mountaintops. But you remained quiet, and I never understood that.

Me being the way that I am, and the way that I was raised, I personally felt like love should be private, so I really didn't want to agree to us doing the show at the beginning. Because I really felt like, when you open up that door, you allow people to be able to hate, or form whatever assumptions they want to about you because you're putting your life out there. But I felt like it should be private. And, you know, she sings and she sings from that hurt place. I respect what she does, and she has to do that, but as far as I go, I couldn't care less what somebody has to say about me as a man. The people that know me are the people that matter. And those people know what I'm about and what I stand for. So feel free to call me a stripper-chasing coward who let his family down. But those that know me know what I'm really about and that is never going to change.
The latest issue of RO is available now. And aside from everything else, Daniel is still looking damn good.
Read more here.
Photos via RO/DeWayne Rogers
IT'S THE FELLAS' TURN: The Men Of "Think Like A Man Too" Keep It Hot On The Cover Of ESSENCE's July 2014 Body Issue
Posted: 05 Jun 2014 11:33 AM PDT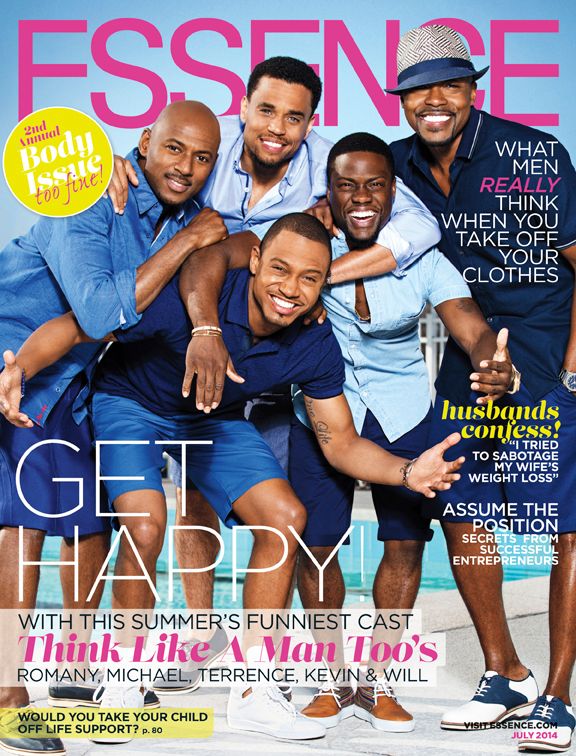 The men are ready to take over the summer. Check out the fellas of the Think Like A Man Too cast rocking the cover of ESSENCE magazine's Body Issue inside...
Heeeeey guys. Cuties Romany Malco, Michael Ealy, Terrence J, Kevin Hart and Will Packer are gearing up for the big release of Think Like A Man Too (June 20th). So it's only right they give the summer some on the second July 2014 cover of ESSENCE magzine (since the ladies of the cast have the other cover).
Producer Will Packer said about the sequel film:
"It was almost magical the way we picked up right where we left off. That's on- and off screen. There was such chemistry between that cast. The fact is that this crew really is a family…"
The issue, which will be giving readers some behind-the-scenes peeks, hits stands July 6th.
GEMINI SEASON: Diddy & Kim Porter's Son Quincy Celebrates His 23rd Birthday With Intimate Gathering
Posted: 05 Jun 2014 10:34 AM PDT
Diddy, Kim Porter, Kelly Osbourne and friends came out for an intimate gathering to celebrate Quincy Brown's 23rd birthday. See his party pics inside with his mama and the man he considers his (other) father...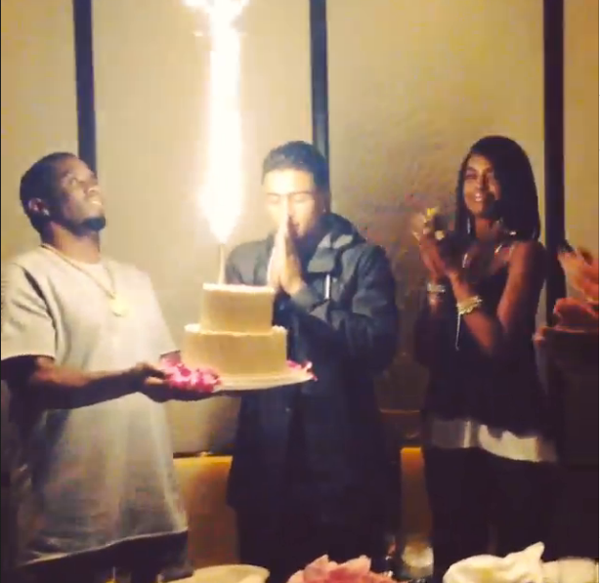 Diddy's eldest son Quincy (who's biological father is Al B Sure) is now 23-years-old. And to celebrate, he gathered his closest friends and family for a private dinner. How grown-up of him.
Diddy, mom Kim Porter, good friend Kelly Osbourne and more came out to party with the young rapper/actor.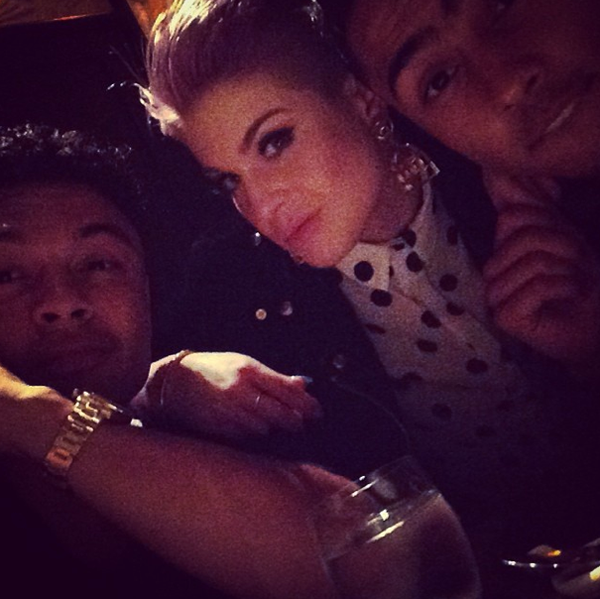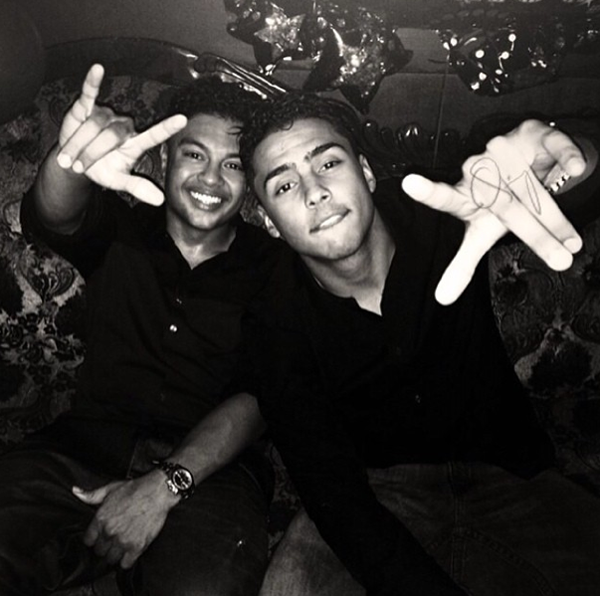 Looks like Quincy was really enjoying himself surrounded by his family and friends. He gave a special shoutout to his friend/director Alfredo Flores with the caption, "Fredo in the cut! Thanks for everything! I had such a fun bday my brotha #frequincy | @alfredoflores".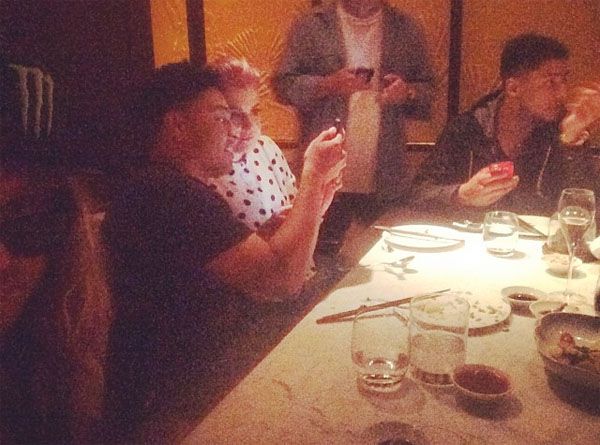 Let me take a selfie!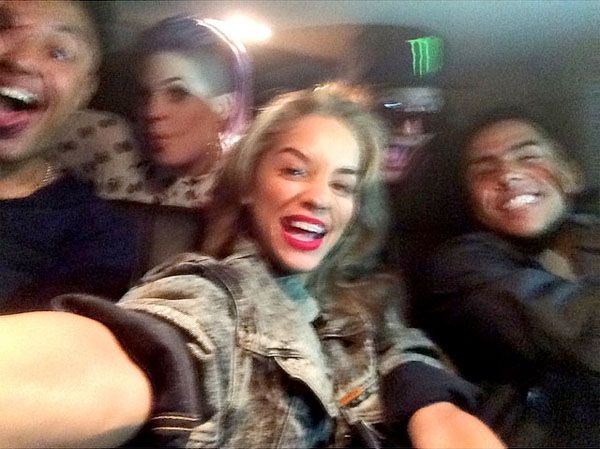 And here's Diddy presenting his son's birthday cake:
Happy Birthday Q!
Photos: Quincy's IG/ Kelly Osbourne's IG/alfredoflores/ thedingoinsnow/golden_barbie/EliWehbe